Lectin-based Isolation and Culture of Mouse Embryonic Motoneurons
Published: 09-15-2011
ABSTRACT
Spinal motoneurons develop towards postmitotic stages through early embryonic nervous system development and subsequently grow out dendrites and axons. Neuroepithelial cells of the neural tube that express Nkx6.1 are the unique precursor cells for spinal motoneurons1. Though postmitotic motoneurons move towards their final position and organize themselves into columns along the spinal tract2,3. More than 90% of all these differentiated and positioned motoneurons express the transcription factors Islet 1/2. They innervate the muscles of the limbs as well as those of the body and the inner organs. Among others, motoneurons typically express the high affinity receptors for brain derived neurotrophic factor (BDNF) and Neurotrophin-3 (NT-3), the tropomyosin-related kinase B and C (TrkB, TrkC). They do not express the tropomyosin-related kinase A (TrkA)4. Beside the two high affinity receptors, motoneurons do express the low affinity neurotrophin receptor p75NTR. The p75NTR can bind all neurotrophins with similar but lower affinity to all neurotrophins than the high affinity receptors would bind the mature neurotrophins. Within the embryonic spinal cord, the p75NTR is exclusively expressed by the spinal motoneurons5. This has been used to develop motoneuron isolation techniques to purify the cells from the vast majority of surrounding cells6. Isolating motoneurons with the help of specific antibodies (panning) against the extracellular domains of p75NTR has turned out to be an expensive method as the amount of antibody used for a single experiment is high due to the size of the plate used for panning. A much more economical alternative is the use of lectin. Lectin has been shown to specifically bind to p75NTR as well7. The following method describes an alternative technique using wheat germ agglutinin for a preplating procedure instead of the p75NTR antibody. The lectin is an extremely inexpensive alternative to the p75NTR antibody and the purification grades using lectin are comparable to that of the p75NTR antibody. Motoneurons from the embryonic spinal cord can be isolated by this method, survive and grow out neurites.
21 Related JoVE Articles!
Simultaneous Intracellular Recording of a Lumbar Motoneuron and the Force Produced by its Motor Unit in the Adult Mouse In vivo
Institutions: Northwestern University Feinberg School of Medicine.

The spinal motoneuron has long been a good model system for studying neural function because it is a neuron of the central nervous system with the unique properties of (1) having readily identifiable targets (the muscle fibers) and therefore having a very well-known function (to control muscle contraction); (2) being the convergent target of many spinal and descending networks, hence the name of "final common pathway"; and (3) having a large soma which makes it possible to penetrate them with sharp intracellular electrodes. Furthermore, when studied
in vivo
, it is possible to record simultaneously the electrical activity of the motoneurons and the force developed by their muscle targets. Performing intracellular recordings of motoneurons
in vivo
therefore put the experimentalist in the unique position of being able to study, at the same time, all the compartments of the "motor unit" (the name given to the motoneuron, its axon, and the muscle fibers it innervates
1
): the inputs impinging on the motoneuron, the electrophysiological properties of the motoneuron, and the impact of these properties on the physiological function of the motoneurons,
i.e.
the force produced by its motor unit. However, this approach is very challenging because the preparation cannot be paralyzed and thus the mechanical stability for the intracellular recording is reduced. Thus, this kind of experiments has only been achieved in cats and in rats. However, the study of spinal motor systems could make a formidable leap if it was possible to perform similar experiments in normal and genetically modified mice. For technical reasons, the study of the spinal networks in mice has mostly been limited to neonatal
in vitro
preparations, where the motoneurons and the spinal networks are immature, the motoneurons are separated from their targets, and when studied in slices, the motoneurons are separated from most of their inputs. Until recently, only a few groups had managed to perform intracellular recordings of motoneurons
in vivo2-4
, including our team who published a new preparation which allowed us to obtain very stable recordings of motoneurons
in vivo
in adult mice
5,6
. However, these recordings were obtained in paralyzed animals,
i.e.
without the possibility to record the force output of these motoneurons. Here we present an extension of this original preparation in which we were able to obtain simultaneous recordings of the electrophysiological properties of the motoneurons and of the force developed by their motor unit. This is an important achievement, as it allows us to identify the different types of motoneurons based on their force profile, and thereby revealing their function. Coupled with genetic models disturbing spinal segmental circuitry
7-9
, or reproducting human disease
10,11
, we expect this technique to be an essential tool for the study of spinal motor system.
Neuroscience, Issue 70, Physiology, Biophysics, Anatomy, Medicine, Motor System, Spinal Cord, Intracellular Recordings, Motoneurons, EMG, Force, lumbar, neuron, brain, mouse, animal model
4312
A Murine Model of Cervical Spinal Cord Injury to Study Post-lesional Respiratory Neuroplasticity
Institutions: Université de Versailles Saint-Quentin-en-Yvelines, Hôpital Ambroise Paré, Université de Versailles Saint-Quentin-en-Yvelines.

A cervical spinal cord injury induces permanent paralysis, and often leads to respiratory distress. To date, no efficient therapeutics have been developed to improve/ameliorate the respiratory failure following high cervical spinal cord injury (SCI). Here we propose a murine pre-clinical model of high SCI at the cervical 2 (C2) metameric level to study diverse post-lesional respiratory neuroplasticity. The technique consists of a surgical partial injury at the C2 level, which will induce a hemiparalysis of the diaphragm due to a deafferentation of the phrenic motoneurons from the respiratory centers located in the brainstem. The contralateral side of the injury remains intact and allows the animal recovery. Unlike other SCIs which affect the locomotor function (at the thoracic and lumbar level), the respiratory function does not require animal motivation and the quantification of the deficit/recovery can be easily performed (diaphragm and phrenic nerve recordings, whole body ventilation). This pre-clinical C2 SCI model is a powerful, useful, and reliable pre-clinical model to study various respiratory and non-respiratory neuroplasticity events at different levels (molecular to physiology) and to test diverse putative therapeutic strategies which might improve the respiration in SCI patients.
Physiology, Issue 87, rat, cervical spinal cord injury, respiratory deficit, crossed phrenic phenomenon, respiratory neuroplasticity
51235
Spinal Cord Electrophysiology
Institutions: Howard Hughes Medical Institute and Gene Expression Laboratory, University of California San Diego - UCSD.
The neonatal mouse spinal cord is a model for studying the development of neural circuitries and locomotor movement. We demonstrate the spinal cord dissection and preparation of recording bath artificial cerebrospinal fluid used for locomotor studies. Once dissected, the spinal cord ventral nerve roots can be attached to a recording electrode to record the electrophysiologic signals of the central pattern generating circuitry within the lumbar cord.
Neuroscience, Issue 35, Electrophysiology, central pattern generator, spinal cord, artificial cerebrospinal fluid
1660
A Functional Motor Unit in the Culture Dish: Co-culture of Spinal Cord Explants and Muscle Cells
Institutions: University of Basel.

Human primary muscle cells cultured aneurally in monolayer rarely contract spontaneously because, in the absence of a nerve component, cell differentiation is limited and motor neuron stimulation is missing
1
. These limitations hamper the
in vitro
study of many neuromuscular diseases in cultured muscle cells. Importantly, the experimental constraints of monolayered, cultured muscle cells can be overcome by functional innervation of myofibers with spinal cord explants in co-cultures. Here, we show the different steps required to achieve an efficient, proper innervation of human primary muscle cells, leading to complete differentiation and fiber contraction according to the method developed by Askanas
2
. To do so, muscle cells are co-cultured with spinal cord explants of rat embryos at ED 13.5, with the dorsal root ganglia still attached to the spinal cord slices. After a few days, the muscle fibers start to contract and eventually become cross-striated through innervation by functional neurites projecting from the spinal cord explants that connecting to the muscle cells. This structure can be maintained for many months, simply by regular exchange of the culture medium. The applications of this invaluable tool are numerous, as it represents a functional model for multidisciplinary analyses of human muscle development and innervation. In fact, a complete
de novo
neuromuscular junction installation occurs in a culture dish, allowing an easy measurement of many parameters at each step, in a fundamental and physiological context. Just to cite a few examples, genomic and/or proteomic studies can be performed directly on the co-cultures. Furthermore, pre- and post-synaptic effects can be specifically and separately assessed at the neuromuscular junction, because both components come from different species, rat and human, respectively. The nerve-muscle co-culture can also be performed with human muscle cells isolated from patients suffering from muscle or neuromuscular diseases
3
, and thus can be used as a screening tool for candidate drugs. Finally, no special equipment but a regular BSL2 facility is needed to reproduce a functional motor unit in a culture dish. This method thus is valuable for both the muscle as well as the neuromuscular research communities for physiological and mechanistic studies of neuromuscular function, in a normal and disease context.
Neuroscience, Issue 62, Human primary muscle cells, embryonic spinal cord explants, neurites, innervation, contraction, cell culture
3616
Dissection and Culture of Chick Statoacoustic Ganglion and Spinal Cord Explants in Collagen Gels for Neurite Outgrowth Assays
Institutions: Purdue University.

The sensory organs of the chicken inner ear are innervated by the peripheral processes of statoacoustic ganglion (SAG) neurons. Sensory organ innervation depends on a combination of axon guidance cues
1
and survival factors
2
located along the trajectory of growing axons and/or within their sensory organ targets. For example, functional interference with a classic axon guidance signaling pathway, semaphorin-neuropilin, generated misrouting of otic axons
3
. Also, several growth factors expressed in the sensory targets of the inner ear, including Neurotrophin-3 (NT-3) and Brain Derived Neurotrophic Factor (BDNF), have been manipulated in transgenic animals, again leading to misrouting of SAG axons
4
. These same molecules promote both survival and neurite outgrowth of chick SAG neurons
in vitro
5,6
. Here, we describe and demonstrate the
in vitro
method we are currently using to test the responsiveness of chick SAG neurites to soluble proteins, including known morphogens such as the Wnts, as well as growth factors that are important for promoting SAG neurite outgrowth and neuron survival. Using this model system, we hope to draw conclusions about the effects that secreted ligands can exert on SAG neuron survival and neurite outgrowth. SAG explants are dissected on embryonic day 4 (E4) and cultured in three-dimensional collagen gels under serum-free conditions for 24 hours. First, neurite responsiveness is tested by culturing explants with protein-supplemented medium. Then, to ask whether point sources of secreted ligands can have directional effects on neurite outgrowth, explants are co-cultured with protein-coated beads and assayed for the ability of the bead to locally promote or inhibit outgrowth. We also include a demonstration of the dissection (modified protocol
7
) and culture of E6 spinal cord explants. We routinely use spinal cord explants to confirm bioactivity of the proteins and protein-soaked beads, and to verify species cross-reactivity with chick tissue, under the same culture conditions as SAG explants. These
in vitro
assays are convenient for quickly screening for molecules that exert trophic (survival) or tropic (directional) effects on SAG neurons, especially before performing studies
in vivo
. Moreover, this method permits the testing of individual molecules under serum-free conditions, with high neuron survival
8
.
Neuroscience, Issue 58, chicken, dissection, morphogen, NT-3, neurite outgrowth, spinal cord, statoacoustic ganglion, Wnt5a
3600
Use of LysoTracker to Detect Programmed Cell Death in Embryos and Differentiating Embryonic Stem Cells
Institutions: University of Southern California.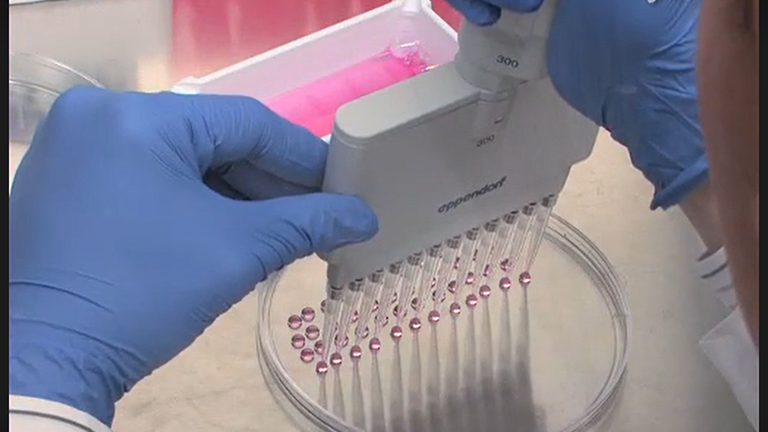 Programmed cell death (PCD) occurs in adults to maintain normal tissue homeostasis and during embryological development to shape tissues and organs
1,2,6,7
. During development, toxic chemicals or genetic alterations can cause an increase in PCD or change PCD patterns resulting in developmental abnormalities and birth defects
3-5
. To understand the etiology of these defects, the study of embryos can be complemented with
in vitro
assays that use differentiating embryonic stem (ES) cells. Apoptosis is a well-studied form of PCD that involves both intrinsic and extrinsic signaling to activate the caspase enzyme cascade. Characteristic cell changes include membrane blebbing, nuclear shrinking, and DNA fragmentation. Other forms of PCD do not involve caspase activation and may be the end-result of prolonged autophagy. Regardless of the PCD pathway, dying cells need to be removed. In adults, the immune cells perform this function, while in embryos, where the immune system has not yet developed, removal occurs by an alternative mechanism. This mechanism involves neighboring cells (called "non-professional phagocytes") taking on a phagocytic role-they recognize the 'eat me' signal on the surface of the dying cell and engulf it
8-10
. After engulfment, the debris is brought to the lysosome for degradation. Thus regardless of PCD mechanism, an increase in lysosomal activity can be correlated with increased cell death. To study PCD, a simple assay to visualize lysosomes in thick tissues and multilayer differentiating cultures can be useful. LysoTracker dye is a highly soluble small molecule that is retained in acidic subcellular compartments such as the lysosome
11-13
. The dye is taken up by diffusion and through the circulation. Since penetration is not a hindrance, visualization of PCD in thick tissues and multi-layer cultures is possible
12,13
. In contrast, TUNEL (Terminal deoxynucleotidyl transferase dUTP nick end labeling) analysis
14
, is limited to small samples, histological sections, and monolayer cultures because the procedure requires the entry/permeability of a terminal transferase. In contrast to Aniline blue, which diffuses and is dissolved by solvents, LysoTracker Red DND-99 is fixable, bright, and stable. Staining can be visualized with standard fluorescent or confocal microscopy in whole-mount or section using aqueous or solvent-based mounting media
12,13
. Here we describe protocols using this dye to look at PCD in normal and
sonic
hedgehog
null mouse embryos. In addition, we demonstrate analysis of PCD in differentiating ES cell cultures and present a simple quantification method. In summary, LysoTracker staining can be a great complement to other methods of detecting PCD.
Developmental Biology, Issue 68, Molecular Biology, Stem Cell Biology, Cellular Biology, mouse embryo, embryonic stem cells, lysosome, programmed cell death, imaging, sonic hedgehog
4254
Sex Stratified Neuronal Cultures to Study Ischemic Cell Death Pathways
Institutions: University of Colorado School of Medicine, Oregon Health & Science University, University of Colorado School of Medicine.

Sex differences in neuronal susceptibility to ischemic injury and neurodegenerative disease have long been observed, but the signaling mechanisms responsible for those differences remain unclear. Primary disassociated embryonic neuronal culture provides a simplified experimental model with which to investigate the neuronal cell signaling involved in cell death as a result of ischemia or disease; however, most neuronal cultures used in research today are mixed sex. Researchers can and do test the effects of sex steroid treatment in mixed sex neuronal cultures in models of neuronal injury and disease, but accumulating evidence suggests that the female brain responds to androgens, estrogens, and progesterone differently than the male brain. Furthermore, neonate male and female rodents respond differently to ischemic injury, with males experiencing greater injury following cerebral ischemia than females. Thus, mixed sex neuronal cultures might obscure and confound the experimental results; important information might be missed. For this reason, the Herson Lab at the University of Colorado School of Medicine routinely prepares sex-stratified primary disassociated embryonic neuronal cultures from both hippocampus and cortex. Embryos are sexed before harvesting of brain tissue and male and female tissue are disassociated separately, plated separately, and maintained separately. Using this method, the Herson Lab has demonstrated a male-specific role for the ion channel TRPM2 in ischemic cell death. In this manuscript, we share and discuss our protocol for sexing embryonic mice and preparing sex-stratified hippocampal primary disassociated neuron cultures. This method can be adapted to prepare sex-stratified cortical cultures and the method for embryo sexing can be used in conjunction with other protocols for any study in which sex is thought to be an important determinant of outcome.
Neuroscience, Issue 82, male, female, sex, neuronal culture, ischemia, cell death, neuroprotection
50758
Analysis of Apoptosis in Zebrafish Embryos by Whole-mount Immunofluorescence to Detect Activated Caspase 3
Institutions: University of Utah.

Whole-mount immunofluorescence to detect activated Caspase 3 (Casp3 assay) is useful to identify cells undergoing either intrinsic or extrinsic apoptosis in zebrafish embryos. The whole-mount analysis provides spatial information in regard to tissue specificity of apoptosing cells, although sectioning and/or colabeling is ultimately required to pinpoint the exact cell types undergoing apoptosis. The whole-mount Casp3 assay is optimized for analysis of fixed embryos between the 4-cell stage and 32 hr-post-fertilization and is useful for a number of applications, including analysis of zebrafish mutants and morphants, overexpression of mutant and wild-type mRNAs, and exposure to chemicals. Compared to acridine orange staining, which can identify apoptotic cells in live embryos in a matter of hours, Casp3 and TUNEL assays take considerably longer to complete (2-4 days). However, because of the dynamic nature of apoptotic cell formation and clearance, analysis of fixed embryos ensures accurate comparison of apoptotic cells across multiple samples at specific time points. We have also found the Casp3 assay to be superior to analysis of apoptotic cells by the whole-mount TUNEL assay in regard to cost and reliability. Overall, the Casp3 assay represents a robust, highly reproducible assay in which to analyze apoptotic cells in early zebrafish embryos.
Developmental Biology, Issue 82, zebrafish, embryo, apoptosis, Caspase 3, Immunofluorescence, whole-mount, cell death
51060
Adult and Embryonic Skeletal Muscle Microexplant Culture and Isolation of Skeletal Muscle Stem Cells
Institutions: University of Birmingham.

Cultured embryonic and adult skeletal muscle cells have a number of different uses. The micro-dissected explants technique described in this chapter is a robust and reliable method for isolating relatively large numbers of proliferative skeletal muscle cells from juvenile, adult or embryonic muscles as a source of skeletal muscle stem cells. The authors have used micro-dissected explant cultures to analyse the growth characteristics of skeletal muscle cells in wild-type and dystrophic muscles. Each of the components of tissue growth, namely cell survival, proliferation, senescence and differentiation can be analysed separately using the methods described here. The net effect of all components of growth can be established by means of measuring explant outgrowth rates. The micro-explant method can be used to establish primary cultures from a wide range of different muscle types and ages and, as described here, has been adapted by the authors to enable the isolation of embryonic skeletal muscle precursors. Uniquely, micro-explant cultures have been used to derive clonal (single cell origin) skeletal muscle stem cell (SMSc) lines which can be expanded and used for
in vivo
transplantation.
In vivo
transplanted SMSc behave as functional, tissue-specific, satellite cells which contribute to skeletal muscle fibre regeneration but which are also retained (in the satellite cell niche) as a small pool of undifferentiated stem cells which can be re-isolated into culture using the micro-explant method.
Cellular Biology, Issue 43, Skeletal muscle stem cell, embryonic tissue culture, apoptosis, growth factor, proliferation, myoblast, myogenesis, satellite cell, skeletal muscle differentiation, muscular dystrophy
2051
High Efficiency Differentiation of Human Pluripotent Stem Cells to Cardiomyocytes and Characterization by Flow Cytometry
Institutions: Medical College of Wisconsin, Stanford University School of Medicine, Medical College of Wisconsin, Hong Kong University, Johns Hopkins University School of Medicine, Medical College of Wisconsin.

There is an urgent need to develop approaches for repairing the damaged heart, discovering new therapeutic drugs that do not have toxic effects on the heart, and improving strategies to accurately model heart disease. The potential of exploiting human induced pluripotent stem cell (hiPSC) technology to generate cardiac muscle "in a dish" for these applications continues to generate high enthusiasm. In recent years, the ability to efficiently generate cardiomyogenic cells from human pluripotent stem cells (hPSCs) has greatly improved, offering us new opportunities to model very early stages of human cardiac development not otherwise accessible. In contrast to many previous methods, the cardiomyocyte differentiation protocol described here does not require cell aggregation or the addition of Activin A or BMP4 and robustly generates cultures of cells that are highly positive for cardiac troponin I and T (TNNI3, TNNT2), iroquois-class homeodomain protein IRX-4 (IRX4), myosin regulatory light chain 2, ventricular/cardiac muscle isoform (MLC2v) and myosin regulatory light chain 2, atrial isoform (MLC2a) by day 10 across all human embryonic stem cell (hESC) and hiPSC lines tested to date. Cells can be passaged and maintained for more than 90 days in culture. The strategy is technically simple to implement and cost-effective. Characterization of cardiomyocytes derived from pluripotent cells often includes the analysis of reference markers, both at the mRNA and protein level. For protein analysis, flow cytometry is a powerful analytical tool for assessing quality of cells in culture and determining subpopulation homogeneity. However, technical variation in sample preparation can significantly affect quality of flow cytometry data. Thus, standardization of staining protocols should facilitate comparisons among various differentiation strategies. Accordingly, optimized staining protocols for the analysis of IRX4, MLC2v, MLC2a, TNNI3, and TNNT2 by flow cytometry are described.
Cellular Biology, Issue 91, human induced pluripotent stem cell, flow cytometry, directed differentiation, cardiomyocyte, IRX4, TNNI3, TNNT2, MCL2v, MLC2a
52010
Dissection and Lateral Mounting of Zebrafish Embryos: Analysis of Spinal Cord Development
Institutions: Skidmore College.

The zebrafish spinal cord is an effective investigative model for nervous system research for several reasons. First, genetic, transgenic and gene knockdown approaches can be utilized to examine the molecular mechanisms underlying nervous system development. Second, large clutches of developmentally synchronized embryos provide large experimental sample sizes. Third, the optical clarity of the zebrafish embryo permits researchers to visualize progenitor, glial, and neuronal populations. Although zebrafish embryos are transparent, specimen thickness can impede effective microscopic visualization. One reason for this is the tandem development of the spinal cord and overlying somite tissue. Another reason is the large yolk ball, which is still present during periods of early neurogenesis. In this article, we demonstrate microdissection and removal of the yolk in fixed embryos, which allows microscopic visualization while preserving surrounding somite tissue. We also demonstrate semipermanent mounting of zebrafish embryos. This permits observation of neurodevelopment in the dorso-ventral and anterior-posterior axes, as it preserves the three-dimensionality of the tissue.
Neuroscience, Issue 84, Spinal Cord, Zebrafish, Microscopy, Confocal, Embryonic Development, Nervous System, dissection and mounting, mounting embryos, dissecting embryos
50703
Clinical Testing and Spinal Cord Removal in a Mouse Model for Amyotrophic Lateral Sclerosis (ALS)
Institutions: University Medicine Göttingen, Göttingen, Germany.

Amyotrophic lateral sclerosis (ALS) is a fatal neurodegenerative disorder resulting in progressive degeneration of motoneurons. Peak of onset is around 60 years for the sporadic disease and around 50 years for the familial disease. Due to its progressive course, 50% of the patients die within 30 months of symptom onset. In order to evaluate novel treatment options for this disease, genetic mouse models of ALS have been generated based on human familial mutations in the SOD gene, such as the SOD1 (G93A) mutation. Most important aspects that have to be evaluated in the model are overall survival, clinical course and motor function. Here, we demonstrate the clinical evaluation, show the conduction of two behavioural motor tests and provide quantitative scoring systems for all parameters. Because an in depth analysis of the ALS mouse model usually requires an immunohistochemical examination of the spinal cord, we demonstrate its preparation in detail applying the dorsal laminectomy method. Exemplary histological findings are demonstrated. The comprehensive application of the depicted examination methods in studies on the mouse model of ALS will enable the researcher to reliably test future therapeutic options which can provide a basis for later human clinical trials.
Medicine, Issue 61, neuroscience, amyotrophic lateral sclerosis, ALS, spinal cord, mouse, rotarod, hanging wire
3936
Chicken Embryo Spinal Cord Slice Culture Protocol
Institutions: University College London.

Slice cultures can facilitate the manipulation of embryo development both pharmacologically and through gene manipulations. In this reduced system, potential lethal side effects due to systemic drug applications can be overcome. However, culture conditions must ensure that normal development proceeds within the reduced environment of the slice. We have focused on the development of the spinal cord, particularly that of spinal motor neurons. We systematically varied culture conditions of chicken embryo slices from the point at which most spinal motor neurons had been born. We assayed the number and type of motor neurons that survived during the culture period and the position of those motor neurons compared to that
in vivo
. We found that serum type and neurotrophic factors were required during the culture period and were able to keep motor neurons alive for at least 24 hr and allow those motor neurons to migrate to appropriate positions in the spinal cord. We present these culture conditions and the methodology of preparing the embryo slice cultures using eviscerated chicken embryos embedded in agarose and sliced using a vibratome.
Developmental Biology, Issue 73, Neurobiology, Neuroscience, Medicine, Cellular Biology, Molecular Biology, Anatomy, Physiology, Biomedical Engineering, Genetics, Surgery, Cells, Animal Structures, Embryonic Structures, Nervous System, spinal cord, embryo, development, Slice-Culture, motor neuron, neurons, immunostaining, chick, imaging, animal model
50295
Using Microfluidics Chips for Live Imaging and Study of Injury Responses in Drosophila Larvae
Institutions: University of Michigan, University of Michigan, University of Michigan, University of Michigan, University of Michigan.

Live imaging is an important technique for studying cell biological processes, however this can be challenging in live animals. The translucent cuticle of the
Drosophila
larva makes it an attractive model organism for live imaging studies. However, an important challenge for live imaging techniques is to noninvasively immobilize and position an animal on the microscope. This protocol presents a simple and easy to use method for immobilizing and imaging
Drosophila
larvae on a polydimethylsiloxane (PDMS) microfluidic device, which we call the 'larva chip'. The larva chip is comprised of a snug-fitting PDMS microchamber that is attached to a thin glass coverslip, which, upon application of a vacuum via a syringe, immobilizes the animal and brings ventral structures such as the nerve cord, segmental nerves, and body wall muscles, within close proximity to the coverslip. This allows for high-resolution imaging, and importantly, avoids the use of anesthetics and chemicals, which facilitates the study of a broad range of physiological processes. Since larvae recover easily from the immobilization, they can be readily subjected to multiple imaging sessions. This allows for longitudinal studies over time courses ranging from hours to days. This protocol describes step-by-step how to prepare the chip and how to utilize the chip for live imaging of neuronal events in 3
rd
instar larvae. These events include the rapid transport of organelles in axons, calcium responses to injury, and time-lapse studies of the trafficking of photo-convertible proteins over long distances and time scales. Another application of the chip is to study regenerative and degenerative responses to axonal injury, so the second part of this protocol describes a new and simple procedure for injuring axons within peripheral nerves by a segmental nerve crush.
Bioengineering, Issue 84, Drosophila melanogaster, Live Imaging, Microfluidics, axonal injury, axonal degeneration, calcium imaging, photoconversion, laser microsurgery
50998
Setting-up an In Vitro Model of Rat Blood-brain Barrier (BBB): A Focus on BBB Impermeability and Receptor-mediated Transport
Institutions: VECT-HORUS SAS, CNRS, NICN UMR 7259.

The blood brain barrier (BBB) specifically regulates molecular and cellular flux between the blood and the nervous tissue. Our aim was to develop and characterize a highly reproducible rat syngeneic
in vitro
model of the BBB using co-cultures of primary rat brain endothelial cells (RBEC) and astrocytes to study receptors involved in transcytosis across the endothelial cell monolayer. Astrocytes were isolated by mechanical dissection following trypsin digestion and were frozen for later co-culture. RBEC were isolated from 5-week-old rat cortices. The brains were cleaned of meninges and white matter, and mechanically dissociated following enzymatic digestion. Thereafter, the tissue homogenate was centrifuged in bovine serum albumin to separate vessel fragments from nervous tissue. The vessel fragments underwent a second enzymatic digestion to free endothelial cells from their extracellular matrix. The remaining contaminating cells such as pericytes were further eliminated by plating the microvessel fragments in puromycin-containing medium. They were then passaged onto filters for co-culture with astrocytes grown on the bottom of the wells. RBEC expressed high levels of tight junction (TJ) proteins such as occludin, claudin-5 and ZO-1 with a typical localization at the cell borders. The transendothelial electrical resistance (TEER) of brain endothelial monolayers, indicating the tightness of TJs reached 300 ohm·cm
2
on average. The endothelial permeability coefficients (Pe) for lucifer yellow (LY) was highly reproducible with an average of 0.26 ± 0.11 x 10
-3
cm/min. Brain endothelial cells organized in monolayers expressed the efflux transporter P-glycoprotein (P-gp), showed a polarized transport of rhodamine 123, a ligand for P-gp, and showed specific transport of transferrin-Cy3 and DiILDL across the endothelial cell monolayer. In conclusion, we provide a protocol for setting up an
in vitro
BBB model that is highly reproducible due to the quality assurance methods, and that is suitable for research on BBB transporters and receptors.
Medicine, Issue 88, rat brain endothelial cells (RBEC), mouse, spinal cord, tight junction (TJ), receptor-mediated transport (RMT), low density lipoprotein (LDL), LDLR, transferrin, TfR, P-glycoprotein (P-gp), transendothelial electrical resistance (TEER),
51278
Modeling Astrocytoma Pathogenesis In Vitro and In Vivo Using Cortical Astrocytes or Neural Stem Cells from Conditional, Genetically Engineered Mice
Institutions: University of North Carolina School of Medicine, University of North Carolina School of Medicine, University of North Carolina School of Medicine, University of North Carolina School of Medicine, University of North Carolina School of Medicine, Emory University School of Medicine, University of North Carolina School of Medicine.

Current astrocytoma models are limited in their ability to define the roles of oncogenic mutations in specific brain cell types during disease pathogenesis and their utility for preclinical drug development. In order to design a better model system for these applications, phenotypically wild-type cortical astrocytes and neural stem cells (NSC) from conditional, genetically engineered mice (GEM) that harbor various combinations of floxed oncogenic alleles were harvested and grown in culture. Genetic recombination was induced
in vitro
using adenoviral Cre-mediated recombination, resulting in expression of mutated oncogenes and deletion of tumor suppressor genes. The phenotypic consequences of these mutations were defined by measuring proliferation, transformation, and drug response
in vitro
. Orthotopic allograft models, whereby transformed cells are stereotactically injected into the brains of immune-competent, syngeneic littermates, were developed to define the role of oncogenic mutations and cell type on tumorigenesis
in vivo
. Unlike most established human glioblastoma cell line xenografts, injection of transformed GEM-derived cortical astrocytes into the brains of immune-competent littermates produced astrocytomas, including the most aggressive subtype, glioblastoma, that recapitulated the histopathological hallmarks of human astrocytomas, including diffuse invasion of normal brain parenchyma. Bioluminescence imaging of orthotopic allografts from transformed astrocytes engineered to express luciferase was utilized to monitor
in vivo
tumor growth over time. Thus, astrocytoma models using astrocytes and NSC harvested from GEM with conditional oncogenic alleles provide an integrated system to study the genetics and cell biology of astrocytoma pathogenesis
in vitro
and
in vivo
and may be useful in preclinical drug development for these devastating diseases.
Neuroscience, Issue 90, astrocytoma, cortical astrocytes, genetically engineered mice, glioblastoma, neural stem cells, orthotopic allograft
51763
Membrane Potentials, Synaptic Responses, Neuronal Circuitry, Neuromodulation and Muscle Histology Using the Crayfish: Student Laboratory Exercises
Institutions: University of Kentucky, University of Toronto.

The purpose of this report is to help develop an understanding of the effects caused by ion gradients across a biological membrane. Two aspects that influence a cell's membrane potential and which we address in these experiments are: (1) Ion concentration of K
+
on the outside of the membrane, and (2) the permeability of the membrane to specific ions. The crayfish abdominal extensor muscles are in groupings with some being tonic (slow) and others phasic (fast) in their biochemical and physiological phenotypes, as well as in their structure; the motor neurons that innervate these muscles are correspondingly different in functional characteristics. We use these muscles as well as the superficial, tonic abdominal flexor muscle to demonstrate properties in synaptic transmission. In addition, we introduce a sensory-CNS-motor neuron-muscle circuit to demonstrate the effect of cuticular sensory stimulation as well as the influence of neuromodulators on certain aspects of the circuit. With the techniques obtained in this exercise, one can begin to answer many questions remaining in other experimental preparations as well as in physiological applications related to medicine and health. We have demonstrated the usefulness of model invertebrate preparations to address fundamental questions pertinent to all animals.
Neuroscience, Issue 47, Invertebrate, Crayfish, neurophysiology, muscle, anatomy, electrophysiology
2322
Gene-environment Interaction Models to Unmask Susceptibility Mechanisms in Parkinson's Disease
Institutions: SRI International, University of California-Santa Cruz.

Lipoxygenase (LOX) activity has been implicated in neurodegenerative disorders such as Alzheimer's disease, but its effects in Parkinson's disease (PD) pathogenesis are less understood. Gene-environment interaction models have utility in unmasking the impact of specific cellular pathways in toxicity that may not be observed using a solely genetic or toxicant disease model alone. To evaluate if distinct LOX isozymes selectively contribute to PD-related neurodegeneration, transgenic (
i.e.
5-LOX and 12/15-LOX deficient) mice can be challenged with a toxin that mimics cell injury and death in the disorder. Here we describe the use of a neurotoxin, 1-methyl-4-phenyl-1,2,3,6-tetrahydropyridine (MPTP), which produces a nigrostriatal lesion to elucidate the distinct contributions of LOX isozymes to neurodegeneration related to PD. The use of MPTP in mouse, and nonhuman primate, is well-established to recapitulate the nigrostriatal damage in PD. The extent of MPTP-induced lesioning is measured by HPLC analysis of dopamine and its metabolites and semi-quantitative Western blot analysis of striatum for tyrosine hydroxylase (TH), the rate-limiting enzyme for the synthesis of dopamine. To assess inflammatory markers, which may demonstrate LOX isozyme-selective sensitivity, glial fibrillary acidic protein (GFAP) and Iba-1 immunohistochemistry are performed on brain sections containing substantia nigra, and GFAP Western blot analysis is performed on striatal homogenates. This experimental approach can provide novel insights into gene-environment interactions underlying nigrostriatal degeneration and PD.
Medicine, Issue 83, MPTP, dopamine, Iba1, TH, GFAP, lipoxygenase, transgenic, gene-environment interactions, mouse, Parkinson's disease, neurodegeneration, neuroinflammation
50960
The Specification of Telencephalic Glutamatergic Neurons from Human Pluripotent Stem Cells
Institutions: The University of Connecticut Health Center, The University of Connecticut Health Center, The University of Connecticut Health Center.

Here, a stepwise procedure for efficiently generating telencephalic glutamatergic neurons from human pluripotent stem cells (PSCs) has been described. The differentiation process is initiated by breaking the human PSCs into clumps which round up to form aggregates when the cells are placed in a suspension culture. The aggregates are then grown in hESC medium from days 1-4 to allow for spontaneous differentiation. During this time, the cells have the capacity to become any of the three germ layers. From days 5-8, the cells are placed in a neural induction medium to push them into the neural lineage. Around day 8, the cells are allowed to attach onto 6 well plates and differentiate during which time the neuroepithelial cells form. These neuroepithelial cells can be isolated at day 17. The cells can then be kept as neurospheres until they are ready to be plated onto coverslips. Using a basic medium without any caudalizing factors, neuroepithelial cells are specified into telencephalic precursors, which can then be further differentiated into dorsal telencephalic progenitors and glutamatergic neurons efficiently. Overall, our system provides a tool to generate human glutamatergic neurons for researchers to study the development of these neurons and the diseases which affect them.
Stem Cell Biology, Issue 74, Neuroscience, Neurobiology, Developmental Biology, Cellular Biology, Molecular Biology, Stem Cells, Embryonic Stem Cells, ESCs, Pluripotent Stem Cells, Induced Pluripotent Stem Cells, iPSC, neural differentiation, forebrain, glutamatergic neuron, neural patterning, development, neurons
50321
Preparation of Drosophila Central Neurons for in situ Patch Clamping
Institutions: Arizona State University .

Short generation times and facile genetic techniques make the fruit fly
Drosophila melanogaster
an excellent genetic model in fundamental neuroscience research. Ion channels are the basis of all behavior since they mediate neuronal excitability. The first voltage gated ion channel cloned was the
Drosophila
voltage gated potassium channel Shaker
1,2
. Toward understanding the role of ion channels and membrane excitability for nervous system function it is useful to combine powerful genetic tools available in
Drosophila
with
in situ
patch clamp recordings. For many years such recordings have been hampered by the small size of the
Drosophila
CNS. Furthermore, a robust sheath made of glia and collagen constituted obstacles for patch pipette access to central neurons. Removal of this sheath is a necessary precondition for patch clamp recordings from any neuron in the adult
Drosophila
CNS. In recent years scientists have been able to conduct
in situ
patch clamp recordings from neurons in the adult brain
3,4
and ventral nerve cord of embryonic
5,6
, larval
7,8,9,10
, and adult
Drosophila
11,12,13,14
. A stable giga-seal is the main precondition for a good patch and depends on clean contact of the patch pipette with the cell membrane to avoid leak currents. Therefore, for whole cell
in situ
patch clamp recordings from adult
Drosophila
neurons must be cleaned thoroughly. In the first step, the ganglionic sheath has to be treated enzymatically and mechanically removed to make the target cells accessible. In the second step, the cell membrane has to be polished so that no layer of glia, collagen or other material may disturb giga-seal formation. This article describes how to prepare an identified central neuron in the
Drosophila
ventral nerve cord, the flight motoneuron 5 (MN5
15
), for somatic whole cell patch clamp recordings. Identification and visibility of the neuron is achieved by targeted expression of GFP in MN5. We do not aim to explain the patch clamp technique itself.
Neuroscience, Issue 68, Molecular Biology, Cellular Biology, Anatomy, Physiology, Patch clamp, in situ patch clamp, Drosophila, electrophysiology, motoneuron, neuron, CNS
4264
Retrograde Loading of Nerves, Tracts, and Spinal Roots with Fluorescent Dyes
Institutions: National Institute of Neurological Disorders and Stroke, National Institutes of Health.

Retrograde labeling of neurons is a standard anatomical method
1,2
that has also been used to load calcium and voltage-sensitive dyes into neurons
3-6
. Generally, the dyes are applied as solid crystals or by local pressure injection using glass pipettes. However, this can result in dilution of the dye and reduced labeling intensity, particularly when several hours are required for dye diffusion. Here we demonstrate a simple and low-cost technique for introducing fluorescent and ion-sensitive dyes into neurons using a polyethylene suction pipette filled with the dye solution. This method offers a reliable way for maintaining a high concentration of the dye in contact with axons throughout the loading procedure.
Neuroscience, Issue 62, Retrograde labeling, Fluorescent dyes, Spinal cord, Nerves, Spinal tracts, Optical imaging, Electrophysiology, Calcium-sensitive dyes
4008