Waste Water Derived Electroactive Microbial Biofilms: Growth, Maintenance, and Basic Characterization
Published: 12-29-2013
ABSTRACT
The growth of anodic electroactive microbial biofilms from waste water inocula in a fed-batch reactor is demonstrated using a three-electrode setup controlled by a potentiostat. Thereby the use of potentiostats allows an exact adjustment of the electrode potential and ensures reproducible microbial culturing conditions. During growth the current production is monitored using chronoamperometry (CA). Based on these data the maximum current density (jmax) and the coulombic efficiency (CE) are discussed as measures for characterization of the bioelectrocatalytic performance. Cyclic voltammetry (CV), a nondestructive, i.e. noninvasive, method, is used to study the extracellular electron transfer (EET) of electroactive bacteria. CV measurements are performed on anodic biofilm electrodes in the presence of the microbial substrate, i.e. turnover conditions, and in the absence of the substrate, i.e. nonturnover conditions, using different scan rates. Subsequently, data analysis is exemplified and fundamental thermodynamic parameters of the microbial EET are derived and explained: peak potential (Ep), peak current density (jp), formal potential (Ef) and peak separation (ΔEp). Additionally the limits of the method and the state-of the art data analysis are addressed. Thereby this video-article shall provide a guide for the basic experimental steps and the fundamental data analysis.
19 Related JoVE Articles!
Fabrication of Electrochemical-DNA Biosensors for the Reagentless Detection of Nucleic Acids, Proteins and Small Molecules
Institutions: University Of California Santa Barbara, University Of California Santa Barbara.

As medicine is currently practiced, doctors send specimens to a central laboratory for testing and thus must wait hours or days to receive the results. Many patients would be better served by rapid, bedside tests. To this end our laboratory and others have developed a versatile, reagentless biosensor platform that supports the quantitative, reagentless, electrochemical detection of nucleic acids (DNA, RNA), proteins (including antibodies) and small molecules analytes directly in unprocessed clinical and environmental samples. In this video, we demonstrate the preparation and use of several biosensors in this "E-DNA" class. In particular, we fabricate and demonstrate sensors for the detection of a target DNA sequence in a polymerase chain reaction mixture, an HIV-specific antibody and the drug cocaine. The preparation procedure requires only three hours of hands-on effort followed by an overnight incubation, and their use requires only minutes.
Bioengineering, Issue 52, biosensor, chemistry, detection, electrochemistry, point of care, theranostics, diagnostics, antibody, instrument, electronic
2922
A Microfluidic-based Electrochemical Biochip for Label-free DNA Hybridization Analysis
Institutions: University of Maryland, University of Maryland.

Miniaturization of analytical benchtop procedures into the micro-scale provides significant advantages in regards to reaction time, cost, and integration of pre-processing steps. Utilizing these devices towards the analysis of DNA hybridization events is important because it offers a technology for real time assessment of biomarkers at the point-of-care for various diseases. However, when the device footprint decreases the dominance of various physical phenomena increases. These phenomena influence the fabrication precision and operation reliability of the device. Therefore, there is a great need to accurately fabricate and operate these devices in a reproducible manner in order to improve the overall performance. Here, we describe the protocols and the methods used for the fabrication and the operation of a microfluidic-based electrochemical biochip for accurate analysis of DNA hybridization events. The biochip is composed of two parts: a microfluidic chip with three parallel micro-channels made of polydimethylsiloxane (PDMS), and a 3 x 3 arrayed electrochemical micro-chip. The DNA hybridization events are detected using electrochemical impedance spectroscopy (EIS) analysis. The EIS analysis enables monitoring variations of the properties of the electrochemical system that are dominant at these length scales. With the ability to monitor changes of both charge transfer and diffusional resistance with the biosensor, we demonstrate the selectivity to complementary ssDNA targets, a calculated detection limit of 3.8 nM, and a 13% cross-reactivity with other non-complementary ssDNA following 20 min of incubation. This methodology can improve the performance of miniaturized devices by elucidating on the behavior of diffusion at the micro-scale regime and by enabling the study of DNA hybridization events.
Bioengineering, Issue 91, electrochemical impedance spectroscopy, DNA hybridization, biosensor, biochip, microfluidics, label-free detection, restricted diffusion, microfabrication
51797
Voltage Biasing, Cyclic Voltammetry, & Electrical Impedance Spectroscopy for Neural Interfaces
Institutions: Purdue University, University of Wisconsin-Madison, University of Michigan , Purdue University.

Electrical impedance spectroscopy (EIS) and cyclic voltammetry (CV) measure properties of the electrode-tissue interface without additional invasive procedures, and can be used to monitor electrode performance over the long term. EIS measures electrical impedance at multiple frequencies, and increases in impedance indicate increased glial scar formation around the device, while cyclic voltammetry measures the charge carrying capacity of the electrode, and indicates how charge is transferred at different voltage levels. As implanted electrodes age, EIS and CV data change, and electrode sites that previously recorded spiking neurons often exhibit significantly lower efficacy for neural recording. The application of a brief voltage pulse to implanted electrode arrays, known as rejuvenation, can bring back spiking activity on otherwise silent electrode sites for a period of time. Rejuvenation alters EIS and CV, and can be monitored by these complementary methods. Typically, EIS is measured daily as an indication of the tissue response at the electrode site. If spikes are absent in a channel that previously had spikes, then CV is used to determine the charge carrying capacity of the electrode site, and rejuvenation can be applied to improve the interface efficacy. CV and EIS are then repeated to check the changes at the electrode-tissue interface, and neural recordings are collected. The overall goal of rejuvenation is to extend the functional lifetime of implanted arrays.
Neuroscience, Issue 60, neuroprosthesis, electrode-tissue interface, rejuvenation, neural engineering, neuroscience, neural implant, electrode, brain-computer interface, electrochemistry
3566
Patterning Cells on Optically Transparent Indium Tin Oxide Electrodes
Institutions: University of California, Davis.

The ability to exercise precise spatial and temporal control over cell-surface interactions is an important prerequisite to the assembly of multi-cellular constructs serving as in vitro mimics of native tissues. In this study, photolithography and wet etching techniques were used to fabricate individually addressable indium tin oxide (ITO) electrodes on glass substrates. The glass substrates containing ITO microelectrodes were modified with poly(ethylene glycol) (PEG) silane to make them protein and cell resistive. Presence of insulating PEG molecules on the electrode surface was verified by cyclic voltammetry employing potassium ferricyanide as a redox reporter molecule. Importantly, the application of reductive potential caused desorption of the PEG layer, resulting in regeneration of the conductive electrode surface and appearance of typical ferricyanide redox peaks. Application of reductive potential also corresponded to switching of ITO electrode properties from cell non-adhesive to cell-adhesive. Electrochemical stripping of PEG-silane layer from ITO microelectrodes allowed for cell adhesion to take place in a spatially defined fashion, with cellular patterns corresponding closely to electrode patterns. Micropatterning of several cell types was demonstrated on these substrates. In the future, the control of the biointerfacial properties afforded by this method will allow to engineer cellular microenvironments through the assembly of three or more cell types into a precise geometric configuration on an optically transparent substrate.
Cellular Biology, Issue 7, indium tin oxide, surface modification, electrochemistry, cell patterning
259
Synthesis, Assembly, and Characterization of Monolayer Protected Gold Nanoparticle Films for Protein Monolayer Electrochemistry
Institutions: University of Richmond, University of Richmond.

Colloidal gold nanoparticles protected with alkanethiolate ligands called monolayer protected gold clusters (MPCs) are synthesized and subsequently incorporated into film assemblies that serve as adsorption platforms for protein monolayer electrochemistry (PME). PME is utilized as the model system for studying electrochemical properties of redox proteins by confining them to an adsorption platform at a modified electrode, which also serves as a redox partner for electron transfer (ET) reactions. Studies have shown that gold nanoparticle film assemblies of this nature provide for a more homogeneous protein adsorption environment and promote ET without distance dependence compared to the more traditional systems modified with alkanethiol self-assembled monolayers (SAM).
1-3
In this paper, MPCs functionalized with hexanethiolate ligands are synthesized using a modified Brust reaction
4
and characterized with ultraviolet visible (UV-Vis) spectroscopy, transmission electron microscopy (TEM), and proton (
1
H) nuclear magnetic resonance (NMR). MPC films are assembled on SAM modified gold electrode interfaces by using a "dip cycle" method of alternating MPC layers and dithiol linking molecules. Film growth at gold electrode is tracked electrochemically by measuring changes to the double layer charging current of the system. Analogous films assembled on silane modified glass slides allow for optical monitoring of film growth and cross-sectional TEM analysis provides an estimated film thickness. During film assembly, manipulation of the MPC ligand protection as well as the interparticle linkage mechanism allow for networked films, that are readily adaptable, to interface with redox protein having different adsorption mechanism. For example,
Pseudomonas aeruginosa
azurin (AZ) can be adsorbed hydrophobically to dithiol-linked films of hexanethiolate MPCs and cytochrome
c
(cyt
c
) can be immobilized electrostatically at a carboxylic acid modified MPC interfacial layer. In this report, we focus on the film protocol for the AZ system exclusively. Investigations involving the adsorption of proteins on MPC modified synthetic platforms could further the understanding of interactions between biomolecules and man-made materials, and consequently aid the development of biosensor schemes, ET modeling systems, and synthetic biocompatible materials.
5-8
Bioengineering, Issue 56, Monolayer protected clusters, film assemblies, protein monolayer electrochemistry, azurin, self-assembled monolayers
3441
High Throughput Microfluidic Rapid and Low Cost Prototyping Packaging Methods
Institutions: Polytechnique Montreal.

In this work, 3 different packaging and assembly techniques are presented. They can be classified into two categories: one-time use and reusable packaging techniques. The one-time use packaging technique employs UV-based and temperature curing epoxies to connect microtubes to access holes, wire-bonding for integrated circuit connections, and silver epoxy for electrical connections. This method is based on a robust assembly technique that can support relatively high pressure close to 1 psi and does not need any support to strengthen the microfluidic architecture. Reusable packaging techniques consist of PDMS-based microtube interconnectors and anisotropic adhesive films for electrical connections. These devices are more sensitive and fragile. Consequently, Plexiglas support is added to the microfluidic structure to improve the electrical contact when anisotropic adhesive films are used, and also to strengthen the microfluidic architecture. In addition, a micromanipulator is needed to maintain tubes while using a thin PDMS layer to connect them to the access holes. Different PDMS layer thicknesses, ranging from 0.45-3 mm, are tested to compare the best adherence versus injection rates. Applied injection rates are varied from 50-300 μl/hr for 0.45-3 mm PDMS layers, respectively. These techniques are mainly applicable for low-pressure applications. However, they can be extended for high-pressure ones through plasma-oxygen process to permanently seal the PDMS to glass substrates. The main advantage of this technique, besides the fact that it is reusable, consists of keeping the device observable when the microchannel length is very short (in the range of 3 mm or lower).
Bioengineering, Issue 82, Microfluidics, PDMS, Lab-on-chip, Rapid-Prototyping, Microfabrication
50735
ELIME (Enzyme Linked Immuno Magnetic Electrochemical) Method for Mycotoxin Detection
Institutions: University of Rome, Tor Vergata.

Immunoassays are a valid alternative to the more expensive and time consuming quantitative HPLC or GC
1, 2
methods for the screening detection of hazardous mycotoxins in food commodities. In this protocol we show how to fabricate and interrogate an electrochemical competitive Enzyme linked immunomagnetic assay based on the use of magnetic beads as solid support for the immunochemical chain
3
and screen printed electrodes as sensing platform. Our method aims to determine the total amount of HT-2 and T-2 toxins, mycotoxins belonging to the trichothecenes family and of great concern for human health
4
. The use of an antibody clone with a cross reactivity of 100% towards HT-2 and T-2 allows to simultaneously detect both toxins with similar sensitivity
5
. The first step of our assay is the coating step where we immobilize HT2-KLH conjugate toxin on the surface of magnetic beads. After a blocking step, necessary to avoid non-specific absorptions, the addition of a monoclonal antibody allows the competition between immobilized HT-2 and free HT-2 or T-2 present in the sample or dissolved in a standard solution. At the end of the competition step, the amount of monoclonal antibody linked to the immobilized HT-2 will be inversely proportional to the amount of toxin in the sample solution. A secondary antibody labeled with alkaline phosphatase (AP) is used to reveal the binding between the specific antibody and the immobilized HT-2. The final measurement step is performed by dropping an aliquot of magnetic bead suspension, corresponding to a specific sample/standard solution, on the surface of a screen-printed working electrode; magnetic beads are immobilized and concentrated by means of a magnet placed precisely under the screen-printed electrode. After two minutes of incubation between magnetic beads and a substrate for AP, the enzymatic product is detected by Differential Pulse Voltammetry (DPV) using a portable instrument (PalmSens) also able to initiate automatically eight measurements within an interval of few seconds.
Biochemistry, Issue 32, Immunosensors, assay, antibody, magnetic bead, electrochemical, screen printed electrodes, array, toxin, food
1588
Preparation and Use of Photocatalytically Active Segmented Ag|ZnO and Coaxial TiO2-Ag Nanowires Made by Templated Electrodeposition
Institutions: University of Twente.

Photocatalytically active nanostructures require a large specific surface area with the presence of many catalytically active sites for the oxidation and reduction half reactions, and fast electron (hole) diffusion and charge separation. Nanowires present suitable architectures to meet these requirements. Axially segmented Ag|ZnO and radially segmented (coaxial) TiO
2
-Ag nanowires with a diameter of 200 nm and a length of 6-20 µm were made by templated electrodeposition within the pores of polycarbonate track-etched (PCTE) or anodized aluminum oxide (AAO) membranes, respectively. In the photocatalytic experiments, the ZnO and TiO
2
phases acted as photoanodes, and Ag as cathode. No external circuit is needed to connect both electrodes, which is a key advantage over conventional photo-electrochemical cells. For making segmented Ag|ZnO nanowires, the Ag salt electrolyte was replaced after formation of the Ag segment to form a ZnO segment attached to the Ag segment. For making coaxial TiO
2
-Ag nanowires, a TiO
2
gel was first formed by the electrochemically induced sol-gel method. Drying and thermal annealing of the as-formed TiO
2
gel resulted in the formation of crystalline TiO
2
nanotubes. A subsequent Ag electrodeposition step inside the TiO
2
nanotubes resulted in formation of coaxial TiO
2
-Ag nanowires. Due to the combination of an
n
-type semiconductor (ZnO or TiO
2
) and a metal (Ag) within the same nanowire, a Schottky barrier was created at the interface between the phases. To demonstrate the photocatalytic activity of these nanowires, the Ag|ZnO nanowires were used in a photocatalytic experiment in which H
2
gas was detected upon UV illumination of the nanowires dispersed in a methanol/water mixture. After 17 min of illumination, approximately 0.2 vol% H
2
gas was detected from a suspension of ~0.1 g of Ag|ZnO nanowires in a 50 ml 80 vol% aqueous methanol solution.
Physics, Issue 87, Multicomponent nanowires, electrochemistry, sol-gel processes, photocatalysis, photochemistry, H2 evolution
51547
Template Directed Synthesis of Plasmonic Gold Nanotubes with Tunable IR Absorbance
Institutions: University of Toronto.

A nearly parallel array of pores can be produced by anodizing aluminum foils in acidic environments
1, 2
. Applications of anodic aluminum oxide (AAO) membranes have been under development since the 1990's and have become a common method to template the synthesis of high aspect ratio nanostructures, mostly by electrochemical growth or pore-wetting. Recently, these membranes have become commercially available in a wide range of pore sizes and densities, leading to an extensive library of functional nanostructures being synthesized from AAO membranes. These include composite nanorods, nanowires and nanotubes made of metals, inorganic materials or polymers
3-10
. Nanoporous membranes have been used to synthesize nanoparticle and nanotube arrays that perform well as refractive index sensors, plasmonic biosensors, or surface enhanced Raman spectroscopy (SERS) substrates
11-16
, as well as a wide range of other fields such as photo-thermal heating
17
, permselective transport
18, 19
, catalysis
20
, microfluidics
21
, and electrochemical sensing
22, 23
. Here, we report a novel procedure to prepare gold nanotubes in AAO membranes. Hollow nanostructures have potential application in plasmonic and SERS sensing, and we anticipate these gold nanotubes will allow for high sensitivity and strong plasmon signals, arising from decreased material dampening
15
.
Chemistry, Issue 74, Chemical Engineering, Materials Science, Physics, Nanotechnology, Chemistry and Materials (General), Composite Materials, Inorganic, Organic and Physical Chemistry, Metals and Metallic Materials, Gold, nanotubes, anodic aluminum oxide templates, surface plasmon resonance, sensing, refractive index, template directed synthesis, nano
50420
Isolation and Quantification of Botulinum Neurotoxin From Complex Matrices Using the BoTest Matrix Assays
Institutions: BioSentinel Inc., Madison, WI.

Accurate detection and quantification of botulinum neurotoxin (BoNT) in complex matrices is required for pharmaceutical, environmental, and food sample testing. Rapid BoNT testing of foodstuffs is needed during outbreak forensics, patient diagnosis, and food safety testing while accurate potency testing is required for BoNT-based drug product manufacturing and patient safety. The widely used mouse bioassay for BoNT testing is highly sensitive but lacks the precision and throughput needed for rapid and routine BoNT testing. Furthermore, the bioassay's use of animals has resulted in calls by drug product regulatory authorities and animal-rights proponents in the US and abroad to replace the mouse bioassay for BoNT testing. Several
in vitro
replacement assays have been developed that work well with purified BoNT in simple buffers, but most have not been shown to be applicable to testing in highly complex matrices. Here, a protocol for the detection of BoNT in complex matrices using the BoTest Matrix assays is presented. The assay consists of three parts: The first part involves preparation of the samples for testing, the second part is an immunoprecipitation step using anti-BoNT antibody-coated paramagnetic beads to purify BoNT from the matrix, and the third part quantifies the isolated BoNT's proteolytic activity using a fluorogenic reporter. The protocol is written for high throughput testing in 96-well plates using both liquid and solid matrices and requires about 2 hr of manual preparation with total assay times of 4-26 hr depending on the sample type, toxin load, and desired sensitivity. Data are presented for BoNT/A testing with phosphate-buffered saline, a drug product, culture supernatant, 2% milk, and fresh tomatoes and includes discussion of critical parameters for assay success.
Neuroscience, Issue 85, Botulinum, food testing, detection, quantification, complex matrices, BoTest Matrix, Clostridium, potency testing
51170
In Situ SIMS and IR Spectroscopy of Well-defined Surfaces Prepared by Soft Landing of Mass-selected Ions
Institutions: Pacific Northwest National Laboratory.

Soft landing of mass-selected ions onto surfaces is a powerful approach for the highly-controlled preparation of materials that are inaccessible using conventional synthesis techniques. Coupling soft landing with
in situ
characterization using secondary ion mass spectrometry (SIMS) and infrared reflection absorption spectroscopy (IRRAS) enables analysis of well-defined surfaces under clean vacuum conditions. The capabilities of three soft-landing instruments constructed in our laboratory are illustrated for the representative system of surface-bound organometallics prepared by soft landing of mass-selected ruthenium tris(bipyridine) dications, [Ru(bpy)
3
]
2+
(bpy = bipyridine), onto carboxylic acid terminated self-assembled monolayer surfaces on gold (COOH-SAMs).
In situ
time-of-flight (TOF)-SIMS provides insight into the reactivity of the soft-landed ions. In addition, the kinetics of charge reduction, neutralization and desorption occurring on the COOH-SAM both during and after ion soft landing are studied using
in situ
Fourier transform ion cyclotron resonance (FT-ICR)-SIMS measurements.
In situ
IRRAS experiments provide insight into how the structure of organic ligands surrounding metal centers is perturbed through immobilization of organometallic ions on COOH-SAM surfaces by soft landing. Collectively, the three instruments provide complementary information about the chemical composition, reactivity and structure of well-defined species supported on surfaces.
Chemistry, Issue 88, soft landing, mass selected ions, electrospray, secondary ion mass spectrometry, infrared spectroscopy, organometallic, catalysis
51344
Membrane Potentials, Synaptic Responses, Neuronal Circuitry, Neuromodulation and Muscle Histology Using the Crayfish: Student Laboratory Exercises
Institutions: University of Kentucky, University of Toronto.

The purpose of this report is to help develop an understanding of the effects caused by ion gradients across a biological membrane. Two aspects that influence a cell's membrane potential and which we address in these experiments are: (1) Ion concentration of K
+
on the outside of the membrane, and (2) the permeability of the membrane to specific ions. The crayfish abdominal extensor muscles are in groupings with some being tonic (slow) and others phasic (fast) in their biochemical and physiological phenotypes, as well as in their structure; the motor neurons that innervate these muscles are correspondingly different in functional characteristics. We use these muscles as well as the superficial, tonic abdominal flexor muscle to demonstrate properties in synaptic transmission. In addition, we introduce a sensory-CNS-motor neuron-muscle circuit to demonstrate the effect of cuticular sensory stimulation as well as the influence of neuromodulators on certain aspects of the circuit. With the techniques obtained in this exercise, one can begin to answer many questions remaining in other experimental preparations as well as in physiological applications related to medicine and health. We have demonstrated the usefulness of model invertebrate preparations to address fundamental questions pertinent to all animals.
Neuroscience, Issue 47, Invertebrate, Crayfish, neurophysiology, muscle, anatomy, electrophysiology
2322
Modeling Biological Membranes with Circuit Boards and Measuring Electrical Signals in Axons: Student Laboratory Exercises
Institutions: University of Kentucky, University of Toronto.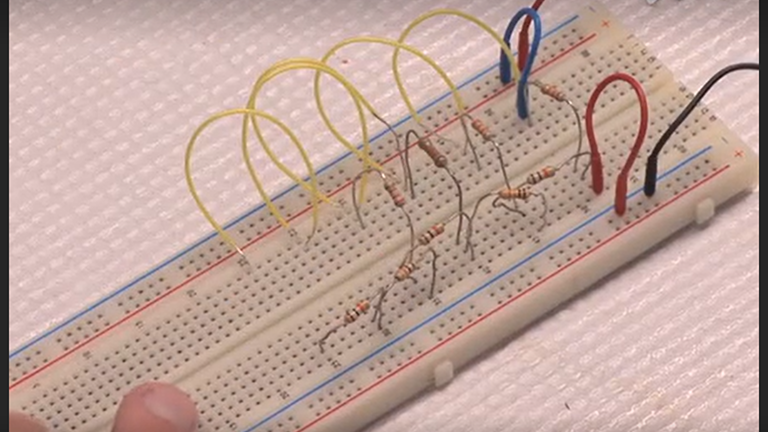 This is a demonstration of how electrical models can be used to characterize biological membranes. This exercise also introduces biophysical terminology used in electrophysiology. The same equipment is used in the membrane model as on live preparations. Some properties of an isolated nerve cord are investigated: nerve action potentials, recruitment of neurons, and responsiveness of the nerve cord to environmental factors.
Basic Protocols, Issue 47, Invertebrate, Crayfish, Modeling, Student laboratory, Nerve cord
2325
In Situ Neutron Powder Diffraction Using Custom-made Lithium-ion Batteries
Institutions: University of Sydney, University of Wollongong, Australian Synchrotron, Australian Nuclear Science and Technology Organisation, University of Wollongong, University of New South Wales.

Li-ion batteries are widely used in portable electronic devices and are considered as promising candidates for higher-energy applications such as electric vehicles.
1,2
However, many challenges, such as energy density and battery lifetimes, need to be overcome before this particular battery technology can be widely implemented in such applications.
3
This research is challenging, and we outline a method to address these challenges using
in situ
NPD to probe the crystal structure of electrodes undergoing electrochemical cycling (charge/discharge) in a battery. NPD data help determine the underlying structural mechanism responsible for a range of electrode properties, and this information can direct the development of better electrodes and batteries. We briefly review six types of battery designs custom-made for NPD experiments and detail the method to construct the 'roll-over' cell that we have successfully used on the high-intensity NPD instrument, WOMBAT, at the Australian Nuclear Science and Technology Organisation (ANSTO). The design considerations and materials used for cell construction are discussed in conjunction with aspects of the actual
in situ
NPD experiment and initial directions are presented on how to analyze such complex
in situ
data.
Physics, Issue 93, In operando, structure-property relationships, electrochemical cycling, electrochemical cells, crystallography, battery performance
52284
A Method for Systematic Electrochemical and Electrophysiological Evaluation of Neural Recording Electrodes
Institutions: La Trobe University, University of Wollongong, ARC Centre of Excellence for Electromaterials Science, RMIT University.
New materials and designs for neural implants are typically tested separately, with a demonstration of performance but without reference to other implant characteristics. This precludes a rational selection of a particular implant as optimal for a particular application and the development of new materials based on the most critical performance parameters. This article develops a protocol for
in vitro
and
in vivo
testing of neural recording electrodes. Recommended parameters for electrochemical and electrophysiological testing are documented with the key steps and potential issues discussed. This method eliminates or reduces the impact of many systematic errors present in simpler
in vivo
testing paradigms, especially variations in electrode/neuron distance and between animal models. The result is a strong correlation between the critical
in vitro
and
in vivo
responses, such as impedance and signal-to-noise ratio. This protocol can easily be adapted to test other electrode materials and designs. The
in vitro
techniques can be expanded to any other nondestructive method to determine further important performance indicators. The principles used for the surgical approach in the auditory pathway can also be modified to other neural regions or tissue.
Neuroscience, Issue 85, Electrochemistry, Electrophysiology, Neural Recording, Neural Implant, Electrode Coating, Bionics
51084
Multi-analyte Biochip (MAB) Based on All-solid-state Ion-selective Electrodes (ASSISE) for Physiological Research
Institutions: Purdue University, NASA Ames Research Center, Pennsylvania State University Hazleton, Cooley LLP, NASA Headquarters.

Lab-on-a-chip (LOC) applications in environmental, biomedical, agricultural, biological, and spaceflight research require an ion-selective electrode (ISE) that can withstand prolonged storage in complex biological media
1-4
. An all-solid-state ion-selective-electrode (ASSISE) is especially attractive for the aforementioned applications. The electrode should have the following favorable characteristics: easy construction, low maintenance, and (potential for) miniaturization, allowing for batch processing. A microfabricated ASSISE intended for quantifying H
+
, Ca
2+
, and CO
3
2-
ions was constructed. It consists of a noble-metal electrode layer (
i.e.
Pt), a transduction layer, and an ion-selective membrane (ISM) layer. The transduction layer functions to transduce the concentration-dependent chemical potential of the ion-selective membrane into a measurable electrical signal. The lifetime of an ASSISE is found to depend on maintaining the potential at the conductive layer/membrane interface
5-7
. To extend the ASSISE working lifetime and thereby maintain stable potentials at the interfacial layers, we utilized the conductive polymer (CP) poly(3,4-ethylenedioxythiophene) (PEDOT)
7-9
in place of silver/silver chloride (Ag/AgCl) as the transducer layer. We constructed the ASSISE in a lab-on-a-chip format, which we called the multi-analyte biochip (MAB) (
Figure 1
). Calibrations in test solutions demonstrated that the MAB can monitor pH (operational range pH 4-9), CO
3
2-
(measured range 0.01 mM - 1 mM), and Ca
2+
(log-linear range 0.01 mM to 1 mM). The MAB for pH provides a near-Nernstian slope response after almost one month storage in algal medium. The carbonate biochips show a potentiometric profile similar to that of a conventional ion-selective electrode. Physiological measurements were employed to monitor biological activity of the model system, the microalga
Chlorella vulgaris
. The MAB conveys an advantage in size, versatility, and multiplexed analyte sensing capability, making it applicable to many confined monitoring situations, on Earth or in space. Biochip Design and Experimental Methods The biochip is 10 x 11 mm in dimension and has 9 ASSISEs designated as working electrodes (WEs) and 5 Ag/AgCl reference electrodes (REs). Each working electrode (WE) is 240 μm in diameter and is equally spaced at 1.4 mm from the REs, which are 480 μm in diameter. These electrodes are connected to electrical contact pads with a dimension of 0.5 mm x 0.5 mm. The schematic is shown in
Figure 2
. Cyclic voltammetry (CV) and galvanostatic deposition methods are used to electropolymerize the PEDOT films using a Bioanalytical Systems Inc. (BASI) C3 cell stand (
Figure 3
). The counter-ion for the PEDOT film is tailored to suit the analyte ion of interest. A PEDOT with poly(styrenesulfonate) counter ion (PEDOT/PSS) is utilized for H
+
and CO
3
2-
, while one with sulphate (added to the solution as CaSO
4
) is utilized for Ca
2+
. The electrochemical properties of the PEDOT-coated WE is analyzed using CVs in redox-active solution (
i.e.
2 mM potassium ferricyanide (K
3
Fe(CN)
6
)). Based on the CV profile, Randles-Sevcik analysis was used to determine the effective surface area
10
. Spin-coating at 1,500 rpm is used to cast ~2 μm thick ion-selective membranes (ISMs) on the MAB working electrodes (WEs). The MAB is contained in a microfluidic flow-cell chamber filled with a 150 μl volume of algal medium; the contact pads are electrically connected to the BASI system (
Figure 4
). The photosynthetic activity of
Chlorella vulgaris
is monitored in ambient light and dark conditions.
Bioengineering, Issue 74, Medicine, Biomedical Engineering, Chemical Engineering, Electrical Engineering, Mechanical Engineering, Chemistry, Biochemistry, Anatomy, Physiology, Miniaturization, Microtechnology, Electrochemical Techniques, electrochemical processes, astrobiology, Analytical, Diagnostic and Therapeutic Techniques and Equipment, Investigative Techniques, Technology, Industry, Agriculture, electrochemical sensor, all-solid-state ion-selective electrode (ASSISE), conductive polymer transducer, poly(3,4-ethylenedioxythiophene) (PEDOT), lab-on-a-chip, Chlorella vulgaris, photosynthesis, microfluidics
50020
Aseptic Laboratory Techniques: Plating Methods
Institutions: University of California, Los Angeles .

Microorganisms are present on all inanimate surfaces creating ubiquitous sources of possible contamination in the laboratory. Experimental success relies on the ability of a scientist to sterilize work surfaces and equipment as well as prevent contact of sterile instruments and solutions with non-sterile surfaces. Here we present the steps for several plating methods routinely used in the laboratory to isolate, propagate, or enumerate microorganisms such as bacteria and phage. All five methods incorporate aseptic technique, or procedures that maintain the sterility of experimental materials. Procedures described include (1) streak-plating bacterial cultures to isolate single colonies, (2) pour-plating and (3) spread-plating to enumerate viable bacterial colonies, (4) soft agar overlays to isolate phage and enumerate plaques, and (5) replica-plating to transfer cells from one plate to another in an identical spatial pattern. These procedures can be performed at the laboratory bench, provided they involve non-pathogenic strains of microorganisms (Biosafety Level 1, BSL-1). If working with BSL-2 organisms, then these manipulations must take place in a biosafety cabinet. Consult the most current edition of the
Biosafety in Microbiological and Biomedical Laboratories
(BMBL) as well as
Material Safety Data Sheets
(MSDS) for Infectious Substances to determine the biohazard classification as well as the safety precautions and containment facilities required for the microorganism in question. Bacterial strains and phage stocks can be obtained from research investigators, companies, and collections maintained by particular organizations such as the
American Type Culture Collection
(ATCC). It is recommended that non-pathogenic strains be used when learning the various plating methods. By following the procedures described in this protocol, students should be able to: ● Perform plating procedures without contaminating media. ● Isolate single bacterial colonies by the streak-plating method. ● Use pour-plating and spread-plating methods to determine the concentration of bacteria. ● Perform soft agar overlays when working with phage. ● Transfer bacterial cells from one plate to another using the replica-plating procedure. ● Given an experimental task, select the appropriate plating method.
Basic Protocols, Issue 63, Streak plates, pour plates, soft agar overlays, spread plates, replica plates, bacteria, colonies, phage, plaques, dilutions
3064
Characterization of Electrode Materials for Lithium Ion and Sodium Ion Batteries Using Synchrotron Radiation Techniques
Institutions: Lawrence Berkeley National Laboratory, University of Illinois at Chicago, Stanford Synchrotron Radiation Lightsource, Haldor Topsøe A/S, PolyPlus Battery Company.

Intercalation compounds such as transition metal oxides or phosphates are the most commonly used electrode materials in Li-ion and Na-ion batteries. During insertion or removal of alkali metal ions, the redox states of transition metals in the compounds change and structural transformations such as phase transitions and/or lattice parameter increases or decreases occur. These behaviors in turn determine important characteristics of the batteries such as the potential profiles, rate capabilities, and cycle lives. The extremely bright and tunable x-rays produced by synchrotron radiation allow rapid acquisition of high-resolution data that provide information about these processes. Transformations in the bulk materials, such as phase transitions, can be directly observed using X-ray diffraction (XRD), while X-ray absorption spectroscopy (XAS) gives information about the local electronic and geometric structures (
e.g.
 changes in redox states and bond lengths).
In situ
experiments carried out on operating cells are particularly useful because they allow direct correlation between the electrochemical and structural properties of the materials. These experiments are time-consuming and can be challenging to design due to the reactivity and air-sensitivity of the alkali metal anodes used in the half-cell configurations, and/or the possibility of signal interference from other cell components and hardware. For these reasons, it is appropriate to carry out
ex situ
experiments (
e.g.
 on electrodes harvested from partially charged or cycled cells) in some cases. Here, we present detailed protocols for the preparation of both
ex situ
and
in situ
samples for experiments involving synchrotron radiation and demonstrate how these experiments are done.
Physics, Issue 81, X-Ray Absorption Spectroscopy, X-Ray Diffraction, inorganic chemistry, electric batteries (applications), energy storage, Electrode materials, Li-ion battery, Na-ion battery, X-ray Absorption Spectroscopy (XAS), in situ X-ray diffraction (XRD)
50594
Bridging the Bio-Electronic Interface with Biofabrication
Institutions: University of Maryland , University of Maryland , University of Maryland .

Advancements in lab-on-a-chip technology promise to revolutionize both research and medicine through lower costs, better sensitivity, portability, and higher throughput. The incorporation of biological components onto biological microelectromechanical systems (bioMEMS) has shown great potential for achieving these goals. Microfabricated electronic chips allow for micrometer-scale features as well as an electrical connection for sensing and actuation. Functional biological components give the system the capacity for specific detection of analytes, enzymatic functions, and whole-cell capabilities. Standard microfabrication processes and bio-analytical techniques have been successfully utilized for decades in the computer and biological industries, respectively. Their combination and interfacing in a lab-on-a-chip environment, however, brings forth new challenges. There is a call for techniques that can build an interface between the electrode and biological component that is mild and is easy to fabricate and pattern. Biofabrication, described here, is one such approach that has shown great promise for its easy-to-assemble incorporation of biological components with versatility in the on-chip functions that are enabled. Biofabrication uses biological materials and biological mechanisms (self-assembly, enzymatic assembly) for bottom-up hierarchical assembly. While our labs have demonstrated these concepts in many formats
1,2,3
, here we demonstrate the assembly process based on electrodeposition followed by multiple applications of signal-based interactions. The assembly process consists of the electrodeposition of biocompatible stimuli-responsive polymer films on electrodes and their subsequent functionalization with biological components such as DNA, enzymes, or live cells
4,5
. Electrodeposition takes advantage of the pH gradient created at the surface of a biased electrode from the electrolysis of water
6,7
,. Chitosan and alginate are stimuli-responsive biological polymers that can be triggered to self-assemble into hydrogel films in response to imposed electrical signals
8
. The thickness of these hydrogels is determined by the extent to which the pH gradient extends from the electrode. This can be modified using varying current densities and deposition times
6,7
. This protocol will describe how chitosan films are deposited and functionalized by covalently attaching biological components to the abundant primary amine groups present on the film through either enzymatic or electrochemical methods
9,10
. Alginate films and their entrapment of live cells will also be addressed
11
. Finally, the utility of biofabrication is demonstrated through examples of signal-based interaction, including chemical-to-electrical, cell-to-cell, and also enzyme-to-cell signal transmission. Both the electrodeposition and functionalization can be performed under near-physiological conditions without the need for reagents and thus spare labile biological components from harsh conditions. Additionally, both chitosan and alginate have long been used for biologically-relevant purposes
12,13
. Overall, biofabrication, a rapid technique that can be simply performed on a benchtop, can be used for creating micron scale patterns of functional biological components on electrodes and can be used for a variety of lab-on-a-chip applications.
Bioengineering, Issue 64, Biomedical Engineering, electrodeposition, biofabrication, chitosan, alginate, lab-on-a-chip, microfluidic, DTRA
4231