In vivo Electroporation of Morpholinos into the Regenerating Adult Zebrafish Tail Fin
Published: 03-29-2012
ABSTRACT
Certain species of urodeles and teleost fish can regenerate their tissues. Zebrafish have become a widely used model to study the spontaneous regeneration of adult tissues, such as the heart1, retina2, spinal cord3, optic nerve4, sensory hair cells5, and fins6. The zebrafish fin is a relatively simple appendage that is easily manipulated to study multiple stages in epimorphic regeneration. Classically, fin regeneration was characterized by three distinct stages: wound healing, blastema formation, and fin outgrowth. After amputating part of the fin, the surrounding epithelium proliferates and migrates over the wound. At 33 °C, this process occurs within six hours post-amputation (hpa, Figure 1B)6,7. Next, underlying cells from different lineages (ex. bone, blood, glia, fibroblast) re-enter the cell cycle to form a proliferative blastema, while the overlying epidermis continues to proliferate (Figure 1D)8. Outgrowth occurs as cells proximal to the blastema re-differentiate into their respective lineages to form new tissue (Figure 1E)8. Depending on the level of the amputation, full regeneration is completed in a week to a month. The expression of a large number of gene families, including wnt, hox, fgf, msx, retinoic acid, shh, notch, bmp, and activin-betaA genes, is up-regulated during specific stages of fin regeneration9-16. However, the roles of these genes and their encoded proteins during regeneration have been difficult to assess, unless a specific inhibitor for the protein exists13, a temperature-sensitive mutant exists or a transgenic animal (either overexpressing the wild-type protein or a dominant-negative protein) was generated7,12. We developed a reverse genetic technique to quickly and easily test the function of any gene during fin regeneration. Morpholino oligonucleotides are widely used to study loss of specific proteins during zebrafish, Xenopus, chick, and mouse development17-19. Morpholinos basepair with a complementary RNA sequence to either block pre-mRNA splicing or mRNA translation. We describe a method to efficiently introduce fluorescein-tagged antisense morpholinos into regenerating zebrafish fins to knockdown expression of the target protein. The morpholino is micro-injected into each blastema of the regenerating zebrafish tail fin and electroporated into the surrounding cells. Fluorescein provides the charge to electroporate the morpholino and to visualize the morpholino in the fin tissue. This protocol permits conditional protein knockdown to examine the role of specific proteins during regenerative fin outgrowth. In the Discussion, we describe how this approach can be adapted to study the role of specific proteins during wound healing or blastema formation, as well as a potential marker of cell migration during blastema formation.
22 Related JoVE Articles!
Organotypic Collagen I Assay: A Malleable Platform to Assess Cell Behaviour in a 3-Dimensional Context
Institutions: University of Glasgow, University of Glasgow.

Cell migration is fundamental to many aspects of biology, including development, wound healing, the cellular responses of the immune system, and metastasis of tumor cells. Migration has been studied on glass coverslips in order to make cellular dynamics amenable to investigation by light microscopy. However, it has become clear that many aspects of cell migration depend on features of the local environment including its elasticity, protein composition, and pore size, which are not faithfully represented by rigid two dimensional substrates such as glass and plastic
1
. Furthermore, interaction with other cell types, including stromal fibroblasts
2
and immune cells
3
, has been shown to play a critical role in promoting the invasion of cancer cells. Investigation at the molecular level has increasingly shown that molecular dynamics, including response to drug treatment, of identical cells are significantly different when compared
in vitro
and
in vivo
4
. Ideally, it would be best to study cell migration in its naturally occurring context in living organisms, however this is not always possible. Intermediate tissue culture systems, such as cell derived matrix, matrigel, organotypic culture (described here) tissue explants, organoids, and xenografts, are therefore important experimental intermediates. These systems approximate certain aspects of an
in vivo
environment but are more amenable to experimental manipulation such as use of stably transfected cell lines, drug treatment regimes, long term and high-resolution imaging. Such intermediate systems are especially useful as proving grounds to validate probes and establish parameters required to image the dynamic response of cells and fluorescent reporters prior to undertaking imaging
in vivo
5
. As such, they can serve an important role in reducing the need for experiments on living animals.
Bioengineering, Issue 56, Organotypic culture, cell migration, invasion, 3-dimensional matrix, Collagen I, second harmonic generation, host-tumor interaction, microenvironment
3089
The Polyvinyl Alcohol Sponge Model Implantation
Institutions: Vanderbilt University School of Medicine, The Department of Veterans Affairs Medical Center, Vanderbilt University School of Medicine.

Wound healing is a complicated, multistep process involving many cell types, growth factors and compounds
1-3
. Because of this complexity, wound healing studies are most comprehensive when carried out in vivo. There are many in vivo models available to study acute wound healing, including incisional, excisional, dead space, and burns. Dead space models are artificial, porous implants which are used to study tissue formation and the effects of substances on the wound. Some of the commonly used dead space models include polyvinyl alcohol (PVA) sponges, steel wire mesh cylinders, expanded polytetrafluoroethylene (ePTFE) material, and the Cellstick
1,2
. Each dead space model has its own limitations based on its material's composition and implantation methods. The steel wire mesh cylinder model has a lag phase of infiltration after implantation and requires a long amount of time before granulation tissue formation begins
1
. Later stages of wound healing are best analyzed using the ePTFE model
1,4
. The Cellstick is a cellulose sponge inside a silicon tube model which is typically used for studying human surgery wounds and wound fluid
2
. The PVA sponge is limited to acute studies because with time it begins to provoke a foreign body response which causes a giant cell reaction in the animal
5
. Unlike other materials, PVA sponges are easy to insert and remove, made of inert and non-biodegradable materials and yet are soft enough to be sectioned for histological analysis
2,5
. In wound healing the PVA sponge is very useful for analyzing granulation tissue formation, collagen deposition, wound fluid composition, and the effects of substances on the healing process
1,2,5
. In addition to its use in studying a wide array of attributes of wound healing, the PVA sponge has also been used in many other types of studies. It has been utilized to investigate tumor angiogenesis, drug delivery and stem cell survival and engraftment
1,2,6,7
. With its great alterability, prior extensive use, and reproducible results, the PVA sponge is an ideal model for many studies
1,2
. Here, we will describe the preparation, implantation and retrieval of PVA sponge disks (
Figure 1
) in a mouse model of wound healing.
Medicine, Issue 62, Polyvinyl alcohol (PVA) sponge, engraftment, stem cells, granulation tissue, vascularization, tumorgenesis, drug delivery, wound model, physiology
3885
Endothelial Cell Co-culture Mediates Maturation of Human Embryonic Stem Cell to Pancreatic Insulin Producing Cells in a Directed Differentiation Approach
Institutions: University of Pittsburgh, University of Pittsburgh.

Embryonic stem cells (ESC) have two main characteristics: they can be indefinitely propagated
in vitro
in an undifferentiated state and they are pluripotent, thus having the potential to differentiate into multiple lineages. Such properties make ESCs extremely attractive for cell based therapy and regenerative treatment applications
1
. However for its full potential to be realized the cells have to be differentiated into mature and functional phenotypes, which is a daunting task. A promising approach in inducing cellular differentiation is to closely mimic the path of organogenesis in the
in vitro
setting. Pancreatic development is known to occur in specific stages
2
, starting with endoderm, which can develop into several organs, including liver and pancreas. Endoderm induction can be achieved by modulation of the nodal pathway through addition of Activin A
3
in combination with several growth factors
4-7
. Definitive endoderm cells then undergo pancreatic commitment by inhibition of sonic hedgehog inhibition, which can be achieved
in vitro
by addition of cyclopamine
8
. Pancreatic maturation is mediated by several parallel events including inhibition of notch signaling; aggregation of pancreatic progenitors into 3-dimentional clusters; induction of vascularization; to name a few. By far the most successful
in vitro
maturation of ESC derived pancreatic progenitor cells have been achieved through inhibition of notch signaling by DAPT supplementation
9
. Although successful, this results in low yield of the mature phenotype with reduced functionality. A less studied area is the effect of endothelial cell signaling in pancreatic maturation, which is increasingly being appreciated as an important contributing factor in in-vivo pancreatic islet maturation
10,11
. The current study explores such effect of endothelial cell signaling in maturation of human ESC derived pancreatic progenitor cells into insulin producing islet-like cells. We report a multi-stage directed differentiation protocol where the human ESCs are first induced towards endoderm by Activin A along with inhibition of PI3K pathway. Pancreatic specification of endoderm cells is achieved by inhibition of sonic hedgehog signaling by Cyclopamine along with retinoid induction by addition of Retinoic Acid. The final stage of maturation is induced by endothelial cell signaling achieved by a co-culture configuration. While several endothelial cells have been tested in the co-culture, herein we present our data with rat heart microvascular endothelial Cells (RHMVEC), primarily for the ease of analysis.
Stem Cell Biology, Issue 61, Human embryonic stem cells, Endothelial cells, Pancreatic differentiation, Co-culture
3759
Electric Field-controlled Directed Migration of Neural Progenitor Cells in 2D and 3D Environments
Institutions: Cardiff University , Shandong University School of Medicine, University of California at Davis.

Endogenous electric fields (EFs) occur naturally
in vivo
and play a critical role during tissue/organ development and regeneration, including that of the central nervous system
1,2
. These endogenous EFs are generated by cellular regulation of ionic transport combined with the electrical resistance of cells and tissues. It has been reported that applied EF treatment can promote functional repair of spinal cord injuries in animals and humans
3,4
. In particular, EF-directed cell migration has been demonstrated in a wide variety of cell types
5,6
, including neural progenitor cells (NPCs)
7,8
. Application of direct current (DC) EFs is not a commonly available technique in most laboratories. We have described detailed protocols for the application of DC EFs to cell and tissue cultures previously
5,11
. Here we present a video demonstration of standard methods based on a calculated field strength to set up 2D and 3D environments for NPCs, and to investigate cellular responses to EF stimulation in both single cell growth conditions in 2D, and the organotypic spinal cord slice in 3D. The spinal cordslice is an ideal recipient tissue for studying NPC
ex vivo
behaviours, post-transplantation, because the cytoarchitectonic tissue organization is well preserved within these cultures
9,10
. Additionally, this
ex vivo
model also allows procedures that are not technically feasible to track cells
in vivo
using time-lapse recording at the single cell level. It is critically essential to evaluate cell behaviours in not only a 2D environment, but also in a 3D organotypic condition which mimicks the
in vivo
environment. This system will allow high-resolution imaging using cover glass-based dishes in tissue or organ culture with 3D tracking of single cell migration
in vitro
and
ex vivo
and can be an intermediate step before moving onto
in vivo
paradigms.
Bioengineering, Issue 60, Electric field, neural progenitor cells, cell migration, spinal cord slice, ex vivo tracking, galvanotaxis, electrotaxis
3453
Fabrication and Operation of an Oxygen Insert for Adherent Cellular Cultures
Institutions: University of Illinois.

Oxygen is a key modulator of many cellular pathways, but current devices permitting
in vitro
oxygen modulation fail to meet the needs of biomedical research. The hypoxic chamber offers a simple system to control oxygenation in standard culture vessels, but lacks precise temporal and spatial control over the oxygen concentration at the cell surface, preventing its application in studying a variety of physiological phenomena. Other systems have improved upon the hypoxic chamber, but require specialized knowledge and equipment for their operation, making them intimidating for the average researcher. A microfabricated insert for multiwell plates has been developed to more effectively control the temporal and spatial oxygen concentration to better model physiological phenomena found
in vivo
. The platform consists of a polydimethylsiloxane insert that nests into a standard multiwell plate and serves as a passive microfluidic gas network with a gas-permeable membrane aimed to modulate oxygen delivery to adherent cells. The device is simple to use and is connected to gas cylinders that provide the pressure to introduce the desired oxygen concentration into the platform. Fabrication involves a combination of standard SU-8 photolithography, replica molding, and defined PDMS spinning on a silicon wafer. The components of the device are bonded after surface treatment using a hand-held plasma system. Validation is accomplished with a planar fluorescent oxygen sensor. Equilibration time is on the order of minutes and a wide variety of oxygen profiles can be attained based on the device design, such as the cyclic profile achieved in this study, and even oxygen gradients to mimic those found
in vivo
. The device can be sterilized for cell culture using common methods without loss of function. The device's applicability to studying the
in vitro
wound healing response will be demonstrated.
Cellular Biology, Issue 35, hypoxia, cell, culture, control, wound, healing, oxygen, microfluidic device, bioengineering
1695
Endothelial Cell Tube Formation Assay for the In Vitro Study of Angiogenesis
Institutions: American University, National Cancer Institute, NIH.
Angiogenesis is a vital process for normal tissue development and wound healing, but is also associated with a variety of pathological conditions. Using this protocol, angiogenesis may be measured
in vitro
in a fast, quantifiable manner. Primary or immortalized endothelial cells are mixed with conditioned media and plated on basement membrane matrix. The endothelial cells form capillary like structures in response to angiogenic signals found in conditioned media. The tube formation occurs quickly with endothelial cells beginning to align themselves within 1 hr and lumen-containing tubules beginning to appear within 2 hr. Tubes can be visualized using a phase contrast inverted microscope, or the cells can be treated with calcein AM prior to the assay and tubes visualized through fluorescence or confocal microscopy. The number of branch sites/nodes, loops/meshes, or number or length of tubes formed can be easily quantified as a measure of
in vitro
angiogenesis. In summary, this assay can be used to identify genes and pathways that are involved in the promotion or inhibition of angiogenesis in a rapid, reproducible, and quantitative manner.
Cancer Biology, Issue 91, Angiogenesis, tube formation, fibroblast, endothelial cell, matrix, 3B-11, basement membrane extract, tubulogenesis
51312
Murine Endoscopy for In Vivo Multimodal Imaging of Carcinogenesis and Assessment of Intestinal Wound Healing and Inflammation
Institutions: University Hospital Münster, University Children's Hospital Münster.

Mouse models are widely used to study pathogenesis of human diseases and to evaluate diagnostic procedures as well as therapeutic interventions preclinically. However, valid assessment of pathological alterations often requires histological analysis, and when performed
ex vivo,
necessitates death of the animal. Therefore in conventional experimental settings, intra-individual follow-up examinations are rarely possible. Thus, development of murine endoscopy in
live
mice enables investigators for the first time to both directly visualize the gastrointestinal mucosa and also repeat the procedure to monitor for alterations. Numerous applications for
in vivo
murine endoscopy exist, including studying intestinal inflammation or wound healing, obtaining mucosal biopsies repeatedly, and to locally administer diagnostic or therapeutic agents using miniature injection catheters. Most recently, molecular imaging has extended diagnostic imaging modalities allowing specific detection of distinct target molecules using specific photoprobes. In conclusion, murine endoscopy has emerged as a novel cutting-edge technology for diagnostic experimental
in vivo
imaging and may significantly impact on preclinical research in various fields.
Medicine, Issue 90, gastroenterology, in vivo imaging, murine endoscopy, diagnostic imaging, carcinogenesis, intestinal wound healing, experimental colitis
51875
Methods for Skin Wounding and Assays for Wound Responses in C. elegans
Institutions: University of California, San Diego.
The
C. elegans
epidermis and cuticle form a simple yet sophisticated skin layer that can repair localized damage resulting from wounding. Studies of wound responses and repair in this model have illuminated our understanding of the cytoskeletal and genomic responses to tissue damage. The two most commonly used methods to wound the
C. elegans
adult skin are pricks with microinjection needles, and local laser irradiation. Needle wounding locally disrupts the cuticle, epidermis, and associated extracellular matrix, and may also damage internal tissues. Laser irradiation results in more localized damage. Wounding triggers a succession of readily assayed responses including elevated epidermal Ca
2+
(seconds-minutes), formation and closure of an actin-containing ring at the wound site (1-2 hr), elevated transcription of antimicrobial peptide genes (2-24 hr), and scar formation. Essentially all wild type adult animals survive wounding, whereas mutants defective in wound repair or other responses show decreased survival. Detailed protocols for needle and laser wounding, and assays for quantitation and visualization of wound responses and repair processes (Ca dynamics, actin dynamics, antimicrobial peptide induction, and survival) are presented.
Cellular Biology, Issue 94, wound healing, epidermis, microinjection, laser, green fluorescent protein (GFP), actin, innate immune response, calcium, antimicrobial peptides (AMPs), survival
51959
High Efficiency Differentiation of Human Pluripotent Stem Cells to Cardiomyocytes and Characterization by Flow Cytometry
Institutions: Medical College of Wisconsin, Stanford University School of Medicine, Medical College of Wisconsin, Hong Kong University, Johns Hopkins University School of Medicine, Medical College of Wisconsin.

There is an urgent need to develop approaches for repairing the damaged heart, discovering new therapeutic drugs that do not have toxic effects on the heart, and improving strategies to accurately model heart disease. The potential of exploiting human induced pluripotent stem cell (hiPSC) technology to generate cardiac muscle "in a dish" for these applications continues to generate high enthusiasm. In recent years, the ability to efficiently generate cardiomyogenic cells from human pluripotent stem cells (hPSCs) has greatly improved, offering us new opportunities to model very early stages of human cardiac development not otherwise accessible. In contrast to many previous methods, the cardiomyocyte differentiation protocol described here does not require cell aggregation or the addition of Activin A or BMP4 and robustly generates cultures of cells that are highly positive for cardiac troponin I and T (TNNI3, TNNT2), iroquois-class homeodomain protein IRX-4 (IRX4), myosin regulatory light chain 2, ventricular/cardiac muscle isoform (MLC2v) and myosin regulatory light chain 2, atrial isoform (MLC2a) by day 10 across all human embryonic stem cell (hESC) and hiPSC lines tested to date. Cells can be passaged and maintained for more than 90 days in culture. The strategy is technically simple to implement and cost-effective. Characterization of cardiomyocytes derived from pluripotent cells often includes the analysis of reference markers, both at the mRNA and protein level. For protein analysis, flow cytometry is a powerful analytical tool for assessing quality of cells in culture and determining subpopulation homogeneity. However, technical variation in sample preparation can significantly affect quality of flow cytometry data. Thus, standardization of staining protocols should facilitate comparisons among various differentiation strategies. Accordingly, optimized staining protocols for the analysis of IRX4, MLC2v, MLC2a, TNNI3, and TNNT2 by flow cytometry are described.
Cellular Biology, Issue 91, human induced pluripotent stem cell, flow cytometry, directed differentiation, cardiomyocyte, IRX4, TNNI3, TNNT2, MCL2v, MLC2a
52010
Induction and Analysis of Epithelial to Mesenchymal Transition
Institutions: R&D Systems, Inc., R&D Systems, Inc..

Epithelial to mesenchymal transition (EMT) is essential for proper morphogenesis during development. Misregulation of this process has been implicated as a key event in fibrosis and the progression of carcinomas to a metastatic state. Understanding the processes that underlie EMT is imperative for the early diagnosis and clinical control of these disease states. Reliable induction of EMT
in vitro
is a useful tool for drug discovery as well as to identify common gene expression signatures for diagnostic purposes. Here we demonstrate a straightforward method for the induction of EMT in a variety of cell types. Methods for the analysis of cells pre- and post-EMT induction by immunocytochemistry are also included. Additionally, we demonstrate the effectiveness of this method through antibody-based array analysis and migration/invasion assays.
Molecular Biology, Issue 78, Cellular Biology, Biochemistry, Biomedical Engineering, Stem Cell Biology, Cancer Biology, Medicine, Bioengineering, Anatomy, Physiology, biology (general), Pathological Conditions, Signs and Symptoms, Wounds and Injuries, Neoplasms, Diagnosis, Therapeutics, Epithelial to mesenchymal transition, EMT, cancer, metastasis, cancer stem cell, cell, assay, immunohistochemistry
50478
Murine Model of Wound Healing
Institutions: The Heart Research Institute, University of Sydney , Royal Prince Alfred Hospital .

Wound healing and repair are the most complex biological processes that occur in human life. After injury, multiple biological pathways become activated. Impaired wound healing, which occurs in diabetic patients for example, can lead to severe unfavorable outcomes such as amputation. There is, therefore, an increasing impetus to develop novel agents that promote wound repair. The testing of these has been limited to large animal models such as swine, which are often impractical. Mice represent the ideal preclinical model, as they are economical and amenable to genetic manipulation, which allows for mechanistic investigation. However, wound healing in a mouse is fundamentally different to that of humans as it primarily occurs via contraction. Our murine model overcomes this by incorporating a splint around the wound. By splinting the wound, the repair process is then dependent on epithelialization, cellular proliferation and angiogenesis, which closely mirror the biological processes of human wound healing. Whilst requiring consistency and care, this murine model does not involve complicated surgical techniques and allows for the robust testing of promising agents that may, for example, promote angiogenesis or inhibit inflammation. Furthermore, each mouse acts as its own control as two wounds are prepared, enabling the application of both the test compound and the vehicle control on the same animal. In conclusion, we demonstrate a practical, easy-to-learn, and robust model of wound healing, which is comparable to that of humans.
Medicine, Issue 75, Anatomy, Physiology, Biomedical Engineering, Surgery, Tissue, Lacerations, Soft Tissue Injuries, Wound Infection, Wounds, Nonpenetrating, Penetrating, Growth Substances, Angiogenesis Modulating Agents, Wounds and Injuries, Wound healing, mouse, angiogenesis, diabetes mellitus, splint, surgical techniques, animal model
50265
Visualizing Neuroblast Cytokinesis During C. elegans Embryogenesis
Institutions: Concordia University.

This protocol describes the use of fluorescence microscopy to image dividing cells within developing
Caenorhabditis elegans
embryos. In particular, this protocol focuses on how to image dividing neuroblasts, which are found underneath the epidermal cells and may be important for epidermal morphogenesis. Tissue formation is crucial for metazoan development and relies on external cues from neighboring tissues.
C. elegans
is an excellent model organism to study tissue morphogenesis
in vivo
due to its transparency and simple organization, making its tissues easy to study via microscopy. Ventral enclosure is the process where the ventral surface of the embryo is covered by a single layer of epithelial cells. This event is thought to be facilitated by the underlying neuroblasts, which provide chemical guidance cues to mediate migration of the overlying epithelial cells. However, the neuroblasts are highly proliferative and also may act as a mechanical substrate for the ventral epidermal cells. Studies using this experimental protocol could uncover the importance of intercellular communication during tissue formation, and could be used to reveal the roles of genes involved in cell division within developing tissues.
Neuroscience, Issue 85, C. elegans, morphogenesis, cytokinesis, neuroblasts, anillin, microscopy, cell division
51188
Electric Cell-substrate Impedance Sensing for the Quantification of Endothelial Proliferation, Barrier Function, and Motility
Institutions: Institute for Cardiovascular Research, VU University Medical Center, Institute for Cardiovascular Research, VU University Medical Center.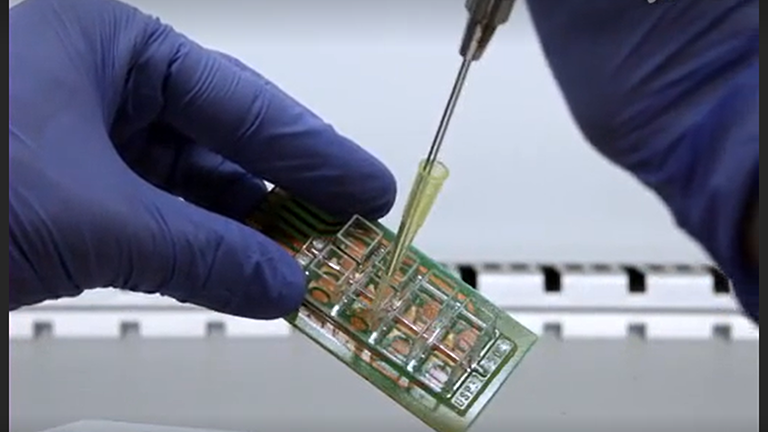 Electric Cell-substrate Impedance Sensing (ECIS) is an
in vitro
impedance measuring system to quantify the behavior of cells within adherent cell layers. To this end, cells are grown in special culture chambers on top of opposing, circular gold electrodes. A constant small alternating current is applied between the electrodes and the potential across is measured. The insulating properties of the cell membrane create a resistance towards the electrical current flow resulting in an increased electrical potential between the electrodes. Measuring cellular impedance in this manner allows the automated study of cell attachment, growth, morphology, function, and motility. Although the ECIS measurement itself is straightforward and easy to learn, the underlying theory is complex and selection of the right settings and correct analysis and interpretation of the data is not self-evident. Yet, a clear protocol describing the individual steps from the experimental design to preparation, realization, and analysis of the experiment is not available. In this article the basic measurement principle as well as possible applications, experimental considerations, advantages and limitations of the ECIS system are discussed. A guide is provided for the study of cell attachment, spreading and proliferation; quantification of cell behavior in a confluent layer, with regard to barrier function, cell motility, quality of cell-cell and cell-substrate adhesions; and quantification of wound healing and cellular responses to vasoactive stimuli. Representative results are discussed based on human microvascular (MVEC) and human umbilical vein endothelial cells (HUVEC), but are applicable to all adherent growing cells.
Bioengineering, Issue 85, ECIS, Impedance Spectroscopy, Resistance, TEER, Endothelial Barrier, Cell Adhesions, Focal Adhesions, Proliferation, Migration, Motility, Wound Healing
51300
Analysis of Cell Migration within a Three-dimensional Collagen Matrix
Institutions: Witten/Herdecke University.

The ability to migrate is a hallmark of various cell types and plays a crucial role in several physiological processes, including embryonic development, wound healing, and immune responses. However, cell migration is also a key mechanism in cancer enabling these cancer cells to detach from the primary tumor to start metastatic spreading. Within the past years various cell migration assays have been developed to analyze the migratory behavior of different cell types. Because the locomotory behavior of cells markedly differs between a two-dimensional (2D) and three-dimensional (3D) environment it can be assumed that the analysis of the migration of cells that are embedded within a 3D environment would yield in more significant cell migration data. The advantage of the described 3D collagen matrix migration assay is that cells are embedded within a physiological 3D network of collagen fibers representing the major component of the extracellular matrix. Due to time-lapse video microscopy real cell migration is measured allowing the determination of several migration parameters as well as their alterations in response to pro-migratory factors or inhibitors. Various cell types could be analyzed using this technique, including lymphocytes/leukocytes, stem cells, and tumor cells. Likewise, also cell clusters or spheroids could be embedded within the collagen matrix concomitant with analysis of the emigration of single cells from the cell cluster/ spheroid into the collagen lattice. We conclude that the 3D collagen matrix migration assay is a versatile method to analyze the migration of cells within a physiological-like 3D environment.
Bioengineering, Issue 92, cell migration, 3D collagen matrix, cell tracking
51963
Microinjection Wound Assay and In vivo Localization of Epidermal Wound Response Reporters in Drosophila Embryos.
Institutions: The City College of New York, University of California, San Diego.

The
Drosophila
embryo develops a robust epidermal layer that serves both to protect the internal cells from a harsh external environment as well as to maintain cellular homeostasis. Puncture injury with glass needles provides a direct method to trigger a rapid epidermal wound response that activates wound transcriptional reporters, which can be visualized by a localized reporter signal in living embryos or larvae. Puncture or laser injury also provides signals that promote the recruitment of hemocytes to the wound site. Surprisingly, severe (through and through) puncture injury in late stage embryos only rarely disrupts normal embryonic development, as greater than 90% of such wounded embryos survive to adulthood when embryos are injected in an oil medium that minimizes immediate leakage of hemolymph from puncture sites. The wound procedure does require micromanipulation of the
Drosophila
embryos, including manual alignment of the embryos on agar plates and transfer of the aligned embryos to microscope slides. The
Drosophila
epidermal wound response assay provides a quick system to test the genetic requirements of a variety of biological functions that promote wound healing, as well as a way to screen for potential chemical compounds that promote wound healing. The short life cycle and easy culturing routine make
Drosophila
a powerful model organism.
Drosophila
clean wound healing appears to coordinate the epidermal regenerative response, with the innate immune response, in ways that are still under investigation, which provides an excellent system to find conserved regulatory mechanisms common to
Drosophila
and mammalian epidermal wounding.
Bioengineering, Issue 81, wound, microinjection, epidermal, localization, Drosophila, green fluorescent protein (GFP), genetic mutations
50750
In vitro Coculture Assay to Assess Pathogen Induced Neutrophil Trans-epithelial Migration
Institutions: Harvard Medical School, MGH for Children, Massachusetts General Hospital.

Mucosal surfaces serve as protective barriers against pathogenic organisms. Innate immune responses are activated upon sensing pathogen leading to the infiltration of tissues with migrating inflammatory cells, primarily neutrophils. This process has the potential to be destructive to tissues if excessive or held in an unresolved state.  Cocultured
in vitro
models can be utilized to study the unique molecular mechanisms involved in pathogen induced neutrophil trans-epithelial migration. This type of model provides versatility in experimental design with opportunity for controlled manipulation of the pathogen, epithelial barrier, or neutrophil. Pathogenic infection of the apical surface of polarized epithelial monolayers grown on permeable transwell filters instigates physiologically relevant basolateral to apical trans-epithelial migration of neutrophils applied to the basolateral surface. The
in vitro
model described herein demonstrates the multiple steps necessary for demonstrating neutrophil migration across a polarized lung epithelial monolayer that has been infected with pathogenic
P. aeruginosa
(PAO1). Seeding and culturing of permeable transwells with human derived lung epithelial cells is described, along with isolation of neutrophils from whole human blood and culturing of PAO1 and nonpathogenic K12
E. coli
(MC1000).  The emigrational process and quantitative analysis of successfully migrated neutrophils that have been mobilized in response to pathogenic infection is shown with representative data, including positive and negative controls. This
in vitro
model system can be manipulated and applied to other mucosal surfaces. Inflammatory responses that involve excessive neutrophil infiltration can be destructive to host tissues and can occur in the absence of pathogenic infections. A better understanding of the molecular mechanisms that promote neutrophil trans-epithelial migration through experimental manipulation of the
in vitro
coculture assay system described herein has significant potential to identify novel therapeutic targets for a range of mucosal infectious as well as inflammatory diseases.
Infection, Issue 83, Cellular Biology, Epithelium, Neutrophils, Pseudomonas aeruginosa, Respiratory Tract Diseases, Neutrophils, epithelial barriers, pathogens, transmigration
50823
Utilizing Custom-designed Galvanotaxis Chambers to Study Directional Migration of Prostate Cells
Institutions: University of California, Davis.

The physiological electric field serves specific biological functions, such as directing cell migration in embryo development, neuronal outgrowth and epithelial wound healing. Applying a direct current electric field to cultured cells
in vitro
induces directional cell migration, or galvanotaxis. The 2-dimensional galvanotaxis method we demonstrate here is modified with custom-made poly(vinyl chloride) (PVC) chambers, glass surface, platinum electrodes and the use of a motorized stage on which the cells are imaged. The PVC chambers and platinum electrodes exhibit low cytotoxicity and are affordable and re-useable. The glass surface and the motorized microscope stage improve quality of images and allow possible modifications to the glass surface and treatments to the cells. We filmed the galvanotaxis of two non-tumorigenic, SV40-immortalized prostate cell lines, pRNS-1-1 and PNT2. These two cell lines show similar migration speeds and both migrate toward the cathode, but they do show a different degree of directionality in galvanotaxis. The results obtained via this protocol suggest that the pRNS-1-1 and the PNT2 cell lines may have different intrinsic features that govern their directional migratory responses.
Cellular Biology, Issue 94, Cell biology, Prostate cells, cell migration, electric field, galvanotaxis, time-lapse imaging
51973
Engineering a Bilayered Hydrogel to Control ASC Differentiation
Institutions: United States Army Institute of Surgical Research, The University of Texas at Austin.

Natural polymers over the years have gained more importance because of their host biocompatibility and ability to interact with cells
in vitro
and
in vivo.
An area of research that holds promise in regenerative medicine is the combinatorial use of novel biomaterials and stem cells. A fundamental strategy in the field of tissue engineering is the use of three-dimensional scaffold (e.g., decellularized extracellular matrix, hydrogels, micro/nano particles) for directing cell function. This technology has evolved from the discovery that cells need a substrate upon which they can adhere, proliferate, and express their differentiated cellular phenotype and function
2-3
. More recently, it has also been determined that cells not only use these substrates for adherence, but also interact and take cues from the matrix substrate (e.g., extracellular matrix, ECM)
4
. Therefore, the cells and scaffolds have a reciprocal connection that serves to control tissue development, organization, and ultimate function. Adipose-derived stem cells (ASCs) are mesenchymal, non-hematopoetic stem cells present in adipose tissue that can exhibit multi-lineage differentiation and serve as a readily available source of cells (i.e. pre-vascular endothelia and pericytes). Our hypothesis is that adipose-derived stem cells can be directed toward differing phenotypes simultaneously by simply co-culturing them in bilayered matrices
1
. Our laboratory is focused on dermal wound healing. To this end, we created a single composite matrix from the natural biomaterials, fibrin, collagen, and chitosan that can mimic the characteristics and functions of a dermal-specific wound healing ECM environment.
Bioengineering, Issue 63, Biomedical Engineering, Tissue Engineering, chitosan, microspheres, collagen, hydrogel, PEG fibrin, cell delivery, adipose-derived stem cells, ASC, CSM
3953
Modeling Astrocytoma Pathogenesis In Vitro and In Vivo Using Cortical Astrocytes or Neural Stem Cells from Conditional, Genetically Engineered Mice
Institutions: University of North Carolina School of Medicine, University of North Carolina School of Medicine, University of North Carolina School of Medicine, University of North Carolina School of Medicine, University of North Carolina School of Medicine, Emory University School of Medicine, University of North Carolina School of Medicine.

Current astrocytoma models are limited in their ability to define the roles of oncogenic mutations in specific brain cell types during disease pathogenesis and their utility for preclinical drug development. In order to design a better model system for these applications, phenotypically wild-type cortical astrocytes and neural stem cells (NSC) from conditional, genetically engineered mice (GEM) that harbor various combinations of floxed oncogenic alleles were harvested and grown in culture. Genetic recombination was induced
in vitro
using adenoviral Cre-mediated recombination, resulting in expression of mutated oncogenes and deletion of tumor suppressor genes. The phenotypic consequences of these mutations were defined by measuring proliferation, transformation, and drug response
in vitro
. Orthotopic allograft models, whereby transformed cells are stereotactically injected into the brains of immune-competent, syngeneic littermates, were developed to define the role of oncogenic mutations and cell type on tumorigenesis
in vivo
. Unlike most established human glioblastoma cell line xenografts, injection of transformed GEM-derived cortical astrocytes into the brains of immune-competent littermates produced astrocytomas, including the most aggressive subtype, glioblastoma, that recapitulated the histopathological hallmarks of human astrocytomas, including diffuse invasion of normal brain parenchyma. Bioluminescence imaging of orthotopic allografts from transformed astrocytes engineered to express luciferase was utilized to monitor
in vivo
tumor growth over time. Thus, astrocytoma models using astrocytes and NSC harvested from GEM with conditional oncogenic alleles provide an integrated system to study the genetics and cell biology of astrocytoma pathogenesis
in vitro
and
in vivo
and may be useful in preclinical drug development for these devastating diseases.
Neuroscience, Issue 90, astrocytoma, cortical astrocytes, genetically engineered mice, glioblastoma, neural stem cells, orthotopic allograft
51763
Setting-up an In Vitro Model of Rat Blood-brain Barrier (BBB): A Focus on BBB Impermeability and Receptor-mediated Transport
Institutions: VECT-HORUS SAS, CNRS, NICN UMR 7259.

The blood brain barrier (BBB) specifically regulates molecular and cellular flux between the blood and the nervous tissue. Our aim was to develop and characterize a highly reproducible rat syngeneic
in vitro
model of the BBB using co-cultures of primary rat brain endothelial cells (RBEC) and astrocytes to study receptors involved in transcytosis across the endothelial cell monolayer. Astrocytes were isolated by mechanical dissection following trypsin digestion and were frozen for later co-culture. RBEC were isolated from 5-week-old rat cortices. The brains were cleaned of meninges and white matter, and mechanically dissociated following enzymatic digestion. Thereafter, the tissue homogenate was centrifuged in bovine serum albumin to separate vessel fragments from nervous tissue. The vessel fragments underwent a second enzymatic digestion to free endothelial cells from their extracellular matrix. The remaining contaminating cells such as pericytes were further eliminated by plating the microvessel fragments in puromycin-containing medium. They were then passaged onto filters for co-culture with astrocytes grown on the bottom of the wells. RBEC expressed high levels of tight junction (TJ) proteins such as occludin, claudin-5 and ZO-1 with a typical localization at the cell borders. The transendothelial electrical resistance (TEER) of brain endothelial monolayers, indicating the tightness of TJs reached 300 ohm·cm
2
on average. The endothelial permeability coefficients (Pe) for lucifer yellow (LY) was highly reproducible with an average of 0.26 ± 0.11 x 10
-3
cm/min. Brain endothelial cells organized in monolayers expressed the efflux transporter P-glycoprotein (P-gp), showed a polarized transport of rhodamine 123, a ligand for P-gp, and showed specific transport of transferrin-Cy3 and DiILDL across the endothelial cell monolayer. In conclusion, we provide a protocol for setting up an
in vitro
BBB model that is highly reproducible due to the quality assurance methods, and that is suitable for research on BBB transporters and receptors.
Medicine, Issue 88, rat brain endothelial cells (RBEC), mouse, spinal cord, tight junction (TJ), receptor-mediated transport (RMT), low density lipoprotein (LDL), LDLR, transferrin, TfR, P-glycoprotein (P-gp), transendothelial electrical resistance (TEER),
51278
Optimized Fibrin Gel Bead Assay for the Study of Angiogenesis
Institutions: University of California, Irvine (UCI).

Angiogenesis is a complex multi-step process, where, in response to angiogenic stimuli, new vessels are created from the existing vasculature. These steps include: degradation of the basement membrane, proliferation and migration (sprouting) of endothelial cells (EC) into the extracellular matrix, alignment of EC into cords, branching, lumen formation, anastomosis, and formation of a new basement membrane. Many in vitro assays have been developed to study this process, but most only mimic certain stages of angiogenesis, and morphologically the vessels within the assays often do not resemble vessels in vivo. Based on earlier work by Nehls and Drenckhahn, we have optimized an in vitro angiogenesis assay that utilizes human umbilical vein EC and fibroblasts. This model recapitulates all of the key early stages of angiogenesis and, importantly, the vessels display patent intercellular lumens surrounded by polarized EC. EC are coated onto cytodex microcarriers and embedded into a fibrin gel. Fibroblasts are layered on top of the gel where they provide necessary soluble factors that promote EC sprouting from the surface of the beads. After several days, numerous vessels are present that can easily be observed under phase-contrast and time-lapse microscopy. This video demonstrates the key steps in setting up these cultures.
Cellular Biology, Issue 3, angiogenesis, fibrin, endothelial, in vitro, fibroblasts
186
Reaggregate Thymus Cultures
Institutions: University of Birmingham .
Stromal cells within lymphoid tissues are organized into three-dimensional structures that provide a scaffold that is thought to control the migration and development of haemopoeitic cells. Importantly, the maintenance of this three-dimensional organization appears to be critical for normal stromal cell function, with two-dimensional monolayer cultures often being shown to be capable of supporting only individual fragments of lymphoid tissue function. In the thymus, complex networks of cortical and medullary epithelial cells act as a framework that controls the recruitment, proliferation, differentiation and survival of lymphoid progenitors as they undergo the multi-stage process of intrathymic T-cell development. Understanding the functional role of individual stromal compartments in the thymus is essential in determining how the thymus imposes self/non-self discrimination. Here we describe a technique in which we exploit the plasticity of fetal tissues to re-associate into intact three-dimensional structures
in vitro
, following their enzymatic disaggregation. The dissociation of fetal thymus lobes into heterogeneous cellular mixtures, followed by their separation into individual cellular components, is then combined with the
in vitro
re-association of these desired cell types into three-dimensional reaggregate structures at defined ratios, thereby providing an opportunity to investigate particular aspects of T-cell development under defined cellular conditions. (This article is based on work first reported Methods in Molecular Biology 2007, Vol. 380 pages 185-196).
Immunology, Issue 18, Springer Protocols, Thymus, 2-dGuo, Thymus Organ Cultures, Immune Tolerance, Positive and Negative Selection, Lymphoid Development
905