ABSTRACT
The increasing number of applications of three-dimensional (3D) tumor spheroids as an in vitro model for drug discovery requires their adaptation to large-scale screening formats in every step of a drug screen, including large-scale image analysis. Currently there is no ready-to-use and free image analysis software to meet this large-scale format. Most existing methods involve manually drawing the length and width of the imaged 3D spheroids, which is a tedious and time-consuming process. This study presents a high-throughput image analysis software application – SpheroidSizer, which measures the major and minor axial length of the imaged 3D tumor spheroids automatically and accurately; calculates the volume of each individual 3D tumor spheroid; then outputs the results in two different forms in spreadsheets for easy manipulations in the subsequent data analysis. The main advantage of this software is its powerful image analysis application that is adapted for large numbers of images. It provides high-throughput computation and quality-control workflow. The estimated time to process 1,000 images is about 15 min on a minimally configured laptop, or around 1 min on a multi-core performance workstation. The graphical user interface (GUI) is also designed for easy quality control, and users can manually override the computer results. The key method used in this software is adapted from the active contour algorithm, also known as Snakes, which is especially suitable for images with uneven illumination and noisy background that often plagues automated imaging processing in high-throughput screens. The complimentary "Manual Initialize" and "Hand Draw" tools provide the flexibility to SpheroidSizer in dealing with various types of spheroids and diverse quality images. This high-throughput image analysis software remarkably reduces labor and speeds up the analysis process. Implementing this software is beneficial for 3D tumor spheroids to become a routine in vitro model for drug screens in industry and academia.
24 Related JoVE Articles!
Echo Particle Image Velocimetry
Institutions: University of New Hampshire.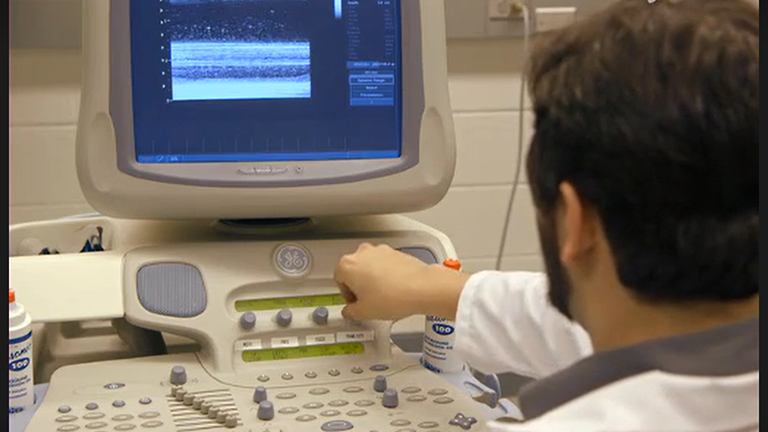 The transport of mass, momentum, and energy in fluid flows is ultimately determined by spatiotemporal distributions of the fluid velocity field.
1
Consequently, a prerequisite for understanding, predicting, and controlling fluid flows is the capability to measure the velocity field with adequate spatial and temporal resolution.
2
For velocity measurements in optically opaque fluids or through optically opaque geometries, echo particle image velocimetry (EPIV) is an attractive diagnostic technique to generate "instantaneous" two-dimensional fields of velocity.
3,4,5,6
In this paper, the operating protocol for an EPIV system built by integrating a commercial medical ultrasound machine
7
with a PC running commercial particle image velocimetry (PIV) software
8
is described, and validation measurements in Hagen-Poiseuille (
i.e.
, laminar pipe) flow are reported. For the EPIV measurements, a phased array probe connected to the medical ultrasound machine is used to generate a two-dimensional ultrasound image by pulsing the piezoelectric probe elements at different times. Each probe element transmits an ultrasound pulse into the fluid, and tracer particles in the fluid (either naturally occurring or seeded) reflect ultrasound echoes back to the probe where they are recorded. The amplitude of the reflected ultrasound waves and their time delay relative to transmission are used to create what is known as B-mode (brightness mode) two-dimensional ultrasound images. Specifically, the time delay is used to determine the position of the scatterer in the fluid and the amplitude is used to assign intensity to the scatterer. The time required to obtain a single B-mode image,
t
, is determined by the time it take to pulse all the elements of the phased array probe. For acquiring multiple B-mode images, the frame rate of the system in frames per second
(fps) = 1/δt
. (See 9 for a review of ultrasound imaging.) For a typical EPIV experiment, the frame rate is between 20-60 fps, depending on flow conditions, and 100-1000 B-mode images of the spatial distribution of the tracer particles in the flow are acquired. Once acquired, the B-mode ultrasound images are transmitted via an ethernet connection to the PC running the PIV commercial software. Using the PIV software, tracer particle displacement fields,
D(x,y)
[pixels], (where x and y denote horizontal and vertical spatial position in the ultrasound image, respectively) are acquired by applying cross correlation algorithms to successive ultrasound B-mode images.
10
The velocity fields,
u(x,y)
[m/s], are determined from the displacements fields, knowing the time step between image pairs,
ΔT
[s], and the image magnification,
M
[meter/pixel],
i.e.
,
u(x,y)
=
MD(x,y)/ΔT
. The time step between images
ΔT
=
1/fps + D(x,y)/B
, where
B
[pixels/s] is the time it takes for the ultrasound probe to sweep across the image width. In the present study, M = 77[μm/pixel],
fps
= 49.5[1/s], and
B
= 25,047[pixels/s]. Once acquired, the velocity fields can be analyzed to compute flow quantities of interest.
Mechanical Engineering, Issue 70, Physics, Engineering, Physical Sciences, Ultrasound, cross correlation, velocimetry, opaque fluids, particle, flow, fluid, EPIV
4265
Computer-assisted Large-scale Visualization and Quantification of Pancreatic Islet Mass, Size Distribution and Architecture
Institutions: University of Chicago, National Institutes of Health, University of Chicago, University of Massachusetts.

The pancreatic islet is a unique micro-organ composed of several hormone secreting endocrine cells such as beta-cells (insulin), alpha-cells (glucagon), and delta-cells (somatostatin) that are embedded in the exocrine tissues and comprise 1-2% of the entire pancreas. There is a close correlation between body and pancreas weight. Total beta-cell mass also increases proportionately to compensate for the demand for insulin in the body. What escapes this proportionate expansion is the size distribution of islets. Large animals such as humans share similar islet size distributions with mice, suggesting that this micro-organ has a certain size limit to be functional. The inability of large animal pancreata to generate proportionately larger islets is compensated for by an increase in the number of islets and by an increase in the proportion of larger islets in their overall islet size distribution. Furthermore, islets exhibit a striking plasticity in cellular composition and architecture among different species and also within the same species under various pathophysiological conditions. In the present study, we describe novel approaches for the analysis of biological image data in order to facilitate the automation of analytic processes, which allow for the analysis of large and heterogeneous data collections in the study of such dynamic biological processes and complex structures. Such studies have been hampered due to technical difficulties of unbiased sampling and generating large-scale data sets to precisely capture the complexity of biological processes of islet biology. Here we show methods to collect unbiased "representative" data within the limited availability of samples (or to minimize the sample collection) and the standard experimental settings, and to precisely analyze the complex three-dimensional structure of the islet. Computer-assisted automation allows for the collection and analysis of large-scale data sets and also assures unbiased interpretation of the data. Furthermore, the precise quantification of islet size distribution and spatial coordinates (i.e. X, Y, Z-positions) not only leads to an accurate visualization of pancreatic islet structure and composition, but also allows us to identify patterns during development and adaptation to altering conditions through mathematical modeling. The methods developed in this study are applicable to studies of many other systems and organisms as well.
Cellular Biology, Issue 49, beta-cells, islets, large-scale analysis, pancreas
2471
Investigating Outer Hair Cell Motility with a Combination of External Alternating Electrical Field Stimulation and High-speed Image Analysis
Institutions: House Ear Institute.

OHCs are cylindrical sensorimotor cells located in the Organ of Corti, the auditory organ inside the mammalian inner ear. The name "hair cells" derives from their characteristic apical bundle of stereocilia, a critical element for detection and transduction of sound energy
1
. OHCs are able to change shape —elongate, shorten and bend— in response to electrical, mechanical and chemical stimulation, a motor response considered crucial for cochlear amplification of acoustic signals
2
. OHC stimulation induces two different motile responses: i) electromotility, a.k.a fast motility, changes in length in the microsecond range derived from electrically-driven conformational changes in motor proteins densely packed in OHC plasma membrane, and ii) slow motility, shape changes in the millisecond to seconds range involving cytoskeletal reorganization
2, 3
. OHC bending is associated with electromotility, and result either from an asymmetric distribution of motor proteins in the lateral plasma membrane, or asymmetric electrical stimulation of those motor proteins (e.g., with an electrical field perpendicular to the long axis of the cells)
4
. Mechanical and chemical stimuli induce essentially slow motile responses, even though changes in the ionic conditions of the cells and/or their environment can also stimulate the plasma membrane-embedded motor proteins
5, 6
. Since OHC motile responses are an essential component of the cochlear amplifier, the qualitative and quantitative analysis of these motile responses at acoustic frequencies (roughly from 20 Hz to 20 kHz in humans) is a very important matter in the field of hearing research
7
. The development of new imaging technology combining high-speed videocameras, LED-based illumination systems, and sophisticated image analysis software now provides the ability to perform reliable qualitative and quantitative studies of the motile response of isolated OHCs to an external alternating electrical field (EAEF)
8
. This is a simple and non-invasive technique that circumvents most of the limitations of previous approaches
9-11
. Moreover, the LED-based illumination system provides extreme brightness with insignificant thermal effects on the samples and, because of the use of video microscopy, optical resolution is at least 10-fold higher than with conventional light microscopy techniques
12
. For instance, with the experimental setup described here, changes in cell length of about 20 nm can be routinely and reliably detected at frequencies of 10 kHz, and this resolution can be further improved at lower frequencies. We are confident that this experimental approach will help to extend our understanding of the cellular and molecular mechanisms underlying OHC motility.
Neuroscience, Issue 53, Outer Hair Cell, Electromotility, Slow Motility, External Alternating Electrical Field, High-speed Imaging Analysis, Cochlea
2965
Stretching Short Sequences of DNA with Constant Force Axial Optical Tweezers
Institutions: University of Michigan , University of Michigan .
Single-molecule techniques for stretching DNA of contour lengths less than a kilobase are fraught with experimental difficulties. However, many interesting biological events such as histone binding and protein-mediated looping of DNA
1,2
, occur on this length scale. In recent years, the mechanical properties of DNA have been shown to play a significant role in fundamental cellular processes like the packaging of DNA into compact nucleosomes and chromatin fibers
3,4
. Clearly, it is then important to understand the mechanical properties of short stretches of DNA. In this paper, we provide a practical guide to a single-molecule optical tweezing technique that we have developed to study the mechanical behavior of DNA with contour lengths as short as a few hundred basepairs. The major hurdle in stretching short segments of DNA is that conventional optical tweezers are generally designed to apply force in a direction lateral to the stage
5,6,
(see Fig. 1). In this geometry, the angle between the bead and the coverslip, to which the DNA is tethered, becomes very steep for submicron length DNA. The axial position must now be accounted for, which can be a challenge, and, since the extension drags the microsphere closer to the coverslip, steric effects are enhanced. Furthermore, as a result of the asymmetry of the microspheres, lateral extensions will generate varying levels of torque due to rotation of the microsphere within the optical trap since the direction of the reactive force changes during the extension. Alternate methods for stretching submicron DNA run up against their own unique hurdles. For instance, a dual-beam optical trap is limited to stretching DNA of around a wavelength, at which point interference effects between the two traps and from light scattering between the microspheres begin to pose a significant problem. Replacing one of the traps with a micropipette would most likely suffer from similar challenges. While one could directly use the axial potential to stretch the DNA, an active feedback scheme would be needed to apply a constant force and the bandwidth of this will be quite limited, especially at low forces. We circumvent these fundamental problems by directly pulling the DNA away from the coverslip by using a constant force axial optical tweezers
7,8
. This is achieved by trapping the bead in a linear region of the optical potential, where the optical force is constant-the strength of which can be tuned by adjusting the laser power. Trapping within the linear region also serves as an all optical force-clamp on the DNA that extends for nearly 350 nm in the axial direction. We simultaneously compensate for thermal and mechanical drift by finely adjusting the position of the stage so that a reference microsphere stuck to the coverslip remains at the same position and focus, allowing for a virtually limitless observation period.
Bioengineering, Issue 56, Genetics, DNA stretching, DNA, Axial Optical Tweezers, Single-Molecule Biophysics, Biophysics
3405
Changing the Direction and Orientation of Electric Field During Electric Pulses Application Improves Plasmid Gene Transfer in vitro
Institutions: University of Ljubljana, University of Ljubljana.

Gene electrotransfer is a physical method used to deliver genes into the cells by application of short and intense electric pulses, which cause destabilization of cell membrane, making it permeable to small molecules and allows transfer of large molecules such as DNA. It represents an alternative to viral vectors, due to its safety, efficacy and ease of application. For gene electrotransfer different electric pulse protocols are used in order to achieve maximum gene transfection, one of them is changing the electric field direction and orientation during the pulse delivery. Changing electric field direction and orientation increase the membrane area competent for DNA entry into the cell. In this video, we demonstrate the difference in gene electrotransfer efficacy when all pulses are delivered in the same direction and when pulses are delivered by changing alternatively the electric field direction and orientation. For this purpose tip with integrated electrodes and high-voltage prototype generator, which allows changing of electric field in different directions during electric pulse application, were used. Gene electrotransfer efficacy is determined 24h after pulse application as the number of cells expressing green fluorescent protein divided with the number of all cells. The results show that gene transfection is increased when the electric field orientation during electric pulse delivery is changed.
Medicine, Issue 55, gene electrotransfer, GFP, changing the orientation of electric field, plasmid, gene, transfection
3309
Investigating the Effects of Antipsychotics and Schizotypy on the N400 Using Event-Related Potentials and Semantic Categorization
Institutions: McGill University, McGill University, McGill University, McGill University.

Within the field of cognitive neuroscience, functional magnetic resonance imaging (fMRI) is a popular method of visualizing brain function. This is in part because of its excellent spatial resolution, which allows researchers to identify brain areas associated with specific cognitive processes. However, in the quest to localize brain functions, it is relevant to note that many cognitive, sensory, and motor processes have temporal distinctions that are imperative to capture, an aspect that is left unfulfilled by fMRI's suboptimal temporal resolution. To better understand cognitive processes, it is thus advantageous to utilize event-related potential (ERP) recording as a method of gathering information about the brain. Some of its advantages include its fantastic temporal resolution, which gives researchers the ability to follow the activity of the brain down to the millisecond. It also directly indexes both excitatory and inhibitory post-synaptic potentials by which most brain computations are performed. This sits in contrast to fMRI, which captures an index of metabolic activity. Further, the non-invasive ERP method does not require a contrast condition: raw ERPs can be examined for just one experimental condition, a distinction from fMRI where control conditions must be subtracted from the experimental condition, leading to uncertainty in associating observations with experimental or contrast conditions. While it is limited by its poor spatial and subcortical activity resolution, ERP recordings' utility, relative cost-effectiveness, and associated advantages offer strong rationale for its use in cognitive neuroscience to track rapid temporal changes in neural activity. In an effort to foster increase in its use as a research imaging method, and to ensure proper and accurate data collection, the present article will outline – in the framework of a paradigm using semantic categorization to examine the effects of antipsychotics and schizotypy on the N400 – the procedure and key aspects associated with ERP data acquisition.
Behavior, Issue 93, Electrical brain activity, Semantic categorization, Event-related brain potentials, Neuroscience, Cognition, Psychiatry, Antipsychotic medication, N400, Schizotypy, Schizophrenia.
52082
Measuring Neural and Behavioral Activity During Ongoing Computerized Social Interactions: An Examination of Event-Related Brain Potentials
Institutions: Illinois Wesleyan University.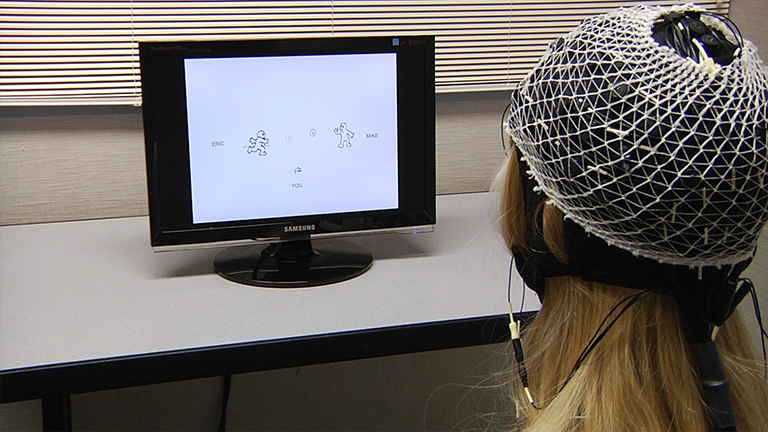 Social exclusion is a complex social phenomenon with powerful negative consequences. Given the impact of social exclusion on mental and emotional health, an understanding of how perceptions of social exclusion develop over the course of a social interaction is important for advancing treatments aimed at lessening the harmful costs of being excluded. To date, most scientific examinations of social exclusion have looked at exclusion after a social interaction has been completed. While this has been very helpful in developing an understanding of what happens to a person following exclusion, it has not helped to clarify the moment-to-moment dynamics of the process of social exclusion. Accordingly, the current protocol was developed to obtain an improved understanding of social exclusion by examining the patterns of event-related brain activation that are present during social interactions. This protocol allows greater precision and sensitivity in detailing the social processes that lead people to feel as though they have been excluded from a social interaction. Importantly, the current protocol can be adapted to include research projects that vary the nature of exclusionary social interactions by altering how frequently participants are included, how long the periods of exclusion will last in each interaction, and when exclusion will take place during the social interactions. Further, the current protocol can be used to examine variables and constructs beyond those related to social exclusion. This capability to address a variety of applications across psychology by obtaining both neural and behavioral data during ongoing social interactions suggests the present protocol could be at the core of a developing area of scientific inquiry related to social interactions.
Behavior, Issue 93, Event-related brain potentials (ERPs), Social Exclusion, Neuroscience, N2, P3, Cognitive Control
52060
Quantitative Assessment of Cortical Auditory-tactile Processing in Children with Disabilities
Institutions: Vanderbilt University, Vanderbilt University, Vanderbilt University.

Objective and easy measurement of sensory processing is extremely difficult in nonverbal or vulnerable pediatric patients. We developed a new methodology to quantitatively assess children's cortical processing of light touch, speech sounds and the multisensory processing of the 2 stimuli, without requiring active subject participation or causing children discomfort. To accomplish this we developed a dual channel, time and strength calibrated air puff stimulator that allows both tactile stimulation and sham control. We combined this with the use of event-related potential methodology to allow for high temporal resolution of signals from the primary and secondary somatosensory cortices as well as higher order processing. This methodology also allowed us to measure a multisensory response to auditory-tactile stimulation.
Behavior, Issue 83, somatosensory, event related potential, auditory-tactile, multisensory, cortical response, child
51054
Combining Computer Game-Based Behavioural Experiments With High-Density EEG and Infrared Gaze Tracking
Institutions: Cornell University, University of Chicago, Manesar, India.

Experimental paradigms are valuable insofar as the timing and other parameters of their stimuli are well specified and controlled, and insofar as they yield data relevant to the cognitive processing that occurs under ecologically valid conditions. These two goals often are at odds, since well controlled stimuli often are too repetitive to sustain subjects' motivation. Studies employing electroencephalography (EEG) are often especially sensitive to this dilemma between ecological validity and experimental control: attaining sufficient signal-to-noise in physiological averages demands large numbers of repeated trials within lengthy recording sessions, limiting the subject pool to individuals with the ability and patience to perform a set task over and over again. This constraint severely limits researchers' ability to investigate younger populations as well as clinical populations associated with heightened anxiety or attentional abnormalities. Even adult, non-clinical subjects may not be able to achieve their typical levels of performance or cognitive engagement: an unmotivated subject for whom an experimental task is little more than a chore is not the same, behaviourally, cognitively, or neurally, as a subject who is intrinsically motivated and engaged with the task. A growing body of literature demonstrates that embedding experiments within video games may provide a way between the horns of this dilemma between experimental control and ecological validity. The narrative of a game provides a more realistic context in which tasks occur, enhancing their ecological validity (Chaytor & Schmitter-Edgecombe, 2003). Moreover, this context provides motivation to complete tasks. In our game, subjects perform various missions to collect resources, fend off pirates, intercept communications or facilitate diplomatic relations. In so doing, they also perform an array of cognitive tasks, including a Posner attention-shifting paradigm (Posner, 1980), a go/no-go test of motor inhibition, a psychophysical motion coherence threshold task, the Embedded Figures Test (Witkin, 1950, 1954) and a theory-of-mind (Wimmer & Perner, 1983) task. The game software automatically registers game stimuli and subjects' actions and responses in a log file, and sends event codes to synchronise with physiological data recorders. Thus the game can be combined with physiological measures such as EEG or fMRI, and with moment-to-moment tracking of gaze. Gaze tracking can verify subjects' compliance with behavioural tasks (e.g. fixation) and overt attention to experimental stimuli, and also physiological arousal as reflected in pupil dilation (Bradley
et al.
, 2008). At great enough sampling frequencies, gaze tracking may also help assess covert attention as reflected in microsaccades - eye movements that are too small to foveate a new object, but are as rapid in onset and have the same relationship between angular distance and peak velocity as do saccades that traverse greater distances. The distribution of directions of microsaccades correlates with the (otherwise) covert direction of attention (Hafed & Clark, 2002).
Neuroscience, Issue 46, High-density EEG, ERP, ICA, gaze tracking, computer game, ecological validity
2320
A Neuroscientific Approach to the Examination of Concussions in Student-Athletes
Institutions: Elon University, Elon University, Duquesne University, Elon University.

Concussions are occurring at alarming rates in the United States and have become a serious public health concern. The CDC estimates that 1.6 to 3.8 million concussions occur in sports and recreational activities annually. Concussion as defined by the 2013 Concussion Consensus Statement "may be caused either by a direct blow to the head, face, neck or elsewhere on the body with an 'impulsive' force transmitted to the head." Concussions leave the individual with both short- and long-term effects. The short-term effects of sport related concussions may include changes in playing ability, confusion, memory disturbance, the loss of consciousness, slowing of reaction time, loss of coordination, headaches, dizziness, vomiting, changes in sleep patterns and mood changes. These symptoms typically resolve in a matter of days. However, while some individuals recover from a single concussion rather quickly, many experience lingering effects that can last for weeks or months. The factors related to concussion susceptibility and the subsequent recovery times are not well known or understood at this time. Several factors have been suggested and they include the individual's concussion history, the severity of the initial injury, history of migraines, history of learning disabilities, history of psychiatric comorbidities, and possibly, genetic factors. Many studies have individually investigated certain factors both the short-term and long-term effects of concussions, recovery time course, susceptibility and recovery. What has not been clearly established is an effective multifaceted approach to concussion evaluation that would yield valuable information related to the etiology, functional changes, and recovery. The purpose of this manuscript is to show one such multifaceted approached which examines concussions using computerized neurocognitive testing, event related potentials, somatosensory perceptual responses, balance assessment, gait assessment and genetic testing.
Medicine, Issue 94, Concussions, Student-Athletes, Mild Traumatic Brain Injury, Genetics, Cognitive Function, Balance, Gait, Somatosensory
52046
Analysis of DNA Double-strand Break (DSB) Repair in Mammalian Cells
Institutions: University of Rochester.

DNA double-strand breaks are the most dangerous DNA lesions that may lead to massive loss of genetic information and cell death. Cells repair DSBs using two major pathways: nonhomologous end joining (NHEJ) and homologous recombination (HR). Perturbations of NHEJ and HR are often associated with premature aging and tumorigenesis, hence it is important to have a quantitative way of measuring each DSB repair pathway. Our laboratory has developed fluorescent reporter constructs that allow sensitive and quantitative measurement of NHEJ and HR. The constructs are based on an engineered GFP gene containing recognition sites for a rare-cutting I-SceI endonuclease for induction of DSBs. The starting constructs are GFP negative as the GFP gene is inactivated by an additional exon, or by mutations. Successful repair of the I-SceI-induced breaks by NHEJ or HR restores the functional GFP gene. The number of GFP positive cells counted by flow cytometry provides quantitative measure of NHEJ or HR efficiency.
Cellular Biology, Issue 43, DNA repair, HR, NHEJ, mammalian cells
2002
Perceptual and Category Processing of the Uncanny Valley Hypothesis' Dimension of Human Likeness: Some Methodological Issues
Institutions: University of Zurich.

Mori's Uncanny Valley Hypothesis
1,2
proposes that the perception of humanlike characters such as robots and, by extension, avatars (computer-generated characters) can evoke negative or positive affect (valence) depending on the object's degree of visual and behavioral realism along a
dimension of human likeness
(
DHL
) (
Figure 1
). But studies of affective valence of subjective responses to variously realistic non-human characters have produced inconsistent findings
3, 4, 5, 6
. One of a number of reasons for this is that human likeness is not perceived as the hypothesis assumes. While the DHL can be defined following Mori's description as a smooth linear change in the degree of physical humanlike similarity, subjective perception of objects along the DHL can be understood in terms of the psychological effects of categorical perception (CP)
7
. Further behavioral and neuroimaging investigations of category processing and CP along the DHL and of the potential influence of the dimension's underlying category structure on affective experience are needed. This protocol therefore focuses on the DHL and allows examination of CP. Based on the protocol presented in the video as an example, issues surrounding the methodology in the protocol and the use in "uncanny" research of stimuli drawn from morph continua to represent the DHL are discussed in the article that accompanies the video. The use of neuroimaging and morph stimuli to represent the DHL in order to disentangle brain regions neurally responsive to physical human-like similarity from those responsive to category change and category processing is briefly illustrated.
Behavior, Issue 76, Neuroscience, Neurobiology, Molecular Biology, Psychology, Neuropsychology, uncanny valley, functional magnetic resonance imaging, fMRI, categorical perception, virtual reality, avatar, human likeness, Mori, uncanny valley hypothesis, perception, magnetic resonance imaging, MRI, imaging, clinical techniques
4375
Morphometric Analyses of Retinal Sections
Institutions: The University of Hong Kong, The University of Hong Kong, The University of Hong Kong.

Morphometric analyses of retinal sections have been used in examining retinal diseases. For examples, neuronal cells were significantly lost in the retinal ganglion cell layer (RGCL) in rat models with N-methyl-D-aspartate (NMDA)–induced excitotoxicity
1
, retinal ischemia-reperfusion injury
2
and glaucoma
3
. Reduction of INL and inner plexiform layer (IPL) thicknesses were reversed with citicoline treatment in rats' eyes subjected to kainic acid-mediated glutamate excitotoxicity
4
. Alteration of RGC density and soma sizes were observed with different drug treatments in eyes with elevated intraocular pressure
3,5,6
. Therefore, having objective methods of analyzing the retinal morphometries may be of great significance in evaluating retinal pathologies and the effectiveness of therapeutic strategies. The retinal structure is multi-layers and several different kinds of neurons exist in the retina. The morphometric parameters of retina such as cell number, cell size and thickness of different layers are more complex than the cell culture system. Early on, these parameters can be detected using other commercial imaging software. The values are normally of relative value, and changing to the precise value may need further accurate calculation. Also, the tracing of the cell size and morphology may not be accurate and sensitive enough for statistic analysis, especially in the chronic glaucoma model. The measurements used in this protocol provided a more precise and easy way. And the absolute length of the line and size of the cell can be reported directly and easy to be copied to other files. For example, we traced the margin of the inner and outer most nuclei in the INL and formed a line then using the software to draw a 90 degree angle to measure the thickness. While without the help of the software, the line maybe oblique and the changing of retinal thickness may not be repeatable among individual observers. In addition, the number and density of RGCs can also be quantified. This protocol successfully decreases the variability in quantitating features of the retina, increases the sensitivity in detecting minimal changes. This video will demonstrate three types of morphometric analyses of the retinal sections. They include measuring the INL thickness, quantifying the number of RGCs and measuring the sizes of RGCs in absolute value. These three analyses are carried out with Stereo Investigator (MBF Bioscience — MicroBrightField, Inc.). The technique can offer a simple but scientific platform for morphometric analyses.
Neuroscience, Issue 60, morphometric analysis, retina, thickness, cell size, Stereo Investigator, neuroscience
3377
Cortical Source Analysis of High-Density EEG Recordings in Children
Institutions: UCL Institute of Child Health, University College London.

EEG is traditionally described as a neuroimaging technique with high temporal and low spatial resolution. Recent advances in biophysical modelling and signal processing make it possible to exploit information from other imaging modalities like structural MRI that provide high spatial resolution to overcome this constraint
1
. This is especially useful for investigations that require high resolution in the temporal as well as spatial domain. In addition, due to the easy application and low cost of EEG recordings, EEG is often the method of choice when working with populations, such as young children, that do not tolerate functional MRI scans well. However, in order to investigate which neural substrates are involved, anatomical information from structural MRI is still needed. Most EEG analysis packages work with standard head models that are based on adult anatomy. The accuracy of these models when used for children is limited
2
, because the composition and spatial configuration of head tissues changes dramatically over development
3
.  In the present paper, we provide an overview of our recent work in utilizing head models based on individual structural MRI scans or age specific head models to reconstruct the cortical generators of high density EEG. This article describes how EEG recordings are acquired, processed, and analyzed with pediatric populations at the London Baby Lab, including laboratory setup, task design, EEG preprocessing, MRI processing, and EEG channel level and source analysis. 
Behavior, Issue 88, EEG, electroencephalogram, development, source analysis, pediatric, minimum-norm estimation, cognitive neuroscience, event-related potentials 
51705
Extracting Visual Evoked Potentials from EEG Data Recorded During fMRI-guided Transcranial Magnetic Stimulation
Institutions: Tel-Aviv University, Tel-Aviv University.

Transcranial Magnetic Stimulation (TMS) is an effective method for establishing a causal link between a cortical area and cognitive/neurophysiological effects. Specifically, by creating a transient interference with the normal activity of a target region and measuring changes in an electrophysiological signal, we can establish a causal link between the stimulated brain area or network and the electrophysiological signal that we record. If target brain areas are functionally defined with prior fMRI scan, TMS could be used to link the fMRI activations with evoked potentials recorded. However, conducting such experiments presents significant technical challenges given the high amplitude artifacts introduced into the EEG signal by the magnetic pulse, and the difficulty to successfully target areas that were functionally defined by fMRI. Here we describe a methodology for combining these three common tools: TMS, EEG, and fMRI. We explain how to guide the stimulator's coil to the desired target area using anatomical or functional MRI data, how to record EEG during concurrent TMS, how to design an ERP study suitable for EEG-TMS combination and how to extract reliable ERP from the recorded data. We will provide representative results from a previously published study, in which fMRI-guided TMS was used concurrently with EEG to show that the face-selective N1 and the body-selective N1 component of the ERP are associated with distinct neural networks in extrastriate cortex. This method allows us to combine the high spatial resolution of fMRI with the high temporal resolution of TMS and EEG and therefore obtain a comprehensive understanding of the neural basis of various cognitive processes.
Neuroscience, Issue 87, Transcranial Magnetic Stimulation, Neuroimaging, Neuronavigation, Visual Perception, Evoked Potentials, Electroencephalography, Event-related potential, fMRI, Combined Neuroimaging Methods, Face perception, Body Perception
51063
Applications of EEG Neuroimaging Data: Event-related Potentials, Spectral Power, and Multiscale Entropy
Institutions: Baycrest.

When considering human neuroimaging data, an appreciation of signal variability represents a fundamental innovation in the way we think about brain signal. Typically, researchers represent the brain's response as the mean across repeated experimental trials and disregard signal fluctuations over time as "noise". However, it is becoming clear that brain signal variability conveys meaningful functional information about neural network dynamics. This article describes the novel method of multiscale entropy (MSE) for quantifying brain signal variability. MSE may be particularly informative of neural network dynamics because it shows timescale dependence and sensitivity to linear and nonlinear dynamics in the data.
Neuroscience, Issue 76, Neurobiology, Anatomy, Physiology, Medicine, Biomedical Engineering, Electroencephalography, EEG, electroencephalogram, Multiscale entropy, sample entropy, MEG, neuroimaging, variability, noise, timescale, non-linear, brain signal, information theory, brain, imaging
50131
Detection of Architectural Distortion in Prior Mammograms via Analysis of Oriented Patterns
Institutions: University of Calgary , University of Calgary .

We demonstrate methods for the detection of architectural distortion in prior mammograms of interval-cancer cases based on analysis of the orientation of breast tissue patterns in mammograms. We hypothesize that architectural distortion modifies the normal orientation of breast tissue patterns in mammographic images before the formation of masses or tumors. In the initial steps of our methods, the oriented structures in a given mammogram are analyzed using Gabor filters and phase portraits to detect node-like sites of radiating or intersecting tissue patterns. Each detected site is then characterized using the node value, fractal dimension, and a measure of angular dispersion specifically designed to represent spiculating patterns associated with architectural distortion. Our methods were tested with a database of 106 prior mammograms of 56 interval-cancer cases and 52 mammograms of 13 normal cases using the features developed for the characterization of architectural distortion, pattern classification
via
quadratic discriminant analysis, and validation with the leave-one-patient out procedure. According to the results of free-response receiver operating characteristic analysis, our methods have demonstrated the capability to detect architectural distortion in prior mammograms, taken 15 months (on the average) before clinical diagnosis of breast cancer, with a sensitivity of 80% at about five false positives per patient.
Medicine, Issue 78, Anatomy, Physiology, Cancer Biology, angular spread, architectural distortion, breast cancer, Computer-Assisted Diagnosis, computer-aided diagnosis (CAD), entropy, fractional Brownian motion, fractal dimension, Gabor filters, Image Processing, Medical Informatics, node map, oriented texture, Pattern Recognition, phase portraits, prior mammograms, spectral analysis
50341
Diffusion Tensor Magnetic Resonance Imaging in the Analysis of Neurodegenerative Diseases
Institutions: University of Ulm.

Diffusion tensor imaging (DTI) techniques provide information on the microstructural processes of the cerebral white matter (WM)
in vivo
. The present applications are designed to investigate differences of WM involvement patterns in different brain diseases, especially neurodegenerative disorders, by use of different DTI analyses in comparison with matched controls. DTI data analysis is performed in a variate fashion,
i.e.
voxelwise comparison of regional diffusion direction-based metrics such as fractional anisotropy (FA), together with fiber tracking (FT) accompanied by tractwise fractional anisotropy statistics (TFAS) at the group level in order to identify differences in FA along WM structures, aiming at the definition of regional patterns of WM alterations at the group level. Transformation into a stereotaxic standard space is a prerequisite for group studies and requires thorough data processing to preserve directional inter-dependencies. The present applications show optimized technical approaches for this preservation of quantitative and directional information during spatial normalization in data analyses at the group level. On this basis, FT techniques can be applied to group averaged data in order to quantify metrics information as defined by FT. Additionally, application of DTI methods,
i.e.
differences in FA-maps after stereotaxic alignment, in a longitudinal analysis at an individual subject basis reveal information about the progression of neurological disorders. Further quality improvement of DTI based results can be obtained during preprocessing by application of a controlled elimination of gradient directions with high noise levels. In summary, DTI is used to define a distinct WM pathoanatomy of different brain diseases by the combination of whole brain-based and tract-based DTI analysis.
Medicine, Issue 77, Neuroscience, Neurobiology, Molecular Biology, Biomedical Engineering, Anatomy, Physiology, Neurodegenerative Diseases, nuclear magnetic resonance, NMR, MR, MRI, diffusion tensor imaging, fiber tracking, group level comparison, neurodegenerative diseases, brain, imaging, clinical techniques
50427
Analysis of Tubular Membrane Networks in Cardiac Myocytes from Atria and Ventricles
Institutions: Heart Research Center Goettingen, University Medical Center Goettingen, German Center for Cardiovascular Research (DZHK) partner site Goettingen, University of Maryland School of Medicine.

In cardiac myocytes a complex network of membrane tubules - the transverse-axial tubule system (TATS) - controls deep intracellular signaling functions. While the outer surface membrane and associated TATS membrane components appear to be continuous, there are substantial differences in lipid and protein content. In ventricular myocytes (VMs), certain TATS components are highly abundant contributing to rectilinear tubule networks and regular branching 3D architectures. It is thought that peripheral TATS components propagate action potentials from the cell surface to thousands of remote intracellular sarcoendoplasmic reticulum (SER) membrane contact domains, thereby activating intracellular Ca
2+
release units (CRUs). In contrast to VMs, the organization and functional role of TATS membranes in atrial myocytes (AMs) is significantly different and much less understood. Taken together, quantitative structural characterization of TATS membrane networks in healthy and diseased myocytes is an essential prerequisite towards better understanding of functional plasticity and pathophysiological reorganization. Here, we present a strategic combination of protocols for direct quantitative analysis of TATS membrane networks in living VMs and AMs. For this, we accompany primary cell isolations of mouse VMs and/or AMs with critical quality control steps and direct membrane staining protocols for fluorescence imaging of TATS membranes. Using an optimized workflow for confocal or superresolution TATS image processing, binarized and skeletonized data are generated for quantitative analysis of the TATS network and its components. Unlike previously published indirect regional aggregate image analysis strategies, our protocols enable direct characterization of specific components and derive complex physiological properties of TATS membrane networks in living myocytes with high throughput and open access software tools. In summary, the combined protocol strategy can be readily applied for quantitative TATS network studies during physiological myocyte adaptation or disease changes, comparison of different cardiac or skeletal muscle cell types, phenotyping of transgenic models, and pharmacological or therapeutic interventions.
Bioengineering, Issue 92, cardiac myocyte, atria, ventricle, heart, primary cell isolation, fluorescence microscopy, membrane tubule, transverse-axial tubule system, image analysis, image processing, T-tubule, collagenase
51823
Magnetic Tweezers for the Measurement of Twist and Torque
Institutions: Delft University of Technology.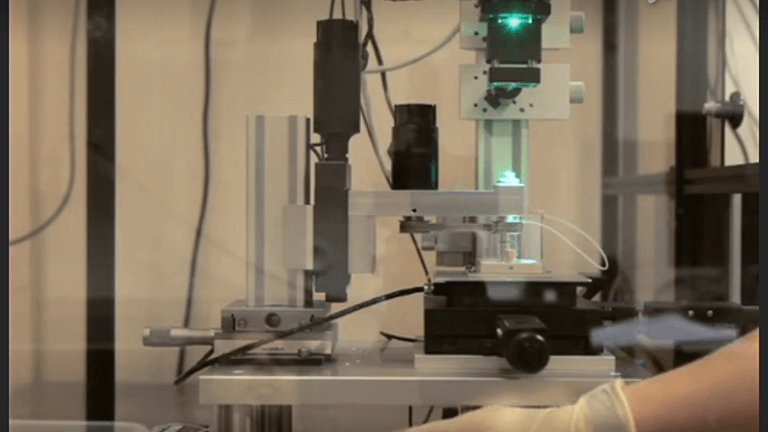 Single-molecule techniques make it possible to investigate the behavior of individual biological molecules in solution in real time. These techniques include so-called force spectroscopy approaches such as atomic force microscopy, optical tweezers, flow stretching, and magnetic tweezers. Amongst these approaches, magnetic tweezers have distinguished themselves by their ability to apply torque while maintaining a constant stretching force. Here, it is illustrated how such a "conventional" magnetic tweezers experimental configuration can, through a straightforward modification of its field configuration to minimize the magnitude of the transverse field, be adapted to measure the degree of twist in a biological molecule. The resulting configuration is termed the freely-orbiting magnetic tweezers. Additionally, it is shown how further modification of the field configuration can yield a transverse field with a magnitude intermediate between that of the "conventional" magnetic tweezers and the freely-orbiting magnetic tweezers, which makes it possible to directly measure the torque stored in a biological molecule. This configuration is termed the magnetic torque tweezers. The accompanying video explains in detail how the conversion of conventional magnetic tweezers into freely-orbiting magnetic tweezers and magnetic torque tweezers can be accomplished, and demonstrates the use of these techniques. These adaptations maintain all the strengths of conventional magnetic tweezers while greatly expanding the versatility of this powerful instrument.
Bioengineering, Issue 87, magnetic tweezers, magnetic torque tweezers, freely-orbiting magnetic tweezers, twist, torque, DNA, single-molecule techniques
51503
Measuring the Osmotic Water Permeability Coefficient (Pf) of Spherical Cells: Isolated Plant Protoplasts as an Example
Institutions: The Hebrew University of Jerusalem, Université catholique de Louvain, Université catholique de Louvain.

Studying AQP regulation mechanisms is crucial for the understanding of water relations at both the cellular and the whole plant levels. Presented here is a simple and very efficient method for the determination of the osmotic water permeability coefficient (P
f
) in plant protoplasts, applicable in principle also to other spherical cells such as frog oocytes. The first step of the assay is the isolation of protoplasts from the plant tissue of interest by enzymatic digestion into a chamber with an appropriate isotonic solution. The second step consists of an osmotic challenge assay: protoplasts immobilized on the bottom of the chamber are submitted to a constant perfusion starting with an isotonic solution and followed by a hypotonic solution. The cell swelling is video recorded. In the third step, the images are processed offline to yield volume changes, and the time course of the volume changes is correlated with the time course of the change in osmolarity of the chamber perfusion medium, using a curve fitting procedure written in Matlab (the 'PfFit'), to yield P
f
.
Plant Biology, Issue 92, Osmotic water permeability coefficient, aquaporins, protoplasts, curve fitting, non-instantaneous osmolarity change, volume change time course
51652
The Swimmeret System of Crayfish: A Practical Guide for the Dissection of the Nerve Cord and Extracellular Recordings of the Motor Pattern
Institutions: University of Cologne.

Here we demonstrate the dissection of the crayfish abdominal nerve cord. The preparation comprises the last two thoracic ganglia (T4, T5) and the chain of abdominal ganglia (A1 to A6). This chain of ganglia includes the part of the central nervous system (CNS) that drives coordinated locomotion of the pleopods (swimmerets): the swimmeret system. It is known for over five decades that in crayfish each swimmeret is driven by its own independent pattern generating kernel that generates rhythmic alternating activity
1-3
. The motor neurons innervating the musculature of each swimmeret comprise two anatomically and functionally distinct populations
4
. One is responsible for the retraction (power stroke, PS) of the swimmeret. The other drives the protraction (return stroke, RS) of the swimmeret. Motor neurons of the swimmeret system are able to produce spontaneously a fictive motor pattern, which is identical to the pattern recorded
in vivo
1
. The aim of this report is to introduce an interesting and convenient model system for studying rhythm generating networks and coordination of independent microcircuits for students' practical laboratory courses. The protocol provided includes step-by-step instructions for the dissection of the crayfish's abdominal nerve cord, pinning of the isolated chain of ganglia, desheathing the ganglia and recording the swimmerets fictive motor pattern extracellularly from the isolated nervous system. Additionally, we can monitor the activity of swimmeret neurons recorded intracellularly from dendrites. Here we also describe briefly these techniques and provide some examples. Furthermore, the morphology of swimmeret neurons can be assessed using various staining techniques. Here we provide examples of intracellular (by iontophoresis) dye filled neurons and backfills of pools of swimmeret motor neurons. In our lab we use this preparation to study basic functions of fictive locomotion, the effect of sensory feedback on the activity of the CNS, and coordination between microcircuits on a cellular level.
Neurobiology, Issue 93, crustacean, dissection, extracellular recording, fictive locomotion, motor neurons, locomotion
52109
Quantification of Global Diastolic Function by Kinematic Modeling-based Analysis of Transmitral Flow via the Parametrized Diastolic Filling Formalism
Institutions: Washington University in St. Louis, Washington University in St. Louis, Washington University in St. Louis, Washington University in St. Louis, Washington University in St. Louis.

Quantitative cardiac function assessment remains a challenge for physiologists and clinicians. Although historically invasive methods have comprised the only means available, the development of noninvasive imaging modalities (echocardiography, MRI, CT) having high temporal and spatial resolution provide a new window for quantitative diastolic function assessment. Echocardiography is the agreed upon standard for diastolic function assessment, but indexes in current clinical use merely utilize selected features of chamber dimension (M-mode) or blood/tissue motion (Doppler) waveforms without incorporating the physiologic causal determinants of the motion itself. The recognition that all left ventricles (LV) initiate filling by serving as mechanical suction pumps allows global diastolic function to be assessed based on laws of motion that apply to all chambers. What differentiates one heart from another are the parameters of the equation of motion that governs filling. Accordingly, development of the Parametrized Diastolic Filling (PDF) formalism has shown that the entire range of clinically observed early transmitral flow (Doppler E-wave) patterns are extremely well fit by the laws of damped oscillatory motion. This permits analysis of individual E-waves in accordance with a causal mechanism (recoil-initiated suction) that yields three (numerically) unique lumped parameters whose physiologic analogues are chamber stiffness (
k
), viscoelasticity/relaxation (
c
), and load (
xo
). The recording of transmitral flow (Doppler E-waves) is standard practice in clinical cardiology and, therefore, the echocardiographic recording method is only briefly reviewed. Our focus is on determination of the PDF parameters from routinely recorded E-wave data. As the highlighted results indicate, once the PDF parameters have been obtained from a suitable number of load varying E-waves, the investigator is free to use the parameters or construct indexes from the parameters (such as stored energy 1/2
kxo
2
, maximum A-V pressure gradient
kxo
, load independent index of diastolic function,
etc
.) and select the aspect of physiology or pathophysiology to be quantified.
Bioengineering, Issue 91, cardiovascular physiology, ventricular mechanics, diastolic function, mathematical modeling, Doppler echocardiography, hemodynamics, biomechanics
51471
In situ Quantification of Pancreatic Beta-cell Mass in Mice
Institutions: University of Chicago.

Tracing changes of specific cell populations in health and disease is an important goal of biomedical research. The process of monitoring pancreatic beta-cell proliferation and islet growth is particularly challenging. We have developed a method to capture the distribution of beta-cells in the intact pancreas of transgenic mice with fluorescence-tagged beta-cells with a macro written for ImageJ (rsb.info.nih.gov/ij/). Following pancreatic dissection and tissue clearing, the entire pancreas is captured as a virtual slice, after which the GFP-tagged beta-cells are examined. The analysis includes the quantification of total beta-cell area, islet number and size distribution with reference to specific parameters and locations for each islet and for small clusters of beta-cells. The entire distribution of islets can be plotted in three dimensions, and the information from the distribution on the size and shape of each islet allows a quantitative and qualitative comparison of changes in overall beta-cell area at a glance.
Cellular Biology, Issue 40, beta-cells, islets, mouse, pancreas
1970