ABSTRACT
Understanding the biophysical properties and functional organization of single neurons and how they process information is fundamental for understanding how the brain works. The primary function of any nerve cell is to process electrical signals, usually from multiple sources. Electrical properties of neuronal processes are extraordinarily complex, dynamic, and, in the general case, impossible to predict in the absence of detailed measurements. To obtain such a measurement one would, ideally, like to be able to monitor, at multiple sites, subthreshold events as they travel from the sites of origin on neuronal processes and summate at particular locations to influence action potential initiation. This goal has not been achieved in any neuron due to technical limitations of measurements that employ electrodes. To overcome this drawback, it is highly desirable to complement the patch-electrode approach with imaging techniques that permit extensive parallel recordings from all parts of a neuron. Here, we describe such a technique - optical recording of membrane potential transients with organic voltage-sensitive dyes (Vm-imaging) - characterized by sub-millisecond and sub-micrometer resolution. Our method is based on pioneering work on voltage-sensitive molecular probes 2. Many aspects of the initial technology have been continuously improved over several decades 3, 5, 11. Additionally, previous work documented two essential characteristics of Vm-imaging. Firstly, fluorescence signals are linearly proportional to membrane potential over the entire physiological range (-100 mV to +100 mV; 10, 14, 16). Secondly, loading neurons with the voltage-sensitive dye used here (JPW 3028) does not have detectable pharmacological effects. The recorded broadening of the spike during dye loading is completely reversible 4, 7. Additionally, experimental evidence shows that it is possible to obtain a significant number (up to hundreds) of recordings prior to any detectable phototoxic effects 4, 6, 12, 13. At present, we take advantage of the superb brightness and stability of a laser light source at near-optimal wavelength to maximize the sensitivity of the Vm-imaging technique. The current sensitivity permits multiple site optical recordings of Vm transients from all parts of a neuron, including axons and axon collaterals, terminal dendritic branches, and individual dendritic spines. The acquired information on signal interactions can be analyzed quantitatively as well as directly visualized in the form of a movie.
23 Related JoVE Articles!
Imaging Analysis of Neuron to Glia Interaction in Microfluidic Culture Platform (MCP)-based Neuronal Axon and Glia Co-culture System
Institutions: Tufts University, Tufts Sackler School of Graduate Biomedical Sciences.
Proper neuron to glia interaction is critical to physiological function of the central nervous system (CNS). This bidirectional communication is sophisticatedly mediated by specific signaling pathways between neuron and glia
1,2
. Identification and characterization of these signaling pathways is essential to the understanding of how neuron to glia interaction shapes CNS physiology. Previously, neuron and glia mixed cultures have been widely utilized for testing and characterizing signaling pathways between neuron and glia. What we have learned from these preparations and other
in vivo
tools, however, has suggested that mutual signaling between neuron and glia often occurred in specific compartments within neurons (
i.e.
, axon, dendrite, or soma)
3
. This makes it important to develop a new culture system that allows separation of neuronal compartments and specifically examines the interaction between glia and neuronal axons/dendrites. In addition, the conventional mixed culture system is not capable of differentiating the soluble factors and direct membrane contact signals between neuron and glia. Furthermore, the large quantity of neurons and glial cells in the conventional co-culture system lacks the resolution necessary to observe the interaction between a single axon and a glial cell. In this study, we describe a novel axon and glia co-culture system with the use of a microfluidic culture platform (MCP). In this co-culture system, neurons and glial cells are cultured in two separate chambers that are connected through multiple central channels. In this microfluidic culture platform, only neuronal processes (especially axons) can enter the glial side through the central channels. In combination with powerful fluorescent protein labeling, this system allows direct examination of signaling pathways between axonal/dendritic and glial interactions, such as axon-mediated transcriptional regulation in glia, glia-mediated receptor trafficking in neuronal terminals, and glia-mediated axon growth. The narrow diameter of the chamber also significantly prohibits the flow of the neuron-enriched medium into the glial chamber, facilitating probing of the direct membrane-protein interaction between axons/dendrites and glial surfaces.
Neuroscience, Issue 68, Molecular Biology, Cellular Biology, Biophysics, Microfluidics, Microfluidic culture platform, Compartmented culture, Neuron to glia signaling, neurons, glia, cell culture
4448
Genetic Study of Axon Regeneration with Cultured Adult Dorsal Root Ganglion Neurons
Institutions: Johns Hopkins University School of Medicine, Johns Hopkins University School of Medicine.

It is well known that mature neurons in the central nervous system (CNS) cannot regenerate their axons after injuries due to diminished intrinsic ability to support axon growth and a hostile environment in the mature CNS
1,2
. In contrast, mature neurons in the peripheral nervous system (PNS) regenerate readily after injuries
3
. Adult dorsal root ganglion (DRG) neurons are well known to regenerate robustly after peripheral nerve injuries. Each DRG neuron grows one axon from the cell soma, which branches into two axonal branches: a peripheral branch innervating peripheral targets and a central branch extending into the spinal cord. Injury of the DRG peripheral axons results in substantial axon regeneration, whereas central axons in the spinal cord regenerate poorly after the injury. However, if the peripheral axonal injury occurs prior to the spinal cord injury (a process called the conditioning lesion), regeneration of central axons is greatly improved
4
. Moreover, the central axons of DRG neurons share the same hostile environment as descending corticospinal axons in the spinal cord. Together, it is hypothesized that the molecular mechanisms controlling axon regeneration of adult DRG neurons can be harnessed to enhance CNS axon regeneration. As a result, adult DRG neurons are now widely used as a model system to study regenerative axon growth
5-7
. Here we describe a method of adult DRG neuron culture that can be used for genetic study of axon regeneration
in vitro
. In this model adult DRG neurons are genetically manipulated via electroporation-mediated gene transfection
6,8
. By transfecting neurons with DNA plasmid or si/shRNA, this approach enables both gain- and loss-of-function experiments to investigate the role of any gene-of-interest in axon growth from adult DRG neurons. When neurons are transfected with si/shRNA, the targeted endogenous protein is usually depleted after 3-4 days in culture, during which time robust axon growth has already occurred, making the loss-of-function studies less effective. To solve this problem, the method described here includes a re-suspension and re-plating step after transfection, which allows axons to re-grow from neurons in the absence of the targeted protein. Finally, we provide an example of using this
in vitro
model to study the role of an axon regeneration-associated gene, c-Jun, in mediating axon growth from adult DRG neurons
9
.
Neuroscience, Issue 66, Physiology, Developmental Biology, cell culture, axon regeneration, axon growth, dorsal root ganglion, spinal cord injury
4141
Live Imaging of Dorsal Root Axons after Rhizotomy
Institutions: Shriners Hospitals Pediatric Research Center and Department of Anatomy and Cell Biology, Department of Veterans Affairs Hospital, Drexel University College of Medicine, Temple University School of Medicine.
The primary sensory axons injured by spinal root injuries fail to regenerate into the spinal cord, leading to chronic pain and permanent sensory loss. Regeneration of dorsal root (DR) axons into spinal cord is prevented at the dorsal root entry zone (DREZ), the interface between the CNS and PNS. Our understanding of the molecular and cellular events that prevent regeneration at DREZ is incomplete, in part because complex changes associated with nerve injury have been deduced from postmortem analyses. Dynamic cellular processes, such as axon regeneration, are best studied with techniques that capture real-time events with multiple observations of each living animal. Our ability to monitor neurons serially
in vivo
has increased dramatically owing to revolutionary innovations in optics and mouse transgenics. Several lines of thy1-GFP transgenic mice, in which subsets of neurons are genetically labeled in distinct fluorescent colors, permit individual neurons to be imaged
in vivo
1
. These mice have been used extensively for
in vivo
imaging of muscle
2-4
and brain
5-7
, and have provided novel insights into physiological mechanisms that static analyses could not have resolved. Imaging studies of neurons in living spinal cord have only recently begun. Lichtman and his colleagues first demonstrated their feasibility by tracking injured dorsal column (DC) axons with wide-field microscopy
8,9
. Multi-photon
in vivo
imaging of deeply positioned DC axons, microglia and blood vessels has also been accomplished
10
. Over the last few years, we have pioneered in applying
in vivo
imaging to monitor regeneration of DR axons using wide-field microscopy and H line of thy1-YFP mice. These studies have led us to a novel hypothesis about why DR axons are prevented from regenerating within the spinal cord
11
. In H line of thy1-YFP mice, distinct YFP+ axons are superficially positioned, which allows several axons to be monitored simultaneously. We have learned that DR axons arriving at DREZ are better imaged in lumbar than in cervical spinal cord. In the present report we describe several strategies that we have found useful to assure successful long-term and repeated imaging of regenerating DR axons. These include methods that eliminate repeated intubation and respiratory interruption, minimize surgery-associated stress and scar formation, and acquire stable images at high resolution without phototoxicity.
Neuroscience, Issue 55, in vivo imaging, dorsal root injury, wide field fluorescence microscope, laminectomy, spinal cord, Green fluorescence protein, transgenic mice, dorsal root ganglion, spinal root injury
3126
Assaying the Ability of Diffusible Signaling Molecules to Reorient Embryonic Spinal Commissural Axons
Institutions: University of Southern California, University of Southern California.

Dorsal commissural axons in the vertebrate spinal cord
1
have been an invaluable model system in which to identify axon guidance signals. Here, we describe an
in vitro
assay, "the reorientation assay", that has been used extensively to study the effect of extrinsic and intrinsic signals on the orientation of commissural axons
2
. This assay was developed by numerous people in the laboratories of Jane Dodd, Thomas Jessell and Andrew Lumsden (see acknowledgements for more details) and versions of this assay were used to demonstrate the reorientation activities of key axon guidance molecules, including the BMP chemorepellent in the roof plate
3,4
and the chemoattractive activities of Netrin1
5
and Sonic Hedgehog (Shh)
6
in the floor plate in the spinal cord. Explants comprising 2-3 segments of the dorsal two-thirds of spinal cord are dissected from embryonic day (E) 11 rats and cultured in three dimensional collagen gels
7
. E11 dorsal spinal explants contain newly born commissural neurons, which can be identified by their axonal expression of the glycoprotein, Tag1
8
. Over the course of 30-40 hours in culture, the commissural axon trajectory is recapitulated in these dorsal explants with a time course similar to that seen
in vivo
. This axonal trajectory can be challenged by placing either test tissues or a COS cell aggregate expressing a candidate signaling molecule in contact with one of the lateral edges of the dorsal explant. Commissural axons extending in the vicinity of the appended tissue will grow under the influence of both the endogenous roof plate and signals from the ectopic lateral tissue. The degree to which commissural axons are reoriented under these circumstances can be quantified. Using this assay, it is possible both to examine the sufficiency of a particular signal to reorient commissural axons
3,4
as well the necessity for this signal to direct the commissural trajectory
9
.
Neuroscience, Issue 37, commissural axons, spinal cord, rat, explant, collagen, COS cells, bone morphogenetic proteins (BMPs)
1853
DiI-Labeling of DRG Neurons to Study Axonal Branching in a Whole Mount Preparation of Mouse Embryonic Spinal Cord
Institutions: Max Delbrück Center for Molecular Medicine.

Here we present a technique to label the trajectories of small groups of DRG neurons into the embryonic spinal cord by diffusive staining using the lipophilic tracer 1,1'-dioctadecyl-3,3,3',3'-tetramethylindocarbocyanine perchlorate (DiI)
1
. The comparison of axonal pathways of wild-type with those of mouse lines in which genes are mutated allows testing for a functional role of candidate proteins in the control of axonal branching which is an essential mechanism in the wiring of the nervous system. Axonal branching enables an individual neuron to connect with multiple targets, thereby providing the physical basis for the parallel processing of information. Ramifications at intermediate target regions of axonal growth may be distinguished from terminal arborization. Furthermore, different modes of axonal branch formation may be classified depending on whether branching results from the activities of the growth cone (splitting or delayed branching) or from the budding of collaterals from the axon shaft in a process called interstitial branching
2
(
Fig. 1
). The central projections of neurons from the DRG offer a useful experimental system to study both types of axonal branching: when their afferent axons reach the dorsal root entry zone (DREZ) of the spinal cord between embryonic days 10 to 13 (E10 - E13) they display a stereotyped pattern of T- or Y-shaped bifurcation. The two resulting daughter axons then proceed in rostral or caudal directions, respectively, at the dorsolateral margin of the cord and only after a waiting period collaterals sprout from these stem axons to penetrate the gray matter (interstitial branching) and project to relay neurons in specific laminae of the spinal cord where they further arborize (terminal branching)
3
. DiI tracings have revealed growth cones at the dorsal root entry zone of the spinal cord that appeared to be in the process of splitting suggesting that bifurcation is caused by splitting of the growth cone itself
4
(
Fig. 2
), however, other options have been discussed as well
5
. This video demonstrates first how to dissect the spinal cord of E12.5 mice leaving the DRG attached. Following fixation of the specimen tiny amounts of DiI are applied to DRG using glass needles pulled from capillary tubes. After an incubation step, the labeled spinal cord is mounted as an inverted open-book preparation to analyze individual axons using fluorescence microscopy.
Neuroscience, Issue 58, neurons, axonal branching, DRG, Spinal cord, DiI labeling, cGMP signaling
3667
Transplantation of Olfactory Ensheathing Cells to Evaluate Functional Recovery after Peripheral Nerve Injury
Institutions: University of Rouen, Karolinska Institutet, Rouen University Hospital, Amiens University Hospital.
Olfactory ensheathing cells (OECs) are neural crest cells which allow growth and regrowth of the primary olfactory neurons. Indeed, the primary olfactory system is characterized by its ability to give rise to new neurons even in adult animals. This particular ability is partly due to the presence of OECs which create a favorable microenvironment for neurogenesis. This property of OECs has been used for cellular transplantation such as in spinal cord injury models. Although the peripheral nervous system has a greater capacity to regenerate after nerve injury than the central nervous system, complete sections induce misrouting during axonal regrowth in particular after facial of laryngeal nerve transection. Specifically, full sectioning of the recurrent laryngeal nerve (RLN) induces aberrant axonal regrowth resulting in synkinesis of the vocal cords. In this specific model, we showed that OECs transplantation efficiently increases axonal regrowth. OECs are constituted of several subpopulations present in both the olfactory mucosa (OM-OECs) and the olfactory bulbs (OB-OECs). We present here a model of cellular transplantation based on the use of these different subpopulations of OECs in a RLN injury model. Using this paradigm, primary cultures of OB-OECs and OM-OECs were transplanted in Matrigel after section and anastomosis of the RLN. Two months after surgery, we evaluated transplanted animals by complementary analyses based on videolaryngoscopy, electromyography (EMG), and histological studies. First, videolaryngoscopy allowed us to evaluate laryngeal functions, in particular muscular cocontractions phenomena. Then, EMG analyses demonstrated richness and synchronization of muscular activities. Finally, histological studies based on toluidine blue staining allowed the quantification of the number and profile of myelinated fibers. All together, we describe here how to isolate, culture, identify and transplant OECs from OM and OB after RLN section-anastomosis and how to evaluate and analyze the efficiency of these transplanted cells on axonal regrowth and laryngeal functions.
Neuroscience, Issue 84, olfactory ensheathing cells, spinal cord injury, transplantation, larynx, recurrent laryngeal nerve, peripheral nerve injury, vocal cords
50590
Motor Nerve Transection and Time-lapse Imaging of Glial Cell Behaviors in Live Zebrafish
Institutions: University of Virginia .

The nervous system is often described as a hard-wired component of the body even though it is a considerably fluid organ system that reacts to external stimuli in a consistent, stereotyped manner, while maintaining incredible flexibility and plasticity. Unlike the central nervous system (CNS), the peripheral nervous system (PNS) is capable of significant repair, but we have only just begun to understand the cellular and molecular mechanisms that govern this phenomenon. Using zebrafish as a model system, we have the unprecedented opportunity to couple regenerative studies with
in vivo
imaging and genetic manipulation. Peripheral nerves are composed of axons surrounded by layers of glia and connective tissue. Axons are ensheathed by myelinating or non-myelinating Schwann cells, which are in turn wrapped into a fascicle by a cellular sheath called the perineurium. Following an injury, adult peripheral nerves have the remarkable capacity to remove damaged axonal debris and re-innervate targets. To investigate the roles of all peripheral glia in PNS regeneration, we describe here an axon transection assay that uses a commercially available nitrogen-pumped dye laser to axotomize motor nerves in live transgenic zebrafish. We further describe the methods to couple these experiments to time-lapse imaging of injured and control nerves. This experimental paradigm can be used to not only assess the role that glia play in nerve regeneration, but can also be the platform for elucidating the molecular mechanisms that govern nervous system repair.
Neuroscience, Issue 76, Neurobiology, Cellular Biology, Molecular Biology, Genetics, Developmental Biology, Neuroglia, Zebrafish, Danio rerio, Nerve Regeneration, laser transection, nerve injury, glia, glial cell, in vivo imaging, imaging, nerves, embryos, CNS, PNS, confocal microscopy, microdissection, animal model
50621
An Injury Paradigm to Investigate Central Nervous System Repair in Drosophila
Institutions: University of Birmingham .

An experimental method has been developed to investigate the cellular responses to central nervous system (CNS) injury using the fruit-fly
Drosophila
. Understanding repair and regeneration in animals is a key question in biology. The damaged human CNS does not regenerate, and understanding how to promote the regeneration is one of main goals of medical neuroscience. The powerful genetic toolkit of
Drosophila
can be used to tackle the problem of CNS regeneration. A lesion to the CNS ventral nerve cord (VNC, equivalent to the vertebrate spinal cord) is applied manually with a tungsten needle. The VNC can subsequently be filmed in time-lapse using laser scanning confocal microscopy for up to 24 hr to follow the development of the lesion over time. Alternatively, it can be cultured, then fixed and stained using immunofluorescence to visualize neuron and glial cells with confocal microscopy. Using appropriate markers, changes in cell morphology and cell state as a result of injury can be visualized. With ImageJ and purposely developed plug-ins, quantitative and statistical analyses can be carried out to measure changes in wound size over time and the effects of injury in cell proliferation and cell death. These methods allow the analysis of large sample sizes. They can be combined with the powerful genetics of
Drosophila
to investigate the molecular mechanisms underlying CNS regeneration and repair.
Neurobiology, Issue 73, Developmental Biology, Neuroscience, Molecular Biology, Cellular Biology, Anatomy, Physiology, Bioengineering, Central Nervous System, Neuroglia, Drosophila, fruit fly, animal models, Wounds and Injuries, Cell Physiological Phenomena, Genetic Phenomena, injury, repair, regeneration, central nervous system, ventral nerve cord, larva, live imaging, cell counting, Repo, GS2, glia, neurons, nerves, CNS, animal model
50306
Production and Isolation of Axons from Sensory Neurons for Biochemical Analysis Using Porous Filters
Institutions: Montreal Neurological Institute, McGill University.
Neuronal axons use specific mechanisms to mediate extension, maintain integrity, and induce degeneration. An appropriate balance of these events is required to shape functional neuronal circuits. The protocol described here explains how to use cell culture inserts bearing a porous membrane (filter) to obtain large amounts of pure axonal preparations suitable for examination by conventional biochemical or immunocytochemical techniques. The functionality of these filter inserts will be demonstrated with models of developmental pruning and Wallerian degeneration, using explants of embryonic dorsal root ganglion. Axonal integrity and function is compromised in a wide variety of neurodegenerative pathologies. Indeed, it is now clear that axonal dysfunction appears much earlier in the course of the disease than neuronal soma loss in several neurodegenerative diseases, indicating that axonal-specific processes are primarily targeted in these disorders. By obtaining pure axonal samples for analysis by molecular and biochemical techniques, this technique has the potential to shed new light into mechanisms regulating the physiology and pathophysiology of axons. This in turn will have an impact in our understanding of the processes that drive degenerative diseases of the nervous system.
Neuroscience, Issue 89, neuron, axon, filter inserts, culture system, dorsal root ganglion, axonal degeneration
51795
Preparation of Primary Neurons for Visualizing Neurites in a Frozen-hydrated State Using Cryo-Electron Tomography
Institutions: Baylor College of Medicine, Baylor College of Medicine, University of California at San Diego, Baylor College of Medicine.

Neurites, both dendrites and axons, are neuronal cellular processes that enable the conduction of electrical impulses between neurons. Defining the structure of neurites is critical to understanding how these processes move materials and signals that support synaptic communication. Electron microscopy (EM) has been traditionally used to assess the ultrastructural features within neurites; however, the exposure to organic solvent during dehydration and resin embedding can distort structures. An important unmet goal is the formulation of procedures that allow for structural evaluations not impacted by such artifacts. Here, we have established a detailed and reproducible protocol for growing and flash-freezing whole neurites of different primary neurons on electron microscopy grids followed by their examination with cryo-electron tomography (cryo-ET). This technique allows for 3-D visualization of frozen, hydrated neurites at nanometer resolution, facilitating assessment of their morphological differences. Our protocol yields an unprecedented view of dorsal root ganglion (DRG) neurites, and a visualization of hippocampal neurites in their near-native state. As such, these methods create a foundation for future studies on neurites of both normal neurons and those impacted by neurological disorders.
Neuroscience, Issue 84, Neurons, Cryo-electron Microscopy, Electron Microscope Tomography, Brain, rat, primary neuron culture, morphological assay
50783
Nerve Excitability Assessment in Chemotherapy-induced Neurotoxicity
Institutions: University of New South Wales , University of New South Wales , University of New South Wales .

Chemotherapy-induced neurotoxicity is a serious consequence of cancer treatment, which occurs with some of the most commonly used chemotherapies
1,2
. Chemotherapy-induced peripheral neuropathy produces symptoms of numbness and paraesthesia in the limbs and may progress to difficulties with fine motor skills and walking, leading to functional impairment. In addition to producing troubling symptoms, chemotherapy-induced neuropathy may limit treatment success leading to dose reduction or early cessation of treatment. Neuropathic symptoms may persist long-term, leaving permanent nerve damage in patients with an otherwise good prognosis
3
. As chemotherapy is utilised more often as a preventative measure, and survival rates increase, the importance of long-lasting and significant neurotoxicity will increase. There are no established neuroprotective or treatment options and a lack of sensitive assessment methods. Appropriate assessment of neurotoxicity will be critical as a prognostic factor and as suitable endpoints for future trials of neuroprotective agents. Current methods to assess the severity of chemotherapy-induced neuropathy utilise clinician-based grading scales which have been demonstrated to lack sensitivity to change and inter-observer objectivity
4
. Conventional nerve conduction studies provide information about compound action potential amplitude and conduction velocity, which are relatively non-specific measures and do not provide insight into ion channel function or resting membrane potential. Accordingly, prior studies have demonstrated that conventional nerve conduction studies are not sensitive to early change in chemotherapy-induced neurotoxicity
4-6
. In comparison, nerve excitability studies utilize threshold tracking techniques which have been developed to enable assessment of ion channels, pumps and exchangers
in vivo
in large myelinated human axons
7-9
. Nerve excitability techniques have been established as a tool to examine the development and severity of chemotherapy-induced neurotoxicity
10-13
. Comprising a number of excitability parameters, nerve excitability studies can be used to assess acute neurotoxicity arising immediately following infusion and the development of chronic, cumulative neurotoxicity. Nerve excitability techniques are feasible in the clinical setting, with each test requiring only 5 -10 minutes to complete. Nerve excitability equipment is readily commercially available, and a portable system has been devised so that patients can be tested
in situ
in the infusion centre setting. In addition, these techniques can be adapted for use in multiple chemotherapies. In patients treated with the chemotherapy oxaliplatin, primarily utilised for colorectal cancer, nerve excitability techniques provide a method to identify patients at-risk for neurotoxicity prior to the onset of chronic neuropathy. Nerve excitability studies have revealed the development of an acute Na
+
channelopathy in motor and sensory axons
10-13
. Importantly, patients who demonstrated changes in excitability in early treatment were subsequently more likely to develop moderate to severe neurotoxicity
11
. However, across treatment, striking longitudinal changes were identified only in sensory axons which were able to predict clinical neurological outcome in 80% of patients
10
. These changes demonstrated a different pattern to those seen acutely following oxaliplatin infusion, and most likely reflect the development of significant axonal damage and membrane potential change in sensory nerves which develops longitudinally during oxaliplatin treatment
10
. Significant abnormalities developed during early treatment, prior to any reduction in conventional measures of nerve function, suggesting that excitability parameters may provide a sensitive biomarker.
Neuroscience, Issue 62, Chemotherapy, Neurotoxicity, Neuropathy, Nerve excitability, Ion channel function, Oxaliplatin, oncology, medicine
3439
Inducing Plasticity of Astrocytic Receptors by Manipulation of Neuronal Firing Rates
Institutions: University of California Riverside, University of California Riverside, University of California Riverside.

Close to two decades of research has established that astrocytes
in situ
and
in vivo
express numerous G protein-coupled receptors (GPCRs) that can be stimulated by neuronally-released transmitter. However, the ability of astrocytic receptors to exhibit plasticity in response to changes in neuronal activity has received little attention. Here we describe a model system that can be used to globally scale up or down astrocytic group I metabotropic glutamate receptors (mGluRs) in acute brain slices. Included are methods on how to prepare parasagittal hippocampal slices, construct chambers suitable for long-term slice incubation, bidirectionally manipulate neuronal action potential frequency, load astrocytes and astrocyte processes with fluorescent Ca
2+
indicator, and measure changes in astrocytic Gq GPCR activity by recording spontaneous and evoked astrocyte Ca
2+
events using confocal microscopy. In essence, a "calcium roadmap" is provided for how to measure plasticity of astrocytic Gq GPCRs. Applications of the technique for study of astrocytes are discussed. Having an understanding of how astrocytic receptor signaling is affected by changes in neuronal activity has important implications for both normal synaptic function as well as processes underlying neurological disorders and neurodegenerative disease.
Neuroscience, Issue 85, astrocyte, plasticity, mGluRs, neuronal Firing, electrophysiology, Gq GPCRs, Bolus-loading, calcium, microdomains, acute slices, Hippocampus, mouse
51458
An Ex Vivo Laser-induced Spinal Cord Injury Model to Assess Mechanisms of Axonal Degeneration in Real-time
Institutions: University of Louisville, University of Calgary.

Injured CNS axons fail to regenerate and often retract away from the injury site. Axons spared from the initial injury may later undergo secondary axonal degeneration. Lack of growth cone formation, regeneration, and loss of additional myelinated axonal projections within the spinal cord greatly limits neurological recovery following injury. To assess how central myelinated axons of the spinal cord respond to injury, we developed an
ex vivo
living spinal cord model utilizing transgenic mice that express yellow fluorescent protein in axons and a focal and highly reproducible laser-induced spinal cord injury to document the fate of axons and myelin (lipophilic fluorescent dye Nile Red) over time using two-photon excitation time-lapse microscopy. Dynamic processes such as acute axonal injury, axonal retraction, and myelin degeneration are best studied in real-time. However, the non-focal nature of contusion-based injuries and movement artifacts encountered during
in vivo
spinal cord imaging make differentiating primary and secondary axonal injury responses using high resolution microscopy challenging. The
ex vivo
spinal cord model described here mimics several aspects of clinically relevant contusion/compression-induced axonal pathologies including axonal swelling, spheroid formation, axonal transection, and peri-axonal swelling providing a useful model to study these dynamic processes in real-time. Major advantages of this model are excellent spatiotemporal resolution that allows differentiation between the primary insult that directly injures axons and secondary injury mechanisms; controlled infusion of reagents directly to the perfusate bathing the cord; precise alterations of the environmental milieu (
e.g.,
calcium, sodium ions, known contributors to axonal injury, but near impossible to manipulate
in vivo
); and murine models also offer an advantage as they provide an opportunity to visualize and manipulate genetically identified cell populations and subcellular structures. Here, we describe how to isolate and image the living spinal cord from mice to capture dynamics of acute axonal injury.
Neuroscience, Issue 93, spinal cord injury, axon, myelin, two-photon excitation microscopy, Nile Red, axonal degeneration, axonal dieback, axonal retraction
52173
Membrane Potentials, Synaptic Responses, Neuronal Circuitry, Neuromodulation and Muscle Histology Using the Crayfish: Student Laboratory Exercises
Institutions: University of Kentucky, University of Toronto.

The purpose of this report is to help develop an understanding of the effects caused by ion gradients across a biological membrane. Two aspects that influence a cell's membrane potential and which we address in these experiments are: (1) Ion concentration of K
+
on the outside of the membrane, and (2) the permeability of the membrane to specific ions. The crayfish abdominal extensor muscles are in groupings with some being tonic (slow) and others phasic (fast) in their biochemical and physiological phenotypes, as well as in their structure; the motor neurons that innervate these muscles are correspondingly different in functional characteristics. We use these muscles as well as the superficial, tonic abdominal flexor muscle to demonstrate properties in synaptic transmission. In addition, we introduce a sensory-CNS-motor neuron-muscle circuit to demonstrate the effect of cuticular sensory stimulation as well as the influence of neuromodulators on certain aspects of the circuit. With the techniques obtained in this exercise, one can begin to answer many questions remaining in other experimental preparations as well as in physiological applications related to medicine and health. We have demonstrated the usefulness of model invertebrate preparations to address fundamental questions pertinent to all animals.
Neuroscience, Issue 47, Invertebrate, Crayfish, neurophysiology, muscle, anatomy, electrophysiology
2322
Acute Dissociation of Lamprey Reticulospinal Axons to Enable Recording from the Release Face Membrane of Individual Functional Presynaptic Terminals
Institutions: University of Illinois at Chicago.

Synaptic transmission is an extremely rapid process. Action potential driven influx of Ca
2+
 into the presynaptic terminal, through voltage-gated calcium channels (VGCCs) located in the release face membrane, is the trigger for vesicle fusion and neurotransmitter release. Crucial to the rapidity of synaptic transmission is the spatial and temporal synchrony between the arrival of the action potential, VGCCs and the neurotransmitter release machinery. The ability to directly record Ca
2+
 currents from the release face membrane of individual presynaptic terminals is imperative for a precise understanding of the relationship between presynaptic Ca
2+
 and neurotransmitter release. Access to the presynaptic release face membrane for electrophysiological recording is not available in most preparations and presynaptic Ca
2+
 entry has been characterized using imaging techniques and macroscopic current measurements – techniques that do not have sufficient temporal resolution to visualize Ca
2+
entry. The characterization of VGCCs directly at single presynaptic terminals has not been possible in central synapses and has thus far been successfully achieved only in the calyx-type synapse of the chick ciliary ganglion and in rat calyces. We have successfully addressed this problem in the giant reticulospinal synapse of the lamprey spinal cord by developing an acutely dissociated preparation of the spinal cord that yields isolated reticulospinal axons with functional presynaptic terminals devoid of postsynaptic structures. We can fluorescently label and identify individual presynaptic terminals and target them for recording. Using this preparation, we have characterized VGCCs directly at the release face of individual presynaptic terminals using immunohistochemistry and electrophysiology approaches. Ca
2+
currents have been recorded directly at the release face membrane of individual presynaptic terminals, the first such recording to be carried out at central synapses.
Neuroscience, Issue 92, reticulospinal synapse, reticulospinal axons, presynaptic terminal, presynaptic calcium, voltage-gated calcium channels, vesicle fusion, synaptic transmission, neurotransmitter release, spinal cord, lamprey, synaptic vesicles, acute dissociation
51925
Using Microfluidics Chips for Live Imaging and Study of Injury Responses in Drosophila Larvae
Institutions: University of Michigan, University of Michigan, University of Michigan, University of Michigan, University of Michigan.

Live imaging is an important technique for studying cell biological processes, however this can be challenging in live animals. The translucent cuticle of the
Drosophila
larva makes it an attractive model organism for live imaging studies. However, an important challenge for live imaging techniques is to noninvasively immobilize and position an animal on the microscope. This protocol presents a simple and easy to use method for immobilizing and imaging
Drosophila
larvae on a polydimethylsiloxane (PDMS) microfluidic device, which we call the 'larva chip'. The larva chip is comprised of a snug-fitting PDMS microchamber that is attached to a thin glass coverslip, which, upon application of a vacuum via a syringe, immobilizes the animal and brings ventral structures such as the nerve cord, segmental nerves, and body wall muscles, within close proximity to the coverslip. This allows for high-resolution imaging, and importantly, avoids the use of anesthetics and chemicals, which facilitates the study of a broad range of physiological processes. Since larvae recover easily from the immobilization, they can be readily subjected to multiple imaging sessions. This allows for longitudinal studies over time courses ranging from hours to days. This protocol describes step-by-step how to prepare the chip and how to utilize the chip for live imaging of neuronal events in 3
rd
instar larvae. These events include the rapid transport of organelles in axons, calcium responses to injury, and time-lapse studies of the trafficking of photo-convertible proteins over long distances and time scales. Another application of the chip is to study regenerative and degenerative responses to axonal injury, so the second part of this protocol describes a new and simple procedure for injuring axons within peripheral nerves by a segmental nerve crush.
Bioengineering, Issue 84, Drosophila melanogaster, Live Imaging, Microfluidics, axonal injury, axonal degeneration, calcium imaging, photoconversion, laser microsurgery
50998
Analyzing Murine Schwann Cell Development Along Growing Axons
Institutions: University of Freiburg , University of Heidelberg, University of Freiburg .

The development of peripheral nerves is an intriguing process. Neurons send out axons to innervate specific targets, which in humans are often more than 100 cm away from the soma of the neuron. Neuronal survival during development depends on target-derived growth factors but also on the support of Schwann cells (SCs). To this end SC ensheath axons from the region of the neuronal soma (or the transition from central to peripheral nervous system) to the synapse or neuromuscular junction. Schwann cells are derivatives of the neural crest and migrate as precursors along emerging axons until the entire axon is covered with SCs. This shows the importance of SC migration for the development of the peripheral nervous system and underlines the necessity to investigate this process. In order to analyze SC development, a setup is needed which next to the SCs also includes their physiological substrate for migration, the axon. Due to intrauterine development
in vivo
time-lapse imaging, however, is not feasible in placental vertebrates like mouse (
mus musculus
). To circumvent this, we adapted the superior cervical ganglion (SCG) explant technique. Upon treatment with nerve growth factor (NGF) SCG explants extend axons, followed by SC precursors migrating along the axons from the ganglion to the periphery. The beauty of this system is that the SC are derived from a pool of endogenous SC and that they migrate along their own physiological axons which are growing at the same time. This system is especially intriguing, because the SC development along axons can be analyzed by time-lapse imaging, opening further possibilities to gain insights into SC migration.
Neuroscience, Issue 69, Medicine, Cellular Biology, Anatomy, Physiology, Developmental Biology, Schwann cell, migration, time-lapse, SCG, neurons, axons, mouse
50016
Inhibitory Synapse Formation in a Co-culture Model Incorporating GABAergic Medium Spiny Neurons and HEK293 Cells Stably Expressing GABAA Receptors
Institutions: University College London.

Inhibitory neurons act in the central nervous system to regulate the dynamics and spatio-temporal co-ordination of neuronal networks. GABA (γ-aminobutyric acid) is the predominant inhibitory neurotransmitter in the brain. It is released from the presynaptic terminals of inhibitory neurons within highly specialized intercellular junctions known as synapses, where it binds to GABA
A
receptors (GABA
A
Rs) present at the plasma membrane of the synapse-receiving, postsynaptic neurons. Activation of these GABA-gated ion channels leads to influx of chloride resulting in postsynaptic potential changes that decrease the probability that these neurons will generate action potentials. During development, diverse types of inhibitory neurons with distinct morphological, electrophysiological and neurochemical characteristics have the ability to recognize their target neurons and form synapses which incorporate specific GABA
A
Rs subtypes. This principle of selective innervation of neuronal targets raises the question as to how the appropriate synaptic partners identify each other. To elucidate the underlying molecular mechanisms, a novel
in vitro
co-culture model system was established, in which medium spiny GABAergic neurons, a highly homogenous population of neurons isolated from the embryonic striatum, were cultured with stably transfected HEK293 cell lines that express different GABA
A
R subtypes. Synapses form rapidly, efficiently and selectively in this system, and are easily accessible for quantification. Our results indicate that various GABA
A
R subtypes differ in their ability to promote synapse formation, suggesting that this reduced
in vitro
model system can be used to reproduce, at least in part, the
in vivo
conditions required for the recognition of the appropriate synaptic partners and formation of specific synapses. Here the protocols for culturing the medium spiny neurons and generating HEK293 cells lines expressing GABA
A
Rs are first described, followed by detailed instructions on how to combine these two cell types in co-culture and analyze the formation of synaptic contacts.
Neuroscience, Issue 93, Developmental neuroscience, synaptogenesis, synaptic inhibition, co-culture, stable cell lines, GABAergic, medium spiny neurons, HEK 293 cell line
52115
Modeling Biological Membranes with Circuit Boards and Measuring Electrical Signals in Axons: Student Laboratory Exercises
Institutions: University of Kentucky, University of Toronto.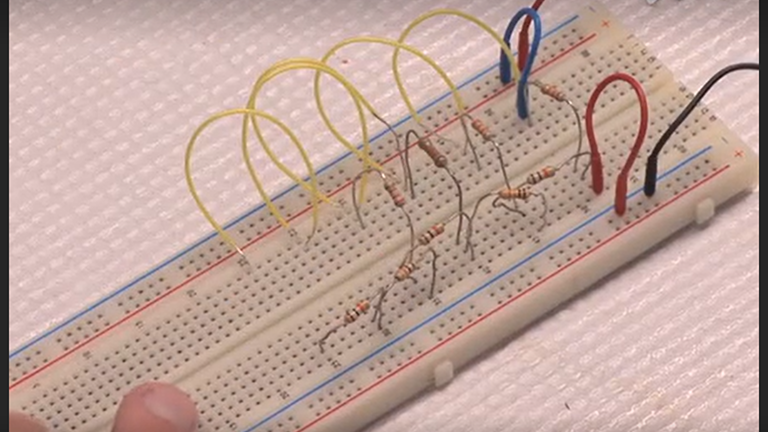 This is a demonstration of how electrical models can be used to characterize biological membranes. This exercise also introduces biophysical terminology used in electrophysiology. The same equipment is used in the membrane model as on live preparations. Some properties of an isolated nerve cord are investigated: nerve action potentials, recruitment of neurons, and responsiveness of the nerve cord to environmental factors.
Basic Protocols, Issue 47, Invertebrate, Crayfish, Modeling, Student laboratory, Nerve cord
2325
Setting-up an In Vitro Model of Rat Blood-brain Barrier (BBB): A Focus on BBB Impermeability and Receptor-mediated Transport
Institutions: VECT-HORUS SAS, CNRS, NICN UMR 7259.

The blood brain barrier (BBB) specifically regulates molecular and cellular flux between the blood and the nervous tissue. Our aim was to develop and characterize a highly reproducible rat syngeneic
in vitro
model of the BBB using co-cultures of primary rat brain endothelial cells (RBEC) and astrocytes to study receptors involved in transcytosis across the endothelial cell monolayer. Astrocytes were isolated by mechanical dissection following trypsin digestion and were frozen for later co-culture. RBEC were isolated from 5-week-old rat cortices. The brains were cleaned of meninges and white matter, and mechanically dissociated following enzymatic digestion. Thereafter, the tissue homogenate was centrifuged in bovine serum albumin to separate vessel fragments from nervous tissue. The vessel fragments underwent a second enzymatic digestion to free endothelial cells from their extracellular matrix. The remaining contaminating cells such as pericytes were further eliminated by plating the microvessel fragments in puromycin-containing medium. They were then passaged onto filters for co-culture with astrocytes grown on the bottom of the wells. RBEC expressed high levels of tight junction (TJ) proteins such as occludin, claudin-5 and ZO-1 with a typical localization at the cell borders. The transendothelial electrical resistance (TEER) of brain endothelial monolayers, indicating the tightness of TJs reached 300 ohm·cm
2
on average. The endothelial permeability coefficients (Pe) for lucifer yellow (LY) was highly reproducible with an average of 0.26 ± 0.11 x 10
-3
cm/min. Brain endothelial cells organized in monolayers expressed the efflux transporter P-glycoprotein (P-gp), showed a polarized transport of rhodamine 123, a ligand for P-gp, and showed specific transport of transferrin-Cy3 and DiILDL across the endothelial cell monolayer. In conclusion, we provide a protocol for setting up an
in vitro
BBB model that is highly reproducible due to the quality assurance methods, and that is suitable for research on BBB transporters and receptors.
Medicine, Issue 88, rat brain endothelial cells (RBEC), mouse, spinal cord, tight junction (TJ), receptor-mediated transport (RMT), low density lipoprotein (LDL), LDLR, transferrin, TfR, P-glycoprotein (P-gp), transendothelial electrical resistance (TEER),
51278
Reconstitution of a Kv Channel into Lipid Membranes for Structural and Functional Studies
Institutions: University of Texas Southwestern Medical Center at Dallas.

To study the lipid-protein interaction in a reductionistic fashion, it is necessary to incorporate the membrane proteins into membranes of well-defined lipid composition. We are studying the lipid-dependent gating effects in a prototype voltage-gated potassium (Kv) channel, and have worked out detailed procedures to reconstitute the channels into different membrane systems. Our reconstitution procedures take consideration of both detergent-induced fusion of vesicles and the fusion of protein/detergent micelles with the lipid/detergent mixed micelles as well as the importance of reaching an equilibrium distribution of lipids among the protein/detergent/lipid and the detergent/lipid mixed micelles. Our data suggested that the insertion of the channels in the lipid vesicles is relatively random in orientations, and the reconstitution efficiency is so high that no detectable protein aggregates were seen in fractionation experiments. We have utilized the reconstituted channels to determine the conformational states of the channels in different lipids, record electrical activities of a small number of channels incorporated in planar lipid bilayers, screen for conformation-specific ligands from a phage-displayed peptide library, and support the growth of 2D crystals of the channels in membranes. The reconstitution procedures described here may be adapted for studying other membrane proteins in lipid bilayers, especially for the investigation of the lipid effects on the eukaryotic voltage-gated ion channels.
Molecular Biology, Issue 77, Biochemistry, Genetics, Cellular Biology, Structural Biology, Biophysics, Membrane Lipids, Phospholipids, Carrier Proteins, Membrane Proteins, Micelles, Molecular Motor Proteins, life sciences, biochemistry, Amino Acids, Peptides, and Proteins, lipid-protein interaction, channel reconstitution, lipid-dependent gating, voltage-gated ion channel, conformation-specific ligands, lipids
50436
Axoplasm Isolation from Rat Sciatic Nerve
Institutions: Weizmann Institute of Science.

Isolation of pure axonal cytoplasm (axoplasm) from peripheral nerve is crucial for biochemical studies of many biological processes. In this article, we demonstrate and describe a protocol for axoplasm isolation from adult rat sciatic nerve based on the following steps: (1) dissection of nerve fascicles and separation of connective tissue; (2) incubation of short segments of nerve fascicles in hypotonic medium to release myelin and lyse non-axonal structures; and (3) extraction of the remaining axon-enriched material. Proteomic and biochemical characterization of this preparation has confirmed a high degree of enrichment for axonal components.
Neuroscience, Issue 43, Axoplasm, nerve, isolation, method, rat
2087
Electrophysiological Methods for Recording Synaptic Potentials from the NMJ of Drosophila Larvae
Institutions: Columbia University College of Physicians and Surgeons.
In this video, we describe the electrophysiological methods for recording synaptic transmission at the neuromuscular junction (NMJ) of Drosophila larva. The larval neuromuscular system is a model synapse for the study of synaptic physiology and neurotransmission, and is a valuable research tool that has defined genetics and is accessible to experimental manipulation. Larvae can be dissected to expose the body wall musculature, central nervous system, and peripheral nerves. The muscles of Drosophila and their innervation pattern are well characterized and muscles are easy to access for intracellular recording. Individual muscles can be identified by their location and orientation within the 8 abdominal segments, each with 30 muscles arranged in a pattern that is repeated in segments A2 - A7. Dissected drosophila larvae are thin and individual muscles and bundles of motor neuron axons can be visualized by transillumination
1
. Transgenic constructs can be used to label target cells for visual identification or for manipulating gene products in specific tissues. In larvae, excitatory junction potentials (EJP's) are generated in response to vesicular release of glutamate from the motoneurons at the synapse. In dissected larvae, the EJP can be recorded in the muscle with an intracellular electrode. Action potentials can be artificially evoked in motor neurons that have been cut posterior to the ventral ganglion, drawn into a glass pipette by gentle suction and stimulated with an electrode. These motor neurons have distinct firing thresholds when stimulated, and when they fire simultaneously, they generate a response in the muscle. Signals transmitted across the NMJ synapse can be recorded in the muscles that the motor neurons innervate. The EJP's and minature excitatory junction potentials (mEJP's) are seen as changes in membrane potential. Electrophysiological responses are recorded at room temperature in modified minimal hemolymph-like solution
2
(HL3) that contains 5 mM Mg
2+
and 1.5 mM Ca
2+
. Changes in the amplitude of evoked EJP's can indicate differences in synaptic function and structure. Digitized recordings are analyzed for EJP amplitude, mEJP frequency and amplitude, and quantal content.
Neuroscience, Issue 24, Neuromuscular junction, synaptic transmission, Drosophila larvae, electrophysiology
1109