ABSTRACT
The enzyme-linked immunosorbent assay (ELISA) has long been the primary tool for detection of analytes of interest in biological samples for both life science research and clinical diagnostics. However, ELISA has limitations. It is typically performed in a 96-well microplate, and the wells are coated with capture antibody, requiring a relatively large amount of sample to capture an antigen of interest . The large surface area of the wells and the hydrophobic binding of capture antibody can also lead to non-specific binding and increased background. Additionally, most ELISAs rely upon enzyme-mediated amplification of signal in order to achieve reasonable sensitivity. Such amplification is not always linear and can thus skew results. In the past 15 years, a new technology has emerged that offers the benefits of the ELISA, but also enables higher throughput, increased flexibility, reduced sample volume, and lower cost, with a similar workflow 1, 2. Luminex xMAP Technology is a microsphere (bead) array platform enabling both monoplex and multiplex assays that can be applied to both protein and nucleic acid applications 3-5. The beads have the capture antibody covalently immobilized on a smaller surface area, requiring less capture antibody and smaller sample volumes, compared to ELISA, and non-specific binding is significantly reduced. Smaller sample volumes are important when working with limiting samples such as cerebrospinal fluid, synovial fluid, etc. 6. Multiplexing the assay further reduces sample volume requirements, enabling multiple results from a single sample. Recent improvements by Luminex include: the new MAGPIX system, a smaller, less expensive, easier-to-use analyzer; Low-Concentration Magnetic MagPlex Microspheres which eliminate the need for expensive filter plates and come in a working concentration better suited for assay development and low-throughput applications; and the xMAP Antibody Coupling (AbC) Kit, which includes a protocol, reagents, and consumables necessary for coupling beads to the capture antibody of interest. (See Materials section for a detailed list of kit contents.) In this experiment, we convert a pre-optimized ELISA assay for TNF-alpha cytokine to the xMAP platform and compare the performance of the two methods 7-11. TNF-alpha is a biomarker used in the measurement of inflammatory responses in patients with autoimmune disorders. We begin by coupling four candidate capture antibodies to four different microsphere sets or regions. When mixed together, these four sets allow for the simultaneous testing of all four candidates with four separate detection antibodies to determine the best antibody pair, saving reagents, sample and time. Two xMAP assays are then constructed with the two most optimal antibody pairs and their performance is compared to that of the original ELISA assay in regards to signal strength, dynamic range, and sensitivity.
23 Related JoVE Articles!
Quantification of Proteins Using Peptide Immunoaffinity Enrichment Coupled with Mass Spectrometry
Institutions: Fred Hutchinson Cancer Research Center - FHCRC, University of Victoria, Broad Institute of MIT and Harvard, University of Victoria, Plasma Proteome Institute.

There is a great need for quantitative assays in measuring proteins. Traditional sandwich immunoassays, largely considered the gold standard in quantitation, are associated with a high cost, long lead time, and are fraught with drawbacks (e.g. heterophilic antibodies, autoantibody interference, 'hook-effect').
1
An alternative technique is affinity enrichment of peptides coupled with quantitative mass spectrometry, commonly referred to as
SISCAPA
(Stable Isotope Standards and Capture by Anti-Peptide Antibodies).
2
In this technique, affinity enrichment of peptides with stable isotope dilution and detection by selected/multiple reaction monitoring mass spectrometry (
SRM/MRM-MS
) provides quantitative measurement of peptides as surrogates for their respective proteins. SRM/MRM-MS is well established for accurate quantitation of small molecules
3, 4
and more recently has been adapted to measure the concentrations of proteins in plasma and cell lysates.
5-7
To achieve quantitation of proteins, these larger molecules are digested to component peptides using an enzyme such as trypsin. One or more selected peptides whose sequence is unique to the target protein in that species (i.e. "proteotypic" peptides) are then enriched from the sample using anti-peptide antibodies and measured as quantitative stoichiometric surrogates for protein concentration in the sample. Hence, coupled to stable isotope dilution (
SID
) methods (i.e. a spiked-in stable isotope labeled peptide standard), SRM/MRM can be used to measure concentrations of proteotypic peptides as surrogates for quantification of proteins in complex biological matrices. The assays have several advantages compared to traditional immunoassays. The reagents are relatively less expensive to generate, the specificity for the analyte is excellent, the assays can be highly multiplexed, enrichment can be performed from neat plasma (no depletion required), and the technique is amenable to a wide array of proteins or modifications of interest.
8-13
In this video we demonstrate the basic protocol as adapted to a magnetic bead platform.
Molecular Biology, Issue 53, Mass spectrometry, targeted assay, peptide, MRM, SISCAPA, protein quantitation
2812
Developing Custom Chinese Hamster Ovary-host Cell Protein Assays using Acoustic Membrane Microparticle Technology
Institutions: BioScale, Inc., BioScale, Inc..

Custom assays for unique proteins are often limited to time consuming manual detection and quantitation techniques such as ELISA or Western blots due to the complexity of development on alternate platforms. BioScale's proprietary Acoustic Membrane MicroParticle (AMMP) technology allows sandwich immunoassays to be easily developed for use on the ViBE platform, providing better sensitivity, reproducibility, and automated operation. Provided as an example, this protocol outlines the procedure for developing a custom Chinese Hamster Ovary- Host Cell Protein (CHO-HCP) assay. The general principles outlined here can be followed for the development of a wide variety of immunoassays. An AMMP assay measures antigen concentration by measuring changes in oscillation frequency caused by the binding of microparticles to the sensor surface to calculate. It consists of four major components: (1) a cartridge that contains a functionalized eight sensor chip (2) antibody labeled magnetic microparticles, (3) hapten tagged antibody that binds to the surface of the functionalized chip (4) samples containing the antigen of interest. BioScale's biosensor is a resonant device that contains eight individual membranes with separate fluidic paths. The membranes change oscillation frequency in response to mass accumulating on the surface and this frequency change is used to quantitate the amount of added mass. To facilitate use in a wide variety of immunoassays the sensor is functionalized with an anti-hapten antibody. Assay specific antibodies are modified through the covalent conjugation of a hapten tag to one antibody and biotin to the other. The biotin label is used to bind the antibody to streptavidin coupled magnetic beads which, in combination with the hapten-tagged antibody, are used to capture the analyte in a sandwich. The complex binds to the chip through the anti-hapten/hapten interaction. At the end of each assay run the sensors are cleaned with a dilute acid enabling the sequential analysis of columns from a 96-well plate. Here, we present the method for developing a custom CHO-HCP AMMP assay for bioprocess development. Developing AMMP assays or modifying existing assays into AMMP assays can provide better performance (reproducibility, sensitivity) in complex samples and reduced operator time. The protocol shows the steps for development and the discussion section reviews representative results. For a more in-depth explanation of assay optimization and customization parameters contact BioScale. This kit offers generic bioprocess development assays such as Residual Protein A, Product titer, and CHO-HCP.
Bioengineering, Issue 48, Immunoassays, Chinese Hamster Ovary Host Cell Protein, Residual Protein A assay, Assay development, Biomarker detection and quantitation, Phospho-AKT, Gadd34, tissue sample, tumor sample, bioreactor sample
2493
Biomolecular Detection employing the Interferometric Reflectance Imaging Sensor (IRIS)
Institutions: Boston University , Boston University , Boston University , Boston University School of Medicine, Boston University School of Medicine, Istituto di Chimica del Riconoscimento Molecolare.

The sensitive measurement of biomolecular interactions has use in many fields and industries such as basic biology and microbiology, environmental/agricultural/biodefense monitoring, nanobiotechnology, and more. For diagnostic applications, monitoring (detecting) the presence, absence, or abnormal expression of targeted proteomic or genomic biomarkers found in patient samples can be used to determine treatment approaches or therapy efficacy. In the research arena, information on molecular affinities and specificities are useful for fully characterizing the systems under investigation. Many of the current systems employed to determine molecular concentrations or affinities rely on the use of labels. Examples of these systems include immunoassays such as the enzyme-linked immunosorbent assay (ELISA), polymerase chain reaction (PCR) techniques, gel electrophoresis assays, and mass spectrometry (MS). Generally, these labels are fluorescent, radiological, or colorimetric in nature and are directly or indirectly attached to the molecular target of interest. Though the use of labels is widely accepted and has some benefits, there are drawbacks which are stimulating the development of new label-free methods for measuring these interactions. These drawbacks include practical facets such as increased assay cost, reagent lifespan and usability, storage and safety concerns, wasted time and effort in labelling, and variability among the different reagents due to the labelling processes or labels themselves. On a scientific research basis, the use of these labels can also introduce difficulties such as concerns with effects on protein functionality/structure due to the presence of the attached labels and the inability to directly measure the interactions in real time. Presented here is the use of a new label-free optical biosensor that is amenable to microarray studies, termed the Interferometric Reflectance Imaging Sensor (IRIS), for detecting proteins, DNA, antigenic material, whole pathogens (virions) and other biological material. The IRIS system has been demonstrated to have high sensitivity, precision, and reproducibility for different biomolecular interactions [1-3]. Benefits include multiplex imaging capacity, real time and endpoint measurement capabilities, and other high-throughput attributes such as reduced reagent consumption and a reduction in assay times. Additionally, the IRIS platform is simple to use, requires inexpensive equipment, and utilizes silicon-based solid phase assay components making it compatible with many contemporary surface chemistry approaches. Here, we present the use of the IRIS system from preparation of probe arrays to incubation and measurement of target binding to analysis of the results in an endpoint format. The model system will be the capture of target antibodies which are specific for human serum albumin (HSA) on HSA-spotted substrates.
Bioengineering, Issue 51, Interferometry, label-free, biosensing, microarray, quantification, real-time detection
2694
Multiplex Detection of Bacteria in Complex Clinical and Environmental Samples using Oligonucleotide-coupled Fluorescent Microspheres
Institutions: Agriculture and Agri-Food Canada, University of Saskatchewan , National Research Council of Canada.

Bacterial vaginosis (BV) is a recurring polymicrobial syndrome that is characterized by a change in the "normal" microbiota from
Lactobacillus
-dominated to a microbiota dominated by a number of bacterial species, including
Gardnerella vaginalis
,
Atopobium vaginae
, and others
1-3
. This condition is associated with a range of negative health outcomes, including HIV acquisition
4
, and it can be difficult to manage clinically
5
. Furthermore, diagnosis of BV has relied on the use of Gram stains of vaginal swab smears that are scored on various numerical criteria
6,7
. While this diagnostic is simple, inexpensive, and well suited to resource-limited settings, it can suffer from problems related to subjective interpretations and it does not give a detailed profile of the composition of the vaginal microbiota
8
. Recent deep sequencing efforts have revealed a rich, diverse vaginal microbiota with clear differences between samples taken from individuals that are diagnosed with BV compared to those individuals that are considered normal
9,10
, which has resulted in the identification of a number of potential targets for molecular diagnosis of BV
11,12
. These studies have provided a wealth of useful information, but deep sequencing is not yet practical as a diagnostic method in a clinical setting. We have recently described a method for rapidly profiling the vaginal microbiota in a multiplex format using oligonucleotide-coupled fluorescent beads with detection on a Luminex platform
13
. This method, like current Gram stain-based methods, is rapid and simple but adds the additional advantage of exploiting molecular knowledge arising from sequencing studies in probe design. This method therefore provides a way to profile the major microorganisms that are present in a vaginal swab that can be used to diagnose BV with high specificity and sensitivity compared to Gram stain while providing additional information on species presence and abundance in a semi-quantitative and rapid manner. This multiplex method is expandable well beyond the range of current quantitative PCR assays for particular organisms, which is currently limited to 5 or 6 different assays in a single sample
14
. Importantly, the method is not limited to the detection of bacteria in vaginal swabs and can be easily adapted to rapidly profile nearly any microbial community of interest. For example, we have recently begun to apply this methodology to the development of diagnostic tools for use in wastewater treatment plants.
Immunology, Issue 56, Medicine, chaperonin-60, hsp60, luminex, multiplex, diagnostics, bacterial vaginosis, PCR
3344
A Multiplexed Luciferase-based Screening Platform for Interrogating Cancer-associated Signal Transduction in Cultured Cells
Institutions: UT Southwestern Medical Center.

Genome-scale interrogation of gene function using RNA interference (RNAi) holds tremendous promise for the rapid identification of chemically tractable cancer cell vulnerabilities. Limiting the potential of this technology is the inability to rapidly delineate the mechanistic basis of phenotypic outcomes and thus inform the development of molecularly targeted therapeutic strategies. We outline here methods to deconstruct cellular phenotypes induced by RNAi-mediated gene targeting using multiplexed reporter systems that allow monitoring of key cancer cell-associated processes. This high-content screening methodology is versatile and can be readily adapted for the screening of other types of large molecular libraries.
Cancer Biology, Issue 77, Medicine, Genetics, Cellular Biology, Molecular Biology, Biochemistry, Cancer Biology, Bioengineering, Genomics, Drug Discovery, RNA Interference, Cell Biology, Neoplasms, luciferase reporters, functional genomics, chemical biology, high-throughput screening technology, signal transduction, PCR, transfection, assay
50369
Hydrogel Nanoparticle Harvesting of Plasma or Urine for Detecting Low Abundance Proteins
Institutions: George Mason University, Ceres Nanosciences.

Novel biomarker discovery plays a crucial role in providing more sensitive and specific disease detection. Unfortunately many low-abundance biomarkers that exist in biological fluids cannot be easily detected with mass spectrometry or immunoassays because they are present in very low concentration, are labile, and are often masked by high-abundance proteins such as albumin or immunoglobulin. Bait containing poly(N-isopropylacrylamide) (NIPAm) based nanoparticles are able to overcome these physiological barriers. In one step they are able to capture, concentrate and preserve biomarkers from body fluids. Low-molecular weight analytes enter the core of the nanoparticle and are captured by different organic chemical dyes, which act as high affinity protein baits. The nanoparticles are able to concentrate the proteins of interest by several orders of magnitude. This concentration factor is sufficient to increase the protein level such that the proteins are within the detection limit of current mass spectrometers, western blotting, and immunoassays. Nanoparticles can be incubated with a plethora of biological fluids and they are able to greatly enrich the concentration of low-molecular weight proteins and peptides while excluding albumin and other high-molecular weight proteins. Our data show that a 10,000 fold amplification in the concentration of a particular analyte can be achieved, enabling mass spectrometry and immunoassays to detect previously undetectable biomarkers.
Bioengineering, Issue 90, biomarker, hydrogel, low abundance, mass spectrometry, nanoparticle, plasma, protein, urine
51789
Low Molecular Weight Protein Enrichment on Mesoporous Silica Thin Films for Biomarker Discovery
Institutions: The Methodist Hospital Research Institute, National Center for Nanoscience and Technology.

The identification of circulating biomarkers holds great potential for non invasive approaches in early diagnosis and prognosis, as well as for the monitoring of therapeutic efficiency.
1-3
The circulating low molecular weight proteome (LMWP) composed of small proteins shed from tissues and cells or peptide fragments derived from the proteolytic degradation of larger proteins, has been associated with the pathological condition in patients and likely reflects the state of disease.
4,5
Despite these potential clinical applications, the use of Mass Spectrometry (MS) to profile the LMWP from biological fluids has proven to be very challenging due to the large dynamic range of protein and peptide concentrations in serum.
6
Without sample pre-treatment, some of the more highly abundant proteins obscure the detection of low-abundance species in serum/plasma. Current proteomic-based approaches, such as two-dimensional polyacrylamide gel-electrophoresis (2D-PAGE) and shotgun proteomics methods are labor-intensive, low throughput and offer limited suitability for clinical applications.
7-9
Therefore, a more effective strategy is needed to isolate LMWP from blood and allow the high throughput screening of clinical samples. Here, we present a fast, efficient and reliable multi-fractionation system based on mesoporous silica chips to specifically target and enrich LMWP.
10,11
Mesoporous silica (MPS) thin films with tunable features at the nanoscale were fabricated using the triblock copolymer template pathway. Using different polymer templates and polymer concentrations in the precursor solution, various pore size distributions, pore structures, connectivity and surface properties were determined and applied for selective recovery of low mass proteins. The selective parsing of the enriched peptides into different subclasses according to their physicochemical properties will enhance the efficiency of recovery and detection of low abundance species. In combination with mass spectrometry and statistic analysis, we demonstrated the correlation between the nanophase characteristics of the mesoporous silica thin films and the specificity and efficacy of low mass proteome harvesting. The results presented herein reveal the potential of the nanotechnology-based technology to provide a powerful alternative to conventional methods for LMWP harvesting from complex biological fluids. Because of the ability to tune the material properties, the capability for low-cost production, the simplicity and rapidity of sample collection, and the greatly reduced sample requirements for analysis, this novel nanotechnology will substantially impact the field of proteomic biomarker research and clinical proteomic assessment.
Bioengineering, Issue 62, Nanoporous silica chip, Low molecular weight proteomics, Peptidomics, MALDI-TOF mass spectrometry, early diagnostics, proteomics
3876
Microarray-based Identification of Individual HERV Loci Expression: Application to Biomarker Discovery in Prostate Cancer
Institutions: Joint Unit Hospices de Lyon-bioMérieux, BioMérieux, Hospices Civils de Lyon, Lyon 1 University, BioMérieux, Hospices Civils de Lyon, Hospices Civils de Lyon.

The prostate-specific antigen (PSA) is the main diagnostic biomarker for prostate cancer in clinical use, but it lacks specificity and sensitivity, particularly in low dosage values
1
​​. 'How to use PSA' remains a current issue, either for diagnosis as a gray zone corresponding to a concentration in serum of 2.5-10 ng/ml which does not allow a clear differentiation to be made between cancer and noncancer
2
or for patient follow-up as analysis of post-operative PSA kinetic parameters can pose considerable challenges for their practical application
3,4
. Alternatively, noncoding RNAs (ncRNAs) are emerging as key molecules in human cancer, with the potential to serve as novel markers of disease,
e.g.
PCA3 in prostate cancer
5,6
and to reveal uncharacterized aspects of tumor biology. Moreover, data from the ENCODE project published in 2012 showed that different RNA types cover about 62% of the genome. It also appears that the amount of transcriptional regulatory motifs is at least 4.5x higher than the one corresponding to protein-coding exons. Thus, long terminal repeats (LTRs) of human endogenous retroviruses (HERVs) constitute a wide range of putative/candidate transcriptional regulatory sequences, as it is their primary function in infectious retroviruses. HERVs, which are spread throughout the human genome, originate from ancestral and independent infections within the germ line, followed by copy-paste propagation processes and leading to multicopy families occupying 8% of the human genome (note that exons span 2% of our genome). Some HERV loci still express proteins that have been associated with several pathologies including cancer
7-10
. We have designed a high-density microarray, in Affymetrix format, aiming to optimally characterize individual HERV loci expression, in order to better understand whether they can be active, if they drive ncRNA transcription or modulate coding gene expression. This tool has been applied in the prostate cancer field (
Figure 1
).
Medicine, Issue 81, Cancer Biology, Genetics, Molecular Biology, Prostate, Retroviridae, Biomarkers, Pharmacological, Tumor Markers, Biological, Prostatectomy, Microarray Analysis, Gene Expression, Diagnosis, Human Endogenous Retroviruses, HERV, microarray, Transcriptome, prostate cancer, Affymetrix
50713
An Allelotyping PCR for Identifying Salmonella enterica serovars Enteritidis, Hadar, Heidelberg, and Typhimurium
Institutions: University of Georgia.

Current commercial PCRs tests for identifying
Salmonella
target genes unique to this genus. However, there are two species, six subspecies, and over 2,500 different
Salmonella
serovars, and not all are equal in their significance to public health. For example, finding
S. enterica subspecies
IIIa Arizona on a table egg layer farm is insignificant compared to the isolation of
S. enterica
subspecies I serovar Enteritidis, the leading cause of salmonellosis linked to the consumption of table eggs. Serovars are identified based on antigenic differences in lipopolysaccharide (LPS)(O antigen) and flagellin (H1 and H2 antigens). These antigenic differences are the outward appearance of the diversity of genes and gene alleles associated with this phenotype. We have developed an allelotyping, multiplex PCR that keys on genetic differences between four major
S. enterica
subspecies I serovars found in poultry and associated with significant human disease in the US. The PCR primer pairs were targeted to key genes or sequences unique to a specific
Salmonella
serovar and designed to produce an amplicon with size specific for that gene or allele.
Salmonella
serovar is assigned to an isolate based on the combination of PCR test results for specific LPS and flagellin gene alleles. The multiplex PCRs described in this article are specific for the detection of
S. enterica
subspecies I serovars Enteritidis, Hadar, Heidelberg, and Typhimurium. Here we demonstrate how to use the multiplex PCRs to identify serovar for a
Salmonella
isolate.
Immunology, Issue 53, PCR, Salmonella, multiplex, Serovar
3130
Drug-induced Sensitization of Adenylyl Cyclase: Assay Streamlining and Miniaturization for Small Molecule and siRNA Screening Applications
Institutions: Purdue University, Eli Lilly and Company.

Sensitization of adenylyl cyclase (AC) signaling has been implicated in a variety of neuropsychiatric and neurologic disorders including substance abuse and Parkinson's disease. Acute activation of Gαi/o-linked receptors inhibits AC activity, whereas persistent activation of these receptors results in heterologous sensitization of AC and increased levels of intracellular cAMP. Previous studies have demonstrated that this enhancement of AC responsiveness is observed both
in vitro
and
in vivo
following the chronic activation of several types of Gαi/o-linked receptors including D
2
dopamine and μ opioid receptors. Although heterologous sensitization of AC was first reported four decades ago, the mechanism(s) that underlie this phenomenon remain largely unknown. The lack of mechanistic data presumably reflects the complexity involved with this adaptive response, suggesting that nonbiased approaches could aid in identifying the molecular pathways involved in heterologous sensitization of AC. Previous studies have implicated kinase and Gbγ signaling as overlapping components that regulate the heterologous sensitization of AC. To identify unique and additional overlapping targets associated with sensitization of AC, the development and validation of a scalable cAMP sensitization assay is required for greater throughput. Previous approaches to study sensitization are generally cumbersome involving continuous cell culture maintenance as well as a complex methodology for measuring cAMP accumulation that involves multiple wash steps. Thus, the development of a robust cell-based assay that can be used for high throughput screening (HTS) in a 384 well format would facilitate future studies. Using two D
2
dopamine receptor cellular models (
i.e
. CHO-D
2L
and HEK-AC6/D
2L
), we have converted our 48-well sensitization assay (>20 steps 4-5 days) to a five-step, single day assay in 384-well format. This new format is amenable to small molecule screening, and we demonstrate that this assay design can also be readily used for reverse transfection of siRNA in anticipation of targeted siRNA library screening.
Bioengineering, Issue 83, adenylyl cyclase, cAMP, heterologous sensitization, superactivation, D2 dopamine, μ opioid, siRNA
51218
Modeling Neural Immune Signaling of Episodic and Chronic Migraine Using Spreading Depression In Vitro
Institutions: The University of Chicago Medical Center, The University of Chicago Medical Center.

Migraine and its transformation to chronic migraine are healthcare burdens in need of improved treatment options. We seek to define how neural immune signaling modulates the susceptibility to migraine, modeled
in vitro
using spreading depression (SD), as a means to develop novel therapeutic targets for episodic and chronic migraine. SD is the likely cause of migraine aura and migraine pain. It is a paroxysmal loss of neuronal function triggered by initially increased neuronal activity, which slowly propagates within susceptible brain regions. Normal brain function is exquisitely sensitive to, and relies on, coincident low-level immune signaling. Thus, neural immune signaling likely affects electrical activity of SD, and therefore migraine. Pain perception studies of SD in whole animals are fraught with difficulties, but whole animals are well suited to examine systems biology aspects of migraine since SD activates trigeminal nociceptive pathways. However, whole animal studies alone cannot be used to decipher the cellular and neural circuit mechanisms of SD. Instead,
in vitro
preparations where environmental conditions can be controlled are necessary. Here, it is important to recognize limitations of acute slices and distinct advantages of hippocampal slice cultures. Acute brain slices cannot reveal subtle changes in immune signaling since preparing the slices alone triggers: pro-inflammatory changes that last days, epileptiform behavior due to high levels of oxygen tension needed to vitalize the slices, and irreversible cell injury at anoxic slice centers. In contrast, we examine immune signaling in mature hippocampal slice cultures since the cultures closely parallel their
in vivo
counterpart with mature trisynaptic function; show quiescent astrocytes, microglia, and cytokine levels; and SD is easily induced in an unanesthetized preparation. Furthermore, the slices are long-lived and SD can be induced on consecutive days without injury, making this preparation the sole means to-date capable of modeling the neuroimmune consequences of chronic SD, and thus perhaps chronic migraine. We use electrophysiological techniques and non-invasive imaging to
measure
neuronal cell and circuit functions coincident with SD. Neural immune gene expression variables are measured with qPCR screening, qPCR arrays, and, importantly, use of cDNA preamplification for detection of ultra-low level targets such as interferon-gamma using whole, regional, or specific cell enhanced (via laser dissection microscopy) sampling. Cytokine cascade signaling is further assessed with multiplexed phosphoprotein related targets with gene expression and phosphoprotein changes confirmed via cell-specific immunostaining. Pharmacological and siRNA strategies are used to
mimic
and
modulate
SD immune signaling.
Neuroscience, Issue 52, innate immunity, hormesis, microglia, T-cells, hippocampus, slice culture, gene expression, laser dissection microscopy, real-time qPCR, interferon-gamma
2910
Chemically-blocked Antibody Microarray for Multiplexed High-throughput Profiling of Specific Protein Glycosylation in Complex Samples
Institutions: Institute for Hepatitis and Virus Research, Thomas Jefferson University , Drexel University College of Medicine, Van Andel Research Institute, Serome Biosciences Inc..

In this study, we describe an effective protocol for use in a multiplexed high-throughput antibody microarray with glycan binding protein detection that allows for the glycosylation profiling of specific proteins. Glycosylation of proteins is the most prevalent post-translational modification found on proteins, and leads diversified modifications of the physical, chemical, and biological properties of proteins. Because the glycosylation machinery is particularly susceptible to disease progression and malignant transformation, aberrant glycosylation has been recognized as early detection biomarkers for cancer and other diseases. However, current methods to study protein glycosylation typically are too complicated or expensive for use in most normal laboratory or clinical settings and a more practical method to study protein glycosylation is needed. The new protocol described in this study makes use of a chemically blocked antibody microarray with glycan-binding protein (GBP) detection and significantly reduces the time, cost, and lab equipment requirements needed to study protein glycosylation. In this method, multiple immobilized glycoprotein-specific antibodies are printed directly onto the microarray slides and the N-glycans on the antibodies are blocked. The blocked, immobilized glycoprotein-specific antibodies are able to capture and isolate glycoproteins from a complex sample that is applied directly onto the microarray slides. Glycan detection then can be performed by the application of biotinylated lectins and other GBPs to the microarray slide, while binding levels can be determined using Dylight 549-Streptavidin. Through the use of an antibody panel and probing with multiple biotinylated lectins, this method allows for an effective glycosylation profile of the different proteins found in a given human or animal sample to be developed. Introduction Glycosylation of protein, which is the most ubiquitous post-translational modification on proteins, modifies the physical, chemical, and biological properties of a protein, and plays a fundamental role in various biological processes
1-6
. Because the glycosylation machinery is particularly susceptible to disease progression and malignant transformation, aberrant glycosylation has been recognized as early detection biomarkers for cancer and other diseases
7-12
. In fact, most current cancer biomarkers, such as the L3 fraction of α-1 fetoprotein (AFP) for hepatocellular carcinoma
13-15
, and CA199 for pancreatic cancer
16, 17
are all aberrant glycan moieties on glycoproteins. However, methods to study protein glycosylation have been complicated, and not suitable for routine laboratory and clinical settings. Chen
et al.
has recently invented a chemically blocked antibody microarray with a glycan-binding protein (GBP) detection method for high-throughput and multiplexed profile glycosylation of native glycoproteins in a complex sample
18
. In this affinity based microarray method, multiple immobilized glycoprotein-specific antibodies capture and isolate glycoproteins from the complex mixture directly on the microarray slide, and the glycans on each individual captured protein are measured by GBPs. Because all normal antibodies contain N-glycans which could be recognized by most GBPs, the critical step of this method is to chemically block the glycans on the antibodies from binding to GBP. In the procedure, the
cis
-diol groups of the glycans on the antibodies were first oxidized to aldehyde groups by using NaIO
4
in sodium acetate buffer avoiding light. The aldehyde groups were then conjugated to the hydrazide group of a cross-linker, 4-(4-N-MaleimidoPhenyl)butyric acid Hydrazide HCl (MPBH), followed by the conjugation of a dipeptide, Cys-Gly, to the maleimide group of the MPBH. Thus, the cis-diol groups on glycans of antibodies were converted into bulky none hydroxyl groups, which hindered the lectins and other GBPs bindings to the capture antibodies. This blocking procedure makes the GBPs and lectins bind only to the glycans of captured proteins. After this chemically blocking, serum samples were incubated with the antibody microarray, followed by the glycans detection by using different biotinylated lectins and GBPs, and visualized with Cy3-streptavidin. The parallel use of an antibody panel and multiple lectin probing provides discrete glycosylation profiles of multiple proteins in a given sample
18-20
. This method has been used successfully in multiple different labs
1, 7, 13, 19-31
. However, stability of MPBH and Cys-Gly, complicated and extended procedure in this method affect the reproducibility, effectiveness and efficiency of the method. In this new protocol, we replaced both MPBH and Cys-Gly with one much more stable reagent glutamic acid hydrazide (Glu-hydrazide), which significantly improved the reproducibility of the method, simplified and shorten the whole procedure so that the it can be completed within one working day. In this new protocol, we describe the detailed procedure of the protocol which can be readily adopted by normal labs for routine protein glycosylation study and techniques which are necessary to obtain reproducible and repeatable results.
Molecular Biology, Issue 63, Glycoproteins, glycan-binding protein, specific protein glycosylation, multiplexed high-throughput glycan blocked antibody microarray
3791
High-throughput, Automated Extraction of DNA and RNA from Clinical Samples using TruTip Technology on Common Liquid Handling Robots
Institutions: Akonni Biosystems, Inc., Akonni Biosystems, Inc., Akonni Biosystems, Inc., Akonni Biosystems, Inc..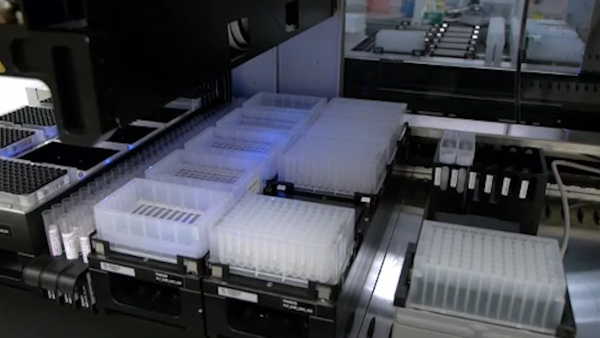 TruTip is a simple nucleic acid extraction technology whereby a porous, monolithic binding matrix is inserted into a pipette tip. The geometry of the monolith can be adapted for specific pipette tips ranging in volume from 1.0 to 5.0 ml. The large porosity of the monolith enables viscous or complex samples to readily pass through it with minimal fluidic backpressure. Bi-directional flow maximizes residence time between the monolith and sample, and enables large sample volumes to be processed within a single TruTip. The fundamental steps, irrespective of sample volume or TruTip geometry, include cell lysis, nucleic acid binding to the inner pores of the TruTip monolith, washing away unbound sample components and lysis buffers, and eluting purified and concentrated nucleic acids into an appropriate buffer. The attributes and adaptability of TruTip are demonstrated in three automated clinical sample processing protocols using an Eppendorf epMotion 5070, Hamilton STAR and STARplus liquid handling robots, including RNA isolation from nasopharyngeal aspirate, genomic DNA isolation from whole blood, and fetal DNA extraction and enrichment from large volumes of maternal plasma (respectively).
Genetics, Issue 76, Bioengineering, Biomedical Engineering, Molecular Biology, Automation, Laboratory, Clinical Laboratory Techniques, Molecular Diagnostic Techniques, Analytic Sample Preparation Methods, Clinical Laboratory Techniques, Molecular Diagnostic Techniques, Genetic Techniques, Molecular Diagnostic Techniques, Automation, Laboratory, Chemistry, Clinical, DNA/RNA extraction, automation, nucleic acid isolation, sample preparation, nasopharyngeal aspirate, blood, plasma, high-throughput, sequencing
50356
A Sensitive and Specific Quantitation Method for Determination of Serum Cardiac Myosin Binding Protein-C by Electrochemiluminescence Immunoassay
Institutions: Loyola University Chicago.
Biomarkers are becoming increasingly more important in clinical decision-making, as well as basic science. Diagnosing myocardial infarction (MI) is largely driven by detecting cardiac-specific proteins in patients' serum or plasma as an indicator of myocardial injury. Having recently shown that cardiac myosin binding protein-C (cMyBP-C) is detectable in the serum after MI, we have proposed it as a potential biomarker for MI. Biomarkers are typically detected by traditional sandwich enzyme-linked immunosorbent assays. However, this technique requires a large sample volume, has a small dynamic range, and can measure only one protein at a time. Here we show a multiplex immunoassay in which three cardiac proteins can be measured simultaneously with high sensitivity. Measuring cMyBP-C in uniplex or together with creatine kinase MB and cardiac troponin I showed comparable sensitivity. This technique uses the Meso Scale Discovery (MSD) method of multiplexing in a 96-well plate combined with electrochemiluminescence for detection. While only small sample volumes are required, high sensitivity and a large dynamic range are achieved. Using this technique, we measured cMyBP-C, creatine kinase MB, and cardiac troponin I levels in serum samples from 16 subjects with MI and compared the results with 16 control subjects. We were able to detect all three markers in these samples and found all three biomarkers to be increased after MI. This technique is, therefore, suitable for the sensitive detection of cardiac biomarkers in serum samples.
Molecular Biology, Issue 78, Cellular Biology, Biochemistry, Genetics, Biomedical Engineering, Medicine, Cardiology, Heart Diseases, Myocardial Ischemia, Myocardial Infarction, Cardiovascular Diseases, cardiovascular disease, immunoassay, cardiac myosin binding protein-C, cardiac troponin I, creatine kinase MB, electrochemiluminescence, multiplex biomarkers, ELISA, assay
50786
High Throughput Sequential ELISA for Validation of Biomarkers of Acute Graft-Versus-Host Disease
Institutions: University of Michigan .

Unbiased discovery proteomics strategies have the potential to identify large numbers of novel biomarkers that can improve diagnostic and prognostic testing in a clinical setting and may help guide therapeutic interventions. When large numbers of candidate proteins are identified, it may be difficult to validate candidate biomarkers in a timely and efficient fashion from patient plasma samples that are event-driven, of finite volume and irreplaceable, such as at the onset of acute graft-versus-host disease (GVHD), a potentially life-threatening complication of allogeneic hematopoietic stem cell transplantation (HSCT). Here we describe the process of performing commercially available ELISAs for six validated GVHD proteins: IL-2Rα
5
, TNFR1
6
, HGF
7
, IL-8
8
, elafin
2
, and REG3α
3
(also known as PAP1) in a sequential fashion to minimize freeze-thaw cycles, thawed plasma time and plasma usage. For this procedure we perform the ELISAs in sequential order as determined by sample dilution factor as established in our laboratory using manufacturer ELISA kits and protocols with minor adjustments to facilitate optimal sequential ELISA performance. The resulting plasma biomarker concentrations can then be compiled and analyzed for significant findings within a patient cohort. While these biomarkers are currently for research purposes only, their incorporation into clinical care is currently being investigated in clinical trials. This technique can be applied to perform ELISAs for multiple proteins/cytokines of interest on the same sample(s) provided the samples do not need to be mixed with other reagents. If ELISA kits do not come with pre-coated plates, 96-well half-well plates or 384-well plates can be used to further minimize use of samples/reagents.
Medicine, Issue 68, ELISA, Sequential ELISA, Cytokine, Blood plasma, biomarkers, proteomics, graft-versus-host disease, Small sample, Quantification
4247
Strategies for Study of Neuroprotection from Cold-preconditioning
Institutions: The University of Chicago Medical Center.

Neurological injury is a frequent cause of morbidity and mortality from general anesthesia and related surgical procedures that could be alleviated by development of effective, easy to administer and safe preconditioning treatments. We seek to define the neural immune signaling responsible for cold-preconditioning as means to identify novel targets for therapeutics development to protect brain before injury onset. Low-level pro-inflammatory mediator signaling changes over time are essential for cold-preconditioning neuroprotection. This signaling is consistent with the basic tenets of physiological conditioning hormesis, which require that irritative stimuli reach a threshold magnitude with sufficient time for adaptation to the stimuli for protection to become evident. Accordingly, delineation of the immune signaling involved in cold-preconditioning neuroprotection requires that biological systems and experimental manipulations plus technical capacities are highly reproducible and sensitive. Our approach is to use hippocampal slice cultures as an
in vitro
model that closely reflects their
in vivo
counterparts with multi-synaptic neural networks influenced by mature and quiescent macroglia / microglia. This glial state is particularly important for microglia since they are the principal source of cytokines, which are operative in the femtomolar range. Also, slice cultures can be maintained
in vitro
for several weeks, which is sufficient time to evoke activating stimuli and assess adaptive responses. Finally, environmental conditions can be accurately controlled using slice cultures so that cytokine signaling of cold-preconditioning can be measured, mimicked, and modulated to dissect the critical node aspects. Cytokine signaling system analyses require the use of sensitive and reproducible multiplexed techniques. We use quantitative PCR for TNF-α to screen for microglial activation followed by quantitative real-time qPCR array screening to assess tissue-wide cytokine changes. The latter is a most sensitive and reproducible means to measure multiple cytokine system signaling changes simultaneously. Significant changes are confirmed with targeted qPCR and then protein detection. We probe for tissue-based cytokine protein changes using multiplexed microsphere flow cytometric assays using Luminex technology. Cell-specific cytokine production is determined with double-label immunohistochemistry. Taken together, this brain tissue preparation and style of use, coupled to the suggested investigative strategies, may be an optimal approach for identifying potential targets for the development of novel therapeutics that could mimic the advantages of cold-preconditioning.
Neuroscience, Issue 43, innate immunity, hormesis, microglia, hippocampus, slice culture, immunohistochemistry, neural-immune, gene expression, real-time PCR
2192
Utility of Dissociated Intrinsic Hand Muscle Atrophy in the Diagnosis of Amyotrophic Lateral Sclerosis
Institutions: Westmead Hospital, University of Sydney, Australia.

The
split hand
phenomenon refers to predominant wasting of thenar muscles and is an early and specific feature of amyotrophic lateral sclerosis (ALS). A novel split hand index (SI) was developed to quantify the split hand phenomenon, and its diagnostic utility was assessed in ALS patients. The split hand index was derived by dividing the product of the compound muscle action potential (CMAP) amplitude recorded over the abductor pollicis brevis and first dorsal interosseous muscles by the CMAP amplitude recorded over the abductor digiti minimi muscle. In order to assess the diagnostic utility of the split hand index, ALS patients were prospectively assessed and their results were compared to neuromuscular disorder patients. The split hand index was significantly reduced in ALS when compared to neuromuscular disorder patients (P<0.0001). Limb-onset ALS patients exhibited the greatest reduction in the split hand index, and a value of 5.2 or less reliably differentiated ALS from other neuromuscular disorders. Consequently, the split hand index appears to be a novel diagnostic biomarker for ALS, perhaps facilitating an earlier diagnosis.
Medicine, Issue 85, Amyotrophic Lateral Sclerosis (ALS), dissociated muscle atrophy, hypothenar muscles, motor neuron disease, split-hand index, thenar muscles
51056
Isolation and Quantification of Botulinum Neurotoxin From Complex Matrices Using the BoTest Matrix Assays
Institutions: BioSentinel Inc., Madison, WI.

Accurate detection and quantification of botulinum neurotoxin (BoNT) in complex matrices is required for pharmaceutical, environmental, and food sample testing. Rapid BoNT testing of foodstuffs is needed during outbreak forensics, patient diagnosis, and food safety testing while accurate potency testing is required for BoNT-based drug product manufacturing and patient safety. The widely used mouse bioassay for BoNT testing is highly sensitive but lacks the precision and throughput needed for rapid and routine BoNT testing. Furthermore, the bioassay's use of animals has resulted in calls by drug product regulatory authorities and animal-rights proponents in the US and abroad to replace the mouse bioassay for BoNT testing. Several
in vitro
replacement assays have been developed that work well with purified BoNT in simple buffers, but most have not been shown to be applicable to testing in highly complex matrices. Here, a protocol for the detection of BoNT in complex matrices using the BoTest Matrix assays is presented. The assay consists of three parts: The first part involves preparation of the samples for testing, the second part is an immunoprecipitation step using anti-BoNT antibody-coated paramagnetic beads to purify BoNT from the matrix, and the third part quantifies the isolated BoNT's proteolytic activity using a fluorogenic reporter. The protocol is written for high throughput testing in 96-well plates using both liquid and solid matrices and requires about 2 hr of manual preparation with total assay times of 4-26 hr depending on the sample type, toxin load, and desired sensitivity. Data are presented for BoNT/A testing with phosphate-buffered saline, a drug product, culture supernatant, 2% milk, and fresh tomatoes and includes discussion of critical parameters for assay success.
Neuroscience, Issue 85, Botulinum, food testing, detection, quantification, complex matrices, BoTest Matrix, Clostridium, potency testing
51170
Demonstrating a Multi-drug Resistant Mycobacterium tuberculosis Amplification Microarray
Institutions: Akonni Biosystems, Inc..

Simplifying microarray workflow is a necessary first step for creating MDR-TB microarray-based diagnostics that can be routinely used in lower-resource environments. An amplification microarray combines asymmetric PCR amplification, target size selection, target labeling, and microarray hybridization within a single solution and into a single microfluidic chamber. A batch processing method is demonstrated with a 9-plex asymmetric master mix and low-density gel element microarray for genotyping multi-drug resistant
Mycobacterium tuberculosis
(MDR-TB). The protocol described here can be completed in 6 hr and provide correct genotyping with at least 1,000 cell equivalents of genomic DNA. Incorporating on-chip wash steps is feasible, which will result in an entirely closed amplicon method and system. The extent of multiplexing with an amplification microarray is ultimately constrained by the number of primer pairs that can be combined into a single master mix and still achieve desired sensitivity and specificity performance metrics, rather than the number of probes that are immobilized on the array. Likewise, the total analysis time can be shortened or lengthened depending on the specific intended use, research question, and desired limits of detection. Nevertheless, the general approach significantly streamlines microarray workflow for the end user by reducing the number of manually intensive and time-consuming processing steps, and provides a simplified biochemical and microfluidic path for translating microarray-based diagnostics into routine clinical practice.
Immunology, Issue 86, MDR-TB, gel element microarray, closed amplicon, drug resistance, rifampin, isoniazid, streptomycin, ethambutol
51256
Determination of Protein-ligand Interactions Using Differential Scanning Fluorimetry
Institutions: University of Exeter.

A wide range of methods are currently available for determining the dissociation constant between a protein and interacting small molecules. However, most of these require access to specialist equipment, and often require a degree of expertise to effectively establish reliable experiments and analyze data. Differential scanning fluorimetry (DSF) is being increasingly used as a robust method for initial screening of proteins for interacting small molecules, either for identifying physiological partners or for hit discovery. This technique has the advantage that it requires only a PCR machine suitable for quantitative PCR, and so suitable instrumentation is available in most institutions; an excellent range of protocols are already available; and there are strong precedents in the literature for multiple uses of the method. Past work has proposed several means of calculating dissociation constants from DSF data, but these are mathematically demanding. Here, we demonstrate a method for estimating dissociation constants from a moderate amount of DSF experimental data. These data can typically be collected and analyzed within a single day. We demonstrate how different models can be used to fit data collected from simple binding events, and where cooperative binding or independent binding sites are present. Finally, we present an example of data analysis in a case where standard models do not apply. These methods are illustrated with data collected on commercially available control proteins, and two proteins from our research program. Overall, our method provides a straightforward way for researchers to rapidly gain further insight into protein-ligand interactions using DSF.
Biophysics, Issue 91, differential scanning fluorimetry, dissociation constant, protein-ligand interactions, StepOne, cooperativity, WcbI.
51809
A Manual Small Molecule Screen Approaching High-throughput Using Zebrafish Embryos
Institutions: University of Notre Dame.

Zebrafish have become a widely used model organism to investigate the mechanisms that underlie developmental biology and to study human disease pathology due to their considerable degree of genetic conservation with humans. Chemical genetics entails testing the effect that small molecules have on a biological process and is becoming a popular translational research method to identify therapeutic compounds. Zebrafish are specifically appealing to use for chemical genetics because of their ability to produce large clutches of transparent embryos, which are externally fertilized. Furthermore, zebrafish embryos can be easily drug treated by the simple addition of a compound to the embryo media. Using whole-mount
in situ
hybridization (WISH), mRNA expression can be clearly visualized within zebrafish embryos. Together, using chemical genetics and WISH, the zebrafish becomes a potent whole organism context in which to determine the cellular and physiological effects of small molecules. Innovative advances have been made in technologies that utilize machine-based screening procedures, however for many labs such options are not accessible or remain cost-prohibitive. The protocol described here explains how to execute a manual high-throughput chemical genetic screen that requires basic resources and can be accomplished by a single individual or small team in an efficient period of time. Thus, this protocol provides a feasible strategy that can be implemented by research groups to perform chemical genetics in zebrafish, which can be useful for gaining fundamental insights into developmental processes, disease mechanisms, and to identify novel compounds and signaling pathways that have medically relevant applications.
Developmental Biology, Issue 93, zebrafish, chemical genetics, chemical screen, in vivo small molecule screen, drug discovery, whole mount in situ hybridization (WISH), high-throughput screening (HTS), high-content screening (HCS)
52063
Multiplexed Fluorometric ImmunoAssay Testing Methodology and Troubleshooting
Institutions: Charles River .

To ensure the quality of animal models used in biomedical research we have developed a number of diagnostic testing strategies and methods to determine if animals have been exposed to adventitious infectious agents (viruses, mycoplasma, and other fastidious microorganisms). Infections of immunocompetent animals are generally transient, yet serum antibody responses to infection often can be detected within days to weeks and persist throughout the life of the host. Serology is the primary diagnostic methodology by which laboratory animals are monitored. Historically the indirect enzyme-linked immunosorbent assay (ELISA) has been the main screening method for serosurveillance. The ELISA is performed as a singleplex, in which one microbial antigen-antibody reaction is measured per well. In comparison the MFIA is performed as a
multiplexed
assay. Since the microspheres come in 100 distinct color sets, as many as 100 different assays can be performed simultaneously in a single microplate well. This innovation decreases the amount of serum, reagents and disposables required for routine testing while increasing the amount of information obtained from a single test well. In addition, we are able to incorporate multiple internal control beads to verify sample and system suitability and thereby assure the accuracy of results. These include tissue control and IgG anti-test serum species immunoglobulin (αIg) coated bead sets to evaluate sample suitability. As in the ELISA and IFA, the tissue control detects non-specific binding of serum immunoglobulin. The αIg control (Serum control) confirms that serum has been added and contains a sufficient immunoglobulin concentration while the IgG control bead (System Suitability control), coated with serum species immunoglobulin, demonstrates that the labeled reagents and Luminex reader are functioning properly.
Basic Protocols, Issue 58, Multiplexed Fluorometric ImmunoAssay, MFIA, bead, serum, BAG, SPE, aggregate, microarray
3715
Immunoblot Analysis
Institutions: UVP, LLC, Keck Graduate Institute of Applied Life Sciences.

Immunoblotting (western blotting) is a rapid and sensitive assay for the detection and characterization of proteins that works by exploiting the specificity inherent in antigen-antibody recognition. It involves the solubilization and electrophoretic separation of proteins, glycoproteins, or lipopolysaccharides by gel electrophoresis, followed by quantitative transfer and irreversible binding to nitrocellulose, PVDF, or nylon. The immunoblotting technique has been useful in identifying specific antigens recognized by polyclonal or monoclonal antibodies and is highly sensitive (1 ng of antigen can be detected). This unit provides protocols for protein separation, blotting proteins onto membranes, immunoprobing, and visualization using chromogenic or chemiluminescent substrates.
Basic Protocols, Issue 16, Current Protocols Wiley, Immunoblotting, Biochemistry, Western Blotting, chromogenic substrates, chemiluminescent substrates, protein detection.
759