ABSTRACT
Mechanical dissociation of neurons from the central nervous system has the advantage that presynaptic boutons remain attached to the isolated neuron of interest. This allows for examination of synaptic transmission under conditions where the extracellular and postsynaptic intracellular environments can be well controlled. A vibration-based technique without the use of proteases, known as vibrodissociation, is the most popular technique for mechanical isolation. A micropipette, with the tip fire-polished to the shape of a small ball, is placed into a brain slice made from a P1-P21 rodent. The micropipette is vibrated parallel to the slice surface and lowered through the slice thickness resulting in the liberation of isolated neurons. The isolated neurons are ready for study within a few minutes of vibrodissociation. This technique has advantages over the use of primary neuronal cultures, brain slices and enzymatically isolated neurons including: rapid production of viable, relatively mature neurons suitable for electrophysiological and imaging studies; superior control of the extracellular environment free from the influence of neighboring cells; suitability for well-controlled pharmacological experiments using rapid drug application and total cell superfusion; and improved space-clamp in whole-cell recordings relative to neurons in slice or cell culture preparations. This preparation can be used to examine synaptic physiology, pharmacology, modulation and plasticity. Real-time imaging of both pre- and postsynaptic elements in the living cells and boutons is also possible using vibrodissociated neurons. Characterization of the molecular constituents of pre- and postsynaptic elements can also be achieved with immunological and imaging-based approaches.
19 Related JoVE Articles!
Quantifying Synapses: an Immunocytochemistry-based Assay to Quantify Synapse Number
Institutions: Duke University, Duke University.

One of the most important goals in neuroscience is to understand the molecular cues that instruct early stages of synapse formation. As such it has become imperative to develop objective approaches to quantify changes in synaptic connectivity. Starting from sample fixation, this protocol details how to quantify synapse number both in dissociated neuronal culture and in brain sections using immunocytochemistry. Using compartment-specific antibodies, we label presynaptic terminals as well as sites of postsynaptic specialization. We define synapses as points of colocalization between the signals generated by these markers. The number of these colocalizations is quantified using a plug in Puncta Analyzer (written by Bary Wark, available upon request, c.eroglu@cellbio.duke.edu) under the ImageJ analysis software platform. The synapse assay described in this protocol can be applied to any neural tissue or culture preparation for which you have selective pre- and postsynaptic markers. This synapse assay is a valuable tool that can be widely utilized in the study of synaptic development.
Neuroscience, Issue 45, synapse, immunocytochemistry, brain, neuron, astrocyte
2270
Postsynaptic Recordings at Afferent Dendrites Contacting Cochlear Inner Hair Cells: Monitoring Multivesicular Release at a Ribbon Synapse
Institutions: The Johns Hopkins School of Medicine, Consejo Nacional de Investigaciones Científicas y Técnicas.

The afferent synapse between the inner hair cell (IHC) and the auditory nerve fiber provides an electrophysiologically accessible site for recording the postsynaptic activity of a single ribbon synapse
1-4
. Ribbon synapses of sensory cells release neurotransmitter continuously, the rate of which is modulated in response to graded changes in IHC membrane potential
5
. Ribbon synapses have been shown to operate by multivesicular release, where multiple vesicles can be released simultaneously to evoke excitatory postsynaptic currents (EPSCs) of varying amplitudes
1, 4, 6-11
. Neither the role of the presynaptic ribbon, nor the mechanism underlying multivesicular release is currently well understood. The IHC is innervated by 10-20 auditory nerve fibers, and every fiber contacts the IHC with a unmyelinated single ending to form a single ribbon synapse. The small size of the afferent boutons contacting IHCs (approximately 1 μm in diameter) enables recordings with exceptional temporal resolution to be made. Furthermore, the technique can be adapted to record from both pre- and postsynaptic cells simultaneously, allowing the transfer function at the synapse to be studied directly
2
. This method therefore provides a means by which fundamental aspects of neurotransmission can be studied, from multivesicular release to the elusive function of the ribbon in sensory cells.
Neuroscience, Issue 48, electrophysiology, whole-cell recording, patch clamp, synaptic transmission, ribbon synapse, multivesicular, dendrite, auditory nerve, hearing, hair cell.
2442
Automated Quantification of Synaptic Fluorescence in C. elegans
Institutions: University of Toledo .

Synapse strength refers to the amplitude of postsynaptic responses to presynaptic neurotransmitter release events, and has a major impact on overall neural circuit function. Synapse strength critically depends on the abundance of neurotransmitter receptors clustered at synaptic sites on the postsynaptic membrane. Receptor levels are established developmentally, and can be altered by receptor trafficking between surface-localized, subsynaptic, and intracellular pools, representing important mechanisms of synaptic plasticity and neuromodulation. Rigorous methods to quantify synaptically-localized neurotransmitter receptor abundance are essential to study synaptic development and plasticity. Fluorescence microscopy is an optimal approach because it preserves spatial information, distinguishing synaptic from non-synaptic pools, and discriminating among receptor populations localized to different types of synapses. The genetic model organism
Caenorhabditis elegans
is particularly well suited for these studies due to the small size and relative simplicity of its nervous system, its transparency, and the availability of powerful genetic techniques, allowing examination of native synapses in intact animals. Here we present a method for quantifying fluorescently-labeled synaptic neurotransmitter receptors in
C. elegans
. Its key feature is the automated identification and analysis of individual synapses in three dimensions in multi-plane confocal microscope output files, tabulating position, volume, fluorescence intensity, and total fluorescence for each synapse. This approach has two principal advantages over manual analysis of z-plane projections of confocal data. First, because every plane of the confocal data set is included, no data are lost through z-plane projection, typically based on pixel intensity averages or maxima. Second, identification of synapses is automated, but can be inspected by the experimenter as the data analysis proceeds, allowing fast and accurate extraction of data from large numbers of synapses. Hundreds to thousands of synapses per sample can easily be obtained, producing large data sets to maximize statistical power. Considerations for preparing
C. elegans
for analysis, and performing confocal imaging to minimize variability between animals within treatment groups are also discussed. Although developed to analyze
C. elegans
postsynaptic receptors, this method is generally useful for any type of synaptically-localized protein, or indeed, any fluorescence signal that is localized to discrete clusters, puncta, or organelles. The procedure is performed in three steps: 1) preparation of samples, 2) confocal imaging, and 3) image analysis. Steps 1 and 2 are specific to
C. elegans
, while step 3 is generally applicable to any punctate fluorescence signal in confocal micrographs.
Neuroscience, Issue 66, Developmental Biology, Neurotransmitter receptors, quantification, confocal microscopy, immunostaining, fluorescence, Volocity, UNC-49 GABA receptors, C. elegans
4090
Post-embedding Immunogold Labeling of Synaptic Proteins in Hippocampal Slice Cultures
Institutions: Medical College of Wisconsin , Medical College of Wisconsin .

Immunoelectron microscopy is a powerful tool to study biological molecules at the subcellular level. Antibodies coupled to electron-dense markers such as colloidal gold can reveal the localization and distribution of specific antigens in various tissues
1
. The two most widely used techniques are pre-embedding and post-embedding techniques. In pre-embedding immunogold-electron microscopy (EM) techniques, the tissue must be permeabilized to allow antibody penetration before it is embedded. These techniques are ideal for preserving structures but poor penetration of the antibody (often only the first few micrometers) is a considerable drawback
2
. The post-embedding labeling methods can avoid this problem because labeling takes place on sections of fixed tissues where antigens are more easily accessible. Over the years, a number of modifications have improved the post-embedding methods to enhance immunoreactivity and to preserve ultrastructure
3-5
. Tissue fixation is a crucial part of EM studies. Fixatives chemically crosslink the macromolecules to lock the tissue structures in place. The choice of fixative affects not only structural preservation but also antigenicity and contrast. Osmium tetroxide (OsO
4
), formaldehyde, and glutaraldehyde have been the standard fixatives for decades, including for central nervous system (CNS) tissues that are especially prone to structural damage during chemical and physical processing. Unfortunately, OsO
4
is highly reactive and has been shown to mask antigens
6
, resulting in poor and insufficient labeling. Alternative approaches to avoid chemical fixation include freezing the tissues. But these techniques are difficult to perform and require expensive instrumentation. To address some of these problems and to improve CNS tissue labeling, Phend
et al
. replaced OsO
4
with uranyl acetate (UA) and tannic acid (TA), and successfully introduced additional modifications to improve the sensitivity of antigen detection and structural preservation in brain and spinal cord tissues
7
. We have adopted this osmium-free post-embedding method to rat brain tissue and optimized the immunogold labeling technique to detect and study synaptic proteins. We present here a method to determine the ultrastructural localization of synaptic proteins in rat hippocampal CA1 pyramidal neurons. We use organotypic hippocampal cultured slices. These slices maintain the trisynaptic circuitry of the hippocampus, and thus are especially useful for studying synaptic plasticity, a mechanism widely thought to underlie learning and memory. Organotypic hippocampal slices from postnatal day 5 and 6 mouse/rat pups can be prepared as described previously
8
, and are especially useful to acutely knockdown or overexpress exogenous proteins. We have previously used this protocol to characterize neurogranin (Ng), a neuron-specific protein with a critical role in regulating synaptic function
8,9
. We have also used it to characterize the ultrastructural localization of calmodulin (CaM) and Ca
2+
/CaM-dependent protein kinase II (CaMKII)
10
. As illustrated in the results, this protocol allows good ultrastructural preservation of dendritic spines and efficient labeling of Ng to help characterize its distribution in the spine
8
. Furthermore, the procedure described here can have wide applicability in studying many other proteins involved in neuronal functions.
Neuroscience, Issue 74, Immunology, Neurobiology, Biochemistry, Molecular Biology, Cellular Biology, Genetics, Proteins, Immunohistochemistry, Immunological Synapses, Synapses, Hippocampus, Microscopy, Electron, Neuronal Plasticity, plasticity, Nervous System, Organotypic cultures, hippocampus, electron microscopy, post-embedding, immunogold labeling, fixation, cell culture, imaging
50273
Studying Synaptic Vesicle Pools using Photoconversion of Styryl Dyes
Institutions: European Neuroscience Institute Göttingen.

The fusion of synaptic vesicles with the plasma membrane (exocytosis) is a required step in neurotransmitter release and neuronal communication. The vesicles are then retrieved from the plasma membrane (endocytosis) and grouped together with the general pool of vesicles within the nerve terminal, until they undergo a new exo- and endocytosis cycle (vesicle recycling). These processes have been studied using a variety of techniques such as electron microscopy, electrophysiology recordings, amperometry and capacitance measurements. Importantly, during the last two decades a number of fluorescently labeled markers emerged, allowing optical techniques to track vesicles in their recycling dynamics. One of the most commonly used markers is the styryl or FM dye
1
; structurally, all FM dyes contain a hydrophilic head and a lipophilic tail connected through an aromatic ring and one or more double bonds (Fig. 1B). A classical FM dye experiment to label a pool of vesicles consists in bathing the preparation (Fig. 1Ai) with the dye during the stimulation of the nerve (electrically or with high K
+
). This induces vesicle recycling and the subsequent loading of the dye into recently endocytosed vesicles (Fig. 1A
i-iii
). After loading the vesicles with dye, a second round of stimulation in a dye-free bath would trigger the FM release through exocytosis (Fig. 1A
iv-v
), process that can be followed by monitoring the fluorescence intensity decrease (destaining). Although FM dyes have contributed greatly to the field of vesicle recycling, it is not possible to determine the exact localization or morphology of individual vesicles by using conventional fluorescence microscopy. For that reason, we explain here how FM dyes can also be used as endocytic markers using electron microscopy, through photoconversion. The photoconversion technique exploits the property of fluorescent dyes to generate reactive oxygen species under intense illumination. Fluorescently labeled preparations are submerged in a solution containing diaminobenzidine (DAB) and illuminated. Reactive species generated by the dye molecules oxidize the DAB, which forms a stable, insoluble precipitate that has a dark appearance and can be easily distinguished in electron microscopy
2,3
. As DAB is only oxidized in the immediate vicinity of fluorescent molecules (as the reactive oxygen species are short-lived), the technique ensures that only fluorescently labeled structures are going to contain the electron-dense precipitate. The technique thus allows the study of the exact location and morphology of actively recycling organelles.
JoVE Neuroscience, Issue 36, Photoconversion, FM1-43, Electron Microscope, Fluorescence, Drosophila, NMJ
1790
In vivo Imaging of Intact Drosophila Larvae at Sub-cellular Resolution
Institutions: University of Tübingen, University of Tübingen.

Recent improvements in optical imaging, genetically encoded fluorophores and genetic tools allowing efficient establishment of desired transgenic animal lines have enabled biological processes to be studied in the context of a living, and in some instances even behaving, organism. In this protocol we will describe how to anesthetize intact
Drosophila
larvae, using the volatile anesthetic desflurane, to follow the development and plasticity of synaptic populations at sub-cellular resolution
1-3
. While other useful methods to anesthetize
Drosophila melanogaster
larvae have been previously described
4,5,6,7,8
, the protocol presented herein demonstrates significant improvements due to the following combined key features: (1) A very high degree of anesthetization; even the heart beat is arrested allowing for lateral resolution of up to 150 nm
1
, (2) a high survival rate of > 90% per anesthetization cycle, permitting the recording of more than five time-points over a period of hours to days
2
and (3) a high sensitivity enabling us in 2 instances to study the dynamics of proteins expressed at physiological levels. In detail, we were able to visualize the postsynaptic glutamate receptor subunit GluR-IIA expressed via the endogenous promoter
1
in stable transgenic lines and the exon trap line FasII-GFP
1
. (4) In contrast to other methods
4,7
the larvae can be imaged not only alive, but also intact (i.e. non-dissected) allowing observation to occur over a number of days
1
. The accompanying video details the function of individual parts of the
in vivo
imaging chamber
2,3
, the correct mounting of the larvae, the anesthetization procedure, how to re-identify specific positions within a larva and the safe removal of the larvae from the imaging chamber.
Basic Protocols, Issue 43, In vivo, Imaging, Drosophila, Neuromuscular, Synapse, Development, Microscopy, Anesthetization, Desflurane
2249
Fast Micro-iontophoresis of Glutamate and GABA: A Useful Tool to Investigate Synaptic Integration
Institutions: University of Bonn, Deutsches Zentrum für Neurodegenerative Erkrankungen e.V. (DZNE).

One of the fundamental interests in neuroscience is to understand the integration of excitatory and inhibitory inputs along the very complex structure of the dendritic tree, which eventually leads to neuronal output of action potentials at the axon. The influence of diverse spatial and temporal parameters of specific synaptic input on neuronal output is currently under investigation,
e.g.
the distance-dependent attenuation of dendritic inputs, the location-dependent interaction of spatially segregated inputs, the influence of GABAergig inhibition on excitatory integration, linear and non-linear integration modes, and many more. With fast micro-iontophoresis of glutamate and GABA it is possible to precisely investigate the spatial and temporal integration of glutamatergic excitation and GABAergic inhibition. Critical technical requirements are either a triggered fluorescent lamp, light-emitting diode (LED), or a two-photon scanning microscope to visualize dendritic branches without introducing significant photo-damage of the tissue. Furthermore, it is very important to have a micro-iontophoresis amplifier that allows for fast capacitance compensation of high resistance pipettes. Another crucial point is that no transmitter is involuntarily released by the pipette during the experiment. Once established, this technique will give reliable and reproducible signals with a high neurotransmitter and location specificity. Compared to glutamate and GABA uncaging, fast iontophoresis allows using both transmitters at the same time but at very distant locations without limitation to the field of view. There are also advantages compared to focal electrical stimulation of axons: with micro-iontophoresis the location of the input site is definitely known and it is sure that only the neurotransmitter of interest is released. However it has to be considered that with micro-iontophoresis only the postsynapse is activated and presynaptic aspects of neurotransmitter release are not resolved. In this article we demonstrate how to set up micro-iontophoresis in brain slice experiments.
Neuroscience, Issue 77, Neurobiology, Molecular Biology, Cellular Biology, Physiology, Biomedical Engineering, Biophysics, Biochemistry, biology (general), animal biology, Nervous System, Life Sciences (General), Neurosciences, brain slices, dendrites, inhibition, excitation, glutamate, GABA, micro-iontophoresis, iontophoresis, neurons, patch clamp, whole cell recordings
50701
Dual Electrophysiological Recordings of Synaptically-evoked Astroglial and Neuronal Responses in Acute Hippocampal Slices
Institutions: Collège de France, Paris Diderot University.

Astrocytes form together with neurons tripartite synapses, where they integrate and modulate neuronal activity. Indeed, astrocytes sense neuronal inputs through activation of their ion channels and neurotransmitter receptors, and process information in part through activity-dependent release of gliotransmitters. Furthermore, astrocytes constitute the main uptake system for glutamate, contribute to potassium spatial buffering, as well as to GABA clearance. These cells therefore constantly monitor synaptic activity, and are thereby sensitive indicators for alterations in synaptically-released glutamate, GABA and extracellular potassium levels. Additionally, alterations in astroglial uptake activity or buffering capacity can have severe effects on neuronal functions, and might be overlooked when characterizing physiopathological situations or knockout mice. Dual recording of neuronal and astroglial activities is therefore an important method to study alterations in synaptic strength associated to concomitant changes in astroglial uptake and buffering capacities. Here we describe how to prepare hippocampal slices, how to identify
stratum radiatum
astrocytes, and how to record simultaneously neuronal and astroglial electrophysiological responses. Furthermore, we describe how to isolate pharmacologically the synaptically-evoked astroglial currents.
Neuroscience, Issue 69, Physiology, Anatomy, Medicine, hippocampus preparation, acute brain slice, electrophysiology, patch-clamp, neurons, astrocytes, astroglial, neuroglial interactions, glutamate transporter current, potassium current, paired recordings, synaptic activity, synaptically-evoked responses
4418
Presynaptically Silent Synapses Studied with Light Microscopy
Institutions: Washington University School of Medicine, Washington University School of Medicine, Washington University School of Medicine.

Synaptic plasticity likely underlies the nervous system's ability to learn and remember and may also represent an adaptability that prevents otherwise damaging insults from becoming neurotoxic. We have been studying a form of presynaptic plasticity that is interesting in part because it is expressed as a digital switching on and off of a presynaptic terminal s ability to release vesicles containing the neurotransmitter glutamate. Here we demonstrate a protocol for visualizing the activity status of presynaptic terminals in dissociated cell cultures prepared from the rodent hippocampus. The method relies on detecting active synapses using staining with a fixable form of the styryl dye FM1-43, commonly used to label synaptic vesicles. This staining profile is compared with immunostaining of the same terminals with an antibody directed against the vesicular glutamate transporter 1 (vGluT-1), a stain designed to label all glutamate synapses regardless of activation status. We find that depolarizing stimuli induce presynaptic silencing. The population of synapses that is silent under baseline conditions can be activated by prolonged electrical silencing or by activation of cAMP signaling pathways.
Neurobiology, Issue 35, glutamate, synaptic plasticity, cAMP, excitotoxicity, homeostasis, FM1-43, presynaptic plasticity
1676
Membrane Potentials, Synaptic Responses, Neuronal Circuitry, Neuromodulation and Muscle Histology Using the Crayfish: Student Laboratory Exercises
Institutions: University of Kentucky, University of Toronto.

The purpose of this report is to help develop an understanding of the effects caused by ion gradients across a biological membrane. Two aspects that influence a cell's membrane potential and which we address in these experiments are: (1) Ion concentration of K
+
on the outside of the membrane, and (2) the permeability of the membrane to specific ions. The crayfish abdominal extensor muscles are in groupings with some being tonic (slow) and others phasic (fast) in their biochemical and physiological phenotypes, as well as in their structure; the motor neurons that innervate these muscles are correspondingly different in functional characteristics. We use these muscles as well as the superficial, tonic abdominal flexor muscle to demonstrate properties in synaptic transmission. In addition, we introduce a sensory-CNS-motor neuron-muscle circuit to demonstrate the effect of cuticular sensory stimulation as well as the influence of neuromodulators on certain aspects of the circuit. With the techniques obtained in this exercise, one can begin to answer many questions remaining in other experimental preparations as well as in physiological applications related to medicine and health. We have demonstrated the usefulness of model invertebrate preparations to address fundamental questions pertinent to all animals.
Neuroscience, Issue 47, Invertebrate, Crayfish, neurophysiology, muscle, anatomy, electrophysiology
2322
Two-Photon in vivo Imaging of Dendritic Spines in the Mouse Cortex Using a Thinned-skull Preparation
Institutions: University of California, Santa Cruz.

In the mammalian cortex, neurons form extremely complicated networks and exchange information at synapses. Changes in synaptic strength, as well as addition/removal of synapses, occur in an experience-dependent manner, providing the structural foundation of neuronal plasticity. As postsynaptic components of the most excitatory synapses in the cortex, dendritic spines are considered to be a good proxy of synapses. Taking advantages of mouse genetics and fluorescent labeling techniques, individual neurons and their synaptic structures can be labeled in the intact brain. Here we introduce a transcranial imaging protocol using two-photon laser scanning microscopy to follow fluorescently labeled postsynaptic dendritic spines over time
in vivo
. This protocol utilizes a thinned-skull preparation, which keeps the skull intact and avoids inflammatory effects caused by exposure of the meninges and the cortex. Therefore, images can be acquired immediately after surgery is performed. The experimental procedure can be performed repetitively over various time intervals ranging from hours to years. The application of this preparation can also be expanded to investigate different cortical regions and layers, as well as other cell types, under physiological and pathological conditions.
Neuroscience, Issue 87, dendritic spine, mouse cortex, in vivo, two-photon microscopy, thinned-skull, imaging
51520
Inhibitory Synapse Formation in a Co-culture Model Incorporating GABAergic Medium Spiny Neurons and HEK293 Cells Stably Expressing GABAA Receptors
Institutions: University College London.

Inhibitory neurons act in the central nervous system to regulate the dynamics and spatio-temporal co-ordination of neuronal networks. GABA (γ-aminobutyric acid) is the predominant inhibitory neurotransmitter in the brain. It is released from the presynaptic terminals of inhibitory neurons within highly specialized intercellular junctions known as synapses, where it binds to GABA
A
receptors (GABA
A
Rs) present at the plasma membrane of the synapse-receiving, postsynaptic neurons. Activation of these GABA-gated ion channels leads to influx of chloride resulting in postsynaptic potential changes that decrease the probability that these neurons will generate action potentials. During development, diverse types of inhibitory neurons with distinct morphological, electrophysiological and neurochemical characteristics have the ability to recognize their target neurons and form synapses which incorporate specific GABA
A
Rs subtypes. This principle of selective innervation of neuronal targets raises the question as to how the appropriate synaptic partners identify each other. To elucidate the underlying molecular mechanisms, a novel
in vitro
co-culture model system was established, in which medium spiny GABAergic neurons, a highly homogenous population of neurons isolated from the embryonic striatum, were cultured with stably transfected HEK293 cell lines that express different GABA
A
R subtypes. Synapses form rapidly, efficiently and selectively in this system, and are easily accessible for quantification. Our results indicate that various GABA
A
R subtypes differ in their ability to promote synapse formation, suggesting that this reduced
in vitro
model system can be used to reproduce, at least in part, the
in vivo
conditions required for the recognition of the appropriate synaptic partners and formation of specific synapses. Here the protocols for culturing the medium spiny neurons and generating HEK293 cells lines expressing GABA
A
Rs are first described, followed by detailed instructions on how to combine these two cell types in co-culture and analyze the formation of synaptic contacts.
Neuroscience, Issue 93, Developmental neuroscience, synaptogenesis, synaptic inhibition, co-culture, stable cell lines, GABAergic, medium spiny neurons, HEK 293 cell line
52115
Acute Dissociation of Lamprey Reticulospinal Axons to Enable Recording from the Release Face Membrane of Individual Functional Presynaptic Terminals
Institutions: University of Illinois at Chicago.

Synaptic transmission is an extremely rapid process. Action potential driven influx of Ca
2+
 into the presynaptic terminal, through voltage-gated calcium channels (VGCCs) located in the release face membrane, is the trigger for vesicle fusion and neurotransmitter release. Crucial to the rapidity of synaptic transmission is the spatial and temporal synchrony between the arrival of the action potential, VGCCs and the neurotransmitter release machinery. The ability to directly record Ca
2+
 currents from the release face membrane of individual presynaptic terminals is imperative for a precise understanding of the relationship between presynaptic Ca
2+
 and neurotransmitter release. Access to the presynaptic release face membrane for electrophysiological recording is not available in most preparations and presynaptic Ca
2+
 entry has been characterized using imaging techniques and macroscopic current measurements – techniques that do not have sufficient temporal resolution to visualize Ca
2+
entry. The characterization of VGCCs directly at single presynaptic terminals has not been possible in central synapses and has thus far been successfully achieved only in the calyx-type synapse of the chick ciliary ganglion and in rat calyces. We have successfully addressed this problem in the giant reticulospinal synapse of the lamprey spinal cord by developing an acutely dissociated preparation of the spinal cord that yields isolated reticulospinal axons with functional presynaptic terminals devoid of postsynaptic structures. We can fluorescently label and identify individual presynaptic terminals and target them for recording. Using this preparation, we have characterized VGCCs directly at the release face of individual presynaptic terminals using immunohistochemistry and electrophysiology approaches. Ca
2+
currents have been recorded directly at the release face membrane of individual presynaptic terminals, the first such recording to be carried out at central synapses.
Neuroscience, Issue 92, reticulospinal synapse, reticulospinal axons, presynaptic terminal, presynaptic calcium, voltage-gated calcium channels, vesicle fusion, synaptic transmission, neurotransmitter release, spinal cord, lamprey, synaptic vesicles, acute dissociation
51925
Paired Whole Cell Recordings in Organotypic Hippocampal Slices
Institutions: University of Auckland, Stanford University.

Pair recordings involve simultaneous whole cell patch clamp recordings from two synaptically connected neurons, enabling not only direct electrophysiological characterization of the synaptic connections between individual neurons, but also pharmacological manipulation of either the presynaptic or the postsynaptic neuron. When carried out in organotypic hippocampal slice cultures, the probability that two neurons are synaptically connected is significantly increased. This preparation readily enables identification of cell types, and the neurons maintain their morphology and properties of synaptic function similar to that in native brain tissue. A major advantage of paired whole cell recordings is the highly precise information it can provide on the properties of synaptic transmission and plasticity that are not possible with other more crude techniques utilizing extracellular axonal stimulation. Paired whole cell recordings are often perceived as too challenging to perform. While there are challenging aspects to this technique, paired recordings can be performed by anyone trained in whole cell patch clamping provided specific hardware and methodological criteria are followed. The probability of attaining synaptically connected paired recordings significantly increases with healthy organotypic slices and stable micromanipulation allowing independent attainment of pre- and postsynaptic whole cell recordings. While CA3-CA3 pyramidal cell pairs are most widely used in the organotypic slice hippocampal preparation, this technique has also been successful in CA3-CA1 pairs and can be adapted to any neurons that are synaptically connected in the same slice preparation. In this manuscript we provide the detailed methodology and requirements for establishing this technique in any laboratory equipped for electrophysiology.
Neuroscience, Issue 91, hippocampus, paired recording, whole cell recording, organotypic slice, synapse, synaptic transmission, synaptic plasticity
51958
Examination of Synaptic Vesicle Recycling Using FM Dyes During Evoked, Spontaneous, and Miniature Synaptic Activities
Institutions: University of Iowa Carver College of Medicine, University of Bath.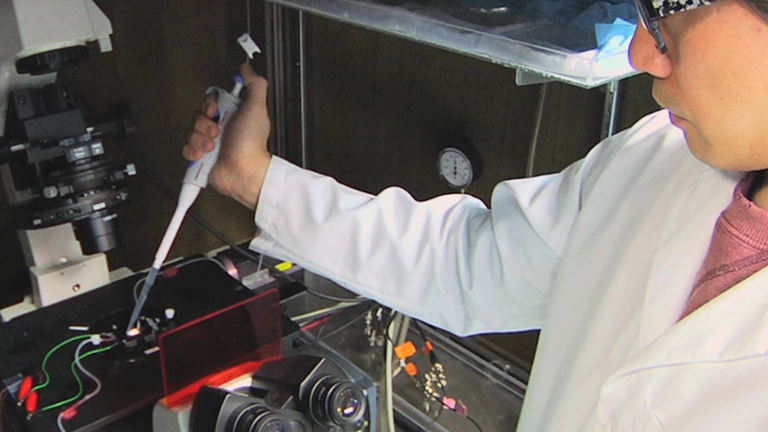 Synaptic vesicles in functional nerve terminals undergo exocytosis and endocytosis. This synaptic vesicle recycling can be effectively analyzed using styryl FM dyes, which reveal membrane turnover. Conventional protocols for the use of FM dyes were designed for analyzing neurons following stimulated (evoked) synaptic activity. Recently, protocols have become available for analyzing the FM signals that accompany weaker synaptic activities, such as spontaneous or miniature synaptic events. Analysis of these small changes in FM signals requires that the imaging system is sufficiently sensitive to detect small changes in intensity, yet that artifactual changes of large amplitude are suppressed. Here we describe a protocol that can be applied to evoked, spontaneous, and miniature synaptic activities, and use cultured hippocampal neurons as an example. This protocol also incorporates a means of assessing the rate of photobleaching of FM dyes, as this is a significant source of artifacts when imaging small changes in intensity.
Neuroscience, Issue 85, Presynaptic Terminals, Synaptic Vesicles, Microscopy, Biological Assay, Nervous System, Endocytosis, exocytosis, fluorescence imaging, FM dye, neuron, photobleaching
50557
Inducing Plasticity of Astrocytic Receptors by Manipulation of Neuronal Firing Rates
Institutions: University of California Riverside, University of California Riverside, University of California Riverside.

Close to two decades of research has established that astrocytes
in situ
and
in vivo
express numerous G protein-coupled receptors (GPCRs) that can be stimulated by neuronally-released transmitter. However, the ability of astrocytic receptors to exhibit plasticity in response to changes in neuronal activity has received little attention. Here we describe a model system that can be used to globally scale up or down astrocytic group I metabotropic glutamate receptors (mGluRs) in acute brain slices. Included are methods on how to prepare parasagittal hippocampal slices, construct chambers suitable for long-term slice incubation, bidirectionally manipulate neuronal action potential frequency, load astrocytes and astrocyte processes with fluorescent Ca
2+
indicator, and measure changes in astrocytic Gq GPCR activity by recording spontaneous and evoked astrocyte Ca
2+
events using confocal microscopy. In essence, a "calcium roadmap" is provided for how to measure plasticity of astrocytic Gq GPCRs. Applications of the technique for study of astrocytes are discussed. Having an understanding of how astrocytic receptor signaling is affected by changes in neuronal activity has important implications for both normal synaptic function as well as processes underlying neurological disorders and neurodegenerative disease.
Neuroscience, Issue 85, astrocyte, plasticity, mGluRs, neuronal Firing, electrophysiology, Gq GPCRs, Bolus-loading, calcium, microdomains, acute slices, Hippocampus, mouse
51458
An Engulfment Assay: A Protocol to Assess Interactions Between CNS Phagocytes and Neurons
Institutions: Boston Children's Hospital, Harvard Medical School.
Phagocytosis is a process in which a cell engulfs material (entire cell, parts of a cell, debris, etc.) in its surrounding extracellular environment and subsequently digests this material, commonly through lysosomal degradation. Microglia are the resident immune cells of the central nervous system (CNS) whose phagocytic function has been described in a broad range of conditions from neurodegenerative disease (
e.g.
, beta-amyloid clearance in Alzheimer's disease) to development of the healthy brain (
e.g.,
synaptic pruning)
1-6
. The following protocol is an engulfment assay developed to visualize and quantify microglia-mediated engulfment of presynaptic inputs in the developing mouse retinogeniculate system
7
. While this assay was used to assess microglia function in this particular context, a similar approach may be used to assess other phagocytes throughout the brain (
e.g.,
astrocytes) and the rest of the body (
e.g.
, peripheral macrophages) as well as other contexts in which synaptic remodeling occurs (
e.g.
,brain injury/disease).
Neuroscience, Issue 88, Central Nervous System (CNS), Engulfment, Phagocytosis, Microglia, Synapse, Anterograde Tracing, Presynaptic Input, Retinogeniculate System
51482
Imaging pHluorin-tagged Receptor Insertion to the Plasma Membrane in Primary Cultured Mouse Neurons
Institutions: The Jackson Laboratory.

A better understanding of the mechanisms governing receptor trafficking between the plasma membrane (PM) and intracellular compartments requires an experimental approach with excellent spatial and temporal resolutions. Moreover, such an approach must also have the ability to distinguish receptors localized on the PM from those in intracellular compartments. Most importantly, detecting receptors in a single vesicle requires outstanding detection sensitivity, since each vesicle carries only a small number of receptors. Standard approaches for examining receptor trafficking include surface biotinylation followed by biochemical detection, which lacks both the necessary spatial and temporal resolutions; and fluorescence microscopy examination of immunolabeled surface receptors, which requires chemical fixation of cells and therefore lacks sufficient temporal resolution
1-6
. To overcome these limitations, we and others have developed and employed a new strategy that enables visualization of the dynamic insertion of receptors into the PM with excellent spatial and temporal resolutions
7-17
. The approach includes tagging of a pH-sensitive GFP, the superecliptic pHluorin
18
, to the N-terminal extracellular domain of the receptors. Superecliptic pHluorin has the unique property of being fluorescent at neutral pH and non-fluorescent at acidic pH (pH < 6.0). Therefore, the tagged receptors are non-fluorescent when within the acidic lumen of intracellular trafficking vesicles or endosomal compartments, and they become readily visualized only when exposed to the extracellular neutral pH environment, on the outer surface of the PM. Our strategy consequently allows us to distinguish PM surface receptors from those within intracellular trafficking vesicles. To attain sufficient spatial and temporal resolutions, as well as the sensitivity required to study dynamic trafficking of receptors, we employed total internal reflection fluorescent microscopy (TIRFM), which enabled us to achieve the optimal spatial resolution of optical imaging (~170 nm), the temporal resolution of video-rate microscopy (30 frames/sec), and the sensitivity to detect fluorescence of a single GFP molecule. By imaging pHluorin-tagged receptors under TIRFM, we were able to directly visualize individual receptor insertion events into the PM in cultured neurons. This imaging approach can potentially be applied to any membrane protein with an extracellular domain that could be labeled with superecliptic pHluorin, and will allow dissection of the key detailed mechanisms governing insertion of different membrane proteins (receptors, ion channels, transporters, etc.) to the PM.
Neuroscience, Issue 69, Cellular Biology, Bioengineering, Medicine, primary cultured mouse neuron, superecliptic pHluorin, receptor, plasma membrane insertion, total internal reflection fluorescence microscopy, neurons, mice, pHlourin-tagged, plasma membrane
4450
Measuring Exocytosis in Neurons Using FM Labeling
Institutions: Harvard.
The ability to measure the kinetics of vesicle release can help provide insight into some of the basics of neurotransmission. Here we used real-time imaging of vesicles labeled with FM dye to monitor the rate of presynaptic vesicle release. FM4-64 is a red fluorescent amphiphilic styryl dye that embeds into the membranes of synaptic vesicles as endocytosis is stimulated. Lipophilic interactions cause the dye to greatly increase in fluorescence, thus emitting a bright signal when associated with vesicles and a nominal one when in the extracellular fluid. After a wash step is used to help remove external dye within the plasma membrane, the remaining FM is concentrated within the vesicles and is then expelled when exocytosis is induced by another round of electrical stimulation. The rate of vesicles release is measured from the resulting decrease in fluorescence. Since FM dye can be applied external and transiently, it is a useful tool for determining rates of exocytosis in neuronal cultures, especially when comparing the rates between transfected synapses and neighboring control boutons.
Neuroscience, Issue 1, neuron, imaging, exocytosis
117