ABSTRACT
In most eukaryotic cells, the nucleus is the largest organelle and is typically 2 to 10 times stiffer than the surrounding cytoskeleton; consequently, the physical properties of the nucleus contribute significantly to the overall biomechanical behavior of cells under physiological and pathological conditions. For example, in migrating neutrophils and invading cancer cells, nuclear stiffness can pose a major obstacle during extravasation or passage through narrow spaces within tissues.1 On the other hand, the nucleus of cells in mechanically active tissue such as muscle requires sufficient structural support to withstand repetitive mechanical stress. Importantly, the nucleus is tightly integrated into the cellular architecture; it is physically connected to the surrounding cytoskeleton, which is a critical requirement for the intracellular movement and positioning of the nucleus, for example, in polarized cells, synaptic nuclei at neuromuscular junctions, or in migrating cells.2 Not surprisingly, mutations in nuclear envelope proteins such as lamins and nesprins, which play a critical role in determining nuclear stiffness and nucleo-cytoskeletal coupling, have been shown recently to result in a number of human diseases, including Emery-Dreifuss muscular dystrophy, limb-girdle muscular dystrophy, and dilated cardiomyopathy.3 To investigate the biophysical function of diverse nuclear envelope proteins and the effect of specific mutations, we have developed experimental methods to study the physical properties of the nucleus in single, living cells subjected to global or localized mechanical perturbation. Measuring induced nuclear deformations in response to precisely applied substrate strain application yields important information on the deformability of the nucleus and allows quantitative comparison between different mutations or cell lines deficient for specific nuclear envelope proteins. Localized cytoskeletal strain application with a microneedle is used to complement this assay and can yield additional information on intracellular force transmission between the nucleus and the cytoskeleton. Studying nuclear mechanics in intact living cells preserves the normal intracellular architecture and avoids potential artifacts that can arise when working with isolated nuclei. Furthermore, substrate strain application presents a good model for the physiological stress experienced by cells in muscle or other tissues (e.g., vascular smooth muscle cells exposed to vessel strain). Lastly, while these tools have been developed primarily to study nuclear mechanics, they can also be applied to investigate the function of cytoskeletal proteins and mechanotransduction signaling.
24 Related JoVE Articles!
Photobleaching Assays (FRAP & FLIP) to Measure Chromatin Protein Dynamics in Living Embryonic Stem Cells
Institutions: The Hebrew University of Jerusalem.

Fluorescence Recovery After Photobleaching (FRAP) and Fluorescence Loss In Photobleaching (FLIP) enable the study of protein dynamics in living cells with good spatial and temporal resolution. Here we describe how to perform FRAP and FLIP assays of chromatin proteins, including H1 and HP1, in mouse embryonic stem (ES) cells. In a FRAP experiment, cells are transfected, either transiently or stably, with a protein of interest fused with the green fluorescent protein (GFP) or derivatives thereof (YFP, CFP, Cherry, etc.). In the transfected, fluorescing cells, an intense focused laser beam bleaches a relatively small region of interest (ROI). The laser wavelength is selected according to the fluorescent protein used for fusion. The laser light irreversibly bleaches the fluorescent signal of molecules in the ROI and, immediately following bleaching, the recovery of the fluorescent signal in the bleached area - mediated by the replacement of the bleached molecules with the unbleached molecules - is monitored using time lapse imaging. The generated fluorescence recovery curves provide information on the protein's mobility. If the fluorescent molecules are immobile, no fluorescence recovery will be observed. In a complementary approach, Fluorescence Loss in Photobleaching (FLIP), the laser beam bleaches the same spot repeatedly and the signal intensity is measured elsewhere in the fluorescing cell. FLIP experiments therefore measure signal decay rather than fluorescence recovery and are useful to determine protein mobility as well as protein shuttling between cellular compartments. Transient binding is a common property of chromatin-associated proteins. Although the major fraction of each chromatin protein is bound to chromatin at any given moment at steady state, the binding is transient and most chromatin proteins have a high turnover on chromatin, with a residence time in the order of seconds. These properties are crucial for generating high plasticity in genome expression
1
. Photobleaching experiments are therefore particularly useful to determine chromatin plasticity using GFP-fusion versions of chromatin structural proteins, especially in ES cells, where the dynamic exchange of chromatin proteins (including heterochromatin protein 1 (HP1), linker histone H1 and core histones) is higher than in differentiated cells
2,3
.
Developmental Biology, Issue 52, Live imaging, FRAP, FLIP, embryonic stem (ES) cells, chromatin, chromatin plasticity, protein dynamics
2696
Anti-Nuclear Antibody Screening Using HEp-2 Cells
Institutions: INOVA Diagnostics, Inc., INOVA Diagnostics, Inc., INOVA Diagnostics, Inc., INOVA Diagnostics, Inc..

The American College of Rheumatology position statement on ANA testing stipulates the use of IIF as the gold standard method for ANA screening
1
. Although IIF is an excellent screening test in expert hands, the technical difficulties of processing and reading IIF slides – such as the labor intensive slide processing, manual reading, the need for experienced, trained technologists and the use of dark room – make the IIF method difficult to fit in the workflow of modern, automated laboratories. The first and crucial step towards high quality ANA screening is careful slide processing. This procedure is labor intensive, and requires full understanding of the process, as well as attention to details and experience. Slide reading is performed by fluorescent microscopy in dark rooms, and is done by trained technologists who are familiar with the various patterns, in the context of cell cycle and the morphology of interphase and dividing cells. Provided that IIF is the first line screening tool for SARD, understanding the steps to correctly perform this technique is critical. Recently, digital imaging systems have been developed for the automated reading of IIF slides. These systems, such as the NOVA View Automated Fluorescent Microscope, are designed to streamline the routine IIF workflow. NOVA View acquires and stores high resolution digital images of the wells, thereby separating image acquisition from interpretation; images are viewed an interpreted on high resolution computer monitors. It stores images for future reference and supports the operator's interpretation by providing fluorescent light intensity data on the images. It also preliminarily categorizes results as positive or negative, and provides pattern recognition for positive samples. In summary, it eliminates the need for darkroom, and automates and streamlines the IIF reading/interpretation workflow. Most importantly, it increases consistency between readers and readings. Moreover, with the use of barcoded slides, transcription errors are eliminated by providing sample traceability and positive patient identification. This results in increased patient data integrity and safety. The overall goal of this video is to demonstrate the IIF procedure, including slide processing, identification of common IIF patterns, and the introduction of new advancements to simplify and harmonize this technique.
Bioengineering, Issue 88, Antinuclear antibody (ANA), HEp-2, indirect immunofluorescence (IIF), systemic autoimmune rheumatic disease (SARD), dense fine speckled (DFS70)
51211
Modified Annexin V/Propidium Iodide Apoptosis Assay For Accurate Assessment of Cell Death
Institutions: University of Alberta, University of Alberta.

Studies of cellular apoptosis have been significantly impacted since the introduction of flow cytometry-based methods. Propidium iodide (PI) is widely used in conjunction with Annexin V to determine if cells are viable, apoptotic, or necrotic through differences in plasma membrane integrity and permeability
1,2
. The Annexin V/ PI protocol is a commonly used approach for studying apoptotic cells
3
. PI is used more often than other nuclear stains because it is economical, stable and a good indicator of cell viability, based on its capacity to exclude dye in living cells
4,5
. The ability of PI to enter a cell is dependent upon the permeability of the membrane; PI does not stain live or early apoptotic cells due to the presence of an intact plasma membrane
1,2,6
. In late apoptotic and necrotic cells, the integrity of the plasma and nuclear membranes decreases
7,8
, allowing PI to pass through the membranes, intercalate into nucleic acids, and display red fluorescence
1,2,9
. Unfortunately, we find that conventional Annexin V/ PI protocols lead to a significant number of false positive events (up to 40%), which are associated with PI staining of RNA within the cytoplasmic compartment
10
. Primary cells and cell lines in a broad range of animal models are affected, with large cells (nuclear: cytoplasmic ratios <0.5) showing the highest occurrence
10
. Herein, we demonstrate a modified Annexin V/ PI method that provides a significant improvement for assessment of cell death compared to conventional methods. This protocol takes advantage of changes in cellular permeability during cell fixing to promote entry of RNase A into cells following staining. Both the timing and concentration of RNase A have been optimized for removal of cytoplasmic RNA. The result is a significant improvement over conventional Annexin V/ PI protocols (< 5% events with cytoplasmic PI staining).
Cellular Biology, Issue 50, Apoptosis, cell death, propidium iodide, Annexin V, necrosis, immunology
2597
Slide Preparation Method to Preserve Three-dimensional Chromatin Architecture of Testicular Germ Cells
Institutions: Cincinnati Children's Hospital Medical Center, University of Cincinnati College of Medicine.
During testicular germ cell differentiation, the structure of nuclear chromatin dynamically changes. The following describes a method designed to preserve the three-dimensional chromatin arrangement of testicular germ cells found in mice; this method has been termed as the three-dimensional (3D) slide method. In this method, testicular tubules are directly treated with a permeabilization step that removes cytoplasmic material, followed by a fixation step that fixes nuclear materials. Tubules are then dissociated, the cell suspension is cytospun, and cells adhere to slides. This method improves sensitivity towards detection of subnuclear structures and is applicable for immunofluorescence, DNA, and RNA fluorescence
in situ
hybridization (FISH) and the combination of these detection methods. As an example of a possible application of the 3D slide method, a Cot-1 RNA FISH is shown to detect nascent RNAs. The 3D slide method will facilitate the detailed examination of spatial relationships between chromatin structure, DNA, and RNA during testicular germ cell differentiation.
Basic Protocol, Issue 83, Chromatin, Germ cells, Sex chromosomes, Testis, Meiotic sex chromosome inactivation, Postmeiotic sex chromatin
50819
Studying Proteolysis of Cyclin B at the Single Cell Level in Whole Cell Populations
Institutions: University Medical Center Freiburg.

Equal distribution of chromosomes between the two daughter cells during cell division is a prerequisite for guaranteeing genetic stability
1
. Inaccuracies during chromosome separation are a hallmark of malignancy and associated with progressive disease
2-4
. The spindle assembly checkpoint (SAC) is a mitotic surveillance mechanism that holds back cells at metaphase until every single chromosome has established a stable bipolar attachment to the mitotic spindle
1
. The SAC exerts its function by interference with the activating APC/C subunit Cdc20 to block proteolysis of securin and cyclin B and thus chromosome separation and mitotic exit. Improper attachment of chromosomes prevents silencing of SAC signaling and causes continued inhibition of APC/C
Cdc20
until the problem is solved to avoid chromosome missegregation, aneuploidy and malignant growths
1
. Most studies that addressed the influence of improper chromosomal attachment on APC/C-dependent proteolysis took advantage of spindle disruption using depolymerizing or microtubule-stabilizing drugs to interfere with chromosomal attachment to microtubules. Since interference with microtubule kinetics can affect the transport and localization of critical regulators, these procedures bear a risk of inducing artificial effects
5
. To study how the SAC interferes with APC/C-dependent proteolysis of cyclin B during mitosis in unperturbed cell populations, we established a histone H2-GFP-based system which allowed the simultaneous monitoring of metaphase alignment of mitotic chromosomes and proteolysis of cyclin B
6
. To depict proteolytic profiles, we generated a chimeric cyclin B reporter molecule with a C-terminal SNAP moiety
6
(
Figure 1
). In a self-labeling reaction, the SNAP-moiety is able to form covalent bonds with alkylguanine-carriers (SNAP substrate)
7,8
(
Figure 1
). SNAP substrate molecules are readily available and carry a broad spectrum of different fluorochromes. Chimeric cyclin B-SNAP molecules become labeled upon addition of the membrane-permeable SNAP substrate to the growth medium
7
(
Figure 1
). Following the labeling reaction, the cyclin B-SNAP fluorescence intensity drops in a pulse-chase reaction-like manner and fluorescence intensities reflect levels of cyclin B degradation
6
(
Figure 1
). Our system facilitates the monitoring of mitotic APC/C-dependent proteolysis in large numbers of cells (or several cell populations) in parallel. Thereby, the system may be a valuable tool to identify agents/small molecules that are able to interfere with proteolytic activity at the metaphase to anaphase transition. Moreover, as synthesis of cyclin B during mitosis has recently been suggested as an important mechanism in fostering a mitotic block in mice and humans by keeping cyclin B expression levels stable
9,10
, this system enabled us to analyze cyclin B proteolysis as one element of a balanced equilibrium
6
.
Genetics, Issue 67, Cellular Biology, Molecular Biology, Proteomics, Cyclin B, spindle assembly checkpoint, anaphase-promoting complex, mitosis, proteasome-dependent proteolysis, SNAP, cell cycle
4239
Production of Transgenic Xenopus laevis by Restriction Enzyme Mediated Integration and Nuclear Transplantation
Institutions: University of Manchester, Washington University School of Medicine.

Stable integration of cloned gene products into the
Xenopus
genome is necessary to control the time and place of expression, to express genes at later stages of embryonic development, and to define how enhancers and promoters regulate gene expression within the embryo. The protocol demonstrated here can be used to efficiently produce transgenic
Xenopus laevis
embryos. This transgenesis approach involves three parts: 1. Sperm nuclei are isolated from adult
X. laevis
testis by treatment with lysolecithin, which permeabilizes the sperm plasma membrane. 2. Egg extract is prepared by low speed centrifugation, addition of calcium to cause the extract to progress to interphase of the cell cycle, and a high-speed centrifugation to isolate interphase cytosol. 3. Nuclear transplantation: the nuclei and extract are combined with the linearized plasmid DNA to be introduced as the transgene and a small amount of restriction enzyme. During a short reaction, egg extract partially decondenses the sperm chromatin and the restriction enzyme generates chromosomal breaks that promote recombination of the transgene into the genome. The treated sperm nuclei are then transplanted into unfertilized eggs. Integration of the transgene usually occurs prior to the first embryonic cleavage such that the resulting embryos are not chimeric. These embryos can be analyzed without any need to breed to the next generation, allowing for efficient and rapid generation of transgenic embryos for analyses of promoter and gene function. Adult
X. laevis
resulting from this procedure also propagate the transgene through the germline and can be used to generate lines of transgenic animals for multiple purposes.
Developmental Biology, Issue 42, transgenic, embryo, Xenopus, transgenesis, nuclear transplantation
2010
Robust 3D DNA FISH Using Directly Labeled Probes
Institutions: The Babraham Institute, The Babraham Institute, University of Cambridge .
3D DNA FISH has become a major tool for analyzing three-dimensional organization of the nucleus, and several variations of the technique have been published. In this article we describe a protocol which has been optimized for robustness, reproducibility, and ease of use. Brightly fluorescent directly labeled probes are generated by nick-translation with amino-allyldUTP followed by chemical coupling of the dye. 3D DNA FISH is performed using a freeze-thaw step for cell permeabilization and a heating step for simultaneous denaturation of probe and nuclear DNA. The protocol is applicable to a range of cell types and a variety of probes (BACs, plasmids, fosmids, or Whole Chromosome Paints) and allows for high-throughput automated imaging. With this method we routinely investigate nuclear localization of up to three chromosomal regions.
Genetics, Issue 78, Molecular Biology, Biochemistry, Cellular Biology, Genomics, Epigenetics, Cell Nucleus, Fluorescence, In Situ Hybridization, FISH, 3D DNA FISH, fluorescence in situ hybridization, nuclear structure, fluorescently labeled probes, visualization, imaging, DNA, chromosomes, sequencing, probes, assay
50587
Analysis of Tubular Membrane Networks in Cardiac Myocytes from Atria and Ventricles
Institutions: Heart Research Center Goettingen, University Medical Center Goettingen, German Center for Cardiovascular Research (DZHK) partner site Goettingen, University of Maryland School of Medicine.

In cardiac myocytes a complex network of membrane tubules - the transverse-axial tubule system (TATS) - controls deep intracellular signaling functions. While the outer surface membrane and associated TATS membrane components appear to be continuous, there are substantial differences in lipid and protein content. In ventricular myocytes (VMs), certain TATS components are highly abundant contributing to rectilinear tubule networks and regular branching 3D architectures. It is thought that peripheral TATS components propagate action potentials from the cell surface to thousands of remote intracellular sarcoendoplasmic reticulum (SER) membrane contact domains, thereby activating intracellular Ca
2+
release units (CRUs). In contrast to VMs, the organization and functional role of TATS membranes in atrial myocytes (AMs) is significantly different and much less understood. Taken together, quantitative structural characterization of TATS membrane networks in healthy and diseased myocytes is an essential prerequisite towards better understanding of functional plasticity and pathophysiological reorganization. Here, we present a strategic combination of protocols for direct quantitative analysis of TATS membrane networks in living VMs and AMs. For this, we accompany primary cell isolations of mouse VMs and/or AMs with critical quality control steps and direct membrane staining protocols for fluorescence imaging of TATS membranes. Using an optimized workflow for confocal or superresolution TATS image processing, binarized and skeletonized data are generated for quantitative analysis of the TATS network and its components. Unlike previously published indirect regional aggregate image analysis strategies, our protocols enable direct characterization of specific components and derive complex physiological properties of TATS membrane networks in living myocytes with high throughput and open access software tools. In summary, the combined protocol strategy can be readily applied for quantitative TATS network studies during physiological myocyte adaptation or disease changes, comparison of different cardiac or skeletal muscle cell types, phenotyping of transgenic models, and pharmacological or therapeutic interventions.
Bioengineering, Issue 92, cardiac myocyte, atria, ventricle, heart, primary cell isolation, fluorescence microscopy, membrane tubule, transverse-axial tubule system, image analysis, image processing, T-tubule, collagenase
51823
Reconstitution Of β-catenin Degradation In Xenopus Egg Extract
Institutions: Vanderbilt University Medical Center, Cincinnati Children's Hospital Medical Center, Vanderbilt University School of Medicine.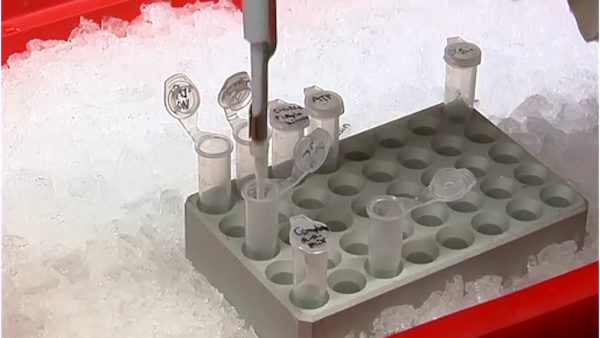 Xenopus laevis
egg extract is a well-characterized, robust system for studying the biochemistry of diverse cellular processes.
Xenopus
egg extract has been used to study protein turnover in many cellular contexts, including the cell cycle and signal transduction pathways
1-3
. Herein, a method is described for isolating
Xenopus
egg extract that has been optimized to promote the degradation of the critical Wnt pathway component, β-catenin. Two different methods are described to assess β-catenin protein degradation in
Xenopus
egg extract. One method is visually informative ([
35
S]-radiolabeled proteins), while the other is more readily scaled for high-throughput assays (firefly luciferase-tagged fusion proteins). The techniques described can be used to, but are not limited to, assess β-catenin protein turnover and identify molecular components contributing to its turnover. Additionally, the ability to purify large volumes of homogenous
Xenopus
egg extract combined with the quantitative and facile readout of luciferase-tagged proteins allows this system to be easily adapted for high-throughput screening for modulators of β-catenin degradation.
Molecular Biology, Issue 88, Xenopus laevis, Xenopus egg extracts, protein degradation, radiolabel, luciferase, autoradiography, high-throughput screening
51425
Preparation of Synaptic Plasma Membrane and Postsynaptic Density Proteins Using a Discontinuous Sucrose Gradient
Institutions: University of Toronto.
Neuronal subcellular fractionation techniques allow the quantification of proteins that are trafficked to and from the synapse. As originally described in the late 1960's, proteins associated with the synaptic plasma membrane can be isolated by ultracentrifugation on a sucrose density gradient. Once synaptic membranes are isolated, the macromolecular complex known as the post-synaptic density can be subsequently isolated due to its detergent insolubility. The techniques used to isolate synaptic plasma membranes and post-synaptic density proteins remain essentially the same after 40 years, and are widely used in current neuroscience research. This article details the fractionation of proteins associated with the synaptic plasma membrane and post-synaptic density using a discontinuous sucrose gradient. Resulting protein preparations are suitable for western blotting or 2D DIGE analysis.
Neurobiology, Issue 91, brain, synapse, western blot, ultracentrifugation, SPM, PSD
51896
Affinity Purification of Influenza Virus Ribonucleoprotein Complexes from the Chromatin of Infected Cells
Institutions: Universitätsklinikum Freiburg.

Like all negative-strand RNA viruses, the genome of influenza viruses is packaged in the form of viral ribonucleoprotein complexes (vRNP), in which the single-stranded genome is encapsidated by the nucleoprotein (NP), and associated with the trimeric polymerase complex consisting of the PA, PB1, and PB2 subunits. However, in contrast to most RNA viruses, influenza viruses perform viral RNA synthesis in the nuclei of infected cells. Interestingly, viral mRNA synthesis uses cellular pre-mRNAs as primers, and it has been proposed that this process takes place on chromatin
1
. Interactions between the viral polymerase and the host RNA polymerase II, as well as between NP and host nucleosomes have also been characterized
1,2
. Recently, the generation of recombinant influenza viruses encoding a One-Strep-Tag genetically fused to the C-terminus of the PB2 subunit of the viral polymerase (rWSN-PB2-Strep
3
) has been described. These recombinant viruses allow the purification of PB2-containing complexes, including vRNPs, from infected cells. To obtain purified vRNPs, cell cultures are infected, and vRNPs are affinity purified from lysates derived from these cells. However, the lysis procedures used to date have been based on one-step detergent lysis, which, despite the presence of a general nuclease, often extract chromatin-bound material only inefficiently. Our preliminary work suggested that a large portion of nuclear vRNPs were not extracted during traditional cell lysis, and therefore could not be affinity purified. To increase this extraction efficiency, and to separate chromatin-bound from non-chromatin-bound nuclear vRNPs, we adapted a step-wise subcellular extraction protocol to influenza virus-infected cells. Briefly, this procedure first separates the nuclei from the cell and then extracts soluble nuclear proteins (here termed the "nucleoplasmic" fraction). The remaining insoluble nuclear material is then digested with Benzonase, an unspecific DNA/RNA nuclease, followed by two salt extraction steps: first using 150 mM NaCl (termed "ch150"), then 500 mM NaCl ("ch500") (
Fig. 1
). These salt extraction steps were chosen based on our observation that 500 mM NaCl was sufficient to solubilize over 85% of nuclear vRNPs yet still allow binding of tagged vRNPs to the affinity matrix. After subcellular fractionation of infected cells, it is possible to affinity purify PB2-tagged vRNPs from each individual fraction and analyze their protein and RNA components using Western Blot and primer extension, respectively. Recently, we utilized this method to discover that vRNP export complexes form during late points after infection on the chromatin fraction extracted with 500 mM NaCl (ch500)
3
.
Virology, Issue 64, Immunology, Molecular Biology, Influenza A virus, affinity purification, subcellular fractionation, chromatin, vRNP complexes, polymerase
4028
In situ Subcellular Fractionation of Adherent and Non-adherent Mammalian Cells
Institutions: University of Bristol, University of Birmingham.

Protein function is intimately coupled to protein localization. Although some proteins are restricted to a specific location or subcellular compartment, many proteins are present as a freely diffusing population in free exchange with a sub-population that is tightly associated with a particular subcellular domain or structure.
In situ
subcellular fractionation allows the visualization of protein compartmentalization and can also reveal protein sub-populations that localize to specific structures. For example, removal of soluble cytoplasmic proteins and loosely held nuclear proteins can reveal the stable association of some transcription factors with chromatin. Subsequent digestion of DNA can in some cases reveal association with the network of proteins and RNAs that is collectively termed the nuclear scaffold or nuclear matrix. Here we describe the steps required during the
in situ
fractionation of adherent and non-adherent mammalian cells on microscope coverslips. Protein visualization can be achieved using specific antibodies or fluorescent fusion proteins and fluorescence microscopy. Antibodies and/or fluorescent dyes that act as markers for specific compartments or structures allow protein localization to be mapped in detail.
In situ
fractionation can also be combined with western blotting to compare the amounts of protein present in each fraction. This simple biochemical approach can reveal associations that would otherwise remain undetected.
cellular biology, Issue 41, protein localisation, subcellular fractionation, in situ, chromatin, nuclear matrix
1958
Acquiring Fluorescence Time-lapse Movies of Budding Yeast and Analyzing Single-cell Dynamics using GRAFTS
Institutions: Massachusetts Institute of Technology.

Fluorescence time-lapse microscopy has become a powerful tool in the study of many biological processes at the single-cell level. In particular, movies depicting the temporal dependence of gene expression provide insight into the dynamics of its regulation; however, there are many technical challenges to obtaining and analyzing fluorescence movies of single cells. We describe here a simple protocol using a commercially available microfluidic culture device to generate such data, and a MATLAB-based, graphical user interface (GUI) -based software package to quantify the fluorescence images. The software segments and tracks cells, enables the user to visually curate errors in the data, and automatically assigns lineage and division times. The GUI further analyzes the time series to produce whole cell traces as well as their first and second time derivatives. While the software was designed for
S. cerevisiae
, its modularity and versatility should allow it to serve as a platform for studying other cell types with few modifications.
Microbiology, Issue 77, Cellular Biology, Molecular Biology, Genetics, Biophysics, Saccharomyces cerevisiae, Microscopy, Fluorescence, Cell Biology, microscopy/fluorescence and time-lapse, budding yeast, gene expression dynamics, segmentation, lineage tracking, image tracking, software, yeast, cells, imaging
50456
2D and 3D Chromosome Painting in Malaria Mosquitoes
Institutions: Virginia Tech.

Fluorescent
in situ
hybridization (FISH) of whole arm chromosome probes is a robust technique for mapping genomic regions of interest, detecting chromosomal rearrangements, and studying three-dimensional (3D) organization of chromosomes in the cell nucleus. The advent of laser capture microdissection (LCM) and whole genome amplification (WGA) allows obtaining large quantities of DNA from single cells. The increased sensitivity of WGA kits prompted us to develop chromosome paints and to use them for exploring chromosome organization and evolution in non-model organisms. Here, we present a simple method for isolating and amplifying the euchromatic segments of single polytene chromosome arms from ovarian nurse cells of the African malaria mosquito
Anopheles gambiae
. This procedure provides an efficient platform for obtaining chromosome paints, while reducing the overall risk of introducing foreign DNA to the sample. The use of WGA allows for several rounds of re-amplification, resulting in high quantities of DNA that can be utilized for multiple experiments, including 2D and 3D FISH. We demonstrated that the developed chromosome paints can be successfully used to establish the correspondence between euchromatic portions of polytene and mitotic chromosome arms in
An. gambiae
. Overall, the union of LCM and single-chromosome WGA provides an efficient tool for creating significant amounts of target DNA for future cytogenetic and genomic studies.
Immunology, Issue 83, Microdissection, whole genome amplification, malaria mosquito, polytene chromosome, mitotic chromosomes, fluorescence in situ hybridization, chromosome painting
51173
Quantitative Analysis of Chromatin Proteomes in Disease
Institutions: David Geffen School of Medicine at UCLA, David Geffen School of Medicine at UCLA, David Geffen School of Medicine at UCLA, Nora Eccles Harrison Cardiovascular Research and Training Institute, University of Utah.
In the nucleus reside the proteomes whose functions are most intimately linked with gene regulation. Adult mammalian cardiomyocyte nuclei are unique due to the high percentage of binucleated cells,
1
the predominantly heterochromatic state of the DNA, and the non-dividing nature of the cardiomyocyte which renders adult nuclei in a permanent state of interphase.
2
Transcriptional regulation during development and disease have been well studied in this organ,
3-5
but what remains relatively unexplored is the role played by the nuclear proteins responsible for DNA packaging and expression, and how these proteins control changes in transcriptional programs that occur during disease.
6
In the developed world, heart disease is the number one cause of mortality for both men and women.
7
Insight on how nuclear proteins cooperate to regulate the progression of this disease is critical for advancing the current treatment options. Mass spectrometry is the ideal tool for addressing these questions as it allows for an unbiased annotation of the nuclear proteome and relative quantification for how the abundance of these proteins changes with disease. While there have been several proteomic studies for mammalian nuclear protein complexes,
8-13
until recently
14
there has been only one study examining the cardiac nuclear proteome, and it considered the entire nucleus, rather than exploring the proteome at the level of nuclear sub compartments.
15
In large part, this shortage of work is due to the difficulty of isolating cardiac nuclei. Cardiac nuclei occur within a rigid and dense actin-myosin apparatus to which they are connected via multiple extensions from the endoplasmic reticulum, to the extent that myocyte contraction alters their overall shape.
16
Additionally, cardiomyocytes are 40% mitochondria by volume
17
which necessitates enrichment of the nucleus apart from the other organelles. Here we describe a protocol for cardiac nuclear enrichment and further fractionation into biologically-relevant compartments. Furthermore, we detail methods for label-free quantitative mass spectrometric dissection of these fractions-techniques amenable to
in vivo
experimentation in various animal models and organ systems where metabolic labeling is not feasible.
Medicine, Issue 70, Molecular Biology, Immunology, Genetics, Genomics, Physiology, Protein, DNA, Chromatin, cardiovascular disease, proteomics, mass spectrometry
4294
Affinity-based Isolation of Tagged Nuclei from Drosophila Tissues for Gene Expression Analysis
Institutions: Purdue University.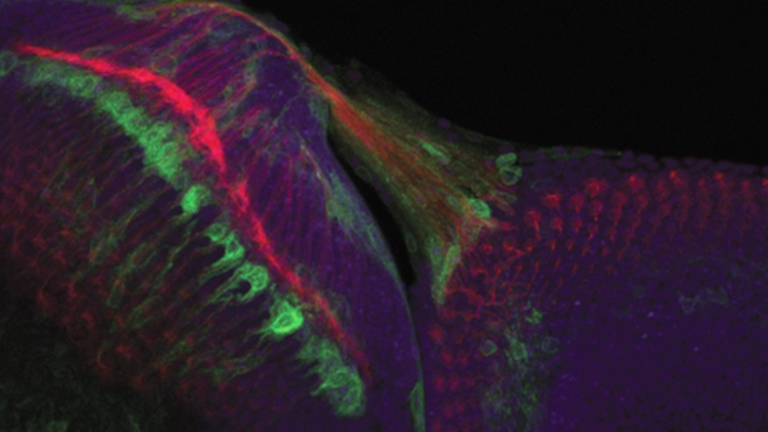 Drosophila melanogaster
embryonic and larval tissues often contain a highly heterogeneous mixture of cell types, which can complicate the analysis of gene expression in these tissues. Thus, to analyze cell-specific gene expression profiles from
Drosophila
tissues, it may be necessary to isolate specific cell types with high purity and at sufficient yields for downstream applications such as transcriptional profiling and chromatin immunoprecipitation. However, the irregular cellular morphology in tissues such as the central nervous system, coupled with the rare population of specific cell types in these tissues, can pose challenges for traditional methods of cell isolation such as laser microdissection and fluorescence-activated cell sorting (FACS). Here, an alternative approach to characterizing cell-specific gene expression profiles using affinity-based isolation of tagged nuclei, rather than whole cells, is described. Nuclei in the specific cell type of interest are genetically labeled with a nuclear envelope-localized EGFP tag using the Gal4/UAS binary expression system. These EGFP-tagged nuclei can be isolated using antibodies against GFP that are coupled to magnetic beads. The approach described in this protocol enables consistent isolation of nuclei from specific cell types in the
Drosophila
larval central nervous system at high purity and at sufficient levels for expression analysis, even when these cell types comprise less than 2% of the total cell population in the tissue. This approach can be used to isolate nuclei from a wide variety of
Drosophila
embryonic and larval cell types using specific Gal4 drivers, and may be useful for isolating nuclei from cell types that are not suitable for FACS or laser microdissection.
Biochemistry, Issue 85, Gene Expression, nuclei isolation, Drosophila, KASH, GFP, cell-type specific
51418
Detection of the Genome and Transcripts of a Persistent DNA Virus in Neuronal Tissues by Fluorescent In situ Hybridization Combined with Immunostaining
Institutions: CNRS UMR 5534, Université de Lyon 1, LabEX DEVweCAN, CNRS UPR 3296, CNRS UMR 5286.

Single cell codetection of a gene, its RNA product and cellular regulatory proteins is critical to study gene expression regulation. This is a challenge in the field of virology; in particular for nuclear-replicating persistent DNA viruses that involve animal models for their study. Herpes simplex virus type 1 (HSV-1) establishes a life-long latent infection in peripheral neurons. Latent virus serves as reservoir, from which it reactivates and induces a new herpetic episode. The cell biology of HSV-1 latency remains poorly understood, in part due to the lack of methods to detect HSV-1 genomes
in situ
in animal models. We describe a DNA-fluorescent
in situ
hybridization (FISH) approach efficiently detecting low-copy viral genomes within sections of neuronal tissues from infected animal models. The method relies on heat-based antigen unmasking, and directly labeled home-made DNA probes, or commercially available probes. We developed a triple staining approach, combining DNA-FISH with RNA-FISH and immunofluorescence, using peroxidase based signal amplification to accommodate each staining requirement. A major improvement is the ability to obtain, within 10 µm tissue sections, low-background signals that can be imaged at high resolution by confocal microscopy and wide-field conventional epifluorescence. Additionally, the triple staining worked with a wide range of antibodies directed against cellular and viral proteins. The complete protocol takes 2.5 days to accommodate antibody and probe penetration within the tissue.
Neuroscience, Issue 83, Life Sciences (General), Virology, Herpes Simplex Virus (HSV), Latency, In situ hybridization, Nuclear organization, Gene expression, Microscopy
51091
Ex vivo Culture of Drosophila Pupal Testis and Single Male Germ-line Cysts: Dissection, Imaging, and Pharmacological Treatment
Institutions: Philipps-Universität Marburg, Philipps-Universität Marburg.

During spermatogenesis in mammals and in
Drosophila melanogaster,
male germ cells develop in a series of essential developmental processes. This includes differentiation from a stem cell population, mitotic amplification, and meiosis. In addition, post-meiotic germ cells undergo a dramatic morphological reshaping process as well as a global epigenetic reconfiguration of the germ line chromatin—the histone-to-protamine switch. Studying the role of a protein in post-meiotic spermatogenesis using mutagenesis or other genetic tools is often impeded by essential embryonic, pre-meiotic, or meiotic functions of the protein under investigation. The post-meiotic phenotype of a mutant of such a protein could be obscured through an earlier developmental block, or the interpretation of the phenotype could be complicated. The model organism
Drosophila melanogaster
offers a bypass to this problem: intact testes and even cysts of germ cells dissected from early pupae are able to develop
ex vivo
in culture medium. Making use of such cultures allows microscopic imaging of living germ cells in testes and of germ-line cysts. Importantly, the cultivated testes and germ cells also become accessible to pharmacological inhibitors, thereby permitting manipulation of enzymatic functions during spermatogenesis, including post-meiotic stages. The protocol presented describes how to dissect and cultivate pupal testes and germ-line cysts. Information on the development of pupal testes and culture conditions are provided alongside microscope imaging data of live testes and germ-line cysts in culture. We also describe a pharmacological assay to study post-meiotic spermatogenesis, exemplified by an assay targeting the histone-to-protamine switch using the histone acetyltransferase inhibitor anacardic acid. In principle, this cultivation method could be adapted to address many other research questions in pre- and post-meiotic spermatogenesis.
Developmental Biology, Issue 91, Ex vivo culture, testis, male germ-line cells, Drosophila, imaging, pharmacological assay
51868
Investigating Protein-protein Interactions in Live Cells Using Bioluminescence Resonance Energy Transfer
Institutions: Max Planck Institute for Psycholinguistics, Donders Institute for Brain, Cognition and Behaviour.

Assays based on Bioluminescence Resonance Energy Transfer (BRET) provide a sensitive and reliable means to monitor protein-protein interactions in live cells. BRET is the non-radiative transfer of energy from a 'donor' luciferase enzyme to an 'acceptor' fluorescent protein. In the most common configuration of this assay, the donor is
Renilla reniformis
luciferase and the acceptor is Yellow Fluorescent Protein (YFP). Because the efficiency of energy transfer is strongly distance-dependent, observation of the BRET phenomenon requires that the donor and acceptor be in close proximity. To test for an interaction between two proteins of interest in cultured mammalian cells, one protein is expressed as a fusion with luciferase and the second as a fusion with YFP. An interaction between the two proteins of interest may bring the donor and acceptor sufficiently close for energy transfer to occur. Compared to other techniques for investigating protein-protein interactions, the BRET assay is sensitive, requires little hands-on time and few reagents, and is able to detect interactions which are weak, transient, or dependent on the biochemical environment found within a live cell. It is therefore an ideal approach for confirming putative interactions suggested by yeast two-hybrid or mass spectrometry proteomics studies, and in addition it is well-suited for mapping interacting regions, assessing the effect of post-translational modifications on protein-protein interactions, and evaluating the impact of mutations identified in patient DNA.
Cellular Biology, Issue 87, Protein-protein interactions, Bioluminescence Resonance Energy Transfer, Live cell, Transfection, Luciferase, Yellow Fluorescent Protein, Mutations
51438
The ChroP Approach Combines ChIP and Mass Spectrometry to Dissect Locus-specific Proteomic Landscapes of Chromatin
Institutions: European Institute of Oncology.

Chromatin is a highly dynamic nucleoprotein complex made of DNA and proteins that controls various DNA-dependent processes. Chromatin structure and function at specific regions is regulated by the local enrichment of histone post-translational modifications (hPTMs) and variants, chromatin-binding proteins, including transcription factors, and DNA methylation. The proteomic characterization of chromatin composition at distinct functional regions has been so far hampered by the lack of efficient protocols to enrich such domains at the appropriate purity and amount for the subsequent in-depth analysis by Mass Spectrometry (MS). We describe here a newly designed chromatin proteomics strategy, named ChroP (
Chromatin Proteomics
), whereby a preparative chromatin immunoprecipitation is used to isolate distinct chromatin regions whose features, in terms of hPTMs, variants and co-associated non-histonic proteins, are analyzed by MS. We illustrate here the setting up of ChroP for the enrichment and analysis of transcriptionally silent heterochromatic regions, marked by the presence of tri-methylation of lysine 9 on histone H3. The results achieved demonstrate the potential of
ChroP
in thoroughly characterizing the heterochromatin proteome and prove it as a powerful analytical strategy for understanding how the distinct protein determinants of chromatin interact and synergize to establish locus-specific structural and functional configurations.
Biochemistry, Issue 86, chromatin, histone post-translational modifications (hPTMs), epigenetics, mass spectrometry, proteomics, SILAC, chromatin immunoprecipitation , histone variants, chromatome, hPTMs cross-talks
51220
A Novel Stretching Platform for Applications in Cell and Tissue Mechanobiology
Institutions: University of Ottawa, University of Ottawa, University of Calgary, University of Ottawa, University of Ottawa.

Tools that allow the application of mechanical forces to cells and tissues or that can quantify the mechanical properties of biological tissues have contributed dramatically to the understanding of basic mechanobiology. These techniques have been extensively used to demonstrate how the onset and progression of various diseases are heavily influenced by mechanical cues. This article presents a multi-functional biaxial stretching (BAXS) platform that can either mechanically stimulate single cells or quantify the mechanical stiffness of tissues. The BAXS platform consists of four voice coil motors that can be controlled independently. Single cells can be cultured on a flexible substrate that can be attached to the motors allowing one to expose the cells to complex, dynamic, and spatially varying strain fields. Conversely, by incorporating a force load cell, one can also quantify the mechanical properties of primary tissues as they are exposed to deformation cycles. In both cases, a proper set of clamps must be designed and mounted to the BAXS platform motors in order to firmly hold the flexible substrate or the tissue of interest. The BAXS platform can be mounted on an inverted microscope to perform simultaneous transmitted light and/or fluorescence imaging to examine the structural or biochemical response of the sample during stretching experiments. This article provides experimental details of the design and usage of the BAXS platform and presents results for single cell and whole tissue studies. The BAXS platform was used to measure the deformation of nuclei in single mouse myoblast cells in response to substrate strain and to measure the stiffness of isolated mouse aortas. The BAXS platform is a versatile tool that can be combined with various optical microscopies in order to provide novel mechanobiological insights at the sub-cellular, cellular and whole tissue levels.
Bioengineering, Issue 88, cell stretching, tissue mechanics, nuclear mechanics, uniaxial, biaxial, anisotropic, mechanobiology
51454
Isolation of mRNAs Associated with Yeast Mitochondria to Study Mechanisms of Localized Translation
Institutions: Technion - Israel Institute of Technology.

Most of mitochondrial proteins are encoded in the nucleus and need to be imported into the organelle. Import may occur while the protein is synthesized near the mitochondria. Support for this possibility is derived from recent studies, in which many mRNAs encoding mitochondrial proteins were shown to be localized to the mitochondria vicinity. Together with earlier demonstrations of ribosomes' association with the outer membrane, these results suggest a localized translation process. Such localized translation may improve import efficiency, provide unique regulation sites and minimize cases of ectopic expression. Diverse methods have been used to characterize the factors and elements that mediate localized translation. Standard among these is subcellular fractionation by differential centrifugation. This protocol has the advantage of isolation of mRNAs, ribosomes and proteins in a single procedure. These can then be characterized by various molecular and biochemical methods. Furthermore, transcriptomics and proteomics methods can be applied to the resulting material, thereby allow genome-wide insights. The utilization of yeast as a model organism for such studies has the advantages of speed, costs and simplicity. Furthermore, the advanced genetic tools and available deletion strains facilitate verification of candidate factors.
Biochemistry, Issue 85, mitochondria, mRNA localization, Yeast, S. cerevisiae, microarray, localized translation, biochemical fractionation
51265
In Vitro Nuclear Assembly Using Fractionated Xenopus Egg Extracts
Institutions: Emory University.

Nuclear membrane assembly is an essential step in the cell division cycle; this process can be replicated in the test tube by combining Xenopus sperm chromatin, cytosol, and light membrane fractions. Complete nuclei are formed, including nuclear membranes with pore complexes, and these reconstituted nuclei are capable of normal nuclear processes.
Cellular Biology, Issue 19, Current Protocols Wiley, Xenopus Egg Extracts, Nuclear Assembly, Nuclear Membrane
908
Microinjection of Xenopus Laevis Oocytes
Institutions: University of British Columbia - UBC.

Microinjection of
Xenopus laevis
oocytes followed by thin-sectioning electron microscopy (EM) is an excellent system for studying nucleocytoplasmic transport. Because of its large nucleus and high density of nuclear pore complexes (NPCs), nuclear transport can be easily visualized in the
Xenopus
oocyte. Much insight into the mechanisms of nuclear import and export has been gained through use of this system (reviewed by Panté, 2006). In addition, we have used microinjection of
Xenopus
oocytes to dissect the nuclear import pathways of several viruses that replicate in the host nucleus. Here we demonstrate the cytoplasmic microinjection of
Xenopus
oocytes with a nuclear import substrate. We also show preparation of the injected oocytes for visualization by thin-sectioning EM, including dissection, dehydration, and embedding of the oocytes into an epoxy embedding resin. Finally, we provide representative results for oocytes that have been microinjected with the capsid of the baculovirus
Autographa californica nucleopolyhedrovirus
(AcMNPV) or the parvovirus Minute Virus of Mice (MVM), and discuss potential applications of the technique.
Cellular biology, Issue 24, nuclear import, nuclear pore complex, Xenopus oocyte, microinjection, electron microscopy, nuclear membrane, nuclear import of viruses
1106