Construction and Characterization of External Cavity Diode Lasers for Atomic Physics
Published: 04-24-2014
ABSTRACT
Since their development in the late 1980s, cheap, reliable external cavity diode lasers (ECDLs) have replaced complex and expensive traditional dye and Titanium Sapphire lasers as the workhorse laser of atomic physics labs1,2. Their versatility and prolific use throughout atomic physics in applications such as absorption spectroscopy and laser cooling1,2 makes it imperative for incoming students to gain a firm practical understanding of these lasers. This publication builds upon the seminal work by Wieman3, updating components, and providing a video tutorial. The setup, frequency locking and performance characterization of an ECDL will be described. Discussion of component selection and proper mounting of both diodes and gratings, the factors affecting mode selection within the cavity, proper alignment for optimal external feedback, optics setup for coarse and fine frequency sensitive measurements, a brief overview of laser locking techniques, and laser linewidth measurements are included.
28 Related JoVE Articles!
Transretinal ERG Recordings from Mouse Retina: Rod and Cone Photoresponses
Institutions: Washington University School of Medicine.

There are two distinct classes of image-forming photoreceptors in the vertebrate retina: rods and cones. Rods are able to detect single photons of light whereas cones operate continuously under rapidly changing bright light conditions. Absorption of light by rod- and cone-specific visual pigments in the outer segments of photoreceptors triggers a phototransduction cascade that eventually leads to closure of cyclic nucleotide-gated channels on the plasma membrane and cell hyperpolarization. This light-induced change in membrane current and potential can be registered as a photoresponse, by either classical suction electrode recording technique
1,2
or by transretinal electroretinogram recordings (ERG) from isolated retinas with pharmacologically blocked postsynaptic response components
3-5
. The latter method allows drug-accessible long-lasting recordings from mouse photoreceptors and is particularly useful for obtaining stable photoresponses from the scarce and fragile mouse cones. In the case of cones, such experiments can be performed both in dark-adapted conditions and following intense illumination that bleaches essentially all visual pigment, to monitor the process of cone photosensitivity recovery during dark adaptation
6,7
. In this video, we will show how to perform rod- and M/L-cone-driven transretinal recordings from dark-adapted mouse retina. Rod recordings will be carried out using retina of wild type (C57Bl/6) mice. For simplicity, cone recordings will be obtained from genetically modified rod transducin α-subunit knockout (
Tα
-/-
) mice which lack rod signaling
8
.
Neuroscience, Issue 61, Rod and cone photoreceptors, retina, phototransduction, electrophysiology, vision, mouse
3424
Patterned Photostimulation with Digital Micromirror Devices to Investigate Dendritic Integration Across Branch Points
Institutions: University of Maryland School of Medicine.

Light is a versatile and precise means to control neuronal excitability. The recent introduction of light sensitive effectors such as channel-rhodopsin and caged neurotransmitters have led to interests in developing better means to control patterns of light in space and time that are useful for experimental neuroscience. One conventional strategy, employed in confocal and 2-photon microscopy, is to focus light to a diffraction limited spot and then scan that single spot sequentially over the region of interest. This approach becomes problematic if large areas have to be stimulated within a brief time window, a problem more applicable to photostimulation than for imaging. An alternate strategy is to project the complete spatial pattern on the target with the aid of a digital micromirror device (DMD). The DMD approach is appealing because the hardware components are relatively inexpensive and is supported by commercial interests. Because such a system is not available for upright microscopes, we will discuss the critical issues in the construction and operations of such a DMD system. Even though we will be primarily describing the construction of the system for UV photolysis, the modifications for building the much simpler visible light system for optogenetic experiments will also be provided. The UV photolysis system was used to carryout experiments to study a fundamental question in neuroscience, how are spatially distributed inputs integrated across distal dendritic branch points. The results suggest that integration can be non-linear across branch points and the supralinearity is largely mediated by NMDA receptors.
Bioengineering, Issue 49, DMD, photolysis, dendrite, photostimulation, DLP, optogenetics
2003
A Behavioral Assay to Measure Responsiveness of Zebrafish to Changes in Light Intensities
Institutions: Harvard.

The optokinetic reflex (OKR) is a basic visual reflex exhibited by most vertebrates and plays an important role in stabilizing the eye relative to the visual scene. However, the OKR requires that an animal detect moving stripes and it is possible that fish that fail to exhibit an OKR may not be completely blind. One zebrafish mutant, the no optokinetic response c (nrc) has no OKR under any light conditions tested and was reported to be completely blind. Previously, we have shown that OFF-ganglion cell activity can be recorded in these mutants. To determine whether mutant fish with no OKR such as the nrc mutant can detect simple light increments and decrements we developed the visual motor behavioral assay (VMR). In this assay, single zebrafish larvae are placed in each well of a 96-well plate allowing the simultaneous monitoring of larvae using an automated video-tracking system. The locomotor responses of each larva to 30 minutes light ON and 30 minutes light OFF were recorded and quantified. WT fish have a brief spike of motor activity upon lights ON, known as the startle response, followed by return to lower-than baseline activity, called a freeze. WT fish also sharply increase their locomotor activity immediately following lights OFF and only gradually (over several minutes) return to baseline locomotor activity. The nrc mutants respond similarly to light OFF as WT fish, but exhibit a slight reduction in their average activity as compared to WT fish. Motor activity in response to light ON in nrc mutants is delayed and sluggish. There is a slow rise time of the nrc mutant response to light ON as compared to WT light ON response. The results indicate that nrc fish are not completely blind. Because teleosts can detect light through non-retinal tissues, we confirmed that the immediate behavioral responses to light-intensity changes require intact eyes by using the chokh (chk) mutants, which completely lack eyes from the earliest stages of development. In our VMR assay, the chk mutants exhibit no startle response to either light ON or OFF, showing that the lateral eyes mediate this behavior. The VMR assay described here complements the well-established OKR assay, which does not test the ability of zebrafish larvae to respond to changes in light intensities. Additionally, the automation of the VMR assay lends itself to high-throughput screening for defects in light-intensity driven visual responses.
Developmental Biology, Issue 20, vision, ON- and OFF-responses, behavior, zebrafish
923
Selective Viral Transduction of Adult-born Olfactory Neurons for Chronic in vivo Optogenetic Stimulation
Institutions: Institut Pasteur and Centre National de la Recherche Scientifique (CNRS).

Local interneurons are continuously regenerated in the olfactory bulb of adult rodents
1-3
. In this process, called adult neurogenesis, neural stem cells in the walls of the lateral ventricle give rise to neuroblasts that migrate for several millimeters along the rostral migratory stream (RMS) to reach and incorporate into the olfactory bulb. To study the different steps and the impact of adult-born neuron integration into preexisting olfactory circuits, it is necessary to selectively label and manipulate the activity of this specific population of neurons. The recent development of optogenetic technologies offers the opportunity to use light to precisely activate this specific cohort of neurons without affecting surrounding neurons
4,5
. Here, we present a series of procedures to virally express Channelrhodopsin2(ChR2)-YFP in a temporally restricted cohort of neuroblasts in the RMS before they reach the olfactory bulb and become adult-born neurons. In addition, we show how to implant and calibrate a miniature LED for chronic
in vivo
stimulation of ChR2-expressing neurons.
Neuroscience, Issue 58, Olfactory bulb, Olfactory neurons, in vivo, viral transduction, mouse, LED
3380
Hyperpolarized Xenon for NMR and MRI Applications
Institutions: Leibniz-Institut für Molekulare Pharmakologie.

Nuclear magnetic resonance (NMR) spectroscopy and imaging (MRI) suffer from intrinsic low sensitivity because even strong external magnetic fields of ~10 T generate only a small detectable net-magnetization of the sample at room temperature
1
. Hence, most NMR and MRI applications rely on the detection of molecules at relative high concentration (
e.g.
, water for imaging of biological tissue) or require excessive acquisition times. This limits our ability to exploit the very useful molecular specificity of NMR signals for many biochemical and medical applications. However, novel approaches have emerged in the past few years: Manipulation of the detected spin species prior to detection inside the NMR/MRI magnet can dramatically increase the magnetization and therefore allows detection of molecules at much lower concentration
2
. Here, we present a method for polarization of a xenon gas mixture (2-5% Xe, 10% N
2
, He balance) in a compact setup with a ca. 16000-fold signal enhancement. Modern line-narrowed diode lasers allow efficient polarization
7
and immediate use of gas mixture even if the noble gas is not separated from the other components. The SEOP apparatus is explained and determination of the achieved spin polarization is demonstrated for performance control of the method. The hyperpolarized gas can be used for void space imaging, including gas flow imaging or diffusion studies at the interfaces with other materials
8,9
. Moreover, the Xe NMR signal is extremely sensitive to its molecular environment
6
. This enables the option to use it as an NMR/MRI contrast agent when dissolved in aqueous solution with functionalized molecular hosts that temporarily trap the gas
10,11
. Direct detection and high-sensitivity indirect detection of such constructs is demonstrated in both spectroscopic and imaging mode.
Physics, Issue 67, NMR, MRI, hyperpolarization, optical pumping, SEOP, xenon, molecular imaging, biosensor
4268
Flash Photolysis of Caged Compounds in the Cilia of Olfactory Sensory Neurons
Institutions: International School for Advanced Studies, Consiglio Nazionale delle Ricerche, Italian Institute of Technology.

Photolysis of caged compounds allows the production of rapid and localized increases in the concentration of various physiologically active compounds
1
. Caged compounds are molecules made physiologically inactive by a chemical cage that can be broken by a flash of ultraviolet light. Here, we show how to obtain patch-clamp recordings combined with photolysis of caged compounds for the study of olfactory transduction in dissociated mouse olfactory sensory neurons. The process of olfactory transduction (Figure 1) takes place in the cilia of olfactory sensory neurons, where odorant binding to receptors leads to the increase of cAMP that opens cyclic nucleotide-gated (CNG) channels
2
. Ca entry through CNG channels activates Ca-activated Cl channels. We show how to dissociate neurons from the mouse olfactory epithelium
3
and how to activate CNG channels or Ca-activated Cl channels by photolysis of caged cAMP
4
or caged Ca
5
. We use a flash lamp
6,7
to apply ultraviolet flashes to the ciliary region to uncage cAMP or Ca while patch-clamp recordings are taken to measure the current in the whole-cell voltage-clamp configuration
8-11
.
Neuroscience, Issue 55, caged compounds, caged cAMP, caged Ca, olfactory sensory neuron, olfaction, whole-cell patch-clamp, flash photolysis, flash lampc
3195
Fabrication And Characterization Of Photonic Crystal Slow Light Waveguides And Cavities
Institutions: University of St Andrews.

Slow light has been one of the hot topics in the photonics community in the past decade, generating great interest both from a fundamental point of view and for its considerable potential for practical applications. Slow light photonic crystal waveguides, in particular, have played a major part and have been successfully employed for delaying optical signals
1-4
and the enhancement of both linear
5-7
and nonlinear devices.
8-11
Photonic crystal cavities achieve similar effects to that of slow light waveguides, but over a reduced band-width. These cavities offer high Q-factor/volume ratio, for the realization of optically
12
and electrically
13
pumped ultra-low threshold lasers and the enhancement of nonlinear effects.
14-16
Furthermore, passive filters
17
and modulators
18-19
have been demonstrated, exhibiting ultra-narrow line-width, high free-spectral range and record values of low energy consumption. To attain these exciting results, a robust repeatable fabrication protocol must be developed. In this paper we take an in-depth look at our fabrication protocol which employs electron-beam lithography for the definition of photonic crystal patterns and uses wet and dry etching techniques. Our optimised fabrication recipe results in photonic crystals that do not suffer from vertical asymmetry and exhibit very good edge-wall roughness. We discuss the results of varying the etching parameters and the detrimental effects that they can have on a device, leading to a diagnostic route that can be taken to identify and eliminate similar issues. The key to evaluating slow light waveguides is the passive characterization of transmission and group index spectra. Various methods have been reported, most notably resolving the Fabry-Perot fringes of the transmission spectrum
20-21
and interferometric techniques.
22-25
Here, we describe a direct, broadband measurement technique combining spectral interferometry with Fourier transform analysis.
26
Our method stands out for its simplicity and power, as we can characterise a bare photonic crystal with access waveguides, without need for on-chip interference components, and the setup only consists of a Mach-Zehnder interferometer, with no need for moving parts and delay scans. When characterising photonic crystal cavities, techniques involving internal sources
21
or external waveguides directly coupled to the cavity
27
impact on the performance of the cavity itself, thereby distorting the measurement. Here, we describe a novel and non-intrusive technique that makes use of a cross-polarised probe beam and is known as resonant scattering (RS), where the probe is coupled out-of plane into the cavity through an objective. The technique was first demonstrated by McCutcheon
et al.28
and further developed by Galli
et al.
29
Physics, Issue 69, Optics and Photonics, Astronomy, light scattering, light transmission, optical waveguides, photonics, photonic crystals, Slow-light, Cavities, Waveguides, Silicon, SOI, Fabrication, Characterization
50216
High-speed Particle Image Velocimetry Near Surfaces
Institutions: University of Michigan.
Multi-dimensional and transient flows play a key role in many areas of science, engineering, and health sciences but are often not well understood. The complex nature of these flows may be studied using particle image velocimetry (PIV), a laser-based imaging technique for optically accessible flows. Though many forms of PIV exist that extend the technique beyond the original planar two-component velocity measurement capabilities, the basic PIV system consists of a light source (laser), a camera, tracer particles, and analysis algorithms. The imaging and recording parameters, the light source, and the algorithms are adjusted to optimize the recording for the flow of interest and obtain valid velocity data. Common PIV investigations measure two-component velocities in a plane at a few frames per second. However, recent developments in instrumentation have facilitated high-frame rate (> 1 kHz) measurements capable of resolving transient flows with high temporal resolution. Therefore, high-frame rate measurements have enabled investigations on the evolution of the structure and dynamics of highly transient flows. These investigations play a critical role in understanding the fundamental physics of complex flows. A detailed description for performing high-resolution, high-speed planar PIV to study a transient flow near the surface of a flat plate is presented here. Details for adjusting the parameter constraints such as image and recording properties, the laser sheet properties, and processing algorithms to adapt PIV for any flow of interest are included.
Physics, Issue 76, Mechanical Engineering, Fluid Mechanics, flow measurement, fluid heat transfer, internal flow in turbomachinery (applications), boundary layer flow (general), flow visualization (instrumentation), laser instruments (design and operation), Boundary layer, micro-PIV, optical laser diagnostics, internal combustion engines, flow, fluids, particle, velocimetry, visualization
50559
Quasi-light Storage for Optical Data Packets
Institutions: Hochschule für Telekommunikation, Leipzig.

Today's telecommunication is based on optical packets which transmit the information in optical fiber networks around the world. Currently, the processing of the signals is done in the electrical domain. Direct storage in the optical domain would avoid the transfer of the packets to the electrical and back to the optical domain in every network node and, therefore, increase the speed and possibly reduce the energy consumption of telecommunications. However, light consists of photons which propagate with the speed of light in vacuum. Thus, the storage of light is a big challenge. There exist some methods to slow down the speed of the light, or to store it in excitations of a medium. However, these methods cannot be used for the storage of optical data packets used in telecommunications networks. Here we show how the time-frequency-coherence, which holds for every signal and therefore for optical packets as well, can be exploited to build an optical memory. We will review the background and show in detail and through examples, how a frequency comb can be used for the copying of an optical packet which enters the memory. One of these time domain copies is then extracted from the memory by a time domain switch. We will show this method for intensity as well as for phase modulated signals.
Physics, Issue 84, optical communications, Optical Light Storage, stimulated Brillouin scattering, Optical Signal Processing, optical data packets, telecommunications
50468
Preparation of Segmented Microtubules to Study Motions Driven by the Disassembling Microtubule Ends
Institutions: Russian Academy of Sciences, Federal Research Center of Pediatric Hematology, Oncology and Immunology, Moscow, Russia, University of Pennsylvania.

Microtubule depolymerization can provide force to transport different protein complexes and protein-coated beads
in vitro
. The underlying mechanisms are thought to play a vital role in the microtubule-dependent chromosome motions during cell division, but the relevant proteins and their exact roles are ill-defined. Thus, there is a growing need to develop assays with which to study such motility
in vitro
using purified components and defined biochemical milieu. Microtubules, however, are inherently unstable polymers; their switching between growth and shortening is stochastic and difficult to control. The protocols we describe here take advantage of the segmented microtubules that are made with the photoablatable stabilizing caps. Depolymerization of such segmented microtubules can be triggered with high temporal and spatial resolution, thereby assisting studies of motility at the disassembling microtubule ends. This technique can be used to carry out a quantitative analysis of the number of molecules in the fluorescently-labeled protein complexes, which move processively with dynamic microtubule ends. To optimize a signal-to-noise ratio in this and other quantitative fluorescent assays, coverslips should be treated to reduce nonspecific absorption of soluble fluorescently-labeled proteins. Detailed protocols are provided to take into account the unevenness of fluorescent illumination, and determine the intensity of a single fluorophore using equidistant Gaussian fit. Finally, we describe the use of segmented microtubules to study microtubule-dependent motions of the protein-coated microbeads, providing insights into the ability of different motor and nonmotor proteins to couple microtubule depolymerization to processive cargo motion.
Basic Protocol, Issue 85, microscopy flow chamber, single-molecule fluorescence, laser trap, microtubule-binding protein, microtubule-dependent motor, microtubule tip-tracking
51150
Microwave Photonics Systems Based on Whispering-gallery-mode Resonators
Institutions: FEMTO-ST Institute.
Microwave photonics systems rely fundamentally on the interaction between microwave and optical signals. These systems are extremely promising for various areas of technology and applied science, such as aerospace and communication engineering, sensing, metrology, nonlinear photonics, and quantum optics. In this article, we present the principal techniques used in our lab to build microwave photonics systems based on ultra-high
Q
whispering gallery mode resonators. First detailed in this article is the protocol for resonator polishing, which is based on a grind-and-polish technique close to the ones used to polish optical components such as lenses or telescope mirrors. Then, a white light interferometric profilometer measures surface roughness, which is a key parameter to characterize the quality of the polishing. In order to launch light in the resonator, a tapered silica fiber with diameter in the micrometer range is used. To reach such small diameters, we adopt the "flame-brushing" technique, using simultaneously computer-controlled motors to pull the fiber apart, and a blowtorch to heat the fiber area to be tapered. The resonator and the tapered fiber are later approached to one another to visualize the resonance signal of the whispering gallery modes using a wavelength-scanning laser. By increasing the optical power in the resonator, nonlinear phenomena are triggered until the formation of a Kerr optical frequency comb is observed with a spectrum made of equidistant spectral lines. These Kerr comb spectra have exceptional characteristics that are suitable for several applications in science and technology. We consider the application related to ultra-stable microwave frequency synthesis and demonstrate the generation of a Kerr comb with GHz intermodal frequency.
Physics, Issue 78, Optics, Engineering, Electrical Engineering, Mechanical Engineering, Microwaves, nonlinear optics, optical fibers, microwave photonics, whispering-gallery-mode resonator, resonator
50423
A Method for Investigating Age-related Differences in the Functional Connectivity of Cognitive Control Networks Associated with Dimensional Change Card Sort Performance
Institutions: University of Western Ontario.

The ability to adjust behavior to sudden changes in the environment develops gradually in childhood and adolescence. For example, in the Dimensional Change Card Sort task, participants switch from sorting cards one way, such as shape, to sorting them a different way, such as color. Adjusting behavior in this way exacts a small performance cost, or switch cost, such that responses are typically slower and more error-prone on switch trials in which the sorting rule changes as compared to repeat trials in which the sorting rule remains the same. The ability to flexibly adjust behavior is often said to develop gradually, in part because behavioral costs such as switch costs typically decrease with increasing age. Why aspects of higher-order cognition, such as behavioral flexibility, develop so gradually remains an open question. One hypothesis is that these changes occur in association with functional changes in broad-scale cognitive control networks. On this view, complex mental operations, such as switching, involve rapid interactions between several distributed brain regions, including those that update and maintain task rules, re-orient attention, and select behaviors. With development, functional connections between these regions strengthen, leading to faster and more efficient switching operations. The current video describes a method of testing this hypothesis through the collection and multivariate analysis of fMRI data from participants of different ages.
Behavior, Issue 87, Neurosciences, fMRI, Cognitive Control, Development, Functional Connectivity
51003
Visually Mediated Odor Tracking During Flight in Drosophila
Institutions: University of California, Los Angeles.

Flying insects use visual cues to stabilize their heading in a wind stream. Many animals additionally track odors carried in the wind. As such, visual stabilization of upwind tracking directly aids in odor tracking. But do olfactory signals directly influence visual tracking behavior independently from wind cues? Additionally, recent advances in olfactory molecular genetics and neurophysiology have motivated novel quantitative behavioral analyses to assess the behavioral influence of (e.g.) genetically inactivating specific olfactory activation circuits. We modified a magnetic tether system originally devised for vision experiments by equipping the arena with narrow laminar flow odor plumes. Here we focus on experiments that can be performed after a fly is tethered and is able to navigate in the magnetic arena. We show how to acquire video images optimized for measuring body angle, how to judge stable odor tracking, and we illustrate two experiments to examine the influence of visual cues on odor tracking.
Neuroscience, Issue 23, Drosophila, magnet, olfaction, vision, behavior, flight, video
1110
Measurement and Analysis of Atomic Hydrogen and Diatomic Molecular AlO, C2, CN, and TiO Spectra Following Laser-induced Optical Breakdown
Institutions: University of Tennessee Space Institute.

In this work, we present time-resolved measurements of atomic and diatomic spectra following laser-induced optical breakdown. A typical LIBS arrangement is used. Here we operate a Nd:YAG laser at a frequency of 10 Hz at the fundamental wavelength of 1,064 nm. The 14 nsec pulses with anenergy of 190 mJ/pulse are focused to a 50 µm spot size to generate a plasma from optical breakdown or laser ablation in air. The microplasma is imaged onto the entrance slit of a 0.6 m spectrometer, and spectra are recorded using an 1,800 grooves/mm grating an intensified linear diode array and optical multichannel analyzer (OMA) or an ICCD. Of interest are Stark-broadened atomic lines of the hydrogen Balmer series to infer electron density. We also elaborate on temperature measurements from diatomic emission spectra of aluminum monoxide (AlO), carbon (C
2
), cyanogen (CN), and titanium monoxide (TiO). The experimental procedures include wavelength and sensitivity calibrations. Analysis of the recorded molecular spectra is accomplished by the fitting of data with tabulated line strengths. Furthermore, Monte-Carlo type simulations are performed to estimate the error margins. Time-resolved measurements are essential for the transient plasma commonly encountered in LIBS.
Physics, Issue 84, Laser Induced Breakdown Spectroscopy, Laser Ablation, Molecular Spectroscopy, Atomic Spectroscopy, Plasma Diagnostics
51250
Long-term Behavioral Tracking of Freely Swimming Weakly Electric Fish
Institutions: University of Ottawa, University of Ottawa, University of Ottawa.

Long-term behavioral tracking can capture and quantify natural animal behaviors, including those occurring infrequently. Behaviors such as exploration and social interactions can be best studied by observing unrestrained, freely behaving animals. Weakly electric fish (WEF) display readily observable exploratory and social behaviors by emitting electric organ discharge (EOD). Here, we describe three effective techniques to synchronously measure the EOD, body position, and posture of a free-swimming WEF for an extended period of time. First, we describe the construction of an experimental tank inside of an isolation chamber designed to block external sources of sensory stimuli such as light, sound, and vibration. The aquarium was partitioned to accommodate four test specimens, and automated gates remotely control the animals' access to the central arena. Second, we describe a precise and reliable real-time EOD timing measurement method from freely swimming WEF. Signal distortions caused by the animal's body movements are corrected by spatial averaging and temporal processing stages. Third, we describe an underwater near-infrared imaging setup to observe unperturbed nocturnal animal behaviors. Infrared light pulses were used to synchronize the timing between the video and the physiological signal over a long recording duration. Our automated tracking software measures the animal's body position and posture reliably in an aquatic scene. In combination, these techniques enable long term observation of spontaneous behavior of freely swimming weakly electric fish in a reliable and precise manner. We believe our method can be similarly applied to the study of other aquatic animals by relating their physiological signals with exploratory or social behaviors.
Neuroscience, Issue 85, animal tracking, weakly electric fish, electric organ discharge, underwater infrared imaging, automated image tracking, sensory isolation chamber, exploratory behavior
50962
Simultaneous Multicolor Imaging of Biological Structures with Fluorescence Photoactivation Localization Microscopy
Institutions: University of Maine.

Localization-based super resolution microscopy can be applied to obtain a spatial map (image) of the distribution of individual fluorescently labeled single molecules within a sample with a spatial resolution of tens of nanometers. Using either photoactivatable (PAFP) or photoswitchable (PSFP) fluorescent proteins fused to proteins of interest, or organic dyes conjugated to antibodies or other molecules of interest, fluorescence photoactivation localization microscopy (FPALM) can simultaneously image multiple species of molecules within single cells. By using the following approach, populations of large numbers (thousands to hundreds of thousands) of individual molecules are imaged in single cells and localized with a precision of ~10-30 nm. Data obtained can be applied to understanding the nanoscale spatial distributions of multiple protein types within a cell. One primary advantage of this technique is the dramatic increase in spatial resolution: while diffraction limits resolution to ~200-250 nm in conventional light microscopy, FPALM can image length scales more than an order of magnitude smaller. As many biological hypotheses concern the spatial relationships among different biomolecules, the improved resolution of FPALM can provide insight into questions of cellular organization which have previously been inaccessible to conventional fluorescence microscopy. In addition to detailing the methods for sample preparation and data acquisition, we here describe the optical setup for FPALM. One additional consideration for researchers wishing to do super-resolution microscopy is cost: in-house setups are significantly cheaper than most commercially available imaging machines. Limitations of this technique include the need for optimizing the labeling of molecules of interest within cell samples, and the need for post-processing software to visualize results. We here describe the use of PAFP and PSFP expression to image two protein species in fixed cells. Extension of the technique to living cells is also described.
Basic Protocol, Issue 82, Microscopy, Super-resolution imaging, Multicolor, single molecule, FPALM, Localization microscopy, fluorescent proteins
50680
A Proboscis Extension Response Protocol for Investigating Behavioral Plasticity in Insects: Application to Basic, Biomedical, and Agricultural Research
Institutions: Arizona State University.

Insects modify their responses to stimuli through experience of associating those stimuli with events important for survival (
e.g.
, food, mates, threats). There are several behavioral mechanisms through which an insect learns salient associations and relates them to these events. It is important to understand this behavioral plasticity for programs aimed toward assisting insects that are beneficial for agriculture. This understanding can also be used for discovering solutions to biomedical and agricultural problems created by insects that act as disease vectors and pests. The Proboscis Extension Response (PER) conditioning protocol was developed for honey bees (
Apis mellifera
) over 50 years ago to study how they perceive and learn about floral odors, which signal the nectar and pollen resources a colony needs for survival. The PER procedure provides a robust and easy-to-employ framework for studying several different ecologically relevant mechanisms of behavioral plasticity. It is easily adaptable for use with several other insect species and other behavioral reflexes. These protocols can be readily employed in conjunction with various means for monitoring neural activity in the CNS via electrophysiology or bioimaging, or for manipulating targeted neuromodulatory pathways. It is a robust assay for rapidly detecting sub-lethal effects on behavior caused by environmental stressors, toxins or pesticides. We show how the PER protocol is straightforward to implement using two procedures. One is suitable as a laboratory exercise for students or for quick assays of the effect of an experimental treatment. The other provides more thorough control of variables, which is important for studies of behavioral conditioning. We show how several measures for the behavioral response ranging from binary yes/no to more continuous variable like latency and duration of proboscis extension can be used to test hypotheses. And, we discuss some pitfalls that researchers commonly encounter when they use the procedure for the first time.
Neuroscience, Issue 91, PER, conditioning, honey bee, olfaction, olfactory processing, learning, memory, toxin assay
51057
Using an Automated 3D-tracking System to Record Individual and Shoals of Adult Zebrafish
Institutions: xyZfish.
Like many aquatic animals, zebrafish (
Danio rerio
) moves in a 3D space. It is thus preferable to use a 3D recording system to study its behavior. The presented automatic video tracking system accomplishes this by using a mirror system and a calibration procedure that corrects for the considerable error introduced by the transition of light from water to air. With this system it is possible to record both single and groups of adult zebrafish. Before use, the system has to be calibrated. The system consists of three modules: Recording, Path Reconstruction, and Data Processing. The step-by-step protocols for calibration and using the three modules are presented. Depending on the experimental setup, the system can be used for testing neophobia, white aversion, social cohesion, motor impairments, novel object exploration
etc
. It is especially promising as a first-step tool to study the effects of drugs or mutations on basic behavioral patterns. The system provides information about vertical and horizontal distribution of the zebrafish, about the xyz-components of kinematic parameters (such as locomotion, velocity, acceleration, and turning angle) and it provides the data necessary to calculate parameters for social cohesions when testing shoals.
Behavior, Issue 82, neuroscience, Zebrafish, Danio rerio, anxiety, Shoaling, Pharmacology, 3D-tracking, MK801
50681
Intracellular Recording, Sensory Field Mapping, and Culturing Identified Neurons in the Leech, Hirudo medicinalis
Institutions: University of Kentucky, University of Salahaddin, Iraq, SISSA, Italy.

The freshwater leech,
Hirudo medicinalis
, is a versatile model organism that has been used to address scientific questions in the fields of neurophysiology, neuroethology, and developmental biology. The goal of this report is to consolidate experimental techniques from the leech system into a single article that will be of use to physiologists with expertise in other nervous system preparations, or to biology students with little or no electrophysiology experience. We demonstrate how to dissect the leech for recording intracellularly from identified neural circuits in the ganglion. Next we show how individual cells of known function can be removed from the ganglion to be cultured in a Petri dish, and how to record from those neurons in culture. Then we demonstrate how to prepare a patch of innervated skin to be used for mapping sensory or motor fields. These leech preparations are still widely used to address basic electrical properties of neural networks, behavior, synaptogenesis, and development. They are also an appropriate training module for neuroscience or physiology teaching laboratories.
Neuroscience, Issue 81, leech, Neurobiology, culture, neurons, electrophysiology, synapse, neurophysiology, neuroethology, developmental biology, ganglion, central nervous system (CNS)
50631
Examination of Synaptic Vesicle Recycling Using FM Dyes During Evoked, Spontaneous, and Miniature Synaptic Activities
Institutions: University of Iowa Carver College of Medicine, University of Bath.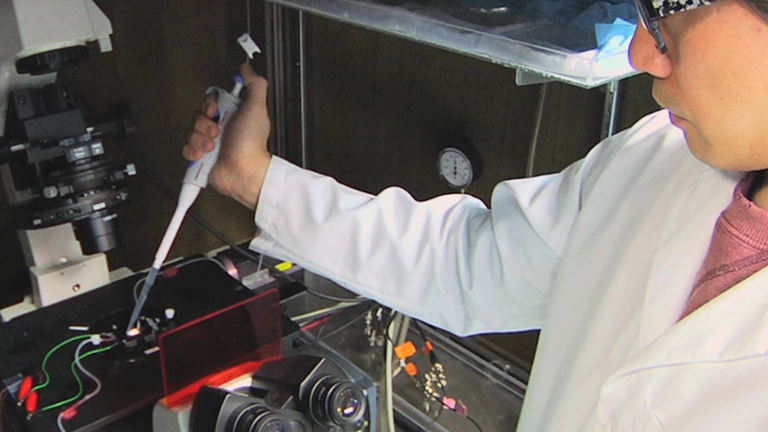 Synaptic vesicles in functional nerve terminals undergo exocytosis and endocytosis. This synaptic vesicle recycling can be effectively analyzed using styryl FM dyes, which reveal membrane turnover. Conventional protocols for the use of FM dyes were designed for analyzing neurons following stimulated (evoked) synaptic activity. Recently, protocols have become available for analyzing the FM signals that accompany weaker synaptic activities, such as spontaneous or miniature synaptic events. Analysis of these small changes in FM signals requires that the imaging system is sufficiently sensitive to detect small changes in intensity, yet that artifactual changes of large amplitude are suppressed. Here we describe a protocol that can be applied to evoked, spontaneous, and miniature synaptic activities, and use cultured hippocampal neurons as an example. This protocol also incorporates a means of assessing the rate of photobleaching of FM dyes, as this is a significant source of artifacts when imaging small changes in intensity.
Neuroscience, Issue 85, Presynaptic Terminals, Synaptic Vesicles, Microscopy, Biological Assay, Nervous System, Endocytosis, exocytosis, fluorescence imaging, FM dye, neuron, photobleaching
50557
Modeling Neural Immune Signaling of Episodic and Chronic Migraine Using Spreading Depression In Vitro
Institutions: The University of Chicago Medical Center, The University of Chicago Medical Center.

Migraine and its transformation to chronic migraine are healthcare burdens in need of improved treatment options. We seek to define how neural immune signaling modulates the susceptibility to migraine, modeled
in vitro
using spreading depression (SD), as a means to develop novel therapeutic targets for episodic and chronic migraine. SD is the likely cause of migraine aura and migraine pain. It is a paroxysmal loss of neuronal function triggered by initially increased neuronal activity, which slowly propagates within susceptible brain regions. Normal brain function is exquisitely sensitive to, and relies on, coincident low-level immune signaling. Thus, neural immune signaling likely affects electrical activity of SD, and therefore migraine. Pain perception studies of SD in whole animals are fraught with difficulties, but whole animals are well suited to examine systems biology aspects of migraine since SD activates trigeminal nociceptive pathways. However, whole animal studies alone cannot be used to decipher the cellular and neural circuit mechanisms of SD. Instead,
in vitro
preparations where environmental conditions can be controlled are necessary. Here, it is important to recognize limitations of acute slices and distinct advantages of hippocampal slice cultures. Acute brain slices cannot reveal subtle changes in immune signaling since preparing the slices alone triggers: pro-inflammatory changes that last days, epileptiform behavior due to high levels of oxygen tension needed to vitalize the slices, and irreversible cell injury at anoxic slice centers. In contrast, we examine immune signaling in mature hippocampal slice cultures since the cultures closely parallel their
in vivo
counterpart with mature trisynaptic function; show quiescent astrocytes, microglia, and cytokine levels; and SD is easily induced in an unanesthetized preparation. Furthermore, the slices are long-lived and SD can be induced on consecutive days without injury, making this preparation the sole means to-date capable of modeling the neuroimmune consequences of chronic SD, and thus perhaps chronic migraine. We use electrophysiological techniques and non-invasive imaging to
measure
neuronal cell and circuit functions coincident with SD. Neural immune gene expression variables are measured with qPCR screening, qPCR arrays, and, importantly, use of cDNA preamplification for detection of ultra-low level targets such as interferon-gamma using whole, regional, or specific cell enhanced (via laser dissection microscopy) sampling. Cytokine cascade signaling is further assessed with multiplexed phosphoprotein related targets with gene expression and phosphoprotein changes confirmed via cell-specific immunostaining. Pharmacological and siRNA strategies are used to
mimic
and
modulate
SD immune signaling.
Neuroscience, Issue 52, innate immunity, hormesis, microglia, T-cells, hippocampus, slice culture, gene expression, laser dissection microscopy, real-time qPCR, interferon-gamma
2910
Whole Cell Patch Clamp for Investigating the Mechanisms of Infrared Neural Stimulation
Institutions: Swinburne University of Technology, The University of Melbourne.
It has been demonstrated in recent years that pulsed, infrared laser light can be used to elicit electrical responses in neural tissue, independent of any further modification of the target tissue. Infrared neural stimulation has been reported in a variety of peripheral and sensory neural tissue
in vivo
, with particular interest shown in stimulation of neurons in the auditory nerve. However, while INS has been shown to work in these settings, the mechanism (or mechanisms) by which infrared light causes neural excitation is currently not well understood. The protocol presented here describes a whole cell patch clamp method designed to facilitate the investigation of infrared neural stimulation in cultured primary auditory neurons. By thoroughly characterizing the response of these cells to infrared laser illumination
in vitro
under controlled conditions, it may be possible to gain an improved understanding of the fundamental physical and biochemical processes underlying infrared neural stimulation.
Neuroscience, Issue 77, Biomedical Engineering, Neurobiology, Molecular Biology, Cellular Biology, Physiology, Primary Cell Culture, Biophysics, Electrophysiology, fiber optics, infrared neural stimulation, patch clamp, in vitro models, spiral ganglion neurons, neurons, patch clamp recordings, cell culture
50444
Test Samples for Optimizing STORM Super-Resolution Microscopy
Institutions: National Physical Laboratory.

STORM is a recently developed super-resolution microscopy technique with up to 10 times better resolution than standard fluorescence microscopy techniques. However, as the image is acquired in a very different way than normal, by building up an image molecule-by-molecule, there are some significant challenges for users in trying to optimize their image acquisition. In order to aid this process and gain more insight into how STORM works we present the preparation of 3 test samples and the methodology of acquiring and processing STORM super-resolution images with typical resolutions of between 30-50 nm. By combining the test samples with the use of the freely available rainSTORM processing software it is possible to obtain a great deal of information about image quality and resolution. Using these metrics it is then possible to optimize the imaging procedure from the optics, to sample preparation, dye choice, buffer conditions, and image acquisition settings. We also show examples of some common problems that result in poor image quality, such as lateral drift, where the sample moves during image acquisition and density related problems resulting in the 'mislocalization' phenomenon.
Molecular Biology, Issue 79, Genetics, Bioengineering, Biomedical Engineering, Biophysics, Basic Protocols, HeLa Cells, Actin Cytoskeleton, Coated Vesicles, Receptor, Epidermal Growth Factor, Actins, Fluorescence, Endocytosis, Microscopy, STORM, super-resolution microscopy, nanoscopy, cell biology, fluorescence microscopy, test samples, resolution, actin filaments, fiducial markers, epidermal growth factor, cell, imaging
50579
Optogenetic Stimulation of Escape Behavior in Drosophila melanogaster
Institutions: Stanford University .
A growing number of genetically encoded tools are becoming available that allow non-invasive manipulation of the neural activity of specific neurons in
Drosophila melanogaster
1
. Chief among these are optogenetic tools, which enable the activation or silencing of specific neurons in the intact and freely moving animal using bright light. Channelrhodopsin (ChR2) is a light-activated cation channel that, when activated by blue light, causes depolarization of neurons that express it. ChR2 has been effective for identifying neurons critical for specific behaviors, such as CO
2
avoidance, proboscis extension and giant-fiber mediated startle response
2-4
. However, as the intense light sources used to stimulate ChR2 also stimulate photoreceptors, these optogenetic techniques have not previously been used in the visual system. Here, we combine an optogenetic approach with a mutation that impairs phototransduction to demonstrate that activation of a cluster of loom-sensitive neurons in the fly's optic lobe, Foma-1 neurons, can drive an escape behavior used to avoid collision. We used a null allele of a critical component of the phototransduction cascade, phospholipase C-β, encoded by the
norpA
gene, to render the flies blind and also use the Gal4-UAS transcriptional activator system to drive expression of ChR2 in the Foma-1 neurons. Individual flies are placed on a small platform surrounded by blue LEDs. When the LEDs are illuminated, the flies quickly take-off into flight, in a manner similar to visually driven loom-escape behavior. We believe that this technique can be easily adapted to examine other behaviors in freely moving flies.
Neurobiology, Issue 71, Neuroscience, Genetics, Anatomy, Physiology, Molecular Biology, Cellular Biology, Behavior, optogenetics, channelrhodopsin, ChR2, escape behavior, neurons, fruit fly, Drosophila melanogaster, animal model
50192
Using Affordable LED Arrays for Photo-Stimulation of Neurons
Institutions: Institut Pasteur and Centre National de la Recherche Scientifique (CNRS).

Standard slice electrophysiology has allowed researchers to probe individual components of neural circuitry by recording electrical responses of single cells in response to electrical or pharmacological manipulations
1,2
. With the invention of methods to optically control genetically targeted neurons (optogenetics), researchers now have an unprecedented level of control over specific groups of neurons in the standard slice preparation. In particular, photosensitive channelrhodopsin-2 (ChR2) allows researchers to activate neurons with light
3,4
. By combining careful calibration of LED-based photostimulation of ChR2 with standard slice electrophysiology, we are able to probe with greater detail the role of adult-born interneurons in the olfactory bulb, the first central relay of the olfactory system. Using viral expression of ChR2-YFP specifically in adult-born neurons, we can selectively control young adult-born neurons in a milieu of older and mature neurons. Our optical control uses a simple and inexpensive LED system, and we show how this system can be calibrated to understand how much light is needed to evoke spiking activity in single neurons. Hence, brief flashes of blue light can remotely control the firing pattern of ChR2-transduced newborn cells.
Neuroscience, Issue 57, Adult neurogenesis, Channelrhodopsin, Neural stem cells, Plasticity, Synapses, Electrophysiology
3379
Enabling High Grayscale Resolution Displays and Accurate Response Time Measurements on Conventional Computers
Institutions: The Ohio State University, University of Southern California, University of Southern California, University of Southern California, The Ohio State University.

Display systems based on conventional computer graphics cards are capable of generating images with 8-bit gray level resolution. However, most experiments in vision research require displays with more than 12 bits of luminance resolution. Several solutions are available. Bit++
1
and DataPixx
2
use the Digital Visual Interface (DVI) output from graphics cards and high resolution (14 or 16-bit) digital-to-analog converters to drive analog display devices. The VideoSwitcher
3
described here combines analog video signals from the red and blue channels of graphics cards with different weights using a passive resister network
4
and an active circuit to deliver identical video signals to the three channels of color monitors. The method provides an inexpensive way to enable high-resolution monochromatic displays using conventional graphics cards and analog monitors. It can also provide trigger signals that can be used to mark stimulus onsets, making it easy to synchronize visual displays with physiological recordings or response time measurements. Although computer keyboards and mice are frequently used in measuring response times (RT), the accuracy of these measurements is quite low. The RTbox is a specialized hardware and software solution for accurate RT measurements. Connected to the host computer through a USB connection, the driver of the RTbox is compatible with all conventional operating systems. It uses a microprocessor and high-resolution clock to record the identities and timing of button events, which are buffered until the host computer retrieves them. The recorded button events are not affected by potential timing uncertainties or biases associated with data transmission and processing in the host computer. The asynchronous storage greatly simplifies the design of user programs. Several methods are available to synchronize the clocks of the RTbox and the host computer. The RTbox can also receive external triggers and be used to measure RT with respect to external events. Both VideoSwitcher and RTbox are available for users to purchase. The relevant information and many demonstration programs can be found at https://lobes.usc.edu/.
Neuroscience, Issue 60, VideoSwitcher, Visual stimulus, Luminance resolution, Contrast, Trigger, RTbox, Response time
3312
Whole-cell Recordings of Light Evoked Excitatory Synaptic Currents in the Retinal Slice
Institutions: Boston University, Boston University, Boston University.

We use the whole-cell patch clamp technique to study the synaptic circuitry that underlies visual information processing in the retina. In this video, we will guide you through the process of performing whole-cell recordings of light evoked currents of individual cells in the retinal slice preparation. We use the aquatic tiger salamander as an animal model. We begin by describing the dissection of the eye and show how slices are mounted for electrophysiological recordings. Once the slice is placed in the recording chamber, we demonstrate how to perform whole-cell voltage clamp recordings. We then project visual stimuli onto the photoreceptors in the slice to elicit light-evoked current responses. During the recording we perfuse the slice with pharmacological agents, whereby an 8-channel perfusion system allows us to quickly switch between different agents. The retinal slice preparation is widely used for patch clamp recordings in the retina, in particular to study amacrine or bipolar cells, which are not accessible in a whole-mount preparation.
Neuroscience, Issue 17, Retina, Whole-cell recording, Tiger salamander, Light-evoked currents
771
Electrophysiological Measurements and Analysis of Nociception in Human Infants
Institutions: University College London, Great Ormond Street Hospital, University College Hospital, University of Oxford.

Pain is an unpleasant sensory and emotional experience. Since infants cannot verbally report their experiences, current methods of pain assessment are based on behavioural and physiological body reactions, such as crying, body movements or changes in facial expression. While these measures demonstrate that infants mount a response following noxious stimulation, they are limited: they are based on activation of subcortical somatic and autonomic motor pathways that may not be reliably linked to central sensory processing in the brain. Knowledge of how the central nervous system responds to noxious events could provide an insight to how nociceptive information and pain is processed in newborns. The heel lancing procedure used to extract blood from hospitalised infants offers a unique opportunity to study pain in infancy. In this video we describe how electroencephalography (EEG) and electromyography (EMG) time-locked to this procedure can be used to investigate nociceptive activity in the brain and spinal cord. This integrative approach to the measurement of infant pain has the potential to pave the way for an effective and sensitive clinical measurement tool.
Neuroscience, Issue 58, pain, infant, electrophysiology, human development
3118