ABSTRACT
Quantum dots (QDs) are fluorescent semiconductor nanoparticles with size-dependent emission spectra that can be excited by a broad choice of wavelengths. QDs have attracted a lot of interest for imaging, diagnostics, and therapy due to their bright, stable fluorescence1,2 3,4,5. QDs can be conjugated to a variety of bio-active molecules for binding to bacteria and mammalian cells6. QDs are also being widely investigated as cytotoxic agents for targeted killing of bacteria. The emergence of multiply-resistant bacterial strains is rapidly becoming a public health crisis, particularly in the case of Gram negative pathogens 7. Because of the well-known antimicrobial effect of certain nanomaterials, especially Ag, there are hundreds of studies examining the toxicity of nanoparticles to bacteria 8. Bacterial studies have been performed with other types of semiconductor nanoparticles as well, especially TiO29,10-11, but also ZnO12 and others including CuO 13. Some comparisons of bacterial strains have been performed in these studies, usually comparing a Gram negative strain with a Gram positive. With all of these particles, mechanisms of toxicity are attributed to oxidation: either the photogeneration of reactive oxygen species (ROS) by the particles or the direct release of metal ions that can cause oxidative toxicity. Even with these materials, results of different studies vary greatly. In some studies the Gram positive test strain is reportedly more sensitive than the Gram negative 10; in others it is the opposite 14. These studies have been well reviewed 15. In all nanoparticle studies, particle composition, size, surface chemistry, sample aging/breakdown, and wavelength, power, and duration of light exposure can all dramatically affect the results. In addition, synthesis byproducts and solvents must be considered16 17. High-throughput screening techniques are needed to be able to develop effective new nanomedicine agents. CdTe QDs have anti-microbial effects alone18 or in combination with antibiotics. In a previous study, we showed that coupling of antibiotics to CdTe can increase toxicity to bacteria but decrease toxicity to mammalian cells, due to decreased production of reactive oxygen species from the conjugates19. Although it is unlikely that cadmium-containing compounds will be approved for use in humans, such preparations could be used for disinfection of surfaces or sterilization of water. In this protocol, we give a straightforward approach to solubilizing CdTe QDs with mercaptopropionic acid (MPA). The QDs are ready to use within an hour. We then demonstrate coupling to an antimicrobial agent. The second part of the protocol demonstrates a 96-well bacterial inhibition assay using the conjugated and unconjugated QDs. The optical density is read over many hours, permitting the effects of QD addition and light exposure to be evaluated immediately as well as after a recovery period. We also illustrate a colony count for quantifying bacterial survival.
17 Related JoVE Articles!
Compact Quantum Dots for Single-molecule Imaging
Institutions: Emory University, Georgia Institute of Technology .

Single-molecule imaging is an important tool for understanding the mechanisms of biomolecular function and for visualizing the spatial and temporal heterogeneity of molecular behaviors that underlie cellular biology
1-4
. To image an individual molecule of interest, it is typically conjugated to a fluorescent tag (dye, protein, bead, or quantum dot) and observed with epifluorescence or total internal reflection fluorescence (TIRF) microscopy. While dyes and fluorescent proteins have been the mainstay of fluorescence imaging for decades, their fluorescence is unstable under high photon fluxes necessary to observe individual molecules, yielding only a few seconds of observation before complete loss of signal. Latex beads and dye-labeled beads provide improved signal stability but at the expense of drastically larger hydrodynamic size, which can deleteriously alter the diffusion and behavior of the molecule under study. Quantum dots (QDs) offer a balance between these two problematic regimes. These nanoparticles are composed of semiconductor materials and can be engineered with a hydrodynamically compact size with exceptional resistance to photodegradation
5
. Thus in recent years QDs have been instrumental in enabling long-term observation of complex macromolecular behavior on the single molecule level. However these particles have still been found to exhibit impaired diffusion in crowded molecular environments such as the cellular cytoplasm and the neuronal synaptic cleft, where their sizes are still too large
4,6,7
. Recently we have engineered the cores and surface coatings of QDs for minimized hydrodynamic size, while balancing offsets to colloidal stability, photostability, brightness, and nonspecific binding that have hindered the utility of compact QDs in the past
8,9
. The goal of this article is to demonstrate the synthesis, modification, and characterization of these optimized nanocrystals, composed of an alloyed Hg
x
Cd
1-x
Se core coated with an insulating Cd
y
Zn
1-y
S shell, further coated with a multidentate polymer ligand modified with short polyethylene glycol (PEG) chains (
Figure 1
). Compared with conventional CdSe nanocrystals, Hg
x
Cd
1-x
Se alloys offer greater quantum yields of fluorescence, fluorescence at red and near-infrared wavelengths for enhanced signal-to-noise in cells, and excitation at non-cytotoxic visible wavelengths. Multidentate polymer coatings bind to the nanocrystal surface in a closed and flat conformation to minimize hydrodynamic size, and PEG neutralizes the surface charge to minimize nonspecific binding to cells and biomolecules. The end result is a brightly fluorescent nanocrystal with emission between 550-800 nm and a total hydrodynamic size near 12 nm. This is in the same size range as many soluble globular proteins in cells, and substantially smaller than conventional PEGylated QDs (25-35 nm).
Physics, Issue 68, Biomedical Engineering, Chemistry, Nanotechnology, Nanoparticle, nanocrystal, synthesis, fluorescence, microscopy, imaging, conjugation, dynamics, intracellular, receptor
4236
Production and Targeting of Monovalent Quantum Dots
Institutions: University of California, San Francisco, University of California, Berkeley, Lawrence Berkeley National Laboratory, University of California, San Francisco, University of California, San Francisco, University of California, San Francisco, University of California, San Francisco.

The multivalent nature of commercial quantum dots (QDs) and the difficulties associated with producing monovalent dots have limited their applications in biology, where clustering and the spatial organization of biomolecules is often the object of study. We describe here a protocol to produce monovalent quantum dots (mQDs) that can be accomplished in most biological research laboratories via a simple mixing of CdSe/ZnS core/shell QDs with phosphorothioate DNA (ptDNA) of defined length. After a single ptDNA strand has wrapped the QD, additional strands are excluded from the surface. Production of mQDs in this manner can be accomplished at small and large scale, with commercial reagents, and in minimal steps. These mQDs can be specifically directed to biological targets by hybridization to a complementary single stranded targeting DNA. We demonstrate the use of these mQDs as imaging probes by labeling SNAP-tagged Notch receptors on live mammalian cells, targeted by mQDs bearing a benzylguanine moiety.
Bioengineering, Issue 92, monovalent quantum dots, single particle tracking, SNAP tag, steric exclusion, phosphorothioate, DNA, nanoparticle bioconjugation, single molecule imaging
52198
Preparation of Silica Nanoparticles Through Microwave-assisted Acid-catalysis
Institutions: Oak Ridge Institute for Science and Education, Airbase Technology Division, Clemson University.

Microwave-assisted synthetic techniques were used to quickly and reproducibly produce silica nanoparticle
sols
using an acid catalyst with nanoparticle diameters ranging from 30-250 nm by varying the reaction conditions. Through the selection of a microwave compatible solvent, silicic acid precursor, catalyst, and microwave irradiation time, these microwave-assisted methods were capable of overcoming the previously reported shortcomings associated with synthesis of silica nanoparticles using microwave reactors. The siloxane precursor was hydrolyzed using the acid catalyst, HCl. Acetone, a low-tan
δ
solvent, mediates the condensation reactions and has minimal interaction with the electromagnetic field. Condensation reactions begin when the silicic acid precursor couples with the microwave radiation, leading to silica nanoparticle
sol
formation. The silica nanoparticles were characterized by dynamic light scattering data and scanning electron microscopy, which show the materials' morphology and size to be dependent on the reaction conditions. Microwave-assisted reactions produce silica nanoparticles with roughened textured surfaces that are atypical for silica
sols
produced by Stöber's methods, which have smooth surfaces.
Chemistry, Issue 82, Chemistry, chemical manufacturing, chemistry (general), materials (general), nanocomposites, catalysts (chemical), chemistry of compounds, Chemistry and Materials (General), Composite Materials, Inorganic, Organic and Physical Chemistry, Engineering (General), Microwave, nanoparticle, silica, silicic acid, NP, SiO2, synthesis
51022
Measuring Glutathione-induced Feeding Response in Hydra
Institutions: India Institute of Science Education and Research, Pune.

Hydra is among the most primitive organisms possessing a nervous system and chemosensation for detecting reduced glutathione (GSH) for capturing the prey. The movement of prey organisms causes mechanosensory discharge of the stinging cells called nematocysts from hydra, which are inserted into the prey. The feeding response in hydra, which includes curling of the tentacles to bring the prey towards the mouth, opening of the mouth and consequent engulfing of the prey, is triggered by GSH present in the fluid released from the injured prey. To be able to identify the molecular mechanism of the feeding response in hydra which is unknown to date, it is necessary to establish an assay to measure the feeding response. Here, we describe a simple method for the quantitation of the feeding response in which the distance between the apical end of the tentacle and mouth of hydra is measured and the ratio of such distance before and after the addition of GSH is determined. The ratio, called the relative tentacle spread, was found to give a measure of the feeding response. This assay was validated using a starvation model in which starved hydra show an enhanced feeding response in comparison with daily fed hydra.
Basic Protocols, Issue 93, Hydra, chemosensation, feeding response, feeding status, glutathione, prey, starvation
52178
Protocols for Assessing Radiofrequency Interactions with Gold Nanoparticles and Biological Systems for Non-invasive Hyperthermia Cancer Therapy
Institutions: University of Texas M.D. Anderson Cancer Center, Rice University , Rice University .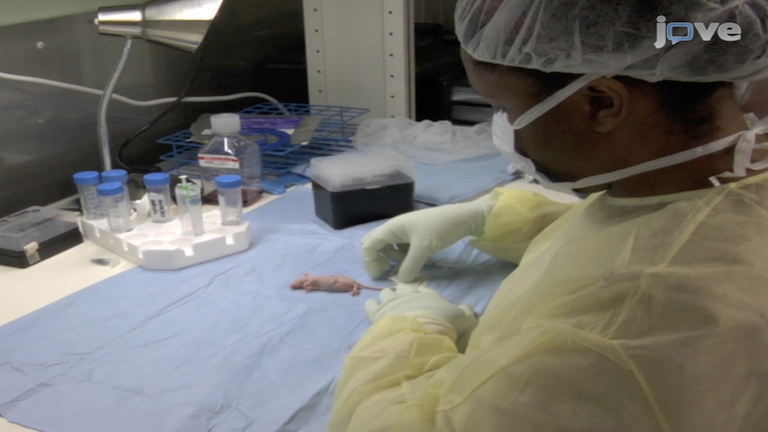 Cancer therapies which are less toxic and invasive than their existing counterparts are highly desirable. The use of RF electric-fields that penetrate deep into the body, causing minimal toxicity, are currently being studied as a viable means of non-invasive cancer therapy. It is envisioned that the interactions of RF energy with internalized nanoparticles (NPs) can liberate heat which can then cause overheating (hyperthermia) of the cell, ultimately ending in cell necrosis. In the case of non-biological systems, we present detailed protocols relating to quantifying the heat liberated by highly-concentrated NP colloids. For biological systems, in the case of
in vitro
experiments, we describe the techniques and conditions which must be adhered to in order to effectively expose cancer cells to RF energy without bulk media heating artifacts significantly obscuring the data. Finally, we give a detailed methodology for
in vivo
mouse models with ectopic hepatic cancer tumors.
Medicine, Issue 78, Electronics and Electrical Engineering, Life Sciences (General), Radiofrequency, Cancer, Nanoparticles, Hyperthermia, Gold
50480
Nanofabrication of Gate-defined GaAs/AlGaAs Lateral Quantum Dots
Institutions: Université de Sherbrooke.
A quantum computer is a computer composed of quantum bits (qubits) that takes advantage of quantum effects, such as superposition of states and entanglement, to solve certain problems exponentially faster than with the best known algorithms on a classical computer. Gate-defined lateral quantum dots on GaAs/AlGaAs are one of many avenues explored for the implementation of a qubit. When properly fabricated, such a device is able to trap a small number of electrons in a certain region of space. The spin states of these electrons can then be used to implement the logical 0 and 1 of the quantum bit. Given the nanometer scale of these quantum dots, cleanroom facilities offering specialized equipment- such as scanning electron microscopes and e-beam evaporators- are required for their fabrication. Great care must be taken throughout the fabrication process to maintain cleanliness of the sample surface and to avoid damaging the fragile gates of the structure. This paper presents the detailed fabrication protocol of gate-defined lateral quantum dots from the wafer to a working device. Characterization methods and representative results are also briefly discussed. Although this paper concentrates on double quantum dots, the fabrication process remains the same for single or triple dots or even arrays of quantum dots. Moreover, the protocol can be adapted to fabricate lateral quantum dots on other substrates, such as Si/SiGe.
Physics, Issue 81, Nanostructures, Quantum Dots, Nanotechnology, Electronics, microelectronics, solid state physics, Nanofabrication, Nanoelectronics, Spin qubit, Lateral quantum dot
50581
Fluorescence Imaging with One-nanometer Accuracy (FIONA)
Institutions: University of Illinois at Urbana-Champaign, University of Illinois at Urbana-Champaign, University of Illinois at Urbana-Champaign.

Fluorescence imaging with one-nanometer accuracy (FIONA) is a simple but useful technique for localizing single fluorophores with nanometer precision in the x-y plane. Here a summary of the FIONA technique is reported and examples of research that have been performed using FIONA are briefly described. First, how to set up the required equipment for FIONA experiments,
i.e.
, a total internal reflection fluorescence microscopy (TIRFM), with details on aligning the optics, is described. Then how to carry out a simple FIONA experiment on localizing immobilized Cy3-DNA single molecules using appropriate protocols, followed by the use of FIONA to measure the 36 nm step size of a single truncated myosin Va motor labeled with a quantum dot, is illustrated. Lastly, recent effort to extend the application of FIONA to thick samples is reported. It is shown that, using a water immersion objective and quantum dots soaked deep in sol-gels and rabbit eye corneas (>200 µm), localization precision of 2-3 nm can be achieved.
Molecular Biology, Issue 91, FIONA, fluorescence imaging, nanometer precision, myosin walking, thick tissue
51774
Preparation and Use of Photocatalytically Active Segmented Ag|ZnO and Coaxial TiO2-Ag Nanowires Made by Templated Electrodeposition
Institutions: University of Twente.

Photocatalytically active nanostructures require a large specific surface area with the presence of many catalytically active sites for the oxidation and reduction half reactions, and fast electron (hole) diffusion and charge separation. Nanowires present suitable architectures to meet these requirements. Axially segmented Ag|ZnO and radially segmented (coaxial) TiO
2
-Ag nanowires with a diameter of 200 nm and a length of 6-20 µm were made by templated electrodeposition within the pores of polycarbonate track-etched (PCTE) or anodized aluminum oxide (AAO) membranes, respectively. In the photocatalytic experiments, the ZnO and TiO
2
phases acted as photoanodes, and Ag as cathode. No external circuit is needed to connect both electrodes, which is a key advantage over conventional photo-electrochemical cells. For making segmented Ag|ZnO nanowires, the Ag salt electrolyte was replaced after formation of the Ag segment to form a ZnO segment attached to the Ag segment. For making coaxial TiO
2
-Ag nanowires, a TiO
2
gel was first formed by the electrochemically induced sol-gel method. Drying and thermal annealing of the as-formed TiO
2
gel resulted in the formation of crystalline TiO
2
nanotubes. A subsequent Ag electrodeposition step inside the TiO
2
nanotubes resulted in formation of coaxial TiO
2
-Ag nanowires. Due to the combination of an
n
-type semiconductor (ZnO or TiO
2
) and a metal (Ag) within the same nanowire, a Schottky barrier was created at the interface between the phases. To demonstrate the photocatalytic activity of these nanowires, the Ag|ZnO nanowires were used in a photocatalytic experiment in which H
2
gas was detected upon UV illumination of the nanowires dispersed in a methanol/water mixture. After 17 min of illumination, approximately 0.2 vol% H
2
gas was detected from a suspension of ~0.1 g of Ag|ZnO nanowires in a 50 ml 80 vol% aqueous methanol solution.
Physics, Issue 87, Multicomponent nanowires, electrochemistry, sol-gel processes, photocatalysis, photochemistry, H2 evolution
51547
Production and Detection of Reactive Oxygen Species (ROS) in Cancers
Institutions: Baylor College of Medicine.

Reactive oxygen species include a number of molecules that damage DNA and RNA and oxidize proteins and lipids (lipid peroxydation). These reactive molecules contain an oxygen and include H
2
O
2
(hydrogen peroxide), NO (nitric oxide), O
2
-
(oxide anion), peroxynitrite (ONOO
-
), hydrochlorous acid (HOCl), and hydroxyl radical (OH
-
). Oxidative species are produced not only under pathological situations (cancers, ischemic/reperfusion, neurologic and cardiovascular pathologies, infectious diseases, inflammatory diseases
1
, autoimmune diseases
2
, etc…) but also during physiological (non-pathological) situations such as cellular metabolism
3, 4
. Indeed, ROS play important roles in many cellular signaling pathways (proliferation, cell activation
5, 6
, migration
7
etc..). ROS can be detrimental (it is then referred to as "oxidative and nitrosative stress") when produced in high amounts in the intracellular compartments and cells generally respond to ROS by upregulating antioxidants such as superoxide dismutase (SOD) and catalase (CAT), glutathione peroxidase (GPx) and glutathione (GSH) that protects them by converting dangerous free radicals to harmless molecules (i.e. water). Vitamins C and E have also been described as ROS scavengers (antioxidants). Free radicals are beneficial in low amounts
3
. Macrophage and neutrophils-mediated immune responses involve the production and release of NO, which inhibits viruses, pathogens and tumor proliferation
8
. NO also reacts with other ROS and thus, also has a role as a detoxifier (ROS scavenger). Finally NO acts on vessels to regulate blood flow which is important for the adaptation of muscle to prolonged exercise
9, 10
. Several publications have also demonstrated that ROS are involved in insulin sensitivity
11, 12
. Numerous methods to evaluate ROS production are available. In this article we propose several simple, fast, and affordable assays; these assays have been validated by many publications and are routinely used to detect ROS or its effects in mammalian cells. While some of these assays detect multiple ROS, others detect only a single ROS.
Medicine, Issue 57, reactive oxygen species (ROS), stress, ischemia, cancer, chemotherapy, immune response
3357
Combining QD-FRET and Microfluidics to Monitor DNA Nanocomplex Self-Assembly in Real-Time
Institutions: Johns Hopkins University, Duke University, Johns Hopkins University.

Advances in genomics continue to fuel the development of therapeutics that can target pathogenesis at the cellular and molecular level. Typically functional inside the cell, nucleic acid-based therapeutics require an efficient intracellular delivery system. One widely adopted approach is to complex DNA with a gene carrier to form nanocomplexes via electrostatic self-assembly, facilitating cellular uptake of DNA while protecting it against degradation. The challenge lies in the rational design of efficient gene carriers, since premature dissociation or overly stable binding would be detrimental to the cellular uptake and therapeutic efficacy. Nanocomplexes synthesized by bulk mixing showed a diverse range of intracellular unpacking and trafficking behavior, which was attributed to the heterogeneity in size and stability of nanocomplexes. Such heterogeneity hinders the accurate assessment of the self-assembly kinetics and adds to the difficulty in correlating their physical properties to transfection efficiencies or bioactivities. We present a novel convergence of nanophotonics (i.e. QD-FRET) and microfluidics to characterize the real-time kinetics of the nanocomplex self-assembly under laminar flow. QD-FRET provides a highly sensitive indication of the onset of molecular interactions and quantitative measure throughout the synthesis process, whereas microfluidics offers a well-controlled microenvironment to spatially analyze the process with high temporal resolution (~milliseconds). For the model system of polymeric nanocomplexes, two distinct stages in the self-assembly process were captured by this analytic platform. The kinetic aspect of the self-assembly process obtained at the microscale would be particularly valuable for microreactor-based reactions which are relevant to many micro- and nano-scale applications. Further, nanocomplexes may be customized through proper design of microfludic devices, and the resulting QD-FRET polymeric DNA nanocomplexes could be readily applied for establishing structure-function relationships.
Biomedical Engineering, Issue 30, microfluidics, gene delivery, quantum dots, fluorescence resonance energy transfer, self-assembly, nanocomplexes
1432
Setting-up an In Vitro Model of Rat Blood-brain Barrier (BBB): A Focus on BBB Impermeability and Receptor-mediated Transport
Institutions: VECT-HORUS SAS, CNRS, NICN UMR 7259.

The blood brain barrier (BBB) specifically regulates molecular and cellular flux between the blood and the nervous tissue. Our aim was to develop and characterize a highly reproducible rat syngeneic
in vitro
model of the BBB using co-cultures of primary rat brain endothelial cells (RBEC) and astrocytes to study receptors involved in transcytosis across the endothelial cell monolayer. Astrocytes were isolated by mechanical dissection following trypsin digestion and were frozen for later co-culture. RBEC were isolated from 5-week-old rat cortices. The brains were cleaned of meninges and white matter, and mechanically dissociated following enzymatic digestion. Thereafter, the tissue homogenate was centrifuged in bovine serum albumin to separate vessel fragments from nervous tissue. The vessel fragments underwent a second enzymatic digestion to free endothelial cells from their extracellular matrix. The remaining contaminating cells such as pericytes were further eliminated by plating the microvessel fragments in puromycin-containing medium. They were then passaged onto filters for co-culture with astrocytes grown on the bottom of the wells. RBEC expressed high levels of tight junction (TJ) proteins such as occludin, claudin-5 and ZO-1 with a typical localization at the cell borders. The transendothelial electrical resistance (TEER) of brain endothelial monolayers, indicating the tightness of TJs reached 300 ohm·cm
2
on average. The endothelial permeability coefficients (Pe) for lucifer yellow (LY) was highly reproducible with an average of 0.26 ± 0.11 x 10
-3
cm/min. Brain endothelial cells organized in monolayers expressed the efflux transporter P-glycoprotein (P-gp), showed a polarized transport of rhodamine 123, a ligand for P-gp, and showed specific transport of transferrin-Cy3 and DiILDL across the endothelial cell monolayer. In conclusion, we provide a protocol for setting up an
in vitro
BBB model that is highly reproducible due to the quality assurance methods, and that is suitable for research on BBB transporters and receptors.
Medicine, Issue 88, rat brain endothelial cells (RBEC), mouse, spinal cord, tight junction (TJ), receptor-mediated transport (RMT), low density lipoprotein (LDL), LDLR, transferrin, TfR, P-glycoprotein (P-gp), transendothelial electrical resistance (TEER),
51278
Microwave-assisted Functionalization of Poly(ethylene glycol) and On-resin Peptides for Use in Chain Polymerizations and Hydrogel Formation
Institutions: University of Rochester, University of Rochester, University of Rochester Medical Center.

One of the main benefits to using poly(ethylene glycol) (PEG) macromers in hydrogel formation is synthetic versatility. The ability to draw from a large variety of PEG molecular weights and configurations (arm number, arm length, and branching pattern) affords researchers tight control over resulting hydrogel structures and properties, including Young's modulus and mesh size. This video will illustrate a rapid, efficient, solvent-free, microwave-assisted method to methacrylate PEG precursors into poly(ethylene glycol) dimethacrylate (PEGDM). This synthetic method provides much-needed starting materials for applications in drug delivery and regenerative medicine. The demonstrated method is superior to traditional methacrylation methods as it is significantly faster and simpler, as well as more economical and environmentally friendly, using smaller amounts of reagents and solvents. We will also demonstrate an adaptation of this technique for on-resin methacrylamide functionalization of peptides. This on-resin method allows the N-terminus of peptides to be functionalized with methacrylamide groups prior to deprotection and cleavage from resin. This allows for selective addition of methacrylamide groups to the N-termini of the peptides while amino acids with reactive side groups (
e.g.
 primary amine of lysine, primary alcohol of serine, secondary alcohols of threonine, and phenol of tyrosine) remain protected, preventing functionalization at multiple sites. This article will detail common analytical methods (proton Nuclear Magnetic Resonance spectroscopy (
;
H-NMR) and Matrix Assisted Laser Desorption Ionization Time of Flight mass spectrometry (MALDI-ToF)) to assess the efficiency of the functionalizations. Common pitfalls and suggested troubleshooting methods will be addressed, as will modifications of the technique which can be used to further tune macromer functionality and resulting hydrogel physical and chemical properties. Use of synthesized products for the formation of hydrogels for drug delivery and cell-material interaction studies will be demonstrated, with particular attention paid to modifying hydrogel composition to affect mesh size, controlling hydrogel stiffness and drug release.
Chemistry, Issue 80, Poly(ethylene glycol), peptides, polymerization, polymers, methacrylation, peptide functionalization, 1H-NMR, MALDI-ToF, hydrogels, macromer synthesis
50890
The Cell-based L-Glutathione Protection Assays to Study Endocytosis and Recycling of Plasma Membrane Proteins
Institutions: Children's Hospital of Pittsburgh of UPMC, University of Pittsburgh School of Medicine.
Membrane trafficking involves transport of proteins from the plasma membrane to the cell interior (
i.e.
endocytosis) followed by trafficking to lysosomes for degradation or to the plasma membrane for recycling. The cell based L-glutathione protection assays can be used to study endocytosis and recycling of protein receptors, channels, transporters, and adhesion molecules localized at the cell surface. The endocytic assay requires labeling of cell surface proteins with a cell membrane impermeable biotin containing a disulfide bond and the N-hydroxysuccinimide (NHS) ester at 4 ºC - a temperature at which membrane trafficking does not occur. Endocytosis of biotinylated plasma membrane proteins is induced by incubation at 37 ºC. Next, the temperature is decreased again to 4 ºC to stop endocytic trafficking and the disulfide bond in biotin covalently attached to proteins that have remained at the plasma membrane is reduced with L-glutathione. At this point, only proteins that were endocytosed remain protected from L-glutathione and thus remain biotinylated. After cell lysis, biotinylated proteins are isolated with streptavidin agarose, eluted from agarose, and the biotinylated protein of interest is detected by western blotting. During the recycling assay, after biotinylation cells are incubated at 37 °C to load endocytic vesicles with biotinylated proteins and the disulfide bond in biotin covalently attached to proteins remaining at the plasma membrane is reduced with L-glutathione at 4 ºC as in the endocytic assay. Next, cells are incubated again at 37 °C to allow biotinylated proteins from endocytic vesicles to recycle to the plasma membrane. Cells are then incubated at 4 ºC, and the disulfide bond in biotin attached to proteins that recycled to the plasma membranes is reduced with L-glutathione. The biotinylated proteins protected from L-glutathione are those that did not recycle to the plasma membrane.
Basic Protocol, Issue 82, Endocytosis, recycling, plasma membrane, cell surface, EZLink, Sulfo-NHS-SS-Biotin, L-Glutathione, GSH, thiol group, disulfide bond, epithelial cells, cell polarization
50867
Seeded Synthesis of CdSe/CdS Rod and Tetrapod Nanocrystals
Institutions: UC Berkeley, UC Berkeley, UC Berkeley, Lawrence Berkeley National Laboratory, University of Chicago, Argonne National Laboratory.

We demonstrate a method for the synthesis of multicomponent nanostructures consisting of CdS and CdSe with rod and tetrapod morphologies. A seeded synthesis strategy is used in which spherical seeds of CdSe are prepared first using a hot-injection technique. By controlling the crystal structure of the seed to be either wurtzite or zinc-blende, the subsequent hot-injection growth of CdS off of the seed results in either a rod-shaped or tetrapod-shaped nanocrystal, respectively. The phase and morphology of the synthesized nanocrystals are confirmed using X-ray diffraction and transmission electron microscopy, demonstrating that the nanocrystals are phase-pure and have a consistent morphology. The extinction coefficient and quantum yield of the synthesized nanocrystals are calculated using UV-Vis absorption spectroscopy and photoluminescence spectroscopy. The rods and tetrapods exhibit extinction coefficients and quantum yields that are higher than that of the bare seeds. This synthesis demonstrates the precise arrangement of materials that can be achieved at the nanoscale by using a seeded synthetic approach.
Chemistry, Issue 82, nanostructures, synthesis, nanocrystals, seeded rods, tetrapods, nanoheterostructures
50731
A Step Beyond BRET: Fluorescence by Unbound Excitation from Luminescence (FUEL)
Institutions: Institut Pasteur, Stanford School of Medicine, Institut d'Imagerie Biomédicale, Vanderbilt School of Medicine, The Walter & Eliza Hall Institute of Medical Research, Institut Pasteur, Institut Pasteur.

Fluorescence by Unbound Excitation from Luminescence (FUEL) is a radiative excitation-emission process that produces increased signal and contrast enhancement
in vitro
and
in vivo
. FUEL shares many of the same underlying principles as Bioluminescence Resonance Energy Transfer (BRET), yet greatly differs in the acceptable working distances between the luminescent source and the fluorescent entity. While BRET is effectively limited to a maximum of 2 times the Förster radius, commonly less than 14 nm, FUEL can occur at distances up to µm or even cm in the absence of an optical absorber. Here we expand upon the foundation and applicability of FUEL by reviewing the relevant principles behind the phenomenon and demonstrate its compatibility with a wide variety of fluorophores and fluorescent nanoparticles. Further, the utility of antibody-targeted FUEL is explored. The examples shown here provide evidence that FUEL can be utilized for applications where BRET is not possible, filling the spatial void that exists between BRET and traditional whole animal imaging.
Bioengineering, Issue 87, Biochemical Phenomena, Biochemical Processes, Energy Transfer, Fluorescence Resonance Energy Transfer (FRET), FUEL, BRET, CRET, Förster, bioluminescence, In vivo
51549
Synthesis and Operation of Fluorescent-core Microcavities for Refractometric Sensing
Institutions: University of Alberta.

This paper discusses fluorescent core microcavity-based sensors that can operate in a microfluidic analysis setup. These structures are based on the formation of a fluorescent quantum-dot (QD) coating on the channel surface of a conventional microcapillary. Silicon QDs are especially attractive for this application, owing in part to their negligible toxicity compared to the II-VI and II-VI compound QDs, which are legislatively controlled substances in many countries. While the ensemble emission spectrum is broad and featureless, an Si-QD film on the channel wall of a capillary features a set of sharp, narrow peaks in the fluorescence spectrum, corresponding to the electromagnetic resonances for light trapped within the film. The peak wavelength of these resonances is sensitive to the external medium, thus permitting the device to function as a refractometric sensor in which the QDs never come into physical contact with the analyte. The experimental methods associated with the fabrication of the fluorescent-core microcapillaries are discussed in detail, as well as the analysis methods. Finally, a comparison is made between these structures and the more widely investigated liquid-core optical ring resonators, in terms of microfluidic sensing capabilities.
Physics, Issue 73, Microfluidics, Optics, Quantum Dots, Optics and Photonics, fluid flow sensors (general), luminescence (optics), optical waveguides, photonics, condensed matter physics, microcavities, whispering gallery modes, refractometric sensor, fluorescence, microcapillary, quantum dots
50256
Harmonic Nanoparticles for Regenerative Research
Institutions: University of Geneva, University of Geneva, École Polytechnique Fédérale de Lausanne, Trinity College Dublin, Trinity College Dublin, Nikon AG Instruments.
In this visualized experiment, protocol details are provided for
in vitro
labeling of human embryonic stem cells (hESC) with second harmonic generation nanoparticles (HNPs). The latter are a new family of probes recently introduced for labeling biological samples for multi-photon imaging. HNPs are capable of doubling the frequency of excitation light by the nonlinear optical process of second harmonic generation with no restriction on the excitation wavelength. Multi-photon based methodologies for hESC differentiation into cardiac clusters (maintained as long term air-liquid cultures) are presented in detail. In particular, evidence on how to maximize the intense second harmonic (SH) emission of isolated HNPs during 3D monitoring of beating cardiac tissue in 3D is shown. The analysis of the resulting images to retrieve 3D displacement patterns is also detailed.
Bioengineering, Issue 87, multi-photon imaging, human embryonic stem cells (ESC), nanoparticles, embryoid bodies (EBs), cardiomyocyte differentiation, cardiac contraction, air-liquid cultures
51333