Time-lapse Imaging of Neuroblast Migration in Acute Slices of the Adult Mouse Forebrain
Published: 09-12-2012
ABSTRACT
There is a substantial body of evidence indicating that new functional neurons are constitutively generated from an endogenous pool of neural stem cells in restricted areas of the adult mammalian brain. Newborn neuroblasts from the subventricular zone (SVZ) migrate along the rostral migratory stream (RMS) to their final destination in the olfactory bulb (OB)1. In the RMS, neuroblasts migrate tangentially in chains ensheathed by astrocytic processes2,3 using blood vessels as a structural support and a source of molecular factors required for migration4,5. In the OB, neuroblasts detach from the chains and migrate radially into the different bulbar layers where they differentiate into interneurons and integrate into the existing network1, 6. In this manuscript we describe the procedure for monitoring cell migration in acute slices of the rodent brain. The use of acute slices allows the assessment of cell migration in the microenvironment that closely resembling to in vivo conditions and in brain regions that are difficult to access for in vivo imaging. In addition, it avoids long culturing condition as in the case of organotypic and cell cultures that may eventually alter the migration properties of the cells. Neuronal precursors in acute slices can be visualized using DIC optics or fluorescent proteins. Viral labeling of neuronal precursors in the SVZ, grafting neuroblasts from reporter mice into the SVZ of wild-type mice, and using transgenic mice that express fluorescent protein in neuroblasts are all suitable methods for visualizing neuroblasts and following their migration. The later method, however, does not allow individual cells to be tracked for long periods of time because of the high density of labeled cells. We used a wide-field fluorescent upright microscope equipped with a CCD camera to achieve a relatively rapid acquisition interval (one image every 15 or 30 sec) to reliably identify the stationary and migratory phases. A precise identification of the duration of the stationary and migratory phases is crucial for the unambiguous interpretation of results. We also performed multiple z-step acquisitions to monitor neuroblasts migration in 3D. Wide-field fluorescent imaging has been used extensively to visualize neuronal migration7-10. Here, we describe detailed protocol for labeling neuroblasts, performing real-time video-imaging of neuroblast migration in acute slices of the adult mouse forebrain, and analyzing cell migration. While the described protocol exemplified the migration of neuroblasts in the adult RMS, it can also be used to follow cell migration in embryonic and early postnatal brains.
17 Related JoVE Articles!
In vivo Postnatal Electroporation and Time-lapse Imaging of Neuroblast Migration in Mouse Acute Brain Slices
Institutions: King's College London, Massachusetts Institute of Technology.

The subventricular zone (SVZ) is one of the main neurogenic niches in the postnatal brain. Here, neural progenitors proliferate and give rise to neuroblasts able to move along the rostral migratory stream (RMS) towards the olfactory bulb (OB). This long-distance migration is required for the subsequent maturation of newborn neurons in the OB, but the molecular mechanisms regulating this process are still unclear. Investigating the signaling pathways controlling neuroblast motility may not only help understand a fundamental step in neurogenesis, but also have therapeutic regenerative potential, given the ability of these neuroblasts to target brain sites affected by injury, stroke, or degeneration. In this manuscript we describe a detailed protocol for
in vivo
postnatal electroporation and subsequent time-lapse imaging of neuroblast migration in the mouse RMS. Postnatal electroporation can efficiently transfect SVZ progenitor cells, which in turn generate neuroblasts migrating along the RMS. Using confocal spinning disk time-lapse microscopy on acute brain slice cultures, neuroblast migration can be monitored in an environment closely resembling the
in vivo
condition. Moreover, neuroblast motility can be tracked and quantitatively analyzed. As an example, we describe how to use
in vivo
postnatal electroporation of a GFP-expressing plasmid to label and visualize neuroblasts migrating along the RMS. Electroporation of shRNA or CRE recombinase-expressing plasmids in conditional knockout mice employing the LoxP system can also be used to target genes of interest. Pharmacological manipulation of acute brain slice cultures can be performed to investigate the role of different signaling molecules in neuroblast migration. By coupling
in vivo
electroporation with time-lapse imaging, we hope to understand the molecular mechanisms controlling neuroblast motility and contribute to the development of novel approaches to promote brain repair.
Neuroscience, Issue 81, Time-Lapse Imaging, Cell Migration Assays, Electroporation, neurogenesis, neuroblast migration, neural stem cells, subventricular zone (SVZ), rostral migratory stream (RMS), neonatal mouse pups, electroporation, time-lapse imaging, brain slice culture, cell tracking
50905
Nucleofection of Rodent Neuroblasts to Study Neuroblast Migration In vitro
Institutions: King's College London, King's College London.
The subventricular zone (SVZ) located in the lateral wall of the lateral ventricles plays a fundamental role in adult neurogenesis. In this restricted area of the brain, neural stem cells proliferate and constantly generate neuroblasts that migrate tangentially in chains along the rostral migratory stream (RMS) to reach the olfactory bulb (OB). Once in the OB, neuroblasts switch to radial migration and then differentiate into mature neurons able to incorporate into the preexisting neuronal network. Proper neuroblast migration is a fundamental step in neurogenesis, ensuring the correct functional maturation of newborn neurons. Given the ability of SVZ-derived neuroblasts to target injured areas in the brain, investigating the intracellular mechanisms underlying their motility will not only enhance the understanding of neurogenesis but may also promote the development of neuroregenerative strategies. This manuscript describes a detailed protocol for the transfection of primary rodent RMS postnatal neuroblasts and the analysis of their motility using a 3D
in vitro
migration assay recapitulating their mode of migration observed
in vivo
. Both rat and mouse neuroblasts can be quickly and efficiently transfected via nucleofection with either plasmid DNA, small hairpin (sh)RNA or short interfering (si)RNA oligos targeting genes of interest. To analyze migration, nucleofected cells are reaggregated in 'hanging drops' and subsequently embedded in a three-dimensional matrix. Nucleofection
per se
does not significantly impair the migration of neuroblasts. Pharmacological treatment of nucleofected and reaggregated neuroblasts can also be performed to study the role of signaling pathways involved in neuroblast migration.
Neuroscience, Issue 81, Cellular Biology, Cell Migration Assays, Transfection, Neurogenesis, subventricular zone (SVZ), neural stem cells, rostral migratory stream (RMS), neuroblast, 3D migration assay, nucleofection
50989
Preparation of Acute Subventricular Zone Slices for Calcium Imaging
Institutions: Yale University School of Medicine .
The subventricular zone (SVZ) is one of the two neurogenic zones in the postnatal brain. The SVZ contains densely packed cells, including neural progenitor cells with astrocytic features (called SVZ astrocytes), neuroblasts, and intermediate progenitor cells. Neuroblasts born in the SVZ tangentially migrate a great distance to the olfactory bulb, where they differentiate into interneurons. Intercellular signaling through adhesion molecules and diffusible signals play important roles in controlling neurogenesis. Many of these signals trigger intercellular calcium activity that transmits information inside and between cells. Calcium activity is thus reflective of the activity of extracellular signals and is an optimal way to understand functional intercellular signaling among SVZ cells. Calcium activity has been studied in many other regions and cell types, including mature astrocytes and neurons. However, the traditional method to load cells with calcium indicator dye (
i.e.
bath loading) was not efficient at loading all SVZ cell types. Indeed, the cellular density in the SVZ precludes dye diffusion inside the tissue. In addition, preparing sagittal slices will better preserve the three-dimensional arrangement of SVZ cells, particularly the stream of neuroblast migration on the rostral-caudal axis. Here, we describe methods to prepare sagittal sections containing the SVZ, the loading of SVZ cells with calcium indicator dye, and the acquisition of calcium activity with time-lapse movies. We used Fluo-4 AM dye for loading SVZ astrocytes using pressure application inside the tissue. Calcium activity was recorded using a scanning confocal microscope allowing a precise resolution for distinguishing individual cells. Our approach is applicable to other neurogenic zones including the adult hippocampal subgranular zone and embryonic neurogenic zones. In addition, other types of dyes can be applied using the described method.
Neuroscience, Issue 67, Molecular Biology, Anatomy, Physiology, subventricular zone, adult neurogenesis, gap junction, calcium imaging, neural stem cell
4071
Neonatal Pial Surface Electroporation
Institutions: Cedars-Sinai Medical Center, Cedars-Sinai Medical Center.
Over the past several years the pial surface has been identified as a germinal niche of importance during embryonic, perinatal and adult neuro- and gliogenesis, including after injury. However, methods for genetically interrogating these progenitor populations and tracking their lineages had been limited owing to a lack of specificity or time consuming production of viruses. Thus, progress in this region has been relatively slow with only a handful of investigations of this location. Electroporation has been used for over a decade to study neural stem cell properties in the embryo, and more recently in the postnatal brain. Here we describe an efficient, rapid, and simple technique for the genetic manipulation of pial surface progenitors based on an adapted electroporation approach. Pial surface electroporation allows for facile genetic labeling and manipulation of these progenitors, thus representing a time-saving and economical approach for studying these cells.
Neuroscience, Issue 87, Developmental Biology, neonatal, rodent, fate mapping, lineage tracing, genetic manipulation, plasmid DNA, piggyBac, tol2, transposon, TCHD, electroporation
51319
Selective Viral Transduction of Adult-born Olfactory Neurons for Chronic in vivo Optogenetic Stimulation
Institutions: Institut Pasteur and Centre National de la Recherche Scientifique (CNRS).

Local interneurons are continuously regenerated in the olfactory bulb of adult rodents
1-3
. In this process, called adult neurogenesis, neural stem cells in the walls of the lateral ventricle give rise to neuroblasts that migrate for several millimeters along the rostral migratory stream (RMS) to reach and incorporate into the olfactory bulb. To study the different steps and the impact of adult-born neuron integration into preexisting olfactory circuits, it is necessary to selectively label and manipulate the activity of this specific population of neurons. The recent development of optogenetic technologies offers the opportunity to use light to precisely activate this specific cohort of neurons without affecting surrounding neurons
4,5
. Here, we present a series of procedures to virally express Channelrhodopsin2(ChR2)-YFP in a temporally restricted cohort of neuroblasts in the RMS before they reach the olfactory bulb and become adult-born neurons. In addition, we show how to implant and calibrate a miniature LED for chronic
in vivo
stimulation of ChR2-expressing neurons.
Neuroscience, Issue 58, Olfactory bulb, Olfactory neurons, in vivo, viral transduction, mouse, LED
3380
Studying the Integration of Adult-born Neurons
Institutions: State University of New York at Stony Brook.

Neurogenesis occurs in adult mammalian brains in the sub-ventricular zone (SVZ) of the lateral ventricle and in the sub-granular zone (SGZ) of the hippocampal dentate gyrus throughout life. Previous reports have shown that adult hippocampal neurogenesis is associated with diverse brain disorders, including epilepsy, schizophrenia, depression and anxiety (
1
). Deciphering the process of normal and aberrant adult-born neuron integration may shed light on the etiology of these diseases and inform the development of new therapies. SGZ adult neurogenesis mirrors embryonic and post-natal neuronal development, including stages of fate specification, migration, synaptic integration, and maturation. However, full integration occurs over a prolonged, 6-week period. Initial synaptic input to adult-born SGZ dentate granule cells (DGCs) is GABAergic, followed by glutamatergic input at 14 days (
2
). The specific factors which regulate circuit formation of adult-born neurons in the dentate gyrus are currently unknown. Our laboratory uses a replication-deficient retroviral vector based on the Moloney murine leukemia virus to deliver fluorescent proteins and hypothesized regulatory genes to these proliferating cells. This viral technique provides high specificity and resolution for analysis of cell birth date, lineage, morphology, and synaptogenesis. A typical experiment often employs two or three viruses containing unique label, transgene, and promoter elements for single-cell analysis of a desired developmental process
in vivo
. The following protocol describes a method for analyzing functional newborn neuron integration using a single green (GFP) or red (dTomato) fluorescent protein retrovirus and patch-clamp electrophysiology.
Neuroscience, Issue 49, dentate gyrus, neurogenesis, newborn dentate granule cells, functional integration
2548
Neonatal Subventricular Zone Electroporation
Institutions: Yale University School of Medicine .

Neural stem cells (NSCs) line the postnatal lateral ventricles and give rise to multiple cell types which include neurons, astrocytes, and ependymal cells
1
. Understanding the molecular pathways responsible for NSC self-renewal, commitment, and differentiation is critical for harnessing their unique potential to repair the brain and better understand central nervous system disorders. Previous methods for the manipulation of mammalian systems required the time consuming and expensive endeavor of genetic engineering at the whole animal level
2
. Thus, the vast majority of studies have explored the functions of NSC molecules
in vitro
or in invertebrates. Here, we demonstrate the simple and rapid technique to manipulate neonatal NPCs that is referred to as neonatal subventricular zone (SVZ) electroporation. Similar techniques were developed a decade ago to study embryonic NSCs and have aided studies on cortical development
3,4
. More recently this was applied to study the postnatal rodent forebrain
5-7
. This technique results in robust labeling of SVZ NSCs and their progeny. Thus, postnatal SVZ electroporation provides a cost and time effective alternative for mammalian NSC genetic engineering.
Neuroscience, Issue 72, Developmental Biology, Neurobiology, Molecular Biology, Cellular Biology, Physiology, Anatomy, Biomedical Engineering, Stem Cell Biology, Genetics, Neurogenesis, Growth and Development, Surgery, Subventricular Zone, Electroporation, Neural Stem Cells, NSC, subventricular zone, brain, DNA, injection, genetic engineering, neonatal pups, animal model
50197
Assessing Cell Cycle Progression of Neural Stem and Progenitor Cells in the Mouse Developing Brain after Genotoxic Stress
Institutions: CEA DSV iRCM SCSR, INSERM, U967, Université Paris Diderot, Sorbonne Paris Cité, Université Paris Sud, UMR 967.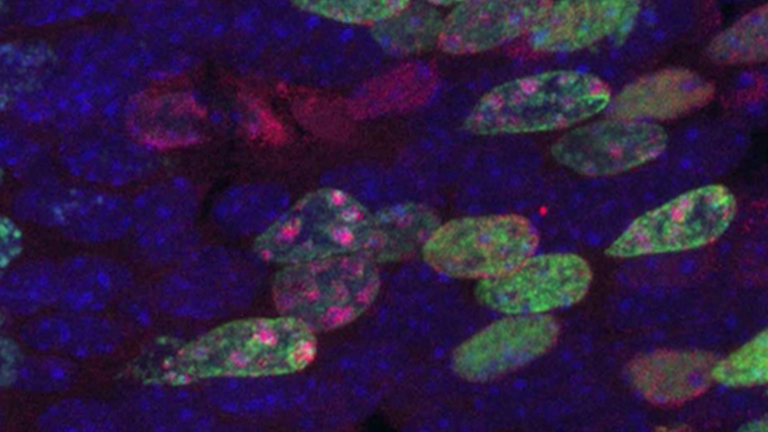 Neurons of the cerebral cortex are generated during brain development from different types of neural stem and progenitor cells (NSPC), which form a pseudostratified epithelium lining the lateral ventricles of the embryonic brain. Genotoxic stresses, such as ionizing radiation, have highly deleterious effects on the developing brain related to the high sensitivity of NSPC. Elucidation of the cellular and molecular mechanisms involved depends on the characterization of the DNA damage response of these particular types of cells, which requires an accurate method to determine NSPC progression through the cell cycle in the damaged tissue. Here is shown a method based on successive intraperitoneal injections of EdU and BrdU in pregnant mice and further detection of these two thymidine analogues in coronal sections of the embryonic brain. EdU and BrdU are both incorporated in DNA of replicating cells during S phase and are detected by two different techniques (azide or a specific antibody, respectively), which facilitate their simultaneous detection. EdU and BrdU staining are then determined for each NSPC nucleus in function of its distance from the ventricular margin in a standard region of the dorsal telencephalon. Thus this dual labeling technique allows distinguishing cells that progressed through the cell cycle from those that have activated a cell cycle checkpoint leading to cell cycle arrest in response to DNA damage. An example of experiment is presented, in which EdU was injected before irradiation and BrdU immediately after and analyzes performed within the 4 hr following irradiation. This protocol provides an accurate analysis of the acute DNA damage response of NSPC in function of the phase of the cell cycle at which they have been irradiated. This method is easily transposable to many other systems in order to determine the impact of a particular treatment on cell cycle progression in living tissues.
Neuroscience, Issue 87, EdU, BrdU, in utero irradiation, neural stem and progenitor cells, cell cycle, embryonic cortex, immunostaining, cell cycle checkpoints, apoptosis, genotoxic stress, embronic mouse brain
51209
Methods for the Modulation and Analysis of NF-κB-dependent Adult Neurogenesis
Institutions: University of Bielefeld, University of Bielefeld.

The hippocampus plays a pivotal role in the formation and consolidation of episodic memories, and in spatial orientation. Historically, the adult hippocampus has been viewed as a very static anatomical region of the mammalian brain. However, recent findings have demonstrated that the dentate gyrus of the hippocampus is an area of tremendous plasticity in adults, involving not only modifications of existing neuronal circuits, but also adult neurogenesis. This plasticity is regulated by complex transcriptional networks, in which the transcription factor NF-κB plays a prominent role. To study and manipulate adult neurogenesis, a transgenic mouse model for forebrain-specific neuronal inhibition of NF-κB activity can be used. In this study, methods are described for the analysis of NF-κB-dependent neurogenesis, including its structural aspects, neuronal apoptosis and progenitor proliferation, and cognitive significance, which was specifically assessed via a dentate gyrus (DG)-dependent behavioral test, the spatial pattern separation-Barnes maze (SPS-BM). The SPS-BM protocol could be simply adapted for use with other transgenic animal models designed to assess the influence of particular genes on adult hippocampal neurogenesis. Furthermore, SPS-BM could be used in other experimental settings aimed at investigating and manipulating DG-dependent learning, for example, using pharmacological agents.
Neuroscience, Issue 84, NF-κB, hippocampus, Adult neurogenesis, spatial pattern separation-Barnes maze, dentate gyrus, p65 knock-out mice
50870
Stab Wound Injury of the Zebrafish Adult Telencephalon: A Method to Investigate Vertebrate Brain Neurogenesis and Regeneration
Institutions: Karlsruhe Institute of Technology.
Adult zebrafish have an amazing capacity to regenerate their central nervous system after injury. To investigate the cellular response and the molecular mechanisms involved in zebrafish adult central nervous system (CNS) regeneration and repair, we developed a zebrafish model of adult telencephalic injury. In this approach, we manually generate an injury by pushing an insulin syringe needle into the zebrafish adult telencephalon. At different post injury days, fish are sacrificed, their brains are dissected out and stained by immunohistochemistry and/or
in situ
hybridization (ISH) with appropriate markers to observe cell proliferation, gliogenesis, and neurogenesis. The contralateral unlesioned hemisphere serves as an internal control. This method combined for example with RNA deep sequencing can help to screen for new genes with a role in zebrafish adult telencephalon neurogenesis, regeneration, and repair.
Neuroscience, Issue 90, zebrafish, adult neurogenesis, telencephalon regeneration, stab wound, central nervous system, adult neural stem cell
51753
Functional Interrogation of Adult Hypothalamic Neurogenesis with Focal Radiological Inhibition
Institutions: California Institute of Technology, Johns Hopkins University School of Medicine, Johns Hopkins University School of Medicine, University Of Washington Medical Center, Johns Hopkins University School of Medicine.

The functional characterization of adult-born neurons remains a significant challenge. Approaches to inhibit adult neurogenesis via invasive viral delivery or transgenic animals have potential confounds that make interpretation of results from these studies difficult. New radiological tools are emerging, however, that allow one to noninvasively investigate the function of select groups of adult-born neurons through accurate and precise anatomical targeting in small animals. Focal ionizing radiation inhibits the birth and differentiation of new neurons, and allows targeting of specific neural progenitor regions. In order to illuminate the potential functional role that adult hypothalamic neurogenesis plays in the regulation of physiological processes, we developed a noninvasive focal irradiation technique to selectively inhibit the birth of adult-born neurons in the hypothalamic median eminence. We describe a method for
C
omputer tomography-guided
f
ocal
ir
radiation (CFIR) delivery to enable precise and accurate anatomical targeting in small animals. CFIR uses three-dimensional volumetric image guidance for localization and targeting of the radiation dose, minimizes radiation exposure to nontargeted brain regions, and allows for conformal dose distribution with sharp beam boundaries. This protocol allows one to ask questions regarding the function of adult-born neurons, but also opens areas to questions in areas of radiobiology, tumor biology, and immunology. These radiological tools will facilitate the translation of discoveries at the bench to the bedside.
Neuroscience, Issue 81, Neural Stem Cells (NSCs), Body Weight, Radiotherapy, Image-Guided, Metabolism, Energy Metabolism, Neurogenesis, Cell Proliferation, Neurosciences, Irradiation, Radiological treatment, Computer-tomography (CT) imaging, Hypothalamus, Hypothalamic Proliferative Zone (HPZ), Median Eminence (ME), Small Animal Radiation Research Platform (SARRP)
50716
Modeling Astrocytoma Pathogenesis In Vitro and In Vivo Using Cortical Astrocytes or Neural Stem Cells from Conditional, Genetically Engineered Mice
Institutions: University of North Carolina School of Medicine, University of North Carolina School of Medicine, University of North Carolina School of Medicine, University of North Carolina School of Medicine, University of North Carolina School of Medicine, Emory University School of Medicine, University of North Carolina School of Medicine.

Current astrocytoma models are limited in their ability to define the roles of oncogenic mutations in specific brain cell types during disease pathogenesis and their utility for preclinical drug development. In order to design a better model system for these applications, phenotypically wild-type cortical astrocytes and neural stem cells (NSC) from conditional, genetically engineered mice (GEM) that harbor various combinations of floxed oncogenic alleles were harvested and grown in culture. Genetic recombination was induced
in vitro
using adenoviral Cre-mediated recombination, resulting in expression of mutated oncogenes and deletion of tumor suppressor genes. The phenotypic consequences of these mutations were defined by measuring proliferation, transformation, and drug response
in vitro
. Orthotopic allograft models, whereby transformed cells are stereotactically injected into the brains of immune-competent, syngeneic littermates, were developed to define the role of oncogenic mutations and cell type on tumorigenesis
in vivo
. Unlike most established human glioblastoma cell line xenografts, injection of transformed GEM-derived cortical astrocytes into the brains of immune-competent littermates produced astrocytomas, including the most aggressive subtype, glioblastoma, that recapitulated the histopathological hallmarks of human astrocytomas, including diffuse invasion of normal brain parenchyma. Bioluminescence imaging of orthotopic allografts from transformed astrocytes engineered to express luciferase was utilized to monitor
in vivo
tumor growth over time. Thus, astrocytoma models using astrocytes and NSC harvested from GEM with conditional oncogenic alleles provide an integrated system to study the genetics and cell biology of astrocytoma pathogenesis
in vitro
and
in vivo
and may be useful in preclinical drug development for these devastating diseases.
Neuroscience, Issue 90, astrocytoma, cortical astrocytes, genetically engineered mice, glioblastoma, neural stem cells, orthotopic allograft
51763
One Mouse, Two Cultures: Isolation and Culture of Adult Neural Stem Cells from the Two Neurogenic Zones of Individual Mice
Institutions: Technische Universität Dresden, German Center for Neurodegenerative Diseases (DZNE) Dresden.

The neurosphere assay and the adherent monolayer culture system are valuable tools to determine the potential (proliferation or differentiation) of adult neural stem cells
in vitro
. These assays can be used to compare the precursor potential of cells isolated from genetically different or differentially treated animals to determine the effects of exogenous factors on neural precursor cell proliferation and differentiation and to generate neural precursor cell lines that can be assayed over continuous passages. The neurosphere assay is traditionally used for the post-hoc identification of stem cells, primarily due to the lack of definitive markers with which they can be isolated from primary tissue and has the major advantage of giving a quick estimate of precursor cell numbers in brain tissue derived from individual animals. Adherent monolayer cultures, in contrast, are not traditionally used to compare proliferation between individual animals, as each culture is generally initiated from the combined tissue of between 5-8 animals. However, they have the major advantage that, unlike neurospheres, they consist of a mostly homogeneous population of precursor cells and are useful for following the differentiation process in single cells. Here, we describe, in detail, the generation of neurosphere cultures and, for the first time, adherent cultures from individual animals. This has many important implications including paired analysis of proliferation and/or differentiation potential in both the subventricular zone (SVZ) and dentate gyrus (DG) of treated or genetically different mouse lines, as well as a significant reduction in animal usage.
Neuroscience, Issue 84, precursor cell, neurosphere, adherent monolayer, subventricular zone, dentate gyrus, adult mouse
51225
Growing Neural Stem Cells from Conventional and Nonconventional Regions of the Adult Rodent Brain
Institutions: University of Dresden, Center for Regerative Therapies Dresden.
Recent work demonstrates that central nervous system (CNS) regeneration and tumorigenesis involves populations of stem cells (SCs) resident within the adult brain. However, the mechanisms these normally quiescent cells employ to ensure proper functioning of neural networks, as well as their role in recovery from injury and mitigation of neurodegenerative processes are little understood. These cells reside in regions referred to as "niches" that provide a sustaining environment involving modulatory signals from both the vascular and immune systems. The isolation, maintenance, and differentiation of CNS SCs under defined culture conditions which exclude unknown factors, makes them accessible to treatment by pharmacological or genetic means, thus providing insight into their
in vivo
behavior. Here we offer detailed information on the methods for generating cultures of CNS SCs from distinct regions of the adult brain and approaches to assess their differentiation potential into neurons, astrocytes, and oligodendrocytes
in vitro
. This technique yields a homogeneous cell population as a monolayer culture that can be visualized to study individual SCs and their progeny. Furthermore, it can be applied across different animal model systems and clinical samples, being used previously to predict regenerative responses in the damaged adult nervous system.
Neuroscience, Issue 81, adult neural stem cells, proliferation, differentiation, cell culture, growth factors
50880
The Subventricular Zone En-face: Wholemount Staining and Ependymal Flow
Institutions: University of California, San Francisco - UCSF, College of Physicians and Surgeons, Columbia University, College of Physicians and Surgeons, Columbia University, Nagoya City University Graduate School of Medical Sciences, College of Physicians and Surgeons, Columbia University.

The walls of the lateral ventricles contain the largest germinal region in the adult mammalian brain. The subventricular zone (SVZ) in these walls is an extensively studied model system for understanding the behavior of neural stem cells and the regulation of adult neurogenesis. Traditionally, these studies have relied on classical sectioning techniques for histological analysis. Here we present an alternative approach, the wholemount technique, which provides a comprehensive, en-face view of this germinal region. Compared to sections, wholemounts preserve the complete cytoarchitecture and cellular relationships within the SVZ. This approach has recently revealed that the adult neural stem cells, or type B1 cells, are part of a mixed neuroepithelium with differentiated ependymal cells lining the lateral ventricles. In addition, this approach has been used to study the planar polarization of ependymal cells and the cerebrospinal fluid flow they generate in the ventricle. With recent evidence that adult neural stem cells are a heterogeneous population that is regionally specified, the wholemount approach will likely be an essential tool for understanding the organization and parcellation of this stem cell niche.
JoVE Neuroscience, Issue 39, brain, neurogenesis, neural stem cell, ependymal cell, ependymal flow, planar cell polarity, wholemount, pinwheel
1938
Ole Isacson: Development of New Therapies for Parkinson's Disease
Institutions: Harvard Medical School.

Medicine, Issue 3, Parkinson' disease, Neuroscience, dopamine, neuron, L-DOPA, stem cell, transplantation
189
An Organotypic Slice Assay for High-Resolution Time-Lapse Imaging of Neuronal Migration in the Postnatal Brain
Institutions: North Carolina State University.

Neurogenesis in the postnatal brain depends on maintenance of three biological events: proliferation of progenitor cells, migration of neuroblasts, as well as differentiation and integration of new neurons into existing neural circuits. For postnatal neurogenesis in the olfactory bulbs, these events are segregated within three anatomically distinct domains: proliferation largely occurs in the subependymal zone (SEZ) of the lateral ventricles, migrating neuroblasts traverse through the rostral migratory stream (RMS), and new neurons differentiate and integrate within the olfactory bulbs (OB). The three domains serve as ideal platforms to study the cellular, molecular, and physiological mechanisms that regulate each of the biological events distinctly. This paper describes an organotypic slice assay optimized for postnatal brain tissue, in which the extracellular conditions closely mimic the in vivo environment for migrating neuroblasts. We show that our assay provides for uniform, oriented, and speedy movement of neuroblasts within the RMS. This assay will be highly suitable for the study of cell autonomous and non-autonomous regulation of neuronal migration by utilizing cross-transplantation approaches from mice on different genetic backgrounds.
Neuroscience, Issue 46, Rostral Migratory Stream, Neuronal Migration, Organotypic Slices, Transplantation,
2486