Myocardial Infarction and Functional Outcome Assessment in Pigs
Published: 04-25-2014
ABSTRACT
Introduction of newly discovered cardiovascular therapeutics into first-in-man trials depends on a strictly regulated ethical and legal roadmap. One important prerequisite is a good understanding of all safety and efficacy aspects obtained in a large animal model that validly reflect the human scenario of myocardial infarction (MI). Pigs are widely used in this regard since their cardiac size, hemodynamics, and coronary anatomy are close to that of humans. Here, we present an effective protocol for using the porcine MI model using a closed-chest coronary balloon occlusion of the left anterior descending artery (LAD), followed by reperfusion. This approach is based on 90 min of myocardial ischemia, inducing large left ventricle infarction of the anterior, septal and inferoseptal walls. Furthermore, we present protocols for various measures of outcome that provide a wide range of information on the heart, such as cardiac systolic and diastolic function, hemodynamics, coronary flow velocity, microvascular resistance, and infarct size. This protocol can be easily tailored to meet study specific requirements for the validation of novel cardioregenerative biologics at different stages (i.e. directly after the acute ischemic insult, in the subacute setting or even in the chronic MI once scar formation has been completed). This model therefore provides a useful translational tool to study MI, subsequent adverse remodeling, and the potential of novel cardioregenerative agents.
20 Related JoVE Articles!
Basic Surgical Techniques in the Göttingen Minipig: Intubation, Bladder Catheterization, Femoral Vessel Catheterization, and Transcardial Perfusion
Institutions: Aarhus University Hospital, Aarhus University, Aarhus University Hospital.
The emergence of the Göttingen minipig in research of topics such as neuroscience, toxicology, diabetes, obesity, and experimental surgery reflects the close resemblance of these animals to human anatomy and physiology
1-6
.The size of the Göttingen minipig permits the use of surgical equipment and advanced imaging modalities similar to those used in humans
6-8
. The aim of this instructional video is to increase the awareness on the value of minipigs in biomedical research, by demonstrating how to perform tracheal intubation, transurethral bladder catheterization, femoral artery and vein catheterization, as well as transcardial perfusion. Endotracheal Intubation should be performed whenever a minipig undergoes general anesthesia, because it maintains a patent airway, permits assisted ventilation and protects the airways from aspirates. Transurethral bladder catheterization can provide useful information about about hydration state as well as renal and cardiovascular function during long surgical procedures. Furthermore, urinary catheterization can prevent contamination of delicate medico-technical equipment and painful bladder extension which may harm the animal and unnecessarily influence the experiment due to increased vagal tone and altered physiological parameters. Arterial and venous catheterization is useful for obtaining repeated blood samples and monitoring various physiological parameters. Catheterization of femoral vessels is preferable to catheterization of the neck vessels for ease of access, when performing experiments involving frame-based stereotaxic neurosurgery and brain imaging. When performing vessel catheterization in survival studies, strict aseptic technique must be employed to avoid infections
6
. Transcardial perfusion is the most effective fixation method, and yields preeminent results when preparing minipig organs for histology and histochemistry
2,9
. For more information about anesthesia, surgery and experimental techniques in swine in general we refer to Swindle 2007. Supplementary information about premedication and induction of anesthesia, assisted ventilation, analgesia, pre- and postoperative care of Göttingen minipigs are available via the internet at https://www.minipigs.com
10
. For extensive information about porcine anatomy we refer to Nickel
et al
. Vol. 1-5
11
.
Medicine, Issue 52, Animal model, Animal preparation, Animal handling, Sus scrofa, Swine, Tissue fixation
2652
Isolation, Culture, and Transplantation of Muscle Satellite Cells
Institutions: University of Minnesota Medical School.
Muscle satellite cells are a stem cell population required for postnatal skeletal muscle development and regeneration, accounting for 2-5% of sublaminal nuclei in muscle fibers. In adult muscle, satellite cells are normally mitotically quiescent. Following injury, however, satellite cells initiate cellular proliferation to produce myoblasts, their progenies, to mediate the regeneration of muscle. Transplantation of satellite cell-derived myoblasts has been widely studied as a possible therapy for several regenerative diseases including muscular dystrophy, heart failure, and urological dysfunction. Myoblast transplantation into dystrophic skeletal muscle, infarcted heart, and dysfunctioning urinary ducts has shown that engrafted myoblasts can differentiate into muscle fibers in the host tissues and display partial functional improvement in these diseases. Therefore, the development of efficient purification methods of quiescent satellite cells from skeletal muscle, as well as the establishment of satellite cell-derived myoblast cultures and transplantation methods for myoblasts, are essential for understanding the molecular mechanisms behind satellite cell self-renewal, activation, and differentiation. Additionally, the development of cell-based therapies for muscular dystrophy and other regenerative diseases are also dependent upon these factors. However, current prospective purification methods of quiescent satellite cells require the use of expensive fluorescence-activated cell sorting (FACS) machines. Here, we present a new method for the rapid, economical, and reliable purification of quiescent satellite cells from adult mouse skeletal muscle by enzymatic dissociation followed by magnetic-activated cell sorting (MACS). Following isolation of pure quiescent satellite cells, these cells can be cultured to obtain large numbers of myoblasts after several passages. These freshly isolated quiescent satellite cells or
ex vivo
expanded myoblasts can be transplanted into cardiotoxin (CTX)-induced regenerating mouse skeletal muscle to examine the contribution of donor-derived cells to regenerating muscle fibers, as well as to satellite cell compartments for the examination of self-renewal activities.
Cellular Biology, Issue 86, skeletal muscle, muscle stem cell, satellite cell, regeneration, myoblast transplantation, muscular dystrophy, self-renewal, differentiation, myogenesis
50846
Simple and Efficient Technique for the Preparation of Testicular Cell Suspensions
Institutions: Instituto de Investigaciones Biológicas Clemente Estable (IIBCE), Instituto de Investigaciones Biológicas Clemente Estable, Universidad de la República.
Mammalian testes are very complex organs that contain over 30 different cell types, including somatic testicular cells and different stages of germline cells. This heterogeneity is an important drawback concerning the study of the bases of mammalian spermatogenesis, as pure or enriched cell populations in certain stages of sperm development are needed for most molecular analyses
1
. Various strategies such as Staput
2,3
, centrifugal elutriation
1
, and flow cytometry (FC)
4,5
have been employed to obtain enriched or purified testicular cell populations in order to enable differential gene expression studies. It is required that cells are in suspension for most enrichment/ purification approaches. Ideally, the cell suspension will be representative of the original tissue, have a high proportion of viable cells and few multinucleates - which tend to form because of the syncytial nature of the seminiferous epithelium
6,7
- and lack cell clumps
1
. Previous reports had evidenced that testicular cell suspensions prepared by an exclusively mechanical method clumped more easily than trypsinized ones
1
. On the other hand, enzymatic treatments with RNAses and/or disaggregating enzymes like trypsin and collagenase lead to specific macromolecules degradation, which is undesirable for certain downstream applications. The ideal process should be as short as possible and involve minimal manipulation, so as to achieve a good preservation of macromolecules of interest such as mRNAs. Current protocols for the preparation of cell suspensions from solid tissues are usually time-consuming, highly operator-dependent, and may selectively damage certain cell types
1,8
. The protocol presented here combines the advantages of a highly reproducible and extremely brief mechanical disaggregation with the absence of enzymatic treatment, leading to good quality cell suspensions that can be used for flow cytometric analysis and sorting
4
, and ulterior gene expression studies
9
.
Cellular Biology, Issue 78, Medicine, Biomedical Engineering, Anatomy, Physiology, Cell Separation, Flow Cytometry, Cytological Techniques, Meiosis, Spermatogenesis, Cell Biology, Flow cytometry, FACS, testis, meiosis, cell suspension, rodent, cell culture, animal model
50102
Sequential Photo-bleaching to Delineate Single Schwann Cells at the Neuromuscular Junction
Institutions: Technische Universität München, Technische Universität München, Technische Universität München, Technische Universität München.

Sequential photo-bleaching provides a non-invasive way to label individual SCs at the NMJ. The NMJ is the largest synapse of the mammalian nervous system and has served as guiding model to study synaptic structure and function. In mouse NMJs motor axon terminals form pretzel-like contact sites with muscle fibers. The motor axon and its terminal are sheathed by SCs. Over the past decades, several transgenic mice have been generated to visualize motor neurons and SCs, for example
Thy1
-XFP
1
and
Plp
-GFP mice
2
, respectively. Along motor axons, myelinating axonal SCs are arranged in non-overlapping internodes, separated by nodes of Ranvier, to enable saltatory action potential propagation. In contrast, terminal SCs at the synapse are specialized glial cells, which monitor and promote neurotransmission, digest debris and guide regenerating axons. NMJs are tightly covered by up to half a dozen non-myelinating terminal SCs - these, however, cannot be individually resolved by light microscopy, as they are in direct membrane contact
3
. Several approaches exist to individually visualize terminal SCs. None of these are flawless, though. For instance, dye filling, where single cells are impaled with a dye-filled microelectrode, requires destroying a labelled cell before filling a second one. This is not compatible with subsequent time-lapse recordings
3
. Multi-spectral "Brainbow" labeling of SCs has been achieved by using combinatorial expression of fluorescent proteins
4
. However, this technique requires combining several transgenes and is limited by the expression pattern of the promoters used. In the future, expression of "photo-switchable" proteins in SCs might be yet another alternative
5
. Here we present sequential photo-bleaching, where single cells are bleached, and their image obtained by subtraction. We believe that this approach - due to its ease and versatility - represents a lasting addition to the neuroscientist's technology palette, especially as it can be used
in vivo
and transferred to others cell types, anatomical sites or species
6
. In the following protocol, we detail the application of sequential bleaching and subsequent confocal time-lapse microscopy to terminal SCs in triangularis sterni muscle explants. This thin, superficial and easily dissected nerve-muscle preparation
7,8
has proven useful for studies of NMJ development, physiology and pathology
9
. Finally, we explain how the triangularis sterni muscle is prepared after fixation to perform correlated high-resolution confocal imaging, immunohistochemistry or ultrastructural examinations.
Neuroscience, Issue 71, Cellular Biology, Molecular Biology, Neurobiology, Immunology, Medicine, Anatomy, Physiology, Surgery, Triangularis sterni, explant, Schwann cells, imaging, neuromuscular junction, immunohistochemistry, bleaching, muscle, nerve, mouse, animal model
4460
Molecular Imaging to Target Transplanted Muscle Progenitor Cells
Institutions: Lawson Health Research Institute, Western University, Western University.

Duchenne muscular dystrophy (DMD) is a severe genetic neuromuscular disorder that affects 1 in 3,500 boys, and is characterized by progressive muscle degeneration
1, 2
. In patients, the ability of resident muscle satellite cells (SCs) to regenerate damaged myofibers becomes increasingly inefficient
4
. Therefore, transplantation of muscle progenitor cells (MPCs)/myoblasts from healthy subjects is a promising therapeutic approach to DMD. A major limitation to the use of stem cell therapy, however, is a lack of reliable imaging technologies for long-term monitoring of implanted cells, and for evaluating its effectiveness. Here, we describe a non-invasive, real-time approach to evaluate the success of myoblast transplantation. This method takes advantage of a unified fusion reporter gene composed of genes (firefly luciferase [
fluc
], monomeric red fluorescent protein [
mrfp
] and sr39 thymidine kinase [
sr39tk
]) whose expression can be imaged with different imaging modalities
9, 10
. A variety of imaging modalities, including positron emission tomography (PET), single-photon emission computed tomography (SPECT), magnetic resonance imaging (MRI), optical imaging, and high frequency 3D-ultrasound are now available, each with unique advantages and limitations
11
. Bioluminescence imaging (BLI) studies, for example, have the advantage of being relatively low cost and high-throughput. It is for this reason that, in this study, we make use of the firefly luciferase (
fluc
) reporter gene sequence contained within the fusion gene and bioluminescence imaging (BLI) for the short-term localization of viable C2C12 myoblasts following implantation into a mouse model of DMD (muscular dystrophy on the X chromosome [mdx] mouse)
12-14
. Importantly, BLI provides us with a means to examine the kinetics of labeled MPCs post-implantation, and will be useful to track cells repeatedly over time and following migration. Our reporter gene approach further allows us to merge multiple imaging modalities in a single living subject; given the tomographic nature, fine spatial resolution and ability to scale up to larger animals and humans
10,11
, PET will form the basis of future work that we suggest may facilitate rapid translation of methods developed in cells to preclinical models and to clinical applications.
Medicine, Issue 73, Medicine, Biophysics, Biomedical Engineering, Cellular Biology, Anatomy, Physiology, Genetics, Surgery, Diseases, Musculoskeletal Diseases, Analytical, Diagnostic and Therapeutic Techniques and Equipment, Therapeutics, Bioluminescence imaging (BLI), Reporter Gene Expression, Non-invasive Targeting, Muscle Progenitor Cells, Myoblasts, transplantation, cell implantation, MRI, PET, SPECT, BLI, imaging, clinical techniques, animal model
50119
Isolation and Culture of Individual Myofibers and their Satellite Cells from Adult Skeletal Muscle
Institutions: Ottawa Hospital Research Institute, University of Ottawa .

Muscle regeneration in the adult is performed by resident stem cells called satellite cells. Satellite cells are defined by their position between the basal lamina and the sarcolemma of each myofiber. Current knowledge of their behavior heavily relies on the use of the single myofiber isolation protocol. In 1985, Bischoff described a protocol to isolate single live fibers from the Flexor Digitorum Brevis (FDB) of adult rats with the goal to create an
in vitro
system in which the physical association between the myofiber and its stem cells is preserved
1
. In 1995, Rosenblattmodified the Bischoff protocol such that myofibers are singly picked and handled separately after collagenase digestion instead of being isolated by gravity sedimentation
2, 3
. The Rosenblatt or Bischoff protocol has since been adapted to different muscles, age or conditions
3-6
. The single myofiber isolation technique is an indispensable tool due its unique advantages. First, in the single myofiber protocol, satellite cells are maintained beneath the basal lamina. This is a unique feature of the protocol as other techniques such as Fluorescence Activated Cell Sorting require chemical and mechanical tissue dissociation
7
. Although the myofiber culture system cannot substitute for
in vivo
studies, it does offer an excellent platform to address relevant biological properties of muscle stem cells. Single myofibers can be cultured in standard plating conditions or in floating conditions. Satellite cells on floating myofibers are subjected to virtually no other influence than the myofiber environment. Substrate stiffness and coating have been shown to influence satellite cells' ability to regenerate muscles
8, 9
so being able to control each of these factors independently allows discrimination between niche-dependent and -independent responses. Different concentrations of serum have also been shown to have an effect on the transition from quiescence to activation. To preserve the quiescence state of its associated satellite cells, fibers should be kept in low serum medium
1-3
. This is particularly useful when studying genes involved in the quiescence state. In serum rich medium, satellite cells quickly activate, proliferate, migrate and differentiate, thus mimicking the
in vivo
regenerative process
1-3
. The system can be used to perform a variety of assays such as the testing of chemical inhibitors; ectopic expression of genes by virus delivery; oligonucleotide based gene knock-down or live imaging. This video article describes the protocol currently used in our laboratory to isolate single myofibers from the Extensor Digitorum Longus (EDL) muscle of adult mice (6-8 weeks old).
Stem Cell Biology, Issue 73, Cellular Biology, Molecular Biology, Medicine, Biomedical Engineering, Bioengineering, Physiology, Anatomy, Tissue Engineering, Stem Cells, Myoblasts, Skeletal, Satellite Cells, Skeletal Muscle, Muscular Dystrophy, Duchenne, Tissue Culture Techniques, Muscle regeneration, Pax7, isolation and culture of isolated myofibers, muscles, myofiber, immunostaining, cell culture, hindlimb, mouse, animal model
50074
Techniques for Processing Eyes Implanted With a Retinal Prosthesis for Localized Histopathological Analysis
Institutions: Bionics Institute, St Vincent's Hospital Melbourne, University of Melbourne, University of Melbourne.

With the recent development of retinal prostheses, it is important to develop reliable techniques for assessing the safety of these devices in preclinical studies. However, the standard fixation, preparation, and automated histology procedures are not ideal. Here we describe new procedures for evaluating the health of the retina directly adjacent to an implant. Retinal prostheses feature electrode arrays in contact with eye tissue. Previous methods have not been able to spatially localize the ocular tissue adjacent to individual electrodes within the array. In addition, standard histological processing often results in gross artifactual detachment of the retinal layers when assessing implanted eyes. Consequently, it has been difficult to assess localized damage, if present, caused by implantation and stimulation of an implanted electrode array. Therefore, we developed a method for identifying and localizing the ocular tissue adjacent to implanted electrodes using a (color-coded) dye marking scheme, and we modified an eye fixation technique to minimize artifactual retinal detachment. This method also rendered the sclera translucent, enabling localization of individual electrodes and specific parts of an implant. Finally, we used a matched control to increase the power of the histopathological assessments. In summary, this method enables reliable and efficient discrimination and assessment of the retinal cytoarchitecture in an implanted eye.
Medicine, Issue 78, Anatomy, Physiology, Biomedical Engineering, Bioengineering, Surgery, Ophthalmology, Pathology, Tissue Engineering, Prosthesis Implantation, Implantable Neurostimulators, Implants, Experimental, Histology, bionics, Retina, Prosthesis, Bionic Eye, Retinal, Implant, Suprachoroidal, Fixation, Localization, Safety, Preclinical, dissection, embedding, staining, tissue, surgical techniques, clinical techniques
50411
Transplantation of Induced Pluripotent Stem Cell-derived Mesoangioblast-like Myogenic Progenitors in Mouse Models of Muscle Regeneration
Institutions: University College London, San Raffaele Hospital.

Patient-derived iPSCs could be an invaluable source of cells for future autologous cell therapy protocols. iPSC-derived myogenic stem/progenitor cells similar to pericyte-derived mesoangioblasts (iPSC-derived mesoangioblast-like stem/progenitor cells: IDEMs) can be established from iPSCs generated from patients affected by different forms of muscular dystrophy. Patient-specific IDEMs can be genetically corrected with different strategies (
e.g.
lentiviral vectors, human artificial chromosomes) and enhanced in their myogenic differentiation potential upon overexpression of the myogenesis regulator MyoD. This myogenic potential is then assessed
in vitro
with specific differentiation assays and analyzed by immunofluorescence. The regenerative potential of IDEMs is further evaluated
in vivo
, upon intramuscular and intra-arterial transplantation in two representative mouse models displaying acute and chronic muscle regeneration. The contribution of IDEMs to the host skeletal muscle is then confirmed by different functional tests in transplanted mice. In particular, the amelioration of the motor capacity of the animals is studied with treadmill tests. Cell engraftment and differentiation are then assessed by a number of histological and immunofluorescence assays on transplanted muscles. Overall, this paper describes the assays and tools currently utilized to evaluate the differentiation capacity of IDEMs, focusing on the transplantation methods and subsequent outcome measures to analyze the efficacy of cell transplantation.
Bioengineering, Issue 83, Skeletal Muscle, Muscle Cells, Muscle Fibers, Skeletal, Pericytes, Stem Cells, Induced Pluripotent Stem Cells (iPSCs), Muscular Dystrophies, Cell Differentiation, animal models, muscle stem/progenitor cells, mesoangioblasts, muscle regeneration, iPSC-derived mesoangioblasts (IDEMs)
50532
Dorsal Column Steerability with Dual Parallel Leads using Dedicated Power Sources: A Computational Model
Institutions: Neuromodulation.

In spinal cord stimulation (SCS), concordance of stimulation-induced paresthesia over painful body regions is a necessary condition for therapeutic efficacy. Since patient pain patterns can be unique, a common stimulation configuration is the placement of two leads in parallel in the dorsal epidural space. This construct provides flexibility in steering stimulation current mediolaterally over the dorsal column to achieve better pain-paresthesia overlap. Using a mathematical model with an accurate fiber diameter distribution, we studied the ability of dual parallel leads to steer stimulation between adjacent contacts on dual parallel leads using (1) a single source system, and (2) a multi-source system, with a dedicated current source for each contact. The volume conductor model of a low-thoracic spinal cord with epidurally-positioned dual parallel (2 mm separation) percutaneous leads was first created, and the electric field was calculated using ANSYS, a finite element modeling tool. The activating function for 10 um fibers was computed as the second difference of the extracellular potential along the nodes of Ranvier on the nerve fibers in the dorsal column. The volume of activation (VOA) and the central point of the VOA were computed using a predetermined threshold of the activating function. The model compared the field steering results with single source versus dedicated power source systems on dual 8-contact stimulation leads. The model predicted that the multi-source system can target more central points of stimulation on the dorsal column than a single source system (100 vs. 3) and the mean steering step for mediolateral steering is 0.02 mm for multi-source systems vs 1 mm for single source systems, a 50-fold improvement. The ability to center stimulation regions in the dorsal column with high resolution may allow for better optimization of paresthesia-pain overlap in patients.
Medicine, Issue 48, spinal cord stimulation, dorsal columns, current steering, field steering
2443
Non-Terminal Blood Sampling Techniques in Guinea Pigs
Institutions: University of Copenhagen.

Guinea pigs possess several biological similarities to humans and are validated experimental animal models
1-3
. However, the use of guinea pigs currently represents a relatively narrow area of research and descriptive data on specific methodology is correspondingly scarce. The anatomical features of guinea pigs are slightly different from other rodent models, hence modulation of sampling techniques to accommodate for species-specific differences,
e.g
., compared to mice and rats, are necessary to obtain sufficient and high quality samples. As both long and short term
in vivo
studies often require repeated blood sampling the choice of technique should be well considered in order to reduce stress and discomfort in the animals but also to ensure survival as well as compliance with requirements of sample size and accessibility. Venous blood samples can be obtained at a number of sites in guinea pigs
e.g
., the saphenous and jugular veins, each technique containing both advantages and disadvantages
4,5
. Here, we present four different blood sampling techniques for either conscious or anaesthetized guinea pigs. The procedures are all non-terminal procedures provided that sample volumes and number of samples do not exceed guidelines for blood collection in laboratory animals
6
. All the described methods have been thoroughly tested and applied for repeated
in vivo
blood sampling in studies within our research facility.
Medicine, Issue 92, guinea pig, animal model, blood sampling, non-terminal, saphenous, tarsal, jugular
51982
Phenotypic and Functional Characterization of Endothelial Colony Forming Cells Derived from Human Umbilical Cord Blood
Institutions: Indiana University School of Medicine.

Longstanding views of new blood vessel formation via angiogenesis, vasculogenesis, and arteriogenesis have been recently reviewed
1
. The presence of circulating endothelial progenitor cells (EPCs) were first identified in adult human peripheral blood by Asahara
et al.
in 1997
2
bringing an infusion of new hypotheses and strategies for vascular regeneration and repair. EPCs are rare but normal components of circulating blood that home to sites of blood vessel formation or vascular remodeling, and facilitate either postnatal vasculogenesis, angiogenesis, or arteriogenesis largely via paracrine stimulation of existing vessel wall derived cells
3
. No specific marker to identify an EPC has been identified, and at present the state of the field is to understand that numerous cell types including proangiogenic hematopoietic stem and progenitor cells, circulating angiogenic cells, Tie2
+
monocytes, myeloid progenitor cells, tumor associated macrophages, and M2 activated macrophages participate in stimulating the angiogenic process in a variety of preclinical animal model systems and in human subjects in numerous disease states
4, 5
. Endothelial colony forming cells (ECFCs) are rare circulating viable endothelial cells characterized by robust clonal proliferative potential, secondary and tertiary colony forming ability upon replating, and ability to form intrinsic
in vivo
vessels upon transplantation into immunodeficient mice
6-8
. While ECFCs have been successfully isolated from the peripheral blood of healthy adult subjects, umbilical cord blood (CB) of healthy newborn infants, and vessel wall of numerous human arterial and venous vessels
6-9
, CB possesses the highest frequency of ECFCs
7
that display the most robust clonal proliferative potential and form durable and functional blood vessels
in vivo
8, 10-13
. While the derivation of ECFC from adult peripheral blood has been presented
14, 15
, here we describe the methodologies for the derivation, cloning, expansion, and
in vitro
as well as
in vivo
characterization of ECFCs from the human umbilical CB.
Cellular Biology, Issue 62, Endothelial colony-forming cells (ECFCs), endothelial progenitor cells (EPCs), single cell colony forming assay, post-natal vasculogenesis, cell culture, cloning
3872
Adult and Embryonic Skeletal Muscle Microexplant Culture and Isolation of Skeletal Muscle Stem Cells
Institutions: University of Birmingham.

Cultured embryonic and adult skeletal muscle cells have a number of different uses. The micro-dissected explants technique described in this chapter is a robust and reliable method for isolating relatively large numbers of proliferative skeletal muscle cells from juvenile, adult or embryonic muscles as a source of skeletal muscle stem cells. The authors have used micro-dissected explant cultures to analyse the growth characteristics of skeletal muscle cells in wild-type and dystrophic muscles. Each of the components of tissue growth, namely cell survival, proliferation, senescence and differentiation can be analysed separately using the methods described here. The net effect of all components of growth can be established by means of measuring explant outgrowth rates. The micro-explant method can be used to establish primary cultures from a wide range of different muscle types and ages and, as described here, has been adapted by the authors to enable the isolation of embryonic skeletal muscle precursors. Uniquely, micro-explant cultures have been used to derive clonal (single cell origin) skeletal muscle stem cell (SMSc) lines which can be expanded and used for
in vivo
transplantation.
In vivo
transplanted SMSc behave as functional, tissue-specific, satellite cells which contribute to skeletal muscle fibre regeneration but which are also retained (in the satellite cell niche) as a small pool of undifferentiated stem cells which can be re-isolated into culture using the micro-explant method.
Cellular Biology, Issue 43, Skeletal muscle stem cell, embryonic tissue culture, apoptosis, growth factor, proliferation, myoblast, myogenesis, satellite cell, skeletal muscle differentiation, muscular dystrophy
2051
Preparation of Primary Myogenic Precursor Cell/Myoblast Cultures from Basal Vertebrate Lineages
Institutions: University of Alabama at Birmingham, INRA UR1067, INRA UR1037.

Due to the inherent difficulty and time involved with studying the myogenic program
in vivo
, primary culture systems derived from the resident adult stem cells of skeletal muscle, the myogenic precursor cells (MPCs), have proven indispensible to our understanding of mammalian skeletal muscle development and growth. Particularly among the basal taxa of
Vertebrata,
however, data are limited describing the molecular mechanisms controlling the self-renewal, proliferation, and differentiation of MPCs. Of particular interest are potential mechanisms that underlie the ability of basal vertebrates to undergo considerable postlarval skeletal myofiber hyperplasia (
i.e.
 teleost fish) and full regeneration following appendage loss (
i.e.
 urodele amphibians). Additionally, the use of cultured myoblasts could aid in the understanding of regeneration and the recapitulation of the myogenic program and the differences between them. To this end, we describe in detail a robust and efficient protocol (and variations therein) for isolating and maintaining MPCs and their progeny, myoblasts and immature myotubes, in cell culture as a platform for understanding the evolution of the myogenic program, beginning with the more basal vertebrates. Capitalizing on the model organism status of the zebrafish (
Danio rerio
), we report on the application of this protocol to small fishes of the cyprinid clade
Danioninae
. In tandem, this protocol can be utilized to realize a broader comparative approach by isolating MPCs from the Mexican axolotl (
Ambystomamexicanum
) and even laboratory rodents. This protocol is now widely used in studying myogenesis in several fish species, including rainbow trout, salmon, and sea bream
1-4
.
Basic Protocol, Issue 86, myogenesis, zebrafish, myoblast, cell culture, giant danio, moustached danio, myotubes, proliferation, differentiation, Danioninae, axolotl
51354
Evaluation of a Novel Laser-assisted Coronary Anastomotic Connector - the Trinity Clip - in a Porcine Off-pump Bypass Model
Institutions: University Medical Center Utrecht, Vascular Connect b.v., University Medical Center Utrecht, University Medical Center Utrecht.

To simplify and facilitate beating heart (
i.e.,
off-pump), minimally invasive coronary artery bypass surgery, a new coronary anastomotic connector, the Trinity Clip, is developed based on the excimer laser-assisted nonocclusive anastomosis technique. The Trinity Clip connector enables simplified, sutureless, and nonocclusive connection of the graft to the coronary artery, and an excimer laser catheter laser-punches the opening of the anastomosis. Consequently, owing to the complete nonocclusive anastomosis construction, coronary conditioning (
i.e.,
occluding or shunting) is not necessary, in contrast to the conventional anastomotic technique, hence simplifying the off-pump bypass procedure. Prior to clinical application in coronary artery bypass grafting, the safety and quality of this novel connector will be evaluated in a long-term experimental porcine off-pump coronary artery bypass (OPCAB) study. In this paper, we describe how to evaluate the coronary anastomosis in the porcine OPCAB model using various techniques to assess its quality. Representative results are summarized and visually demonstrated.
Medicine, Issue 93, Anastomosis, coronary, anastomotic connector, anastomotic coupler, excimer laser-assisted nonocclusive anastomosis (ELANA), coronary artery bypass graft (CABG), off-pump coronary artery bypass (OPCAB), beating heart surgery, excimer laser, porcine model, experimental, medical device
52127
High Efficiency Differentiation of Human Pluripotent Stem Cells to Cardiomyocytes and Characterization by Flow Cytometry
Institutions: Medical College of Wisconsin, Stanford University School of Medicine, Medical College of Wisconsin, Hong Kong University, Johns Hopkins University School of Medicine, Medical College of Wisconsin.

There is an urgent need to develop approaches for repairing the damaged heart, discovering new therapeutic drugs that do not have toxic effects on the heart, and improving strategies to accurately model heart disease. The potential of exploiting human induced pluripotent stem cell (hiPSC) technology to generate cardiac muscle "in a dish" for these applications continues to generate high enthusiasm. In recent years, the ability to efficiently generate cardiomyogenic cells from human pluripotent stem cells (hPSCs) has greatly improved, offering us new opportunities to model very early stages of human cardiac development not otherwise accessible. In contrast to many previous methods, the cardiomyocyte differentiation protocol described here does not require cell aggregation or the addition of Activin A or BMP4 and robustly generates cultures of cells that are highly positive for cardiac troponin I and T (TNNI3, TNNT2), iroquois-class homeodomain protein IRX-4 (IRX4), myosin regulatory light chain 2, ventricular/cardiac muscle isoform (MLC2v) and myosin regulatory light chain 2, atrial isoform (MLC2a) by day 10 across all human embryonic stem cell (hESC) and hiPSC lines tested to date. Cells can be passaged and maintained for more than 90 days in culture. The strategy is technically simple to implement and cost-effective. Characterization of cardiomyocytes derived from pluripotent cells often includes the analysis of reference markers, both at the mRNA and protein level. For protein analysis, flow cytometry is a powerful analytical tool for assessing quality of cells in culture and determining subpopulation homogeneity. However, technical variation in sample preparation can significantly affect quality of flow cytometry data. Thus, standardization of staining protocols should facilitate comparisons among various differentiation strategies. Accordingly, optimized staining protocols for the analysis of IRX4, MLC2v, MLC2a, TNNI3, and TNNT2 by flow cytometry are described.
Cellular Biology, Issue 91, human induced pluripotent stem cell, flow cytometry, directed differentiation, cardiomyocyte, IRX4, TNNI3, TNNT2, MCL2v, MLC2a
52010
Modeling Astrocytoma Pathogenesis In Vitro and In Vivo Using Cortical Astrocytes or Neural Stem Cells from Conditional, Genetically Engineered Mice
Institutions: University of North Carolina School of Medicine, University of North Carolina School of Medicine, University of North Carolina School of Medicine, University of North Carolina School of Medicine, University of North Carolina School of Medicine, Emory University School of Medicine, University of North Carolina School of Medicine.

Current astrocytoma models are limited in their ability to define the roles of oncogenic mutations in specific brain cell types during disease pathogenesis and their utility for preclinical drug development. In order to design a better model system for these applications, phenotypically wild-type cortical astrocytes and neural stem cells (NSC) from conditional, genetically engineered mice (GEM) that harbor various combinations of floxed oncogenic alleles were harvested and grown in culture. Genetic recombination was induced
in vitro
using adenoviral Cre-mediated recombination, resulting in expression of mutated oncogenes and deletion of tumor suppressor genes. The phenotypic consequences of these mutations were defined by measuring proliferation, transformation, and drug response
in vitro
. Orthotopic allograft models, whereby transformed cells are stereotactically injected into the brains of immune-competent, syngeneic littermates, were developed to define the role of oncogenic mutations and cell type on tumorigenesis
in vivo
. Unlike most established human glioblastoma cell line xenografts, injection of transformed GEM-derived cortical astrocytes into the brains of immune-competent littermates produced astrocytomas, including the most aggressive subtype, glioblastoma, that recapitulated the histopathological hallmarks of human astrocytomas, including diffuse invasion of normal brain parenchyma. Bioluminescence imaging of orthotopic allografts from transformed astrocytes engineered to express luciferase was utilized to monitor
in vivo
tumor growth over time. Thus, astrocytoma models using astrocytes and NSC harvested from GEM with conditional oncogenic alleles provide an integrated system to study the genetics and cell biology of astrocytoma pathogenesis
in vitro
and
in vivo
and may be useful in preclinical drug development for these devastating diseases.
Neuroscience, Issue 90, astrocytoma, cortical astrocytes, genetically engineered mice, glioblastoma, neural stem cells, orthotopic allograft
51763
Identifying DNA Mutations in Purified Hematopoietic Stem/Progenitor Cells
Institutions: UT Health Science Center at San Antonio, UT Health Science Center at San Antonio, UT Health Science Center at San Antonio, UT Health Science Center at San Antonio, UT Health Science Center at San Antonio.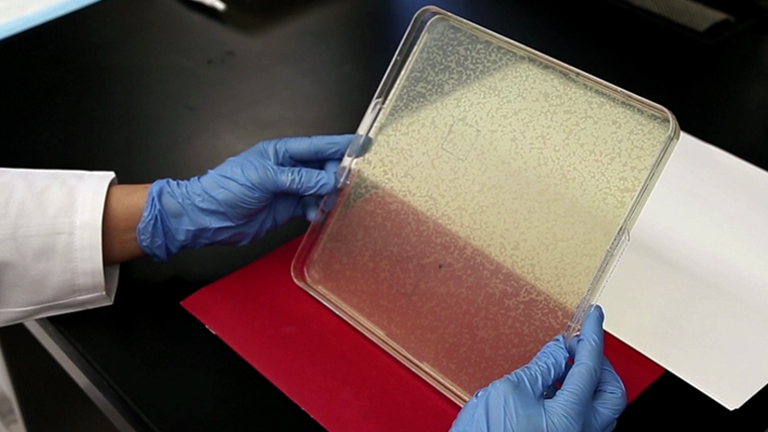 In recent years, it has become apparent that genomic instability is tightly related to many developmental disorders, cancers, and aging. Given that stem cells are responsible for ensuring tissue homeostasis and repair throughout life, it is reasonable to hypothesize that the stem cell population is critical for preserving genomic integrity of tissues. Therefore, significant interest has arisen in assessing the impact of endogenous and environmental factors on genomic integrity in stem cells and their progeny, aiming to understand the etiology of stem-cell based diseases.
LacI
transgenic mice carry a recoverable λ phage vector encoding the
LacI
reporter system, in which the
LacI
gene serves as the mutation reporter. The result of a mutated
LacI
gene is the production of β-galactosidase that cleaves a chromogenic substrate, turning it blue. The
LacI
reporter system is carried in all cells, including stem/progenitor cells and can easily be recovered and used to subsequently infect
E. coli
. After incubating infected
E. coli
on agarose that contains the correct substrate, plaques can be scored; blue plaques indicate a mutant
LacI
gene, while clear plaques harbor wild-type. The frequency of blue (among clear) plaques indicates the mutant frequency in the original cell population the DNA was extracted from. Sequencing the mutant
LacI
gene will show the location of the mutations in the gene and the type of mutation. The
LacI
transgenic mouse model is well-established as an
in vivo
mutagenesis assay. Moreover, the mice and the reagents for the assay are commercially available. Here we describe in detail how this model can be adapted to measure the frequency of spontaneously occurring DNA mutants in stem cell-enriched Lin
-
IL7R
-
Sca-1
+
cKit
++
(LSK) cells and other subpopulations of the hematopoietic system.
Infection, Issue 84, In vivo mutagenesis, hematopoietic stem/progenitor cells, LacI mouse model, DNA mutations, E. coli
50752
Production of Apolipoprotein C-III Knockout Rabbits using Zinc Finger Nucleases
Institutions: University of Michigan Medical Center, University of Yamanashi.

Apolipoprotein (Apo) C-III (ApoCIII) resides on the surface of plasma chylomicron (CM), very low density lipoprotein (VLDL) and high density lipoproteins (HDL). It has been recognized that high levels of plasma ApoCIII constitutea risk factor for cardiovascular diseases (CVD). Elevated plasma ApoCIII level often correlates with insulin resistance, obesity, and hypertriglyceridemia. Invaluable knowledge on the roles of ApoCIIIin lipid metabolisms and CVD has been obtained from transgenic mouse models including ApoCIII knockout (KO) mice; however, it is noted that the metabolism of lipoprotein in mice is different from that of humans in many aspects. It is not known until now whether elevated plasma ApoCIII is directly atherogenic. We worked to develop ApoCIII KO rabbits in the present study based on the hypothesis that rabbits can serve as a reasonablemodelfor studying human lipid metabolism and atherosclerosis. Zinc finger nuclease (ZFN) sets targeting rabbit ApoCIIIgene were subjected to
in vitro
validation prior to embryo microinjection. The mRNA was injected to the cytoplasm of 35 rabbit pronuclear stage embryos, and evaluated the mutation rates at the blastocyst state. Of sixteen blastocysts that were assayed, a satisfactory 50% mutation rate (8/16) at the targeting site was achieved, supporting the use of Set 1 for
in vivo
experiments. Next, we microinjected 145 embryos with Set 1 mRNA, and transferred these embryos to 7 recipient rabbits. After 30 days gestation, 21 kits were born, out of which five were confirmed as ApoCIII KO rabbits after PCR sequencing assays. The KO animal rate (#KO kits/total born) was 23.8%. The overall production efficiency is 3.4% (5 kits/145 embryos transferred). The present work demonstrated that ZFN is a highly efficient method to produce KO rabbits. These ApoCIII KO rabbits are novel resources to study the roles of ApoCIII in lipid metabolisms.
Medicine, Issue 81, Apolipoprotein C-III, rabbits, knockout, zinc finger nuclease, cardiovascular diseases, lipid metabolism, ApoCIII
50957
Analyzing Murine Schwann Cell Development Along Growing Axons
Institutions: University of Freiburg , University of Heidelberg, University of Freiburg .

The development of peripheral nerves is an intriguing process. Neurons send out axons to innervate specific targets, which in humans are often more than 100 cm away from the soma of the neuron. Neuronal survival during development depends on target-derived growth factors but also on the support of Schwann cells (SCs). To this end SC ensheath axons from the region of the neuronal soma (or the transition from central to peripheral nervous system) to the synapse or neuromuscular junction. Schwann cells are derivatives of the neural crest and migrate as precursors along emerging axons until the entire axon is covered with SCs. This shows the importance of SC migration for the development of the peripheral nervous system and underlines the necessity to investigate this process. In order to analyze SC development, a setup is needed which next to the SCs also includes their physiological substrate for migration, the axon. Due to intrauterine development
in vivo
time-lapse imaging, however, is not feasible in placental vertebrates like mouse (
mus musculus
). To circumvent this, we adapted the superior cervical ganglion (SCG) explant technique. Upon treatment with nerve growth factor (NGF) SCG explants extend axons, followed by SC precursors migrating along the axons from the ganglion to the periphery. The beauty of this system is that the SC are derived from a pool of endogenous SC and that they migrate along their own physiological axons which are growing at the same time. This system is especially intriguing, because the SC development along axons can be analyzed by time-lapse imaging, opening further possibilities to gain insights into SC migration.
Neuroscience, Issue 69, Medicine, Cellular Biology, Anatomy, Physiology, Developmental Biology, Schwann cell, migration, time-lapse, SCG, neurons, axons, mouse
50016
A Swine Model of Neonatal Asphyxia
Institutions: University of Alberta, University of Alberta.

Annually more than 1 million neonates die worldwide as related to asphyxia. Asphyxiated neonates commonly have multi-organ failure including hypotension, perfusion deficit, hypoxic-ischemic encephalopathy, pulmonary hypertension, vasculopathic enterocolitis, renal failure and thrombo-embolic complications. Animal models are developed to help us understand the patho-physiology and pharmacology of neonatal asphyxia. In comparison to rodents and newborn lambs, the newborn piglet has been proven to be a valuable model. The newborn piglet has several advantages including similar development as that of 36-38 weeks human fetus with comparable body systems, large body size (˜1.5-2 kg at birth) that allows the instrumentation and monitoring of the animal and controls the confounding variables of hypoxia and hemodynamic derangements. We here describe an experimental protocol to simulate neonatal asphyxia and allow us to examine the systemic and regional hemodynamic changes during the asphyxiating and reoxygenation process as well as the respective effects of interventions. Further, the model has the advantage of studying multi-organ failure or dysfunction simultaneously and the interaction with various body systems. The experimental model is a non-survival procedure that involves the surgical instrumentation of newborn piglets (1-3 day-old and 1.5-2.5 kg weight, mixed breed) to allow the establishment of mechanical ventilation, vascular (arterial and central venous) access and the placement of catheters and flow probes (Transonic Inc.) for the continuously monitoring of intra-vascular pressure and blood flow across different arteries including main pulmonary, common carotid, superior mesenteric and left renal arteries. Using these surgically instrumented piglets, after stabilization for 30-60 minutes as defined by Z<10% variation in hemodynamic parameters and normal blood gases, we commence an experimental protocol of severe hypoxemia which is induced via normocapnic alveolar hypoxia. The piglet is ventilated with 10-15% oxygen by increasing the inhaled concentration of nitrogen gas for 2h, aiming for arterial oxygen saturations of 30-40%. This degree of hypoxemia will produce clinical asphyxia with severe metabolic acidosis, systemic hypotension and cardiogenic shock with hypoperfusion to vital organs. The hypoxia is followed by reoxygenation with 100% oxygen for 0.5h and then 21% oxygen for 3.5h. Pharmacologic interventions can be introduced in due course and their effects investigated in a blinded, block-randomized fashion.
Medicine, Issue 56, Developmental Biology, pigs, newborn, hypoxia, asphyxia, reoxygenation
3166