A Laser-induced Mouse Model of Chronic Ocular Hypertension to Characterize Visual Defects
Published: 08-14-2013
ABSTRACT
Glaucoma, frequently associated with elevated intraocular pressure (IOP), is one of the leading causes of blindness. We sought to establish a mouse model of ocular hypertension to mimic human high-tension glaucoma. Here laser illumination is applied to the corneal limbus to photocoagulate the aqueous outflow, inducing angle closure. The changes of IOP are monitored using a rebound tonometer before and after the laser treatment. An optomotor behavioral test is used to measure corresponding changes in visual capacity. The representative result from one mouse which developed sustained IOP elevation after laser illumination is shown. A decreased visual acuity and contrast sensitivity is observed in this ocular hypertensive mouse. Together, our study introduces a valuable model system to investigate neuronal degeneration and the underlying molecular mechanisms in glaucomatous mice.
24 Related JoVE Articles!
Packaging HIV- or FIV-based Lentivector Expression Constructs & Transduction of VSV-G Pseudotyped Viral Particles
Institutions: System Biosciences.
As with standard plasmid vectors, it is possible to transfect lentivectors in plasmid form into cells with low-to-medium efficiency to obtain transient expression of effectors. Packaging lentiviral expression constructs into pseudoviral particles, however, enables up to 100% transduction, even with difficult-to-transfect cells, such as primary, stem, and differentiated cells. Moreover, the lentiviral delivery does not produce the specific cellular responses typically associated with chemical transfections, such as cell death resulting from toxicity of the transfection reagent
1, 2
. When transduced into target cells, the lentiviral construct integrates into genomic DNA and provides stable expression of the small hairpin RNA (shRNA), cDNA, microRNA or reporter gene
3, 4
. Target cells stably expressing the effector molecule can be isolated using a selectable marker contained in the expression vector construct such as puromycin or GFP. After pseudoviral particles infect target cells, they cannot replicate within target cells because the viral structural genes are absent and the long terminal repeats (LTRs) are designed to be self-inactivating upon transduction
5, 6
. There are three main components necessary for efficient lentiviral packaging
1, 5, 6, 7
. 1. The lentiviral expression vector that contains some of the genetic elements required for packaging, stable integration of the viral expression construct into genomic DNA, and expression of the effector or reporter. 2. The lentiviral packaging plasmids that provide the proteins essential for transcription and packaging of an RNA copy of the expression construct into recombinant pseudoviral particles. This protocol uses the pPACK plasmids (SBI) that encode for gag, pol, and rev from the HIV or FIV genome and Vesicular Stomatitis Virus g protein (VSV-G) for the viral coat protein. 3. 293TN producer cells (derived from HEK293 cells) that express the SV40 large T antigen, which is required for high-titer lentiviral production and a neomycin resistance gene, useful for reselecting the cells for maintenance. An overview of the viral production protocol can be seen in
Figure 1
. Viral production starts by co-transfecting 293TN producer cells with the lentiviral expression vector and the packaging plasmids. Viral particles are secreted into the media. After 48-72 hours the cell culture media is harvested. Cellular debris is removed from the cell culture media, and the viral particles are precipitated by centrifugation with PEG-it for concentration. Produced lentiviral particles are then titered and can be used to transduce target cells. Details of viral titering are not included in this protocol, but can be found at: https://www.systembio.com/downloads/global_titer_kit_web_090710.pdf
8
. This protocol has been optimized using the specific products indicated. Other reagents may be substituted, but the same results cannot be guaranteed.
Immunology, Issue 62, lentivector, virus packaging, pseudovirus production, lentiviral packaging, HIV-based lentivector, lentiviral delivery, lentiviral transduction, lentivirus concentration, stable expression, stable cell lines
3171
Operant Sensation Seeking in the Mouse
Institutions: Vanderbilt University Medical Center.

Operant methods are powerful behavioral tools for the study of motivated behavior. These 'self-administration' methods have been used extensively in drug addiction research due to their high construct validity. Operant studies provide researchers a tool for preclinical investigation of several aspects of the addiction process. For example, mechanisms of acute reinforcement (both drug and non-drug) can be tested using pharmacological or genetic tools to determine the ability of a molecular target to influence self-administration behavior
1-6
. Additionally, drug or food seeking behaviors can be studied in the absence of the primary reinforcer, and the ability of pharmacological compounds to disrupt this process is a preclinical model for discovery of molecular targets and compounds that may be useful for the treatment of addiction
3,7-9
. One problem with performing intravenous drug self-administration studies in the mouse is the technical difficulty of maintaining catheter patency. Attrition rates in these experiments are high and can reach 40% or higher
10-15
. Another general problem with drug self-administration is discerning which pharmacologically-induced effects of the reinforcer produce specific behaviors. For example, measurement of the reinforcing and neurological effects of psychostimulants can be confounded by their psychomotor effects. Operant methods using food reinforcement can avoid these pitfalls, although their utility in studying drug addiction is limited by the fact that some manipulations that alter drug self-administration have a minimal impact on food self-administration. For example, mesolimbic dopamine lesion or knockout of the D1 dopamine receptor reduce cocaine self-administration without having a significant impact on food self-administration
12,16
. Sensory stimuli have been described for their ability to support operant responding as primary reinforcers (i.e. not conditioned reinforcers)
17-22
. Auditory and visual stimuli are self-administered by several species
18,21,23
, although surprisingly little is known about the neural mechanisms underlying this reinforcement. The operant sensation seeking (OSS) model is a robust model for obtaining sensory self-administration in the mouse, allowing the study of neural mechanisms important in sensory reinforcement
24
. An additional advantage of OSS is the ability to screen mutant mice for differences in operant behavior that may be relevant to addiction. We have reported that dopamine D1 receptor knockout mice, previously shown to be deficient in psychostimulant self-administration, also fail to acquire OSS
24
. This is a unique finding in that these mice are capable of learning an operant task when food is used as a reinforcer. While operant studies using food reinforcement can be useful in the study of general motivated behavior and the mechanisms underlying food reinforcement, as mentioned above, these studies are limited in their application to studying molecular mechanisms of drug addiction. Thus, there may be similar neural substrates mediating sensory and psychostimulant reinforcement that are distinct from food reinforcement, which would make OSS a particularly attractive model for the study of drug addiction processes. The degree of overlap between other molecular targets of OSS and drug reinforcers is unclear, but is a topic that we are currently pursuing. While some aspects of addiction such as resistance to extinction may be observed with OSS, we have found that escalation
25
is not observed in this model
24
. Interestingly, escalation of intake and some other aspects of addiction are observed with self-administration of sucrose
26
. Thus, when non-drug operant procedures are desired to study addiction-related processes, food or sensory reinforcers can be chosen to best fit the particular question being asked. In conclusion, both food self-administration and OSS in the mouse have the advantage of not requiring an intravenous catheter, which allows a higher throughput means to study the effects of pharmacological or genetic manipulation of neural targets involved in motivation. While operant testing using food as a reinforcer is particularly useful in the study of the regulation of food intake, OSS is particularly apt for studying reinforcement mechanisms of sensory stimuli and may have broad applicability to novelty seeking and addiction.
Neuroscience, Issue 45, novelty seeking, self-administration, addiction, motivation, reinforcement
2292
Platelet Adhesion and Aggregation Under Flow using Microfluidic Flow Cells
Institutions: Fluxion Biosciences, Inc..

Platelet aggregation occurs in response to vascular injury where the extracellular matrix below the endothelium has been exposed. The platelet adhesion cascade takes place in the presence of shear flow, a factor not accounted for in conventional (static) well-plate assays. This article reports on a platelet-aggregation assay utilizing a microfluidic well-plate format to emulate physiological shear flow conditions. Extracellular proteins, collagen I or von Willebrand factor are deposited within the microfluidic channel using active perfusion with a pneumatic pump. The matrix proteins are then washed with buffer and blocked to prepare the microfluidic channel for platelet interactions. Whole blood labeled with fluorescent dye is perfused through the channel at various flow rates in order to achieve platelet activation and aggregation. Inhibitors of platelet aggregation can be added prior to the flow cell experiment to generate IC50 dose response data.
Medicine, Issue 32, thrombus formation, anti-thrombotic, microfluidic, whole blood assay, IC50, drug screening, platelet, adhesion
1644
Design of a Cyclic Pressure Bioreactor for the Ex Vivo Study of Aortic Heart Valves
Institutions: Mississippi State University.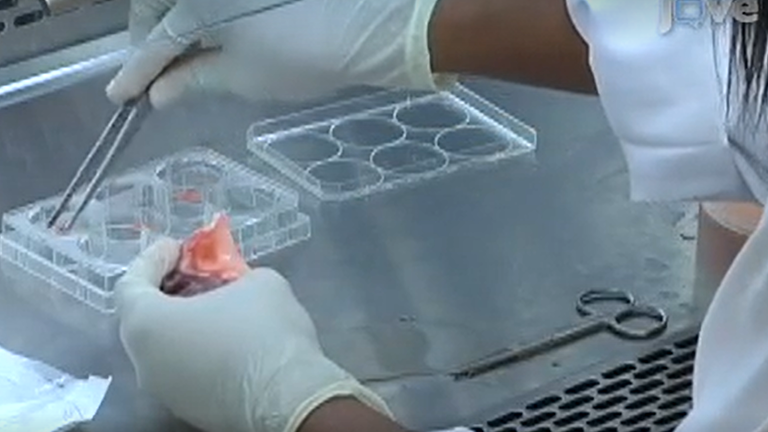 The aortic valve, located between the left ventricle and the aorta, allows for unidirectional blood flow, preventing backflow into the ventricle. Aortic valve leaflets are composed of interstitial cells suspended within an extracellular matrix (ECM) and are lined with an endothelial cell monolayer. The valve withstands a harsh, dynamic environment and is constantly exposed to shear, flexion, tension, and compression. Research has shown calcific lesions in diseased valves occur in areas of high mechanical stress as a result of endothelial disruption or interstitial matrix damage
1-3
. Hence, it is not surprising that epidemiological studies have shown high blood pressure to be a leading risk factor in the onset of aortic valve disease
4
. The only treatment option currently available for valve disease is surgical replacement of the diseased valve with a bioprosthetic or mechanical valve
5
. Improved understanding of valve biology in response to physical stresses would help elucidate the mechanisms of valve pathogenesis. In turn, this could help in the development of non-invasive therapies such as pharmaceutical intervention or prevention. Several bioreactors have been previously developed to study the mechanobiology of native or engineered heart valves
6-9
. Pulsatile bioreactors have also been developed to study a range of tissues including cartilage
10
, bone
11
and bladder
12
. The aim of this work was to develop a cyclic pressure system that could be used to elucidate the biological response of aortic valve leaflets to increased pressure loads. The system consisted of an acrylic chamber in which to place samples and produce cyclic pressure, viton diaphragm solenoid valves to control the timing of the pressure cycle, and a computer to control electrical devices. The pressure was monitored using a pressure transducer, and the signal was conditioned using a load cell conditioner. A LabVIEW program regulated the pressure using an analog device to pump compressed air into the system at the appropriate rate. The system mimicked the dynamic transvalvular pressure levels associated with the aortic valve; a saw tooth wave produced a gradual increase in pressure, typical of the transvalvular pressure gradient that is present across the valve during diastole, followed by a sharp pressure drop depicting valve opening in systole. The LabVIEW program allowed users to control the magnitude and frequency of cyclic pressure. The system was able to subject tissue samples to physiological and pathological pressure conditions. This device can be used to increase our understanding of how heart valves respond to changes in the local mechanical environment.
Bioengineering, Issue 54, Mechanobiology, Bioreactor, Aortic Heart Valve, Organ Culture
3316
Impulsive Pressurization of Neuronal Cells for Traumatic Brain Injury Study
Institutions: University of Nebraska-Lincoln.

A novel impulsive cell pressurization experiment has been developed using a Kolsky bar device to investigate blast-induced traumatic brain injury (TBI). We demonstrate in this video article how blast TBI-relevant impulsive pressurization is applied to the neuronal cells in vitro. This is achieved by using well-controlled pressure pulse created by a specialized Kolsky bar device, with complete pressure history within the cell pressurization chamber recorded. Pressurized neuronal cells are inspected immediately after pressurization, or further incubated to examine the long-term effects of impulsive pressurization on neurite/axonal outgrowth, neuronal gene expression, apoptosis, etc. We observed that impulsive pressurization at about 2 MPa induces distinct neurite loss relative to unpressurized cells. Our technique provides a novel method to investigate the molecular/cellular mechanisms of blast TBI, via impulsive pressurization of brain cells at well-controlled pressure magnitude and duration.
Bioengineering, Issue 56, Neuroscience, Traumatic Brain Injury, Neuronal Cells, Neurons, Impulsive Pressurization, Blast-TBI
2723
Slow-release Drug Delivery through Elvax 40W to the Rat Retina: Implications for the Treatment of Chronic Conditions
Institutions: University of L'Aquila, ARC Centre of Excellence in Vision Science, Australian National University, Australian National University.

Diseases of the retina are difficult to treat as the retina lies deep within the eye. Invasive methods of drug delivery are often needed to treat these diseases. Chronic retinal diseases such as retinal oedema or neovascularization usually require multiple intraocular injections to effectively treat the condition. However, the risks associated with these injections increase with repeated delivery of the drug. Therefore, alternative delivery methods need to be established in order to minimize the risks of reinjection. Several other investigations have developed methods to deliver drugs over extended time, through materials capable of releasing chemicals slowly into the eye. In this investigation, we outline the use of Elvax 40W, a copolymer resin, to act as a vehicle for drug delivery to the adult rat retina. The resin is made and loaded with the drug. The drug-resin complex is then implanted into the vitreous cavity, where it will slowly release the drug over time. This method was tested using 2-amino-4-phosphonobutyrate (APB), a glutamate analogue that blocks the light response of the retina. It was demonstrated that the APB was slowly released from the resin, and was able to block the retinal response by 7 days after implantation. This indicates that slow-release drug delivery using this copolymer resin is effective for treating the retina, and could be used therapeutically with further testing.
Medicine, Issue 91, slow-release drug delivery, Elvax 40W, co-polymer resin, eye, retina, rat, APB, retinal degeneration, treatment of chronic retinal conditions
51563
Methods for Experimental Manipulations after Optic Nerve Transection in the Mammalian CNS
Institutions: University of Toronto.

Retinal ganglion cells (RGCs) are CNS neurons that output visual information from the retina to the brain, via the optic nerve. The optic nerve can be accessed within the orbit of the eye and completely transected (axotomized), cutting the axons of the entire RGC population. Optic nerve transection is a reproducible model of apoptotic neuronal cell death in the adult CNS
1-4
. This model is particularly attractive because the vitreous chamber of the eye acts as a capsule for drug delivery to the retina, permitting experimental manipulations via intraocular injections. The diffusion of chemicals through the vitreous fluid ensures that they act upon the entire RGC population. Viral vectors, plasmids or short interfering RNAs (siRNAs) can also be delivered to the vitreous chamber in order to infect or transfect retinal cells
5-12
. The high tropism of Adeno-Associated Virus (AAV) vectors is beneficial to target RGCs, with an infection rate approaching 90% of cells near the injection site
6, 7, 13-15
. Moreover, RGCs can be selectively transfected by applying siRNAs, plasmids, or viral vectors to the cut end of the optic nerve
16-19
or injecting vectors into their target the superior colliculus
10
. This allows researchers to study apoptotic mechanisms in the injured neuronal population without confounding effects on other bystander neurons or surrounding glia. RGC apoptosis has a characteristic time-course whereby cell death is delayed 3-4 days postaxotomy, after which the cells rapidly degenerate. This provides a window for experimental manipulations directed against pathways involved in apoptosis. Manipulations that directly target RGCs from the transected optic nerve stump are performed at the time of axotomy, immediately after cutting the nerve. In contrast, when substances are delivered via an intraocular route, they can be injected prior to surgery or within the first 3 days after surgery, preceding the initiation of apoptosis in axotomized RGCs. In the present article, we demonstrate several methods for experimental manipulations after optic nerve transection.
Neuroscience, Issue 51, Central Nervous System, Retinal Ganglion Cell, Axotomy, Optic Nerve Transection, Intraocular Injection, Nerve Stump Transfection, Viral Vector, Short Interfering RNA
2261
Mechanical Stimulation-induced Calcium Wave Propagation in Cell Monolayers: The Example of Bovine Corneal Endothelial Cells
Institutions: KU Leuven.

Intercellular communication is essential for the coordination of physiological processes between cells in a variety of organs and tissues, including the brain, liver, retina, cochlea and vasculature. In experimental settings, intercellular Ca
2+
-waves can be elicited by applying a mechanical stimulus to a single cell. This leads to the release of the intracellular signaling molecules IP
3
and Ca
2+
that initiate the propagation of the Ca
2+
-wave concentrically from the mechanically stimulated cell to the neighboring cells. The main molecular pathways that control intercellular Ca
2+
-wave propagation are provided by gap junction channels through the direct transfer of IP
3
and by hemichannels through the release of ATP. Identification and characterization of the properties and regulation of different connexin and pannexin isoforms as gap junction channels and hemichannels are allowed by the quantification of the spread of the intercellular Ca
2+
-wave, siRNA, and the use of inhibitors of gap junction channels and hemichannels. Here, we describe a method to measure intercellular Ca
2+
-wave in monolayers of primary corneal endothelial cells loaded with Fluo4-AM in response to a controlled and localized mechanical stimulus provoked by an acute, short-lasting deformation of the cell as a result of touching the cell membrane with a micromanipulator-controlled glass micropipette with a tip diameter of less than 1 μm. We also describe the isolation of primary bovine corneal endothelial cells and its use as model system to assess Cx43-hemichannel activity as the driven force for intercellular Ca
2+
-waves through the release of ATP. Finally, we discuss the use, advantages, limitations and alternatives of this method in the context of gap junction channel and hemichannel research.
Cellular Biology, Issue 77, Molecular Biology, Medicine, Biomedical Engineering, Biophysics, Immunology, Ophthalmology, Gap Junctions, Connexins, Connexin 43, Calcium Signaling, Ca2+, Cell Communication, Paracrine Communication, Intercellular communication, calcium wave propagation, gap junctions, hemichannels, endothelial cells, cell signaling, cell, isolation, cell culture
50443
Establishment and Propagation of Human Retinoblastoma Tumors in Immune Deficient Mice
Institutions: Baylor College of Medicine, Baylor College of Medicine, Baylor College of Medicine, The Methodist Hospital Research Institute, Retinoblastoma Center of Houston, Center for Cell and Gene Therapy, Baylor College of Medicine.

Culturing retinoblastoma tumor cells in defined stem cell media gives rise to primary tumorspheres that can be grown and maintained for only a limited time. These cultured tumorspheres may exhibit markedly different cellular phenotypes when compared to the original tumors. Demonstration that cultured cells have the capability of forming new tumors is important to ensure that cultured cells model the biology of the original tumor. Here we present a protocol for propagating human retinoblastoma tumors
in vivo
using Rag2
-/-
immune deficient mice. Cultured human retinoblastoma tumorspheres of low passage or cells obtained from freshly harvested human retinoblastoma tumors injected directly into the vitreous cavity of murine eyes form tumors within 2-4 weeks. These tumors can be harvested and either further passaged into murine eyes
in vivo
or grown as tumorspheres
in vitro
. Propagation has been successfully carried out for at least three passages thus establishing a continuing source of human retinoblastoma tissue for further experimentation. Wesley S. Bond and Lalita Wadhwa are co-first authors.
Medicine, Issue 54, retinoblastoma, tumor, xenograft, tumorsphere, mouse, human, eye, cancer stem cell
2644
Transplantation into the Anterior Chamber of the Eye for Longitudinal, Non-invasive In vivo Imaging with Single-cell Resolution in Real-time
Institutions: University of Miami Miller School of Medicine, University of Miami Miller School of Medicine, University of Miami Miller School of Medicine, University of Miami Miller School of Medicine, Karolinska Institutet.
Intravital imaging has emerged as an indispensable tool in biological research. In the process, many imaging techniques have been developed to study different biological processes in animals non-invasively. However, a major technical limitation in existing intravital imaging modalities is the inability to combine non-invasive, longitudinal imaging with single-cell resolution capabilities. We show here how transplantation into the anterior chamber of the eye circumvents such significant limitation offering a versatile experimental platform that enables non-invasive, longitudinal imaging with cellular resolution
in vivo
. We demonstrate the transplantation procedure in the mouse and provide representative results using a model with clinical relevance, namely pancreatic islet transplantation. In addition to enabling direct visualization in a variety of tissues transplanted into the anterior chamber of the eye, this approach provides a platform to screen drugs by performing long-term follow up and monitoring in target tissues. Because of its versatility, tissue/cell transplantation into the anterior chamber of the eye not only benefits transplantation therapies, it extends to other
in vivo
applications to study physiological and pathophysiological processes such as signal transduction and cancer or autoimmune disease development.
Medicine, Issue 73, Molecular Biology, Biomedical Engineering, Immunology, Ophthalmology, Surgery, Calcium Metabolism Disorders, Glucose Metabolism Disorders, Diabetes Mellitus, Hyperglycemia, Hyperinsulinism, Hypoglycemia, Transplantation, pancreatic islets, islet, intraocular, anterior chamber, eye, cornea, living window, in vivo imaging, immune responses, cannula, imaging, animal model
50466
An Isolated Working Heart System for Large Animal Models
Institutions: Duke University Medical Center, University Hospital of South Manchester.
Since its introduction in the late 19
th
century, the Langendorff isolated heart perfusion apparatus, and the subsequent development of the working heart model, have been invaluable tools for studying cardiovascular function and disease
1-15
. Although the Langendorff heart preparation can be used for any mammalian heart, most studies involving this apparatus use small animal models (
e.g.
, mouse, rat, and rabbit) due to the increased complexity of systems for larger mammals
1,3,11
. One major difficulty is ensuring a constant coronary perfusion pressure over a range of different heart sizes – a key component of any experiment utilizing this device
1,11
. By replacing the classic hydrostatic afterload column with a centrifugal pump, the Langendorff working heart apparatus described below allows for easy adjustment and tight regulation of perfusion pressures, meaning the same set-up can be used for various species or heart sizes. Furthermore, this configuration can also seamlessly switch between constant pressure or constant flow during reperfusion, depending on the user's preferences. The open nature of this setup, despite making temperature regulation more difficult than other designs, allows for easy collection of effluent and ventricular pressure-volume data.
Medicine, Issue 88, cardiac physiology, surgery, transplantation, large animal models, isolated working heart, cardiac disease
51671
Longitudinal Measurement of Extracellular Matrix Rigidity in 3D Tumor Models Using Particle-tracking Microrheology
Institutions: University of Massachusetts Boston.

The mechanical microenvironment has been shown to act as a crucial regulator of tumor growth behavior and signaling, which is itself remodeled and modified as part of a set of complex, two-way mechanosensitive interactions. While the development of biologically-relevant 3D tumor models have facilitated mechanistic studies on the impact of matrix rheology on tumor growth, the inverse problem of mapping changes in the mechanical environment induced by tumors remains challenging. Here, we describe the implementation of particle-tracking microrheology (PTM) in conjunction with 3D models of pancreatic cancer as part of a robust and viable approach for longitudinally monitoring physical changes in the tumor microenvironment,
in situ
. The methodology described here integrates a system of preparing
in vitro
3D models embedded in a model extracellular matrix (ECM) scaffold of Type I collagen with fluorescently labeled probes uniformly distributed for position- and time-dependent microrheology measurements throughout the specimen.
In vitro
tumors are plated and probed in parallel conditions using multiwell imaging plates. Drawing on established methods, videos of tracer probe movements are transformed via the Generalized Stokes Einstein Relation (GSER) to report the complex frequency-dependent viscoelastic shear modulus,
G*(ω)
. Because this approach is imaging-based, mechanical characterization is also mapped onto large transmitted-light spatial fields to simultaneously report qualitative changes in 3D tumor size and phenotype. Representative results showing contrasting mechanical response in sub-regions associated with localized invasion-induced matrix degradation as well as system calibration, validation data are presented. Undesirable outcomes from common experimental errors and troubleshooting of these issues are also presented. The 96-well 3D culture plating format implemented in this protocol is conducive to correlation of microrheology measurements with therapeutic screening assays or molecular imaging to gain new insights into impact of treatments or biochemical stimuli on the mechanical microenvironment.
Bioengineering, Issue 88, viscoelasticity, mechanobiology, extracellular matrix (ECM), matrix remodeling, 3D tumor models, tumor microenvironment, stroma, matrix metalloprotease (MMP), epithelial-mesenchymal transition (EMT)
51302
Bottom-up and Shotgun Proteomics to Identify a Comprehensive Cochlear Proteome
Institutions: University of South Florida.

Proteomics is a commonly used approach that can provide insights into complex biological systems. The cochlear sensory epithelium contains receptors that transduce the mechanical energy of sound into an electro-chemical energy processed by the peripheral and central nervous systems. Several proteomic techniques have been developed to study the cochlear inner ear, such as two-dimensional difference gel electrophoresis (2D-DIGE), antibody microarray, and mass spectrometry (MS). MS is the most comprehensive and versatile tool in proteomics and in conjunction with separation methods can provide an in-depth proteome of biological samples. Separation methods combined with MS has the ability to enrich protein samples, detect low molecular weight and hydrophobic proteins, and identify low abundant proteins by reducing the proteome dynamic range. Different digestion strategies can be applied to whole lysate or to fractionated protein lysate to enhance peptide and protein sequence coverage. Utilization of different separation techniques, including strong cation exchange (SCX), reversed-phase (RP), and gel-eluted liquid fraction entrapment electrophoresis (GELFrEE) can be applied to reduce sample complexity prior to MS analysis for protein identification.
Biochemistry, Issue 85, Cochlear, chromatography, LC-MS/MS, mass spectrometry, Proteomics, sensory epithelium
51186
Retinal Detachment Model in Rodents by Subretinal Injection of Sodium Hyaluronate
Institutions: Massachusetts Eye and Ear Infirmary, Harvard Medical School.

Subretinal injection of sodium hyaluronate is a widely accepted method of inducing retinal detachment (RD). However, the height and duration of RD or the occurrence of subretinal hemorrhage can affect photoreceptor cell death in the detached retina. Hence, it is advantageous to create reproducible RDs without subretinal hemorrhage for evaluating photoreceptor cell death. We modified a previously reported method to create bullous and persistent RDs in a reproducible location with rare occurrence of subretinal hemorrhage. The critical step of this modified method is the creation of a self-sealing scleral incision, which can prevent leakage of sodium hyaluronate after injection into the subretinal space. To make the self-sealing scleral incision, a scleral tunnel is created, followed by scleral penetration into the choroid with a 30 G needle. Although choroidal hemorrhage may occur during this step, astriction with a surgical spear reduces the rate of choroidal hemorrhage. This method allows a more reproducible and reliable model of photoreceptor death in diseases that involve RD such as rhegmatogenous RD, retinopathy of prematurity, diabetic retinopathy, central serous chorioretinopathy, and age-related macular degeneration (AMD).
Medicine, Issue 79, Photoreceptor Cells, Rodentia, Retinal Degeneration, Retinal Detachment, animal models, Neuroscience, ophthalmology, retina, mouse, photoreceptor cell death, retinopathy, age-related macular degeneration (AMD)
50660
NADH Fluorescence Imaging of Isolated Biventricular Working Rabbit Hearts
Institutions: The George Washington University, The George Washington University.

Since its inception by Langendorff
1
, the isolated perfused heart remains a prominent tool for studying cardiac physiology
2
. However, it is not well-suited for studies of cardiac metabolism, which require the heart to perform work within the context of physiologic preload and afterload pressures. Neely introduced modifications to the Langendorff technique to establish appropriate left ventricular (LV) preload and afterload pressures
3
. The model is known as the isolated LV working heart model and has been used extensively to study LV performance and metabolism
4-6
. This model, however, does not provide a properly loaded right ventricle (RV). Demmy
et al
. first reported a biventricular model as a modification of the LV working heart model
7, 8
. They found that stroke volume, cardiac output, and pressure development improved in hearts converted from working LV mode to biventricular working mode
8
. A properly loaded RV also diminishes abnormal pressure gradients across the septum to improve septal function. Biventricular working hearts have been shown to maintain aortic output, pulmonary flow, mean aortic pressure, heart rate, and myocardial ATP levels for up to 3 hours
8
. When studying the metabolic effects of myocardial injury, such as ischemia, it is often necessary to identify the location of the affected tissue. This can be done by imaging the fluorescence of NADH (the reduced form of nicotinamide adenine dinucleotide)
9-11
, a coenzyme found in large quantities in the mitochondria. NADH fluorescence (fNADH) displays a near linearly inverse relationship with local oxygen concentration
12
and provides a measure of mitochondrial redox state
13
. fNADH imaging during hypoxic and ischemic conditions has been used as a dye-free method to identify hypoxic regions
14, 15
and to monitor the progression of hypoxic conditions over time
10
. The objective of the method is to monitor the mitochondrial redox state of biventricular working hearts during protocols that alter the rate of myocyte metabolism or induce hypoxia or create a combination of the two. Hearts from New Zealand white rabbits were connected to a biventricular working heart system (Hugo Sachs Elektronik) and perfused with modified Krebs-Henseleit solution
16
at 37 °C. Aortic, LV, pulmonary artery, and left & right atrial pressures were recorded. Electrical activity was measured using a monophasic action potential electrode. To image fNADH, light from a mercury lamp was filtered (350±25 nm) and used to illuminate the epicardium. Emitted light was filtered (460±20 nm) and imaged using a CCD camera. Changes in the epicardial fNADH of biventricular working hearts during different pacing rates are presented. The combination of the heart model and fNADH imaging provides a new and valuable experimental tool for studying acute cardiac pathologies within the context of realistic physiological conditions.
Medicine, Issue 65, Physiology, cardiology, cardiac physiology, fluorescence, imaging, NADH, working, rabbit, heart
4115
Setting-up an In Vitro Model of Rat Blood-brain Barrier (BBB): A Focus on BBB Impermeability and Receptor-mediated Transport
Institutions: VECT-HORUS SAS, CNRS, NICN UMR 7259.

The blood brain barrier (BBB) specifically regulates molecular and cellular flux between the blood and the nervous tissue. Our aim was to develop and characterize a highly reproducible rat syngeneic
in vitro
model of the BBB using co-cultures of primary rat brain endothelial cells (RBEC) and astrocytes to study receptors involved in transcytosis across the endothelial cell monolayer. Astrocytes were isolated by mechanical dissection following trypsin digestion and were frozen for later co-culture. RBEC were isolated from 5-week-old rat cortices. The brains were cleaned of meninges and white matter, and mechanically dissociated following enzymatic digestion. Thereafter, the tissue homogenate was centrifuged in bovine serum albumin to separate vessel fragments from nervous tissue. The vessel fragments underwent a second enzymatic digestion to free endothelial cells from their extracellular matrix. The remaining contaminating cells such as pericytes were further eliminated by plating the microvessel fragments in puromycin-containing medium. They were then passaged onto filters for co-culture with astrocytes grown on the bottom of the wells. RBEC expressed high levels of tight junction (TJ) proteins such as occludin, claudin-5 and ZO-1 with a typical localization at the cell borders. The transendothelial electrical resistance (TEER) of brain endothelial monolayers, indicating the tightness of TJs reached 300 ohm·cm
2
on average. The endothelial permeability coefficients (Pe) for lucifer yellow (LY) was highly reproducible with an average of 0.26 ± 0.11 x 10
-3
cm/min. Brain endothelial cells organized in monolayers expressed the efflux transporter P-glycoprotein (P-gp), showed a polarized transport of rhodamine 123, a ligand for P-gp, and showed specific transport of transferrin-Cy3 and DiILDL across the endothelial cell monolayer. In conclusion, we provide a protocol for setting up an
in vitro
BBB model that is highly reproducible due to the quality assurance methods, and that is suitable for research on BBB transporters and receptors.
Medicine, Issue 88, rat brain endothelial cells (RBEC), mouse, spinal cord, tight junction (TJ), receptor-mediated transport (RMT), low density lipoprotein (LDL), LDLR, transferrin, TfR, P-glycoprotein (P-gp), transendothelial electrical resistance (TEER),
51278
Direct Imaging of ER Calcium with Targeted-Esterase Induced Dye Loading (TED)
Institutions: University of Wuerzburg, Max Planck Institute of Neurobiology, Martinsried, Ludwig-Maximilians University of Munich.

Visualization of calcium dynamics is important to understand the role of calcium in cell physiology. To examine calcium dynamics, synthetic fluorescent Ca
2+
indictors have become popular. Here we demonstrate TED (= targeted-esterase induced dye loading), a method to improve the release of Ca
2+
indicator dyes in the ER lumen of different cell types. To date, TED was used in cell lines, glial cells, and neurons
in vitro
. TED bases on efficient, recombinant targeting of a high carboxylesterase activity to the ER lumen using vector-constructs that express Carboxylesterases (CES). The latest TED vectors contain a core element of CES2 fused to a red fluorescent protein, thus enabling simultaneous two-color imaging. The dynamics of free calcium in the ER are imaged in one color, while the corresponding ER structure appears in red. At the beginning of the procedure, cells are transduced with a lentivirus. Subsequently, the infected cells are seeded on coverslips to finally enable live cell imaging. Then, living cells are incubated with the acetoxymethyl ester (AM-ester) form of low-affinity Ca
2+
indicators, for instance Fluo5N-AM, Mag-Fluo4-AM, or Mag-Fura2-AM. The esterase activity in the ER cleaves off hydrophobic side chains from the AM form of the Ca
2+
indicator and a hydrophilic fluorescent dye/Ca
2+
complex is formed and trapped in the ER lumen. After dye loading, the cells are analyzed at an inverted confocal laser scanning microscope. Cells are continuously perfused with Ringer-like solutions and the ER calcium dynamics are directly visualized by time-lapse imaging. Calcium release from the ER is identified by a decrease in fluorescence intensity in regions of interest, whereas the refilling of the ER calcium store produces an increase in fluorescence intensity. Finally, the change in fluorescent intensity over time is determined by calculation of ΔF/F
0
.
Cellular Biology, Issue 75, Neurobiology, Neuroscience, Molecular Biology, Biochemistry, Biomedical Engineering, Bioengineering, Virology, Medicine, Anatomy, Physiology, Surgery, Endoplasmic Reticulum, ER, Calcium Signaling, calcium store, calcium imaging, calcium indicator, metabotropic signaling, Ca2+, neurons, cells, mouse, animal model, cell culture, targeted esterase induced dye loading, imaging
50317
Analysis of Nephron Composition and Function in the Adult Zebrafish Kidney
Institutions: University of Notre Dame.

The zebrafish model has emerged as a relevant system to study kidney development, regeneration and disease. Both the embryonic and adult zebrafish kidneys are composed of functional units known as nephrons, which are highly conserved with other vertebrates, including mammals. Research in zebrafish has recently demonstrated that two distinctive phenomena transpire after adult nephrons incur damage: first, there is robust regeneration within existing nephrons that replaces the destroyed tubule epithelial cells; second, entirely new nephrons are produced from renal progenitors in a process known as neonephrogenesis. In contrast, humans and other mammals seem to have only a limited ability for nephron epithelial regeneration. To date, the mechanisms responsible for these kidney regeneration phenomena remain poorly understood. Since adult zebrafish kidneys undergo both nephron epithelial regeneration and neonephrogenesis, they provide an outstanding experimental paradigm to study these events. Further, there is a wide range of genetic and pharmacological tools available in the zebrafish model that can be used to delineate the cellular and molecular mechanisms that regulate renal regeneration. One essential aspect of such research is the evaluation of nephron structure and function. This protocol describes a set of labeling techniques that can be used to gauge renal composition and test nephron functionality in the adult zebrafish kidney. Thus, these methods are widely applicable to the future phenotypic characterization of adult zebrafish kidney injury paradigms, which include but are not limited to, nephrotoxicant exposure regimes or genetic methods of targeted cell death such as the nitroreductase mediated cell ablation technique. Further, these methods could be used to study genetic perturbations in adult kidney formation and could also be applied to assess renal status during chronic disease modeling.
Cellular Biology, Issue 90, zebrafish; kidney; nephron; nephrology; renal; regeneration; proximal tubule; distal tubule; segment; mesonephros; physiology; acute kidney injury (AKI)
51644
A Novel Three-dimensional Flow Chamber Device to Study Chemokine-directed Extravasation of Cells Circulating under Physiological Flow Conditions
Institutions: Torrey Pines Institute for Molecular Studies, Cascade LifeSciences Inc..

Extravasation of circulating cells from the bloodstream plays a central role in many physiological and pathophysiological processes, including stem cell homing and tumor metastasis. The three-dimensional flow chamber device (hereafter the 3D device) is a novel
in vitro
technology that recreates physiological shear stress and allows each step of the cell extravasation cascade to be quantified. The 3D device consists of an upper compartment in which the cells of interest circulate under shear stress, and a lower compartment of static wells that contain the chemoattractants of interest. The two compartments are separated by porous inserts coated with a monolayer of endothelial cells (EC). An optional second insert with microenvironmental cells of interest can be placed immediately beneath the EC layer. A gas exchange unit allows the optimal CO
2
tension to be maintained and provides an access point to add or withdraw cells or compounds during the experiment. The test cells circulate in the upper compartment at the desired shear stress (flow rate) controlled by a peristaltic pump. At the end of the experiment, the circulating and migrated cells are collected for further analyses. The 3D device can be used to examine cell rolling on and adhesion to EC under shear stress, transmigration in response to chemokine gradients, resistance to shear stress, cluster formation, and cell survival. In addition, the optional second insert allows the effects of crosstalk between EC and microenvironmental cells to be examined. The translational applications of the 3D device include testing of drug candidates that target cell migration and predicting the
in vivo
behavior of cells after intravenous injection. Thus, the novel 3D device is a versatile and inexpensive tool to study the molecular mechanisms that mediate cellular extravasation.
Bioengineering, Issue 77, Cellular Biology, Biophysics, Physiology, Molecular Biology, Biomedical Engineering, Immunology, Cells, Biological Factors, Equipment and Supplies, Cell Physiological Phenomena, Natural Science Disciplines, Life Sciences (General), circulating cells, extravasation, physiological shear stress, endothelial cells, microenvironment, chemokine gradient, flow, chamber, cell culture, assay
50959
Inducing Plasticity of Astrocytic Receptors by Manipulation of Neuronal Firing Rates
Institutions: University of California Riverside, University of California Riverside, University of California Riverside.

Close to two decades of research has established that astrocytes
in situ
and
in vivo
express numerous G protein-coupled receptors (GPCRs) that can be stimulated by neuronally-released transmitter. However, the ability of astrocytic receptors to exhibit plasticity in response to changes in neuronal activity has received little attention. Here we describe a model system that can be used to globally scale up or down astrocytic group I metabotropic glutamate receptors (mGluRs) in acute brain slices. Included are methods on how to prepare parasagittal hippocampal slices, construct chambers suitable for long-term slice incubation, bidirectionally manipulate neuronal action potential frequency, load astrocytes and astrocyte processes with fluorescent Ca
2+
indicator, and measure changes in astrocytic Gq GPCR activity by recording spontaneous and evoked astrocyte Ca
2+
events using confocal microscopy. In essence, a "calcium roadmap" is provided for how to measure plasticity of astrocytic Gq GPCRs. Applications of the technique for study of astrocytes are discussed. Having an understanding of how astrocytic receptor signaling is affected by changes in neuronal activity has important implications for both normal synaptic function as well as processes underlying neurological disorders and neurodegenerative disease.
Neuroscience, Issue 85, astrocyte, plasticity, mGluRs, neuronal Firing, electrophysiology, Gq GPCRs, Bolus-loading, calcium, microdomains, acute slices, Hippocampus, mouse
51458
Systematic Analysis of In Vitro Cell Rolling Using a Multi-well Plate Microfluidic System
Institutions: Brigham and Women's Hospital, Brigham and Women's Hospital, Harvard University, Harvard University, Harvard-MIT Division of Health Sciences and Technology, Massachusetts Institute of Technology.

A major challenge for cell-based therapy is the inability to systemically target a large quantity of viable cells with high efficiency to tissues of interest following intravenous or intraarterial infusion. Consequently, increasing cell homing is currently studied as a strategy to improve cell therapy. Cell rolling on the vascular endothelium is an important step in the process of cell homing and can be probed
in-vitro
using a parallel plate flow chamber (PPFC). However, this is an extremely tedious, low throughput assay, with poorly controlled flow conditions. Instead, we used a multi-well plate microfluidic system that enables study of cellular rolling properties in a higher throughput under precisely controlled, physiologically relevant shear flow
1,2
. In this paper, we show how the rolling properties of HL-60 (human promyelocytic leukemia) cells on P- and E-selectin-coated surfaces as well as on cell monolayer-coated surfaces can be readily examined. To better simulate inflammatory conditions, the microfluidic channel surface was coated with endothelial cells (ECs), which were then activated with tumor necrosis factor-α (TNF-α), significantly increasing interactions with HL-60 cells under dynamic conditions. The enhanced throughput and integrated multi-parameter software analysis platform, that permits rapid analysis of parameters such as rolling velocities and rolling path, are important advantages for assessing cell rolling properties
in-vitro
. Allowing rapid and accurate analysis of engineering approaches designed to impact cell rolling and homing, this platform may help advance exogenous cell-based therapy.
Bioengineering, Issue 80, Microfluidics, Endothelial Cells, Leukocyte Rolling, HL-60 cells, TNF-α, P-selectin, E-selectin
50866
Measuring Material Microstructure Under Flow Using 1-2 Plane Flow-Small Angle Neutron Scattering
Institutions: University of Delaware, National Institute of Standards and Technology, Institut Laue-Langevin.

A new small-angle neutron scattering (SANS) sample environment optimized for studying the microstructure of complex fluids under simple shear flow is presented. The SANS shear cell consists of a concentric cylinder Couette geometry that is sealed and rotating about a horizontal axis so that the vorticity direction of the flow field is aligned with the neutron beam enabling scattering from the 1-2 plane of shear (velocity-velocity gradient, respectively). This approach is an advance over previous shear cell sample environments as there is a strong coupling between the bulk rheology and microstructural features in the 1-2 plane of shear. Flow-instabilities, such as shear banding, can also be studied by spatially resolved measurements. This is accomplished in this sample environment by using a narrow aperture for the neutron beam and scanning along the velocity gradient direction. Time resolved experiments, such as flow start-ups and large amplitude oscillatory shear flow are also possible by synchronization of the shear motion and time-resolved detection of scattered neutrons. Representative results using the methods outlined here demonstrate the useful nature of spatial resolution for measuring the microstructure of a wormlike micelle solution that exhibits shear banding, a phenomenon that can only be investigated by resolving the structure along the velocity gradient direction. Finally, potential improvements to the current design are discussed along with suggestions for supplementary experiments as motivation for future experiments on a broad range of complex fluids in a variety of shear motions.
Physics, Issue 84, Surfactants, Rheology, Shear Banding, Nanostructure, Neutron Scattering, Complex Fluids, Flow-induced Structure
51068
Introducing Shear Stress in the Study of Bacterial Adhesion
Institutions: INSERM U970.

During bacterial infections a sequence of interactions occur between the pathogen and its host. Bacterial adhesion to the host cell surface is often the initial and determining step of the pathogenesis. Although experimentally adhesion is mostly studied in static conditions adhesion actually takes place in the presence of flowing liquid. First encounters between bacteria and their host often occur at the mucosal level, mouth, lung, gut, eye, etc. where mucus flows along the surface of epithelial cells. Later in infection, pathogens occasionally access the blood circulation causing life-threatening illnesses such as septicemia, sepsis and meningitis. A defining feature of these infections is the ability of these pathogens to interact with endothelial cells in presence of circulating blood. The presence of flowing liquid, mucus or blood for instance, determines adhesion because it generates a mechanical force on the pathogen. To characterize the effect of flowing liquid one usually refers to the notion of shear stress, which is the tangential force exerted per unit area by a fluid moving near a stationary wall, expressed in dynes/cm
2
. Intensities of shear stress vary widely according to the different vessels type, size, organ, location etc. (0-100 dynes/cm
2
). Circulation in capillaries can reach very low shear stress values and even temporarily stop during periods ranging between a few seconds to several minutes
1
. On the other end of the spectrum shear stress in arterioles can reach 100 dynes/cm
2
2
. The impact of shear stress on different biological processes has been clearly demonstrated as for instance during the interaction of leukocytes with the endothelium
3
. To take into account this mechanical parameter in the process of bacterial adhesion we took advantage of an experimental procedure based on the use of a disposable flow chamber
4
. Host cells are grown in the flow chamber and fluorescent bacteria are introduced in the flow controlled by a syringe pump. We initially focused our investigations on the bacterial pathogen
Neisseria meningitidis
, a Gram-negative bacterium responsible for septicemia and meningitis. The procedure described here allowed us to study the impact of shear stress on the ability of the bacteria to: adhere to cells
1
, to proliferate on the cell surface
5
and to detach to colonize new sites
6
(Figure 1). Complementary technical information can be found in reference 7. Shear stress values presented here were chosen based on our previous experience
1
and to represent values found in the literature. The protocol should be applicable to a wide range of pathogens with specific adjustments depending on the objectives of the study.
Immunology, Issue 55, microbiology, blood vessel, shear stress, blood flow, adhesion, infectious disease, meningitis, brain, septicemia, sepsis
3241
Laser-Induced Chronic Ocular Hypertension Model on SD Rats
Institutions: The University of Hong Kong - HKU.

Glaucoma is one of the major causes of blindness in the world. Elevated intraocular pressure is a major risk factor. Laser photocoagulation induced ocular hypertension is one of the well established animal models. This video demonstrates how to induce ocular hypertension by Argon laser photocoagulation in rat.
Neuroscience, Issue 10, glaucoma, ocular hypertension, rat
549