ABSTRACT
Nowadays, AgNPs are extensively used in the manufacture of consumer products,1 water disinfectants,2 therapeutics,1, 3 and biomedical devices4 due to their powerful antimicrobial properties.3-6 These nanoparticle applications are strongly influenced by the AgNP size and aggregation state. Many challenges exist in the controlled fabrication7 and size-based isolation4,8 of unfunctionalized, homogenous AgNPs that are free from chemically aggressive capping/stabilizing agents or organic solvents.7-13 Limitations emerge from the toxicity of reagents, high costs or reduced efficiency of the AgNP synthesis or isolation methods (e.g., centrifugation, size-dependent solubility, size-exclusion chromatography, etc.).10,14-18 To overcome this, we recently showed that TFU permits greater control over the size, concentration and aggregation state of Creighton AgNPs (300 ml of 15.3 μg ml-1 down to 10 ml of 198.7 μg ml-1) than conventional methods of isolation such as ultracentrifugation.19 TFU is a recirculation method commonly used for the weight-based isolation of proteins, viruses and cells.20,21 Briefly, the liquid sample is passed through a series of hollow fiber membranes with pore size ranging from 1,000 kD to 10 kD. Smaller suspended or dissolved constituents in the sample will pass through the porous barrier together with the solvent (filtrate), while the larger constituents are retained (retentate). TFU may be considered a "green" method as it neither damages the sample nor requires additional solvent to eliminate toxic excess reagents and byproducts. Furthermore, TFU may be applied to a large variety of nanoparticles as both hydrophobic and hydrophilic filters are available. The two main objectives of this study were: 1) to illustrate the experimental aspects of the TFU approach through an invited video experience and 2) to demonstrate the feasibility of the TFU method for larger volumes of colloidal nanoparticles and smaller volumes of retentate. First, unfuctionalized AgNPs (4 L, 15.2 μg ml-1) were synthesized using the well-established Creighton method22,23 by the reduction of AgNO3 with NaBH4. AgNP polydispersity was then minimized via a 3-step TFU using a 50-nm filter (460 cm2) to remove AgNPs and AgNP-aggregates larger than 50 nm, followed by two 100-kD (200 cm2 and 20 cm2) filters to concentrate the AgNPs. Representative samples were characterized using transmission electron microscopy, UV-Vis absorption spectrophotometry, Raman spectroscopy, and inductively coupled plasma optical emission spectroscopy. The final retentate consisted of highly concentrated (4 ml, 8,539.9 μg ml-1) yet lowly aggregated and homogeneous AgNPs of 1-20 nm in diameter. This corresponds to a silver concentration yield of about 62%.
16 Related JoVE Articles!
Non-contact, Label-free Monitoring of Cells and Extracellular Matrix using Raman Spectroscopy
Institutions: Eberhard Karls University, Tübingen, Fraunhofer Institute of Interfacial Engineering and Biotechnology (IGB) Stuttgart, Germany, University of Stuttgart, Germany, Julius-Maximillians University, Würzburg, Germany.

Non-destructive, non-contact and label-free technologies to monitor cell and tissue cultures are needed in the field of biomedical research.
1-5
However, currently available routine methods require processing steps and alter sample integrity. Raman spectroscopy is a fast method that enables the measurement of biological samples without the need for further processing steps. This laser-based technology detects the inelastic scattering of monochromatic light.
6
As every chemical vibration is assigned to a specific Raman band (wavenumber in cm
-1
), each biological sample features a typical spectral pattern due to their inherent biochemical composition.
7-9
Within Raman spectra, the peak intensities correlate with the amount of the present molecular bonds.
1
Similarities and differences of the spectral data sets can be detected by employing a multivariate analysis (e.g. principal component analysis (PCA)).
10
Here, we perform Raman spectroscopy of living cells and native tissues. Cells are either seeded on glass bottom dishes or kept in suspension under normal cell culture conditions (37 °C, 5% CO
2
) before measurement. Native tissues are dissected and stored in phosphate buffered saline (PBS) at 4 °C prior measurements. Depending on our experimental set up, we then either focused on the cell nucleus or extracellular matrix (ECM) proteins such as elastin and collagen. For all studies, a minimum of 30 cells or 30 random points of interest within the ECM are measured. Data processing steps included background subtraction and normalization.
Bioengineering, Issue 63, Raman spectroscopy, label-free analysis, living cells, extracellular matrix, tissue engineering
3977
Rejection of Fluorescence Background in Resonance and Spontaneous Raman Microspectroscopy
Institutions: University of California, Davis, University of California, Davis.

Raman spectroscopy is often plagued by a strong fluorescent background, particularly for biological samples. If a sample is excited with a train of ultrafast pulses, a system that can temporally separate spectrally overlapping signals on a picosecond timescale can isolate promptly arriving Raman scattered light from late-arriving fluorescence light. Here we discuss the construction and operation of a complex nonlinear optical system that uses all-optical switching in the form of a low-power optical Kerr gate to isolate Raman and fluorescence signals. A single 808 nm laser with 2.4 W of average power and 80 MHz repetition rate is split, with approximately 200 mW of 808 nm light being converted to < 5 mW of 404 nm light sent to the sample to excite Raman scattering. The remaining unconverted 808 nm light is then sent to a nonlinear medium where it acts as the pump for the all-optical shutter. The shutter opens and closes in 800 fs with a peak efficiency of approximately 5%. Using this system we are able to successfully separate Raman and fluorescence signals at an 80 MHz repetition rate using pulse energies and average powers that remain biologically safe. Because the system has no spare capacity in terms of optical power, we detail several design and alignment considerations that aid in maximizing the throughput of the system. We also discuss our protocol for obtaining the spatial and temporal overlap of the signal and pump beams within the Kerr medium, as well as a detailed protocol for spectral acquisition. Finally, we report a few representative results of Raman spectra obtained in the presence of strong fluorescence using our time-gating system.
Microbiology, Issue 51, Raman scattering, all-optical gating, nonlinear optics, fluorescence, timeresolved spectroscopy.
2592
Probing and Mapping Electrode Surfaces in Solid Oxide Fuel Cells
Institutions: Georgia Institute of Technology , Georgia Institute of Technology .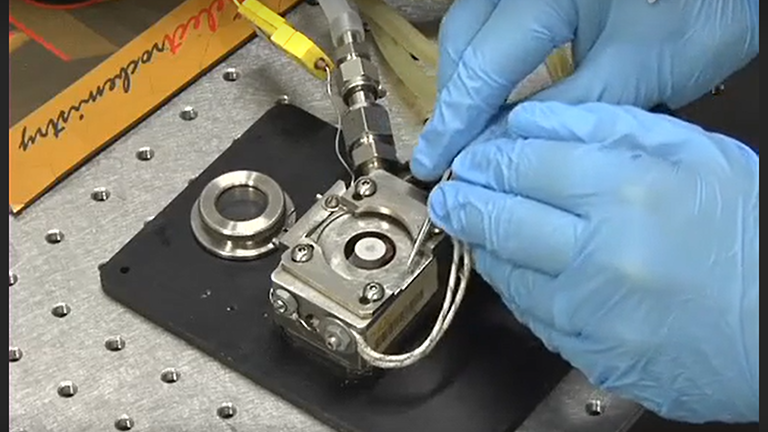 Solid oxide fuel cells (SOFCs) are potentially the most efficient and cost-effective solution to utilization of a wide variety of fuels beyond hydrogen
1-7
. The performance of SOFCs and the rates of many chemical and energy transformation processes in energy storage and conversion devices in general are limited primarily by charge and mass transfer along electrode surfaces and across interfaces. Unfortunately, the mechanistic understanding of these processes is still lacking, due largely to the difficulty of characterizing these processes under
in situ
conditions. This knowledge gap is a chief obstacle to SOFC commercialization. The development of tools for probing and mapping surface chemistries relevant to electrode reactions is vital to unraveling the mechanisms of surface processes and to achieving rational design of new electrode materials for more efficient energy storage and conversion
2
. Among the relatively few
in situ
surface analysis methods, Raman spectroscopy can be performed even with high temperatures and harsh atmospheres, making it ideal for characterizing chemical processes relevant to SOFC anode performance and degradation
8-12
. It can also be used alongside electrochemical measurements, potentially allowing direct correlation of electrochemistry to surface chemistry in an operating cell. Proper
in situ
Raman mapping measurements would be useful for pin-pointing important anode reaction mechanisms because of its sensitivity to the relevant species, including anode performance degradation through carbon deposition
8, 10, 13, 14
("coking") and sulfur poisoning
11, 15
and the manner in which surface modifications stave off this degradation
16
. The current work demonstrates significant progress towards this capability. In addition, the family of scanning probe microscopy (SPM) techniques provides a special approach to interrogate the electrode surface with nanoscale resolution. Besides the surface topography that is routinely collected by AFM and STM, other properties such as local electronic states, ion diffusion coefficient and surface potential can also be investigated
17-22
. In this work, electrochemical measurements, Raman spectroscopy, and SPM were used in conjunction with a novel test electrode platform that consists of a Ni mesh electrode embedded in an yttria-stabilized zirconia (YSZ) electrolyte. Cell performance testing and impedance spectroscopy under fuel containing H
2
S was characterized, and Raman mapping was used to further elucidate the nature of sulfur poisoning.
In situ
Raman monitoring was used to investigate coking behavior. Finally, atomic force microscopy (AFM) and electrostatic force microscopy (EFM) were used to further visualize carbon deposition on the nanoscale. From this research, we desire to produce a more complete picture of the SOFC anode.
Materials Science, Issue 67, Chemistry, Electrical Engineering, Physics, electrochemistry, catalysts (chemical), spectroscopic chemical analysis (application), microscopes, Fuel cell, Raman, AFM, SOFC, Surface, Electrode
50161
Analyzing the Movement of the Nauplius 'Artemia salina' by Optical Tracking of Plasmonic Nanoparticles
Institutions: Ludwig-Maximilians-Universität.

We demonstrate how optical tweezers may provide a sensitive tool to analyze the fluidic vibrations generated by the movement of small aquatic organisms. A single gold nanoparticle held by an optical tweezer is used as a sensor to quantify the rhythmic motion of a Nauplius larva (
Artemia salina
) in a water sample. This is achieved by monitoring the time dependent displacement of the trapped nanoparticle as a consequence of the Nauplius activity. A Fourier analysis of the nanoparticle's position then yields a frequency spectrum that is characteristic to the motion of the observed species. This experiment demonstrates the capability of this method to measure and characterize the activity of small aquatic larvae without the requirement to observe them directly and to gain information about the position of the larvae with respect to the trapped particle. Overall, this approach could give an insight on the vitality of certain species found in an aquatic ecosystem and could expand the range of conventional methods for analyzing water samples.
Biophysics, Issue 89, optical tweezers, particle tracking, plasmonic nanoparticles, Nauplius, bioindicator, water sample analysis
51502
Differential Imaging of Biological Structures with Doubly-resonant Coherent Anti-stokes Raman Scattering (CARS)
Institutions: University of California, Davis, University of California, Davis.

Coherent Raman imaging techniques have seen a dramatic increase in activity over the past decade due to their promise to enable label-free optical imaging with high molecular specificity
1
. The sensitivity of these techniques, however, is many orders of magnitude weaker than fluorescence, requiring milli-molar molecular concentrations
1,2
. Here, we describe a technique that can enable the detection of weak or low concentrations of Raman-active molecules by amplifying their signal with that obtained from strong or abundant Raman scatterers. The interaction of short pulsed lasers in a biological sample generates a variety of coherent Raman scattering signals, each of which carry unique chemical information about the sample. Typically, only one of these signals, e.g. Coherent Anti-stokes Raman scattering (CARS), is used to generate an image while the others are discarded. However, when these other signals, including 3-color CARS and four-wave mixing (FWM), are collected and compared to the CARS signal, otherwise difficult to detect information can be extracted
3
. For example, doubly-resonant CARS (DR-CARS) is the result of the constructive interference between two resonant signals
4
. We demonstrate how tuning of the three lasers required to produce DR-CARS signals to the 2845 cm
-1
CH stretch vibration in lipids and the 2120 cm
-1
CD stretching vibration of a deuterated molecule (e.g. deuterated sugars, fatty acids, etc.) can be utilized to probe both Raman resonances simultaneously. Under these conditions, in addition to CARS signals from each resonance, a combined DR-CARS signal probing both is also generated. We demonstrate how detecting the difference between the DR-CARS signal and the amplifying signal from an abundant molecule's vibration can be used to enhance the sensitivity for the weaker signal. We further demonstrate that this approach even extends to applications where both signals are generated from different molecules, such that e.g. using the strong Raman signal of a solvent can enhance the weak Raman signal of a dilute solute.
Cellular Biology, Issue 44, Raman scattering, Four-wave mixing, Coherent anti-Stokes Raman scattering, Microscopy, Coherent Raman Scattering
2085
Labeling Stem Cells with Ferumoxytol, an FDA-Approved Iron Oxide Nanoparticle
Institutions: Molecular Imaging Program at Stanford (MIPS) , Stanford University .

Stem cell based therapies offer significant potential for the field of regenerative medicine. However, much remains to be understood regarding the
in vivo
kinetics of transplanted cells. A non-invasive method to repetitively monitor transplanted stem cells
in vivo
would allow investigators to directly monitor stem cell transplants and identify successful or unsuccessful engraftment outcomes. A wide range of stem cells continues to be investigated for countless applications. This protocol focuses on 3 different stem cell populations: human embryonic kidney 293 (HEK293) cells, human mesenchymal stem cells (hMSC) and induced pluripotent stem (iPS) cells. HEK 293 cells are derived from human embryonic kidney cells grown in culture with sheared adenovirus 5 DNA. These cells are widely used in research because they are easily cultured, grow quickly and are easily transfected. hMSCs are found in adult marrow. These cells can be replicated as undifferentiated cells while maintaining multipotency or the potential to differentiate into a limited number of cell fates. hMSCs can differentiate to lineages of mesenchymal tissues, including osteoblasts, adipocytes, chondrocytes, tendon, muscle, and marrow stroma. iPS cells are genetically reprogrammed adult cells that have been modified to express genes and factors similar to defining properties of embryonic stem cells. These cells are pluripotent meaning they have the capacity to differentiate into all cell lineages
1
. Both hMSCs and iPS cells have demonstrated tissue regenerative capacity
in-vivo
. Magnetic resonance (MR) imaging together with the use of superparamagnetic iron oxide (SPIO) nanoparticle cell labels have proven effective for
in vivo
tracking of stem cells due to the near microscopic anatomical resolution, a longer blood half-life that permits longitudinal imaging and the high sensitivity for cell detection provided by MR imaging of SPIO nanoparticles
2-4
. In addition, MR imaging with the use of SPIOs is clinically translatable. SPIOs are composed of an iron oxide core with a dextran, carboxydextran or starch surface coat that serves to contain the bioreactive iron core from plasma components. These agents create local magnetic field inhomogeneities that lead to a decreased signal on T2-weighted MR images
5
. Unfortunately, SPIOs are no longer being manufactured. Second generation, ultrasmall SPIOs (USPIO), however, offer a viable alternative. Ferumoxytol (FerahemeTM) is one USPIO composed of a non-stoichiometric magnetite core surrounded by a polyglucose sorbitol carboxymethylether coat. The colloidal, particle size of ferumoxytol is 17-30 nm as determined by light scattering. The molecular weight is 750 kDa, and the relaxivity constant at 2T MRI field is 58.609 mM-1 sec-1 strength
4
. Ferumoxytol was recently FDA-approved as an iron supplement for treatment of iron deficiency in patients with renal failure
6
. Our group has applied this agent in an "off label" use for cell labeling applications. Our technique demonstrates efficient labeling of stem cells with ferumoxytol that leads to significant MR signal effects of labeled cells on MR images. This technique may be applied for non-invasive monitoring of stem cell therapies in pre-clinical and clinical settings.
Medicine, Issue 57, USPIO, cell labeling, MR imaging, MRI, molecular imaging, iron oxides, ferumoxytol, cellular imaging, nanoparticles
3482
Label-free in situ Imaging of Lignification in Plant Cell Walls
Institutions: University of California, Berkeley, Lawrence Berkeley National Laboratory, Lawrence Berkeley National Laboratory.

Meeting growing energy demands safely and efficiently is a pressing global challenge. Therefore, research into biofuels production that seeks to find cost-effective and sustainable solutions has become a topical and critical task. Lignocellulosic biomass is poised to become the primary source of biomass for the conversion to liquid biofuels
1-6
. However, the recalcitrance of these plant cell wall materials to cost-effective and efficient degradation presents a major impediment for their use in the production of biofuels and chemicals
4
. In particular, lignin, a complex and irregular poly-phenylpropanoid heteropolymer, becomes problematic to the postharvest deconstruction of lignocellulosic biomass. For example in biomass conversion for biofuels, it inhibits saccharification in processes aimed at producing simple sugars for fermentation
7
. The effective use of plant biomass for industrial purposes is in fact largely dependent on the extent to which the plant cell wall is lignified. The removal of lignin is a costly and limiting factor
8
and lignin has therefore become a key plant breeding and genetic engineering target in order to improve cell wall conversion. Analytical tools that permit the accurate rapid characterization of lignification of plant cell walls become increasingly important for evaluating a large number of breeding populations. Extractive procedures for the isolation of native components such as lignin are inevitably destructive, bringing about significant chemical and structural modifications
9-11
. Analytical chemical
in situ
methods are thus invaluable tools for the compositional and structural characterization of lignocellulosic materials. Raman microscopy is a technique that relies on inelastic or Raman scattering of monochromatic light, like that from a laser, where the shift in energy of the laser photons is related to molecular vibrations and presents an intrinsic label-free molecular "fingerprint" of the sample. Raman microscopy can afford non-destructive and comparatively inexpensive measurements with minimal sample preparation, giving insights into chemical composition and molecular structure in a close to native state. Chemical imaging by confocal Raman microscopy has been previously used for the visualization of the spatial distribution of cellulose and lignin in wood cell walls
12-14
. Based on these earlier results, we have recently adopted this method to compare lignification in wild type and lignin-deficient transgenic
Populus trichocarpa
(black cottonwood) stem wood
15
. Analyzing the lignin Raman bands
16,17
in the spectral region between 1,600 and 1,700 cm
-1
, lignin signal intensity and localization were mapped
in situ
. Our approach visualized differences in lignin content, localization, and chemical composition. Most recently, we demonstrated Raman imaging of cell wall polymers in
Arabidopsis thaliana
with lateral resolution that is sub-μm
18
. Here, this method is presented affording visualization of lignin in plant cell walls and comparison of lignification in different tissues, samples or species without staining or labeling of the tissues.
Plant Biology, Issue 45, Raman microscopy, lignin, poplar wood, Arabidopsis thaliana
2064
Hydrogel Nanoparticle Harvesting of Plasma or Urine for Detecting Low Abundance Proteins
Institutions: George Mason University, Ceres Nanosciences.

Novel biomarker discovery plays a crucial role in providing more sensitive and specific disease detection. Unfortunately many low-abundance biomarkers that exist in biological fluids cannot be easily detected with mass spectrometry or immunoassays because they are present in very low concentration, are labile, and are often masked by high-abundance proteins such as albumin or immunoglobulin. Bait containing poly(N-isopropylacrylamide) (NIPAm) based nanoparticles are able to overcome these physiological barriers. In one step they are able to capture, concentrate and preserve biomarkers from body fluids. Low-molecular weight analytes enter the core of the nanoparticle and are captured by different organic chemical dyes, which act as high affinity protein baits. The nanoparticles are able to concentrate the proteins of interest by several orders of magnitude. This concentration factor is sufficient to increase the protein level such that the proteins are within the detection limit of current mass spectrometers, western blotting, and immunoassays. Nanoparticles can be incubated with a plethora of biological fluids and they are able to greatly enrich the concentration of low-molecular weight proteins and peptides while excluding albumin and other high-molecular weight proteins. Our data show that a 10,000 fold amplification in the concentration of a particular analyte can be achieved, enabling mass spectrometry and immunoassays to detect previously undetectable biomarkers.
Bioengineering, Issue 90, biomarker, hydrogel, low abundance, mass spectrometry, nanoparticle, plasma, protein, urine
51789
Analysis of Oxidative Stress in Zebrafish Embryos
Institutions: University of Torino, Vesalius Research Center, VIB.

High levels of reactive oxygen species (ROS) may cause a change of cellular redox state towards oxidative stress condition. This situation causes oxidation of molecules (lipid, DNA, protein) and leads to cell death. Oxidative stress also impacts the progression of several pathological conditions such as diabetes, retinopathies, neurodegeneration, and cancer. Thus, it is important to define tools to investigate oxidative stress conditions not only at the level of single cells but also in the context of whole organisms. Here, we consider the zebrafish embryo as a useful
in vivo
system to perform such studies and present a protocol to measure
in vivo
oxidative stress. Taking advantage of fluorescent ROS probes and zebrafish transgenic fluorescent lines, we develop two different methods to measure oxidative stress
in vivo
: i) a "whole embryo ROS-detection method" for qualitative measurement of oxidative stress and ii) a "single-cell ROS detection method" for quantitative measurements of oxidative stress. Herein, we demonstrate the efficacy of these procedures by increasing oxidative stress in tissues by oxidant agents and physiological or genetic methods. This protocol is amenable for forward genetic screens and it will help address cause-effect relationships of ROS in animal models of oxidative stress-related pathologies such as neurological disorders and cancer.
Developmental Biology, Issue 89, Danio rerio, zebrafish embryos, endothelial cells, redox state analysis, oxidative stress detection, in vivo ROS measurements, FACS (fluorescence activated cell sorter), molecular probes
51328
Optical Trapping of Nanoparticles
Institutions: University of Victoria.

Optical trapping is a technique for immobilizing and manipulating small objects in a gentle way using light, and it has been widely applied in trapping and manipulating small biological particles. Ashkin and co-workers first demonstrated optical tweezers using a single focused beam
1
. The single beam trap can be described accurately using the perturbative gradient force formulation in the case of small Rayleigh regime particles
1
. In the perturbative regime, the optical power required for trapping a particle scales as the inverse fourth power of the particle size. High optical powers can damage dielectric particles and cause heating. For instance, trapped latex spheres of 109 nm in diameter were destroyed by a 15 mW beam in 25 sec
1
, which has serious implications for biological matter
2,3
. A self-induced back-action (SIBA) optical trapping was proposed to trap 50 nm polystyrene spheres in the non-perturbative regime
4
. In a non-perturbative regime, even a small particle with little permittivity contrast to the background can influence significantly the ambient electromagnetic field and induce a large optical force. As a particle enters an illuminated aperture, light transmission increases dramatically because of dielectric loading. If the particle attempts to leave the aperture, decreased transmission causes a change in momentum outwards from the hole and, by Newton's Third Law, results in a force on the particle inwards into the hole, trapping the particle. The light transmission can be monitored; hence, the trap can become a sensor. The SIBA trapping technique can be further improved by using a double-nanohole structure. The double-nanohole structure has been shown to give a strong local field enhancement
5,6
. Between the two sharp tips of the double-nanohole, a small particle can cause a large change in optical transmission, thereby inducing a large optical force. As a result, smaller nanoparticles can be trapped, such as 12 nm silicate spheres
7
and 3.4 nm hydrodynamic radius bovine serum albumin proteins
8
. In this work, the experimental configuration used for nanoparticle trapping is outlined. First, we detail the assembly of the trapping setup which is based on a Thorlabs Optical Tweezer Kit. Next, we explain the nanofabrication procedure of the double-nanohole in a metal film, the fabrication of the microfluidic chamber and the sample preparation. Finally, we detail the data acquisition procedure and provide typical results for trapping 20 nm polystyrene nanospheres.
Physics, Issue 71, Nanotechnology, Optics, Electrical Engineering, Computer Engineering, Physical Sciences, Engineering, Plasmonics, optical trapping, dielectric nanoparticles, nanoholes, nanofabrication, nano, microfluidics
4424
Free Radicals in Chemical Biology: from Chemical Behavior to Biomarker Development
Institutions: Consiglio Nazionale delle Ricerche.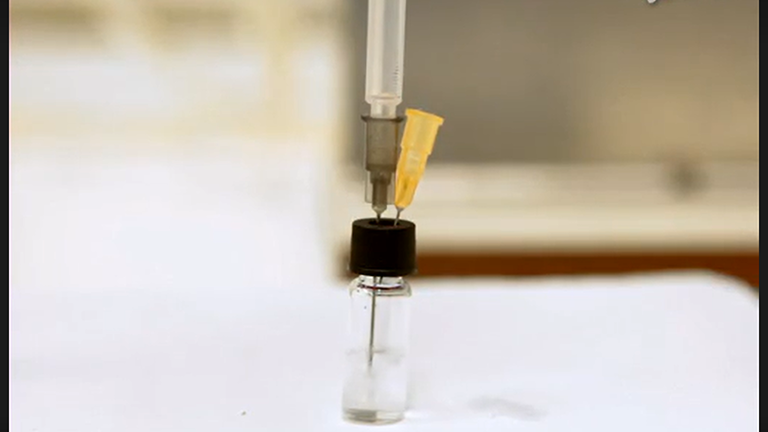 The involvement of free radicals in life sciences has constantly increased with time and has been connected to several physiological and pathological processes. This subject embraces diverse scientific areas, spanning from physical, biological and bioorganic chemistry to biology and medicine, with applications to the amelioration of quality of life, health and aging. Multidisciplinary skills are required for the full investigation of the many facets of radical processes in the biological environment and chemical knowledge plays a crucial role in unveiling basic processes and mechanisms. We developed a chemical biology approach able to connect free radical chemical reactivity with biological processes, providing information on the mechanistic pathways and products. The core of this approach is the design of biomimetic models to study biomolecule behavior (lipids, nucleic acids and proteins) in aqueous systems, obtaining insights of the reaction pathways as well as building up molecular libraries of the free radical reaction products. This context can be successfully used for biomarker discovery and examples are provided with two classes of compounds: mono-trans isomers of cholesteryl esters, which are synthesized and used as references for detection in human plasma, and purine 5',8-cyclo-2'-deoxyribonucleosides, prepared and used as reference in the protocol for detection of such lesions in DNA samples, after ionizing radiations or obtained from different health conditions.
Chemistry, Issue 74, Biochemistry, Chemical Engineering, Chemical Biology, chemical analysis techniques, chemistry (general), life sciences, radiation effects (biological, animal and plant), biomarker, biomimetic chemistry, free radicals, trans lipids, cyclopurine lesions, DNA, chromatography, spectroscopy, synthesis
50379
Template Directed Synthesis of Plasmonic Gold Nanotubes with Tunable IR Absorbance
Institutions: University of Toronto.

A nearly parallel array of pores can be produced by anodizing aluminum foils in acidic environments
1, 2
. Applications of anodic aluminum oxide (AAO) membranes have been under development since the 1990's and have become a common method to template the synthesis of high aspect ratio nanostructures, mostly by electrochemical growth or pore-wetting. Recently, these membranes have become commercially available in a wide range of pore sizes and densities, leading to an extensive library of functional nanostructures being synthesized from AAO membranes. These include composite nanorods, nanowires and nanotubes made of metals, inorganic materials or polymers
3-10
. Nanoporous membranes have been used to synthesize nanoparticle and nanotube arrays that perform well as refractive index sensors, plasmonic biosensors, or surface enhanced Raman spectroscopy (SERS) substrates
11-16
, as well as a wide range of other fields such as photo-thermal heating
17
, permselective transport
18, 19
, catalysis
20
, microfluidics
21
, and electrochemical sensing
22, 23
. Here, we report a novel procedure to prepare gold nanotubes in AAO membranes. Hollow nanostructures have potential application in plasmonic and SERS sensing, and we anticipate these gold nanotubes will allow for high sensitivity and strong plasmon signals, arising from decreased material dampening
15
.
Chemistry, Issue 74, Chemical Engineering, Materials Science, Physics, Nanotechnology, Chemistry and Materials (General), Composite Materials, Inorganic, Organic and Physical Chemistry, Metals and Metallic Materials, Gold, nanotubes, anodic aluminum oxide templates, surface plasmon resonance, sensing, refractive index, template directed synthesis, nano
50420
In Situ SIMS and IR Spectroscopy of Well-defined Surfaces Prepared by Soft Landing of Mass-selected Ions
Institutions: Pacific Northwest National Laboratory.

Soft landing of mass-selected ions onto surfaces is a powerful approach for the highly-controlled preparation of materials that are inaccessible using conventional synthesis techniques. Coupling soft landing with
in situ
characterization using secondary ion mass spectrometry (SIMS) and infrared reflection absorption spectroscopy (IRRAS) enables analysis of well-defined surfaces under clean vacuum conditions. The capabilities of three soft-landing instruments constructed in our laboratory are illustrated for the representative system of surface-bound organometallics prepared by soft landing of mass-selected ruthenium tris(bipyridine) dications, [Ru(bpy)
3
]
2+
(bpy = bipyridine), onto carboxylic acid terminated self-assembled monolayer surfaces on gold (COOH-SAMs).
In situ
time-of-flight (TOF)-SIMS provides insight into the reactivity of the soft-landed ions. In addition, the kinetics of charge reduction, neutralization and desorption occurring on the COOH-SAM both during and after ion soft landing are studied using
in situ
Fourier transform ion cyclotron resonance (FT-ICR)-SIMS measurements.
In situ
IRRAS experiments provide insight into how the structure of organic ligands surrounding metal centers is perturbed through immobilization of organometallic ions on COOH-SAM surfaces by soft landing. Collectively, the three instruments provide complementary information about the chemical composition, reactivity and structure of well-defined species supported on surfaces.
Chemistry, Issue 88, soft landing, mass selected ions, electrospray, secondary ion mass spectrometry, infrared spectroscopy, organometallic, catalysis
51344
A Technique to Functionalize and Self-assemble Macroscopic Nanoparticle-ligand Monolayer Films onto Template-free Substrates
Institutions: Naval Research Laboratory.
This protocol describes a self-assembly technique to create macroscopic monolayer films composed of ligand-coated nanoparticles
1
,
2
. The simple, robust and scalable technique efficiently functionalizes metallic nanoparticles with thiol-ligands in a miscible water/organic solvent mixture allowing for rapid grafting of thiol groups onto the gold nanoparticle surface. The hydrophobic ligands on the nanoparticles then quickly phase separate the nanoparticles from the aqueous based suspension and confine them to the air-fluid interface. This drives the ligand-capped nanoparticles to form monolayer domains at the air-fluid interface.  The use of water-miscible organic solvents is important as it enables the transport of the nanoparticles from the interface onto template-free substrates.  The flow is mediated by a surface tension gradient
3
,
4
and creates macroscopic, high-density, monolayer nanoparticle-ligand films.  This self-assembly technique may be generalized to include the use of particles of different compositions, size, and shape and may lead to an efficient assembly method to produce low-cost, macroscopic, high-density, monolayer nanoparticle films for wide-spread applications.
Chemistry, Issue 87, phase transfer, nanoparticle, self-assembly, bottom-up, fabrication, low-cost, monolayer, thin film, nanostructure, array, metamaterial
51282
Measurement of Tension Release During Laser Induced Axon Lesion to Evaluate Axonal Adhesion to the Substrate at Piconewton and Millisecond Resolution
Institutions: National Research Council of Italy, Università di Firenze, Istituto Italiano di Tecnologia.

The formation of functional connections in a developing neuronal network is influenced by extrinsic cues. The neurite growth of developing neurons is subject to chemical and mechanical signals, and the mechanisms by which it senses and responds to mechanical signals are poorly understood. Elucidating the role of forces in cell maturation will enable the design of scaffolds that can promote cell adhesion and cytoskeletal coupling to the substrate, and therefore improve the capacity of different neuronal types to regenerate after injury. Here, we describe a method to apply simultaneous force spectroscopy measurements during laser induced cell lesion. We measure tension release in the partially lesioned axon by simultaneous interferometric tracking of an optically trapped probe adhered to the membrane of the axon. Our experimental protocol detects the tension release with piconewton sensitivity, and the dynamic of the tension release at millisecond time resolution. Therefore, it offers a high-resolution method to study how the mechanical coupling between cells and substrates can be modulated by pharmacological treatment and/or by distinct mechanical properties of the substrate.
Bioengineering, Issue 75, Biophysics, Neuroscience, Cellular Biology, Biomedical Engineering, Engineering (General), Life Sciences (General), Physics (General), Axon, tension release, Laser dissector, optical tweezers, force spectroscopy, neurons, neurites, cytoskeleton, adhesion, cell culture, microscopy
50477
Implantation of Ferumoxides Labeled Human Mesenchymal Stem Cells in Cartilage Defects
Institutions: Medical Center, University of California San Francisco.

The field of tissue engineering integrates the principles of engineering, cell biology and medicine towards the regeneration of specific cells and functional tissue. Matrix associated stem cell implants (MASI) aim to regenerate cartilage defects due to arthritic or traumatic joint injuries. Adult mesenchymal stem cells (MSCs) have the ability to differentiate into cells of the chondrogenic lineage and have shown promising results for cell-based articular cartilage repair technologies. Autologous MSCs can be isolated from a variety of tissues, can be expanded in cell cultures without losing their differentiation potential, and have demonstrated chondrogenic differentiation
in vitro
and
in vivo
1, 2
. In order to provide local retention and viability of transplanted MSCs in cartilage defects, a scaffold is needed, which also supports subsequent differentiation and proliferation. The architecture of the scaffold guides tissue formation and permits the extracellular matrix, produced by the stem cells, to expand. Previous investigations have shown that a 2% agarose scaffold may support the development of stable hyaline cartilage and does not induce immune responses
3
. Long term retention of transplanted stem cells in MASI is critical for cartilage regeneration. Labeling of MSCs with iron oxide nanoparticles allows for long-term
in vivo
tracking with non-invasive MR imaging techniques
4
. This presentation will demonstrate techniques for labeling MSCs with iron oxide nanoparticles, the generation of cell-agarose constructs and implantation of these constructs into cartilage defects. The labeled constructs can be tracked non-invasively with MR-Imaging.
Cellular Biology, Issue 38, Stem cells, cartilage defect, agarose, scaffold, tissue engineering, implantation, MASI
1793