Real-time Imaging of Axonal Transport of Quantum Dot-labeled BDNF in Primary Neurons
Published: 09-15-2014
ABSTRACT
BDNF plays an important role in several facets of neuronal survival, differentiation, and function. Structural and functional deficits in axons are increasingly viewed as an early feature of neurodegenerative diseases, including Alzheimer's disease (AD) and Huntington's disease (HD). As yet unclear is the mechanism(s) by which axonal injury is induced. We reported the development of a novel technique to produce biologically active, monobiotinylated BDNF (mBtBDNF) that can be used to trace axonal transport of BDNF. Quantum dot-labeled BDNF (QD-BDNF) was produced by conjugating quantum dot 655 to mBtBDNF. A microfluidic device was used to isolate axons from neuron cell bodies. Addition of QD-BDNF to the axonal compartment allowed live imaging of BDNF transport in axons. We demonstrated that QD-BDNF moved essentially exclusively retrogradely, with very few pauses, at a moving velocity of around 1.06 μm/sec. This system can be used to investigate mechanisms of disrupted axonal function in AD or HD, as well as other degenerative disorders.
22 Related JoVE Articles!
Lectin-based Isolation and Culture of Mouse Embryonic Motoneurons
Institutions: Ruhr-University Bochum, University of Wuerzburg.

Spinal motoneurons develop towards postmitotic stages through early embryonic nervous system development and subsequently grow out dendrites and axons. Neuroepithelial cells of the neural tube that express Nkx6.1 are the unique precursor cells for spinal motoneurons
1
. Though postmitotic motoneurons move towards their final position and organize themselves into columns along the spinal tract
2,3
. More than 90% of all these differentiated and positioned motoneurons express the transcription factors Islet 1/2. They innervate the muscles of the limbs as well as those of the body and the inner organs. Among others, motoneurons typically express the high affinity receptors for brain derived neurotrophic factor (BDNF) and Neurotrophin-3 (NT-3), the tropomyosin-related kinase B and C (TrkB, TrkC). They do not express the tropomyosin-related kinase A (TrkA)
4
. Beside the two high affinity receptors, motoneurons do express the low affinity neurotrophin receptor p75
NTR
. The p75
NTR
can bind all neurotrophins with similar but lower affinity to all neurotrophins than the high affinity receptors would bind the mature neurotrophins. Within the embryonic spinal cord, the p75
NTR
is exclusively expressed by the spinal motoneurons
5
. This has been used to develop motoneuron isolation techniques to purify the cells from the vast majority of surrounding cells
6
. Isolating motoneurons with the help of specific antibodies (panning) against the extracellular domains of p75
NTR
has turned out to be an expensive method as the amount of antibody used for a single experiment is high due to the size of the plate used for panning. A much more economical alternative is the use of lectin. Lectin has been shown to specifically bind to p75
NTR
as well
7
. The following method describes an alternative technique using wheat germ agglutinin for a preplating procedure instead of the p75
NTR
antibody. The lectin is an extremely inexpensive alternative to the p75
NTR
antibody and the purification grades using lectin are comparable to that of the p75
NTR
antibody. Motoneurons from the embryonic spinal cord can be isolated by this method, survive and grow out neurites.
Neuroscience, Issue 55, p75NTR, spinal cord, lectin, axon, dendrite
3200
A Highly Reproducible and Straightforward Method to Perform In Vivo Ocular Enucleation in the Mouse after Eye Opening
Institutions: KU Leuven - University of Leuven.
Enucleation or the surgical removal of an eye can generally be considered as a model for nerve deafferentation. It provides a valuable tool to study the different aspects of visual, cross-modal and developmental plasticity along the mammalian visual system
1-4
. Here, we demonstrate an elegant and straightforward technique for the removal of one or both eyes in the mouse, which is validated in mice of 20 days old up to adults. Briefly, a disinfected curved forceps is used to clamp the optic nerve behind the eye. Subsequently, circular movements are performed to constrict the optic nerve and remove the eyeball. The advantages of this technique are high reproducibility, minimal to no bleeding, rapid post-operative recovery and a very low learning threshold for the experimenter. Hence, a large amount of animals can be manipulated and processed with minimal amount of effort. The nature of the technique may induce slight damage to the retina during the procedure. This side effect makes this method less suitable as compared to Mahajan
et al.
(2011)
5
if the goal is to collect and analyze retinal tissue. Also, our method is limited to post-eye opening ages (mouse: P10 - 13 onwards) since the eyeball needs to be displaced from the socket without removing the eyelids. The
in vivo
enucleation technique described in this manuscript has recently been successfully applied with minor modifications in rats and appears useful to study the afferent visual pathway of rodents in general.
Anatomy, Issue 92, Deprivation, visual system, eye, optic nerve, rodent, mouse, neuroplasticity, neuroscience
51936
Excitotoxic Stimulation of Brain Microslices as an In vitro Model of Stroke
Institutions: The University of Newcastle, Southern Cross University, The University of Newcastle.

Examining molecular mechanisms involved in neuropathological conditions, such as ischemic stroke, can be difficult when using whole animal systems. As such, primary or 'neuronal-like' cell culture systems are commonly utilized. While these systems are relatively easy to work with, and are useful model systems in which various functional outcomes (such as cell death) can be readily quantified, the examined outcomes and pathways in cultured immature neurons (such as excitotoxicity-mediated cell death pathways) are not necessarily the same as those observed in mature brain, or in intact tissue. Therefore, there is the need to develop models in which cellular mechanisms in mature neural tissue can be examined. We have developed an
in vitro
technique that can be used to investigate a variety of molecular pathways in intact nervous tissue. The technique described herein utilizes rat cortical tissue, but this technique can be adapted to use tissue from a variety of species (such as mouse, rabbit, guinea pig, and chicken) or brain regions (for example, hippocampus, striatum,
etc.
). Additionally, a variety of stimulations/treatments can be used (for example, excitotoxic, administration of inhibitors,
etc.
). In conclusion, the brain slice model described herein can be used to examine a variety of molecular mechanisms involved in excitotoxicity-mediated brain injury.
Medicine, Issue 84, Brain slices, in vitro , excitotoxicity, brain injury, Mature brain tissue, Stimulation, stroke
51291
The Sciatic Nerve Cuffing Model of Neuropathic Pain in Mice
Institutions: Centre National de la Recherche Scientifique, Université de Strasbourg, Hôpitaux Universitaires de Strasbourg.

Neuropathic pain arises as a consequence of a lesion or a disease affecting the somatosensory system. This syndrome results from maladaptive changes in injured sensory neurons and along the entire nociceptive pathway within the central nervous system. It is usually chronic and challenging to treat. In order to study neuropathic pain and its treatments, different models have been developed in rodents. These models derive from known etiologies, thus reproducing peripheral nerve injuries, central injuries, and metabolic-, infectious- or chemotherapy-related neuropathies. Murine models of peripheral nerve injury often target the sciatic nerve which is easy to access and allows nociceptive tests on the hind paw. These models rely on a compression and/or a section. Here, the detailed surgery procedure for the "cuff model" of neuropathic pain in mice is described. In this model, a cuff of PE-20 polyethylene tubing of standardized length (2 mm) is unilaterally implanted around the main branch of the sciatic nerve. It induces a long-lasting mechanical allodynia,
i.e
., a nociceptive response to a normally non-nociceptive stimulus that can be evaluated by using von Frey filaments. Besides the detailed surgery and testing procedures, the interest of this model for the study of neuropathic pain mechanism, for the study of neuropathic pain sensory and anxiodepressive aspects, and for the study of neuropathic pain treatments are also discussed.
Medicine, Issue 89, pain, neuropathic pain, allodynia, von Frey, mouse, model, sciatic, cuff
51608
Utilization of Microscale Silicon Cantilevers to Assess Cellular Contractile Function In Vitro
Institutions: University of Central Florida.

The development of more predictive and biologically relevant
in vitro
assays is predicated on the advancement of versatile cell culture systems which facilitate the functional assessment of the seeded cells. To that end, microscale cantilever technology offers a platform with which to measure the contractile functionality of a range of cell types, including skeletal, cardiac, and smooth muscle cells, through assessment of contraction induced substrate bending. Application of multiplexed cantilever arrays provides the means to develop moderate to high-throughput protocols for assessing drug efficacy and toxicity, disease phenotype and progression, as well as neuromuscular and other cell-cell interactions. This manuscript provides the details for fabricating reliable cantilever arrays for this purpose, and the methods required to successfully culture cells on these surfaces. Further description is provided on the steps necessary to perform functional analysis of contractile cell types maintained on such arrays using a novel laser and photo-detector system. The representative data provided highlights the precision and reproducible nature of the analysis of contractile function possible using this system, as well as the wide range of studies to which such technology can be applied. Successful widespread adoption of this system could provide investigators with the means to perform rapid, low cost functional studies
in vitro,
leading to more accurate predictions of tissue performance, disease development and response to novel therapeutic treatment.
Bioengineering, Issue 92, cantilever, in vitro, contraction, skeletal muscle, NMJ, cardiomyocytes, functional
51866
A Method of Nodose Ganglia Injection in Sprague-Dawley Rat
Institutions: University of Illinois at Chicago, University of Illinois at Chicago, University of Illinois at Chicago.

Afferent signaling via the vagus nerve transmits important general visceral information to the central nervous system from many diverse receptors located in the organs of the abdomen and thorax. The vagus nerve communicates information from stimuli such as heart rate, blood pressure, bronchopulmonary irritation, and gastrointestinal distension to the nucleus of solitary tract of the medulla. The cell bodies of the vagus nerve are located in the nodose and petrosal ganglia, of which the majority are located in the former. The nodose ganglia contain a wealth of receptors for amino acids, monoamines, neuropeptides, and other neurochemicals that can modify afferent vagus nerve activity. Modifying vagal afferents through systemic peripheral drug treatments targeted at the receptors on nodose ganglia has the potential of treating diseases such as sleep apnea, gastroesophageal reflux disease, or chronic cough. The protocol here describes a method of injection neurochemicals directly into the nodose ganglion. Injecting neurochemicals directly into the nodose ganglia allows study of effects solely on cell bodies that modulate afferent nerve activity, and prevents the complication of involving the central nervous system as seen in systemic neurochemical treatment. Using readily available and inexpensive equipment, intranodose ganglia injections are easily done in anesthetized Sprague-Dawley rats.
Neuroscience, Issue 93, neuroscience, nodose ganglia, vagus nerve, EMG, serotonin, apnea, genioglossus, cannabinoids
52233
Transplantation of Olfactory Ensheathing Cells to Evaluate Functional Recovery after Peripheral Nerve Injury
Institutions: University of Rouen, Karolinska Institutet, Rouen University Hospital, Amiens University Hospital.
Olfactory ensheathing cells (OECs) are neural crest cells which allow growth and regrowth of the primary olfactory neurons. Indeed, the primary olfactory system is characterized by its ability to give rise to new neurons even in adult animals. This particular ability is partly due to the presence of OECs which create a favorable microenvironment for neurogenesis. This property of OECs has been used for cellular transplantation such as in spinal cord injury models. Although the peripheral nervous system has a greater capacity to regenerate after nerve injury than the central nervous system, complete sections induce misrouting during axonal regrowth in particular after facial of laryngeal nerve transection. Specifically, full sectioning of the recurrent laryngeal nerve (RLN) induces aberrant axonal regrowth resulting in synkinesis of the vocal cords. In this specific model, we showed that OECs transplantation efficiently increases axonal regrowth. OECs are constituted of several subpopulations present in both the olfactory mucosa (OM-OECs) and the olfactory bulbs (OB-OECs). We present here a model of cellular transplantation based on the use of these different subpopulations of OECs in a RLN injury model. Using this paradigm, primary cultures of OB-OECs and OM-OECs were transplanted in Matrigel after section and anastomosis of the RLN. Two months after surgery, we evaluated transplanted animals by complementary analyses based on videolaryngoscopy, electromyography (EMG), and histological studies. First, videolaryngoscopy allowed us to evaluate laryngeal functions, in particular muscular cocontractions phenomena. Then, EMG analyses demonstrated richness and synchronization of muscular activities. Finally, histological studies based on toluidine blue staining allowed the quantification of the number and profile of myelinated fibers. All together, we describe here how to isolate, culture, identify and transplant OECs from OM and OB after RLN section-anastomosis and how to evaluate and analyze the efficiency of these transplanted cells on axonal regrowth and laryngeal functions.
Neuroscience, Issue 84, olfactory ensheathing cells, spinal cord injury, transplantation, larynx, recurrent laryngeal nerve, peripheral nerve injury, vocal cords
50590
Combining Peripheral Nerve Grafting and Matrix Modulation to Repair the Injured Rat Spinal Cord
Institutions: Drexel University College of Medicine.

Traumatic injury to the spinal cord (SCI) causes death of neurons, disruption of motor and sensory nerve fiber (axon) pathways and disruption of communication with the brain. One of the goals of our research is to promote axon regeneration to restore connectivity across the lesion site. To accomplish this we developed a peripheral nerve (PN) grafting technique where segments of sciatic nerve are either placed directly between the damaged ends of the spinal cord or are used to form a bridge across the lesion. There are several advantages to this approach compared to transplantation of other neural tissues; regenerating axons can be directed towards a specific target area, the number and source of regenerating axons is easily determined by tracing techniques, the graft can be used for electrophysiological experiments to measure functional recovery associated with axons in the graft, and it is possible to use an autologous nerve to reduce the possibility of graft rejection. In our lab we have performed both autologous (donor and recipient are the same animal) and heterologous (donor and recipient are different animals) grafts with comparable results. This approach has been used successfully in both acute and chronic injury situations. Regenerated axons that reach the distal end of the PN graft often fail to extend back into the spinal cord, so we use microinjections of chondroitinase to degrade inhibitory molecules associated with the scar tissue surrounding the area of SCI. At the same time we have found that providing exogenous growth and trophic molecules encourages longer distance axonal regrowth into the spinal cord. Several months after transplantation we perform a variety of anatomical, behavioral and electrophysiological tests to evaluate the recovery of function in our spinal cord injured animals. This experimental approach has been used successfully in several spinal cord injury models, at different levels of injury and in different species (mouse, rat and cat). Importantly, the peripheral nerve grafting approach is effective in promoting regeneration by acute and chronically injured neurons.
Neurobiology, Issue 33, transplantation, SCI, regeneration, tract tracing, electrophysiology
1324
Whole Cell Patch Clamp for Investigating the Mechanisms of Infrared Neural Stimulation
Institutions: Swinburne University of Technology, The University of Melbourne.
It has been demonstrated in recent years that pulsed, infrared laser light can be used to elicit electrical responses in neural tissue, independent of any further modification of the target tissue. Infrared neural stimulation has been reported in a variety of peripheral and sensory neural tissue
in vivo
, with particular interest shown in stimulation of neurons in the auditory nerve. However, while INS has been shown to work in these settings, the mechanism (or mechanisms) by which infrared light causes neural excitation is currently not well understood. The protocol presented here describes a whole cell patch clamp method designed to facilitate the investigation of infrared neural stimulation in cultured primary auditory neurons. By thoroughly characterizing the response of these cells to infrared laser illumination
in vitro
under controlled conditions, it may be possible to gain an improved understanding of the fundamental physical and biochemical processes underlying infrared neural stimulation.
Neuroscience, Issue 77, Biomedical Engineering, Neurobiology, Molecular Biology, Cellular Biology, Physiology, Primary Cell Culture, Biophysics, Electrophysiology, fiber optics, infrared neural stimulation, patch clamp, in vitro models, spiral ganglion neurons, neurons, patch clamp recordings, cell culture
50444
Detection of Neu1 Sialidase Activity in Regulating TOLL-like Receptor Activation
Institutions: Queen's University - Kingston, Ontario.

Mammalian Toll-like receptors (TLRs) are a family of receptors that recognize pathogen-associated molecular patterns. Not only are TLRs crucial sensors of microbial (e.g., viruses, bacteria and parasite) infections, they also play an important role in the pathophysiology of infectious diseases, inflammatory diseases, and possibly in autoimmune diseases. Thus, the intensity and duration of TLR responses against infectious diseases must be tightly controlled. It follows that understanding the structural integrity of sensor receptors, their ligand interactions and signaling components is essential for subsequent immunological protection. It would also provide important opportunities for disease modification through sensor manipulation. Although the signaling pathways of TLR sensors are well characterized, the parameters controlling interactions between the sensors and their ligands still remain poorly defined. We have recently identified a novel mechanism of TLR activation by its natural ligand, which has not been previously observed
1,2
. It suggests that ligand-induced TLR activation is tightly controlled by Neu1 sialidase activation. We have also reported that Neu1 tightly regulates neurotrophin receptors like TrkA and TrkB
3
, which involve Neu1 and matrix metalloproteinase-9 (MMP-9) cross-talk in complex with the receptors
4
. The sialidase assay has been initially use to find a novel ligand, thymoquinone, in the activation of Neu4 sialidase on the cell surface of macrophages, dendritic cells and fibroblast cells via GPCR Gαi proteins and MMP-9
5
. For TLR receptors, our data indicate that Neu1 sialidase is already in complex with TLR-2, -3 and -4 receptors, and is induced upon ligand binding to either receptor. Activated Neu1 sialidase hydrolyzes sialyl α-2,3-linked β-galactosyl residues distant from ligand binding to remove steric hinderance to TLR-4 dimerization, MyD88/TLR4 complex recruitment, NFkB activation and pro-inflammatory cell responses. In a collaborative report, Neu1 sialidase has been shown to regulate phagocytosis in macrophage cells
6
. Taken together, the sialidase assay has provided us with powerful insights to the molecular mechanisms of ligand-induced receptor activation. Although the precise relationship between Neu1 sialidase and the activation of TLR, Trk receptors has yet to be fully elucidated, it would represent a new or pioneering approach to cell regulation pathways.
Cellular Biology, Issue 43, Neu1 sialidase, TOLL-like receptors, macrophages, sialidase substrate, fluorescence microscopy, cell signaling, receptor activation
2142
The NeuroStar TMS Device: Conducting the FDA Approved Protocol for Treatment of Depression
Institutions: Beth Israel Deaconess Medical Center, Inc..

The Neuronetics NeuroStar Transcranial Magnetic Stimulation (TMS) System is a class II medical device that produces brief duration, pulsed magnetic fields. These rapidly alternating fields induce electrical currents within localized, targeted regions of the cortex which are associated with various physiological and functional brain changes.
1,2,3
In 2007, O'Reardon
et al.
, utilizing the NeuroStar device, published the results of an industry-sponsored, multisite, randomized, sham-stimulation controlled clinical trial in which 301 patients with major depression, who had previously failed to respond to at least one adequate antidepressant treatment trial, underwent either active or sham TMS over the left dorsolateral prefrontal cortex (DLPFC). The patients, who were medication-free at the time of the study, received TMS five times per week over 4-6 weeks.
4
The results demonstrated that a sub-population of patients (those who were relatively less resistant to medication, having failed not more than two good pharmacologic trials) showed a statistically significant improvement on the Montgomery-Asberg Depression Scale (MADRS), the Hamilton Depression Rating Scale (HAMD), and various other outcome measures. In October 2008, supported by these and other similar results
5,6,7
, Neuronetics obtained the first and only Food and Drug Administration (FDA) approval for the clinical treatment of a specific form of medication-refractory depression using a TMS Therapy device (FDA approval K061053). In this paper, we will explore the specified FDA approved NeuroStar depression treatment protocol (to be administered only under prescription and by a licensed medical profession in either an in- or outpatient setting).
Neuroscience, Issue 45, Transcranial Magnetic Stimulation, Depression, Neuronetics, NeuroStar, FDA Approved
2345
Comprehensive Profiling of Dopamine Regulation in Substantia Nigra and Ventral Tegmental Area
Institutions: Louisiana State University Health Sciences Center.

Dopamine is a vigorously studied neurotransmitter in the CNS. Indeed, its involvement in locomotor activity and reward-related behaviour has fostered five decades of inquiry into the molecular deficiencies associated with dopamine regulation. The majority of these inquiries of dopamine regulation in the brain focus upon the molecular basis for its regulation in the terminal field regions of the nigrostriatal and mesoaccumbens pathways; striatum and nucleus accumbens. Furthermore, such studies have concentrated on analysis of dopamine tissue content with normalization to only wet tissue weight. Investigation of the proteins that regulate dopamine, such as tyrosine hydroxylase (TH) protein, TH phosphorylation, dopamine transporter (DAT), and vesicular monoamine transporter 2 (VMAT2) protein often do not include analysis of dopamine tissue content in the same sample. The ability to analyze both dopamine tissue content and its regulating proteins (including post-translational modifications) not only gives inherent power to interpreting the relationship of dopamine with the protein level and function of TH, DAT, or VMAT2, but also extends sample economy. This translates into less cost, and yet produces insights into the molecular regulation of dopamine in virtually any paradigm of the investigators' choice. We focus the analyses in the midbrain. Although the SN and VTA are typically neglected in most studies of dopamine regulation, these nuclei are easily dissected with practice. A comprehensive readout of dopamine tissue content and TH, DAT, or VMAT2 can be conducted. There is burgeoning literature on the impact of dopamine function in the SN and VTA on behavior, and the impingements of exogenous substances or disease processes therein
1-5
. Furthermore, compounds such as growth factors have a profound effect on dopamine and dopamine-regulating proteins, to a comparatively greater extent in the SN or VTA
6-8
. Therefore, this methodology is presented for reference to laboratories that want to extend their inquiries on how specific treatments modulate behaviour and dopamine regulation. Here, a multi-step method is presented for the analyses of dopamine tissue content, the protein levels of TH, DAT, or VMAT2, and TH phosphorylation from the substantia nigra and VTA from rodent midbrain. The analysis of TH phosphorylation can yield significant insights into not only how TH activity is regulated, but also the signaling cascades affected in the somatodendritic nuclei in a given paradigm. We will illustrate the dissection technique to segregate these two nuclei and the sample processing of dissected tissue that produces a profile revealing molecular mechanisms of dopamine regulation
in vivo,
specific for each nuclei
(Figure 1)
.
Neuroscience, Issue 66, Medicine, Physiology, midbrain, substantia nigra, ventral tegmental area, tyrosine hydroxylase, phosphorylation, nigrostriatal, mesoaccumbens, dopamine transporter
4171
Laser Capture Microdissection of Neurons from Differentiated Human Neuroprogenitor Cells in Culture
Institutions: Denver VA Medical Center, University of Colorado Denver School of Medicine.

Neuroprogenitor cells (NPCs) isolated from the human fetal brain were expanded under proliferative conditions in the presence of epidermal growth factor (EGF) and fibroblast growth factor (FGF) to provide an abundant supply of cells. NPCs were differentiated in the presence of a new combination of nerve growth factor (NGF), brain-derived neurotrophic factor (BDNF), dibutyryl cAMP (DBC) and retinoic acid on dishes coated with poly-L-lysine and mouse laminin to obtain neuron-rich cultures. NPCs were also differentiated in the absence of neurotrophins, DBC and retinoic acid and in the presence of ciliary neurotrophic factor (CNTF) to yield astrocyte-rich cultures. Differentiated NPCs were characterized by immunofluorescence staining for a panel of neuronal markers including NeuN, synapsin, acetylcholinesterase, synaptophysin and GAP43. Glial fibrillary acidic protein (GFAP) and STAT3, astrocyte markers, were detected in 10-15% of differentiated NPCs. To facilitate cell-type specific molecular characterization, laser capture microdissection was performed to isolate neurons cultured on polyethylene naphthalate (PEN) membrane slides. The methods described in this study provide valuable tools to advance our understanding of the molecular mechanism of neurodegeneration.
Neuroscience, Issue 79, Neurobiology, Cellular Biology, Cells, Cultured, Neurons, Central Nervous System, Neurodegenerative Diseases, Human neuroprogenitor cells, neuronal differentiation, neuronal markers, astrocytes, laser capture microdissection, PEN membrane slides, cell culture
50487
Bladder Smooth Muscle Strip Contractility as a Method to Evaluate Lower Urinary Tract Pharmacology
Institutions: University of Pittsburgh School of Medicine, University of Pittsburgh School of Medicine.

We describe an
in vitro
method to measure bladder smooth muscle contractility, and its use for investigating physiological and pharmacological properties of the smooth muscle as well as changes induced by pathology. This method provides critical information for understanding bladder function while overcoming major methodological difficulties encountered in
in vivo
experiments, such as surgical and pharmacological manipulations that affect stability and survival of the preparations, the use of human tissue, and/or the use of expensive chemicals. It also provides a way to investigate the properties of each bladder component (
i.e.
smooth muscle, mucosa, nerves) in healthy and pathological conditions. The urinary bladder is removed from an anesthetized animal, placed in Krebs solution and cut into strips. Strips are placed into a chamber filled with warm Krebs solution. One end is attached to an isometric tension transducer to measure contraction force, the other end is attached to a fixed rod. Tissue is stimulated by directly adding compounds to the bath or by electric field stimulation electrodes that activate nerves, similar to triggering bladder contractions
in vivo
. We demonstrate the use of this method to evaluate spontaneous smooth muscle contractility during development and after an experimental spinal cord injury, the nature of neurotransmission (transmitters and receptors involved), factors involved in modulation of smooth muscle activity, the role of individual bladder components, and species and organ differences in response to pharmacological agents. Additionally, it could be used for investigating intracellular pathways involved in contraction and/or relaxation of the smooth muscle, drug structure-activity relationships and evaluation of transmitter release. The
in vitro
smooth muscle contractility method has been used extensively for over 50 years, and has provided data that significantly contributed to our understanding of bladder function as well as to pharmaceutical development of compounds currently used clinically for bladder management.
Medicine, Issue 90, Krebs, species differences, in vitro, smooth muscle contractility, neural stimulation
51807
Setting-up an In Vitro Model of Rat Blood-brain Barrier (BBB): A Focus on BBB Impermeability and Receptor-mediated Transport
Institutions: VECT-HORUS SAS, CNRS, NICN UMR 7259.

The blood brain barrier (BBB) specifically regulates molecular and cellular flux between the blood and the nervous tissue. Our aim was to develop and characterize a highly reproducible rat syngeneic
in vitro
model of the BBB using co-cultures of primary rat brain endothelial cells (RBEC) and astrocytes to study receptors involved in transcytosis across the endothelial cell monolayer. Astrocytes were isolated by mechanical dissection following trypsin digestion and were frozen for later co-culture. RBEC were isolated from 5-week-old rat cortices. The brains were cleaned of meninges and white matter, and mechanically dissociated following enzymatic digestion. Thereafter, the tissue homogenate was centrifuged in bovine serum albumin to separate vessel fragments from nervous tissue. The vessel fragments underwent a second enzymatic digestion to free endothelial cells from their extracellular matrix. The remaining contaminating cells such as pericytes were further eliminated by plating the microvessel fragments in puromycin-containing medium. They were then passaged onto filters for co-culture with astrocytes grown on the bottom of the wells. RBEC expressed high levels of tight junction (TJ) proteins such as occludin, claudin-5 and ZO-1 with a typical localization at the cell borders. The transendothelial electrical resistance (TEER) of brain endothelial monolayers, indicating the tightness of TJs reached 300 ohm·cm
2
on average. The endothelial permeability coefficients (Pe) for lucifer yellow (LY) was highly reproducible with an average of 0.26 ± 0.11 x 10
-3
cm/min. Brain endothelial cells organized in monolayers expressed the efflux transporter P-glycoprotein (P-gp), showed a polarized transport of rhodamine 123, a ligand for P-gp, and showed specific transport of transferrin-Cy3 and DiILDL across the endothelial cell monolayer. In conclusion, we provide a protocol for setting up an
in vitro
BBB model that is highly reproducible due to the quality assurance methods, and that is suitable for research on BBB transporters and receptors.
Medicine, Issue 88, rat brain endothelial cells (RBEC), mouse, spinal cord, tight junction (TJ), receptor-mediated transport (RMT), low density lipoprotein (LDL), LDLR, transferrin, TfR, P-glycoprotein (P-gp), transendothelial electrical resistance (TEER),
51278
Utilizing Transcranial Magnetic Stimulation to Study the Human Neuromuscular System
Institutions: Ohio University.

Transcranial magnetic stimulation (TMS) has been in use for more than 20 years
1
, and has grown exponentially in popularity over the past decade. While the use of TMS has expanded to the study of many systems and processes during this time, the original application and perhaps one of the most common uses of TMS involves studying the physiology, plasticity and function of the human neuromuscular system. Single pulse TMS applied to the motor cortex excites pyramidal neurons transsynaptically
2
(Figure 1) and results in a measurable electromyographic response that can be used to study and evaluate the integrity and excitability of the corticospinal tract in humans
3
. Additionally, recent advances in magnetic stimulation now allows for partitioning of cortical versus spinal excitability
4,5
. For example, paired-pulse TMS can be used to assess intracortical facilitatory and inhibitory properties by combining a conditioning stimulus and a test stimulus at different interstimulus intervals
3,4,6-8
. In this video article we will demonstrate the methodological and technical aspects of these techniques. Specifically, we will demonstrate single-pulse and paired-pulse TMS techniques as applied to the flexor carpi radialis (FCR) muscle as well as the erector spinae (ES) musculature. Our laboratory studies the FCR muscle as it is of interest to our research on the effects of wrist-hand cast immobilization on reduced muscle performance
6,9
, and we study the ES muscles due to these muscles clinical relevance as it relates to low back pain
8
. With this stated, we should note that TMS has been used to study many muscles of the hand, arm and legs, and should iterate that our demonstrations in the FCR and ES muscle groups are only selected examples of TMS being used to study the human neuromuscular system.
Medicine, Issue 59, neuroscience, muscle, electromyography, physiology, TMS, strength, motor control. sarcopenia, dynapenia, lumbar
3387
Modeling Neural Immune Signaling of Episodic and Chronic Migraine Using Spreading Depression In Vitro
Institutions: The University of Chicago Medical Center, The University of Chicago Medical Center.

Migraine and its transformation to chronic migraine are healthcare burdens in need of improved treatment options. We seek to define how neural immune signaling modulates the susceptibility to migraine, modeled
in vitro
using spreading depression (SD), as a means to develop novel therapeutic targets for episodic and chronic migraine. SD is the likely cause of migraine aura and migraine pain. It is a paroxysmal loss of neuronal function triggered by initially increased neuronal activity, which slowly propagates within susceptible brain regions. Normal brain function is exquisitely sensitive to, and relies on, coincident low-level immune signaling. Thus, neural immune signaling likely affects electrical activity of SD, and therefore migraine. Pain perception studies of SD in whole animals are fraught with difficulties, but whole animals are well suited to examine systems biology aspects of migraine since SD activates trigeminal nociceptive pathways. However, whole animal studies alone cannot be used to decipher the cellular and neural circuit mechanisms of SD. Instead,
in vitro
preparations where environmental conditions can be controlled are necessary. Here, it is important to recognize limitations of acute slices and distinct advantages of hippocampal slice cultures. Acute brain slices cannot reveal subtle changes in immune signaling since preparing the slices alone triggers: pro-inflammatory changes that last days, epileptiform behavior due to high levels of oxygen tension needed to vitalize the slices, and irreversible cell injury at anoxic slice centers. In contrast, we examine immune signaling in mature hippocampal slice cultures since the cultures closely parallel their
in vivo
counterpart with mature trisynaptic function; show quiescent astrocytes, microglia, and cytokine levels; and SD is easily induced in an unanesthetized preparation. Furthermore, the slices are long-lived and SD can be induced on consecutive days without injury, making this preparation the sole means to-date capable of modeling the neuroimmune consequences of chronic SD, and thus perhaps chronic migraine. We use electrophysiological techniques and non-invasive imaging to
measure
neuronal cell and circuit functions coincident with SD. Neural immune gene expression variables are measured with qPCR screening, qPCR arrays, and, importantly, use of cDNA preamplification for detection of ultra-low level targets such as interferon-gamma using whole, regional, or specific cell enhanced (via laser dissection microscopy) sampling. Cytokine cascade signaling is further assessed with multiplexed phosphoprotein related targets with gene expression and phosphoprotein changes confirmed via cell-specific immunostaining. Pharmacological and siRNA strategies are used to
mimic
and
modulate
SD immune signaling.
Neuroscience, Issue 52, innate immunity, hormesis, microglia, T-cells, hippocampus, slice culture, gene expression, laser dissection microscopy, real-time qPCR, interferon-gamma
2910
The Use of Magnetic Resonance Spectroscopy as a Tool for the Measurement of Bi-hemispheric Transcranial Electric Stimulation Effects on Primary Motor Cortex Metabolism
Institutions: University of Montréal, McGill University, University of Minnesota.

Transcranial direct current stimulation (tDCS) is a neuromodulation technique that has been increasingly used over the past decade in the treatment of neurological and psychiatric disorders such as stroke and depression. Yet, the mechanisms underlying its ability to modulate brain excitability to improve clinical symptoms remains poorly understood
33
. To help improve this understanding, proton magnetic resonance spectroscopy (
1
H-MRS) can be used as it allows the
in vivo
quantification of brain metabolites such as γ-aminobutyric acid (GABA) and glutamate in a region-specific manner
41
. In fact, a recent study demonstrated that
1
H-MRS is indeed a powerful means to better understand the effects of tDCS on neurotransmitter concentration
34
. This article aims to describe the complete protocol for combining tDCS (NeuroConn MR compatible stimulator) with
1
H-MRS at 3 T using a MEGA-PRESS sequence. We will describe the impact of a protocol that has shown great promise for the treatment of motor dysfunctions after stroke, which consists of bilateral stimulation of primary motor cortices
27,30,31
. Methodological factors to consider and possible modifications to the protocol are also discussed.
Neuroscience, Issue 93, proton magnetic resonance spectroscopy, transcranial direct current stimulation, primary motor cortex, GABA, glutamate, stroke
51631
Membrane Potentials, Synaptic Responses, Neuronal Circuitry, Neuromodulation and Muscle Histology Using the Crayfish: Student Laboratory Exercises
Institutions: University of Kentucky, University of Toronto.

The purpose of this report is to help develop an understanding of the effects caused by ion gradients across a biological membrane. Two aspects that influence a cell's membrane potential and which we address in these experiments are: (1) Ion concentration of K
+
on the outside of the membrane, and (2) the permeability of the membrane to specific ions. The crayfish abdominal extensor muscles are in groupings with some being tonic (slow) and others phasic (fast) in their biochemical and physiological phenotypes, as well as in their structure; the motor neurons that innervate these muscles are correspondingly different in functional characteristics. We use these muscles as well as the superficial, tonic abdominal flexor muscle to demonstrate properties in synaptic transmission. In addition, we introduce a sensory-CNS-motor neuron-muscle circuit to demonstrate the effect of cuticular sensory stimulation as well as the influence of neuromodulators on certain aspects of the circuit. With the techniques obtained in this exercise, one can begin to answer many questions remaining in other experimental preparations as well as in physiological applications related to medicine and health. We have demonstrated the usefulness of model invertebrate preparations to address fundamental questions pertinent to all animals.
Neuroscience, Issue 47, Invertebrate, Crayfish, neurophysiology, muscle, anatomy, electrophysiology
2322
Identification of Post-translational Modifications of Plant Protein Complexes
Institutions: University of Warwick, Norwich Research Park, The Australian National University.

Plants adapt quickly to changing environments due to elaborate perception and signaling systems. During pathogen attack, plants rapidly respond to infection
via
the recruitment and activation of immune complexes. Activation of immune complexes is associated with post-translational modifications (PTMs) of proteins, such as phosphorylation, glycosylation, or ubiquitination. Understanding how these PTMs are choreographed will lead to a better understanding of how resistance is achieved. Here we describe a protein purification method for nucleotide-binding leucine-rich repeat (NB-LRR)-interacting proteins and the subsequent identification of their post-translational modifications (PTMs). With small modifications, the protocol can be applied for the purification of other plant protein complexes. The method is based on the expression of an epitope-tagged version of the protein of interest, which is subsequently partially purified by immunoprecipitation and subjected to mass spectrometry for identification of interacting proteins and PTMs. This protocol demonstrates that: i). Dynamic changes in PTMs such as phosphorylation can be detected by mass spectrometry; ii). It is important to have sufficient quantities of the protein of interest, and this can compensate for the lack of purity of the immunoprecipitate; iii). In order to detect PTMs of a protein of interest, this protein has to be immunoprecipitated to get a sufficient quantity of protein.
Plant Biology, Issue 84, plant-microbe interactions, protein complex purification, mass spectrometry, protein phosphorylation, Prf, Pto, AvrPto, AvrPtoB
51095
Examination of Synaptic Vesicle Recycling Using FM Dyes During Evoked, Spontaneous, and Miniature Synaptic Activities
Institutions: University of Iowa Carver College of Medicine, University of Bath.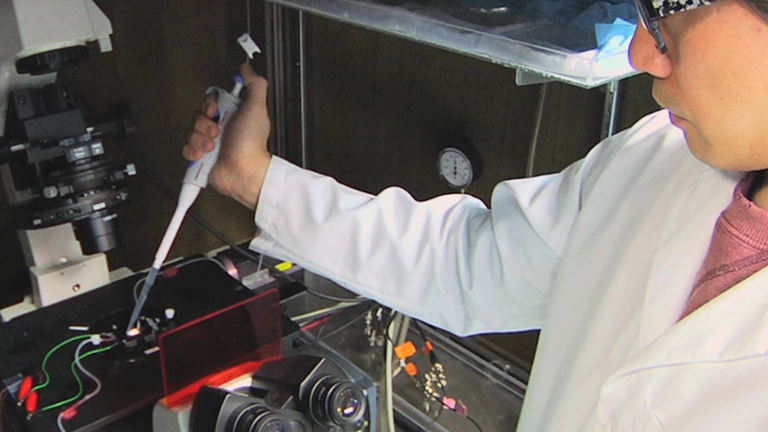 Synaptic vesicles in functional nerve terminals undergo exocytosis and endocytosis. This synaptic vesicle recycling can be effectively analyzed using styryl FM dyes, which reveal membrane turnover. Conventional protocols for the use of FM dyes were designed for analyzing neurons following stimulated (evoked) synaptic activity. Recently, protocols have become available for analyzing the FM signals that accompany weaker synaptic activities, such as spontaneous or miniature synaptic events. Analysis of these small changes in FM signals requires that the imaging system is sufficiently sensitive to detect small changes in intensity, yet that artifactual changes of large amplitude are suppressed. Here we describe a protocol that can be applied to evoked, spontaneous, and miniature synaptic activities, and use cultured hippocampal neurons as an example. This protocol also incorporates a means of assessing the rate of photobleaching of FM dyes, as this is a significant source of artifacts when imaging small changes in intensity.
Neuroscience, Issue 85, Presynaptic Terminals, Synaptic Vesicles, Microscopy, Biological Assay, Nervous System, Endocytosis, exocytosis, fluorescence imaging, FM dye, neuron, photobleaching
50557
Preparation and Maintenance of Dorsal Root Ganglia Neurons in Compartmented Cultures
Institutions: Dana Farber Cancer Institute, Harvard Medical School.

Neurons extend axonal processes that are far removed from the cell body to innervate target tissues, where target-derived growth factors are required for neuronal survival and function. Neurotrophins are specifically required to maintain the survival and differentiation of innervating sensory neurons but the question of how these target-derived neurotrophins communicate to the cell body of innervating neurons has been an area of active research for over 30 years. The most commonly accepted model of how neurotrophin signals reach the cell body proposes that signaling endosomes carry this signal retrogradely along the axon. In order to study retrograde transport, a culture system was originally devised by Robert Campenot, in which cell bodies are isolated from their axons. The technique of preparing these compartmented chambers for culturing sensory neurons recapitulates the selective stimulation of neuron terminals that occurs in vivo following release of target-derived neurotrophins. Retrograde signaling events that require long-range microtubule dependent retrograde transport have important implications for the treatment of neurodegenerative disorders.
Neuroscience, Issue 20, campenot cultures, cell culture, dorsal root ganglia (DRG) neurons, neuronal culture
951