Organotypic Slice Cultures to Study Oligodendrocyte Dynamics and Myelination
Published: 08-25-2014
ABSTRACT
NG2 expressing cells (polydendrocytes, oligodendrocyte precursor cells) are the fourth major glial cell population in the central nervous system. During embryonic and postnatal development they actively proliferate and generate myelinating oligodendrocytes. These cells have commonly been studied in primary dissociated cultures, neuron cocultures, and in fixed tissue. Using newly available transgenic mouse lines slice culture systems can be used to investigate proliferation and differentiation of oligodendrocyte lineage cells in both gray and white matter regions of the forebrain and cerebellum. Slice cultures are prepared from early postnatal mice and are kept in culture for up to 1 month. These slices can be imaged multiple times over the culture period to investigate cellular behavior and interactions. This method allows visualization of NG2 cell division and the steps leading to oligodendrocyte differentiation while enabling detailed analysis of region-dependent NG2 cell and oligodendrocyte functional heterogeneity. This is a powerful technique that can be used to investigate the intrinsic and extrinsic signals influencing these cells over time in a cellular environment that closely resembles that found in vivo.
26 Related JoVE Articles!
Generation of Neural Stem Cells from Discarded Human Fetal Cortical Tissue
Institutions: Beth Israel Deaconess Medical Center, Brigham and Women's Hospital, Beth Israel Deaconess Medical Center, Brigham and Women's Hospital.

Neural stem cells (NSCs) reside along the ventricular zone neuroepithelium during the development of the cortical plate. These early progenitors ultimately give rise to intermediate progenitors and later, the various neuronal and glial cell subtypes that form the cerebral cortex. The capacity to generate and expand human NSCs (so called neurospheres) from discarded normal fetal tissue provides a means with which to directly study the functional aspects of normal human NSC development
1-5
. This approach can also be directed toward the generation of NSCs from known neurological disorders, thereby affording the opportunity to identify disease processes that alter progenitor proliferation, migration and differentiation
6-9
. We have focused on identifying pathological mechanisms in human Down syndrome NSCs that might contribute to the accelerated Alzheimer's disease phenotype
10,11
. Neither
in vivo
nor
in vitro
mouse models can replicate the identical repertoire of genes located on human chromosome 21. Here we use a simple and reliable method to isolate Down syndrome NSCs from aborted human fetal cortices and grow them in culture. The methodology provides specific aspects of harvesting the tissue, dissection with limited anatomical landmarks, cell sorting, plating and passaging of human NSCs. We also provide some basic protocols for inducing differentiation of human NSCs into more selective cell subtypes.
Neuroscience, Issue 51, neural stem cell, human, brain, cortex, fetus, cell culture
2681
Mouse Model of Intraluminal MCAO: Cerebral Infarct Evaluation by Cresyl Violet Staining
Institutions: Clinical Research Institute of Montreal, Laval University.

Stroke is the third cause of mortality and the leading cause of disability in the World. Ischemic stroke accounts for approximately 80% of all strokes. However, the thrombolytic tissue plasminogen activator (tPA) is the only treatment of acute ischemic stroke that exists. This led researchers to develop several ischemic stroke models in a variety of species. Two major types of rodent models have been developed: models of global cerebral ischemia or focal cerebral ischemia. To mimic ischemic stroke in patients, in whom approximately 80% thrombotic or embolic strokes occur in the territory of the middle cerebral artery (MCA), the intraluminal middle cerebral artery occlusion (MCAO) model is quite relevant for stroke studies. This model was first developed in rats by Koizumi
et al.
in 1986
1
. Because of the ease of genetic manipulation in mice, these models have also been developed in this species
2-3
. Herein, we present the transient MCA occlusion procedure in C57/Bl6 mice. Previous studies have reported that physical properties of the occluder such as tip diameter, length, shape, and flexibility are critical for the reproducibility of the infarct volume
4
. Herein, a commercial silicon coated monofilaments (Doccol Corporation) have been used. Another great advantage is that this monofilament reduces the risk to induce subarachnoid hemorrhages. Using the Zeiss stereo-microscope Stemi 2000, the silicon coated monofilament was introduced into the internal carotid artery (ICA)
via
a cut in the external carotid artery (ECA) until the monofilament occludes the base of the MCA. Blood flow was restored 1 hour later by removal of the monofilament to mimic the restoration of blood flow after lysis of a thromboembolic clot in humans. The extent of cerebral infarct may be evaluated first by a neurologic score and by the measurement of the infarct volume. Ischemic mice were thus analyzed for their neurologic score at different post-reperfusion times. To evaluate the infarct volume, staining with 2,3,5-triphenyltetrazolium chloride (TTC) was usually performed. Herein, we used cresyl violet staining since it offers the opportunity to test many critical markers by immunohistochemistry. In this video, we report the MCAO procedure; neurological scores and the evaluation of the infarct volume by cresyl violet staining.
Medicine, Issue 69, Neuroscience, Biochemistry, Anatomy, Physiology, transient ischemic stroke, middle cerebral artery occlusion, intraluminal model, neuroscore, cresyl violet staining, mice, imaging
4038
Differentiation of Embryonic Stem Cells into Oligodendrocyte Precursors
Institutions: School of Medicine, University of California, Davis.
Oligodendrocytes are the myelinating cells of the central nervous system. For regenerative cell therapy in demyelinating diseases, there is significant interest in deriving a pure population of lineage-committed oligodendrocyte precursor cells (OPCs) for transplantation. OPCs are characterized by the activity of the transcription factor Olig2 and surface expression of a proteoglycan NG2. Using the GFP-Olig2 (G-Olig2) mouse embryonic stem cell (mESC) reporter line, we optimized conditions for the differentiation of mESCs into GFP+Olig2+NG2+ OPCs. In our protocol, we first describe the generation of embryoid bodies (EBs) from mESCs. Second, we describe treatment of mESC-derived EBs with small molecules: (1) retinoic acid (RA) and (2) a sonic hedgehog (Shh) agonist purmorphamine (Pur) under defined culture conditions to direct EB differentiation into the oligodendroglial lineage. By this approach, OPCs can be obtained with high efficiency (>80%) in a time period of 30 days. Cells derived from mESCs in this protocol are phenotypically similar to OPCs derived from primary tissue culture. The mESC-derived OPCs do not show the spiking property described for a subpopulation of brain OPCs in situ. To study this electrophysiological property, we describe the generation of spiking mESC-derived OPCs by ectopically expressing Na
V
1.2 subunit. The spiking and nonspiking cells obtained from this protocol will help advance functional studies on the two subpopulations of OPCs.
Neurobiology, Issue 39, pluripotent stem cell, oligodendrocyte precursor cells, differentiation, myelin, neuroscience, brain
1960
Permanent Cerebral Vessel Occlusion via Double Ligature and Transection
Institutions: University of California, Irvine, University of California, Irvine, University of California, Irvine, University of California, Irvine.

Stroke is a leading cause of death, disability, and socioeconomic loss worldwide. The majority of all strokes result from an interruption in blood flow (ischemia)
1
. Middle cerebral artery (MCA) delivers a great majority of blood to the lateral surface of the cortex
2
, is the most common site of human stroke
3
, and ischemia within its territory can result in extensive dysfunction or death
1,4,5
. Survivors of ischemic stroke often suffer loss or disruption of motor capabilities, sensory deficits, and infarct. In an effort to capture these key characteristics of stroke, and thereby develop effective treatment, a great deal of emphasis is placed upon animal models of ischemia in MCA. Here we present a method of permanently occluding a cortical surface blood vessel. We will present this method using an example of a relevant vessel occlusion that models the most common type, location, and outcome of human stroke, permanent middle cerebral artery occlusion (pMCAO). In this model, we surgically expose MCA in the adult rat and subsequently occlude via double ligature and transection of the vessel. This pMCAO blocks the proximal cortical branch of MCA, causing ischemia in all of MCA cortical territory, a large portion of the cortex. This method of occlusion can also be used to occlude more distal portions of cortical vessels in order to achieve more focal ischemia targeting a smaller region of cortex. The primary disadvantages of pMCAO are that the surgical procedure is somewhat invasive as a small craniotomy is required to access MCA, though this results in minimal tissue damage. The primary advantages of this model, however, are: the site of occlusion is well defined, the degree of blood flow reduction is consistent, functional and neurological impairment occurs rapidly, infarct size is consistent, and the high rate of survival allows for long-term chronic assessment.
Medicine, Issue 77, Biomedical Engineering, Anatomy, Physiology, Neurobiology, Neuroscience, Behavior, Surgery, Therapeutics, Surgical Procedures, Operative, Investigative Techniques, Life Sciences (General), Behavioral Sciences, Animal models, Stroke, ischemia, imaging, middle cerebral artery, vessel occlusion, rodent model, surgical techniques, animal model
50418
Modeling Stroke in Mice: Permanent Coagulation of the Distal Middle Cerebral Artery
Institutions: University Hospital Munich, Munich Cluster for Systems Neurology (SyNergy), University Heidelberg, Charing Cross Hospital.

Stroke is the third most common cause of death and a main cause of acquired adult disability in developed countries. Only very limited therapeutical options are available for a small proportion of stroke patients in the acute phase. Current research is intensively searching for novel therapeutic strategies and is increasingly focusing on the sub-acute and chronic phase after stroke because more patients might be eligible for therapeutic interventions in a prolonged time window. These delayed mechanisms include important pathophysiological pathways such as post-stroke inflammation, angiogenesis, neuronal plasticity and regeneration. In order to analyze these mechanisms and to subsequently evaluate novel drug targets, experimental stroke models with clinical relevance, low mortality and high reproducibility are sought after. Moreover, mice are the smallest mammals in which a focal stroke lesion can be induced and for which a broad spectrum of transgenic models are available. Therefore, we describe here the mouse model of transcranial, permanent coagulation of the middle cerebral artery via electrocoagulation distal of the lenticulostriatal arteries, the so-called "coagulation model". The resulting infarct in this model is located mainly in the cortex; the relative infarct volume in relation to brain size corresponds to the majority of human strokes. Moreover, the model fulfills the above-mentioned criteria of reproducibility and low mortality. In this video we demonstrate the surgical methods of stroke induction in the "coagulation model" and report histological and functional analysis tools.
Medicine, Issue 89, stroke, brain ischemia, animal model, middle cerebral artery, electrocoagulation
51729
Photothrombotic Ischemia: A Minimally Invasive and Reproducible Photochemical Cortical Lesion Model for Mouse Stroke Studies
Institutions: University of Turin , University of Turin , University of Turin , University of Turin .

The photothrombotic stroke model aims to induce an ischemic damage within a given cortical area by means of photo-activation of a previously injected light-sensitive dye. Following illumination, the dye is activated and produces singlet oxygen that damages components of endothelial cell membranes, with subsequent platelet aggregation and thrombi formation, which eventually determines the interruption of local blood flow. This approach, initially proposed by Rosenblum and El-Sabban in 1977, was later improved by Watson in 1985 in rat brain and set the basis of the current model. Also, the increased availability of transgenic mouse lines further contributed to raise the interest on the photothrombosis model. Briefly, a photosensitive dye (Rose Bengal) is injected intraperitoneally and enters the blood stream. When illuminated by a cold light source, the dye becomes activated and induces endothelial damage with platelet activation and thrombosis, resulting in local blood flow interruption. The light source can be applied on the intact skull with no need of craniotomy, which allows targeting of any cortical area of interest in a reproducible and non-invasive way. The mouse is then sutured and allowed to wake up. The evaluation of ischemic damage can be quickly accomplished by triphenyl-tetrazolium chloride or cresyl violet staining. This technique produces infarction of small size and well-delimited boundaries, which is highly advantageous for precise cell characterization or functional studies. Furthermore, it is particularly suitable for studying cellular and molecular responses underlying brain plasticity in transgenic mice.
Medicine, Issue 76, Biomedical Engineering, Immunology, Anatomy, Physiology, Neuroscience, Neurobiology, Surgery, Cerebral Cortex, Brain Ischemia, Stroke, Brain Injuries, Brain Ischemia, Thrombosis, Photothrombosis, Rose Bengal, experimental stroke, animal models, cortex, injury, protocol, method, technique, video, ischemia, animal model
50370
2-Vessel Occlusion/Hypotension: A Rat Model of Global Brain Ischemia
Institutions: Wayne State University School of Medicine, Wayne State University School of Medicine, Wayne State University School of Medicine.

Cardiac arrest followed by resuscitation often results in dramatic brain damage caused by ischemia and subsequent reperfusion of the brain. Global brain ischemia produces damage to specific brain regions shown to be highly sensitive to ischemia
1
. Hippocampal neurons have higher sensitivity to ischemic insults compared to other cell populations, and specifically, the CA1 region of the hippocampus is particularly vulnerable to ischemia/reperfusion
2
. The design of therapeutic interventions, or study of mechanisms involved in cerebral damage, requires a model that produces damage similar to the clinical condition and in a reproducible manner. Bilateral carotid vessel occlusion with hypotension (2VOH) is a model that produces reversible forebrain ischemia, emulating the cerebral events that can occur during cardiac arrest and resuscitation. We describe a model modified from Smith
et al
. (1984)
2
, as first presented in its current form in Sanderson,
et al.
(2008)
3
, which produces reproducible injury to selectively vulnerable brain regions
3-6
. The reliability of this model is dictated by precise control of systemic blood pressure during applied hypotension, the duration of ischemia, close temperature control, a specific anesthesia regimen, and diligent post-operative care. An 8-minute ischemic insult produces cell death of CA1 hippocampal neurons that progresses over the course of 6 to 24 hr of reperfusion, while less vulnerable brain regions are spared. This progressive cell death is easily quantified after 7-14 days of reperfusion, as a near complete loss of CA1 neurons is evident at this time. In addition to this brain injury model, we present a method for CA1 damage quantification using a simple, yet thorough, methodology. Importantly, quantification can be accomplished using a simple camera-mounted microscope, and a free ImageJ (NIH) software plugin, obviating the need for cost-prohibitive stereology software programs and a motorized microscopic stage for damage assessment.
Medicine, Issue 76, Biomedical Engineering, Neurobiology, Neuroscience, Immunology, Anatomy, Physiology, Cardiology, Brain Ischemia, ischemia, reperfusion, cardiac arrest, resuscitation, 2VOH, brain injury model, CA1 hippocampal neurons, brain, neuron, blood vessel, occlusion, hypotension, animal model
50173
Bilateral Common Carotid Artery Occlusion as an Adequate Preconditioning Stimulus to Induce Early Ischemic Tolerance to Focal Cerebral Ischemia
Institutions: Charité - Universitätsmedizin Berlin, Germany.

There is accumulating evidence, that ischemic preconditioning - a non-damaging ischemic challenge to the brain - confers a transient protection to a subsequent damaging ischemic insult. We have established bilateral common carotid artery occlusion as a preconditioning stimulus to induce early ischemic tolerance to transient focal cerebral ischemia in C57Bl6/J mice. In this video, we will demonstrate the methodology used for this study.
Medicine, Issue 75, Neurobiology, Anatomy, Physiology, Neuroscience, Immunology, Surgery, stroke, cerebral ischemia, ischemic preconditioning, ischemic tolerance, IT, ischemic stroke, middle cerebral artery occlusion, MCAO, bilateral common carotid artery occlusion, BCCAO, brain, ischemia, occlusion, reperfusion, mice, animal model, surgical techniques
4387
Compensatory Limb Use and Behavioral Assessment of Motor Skill Learning Following Sensorimotor Cortex Injury in a Mouse Model of Ischemic Stroke
Institutions: Illinois Wesleyan University, University of Victoria.

Mouse models have become increasingly popular in the field of behavioral neuroscience, and specifically in studies of experimental stroke. As models advance, it is important to develop sensitive behavioral measures specific to the mouse. The present protocol describes a skilled motor task for use in mouse models of stroke. The Pasta Matrix Reaching Task functions as a versatile and sensitive behavioral assay that permits experimenters to collect accurate outcome data and manipulate limb use to mimic human clinical phenomena including compensatory strategies (
i.e.
, learned non-use) and focused rehabilitative training. When combined with neuroanatomical tools, this task also permits researchers to explore the mechanisms that support behavioral recovery of function (or lack thereof) following stroke. The task is both simple and affordable to set up and conduct, offering a variety of training and testing options for numerous research questions concerning functional outcome following injury. Though the task has been applied to mouse models of stroke, it may also be beneficial in studies of functional outcome in other upper extremity injury models.
Behavior, Issue 89, Upper extremity impairment, Murine model, Rehabilitation, Reaching, Non-paretic limb training, Good limb training, Less-affected limb training, Learned non-use, Pasta matrix reaching task
51602
Intravascular Perfusion of Carbon Black Ink Allows Reliable Visualization of Cerebral Vessels
Institutions: University of Duisburg-Essen Medical School.

The anatomical structure of cerebral vessels is a key determinant for brain hemodynamics as well as the severity of injury following ischemic insults. The cerebral vasculature dynamically responds to various pathophysiological states and it exhibits considerable differences between strains and under conditions of genetic manipulations. Essentially, a reliable technique for intracranial vessel staining is essential in order to study the pathogenesis of ischemic stroke. Until recently, a set of different techniques has been employed to visualize the cerebral vasculature including injection of low viscosity resin, araldite F, gelatin mixed with various dyes
1
(
i.e.
carmine red, India ink) or latex with
2
or without
3
carbon black. Perfusion of white latex compound through the ascending aorta has been first reported by Coyle and Jokelainen
3
. Maeda
et al.
2
have modified the protocol by adding carbon black ink to the latex compound for improved contrast visualization of the vessels after saline perfusion of the brain. However, inefficient perfusion and inadequate filling of the vessels are frequently experienced due to high viscosity of the latex compound
4
. Therefore, we have described a simple and cost-effective technique using a mixture of two commercially available carbon black inks (CB1 and CB2) to visualize the cerebral vasculature in a reproducible manner
5
. We have shown that perfusion with CB1+CB2 in mice results in staining of significantly smaller cerebral vessels at a higher density in comparison to latex perfusion
5
. Here, we describe our protocol to identify the anastomotic points between the anterior (ACA) and middle cerebral arteries (MCA) to study vessel variations in mice with different genetic backgrounds. Finally, we demonstrate the feasibility of our technique in a transient focal cerebral ischemia model in mice by combining CB1+CB2-mediated vessel staining with TTC staining in various degrees of ischemic injuries.
Neuroscience, Issue 71, Neurobiology, Medicine, Anatomy, Physiology, Cellular Biology, Immunology, Neurology, Cerebral vascular anatomy, colored latex, carbon black, ink, stroke, vascular territories, brain, vessels, imaging, animal model
4374
Imaging Analysis of Neuron to Glia Interaction in Microfluidic Culture Platform (MCP)-based Neuronal Axon and Glia Co-culture System
Institutions: Tufts University, Tufts Sackler School of Graduate Biomedical Sciences.
Proper neuron to glia interaction is critical to physiological function of the central nervous system (CNS). This bidirectional communication is sophisticatedly mediated by specific signaling pathways between neuron and glia
1,2
. Identification and characterization of these signaling pathways is essential to the understanding of how neuron to glia interaction shapes CNS physiology. Previously, neuron and glia mixed cultures have been widely utilized for testing and characterizing signaling pathways between neuron and glia. What we have learned from these preparations and other
in vivo
tools, however, has suggested that mutual signaling between neuron and glia often occurred in specific compartments within neurons (
i.e.
, axon, dendrite, or soma)
3
. This makes it important to develop a new culture system that allows separation of neuronal compartments and specifically examines the interaction between glia and neuronal axons/dendrites. In addition, the conventional mixed culture system is not capable of differentiating the soluble factors and direct membrane contact signals between neuron and glia. Furthermore, the large quantity of neurons and glial cells in the conventional co-culture system lacks the resolution necessary to observe the interaction between a single axon and a glial cell. In this study, we describe a novel axon and glia co-culture system with the use of a microfluidic culture platform (MCP). In this co-culture system, neurons and glial cells are cultured in two separate chambers that are connected through multiple central channels. In this microfluidic culture platform, only neuronal processes (especially axons) can enter the glial side through the central channels. In combination with powerful fluorescent protein labeling, this system allows direct examination of signaling pathways between axonal/dendritic and glial interactions, such as axon-mediated transcriptional regulation in glia, glia-mediated receptor trafficking in neuronal terminals, and glia-mediated axon growth. The narrow diameter of the chamber also significantly prohibits the flow of the neuron-enriched medium into the glial chamber, facilitating probing of the direct membrane-protein interaction between axons/dendrites and glial surfaces.
Neuroscience, Issue 68, Molecular Biology, Cellular Biology, Biophysics, Microfluidics, Microfluidic culture platform, Compartmented culture, Neuron to glia signaling, neurons, glia, cell culture
4448
Three-dimensional Confocal Analysis of Microglia/macrophage Markers of Polarization in Experimental Brain Injury
Institutions: IRCCS - Istituto di Ricerche Farmacologiche Mario Negri.
After brain stroke microglia/macrophages (M/M) undergo rapid activation with dramatic morphological and phenotypic changes that include expression of novel surface antigens and production of mediators that build up and maintain the inflammatory response. Emerging evidence indicates that M/M are highly plastic cells that can assume classic pro-inflammatory (M1) or alternative anti-inflammatory (M2) activation after acute brain injury. However a complete characterization of M/M phenotype marker expression, their colocalization and temporal evolution in the injured brain is still missing. Immunofluorescence protocols specifically staining relevant markers of M/M activation can be performed in the ischemic brain. Here we present immunofluorescence-based protocols followed by three-dimensional confocal analysis as a powerful approach to investigate the pattern of localization and co-expression of M/M phenotype markers such as CD11b, CD68, Ym1, in mouse model of focal ischemia induced by permanent occlusion of the middle cerebral artery (pMCAO). Two-dimensional analysis of the stained area reveals that each marker is associated to a defined M/M morphology and has a given localization in the ischemic lesion. Patterns of M/M phenotype marker co-expression can be assessed by three-dimensional confocal imaging in the ischemic area. Images can be acquired over a defined volume (10 μm z-axis and a 0.23 μm step size, corresponding to a 180 x 135 x 10 μm volume) with a sequential scanning mode to minimize bleed-through effects and avoid wavelength overlapping. Images are then processed to obtain three-dimensional renderings by means of Imaris software. Solid view of three dimensional renderings allows the definition of marker expression in clusters of cells. We show that M/M have the ability to differentiate towards a multitude of phenotypes, depending on the location in the lesion site and time after injury.
Neurobiology, Issue 79, Neuroscience, Molecular Biology, Cellular Biology, Medicine, Biomedical Engineering, Anatomy, Physiology, Central Nervous System Diseases, Neurodegenerative Diseases, biology (general), immunology, life sciences, animal models, Inflammation, stroke, alternative activation, brain injury, brain, imaging, confocal microscopy, three-dimensional imaging, clinical techniques, mouse, animal model
50605
Optimized System for Cerebral Perfusion Monitoring in the Rat Stroke Model of Intraluminal Middle Cerebral Artery Occlusion
Institutions: University of Milano Bicocca.

The translational potential of pre-clinical stroke research depends on the accuracy of experimental modeling. Cerebral perfusion monitoring in animal models of acute ischemic stroke allows to confirm successful arterial occlusion and exclude subarachnoid hemorrhage. Cerebral perfusion monitoring can also be used to study intracranial collateral circulation, which is emerging as a powerful determinant of stroke outcome and a possible therapeutic target. Despite a recognized role of Laser Doppler perfusion monitoring as part of the current guidelines for experimental cerebral ischemia, a number of technical difficulties exist that limit its widespread use. One of the major issues is obtaining a secure and prolonged attachment of a deep-penetration Laser Doppler probe to the animal skull. In this video, we show our optimized system for cerebral perfusion monitoring during transient middle cerebral artery occlusion by intraluminal filament in the rat. We developed in-house a simple method to obtain a custom made holder for twin-fibre (deep-penetration) Laser Doppler probes, which allow multi-site monitoring if needed. A continuous and prolonged monitoring of cerebral perfusion could easily be obtained over the intact skull.
Medicine, Issue 72, Neuroscience, Neurobiology, Biomedical Engineering, Anatomy, Physiology, Surgery, Brain Ischemia, Stroke, Hemodynamics, middle cerebral artery occlusion, cerebral hemodynamics, perfusion monitoring, Laser Doppler, intracranial collaterals, ischemic penumbra, rat, animal model
50214
Setting-up an In Vitro Model of Rat Blood-brain Barrier (BBB): A Focus on BBB Impermeability and Receptor-mediated Transport
Institutions: VECT-HORUS SAS, CNRS, NICN UMR 7259.

The blood brain barrier (BBB) specifically regulates molecular and cellular flux between the blood and the nervous tissue. Our aim was to develop and characterize a highly reproducible rat syngeneic
in vitro
model of the BBB using co-cultures of primary rat brain endothelial cells (RBEC) and astrocytes to study receptors involved in transcytosis across the endothelial cell monolayer. Astrocytes were isolated by mechanical dissection following trypsin digestion and were frozen for later co-culture. RBEC were isolated from 5-week-old rat cortices. The brains were cleaned of meninges and white matter, and mechanically dissociated following enzymatic digestion. Thereafter, the tissue homogenate was centrifuged in bovine serum albumin to separate vessel fragments from nervous tissue. The vessel fragments underwent a second enzymatic digestion to free endothelial cells from their extracellular matrix. The remaining contaminating cells such as pericytes were further eliminated by plating the microvessel fragments in puromycin-containing medium. They were then passaged onto filters for co-culture with astrocytes grown on the bottom of the wells. RBEC expressed high levels of tight junction (TJ) proteins such as occludin, claudin-5 and ZO-1 with a typical localization at the cell borders. The transendothelial electrical resistance (TEER) of brain endothelial monolayers, indicating the tightness of TJs reached 300 ohm·cm
2
on average. The endothelial permeability coefficients (Pe) for lucifer yellow (LY) was highly reproducible with an average of 0.26 ± 0.11 x 10
-3
cm/min. Brain endothelial cells organized in monolayers expressed the efflux transporter P-glycoprotein (P-gp), showed a polarized transport of rhodamine 123, a ligand for P-gp, and showed specific transport of transferrin-Cy3 and DiILDL across the endothelial cell monolayer. In conclusion, we provide a protocol for setting up an
in vitro
BBB model that is highly reproducible due to the quality assurance methods, and that is suitable for research on BBB transporters and receptors.
Medicine, Issue 88, rat brain endothelial cells (RBEC), mouse, spinal cord, tight junction (TJ), receptor-mediated transport (RMT), low density lipoprotein (LDL), LDLR, transferrin, TfR, P-glycoprotein (P-gp), transendothelial electrical resistance (TEER),
51278
Analysis of Nephron Composition and Function in the Adult Zebrafish Kidney
Institutions: University of Notre Dame.

The zebrafish model has emerged as a relevant system to study kidney development, regeneration and disease. Both the embryonic and adult zebrafish kidneys are composed of functional units known as nephrons, which are highly conserved with other vertebrates, including mammals. Research in zebrafish has recently demonstrated that two distinctive phenomena transpire after adult nephrons incur damage: first, there is robust regeneration within existing nephrons that replaces the destroyed tubule epithelial cells; second, entirely new nephrons are produced from renal progenitors in a process known as neonephrogenesis. In contrast, humans and other mammals seem to have only a limited ability for nephron epithelial regeneration. To date, the mechanisms responsible for these kidney regeneration phenomena remain poorly understood. Since adult zebrafish kidneys undergo both nephron epithelial regeneration and neonephrogenesis, they provide an outstanding experimental paradigm to study these events. Further, there is a wide range of genetic and pharmacological tools available in the zebrafish model that can be used to delineate the cellular and molecular mechanisms that regulate renal regeneration. One essential aspect of such research is the evaluation of nephron structure and function. This protocol describes a set of labeling techniques that can be used to gauge renal composition and test nephron functionality in the adult zebrafish kidney. Thus, these methods are widely applicable to the future phenotypic characterization of adult zebrafish kidney injury paradigms, which include but are not limited to, nephrotoxicant exposure regimes or genetic methods of targeted cell death such as the nitroreductase mediated cell ablation technique. Further, these methods could be used to study genetic perturbations in adult kidney formation and could also be applied to assess renal status during chronic disease modeling.
Cellular Biology, Issue 90, zebrafish; kidney; nephron; nephrology; renal; regeneration; proximal tubule; distal tubule; segment; mesonephros; physiology; acute kidney injury (AKI)
51644
Live Imaging of Mitosis in the Developing Mouse Embryonic Cortex
Institutions: Duke University Medical Center, Duke University Medical Center.

Although of short duration, mitosis is a complex and dynamic multi-step process fundamental for development of organs including the brain. In the developing cerebral cortex, abnormal mitosis of neural progenitors can cause defects in brain size and function. Hence, there is a critical need for tools to understand the mechanisms of neural progenitor mitosis. Cortical development in rodents is an outstanding model for studying this process. Neural progenitor mitosis is commonly examined in fixed brain sections. This protocol will describe in detail an approach for live imaging of mitosis in
ex vivo
embryonic brain slices. We will describe the critical steps for this procedure, which include: brain extraction, brain embedding, vibratome sectioning of brain slices, staining and culturing of slices, and time-lapse imaging. We will then demonstrate and describe in detail how to perform post-acquisition analysis of mitosis. We include representative results from this assay using the vital dye Syto11, transgenic mice (histone H2B-EGFP and centrin-EGFP), and
in utero
electroporation (mCherry-α-tubulin). We will discuss how this procedure can be best optimized and how it can be modified for study of genetic regulation of mitosis. Live imaging of mitosis in brain slices is a flexible approach to assess the impact of age, anatomy, and genetic perturbation in a controlled environment, and to generate a large amount of data with high temporal and spatial resolution. Hence this protocol will complement existing tools for analysis of neural progenitor mitosis.
Neuroscience, Issue 88, mitosis, radial glial cells, developing cortex, neural progenitors, brain slice, live imaging
51298
Lineage-reprogramming of Pericyte-derived Cells of the Adult Human Brain into Induced Neurons
Institutions: Ludwig Maximilians University Munich, Ludwig-Maximilians University Munich, Friedrich-Alexander-Universität Erlangen-Nürnberg, Johannes Gutenberg University Mainz.
Direct lineage-reprogramming of non-neuronal cells into induced neurons (iNs) may provide insights into the molecular mechanisms underlying neurogenesis and enable new strategies for
in vitro
modeling or repairing the diseased brain. Identifying brain-resident non-neuronal cell types amenable to direct conversion into iNs might allow for launching such an approach
in situ
,
i.e.
within the damaged brain tissue. Here we describe a protocol developed in the attempt of identifying cells derived from the adult human brain that fulfill this premise. This protocol involves: (1) the culturing of human cells from the cerebral cortex obtained from adult human brain biopsies; (2) the
in vitro
expansion (approximately requiring 2-4 weeks) and characterization of the culture by immunocytochemistry and flow cytometry; (3) the enrichment by fluorescence-activated cell sorting (FACS) using anti-PDGF receptor-β and anti-CD146 antibodies; (4) the retrovirus-mediated transduction with the neurogenic transcription factors sox2 and ascl1; (5) and finally the characterization of the resultant pericyte-derived induced neurons (PdiNs) by immunocytochemistry (14 days to 8 weeks following retroviral transduction). At this stage, iNs can be probed for their electrical properties by patch-clamp recording. This protocol provides a highly reproducible procedure for the
in vitro
lineage conversion of brain-resident pericytes into functional human iNs.
Neuroscience, Issue 87, Pericytes, lineage-reprogramming, induced neurons, cerebral cortex
51433
Affinity-based Isolation of Tagged Nuclei from Drosophila Tissues for Gene Expression Analysis
Institutions: Purdue University.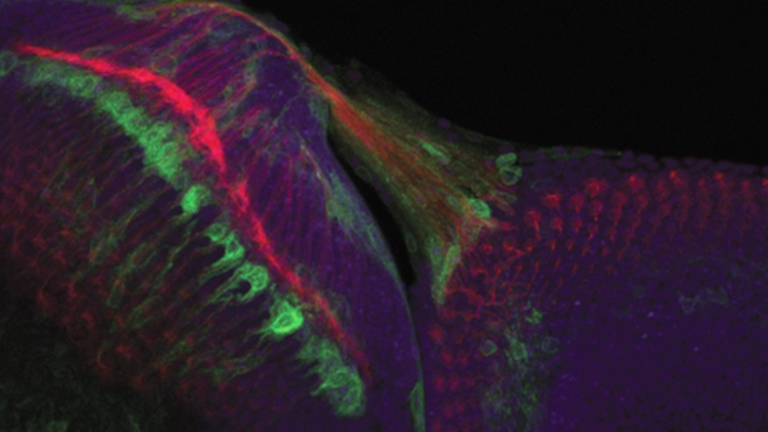 Drosophila melanogaster
embryonic and larval tissues often contain a highly heterogeneous mixture of cell types, which can complicate the analysis of gene expression in these tissues. Thus, to analyze cell-specific gene expression profiles from
Drosophila
tissues, it may be necessary to isolate specific cell types with high purity and at sufficient yields for downstream applications such as transcriptional profiling and chromatin immunoprecipitation. However, the irregular cellular morphology in tissues such as the central nervous system, coupled with the rare population of specific cell types in these tissues, can pose challenges for traditional methods of cell isolation such as laser microdissection and fluorescence-activated cell sorting (FACS). Here, an alternative approach to characterizing cell-specific gene expression profiles using affinity-based isolation of tagged nuclei, rather than whole cells, is described. Nuclei in the specific cell type of interest are genetically labeled with a nuclear envelope-localized EGFP tag using the Gal4/UAS binary expression system. These EGFP-tagged nuclei can be isolated using antibodies against GFP that are coupled to magnetic beads. The approach described in this protocol enables consistent isolation of nuclei from specific cell types in the
Drosophila
larval central nervous system at high purity and at sufficient levels for expression analysis, even when these cell types comprise less than 2% of the total cell population in the tissue. This approach can be used to isolate nuclei from a wide variety of
Drosophila
embryonic and larval cell types using specific Gal4 drivers, and may be useful for isolating nuclei from cell types that are not suitable for FACS or laser microdissection.
Biochemistry, Issue 85, Gene Expression, nuclei isolation, Drosophila, KASH, GFP, cell-type specific
51418
Systemic Injection of Neural Stem/Progenitor Cells in Mice with Chronic EAE
Institutions: University of Cambridge, UK, University of Cambridge, UK.

Neural stem/precursor cells (NPCs) are a promising stem cell source for transplantation approaches aiming at brain repair or restoration in regenerative neurology. This directive has arisen from the extensive evidence that brain repair is achieved after focal or systemic NPC transplantation in several preclinical models of neurological diseases. These experimental data have identified the cell delivery route as one of the main hurdles of restorative stem cell therapies for brain diseases that requires urgent assessment. Intraparenchymal stem cell grafting represents a logical approach to those pathologies characterized by isolated and accessible brain lesions such as spinal cord injuries and Parkinson's disease. Unfortunately, this principle is poorly applicable to conditions characterized by a multifocal, inflammatory and disseminated (both in time and space) nature, including multiple sclerosis (MS). As such, brain targeting by systemic NPC delivery has become a low invasive and therapeutically efficacious protocol to deliver cells to the brain and spinal cord of rodents and nonhuman primates affected by experimental chronic inflammatory damage of the central nervous system (CNS). This alternative method of cell delivery relies on the NPC pathotropism, specifically their innate capacity to (i) sense the environment
via
functional cell adhesion molecules and inflammatory cytokine and chemokine receptors; (ii) cross the leaking anatomical barriers after intravenous (
i.v
.) or intracerebroventricular (
i.c.v.
) injection; (iii) accumulate at the level of multiple perivascular site(s) of inflammatory brain and spinal cord damage; and (
i.v.
) exert remarkable tissue trophic and immune regulatory effects onto different host target cells
in vivo
. Here we describe the methods that we have developed for the
i.v
. and
i.c.v.
delivery of syngeneic NPCs in mice with experimental autoimmune encephalomyelitis (EAE), as model of chronic CNS inflammatory demyelination, and envisage the systemic stem cell delivery as a valuable technique for the selective targeting of the inflamed brain in regenerative neurology.
Immunology, Issue 86, Somatic neural stem/precursor cells, neurodegenerative disorders, regenerative medicine, multiple sclerosis, experimental autoimmune encephalomyelitis, systemic delivery, intravenous, intracerebroventricular
51154
High Efficiency Differentiation of Human Pluripotent Stem Cells to Cardiomyocytes and Characterization by Flow Cytometry
Institutions: Medical College of Wisconsin, Stanford University School of Medicine, Medical College of Wisconsin, Hong Kong University, Johns Hopkins University School of Medicine, Medical College of Wisconsin.

There is an urgent need to develop approaches for repairing the damaged heart, discovering new therapeutic drugs that do not have toxic effects on the heart, and improving strategies to accurately model heart disease. The potential of exploiting human induced pluripotent stem cell (hiPSC) technology to generate cardiac muscle "in a dish" for these applications continues to generate high enthusiasm. In recent years, the ability to efficiently generate cardiomyogenic cells from human pluripotent stem cells (hPSCs) has greatly improved, offering us new opportunities to model very early stages of human cardiac development not otherwise accessible. In contrast to many previous methods, the cardiomyocyte differentiation protocol described here does not require cell aggregation or the addition of Activin A or BMP4 and robustly generates cultures of cells that are highly positive for cardiac troponin I and T (TNNI3, TNNT2), iroquois-class homeodomain protein IRX-4 (IRX4), myosin regulatory light chain 2, ventricular/cardiac muscle isoform (MLC2v) and myosin regulatory light chain 2, atrial isoform (MLC2a) by day 10 across all human embryonic stem cell (hESC) and hiPSC lines tested to date. Cells can be passaged and maintained for more than 90 days in culture. The strategy is technically simple to implement and cost-effective. Characterization of cardiomyocytes derived from pluripotent cells often includes the analysis of reference markers, both at the mRNA and protein level. For protein analysis, flow cytometry is a powerful analytical tool for assessing quality of cells in culture and determining subpopulation homogeneity. However, technical variation in sample preparation can significantly affect quality of flow cytometry data. Thus, standardization of staining protocols should facilitate comparisons among various differentiation strategies. Accordingly, optimized staining protocols for the analysis of IRX4, MLC2v, MLC2a, TNNI3, and TNNT2 by flow cytometry are described.
Cellular Biology, Issue 91, human induced pluripotent stem cell, flow cytometry, directed differentiation, cardiomyocyte, IRX4, TNNI3, TNNT2, MCL2v, MLC2a
52010
Acute Brain Trauma in Mice Followed By Longitudinal Two-photon Imaging
Institutions: University of Helsinki.

Although acute brain trauma often results from head damage in different accidents and affects a substantial fraction of the population, there is no effective treatment for it yet. Limitations of currently used animal models impede understanding of the pathology mechanism. Multiphoton microscopy allows studying cells and tissues within intact animal brains longitudinally under physiological and pathological conditions. Here, we describe two models of acute brain injury studied by means of two-photon imaging of brain cell behavior under posttraumatic conditions. A selected brain region is injured with a sharp needle to produce a trauma of a controlled width and depth in the brain parenchyma. Our method uses stereotaxic prick with a syringe needle, which can be combined with simultaneous drug application. We propose that this method can be used as an advanced tool to study cellular mechanisms of pathophysiological consequences of acute trauma in mammalian brain
in vivo
. In this video, we combine acute brain injury with two preparations: cranial window and skull thinning. We also discuss advantages and limitations of both preparations for multisession imaging of brain regeneration after trauma.
Medicine, Issue 86, Trauma, Nervous System, animal models, Brain trauma, in vivo multiphoton microscopy, dendrite, astrocyte, microglia, second harmonic generation.
51559
Inducing Plasticity of Astrocytic Receptors by Manipulation of Neuronal Firing Rates
Institutions: University of California Riverside, University of California Riverside, University of California Riverside.

Close to two decades of research has established that astrocytes
in situ
and
in vivo
express numerous G protein-coupled receptors (GPCRs) that can be stimulated by neuronally-released transmitter. However, the ability of astrocytic receptors to exhibit plasticity in response to changes in neuronal activity has received little attention. Here we describe a model system that can be used to globally scale up or down astrocytic group I metabotropic glutamate receptors (mGluRs) in acute brain slices. Included are methods on how to prepare parasagittal hippocampal slices, construct chambers suitable for long-term slice incubation, bidirectionally manipulate neuronal action potential frequency, load astrocytes and astrocyte processes with fluorescent Ca
2+
indicator, and measure changes in astrocytic Gq GPCR activity by recording spontaneous and evoked astrocyte Ca
2+
events using confocal microscopy. In essence, a "calcium roadmap" is provided for how to measure plasticity of astrocytic Gq GPCRs. Applications of the technique for study of astrocytes are discussed. Having an understanding of how astrocytic receptor signaling is affected by changes in neuronal activity has important implications for both normal synaptic function as well as processes underlying neurological disorders and neurodegenerative disease.
Neuroscience, Issue 85, astrocyte, plasticity, mGluRs, neuronal Firing, electrophysiology, Gq GPCRs, Bolus-loading, calcium, microdomains, acute slices, Hippocampus, mouse
51458
Neonatal Subventricular Zone Electroporation
Institutions: Yale University School of Medicine .

Neural stem cells (NSCs) line the postnatal lateral ventricles and give rise to multiple cell types which include neurons, astrocytes, and ependymal cells
1
. Understanding the molecular pathways responsible for NSC self-renewal, commitment, and differentiation is critical for harnessing their unique potential to repair the brain and better understand central nervous system disorders. Previous methods for the manipulation of mammalian systems required the time consuming and expensive endeavor of genetic engineering at the whole animal level
2
. Thus, the vast majority of studies have explored the functions of NSC molecules
in vitro
or in invertebrates. Here, we demonstrate the simple and rapid technique to manipulate neonatal NPCs that is referred to as neonatal subventricular zone (SVZ) electroporation. Similar techniques were developed a decade ago to study embryonic NSCs and have aided studies on cortical development
3,4
. More recently this was applied to study the postnatal rodent forebrain
5-7
. This technique results in robust labeling of SVZ NSCs and their progeny. Thus, postnatal SVZ electroporation provides a cost and time effective alternative for mammalian NSC genetic engineering.
Neuroscience, Issue 72, Developmental Biology, Neurobiology, Molecular Biology, Cellular Biology, Physiology, Anatomy, Biomedical Engineering, Stem Cell Biology, Genetics, Neurogenesis, Growth and Development, Surgery, Subventricular Zone, Electroporation, Neural Stem Cells, NSC, subventricular zone, brain, DNA, injection, genetic engineering, neonatal pups, animal model
50197
Transplantation of Cells Directly into the Kidney of Adult Zebrafish
Institutions: Massachusetts General Hospital.

Regenerative medicine based on the transplantation of stem or progenitor cells into damaged tissues has the potential to treat a wide range of chronic diseases
1
. However, most organs are not easily accessible, necessitating the need to develop surgical methods to gain access to these structures. In this video article, we describe a method for transplanting cells directly into the kidney of adult zebrafish, a popular model to study regeneration and disease
2
. Recipient fish are pre-conditioned by irradiation to suppress the immune rejection of the injected cells
3
. We demonstrate how the head kidney can be exposed by a lateral incision in the flank of the fish, followed by the injection of cells directly in to the organ. Using fluorescently labeled whole kidney marrow cells comprising a mixed population of renal and hematopoietic precursors, we show that nephron progenitors can engraft and differentiate into new renal tissue - the gold standard of any cell-based regenerative therapy. This technique can be adapted to deliver purified stem or progenitor cells and/or small molecules to the kidney as well as other internal organs and further enhances the zebrafish as a versatile model to study regenerative medicine.
Cellular Biology, Issue 51, zebrafish, kidney, regeneration, transplantation
2725
DNA Transfection of Mammalian Skeletal Muscles using In Vivo Electroporation
Institutions: David Geffen School of Medicine, University of California, Los Angeles.

A growing interest in cell biology is to express transgenically modified forms of essential proteins (e.g. fluorescently tagged constructs and/or mutant variants) in order to investigate their endogenous distribution and functional relevance. An interesting approach that has been implemented to fulfill this objective in fully differentiated cells is the
in vivo
transfection of plasmids by various methods into specific tissues such as liver
1
, skeletal muscle
2,3
, and even the brain
4
. We present here a detailed description of the steps that must be followed in order to efficiently transfect genetic material into fibers of the
flexor digitorum brevis
(FDB) and
interosseus
(IO) muscles of adult mice using an
in vivo
electroporation approach. The experimental parameters have been optimized so as to maximize the number of muscle fibers transfected while minimizing tissue damages that may impair the quality and quantity of the proteins expressed in individual fibers. We have verified that the implementation of the methodology described in this paper results in a high yield of soluble proteins, i.e. EGFP and ECFP
3
, calpain, FKBP12, β2a-DHPR, etc. ; structural proteins, i.e. minidystrophin and α-actinin; and membrane proteins, i.e. α1s-DHPR, RyR1, cardiac Na/Ca
2+
exchanger , NaV1.4 Na channel, SERCA1, etc., when applied to FDB, IO and other muscles of mice and rats. The efficient expression of some of these proteins has been verified with biochemical
3
and functional evidence
5
. However, by far the most common confirmatory approach used by us are standard fluorescent microscopy and 2-photon laser scanning microscopy (TPLSM), which permit to identify not only the overall expression, but also the detailed intracellular localization, of fluorescently tagged protein constructs. The method could be equally used to transfect plasmids encoding for the expression of proteins of physiological relevance (as shown here), or for interference RNA (siRNA) aiming to suppress the expression of normally expressed proteins (not tested by us yet). It should be noted that the transfection of FDB and IO muscle fibers is particularly relevant for the investigation of mammalian muscle physiology since fibers enzymatically dissociated from these muscles are currently one of the most suitable models to investigate basic mechanisms of excitability and excitation-contraction coupling under current or voltage clamp conditions
2,6-8
.
Cellular Biology, Issue 32, electroporation, skeletal muscle, plasmids, protein expression, mouse, two-photon microscopy, fluorescence, transgenic
1520
Mouse Model of Middle Cerebral Artery Occlusion
Institutions: Ernest Gallo Clinic and Research Center, University of California, San Francisco, Kent State University.

Stroke is the most common fatal neurological disease in the United States
1
. The majority of strokes (88%) result from blockage of blood vessels in the brain (ischemic stroke)
2
. Since most ischemic strokes (~80%) occur in the territory of middle cerebral artery (MCA)
3
, many animal stroke models that have been developed have focused on this artery. The intraluminal monofilament model of middle cerebral artery occlusion (MCAO) involves the insertion of a surgical filament into the external carotid artery and threading it forward into the internal carotid artery (ICA) until the tip occludes the origin of the MCA, resulting in a cessation of blood flow and subsequent brain infarction in the MCA territory
4
. The technique can be used to model permanent or transient occlusion
5
. If the suture is removed after a certain interval (30 min, 1 h, or 2 h), reperfusion is achieved (transient MCAO); if the filament is left in place (24 h) the procedure is suitable as a model of permanent MCAO. This technique does not require craniectomy, a neurosurgical procedure to remove a portion of skull, which may affect intracranial pressure and temperature
6
. It has become the most frequently used method to mimic permanent and transient focal cerebral ischemia in rats and mice
7,8
. To evaluate the extent of cerebral infarction, we stain brain slices with 2,3,5-triphenyltetrazolium chloride (TTC) to identify ischemic brain tissue
9
. In this video, we demonstrate the MCAO method and the determination of infarct size by TTC staining.
Medicine, Issue 48, Neurology, Stroke, mice, ischemia
2761