ABSTRACT
An experimental study is performed to measure the terminal settling velocities of spherical particles in surfactant based shear thinning viscoelastic (VES) fluids. The measurements are made for particles settling in unbounded fluids and fluids between parallel walls. VES fluids over a wide range of rheological properties are prepared and rheologically characterized. The rheological characterization involves steady shear-viscosity and dynamic oscillatory-shear measurements to quantify the viscous and elastic properties respectively. The settling velocities under unbounded conditions are measured in beakers having diameters at least 25x the diameter of particles. For measuring settling velocities between parallel walls, two experimental cells with different wall spacing are constructed. Spherical particles of varying sizes are gently dropped in the fluids and allowed to settle. The process is recorded with a high resolution video camera and the trajectory of the particle is recorded using image analysis software. Terminal settling velocities are calculated from the data. The impact of elasticity on settling velocity in unbounded fluids is quantified by comparing the experimental settling velocity to the settling velocity calculated by the inelastic drag predictions of Renaud et al.1 Results show that elasticity of fluids can increase or decrease the settling velocity. The magnitude of reduction/increase is a function of the rheological properties of the fluids and properties of particles. Confining walls are observed to cause a retardation effect on settling and the retardation is measured in terms of wall factors.
20 Related JoVE Articles!
Fast Imaging Technique to Study Drop Impact Dynamics of Non-Newtonian Fluids
Institutions: The University of Chicago, The University of Chicago, Yale University.
In the field of fluid mechanics, many dynamical processes not only occur over a very short time interval but also require high spatial resolution for detailed observation, scenarios that make it challenging to observe with conventional imaging systems. One of these is the drop impact of liquids, which usually happens within one tenth of millisecond. To tackle this challenge, a fast imaging technique is introduced that combines a high-speed camera (capable of up to one million frames per second) with a macro lens with long working distance to bring the spatial resolution of the image down to 10 µm/pixel. The imaging technique enables precise measurement of relevant fluid dynamic quantities, such as the flow field, the spreading distance and the splashing speed, from analysis of the recorded video. To demonstrate the capabilities of this visualization system, the impact dynamics when droplets of non-Newtonian fluids impinge on a flat hard surface are characterized. Two situations are considered: for oxidized liquid metal droplets we focus on the spreading behavior, and for densely packed suspensions we determine the onset of splashing. More generally, the combination of high temporal and spatial imaging resolution introduced here offers advantages for studying fast dynamics across a wide range of microscale phenomena.
Physics, Issue 85, fluid mechanics, fast camera, dense suspension, liquid metal, drop impact, splashing
51249
Micro-particle Image Velocimetry for Velocity Profile Measurements of Micro Blood Flows
Institutions: University of Ottawa , University of Ottawa.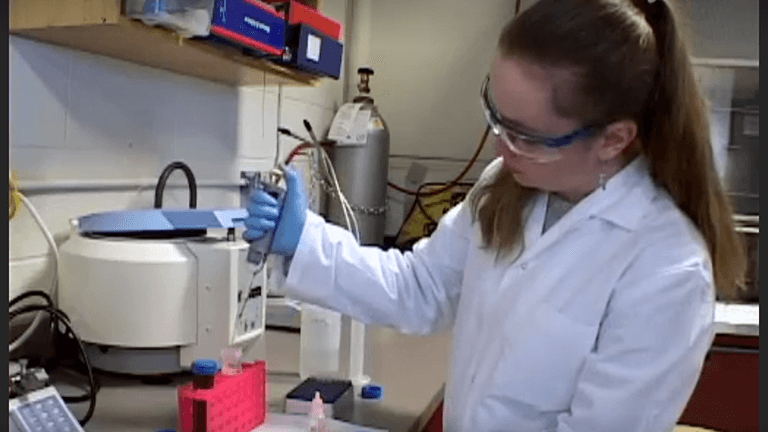 Micro-particle image velocimetry (μPIV) is used to visualize paired images of micro particles seeded in blood flows. The images are cross-correlated to give an accurate velocity profile. A protocol is presented for μPIV measurements of blood flows in microchannels. At the scale of the microcirculation, blood cannot be considered a homogeneous fluid, as it is a suspension of flexible particles suspended in plasma, a Newtonian fluid. Shear rate, maximum velocity, velocity profile shape, and flow rate can be derived from these measurements. Several key parameters such as focal depth, particle concentration, and system compliance, are presented in order to ensure accurate, useful data along with examples and representative results for various hematocrits and flow conditions.
Bioengineering, Issue 74, Biophysics, Chemical Engineering, Mechanical Engineering, Biomedical Engineering, Medicine, Anatomy, Physiology, Cellular Biology, Molecular Biology, Hematology, Blood Physiological Phenomena, Hemorheology, Hematocrit, flow characteristics, flow measurement, flow visualization, rheology, Red blood cells, cross correlation, micro blood flows, microfluidics, microhemorheology, microcirculation, velocimetry, visualization, imaging
50314
Confocal Imaging of Confined Quiescent and Flowing Colloid-polymer Mixtures
Institutions: University of Houston.

The behavior of confined colloidal suspensions with attractive interparticle interactions is critical to the rational design of materials for directed assembly
1-3
, drug delivery
4
, improved hydrocarbon recovery
5-7
, and flowable electrodes for energy storage
8
. Suspensions containing fluorescent colloids and non-adsorbing polymers are appealing model systems, as the ratio of the polymer radius of gyration to the particle radius and concentration of polymer control the range and strength of the interparticle attraction, respectively. By tuning the polymer properties and the volume fraction of the colloids, colloid fluids, fluids of clusters, gels, crystals, and glasses can be obtained
9
. Confocal microscopy, a variant of fluorescence microscopy, allows an optically transparent and fluorescent sample to be imaged with high spatial and temporal resolution in three dimensions. In this technique, a small pinhole or slit blocks the emitted fluorescent light from regions of the sample that are outside the focal volume of the microscope optical system. As a result, only a thin section of the sample in the focal plane is imaged. This technique is particularly well suited to probe the structure and dynamics in dense colloidal suspensions at the single-particle scale: the particles are large enough to be resolved using visible light and diffuse slowly enough to be captured at typical scan speeds of commercial confocal systems
10
. Improvements in scan speeds and analysis algorithms have also enabled quantitative confocal imaging of flowing suspensions
11-16,37
. In this paper, we demonstrate confocal microscopy experiments to probe the confined phase behavior and flow properties of colloid-polymer mixtures. We first prepare colloid-polymer mixtures that are density- and refractive-index matched. Next, we report a standard protocol for imaging quiescent dense colloid-polymer mixtures under varying confinement in thin wedge-shaped cells. Finally, we demonstrate a protocol for imaging colloid-polymer mixtures during microchannel flow.
Chemistry, Issue 87, confocal microscopy, particle tracking, colloids, suspensions, confinement, gelation, microfluidics, image correlation, dynamics, suspension flow
51461
Polycrystalline Silicon Thin-film Solar cells with Plasmonic-enhanced Light-trapping
Institutions: University of New South Wales .

One of major approaches to cheaper solar cells is reducing the amount of semiconductor material used for their fabrication and making cells thinner. To compensate for lower light absorption such physically thin devices have to incorporate light-trapping which increases their optical thickness. Light scattering by textured surfaces is a common technique but it cannot be universally applied to all solar cell technologies. Some cells, for example those made of evaporated silicon, are planar as produced and they require an alternative light-trapping means suitable for planar devices. Metal nanoparticles formed on planar silicon cell surface and capable of light scattering due to surface plasmon resonance is an effective approach. The paper presents a fabrication procedure of evaporated polycrystalline silicon solar cells with plasmonic light-trapping and demonstrates how the cell quantum efficiency improves due to presence of metal nanoparticles. To fabricate the cells a film consisting of alternative boron and phosphorous doped silicon layers is deposited on glass substrate by electron beam evaporation. An Initially amorphous film is crystallised and electronic defects are mitigated by annealing and hydrogen passivation. Metal grid contacts are applied to the layers of opposite polarity to extract electricity generated by the cell. Typically, such a ~2 μm thick cell has a short-circuit current density (
Jsc
) of 14-16 mA/cm
2
, which can be increased up to 17-18 mA/cm
2
(~25% higher) after application of a simple diffuse back reflector made of a white paint. To implement plasmonic light-trapping a silver nanoparticle array is formed on the metallised cell silicon surface. A precursor silver film is deposited on the cell by thermal evaporation and annealed at 23°C to form silver nanoparticles. Nanoparticle size and coverage, which affect plasmonic light-scattering, can be tuned for enhanced cell performance by varying the precursor film thickness and its annealing conditions. An optimised nanoparticle array alone results in cell
Jsc
enhancement of about 28%, similar to the effect of the diffuse reflector. The photocurrent can be further increased by coating the nanoparticles by a low refractive index dielectric, like MgF
2
, and applying the diffused reflector. The complete plasmonic cell structure comprises the polycrystalline silicon film, a silver nanoparticle array, a layer of MgF
2
, and a diffuse reflector. The
Jsc
for such cell is 21-23 mA/cm
2
, up to 45% higher than
Jsc
of the original cell without light-trapping or ~25% higher than
Jsc
for the cell with the diffuse reflector only. Introduction Light-trapping in silicon solar cells is commonly achieved via light scattering at textured interfaces. Scattered light travels through a cell at oblique angles for a longer distance and when such angles exceed the critical angle at the cell interfaces the light is permanently trapped in the cell by total internal reflection
(Animation 1: Light-trapping)
. Although this scheme works well for most solar cells, there are developing technologies where ultra-thin Si layers are produced planar (e.g. layer-transfer technologies and epitaxial c-Si layers)
1
and or when such layers are not compatible with textures substrates (e.g. evaporated silicon)
2
. For such originally planar Si layer alternative light trapping approaches, such as diffuse white paint reflector
3
, silicon plasma texturing
4
or high refractive index nanoparticle reflector
5
have been suggested. Metal nanoparticles can effectively scatter incident light into a higher refractive index material, like silicon, due to the surface plasmon resonance effect
6
. They also can be easily formed on the planar silicon cell surface thus offering a light-trapping approach alternative to texturing. For a nanoparticle located at the air-silicon interface the scattered light fraction coupled into silicon exceeds 95% and a large faction of that light is scattered at angles above critical providing nearly ideal light-trapping condition
(Animation 2: Plasmons on NP)
. The resonance can be tuned to the wavelength region, which is most important for a particular cell material and design, by varying the nanoparticle average size, surface coverage and local dielectric environment
6,7
. Theoretical design principles of plasmonic nanoparticle solar cells have been suggested
8
. In practice, Ag nanoparticle array is an ideal light-trapping partner for poly-Si thin-film solar cells because most of these design principle are naturally met. The simplest way of forming nanoparticles by thermal annealing of a thin precursor Ag film results in a random array with a relatively wide size and shape distribution, which is particularly suitable for light-trapping because such an array has a wide resonance peak, covering the wavelength range of 700-900 nm, important for poly-Si solar cell performance. The nanoparticle array can only be located on the rear poly-Si cell surface thus avoiding destructive interference between incident and scattered light which occurs for front-located nanoparticles
9
. Moreover, poly-Si thin-film cells do not requires a passivating layer and the flat base-shaped nanoparticles (that naturally result from thermal annealing of a metal film) can be directly placed on silicon further increases plasmonic scattering efficiency due to surface plasmon-polariton resonance
10
. The cell with the plasmonic nanoparticle array as described above can have a photocurrent about 28% higher than the original cell. However, the array still transmits a significant amount of light which escapes through the rear of the cell and does not contribute into the current. This loss can be mitigated by adding a rear reflector to allow catching transmitted light and re-directing it back to the cell. Providing sufficient distance between the reflector and the nanoparticles (a few hundred nanometers) the reflected light will then experience one more plasmonic scattering event while passing through the nanoparticle array on re-entering the cell and the reflector itself can be made diffuse - both effects further facilitating light scattering and hence light-trapping. Importantly, the Ag nanoparticles have to be encapsulated with an inert and low refractive index dielectric, like MgF
2
or SiO
2
, from the rear reflector to avoid mechanical and chemical damage
7
. Low refractive index for this cladding layer is required to maintain a high coupling fraction into silicon and larger scattering angles, which are ensured by the high optical contrast between the media on both sides of the nanoparticle, silicon and dielectric
6
. The photocurrent of the plasmonic cell with the diffuse rear reflector can be up to 45% higher than the current of the original cell or up to 25% higher than the current of an equivalent cell with the diffuse reflector only.
Physics, Issue 65, Materials Science, Photovoltaics, Silicon thin-film solar cells, light-trapping, metal nanoparticles, surface plasmons
4092
Molecular Entanglement and Electrospinnability of Biopolymers
Institutions: Pennsylvania State University.

Electrospinning is a fascinating technique to fabricate micro- to nano-scale fibers from a wide variety of materials. For biopolymers, molecular entanglement of the constituent polymers in the spinning dope was found to be an essential prerequisite for successful electrospinning. Rheology is a powerful tool to probe the molecular conformation and interaction of biopolymers. In this report, we demonstrate the protocol for utilizing rheology to evaluate the electrospinnability of two biopolymers, starch and pullulan, from their dimethyl sulfoxide (DMSO)/water dispersions. Well-formed starch and pullulan fibers with average diameters in the submicron to micron range were obtained. Electrospinnability was evaluated by visual and microscopic observation of the fibers formed. By correlating the rheological properties of the dispersions to their electrospinnability, we demonstrate that molecular conformation, molecular entanglement, and shear viscosity all affect electrospinning. Rheology is not only useful in solvent system selection and process optimization, but also in understanding the mechanism of fiber formation on a molecular level.
Bioengineering, Issue 91, electrospinning, rheology, molecular entanglement, fiber, nanofiber, biopolymer, polysaccharides, starch, pullulan
51933
Bottom-up and Shotgun Proteomics to Identify a Comprehensive Cochlear Proteome
Institutions: University of South Florida.

Proteomics is a commonly used approach that can provide insights into complex biological systems. The cochlear sensory epithelium contains receptors that transduce the mechanical energy of sound into an electro-chemical energy processed by the peripheral and central nervous systems. Several proteomic techniques have been developed to study the cochlear inner ear, such as two-dimensional difference gel electrophoresis (2D-DIGE), antibody microarray, and mass spectrometry (MS). MS is the most comprehensive and versatile tool in proteomics and in conjunction with separation methods can provide an in-depth proteome of biological samples. Separation methods combined with MS has the ability to enrich protein samples, detect low molecular weight and hydrophobic proteins, and identify low abundant proteins by reducing the proteome dynamic range. Different digestion strategies can be applied to whole lysate or to fractionated protein lysate to enhance peptide and protein sequence coverage. Utilization of different separation techniques, including strong cation exchange (SCX), reversed-phase (RP), and gel-eluted liquid fraction entrapment electrophoresis (GELFrEE) can be applied to reduce sample complexity prior to MS analysis for protein identification.
Biochemistry, Issue 85, Cochlear, chromatography, LC-MS/MS, mass spectrometry, Proteomics, sensory epithelium
51186
Rapid Isolation of Viable Circulating Tumor Cells from Patient Blood Samples
Institutions: Cornell University, BioCytics, Inc., Carolina BioOncology Institute, PLLC.

Circulating tumor cells (CTC) are cells that disseminate from a primary tumor throughout the circulatory system and that can ultimately form secondary tumors at distant sites. CTC count can be used to follow disease progression based on the correlation between CTC concentration in blood and disease severity
1
. As a treatment tool, CTC could be studied in the laboratory to develop personalized therapies. To this end, CTC isolation must cause no cellular damage, and contamination by other cell types, particularly leukocytes, must be avoided as much as possible
2
. Many of the current techniques, including the sole FDA-approved device for CTC enumeration, destroy CTC as part of the isolation process (for more information see Ref. 2). A microfluidic device to capture viable CTC is described, consisting of a surface functionalized with E-selectin glycoprotein in addition to antibodies against epithelial markers
3
. To enhance device performance a nanoparticle coating was applied consisting of halloysite nanotubes, an aluminosilicate nanoparticle harvested from clay
4
. The E-selectin molecules provide a means to capture fast moving CTC that are pumped through the device, lending an advantage over alternative microfluidic devices wherein longer processing times are necessary to provide target cells with sufficient time to interact with a surface. The antibodies to epithelial targets provide CTC-specificity to the device, as well as provide a readily adjustable parameter to tune isolation. Finally, the halloysite nanotube coating allows significantly enhanced isolation compared to other techniques by helping to capture fast moving cells, providing increased surface area for protein adsorption, and repelling contaminating leukocytes
3,4
. This device is produced by a straightforward technique using off-the-shelf materials, and has been successfully used to capture cancer cells from the blood of metastatic cancer patients. Captured cells are maintained for up to 15 days in culture following isolation, and these samples typically consist of >50% viable primary cancer cells from each patient. This device has been used to capture viable CTC from both diluted whole blood and buffy coat samples. Ultimately, we present a technique with functionality in a clinical setting to develop personalized cancer therapies.
Bioengineering, Issue 64, Biomedical Engineering, Cancer Biology, Circulating tumor cells, metastasis, selectin, nanotechnology, halloysite nanotubes, cell isolation, cancer
4248
Temporal Quantification of MAPK Induced Expression in Single Yeast Cells
Institutions: University of Lausanne.

The quantification of gene expression at the single cell level uncovers novel regulatory mechanisms obscured in measurements performed at the population level. Two methods based on microscopy and flow cytometry are presented to demonstrate how such data can be acquired. The expression of a fluorescent reporter induced upon activation of the high osmolarity glycerol MAPK pathway in yeast is used as an example. The specific advantages of each method are highlighted. Flow cytometry measures a large number of cells (10,000) and provides a direct measure of the dynamics of protein expression independent of the slow maturation kinetics of the fluorescent protein. Imaging of living cells by microscopy is by contrast limited to the measurement of the matured form of the reporter in fewer cells. However, the data sets generated by this technique can be extremely rich thanks to the combinations of multiple reporters and to the spatial and temporal information obtained from individual cells. The combination of these two measurement methods can deliver new insights on the regulation of protein expression by signaling pathways.
Cellular Biology, Issue 80, Yeasts, Flow Cytometry, Microscopy, Fluorescence, Signal Transduction, single cells, MAPK signaling, Saccharomyces cerevisiae
50637
High Throughput Microfluidic Rapid and Low Cost Prototyping Packaging Methods
Institutions: Polytechnique Montreal.

In this work, 3 different packaging and assembly techniques are presented. They can be classified into two categories: one-time use and reusable packaging techniques. The one-time use packaging technique employs UV-based and temperature curing epoxies to connect microtubes to access holes, wire-bonding for integrated circuit connections, and silver epoxy for electrical connections. This method is based on a robust assembly technique that can support relatively high pressure close to 1 psi and does not need any support to strengthen the microfluidic architecture. Reusable packaging techniques consist of PDMS-based microtube interconnectors and anisotropic adhesive films for electrical connections. These devices are more sensitive and fragile. Consequently, Plexiglas support is added to the microfluidic structure to improve the electrical contact when anisotropic adhesive films are used, and also to strengthen the microfluidic architecture. In addition, a micromanipulator is needed to maintain tubes while using a thin PDMS layer to connect them to the access holes. Different PDMS layer thicknesses, ranging from 0.45-3 mm, are tested to compare the best adherence versus injection rates. Applied injection rates are varied from 50-300 μl/hr for 0.45-3 mm PDMS layers, respectively. These techniques are mainly applicable for low-pressure applications. However, they can be extended for high-pressure ones through plasma-oxygen process to permanently seal the PDMS to glass substrates. The main advantage of this technique, besides the fact that it is reusable, consists of keeping the device observable when the microchannel length is very short (in the range of 3 mm or lower).
Bioengineering, Issue 82, Microfluidics, PDMS, Lab-on-chip, Rapid-Prototyping, Microfabrication
50735
Purification of Transcripts and Metabolites from Drosophila Heads
Institutions: University of Florida , University of Florida , University of Florida , University of Florida .
For the last decade, we have tried to understand the molecular and cellular mechanisms of neuronal degeneration using
Drosophila
as a model organism. Although fruit flies provide obvious experimental advantages, research on neurodegenerative diseases has mostly relied on traditional techniques, including genetic interaction, histology, immunofluorescence, and protein biochemistry. These techniques are effective for mechanistic, hypothesis-driven studies, which lead to a detailed understanding of the role of single genes in well-defined biological problems. However, neurodegenerative diseases are highly complex and affect multiple cellular organelles and processes over time. The advent of new technologies and the omics age provides a unique opportunity to understand the global cellular perturbations underlying complex diseases. Flexible model organisms such as
Drosophila
are ideal for adapting these new technologies because of their strong annotation and high tractability. One challenge with these small animals, though, is the purification of enough informational molecules (DNA, mRNA, protein, metabolites) from highly relevant tissues such as fly brains. Other challenges consist of collecting large numbers of flies for experimental replicates (critical for statistical robustness) and developing consistent procedures for the purification of high-quality biological material. Here, we describe the procedures for collecting thousands of fly heads and the extraction of transcripts and metabolites to understand how global changes in gene expression and metabolism contribute to neurodegenerative diseases. These procedures are easily scalable and can be applied to the study of proteomic and epigenomic contributions to disease.
Genetics, Issue 73, Biochemistry, Molecular Biology, Neurobiology, Neuroscience, Bioengineering, Cellular Biology, Anatomy, Neurodegenerative Diseases, Biological Assay, Drosophila, fruit fly, head separation, purification, mRNA, RNA, cDNA, DNA, transcripts, metabolites, replicates, SCA3, neurodegeneration, NMR, gene expression, animal model
50245
Picoinjection of Microfluidic Drops Without Metal Electrodes
Institutions: Unversity of California, San Francisco.
Existing methods for picoinjecting reagents into microfluidic drops require metal electrodes integrated into the microfluidic chip. The integration of these electrodes adds cumbersome and error-prone steps to the device fabrication process. We have developed a technique that obviates the needs for metal electrodes during picoinjection. Instead, it uses the injection fluid itself as an electrode, since most biological reagents contain dissolved electrolytes and are conductive. By eliminating the electrodes, we reduce device fabrication time and complexity, and make the devices more robust. In addition, with our approach, the injection volume depends on the voltage applied to the picoinjection solution; this allows us to rapidly adjust the volume injected by modulating the applied voltage. We demonstrate that our technique is compatible with reagents incorporating common biological compounds, including buffers, enzymes, and nucleic acids.
Bioengineering, Issue 86, Droplet microfluidics, picoinjection, lab on a chip, electrodes, microfabrication
50913
High Speed Droplet-based Delivery System for Passive Pumping in Microfluidic Devices
Institutions: University of Wisconsin-Madison, University of Wisconsin-Madison.

A novel microfluidic system has been developed that uses the phenomenon of passive pumping along with a user controlled droplet based fluid delivery system. Passive pumping is the phenomenon by which surface tension induced pressure differences drive fluid movement in closed channels. The automated fluid delivery system consists of a set of voltage controlled valves with micro-nozzles connected to a fluid reservoir and a control system. These voltage controlled valves offer a volumetrically precise way to deliver fluid droplets to the inlet of a microfluidic device in a high frequency manner. Based on the dimensions demonstrated in the current study example, the system is capable of flowing 4 milliliters per minute (through a 2.2mm by 260um cross-sectional channel). Based on these same channel dimensions, fluid exchange of a point inside the channel can be achieved in as little as eight milliseconds. It is observed that there is interplay between momentum of the system (imparted by a combination of the droplets created by the valves and the fluid velocity in the channel), and the surface tension of the liquid. Where momentum provides velocity to the fluid flow (or vice-versa), equilibration of surface tension at the inlet provides a sudden stop to any flow. This sudden stop allows the user to control the flow characteristics of the channel and opens the door for a variety of biological applications, ranging anywhere from reagent delivery to drug-cell studies. It is also observed that when nozzles are aimed at the inlet at shallow angles, the droplet momentum can cause additional interesting fluid phenomena, such as mixing of multiple droplets in the inlet.
Biomedical Engineering, Issue 31, automated, passive pumping, microfluidic device, high speed, high flow rate
1329
Quantifying Mixing using Magnetic Resonance Imaging
Institutions: University of California, Davis, Procter & Gamble Company.

Mixing is a unit operation that combines two or more components into a homogeneous mixture. This work involves mixing two viscous liquid streams using an in-line static mixer. The mixer is a split-and-recombine design that employs shear and extensional flow to increase the interfacial contact between the components. A prototype split-and-recombine (SAR) mixer was constructed by aligning a series of thin laser-cut Poly (methyl methacrylate) (PMMA) plates held in place in a PVC pipe. Mixing in this device is illustrated in the photograph in
Fig. 1
. Red dye was added to a portion of the test fluid and used as the minor component being mixed into the major (undyed) component. At the inlet of the mixer, the injected layer of tracer fluid is split into two layers as it flows through the mixing section. On each subsequent mixing section, the number of horizontal layers is duplicated. Ultimately, the single stream of dye is uniformly dispersed throughout the cross section of the device. Using a non-Newtonian test fluid of 0.2% Carbopol and a doped tracer fluid of similar composition, mixing in the unit is visualized using magnetic resonance imaging (MRI). MRI is a very powerful experimental probe of molecular chemical and physical environment as well as sample structure on the length scales from microns to centimeters. This sensitivity has resulted in broad application of these techniques to characterize physical, chemical and/or biological properties of materials ranging from humans to foods to porous media
1, 2
. The equipment and conditions used here are suitable for imaging liquids containing substantial amounts of NMR mobile
1
H such as ordinary water and organic liquids including oils. Traditionally MRI has utilized super conducting magnets which are not suitable for industrial environments and not portable within a laboratory (
Fig. 2
). Recent advances in magnet technology have permitted the construction of large volume industrially compatible magnets suitable for imaging process flows. Here, MRI provides spatially resolved component concentrations at different axial locations during the mixing process. This work documents real-time mixing of highly viscous fluids via distributive mixing with an application to personal care products.
Biophysics, Issue 59, Magnetic resonance imaging, MRI, mixing, rheology, static mixer, split-and-recombine mix
3493
Setting-up an In Vitro Model of Rat Blood-brain Barrier (BBB): A Focus on BBB Impermeability and Receptor-mediated Transport
Institutions: VECT-HORUS SAS, CNRS, NICN UMR 7259.

The blood brain barrier (BBB) specifically regulates molecular and cellular flux between the blood and the nervous tissue. Our aim was to develop and characterize a highly reproducible rat syngeneic
in vitro
model of the BBB using co-cultures of primary rat brain endothelial cells (RBEC) and astrocytes to study receptors involved in transcytosis across the endothelial cell monolayer. Astrocytes were isolated by mechanical dissection following trypsin digestion and were frozen for later co-culture. RBEC were isolated from 5-week-old rat cortices. The brains were cleaned of meninges and white matter, and mechanically dissociated following enzymatic digestion. Thereafter, the tissue homogenate was centrifuged in bovine serum albumin to separate vessel fragments from nervous tissue. The vessel fragments underwent a second enzymatic digestion to free endothelial cells from their extracellular matrix. The remaining contaminating cells such as pericytes were further eliminated by plating the microvessel fragments in puromycin-containing medium. They were then passaged onto filters for co-culture with astrocytes grown on the bottom of the wells. RBEC expressed high levels of tight junction (TJ) proteins such as occludin, claudin-5 and ZO-1 with a typical localization at the cell borders. The transendothelial electrical resistance (TEER) of brain endothelial monolayers, indicating the tightness of TJs reached 300 ohm·cm
2
on average. The endothelial permeability coefficients (Pe) for lucifer yellow (LY) was highly reproducible with an average of 0.26 ± 0.11 x 10
-3
cm/min. Brain endothelial cells organized in monolayers expressed the efflux transporter P-glycoprotein (P-gp), showed a polarized transport of rhodamine 123, a ligand for P-gp, and showed specific transport of transferrin-Cy3 and DiILDL across the endothelial cell monolayer. In conclusion, we provide a protocol for setting up an
in vitro
BBB model that is highly reproducible due to the quality assurance methods, and that is suitable for research on BBB transporters and receptors.
Medicine, Issue 88, rat brain endothelial cells (RBEC), mouse, spinal cord, tight junction (TJ), receptor-mediated transport (RMT), low density lipoprotein (LDL), LDLR, transferrin, TfR, P-glycoprotein (P-gp), transendothelial electrical resistance (TEER),
51278
Modeling Neural Immune Signaling of Episodic and Chronic Migraine Using Spreading Depression In Vitro
Institutions: The University of Chicago Medical Center, The University of Chicago Medical Center.

Migraine and its transformation to chronic migraine are healthcare burdens in need of improved treatment options. We seek to define how neural immune signaling modulates the susceptibility to migraine, modeled
in vitro
using spreading depression (SD), as a means to develop novel therapeutic targets for episodic and chronic migraine. SD is the likely cause of migraine aura and migraine pain. It is a paroxysmal loss of neuronal function triggered by initially increased neuronal activity, which slowly propagates within susceptible brain regions. Normal brain function is exquisitely sensitive to, and relies on, coincident low-level immune signaling. Thus, neural immune signaling likely affects electrical activity of SD, and therefore migraine. Pain perception studies of SD in whole animals are fraught with difficulties, but whole animals are well suited to examine systems biology aspects of migraine since SD activates trigeminal nociceptive pathways. However, whole animal studies alone cannot be used to decipher the cellular and neural circuit mechanisms of SD. Instead,
in vitro
preparations where environmental conditions can be controlled are necessary. Here, it is important to recognize limitations of acute slices and distinct advantages of hippocampal slice cultures. Acute brain slices cannot reveal subtle changes in immune signaling since preparing the slices alone triggers: pro-inflammatory changes that last days, epileptiform behavior due to high levels of oxygen tension needed to vitalize the slices, and irreversible cell injury at anoxic slice centers. In contrast, we examine immune signaling in mature hippocampal slice cultures since the cultures closely parallel their
in vivo
counterpart with mature trisynaptic function; show quiescent astrocytes, microglia, and cytokine levels; and SD is easily induced in an unanesthetized preparation. Furthermore, the slices are long-lived and SD can be induced on consecutive days without injury, making this preparation the sole means to-date capable of modeling the neuroimmune consequences of chronic SD, and thus perhaps chronic migraine. We use electrophysiological techniques and non-invasive imaging to
measure
neuronal cell and circuit functions coincident with SD. Neural immune gene expression variables are measured with qPCR screening, qPCR arrays, and, importantly, use of cDNA preamplification for detection of ultra-low level targets such as interferon-gamma using whole, regional, or specific cell enhanced (via laser dissection microscopy) sampling. Cytokine cascade signaling is further assessed with multiplexed phosphoprotein related targets with gene expression and phosphoprotein changes confirmed via cell-specific immunostaining. Pharmacological and siRNA strategies are used to
mimic
and
modulate
SD immune signaling.
Neuroscience, Issue 52, innate immunity, hormesis, microglia, T-cells, hippocampus, slice culture, gene expression, laser dissection microscopy, real-time qPCR, interferon-gamma
2910
Reconstitution of a Kv Channel into Lipid Membranes for Structural and Functional Studies
Institutions: University of Texas Southwestern Medical Center at Dallas.

To study the lipid-protein interaction in a reductionistic fashion, it is necessary to incorporate the membrane proteins into membranes of well-defined lipid composition. We are studying the lipid-dependent gating effects in a prototype voltage-gated potassium (Kv) channel, and have worked out detailed procedures to reconstitute the channels into different membrane systems. Our reconstitution procedures take consideration of both detergent-induced fusion of vesicles and the fusion of protein/detergent micelles with the lipid/detergent mixed micelles as well as the importance of reaching an equilibrium distribution of lipids among the protein/detergent/lipid and the detergent/lipid mixed micelles. Our data suggested that the insertion of the channels in the lipid vesicles is relatively random in orientations, and the reconstitution efficiency is so high that no detectable protein aggregates were seen in fractionation experiments. We have utilized the reconstituted channels to determine the conformational states of the channels in different lipids, record electrical activities of a small number of channels incorporated in planar lipid bilayers, screen for conformation-specific ligands from a phage-displayed peptide library, and support the growth of 2D crystals of the channels in membranes. The reconstitution procedures described here may be adapted for studying other membrane proteins in lipid bilayers, especially for the investigation of the lipid effects on the eukaryotic voltage-gated ion channels.
Molecular Biology, Issue 77, Biochemistry, Genetics, Cellular Biology, Structural Biology, Biophysics, Membrane Lipids, Phospholipids, Carrier Proteins, Membrane Proteins, Micelles, Molecular Motor Proteins, life sciences, biochemistry, Amino Acids, Peptides, and Proteins, lipid-protein interaction, channel reconstitution, lipid-dependent gating, voltage-gated ion channel, conformation-specific ligands, lipids
50436
Analysis of Tubular Membrane Networks in Cardiac Myocytes from Atria and Ventricles
Institutions: Heart Research Center Goettingen, University Medical Center Goettingen, German Center for Cardiovascular Research (DZHK) partner site Goettingen, University of Maryland School of Medicine.

In cardiac myocytes a complex network of membrane tubules - the transverse-axial tubule system (TATS) - controls deep intracellular signaling functions. While the outer surface membrane and associated TATS membrane components appear to be continuous, there are substantial differences in lipid and protein content. In ventricular myocytes (VMs), certain TATS components are highly abundant contributing to rectilinear tubule networks and regular branching 3D architectures. It is thought that peripheral TATS components propagate action potentials from the cell surface to thousands of remote intracellular sarcoendoplasmic reticulum (SER) membrane contact domains, thereby activating intracellular Ca
2+
release units (CRUs). In contrast to VMs, the organization and functional role of TATS membranes in atrial myocytes (AMs) is significantly different and much less understood. Taken together, quantitative structural characterization of TATS membrane networks in healthy and diseased myocytes is an essential prerequisite towards better understanding of functional plasticity and pathophysiological reorganization. Here, we present a strategic combination of protocols for direct quantitative analysis of TATS membrane networks in living VMs and AMs. For this, we accompany primary cell isolations of mouse VMs and/or AMs with critical quality control steps and direct membrane staining protocols for fluorescence imaging of TATS membranes. Using an optimized workflow for confocal or superresolution TATS image processing, binarized and skeletonized data are generated for quantitative analysis of the TATS network and its components. Unlike previously published indirect regional aggregate image analysis strategies, our protocols enable direct characterization of specific components and derive complex physiological properties of TATS membrane networks in living myocytes with high throughput and open access software tools. In summary, the combined protocol strategy can be readily applied for quantitative TATS network studies during physiological myocyte adaptation or disease changes, comparison of different cardiac or skeletal muscle cell types, phenotyping of transgenic models, and pharmacological or therapeutic interventions.
Bioengineering, Issue 92, cardiac myocyte, atria, ventricle, heart, primary cell isolation, fluorescence microscopy, membrane tubule, transverse-axial tubule system, image analysis, image processing, T-tubule, collagenase
51823
Measuring Material Microstructure Under Flow Using 1-2 Plane Flow-Small Angle Neutron Scattering
Institutions: University of Delaware, National Institute of Standards and Technology, Institut Laue-Langevin.

A new small-angle neutron scattering (SANS) sample environment optimized for studying the microstructure of complex fluids under simple shear flow is presented. The SANS shear cell consists of a concentric cylinder Couette geometry that is sealed and rotating about a horizontal axis so that the vorticity direction of the flow field is aligned with the neutron beam enabling scattering from the 1-2 plane of shear (velocity-velocity gradient, respectively). This approach is an advance over previous shear cell sample environments as there is a strong coupling between the bulk rheology and microstructural features in the 1-2 plane of shear. Flow-instabilities, such as shear banding, can also be studied by spatially resolved measurements. This is accomplished in this sample environment by using a narrow aperture for the neutron beam and scanning along the velocity gradient direction. Time resolved experiments, such as flow start-ups and large amplitude oscillatory shear flow are also possible by synchronization of the shear motion and time-resolved detection of scattered neutrons. Representative results using the methods outlined here demonstrate the useful nature of spatial resolution for measuring the microstructure of a wormlike micelle solution that exhibits shear banding, a phenomenon that can only be investigated by resolving the structure along the velocity gradient direction. Finally, potential improvements to the current design are discussed along with suggestions for supplementary experiments as motivation for future experiments on a broad range of complex fluids in a variety of shear motions.
Physics, Issue 84, Surfactants, Rheology, Shear Banding, Nanostructure, Neutron Scattering, Complex Fluids, Flow-induced Structure
51068
Whole-Body Nanoparticle Aerosol Inhalation Exposures
Institutions: West Virginia University , West Virginia University , National Institute for Occupational Safety and Health.

Inhalation is the most likely exposure route for individuals working with aerosolizable engineered nano-materials (ENM). To properly perform nanoparticle inhalation toxicology studies, the aerosols in a chamber housing the experimental animals must have: 1) a steady concentration maintained at a desired level for the entire exposure period; 2) a homogenous composition free of contaminants; and 3) a stable size distribution with a geometric mean diameter < 200 nm and a geometric standard deviation σ
g
< 2.5
5
. The generation of aerosols containing nanoparticles is quite challenging because nanoparticles easily agglomerate. This is largely due to very strong inter-particle forces and the formation of large fractal structures in tens or hundreds of microns in size
6
, which are difficult to be broken up. Several common aerosol generators, including nebulizers, fluidized beds, Venturi aspirators and the Wright dust feed, were tested; however, none were able to produce nanoparticle aerosols which satisfy all criteria
5
. A whole-body nanoparticle aerosol inhalation exposure system was fabricated, validated and utilized for nano-TiO
2
inhalation toxicology studies. Critical components: 1) novel nano-TiO
2
aerosol generator; 2) 0.5 m
3
whole-body inhalation exposure chamber; and 3) monitor and control system. Nano-TiO
2
aerosols generated from bulk dry nano-TiO
2
powders (primary diameter of 21 nm, bulk density of 3.8 g/cm
3
) were delivered into the exposure chamber at a flow rate of 90 LPM (10.8 air changes/hr). Particle size distribution and mass concentration profiles were measured continuously with a scanning mobility particle sizer (SMPS), and an electric low pressure impactor (ELPI). The aerosol mass concentration (
C
) was verified gravimetrically (
mg/m3
). The mass (
M
) of the collected particles was determined as
M = (Mpost-Mpre), where Mpre
and
Mpost
are masses of the filter before and after sampling (
mg
). The mass concentration was calculated as
C = M/(Q*t),
where
Q
is sampling flowrate (
m3/min
)
,
and
t
is the sampling time (
minute
). The chamber pressure, temperature, relative humidity (RH), O
2
and CO
2
concentrations were monitored and controlled continuously. Nano-TiO
2
aerosols collected on Nuclepore filters were analyzed with a scanning electron microscope (SEM) and energy dispersive X-ray (EDX) analysis. In summary, we report that the nano-particle aerosols generated and delivered to our exposure chamber have: 1) steady mass concentration; 2) homogenous composition free of contaminants; 3) stable particle size distributions with a count-median aerodynamic diameter of 157 nm during aerosol generation. This system reliably and repeatedly creates test atmospheres that simulate occupational, environmental or domestic ENM aerosol exposures.
Medicine, Issue 75, Physiology, Anatomy, Chemistry, Biomedical Engineering, Pharmacology, Titanium dioxide, engineered nanomaterials, nanoparticle, toxicology, inhalation exposure, aerosols, dry powder, animal model
50263
A Novel Method for Localizing Reporter Fluorescent Beads Near the Cell Culture Surface for Traction Force Microscopy
Institutions: University of Illinois at Urbana-Champaign.

PA gels have long been used as a platform to study cell traction forces due to ease of fabrication and the ability to tune their elastic properties. When the substrate is coated with an extracellular matrix protein, cells adhere to the gel and apply forces, causing the gel to deform. The deformation depends on the cell traction and the elastic properties of the gel. If the deformation field of the surface is known, surface traction can be calculated using elasticity theory. Gel deformation is commonly measured by embedding fluorescent marker beads uniformly into the gel. The probes displace as the gel deforms. The probes near the surface of the gel are tracked. The displacements reported by these probes are considered as surface displacements. Their depths from the surface are ignored. This assumption introduces error in traction force evaluations. For precise measurement of cell forces, it is critical for the location of the beads to be known. We have developed a technique that utilizes simple chemistry to confine fluorescent marker beads, 0.1 and 1 µm in diameter, in PA gels, within 1.6 μm of the surface. We coat a coverslip with poly-D-lysine (PDL) and fluorescent beads. PA gel solution is then sandwiched between the coverslip and an adherent surface. The fluorescent beads transfer to the gel solution during curing. After polymerization, the PA gel contains fluorescent beads on a plane close to the gel surface.
Bioengineering, Issue 91, cell mechanics, polyacrylamide (PA) gel, traction force microscopy, fluorescent beads, poly-D-lysine (PDL), cell culture surface
51873