Preparation of Hydroxy-PAAm Hydrogels for Decoupling the Effects of Mechanotransduction Cues
Published: 08-28-2014
ABSTRACT
It is now well established that many cellular functions are regulated by interactions of cells with physicochemical and mechanical cues of their extracellular matrix (ECM) environment. Eukaryotic cells constantly sense their local microenvironment through surface mechanosensors to transduce physical changes of ECM into biochemical signals, and integrate these signals to achieve specific changes in gene expression. Interestingly, physicochemical and mechanical parameters of the ECM can couple with each other to regulate cell fate. Therefore, a key to understanding mechanotransduction is to decouple the relative contribution of ECM cues on cellular functions. Here we present a detailed experimental protocol to rapidly and easily generate biologically relevant hydrogels for the independent tuning of mechanotransduction cues in vitro. We chemically modified polyacrylamide hydrogels (PAAm) to surmount their intrinsically non-adhesive properties by incorporating hydroxyl-functionalized acrylamide monomers during the polymerization. We obtained a novel PAAm hydrogel, called hydroxy-PAAm, which permits immobilization of any desired nature of ECM proteins. The combination of hydroxy-PAAm hydrogels with microcontact printing allows to independently control the morphology of single-cells, the matrix stiffness, the nature and the density of ECM proteins. We provide a simple and rapid method that can be set up in every biology lab to study in vitro cell mechanotransduction processes. We validate this novel two-dimensional platform by conducting experiments on endothelial cells that demonstrate a mechanical coupling between ECM stiffness and the nucleus.
20 Related JoVE Articles!
Preparation of Complaint Matrices for Quantifying Cellular Contraction
Institutions: University of Chicago, University of Chicago, University of Chicago.

The regulation of cellular adhesion to the extracellular matrix (ECM) is essential for cell migration and ECM remodeling. Focal adhesions are macromolecular assemblies that couple the contractile F-actin cytoskeleton to the ECM. This connection allows for the transmission of intracellular mechanical forces across the cell membrane to the underlying substrate. Recent work has shown the mechanical properties of the ECM regulate focal adhesion and F-actin morphology as well as numerous physiological processes, including cell differentiation, division, proliferation and migration. Thus, the use of cell culture substrates has become an increasingly prevalent method to precisely control and modulate ECM mechanical properties. To quantify traction forces at focal adhesions in an adherent cell, compliant substrates are used in conjunction with high-resolution imaging and computational techniques in a method termed traction force microscopy (TFM). This technique relies on measurements of the local magnitude and direction of substrate deformations induced by cellular contraction. In combination with high-resolution fluorescence microscopy of fluorescently tagged proteins, it is possible to correlate cytoskeletal organization and remodeling with traction forces. Here we present a detailed experimental protocol for the preparation of two-dimensional, compliant matrices for the purpose of creating a cell culture substrate with a well-characterized, tunable mechanical stiffness, which is suitable for measuring cellular contraction. These protocols include the fabrication of polyacrylamide hydrogels, coating of ECM proteins on such gels, plating cells on gels, and high-resolution confocal microscopy using a perfusion chamber. Additionally, we provide a representative sample of data demonstrating location and magnitude of cellular forces using cited TFM protocols.
Bioengineering, Issue 46, Traction force microscopy, cellular adhesion, polyacrylamide gel, stiffness, elastic modulus
2173
Preparation of DNA-crosslinked Polyacrylamide Hydrogels
Institutions: JFK Medical Center, Rutgers University, Rutgers University.

Mechanobiology is an emerging scientific area that addresses the critical role of physical cues in directing cell morphology and function. For example, the effect of tissue elasticity on cell function is a major area of mechanobiology research because tissue stiffness modulates with disease, development, and injury. Static tissue-mimicking materials, or materials that cannot alter stiffness once cells are plated, are predominately used to investigate the effects of tissue stiffness on cell functions. While information gathered from static studies is valuable, these studies are not indicative of the dynamic nature of the cellular microenvironment
in vivo
. To better address the effects of dynamic stiffness on cell function, we developed a DNA-crosslinked polyacrylamide hydrogel system (DNA gels). Unlike other dynamic substrates, DNA gels have the ability to decrease or increase in stiffness after fabrication without stimuli. DNA gels consist of DNA crosslinks that are polymerized into a polyacrylamide backbone. Adding and removing crosslinks via delivery of single-stranded DNA allows temporal, spatial, and reversible control of gel elasticity. We have shown in previous reports that dynamic modulation of DNA gel elasticity influences fibroblast and neuron behavior. In this report and video, we provide a schematic that describes the DNA gel crosslinking mechanisms and step-by-step instructions on the preparation DNA gels.
Bioengineering, Issue 90, bioengineering (general), Elastic, viscoelastic, bis-acrylamide, substrate, stiffness, dynamic, static, neuron, fibroblast, compliance, ECM, mechanobiology, tunable
51323
Study of the Actin Cytoskeleton in Live Endothelial Cells Expressing GFP-Actin
Institutions: Louisiana State University Health Sciences Center.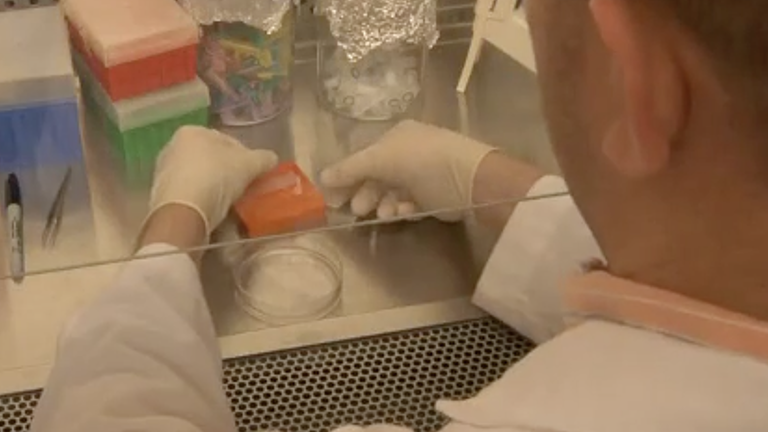 The microvascular endothelium plays an important role as a selectively permeable barrier to fluids and solutes. The adhesive junctions between endothelial cells regulate permeability of the endothelium, and many studies have indicated the important contribution of the actin cytoskeleton to determining junctional integrity
1-5
. A cortical actin belt is thought to be important for the maintenance of stable junctions
1, 2, 4, 5
. In contrast, actin stress fibers are thought to generate centripetal tension within endothelial cells that weakens junctions
2-5
. Much of this theory has been based on studies in which endothelial cells are treated with inflammatory mediators known to increase endothelial permeability, and then fixing the cells and labeling F-actin for microscopic observation. However, these studies provide a very limited understanding of the role of the actin cytoskeleton because images of fixed cells provide only snapshots in time with no information about the dynamics of actin structures
5
. Live-cell imaging allows incorporation of the dynamic nature of the actin cytoskeleton into the studies of the mechanisms determining endothelial barrier integrity. A major advantage of this method is that the impact of various inflammatory stimuli on actin structures in endothelial cells can be assessed in the same set of living cells before and after treatment, removing potential bias that may occur when observing fixed specimens. Human umbilical vein endothelial cells (HUVEC) are transfected with a GFP-β-actin plasmid and grown to confluence on glass coverslips. Time-lapse images of GFP-actin in confluent HUVEC are captured before and after the addition of inflammatory mediators that elicit time-dependent changes in endothelial barrier integrity. These studies enable visual observation of the fluid sequence of changes in the actin cytoskeleton that contribute to endothelial barrier disruption and restoration. Our results consistently show local, actin-rich lamellipodia formation and turnover in endothelial cells. The formation and movement of actin stress fibers can also be observed. An analysis of the frequency of formation and turnover of the local lamellipodia, before and after treatment with inflammatory stimuli can be documented by kymograph analyses. These studies provide important information on the dynamic nature of the actin cytoskeleton in endothelial cells that can used to discover previously unidentified molecular mechanisms important for the maintenance of endothelial barrier integrity.
Cell Biology, Issue 57, Endothelial cells, actin, cytoskeleton, live-cell imaging, GFP, lamellipodia, stress fibers, kymograph analysis
3187
Measuring the Mechanical Properties of Living Cells Using Atomic Force Microscopy
Institutions: Worcester Polytechnic Institute, Worcester Polytechnic Institute.
Mechanical properties of cells and extracellular matrix (ECM) play important roles in many biological processes including stem cell differentiation, tumor formation, and wound healing. Changes in stiffness of cells and ECM are often signs of changes in cell physiology or diseases in tissues. Hence, cell stiffness is an index to evaluate the status of cell cultures. Among the multitude of methods applied to measure the stiffness of cells and tissues, micro-indentation using an Atomic Force Microscope (AFM) provides a way to reliably measure the stiffness of living cells. This method has been widely applied to characterize the micro-scale stiffness for a variety of materials ranging from metal surfaces to soft biological tissues and cells. The basic principle of this method is to indent a cell with an AFM tip of selected geometry and measure the applied force from the bending of the AFM cantilever. Fitting the force-indentation curve to the Hertz model for the corresponding tip geometry can give quantitative measurements of material stiffness. This paper demonstrates the procedure to characterize the stiffness of living cells using AFM. Key steps including the process of AFM calibration, force-curve acquisition, and data analysis using a MATLAB routine are demonstrated. Limitations of this method are also discussed.
Biophysics, Issue 76, Bioengineering, Cellular Biology, Molecular Biology, Physics, Chemical Engineering, Biomechanics, bioengineering (general), AFM, cell stiffness, microindentation, force spectroscopy, atomic force microscopy, microscopy
50497
Micropipette Aspiration of Substrate-attached Cells to Estimate Cell Stiffness
Institutions: University of Illinois, University of Pennsylvania .

Growing number of studies show that biomechanical properties of individual cells play major roles in multiple cellular functions, including cell proliferation, differentiation, migration and cell-cell interactions. The two key parameters of cellular biomechanics are cellular deformability or stiffness and the ability of the cells to contract and generate force. Here we describe a quick and simple method to estimate cell stiffness by measuring the degree of membrane deformation in response to negative pressure applied by a glass micropipette to the cell surface, a technique that is called Micropipette Aspiration or Microaspiration. Microaspiration is performed by pulling a glass capillary to create a micropipette with a very small tip (2-50 μm diameter depending on the size of a cell or a tissue sample), which is then connected to a pneumatic pressure transducer and brought to a close vicinity of a cell under a microscope. When the tip of the pipette touches a cell, a step of negative pressure is applied to the pipette by the pneumatic pressure transducer generating well-defined pressure on the cell membrane. In response to pressure, the membrane is aspirated into the pipette and progressive membrane deformation or "membrane projection" into the pipette is measured as a function of time. The basic principle of this experimental approach is that the degree of membrane deformation in response to a defined mechanical force is a function of membrane stiffness. The stiffer the membrane is, the slower the rate of membrane deformation and the shorter the steady-state aspiration length.The technique can be performed on isolated cells, both in suspension and substrate-attached, large organelles, and liposomes. Analysis is performed by comparing maximal membrane deformations achieved under a given pressure for different cell populations or experimental conditions. A "stiffness coefficient" is estimated by plotting the aspirated length of membrane deformation as a function of the applied pressure. Furthermore, the data can be further analyzed to estimate the Young's modulus of the cells (E), the most common parameter to characterize stiffness of materials. It is important to note that plasma membranes of eukaryotic cells can be viewed as a bi-component system where membrane lipid bilayer is underlied by the sub-membrane cytoskeleton and that it is the cytoskeleton that constitutes the mechanical scaffold of the membrane and dominates the deformability of the cellular envelope. This approach, therefore, allows probing the biomechanical properties of the sub-membrane cytoskeleton.
Bioengineering, Issue 67, Biophysics, Biomedical Engineering, Medicine, Cellular Biology, Cell stiffness, biomechanics, microaspiration, cell membrane, cytoskeleton
3886
Induction of Adhesion-dependent Signals Using Low-intensity Ultrasound
Institutions: University of Bristol, Smith and Nephew.

In multicellular organisms, cell behavior is dictated by interactions with the extracellular matrix. Consequences of matrix-engagement range from regulation of cell migration and proliferation, to secretion and even differentiation. The signals underlying each of these complex processes arise from the molecular interactions of extracellular matrix receptors on the surface of the cell. Integrins are the prototypic receptors and provide a mechanical link between extracellular matrix and the cytoskeleton, as well as initiating some of the adhesion-dependent signaling cascades. However, it is becoming increasingly apparent that additional transmembrane receptors function alongside the integrins to regulate both the integrin itself and signals downstream. The most elegant of these examples is the transmembrane proteoglycan, syndecan-4, which cooperates with α
5
β
1
-integrin during adhesion to fibronectin.
In vivo
models demonstrate the importance of syndecan-4 signaling, as syndecan-4-knockout mice exhibit healing retardation due to inefficient fibroblast migration
1,2
. In wild-type animals, migration of fibroblasts toward a wound is triggered by the appearance of fibronectin that leaks from damaged capillaries and is deposited by macrophages in injured tissue. Therefore there is great interest in discovering strategies that enhance fibronectin-dependent signaling and could accelerate repair processes. The integrin-mediated and syndecan-4-mediated components of fibronectin-dependent signaling can be separated by stimulating cells with recombinant fibronectin fragments. Although integrin engagement is essential for cell adhesion, certain fibronectin-dependent signals are regulated by syndecan-4. Syndecan-4 activates the Rac1 protrusive signal
3
, causes integrin redistribution
1
, triggers recruitment of cytoskeletal molecules, such as vinculin, to focal adhesions
4
, and thereby induces directional migration
3
. We have looked for alternative strategies for activating such signals and found that low-intensity pulsed ultrasound (LIPUS) can mimic the effects of syndecan-4 engagement
5
. In this protocol we describe the method by which 30 mW/cm
2
, 1.5 MHz ultrasound, pulsed at 1 kHz (
Fig. 1
) can be applied to fibroblasts in culture (
Fig. 2
) to induce Rac1 activation and focal adhesion formation. Ultrasound stimulation is applied for a maximum of 20 minutes, as this combination of parameters has been found to be most efficacious for acceleration of clinical fracture repair
6
. The method uses recombinant fibronectin fragments to engage α
5
β
1
-integrin, without engagement of syndecan-4, and requires inhibition of protein synthesis by cycloheximide to block deposition of additional matrix by the fibroblasts., The positive effect of ultrasound on repair mechanisms is well documented
7,8
, and by understanding the molecular effect of ultrasound in culture we should be able to refine the therapeutic technique to improve clinical outcomes.
Biomedical Engineering, Issue 63, Ultrasound, LIPUS, Focal Adhesion, Syndecan-4, Wound Healing, Extracellular Matrix, Rac1, bioengineering
4024
Studying the Effects of Matrix Stiffness on Cellular Function using Acrylamide-based Hydrogels
Institutions: University of Pennsylvania .

Tissue stiffness is an important determinant of cellular function, and changes in tissue stiffness are commonly associated with fibrosis, cancer and cardiovascular disease
1-11
. Traditional cell biological approaches to studying cellular function involve culturing cells on a rigid substratum (plastic dishes or glass coverslips) which cannot account for the effect of an elastic ECM or the variations in ECM stiffness between tissues. To model
in vivo
tissue compliance conditions
in vitro
, we and others use ECM-coated hydrogels. In our laboratory, the hydrogels are based on polyacrylamide which can mimic the range of tissue compliances seen biologically
12
. "Reactive" cover slips are generated by incubation with NaOH followed by addition of 3-APTMS. Glutaraldehyde is used to cross-link the 3-APTMS and the polyacrylamide gel. A solution of acrylamide (AC), bis-acrylamide (Bis-AC) and ammonium persulfate is used for the polymerization of the hydrogel. N-hydroxysuccinimide (NHS) is incorporated into the AC solution to crosslink ECM protein to the hydrogel. Following polymerization of the hydrogel, the gel surface is coated with an ECM protein of choice such as fibronectin, vitronectin, collagen, etc. The stiffness of a hydrogel can be determined by rheology or atomic force microscopy (AFM) and adjusted by varying the percentage of AC and/or bis-AC in the solution
12
. In this manner, substratum stiffness can be matched to the stiffness of biological tissues which can also be quantified using rheology or AFM. Cells can then be seeded on these hydrogels and cultured based upon the experimental conditions required. Imaging of the cells and their recovery for molecular analysis is straightforward. For this article, we define soft substrata as those having elastic moduli (E) <3000 Pascal and stiff substrata/tissues as those with E >20,000 Pascal.
Cellular Biology, Issue 42, substrata stiffness, polyacrylamide, hydrogel, synthetic matrix, extracellular matrix, ECM
2089
Quantitative Measurement of Invadopodia-mediated Extracellular Matrix Proteolysis in Single and Multicellular Contexts
Institutions: West Virginia University .
Cellular invasion into local tissues is a process important in development and homeostasis. Malregulated invasion and subsequent cell movement is characteristic of multiple pathological processes, including inflammation, cardiovascular disease and tumor cell metastasis
1
. Focalized proteolytic degradation of extracellular matrix (ECM) components in the epithelial or endothelial basement membrane is a critical step in initiating cellular invasion. In tumor cells, extensive
in vitro
analysis has determined that ECM degradation is accomplished by ventral actin-rich membrane protrusive structures termed invadopodia
2,3
. Invadopodia form in close apposition to the ECM, where they moderate ECM breakdown through the action of matrix metalloproteinases (MMPs). The ability of tumor cells to form invadopodia directly correlates with the ability to invade into local stroma and associated vascular components
3
. Visualization of invadopodia-mediated ECM degradation of cells by fluorescent microscopy using dye-labeled matrix proteins coated onto glass coverslips has emerged as the most prevalent technique for evaluating the degree of matrix proteolysis and cellular invasive potential
4,5
. Here we describe a version of the standard method for generating fluorescently-labeled glass coverslips utilizing a commercially available Oregon Green-488 gelatin conjugate. This method is easily scaled to rapidly produce large numbers of coated coverslips. We show some of the common microscopic artifacts that are often encountered during this procedure and how these can be avoided. Finally, we describe standardized methods using readily available computer software to allow quantification of labeled gelatin matrix degradation mediated by individual cells and by entire cellular populations. The described procedures provide the ability to accurately and reproducibly monitor invadopodia activity, and can also serve as a platform for evaluating the efficacy of modulating protein expression or testing of anti-invasive compounds on extracellular matrix degradation in single and multicellular settings.
Cellular Biology, Issue 66, Cancer Biology, Anatomy, Molecular Biology, Biochemistry, invadopodia, extracellular matrix, gelatin, confocal microscopy, quantification, oregon green
4119
A Novel Method for Localizing Reporter Fluorescent Beads Near the Cell Culture Surface for Traction Force Microscopy
Institutions: University of Illinois at Urbana-Champaign.

PA gels have long been used as a platform to study cell traction forces due to ease of fabrication and the ability to tune their elastic properties. When the substrate is coated with an extracellular matrix protein, cells adhere to the gel and apply forces, causing the gel to deform. The deformation depends on the cell traction and the elastic properties of the gel. If the deformation field of the surface is known, surface traction can be calculated using elasticity theory. Gel deformation is commonly measured by embedding fluorescent marker beads uniformly into the gel. The probes displace as the gel deforms. The probes near the surface of the gel are tracked. The displacements reported by these probes are considered as surface displacements. Their depths from the surface are ignored. This assumption introduces error in traction force evaluations. For precise measurement of cell forces, it is critical for the location of the beads to be known. We have developed a technique that utilizes simple chemistry to confine fluorescent marker beads, 0.1 and 1 µm in diameter, in PA gels, within 1.6 μm of the surface. We coat a coverslip with poly-D-lysine (PDL) and fluorescent beads. PA gel solution is then sandwiched between the coverslip and an adherent surface. The fluorescent beads transfer to the gel solution during curing. After polymerization, the PA gel contains fluorescent beads on a plane close to the gel surface.
Bioengineering, Issue 91, cell mechanics, polyacrylamide (PA) gel, traction force microscopy, fluorescent beads, poly-D-lysine (PDL), cell culture surface
51873
Setting-up an In Vitro Model of Rat Blood-brain Barrier (BBB): A Focus on BBB Impermeability and Receptor-mediated Transport
Institutions: VECT-HORUS SAS, CNRS, NICN UMR 7259.

The blood brain barrier (BBB) specifically regulates molecular and cellular flux between the blood and the nervous tissue. Our aim was to develop and characterize a highly reproducible rat syngeneic
in vitro
model of the BBB using co-cultures of primary rat brain endothelial cells (RBEC) and astrocytes to study receptors involved in transcytosis across the endothelial cell monolayer. Astrocytes were isolated by mechanical dissection following trypsin digestion and were frozen for later co-culture. RBEC were isolated from 5-week-old rat cortices. The brains were cleaned of meninges and white matter, and mechanically dissociated following enzymatic digestion. Thereafter, the tissue homogenate was centrifuged in bovine serum albumin to separate vessel fragments from nervous tissue. The vessel fragments underwent a second enzymatic digestion to free endothelial cells from their extracellular matrix. The remaining contaminating cells such as pericytes were further eliminated by plating the microvessel fragments in puromycin-containing medium. They were then passaged onto filters for co-culture with astrocytes grown on the bottom of the wells. RBEC expressed high levels of tight junction (TJ) proteins such as occludin, claudin-5 and ZO-1 with a typical localization at the cell borders. The transendothelial electrical resistance (TEER) of brain endothelial monolayers, indicating the tightness of TJs reached 300 ohm·cm
2
on average. The endothelial permeability coefficients (Pe) for lucifer yellow (LY) was highly reproducible with an average of 0.26 ± 0.11 x 10
-3
cm/min. Brain endothelial cells organized in monolayers expressed the efflux transporter P-glycoprotein (P-gp), showed a polarized transport of rhodamine 123, a ligand for P-gp, and showed specific transport of transferrin-Cy3 and DiILDL across the endothelial cell monolayer. In conclusion, we provide a protocol for setting up an
in vitro
BBB model that is highly reproducible due to the quality assurance methods, and that is suitable for research on BBB transporters and receptors.
Medicine, Issue 88, rat brain endothelial cells (RBEC), mouse, spinal cord, tight junction (TJ), receptor-mediated transport (RMT), low density lipoprotein (LDL), LDLR, transferrin, TfR, P-glycoprotein (P-gp), transendothelial electrical resistance (TEER),
51278
Capillary Force Lithography for Cardiac Tissue Engineering
Institutions: University of Washington, University of Washington.
Cardiovascular disease remains the leading cause of death worldwide
1
. Cardiac tissue engineering holds much promise to deliver groundbreaking medical discoveries with the aims of developing functional tissues for cardiac regeneration as well as
in vitro
screening assays. However, the ability to create high-fidelity models of heart tissue has proven difficult. The heart's extracellular matrix (ECM) is a complex structure consisting of both biochemical and biomechanical signals ranging from the micro- to the nanometer scale
2
. Local mechanical loading conditions and cell-ECM interactions have recently been recognized as vital components in cardiac tissue engineering
3-5
. A large portion of the cardiac ECM is composed of aligned collagen fibers with nano-scale diameters that significantly influences tissue architecture and electromechanical coupling
2
. Unfortunately, few methods have been able to mimic the organization of ECM fibers down to the nanometer scale. Recent advancements in nanofabrication techniques, however, have enabled the design and fabrication of scalable scaffolds that mimic the
in vivo
structural and substrate stiffness cues of the ECM in the heart
6-9
. Here we present the development of two reproducible, cost-effective, and scalable nanopatterning processes for the functional alignment of cardiac cells using the biocompatible polymer poly(lactide-co-glycolide) (PLGA)
8
and a polyurethane (PU) based polymer. These anisotropically nanofabricated substrata (ANFS) mimic the underlying ECM of well-organized, aligned tissues and can be used to investigate the role of nanotopography on cell morphology and function
10-14
. Using a nanopatterned (NP) silicon master as a template, a polyurethane acrylate (PUA) mold is fabricated. This PUA mold is then used to pattern the PU or PLGA hydrogel via UV-assisted or solvent-mediated capillary force lithography (CFL), respectively
15,16
. Briefly, PU or PLGA pre-polymer is drop dispensed onto a glass coverslip and the PUA mold is placed on top. For UV-assisted CFL, the PU is then exposed to UV radiation (λ = 250-400 nm) for curing. For solvent-mediated CFL, the PLGA is embossed using heat (120 °C) and pressure (100 kPa). After curing, the PUA mold is peeled off, leaving behind an ANFS for cell culture. Primary cells, such as neonatal rat ventricular myocytes, as well as human pluripotent stem cell-derived cardiomyocytes, can be maintained on the ANFS
2
.
Bioengineering, Issue 88, Nanotopography, Anisotropic, Nanofabrication, Cell Culture, Cardiac Tissue Engineering
50039
Revealing the Cytoskeletal Organization of Invasive Cancer Cells in 3D
Institutions: Institut Curie.
Cell migration has traditionally been studied in 2D substrates. However, it has become increasingly evident that there is a need to study cell migration in more appropriate 3D environments, which better resemble the dimensionality of the physiological processes in question. Migratory cells can substantially differ in their morphology and mode of migration depending on whether they are moving on 2D or 3D substrates. Due to technical difficulties and incompatibilities with most standard protocols, structural and functional analysis of cells embedded within 3D matrices still remains uncommon. This article describes methods for preparation and imaging of 3D cancer cell cultures, either as single cells or spheroids. As an appropriate ECM substrate for cancer cell migration, we use nonpepsinized rat tail collagen I polymerized at room-temperature and fluorescently labeled to facilitate visualization using standard confocal microscopes. This work also includes a protocol for 3D immunofluorescent labeling of endogenous cell cytoskeleton. Using these protocols we hope to contribute to a better description of the molecular composition, localization, and functions of cellular structures in 3D.
Medicine, Issue 80, TAMRA, collagen, 3D matrix, spheroids, F-actin, microtubules
50763
Analysis of Cell Migration within a Three-dimensional Collagen Matrix
Institutions: Witten/Herdecke University.

The ability to migrate is a hallmark of various cell types and plays a crucial role in several physiological processes, including embryonic development, wound healing, and immune responses. However, cell migration is also a key mechanism in cancer enabling these cancer cells to detach from the primary tumor to start metastatic spreading. Within the past years various cell migration assays have been developed to analyze the migratory behavior of different cell types. Because the locomotory behavior of cells markedly differs between a two-dimensional (2D) and three-dimensional (3D) environment it can be assumed that the analysis of the migration of cells that are embedded within a 3D environment would yield in more significant cell migration data. The advantage of the described 3D collagen matrix migration assay is that cells are embedded within a physiological 3D network of collagen fibers representing the major component of the extracellular matrix. Due to time-lapse video microscopy real cell migration is measured allowing the determination of several migration parameters as well as their alterations in response to pro-migratory factors or inhibitors. Various cell types could be analyzed using this technique, including lymphocytes/leukocytes, stem cells, and tumor cells. Likewise, also cell clusters or spheroids could be embedded within the collagen matrix concomitant with analysis of the emigration of single cells from the cell cluster/ spheroid into the collagen lattice. We conclude that the 3D collagen matrix migration assay is a versatile method to analyze the migration of cells within a physiological-like 3D environment.
Bioengineering, Issue 92, cell migration, 3D collagen matrix, cell tracking
51963
A Novel Stretching Platform for Applications in Cell and Tissue Mechanobiology
Institutions: University of Ottawa, University of Ottawa, University of Calgary, University of Ottawa, University of Ottawa.

Tools that allow the application of mechanical forces to cells and tissues or that can quantify the mechanical properties of biological tissues have contributed dramatically to the understanding of basic mechanobiology. These techniques have been extensively used to demonstrate how the onset and progression of various diseases are heavily influenced by mechanical cues. This article presents a multi-functional biaxial stretching (BAXS) platform that can either mechanically stimulate single cells or quantify the mechanical stiffness of tissues. The BAXS platform consists of four voice coil motors that can be controlled independently. Single cells can be cultured on a flexible substrate that can be attached to the motors allowing one to expose the cells to complex, dynamic, and spatially varying strain fields. Conversely, by incorporating a force load cell, one can also quantify the mechanical properties of primary tissues as they are exposed to deformation cycles. In both cases, a proper set of clamps must be designed and mounted to the BAXS platform motors in order to firmly hold the flexible substrate or the tissue of interest. The BAXS platform can be mounted on an inverted microscope to perform simultaneous transmitted light and/or fluorescence imaging to examine the structural or biochemical response of the sample during stretching experiments. This article provides experimental details of the design and usage of the BAXS platform and presents results for single cell and whole tissue studies. The BAXS platform was used to measure the deformation of nuclei in single mouse myoblast cells in response to substrate strain and to measure the stiffness of isolated mouse aortas. The BAXS platform is a versatile tool that can be combined with various optical microscopies in order to provide novel mechanobiological insights at the sub-cellular, cellular and whole tissue levels.
Bioengineering, Issue 88, cell stretching, tissue mechanics, nuclear mechanics, uniaxial, biaxial, anisotropic, mechanobiology
51454
Use of Shigella flexneri to Study Autophagy-Cytoskeleton Interactions
Institutions: Imperial College London, Institut Pasteur, Unité Macrophages et Développement de l'Immunité.

Shigella flexneri
is an intracellular pathogen that can escape from phagosomes to reach the cytosol, and polymerize the host actin cytoskeleton to promote its motility and dissemination. New work has shown that proteins involved in actin-based motility are also linked to autophagy, an intracellular degradation process crucial for cell autonomous immunity. Strikingly, host cells may prevent actin-based motility of
S. flexneri
by compartmentalizing bacteria inside 'septin cages' and targeting them to autophagy. These observations indicate that a more complete understanding of septins, a family of filamentous GTP-binding proteins, will provide new insights into the process of autophagy. This report describes protocols to monitor autophagy-cytoskeleton interactions caused by
S. flexneri in vitro
using tissue culture cells and
in vivo
using zebrafish larvae. These protocols enable investigation of intracellular mechanisms that control bacterial dissemination at the molecular, cellular, and whole organism level.
Infection, Issue 91, ATG8/LC3, autophagy, cytoskeleton, HeLa cells, p62, septin, Shigella, zebrafish
51601
Biophysical Assays to Probe the Mechanical Properties of the Interphase Cell Nucleus: Substrate Strain Application and Microneedle Manipulation
Institutions: Department of Medicine, Cardiovascular Division, Cornell University.

In most eukaryotic cells, the nucleus is the largest organelle and is typically 2 to 10 times stiffer than the surrounding cytoskeleton; consequently, the physical properties of the nucleus contribute significantly to the overall biomechanical behavior of cells under physiological and pathological conditions. For example, in migrating neutrophils and invading cancer cells, nuclear stiffness can pose a major obstacle during extravasation or passage through narrow spaces within tissues.
1
On the other hand, the nucleus of cells in mechanically active tissue such as muscle requires sufficient structural support to withstand repetitive mechanical stress. Importantly, the nucleus is tightly integrated into the cellular architecture; it is physically connected to the surrounding cytoskeleton, which is a critical requirement for the intracellular movement and positioning of the nucleus, for example, in polarized cells, synaptic nuclei at neuromuscular junctions, or in migrating cells.
2
Not surprisingly, mutations in nuclear envelope proteins such as lamins and nesprins, which play a critical role in determining nuclear stiffness and nucleo-cytoskeletal coupling, have been shown recently to result in a number of human diseases, including Emery-Dreifuss muscular dystrophy, limb-girdle muscular dystrophy, and dilated cardiomyopathy.
3
To investigate the biophysical function of diverse nuclear envelope proteins and the effect of specific mutations, we have developed experimental methods to study the physical properties of the nucleus in single, living cells subjected to global or localized mechanical perturbation. Measuring induced nuclear deformations in response to precisely applied substrate strain application yields important information on the deformability of the nucleus and allows quantitative comparison between different mutations or cell lines deficient for specific nuclear envelope proteins. Localized cytoskeletal strain application with a microneedle is used to complement this assay and can yield additional information on intracellular force transmission between the nucleus and the cytoskeleton. Studying nuclear mechanics in intact living cells preserves the normal intracellular architecture and avoids potential artifacts that can arise when working with isolated nuclei. Furthermore, substrate strain application presents a good model for the physiological stress experienced by cells in muscle or other tissues (e.g., vascular smooth muscle cells exposed to vessel strain). Lastly, while these tools have been developed primarily to study nuclear mechanics, they can also be applied to investigate the function of cytoskeletal proteins and mechanotransduction signaling.
Biophysics, Issue 55, nuclear envelope, nuclear stiffness, nucleo-cytoskeletal coupling, lamin, nesprin, cytoskeleton, biomechanics, nuclear deformation, force transmission
3087
Visualizing Neuroblast Cytokinesis During C. elegans Embryogenesis
Institutions: Concordia University.

This protocol describes the use of fluorescence microscopy to image dividing cells within developing
Caenorhabditis elegans
embryos. In particular, this protocol focuses on how to image dividing neuroblasts, which are found underneath the epidermal cells and may be important for epidermal morphogenesis. Tissue formation is crucial for metazoan development and relies on external cues from neighboring tissues.
C. elegans
is an excellent model organism to study tissue morphogenesis
in vivo
due to its transparency and simple organization, making its tissues easy to study via microscopy. Ventral enclosure is the process where the ventral surface of the embryo is covered by a single layer of epithelial cells. This event is thought to be facilitated by the underlying neuroblasts, which provide chemical guidance cues to mediate migration of the overlying epithelial cells. However, the neuroblasts are highly proliferative and also may act as a mechanical substrate for the ventral epidermal cells. Studies using this experimental protocol could uncover the importance of intercellular communication during tissue formation, and could be used to reveal the roles of genes involved in cell division within developing tissues.
Neuroscience, Issue 85, C. elegans, morphogenesis, cytokinesis, neuroblasts, anillin, microscopy, cell division
51188
Actin Co-Sedimentation Assay; for the Analysis of Protein Binding to F-Actin
Institutions: University of California, San Francisco - UCSF.

The actin cytoskeleton within the cell is a network of actin filaments that allows the movement of cells and cellular processes, and that generates tension and helps maintains cellular shape. Although the actin cytoskeleton is a rigid structure, it is a dynamic structure that is constantly remodeling. A number of proteins can bind to the actin cytoskeleton. The binding of a particular protein to F-actin is often desired to support cell biological observations or to further understand dynamic processes due to remodeling of the actin cytoskeleton. The actin co-sedimentation assay is an in vitro assay routinely used to analyze the binding of specific proteins or protein domains with F-actin. The basic principles of the assay involve an incubation of the protein of interest (full length or domain of) with F-actin, ultracentrifugation step to pellet F-actin and analysis of the protein co-sedimenting with F-actin. Actin co-sedimentation assays can be designed accordingly to measure actin binding affinities and in competition assays.
Biochemistry, Issue 13, F-actin, protein, in vitro binding, ultracentrifugation
690
Monitoring Actin Disassembly with Time-lapse Microscopy
Institutions: Harvard Medical School.

Cellular Biology, Issue 1, cytoskeleton, actin, timelapse, filament, chamber
66
Live Cell Response to Mechanical Stimulation Studied by Integrated Optical and Atomic Force Microscopy
Institutions: Texas A&M Health Science Center, Texas A&M University.

To understand the mechanism by which living cells sense mechanical forces, and how they respond and adapt to their environment, a new technology able to investigate cells behavior at sub-cellular level with high spatial and temporal resolution was developed. Thus, an atomic force microscope (AFM) was integrated with total internal reflection fluorescence (TIRF) microscopy and fast-spinning disk (FSD) confocal microscopy. The integrated system is broadly applicable across a wide range of molecular dynamic studies in any adherent live cells, allowing direct optical imaging of cell responses to mechanical stimulation in real-time. Significant rearrangement of the actin filaments and focal adhesions was shown due to local mechanical stimulation at the apical cell surface that induced changes into the cellular structure throughout the cell body. These innovative techniques will provide new information for understanding live cell restructuring and dynamics in response to mechanical force. A detailed protocol and a representative data set that show live cell response to mechanical stimulation are presented.
Cellular Biology, Issue 44, live cells, mechanical stimulation, integrated microscopy, atomic force microscopy, spinning-disk confocal, total internal reflection fluorescence
2072