Origami Inspired Self-assembly of Patterned and Reconfigurable Particles
Published: 02-04-2013
ABSTRACT
There are numerous techniques such as photolithography, electron-beam lithography and soft-lithography that can be used to precisely pattern two dimensional (2D) structures. These technologies are mature, offer high precision and many of them can be implemented in a high-throughput manner. We leverage the advantages of planar lithography and combine them with self-folding methods1-20 wherein physical forces derived from surface tension or residual stress, are used to curve or fold planar structures into three dimensional (3D) structures. In doing so, we make it possible to mass produce precisely patterned static and reconfigurable particles that are challenging to synthesize. In this paper, we detail visualized experimental protocols to create patterned particles, notably, (a) permanently bonded, hollow, polyhedra that self-assemble and self-seal due to the minimization of surface energy of liquefied hinges21-23 and (b) grippers that self-fold due to residual stress powered hinges24,25. The specific protocol described can be used to create particles with overall sizes ranging from the micrometer to the centimeter length scales. Further, arbitrary patterns can be defined on the surfaces of the particles of importance in colloidal science, electronics, optics and medicine. More generally, the concept of self-assembling mechanically rigid particles with self-sealing hinges is applicable, with some process modifications, to the creation of particles at even smaller, 100 nm length scales22, 26 and with a range of materials including metals21, semiconductors9 and polymers27. With respect to residual stress powered actuation of reconfigurable grasping devices, our specific protocol utilizes chromium hinges of relevance to devices with sizes ranging from 100 μm to 2.5 mm. However, more generally, the concept of such tether-free residual stress powered actuation can be used with alternate high-stress materials such as heteroepitaxially deposited semiconductor films5,7 to possibly create even smaller nanoscale grasping devices.
25 Related JoVE Articles!
Fabrication of Spatially Confined Complex Oxides
Institutions: Oak Ridge National Laboratory, University of Tennessee, Knoxville.
Complex materials such as high Tc superconductors, multiferroics, and colossal magnetoresistors have electronic and magnetic properties that arise from the inherent strong electron correlations that reside within them. These materials can also possess electronic phase separation in which regions of vastly different resistive and magnetic behavior can coexist within a single crystal alloy material. By reducing the scale of these materials to length scales at and below the inherent size of the electronic domains, novel behaviors can be exposed. Because of this and the fact that spin-charge-lattice-orbital order parameters each involve correlation lengths, spatially reducing these materials for transport measurements is a critical step in understanding the fundamental physics that drives complex behaviors. These materials also offer great potential to become the next generation of electronic devices
1-3
. Thus, the fabrication of low dimensional nano- or micro-structures is extremely important to achieve new functionality. This involves multiple controllable processes from high quality thin film growth to accurate electronic property characterization. Here, we present fabrication protocols of high quality microstructures for complex oxide manganite devices. Detailed descriptions and required equipment of thin film growth, photo-lithography, and wire-bonding are presented.
Materials Science, Issue 77, Physics, Chemistry, Chemical Engineering, Mechanical Engineering, Nanotechnology, electrical transport properties in solids, condensed matter physics, thin films (theory, deposition and growth), conductivity (solid state), Pulsed laser deposition, oxides thin films, photolithography, wire-bonding, thin film, etching, fabrication, nanofabrication
50573
Utilization of Plasmonic and Photonic Crystal Nanostructures for Enhanced Micro- and Nanoparticle Manipulation
Institutions: University of Washington, Fred Hutchinson Cancer Research Center , University of Washington, Fred Hutchinson Cancer Research Center , Fred Hutchinson Cancer Research Center .

A method to manipulate the position and orientation of submicron particles nondestructively would be an incredibly useful tool for basic biological research. Perhaps the most widely used physical force to achieve noninvasive manipulation of small particles has been dielectrophoresis(DEP).
1
However, DEP on its own lacks the versatility and precision that are desired when manipulating cells since it is traditionally done with stationary electrodes. Optical tweezers, which utilize a three dimensional electromagnetic field gradient to exert forces on small particles, achieve this desired versatility and precision.
2
However, a major drawback of this approach is the high radiation intensity required to achieve the necessary force to trap a particle which can damage biological samples.
3
A solution that allows trapping and sorting with lower optical intensities are optoelectronic tweezers (OET) but OET's have limitations with fine manipulation of small particles; being DEP-based technology also puts constraint on the property of the solution.
4,5
This video article will describe two methods that decrease the intensity of the radiation needed for optical manipulation of living cells and also describe a method for orientation control. The first method is plasmonic tweezers which use a random gold nanoparticle (AuNP) array as a substrate for the sample as shown in Figure 1. The AuNP array converts the incident photons into localized surface plasmons (LSP) which consist of resonant dipole moments that radiate and generate a patterned radiation field with a large gradient in the cell solution. Initial work on surface plasmon enhanced trapping by Righini et al and our own modeling have shown the fields generated by the plasmonic substrate reduce the initial intensity required by enhancing the gradient field that traps the particle.
6,7,8
The plasmonic approach allows for fine orientation control of ellipsoidal particles and cells with low optical intensities because of more efficient optical energy conversion into mechanical energy and a dipole-dependent radiation field. These fields are shown in figure 2 and the low trapping intensities are detailed in figures 4 and 5. The main problems with plasmonic tweezers are that the LSP's generate a considerable amount of heat and the trapping is only two dimensional. This heat generates convective flows and thermophoresis which can be powerful enough to expel submicron particles from the trap.
9,10
The second approach that we will describe is utilizing periodic dielectric nanostructures to scatter incident light very efficiently into diffraction modes, as shown in figure 6.
11
Ideally, one would make this structure out of a dielectric material to avoid the same heating problems experienced with the plasmonic tweezers but in our approach an aluminum-coated diffraction grating is used as a one-dimensional periodic dielectric nanostructure. Although it is not a semiconductor, it did not experience significant heating and effectively trapped small particles with low trapping intensities, as shown in figure 7. Alignment of particles with the grating substrate conceptually validates the proposition that a 2-D photonic crystal could allow precise rotation of non-spherical micron sized particles.
10
The efficiencies of these optical traps are increased due to the enhanced fields produced by the nanostructures described in this paper.
Bioengineering, Issue 55, Surface plasmon, optical trapping, optical tweezers, plasmonic trapping, cell manipulation, optical manipulation
3390
Fabricating Nanogaps by Nanoskiving
Institutions: University of Groningen.

There are several methods of fabricating nanogaps with controlled spacings, but the precise control over the sub-nanometer spacing between two electrodes-and generating them in practical quantities-is still challenging. The preparation of nanogap electrodes using nanoskiving, which is a form of edge lithography, is a fast, simple and powerful technique. This method is an entirely mechanical process which does not include any photo- or electron-beam lithographic steps and does not require any special equipment or infrastructure such as clean rooms. Nanoskiving is used to fabricate electrically addressable nanogaps with control over all three dimensions; the smallest dimension of these structures is defined by the thickness of the sacrificial layer (Al or Ag) or self-assembled monolayers. These wires can be manually positioned by transporting them on drops of water and are directly electrically-addressable; no further lithography is required to connect them to an electrometer.
Chemistry, Issue 75, Materials Science, Chemical Engineering, Electrical Engineering, Physics, Nanotechnology, nanodevices (electronic), Nanoskiving, nanogaps, nanofabrication, molecular electronics, nanowires, fabrication, etching, ultramicrotome, scanning electron microscopy, SEM
50406
Label-free Isolation and Enrichment of Cells Through Contactless Dielectrophoresis
Institutions: Virginia Tech, Virginia Tech.

Dielectrophoresis (DEP) is the phenomenon by which polarized particles in a non-uniform electric field undergo translational motion, and can be used to direct the motion of microparticles in a surface marker-independent manner. Traditionally, DEP devices include planar metallic electrodes patterned in the sample channel. This approach can be expensive and requires a specialized cleanroom environment. Recently, a contact-free approach called contactless dielectrophoresis (cDEP) has been developed. This method utilizes the classic principle of DEP while avoiding direct contact between electrodes and sample by patterning fluidic electrodes and a sample channel from a single polydimethylsiloxane (PDMS) substrate, and has application as a rapid microfluidic strategy designed to sort and enrich microparticles. Unique to this method is that the electric field is generated via fluidic electrode channels containing a highly conductive fluid, which are separated from the sample channel by a thin insulating barrier. Because metal electrodes do not directly contact the sample, electrolysis, electrode delamination, and sample contamination are avoided. Additionally, this enables an inexpensive and simple fabrication process. cDEP is thus well-suited for manipulating sensitive biological particles. The dielectrophoretic force acting upon the particles depends not only upon spatial gradients of the electric field generated by customizable design of the device geometry, but the intrinsic biophysical properties of the cell. As such, cDEP is a label-free technique that avoids depending upon surface-expressed molecular biomarkers that may be variably expressed within a population, while still allowing characterization, enrichment, and sorting of bioparticles. Here, we demonstrate the basics of fabrication and experimentation using cDEP. We explain the simple preparation of a cDEP chip using soft lithography techniques. We discuss the experimental procedure for characterizing crossover frequency of a particle or cell, the frequency at which the dielectrophoretic force is zero. Finally, we demonstrate the use of this technique for sorting a mixture of ovarian cancer cells and fluorescing microspheres (beads).
Biomedical Engineering, Issue 79, Medicine, Cellular Biology, Molecular Biology, Bioengineering, Anatomy, Physiology, Biophysics, Physics, Microfluidics, Cell Separation, Microfluidic Analytical Techniques, Electrophoresis, Microchip, cancer diagnosis, cell enrichment, cell sorting, microfluidics, dielectrophoresis, Lab on a chip, cells, imaging
50634
Development of a 3D Graphene Electrode Dielectrophoretic Device
Institutions: Michigan Technological University, Michigan Technological University, XG Sciences, Inc..
The design and fabrication of a novel 3D electrode microdevice using 50 µm thick graphene paper and 100 µm double sided tape is described. The protocol details the procedures to construct a versatile, reusable, multiple layer, laminated dielectrophoresis chamber. Specifically, six layers of 50 µm x 0.7 cm x 2 cm graphene paper and five layers of double sided tape were alternately stacked together, then clamped to a glass slide. Then a 700 μm diameter micro-well was drilled through the laminated structure using a computer-controlled micro drilling machine. Insulating properties of the tape layer between adjacent graphene layers were assured by resistance tests. Silver conductive epoxy connected alternate layers of graphene paper and formed stable connections between the graphene paper and external copper wire electrodes. The finished device was then clamped and sealed to a glass slide. The electric field gradient was modeled within the multi-layer device. Dielectrophoretic behaviors of 6 μm polystyrene beads were demonstrated in the 1 mm deep micro-well, with medium conductivities ranging from 0.0001 S/m to 1.3 S/m, and applied signal frequencies from 100 Hz to 10 MHz. Negative dielectrophoretic responses were observed in three dimensions over most of the conductivity-frequency space and cross-over frequency values are consistent with previously reported literature values. The device did not prevent AC electroosmosis and electrothermal flows, which occurred in the low and high frequency regions, respectively. The graphene paper utilized in this device is versatile and could subsequently function as a biosensor after dielectrophoretic characterizations are complete.
Physics, Issue 88, graphene paper, dielectrophoresis, graphene electrodes, 3D laminated microdevice, polystyrene beads, cell diagnostics
51696
Microfluidic Picoliter Bioreactor for Microbial Single-cell Analysis: Fabrication, System Setup, and Operation
Institutions: Forschungszentrum Juelich GmbH.

In this protocol the fabrication, experimental setup and basic operation of the recently introduced microfluidic picoliter bioreactor (PLBR) is described in detail. The PLBR can be utilized for the analysis of single bacteria and microcolonies to investigate biotechnological and microbiological related questions concerning,
e.g.
 cell growth, morphology, stress response, and metabolite or protein production on single-cell level. The device features continuous media flow enabling constant environmental conditions for perturbation studies, but in addition allows fast medium changes as well as oscillating conditions to mimic any desired environmental situation. To fabricate the single use devices, a silicon wafer containing sub micrometer sized SU-8 structures served as the replication mold for rapid polydimethylsiloxane casting. Chips were cut, assembled, connected, and set up onto a high resolution and fully automated microscope suited for time-lapse imaging, a powerful tool for spatio-temporal cell analysis. Here, the biotechnological platform organism
Corynebacterium glutamicum 
was seeded into the PLBR and cell growth and intracellular fluorescence were followed over several hours unraveling time dependent population heterogeneity on single-cell level, not possible with conventional analysis methods such as flow cytometry. Besides insights into device fabrication, furthermore, the preparation of the preculture, loading, trapping of bacteria, and the PLBR cultivation of single cells and colonies is demonstrated. These devices will add a new dimension in microbiological research to analyze time dependent phenomena of single bacteria under tight environmental control. Due to the simple and relatively short fabrication process the technology can be easily adapted at any microfluidics lab and simply tailored towards specific needs.
Bioengineering, Issue 82, Soft lithography, SU-8 lithography, Picoliter bioreactor, Single-cell analysis, Polydimethylsiloxane, Corynebacterium glutamicum, Escherichia coli, Microfluidics, Lab-on-a-chip
50560
PLGA Nanoparticles Formed by Single- or Double-emulsion with Vitamin E-TPGS
Institutions: Barrow Neurological Institute.
Poly(lactic-co-glycolic acid) (PLGA) is a biocompatible member of the aliphatic polyester family of biodegradable polymers. PLGA has long been a popular choice for drug delivery applications, particularly since it is already FDA-approved for use in humans in the form of resorbable sutures. Hydrophobic and hydrophilic drugs are encapsulated in PLGA particles via single- or double-emulsion. Briefly, the drug is dissolved with polymer or emulsified with polymer in an organic phase that is then emulsified with the aqueous phase. After the solvent has evaporated, particles are washed and collected via centrifugation for lyophilization and long term storage. PLGA degrades slowly via hydrolysis in aqueous environments, and encapsulated agents are released over a period of weeks to months. Although PLGA is a material that possesses many advantages for drug delivery, reproducible formation of nanoparticles can be challenging; considerable variability is introduced by the use of different equipment, reagents batch, and precise method of emulsification. Here, we describe in great detail the formation and characterization of microparticles and nanoparticles formed by single- or double-emulsion using the emulsifying agent vitamin E-TPGS. Particle morphology and size are determined with scanning electron microscopy (SEM). We provide representative SEM images for nanoparticles produced with varying emulsifier concentration, as well as examples of imaging artifacts and failed emulsifications. This protocol can be readily adapted to use alternative emulsifiers (
e.g.
poly(vinyl alcohol), PVA) or solvents (
e.g.
 dichloromethane, DCM).
Chemistry, Issue 82, Nanoparticles, Microparticles, PLGA, TPGS, drug delivery, scanning electron microscopy, emulsion, polymers
51015
High-throughput Synthesis of Carbohydrates and Functionalization of Polyanhydride Nanoparticles
Institutions: Iowa State University, Iowa State University.

Transdisciplinary approaches involving areas such as material design, nanotechnology, chemistry, and immunology have to be utilized to rationally design efficacious vaccines carriers. Nanoparticle-based platforms can prolong the persistence of vaccine antigens, which could improve vaccine immunogenicity
1
. Several biodegradable polymers have been studied as vaccine delivery vehicles
1
; in particular, polyanhydride particles have demonstrated the ability to provide sustained release of stable protein antigens and to activate antigen presenting cells and modulate immune responses
2-12
. The molecular design of these vaccine carriers needs to integrate the rational selection of polymer properties as well as the incorporation of appropriate targeting agents. High throughput automated fabrication of targeting ligands and functionalized particles is a powerful tool that will enhance the ability to study a wide range of properties and will lead to the design of reproducible vaccine delivery devices. The addition of targeting ligands capable of being recognized by specific receptors on immune cells has been shown to modulate and tailor immune responses
10,11,13
C-type lectin receptors (CLRs) are pattern recognition receptors (PRRs) that recognize carbohydrates present on the surface of pathogens. The stimulation of immune cells via CLRs allows for enhanced internalization of antigen and subsequent presentation for further T cell activation
14,15
. Therefore, carbohydrate molecules play an important role in the study of immune responses; however, the use of these biomolecules often suffers from the lack of availability of structurally well-defined and pure carbohydrates. An automation platform based on iterative solution-phase reactions can enable rapid and controlled synthesis of these synthetically challenging molecules using significantly lower building block quantities than traditional solid-phase methods
16,17
. Herein we report a protocol for the automated solution-phase synthesis of oligosaccharides such as mannose-based targeting ligands with fluorous solid-phase extraction for intermediate purification. After development of automated methods to make the carbohydrate-based targeting agent, we describe methods for their attachment on the surface of polyanhydride nanoparticles employing an automated robotic set up operated by LabVIEW as previously described
10
. Surface functionalization with carbohydrates has shown efficacy in targeting CLRs
10,11
and increasing the throughput of the fabrication method to unearth the complexities associated with a multi-parametric system will be of great value (
Figure 1a
).
Bioengineering, Issue 65, Chemical Engineering, High-throughput, Automation, Carbohydrates, Synthesis, Polyanhydrides, Nanoparticles, Functionalization, Targeting, Fluorous Solid Phase Extraction
3967
Convergent Polishing: A Simple, Rapid, Full Aperture Polishing Process of High Quality Optical Flats & Spheres
Institutions: Lawrence Livermore National Laboratory.

Convergent Polishing is a novel polishing system and method for finishing flat and spherical glass optics in which a workpiece, independent of its initial shape (
i.e.
, surface figure), will converge to final surface figure with excellent surface quality under a fixed, unchanging set of polishing parameters in a single polishing iteration. In contrast, conventional full aperture polishing methods require multiple, often long, iterative cycles involving polishing, metrology and process changes to achieve the desired surface figure. The Convergent Polishing process is based on the concept of workpiece-lap height mismatch resulting in pressure differential that decreases with removal and results in the workpiece converging to the shape of the lap. The successful implementation of the Convergent Polishing process is a result of the combination of a number of technologies to remove all sources of non-uniform spatial material removal (except for workpiece-lap mismatch) for surface figure convergence and to reduce the number of rogue particles in the system for low scratch densities and low roughness. The Convergent Polishing process has been demonstrated for the fabrication of both flats and spheres of various shapes, sizes, and aspect ratios on various glass materials. The practical impact is that high quality optical components can be fabricated more rapidly, more repeatedly, with less metrology, and with less labor, resulting in lower unit costs. In this study, the Convergent Polishing protocol is specifically described for fabricating 26.5 cm square fused silica flats from a fine ground surface to a polished ~λ/2 surface figure after polishing 4 hr per surface on a 81 cm diameter polisher.
Physics, Issue 94, optical fabrication, pad polishing, fused silica glass, optical flats, optical spheres, ceria slurry, pitch button blocking, HF etching, scratches
51965
Separating Beads and Cells in Multi-channel Microfluidic Devices Using Dielectrophoresis and Laminar Flow
Institutions: University of Illinois at Urbana-Champaign, University of Illinois at Urbana-Champaign, University of Illinois at Urbana-Champaign, University of Illinois at Urbana-Champaign.

Microfluidic devices have advanced cell studies by providing a dynamic fluidic environment on the scale of the cell for studying, manipulating, sorting and counting cells. However, manipulating the cell within the fluidic domain remains a challenge and requires complicated fabrication protocols for forming valves and electrodes, or demands specialty equipment like optical tweezers. Here, we demonstrate that conventional printed circuit boards (PCB) can be used for the non-contact manipulation of cells by employing dielectrophoresis (DEP) for bead and cell manipulation in laminar flow fields for bioactuation, and for cell and bead separation in multichannel microfluidic devices. First, we present the protocol for assembling the DEP electrodes and microfluidic devices, and preparing the cells for DEP. Then, we characterize the DEP operation with polystyrene beads. Lastly, we show representative results of bead and cell separation in a multichannel microfluidic device. In summary, DEP is an effective method for manipulating particles (beads or cells) within microfluidic devices.
Bioengineering, Issue 48, Dielectrophoresis, microfluidic, laminar flow, cell sorting, Human colon adenocarcinoma
2545
Simultaneous Synthesis of Single-walled Carbon Nanotubes and Graphene in a Magnetically-enhanced Arc Plasma
Institutions: The George Washington University.

Carbon nanostructures such as single-walled carbon nanotubes (SWCNT) and graphene attract a deluge of interest of scholars nowadays due to their very promising application for molecular sensors, field effect transistor and super thin and flexible electronic devices
1-4
. Anodic arc discharge supported by the erosion of the anode material is one of the most practical and efficient methods, which can provide specific non-equilibrium processes and a high influx of carbon material to the developing structures at relatively higher temperature, and consequently the as-synthesized products have few structural defects and better crystallinity. To further improve the controllability and flexibility of the synthesis of carbon nanostructures in arc discharge, magnetic fields can be applied during the synthesis process according to the strong magnetic responses of arc plasmas. It was demonstrated that the magnetically-enhanced arc discharge can increase the average length of SWCNT
5
, narrow the diameter distribution of metallic catalyst particles and carbon nanotubes
6
, and change the ratio of metallic and semiconducting carbon nanotubes
7
, as well as lead to graphene synthesis
8
. Furthermore, it is worthwhile to remark that when we introduce a non-uniform magnetic field with the component normal to the current in arc, the Lorentz force along the J×B direction can generate the plasmas jet and make effective delivery of carbon ion particles and heat flux to samples. As a result, large-scale graphene flakes and high-purity single-walled carbon nanotubes were simultaneously generated by such new magnetically-enhanced anodic arc method. Arc imaging, scanning electron microscope (SEM), transmission electron microscope (TEM) and Raman spectroscopy were employed to analyze the characterization of carbon nanostructures. These findings indicate a wide spectrum of opportunities to manipulate with the properties of nanostructures produced in plasmas by means of controlling the arc conditions.
Bioengineering, Issue 60, Arc discharge, magnetic control, single-walled carbon nanotubes, graphene
3455
Encapsulation and Permeability Characteristics of Plasma Polymerized Hollow Particles
Institutions: The Pennsylvania State University.
In this protocol, core-shell nanostructures are synthesized by plasma enhanced chemical vapor deposition. We produce an amorphous barrier by plasma polymerization of isopropanol on various solid substrates, including silica and potassium chloride. This versatile technique is used to treat nanoparticles and nanopowders with sizes ranging from 37 nm to 1 micron, by depositing films whose thickness can be anywhere from 1 nm to upwards of 100 nm. Dissolution of the core allows us to study the rate of permeation through the film. In these experiments, we determine the diffusion coefficient of KCl through the barrier film by coating KCL nanocrystals and subsequently monitoring the ionic conductivity of the coated particles suspended in water. The primary interest in this process is the encapsulation and delayed release of solutes. The thickness of the shell is one of the independent variables by which we control the rate of release. It has a strong effect on the rate of release, which increases from a six-hour release (shell thickness is 20 nm) to a long-term release over 30 days (shell thickness is 95 nm). The release profile shows a characteristic behavior: a fast release (35% of the final materials) during the first five minutes after the beginning of the dissolution, and a slower release till all of the core materials come out.
Physics, Issue 66, Chemical Engineering, Plasma Physics, Plasma coating, Core-shell structure, Hollow particles, Permeability, nanoparticles, nanopowders
4113
Microfabrication of Nanoporous Gold Patterns for Cell-material Interaction Studies
Institutions: University of California, Davis , University of California, Davis , University of California, Davis .
Nanostructured materials with feature sizes in tens of nanometers have enhanced the performance of several technologies, including fuel cells, biosensors, biomedical device coatings, and drug delivery tools. Nanoporous gold (np-Au), produced by a nano-scale self-assembly process, is a relatively new material that exhibits large effective surface area, high electrical conductivity, and catalytic activity. These properties have made np-Au an attractive material to scientific community. Most studies on np-Au employ macro-scale specimens and focus on fundamental science of the material and its catalytic and sensor applications. The macro-scale specimens limit np-Au's potential in miniaturized systems, including biomedical devices. In order to address these issues, we initially describe two different methods to micropattern np-Au thin films on rigid substrates. The first method employs manually-produced stencil masks for creating millimeter-scale np-Au patterns, while the second method uses lift-off photolithography to pattern sub-millimeter-scale patterns. As the np-Au thin films are obtained by sputter-deposition process, they are compatible with conventional microfabrication techniques, thereby amenable to facile integration into microsystems. These systems include electrically-addressable biosensor platforms that benefit from high effective surface area, electrical conductivity, and gold-thiol-based surface bioconjugation. We describe cell culture, immunostaining, and image processing techniques to quantify np-Au's interaction with mammalian cells, which is an important performance parameter for some biosensors. We expect that the techniques illustrated here will assist the integration of np-Au in platforms at various length-scales and in numerous applications, including biosensors, energy storage systems, and catalysts.
Bioengineering, Issue 77, Cellular Biology, Molecular Biology, Biomedical Engineering, Biochemistry, Chemistry, Chemical Engineering, Biophysics, Physics, Nanotechnology, Nanostructures, Biomedical Technology, Miniaturization, Gold, Staining and Labeling, Cell Culture Techniques, Microscopy, Electron Microscopy, Fluorescence, Nanotechnology, thin films (theory, deposition and growth), Nanoporous gold, cell culture, image analysis, microfabrication, nanotechnology, quantitative immunochemistry, scanning electron microscopy, SEM, fluorescence microscopy, stencil printing, photolithography, cell culture
50678
Magnetic Tweezers for the Measurement of Twist and Torque
Institutions: Delft University of Technology.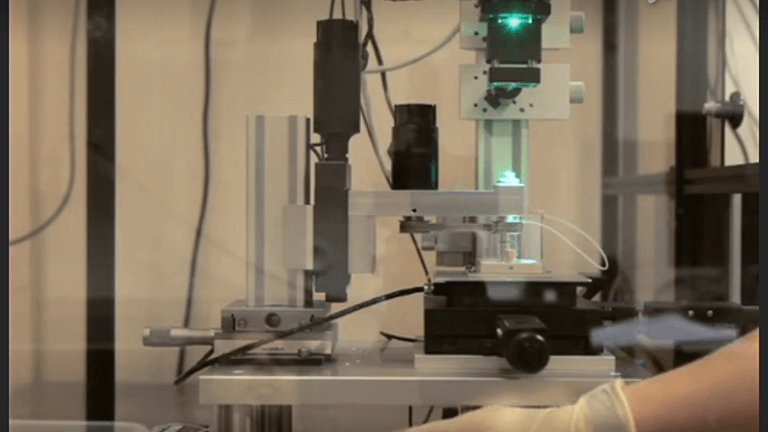 Single-molecule techniques make it possible to investigate the behavior of individual biological molecules in solution in real time. These techniques include so-called force spectroscopy approaches such as atomic force microscopy, optical tweezers, flow stretching, and magnetic tweezers. Amongst these approaches, magnetic tweezers have distinguished themselves by their ability to apply torque while maintaining a constant stretching force. Here, it is illustrated how such a "conventional" magnetic tweezers experimental configuration can, through a straightforward modification of its field configuration to minimize the magnitude of the transverse field, be adapted to measure the degree of twist in a biological molecule. The resulting configuration is termed the freely-orbiting magnetic tweezers. Additionally, it is shown how further modification of the field configuration can yield a transverse field with a magnitude intermediate between that of the "conventional" magnetic tweezers and the freely-orbiting magnetic tweezers, which makes it possible to directly measure the torque stored in a biological molecule. This configuration is termed the magnetic torque tweezers. The accompanying video explains in detail how the conversion of conventional magnetic tweezers into freely-orbiting magnetic tweezers and magnetic torque tweezers can be accomplished, and demonstrates the use of these techniques. These adaptations maintain all the strengths of conventional magnetic tweezers while greatly expanding the versatility of this powerful instrument.
Bioengineering, Issue 87, magnetic tweezers, magnetic torque tweezers, freely-orbiting magnetic tweezers, twist, torque, DNA, single-molecule techniques
51503
In Situ SIMS and IR Spectroscopy of Well-defined Surfaces Prepared by Soft Landing of Mass-selected Ions
Institutions: Pacific Northwest National Laboratory.

Soft landing of mass-selected ions onto surfaces is a powerful approach for the highly-controlled preparation of materials that are inaccessible using conventional synthesis techniques. Coupling soft landing with
in situ
characterization using secondary ion mass spectrometry (SIMS) and infrared reflection absorption spectroscopy (IRRAS) enables analysis of well-defined surfaces under clean vacuum conditions. The capabilities of three soft-landing instruments constructed in our laboratory are illustrated for the representative system of surface-bound organometallics prepared by soft landing of mass-selected ruthenium tris(bipyridine) dications, [Ru(bpy)
3
]
2+
(bpy = bipyridine), onto carboxylic acid terminated self-assembled monolayer surfaces on gold (COOH-SAMs).
In situ
time-of-flight (TOF)-SIMS provides insight into the reactivity of the soft-landed ions. In addition, the kinetics of charge reduction, neutralization and desorption occurring on the COOH-SAM both during and after ion soft landing are studied using
in situ
Fourier transform ion cyclotron resonance (FT-ICR)-SIMS measurements.
In situ
IRRAS experiments provide insight into how the structure of organic ligands surrounding metal centers is perturbed through immobilization of organometallic ions on COOH-SAM surfaces by soft landing. Collectively, the three instruments provide complementary information about the chemical composition, reactivity and structure of well-defined species supported on surfaces.
Chemistry, Issue 88, soft landing, mass selected ions, electrospray, secondary ion mass spectrometry, infrared spectroscopy, organometallic, catalysis
51344
Simultaneous Multicolor Imaging of Biological Structures with Fluorescence Photoactivation Localization Microscopy
Institutions: University of Maine.

Localization-based super resolution microscopy can be applied to obtain a spatial map (image) of the distribution of individual fluorescently labeled single molecules within a sample with a spatial resolution of tens of nanometers. Using either photoactivatable (PAFP) or photoswitchable (PSFP) fluorescent proteins fused to proteins of interest, or organic dyes conjugated to antibodies or other molecules of interest, fluorescence photoactivation localization microscopy (FPALM) can simultaneously image multiple species of molecules within single cells. By using the following approach, populations of large numbers (thousands to hundreds of thousands) of individual molecules are imaged in single cells and localized with a precision of ~10-30 nm. Data obtained can be applied to understanding the nanoscale spatial distributions of multiple protein types within a cell. One primary advantage of this technique is the dramatic increase in spatial resolution: while diffraction limits resolution to ~200-250 nm in conventional light microscopy, FPALM can image length scales more than an order of magnitude smaller. As many biological hypotheses concern the spatial relationships among different biomolecules, the improved resolution of FPALM can provide insight into questions of cellular organization which have previously been inaccessible to conventional fluorescence microscopy. In addition to detailing the methods for sample preparation and data acquisition, we here describe the optical setup for FPALM. One additional consideration for researchers wishing to do super-resolution microscopy is cost: in-house setups are significantly cheaper than most commercially available imaging machines. Limitations of this technique include the need for optimizing the labeling of molecules of interest within cell samples, and the need for post-processing software to visualize results. We here describe the use of PAFP and PSFP expression to image two protein species in fixed cells. Extension of the technique to living cells is also described.
Basic Protocol, Issue 82, Microscopy, Super-resolution imaging, Multicolor, single molecule, FPALM, Localization microscopy, fluorescent proteins
50680
Evaluating Plasmonic Transport in Current-carrying Silver Nanowires
Institutions: Université de Bourgogne, University of Science and Technology of China, CEMES, CNRS-UPR 8011.

Plasmonics is an emerging technology capable of simultaneously transporting a plasmonic signal and an electronic signal on the same information support
1,2,3
. In this context, metal nanowires are especially desirable for realizing dense routing networks
4
. A prerequisite to operate such shared nanowire-based platform relies on our ability to electrically contact individual metal nanowires and efficiently excite surface plasmon polaritons
5
in this information support. In this article, we describe a protocol to bring electrical terminals to chemically-synthesized silver nanowires
6
randomly distributed on a glass substrate
7
. The positions of the nanowire ends with respect to predefined landmarks are precisely located using standard optical transmission microscopy before encapsulation in an electron-sensitive resist. Trenches representing the electrode layout are subsequently designed by electron-beam lithography. Metal electrodes are then fabricated by thermally evaporating a Cr/Au layer followed by a chemical lift-off. The contacted silver nanowires are finally transferred to a leakage radiation microscope for surface plasmon excitation and characterization
8,9
. Surface plasmons are launched in the nanowires by focusing a near infrared laser beam on a diffraction-limited spot overlapping one nanowire extremity
5,9
. For sufficiently large nanowires, the surface plasmon mode leaks into the glass substrate
9,10
. This leakage radiation is readily detected, imaged, and analyzed in the different conjugate planes in leakage radiation microscopy
9,11
. The electrical terminals do not affect the plasmon propagation. However, a current-induced morphological deterioration of the nanowire drastically degrades the flow of surface plasmons. The combination of surface plasmon leakage radiation microscopy with a simultaneous analysis of the nanowire electrical transport characteristics reveals the intrinsic limitations of such plasmonic circuitry.
Physics, Issue 82, light transmission, optical waveguides, photonics, plasma oscillations, plasma waves, electron motion in conductors, nanofabrication, Information Transport, plasmonics, Silver Nanowires, Leakage radiation microscopy, Electromigration
51048
Characterization of Surface Modifications by White Light Interferometry: Applications in Ion Sputtering, Laser Ablation, and Tribology Experiments
Institutions: Argonne National Laboratory, Argonne National Laboratory, MassThink LLC.

In materials science and engineering it is often necessary to obtain quantitative measurements of surface topography with micrometer lateral resolution. From the measured surface, 3D topographic maps can be subsequently analyzed using a variety of software packages to extract the information that is needed. In this article we describe how white light interferometry, and optical profilometry (OP) in general, combined with generic surface analysis software, can be used for materials science and engineering tasks. In this article, a number of applications of white light interferometry for investigation of surface modifications in mass spectrometry, and wear phenomena in tribology and lubrication are demonstrated. We characterize the products of the interaction of semiconductors and metals with energetic ions (sputtering), and laser irradiation (ablation), as well as
ex situ
measurements of wear of tribological test specimens. Specifically, we will discuss: Aspects of traditional ion sputtering-based mass spectrometry such as sputtering rates/yields measurements on Si and Cu and subsequent time-to-depth conversion. Results of quantitative characterization of the interaction of femtosecond laser irradiation with a semiconductor surface. These results are important for applications such as ablation mass spectrometry, where the quantities of evaporated material can be studied and controlled via pulse duration and energy per pulse. Thus, by determining the crater geometry one can define depth and lateral resolution versus experimental setup conditions. Measurements of surface roughness parameters in two dimensions, and quantitative measurements of the surface wear that occur as a result of friction and wear tests. Some inherent drawbacks, possible artifacts, and uncertainty assessments of the white light interferometry approach will be discussed and explained.
Materials Science, Issue 72, Physics, Ion Beams (nuclear interactions), Light Reflection, Optical Properties, Semiconductor Materials, White Light Interferometry, Ion Sputtering, Laser Ablation, Femtosecond Lasers, Depth Profiling, Time-of-flight Mass Spectrometry, Tribology, Wear Analysis, Optical Profilometry, wear, friction, atomic force microscopy, AFM, scanning electron microscopy, SEM, imaging, visualization
50260
Formation of Biomembrane Microarrays with a Squeegee-based Assembly Method
Institutions: University of Minnesota, University of Minnesota, Mayo Clinic College of Medicine, Mayo Clinic College of Medicine.

Lipid bilayer membranes form the plasma membranes of cells and define the boundaries of subcellular organelles. In nature, these membranes are heterogeneous mixtures of many types of lipids, contain membrane-bound proteins and are decorated with carbohydrates. In some experiments, it is desirable to decouple the biophysical or biochemical properties of the lipid bilayer from those of the natural membrane. Such cases call for the use of model systems such as giant vesicles, liposomes or supported lipid bilayers (SLBs). Arrays of SLBs are particularly attractive for sensing applications and mimicking cell-cell interactions. Here we describe a new method for forming SLB arrays. Submicron-diameter SiO
2
beads are first coated with lipid bilayers to form spherical SLBs (SSLBs). The beads are then deposited into an array of micro-fabricated submicron-diameter microwells. The preparation technique uses a "squeegee" to clean the substrate surface, while leaving behind SSLBs that have settled into microwells. This method requires no chemical modification of the microwell substrate, nor any particular targeting ligands on the SSLB. Microwells are occupied by single beads because the well diameter is tuned to be just larger than the bead diameter. Typically, more 75% of the wells are occupied, while the rest remain empty. In buffer SSLB arrays display long-term stability of greater than one week. Multiple types of SSLBs can be placed in a single array by serial deposition, and the arrays can be used for sensing, which we demonstrate by characterizing the interaction of cholera toxin with ganglioside GM1. We also show that phospholipid vesicles without the bead supports and biomembranes from cellular sources can be arrayed with the same method and cell-specific membrane lipids can be identified.
Bioengineering, Issue 87, supported lipid bilayer, beads, microarray, fluorescence, microfabrication, nanofabrication, atomic layer deposition, myelin, lipid rafts
51501
Designing Silk-silk Protein Alloy Materials for Biomedical Applications
Institutions: Rowan University, Rowan University, Cooper Medical School of Rowan University, Rowan University.

Fibrous proteins display different sequences and structures that have been used for various applications in biomedical fields such as biosensors, nanomedicine, tissue regeneration, and drug delivery. Designing materials based on the molecular-scale interactions between these proteins will help generate new multifunctional protein alloy biomaterials with tunable properties. Such alloy material systems also provide advantages in comparison to traditional synthetic polymers due to the materials biodegradability, biocompatibility, and tenability in the body. This article used the protein blends of wild tussah silk (
Antheraea pernyi
) and domestic mulberry silk (
Bombyx mori
) as an example to provide useful protocols regarding these topics, including how to predict protein-protein interactions by computational methods, how to produce protein alloy solutions, how to verify alloy systems by thermal analysis, and how to fabricate variable alloy materials including optical materials with diffraction gratings, electric materials with circuits coatings, and pharmaceutical materials for drug release and delivery. These methods can provide important information for designing the next generation multifunctional biomaterials based on different protein alloys.
Bioengineering, Issue 90, protein alloys, biomaterials, biomedical, silk blends, computational simulation, implantable electronic devices
50891
Nanofabrication of Gate-defined GaAs/AlGaAs Lateral Quantum Dots
Institutions: Université de Sherbrooke.
A quantum computer is a computer composed of quantum bits (qubits) that takes advantage of quantum effects, such as superposition of states and entanglement, to solve certain problems exponentially faster than with the best known algorithms on a classical computer. Gate-defined lateral quantum dots on GaAs/AlGaAs are one of many avenues explored for the implementation of a qubit. When properly fabricated, such a device is able to trap a small number of electrons in a certain region of space. The spin states of these electrons can then be used to implement the logical 0 and 1 of the quantum bit. Given the nanometer scale of these quantum dots, cleanroom facilities offering specialized equipment- such as scanning electron microscopes and e-beam evaporators- are required for their fabrication. Great care must be taken throughout the fabrication process to maintain cleanliness of the sample surface and to avoid damaging the fragile gates of the structure. This paper presents the detailed fabrication protocol of gate-defined lateral quantum dots from the wafer to a working device. Characterization methods and representative results are also briefly discussed. Although this paper concentrates on double quantum dots, the fabrication process remains the same for single or triple dots or even arrays of quantum dots. Moreover, the protocol can be adapted to fabricate lateral quantum dots on other substrates, such as Si/SiGe.
Physics, Issue 81, Nanostructures, Quantum Dots, Nanotechnology, Electronics, microelectronics, solid state physics, Nanofabrication, Nanoelectronics, Spin qubit, Lateral quantum dot
50581
Ultrahigh Density Array of Vertically Aligned Small-molecular Organic Nanowires on Arbitrary Substrates
Institutions: University of Alberta.
In recent years π-conjugated organic semiconductors have emerged as the active material in a number of diverse applications including large-area, low-cost displays, photovoltaics, printable and flexible electronics and organic spin valves. Organics allow (a) low-cost, low-temperature processing and (b) molecular-level design of electronic, optical and spin transport characteristics. Such features are not readily available for mainstream inorganic semiconductors, which have enabled organics to carve a niche in the silicon-dominated electronics market. The first generation of organic-based devices has focused on thin film geometries, grown by physical vapor deposition or solution processing. However, it has been realized that organic
nanostructures
can be used to enhance performance of above-mentioned applications and significant effort has been invested in exploring methods for organic nanostructure fabrication. A particularly interesting class of organic nanostructures is the one in which
vertically oriented organic nanowires, nanorods or nanotubes are organized in a well-regimented, high-density array
. Such structures are highly versatile and are ideal morphological architectures for various applications such as chemical sensors, split-dipole nanoantennas, photovoltaic devices with radially heterostructured "core-shell" nanowires, and memory devices with a cross-point geometry. Such architecture is generally realized by a template-directed approach. In the past this method has been used to grow metal and inorganic semiconductor nanowire arrays. More recently π-conjugated polymer nanowires have been grown within nanoporous templates. However, these approaches have had limited success in growing nanowires of technologically important π-conjugated
small molecular weight organics
, such as tris-8-hydroxyquinoline aluminum (Alq
3
), rubrene and methanofullerenes, which are commonly used in diverse areas including organic displays, photovoltaics, thin film transistors and spintronics. Recently we have been able to address the above-mentioned issue by employing a novel "centrifugation-assisted" approach. This method therefore broadens the spectrum of organic materials that can be patterned in a vertically ordered nanowire array. Due to the technological importance of Alq
3
, rubrene and methanofullerenes, our method can be used to explore how the nanostructuring of these materials affects the performance of aforementioned organic devices. The purpose of this article is to describe the technical details of the above-mentioned protocol, demonstrate how this process can be extended to grow small-molecular organic nanowires on
arbitrary substrates
and finally, to discuss the critical steps, limitations, possible modifications, trouble-shooting and future applications.
Physics, Issue 76, Electrical Engineering, Chemistry, Chemical Engineering, Nanotechnology, nanodevices (electronic), semiconductor devices, solid state devices, thin films (theory, deposition and growth), crystal growth (general), Organic semiconductors, small molecular organics, organic nanowires, nanorods and nanotubes, bottom-up nanofabrication, electrochemical self-assembly, anodic aluminum oxide (AAO), template-assisted synthesis of nanostructures, Raman spectrum, field emission scanning electron microscopy, FESEM
50706
Determining 3D Flow Fields via Multi-camera Light Field Imaging
Institutions: Brigham Young University, Naval Undersea Warfare Center, Newport, RI.

In the field of fluid mechanics, the resolution of computational schemes has outpaced experimental methods and widened the gap between predicted and observed phenomena in fluid flows. Thus, a need exists for an accessible method capable of resolving three-dimensional (3D) data sets for a range of problems. We present a novel technique for performing quantitative 3D imaging of many types of flow fields. The 3D technique enables investigation of complicated velocity fields and bubbly flows. Measurements of these types present a variety of challenges to the instrument. For instance, optically dense bubbly multiphase flows cannot be readily imaged by traditional, non-invasive flow measurement techniques due to the bubbles occluding optical access to the interior regions of the volume of interest. By using Light Field Imaging we are able to reparameterize images captured by an array of cameras to reconstruct a 3D volumetric map for every time instance, despite partial occlusions in the volume. The technique makes use of an algorithm known as synthetic aperture (SA) refocusing, whereby a 3D focal stack is generated by combining images from several cameras post-capture
1
. Light Field Imaging allows for the capture of angular as well as spatial information about the light rays, and hence enables 3D scene reconstruction. Quantitative information can then be extracted from the 3D reconstructions using a variety of processing algorithms. In particular, we have developed measurement methods based on Light Field Imaging for performing 3D particle image velocimetry (PIV), extracting bubbles in a 3D field and tracking the boundary of a flickering flame. We present the fundamentals of the Light Field Imaging methodology in the context of our setup for performing 3DPIV of the airflow passing over a set of synthetic vocal folds, and show representative results from application of the technique to a bubble-entraining plunging jet.
Physics, Issue 73, Mechanical Engineering, Fluid Mechanics, Engineering, synthetic aperture imaging, light field, camera array, particle image velocimetry, three dimensional, vector fields, image processing, auto calibration, vocal chords, bubbles, flow, fluids
4325
Rapid Homogeneous Detection of Biological Assays Using Magnetic Modulation Biosensing System
Institutions: Tel Aviv University, Washington University in St. Louis, University of Illinois, Tel Aviv University.

A magnetic modulation biosensing system (MMB) [1,2] rapidly and homogeneously detected biological targets at low concentrations without any washing or separation step. When the IL-8 target was present, a 'sandwich'-based assay attached magnetic beads with IL-8 capture antibody to streptavidin coupled fluorescent protein via the IL-8 target and a biotinylated IL-8 antibody. The magnetic beads are maneuvered into oscillatory motion by applying an alternating magnetic field gradient through two electromagnetic poles. The fluorescent proteins, which are attached to the magnetic beads are condensed into the detection area and their movement in and out of an orthogonal laser beam produces a periodic fluorescent signal that is demodulated using synchronous detection. The magnetic modulation biosensing system was previously used to detect the coding sequences of the non-structural Ibaraki virus protein 3 (NS3) complementary DNA (cDNA) [2]. The techniques that are demonstrated in this work for external manipulation and condensation of particles may be used for other applications, e.g. delivery of magnetically-coupled drugs
in-vivo
or enhancing the contrast for
in-vivo
imaging applications.
Bioengineering, Issue 40, Magnetic modulation, magnetic nanoparticles, protein detection, IL8, fluorescent detection
1935
A Method to Fabricate Disconnected Silver Nanostructures in 3D
Institutions: Harvard University , Harvard University .

The standard nanofabrication toolkit includes techniques primarily aimed at creating 2D patterns in dielectric media. Creating metal patterns on a submicron scale requires a combination of nanofabrication tools and several material processing steps. For example, steps to create planar metal structures using ultraviolet photolithography and electron-beam lithography can include sample exposure, sample development, metal deposition, and metal liftoff. To create 3D metal structures, the sequence is repeated multiple times. The complexity and difficulty of stacking and aligning multiple layers limits practical implementations of 3D metal structuring using standard nanofabrication tools. Femtosecond-laser direct-writing has emerged as a pre-eminent technique for 3D nanofabrication.
1,2
Femtosecond lasers are frequently used to create 3D patterns in polymers and glasses.
3-7
However, 3D metal direct-writing remains a challenge. Here, we describe a method to fabricate silver nanostructures embedded inside a polymer matrix using a femtosecond laser centered at 800 nm. The method enables the fabrication of patterns not feasible using other techniques, such as 3D arrays of disconnected silver voxels.
8
Disconnected 3D metal patterns are useful for metamaterials where unit cells are not in contact with each other,
9
such as coupled metal dot
10,11
or coupled metal rod
12,13
resonators. Potential applications include negative index metamaterials, invisibility cloaks, and perfect lenses. In femtosecond-laser direct-writing, the laser wavelength is chosen such that photons are not linearly absorbed in the target medium. When the laser pulse duration is compressed to the femtosecond time scale and the radiation is tightly focused inside the target, the extremely high intensity induces nonlinear absorption. Multiple photons are absorbed simultaneously to cause electronic transitions that lead to material modification within the focused region. Using this approach, one can form structures in the bulk of a material rather than on its surface. Most work on 3D direct metal writing has focused on creating self-supported metal structures.
14-16
The method described here yields sub-micrometer silver structures that do not need to be self-supported because they are embedded inside a matrix. A doped polymer matrix is prepared using a mixture of silver nitrate (AgNO
3
), polyvinylpyrrolidone (PVP) and water (H
2
O). Samples are then patterned by irradiation with an 11-MHz femtosecond laser producing 50-fs pulses. During irradiation, photoreduction of silver ions is induced through nonlinear absorption, creating an aggregate of silver nanoparticles in the focal region. Using this approach we create silver patterns embedded in a doped PVP matrix. Adding 3D translation of the sample extends the patterning to three dimensions.
Physics, Issue 69, Materials Science, Engineering, Nanotechnology, nanofabrication, microfabrication, 3D fabrication, polymer, silver, femtosecond laser processing, direct laser writing, multiphoton lithography, nonlinear absorption
4399