Micropunching Lithography for Generating Micro- and Submicron-patterns on Polymer Substrates
Published: 07-02-2012
ABSTRACT
Conducting polymers have attracted great attention since the discovery of high conductivity in doped polyacetylene in 19771. They offer the advantages of low weight, easy tailoring of properties and a wide spectrum of applications2,3. Due to sensitivity of conducting polymers to environmental conditions (e.g., air, oxygen, moisture, high temperature and chemical solutions), lithographic techniques present significant technical challenges when working with these materials4. For example, current photolithographic methods, such as ultra-violet (UV), are unsuitable for patterning the conducting polymers due to the involvement of wet and/or dry etching processes in these methods. In addition, current micro/nanosystems mainly have a planar form5,6. One layer of structures is built on the top surfaces of another layer of fabricated features. Multiple layers of these structures are stacked together to form numerous devices on a common substrate. The sidewall surfaces of the microstructures have not been used in constructing devices. On the other hand, sidewall patterns could be used, for example, to build 3-D circuits, modify fluidic channels and direct horizontal growth of nanowires and nanotubes. A macropunching method has been applied in the manufacturing industry to create macropatterns in a sheet metal for over a hundred years. Motivated by this approach, we have developed a micropunching lithography method (MPL) to overcome the obstacles of patterning conducting polymers and generating sidewall patterns. Like the macropunching method, the MPL also includes two operations (Fig. 1): (i) cutting; and (ii) drawing. The "cutting" operation was applied to pattern three conducting polymers4, polypyrrole (PPy), Poly(3,4-ethylenedioxythiophen)-poly(4-styrenesulphonate) (PEDOT) and polyaniline (PANI). It was also employed to create Al microstructures7. The fabricated microstructures of conducting polymers have been used as humidity8, chemical8, and glucose sensors9. Combined microstructures of Al and conducting polymers have been employed to fabricate capacitors and various heterojunctions9,10,11. The "cutting" operation was also applied to generate submicron-patterns, such as 100- and 500-nm-wide PPy lines as well as 100-nm-wide Au wires. The "drawing" operation was employed for two applications: (i) produce Au sidewall patterns on high density polyethylene (HDPE) channels which could be used for building 3D microsystems12,13,14, and (ii) fabricate polydimethylsiloxane (PDMS) micropillars on HDPE substrates to increase the contact angle of the channel15.
22 Related JoVE Articles!
Construction and Testing of Coin Cells of Lithium Ion Batteries
Institutions: Clemson University, Clemson University.

Rechargeable lithium ion batteries have wide applications in electronics, where customers always demand more capacity and longer lifetime. Lithium ion batteries have also been considered to be used in electric and hybrid vehicles
1
or even electrical grid stabilization systems
2
. All these applications simulate a dramatic increase in the research and development of battery materials
3-7
, including new materials
3,8
, doping
9
, nanostructuring
10-13
, coatings or surface modifications
14-17
and novel binders
18
. Consequently, an increasing number of physicists, chemists and materials scientists have recently ventured into this area. Coin cells are widely used in research laboratories to test new battery materials; even for the research and development that target large-scale and high-power applications, small coin cells are often used to test the capacities and rate capabilities of new materials in the initial stage. In 2010, we started a National Science Foundation (NSF) sponsored research project to investigate the surface adsorption and disordering in battery materials (grant no. DMR-1006515). In the initial stage of this project, we have struggled to learn the techniques of assembling and testing coin cells, which cannot be achieved without numerous help of other researchers in other universities (through frequent calls, email exchanges and two site visits). Thus, we feel that it is beneficial to document, by both text and video, a protocol of assembling and testing a coin cell, which will help other new researchers in this field. This effort represents the "Broader Impact" activities of our NSF project, and it will also help to educate and inspire students. In this video article, we document a protocol to assemble a CR2032 coin cell with a LiCoO
2
working electrode, a Li counter electrode, and (the mostly commonly used) polyvinylidene fluoride (PVDF) binder. To ensure new learners to readily repeat the protocol, we keep the protocol as specific and explicit as we can. However, it is important to note that in specific research and development work, many parameters adopted here can be varied. First, one can make coin cells of different sizes and test the working electrode against a counter electrode other than Li. Second, the amounts of C black and binder added into the working electrodes are often varied to suit the particular purpose of research; for example, large amounts of C black or even inert powder were added to the working electrode to test the "intrinsic" performance of cathode materials
14
. Third, better binders (other than PVDF) have also developed and used
18
. Finally, other types of electrolytes (instead of LiPF
6
) can also be used; in fact, certain high-voltage electrode materials will require the uses of special electrolytes
7
.
Materials Science, Issue 66, Chemistry, Chemical Engineering, Electrical Engineering, Physics, Battery, coin cells, CR2032, lithium, lithium ion
4104
Fabrication of VB2/Air Cells for Electrochemical Testing
Institutions: The George Washington University, Lynntech.
A technique to investigate the properties and performance of new multi-electron metal/air battery systems is proposed and presented. A method for synthesizing nanoscopic VB
2
is presented as well as step-by-step procedure for applying a zirconium oxide coating to the VB
2
particles for stabilization upon discharge. The process for disassembling existing zinc/air cells is shown, in addition construction of the new working electrode to replace the conventional zinc/air cell anode with a the nanoscopic VB
2
anode. Finally, discharge of the completed VB
2
/air battery is reported. We show that using the zinc/air cell as a test bed is useful to provide a consistent configuration to study the performance of the high-energy high capacity nanoscopic VB
2
anode.
Physics, Issue 78, Materials Science, Chemistry, Chemical Engineering, Inorganic Chemicals, Chemistry and Materials (General), Composite Materials, Inorganic, Organic and Physical Chemistry, Metals and Metallic Materials, Nonmetallic Materials, Engineering (General), Electronics and Electrical Engineering, Physics (General), energy storage, metal/air battery, nanoscopic vanadium diboride, VB2, multi-electron oxidation, electrochemical testing, electrode, fabrication
50593
Dry Oxidation and Vacuum Annealing Treatments for Tuning the Wetting Properties of Carbon Nanotube Arrays
Institutions: California Institute of Technology.

In this article, we describe a simple method to reversibly tune the wetting properties of vertically aligned carbon nanotube (CNT) arrays. Here, CNT arrays are defined as densely packed multi-walled carbon nanotubes oriented perpendicular to the growth substrate as a result of a growth process by the standard thermal chemical vapor deposition (CVD) technique.
1,2
These CNT arrays are then exposed to vacuum annealing treatment to make them more hydrophobic or to dry oxidation treatment to render them more hydrophilic. The hydrophobic CNT arrays can be turned hydrophilic by exposing them to dry oxidation treatment, while the hydrophilic CNT arrays can be turned hydrophobic by exposing them to vacuum annealing treatment. Using a combination of both treatments, CNT arrays can be repeatedly switched between hydrophilic and hydrophobic.
2
Therefore, such combination show a very high potential in many industrial and consumer applications, including drug delivery system and high power density supercapacitors.
3-5
The key to vary the wettability of CNT arrays is to control the surface concentration of oxygen adsorbates. Basically oxygen adsorbates can be introduced by exposing the CNT arrays to any oxidation treatment. Here we use dry oxidation treatments, such as oxygen plasma and UV/ozone, to functionalize the surface of CNT with oxygenated functional groups. These oxygenated functional groups allow hydrogen bond between the surface of CNT and water molecules to form, rendering the CNT hydrophilic. To turn them hydrophobic, adsorbed oxygen must be removed from the surface of CNT. Here we employ vacuum annealing treatment to induce oxygen desorption process. CNT arrays with extremely low surface concentration of oxygen adsorbates exhibit a superhydrophobic behavior.
Chemistry, Issue 74, Chemical Engineering, Materials Science, Nanotechnology, Engineering, Nanotubes, Carbon, Oxidation-Reduction, Surface Properties, carbon nanotubes (synthesis and properties), Carbon nanotube, Wettability, Hydrophobic, Hydrophilic, UV/ozone, Oxygen Plasma, Vacuum Annealing
50378
Fabrication of Silica Ultra High Quality Factor Microresonators
Institutions: University of Southern California, University of Southern California.

Whispering gallery resonant cavities confine light in circular orbits at their periphery.
1-2
The photon storage lifetime in the cavity, quantified by the quality factor (Q) of the cavity, can be in excess of 500ns for cavities with Q factors above 100 million. As a result of their low material losses, silica microcavities have demonstrated some of the longest photon lifetimes to date
1-2
. Since a portion of the circulating light extends outside the resonator, these devices can also be used to probe the surroundings. This interaction has enabled numerous experiments in biology, such as single molecule biodetection and antibody-antigen kinetics, as well as discoveries in other fields, such as development of ultra-low-threshold microlasers, characterization of thin films, and cavity quantum electrodynamics studies.
3-7
The two primary silica resonant cavity geometries are the microsphere and the microtoroid. Both devices rely on a carbon dioxide laser reflow step to achieve their ultra-high-Q factors (Q>100 million).
1-2,8-9
However, there are several notable differences between the two structures. Silica microspheres are free-standing, supported by a single optical fiber, whereas silica microtoroids can be fabricated on a silicon wafer in large arrays using a combination of lithography and etching steps. These differences influence which device is optimal for a given experiment. Here, we present detailed fabrication protocols for both types of resonant cavities. While the fabrication of microsphere resonant cavities is fairly straightforward, the fabrication of microtoroid resonant cavities requires additional specialized equipment and facilities (cleanroom). Therefore, this additional requirement may also influence which device is selected for a given experiment. Introduction An optical resonator efficiently confines light at specific wavelengths, known as the resonant wavelengths of the device.
1-2
The common figure of merit for these optical resonators is the quality factor or Q. This term describes the photon lifetime (τ
o
) within the resonator, which is directly related to the resonator's optical losses. Therefore, an optical resonator with a high Q factor has low optical losses, long photon lifetimes, and very low photon decay rates (1/τ
o
). As a result of the long photon lifetimes, it is possible to build-up extremely large circulating optical field intensities in these devices. This very unique property has allowed these devices to be used as laser sources and integrated biosensors.
10
A unique sub-class of resonators is the whispering gallery mode optical microcavity. In these devices, the light is confined in circular orbits at the periphery. Therefore, the field is not completely confined within the device, but evanesces into the environment. Whispering gallery mode optical cavities have demonstrated some of the highest quality factors of any optical resonant cavity to date.
9,11
Therefore, these devices are used throughout science and engineering, including in fundamental physics studies and in telecommunications as well as in biodetection experiments.
3-7,12
Optical microcavities can be fabricated from a wide range of materials and in a wide variety of geometries. A few examples include silica and silicon microtoroids, silicon, silicon nitride, and silica microdisks, micropillars, and silica and polymer microrings.
13-17
The range in quality factor (Q) varies as dramatically as the geometry. Although both geometry and high Q are important considerations in any field, in many applications, there is far greater leverage in boosting device performance through Q enhancement. Among the numerous options detailed previously, the silica microsphere and the silica microtoroid resonator have achieved some of the highest Q factors to date.
1,9
Additionally, as a result of the extremely low optical loss of silica from the visible through the near-IR, both microspheres and microtoroids are able to maintain their Q factors over a wide range of testing wavelengths.
18
Finally, because silica is inherently biocompatible, it is routinely used in biodetection experiments. In addition to high material absorption, there are several other potential loss mechanisms, including surface roughness, radiation loss, and contamination loss.
2
Through an optimization of the device size, it is possible to eliminate radiation losses, which arise from poor optical field confinement within the device. Similarly, by storing a device in an appropriately clean environment, contamination of the surface can be minimized. Therefore, in addition to material loss, surface scattering is the primary loss mechanism of concern.
2,8
In silica devices, surface scattering is minimized by using a laser reflow technique, which melts the silica through surface tension induced reflow. While spherical optical resonators have been studied for many years, it is only with recent advances in fabrication technologies that researchers been able to fabricate high quality silica optical toroidal microresonators (Q>100 million) on a silicon substrate, thus paving the way for integration with microfluidics.
1
The present series of protocols details how to fabricate both silica microsphere and microtoroid resonant cavities. While silica microsphere resonant cavities are well-established, microtoroid resonant cavities were only recently invented.
1
As many of the fundamental methods used to fabricate the microsphere are also used in the more complex microtoroid fabrication procedure, by including both in a single protocol it will enable researchers to more easily trouble-shoot their experiments.
Materials Science, Issue 65, Chemical Engineering, Physics, Electrophysics, Biosensor, device fabrication, microcavity, optical resonator
4164
Simultaneous Synthesis of Single-walled Carbon Nanotubes and Graphene in a Magnetically-enhanced Arc Plasma
Institutions: The George Washington University.

Carbon nanostructures such as single-walled carbon nanotubes (SWCNT) and graphene attract a deluge of interest of scholars nowadays due to their very promising application for molecular sensors, field effect transistor and super thin and flexible electronic devices
1-4
. Anodic arc discharge supported by the erosion of the anode material is one of the most practical and efficient methods, which can provide specific non-equilibrium processes and a high influx of carbon material to the developing structures at relatively higher temperature, and consequently the as-synthesized products have few structural defects and better crystallinity. To further improve the controllability and flexibility of the synthesis of carbon nanostructures in arc discharge, magnetic fields can be applied during the synthesis process according to the strong magnetic responses of arc plasmas. It was demonstrated that the magnetically-enhanced arc discharge can increase the average length of SWCNT
5
, narrow the diameter distribution of metallic catalyst particles and carbon nanotubes
6
, and change the ratio of metallic and semiconducting carbon nanotubes
7
, as well as lead to graphene synthesis
8
. Furthermore, it is worthwhile to remark that when we introduce a non-uniform magnetic field with the component normal to the current in arc, the Lorentz force along the J×B direction can generate the plasmas jet and make effective delivery of carbon ion particles and heat flux to samples. As a result, large-scale graphene flakes and high-purity single-walled carbon nanotubes were simultaneously generated by such new magnetically-enhanced anodic arc method. Arc imaging, scanning electron microscope (SEM), transmission electron microscope (TEM) and Raman spectroscopy were employed to analyze the characterization of carbon nanostructures. These findings indicate a wide spectrum of opportunities to manipulate with the properties of nanostructures produced in plasmas by means of controlling the arc conditions.
Bioengineering, Issue 60, Arc discharge, magnetic control, single-walled carbon nanotubes, graphene
3455
Template Directed Synthesis of Plasmonic Gold Nanotubes with Tunable IR Absorbance
Institutions: University of Toronto.

A nearly parallel array of pores can be produced by anodizing aluminum foils in acidic environments
1, 2
. Applications of anodic aluminum oxide (AAO) membranes have been under development since the 1990's and have become a common method to template the synthesis of high aspect ratio nanostructures, mostly by electrochemical growth or pore-wetting. Recently, these membranes have become commercially available in a wide range of pore sizes and densities, leading to an extensive library of functional nanostructures being synthesized from AAO membranes. These include composite nanorods, nanowires and nanotubes made of metals, inorganic materials or polymers
3-10
. Nanoporous membranes have been used to synthesize nanoparticle and nanotube arrays that perform well as refractive index sensors, plasmonic biosensors, or surface enhanced Raman spectroscopy (SERS) substrates
11-16
, as well as a wide range of other fields such as photo-thermal heating
17
, permselective transport
18, 19
, catalysis
20
, microfluidics
21
, and electrochemical sensing
22, 23
. Here, we report a novel procedure to prepare gold nanotubes in AAO membranes. Hollow nanostructures have potential application in plasmonic and SERS sensing, and we anticipate these gold nanotubes will allow for high sensitivity and strong plasmon signals, arising from decreased material dampening
15
.
Chemistry, Issue 74, Chemical Engineering, Materials Science, Physics, Nanotechnology, Chemistry and Materials (General), Composite Materials, Inorganic, Organic and Physical Chemistry, Metals and Metallic Materials, Gold, nanotubes, anodic aluminum oxide templates, surface plasmon resonance, sensing, refractive index, template directed synthesis, nano
50420
Probing and Mapping Electrode Surfaces in Solid Oxide Fuel Cells
Institutions: Georgia Institute of Technology , Georgia Institute of Technology .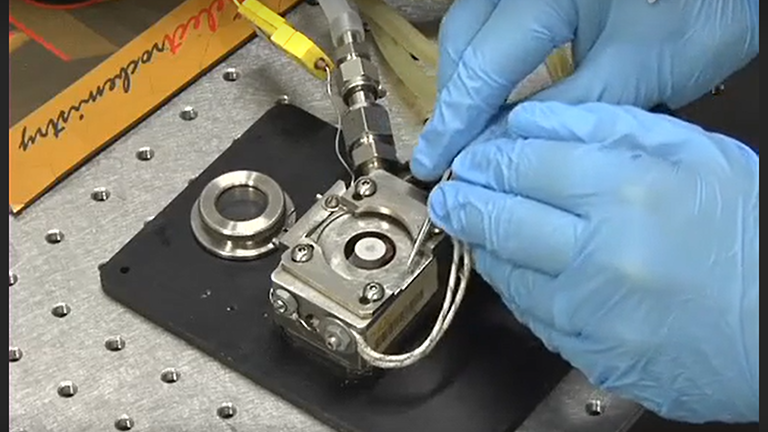 Solid oxide fuel cells (SOFCs) are potentially the most efficient and cost-effective solution to utilization of a wide variety of fuels beyond hydrogen
1-7
. The performance of SOFCs and the rates of many chemical and energy transformation processes in energy storage and conversion devices in general are limited primarily by charge and mass transfer along electrode surfaces and across interfaces. Unfortunately, the mechanistic understanding of these processes is still lacking, due largely to the difficulty of characterizing these processes under
in situ
conditions. This knowledge gap is a chief obstacle to SOFC commercialization. The development of tools for probing and mapping surface chemistries relevant to electrode reactions is vital to unraveling the mechanisms of surface processes and to achieving rational design of new electrode materials for more efficient energy storage and conversion
2
. Among the relatively few
in situ
surface analysis methods, Raman spectroscopy can be performed even with high temperatures and harsh atmospheres, making it ideal for characterizing chemical processes relevant to SOFC anode performance and degradation
8-12
. It can also be used alongside electrochemical measurements, potentially allowing direct correlation of electrochemistry to surface chemistry in an operating cell. Proper
in situ
Raman mapping measurements would be useful for pin-pointing important anode reaction mechanisms because of its sensitivity to the relevant species, including anode performance degradation through carbon deposition
8, 10, 13, 14
("coking") and sulfur poisoning
11, 15
and the manner in which surface modifications stave off this degradation
16
. The current work demonstrates significant progress towards this capability. In addition, the family of scanning probe microscopy (SPM) techniques provides a special approach to interrogate the electrode surface with nanoscale resolution. Besides the surface topography that is routinely collected by AFM and STM, other properties such as local electronic states, ion diffusion coefficient and surface potential can also be investigated
17-22
. In this work, electrochemical measurements, Raman spectroscopy, and SPM were used in conjunction with a novel test electrode platform that consists of a Ni mesh electrode embedded in an yttria-stabilized zirconia (YSZ) electrolyte. Cell performance testing and impedance spectroscopy under fuel containing H
2
S was characterized, and Raman mapping was used to further elucidate the nature of sulfur poisoning.
In situ
Raman monitoring was used to investigate coking behavior. Finally, atomic force microscopy (AFM) and electrostatic force microscopy (EFM) were used to further visualize carbon deposition on the nanoscale. From this research, we desire to produce a more complete picture of the SOFC anode.
Materials Science, Issue 67, Chemistry, Electrical Engineering, Physics, electrochemistry, catalysts (chemical), spectroscopic chemical analysis (application), microscopes, Fuel cell, Raman, AFM, SOFC, Surface, Electrode
50161
Multi-analyte Biochip (MAB) Based on All-solid-state Ion-selective Electrodes (ASSISE) for Physiological Research
Institutions: Purdue University, NASA Ames Research Center, Pennsylvania State University Hazleton, Cooley LLP, NASA Headquarters.

Lab-on-a-chip (LOC) applications in environmental, biomedical, agricultural, biological, and spaceflight research require an ion-selective electrode (ISE) that can withstand prolonged storage in complex biological media
1-4
. An all-solid-state ion-selective-electrode (ASSISE) is especially attractive for the aforementioned applications. The electrode should have the following favorable characteristics: easy construction, low maintenance, and (potential for) miniaturization, allowing for batch processing. A microfabricated ASSISE intended for quantifying H
+
, Ca
2+
, and CO
3
2-
ions was constructed. It consists of a noble-metal electrode layer (
i.e.
Pt), a transduction layer, and an ion-selective membrane (ISM) layer. The transduction layer functions to transduce the concentration-dependent chemical potential of the ion-selective membrane into a measurable electrical signal. The lifetime of an ASSISE is found to depend on maintaining the potential at the conductive layer/membrane interface
5-7
. To extend the ASSISE working lifetime and thereby maintain stable potentials at the interfacial layers, we utilized the conductive polymer (CP) poly(3,4-ethylenedioxythiophene) (PEDOT)
7-9
in place of silver/silver chloride (Ag/AgCl) as the transducer layer. We constructed the ASSISE in a lab-on-a-chip format, which we called the multi-analyte biochip (MAB) (
Figure 1
). Calibrations in test solutions demonstrated that the MAB can monitor pH (operational range pH 4-9), CO
3
2-
(measured range 0.01 mM - 1 mM), and Ca
2+
(log-linear range 0.01 mM to 1 mM). The MAB for pH provides a near-Nernstian slope response after almost one month storage in algal medium. The carbonate biochips show a potentiometric profile similar to that of a conventional ion-selective electrode. Physiological measurements were employed to monitor biological activity of the model system, the microalga
Chlorella vulgaris
. The MAB conveys an advantage in size, versatility, and multiplexed analyte sensing capability, making it applicable to many confined monitoring situations, on Earth or in space. Biochip Design and Experimental Methods The biochip is 10 x 11 mm in dimension and has 9 ASSISEs designated as working electrodes (WEs) and 5 Ag/AgCl reference electrodes (REs). Each working electrode (WE) is 240 μm in diameter and is equally spaced at 1.4 mm from the REs, which are 480 μm in diameter. These electrodes are connected to electrical contact pads with a dimension of 0.5 mm x 0.5 mm. The schematic is shown in
Figure 2
. Cyclic voltammetry (CV) and galvanostatic deposition methods are used to electropolymerize the PEDOT films using a Bioanalytical Systems Inc. (BASI) C3 cell stand (
Figure 3
). The counter-ion for the PEDOT film is tailored to suit the analyte ion of interest. A PEDOT with poly(styrenesulfonate) counter ion (PEDOT/PSS) is utilized for H
+
and CO
3
2-
, while one with sulphate (added to the solution as CaSO
4
) is utilized for Ca
2+
. The electrochemical properties of the PEDOT-coated WE is analyzed using CVs in redox-active solution (
i.e.
2 mM potassium ferricyanide (K
3
Fe(CN)
6
)). Based on the CV profile, Randles-Sevcik analysis was used to determine the effective surface area
10
. Spin-coating at 1,500 rpm is used to cast ~2 μm thick ion-selective membranes (ISMs) on the MAB working electrodes (WEs). The MAB is contained in a microfluidic flow-cell chamber filled with a 150 μl volume of algal medium; the contact pads are electrically connected to the BASI system (
Figure 4
). The photosynthetic activity of
Chlorella vulgaris
is monitored in ambient light and dark conditions.
Bioengineering, Issue 74, Medicine, Biomedical Engineering, Chemical Engineering, Electrical Engineering, Mechanical Engineering, Chemistry, Biochemistry, Anatomy, Physiology, Miniaturization, Microtechnology, Electrochemical Techniques, electrochemical processes, astrobiology, Analytical, Diagnostic and Therapeutic Techniques and Equipment, Investigative Techniques, Technology, Industry, Agriculture, electrochemical sensor, all-solid-state ion-selective electrode (ASSISE), conductive polymer transducer, poly(3,4-ethylenedioxythiophene) (PEDOT), lab-on-a-chip, Chlorella vulgaris, photosynthesis, microfluidics
50020
Designing Silk-silk Protein Alloy Materials for Biomedical Applications
Institutions: Rowan University, Rowan University, Cooper Medical School of Rowan University, Rowan University.

Fibrous proteins display different sequences and structures that have been used for various applications in biomedical fields such as biosensors, nanomedicine, tissue regeneration, and drug delivery. Designing materials based on the molecular-scale interactions between these proteins will help generate new multifunctional protein alloy biomaterials with tunable properties. Such alloy material systems also provide advantages in comparison to traditional synthetic polymers due to the materials biodegradability, biocompatibility, and tenability in the body. This article used the protein blends of wild tussah silk (
Antheraea pernyi
) and domestic mulberry silk (
Bombyx mori
) as an example to provide useful protocols regarding these topics, including how to predict protein-protein interactions by computational methods, how to produce protein alloy solutions, how to verify alloy systems by thermal analysis, and how to fabricate variable alloy materials including optical materials with diffraction gratings, electric materials with circuits coatings, and pharmaceutical materials for drug release and delivery. These methods can provide important information for designing the next generation multifunctional biomaterials based on different protein alloys.
Bioengineering, Issue 90, protein alloys, biomaterials, biomedical, silk blends, computational simulation, implantable electronic devices
50891
Physical, Chemical and Biological Characterization of Six Biochars Produced for the Remediation of Contaminated Sites
Institutions: Royal Military College of Canada, Queen's University.

The physical and chemical properties of biochar vary based on feedstock sources and production conditions, making it possible to engineer biochars with specific functions (
e.g.
carbon sequestration, soil quality improvements, or contaminant sorption). In 2013, the International Biochar Initiative (IBI) made publically available their Standardized Product Definition and Product Testing Guidelines (Version 1.1) which set standards for physical and chemical characteristics for biochar. Six biochars made from three different feedstocks and at two temperatures were analyzed for characteristics related to their use as a soil amendment. The protocol describes analyses of the feedstocks and biochars and includes: cation exchange capacity (CEC), specific surface area (SSA), organic carbon (OC) and moisture percentage, pH, particle size distribution, and proximate and ultimate analysis. Also described in the protocol are the analyses of the feedstocks and biochars for contaminants including polycyclic aromatic hydrocarbons (PAHs), polychlorinated biphenyls (PCBs), metals and mercury as well as nutrients (phosphorous, nitrite and nitrate and ammonium as nitrogen). The protocol also includes the biological testing procedures, earthworm avoidance and germination assays. Based on the quality assurance / quality control (QA/QC) results of blanks, duplicates, standards and reference materials, all methods were determined adequate for use with biochar and feedstock materials. All biochars and feedstocks were well within the criterion set by the IBI and there were little differences among biochars, except in the case of the biochar produced from construction waste materials. This biochar (referred to as Old biochar) was determined to have elevated levels of arsenic, chromium, copper, and lead, and failed the earthworm avoidance and germination assays. Based on these results, Old biochar would not be appropriate for use as a soil amendment for carbon sequestration, substrate quality improvements or remediation.
Environmental Sciences, Issue 93, biochar, characterization, carbon sequestration, remediation, International Biochar Initiative (IBI), soil amendment
52183
Modeling Neural Immune Signaling of Episodic and Chronic Migraine Using Spreading Depression In Vitro
Institutions: The University of Chicago Medical Center, The University of Chicago Medical Center.

Migraine and its transformation to chronic migraine are healthcare burdens in need of improved treatment options. We seek to define how neural immune signaling modulates the susceptibility to migraine, modeled
in vitro
using spreading depression (SD), as a means to develop novel therapeutic targets for episodic and chronic migraine. SD is the likely cause of migraine aura and migraine pain. It is a paroxysmal loss of neuronal function triggered by initially increased neuronal activity, which slowly propagates within susceptible brain regions. Normal brain function is exquisitely sensitive to, and relies on, coincident low-level immune signaling. Thus, neural immune signaling likely affects electrical activity of SD, and therefore migraine. Pain perception studies of SD in whole animals are fraught with difficulties, but whole animals are well suited to examine systems biology aspects of migraine since SD activates trigeminal nociceptive pathways. However, whole animal studies alone cannot be used to decipher the cellular and neural circuit mechanisms of SD. Instead,
in vitro
preparations where environmental conditions can be controlled are necessary. Here, it is important to recognize limitations of acute slices and distinct advantages of hippocampal slice cultures. Acute brain slices cannot reveal subtle changes in immune signaling since preparing the slices alone triggers: pro-inflammatory changes that last days, epileptiform behavior due to high levels of oxygen tension needed to vitalize the slices, and irreversible cell injury at anoxic slice centers. In contrast, we examine immune signaling in mature hippocampal slice cultures since the cultures closely parallel their
in vivo
counterpart with mature trisynaptic function; show quiescent astrocytes, microglia, and cytokine levels; and SD is easily induced in an unanesthetized preparation. Furthermore, the slices are long-lived and SD can be induced on consecutive days without injury, making this preparation the sole means to-date capable of modeling the neuroimmune consequences of chronic SD, and thus perhaps chronic migraine. We use electrophysiological techniques and non-invasive imaging to
measure
neuronal cell and circuit functions coincident with SD. Neural immune gene expression variables are measured with qPCR screening, qPCR arrays, and, importantly, use of cDNA preamplification for detection of ultra-low level targets such as interferon-gamma using whole, regional, or specific cell enhanced (via laser dissection microscopy) sampling. Cytokine cascade signaling is further assessed with multiplexed phosphoprotein related targets with gene expression and phosphoprotein changes confirmed via cell-specific immunostaining. Pharmacological and siRNA strategies are used to
mimic
and
modulate
SD immune signaling.
Neuroscience, Issue 52, innate immunity, hormesis, microglia, T-cells, hippocampus, slice culture, gene expression, laser dissection microscopy, real-time qPCR, interferon-gamma
2910
In Situ Neutron Powder Diffraction Using Custom-made Lithium-ion Batteries
Institutions: University of Sydney, University of Wollongong, Australian Synchrotron, Australian Nuclear Science and Technology Organisation, University of Wollongong, University of New South Wales.

Li-ion batteries are widely used in portable electronic devices and are considered as promising candidates for higher-energy applications such as electric vehicles.
1,2
However, many challenges, such as energy density and battery lifetimes, need to be overcome before this particular battery technology can be widely implemented in such applications.
3
This research is challenging, and we outline a method to address these challenges using
in situ
NPD to probe the crystal structure of electrodes undergoing electrochemical cycling (charge/discharge) in a battery. NPD data help determine the underlying structural mechanism responsible for a range of electrode properties, and this information can direct the development of better electrodes and batteries. We briefly review six types of battery designs custom-made for NPD experiments and detail the method to construct the 'roll-over' cell that we have successfully used on the high-intensity NPD instrument, WOMBAT, at the Australian Nuclear Science and Technology Organisation (ANSTO). The design considerations and materials used for cell construction are discussed in conjunction with aspects of the actual
in situ
NPD experiment and initial directions are presented on how to analyze such complex
in situ
data.
Physics, Issue 93, In operando, structure-property relationships, electrochemical cycling, electrochemical cells, crystallography, battery performance
52284
Synthesis and Characterization of Functionalized Metal-organic Frameworks
Institutions: Northwestern University, Warsaw University of Technology, King Abdulaziz University.

Metal-organic frameworks have attracted extraordinary amounts of research attention, as they are attractive candidates for numerous industrial and technological applications. Their signature property is their ultrahigh porosity, which however imparts a series of challenges when it comes to both constructing them and working with them. Securing desired MOF chemical and physical functionality by linker/node assembly into a highly porous framework of choice can pose difficulties, as less porous and more thermodynamically stable congeners (
e.g.
, other crystalline polymorphs, catenated analogues) are often preferentially obtained by conventional synthesis methods. Once the desired product is obtained, its characterization often requires specialized techniques that address complications potentially arising from, for example, guest-molecule loss or preferential orientation of microcrystallites. Finally, accessing the large voids inside the MOFs for use in applications that involve gases can be problematic, as frameworks may be subject to collapse during removal of solvent molecules (remnants of solvothermal synthesis). In this paper, we describe synthesis and characterization methods routinely utilized in our lab either to solve or circumvent these issues. The methods include solvent-assisted linker exchange, powder X-ray diffraction in capillaries, and materials activation (cavity evacuation) by supercritical CO
2
drying. Finally, we provide a protocol for determining a suitable pressure region for applying the Brunauer-Emmett-Teller analysis to nitrogen isotherms, so as to estimate surface area of MOFs with good accuracy.
Chemistry, Issue 91, Metal-organic frameworks, porous coordination polymers, supercritical CO2 activation, crystallography, solvothermal, sorption, solvent-assisted linker exchange
52094
Preparation and Use of Photocatalytically Active Segmented Ag|ZnO and Coaxial TiO2-Ag Nanowires Made by Templated Electrodeposition
Institutions: University of Twente.

Photocatalytically active nanostructures require a large specific surface area with the presence of many catalytically active sites for the oxidation and reduction half reactions, and fast electron (hole) diffusion and charge separation. Nanowires present suitable architectures to meet these requirements. Axially segmented Ag|ZnO and radially segmented (coaxial) TiO
2
-Ag nanowires with a diameter of 200 nm and a length of 6-20 µm were made by templated electrodeposition within the pores of polycarbonate track-etched (PCTE) or anodized aluminum oxide (AAO) membranes, respectively. In the photocatalytic experiments, the ZnO and TiO
2
phases acted as photoanodes, and Ag as cathode. No external circuit is needed to connect both electrodes, which is a key advantage over conventional photo-electrochemical cells. For making segmented Ag|ZnO nanowires, the Ag salt electrolyte was replaced after formation of the Ag segment to form a ZnO segment attached to the Ag segment. For making coaxial TiO
2
-Ag nanowires, a TiO
2
gel was first formed by the electrochemically induced sol-gel method. Drying and thermal annealing of the as-formed TiO
2
gel resulted in the formation of crystalline TiO
2
nanotubes. A subsequent Ag electrodeposition step inside the TiO
2
nanotubes resulted in formation of coaxial TiO
2
-Ag nanowires. Due to the combination of an
n
-type semiconductor (ZnO or TiO
2
) and a metal (Ag) within the same nanowire, a Schottky barrier was created at the interface between the phases. To demonstrate the photocatalytic activity of these nanowires, the Ag|ZnO nanowires were used in a photocatalytic experiment in which H
2
gas was detected upon UV illumination of the nanowires dispersed in a methanol/water mixture. After 17 min of illumination, approximately 0.2 vol% H
2
gas was detected from a suspension of ~0.1 g of Ag|ZnO nanowires in a 50 ml 80 vol% aqueous methanol solution.
Physics, Issue 87, Multicomponent nanowires, electrochemistry, sol-gel processes, photocatalysis, photochemistry, H2 evolution
51547
Characterization of Electrode Materials for Lithium Ion and Sodium Ion Batteries Using Synchrotron Radiation Techniques
Institutions: Lawrence Berkeley National Laboratory, University of Illinois at Chicago, Stanford Synchrotron Radiation Lightsource, Haldor Topsøe A/S, PolyPlus Battery Company.

Intercalation compounds such as transition metal oxides or phosphates are the most commonly used electrode materials in Li-ion and Na-ion batteries. During insertion or removal of alkali metal ions, the redox states of transition metals in the compounds change and structural transformations such as phase transitions and/or lattice parameter increases or decreases occur. These behaviors in turn determine important characteristics of the batteries such as the potential profiles, rate capabilities, and cycle lives. The extremely bright and tunable x-rays produced by synchrotron radiation allow rapid acquisition of high-resolution data that provide information about these processes. Transformations in the bulk materials, such as phase transitions, can be directly observed using X-ray diffraction (XRD), while X-ray absorption spectroscopy (XAS) gives information about the local electronic and geometric structures (
e.g.
 changes in redox states and bond lengths).
In situ
experiments carried out on operating cells are particularly useful because they allow direct correlation between the electrochemical and structural properties of the materials. These experiments are time-consuming and can be challenging to design due to the reactivity and air-sensitivity of the alkali metal anodes used in the half-cell configurations, and/or the possibility of signal interference from other cell components and hardware. For these reasons, it is appropriate to carry out
ex situ
experiments (
e.g.
 on electrodes harvested from partially charged or cycled cells) in some cases. Here, we present detailed protocols for the preparation of both
ex situ
and
in situ
samples for experiments involving synchrotron radiation and demonstrate how these experiments are done.
Physics, Issue 81, X-Ray Absorption Spectroscopy, X-Ray Diffraction, inorganic chemistry, electric batteries (applications), energy storage, Electrode materials, Li-ion battery, Na-ion battery, X-ray Absorption Spectroscopy (XAS), in situ X-ray diffraction (XRD)
50594
Fabrication, Densification, and Replica Molding of 3D Carbon Nanotube Microstructures
Institutions: University of Michigan , IMEC, Belgium.

The introduction of new materials and processes to microfabrication has, in large part, enabled many important advances in microsystems, lab-on-a-chip devices, and their applications. In particular, capabilities for cost-effective fabrication of polymer microstructures were transformed by the advent of soft lithography and other micromolding techniques
1, 2
, and this led a revolution in applications of microfabrication to biomedical engineering and biology. Nevertheless, it remains challenging to fabricate microstructures with well-defined nanoscale surface textures, and to fabricate arbitrary 3D shapes at the micro-scale. Robustness of master molds and maintenance of shape integrity is especially important to achieve high fidelity replication of complex structures and preserving their nanoscale surface texture. The combination of hierarchical textures, and heterogeneous shapes, is a profound challenge to existing microfabrication methods that largely rely upon top-down etching using fixed mask templates. On the other hand, the bottom-up synthesis of nanostructures such as nanotubes and nanowires can offer new capabilities to microfabrication, in particular by taking advantage of the collective self-organization of nanostructures, and local control of their growth behavior with respect to microfabricated patterns. Our goal is to introduce vertically aligned carbon nanotubes (CNTs), which we refer to as CNT "forests", as a new microfabrication material. We present details of a suite of related methods recently developed by our group: fabrication of CNT forest microstructures by thermal CVD from lithographically patterned catalyst thin films; self-directed elastocapillary densification of CNT microstructures; and replica molding of polymer microstructures using CNT composite master molds. In particular, our work shows that self-directed capillary densification ("capillary forming"), which is performed by condensation of a solvent onto the substrate with CNT microstructures, significantly increases the packing density of CNTs. This process enables directed transformation of vertical CNT microstructures into straight, inclined, and twisted shapes, which have robust mechanical properties exceeding those of typical microfabrication polymers. This in turn enables formation of nanocomposite CNT master molds by capillary-driven infiltration of polymers. The replica structures exhibit the anisotropic nanoscale texture of the aligned CNTs, and can have walls with sub-micron thickness and aspect ratios exceeding 50:1. Integration of CNT microstructures in fabrication offers further opportunity to exploit the electrical and thermal properties of CNTs, and diverse capabilities for chemical and biochemical functionalization
3
.
Mechanical Engineering, Issue 65, Physics, Carbon nanotube, microstructure, fabrication, molding, transfer, polymer
3980
Solid-state Graft Copolymer Electrolytes for Lithium Battery Applications
Institutions: Massachusetts Institute of Technology, Massachusetts Institute of Technology.

Battery safety has been a very important research area over the past decade. Commercially available lithium ion batteries employ low flash point (<80 °C), flammable, and volatile organic electrolytes. These organic based electrolyte systems are viable at ambient temperatures, but require a cooling system to ensure that temperatures do not exceed 80 °C. These cooling systems tend to increase battery costs and can malfunction which can lead to battery malfunction and explosions, thus endangering human life. Increases in petroleum prices lead to a huge demand for safe, electric hybrid vehicles that are more economically viable to operate as oil prices continue to rise. Existing organic based electrolytes used in lithium ion batteries are not applicable to high temperature automotive applications. A safer alternative to organic electrolytes is solid polymer electrolytes. This work will highlight the synthesis for a graft copolymer electrolyte (GCE) poly(oxyethylene) methacrylate (POEM) to a block with a lower glass transition temperature (
Tg
) poly(oxyethylene) acrylate (POEA). The conduction mechanism has been discussed and it has been demonstrated the relationship between polymer segmental motion and ionic conductivity indeed has a Vogel-Tammann-Fulcher (VTF) dependence. Batteries containing commercially available LP30 organic (LiPF
6
in ethylene carbonate (EC):dimethyl carbonate (DMC) at a 1:1 ratio) and GCE were cycled at ambient temperature. It was found that at ambient temperature, the batteries containing GCE showed a greater overpotential when compared to LP30 electrolyte. However at temperatures greater than 60 °C, the GCE cell exhibited much lower overpotential due to fast polymer electrolyte conductivity and nearly the full theoretical specific capacity of 170 mAh/g was accessed.
Materials Science, Issue 78, Physics, Chemistry, Chemical Engineering, Chemistry and Materials, Engineering, Lithium Batteries, Polymer Electrolytes, Polyethylene oxide, Graft Copolymer, LiFePO4, synthesis, polymers
50067
Towards Biomimicking Wood: Fabricated Free-standing Films of Nanocellulose, Lignin, and a Synthetic Polycation
Institutions: Virginia Tech, Virginia Tech, Illinois Institute of Technology- Moffett Campus, University of Guadalajara, Virginia Tech, Virginia Tech.

Woody materials are comprised of plant cell walls that contain a layered secondary cell wall composed of structural polymers of polysaccharides and lignin. Layer-by-layer (LbL) assembly process which relies on the assembly of oppositely charged molecules from aqueous solutions was used to build a freestanding composite film of isolated wood polymers of lignin and oxidized nanofibril cellulose (NFC). To facilitate the assembly of these negatively charged polymers, a positively charged polyelectrolyte, poly(diallyldimethylammomium chloride) (PDDA), was used as a linking layer to create this simplified model cell wall. The layered adsorption process was studied quantitatively using quartz crystal microbalance with dissipation monitoring (QCM-D) and ellipsometry. The results showed that layer mass/thickness per adsorbed layer increased as a function of total number of layers. The surface coverage of the adsorbed layers was studied with atomic force microscopy (AFM). Complete coverage of the surface with lignin in all the deposition cycles was found for the system, however, surface coverage by NFC increased with the number of layers. The adsorption process was carried out for 250 cycles (500 bilayers) on a cellulose acetate (CA) substrate. Transparent free-standing LBL assembled nanocomposite films were obtained when the CA substrate was later dissolved in acetone. Scanning electron microscopy (SEM) of the fractured cross-sections showed a lamellar structure, and the thickness per adsorption cycle (PDDA-Lignin-PDDA-NC) was estimated to be 17 nm for two different lignin types used in the study. The data indicates a film with highly controlled architecture where nanocellulose and lignin are spatially deposited on the nanoscale (a polymer-polymer nanocomposites), similar to what is observed in the native cell wall.
Plant Biology, Issue 88, nanocellulose, thin films, quartz crystal microbalance, layer-by-layer, LbL
51257
Simultaneous Multicolor Imaging of Biological Structures with Fluorescence Photoactivation Localization Microscopy
Institutions: University of Maine.

Localization-based super resolution microscopy can be applied to obtain a spatial map (image) of the distribution of individual fluorescently labeled single molecules within a sample with a spatial resolution of tens of nanometers. Using either photoactivatable (PAFP) or photoswitchable (PSFP) fluorescent proteins fused to proteins of interest, or organic dyes conjugated to antibodies or other molecules of interest, fluorescence photoactivation localization microscopy (FPALM) can simultaneously image multiple species of molecules within single cells. By using the following approach, populations of large numbers (thousands to hundreds of thousands) of individual molecules are imaged in single cells and localized with a precision of ~10-30 nm. Data obtained can be applied to understanding the nanoscale spatial distributions of multiple protein types within a cell. One primary advantage of this technique is the dramatic increase in spatial resolution: while diffraction limits resolution to ~200-250 nm in conventional light microscopy, FPALM can image length scales more than an order of magnitude smaller. As many biological hypotheses concern the spatial relationships among different biomolecules, the improved resolution of FPALM can provide insight into questions of cellular organization which have previously been inaccessible to conventional fluorescence microscopy. In addition to detailing the methods for sample preparation and data acquisition, we here describe the optical setup for FPALM. One additional consideration for researchers wishing to do super-resolution microscopy is cost: in-house setups are significantly cheaper than most commercially available imaging machines. Limitations of this technique include the need for optimizing the labeling of molecules of interest within cell samples, and the need for post-processing software to visualize results. We here describe the use of PAFP and PSFP expression to image two protein species in fixed cells. Extension of the technique to living cells is also described.
Basic Protocol, Issue 82, Microscopy, Super-resolution imaging, Multicolor, single molecule, FPALM, Localization microscopy, fluorescent proteins
50680
Nucleoside Triphosphates - From Synthesis to Biochemical Characterization
Institutions: University of Bern.

The traditional strategy for the introduction of chemical functionalities is the use of solid-phase synthesis by appending suitably modified phosphoramidite precursors to the nascent chain. However, the conditions used during the synthesis and the restriction to rather short sequences hamper the applicability of this methodology. On the other hand, modified nucleoside triphosphates are activated building blocks that have been employed for the mild introduction of numerous functional groups into nucleic acids, a strategy that paves the way for the use of modified nucleic acids in a wide-ranging palette of practical applications such as functional tagging and generation of ribozymes and DNAzymes. One of the major challenges resides in the intricacy of the methodology leading to the isolation and characterization of these nucleoside analogues. In this video article, we present a detailed protocol for the synthesis of these modified analogues using phosphorous(III)-based reagents. In addition, the procedure for their biochemical characterization is divulged, with a special emphasis on primer extension reactions and TdT tailing polymerization. This detailed protocol will be of use for the crafting of modified dNTPs and their further use in chemical biology.
Chemistry, Issue 86, Nucleic acid analogues, Bioorganic Chemistry, PCR, primer extension reactions, organic synthesis, PAGE, HPLC, nucleoside triphosphates
51385
Fabrication of the Thermoplastic Microfluidic Channels
Institutions: Boston University.

In our lab, we have successfully isolated nucleic acids directly from microliter and submicroliter volumes of human blood, urine and stool using polymer/nanoparticle composite microscale lysis and solid phase extraction columns. The recovered samples are concentrated, small volume samples that are PCRable, without any additional cleanup. Here, we demonstrate how to fabricate thermoplastic microfluidic chips using hot embossing and heat sealing. Then, we demonstrate how to use in situ light directed surface grafting and polymerization through the sealed chip to form the composite solid phase columns. We demonstrate grafting and polymerization of a carbon nanotube/polymer composite column for bacterial cell lysis. We then show the lysis process followed by solid phase extraction of nucleic acids from the sample on chip using a silica/polymer composite column. The attached protocols contain detailed instructions on how to make both lysis and solid phase extraction columns.
Cellular Biology, Issue 12, bioengineering, purification, microfluidics, DNA, RNA, solid phase, column
664
A Microfluidic Device with Groove Patterns for Studying Cellular Behavior
Institutions: Brigham and Women's Hospital.

We describe a microfluidic device with microgrooved patterns for studying cellular behavior. This microfluidic platform consists of a top fluidic channel and a bottom microgrooved substrate. To fabricate the microgrooved channels, a top poly(dimethylsiloxane) (PDMS) mold containing the impression of the microfluidic channels was aligned and bonded to a microgrooved substrate. Using this device, mouse fibroblast cells were immobilized and patterned within microgrooved substrates (25, 50, 75, and 100 μm wide). To study apoptosis in a microfluidic device, media containing hydrogen peroxide, Annexin V, and propidium iodide was perfused into the fluidic channel for 2 hours. We found that cells exposed to the oxidative stress became apoptotic. These apoptotic cells were confirmed by Annexin V that bound to phosphatidylserine at the outer leaflet of the plasma membrane during the apoptosis process. Using this microfluidic device with microgrooved patterns, the apoptosis process was observed in real-time and analyzed by using an inverted microscope containing an incubation chamber (37°C, 5% CO
2
). Therefore, this microfluidic device incorporated with microgrooved substrates could be useful for studying the cellular behavior and performing high-throughput drug screening.
Issue 7, Cell Biology, tissue engineering, microfluidic, apoptosis
270