Long-term Time Lapse Imaging of Mouse Cochlear Explants
Published: 11-02-2014
ABSTRACT
Here we present a method for long-term time-lapse imaging of live embryonic mouse cochlear explants. The developmental program responsible for building the highly ordered, complex structure of the mammalian cochlea proceeds for around ten days. In order to study changes in gene expression over this period and their response to pharmaceutical or genetic manipulation, long-term imaging is necessary. Previously, live imaging has typically been limited by the viability of explanted tissue in a humidified chamber atop a standard microscope. Difficulty in maintaining optimal conditions for culture growth with regard to humidity and temperature has placed limits on the length of imaging experiments. A microscope integrated into a modified tissue culture incubator provides an excellent environment for long term-live imaging. In this method we demonstrate how to establish embryonic mouse cochlear explants and how to use an incubator microscope to conduct time lapse imaging using both bright field and fluorescent microscopy to examine the behavior of a typical embryonic day (E) 13 cochlear explant and Sox2, a marker of the prosensory cells of the cochlea, over 5 days.
17 Related JoVE Articles!
Optogenetic Stimulation of the Auditory Nerve
Institutions: University Medical Center Goettingen, University of Goettingen, University Medical Center Goettingen, University of Goettingen, University of Guanajuato.
Direct electrical stimulation of spiral ganglion neurons (SGNs) by cochlear implants (CIs) enables open speech comprehension in the majority of implanted deaf subjects
1-
6
. Nonetheless, sound coding with current CIs has poor frequency and intensity resolution due to broad current spread from each electrode contact activating a large number of SGNs along the tonotopic axis of the cochlea
7-
9
. Optical stimulation is proposed as an alternative to electrical stimulation that promises spatially more confined activation of SGNs and, hence, higher frequency resolution of coding. In recent years, direct infrared illumination of the cochlea has been used to evoke responses in the auditory nerve
10
. Nevertheless it requires higher energies than electrical stimulation
10,11
and uncertainty remains as to the underlying mechanism
12
. Here we describe a method based on optogenetics to stimulate SGNs with low intensity blue light, using transgenic mice with neuronal expression of channelrhodopsin 2 (ChR2)
13
or virus-mediated expression of the ChR2-variant CatCh
14
. We used micro-light emitting diodes (µLEDs) and fiber-coupled lasers to stimulate ChR2-expressing SGNs through a small artificial opening (cochleostomy) or the round window. We assayed the responses by scalp recordings of light-evoked potentials (optogenetic auditory brainstem response: oABR) or by microelectrode recordings from the auditory pathway and compared them with acoustic and electrical stimulation.
Neuroscience, Issue 92, hearing, cochlear implant, optogenetics, channelrhodopsin, optical stimulation, deafness
52069
Primary Culture and Plasmid Electroporation of the Murine Organ of Corti.
Institutions: Harvard Medical School, Massachusetts Eye and Ear Infirmary, Emerson College, Harvard.

In all mammals, the sensory epithelium for audition is located along the spiraling organ of Corti that resides within the conch shaped cochlea of the inner ear (fig 1). Hair cells in the developing cochlea, which are the mechanosensory cells of the auditory system, are aligned in one row of inner hair cells and three (in the base and mid-turns) to four (in the apical turn) rows of outer hair cells that span the length of the organ of Corti. Hair cells transduce sound-induced mechanical vibrations of the basilar membrane into neural impulses that the brain can interpret. Most cases of sensorineural hearing loss are caused by death or dysfunction of cochlear hair cells. An increasingly essential tool in auditory research is the isolation and
in vitro
culture of the organ explant
1,2,9
. Once isolated, the explants may be utilized in several ways to provide information regarding normative, anomalous, or therapeutic physiology. Gene expression, stereocilia motility, cell and molecular biology, as well as biological approaches for hair cell regeneration are examples of experimental applications of organ of Corti explants. This protocol describes a method for the isolation and culture of the organ of Corti from neonatal mice. The accompanying video includes stepwise directions for the isolation of the temporal bone from mouse pups, and subsequent isolation of the cochlea, spiral ligament, and organ of Corti. Once isolated, the sensory epithelium can be plated and cultured
in vitro
in its entirety, or as a further dissected micro-isolate that lacks the spiral limbus and spiral ganglion neurons. Using this method, primary explants can be maintained for 7-10 days. As an example of the utility of this procedure, organ of Corti explants will be electroporated with an exogenous DsRed reporter gene. This method provides an improvement over other published methods because it provides reproducible, unambiguous, and stepwise directions for the isolation, microdissection, and primary culture of the organ of Corti.
Neuroscience, Issue 36, hearing, mice, cochlea, organ of Corti, organotypic, culture, hair cell, stem cell, gene expression, in vitro
1685
Selective Tracing of Auditory Fibers in the Avian Embryonic Vestibulocochlear Nerve
Institutions: University of California, Irvine.
The embryonic chick is a widely used model for the study of peripheral and central ganglion cell projections. In the auditory system, selective labeling of auditory axons within the VIIIth cranial nerve would enhance the study of central auditory circuit development. This approach is challenging because multiple sensory organs of the inner ear contribute to the VIIIth nerve
1
. Moreover, markers that reliably distinguish auditory versus vestibular groups of axons within the avian VIIIth nerve have yet to be identified. Auditory and vestibular pathways cannot be distinguished functionally in early embryos, as sensory-evoked responses are not present before the circuits are formed. Centrally projecting VIIIth nerve axons have been traced in some studies, but auditory axon labeling was accompanied by labeling from other VIIIth nerve components
2,3
. Here, we describe a method for anterograde tracing from the acoustic ganglion to selectively label auditory axons within the developing VIIIth nerve. First, after partial dissection of the anterior cephalic region of an 8-day chick embryo immersed in oxygenated artificial cerebrospinal fluid, the cochlear duct is identified by anatomical landmarks. Next, a fine pulled glass micropipette is positioned to inject a small amount of rhodamine dextran amine into the duct and adjacent deep region where the acoustic ganglion cells are located. Within thirty minutes following the injection, auditory axons are traced centrally into the hindbrain and can later be visualized following histologic preparation. This method provides a useful tool for developmental studies of peripheral to central auditory circuit formation.
Neurobiology, Issue 73, Neuroscience, Behavior, Developmental Biology, Anatomy, Biomedical Engineering, Surgery, Development, Inner Ear, Cochlea, Auditory, Chick, Axon Tracing, VIIIth Cranial Nerve, nerve, ganglion, fiber, cochlear duct, basilar papilla, embryo, microinjection, animal model
50305
Investigating Outer Hair Cell Motility with a Combination of External Alternating Electrical Field Stimulation and High-speed Image Analysis
Institutions: House Ear Institute.

OHCs are cylindrical sensorimotor cells located in the Organ of Corti, the auditory organ inside the mammalian inner ear. The name "hair cells" derives from their characteristic apical bundle of stereocilia, a critical element for detection and transduction of sound energy
1
. OHCs are able to change shape —elongate, shorten and bend— in response to electrical, mechanical and chemical stimulation, a motor response considered crucial for cochlear amplification of acoustic signals
2
. OHC stimulation induces two different motile responses: i) electromotility, a.k.a fast motility, changes in length in the microsecond range derived from electrically-driven conformational changes in motor proteins densely packed in OHC plasma membrane, and ii) slow motility, shape changes in the millisecond to seconds range involving cytoskeletal reorganization
2, 3
. OHC bending is associated with electromotility, and result either from an asymmetric distribution of motor proteins in the lateral plasma membrane, or asymmetric electrical stimulation of those motor proteins (e.g., with an electrical field perpendicular to the long axis of the cells)
4
. Mechanical and chemical stimuli induce essentially slow motile responses, even though changes in the ionic conditions of the cells and/or their environment can also stimulate the plasma membrane-embedded motor proteins
5, 6
. Since OHC motile responses are an essential component of the cochlear amplifier, the qualitative and quantitative analysis of these motile responses at acoustic frequencies (roughly from 20 Hz to 20 kHz in humans) is a very important matter in the field of hearing research
7
. The development of new imaging technology combining high-speed videocameras, LED-based illumination systems, and sophisticated image analysis software now provides the ability to perform reliable qualitative and quantitative studies of the motile response of isolated OHCs to an external alternating electrical field (EAEF)
8
. This is a simple and non-invasive technique that circumvents most of the limitations of previous approaches
9-11
. Moreover, the LED-based illumination system provides extreme brightness with insignificant thermal effects on the samples and, because of the use of video microscopy, optical resolution is at least 10-fold higher than with conventional light microscopy techniques
12
. For instance, with the experimental setup described here, changes in cell length of about 20 nm can be routinely and reliably detected at frequencies of 10 kHz, and this resolution can be further improved at lower frequencies. We are confident that this experimental approach will help to extend our understanding of the cellular and molecular mechanisms underlying OHC motility.
Neuroscience, Issue 53, Outer Hair Cell, Electromotility, Slow Motility, External Alternating Electrical Field, High-speed Imaging Analysis, Cochlea
2965
Vibratome Sectioning for Enhanced Preservation of the Cytoarchitecture of the Mammalian Organ of Corti
Institutions: Medical College of Wisconsin .

The mammalian organ of Corti is a highly ordered cellular mosaic of mechanosensory hair and nonsensory supporting cells (reviewed in
1,2
).Visualization of this cellular mosaic often requires that the organ of Corti is cross-sectioned. In particular, the nonsensory pillar and Deiters' cells, whose nuclei are located basally with respect to the hair cells, cannot be visualized without cross-sectioning the organ of Corti. However, the delicate cytoarchitecture of the mammalian organ of Corti, including the fine cytoplasmic processes of the pillar and Deiters' cells, is difficult to preserve by routine histological procedures such as paraffin and cryo-sectioning, which are compatible with standard immunohistochemical staining techniques. Here I describe a simple and robust procedure consisting of vibratome sectioning of the cochlea, immunohistochemical staining of these vibratome sections in whole mount, followed by confocal microscopy. This procedure has been used widely for immunhistochemical analysis of multiple organs, including the mouse limb bud, zebrafish gut, liver, pancreas, and heart (see
3-6
for selected examples). In addition, this procedure was sucessful for both imaging and quantitificaton of pillar cell number in mutant and control organs of Corti in both embryos and adult mice
7
. This method, however, is currently not widely used to examine the mammalian organ of Corti. The potential for this procedure to both provide enhanced preservation of the fine cytoarchitecture of the adult organ of Corti and allow for quantification of various cell types is described.
Neuroscience, Issue 52, vibratome, confocal microscopy, immunofluorescence, organ of Corti, pillar cells
2793
Postsynaptic Recordings at Afferent Dendrites Contacting Cochlear Inner Hair Cells: Monitoring Multivesicular Release at a Ribbon Synapse
Institutions: The Johns Hopkins School of Medicine, Consejo Nacional de Investigaciones Científicas y Técnicas.

The afferent synapse between the inner hair cell (IHC) and the auditory nerve fiber provides an electrophysiologically accessible site for recording the postsynaptic activity of a single ribbon synapse
1-4
. Ribbon synapses of sensory cells release neurotransmitter continuously, the rate of which is modulated in response to graded changes in IHC membrane potential
5
. Ribbon synapses have been shown to operate by multivesicular release, where multiple vesicles can be released simultaneously to evoke excitatory postsynaptic currents (EPSCs) of varying amplitudes
1, 4, 6-11
. Neither the role of the presynaptic ribbon, nor the mechanism underlying multivesicular release is currently well understood. The IHC is innervated by 10-20 auditory nerve fibers, and every fiber contacts the IHC with a unmyelinated single ending to form a single ribbon synapse. The small size of the afferent boutons contacting IHCs (approximately 1 μm in diameter) enables recordings with exceptional temporal resolution to be made. Furthermore, the technique can be adapted to record from both pre- and postsynaptic cells simultaneously, allowing the transfer function at the synapse to be studied directly
2
. This method therefore provides a means by which fundamental aspects of neurotransmission can be studied, from multivesicular release to the elusive function of the ribbon in sensory cells.
Neuroscience, Issue 48, electrophysiology, whole-cell recording, patch clamp, synaptic transmission, ribbon synapse, multivesicular, dendrite, auditory nerve, hearing, hair cell.
2442
Preparation and Culture of Chicken Auditory Brainstem Slices
Institutions: University of Washington, University of Washington.

The chicken auditory brainstem is a well-established model system that has been widely used to study the anatomy and physiology of auditory processing at discreet periods of development
1-4
as well as mechanisms for temporal coding in the central nervous system
5-7
. Here we present a method to prepare chicken auditory brainstem slices that can be used for acute experimental procedures or to culture organotypic slices for long-term experimental manipulations. The chicken auditory brainstem is composed of nucleus angularis, magnocellularis, laminaris and superior olive. These nuclei are responsible for binaural sound processing and single coronal slice preparations preserve the entire circuitry. Ultimately, organotypic slice cultures can provide the opportunity to manipulate several developmental parameters such as synaptic activity, expression of pre and postsynaptic components, expression of aspects controlling excitability and differential gene expression This approach can be used to broaden general knowledge about neural circuit development, refinement and maturation.
Neuroscience, Issue 49, slice preparation, chicken auditory brainstem, organotypic cultures, nucleus laminaris, nucleus magnocellularis
2527
Affinity-based Isolation of Tagged Nuclei from Drosophila Tissues for Gene Expression Analysis
Institutions: Purdue University.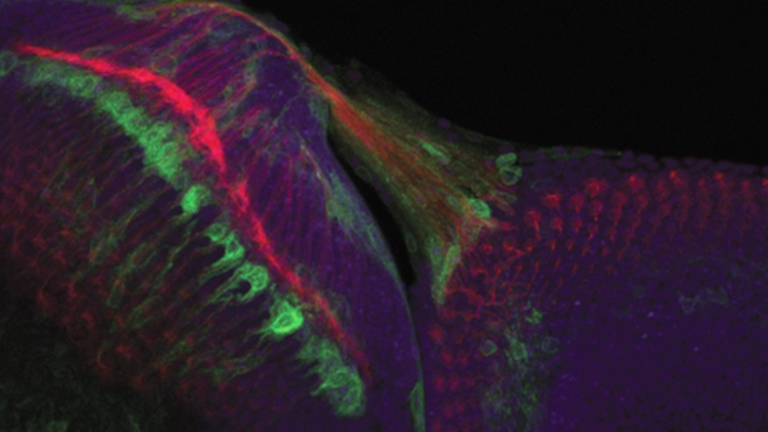 Drosophila melanogaster
embryonic and larval tissues often contain a highly heterogeneous mixture of cell types, which can complicate the analysis of gene expression in these tissues. Thus, to analyze cell-specific gene expression profiles from
Drosophila
tissues, it may be necessary to isolate specific cell types with high purity and at sufficient yields for downstream applications such as transcriptional profiling and chromatin immunoprecipitation. However, the irregular cellular morphology in tissues such as the central nervous system, coupled with the rare population of specific cell types in these tissues, can pose challenges for traditional methods of cell isolation such as laser microdissection and fluorescence-activated cell sorting (FACS). Here, an alternative approach to characterizing cell-specific gene expression profiles using affinity-based isolation of tagged nuclei, rather than whole cells, is described. Nuclei in the specific cell type of interest are genetically labeled with a nuclear envelope-localized EGFP tag using the Gal4/UAS binary expression system. These EGFP-tagged nuclei can be isolated using antibodies against GFP that are coupled to magnetic beads. The approach described in this protocol enables consistent isolation of nuclei from specific cell types in the
Drosophila
larval central nervous system at high purity and at sufficient levels for expression analysis, even when these cell types comprise less than 2% of the total cell population in the tissue. This approach can be used to isolate nuclei from a wide variety of
Drosophila
embryonic and larval cell types using specific Gal4 drivers, and may be useful for isolating nuclei from cell types that are not suitable for FACS or laser microdissection.
Biochemistry, Issue 85, Gene Expression, nuclei isolation, Drosophila, KASH, GFP, cell-type specific
51418
Bottom-up and Shotgun Proteomics to Identify a Comprehensive Cochlear Proteome
Institutions: University of South Florida.

Proteomics is a commonly used approach that can provide insights into complex biological systems. The cochlear sensory epithelium contains receptors that transduce the mechanical energy of sound into an electro-chemical energy processed by the peripheral and central nervous systems. Several proteomic techniques have been developed to study the cochlear inner ear, such as two-dimensional difference gel electrophoresis (2D-DIGE), antibody microarray, and mass spectrometry (MS). MS is the most comprehensive and versatile tool in proteomics and in conjunction with separation methods can provide an in-depth proteome of biological samples. Separation methods combined with MS has the ability to enrich protein samples, detect low molecular weight and hydrophobic proteins, and identify low abundant proteins by reducing the proteome dynamic range. Different digestion strategies can be applied to whole lysate or to fractionated protein lysate to enhance peptide and protein sequence coverage. Utilization of different separation techniques, including strong cation exchange (SCX), reversed-phase (RP), and gel-eluted liquid fraction entrapment electrophoresis (GELFrEE) can be applied to reduce sample complexity prior to MS analysis for protein identification.
Biochemistry, Issue 85, Cochlear, chromatography, LC-MS/MS, mass spectrometry, Proteomics, sensory epithelium
51186
Setting-up an In Vitro Model of Rat Blood-brain Barrier (BBB): A Focus on BBB Impermeability and Receptor-mediated Transport
Institutions: VECT-HORUS SAS, CNRS, NICN UMR 7259.

The blood brain barrier (BBB) specifically regulates molecular and cellular flux between the blood and the nervous tissue. Our aim was to develop and characterize a highly reproducible rat syngeneic
in vitro
model of the BBB using co-cultures of primary rat brain endothelial cells (RBEC) and astrocytes to study receptors involved in transcytosis across the endothelial cell monolayer. Astrocytes were isolated by mechanical dissection following trypsin digestion and were frozen for later co-culture. RBEC were isolated from 5-week-old rat cortices. The brains were cleaned of meninges and white matter, and mechanically dissociated following enzymatic digestion. Thereafter, the tissue homogenate was centrifuged in bovine serum albumin to separate vessel fragments from nervous tissue. The vessel fragments underwent a second enzymatic digestion to free endothelial cells from their extracellular matrix. The remaining contaminating cells such as pericytes were further eliminated by plating the microvessel fragments in puromycin-containing medium. They were then passaged onto filters for co-culture with astrocytes grown on the bottom of the wells. RBEC expressed high levels of tight junction (TJ) proteins such as occludin, claudin-5 and ZO-1 with a typical localization at the cell borders. The transendothelial electrical resistance (TEER) of brain endothelial monolayers, indicating the tightness of TJs reached 300 ohm·cm
2
on average. The endothelial permeability coefficients (Pe) for lucifer yellow (LY) was highly reproducible with an average of 0.26 ± 0.11 x 10
-3
cm/min. Brain endothelial cells organized in monolayers expressed the efflux transporter P-glycoprotein (P-gp), showed a polarized transport of rhodamine 123, a ligand for P-gp, and showed specific transport of transferrin-Cy3 and DiILDL across the endothelial cell monolayer. In conclusion, we provide a protocol for setting up an
in vitro
BBB model that is highly reproducible due to the quality assurance methods, and that is suitable for research on BBB transporters and receptors.
Medicine, Issue 88, rat brain endothelial cells (RBEC), mouse, spinal cord, tight junction (TJ), receptor-mediated transport (RMT), low density lipoprotein (LDL), LDLR, transferrin, TfR, P-glycoprotein (P-gp), transendothelial electrical resistance (TEER),
51278
High Efficiency Differentiation of Human Pluripotent Stem Cells to Cardiomyocytes and Characterization by Flow Cytometry
Institutions: Medical College of Wisconsin, Stanford University School of Medicine, Medical College of Wisconsin, Hong Kong University, Johns Hopkins University School of Medicine, Medical College of Wisconsin.

There is an urgent need to develop approaches for repairing the damaged heart, discovering new therapeutic drugs that do not have toxic effects on the heart, and improving strategies to accurately model heart disease. The potential of exploiting human induced pluripotent stem cell (hiPSC) technology to generate cardiac muscle "in a dish" for these applications continues to generate high enthusiasm. In recent years, the ability to efficiently generate cardiomyogenic cells from human pluripotent stem cells (hPSCs) has greatly improved, offering us new opportunities to model very early stages of human cardiac development not otherwise accessible. In contrast to many previous methods, the cardiomyocyte differentiation protocol described here does not require cell aggregation or the addition of Activin A or BMP4 and robustly generates cultures of cells that are highly positive for cardiac troponin I and T (TNNI3, TNNT2), iroquois-class homeodomain protein IRX-4 (IRX4), myosin regulatory light chain 2, ventricular/cardiac muscle isoform (MLC2v) and myosin regulatory light chain 2, atrial isoform (MLC2a) by day 10 across all human embryonic stem cell (hESC) and hiPSC lines tested to date. Cells can be passaged and maintained for more than 90 days in culture. The strategy is technically simple to implement and cost-effective. Characterization of cardiomyocytes derived from pluripotent cells often includes the analysis of reference markers, both at the mRNA and protein level. For protein analysis, flow cytometry is a powerful analytical tool for assessing quality of cells in culture and determining subpopulation homogeneity. However, technical variation in sample preparation can significantly affect quality of flow cytometry data. Thus, standardization of staining protocols should facilitate comparisons among various differentiation strategies. Accordingly, optimized staining protocols for the analysis of IRX4, MLC2v, MLC2a, TNNI3, and TNNT2 by flow cytometry are described.
Cellular Biology, Issue 91, human induced pluripotent stem cell, flow cytometry, directed differentiation, cardiomyocyte, IRX4, TNNI3, TNNT2, MCL2v, MLC2a
52010
Analysis of Nephron Composition and Function in the Adult Zebrafish Kidney
Institutions: University of Notre Dame.

The zebrafish model has emerged as a relevant system to study kidney development, regeneration and disease. Both the embryonic and adult zebrafish kidneys are composed of functional units known as nephrons, which are highly conserved with other vertebrates, including mammals. Research in zebrafish has recently demonstrated that two distinctive phenomena transpire after adult nephrons incur damage: first, there is robust regeneration within existing nephrons that replaces the destroyed tubule epithelial cells; second, entirely new nephrons are produced from renal progenitors in a process known as neonephrogenesis. In contrast, humans and other mammals seem to have only a limited ability for nephron epithelial regeneration. To date, the mechanisms responsible for these kidney regeneration phenomena remain poorly understood. Since adult zebrafish kidneys undergo both nephron epithelial regeneration and neonephrogenesis, they provide an outstanding experimental paradigm to study these events. Further, there is a wide range of genetic and pharmacological tools available in the zebrafish model that can be used to delineate the cellular and molecular mechanisms that regulate renal regeneration. One essential aspect of such research is the evaluation of nephron structure and function. This protocol describes a set of labeling techniques that can be used to gauge renal composition and test nephron functionality in the adult zebrafish kidney. Thus, these methods are widely applicable to the future phenotypic characterization of adult zebrafish kidney injury paradigms, which include but are not limited to, nephrotoxicant exposure regimes or genetic methods of targeted cell death such as the nitroreductase mediated cell ablation technique. Further, these methods could be used to study genetic perturbations in adult kidney formation and could also be applied to assess renal status during chronic disease modeling.
Cellular Biology, Issue 90, zebrafish; kidney; nephron; nephrology; renal; regeneration; proximal tubule; distal tubule; segment; mesonephros; physiology; acute kidney injury (AKI)
51644
Isolating LacZ-expressing Cells from Mouse Inner Ear Tissues using Flow Cytometry
Institutions: Stanford University School of Medicine.

Isolation of specific cell types allows one to analyze rare cell populations such as stem/progenitor cells. Such an approach to studying inner ear tissues presents a unique challenge because of the paucity of cells of interest and few transgenic reporter mouse models. Here, we describe a protocol using fluorescence-conjugated probes to selectively label LacZ-positive cells from the neonatal cochleae. The most common underlying pathology of sensorineural hearing loss is the irreversible damage and loss of cochlear sensory hair cells, which are required to transduce sound waves to neural impulses. Recent evidence suggests that the murine auditory and vestibular organs harbor stem/progenitor cells that may have regenerative potential
1,2
. These findings warrant further investigation, including identifying specific cell types with stem/progenitor cell characteristics. The Wnt signaling pathway has been demonstrated to play a critical role in maintaining stem/progenitor cell populations in several organ systems
3-7
. We have recently identified Wnt-responsive Axin2-expressing cells in the neonatal cochlea, but their function is largely unknown
8
. To better understand the behavior of these Wnt-responsive cells
in vitro
, we have developed a method of isolating Axin2-expressing cells from cochleae of Axin2-LacZ reporter mice
9
. Using flow cytometry to isolate Axin2-LacZ positive cells from the neonatal cochleae, we could in turn execute a variety of experiments on live cells to interrogate their behavior as stem/progenitor cells. Here, we describe in detail the steps for the microdissection of neonatal cochlea, dissociation of these tissues, labeling of the LacZ-positive cells using a fluorogenic substrate, and cell sorting. Techniques for dissociating cochleae into single cells and isolating cochlear cells via flow cytometry have been described
2,10-12
. We have made modifications to these techniques to establish a novel protocol to isolate LacZ-expressing cells from the neonatal cochlea.
Neuroscience, Issue 58, cochlea, axin2, Wnt, organ of Corti, fluorescence-activated cell sorting
3432
Dissection of Adult Mouse Utricle and Adenovirus-mediated Supporting-cell Infection
Institutions: Medical University of South Carolina, Medical University of South Carolina, National Institutes of Health.

Hearing loss and balance disturbances are often caused by death of mechanosensory hair cells, which are the receptor cells of the inner ear. Since there is no cell line that satisfactorily represents mammalian hair cells, research on hair cells relies on primary organ cultures. The best-characterized
in vitro
model system of mature mammalian hair cells utilizes organ cultures of utricles from adult mice (
Figure 1
)
1-6
. The utricle is a vestibular organ, and the hair cells of the utricle are similar in both structure and function to the hair cells in the auditory organ, the organ of Corti. The adult mouse utricle preparation represents a mature sensory epithelium for studies of the molecular signals that regulate the survival, homeostasis, and death of these cells. Mammalian cochlear hair cells are terminally differentiated and are not regenerated when they are lost. In non-mammalian vertebrates, auditory or vestibular hair cell death is followed by robust regeneration which restores hearing and balance functions
7, 8
. Hair cell regeneration is mediated by glia-like supporting cells, which contact the basolateral surfaces of hair cells in the sensory epithelium
9, 10
. Supporting cells are also important mediators of hair cell survival and death
11
. We have recently developed a technique for infection of supporting cells in cultured utricles using adenovirus. Using adenovirus type 5 (dE1/E3) to deliver a transgene containing GFP under the control of the CMV promoter, we find that adenovirus specifically and efficiently infects supporting cells. Supporting cell infection efficiency is approximately 25-50%, and hair cells are not infected (
Figure 2
). Importantly, we find that adenoviral infection of supporting cells does not result in toxicity to hair cells or supporting cells, as cell counts in Ad-GFP infected utricles are equivalent to those in non-infected utricles (
Figure 3
). Thus adenovirus-mediated gene expression in supporting cells of cultured utricles provides a powerful tool to study the roles of supporting cells as mediators of hair cell survival, death, and regeneration.
Neuroscience, Issue 61, Hair cell, ototoxicity, hearing loss, organ culture
3734
Gene Transfer to the Developing Mouse Inner Ear by In Vivo Electroporation
Institutions: Oregon Health & Science University.

The mammalian inner ear has 6 distinct sensory epithelia: 3 cristae in the ampullae of the semicircular canals; maculae in the utricle and saccule; and the organ of Corti in the coiled cochlea. The cristae and maculae contain vestibular hair cells that transduce mechanical stimuli to subserve the special sense of balance, while auditory hair cells in the organ of Corti are the primary transducers for hearing
1
. Cell fate specification in these sensory epithelia and morphogenesis of the semicircular canals and cochlea take place during the second week of gestation in the mouse and are largely completed before birth
2,3
. Developmental studies of the mouse inner ear are routinely conducted by harvesting transgenic embryos at different embryonic or postnatal stages to gain insight into the molecular basis of cellular and/or morphological phenotypes
4,5
. We hypothesize that gene transfer to the developing mouse inner ear
in utero
in the context of gain- and loss-of-function studies represents a complimentary approach to traditional mouse transgenesis for the interrogation of the genetic mechanisms underlying mammalian inner ear development
6
. The experimental paradigm to conduct gene misexpression studies in the developing mouse inner ear demonstrated here resolves into three general steps: 1) ventral laparotomy; 2) transuterine microinjection; and 3)
in vivo
electroporation. Ventral laparotomy is a mouse survival surgical technique that permits externalization of the uterus to gain experimental access to the implanted embryos
7
. Transuterine microinjection is the use of beveled, glass capillary micropipettes to introduce expression plasmid into the lumen of the otic vesicle or otocyst.
In vivo
electroporation is the application of square wave, direct current pulses to drive expression plasmid into progenitor cells
8-10
. We previously described this electroporation-based gene transfer technique and included detailed notes on each step of the protocol
11
. Mouse experimental embryological techniques can be difficult to learn from prose and still images alone. In the present work, we demonstrate the 3 steps in the gene transfer procedure. Most critically, we deploy digital video microscopy to show precisely how to: 1) identify embryo orientation
in utero
; 2) reorient embryos for targeting injections to the otocyst; 3) microinject DNA mixed with tracer dye solution into the otocyst at embryonic days 11.5 and 12.5; 4) electroporate the injected otocyst; and 5) label electroporated embryos for postnatal selection at birth. We provide representative examples of successfully transfected inner ears; a pictorial guide to the most common causes of otocyst mistargeting; discuss how to avoid common methodological errors; and present guidelines for writing an
in utero
gene transfer animal care protocol.
Neuroscience, Issue 64, Developmental Biology, Physiology, Genetics, Inner ear, otocyst, in vivo electroporation, ventral laparotomy, transuterine microinjection, video microscopy
3653
Functional Imaging of Auditory Cortex in Adult Cats using High-field fMRI
Institutions: University of Western Ontario, University of Western Ontario, University of Western Ontario, University of Western Ontario, University of Western Ontario, University of Western Ontario, University of Western Ontario.

Current knowledge of sensory processing in the mammalian auditory system is mainly derived from electrophysiological studies in a variety of animal models, including monkeys, ferrets, bats, rodents, and cats. In order to draw suitable parallels between human and animal models of auditory function, it is important to establish a bridge between human functional imaging studies and animal electrophysiological studies. Functional magnetic resonance imaging (fMRI) is an established, minimally invasive method of measuring broad patterns of hemodynamic activity across different regions of the cerebral cortex. This technique is widely used to probe sensory function in the human brain, is a useful tool in linking studies of auditory processing in both humans and animals and has been successfully used to investigate auditory function in monkeys and rodents. The following protocol describes an experimental procedure for investigating auditory function in anesthetized adult cats by measuring stimulus-evoked hemodynamic changes in auditory cortex using fMRI. This method facilitates comparison of the hemodynamic responses across different models of auditory function thus leading to a better understanding of species-independent features of the mammalian auditory cortex.
Neuroscience, Issue 84, Central Nervous System, Ear, Animal Experimentation, Models, Animal, Functional Neuroimaging, Brain Mapping, Nervous System, Sense Organs, auditory cortex, BOLD signal change, hemodynamic response, hearing, acoustic stimuli
50872
Single-cell Profiling of Developing and Mature Retinal Neurons
Institutions: Iowa State University.

Highly specialized, but exceedingly small populations of cells play important roles in many tissues. The identification of cell-type specific markers and gene expression programs for extremely rare cell subsets has been a challenge using standard whole-tissue approaches. Gene expression profiling of individual cells allows for unprecedented access to cell types that comprise only a small percentage of the total tissue
1-7
. In addition, this technique can be used to examine the gene expression programs that are transiently expressed in small numbers of cells during dynamic developmental transitions
8
. This issue of cellular diversity arises repeatedly in the central nervous system (CNS) where neuronal connections can occur between quite diverse cells
9
. The exact number of distinct cell types is not precisely known, but it has been estimated that there may be as many as 1000 different types in the cortex itself
10
. The function(s) of complex neural circuits may rely on some of the rare neuronal types and the genes they express. By identifying new markers and helping to molecularly classify different neurons, the single-cell approach is particularly useful in the analysis of cell types in the nervous system. It may also help to elucidate mechanisms of neural development by identifying differentially expressed genes and gene pathways during early stages of neuronal progenitor development. As a simple, easily accessed tissue with considerable neuronal diversity, the vertebrate retina is an excellent model system for studying the processes of cellular development, neuronal differentiation and neuronal diversification. However, as in other parts of the CNS, this cellular diversity can present a problem for determining the genetic pathways that drive retinal progenitors to adopt a specific cell fate, especially given that rod photoreceptors make up the majority of the total retinal cell population
11
. Here we report a method for the identification of the transcripts expressed in single retinal cells (
Figure 1
). The single-cell profiling technique allows for the assessment of the amount of heterogeneity present within different cellular populations of the retina
2,4,5,12
. In addition, this method has revealed a host of new candidate genes that may play role(s) in the cell fate decision-making processes that occur in subsets of retinal progenitor cells
8
. With some simple adjustments to the protocol, this technique can be utilized for many different tissues and cell types.
Neuroscience, Issue 62, Single-cells, transcriptomics, gene expression, cell-type markers, retina, neurons, genetics
3824