Graphene Coatings for Biomedical Implants
Published: 03-01-2013
ABSTRACT
Atomically smooth graphene as a surface coating has potential to improve implant properties. This demonstrates a method for coating nitinol alloys with nanometer thick layers of graphene for applications as a stent material. Graphene was grown on copper substrates via chemical vapor deposition and then transferred onto nitinol substrates. In order to understand how the graphene coating could change biological response, cell viability of rat aortic endothelial cells and rat aortic smooth muscle cells was investigated. Moreover, the effect of graphene-coatings on cell adhesion and morphology was examined with fluorescent confocal microscopy. Cells were stained for actin and nuclei, and there were noticeable differences between pristine nitinol samples compared to graphene-coated samples. Total actin expression from rat aortic smooth muscle cells was found using western blot. Protein adsorption characteristics, an indicator for potential thrombogenicity, were determined for serum albumin and fibrinogen with gel electrophoresis. Moreover, the transfer of charge from fibrinogen to substrate was deduced using Raman spectroscopy. It was found that graphene coating on nitinol substrates met the functional requirements for a stent material and improved the biological response compared to uncoated nitinol. Thus, graphene-coated nitinol is a viable candidate for a stent material.
18 Related JoVE Articles!
Bridging the Bio-Electronic Interface with Biofabrication
Institutions: University of Maryland , University of Maryland , University of Maryland .

Advancements in lab-on-a-chip technology promise to revolutionize both research and medicine through lower costs, better sensitivity, portability, and higher throughput. The incorporation of biological components onto biological microelectromechanical systems (bioMEMS) has shown great potential for achieving these goals. Microfabricated electronic chips allow for micrometer-scale features as well as an electrical connection for sensing and actuation. Functional biological components give the system the capacity for specific detection of analytes, enzymatic functions, and whole-cell capabilities. Standard microfabrication processes and bio-analytical techniques have been successfully utilized for decades in the computer and biological industries, respectively. Their combination and interfacing in a lab-on-a-chip environment, however, brings forth new challenges. There is a call for techniques that can build an interface between the electrode and biological component that is mild and is easy to fabricate and pattern. Biofabrication, described here, is one such approach that has shown great promise for its easy-to-assemble incorporation of biological components with versatility in the on-chip functions that are enabled. Biofabrication uses biological materials and biological mechanisms (self-assembly, enzymatic assembly) for bottom-up hierarchical assembly. While our labs have demonstrated these concepts in many formats
1,2,3
, here we demonstrate the assembly process based on electrodeposition followed by multiple applications of signal-based interactions. The assembly process consists of the electrodeposition of biocompatible stimuli-responsive polymer films on electrodes and their subsequent functionalization with biological components such as DNA, enzymes, or live cells
4,5
. Electrodeposition takes advantage of the pH gradient created at the surface of a biased electrode from the electrolysis of water
6,7
,. Chitosan and alginate are stimuli-responsive biological polymers that can be triggered to self-assemble into hydrogel films in response to imposed electrical signals
8
. The thickness of these hydrogels is determined by the extent to which the pH gradient extends from the electrode. This can be modified using varying current densities and deposition times
6,7
. This protocol will describe how chitosan films are deposited and functionalized by covalently attaching biological components to the abundant primary amine groups present on the film through either enzymatic or electrochemical methods
9,10
. Alginate films and their entrapment of live cells will also be addressed
11
. Finally, the utility of biofabrication is demonstrated through examples of signal-based interaction, including chemical-to-electrical, cell-to-cell, and also enzyme-to-cell signal transmission. Both the electrodeposition and functionalization can be performed under near-physiological conditions without the need for reagents and thus spare labile biological components from harsh conditions. Additionally, both chitosan and alginate have long been used for biologically-relevant purposes
12,13
. Overall, biofabrication, a rapid technique that can be simply performed on a benchtop, can be used for creating micron scale patterns of functional biological components on electrodes and can be used for a variety of lab-on-a-chip applications.
Bioengineering, Issue 64, Biomedical Engineering, electrodeposition, biofabrication, chitosan, alginate, lab-on-a-chip, microfluidic, DTRA
4231
Development of a 3D Graphene Electrode Dielectrophoretic Device
Institutions: Michigan Technological University, Michigan Technological University, XG Sciences, Inc..
The design and fabrication of a novel 3D electrode microdevice using 50 µm thick graphene paper and 100 µm double sided tape is described. The protocol details the procedures to construct a versatile, reusable, multiple layer, laminated dielectrophoresis chamber. Specifically, six layers of 50 µm x 0.7 cm x 2 cm graphene paper and five layers of double sided tape were alternately stacked together, then clamped to a glass slide. Then a 700 μm diameter micro-well was drilled through the laminated structure using a computer-controlled micro drilling machine. Insulating properties of the tape layer between adjacent graphene layers were assured by resistance tests. Silver conductive epoxy connected alternate layers of graphene paper and formed stable connections between the graphene paper and external copper wire electrodes. The finished device was then clamped and sealed to a glass slide. The electric field gradient was modeled within the multi-layer device. Dielectrophoretic behaviors of 6 μm polystyrene beads were demonstrated in the 1 mm deep micro-well, with medium conductivities ranging from 0.0001 S/m to 1.3 S/m, and applied signal frequencies from 100 Hz to 10 MHz. Negative dielectrophoretic responses were observed in three dimensions over most of the conductivity-frequency space and cross-over frequency values are consistent with previously reported literature values. The device did not prevent AC electroosmosis and electrothermal flows, which occurred in the low and high frequency regions, respectively. The graphene paper utilized in this device is versatile and could subsequently function as a biosensor after dielectrophoretic characterizations are complete.
Physics, Issue 88, graphene paper, dielectrophoresis, graphene electrodes, 3D laminated microdevice, polystyrene beads, cell diagnostics
51696
Analysis of SNARE-mediated Membrane Fusion Using an Enzymatic Cell Fusion Assay
Institutions: University of Louisville School of Medicine.

The interactions of SNARE (
s
oluble
N
-ethylmaleimide-sensitive factor
a
ttachment protein
re
ceptor) proteins on vesicles (v-SNAREs) and on target membranes (t-SNAREs) catalyze intracellular vesicle fusion
1-4
. Reconstitution assays are essential for dissecting the mechanism and regulation of SNARE-mediated membrane fusion
5
. In a cell fusion assay
6,7
, SNARE proteins are expressed ectopically at the cell surface. These "flipped" SNARE proteins drive cell-cell fusion, demonstrating that SNAREs are sufficient to fuse cellular membranes. Because the cell fusion assay is based on microscopic analysis, it is less efficient when used to analyze multiple v- and t-SNARE interactions quantitatively. Here we describe a new assay
8
that quantifies SNARE-mediated cell fusion events by activated expression of β-galactosidase. Two components of the Tet-Off gene expression system
9
are used as a readout system: the tetracycline-controlled transactivator (tTA) and a reporter plasmid that encodes the LacZ gene under control of the tetracycline-response element (TRE-LacZ). We transfect tTA into COS-7 cells that express flipped v-SNARE proteins at the cell surface (v-cells) and transfect TRE-LacZ into COS-7 cells that express flipped t-SNARE proteins at the cell surface (t-cells). SNARE-dependent fusion of the v- and t-cells results in the binding of tTA to TRE, the transcriptional activation of LacZ and expression of β-galactosidase. The activity of β-galactosidase is quantified using a colorimetric method by absorbance at 420 nm. The vesicle-associated membrane proteins (VAMPs) are v-SNAREs that reside in various post-Golgi vesicular compartments
10-15
. By expressing VAMPs 1, 3, 4, 5, 7 and 8 at the same level, we compare their membrane fusion activities using the enzymatic cell fusion assay. Based on spectrometric measurement, this assay offers a quantitative approach for analyzing SNARE-mediated membrane fusion and for high-throughput studies.
Molecular Biology, Issue 68, Biochemistry, Cellular Biology, SNARE, membrane fusion, VAMP, syntaxin, vesicles
4378
Electronic Tongue Generating Continuous Recognition Patterns for Protein Analysis
Institutions: Institut Nanosciences et Cryogénie, CEA-Grenoble, Université Paris-Sud, Institut de Biologie Structurale.

In current protocol, a combinatorial approach has been developed to simplify the design and production of sensing materials for the construction of electronic tongues (eT) for protein analysis. By mixing a small number of simple and easily accessible molecules with different physicochemical properties, used as building blocks (BBs), in varying and controlled proportions and allowing the mixtures to self-assemble on the gold surface of a prism, an array of combinatorial surfaces featuring appropriate properties for protein sensing was created. In this way, a great number of cross-reactive receptors can be rapidly and efficiently obtained. By combining such an array of combinatorial cross-reactive receptors (CoCRRs) with an optical detection system such as surface plasmon resonance imaging (SPRi), the obtained eT can monitor the binding events in real-time and generate continuous recognition patterns including 2D continuous evolution profile (CEP) and 3D continuous evolution landscape (CEL) for samples in liquid. Such an eT system is efficient for discrimination of common purified proteins.
Bioengineering, Issue 91, electronic tongue, combinatorial cross-reactive receptor, surface plasmon resonance imaging, pattern recognition, continuous evolution profiles, continuous evolution landscapes, protein analysis
51901
In vitro Assembly of Semi-artificial Molecular Machine and its Use for Detection of DNA Damage
Institutions: Baylor College of Medicine , Michael E. DeBakey Veterans Affairs Medical Center, Baylor College of Medicine .
Naturally occurring bio-molecular machines work in every living cell and display a variety of designs
1-6
. Yet the development of artificial molecular machines centers on devices capable of directional motion, i.e. molecular motors, and on their scaled-down mechanical parts (wheels, axels, pendants etc)
7-9
. This imitates the macro-machines, even though the physical properties essential for these devices, such as inertia and momentum conservation, are not usable in the nanoworld environments
10
. Alternative designs, which do not follow the mechanical macromachines schemes and use mechanisms developed in the evolution of biological molecules, can take advantage of the specific conditions of the nanoworld. Besides, adapting actual biological molecules for the purposes of nano-design reduces potential dangers the nanotechnology products may pose. Here we demonstrate the assembly and application of one such bio-enabled construct, a semi-artificial molecular device which combines a naturally-occurring molecular machine with artificial components. From the enzymology point of view, our construct is a designer fluorescent enzyme-substrate complex put together to perform a specific useful function. This assembly is by definition a molecular machine, as it contains one
12
. Yet, its integration with the engineered part - fluorescent dual hairpin - re-directs it to a new task of labeling DNA damage
12
. Our construct assembles out of a 32-mer DNA and an enzyme vaccinia topoisomerase I (VACC TOPO). The machine then uses its own material to fabricate two fluorescently labeled detector units (Figure 1). One of the units (green fluorescence) carries VACC TOPO covalently attached to its 3'end and another unit (red fluorescence) is a free hairpin with a terminal 3'OH. The units are short-lived and quickly reassemble back into the original construct, which subsequently recleaves. In the absence of DNA breaks these two units continuously separate and religate in a cyclic manner. In tissue sections with DNA damage, the topoisomerase-carrying detector unit selectively attaches to blunt-ended DNA breaks with 5'OH (DNase II-type breaks)
11,12
, fluorescently labeling them. The second, enzyme-free hairpin formed after oligonucleotide cleavage, will ligate to a 5'PO
4
blunt-ended break (DNase I-type breaks)
11,12
, if T4 DNA ligase is present in the solution
13,14
. When T4 DNA ligase is added to a tissue section or a solution containing DNA with 5'PO
4
blunt-ended breaks, the ligase reacts with 5'PO
4
DNA ends, forming semi-stable enzyme-DNA complexes. The blunt ended hairpins will interact with these complexes releasing ligase and covalently linking hairpins to DNA, thus labeling 5'PO
4
blunt-ended DNA breaks. This development exemplifies a new practical approach to the design of molecular machines and provides a useful sensor for detection of apoptosis and DNA damage in fixed cells and tissues.
Bioengineering, Issue 59, molecular machine, bio-nanotechnology, 5'OH DNA breaks, 5'PO4 DNA breaks, apoptosis labeling, in situ detection, vaccinia topoisomerase I, DNA breaks, green nanotechnology
3628
Localization and Relative Quantification of Carbon Nanotubes in Cells with Multispectral Imaging Flow Cytometry
Institutions: CNRS/Université Paris Diderot, CNRS/Université Paris Diderot, CNRS/Institut de Biologie Moléculaire et Cellulaire.

Carbon-based nanomaterials, like carbon nanotubes (CNTs), belong to this type of nanoparticles which are very difficult to discriminate from carbon-rich cell structures and
de facto
there is still no quantitative method to assess their distribution at cell and tissue levels. What we propose here is an innovative method allowing the detection and quantification of CNTs in cells using a multispectral imaging flow cytometer (ImageStream, Amnis). This newly developed device integrates both a high-throughput of cells and high resolution imaging, providing thus images for each cell directly in flow and therefore statistically relevant image analysis. Each cell image is acquired on bright-field (BF), dark-field (DF), and fluorescent channels, giving access respectively to the level and the distribution of light absorption, light scattered and fluorescence for each cell. The analysis consists then in a pixel-by-pixel comparison of each image, of the 7,000-10,000 cells acquired for each condition of the experiment. Localization and quantification of CNTs is made possible thanks to some particular intrinsic properties of CNTs: strong light absorbance and scattering; indeed CNTs appear as strongly absorbed dark spots on BF and bright spots on DF with a precise colocalization. This methodology could have a considerable impact on studies about interactions between nanomaterials and cells given that this protocol is applicable for a large range of nanomaterials, insofar as they are capable of absorbing (and/or scattering) strongly enough the light.
Bioengineering, Issue 82, bioengineering, imaging flow cytometry, Carbon Nanotubes, bio-nano-interactions, cellular uptake, cell trafficking
50566
Microfluidic On-chip Capture-cycloaddition Reaction to Reversibly Immobilize Small Molecules or Multi-component Structures for Biosensor Applications
Institutions: Massachusetts General Hospital.
Methods for rapid surface immobilization of bioactive small molecules with control over orientation and immobilization density are highly desirable for biosensor and microarray applications. In this Study, we use a highly efficient covalent bioorthogonal [4+2] cycloaddition reaction between
trans
-cyclooctene (TCO) and 1,2,4,5-tetrazine (Tz) to enable the microfluidic immobilization of TCO/Tz-derivatized molecules. We monitor the process in real-time under continuous flow conditions using surface plasmon resonance (SPR). To enable reversible immobilization and extend the experimental range of the sensor surface, we combine a non-covalent antigen-antibody capture component with the cycloaddition reaction. By alternately presenting TCO or Tz moieties to the sensor surface, multiple capture-cycloaddition processes are now possible on one sensor surface for on-chip assembly and interaction studies of a variety of multi-component structures. We illustrate this method with two different immobilization experiments on a biosensor chip; a small molecule, AP1497 that binds FK506-binding protein 12 (FKBP12); and the same small molecule as part of an immobilized and
in situ-
functionalized nanoparticle.
Chemistry, Issue 79, Organic Chemicals, Macromolecular Substances, Chemistry and Materials (General), Surface Plasmon Resonance, Bioorthogonal Chemistry, Diels-Alder Cycloaddition Reaction, Small Molecule Immobilization, Binding Kinetics, Immobilized Nanoparticles
50772
Methods to Assess Subcellular Compartments of Muscle in C. elegans
Institutions: University of Nottingham.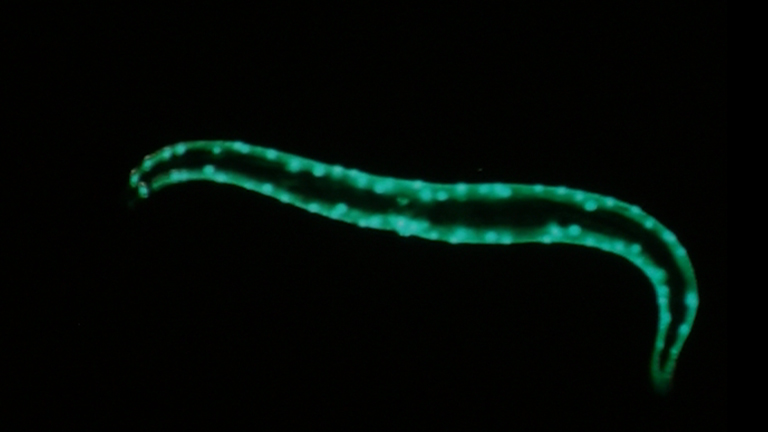 Muscle is a dynamic tissue that responds to changes in nutrition, exercise, and disease state. The loss of muscle mass and function with disease and age are significant public health burdens. We currently understand little about the genetic regulation of muscle health with disease or age. The nematode
C. elegans
is an established model for understanding the genomic regulation of biological processes of interest. This worm's body wall muscles display a large degree of homology with the muscles of higher metazoan species. Since
C. elegans
is a transparent organism, the localization of GFP to mitochondria and sarcomeres allows visualization of these structures
in vivo
. Similarly, feeding animals cationic dyes, which accumulate based on the existence of a mitochondrial membrane potential, allows the assessment of mitochondrial function
in vivo
. These methods, as well as assessment of muscle protein homeostasis, are combined with assessment of whole animal muscle function, in the form of movement assays, to allow correlation of sub-cellular defects with functional measures of muscle performance. Thus,
C. elegans
provides a powerful platform with which to assess the impact of mutations, gene knockdown, and/or chemical compounds upon muscle structure and function. Lastly, as GFP, cationic dyes, and movement assays are assessed non-invasively, prospective studies of muscle structure and function can be conducted across the whole life course and this at present cannot be easily investigated
in vivo
in any other organism.
Developmental Biology, Issue 93, Physiology, C. elegans, muscle, mitochondria, sarcomeres, ageing
52043
Identification and Characterization of Protein Glycosylation using Specific Endo- and Exoglycosidases
Institutions: New England Biolabs.

Glycosylation, the addition of covalently linked sugars, is a major post-translational modification of proteins that can significantly affect processes such as cell adhesion, molecular trafficking, clearance, and signal transduction
1-4
. In eukaryotes, the most common glycosylation modifications in the secretory pathway are additions at consensus asparagine residues (
N
-linked); or at serine or threonine residues (
O
-linked) (Figure 1). Initiation of
N
-glycan synthesis is highly conserved in eukaryotes, while the end products can vary greatly among different species, tissues, or proteins. Some glycans remain unmodified ("high mannose
N
-glycans") or are further processed in the Golgi ("complex
N
-glycans"). Greater diversity is found for
O
-glycans, which start with a common
N
-Acetylgalactosamine (GalNAc) residue in animal cells but differ in lower organisms
1
. The detailed analysis of the glycosylation of proteins is a field unto itself and requires extensive resources and expertise to execute properly. However a variety of available enzymes that remove sugars (glycosidases) makes possible to have a general idea of the glycosylation status of a protein in a standard laboratory setting. Here we illustrate the use of glycosidases for the analysis of a model glycoprotein: recombinant human chorionic gonadotropin beta (hCGβ), which carries two
N
-glycans and four
O
-glycans
5
. The technique requires only simple instrumentation and typical consumables, and it can be readily adapted to the analysis of multiple glycoprotein samples. Several enzymes can be used in parallel to study a glycoprotein. PNGase F is able to remove almost all types of
N
-linked glycans
6,7
. For
O
-glycans, there is no available enzyme that can cleave an intact oligosaccharide from the protein backbone. Instead,
O
-glycans are trimmed by exoglycosidases to a short core, which is then easily removed by
O
-Glycosidase. The Protein Deglycosylation Mix contains PNGase F,
O
-Glycosidase, Neuraminidase (sialidase), β1-4 Galactosidase, and β-
N
-Acetylglucosaminidase. It is used to simultaneously remove
N
-glycans and some
O
-glycans
8
. Finally, the Deglycosylation Mix was supplemented with a mixture of other exoglycosidases (α-
N
-Acetylgalactosaminidase, α1-2 Fucosidase, α1-3,6 Galactosidase, and β1-3 Galactosidase ), which help remove otherwise resistant monosaccharides that could be present in certain
O
-glycans. SDS-PAGE/Coomasie blue is used to visualize differences in protein migration before and after glycosidase treatment. In addition, a sugar-specific staining method, ProQ Emerald-300, shows diminished signal as glycans are successively removed. This protocol is designed for the analysis of small amounts of glycoprotein (0.5 to 2 μg), although enzymatic deglycosylation can be scaled up to accommodate larger quantities of protein as needed.
Molecular Biology , Issue 58, Glycoprotein, N-glycan, O-glycan, PNGase F, O-glycosidase, deglycosylation, glycosidase
3749
Simultaneous Synthesis of Single-walled Carbon Nanotubes and Graphene in a Magnetically-enhanced Arc Plasma
Institutions: The George Washington University.

Carbon nanostructures such as single-walled carbon nanotubes (SWCNT) and graphene attract a deluge of interest of scholars nowadays due to their very promising application for molecular sensors, field effect transistor and super thin and flexible electronic devices
1-4
. Anodic arc discharge supported by the erosion of the anode material is one of the most practical and efficient methods, which can provide specific non-equilibrium processes and a high influx of carbon material to the developing structures at relatively higher temperature, and consequently the as-synthesized products have few structural defects and better crystallinity. To further improve the controllability and flexibility of the synthesis of carbon nanostructures in arc discharge, magnetic fields can be applied during the synthesis process according to the strong magnetic responses of arc plasmas. It was demonstrated that the magnetically-enhanced arc discharge can increase the average length of SWCNT
5
, narrow the diameter distribution of metallic catalyst particles and carbon nanotubes
6
, and change the ratio of metallic and semiconducting carbon nanotubes
7
, as well as lead to graphene synthesis
8
. Furthermore, it is worthwhile to remark that when we introduce a non-uniform magnetic field with the component normal to the current in arc, the Lorentz force along the J×B direction can generate the plasmas jet and make effective delivery of carbon ion particles and heat flux to samples. As a result, large-scale graphene flakes and high-purity single-walled carbon nanotubes were simultaneously generated by such new magnetically-enhanced anodic arc method. Arc imaging, scanning electron microscope (SEM), transmission electron microscope (TEM) and Raman spectroscopy were employed to analyze the characterization of carbon nanostructures. These findings indicate a wide spectrum of opportunities to manipulate with the properties of nanostructures produced in plasmas by means of controlling the arc conditions.
Bioengineering, Issue 60, Arc discharge, magnetic control, single-walled carbon nanotubes, graphene
3455
Nucleoside Triphosphates - From Synthesis to Biochemical Characterization
Institutions: University of Bern.

The traditional strategy for the introduction of chemical functionalities is the use of solid-phase synthesis by appending suitably modified phosphoramidite precursors to the nascent chain. However, the conditions used during the synthesis and the restriction to rather short sequences hamper the applicability of this methodology. On the other hand, modified nucleoside triphosphates are activated building blocks that have been employed for the mild introduction of numerous functional groups into nucleic acids, a strategy that paves the way for the use of modified nucleic acids in a wide-ranging palette of practical applications such as functional tagging and generation of ribozymes and DNAzymes. One of the major challenges resides in the intricacy of the methodology leading to the isolation and characterization of these nucleoside analogues. In this video article, we present a detailed protocol for the synthesis of these modified analogues using phosphorous(III)-based reagents. In addition, the procedure for their biochemical characterization is divulged, with a special emphasis on primer extension reactions and TdT tailing polymerization. This detailed protocol will be of use for the crafting of modified dNTPs and their further use in chemical biology.
Chemistry, Issue 86, Nucleic acid analogues, Bioorganic Chemistry, PCR, primer extension reactions, organic synthesis, PAGE, HPLC, nucleoside triphosphates
51385
High Throughput Quantitative Expression Screening and Purification Applied to Recombinant Disulfide-rich Venom Proteins Produced in E. coli
Institutions: Aix-Marseille Université, Commissariat à l'énergie atomique et aux énergies alternatives (CEA) Saclay, France.

Escherichia coli (E. coli)
is the most widely used expression system for the production of recombinant proteins for structural and functional studies. However, purifying proteins is sometimes challenging since many proteins are expressed in an insoluble form. When working with difficult or multiple targets it is therefore recommended to use high throughput (HTP) protein expression screening on a small scale (1-4 ml cultures) to quickly identify conditions for soluble expression. To cope with the various structural genomics programs of the lab, a quantitative (within a range of 0.1-100 mg/L culture of recombinant protein) and HTP protein expression screening protocol was implemented and validated on thousands of proteins. The protocols were automated with the use of a liquid handling robot but can also be performed manually without specialized equipment. Disulfide-rich venom proteins are gaining increasing recognition for their potential as therapeutic drug leads. They can be highly potent and selective, but their complex disulfide bond networks make them challenging to produce. As a member of the FP7 European Venomics project (www.venomics.eu), our challenge is to develop successful production strategies with the aim of producing thousands of novel venom proteins for functional characterization. Aided by the redox properties of disulfide bond isomerase DsbC, we adapted our HTP production pipeline for the expression of oxidized, functional venom peptides in the
E. coli
cytoplasm. The protocols are also applicable to the production of diverse disulfide-rich proteins. Here we demonstrate our pipeline applied to the production of animal venom proteins. With the protocols described herein it is likely that soluble disulfide-rich proteins will be obtained in as little as a week. Even from a small scale, there is the potential to use the purified proteins for validating the oxidation state by mass spectrometry, for characterization in pilot studies, or for sensitive micro-assays.
Bioengineering, Issue 89, E. coli, expression, recombinant, high throughput (HTP), purification, auto-induction, immobilized metal affinity chromatography (IMAC), tobacco etch virus protease (TEV) cleavage, disulfide bond isomerase C (DsbC) fusion, disulfide bonds, animal venom proteins/peptides
51464
Magnetic Tweezers for the Measurement of Twist and Torque
Institutions: Delft University of Technology.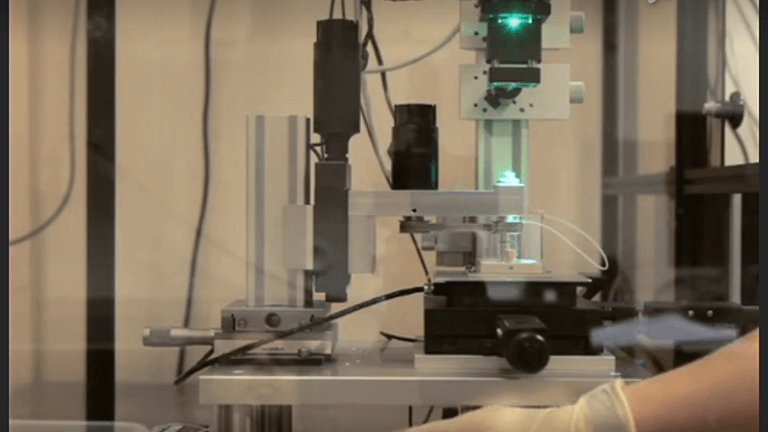 Single-molecule techniques make it possible to investigate the behavior of individual biological molecules in solution in real time. These techniques include so-called force spectroscopy approaches such as atomic force microscopy, optical tweezers, flow stretching, and magnetic tweezers. Amongst these approaches, magnetic tweezers have distinguished themselves by their ability to apply torque while maintaining a constant stretching force. Here, it is illustrated how such a "conventional" magnetic tweezers experimental configuration can, through a straightforward modification of its field configuration to minimize the magnitude of the transverse field, be adapted to measure the degree of twist in a biological molecule. The resulting configuration is termed the freely-orbiting magnetic tweezers. Additionally, it is shown how further modification of the field configuration can yield a transverse field with a magnitude intermediate between that of the "conventional" magnetic tweezers and the freely-orbiting magnetic tweezers, which makes it possible to directly measure the torque stored in a biological molecule. This configuration is termed the magnetic torque tweezers. The accompanying video explains in detail how the conversion of conventional magnetic tweezers into freely-orbiting magnetic tweezers and magnetic torque tweezers can be accomplished, and demonstrates the use of these techniques. These adaptations maintain all the strengths of conventional magnetic tweezers while greatly expanding the versatility of this powerful instrument.
Bioengineering, Issue 87, magnetic tweezers, magnetic torque tweezers, freely-orbiting magnetic tweezers, twist, torque, DNA, single-molecule techniques
51503
Microwave-assisted Functionalization of Poly(ethylene glycol) and On-resin Peptides for Use in Chain Polymerizations and Hydrogel Formation
Institutions: University of Rochester, University of Rochester, University of Rochester Medical Center.

One of the main benefits to using poly(ethylene glycol) (PEG) macromers in hydrogel formation is synthetic versatility. The ability to draw from a large variety of PEG molecular weights and configurations (arm number, arm length, and branching pattern) affords researchers tight control over resulting hydrogel structures and properties, including Young's modulus and mesh size. This video will illustrate a rapid, efficient, solvent-free, microwave-assisted method to methacrylate PEG precursors into poly(ethylene glycol) dimethacrylate (PEGDM). This synthetic method provides much-needed starting materials for applications in drug delivery and regenerative medicine. The demonstrated method is superior to traditional methacrylation methods as it is significantly faster and simpler, as well as more economical and environmentally friendly, using smaller amounts of reagents and solvents. We will also demonstrate an adaptation of this technique for on-resin methacrylamide functionalization of peptides. This on-resin method allows the N-terminus of peptides to be functionalized with methacrylamide groups prior to deprotection and cleavage from resin. This allows for selective addition of methacrylamide groups to the N-termini of the peptides while amino acids with reactive side groups (
e.g.
 primary amine of lysine, primary alcohol of serine, secondary alcohols of threonine, and phenol of tyrosine) remain protected, preventing functionalization at multiple sites. This article will detail common analytical methods (proton Nuclear Magnetic Resonance spectroscopy (
;
H-NMR) and Matrix Assisted Laser Desorption Ionization Time of Flight mass spectrometry (MALDI-ToF)) to assess the efficiency of the functionalizations. Common pitfalls and suggested troubleshooting methods will be addressed, as will modifications of the technique which can be used to further tune macromer functionality and resulting hydrogel physical and chemical properties. Use of synthesized products for the formation of hydrogels for drug delivery and cell-material interaction studies will be demonstrated, with particular attention paid to modifying hydrogel composition to affect mesh size, controlling hydrogel stiffness and drug release.
Chemistry, Issue 80, Poly(ethylene glycol), peptides, polymerization, polymers, methacrylation, peptide functionalization, 1H-NMR, MALDI-ToF, hydrogels, macromer synthesis
50890
Aseptic Laboratory Techniques: Plating Methods
Institutions: University of California, Los Angeles .

Microorganisms are present on all inanimate surfaces creating ubiquitous sources of possible contamination in the laboratory. Experimental success relies on the ability of a scientist to sterilize work surfaces and equipment as well as prevent contact of sterile instruments and solutions with non-sterile surfaces. Here we present the steps for several plating methods routinely used in the laboratory to isolate, propagate, or enumerate microorganisms such as bacteria and phage. All five methods incorporate aseptic technique, or procedures that maintain the sterility of experimental materials. Procedures described include (1) streak-plating bacterial cultures to isolate single colonies, (2) pour-plating and (3) spread-plating to enumerate viable bacterial colonies, (4) soft agar overlays to isolate phage and enumerate plaques, and (5) replica-plating to transfer cells from one plate to another in an identical spatial pattern. These procedures can be performed at the laboratory bench, provided they involve non-pathogenic strains of microorganisms (Biosafety Level 1, BSL-1). If working with BSL-2 organisms, then these manipulations must take place in a biosafety cabinet. Consult the most current edition of the
Biosafety in Microbiological and Biomedical Laboratories
(BMBL) as well as
Material Safety Data Sheets
(MSDS) for Infectious Substances to determine the biohazard classification as well as the safety precautions and containment facilities required for the microorganism in question. Bacterial strains and phage stocks can be obtained from research investigators, companies, and collections maintained by particular organizations such as the
American Type Culture Collection
(ATCC). It is recommended that non-pathogenic strains be used when learning the various plating methods. By following the procedures described in this protocol, students should be able to: ● Perform plating procedures without contaminating media. ● Isolate single bacterial colonies by the streak-plating method. ● Use pour-plating and spread-plating methods to determine the concentration of bacteria. ● Perform soft agar overlays when working with phage. ● Transfer bacterial cells from one plate to another using the replica-plating procedure. ● Given an experimental task, select the appropriate plating method.
Basic Protocols, Issue 63, Streak plates, pour plates, soft agar overlays, spread plates, replica plates, bacteria, colonies, phage, plaques, dilutions
3064
In Situ SIMS and IR Spectroscopy of Well-defined Surfaces Prepared by Soft Landing of Mass-selected Ions
Institutions: Pacific Northwest National Laboratory.

Soft landing of mass-selected ions onto surfaces is a powerful approach for the highly-controlled preparation of materials that are inaccessible using conventional synthesis techniques. Coupling soft landing with
in situ
characterization using secondary ion mass spectrometry (SIMS) and infrared reflection absorption spectroscopy (IRRAS) enables analysis of well-defined surfaces under clean vacuum conditions. The capabilities of three soft-landing instruments constructed in our laboratory are illustrated for the representative system of surface-bound organometallics prepared by soft landing of mass-selected ruthenium tris(bipyridine) dications, [Ru(bpy)
3
]
2+
(bpy = bipyridine), onto carboxylic acid terminated self-assembled monolayer surfaces on gold (COOH-SAMs).
In situ
time-of-flight (TOF)-SIMS provides insight into the reactivity of the soft-landed ions. In addition, the kinetics of charge reduction, neutralization and desorption occurring on the COOH-SAM both during and after ion soft landing are studied using
in situ
Fourier transform ion cyclotron resonance (FT-ICR)-SIMS measurements.
In situ
IRRAS experiments provide insight into how the structure of organic ligands surrounding metal centers is perturbed through immobilization of organometallic ions on COOH-SAM surfaces by soft landing. Collectively, the three instruments provide complementary information about the chemical composition, reactivity and structure of well-defined species supported on surfaces.
Chemistry, Issue 88, soft landing, mass selected ions, electrospray, secondary ion mass spectrometry, infrared spectroscopy, organometallic, catalysis
51344
High-throughput Synthesis of Carbohydrates and Functionalization of Polyanhydride Nanoparticles
Institutions: Iowa State University, Iowa State University.

Transdisciplinary approaches involving areas such as material design, nanotechnology, chemistry, and immunology have to be utilized to rationally design efficacious vaccines carriers. Nanoparticle-based platforms can prolong the persistence of vaccine antigens, which could improve vaccine immunogenicity
1
. Several biodegradable polymers have been studied as vaccine delivery vehicles
1
; in particular, polyanhydride particles have demonstrated the ability to provide sustained release of stable protein antigens and to activate antigen presenting cells and modulate immune responses
2-12
. The molecular design of these vaccine carriers needs to integrate the rational selection of polymer properties as well as the incorporation of appropriate targeting agents. High throughput automated fabrication of targeting ligands and functionalized particles is a powerful tool that will enhance the ability to study a wide range of properties and will lead to the design of reproducible vaccine delivery devices. The addition of targeting ligands capable of being recognized by specific receptors on immune cells has been shown to modulate and tailor immune responses
10,11,13
C-type lectin receptors (CLRs) are pattern recognition receptors (PRRs) that recognize carbohydrates present on the surface of pathogens. The stimulation of immune cells via CLRs allows for enhanced internalization of antigen and subsequent presentation for further T cell activation
14,15
. Therefore, carbohydrate molecules play an important role in the study of immune responses; however, the use of these biomolecules often suffers from the lack of availability of structurally well-defined and pure carbohydrates. An automation platform based on iterative solution-phase reactions can enable rapid and controlled synthesis of these synthetically challenging molecules using significantly lower building block quantities than traditional solid-phase methods
16,17
. Herein we report a protocol for the automated solution-phase synthesis of oligosaccharides such as mannose-based targeting ligands with fluorous solid-phase extraction for intermediate purification. After development of automated methods to make the carbohydrate-based targeting agent, we describe methods for their attachment on the surface of polyanhydride nanoparticles employing an automated robotic set up operated by LabVIEW as previously described
10
. Surface functionalization with carbohydrates has shown efficacy in targeting CLRs
10,11
and increasing the throughput of the fabrication method to unearth the complexities associated with a multi-parametric system will be of great value (
Figure 1a
).
Bioengineering, Issue 65, Chemical Engineering, High-throughput, Automation, Carbohydrates, Synthesis, Polyanhydrides, Nanoparticles, Functionalization, Targeting, Fluorous Solid Phase Extraction
3967
Fabrication of Carbon Nanotube High-Frequency Nanoelectronic Biosensor for Sensing in High Ionic Strength Solutions
Institutions: University of Michigan - Ann Arbor.

The unique electronic properties and high surface-to-volume ratios of single-walled carbon nanotubes (SWNT) and semiconductor nanowires (NW)
1-4
make them good candidates for high sensitivity biosensors. When a charged molecule binds to such a sensor surface, it alters the carrier density
5
in the sensor, resulting in changes in its DC conductance. However, in an ionic solution a charged surface also attracts counter-ions from the solution, forming an electrical double layer (EDL). This EDL effectively screens off the charge, and in physiologically relevant conditions ~100 millimolar (mM), the characteristic charge screening length (Debye length) is less than a nanometer (nm). Thus, in high ionic strength solutions, charge based (DC) detection is fundamentally impeded
6-8
. We overcome charge screening effects by detecting molecular dipoles rather than charges at high frequency, by operating carbon nanotube field effect transistors as high frequency mixers
9-11
. At high frequencies, the AC drive force can no longer overcome the solution drag and the ions in solution do not have sufficient time to form the EDL. Further, frequency mixing technique allows us to operate at frequencies high enough to overcome ionic screening, and yet detect the sensing signals at lower frequencies
11-12
. Also, the high transconductance of SWNT transistors provides an internal gain for the sensing signal, which obviates the need for external signal amplifier. Here, we describe the protocol to (a) fabricate SWNT transistors, (b) functionalize biomolecules to the nanotube
13
, (c) design and stamp a poly-dimethylsiloxane (PDMS) micro-fluidic chamber
14
onto the device, and (d) carry out high frequency sensing in different ionic strength solutions
11
.
Bioengineering, Issue 77, Chemical Engineering, Biochemistry, Biophysics, Electrical Engineering, Nanotechnology, Biosensing Techniques, carbon nanotubes (synthesis and properties), bioelectronic instruments (theory and techniques), Carbon nanotube, biosensor, frequency mixing, biotin, streptavidin, poly-dimethylsiloxane
50438