Engineering Biological-Based Vascular Grafts Using a Pulsatile Bioreactor
Published: 06-14-2011
ABSTRACT
Much effort has been devoted to develop and advance the methodology to regenerate functional small-diameter arterial bypasses. In the physiological environment, both mechanical and chemical stimulation are required to maintain the proper development and functionality of arterial vessels1,2. Bioreactor culture systems developed by our group are designed to support vessel regeneration within a precisely controlled chemo-mechanical environment mimicking that of native vessels. Our bioreactor assembly and maintenance procedures are fairly simple and highly repeatable3,4. Smooth muscle cells (SMCs) are seeded onto a tubular polyglycolic acid (PGA) mesh that is threaded over compliant silicone tubing and cultured in the bioreactor with or without pulsatile stimulation for up to 12 weeks. There are four main attributes that distinguish our bioreactor from some predecessors. 1) Unlike other culture systems that simulate only the biochemical surrounding of native blood vessels, our bioreactor also creates a physiological pulsatile environment by applying cyclic radial strain to the vessels in culture. 2) Multiple engineered vessels can be cultured simultaneously under different mechanical conditions within a controlled chemical environment. 3) The bioreactor allows a mono layer of endothelial cells (EC) to be easily coated onto the luminal side of engineered vessels for animal implantation models. 4) Our bioreactor can also culture engineered vessels with different diameter size ranged from 1 mm to 3 mm, saving the effort to tailor each individual bioreactor to fit a specific diameter size. The engineered vessels cultured in our bioreactor resemble native blood vessels histologically to some degree. Cells in the vessel walls express mature SMC contractile markers such as smooth muscle myosin heavy chain (SMMHC)3. A substantial amount of collagen is deposited within the extracellular matrix, which is responsible for ultimate mechanical strength of the engineered vessels5. Biochemical analysis also indicates that collagen content of engineered vessels is comparable to that of native arteries6. Importantly, the pulsatile bioreactor has consistently regenerated vessels that exhibit mechanical properties that permit successful implantation experiments in animal models3,7. Additionally, this bioreactor can be further modified to allow real-time assessment and tracking of collagen remodeling over time, non-invasively, using a non-linear optical microscopy (NLOM)8. To conclude, this bioreactor should serve as an excellent platform to study the fundamental mechanisms that regulate the regeneration of functional small-diameter vascular grafts.
18 Related JoVE Articles!
Elastomeric PGS Scaffolds in Arterial Tissue Engineering
Institutions: University of Pittsburgh, University of Pittsburgh.

Cardiovascular disease is one of the leading cause of mortality in the US and especially, coronary artery disease increases with an aging population and increasing obesity
1
. Currently, bypass surgery using autologous vessels, allografts, and synthetic grafts are known as a commonly used for arterial substitutes
2
. However, these grafts have limited applications when an inner diameter of arteries is less than 6 mm due to low availability, thrombotic complications, compliance mismatch, and late intimal hyperplasia
3,4
. To overcome these limitations, tissue engineering has been successfully applied as a promising alternative to develop small-diameter arterial constructs that are nonthrombogenic, robust, and compliant. Several previous studies have developed small-diameter arterial constructs with tri-lamellar structure, excellent mechanical properties and burst pressure comparable to native arteries
5,6
. While high tensile strength and burst pressure by increasing collagen production from a rigid material or cell sheet scaffold, these constructs still had low elastin production and compliance, which is a major problem to cause graft failure after implantation. Considering these issues, we hypothesized that an elastometric biomaterial combined with mechanical conditioning would provide elasticity and conduct mechanical signals more efficiently to vascular cells, which increase extracellular matrix production and support cellular orientation. The objective of this report is to introduce a fabrication technique of porous tubular scaffolds and a dynamic mechanical conditioning for applying them to arterial tissue engineering. We used a biodegradable elastomer, poly (glycerol sebacate) (PGS)
7
for fabricating porous tubular scaffolds from the salt fusion method. Adult primary baboon smooth muscle cells (SMCs) were seeded on the lumen of scaffolds, which cultured in our designed pulsatile flow bioreactor for 3 weeks. PGS scaffolds had consistent thickness and randomly distributed macro- and micro-pores. Mechanical conditioning from pulsatile flow bioreactor supported SMC orientation and enhanced ECM production in scaffolds. These results suggest that elastomeric scaffolds and mechanical conditioning of bioreactor culture may be a promising method for arterial tissue engineering.
Bioengineering, Issue 50, blood vessel, tissue engineering, bioreactor, smooth muscle cell
2691
Tissue Engineering of a Human 3D in vitro Tumor Test System
Institutions: University Hospital Würzburg.

Cancer is one of the leading causes of death worldwide. Current therapeutic strategies are predominantly developed in 2D culture systems, which inadequately reflect physiological conditions
in vivo
. Biological 3D matrices provide cells an environment in which cells can self-organize, allowing the study of tissue organization and cell differentiation. Such scaffolds can be seeded with a mixture of different cell types to study direct 3D cell-cell-interactions. To mimic the 3D complexity of cancer tumors, our group has developed a 3D
in vitro
tumor test system. Our 3D tissue test system models the
in vivo
situation of malignant peripheral nerve sheath tumors (MPNSTs), which we established with our decellularized porcine jejunal segment derived biological vascularized scaffold (BioVaSc). In our model, we reseeded a modified BioVaSc matrix with primary fibroblasts, microvascular endothelial cells (mvECs) and the S462 tumor cell line. For static culture, the vascular structure of the BioVaSc is removed and the remaining scaffold is cut open on one side (Small Intestinal Submucosa SIS-Muc). The resulting matrix is then fixed between two metal rings (cell crowns). Another option is to culture the cell-seeded SIS-Muc in a flow bioreactor system that exposes the cells to shear stress. Here, the bioreactor is connected to a peristaltic pump in a self-constructed incubator. A computer regulates the arterial oxygen and nutrient supply via parameters such as blood pressure, temperature, and flow rate. This setup allows for a dynamic culture with either pressure-regulated pulsatile or constant flow. In this study, we could successfully establish both a static and dynamic 3D culture system for MPNSTs. The ability to model cancer tumors in a more natural 3D environment will enable the discovery, testing, and validation of future pharmaceuticals in a human-like model.
Cancer Biology, Issue 78, Biomedical Engineering, Bioengineering, Medicine, Anatomy, Physiology, Molecular Biology, Cellular Biology, Tissue Engineering, Tumor Cells, Cultured, Biotechnology, Culture Techniques, Cell Engineering, Cellular Microenvironment, Equipment and Supplies, Decellularization, BioVaSc, primary cell isolation, tumor test system, dynamic culture conditions, bioreactor, 3D in vitro models, cell culture
50460
Procedure for Lung Engineering
Institutions: Yale University, Duke University, Yale University.

Lung tissue, including lung cancer and chronic lung diseases such as chronic obstructive pulmonary disease, cumulatively account for some 280,000 deaths annually; chronic obstructive pulmonary disease is currently the fourth leading cause of death in the United States
1
. Contributing to this mortality is the fact that lungs do not generally repair or regenerate beyond the microscopic, cellular level. Therefore, lung tissue that is damaged by degeneration or infection, or lung tissue that is surgically resected is not functionally replaced
in vivo
. To explore whether lung tissue can be generated
in vitro
, we treated lungs from adult rats using a procedure that removes cellular components to produce an acellular lung extracellular matrix scaffold. This scaffold retains the hierarchical branching structures of airways and vasculature, as well as a largely intact basement membrane, which comprises collagen IV, laminin, and fibronectin. The scaffold is mounted in a bioreactor designed to mimic critical aspects of lung physiology, such as negative pressure ventilation and pulsatile vascular perfusion. By culturing pulmonary epithelium and vascular endothelium within the bioreactor-mounted scaffold, we are able to generate lung tissue that is phenotypically comparable to native lung tissue and that is able to participate in gas exchange for short time intervals (45-120 minutes). These results are encouraging, and suggest that repopulation of lung matrix is a viable strategy for lung regeneration. This possibility presents an opportunity not only to work toward increasing the supply of lung tissue for transplantation, but also to study respiratory cell and molecular biology
in vitro
for longer time periods and in a more accurate microenvironment than has previously been possible.
Bioengineering, Issue 49, Decellularization, tissue engineering, lung engineering, lung tissue, extracellular matrix
2651
Design of a Cyclic Pressure Bioreactor for the Ex Vivo Study of Aortic Heart Valves
Institutions: Mississippi State University.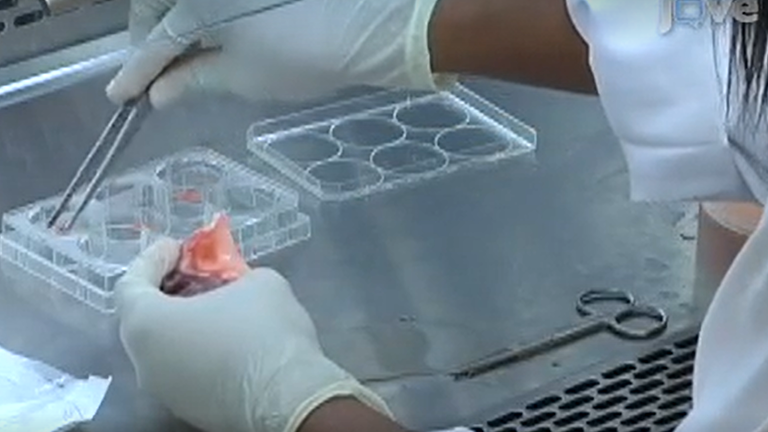 The aortic valve, located between the left ventricle and the aorta, allows for unidirectional blood flow, preventing backflow into the ventricle. Aortic valve leaflets are composed of interstitial cells suspended within an extracellular matrix (ECM) and are lined with an endothelial cell monolayer. The valve withstands a harsh, dynamic environment and is constantly exposed to shear, flexion, tension, and compression. Research has shown calcific lesions in diseased valves occur in areas of high mechanical stress as a result of endothelial disruption or interstitial matrix damage
1-3
. Hence, it is not surprising that epidemiological studies have shown high blood pressure to be a leading risk factor in the onset of aortic valve disease
4
. The only treatment option currently available for valve disease is surgical replacement of the diseased valve with a bioprosthetic or mechanical valve
5
. Improved understanding of valve biology in response to physical stresses would help elucidate the mechanisms of valve pathogenesis. In turn, this could help in the development of non-invasive therapies such as pharmaceutical intervention or prevention. Several bioreactors have been previously developed to study the mechanobiology of native or engineered heart valves
6-9
. Pulsatile bioreactors have also been developed to study a range of tissues including cartilage
10
, bone
11
and bladder
12
. The aim of this work was to develop a cyclic pressure system that could be used to elucidate the biological response of aortic valve leaflets to increased pressure loads. The system consisted of an acrylic chamber in which to place samples and produce cyclic pressure, viton diaphragm solenoid valves to control the timing of the pressure cycle, and a computer to control electrical devices. The pressure was monitored using a pressure transducer, and the signal was conditioned using a load cell conditioner. A LabVIEW program regulated the pressure using an analog device to pump compressed air into the system at the appropriate rate. The system mimicked the dynamic transvalvular pressure levels associated with the aortic valve; a saw tooth wave produced a gradual increase in pressure, typical of the transvalvular pressure gradient that is present across the valve during diastole, followed by a sharp pressure drop depicting valve opening in systole. The LabVIEW program allowed users to control the magnitude and frequency of cyclic pressure. The system was able to subject tissue samples to physiological and pathological pressure conditions. This device can be used to increase our understanding of how heart valves respond to changes in the local mechanical environment.
Bioengineering, Issue 54, Mechanobiology, Bioreactor, Aortic Heart Valve, Organ Culture
3316
Cultivation of Mammalian Cells Using a Single-use Pneumatic Bioreactor System
Institutions: Johns Hopkins University, PBS Biotech, Inc..
Recent advances in mammalian, insect, and stem cell cultivation and scale-up have created tremendous opportunities for new therapeutics and personalized medicine innovations. However, translating these advances into therapeutic applications will require
in vitro
systems that allow for robust, flexible, and cost effective bioreactor systems. There are several bioreactor systems currently utilized in research and commercial settings; however, many of these systems are not optimal for establishing, expanding, and monitoring the growth of different cell types. The culture parameters most challenging to control in these systems include, minimizing hydrodynamic shear, preventing nutrient gradient formation, establishing uniform culture medium aeration, preventing microbial contamination, and monitoring and adjusting culture conditions in real-time. Using a pneumatic single-use bioreactor system, we demonstrate the assembly and operation of this novel bioreactor for mammalian cells grown on micro-carriers. This bioreactor system eliminates many of the challenges associated with currently available systems by minimizing hydrodynamic shear and nutrient gradient formation, and allowing for uniform culture medium aeration. Moreover, the bioreactor's software allows for remote real-time monitoring and adjusting of the bioreactor run parameters. This bioreactor system also has tremendous potential for scale-up of adherent and suspension mammalian cells for production of a variety therapeutic proteins, monoclonal antibodies, stem cells, biosimilars, and vaccines.
Bioengineering, Issue 92, single-use bioreactor, cell culture, mammalian cell culture, pneumatic wheel, upstream bioprocessing, Air-Wheel bioreactor
52008
Procedure for Human Saphenous Veins Ex Vivo Perfusion and External Reinforcement
Institutions: Brigham and Women's Hospital/Harvard Medical School, CHUV University Hospital, University of Bordeaux, CHUV University Hospital.
The mainstay of contemporary therapies for extensive occlusive arterial disease is venous bypass graft. However, its durability is threatened by intimal hyperplasia (IH) that eventually leads to vessel occlusion and graft failure. Mechanical forces, particularly low shear stress and high wall tension, are thought to initiate and to sustain these cellular and molecular changes, but their exact contribution remains to be unraveled. To selectively evaluate the role of pressure and shear stress on the biology of IH, an
ex vivo
perfusion system (EVPS) was created to perfuse segments of human saphenous veins under arterial regimen (high shear stress and high pressure). Further technical innovations allowed the simultaneous perfusion of two segments from the same vein, one reinforced with an external mesh. Veins were harvested using a no-touch technique and immediately transferred to the laboratory for assembly in the EVPS. One segment of the freshly isolated vein was not perfused (control, day 0). The two others segments were perfused for up to 7 days, one being completely sheltered with a 4 mm (diameter) external mesh. The pressure, flow velocity, and pulse rate were continuously monitored and adjusted to mimic the hemodynamic conditions prevailing in the femoral artery. Upon completion of the perfusion, veins were dismounted and used for histological and molecular analysis. Under
ex vivo
conditions, high pressure perfusion (arterial, mean = 100 mm Hg) is sufficient to generate IH and remodeling of human veins. These alterations are reduced in the presence of an external polyester mesh.
Medicine, Issue 92, vein, human, intimal hyperplasia, neointima, perfusion, mesh, pressure, ex vivo
52079
In situ Transverse Rectus Abdominis Myocutaneous Flap: A Rat Model of Myocutaneous Ischemia Reperfusion Injury
Institutions: Royal Infirmary of Edinburgh, Royal Infirmary of Edinburgh.

Free tissue transfer is the gold standard of reconstructive surgery to repair complex defects not amenable to local options or those requiring composite tissue. Ischemia reperfusion injury (IRI) is a known cause of partial free flap failure and has no effective treatment. Establishing a laboratory model of this injury can prove costly both financially as larger mammals are conventionally used and in the expertise required by the technical difficulty of these procedures typically requires employing an experienced microsurgeon. This publication and video demonstrate the effective use of a model of IRI in rats which does not require microsurgical expertise. This procedure is an
in situ
model of a transverse abdominis myocutaneous (TRAM) flap where atraumatic clamps are utilized to reproduce the ischemia-reperfusion injury associated with this surgery. A laser Doppler Imaging (LDI) scanner is employed to assess flap perfusion and the image processing software, Image J to assess percentage area skin survival as a primary outcome measure of injury.
Medicine, Issue 76, Biomedical Engineering, Immunology, Anatomy, Physiology, Cellular Biology, Hematology, Surgery, Microsurgery, Reconstructive Surgical Procedures, Surgical Procedures, Operative, Myocutaneous flap, preconditioning, ischemia reperfusion injury, rat, animal model
50473
Characterization of the Isolated, Ventilated, and Instrumented Mouse Lung Perfused with Pulsatile Flow
Institutions: University of Wisconsin – Madison.

The isolated, ventilated and instrumented mouse lung preparation allows steady and pulsatile pulmonary vascular pressure-flow relationships to be measured with independent control over pulmonary arterial flow rate, flow rate waveform, airway pressure and left atrial pressure. Pulmonary vascular resistance is calculated based on multi-point, steady pressure-flow curves; pulmonary vascular impedance is calculated from pulsatile pressure-flow curves obtained at a range of frequencies. As now recognized clinically, impedance is a superior measure of right ventricular afterload than resistance because it includes the effects of vascular compliance, which are not negligible, especially in the pulmonary circulation. Three important metrics of impedance - the zero hertz impedance Z
0
, the characteristic impedance Z
C
, and the index of wave reflection R
W
- provide insight into distal arterial cross-sectional area available for flow, proximal arterial stiffness and the upstream-downstream impedance mismatch, respectively. All results obtained in isolated, ventilated and perfused lungs are independent of sympathetic nervous system tone, volume status and the effects of anesthesia. We have used this technique to quantify the impact of pulmonary emboli and chronic hypoxia on resistance and impedance, and to differentiate between sites of action (i.e., proximal vs. distal) of vasoactive agents and disease using the pressure dependency of Z
C
. Furthermore, when these techniques are used with the lungs of genetically engineered strains of mice, the effects of molecular-level defects on pulmonary vascular structure and function can be determined.
Medicine, Issue 50, ex-vivo, mouse, lung, pulmonary vascular impedance, characteristic impedance
2690
Tri-layered Electrospinning to Mimic Native Arterial Architecture using Polycaprolactone, Elastin, and Collagen: A Preliminary Study
Institutions: Virginia Commonwealth University, Virginia Commonwealth University, University Hospital of Geneva.

Throughout native artery, collagen and elastin play an important role, providing a mechanical backbone, preventing vessel rupture, and promoting recovery under pulsatile deformations. The goal of this study was to mimic the structure of native artery by fabricating a multi-layered electrospun conduit composed of poly(caprolactone) (PCL) with the addition of elastin and collagen with blends of 45-45-10, 55-35-10, and 65-25-10 PCL-ELAS-COL to demonstrate mechanical properties indicative of native arterial tissue, while remaining conducive to tissue regeneration. Whole grafts and individual layers were analyzed using uniaxial tensile testing, dynamic compliance, suture retention, and burst strength. Compliance results revealed that changes to the middle/medial layer changed overall graft behavior with whole graft compliance values ranging from 0.8 - 2.8 % / 100 mmHg, while uniaxial results demonstrated an average modulus range of 2.0 - 11.8 MPa. Both modulus and compliance data displayed values within the range of native artery. Mathematical modeling was implemented to show how changes in layer stiffness affect the overall circumferential wall stress, and as a design aid to achieve the best mechanical combination of materials. Overall, the results indicated that a graft can be designed to mimic a tri-layered structure by altering layer properties.
Bioengineering, Issue 47, Electrospinning, Vascular Graft, Multilayer, Polycaprolactone, Elastin
2084
Observing and Quantifying Fibroblast-mediated Fibrin Gel Compaction
Institutions: University of Iowa.
Cells embedded in collagen and fibrin gels attach and exert traction forces on the fibers of the gel. These forces can lead to local and global reorganization and realignment of the gel microstructure. This process proceeds in a complex manner that is dependent in part on the interplay between the location of the cells, the geometry of the gel, and the mechanical constraints on the gel. To better understand how these variables produce global fiber alignment patterns, we use time-lapse differential interference contrast (DIC) microscopy coupled with an environmentally controlled bioreactor to observe the compaction process between geometrically spaced explants (clusters of fibroblasts). The images are then analyzed with a custom image processing algorithm to obtain maps of the strain. The information obtained from this technique can be used to probe the mechanobiology of various cell-matrix interactions, which has important implications for understanding processes in wound healing, disease development, and tissue engineering applications.
Bioengineering, Issue 83, Fibrin, bioreactor, compaction, anisotropy, time-lapse microscopy, mechanobiology
50918
Self-reporting Scaffolds for 3-Dimensional Cell Culture
Institutions: University of Nottingham, University of Nottingham, University of Nottingham.

Culturing cells in 3D on appropriate scaffolds is thought to better mimic the
in vivo
microenvironment and increase cell-cell interactions. The resulting 3D cellular construct can often be more relevant to studying the molecular events and cell-cell interactions than similar experiments studied in 2D. To create effective 3D cultures with high cell viability throughout the scaffold the culture conditions such as oxygen and pH need to be carefully controlled as gradients in analyte concentration can exist throughout the 3D construct. Here we describe the methods of preparing biocompatible pH responsive sol-gel nanosensors and their incorporation into poly(lactic-co-glycolic acid) (PLGA) electrospun scaffolds along with their subsequent preparation for the culture of mammalian cells. The pH responsive scaffolds can be used as tools to determine microenvironmental pH within a 3D cellular construct. Furthermore, we detail the delivery of pH responsive nanosensors to the intracellular environment of mammalian cells whose growth was supported by electrospun PLGA scaffolds. The cytoplasmic location of the pH responsive nanosensors can be utilized to monitor intracellular pH (pHi) during ongoing experimentation.
Bioengineering, Issue 81, Biocompatible Materials, Nanosensors, scaffold, electrospinning, 3D cell culture, PLGA
50608
Culturing and Applications of Rotating Wall Vessel Bioreactor Derived 3D Epithelial Cell Models
Institutions: University of Arizona College of Medicine - Phoenix.

Cells and tissues in the body experience environmental conditions that influence their architecture, intercellular communications, and overall functions. For
in vitro
cell culture models to accurately mimic the tissue of interest, the growth environment of the culture is a critical aspect to consider. Commonly used conventional cell culture systems propagate epithelial cells on flat two-dimensional (2-D) impermeable surfaces. Although much has been learned from conventional cell culture systems, many findings are not reproducible in human clinical trials or tissue explants, potentially as a result of the lack of a physiologically relevant microenvironment. Here, we describe a culture system that overcomes many of the culture condition boundaries of 2-D cell cultures, by using the innovative rotating wall vessel (RWV) bioreactor technology. We and others have shown that organotypic RWV-derived models can recapitulate structure, function, and authentic human responses to external stimuli similarly to human explant tissues
1-6
. The RWV bioreactor is a suspension culture system that allows for the growth of epithelial cells under low physiological fluid shear conditions. The bioreactors come in two different formats, a high-aspect rotating vessel (HARV) or a slow-turning lateral vessel (STLV), in which they differ by their aeration source. Epithelial cells are added to the bioreactor of choice in combination with porous, collagen-coated microcarrier beads
(Figure 1A)
. The cells utilize the beads as a growth scaffold during the constant free fall in the bioreactor
(Figure 1B)
. The microenvironment provided by the bioreactor allows the cells to form three-dimensional (3-D) aggregates displaying
in vivo-
like characteristics often not observed under standard 2-D culture conditions
(Figure 1D)
. These characteristics include tight junctions, mucus production, apical/basal orientation,
in vivo
protein localization, and additional epithelial cell-type specific properties. The progression from a monolayer of epithelial cells to a fully differentiated 3-D aggregate varies based on cell type
1, 7-13
. Periodic sampling from the bioreactor allows for monitoring of epithelial aggregate formation, cellular differentiation markers and viability
(Figure 1D)
. Once cellular differentiation and aggregate formation is established, the cells are harvested from the bioreactor, and similar assays performed on 2-D cells can be applied to the 3-D aggregates with a few considerations
(Figure 1E-G)
. In this work, we describe detailed steps of how to culture 3-D epithelial cell aggregates in the RWV bioreactor system and a variety of potential assays and analyses that can be executed with the 3-D aggregates. These analyses include, but are not limited to, structural/morphological analysis (confocal, scanning and transmission electron microscopy), cytokine/chemokine secretion and cell signaling (cytometric bead array and Western blot analysis), gene expression analysis (real-time PCR), toxicological/drug analysis and host-pathogen interactions. The utilization of these assays set the foundation for more in-depth and expansive studies such as metabolomics, transcriptomics, proteomics and other array-based applications. Our goal is to present a non-conventional means of culturing human epithelial cells to produce organotypic 3-D models that recapitulate the human
in vivo
tissue, in a facile and robust system to be used by researchers with diverse scientific interests.
Cellular Biology, Issue 62, Rotating wall vessel bioreactor, female reproductive tract, human epithelial cells, three-dimensional in vitro cell culture, organotypic mucosal models, vaginal epithelial cells, microbicide, herpes simplex virus, toxicology, host-pathogen interactions, hormone receptors
3868
Construction and Characterization of a Novel Vocal Fold Bioreactor
Institutions: University of Delaware, University of Delaware.
In vitro
engineering of mechanically active tissues requires the presentation of physiologically relevant mechanical conditions to cultured cells. To emulate the dynamic environment of vocal folds, a novel vocal fold bioreactor capable of producing vibratory stimulations at fundamental phonation frequencies is constructed and characterized. The device is composed of a function generator, a power amplifier, a speaker selector and parallel vibration chambers. Individual vibration chambers are created by sandwiching a custom-made silicone membrane between a pair of acrylic blocks. The silicone membrane not only serves as the bottom of the chamber but also provides a mechanism for securing the cell-laden scaffold. Vibration signals, generated by a speaker mounted underneath the bottom acrylic block, are transmitted to the membrane aerodynamically by the oscillating air. Eight identical vibration modules, fixed on two stationary metal bars, are housed in an anti-humidity chamber for long-term operation in a cell culture incubator. The vibration characteristics of the vocal fold bioreactor are analyzed non-destructively using a Laser Doppler Vibrometer (LDV). The utility of the dynamic culture device is demonstrated by culturing cellular constructs in the presence of 200-Hz sinusoidal vibrations with a mid-membrane displacement of 40 µm. Mesenchymal stem cells cultured in the bioreactor respond to the vibratory signals by altering the synthesis and degradation of vocal fold-relevant, extracellular matrix components. The novel bioreactor system presented herein offers an excellent
in vitro
platform for studying vibration-induced mechanotransduction and for the engineering of functional vocal fold tissues.
Bioengineering, Issue 90, vocal fold; bioreactor; speaker; silicone membrane; fibrous scaffold; mesenchymal stem cells; vibration; extracellular matrix
51594
Nonhuman Primate Lung Decellularization and Recellularization Using a Specialized Large-organ Bioreactor
Institutions: Tulane University School of Medicine, Tulane National Primate Research Center, Tulane University School of Medicine, Tulane University School of Medicine.

There are an insufficient number of lungs available to meet current and future organ transplantation needs. Bioartificial tissue regeneration is an attractive alternative to classic organ transplantation. This technology utilizes an organ's natural biological extracellular matrix (ECM) as a scaffold onto which autologous or stem/progenitor cells may be seeded and cultured in such a way that facilitates regeneration of the original tissue. The natural ECM is isolated by a process called decellularization. Decellularization is accomplished by treating tissues with a series of detergents, salts, and enzymes to achieve effective removal of cellular material while leaving the ECM intact. Studies conducted utilizing decellularization and subsequent recellularization of rodent lungs demonstrated marginal success in generating pulmonary-like tissue which is capable of gas exchange
in vivo
. While offering essential proof-of-concept, rodent models are not directly translatable to human use. Nonhuman primates (NHP) offer a more suitable model in which to investigate the use of bioartificial organ production for eventual clinical use. The protocols for achieving complete decellularization of lungs acquired from the NHP rhesus macaque are presented. The resulting acellular lungs can be seeded with a variety of cells including mesenchymal stem cells and endothelial cells. The manuscript also describes the development of a bioreactor system in which cell-seeded macaque lungs can be cultured under conditions of mechanical stretch and strain provided by negative pressure ventilation as well as pulsatile perfusion through the vasculature; these forces are known to direct differentiation along pulmonary and endothelial lineages, respectively. Representative results of decellularization and cell seeding are provided.
Bioengineering, Issue 82, rhesus macaque, decellularization, recellularization, detergent, matrix, scaffold, large-organ bioreactor, mesenchymal stem cells
50825
Design of a Biaxial Mechanical Loading Bioreactor for Tissue Engineering
Institutions: The Warren Alpert Brown Medical School of Brown University and the Rhode Island Hospital, VA Medical Center, Providence, RI, University of Texas Southwestern Medical Center .

We designed a loading device that is capable of applying uniaxial or biaxial mechanical strain to a tissue engineered biocomposites fabricated for transplantation. While the device primarily functions as a bioreactor that mimics the native mechanical strains, it is also outfitted with a load cell for providing force feedback or mechanical testing of the constructs. The device subjects engineered cartilage constructs to biaxial mechanical loading with great precision of loading dose (amplitude and frequency) and is compact enough to fit inside a standard tissue culture incubator. It loads samples directly in a tissue culture plate, and multiple plate sizes are compatible with the system. The device has been designed using components manufactured for precision-guided laser applications. Bi-axial loading is accomplished by two orthogonal stages. The stages have a 50 mm travel range and are driven independently by stepper motor actuators, controlled by a closed-loop stepper motor driver that features micro-stepping capabilities, enabling step sizes of less than 50 nm. A polysulfone loading platen is coupled to the bi-axial moving platform. Movements of the stages are controlled by Thor-labs Advanced Positioning Technology (APT) software. The stepper motor driver is used with the software to adjust load parameters of frequency and amplitude of both shear and compression independently and simultaneously. Positional feedback is provided by linear optical encoders that have a bidirectional repeatability of 0.1 μm and a resolution of 20 nm, translating to a positional accuracy of less than 3 μm over the full 50 mm of travel. These encoders provide the necessary position feedback to the drive electronics to ensure true nanopositioning capabilities. In order to provide the force feedback to detect contact and evaluate loading responses, a precision miniature load cell is positioned between the loading platen and the moving platform. The load cell has high accuracies of 0.15% to 0.25% full scale.
Bioengineering, Issue 74, Biomedical Engineering, Biophysics, Cellular Biology, Medicine, Anatomy, Physiology, Cell Engineering, Bioreactors, Culture Techniques, Cell Engineering, Tissue Engineering, compression loads, shear loads, Tissues, bioreactor, mechanical loading, compression, shear, musculoskeletal, cartilage, bone, transplantation, cell culture
50387
Videomorphometric Analysis of Hypoxic Pulmonary Vasoconstriction of Intra-pulmonary Arteries Using Murine Precision Cut Lung Slices
Institutions: Justus-Liebig-University.

Acute alveolar hypoxia causes pulmonary vasoconstriction (HPV) - also known as von Euler-Liljestrand mechanism - which serves to match lung perfusion to ventilation. Up to now, the underlying mechanisms are not fully understood. The major vascular segment contributing to HPV is the intra-acinar artery. This vessel section is responsible for the blood supply of an individual acinus, which is defined as the portion of lung distal to a terminal bronchiole. Intra-acinar arteries are mostly located in that part of the lung that cannot be selectively reached by a number of commonly used techniques such as measurement of the pulmonary artery pressure in isolated perfused lungs or force recordings from dissected proximal pulmonary artery segments
1,2
. The analysis of subpleural vessels by real-time confocal laser scanning luminescence microscopy is limited to vessels with up to 50 µm in diameter
3
. We provide a technique to study HPV of murine intra-pulmonary arteries in the range of 20-100 µm inner diameters. It is based on the videomorphometric analysis of cross-sectioned arteries in precision cut lung slices (PCLS). This method allows the quantitative measurement of vasoreactivity of small
intra-acinar
arteries with inner diameter between 20-40 µm which are located at gussets of alveolar septa next to alveolar ducts and of larger
pre-acinar
arteries with inner diameters between 40-100 µm which run adjacent to bronchi and bronchioles. In contrast to real-time imaging of subpleural vessels in anesthetized and ventilated mice, videomorphometric analysis of PCLS occurs under conditions free of shear stress. In our experimental model both arterial segments exhibit a monophasic HPV when exposed to medium gassed with 1% O
2
and the response fades after 30-40 min at hypoxia.
Medicine, Issue 83, Hypoxic pulmonary vasoconstriction, murine lungs, precision cut lung slices, intra-pulmonary, pre- and intra-acinar arteries, videomorphometry
50970
Chip-based Three-dimensional Cell Culture in Perfused Micro-bioreactors
Institutions: Forschungszentrum Karlsruhe.

We have developed a chip-based cell culture system for the three-dimensional cultivation of cells. The chip is typically manufactured from non-biodegradable polymers, e.g., polycarbonate or polymethyl methacrylate by micro injection molding, micro hot embossing or micro thermoforming. But, it can also be manufactured from bio-degradable polymers. Its overall dimensions are 0.7 1 x 20 x 20 x 0.7 1 mm (h x w x l). The main features of the chips used are either a grid of up to 1156 cubic micro-containers (cf-chip) each the size of 120-300 x 300 x 300 μ (h x w x l) or round recesses with diameters of 300 μ and a depth of 300 μ (r-chip). The scaffold can house 10 Mio. cells in a three-dimensional configuration. For an optimal nutrient and gas supply, the chip is inserted in a bioreactor housing. The bioreactor is part of a closed steril circulation loop that, in the simplest configuration, is additionaly comprised of a roller pump and a medium reservoir with a gas supply. The bioreactor can be run in perfusion, superfusion, or even a mixed operation mode. We have successfully cultivated cell lines as well as primary cells over periods of several weeks. For rat primary liver cells we could show a preservation of organotypic functions for more than 2 weeks. For hepatocellular carcinoma cell lines we could show the induction of liver specific genes not or only slightly expressed in standard monolayer culture. The system might also be useful as a stem cell cultivation system since first differentiation experiments with stem cell lines were promising.
Cellular biology, Issue 15, three-dimensional, chip, bioreactor, perfusion
564
Mechanical Stimulation of Stem Cells Using Cyclic Uniaxial Strain
Institutions: University of California, Berkeley.

The role of mechanical forces in the development and maintenance of biological tissues is well documented, including several mechanically regulated phenomena such as bone remodeling, muscular hypertrophy, and smooth muscle cell plasticity. However, the forces involved are often extremely complex and difficult to monitor and control in vivo. To better investigate the effects of mechanical forces on cells, we have developed an in vitro method for applying uniaxial cyclic tensile strain to adherent cells cultured on elastic membranes. This method utilizes a custom-designed bioreactor with a motorized cam-rotor system to apply the desired force. Here we present a step-by-step video protocol demonstrating how to assemble the various components of each "stretch chamber", including, in this case, a silicone membrane with micropatterned topography to orient the cells with the direction of the strain. We also describe procedures for sterilizing the chambers, seeding cells onto the membrane, latching the chamber into the bioreactor, and adjusting the mechanical parameters (i.e. magnitude and rate of strain). The procedures outlined in this particular protocol are specific for seeding human mesenchymal stem cells onto silicone membranes with 10 µm wide channels oriented parallel to the direction of strain. However, the methods and materials presented in this system are flexible enough to accommodate a number of variations on this theme: strain rate, magnitude, duration, cell type, membrane topography, membrane coating, etc. can all be tailored to the desired application or outcome. This is a robust method for investigating the effects of uniaxial tensile strain applied to cells in vitro.
Cell Biology, Issue 6, stem cells, tissue engineering, tissue culture, mechanical strain, uniaxial, micropatterning, bioreactor
242