Simultaneous Whole-cell Recordings from Photoreceptors and Second-order Neurons in an Amphibian Retinal Slice Preparation
Published: 06-01-2013
ABSTRACT
One of the central tasks in retinal neuroscience is to understand the circuitry of retinal neurons and how those connections are responsible for shaping the signals transmitted to the brain. Photons are detected in the retina by rod and cone photoreceptors, which convert that energy into an electrical signal, transmitting it to other retinal neurons, where it is processed and communicated to central targets in the brain via the optic nerve. Important early insights into retinal circuitry and visual processing came from the histological studies of Cajal1,2 and, later, from electrophysiological recordings of the spiking activity of retinal ganglion cells - the output cells of the retina3,4. A detailed understanding of visual processing in the retina requires an understanding of the signaling at each step in the pathway from photoreceptor to retinal ganglion cell. However, many retinal cell types are buried deep in the tissue and therefore relatively inaccessible for electrophysiological recording. This limitation can be overcome by working with vertical slices, in which cells residing within each of the retinal layers are clearly visible and accessible for electrophysiological recording. Here, we describe a method for making vertical sections of retinas from larval tiger salamanders (Ambystoma tigrinum). While this preparation was originally developed for recordings with sharp microelectrodes5,6, we describe a method for dual whole-cell voltage clamp recordings from photoreceptors and second-order horizontal and bipolar cells in which we manipulate the photoreceptor's membrane potential while simultaneously recording post-synaptic responses in horizontal or bipolar cells. The photoreceptors of the tiger salamander are considerably larger than those of mammalian species, making this an ideal preparation in which to undertake this technically challenging experimental approach. These experiments are described with an eye toward probing the signaling properties of the synaptic ribbon - a specialized synaptic structure found in a only a handful of neurons, including rod and cone photoreceptors, that is well suited for maintaining a high rate of tonic neurotransmitter release7,8 - and how it contributes to the unique signaling properties of this first retinal synapse.
20 Related JoVE Articles!
Patch-clamp Capacitance Measurements and Ca2+ Imaging at Single Nerve Terminals in Retinal Slices
Institutions: Oregon Health and Science University.
Visual stimuli are detected and conveyed over a wide dynamic range of light intensities and frequency changes by specialized neurons in the vertebrate retina. Two classes of retinal neurons, photoreceptors and bipolar cells, accomplish this by using ribbon-type active zones, which enable sustained and high-throughput neurotransmitter release over long time periods. ON-type mixed bipolar cell (Mb) terminals in the goldfish retina, which depolarize to light stimuli and receive mixed rod and cone photoreceptor input, are suitable for the study of ribbon-type synapses both due to their large size (~10-12 μm diameter) and to their numerous lateral and reciprocal synaptic connections with amacrine cell dendrites. Direct access to Mb bipolar cell terminals in goldfish retinal slices with the patch-clamp technique allows the measurement of presynaptic Ca
2+
currents, membrane capacitance changes, and reciprocal synaptic feedback inhibition mediated by GABA
A
and GABA
C
receptors expressed on the terminals. Presynaptic membrane capacitance measurements of exocytosis allow one to study the short-term plasticity of excitatory neurotransmitter release
14,15
. In addition, short-term and long-term plasticity of inhibitory neurotransmitter release from amacrine cells can also be investigated by recordings of reciprocal feedback inhibition arriving at the Mb terminal
21
. Over short periods of time (e.g. ~10 s), GABAergic reciprocal feedback inhibition from amacrine cells undergoes paired-pulse depression via GABA vesicle pool depletion
11
. The synaptic dynamics of retinal microcircuits in the inner plexiform layer of the retina can thus be directly studied. The brain-slice technique was introduced more than 40 years ago but is still very useful for the investigation of the electrical properties of neurons, both at the single cell soma, single dendrite or axon, and microcircuit synaptic level
19
. Tissues that are too small to be glued directly onto the slicing chamber are often first embedded in agar (or placed onto a filter paper) and then sliced
20, 23, 18, 9
. In this video, we employ the pre-embedding agar technique using goldfish retina. Some of the giant bipolar cell terminals in our slices of goldfish retina are axotomized (axon-cut) during the slicing procedure. This allows us to isolate single presynaptic nerve terminal inputs, because recording from axotomized terminals excludes the signals from the soma-dendritic compartment. Alternatively, one can also record from intact Mb bipolar cells, by recording from terminals attached to axons that have not been cut during the slicing procedure. Overall, use of this experimental protocol will aid in studies of retinal synaptic physiology, microcircuit functional analysis, and synaptic transmission at ribbon synapses.
Neuroscience, Issue 59, synaptic physiology, axon terminal, synaptic ribbon, retina microcircuits, goldfish, zebrafish, brain slices, patch-clamp, membrane capacitance measurements, calcium-imaging, exocytosis, transmitter release
3345
Postsynaptic Recordings at Afferent Dendrites Contacting Cochlear Inner Hair Cells: Monitoring Multivesicular Release at a Ribbon Synapse
Institutions: The Johns Hopkins School of Medicine, Consejo Nacional de Investigaciones Científicas y Técnicas.

The afferent synapse between the inner hair cell (IHC) and the auditory nerve fiber provides an electrophysiologically accessible site for recording the postsynaptic activity of a single ribbon synapse
1-4
. Ribbon synapses of sensory cells release neurotransmitter continuously, the rate of which is modulated in response to graded changes in IHC membrane potential
5
. Ribbon synapses have been shown to operate by multivesicular release, where multiple vesicles can be released simultaneously to evoke excitatory postsynaptic currents (EPSCs) of varying amplitudes
1, 4, 6-11
. Neither the role of the presynaptic ribbon, nor the mechanism underlying multivesicular release is currently well understood. The IHC is innervated by 10-20 auditory nerve fibers, and every fiber contacts the IHC with a unmyelinated single ending to form a single ribbon synapse. The small size of the afferent boutons contacting IHCs (approximately 1 μm in diameter) enables recordings with exceptional temporal resolution to be made. Furthermore, the technique can be adapted to record from both pre- and postsynaptic cells simultaneously, allowing the transfer function at the synapse to be studied directly
2
. This method therefore provides a means by which fundamental aspects of neurotransmission can be studied, from multivesicular release to the elusive function of the ribbon in sensory cells.
Neuroscience, Issue 48, electrophysiology, whole-cell recording, patch clamp, synaptic transmission, ribbon synapse, multivesicular, dendrite, auditory nerve, hearing, hair cell.
2442
Preparation of Living Isolated Vertebrate Photoreceptor Cells for Fluorescence Imaging
Institutions: Medical University of South Carolina.

In the vertebrate retina, phototransduction, the conversion of light to an electrical signal, is carried out by the rod and cone photoreceptor cells
1-4
. Rod photoreceptors are responsible for vision in dim light, cones in bright light. Phototransduction takes place in the outer segment of the photoreceptor cell, a specialized compartment that contains a high concentration of visual pigment, the primary light detector. The visual pigment is composed of a chromophore, 11-
cis
retinal, attached to a protein, opsin. A photon absorbed by the visual pigment isomerizes the chromophore from 11-
cis
to all-
trans
. This photoisomerization brings about a conformational change in the visual pigment that initiates a cascade of reactions culminating in a change in membrane potential, and bringing about the transduction of the light stimulus to an electrical signal. The recovery of the cell from light stimulation involves the deactivation of the intermediates activated by light, and the reestablishment of the membrane potential. Ca
2+
modulates the activity of several of the enzymes involved in phototransduction, and its concentration is reduced upon light stimulation. In this way, Ca
2+
plays an important role in the recovery of the cell from light stimulation and its adaptation to background light. Another essential part of the recovery process is the regeneration of the visual pigment that has been destroyed during light-detection by the photoisomerization of its 11-
cis
chromophore to all-
trans
5-7
. This regeneration begins with the release of all-
trans
retinal by the photoactivated pigment, leaving behind the apo-protein opsin. The released all-
trans
retinal is rapidly reduced in a reaction utilizing NADPH to all-
trans
retinol, and opsin combines with fresh 11-
cis
retinal brought into the outer segment to reform the visual pigment. All-
trans
retinol is then transferred out of the outer segment and into neighboring cells by the specialized carrier Interphotoreceptor Retinoid Binding Protein (IRBP). Fluorescence imaging of single photoreceptor cells can be used to study their physiology and cell biology. Ca
2+
-sensitive fluorescent dyes can be used to examine in detail the interplay between outer segment Ca
2+
changes and response to light
8-12
as well as the role of inner segment Ca
2+
stores in Ca
2+
homeostasis
13,14
. Fluorescent dyes can also be used for measuring Mg
2+
concentration
15
, pH, and as tracers of aqueous and membrane compartments
16
. Finally, the intrinsic fluorescence of all-
trans
retinol (vitamin A) can be used to monitor the kinetics of its formation and removal in single photoreceptor cells
17-19
.
Neuroscience, Issue 52, retina, rods, cones, vision, fluorescence
2789
Dissection and Imaging of Active Zones in the Drosophila Neuromuscular Junction
Institutions: St. Jude Children's Research Hospital.

The
Drosophila
larvae neuromuscular junction (NMJ) is an excellent model for the study of synaptic structure and function.
Drosophila
is well known for the ease of powerful genetic manipulations and the larval nervous system has proven particularly useful in studying not only normal function but also perturbations that accompany some neurological disease (Lloyd and Taylor, 2010). Many key synaptic molecules found in
Drosophila
are also found in mammals and like most CNS excitatory synapses in mammals, the
Drosophila
NMJ is glutamatergic and demonstrates activity-dependent remodeling (Koh
et al.
, 2000). Additionally,
Drosophila
neurons can be individually identified because their innervation patterns are stereotyped and repetitive making it possible to study identified synaptic terminals, such as those between motor neurons and the body-wall muscle fibers that they innervate (Keshishian and Kim, 2004). The existence of evolutionarily conserved synapse components along with the ease of genetic and physical manipulation make the
Drosophila
model ideal for investigating the mechanisms underlying synaptic function (Budnik, 1996). The active zones at synaptic terminals are of particular interest because these are the sites of neurotransmitter release. NC82 is a monoclonal antibody that recognizes the
Drosophila
protein Bruchpilot (Brp), a CAST1/ERC family member that is an important component of the active zone (Wagh
et al.
, 2006). Brp was shown to directly shape the active zone T-bar and is responsible for effectively clustering Ca
2+
channels beneath the T-bar density (Fouquet
et al.
, 2009). Mutants of Brp have reduced Ca
2+
channel density, depressed evoked vesicle release, and altered short-term plasticity (Kittel
et al.
, 2006). Alterations to active zones have been observed in
Drosophila
disease models. For example, immunofluorescence using the NC82 antibody showed that the active zone density was decreased in models of amyotrophic lateral sclerosis and Pitt-Hopkins syndrome (Ratnaparkhi
et al.
, 2008; Zweier
et al.
, 2009). Thus, evaluation of active zones, or other synaptic proteins, in
Drosophila
larvae models of disease may provide a valuable initial clue to the presence of a synaptic defect. Preparing whole-mount dissected
Drosophila
larvae for immunofluorescence analysis of the NMJ requires some skill, but can be accomplished by most scientists with a little practice. Presented is a method that provides for multiple larvae to be dissected and immunostained in the same dissection dish, limiting environmental differences between each genotype and providing sufficient animals for confidence in reproducibility and statistical analysis.
Neuroscience, Issue 50, Neuromuscular junction (NMJ), Drosophila, active zone, dissection, larva, Bruchpilot (Brp), NC82
2676
Presynaptically Silent Synapses Studied with Light Microscopy
Institutions: Washington University School of Medicine, Washington University School of Medicine, Washington University School of Medicine.

Synaptic plasticity likely underlies the nervous system's ability to learn and remember and may also represent an adaptability that prevents otherwise damaging insults from becoming neurotoxic. We have been studying a form of presynaptic plasticity that is interesting in part because it is expressed as a digital switching on and off of a presynaptic terminal s ability to release vesicles containing the neurotransmitter glutamate. Here we demonstrate a protocol for visualizing the activity status of presynaptic terminals in dissociated cell cultures prepared from the rodent hippocampus. The method relies on detecting active synapses using staining with a fixable form of the styryl dye FM1-43, commonly used to label synaptic vesicles. This staining profile is compared with immunostaining of the same terminals with an antibody directed against the vesicular glutamate transporter 1 (vGluT-1), a stain designed to label all glutamate synapses regardless of activation status. We find that depolarizing stimuli induce presynaptic silencing. The population of synapses that is silent under baseline conditions can be activated by prolonged electrical silencing or by activation of cAMP signaling pathways.
Neurobiology, Issue 35, glutamate, synaptic plasticity, cAMP, excitotoxicity, homeostasis, FM1-43, presynaptic plasticity
1676
A Novel Light Damage Paradigm for Use in Retinal Regeneration Studies in Adult Zebrafish
Institutions: Wayne State University School of Medicine, Wayne State University School of Medicine.

Light-induced retinal degeneration (LIRD) is commonly used in both rodents and zebrafish to damage rod and cone photoreceptors. In adult zebrafish, photoreceptor degeneration triggers Müller glial cells to re-enter the cell cycle and produce transient-amplifying progenitors. These progenitors continue to proliferate as they migrate to the damaged area, where they ultimately give rise to new photoreceptors. Currently, there are two widely-used LIRD paradigms, each of which results in varying degrees of photoreceptor loss and corresponding differences in the regeneration response. As more genetic and pharmacological tools are available to test the role of individual genes of interest during regeneration, there is a need to develop a robust LIRD paradigm. Here we describe a LIRD protocol that results in widespread and consistent loss of both rod and cone photoreceptors in which we have combined the use of two previously established LIRD techniques. Furthermore, this protocol can be extended for use in pigmented animals, which eliminates the need to maintain transgenic lines of interest on the albino background for LIRD studies.
Neuroscience, Issue 80, Zebrafish, Retinal Degeneration, Retina, Photoreceptor, Müller glia, Light damage
51017
Subretinal Transplantation of MACS Purified Photoreceptor Precursor Cells into the Adult Mouse Retina
Institutions: Technische Universität Dresden.

Vision impairment and blindness due to the loss of the light-sensing cells of the retina,
i.e.
photoreceptors, represents the main reason for disability in industrialized countries. Replacement of degenerated photoreceptors by cell transplantation represents a possible treatment option in future clinical applications. Indeed, recent preclinical studies demonstrated that immature photoreceptors, isolated from the neonatal mouse retina at postnatal day 4, have the potential to integrate into the adult mouse retina following subretinal transplantation. Donor cells generated a mature photoreceptor morphology including inner and outer segments, a round cell body located at the outer nuclear layer, and synaptic terminals in close proximity to endogenous bipolar cells. Indeed, recent reports demonstrated that donor photoreceptors functionally integrate into the neural circuitry of host mice. For a future clinical application of such cell replacement approach, purified suspensions of the cells of choice have to be generated and placed at the correct position for proper integration into the eye. For the enrichment of photoreceptor precursors, sorting should be based on specific cell surface antigens to avoid genetic reporter modification of donor cells. Here we show magnetic-associated cell sorting (MACS) - enrichment of transplantable rod photoreceptor precursors isolated from the neonatal retina of photoreceptor-specific reporter mice based on the cell surface marker CD73. Incubation with anti-CD73 antibodies followed by micro-bead conjugated secondary antibodies allowed the enrichment of rod photoreceptor precursors by MACS to approximately 90%. In comparison to flow cytometry, MACS has the advantage that it can be easier applied to GMP standards and that high amounts of cells can be sorted in relative short time periods. Injection of enriched cell suspensions into the subretinal space of adult wild-type mice resulted in a 3-fold higher integration rate compared to unsorted cell suspensions.
Medicine, Issue 84, Photoreceptor Cells, Vertebrate, Retinal Degeneration, Regeneration, retina, magnetic associated cell sorting (MACS), transplantation, regenerative therapy
50932
Drug-induced Sensitization of Adenylyl Cyclase: Assay Streamlining and Miniaturization for Small Molecule and siRNA Screening Applications
Institutions: Purdue University, Eli Lilly and Company.

Sensitization of adenylyl cyclase (AC) signaling has been implicated in a variety of neuropsychiatric and neurologic disorders including substance abuse and Parkinson's disease. Acute activation of Gαi/o-linked receptors inhibits AC activity, whereas persistent activation of these receptors results in heterologous sensitization of AC and increased levels of intracellular cAMP. Previous studies have demonstrated that this enhancement of AC responsiveness is observed both
in vitro
and
in vivo
following the chronic activation of several types of Gαi/o-linked receptors including D
2
dopamine and μ opioid receptors. Although heterologous sensitization of AC was first reported four decades ago, the mechanism(s) that underlie this phenomenon remain largely unknown. The lack of mechanistic data presumably reflects the complexity involved with this adaptive response, suggesting that nonbiased approaches could aid in identifying the molecular pathways involved in heterologous sensitization of AC. Previous studies have implicated kinase and Gbγ signaling as overlapping components that regulate the heterologous sensitization of AC. To identify unique and additional overlapping targets associated with sensitization of AC, the development and validation of a scalable cAMP sensitization assay is required for greater throughput. Previous approaches to study sensitization are generally cumbersome involving continuous cell culture maintenance as well as a complex methodology for measuring cAMP accumulation that involves multiple wash steps. Thus, the development of a robust cell-based assay that can be used for high throughput screening (HTS) in a 384 well format would facilitate future studies. Using two D
2
dopamine receptor cellular models (
i.e
. CHO-D
2L
and HEK-AC6/D
2L
), we have converted our 48-well sensitization assay (>20 steps 4-5 days) to a five-step, single day assay in 384-well format. This new format is amenable to small molecule screening, and we demonstrate that this assay design can also be readily used for reverse transfection of siRNA in anticipation of targeted siRNA library screening.
Bioengineering, Issue 83, adenylyl cyclase, cAMP, heterologous sensitization, superactivation, D2 dopamine, μ opioid, siRNA
51218
Transretinal ERG Recordings from Mouse Retina: Rod and Cone Photoresponses
Institutions: Washington University School of Medicine.

There are two distinct classes of image-forming photoreceptors in the vertebrate retina: rods and cones. Rods are able to detect single photons of light whereas cones operate continuously under rapidly changing bright light conditions. Absorption of light by rod- and cone-specific visual pigments in the outer segments of photoreceptors triggers a phototransduction cascade that eventually leads to closure of cyclic nucleotide-gated channels on the plasma membrane and cell hyperpolarization. This light-induced change in membrane current and potential can be registered as a photoresponse, by either classical suction electrode recording technique
1,2
or by transretinal electroretinogram recordings (ERG) from isolated retinas with pharmacologically blocked postsynaptic response components
3-5
. The latter method allows drug-accessible long-lasting recordings from mouse photoreceptors and is particularly useful for obtaining stable photoresponses from the scarce and fragile mouse cones. In the case of cones, such experiments can be performed both in dark-adapted conditions and following intense illumination that bleaches essentially all visual pigment, to monitor the process of cone photosensitivity recovery during dark adaptation
6,7
. In this video, we will show how to perform rod- and M/L-cone-driven transretinal recordings from dark-adapted mouse retina. Rod recordings will be carried out using retina of wild type (C57Bl/6) mice. For simplicity, cone recordings will be obtained from genetically modified rod transducin α-subunit knockout (
Tα
-/-
) mice which lack rod signaling
8
.
Neuroscience, Issue 61, Rod and cone photoreceptors, retina, phototransduction, electrophysiology, vision, mouse
3424
Methylnitrosourea (MNU)-induced Retinal Degeneration and Regeneration in the Zebrafish: Histological and Functional Characteristics
Institutions: University of Bern, University Hospital of Basel, University of Fribourg.
Retinal degenerative diseases,
e.g.
retinitis pigmentosa, with resulting photoreceptor damage account for the majority of vision loss in the industrial world. Animal models are of pivotal importance to study such diseases. In this regard the photoreceptor-specific toxin
N
-methyl-
N
-nitrosourea (MNU) has been widely used in rodents to pharmacologically induce retinal degeneration. Previously, we have established a MNU-induced retinal degeneration model in the zebrafish, another popular model system in visual research. A fascinating difference to mammals is the persistent neurogenesis in the adult zebrafish retina and its regeneration after damage. To quantify this observation we have employed visual acuity measurements in the adult zebrafish. Thereby, the optokinetic reflex was used to follow functional changes in non-anesthetized fish. This was supplemented with histology as well as immunohistochemical staining for apoptosis (TUNEL) and proliferation (PCNA) to correlate the developing morphological changes. In summary, apoptosis of photoreceptors occurs three days after MNU treatment, which is followed by a marked reduction of cells in the outer nuclear layer (ONL). Thereafter, proliferation of cells in the inner nuclear layer (INL) and ONL is observed. Herein, we reveal that not only a complete histological but also a functional regeneration occurs over a time course of 30 days. Now we illustrate the methods to quantify and follow up zebrafish retinal de- and regeneration using MNU in a video-format.
Cellular Biology, Issue 92, N-methyl-N-nitrosourea (MNU), retina, degeneration, photoreceptors, Müller cells, regeneration, zebrafish, visual function
51909
In vivo Imaging of Optic Nerve Fiber Integrity by Contrast-Enhanced MRI in Mice
Institutions: Jena University Hospital, Fritz Lipmann Institute, Jena, Jena University Hospital.

The rodent visual system encompasses retinal ganglion cells and their axons that form the optic nerve to enter thalamic and midbrain centers, and postsynaptic projections to the visual cortex. Based on its distinct anatomical structure and convenient accessibility, it has become the favored structure for studies on neuronal survival, axonal regeneration, and synaptic plasticity. Recent advancements in MR imaging have enabled the
in vivo
visualization of the retino-tectal part of this projection using manganese mediated contrast enhancement (MEMRI). Here, we present a MEMRI protocol for illustration of the visual projection in mice, by which resolutions of (200 µm)
3
can be achieved using common 3 Tesla scanners. We demonstrate how intravitreal injection of a single dosage of 15 nmol MnCl
2
leads to a saturated enhancement of the intact projection within 24 hr. With exception of the retina, changes in signal intensity are independent of coincided visual stimulation or physiological aging. We further apply this technique to longitudinally monitor axonal degeneration in response to acute optic nerve injury, a paradigm by which Mn
2+
transport completely arrests at the lesion site. Conversely, active Mn
2+
transport is quantitatively proportionate to the viability, number, and electrical activity of axon fibers. For such an analysis, we exemplify Mn
2+
transport kinetics along the visual path in a transgenic mouse model (NF-κB
p50KO
) displaying spontaneous atrophy of sensory, including visual, projections. In these mice, MEMRI indicates reduced but not delayed Mn
2+
transport as compared to wild type mice, thus revealing signs of structural and/or functional impairments by NF-κB mutations. In summary, MEMRI conveniently bridges
in vivo
assays and
post mortem
histology for the characterization of nerve fiber integrity and activity. It is highly useful for longitudinal studies on axonal degeneration and regeneration, and investigations of mutant mice for genuine or inducible phenotypes.
Neuroscience, Issue 89, manganese-enhanced MRI, mouse retino-tectal projection, visual system, neurodegeneration, optic nerve injury, NF-κB
51274
Inhibitory Synapse Formation in a Co-culture Model Incorporating GABAergic Medium Spiny Neurons and HEK293 Cells Stably Expressing GABAA Receptors
Institutions: University College London.

Inhibitory neurons act in the central nervous system to regulate the dynamics and spatio-temporal co-ordination of neuronal networks. GABA (γ-aminobutyric acid) is the predominant inhibitory neurotransmitter in the brain. It is released from the presynaptic terminals of inhibitory neurons within highly specialized intercellular junctions known as synapses, where it binds to GABA
A
receptors (GABA
A
Rs) present at the plasma membrane of the synapse-receiving, postsynaptic neurons. Activation of these GABA-gated ion channels leads to influx of chloride resulting in postsynaptic potential changes that decrease the probability that these neurons will generate action potentials. During development, diverse types of inhibitory neurons with distinct morphological, electrophysiological and neurochemical characteristics have the ability to recognize their target neurons and form synapses which incorporate specific GABA
A
Rs subtypes. This principle of selective innervation of neuronal targets raises the question as to how the appropriate synaptic partners identify each other. To elucidate the underlying molecular mechanisms, a novel
in vitro
co-culture model system was established, in which medium spiny GABAergic neurons, a highly homogenous population of neurons isolated from the embryonic striatum, were cultured with stably transfected HEK293 cell lines that express different GABA
A
R subtypes. Synapses form rapidly, efficiently and selectively in this system, and are easily accessible for quantification. Our results indicate that various GABA
A
R subtypes differ in their ability to promote synapse formation, suggesting that this reduced
in vitro
model system can be used to reproduce, at least in part, the
in vivo
conditions required for the recognition of the appropriate synaptic partners and formation of specific synapses. Here the protocols for culturing the medium spiny neurons and generating HEK293 cells lines expressing GABA
A
Rs are first described, followed by detailed instructions on how to combine these two cell types in co-culture and analyze the formation of synaptic contacts.
Neuroscience, Issue 93, Developmental neuroscience, synaptogenesis, synaptic inhibition, co-culture, stable cell lines, GABAergic, medium spiny neurons, HEK 293 cell line
52115
Acute Dissociation of Lamprey Reticulospinal Axons to Enable Recording from the Release Face Membrane of Individual Functional Presynaptic Terminals
Institutions: University of Illinois at Chicago.

Synaptic transmission is an extremely rapid process. Action potential driven influx of Ca
2+
 into the presynaptic terminal, through voltage-gated calcium channels (VGCCs) located in the release face membrane, is the trigger for vesicle fusion and neurotransmitter release. Crucial to the rapidity of synaptic transmission is the spatial and temporal synchrony between the arrival of the action potential, VGCCs and the neurotransmitter release machinery. The ability to directly record Ca
2+
 currents from the release face membrane of individual presynaptic terminals is imperative for a precise understanding of the relationship between presynaptic Ca
2+
 and neurotransmitter release. Access to the presynaptic release face membrane for electrophysiological recording is not available in most preparations and presynaptic Ca
2+
 entry has been characterized using imaging techniques and macroscopic current measurements – techniques that do not have sufficient temporal resolution to visualize Ca
2+
entry. The characterization of VGCCs directly at single presynaptic terminals has not been possible in central synapses and has thus far been successfully achieved only in the calyx-type synapse of the chick ciliary ganglion and in rat calyces. We have successfully addressed this problem in the giant reticulospinal synapse of the lamprey spinal cord by developing an acutely dissociated preparation of the spinal cord that yields isolated reticulospinal axons with functional presynaptic terminals devoid of postsynaptic structures. We can fluorescently label and identify individual presynaptic terminals and target them for recording. Using this preparation, we have characterized VGCCs directly at the release face of individual presynaptic terminals using immunohistochemistry and electrophysiology approaches. Ca
2+
currents have been recorded directly at the release face membrane of individual presynaptic terminals, the first such recording to be carried out at central synapses.
Neuroscience, Issue 92, reticulospinal synapse, reticulospinal axons, presynaptic terminal, presynaptic calcium, voltage-gated calcium channels, vesicle fusion, synaptic transmission, neurotransmitter release, spinal cord, lamprey, synaptic vesicles, acute dissociation
51925
Membrane Potentials, Synaptic Responses, Neuronal Circuitry, Neuromodulation and Muscle Histology Using the Crayfish: Student Laboratory Exercises
Institutions: University of Kentucky, University of Toronto.

The purpose of this report is to help develop an understanding of the effects caused by ion gradients across a biological membrane. Two aspects that influence a cell's membrane potential and which we address in these experiments are: (1) Ion concentration of K
+
on the outside of the membrane, and (2) the permeability of the membrane to specific ions. The crayfish abdominal extensor muscles are in groupings with some being tonic (slow) and others phasic (fast) in their biochemical and physiological phenotypes, as well as in their structure; the motor neurons that innervate these muscles are correspondingly different in functional characteristics. We use these muscles as well as the superficial, tonic abdominal flexor muscle to demonstrate properties in synaptic transmission. In addition, we introduce a sensory-CNS-motor neuron-muscle circuit to demonstrate the effect of cuticular sensory stimulation as well as the influence of neuromodulators on certain aspects of the circuit. With the techniques obtained in this exercise, one can begin to answer many questions remaining in other experimental preparations as well as in physiological applications related to medicine and health. We have demonstrated the usefulness of model invertebrate preparations to address fundamental questions pertinent to all animals.
Neuroscience, Issue 47, Invertebrate, Crayfish, neurophysiology, muscle, anatomy, electrophysiology
2322
Analysis of Tubular Membrane Networks in Cardiac Myocytes from Atria and Ventricles
Institutions: Heart Research Center Goettingen, University Medical Center Goettingen, German Center for Cardiovascular Research (DZHK) partner site Goettingen, University of Maryland School of Medicine.

In cardiac myocytes a complex network of membrane tubules - the transverse-axial tubule system (TATS) - controls deep intracellular signaling functions. While the outer surface membrane and associated TATS membrane components appear to be continuous, there are substantial differences in lipid and protein content. In ventricular myocytes (VMs), certain TATS components are highly abundant contributing to rectilinear tubule networks and regular branching 3D architectures. It is thought that peripheral TATS components propagate action potentials from the cell surface to thousands of remote intracellular sarcoendoplasmic reticulum (SER) membrane contact domains, thereby activating intracellular Ca
2+
release units (CRUs). In contrast to VMs, the organization and functional role of TATS membranes in atrial myocytes (AMs) is significantly different and much less understood. Taken together, quantitative structural characterization of TATS membrane networks in healthy and diseased myocytes is an essential prerequisite towards better understanding of functional plasticity and pathophysiological reorganization. Here, we present a strategic combination of protocols for direct quantitative analysis of TATS membrane networks in living VMs and AMs. For this, we accompany primary cell isolations of mouse VMs and/or AMs with critical quality control steps and direct membrane staining protocols for fluorescence imaging of TATS membranes. Using an optimized workflow for confocal or superresolution TATS image processing, binarized and skeletonized data are generated for quantitative analysis of the TATS network and its components. Unlike previously published indirect regional aggregate image analysis strategies, our protocols enable direct characterization of specific components and derive complex physiological properties of TATS membrane networks in living myocytes with high throughput and open access software tools. In summary, the combined protocol strategy can be readily applied for quantitative TATS network studies during physiological myocyte adaptation or disease changes, comparison of different cardiac or skeletal muscle cell types, phenotyping of transgenic models, and pharmacological or therapeutic interventions.
Bioengineering, Issue 92, cardiac myocyte, atria, ventricle, heart, primary cell isolation, fluorescence microscopy, membrane tubule, transverse-axial tubule system, image analysis, image processing, T-tubule, collagenase
51823
Examination of Synaptic Vesicle Recycling Using FM Dyes During Evoked, Spontaneous, and Miniature Synaptic Activities
Institutions: University of Iowa Carver College of Medicine, University of Bath.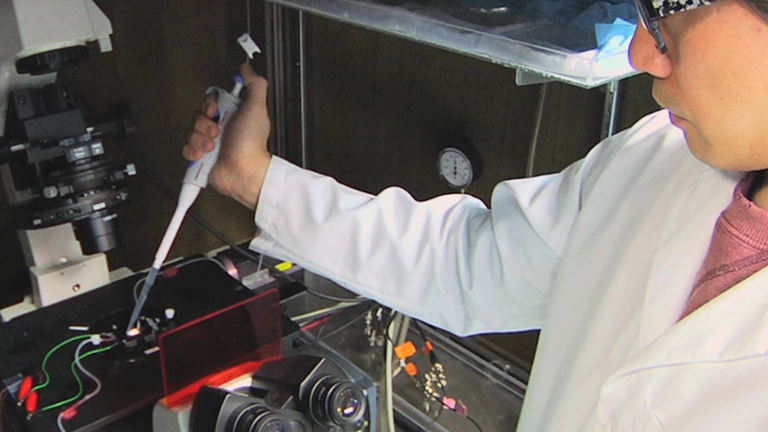 Synaptic vesicles in functional nerve terminals undergo exocytosis and endocytosis. This synaptic vesicle recycling can be effectively analyzed using styryl FM dyes, which reveal membrane turnover. Conventional protocols for the use of FM dyes were designed for analyzing neurons following stimulated (evoked) synaptic activity. Recently, protocols have become available for analyzing the FM signals that accompany weaker synaptic activities, such as spontaneous or miniature synaptic events. Analysis of these small changes in FM signals requires that the imaging system is sufficiently sensitive to detect small changes in intensity, yet that artifactual changes of large amplitude are suppressed. Here we describe a protocol that can be applied to evoked, spontaneous, and miniature synaptic activities, and use cultured hippocampal neurons as an example. This protocol also incorporates a means of assessing the rate of photobleaching of FM dyes, as this is a significant source of artifacts when imaging small changes in intensity.
Neuroscience, Issue 85, Presynaptic Terminals, Synaptic Vesicles, Microscopy, Biological Assay, Nervous System, Endocytosis, exocytosis, fluorescence imaging, FM dye, neuron, photobleaching
50557
Inducing Plasticity of Astrocytic Receptors by Manipulation of Neuronal Firing Rates
Institutions: University of California Riverside, University of California Riverside, University of California Riverside.

Close to two decades of research has established that astrocytes
in situ
and
in vivo
express numerous G protein-coupled receptors (GPCRs) that can be stimulated by neuronally-released transmitter. However, the ability of astrocytic receptors to exhibit plasticity in response to changes in neuronal activity has received little attention. Here we describe a model system that can be used to globally scale up or down astrocytic group I metabotropic glutamate receptors (mGluRs) in acute brain slices. Included are methods on how to prepare parasagittal hippocampal slices, construct chambers suitable for long-term slice incubation, bidirectionally manipulate neuronal action potential frequency, load astrocytes and astrocyte processes with fluorescent Ca
2+
indicator, and measure changes in astrocytic Gq GPCR activity by recording spontaneous and evoked astrocyte Ca
2+
events using confocal microscopy. In essence, a "calcium roadmap" is provided for how to measure plasticity of astrocytic Gq GPCRs. Applications of the technique for study of astrocytes are discussed. Having an understanding of how astrocytic receptor signaling is affected by changes in neuronal activity has important implications for both normal synaptic function as well as processes underlying neurological disorders and neurodegenerative disease.
Neuroscience, Issue 85, astrocyte, plasticity, mGluRs, neuronal Firing, electrophysiology, Gq GPCRs, Bolus-loading, calcium, microdomains, acute slices, Hippocampus, mouse
51458
Loading Drosophila Nerve Terminals with Calcium Indicators
Institutions: University of Texas Health Science Center at San Antonio (UTHSCSA).

Calcium plays many roles in the nervous system but none more impressive than as the trigger for neurotransmitter release, and none more profound than as the messenger essential for the synaptic plasticity that supports learning and memory. To further elucidate the molecular underpinnings of Ca
2+
-dependent synaptic mechanisms, a model system is required that is both genetically malleable and physiologically accessible. Drosophila melanogaster provides such a model. In this system, genetically-encoded fluorescent indicators are available to detect Ca
2+
changes in nerve terminals. However, these indicators have limited sensitivity to Ca
2+
and often show a non-linear response. Synthetic fluorescent indicators are better suited for measuring the rapid Ca
2+
changes associated with nerve activity. Here we demonstrate a technique for loading dextran-conjugated synthetic Ca
2+
indicators into live nerve terminals in Drosophila larvae. Particular emphasis is placed on those aspects of the protocol most critical to the technique's success, such as how to avoid static electricity discharges along the isolated nerves, maintaining the health of the preparation during extended loading periods, and ensuring axon survival by providing Ca
2+
to promote sealing of severed axon endings. Low affinity dextran-conjugated Ca
2+
-indicators, such as fluo-4 and rhod, are available which show a high signal-to-noise ratio while minimally disrupting presynaptic Ca
2+
dynamics. Dextran-conjugation helps prevent Ca
2+
indicators being sequestered into organelles such as mitochondria. The loading technique can be applied equally to larvae, embryos and adults.
Neuroscience, Issue 6, Drosophila, neuron, imaging
250
Single-cell Suction Recordings from Mouse Cone Photoreceptors
Institutions: Washington University in St. Louis, School of Medicine.

Rod and cone photoreceptors in the retina are responsible for light detection. In darkness, cyclic nucleotide-gated (CNG) channels in the outer segment are open and allow cations to flow steadily inwards across the membrane, depolarizing the cell. Light exposure triggers the closure of the CNG channels, blocks the inward cation current flow, and thus results in cell hyperpolarization. Based on the polarity of photoreceptors, a suction recording method was developed in 1970s that, unlike the classic patch-clamp technique, does not require penetrating the plasma membrane
1
. Drawing the outer segment into a tightly-fitting glass pipette filled with extracellular solution allows recording the current changes in individual cells upon test-flash exposure. However, this well-established "outer-segment-in (OS-in)" suction recording is not suitable for mouse cone recordings, because of the low percentage of cones in the mouse retina (3%) and the difficulties in identifying the cone outer segments. Recently, an inner-segment-in (IS-in) recording configuration was developed to draw the inner segment/nuclear region of the photoreceptor into the recording pipette
2,3
. In this video, we will show how to record from individual mouse cone photoresponses using single-cell suction electrode.
Cellular Biology, Issue 35, mouse, cone photoreceptor, electrophysiology, suction-recording, CNG channels, retina, murine, IS-in
1681
Imaging Exocytosis in Retinal Bipolar Cells with TIRF Microscopy
Institutions: Yale University School of Medicine.
Total internal reflectance fluorescence (TIRF) microscopy is a technique that allows the study of events happening at the cell membrane, by selective imaging of fluorescent molecules that are closest to a high refractive index substance such as glass
1
. In this article, we apply this technique to image exocytosis of synaptic vesicles in retinal bipolar cells isolated from the goldfish retina. These neurons are very suitable for this kind of study due to their large axon terminals. By simultaneously patch clamping the bipolar cells, it is possible to investigate the relationship between pre-synaptic voltage and synaptic release
2,3
. Synaptic vesicles inside the bipolar cell terminals are loaded with a fluorescent dye (FM 1-43®) by co-puffing the dye and a ringer solution containing a high K
+
concentration onto the synaptic terminals. This depolarizes the cells and stimulates endocytosis and consequent dye uptake into the glutamatergic vesicles. After washing the excess dye away for around 30 minutes, cells are ready for being patch clamped and imaged simultaneously with a 488 nm laser. The patch pipette solution contains a rhodamine-based peptide that binds selectively to the synaptic ribbon protein RIBEYE
4
, thereby labeling ribbons specifically when terminals are imaged with a 561 nm laser. This allows the precise localization of active zones and the separation of synaptic from extra-synaptic events.
Neuroscience, Issue 28, Vision, retina, exocytosis, synaptic transmission, imaging,
1305