A Molecular Readout of Long-term Olfactory Adaptation in C. elegans
Published: 12-22-2012
ABSTRACT
During sustained stimulation most sensory neurons will adapt their response by decreasing their sensitivity to the signal. The adaptation response helps shape attention and also protects cells from over-stimulation. Adaptation within the olfactory circuit of C. elegans was first described by Colbert and Bargmann1,2. Here, the authors defined parameters of the olfactory adaptation paradigm, which they used to design a genetic screen to isolate mutants defective in their ability to adapt to volatile odors sensed by the Amphid Wing cells type C (AWC) sensory neurons. When wildtype C. elegans animals are exposed to an attractive AWC-sensed odor3 for 30 min they will adapt their responsiveness to the odor and will then ignore the adapting odor in a chemotaxis behavioral assay for ~1 hr. When wildtype C. elegans animals are exposed to an attractive AWC-sensed odor for ~1 hr they will then ignore the adapting odor in a chemotaxis behavioral assay for ~3 hr. These two phases of olfactory adaptation in C. elegans were described as short-term olfactory adaptation (induced after 30 min odor exposure), and long-term olfactory adaptation (induced after 60 min odor exposure). Later work from L'Etoile et al.,4 uncovered a Protein Kinase G (PKG) called EGL-4 that is required for both the short-term and long-term olfactory adaptation in AWC neurons. The EGL-4 protein contains a nuclear localization sequence that is necessary for long-term olfactory adaptation responses but dispensable for short-term olfactory adaptation responses in the AWC4. By tagging EGL-4 with a green fluorescent protein, it was possible to visualize the localization of EGL-4 in the AWC during prolonged odor exposure. Using this fully functional GFP-tagged EGL-4 (GFP::EGL-4) molecule we have been able to develop a molecular readout of long-term olfactory adaptation in the AWC5. Using this molecular readout of olfactory adaptation we have been able to perform both forward and reverse genetic screens to identify mutant animals that exhibit defective subcellular localization patterns of GFP::EGL-4 in the AWC6,7. Here we describe: 1) the construction of GFP::EGL-4 expressing animals; 2) the protocol for cultivation of animals for long-term odor-induced nuclear translocation assays; and 3) the scoring of the long-term odor-induced nuclear translocation event and recovery (re-sensitization) from the nuclear GFP::EGL-4 state.
22 Related JoVE Articles!
Odorant-induced Responses Recorded from Olfactory Receptor Neurons using the Suction Pipette Technique
Institutions: Monell Chemical Senses Center, University of Cambridge .

Animals sample the odorous environment around them through the chemosensory systems located in the nasal cavity. Chemosensory signals affect complex behaviors such as food choice, predator, conspecific and mate recognition and other socially relevant cues. Olfactory receptor neurons (ORNs) are located in the dorsal part of the nasal cavity embedded in the olfactory epithelium. These bipolar neurons send an axon to the olfactory bulb (see
Fig. 1
, Reisert & Zhao
1
, originally published in the Journal of General Physiology) and extend a single dendrite to the epithelial border from where cilia radiate into the mucus that covers the olfactory epithelium. The cilia contain the signal transduction machinery that ultimately leads to excitatory current influx through the ciliary transduction channels, a cyclic nucleotide-gated (CNG) channel and a Ca
2+
-activated Cl
-
channel (
Fig. 1
). The ensuing depolarization triggers action potential generation at the cell body
2-4
. In this video we describe the use of the "suction pipette technique" to record odorant-induced responses from ORNs. This method was originally developed to record from rod photoreceptors
5
and a variant of this method can be found at jove.com modified to record from mouse cone photoreceptors
6
. The suction pipette technique was later adapted to also record from ORNs
7,8
. Briefly, following dissociation of the olfactory epithelium and cell isolation, the entire cell body of an ORN is sucked into the tip of a recording pipette. The dendrite and the cilia remain exposed to the bath solution and thus accessible to solution changes to enable e.g. odorant or pharmacological blocker application. In this configuration, no access to the intracellular environment is gained (no whole-cell voltage clamp) and the intracellular voltage remains free to vary. This allows the simultaneous recording of the slow receptor current that originates at the cilia and fast action potentials fired by the cell body
9
. The difference in kinetics between these two signals allows them to be separated using different filter settings. This technique can be used on any wild type or knockout mouse or to record selectively from ORNs that also express GFP to label specific subsets of ORNs, e.g. expressing a given odorant receptor or ion channel.
Neuroscience, Issue 62, Olfactory receptor neurons, ORN, suction pipette technique, receptor current, action potentials, signal transduction, electrophysiology, chemoreceptors
3862
Visually Mediated Odor Tracking During Flight in Drosophila
Institutions: University of California, Los Angeles.

Flying insects use visual cues to stabilize their heading in a wind stream. Many animals additionally track odors carried in the wind. As such, visual stabilization of upwind tracking directly aids in odor tracking. But do olfactory signals directly influence visual tracking behavior independently from wind cues? Additionally, recent advances in olfactory molecular genetics and neurophysiology have motivated novel quantitative behavioral analyses to assess the behavioral influence of (e.g.) genetically inactivating specific olfactory activation circuits. We modified a magnetic tether system originally devised for vision experiments by equipping the arena with narrow laminar flow odor plumes. Here we focus on experiments that can be performed after a fly is tethered and is able to navigate in the magnetic arena. We show how to acquire video images optimized for measuring body angle, how to judge stable odor tracking, and we illustrate two experiments to examine the influence of visual cues on odor tracking.
Neuroscience, Issue 23, Drosophila, magnet, olfaction, vision, behavior, flight, video
1110
Whole Mount Immunolabeling of Olfactory Receptor Neurons in the Drosophila Antenna
Institutions: Doshisha University, RIKEN Brain Science Institute, RIKEN Brain Science Institute.

Odorant molecules bind to their target receptors in a precise and coordinated manner. Each receptor recognizes a specific signal and relays this information to the brain. As such, determining how olfactory information is transferred to the brain, modifying both perception and behavior, merits investigation. Interestingly, there is emerging evidence that cellular transduction and transcriptional factors are involved in the diversification of olfactory receptor neuron. Here we provide a robust whole mount immunological labeling method to assay in vivo olfactory receptor neuron organization. Using this method, we identified all olfactory receptor neurons with anti-ELAV antibody, a known pan-neural marker and Or49a-mCD8::GFP, an olfactory receptor neuron specifically expressed in Nba neuron using anti-GFP antibody.
Neuroscience, Issue 87, Developmental biology, Drosophila, Whole mount immunolabeling, olfactory receptor neurons, antennae, sensory organ
51245
Calcium Imaging of Odor-evoked Responses in the Drosophila Antennal Lobe
Institutions: University of Lausanne, University of Konstanz.

The antennal lobe is the primary olfactory center in the insect brain and represents the anatomical and functional equivalent of the vertebrate olfactory bulb
1-5
. Olfactory information in the external world is transmitted to the antennal lobe by olfactory sensory neurons (OSNs), which segregate to distinct regions of neuropil called glomeruli according to the specific olfactory receptor they express. Here, OSN axons synapse with both local interneurons (LNs), whose processes can innervate many different glomeruli, and projection neurons (PNs), which convey olfactory information to higher olfactory brain regions. Optical imaging of the activity of OSNs, LNs and PNs in the antennal lobe - traditionally using synthetic calcium indicators (e.g. calcium green, FURA-2) or voltage-sensitive dyes (e.g. RH414) - has long been an important technique to understand how olfactory stimuli are represented as spatial and temporal patterns of glomerular activity in many species of insects
6-10
. Development of genetically-encoded neural activity reporters, such as the fluorescent calcium indicators G-CaMP
11,12
and Cameleon
13
, the bioluminescent calcium indicator GFP-aequorin
14,15
, or a reporter of synaptic transmission, synapto-pHluorin
16
has made the olfactory system of the fruitfly,
Drosophila
melanogaster
, particularly accessible to neurophysiological imaging, complementing its comprehensively-described molecular, electrophysiological and neuroanatomical properties
2,4,17
. These reporters can be selectively expressed via binary transcriptional control systems (e.g. GAL4/UAS
18
, LexA/LexAop
19,20
, Q system
21
) in defined populations of neurons within the olfactory circuitry to dissect with high spatial and temporal resolution how odor-evoked neural activity is represented, modulated and transformed
22-24
. Here we describe the preparation and analysis methods to measure odor-evoked responses in the
Drosophila
antennal lobe using G-CaMP
25-27
. The animal preparation is minimally invasive and can be adapted to imaging using wide-field fluorescence, confocal and two-photon microscopes.
Neuroscience, Issue 61, Drosophila, calcium imaging, antennal lobe, olfaction, neuroscience
2976
A Magnetic Tether System to Investigate Visual and Olfactory Mediated Flight Control in Drosophila
Institutions: University of California, Los Angeles.

It has been clear for many years that insects use visual cues to stabilize their heading in a wind stream. Many animals track odors carried in the wind. As such, visual stabilization of upwind tracking directly aids in odor tracking. But do olfactory signals directly influence visual tracking behavior independently from wind cues? Also, the recent deluge of research on the neurophysiology and neurobehavioral genetics of olfaction in Drosophila has motivated ever more technically sophisticated and quantitative behavioral assays. Here, we modified a magnetic tether system originally devised for vision experiments by equipping the arena with narrow laminar flow odor plumes. A fly is glued to a small steel pin and suspended in a magnetic field that enables it to yaw freely. Small diameter food odor plumes are directed downward over the fly s head, eliciting stable tracking by a hungry fly. Here we focus on the critical mechanics of tethering, aligning the magnets, devising the odor plume, and confirming stable odor tracking.
Neuroscience, Issue 21, tether, Drosophila, magnet, olfaction, flight, behavior
1063
Flash Photolysis of Caged Compounds in the Cilia of Olfactory Sensory Neurons
Institutions: International School for Advanced Studies, Consiglio Nazionale delle Ricerche, Italian Institute of Technology.

Photolysis of caged compounds allows the production of rapid and localized increases in the concentration of various physiologically active compounds
1
. Caged compounds are molecules made physiologically inactive by a chemical cage that can be broken by a flash of ultraviolet light. Here, we show how to obtain patch-clamp recordings combined with photolysis of caged compounds for the study of olfactory transduction in dissociated mouse olfactory sensory neurons. The process of olfactory transduction (Figure 1) takes place in the cilia of olfactory sensory neurons, where odorant binding to receptors leads to the increase of cAMP that opens cyclic nucleotide-gated (CNG) channels
2
. Ca entry through CNG channels activates Ca-activated Cl channels. We show how to dissociate neurons from the mouse olfactory epithelium
3
and how to activate CNG channels or Ca-activated Cl channels by photolysis of caged cAMP
4
or caged Ca
5
. We use a flash lamp
6,7
to apply ultraviolet flashes to the ciliary region to uncage cAMP or Ca while patch-clamp recordings are taken to measure the current in the whole-cell voltage-clamp configuration
8-11
.
Neuroscience, Issue 55, caged compounds, caged cAMP, caged Ca, olfactory sensory neuron, olfaction, whole-cell patch-clamp, flash photolysis, flash lampc
3195
In vivo Neuronal Calcium Imaging in C. elegans
Institutions: Boston University School of Medicine, Boston University Photonics Center.

The nematode worm
C. elegans
is an ideal model organism for relatively simple, low cost neuronal imaging
in vivo
. Its small transparent body and simple, well-characterized nervous system allows identification and fluorescence imaging of any neuron within the intact animal. Simple immobilization techniques with minimal impact on the animal's physiology allow extended time-lapse imaging. The development of genetically-encoded calcium sensitive fluorophores such as cameleon
1
and GCaMP
2
allow
in vivo
imaging of neuronal calcium relating both cell physiology and neuronal activity. Numerous transgenic strains expressing these fluorophores in specific neurons are readily available or can be constructed using well-established techniques. Here, we describe detailed procedures for measuring calcium dynamics within a single neuron
in vivo
using both GCaMP and cameleon. We discuss advantages and disadvantages of both as well as various methods of sample preparation (animal immobilization) and image analysis. Finally, we present results from two experiments: 1) Using GCaMP to measure the sensory response of a specific neuron to an external electrical field and 2) Using cameleon to measure the physiological calcium response of a neuron to traumatic laser damage. Calcium imaging techniques such as these are used extensively in
C. elegans
and have been extended to measurements in freely moving animals, multiple neurons simultaneously and comparison across genetic backgrounds.
C. elegans
presents a robust and flexible system for
in vivo
neuronal imaging with advantages over other model systems in technical simplicity and cost.
Developmental Biology, Issue 74, Physiology, Biophysics, Neurobiology, Cellular Biology, Molecular Biology, Anatomy, Developmental Biology, Biomedical Engineering, Medicine, Caenorhabditis elegans, C. elegans, Microscopy, Fluorescence, Neurosciences, calcium imaging, genetically encoded calcium indicators, cameleon, GCaMP, neuronal activity, time-lapse imaging, laser ablation, optical neurophysiology, neurophysiology, neurons, animal model
50357
Appetitive Associative Olfactory Learning in Drosophila Larvae
Institutions: University of Konstanz, University of Fribourg.

In the following we describe the methodological details of appetitive associative olfactory learning in
Drosophila
larvae. The setup, in combination with genetic interference, provides a handle to analyze the neuronal and molecular fundamentals of specifically
associative
learning in a simple larval brain. Organisms can use past experience to adjust present behavior. Such acquisition of behavioral potential can be defined as learning, and the physical bases of these potentials as memory traces
1-4
. Neuroscientists try to understand how these processes are organized in terms of molecular and neuronal changes in the brain by using a variety of methods in model organisms ranging from insects to vertebrates
5,6
. For such endeavors it is helpful to use model systems that are simple and experimentally accessible. The
Drosophila
larva has turned out to satisfy these demands based on the availability of robust behavioral assays, the existence of a variety of transgenic techniques and the elementary organization of the nervous system comprising only about 10,000 neurons (albeit with some concessions: cognitive limitations, few behavioral options, and richness of experience questionable)
7-10
.
Drosophila
larvae can form associations between odors and appetitive gustatory reinforcement like sugar
11-14
. In a standard assay, established in the lab of B. Gerber, animals receive a two-odor reciprocal training: A first group of larvae is exposed to an odor A together with a gustatory reinforcer (sugar reward) and is subsequently exposed to an odor B without reinforcement
9
. Meanwhile a second group of larvae receives reciprocal training while experiencing odor A without reinforcement and subsequently being exposed to odor B with reinforcement (sugar reward). In the following both groups are tested for their preference between the two odors. Relatively higher preferences for the rewarded odor reflect associative learning - presented as a performance index (PI). The conclusion regarding the associative nature of the performance index is compelling, because apart from the contingency between odors and tastants, other parameters, such as odor and reward exposure, passage of time and handling do not differ between the two groups
9
.
Neuroscience, Issue 72, Developmental Biology, Neurobiology, Biochemistry, Molecular Biology, Physiology, Behavior, Drosophila, fruit fly, larvae, instar, olfaction, olfactory system, odor, 1-octanol, OCT, learning, reward, sugar, feeding, animal model
4334
Methods to Assess Subcellular Compartments of Muscle in C. elegans
Institutions: University of Nottingham.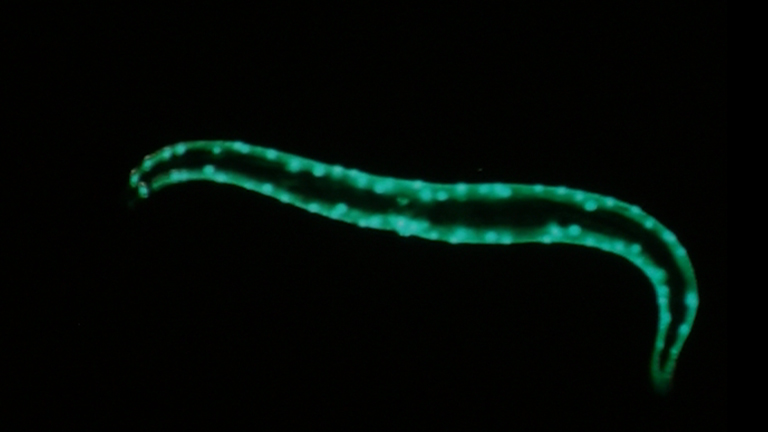 Muscle is a dynamic tissue that responds to changes in nutrition, exercise, and disease state. The loss of muscle mass and function with disease and age are significant public health burdens. We currently understand little about the genetic regulation of muscle health with disease or age. The nematode
C. elegans
is an established model for understanding the genomic regulation of biological processes of interest. This worm's body wall muscles display a large degree of homology with the muscles of higher metazoan species. Since
C. elegans
is a transparent organism, the localization of GFP to mitochondria and sarcomeres allows visualization of these structures
in vivo
. Similarly, feeding animals cationic dyes, which accumulate based on the existence of a mitochondrial membrane potential, allows the assessment of mitochondrial function
in vivo
. These methods, as well as assessment of muscle protein homeostasis, are combined with assessment of whole animal muscle function, in the form of movement assays, to allow correlation of sub-cellular defects with functional measures of muscle performance. Thus,
C. elegans
provides a powerful platform with which to assess the impact of mutations, gene knockdown, and/or chemical compounds upon muscle structure and function. Lastly, as GFP, cationic dyes, and movement assays are assessed non-invasively, prospective studies of muscle structure and function can be conducted across the whole life course and this at present cannot be easily investigated
in vivo
in any other organism.
Developmental Biology, Issue 93, Physiology, C. elegans, muscle, mitochondria, sarcomeres, ageing
52043
Analyzing Responses of Mouse Olfactory Sensory Neurons Using the Air-phase Electroolfactogram Recording
Institutions: Johns Hopkins University.

Animals depend on olfaction for many critical behaviors, such as finding food sources, avoiding predators, and identifying conspecifics for mating and other social interactions. The electroolfactogram (EOG) recording is an informative, easy to conduct, and reliable method to assay olfactory function at the level of the olfactory epithelium. Since the 1956 description of the EOG by Ottoson in frogs
1
, the EOG recording has been applied in many vertebrates including salamanders, rabbits, rats, mice, and humans (reviewed by Scott and Scott-Johnson, 2002, ref. 2). The recent advances in genetic modification in mice have rekindled interest in recording the EOG for physiological characterization of olfactory function in knock-out and knock-in mice. EOG recordings have been successfully applied to demonstrate the central role of olfactory signal transduction components
3-8
, and more recently to characterize the contribution of certain regulatory mechanisms to OSN responses
9-12
. Odorant detection occurs at the surface of the olfactory epithelium on the cilia of OSNs, where a signal transduction cascade leads to opening of ion channels, generating a current that flows into the cilia and depolarizes the membrane
13
. The EOG is the negative potential recorded extracellularly at the surface of the olfactory epithelium upon odorant stimulation, resulting from a summation of the potential changes caused by individual responsive OSNs in the recording field
2
. Comparison of the amplitude and kinetics of the EOG thus provide valuable information about how genetic modification and other experimental manipulations influence the molecular signaling underlying the OSN response to odor. Here we describe an air-phase EOG recording on a preparation of mouse olfactory turbinates. Briefly, after sacrificing the mouse, the olfactory turbinates are exposed by bisecting the head along the midline and removing the septum. The turbinate preparation is then placed in the recording setup, and a recording electrode is placed at the surface of the olfactory epithelium on one of the medial turbinates. A reference electrode is electrically connected to the tissue through a buffer solution. A continuous stream of humidified air is blown over the surface of the epithelium to keep it moist. The vapor of odorant solutions is puffed into the stream of humidified air to stimulate the epithelium. Responses are recorded and digitized for further analysis.
JoVE Neuroscience, Issue 37, olfaction, electrophysiology, field potential, generator potential, EOG
1850
In vivo Ca2+- Imaging of Mushroom Body Neurons During Olfactory Learning in the Honey Bee
Institutions: Freie Universität Berlin, Free University Berlin - Freie Universitaet Berlin.

The
in vivo
and
semi-in vivo
preparation for Calcium imaging has been developed in our lab by Joerges, Küttner and Galizia over ten years ago, to measure odor evoked activity in the antennal lobe
1
. From then on, it has been continuously refined and applied to different neuropiles in the bee brain. Here, we describe the preparation currently used in the lab to measure activity in mushroom body neurons using a dextran coupled calcium-sensitive dye (Fura-2). We retrogradely stain mushroom body neurons by injecting dye into their axons or soma region. We focus on reducing the invasiveness, to achieve a preparation in which it is still possible to train the bee using PER conditioning. We are able to monitor and quantify the behavioral response by recording electro-myograms from the muscle which controls the PER (M17)
2
. After the physiological experiment the imaged structures are investigated in greater detail using confocal scanning microscopy to address the identity of the neurons.
Neuroscience, Issue 30, Calcium Imaging, Insects, Mushroom Body, PER Conditioning, Olfaction, Fura-2
1353
High-throughput Analysis of Mammalian Olfactory Receptors: Measurement of Receptor Activation via Luciferase Activity
Institutions: Monell Chemical Senses Center.

Odorants create unique and overlapping patterns of olfactory receptor activation, allowing a family of approximately 1,000 murine and 400 human receptors to recognize thousands of odorants. Odorant ligands have been published for fewer than 6% of human receptors
1-11
. This lack of data is due in part to difficulties functionally expressing these receptors in heterologous systems. Here, we describe a method for expressing the majority of the olfactory receptor family in Hana3A cells, followed by high-throughput assessment of olfactory receptor activation using a luciferase reporter assay. This assay can be used to (1) screen panels of odorants against panels of olfactory receptors; (2) confirm odorant/receptor interaction via dose response curves; and (3) compare receptor activation levels among receptor variants. In our sample data, 328 olfactory receptors were screened against 26 odorants. Odorant/receptor pairs with varying response scores were selected and tested in dose response. These data indicate that a screen is an effective method to enrich for odorant/receptor pairs that will pass a dose response experiment,
i.e.
receptors that have a bona fide response to an odorant. Therefore, this high-throughput luciferase assay is an effective method to characterize olfactory receptors—an essential step toward a model of odor coding in the mammalian olfactory system.
Neuroscience, Issue 88, Firefly luciferase, Renilla Luciferase, Dual-Glo Luciferase Assay, olfaction, Olfactory receptor, Odorant, GPCR, High-throughput
51640
A Proboscis Extension Response Protocol for Investigating Behavioral Plasticity in Insects: Application to Basic, Biomedical, and Agricultural Research
Institutions: Arizona State University.

Insects modify their responses to stimuli through experience of associating those stimuli with events important for survival (
e.g.
, food, mates, threats). There are several behavioral mechanisms through which an insect learns salient associations and relates them to these events. It is important to understand this behavioral plasticity for programs aimed toward assisting insects that are beneficial for agriculture. This understanding can also be used for discovering solutions to biomedical and agricultural problems created by insects that act as disease vectors and pests. The Proboscis Extension Response (PER) conditioning protocol was developed for honey bees (
Apis mellifera
) over 50 years ago to study how they perceive and learn about floral odors, which signal the nectar and pollen resources a colony needs for survival. The PER procedure provides a robust and easy-to-employ framework for studying several different ecologically relevant mechanisms of behavioral plasticity. It is easily adaptable for use with several other insect species and other behavioral reflexes. These protocols can be readily employed in conjunction with various means for monitoring neural activity in the CNS via electrophysiology or bioimaging, or for manipulating targeted neuromodulatory pathways. It is a robust assay for rapidly detecting sub-lethal effects on behavior caused by environmental stressors, toxins or pesticides. We show how the PER protocol is straightforward to implement using two procedures. One is suitable as a laboratory exercise for students or for quick assays of the effect of an experimental treatment. The other provides more thorough control of variables, which is important for studies of behavioral conditioning. We show how several measures for the behavioral response ranging from binary yes/no to more continuous variable like latency and duration of proboscis extension can be used to test hypotheses. And, we discuss some pitfalls that researchers commonly encounter when they use the procedure for the first time.
Neuroscience, Issue 91, PER, conditioning, honey bee, olfaction, olfactory processing, learning, memory, toxin assay
51057
Simultaneous Long-term Recordings at Two Neuronal Processing Stages in Behaving Honeybees
Institutions: University of Würzburg.

In both mammals and insects neuronal information is processed in different higher and lower order brain centers. These centers are coupled via convergent and divergent anatomical connections including feed forward and feedback wiring. Furthermore, information of the same origin is partially sent via parallel pathways to different and sometimes into the same brain areas. To understand the evolutionary benefits as well as the computational advantages of these wiring strategies and especially their temporal dependencies on each other, it is necessary to have simultaneous access to single neurons of different tracts or neuropiles in the same preparation at high temporal resolution. Here we concentrate on honeybees by demonstrating a unique extracellular long term access to record multi unit activity at two subsequent neuropiles
1
, the antennal lobe (AL), the first olfactory processing stage and the mushroom body (MB), a higher order integration center involved in learning and memory formation, or two parallel neuronal tracts
2
connecting the AL with the MB. The latter was chosen as an example and will be described in full. In the supporting video the construction and permanent insertion of flexible multi channel wire electrodes is demonstrated. Pairwise differential amplification of the micro wire electrode channels drastically reduces the noise and verifies that the source of the signal is closely related to the position of the electrode tip. The mechanical flexibility of the used wire electrodes allows stable invasive long term recordings over many hours up to days, which is a clear advantage compared to conventional extra and intracellular
in vivo
recording techniques.
Neuroscience, Issue 89, honeybee brain, olfaction, extracellular long term recordings, double recordings, differential wire electrodes, single unit, multi-unit recordings
51750
A Method for Culturing Embryonic C. elegans Cells
Institutions: University of Miami .
C. elegans
is a powerful model system, in which genetic and molecular techniques are easily applicable. Until recently though, techniques that require direct access to cells and isolation of specific cell types, could not be applied in
C. elegans
. This limitation was due to the fact that tissues are confined within a pressurized cuticle which is not easily digested by treatment with enzymes and/or detergents. Based on early pioneer work by Laird Bloom, Christensen and colleagues
1
developed a robust method for culturing
C. elegans
embryonic cells in large scale. Eggs are isolated from gravid adults by treatment with bleach/NaOH and subsequently treated with chitinase to remove the eggshells. Embryonic cells are then dissociated by manual pipetting and plated onto substrate-covered glass in serum-enriched media. Within 24 hr of isolation cells begin to differentiate by changing morphology and by expressing cell specific markers.
C. elegans
cells cultured using this method survive for up 2 weeks
in vitro
and have been used for electrophysiological, immunochemical, and imaging analyses as well as they have been sorted and used for microarray profiling.
Developmental Biology, Issue 79, Eukaryota, Biological Phenomena, Cell Physiological Phenomena, C. elegans, cell culture, embryonic cells
50649
A Lateralized Odor Learning Model in Neonatal Rats for Dissecting Neural Circuitry Underpinning Memory Formation
Institutions: Faculty of Medicine, Memorial University, University of Victoria.
Rat pups during a critical postnatal period (≤ 10 days) readily form a preference for an odor that is associated with stimuli mimicking maternal care. Such a preference memory can last from hours, to days, even life-long, depending on training parameters. Early odor preference learning provides us with a model in which the critical changes for a natural form of learning occur in the olfactory circuitry. An additional feature that makes it a powerful tool for the analysis of memory processes is that early odor preference learning can be lateralized
via
single naris occlusion within the critical period. This is due to the lack of mature anterior commissural connections of the olfactory hemispheres at this early age. This work outlines behavioral protocols for lateralized odor learning using nose plugs. Acute, reversible naris occlusion minimizes tissue and neuronal damages associated with long-term occlusion and more aggressive methods such as cauterization. The lateralized odor learning model permits within-animal comparison, therefore greatly reducing variance compared to between-animal designs. This method has been used successfully to probe the circuit changes in the olfactory system produced by training. Future directions include exploring molecular underpinnings of odor memory using this lateralized learning model; and correlating physiological change with memory strength and durations.
Neuroscience, Issue 90, lateralized odor learning, rats, memory, nose plug, olfactory bulb, piriform cortex, phosphorylated CREB
51808
Inducing Plasticity of Astrocytic Receptors by Manipulation of Neuronal Firing Rates
Institutions: University of California Riverside, University of California Riverside, University of California Riverside.

Close to two decades of research has established that astrocytes
in situ
and
in vivo
express numerous G protein-coupled receptors (GPCRs) that can be stimulated by neuronally-released transmitter. However, the ability of astrocytic receptors to exhibit plasticity in response to changes in neuronal activity has received little attention. Here we describe a model system that can be used to globally scale up or down astrocytic group I metabotropic glutamate receptors (mGluRs) in acute brain slices. Included are methods on how to prepare parasagittal hippocampal slices, construct chambers suitable for long-term slice incubation, bidirectionally manipulate neuronal action potential frequency, load astrocytes and astrocyte processes with fluorescent Ca
2+
indicator, and measure changes in astrocytic Gq GPCR activity by recording spontaneous and evoked astrocyte Ca
2+
events using confocal microscopy. In essence, a "calcium roadmap" is provided for how to measure plasticity of astrocytic Gq GPCRs. Applications of the technique for study of astrocytes are discussed. Having an understanding of how astrocytic receptor signaling is affected by changes in neuronal activity has important implications for both normal synaptic function as well as processes underlying neurological disorders and neurodegenerative disease.
Neuroscience, Issue 85, astrocyte, plasticity, mGluRs, neuronal Firing, electrophysiology, Gq GPCRs, Bolus-loading, calcium, microdomains, acute slices, Hippocampus, mouse
51458
Direct Imaging of ER Calcium with Targeted-Esterase Induced Dye Loading (TED)
Institutions: University of Wuerzburg, Max Planck Institute of Neurobiology, Martinsried, Ludwig-Maximilians University of Munich.

Visualization of calcium dynamics is important to understand the role of calcium in cell physiology. To examine calcium dynamics, synthetic fluorescent Ca
2+
indictors have become popular. Here we demonstrate TED (= targeted-esterase induced dye loading), a method to improve the release of Ca
2+
indicator dyes in the ER lumen of different cell types. To date, TED was used in cell lines, glial cells, and neurons
in vitro
. TED bases on efficient, recombinant targeting of a high carboxylesterase activity to the ER lumen using vector-constructs that express Carboxylesterases (CES). The latest TED vectors contain a core element of CES2 fused to a red fluorescent protein, thus enabling simultaneous two-color imaging. The dynamics of free calcium in the ER are imaged in one color, while the corresponding ER structure appears in red. At the beginning of the procedure, cells are transduced with a lentivirus. Subsequently, the infected cells are seeded on coverslips to finally enable live cell imaging. Then, living cells are incubated with the acetoxymethyl ester (AM-ester) form of low-affinity Ca
2+
indicators, for instance Fluo5N-AM, Mag-Fluo4-AM, or Mag-Fura2-AM. The esterase activity in the ER cleaves off hydrophobic side chains from the AM form of the Ca
2+
indicator and a hydrophilic fluorescent dye/Ca
2+
complex is formed and trapped in the ER lumen. After dye loading, the cells are analyzed at an inverted confocal laser scanning microscope. Cells are continuously perfused with Ringer-like solutions and the ER calcium dynamics are directly visualized by time-lapse imaging. Calcium release from the ER is identified by a decrease in fluorescence intensity in regions of interest, whereas the refilling of the ER calcium store produces an increase in fluorescence intensity. Finally, the change in fluorescent intensity over time is determined by calculation of ΔF/F
0
.
Cellular Biology, Issue 75, Neurobiology, Neuroscience, Molecular Biology, Biochemistry, Biomedical Engineering, Bioengineering, Virology, Medicine, Anatomy, Physiology, Surgery, Endoplasmic Reticulum, ER, Calcium Signaling, calcium store, calcium imaging, calcium indicator, metabotropic signaling, Ca2+, neurons, cells, mouse, animal model, cell culture, targeted esterase induced dye loading, imaging
50317
Mechanical Stimulation-induced Calcium Wave Propagation in Cell Monolayers: The Example of Bovine Corneal Endothelial Cells
Institutions: KU Leuven.

Intercellular communication is essential for the coordination of physiological processes between cells in a variety of organs and tissues, including the brain, liver, retina, cochlea and vasculature. In experimental settings, intercellular Ca
2+
-waves can be elicited by applying a mechanical stimulus to a single cell. This leads to the release of the intracellular signaling molecules IP
3
and Ca
2+
that initiate the propagation of the Ca
2+
-wave concentrically from the mechanically stimulated cell to the neighboring cells. The main molecular pathways that control intercellular Ca
2+
-wave propagation are provided by gap junction channels through the direct transfer of IP
3
and by hemichannels through the release of ATP. Identification and characterization of the properties and regulation of different connexin and pannexin isoforms as gap junction channels and hemichannels are allowed by the quantification of the spread of the intercellular Ca
2+
-wave, siRNA, and the use of inhibitors of gap junction channels and hemichannels. Here, we describe a method to measure intercellular Ca
2+
-wave in monolayers of primary corneal endothelial cells loaded with Fluo4-AM in response to a controlled and localized mechanical stimulus provoked by an acute, short-lasting deformation of the cell as a result of touching the cell membrane with a micromanipulator-controlled glass micropipette with a tip diameter of less than 1 μm. We also describe the isolation of primary bovine corneal endothelial cells and its use as model system to assess Cx43-hemichannel activity as the driven force for intercellular Ca
2+
-waves through the release of ATP. Finally, we discuss the use, advantages, limitations and alternatives of this method in the context of gap junction channel and hemichannel research.
Cellular Biology, Issue 77, Molecular Biology, Medicine, Biomedical Engineering, Biophysics, Immunology, Ophthalmology, Gap Junctions, Connexins, Connexin 43, Calcium Signaling, Ca2+, Cell Communication, Paracrine Communication, Intercellular communication, calcium wave propagation, gap junctions, hemichannels, endothelial cells, cell signaling, cell, isolation, cell culture
50443
Measuring Intracellular Ca2+ Changes in Human Sperm using Four Techniques: Conventional Fluorometry, Stopped Flow Fluorometry, Flow Cytometry and Single Cell Imaging
Institutions: Instituto de Biotecnología-Universidad Nacional Autónoma de México, Edison State College.

Spermatozoa are male reproductive cells especially designed to reach, recognize and fuse with the egg. To perform these tasks, sperm cells must be prepared to face a constantly changing environment and to overcome several physical barriers. Being in essence transcriptionally and translationally silent, these motile cells rely profoundly on diverse signaling mechanisms to orient themselves and swim in a directed fashion, and to contend with challenging environmental conditions during their journey to find the egg. In particular, Ca
2+
-mediated signaling is pivotal for several sperm functions: activation of motility, capacitation (a complex process that prepares sperm for the acrosome reaction) and the acrosome reaction (an exocytotic event that allows sperm-egg fusion). The use of fluorescent dyes to track intracellular fluctuations of this ion is of remarkable importance due to their ease of application, sensitivity, and versatility of detection. Using one single dye-loading protocol we utilize four different fluorometric techniques to monitor sperm Ca
2+
dynamics. Each technique provides distinct information that enables spatial and/or temporal resolution, generating data both at single cell and cell population levels.
Cellular Biology, Issue 75, Medicine, Molecular Biology, Genetics, Biophysics, Anatomy, Physiology, Spermatozoa, Ion Channels, Cell Physiological Processes, Calcium Signaling, Reproductive Physiological Processes, fluorometry, Flow cytometry, stopped flow fluorometry, single-cell imaging, human sperm, sperm physiology, intracellular Ca2+, Ca2+ signaling, Ca2+ imaging, fluorescent dyes, imaging
50344
Culturing Caenorhabditis elegans in Axenic Liquid Media and Creation of Transgenic Worms by Microparticle Bombardment
Institutions: University of Maryland, University of Maryland.

In this protocol, we present the required materials, and the procedure for making modified 
C. elegans 
Habituation and Reproduction media (mCeHR). Additionally, the steps for exposing and acclimatizing
C. elegans
grown on
E. coli
to axenic liquid media are described. Finally, downstream experiments that utilize axenic
C. elegans
illustrate the benefits of this procedure. The ability to analyze and determine
C. elegans 
nutrient requirement was illustrated by growing N2 wild type worms in axenic liquid media with varying heme concentrations. This procedure can be replicated with other nutrients to determine the optimal concentration for worm growth and development or, to determine the toxicological effects of drug treatments. The effects of varied heme concentrations on the growth of wild type worms were determined through qualitative microscopic observation and by quantitating the number of worms that grew in each heme concentration. In addition, the effect of varied nutrient concentrations can be assayed by utilizing worms that express fluorescent sensors that respond to changes in the nutrient of interest. Furthermore, a large number of worms were easily produced for the generation of transgenic
C. elegans
using microparticle bombardment.
Molecular Biology, Issue 90, C. elegans, axenic media, transgenics, microparticle bombardment, heme, nutrition
51796
High-resolution Measurement of Odor-Driven Behavior in Drosophila Larvae
Institutions: Rockefeller University.

Olfactory responses in Drosophila larvae have been traditionally studied in Petri dishes comprising a single peripheral odor source. In this behavioral paradigm, the experimenter usually assumes that the rapid diffusion of odorant molecules from the source leads to the creation of a stable gradient in the dish. To establish a quantitative correlation between sensory inputs and behavioral responses, it is necessary to achieve a more thorough characterization of the odorant stimulus conditions. In this video article, we describe a new method allowing the construction of odorant gradients with stable and controllable geometries. We briefly illustrate how these gradients can be used to screen for olfactory defects (full and partial anosmia) and to study more subtle features of chemotaxis behavior.
Neuroscience, issue 11, odor, olfactory, Drosophila, behavior
638