ABSTRACT
The micropipette adhesion assay was developed in 1998 to measure two-dimensional (2D) receptor-ligand binding kinetics1. The assay uses a human red blood cell (RBC) as adhesion sensor and presenting cell for one of the interacting molecules. It employs micromanipulation to bring the RBC into contact with another cell that expresses the other interacting molecule with precisely controlled area and time to enable bond formation. The adhesion event is detected as RBC elongation upon pulling the two cells apart. By controlling the density of the ligands immobilized on the RBC surface, the probability of adhesion is kept in mid-range between 0 and 1. The adhesion probability is estimated from the frequency of adhesion events in a sequence of repeated contact cycles between the two cells for a given contact time. Varying the contact time generates a binding curve. Fitting a probabilistic model for receptor-ligand reaction kinetics1 to the binding curve returns the 2D affinity and off-rate. The assay has been validated using interactions of Fcγ receptors with IgG Fc1-6, selectins with glycoconjugate ligands6-9, integrins with ligands10-13, homotypical cadherin binding14, T cell receptor and coreceptor with peptide-major histocompatibility complexes15-19. The method has been used to quantify regulations of 2D kinetics by biophysical factors, such as the membrane microtopology5, membrane anchor2, molecular orientation and length6, carrier stiffness9, curvature20, and impingement force20, as well as biochemical factors, such as modulators of the cytoskeleton and membrane microenvironment where the interacting molecules reside and the surface organization of these molecules15,17,19. The method has also been used to study the concurrent binding of dual receptor-ligand species3,4, and trimolecular interactions19 using a modified model21. The major advantage of the method is that it allows study of receptors in their native membrane environment. The results could be very different from those obtained using purified receptors17. It also allows study of the receptor-ligand interactions in a sub-second timescale with temporal resolution well beyond the typical biochemical methods. To illustrate the micropipette adhesion frequency method, we show kinetics measurement of intercellular adhesion molecule 1 (ICAM-1) functionalized on RBCs binding to integrin αLβ2 on neutrophils with dimeric E-selectin in the solution to activate αLβ2.
24 Related JoVE Articles!
Studying Cell Rolling Trajectories on Asymmetric Receptor Patterns
Institutions: MIT - Massachusetts Institute of Technology, MIT - Massachusetts Institute of Technology, Brigham and Women's Hospital and Harvard Medical School.
Lateral displacement of cells orthogonal to a flow stream by rolling on asymmetric receptor patterns presents an opportunity for development of new devices for label-free separation and analysis of cells
1
. Such devices may use lateral displacement for continuous-flow separation, or receptor patterns that modulate adhesion to distinguish between different cell phenotypes or levels of receptor expression. Understanding the nature of cell rolling trajectories on receptor-patterned substrates is necessary for engineering of the substrates and design of such devices. Here, we demonstrate a protocol for studying cell rolling trajectories on asymmetric receptor patterns that support cell rolling adhesion
2
. Well-defined, μm-scale patterns of P-selectin receptors were fabricated using microcontact printing on gold-coated slides that were incorporated in a flow chamber. HL60 cells expressing the PSGL-1 ligand
3
were flowed across a field of patterned lines and visualized on an inverted bright field microscope. The cells rolled and tracked along the inclined edges of the patterns, resulting in lateral deflection
1
. Each cell typically rolled for a certain distance along the pattern edges (defined as the edge tracking length), detached from the edge, and reattached to a downstream pattern. Although this detachment makes it difficult to track the entire trajectory of a cell from entrance to exit in the flow chamber, particle-tracking software was used to analyze and yield the rolling trajectories of the cells during the time when they were moving on a single receptor-patterned line. The trajectories were then examined to obtain distributions of cell rolling velocities and the edge tracking lengths for each cell for different patterns. This protocol is useful for quantifying cell rolling trajectories on receptor patterns and relating these to engineering parameters such as pattern angle and shear stress. Such data will be useful for design of microfluidic devices for label-free cell separation and analysis.
Bioengineering, Issue 48, cell rolling, microcontact printing, cell adhesion, cell analysis, cell separation, P-selectin
2640
Introducing Shear Stress in the Study of Bacterial Adhesion
Institutions: INSERM U970.

During bacterial infections a sequence of interactions occur between the pathogen and its host. Bacterial adhesion to the host cell surface is often the initial and determining step of the pathogenesis. Although experimentally adhesion is mostly studied in static conditions adhesion actually takes place in the presence of flowing liquid. First encounters between bacteria and their host often occur at the mucosal level, mouth, lung, gut, eye, etc. where mucus flows along the surface of epithelial cells. Later in infection, pathogens occasionally access the blood circulation causing life-threatening illnesses such as septicemia, sepsis and meningitis. A defining feature of these infections is the ability of these pathogens to interact with endothelial cells in presence of circulating blood. The presence of flowing liquid, mucus or blood for instance, determines adhesion because it generates a mechanical force on the pathogen. To characterize the effect of flowing liquid one usually refers to the notion of shear stress, which is the tangential force exerted per unit area by a fluid moving near a stationary wall, expressed in dynes/cm
2
. Intensities of shear stress vary widely according to the different vessels type, size, organ, location etc. (0-100 dynes/cm
2
). Circulation in capillaries can reach very low shear stress values and even temporarily stop during periods ranging between a few seconds to several minutes
1
. On the other end of the spectrum shear stress in arterioles can reach 100 dynes/cm
2
2
. The impact of shear stress on different biological processes has been clearly demonstrated as for instance during the interaction of leukocytes with the endothelium
3
. To take into account this mechanical parameter in the process of bacterial adhesion we took advantage of an experimental procedure based on the use of a disposable flow chamber
4
. Host cells are grown in the flow chamber and fluorescent bacteria are introduced in the flow controlled by a syringe pump. We initially focused our investigations on the bacterial pathogen
Neisseria meningitidis
, a Gram-negative bacterium responsible for septicemia and meningitis. The procedure described here allowed us to study the impact of shear stress on the ability of the bacteria to: adhere to cells
1
, to proliferate on the cell surface
5
and to detach to colonize new sites
6
(Figure 1). Complementary technical information can be found in reference 7. Shear stress values presented here were chosen based on our previous experience
1
and to represent values found in the literature. The protocol should be applicable to a wide range of pathogens with specific adjustments depending on the objectives of the study.
Immunology, Issue 55, microbiology, blood vessel, shear stress, blood flow, adhesion, infectious disease, meningitis, brain, septicemia, sepsis
3241
Platelet Adhesion and Aggregation Under Flow using Microfluidic Flow Cells
Institutions: Fluxion Biosciences, Inc..

Platelet aggregation occurs in response to vascular injury where the extracellular matrix below the endothelium has been exposed. The platelet adhesion cascade takes place in the presence of shear flow, a factor not accounted for in conventional (static) well-plate assays. This article reports on a platelet-aggregation assay utilizing a microfluidic well-plate format to emulate physiological shear flow conditions. Extracellular proteins, collagen I or von Willebrand factor are deposited within the microfluidic channel using active perfusion with a pneumatic pump. The matrix proteins are then washed with buffer and blocked to prepare the microfluidic channel for platelet interactions. Whole blood labeled with fluorescent dye is perfused through the channel at various flow rates in order to achieve platelet activation and aggregation. Inhibitors of platelet aggregation can be added prior to the flow cell experiment to generate IC50 dose response data.
Medicine, Issue 32, thrombus formation, anti-thrombotic, microfluidic, whole blood assay, IC50, drug screening, platelet, adhesion
1644
Isolation of Human Umbilical Vein Endothelial Cells and Their Use in the Study of Neutrophil Transmigration Under Flow Conditions
Institutions: University of Calgary .

Neutrophils are the most abundant type of white blood cell. They form an essential part of the innate immune system
1
. During acute inflammation, neutrophils are the first inflammatory cells to migrate to the site of injury. Recruitment of neutrophils to an injury site is a stepwise process that includes first, dilation of blood vessels to increase blood flow; second, microvascular structural changes and escape of plasma proteins from the bloodstream; third, rolling, adhesion and transmigration of the neutrophil across the endothelium; and fourth accumulation of neutrophils at the site of injury
2,3
. A wide array of
in vivo
and
in vitro
methods has evolved to enable the study of these processes
4
. This method focuses on neutrophil transmigration across human endothelial cells. One popular method for examining the molecular processes involved in neutrophil transmigration utilizes human neutrophils interacting with primary human umbilical vein endothelial cells (HUVEC)
5
. Neutrophil isolation has been described visually elsewhere
6
; thus this article will show the method for isolation of HUVEC. Once isolated and grown to confluence, endothelial cells are activated resulting in the upregulation of adhesion and activation molecules. For example, activation of endothelial cells with cytokines like TNF-α results in increased E-selectin and IL-8 expression
7
. E-selectin mediates capture and rolling of neutrophils and IL-8 mediates activation and firm adhesion of neutrophils. After adhesion neutrophils transmigrate. Transmigration can occur paracellularly (through endothelial cell junctions) or transcellularly (through the endothelial cell itself). In most cases, these interactions occur under flow conditions found in the vasculature
7,8
. The parallel plate flow chamber is a widely used system that mimics the hydrodynamic shear stresses found
in vivo
and enables the study of neutrophil recruitment under flow condition
in vitro
9,10
. Several companies produce parallel plate flow chambers and each have advantages and disadvantages. If fluorescent imaging is needed, glass or an optically similar polymer needs to be used. Endothelial cells do not grow well on glass. Here we present an easy and rapid method for phase-contrast, DIC and fluorescent imaging of neutrophil transmigration using a low volume ibidi channel slide made of a polymer that supports the rapid adhesion and growth of human endothelial cells and has optical qualities that are comparable to glass. In this method, endothelial cells were grown and stimulated in an ibidi μslide. Neutrophils were introduced under flow conditions and transmigration was assessed. Fluorescent imaging of the junctions enabled real-time determination of the extent of paracellular versus transcellular transmigration.
Immunology, Issue 66, Medicine, Physiology, Cellular Biology, HUVEC, ibidi, leukocyte recruitment, neutrophil, flow chamber
4032
Quantifying the Mechanical Properties of the Endothelial Glycocalyx with Atomic Force Microscopy
Institutions: University of Rochester .

Our understanding of the interaction of leukocytes and the vessel wall during leukocyte capture is limited by an incomplete understanding of the mechanical properties of the endothelial surface layer. It is known that adhesion molecules on leukocytes are distributed non-uniformly relative to surface topography
3
, that topography limits adhesive bond formation with other surfaces
9
, and that physiological contact forces (≈ 5.0 − 10.0 pN per microvillus) can compress the microvilli to as little as a third of their resting length, increasing the accessibility of molecules to the opposing surface
3, 7
. We consider the endothelium as a two-layered structure, the relatively rigid cell body, plus the glycocalyx, a soft protective sugar coating on the luminal surface
6
. It has been shown that the glycocalyx can act as a barrier to reduce adhesion of leukocytes to the endothelial surface
4
. In this report we begin to address the deformability of endothelial surfaces to understand how the endothelial mechanical stiffness might affect bond formation. Endothelial cells grown in static culture do not express a robust glycocalyx, but cells grown under physiological flow conditions begin to approximate the glycocalyx observed
in vivo
2
. The modulus of the endothelial cell body has been measured using atomic force microscopy (AFM) to be approximately 5 to 20 kPa
5
. The thickness and structure of the glycocalyx have been studied using electron microscopy
8
, and the modulus of the glycocalyx has been approximated using indirect methods, but to our knowledge, there have been no published reports of a direct measurement of the glycocalyx modulus in living cells. In this study, we present indentation experiments made with a novel AFM probe on cells that have been cultured in conditions to maximize their glycocalyx expression to make direct measurements of the modulus and thickness of the endothelial glycocalyx.
Biomedical Engineering, Issue 72, Bioengineering, Cellular Biology, Biophysics, Molecular Biology, Endothelium, Vascular, Membrane Glycoproteins, Receptors, Leukocyte-Adhesion, bioengineering (general), glycocalyx, mechanical properties, atomic force microscopy, ATM, Endothelial cells, leukocytes, cell wall, cell culture, microscopy, imaging
50163
Measurement of Tension Release During Laser Induced Axon Lesion to Evaluate Axonal Adhesion to the Substrate at Piconewton and Millisecond Resolution
Institutions: National Research Council of Italy, Università di Firenze, Istituto Italiano di Tecnologia.

The formation of functional connections in a developing neuronal network is influenced by extrinsic cues. The neurite growth of developing neurons is subject to chemical and mechanical signals, and the mechanisms by which it senses and responds to mechanical signals are poorly understood. Elucidating the role of forces in cell maturation will enable the design of scaffolds that can promote cell adhesion and cytoskeletal coupling to the substrate, and therefore improve the capacity of different neuronal types to regenerate after injury. Here, we describe a method to apply simultaneous force spectroscopy measurements during laser induced cell lesion. We measure tension release in the partially lesioned axon by simultaneous interferometric tracking of an optically trapped probe adhered to the membrane of the axon. Our experimental protocol detects the tension release with piconewton sensitivity, and the dynamic of the tension release at millisecond time resolution. Therefore, it offers a high-resolution method to study how the mechanical coupling between cells and substrates can be modulated by pharmacological treatment and/or by distinct mechanical properties of the substrate.
Bioengineering, Issue 75, Biophysics, Neuroscience, Cellular Biology, Biomedical Engineering, Engineering (General), Life Sciences (General), Physics (General), Axon, tension release, Laser dissector, optical tweezers, force spectroscopy, neurons, neurites, cytoskeleton, adhesion, cell culture, microscopy
50477
A Novel Stretching Platform for Applications in Cell and Tissue Mechanobiology
Institutions: University of Ottawa, University of Ottawa, University of Calgary, University of Ottawa, University of Ottawa.

Tools that allow the application of mechanical forces to cells and tissues or that can quantify the mechanical properties of biological tissues have contributed dramatically to the understanding of basic mechanobiology. These techniques have been extensively used to demonstrate how the onset and progression of various diseases are heavily influenced by mechanical cues. This article presents a multi-functional biaxial stretching (BAXS) platform that can either mechanically stimulate single cells or quantify the mechanical stiffness of tissues. The BAXS platform consists of four voice coil motors that can be controlled independently. Single cells can be cultured on a flexible substrate that can be attached to the motors allowing one to expose the cells to complex, dynamic, and spatially varying strain fields. Conversely, by incorporating a force load cell, one can also quantify the mechanical properties of primary tissues as they are exposed to deformation cycles. In both cases, a proper set of clamps must be designed and mounted to the BAXS platform motors in order to firmly hold the flexible substrate or the tissue of interest. The BAXS platform can be mounted on an inverted microscope to perform simultaneous transmitted light and/or fluorescence imaging to examine the structural or biochemical response of the sample during stretching experiments. This article provides experimental details of the design and usage of the BAXS platform and presents results for single cell and whole tissue studies. The BAXS platform was used to measure the deformation of nuclei in single mouse myoblast cells in response to substrate strain and to measure the stiffness of isolated mouse aortas. The BAXS platform is a versatile tool that can be combined with various optical microscopies in order to provide novel mechanobiological insights at the sub-cellular, cellular and whole tissue levels.
Bioengineering, Issue 88, cell stretching, tissue mechanics, nuclear mechanics, uniaxial, biaxial, anisotropic, mechanobiology
51454
Preparation of Neuronal Co-cultures with Single Cell Precision
Institutions: ISAS, University College London, University of Southampton.

Microfluidic embodiments of the Campenot chamber have attracted great interest from the neuroscience community. These interconnected co-culture platforms can be used to investigate a variety of questions, spanning developmental and functional neurobiology to infection and disease propagation. However, conventional systems require significant cellular inputs (many thousands per compartment), inadequate for studying low abundance cells, such as primary dopaminergic
substantia nigra,
spiral ganglia, and
Drosophilia melanogaster
neurons, and impractical for high throughput experimentation. The dense cultures are also highly locally entangled, with few outgrowths (<10%) interconnecting the two cultures. In this paper straightforward microfluidic and patterning protocols are described which address these challenges: (i) a microfluidic single neuron arraying method, and (ii) a water masking method for plasma patterning biomaterial coatings to register neurons and promote outgrowth between compartments. Minimalistic neuronal co-cultures were prepared with high-level (>85%) intercompartment connectivity and can be used for high throughput neurobiology experiments with single cell precision.
Neuroscience, Issue 87, microfluidic arraying, single cell, biomaterial patterning, co-culture, compartmentalization, Alzheimer and Parkinson Diseases, neurite outgrowth, high throughput screening
51389
Designing Silk-silk Protein Alloy Materials for Biomedical Applications
Institutions: Rowan University, Rowan University, Cooper Medical School of Rowan University, Rowan University.

Fibrous proteins display different sequences and structures that have been used for various applications in biomedical fields such as biosensors, nanomedicine, tissue regeneration, and drug delivery. Designing materials based on the molecular-scale interactions between these proteins will help generate new multifunctional protein alloy biomaterials with tunable properties. Such alloy material systems also provide advantages in comparison to traditional synthetic polymers due to the materials biodegradability, biocompatibility, and tenability in the body. This article used the protein blends of wild tussah silk (
Antheraea pernyi
) and domestic mulberry silk (
Bombyx mori
) as an example to provide useful protocols regarding these topics, including how to predict protein-protein interactions by computational methods, how to produce protein alloy solutions, how to verify alloy systems by thermal analysis, and how to fabricate variable alloy materials including optical materials with diffraction gratings, electric materials with circuits coatings, and pharmaceutical materials for drug release and delivery. These methods can provide important information for designing the next generation multifunctional biomaterials based on different protein alloys.
Bioengineering, Issue 90, protein alloys, biomaterials, biomedical, silk blends, computational simulation, implantable electronic devices
50891
Convergent Polishing: A Simple, Rapid, Full Aperture Polishing Process of High Quality Optical Flats & Spheres
Institutions: Lawrence Livermore National Laboratory.

Convergent Polishing is a novel polishing system and method for finishing flat and spherical glass optics in which a workpiece, independent of its initial shape (
i.e.
, surface figure), will converge to final surface figure with excellent surface quality under a fixed, unchanging set of polishing parameters in a single polishing iteration. In contrast, conventional full aperture polishing methods require multiple, often long, iterative cycles involving polishing, metrology and process changes to achieve the desired surface figure. The Convergent Polishing process is based on the concept of workpiece-lap height mismatch resulting in pressure differential that decreases with removal and results in the workpiece converging to the shape of the lap. The successful implementation of the Convergent Polishing process is a result of the combination of a number of technologies to remove all sources of non-uniform spatial material removal (except for workpiece-lap mismatch) for surface figure convergence and to reduce the number of rogue particles in the system for low scratch densities and low roughness. The Convergent Polishing process has been demonstrated for the fabrication of both flats and spheres of various shapes, sizes, and aspect ratios on various glass materials. The practical impact is that high quality optical components can be fabricated more rapidly, more repeatedly, with less metrology, and with less labor, resulting in lower unit costs. In this study, the Convergent Polishing protocol is specifically described for fabricating 26.5 cm square fused silica flats from a fine ground surface to a polished ~λ/2 surface figure after polishing 4 hr per surface on a 81 cm diameter polisher.
Physics, Issue 94, optical fabrication, pad polishing, fused silica glass, optical flats, optical spheres, ceria slurry, pitch button blocking, HF etching, scratches
51965
A Simple Hanging Drop Cell Culture Protocol for Generation of 3D Spheroids
Institutions: UMDNJ-Robert Wood Johnson Medical School.
Studies of cell-cell cohesion and cell-substratum adhesion have historically been performed on monolayer cultures adherent to rigid substrates. Cells within a tissue, however, are typically encased within a closely packed tissue mass in which cells establish intimate connections with many near-neighbors and with extracellular matrix components. Accordingly, the chemical milieu and physical forces experienced by cells within a 3D tissue are fundamentally different than those experienced by cells grown in monolayer culture. This has been shown to markedly impact cellular morphology and signaling. Several methods have been devised to generate 3D cell cultures including encapsulation of cells in collagen gels
1
or in biomaterial scaffolds
2
. Such methods, while useful, do not recapitulate the intimate direct cell-cell adhesion architecture found in normal tissues. Rather, they more closely approximate culture systems in which single cells are loosely dispersed within a 3D meshwork of ECM products. Here, we describe a simple method in which cells are placed in hanging drop culture and incubated under physiological conditions until they form true 3D spheroids in which cells are in direct contact with each other and with extracellular matrix components. The method requires no specialized equipment and can be adapted to include addition of any biological agent in very small quantities that may be of interest in elucidating effects on cell-cell or cell-ECM interaction. The method can also be used to co-culture two (or more) different cell populations so as to elucidate the role of cell-cell or cell-ECM interactions in specifying spatial relationships between cells. Cell-cell cohesion and cell-ECM adhesion are the cornerstones of studies of embryonic development, tumor-stromal cell interaction in malignant invasion, wound healing, and for applications to tissue engineering. This simple method will provide a means of generating tissue-like cellular aggregates for measurement of biomechanical properties or for molecular and biochemical analysis in a physiologically relevant model.
Bioengineering, Issue 51, 3D, hanging drop cultures, cell sorting-out, differential adhesion
2720
Generation of Shear Adhesion Map Using SynVivo Synthetic Microvascular Networks
Institutions: CFD Research Corporation.

Cell/particle adhesion assays are critical to understanding the biochemical interactions involved in disease pathophysiology and have important applications in the quest for the development of novel therapeutics. Assays using static conditions fail to capture the dependence of adhesion on shear, limiting their correlation with
in vivo
environment. Parallel plate flow chambers that quantify adhesion under physiological fluid flow need multiple experiments for the generation of a shear adhesion map. In addition, they do not represent the
in vivo
scale and morphology and require large volumes (~ml) of reagents for experiments. In this study, we demonstrate the generation of shear adhesion map from a single experiment using a microvascular network based microfluidic device, SynVivo-SMN. This device recreates the complex
in vivo
vasculature including geometric scale, morphological elements, flow features and cellular interactions in an
in vitro
format, thereby providing a biologically realistic environment for basic and applied research in cellular behavior, drug delivery, and drug discovery. The assay was demonstrated by studying the interaction of the 2 µm biotin-coated particles with avidin-coated surfaces of the microchip. The entire range of shear observed in the microvasculature is obtained in a single assay enabling adhesion vs. shear map for the particles under physiological conditions.
Bioengineering, Issue 87, particle, adhesion, shear, microfluidics, vasculature, networks
51025
Preparation of Segmented Microtubules to Study Motions Driven by the Disassembling Microtubule Ends
Institutions: Russian Academy of Sciences, Federal Research Center of Pediatric Hematology, Oncology and Immunology, Moscow, Russia, University of Pennsylvania.

Microtubule depolymerization can provide force to transport different protein complexes and protein-coated beads
in vitro
. The underlying mechanisms are thought to play a vital role in the microtubule-dependent chromosome motions during cell division, but the relevant proteins and their exact roles are ill-defined. Thus, there is a growing need to develop assays with which to study such motility
in vitro
using purified components and defined biochemical milieu. Microtubules, however, are inherently unstable polymers; their switching between growth and shortening is stochastic and difficult to control. The protocols we describe here take advantage of the segmented microtubules that are made with the photoablatable stabilizing caps. Depolymerization of such segmented microtubules can be triggered with high temporal and spatial resolution, thereby assisting studies of motility at the disassembling microtubule ends. This technique can be used to carry out a quantitative analysis of the number of molecules in the fluorescently-labeled protein complexes, which move processively with dynamic microtubule ends. To optimize a signal-to-noise ratio in this and other quantitative fluorescent assays, coverslips should be treated to reduce nonspecific absorption of soluble fluorescently-labeled proteins. Detailed protocols are provided to take into account the unevenness of fluorescent illumination, and determine the intensity of a single fluorophore using equidistant Gaussian fit. Finally, we describe the use of segmented microtubules to study microtubule-dependent motions of the protein-coated microbeads, providing insights into the ability of different motor and nonmotor proteins to couple microtubule depolymerization to processive cargo motion.
Basic Protocol, Issue 85, microscopy flow chamber, single-molecule fluorescence, laser trap, microtubule-binding protein, microtubule-dependent motor, microtubule tip-tracking
51150
Inhibitory Synapse Formation in a Co-culture Model Incorporating GABAergic Medium Spiny Neurons and HEK293 Cells Stably Expressing GABAA Receptors
Institutions: University College London.

Inhibitory neurons act in the central nervous system to regulate the dynamics and spatio-temporal co-ordination of neuronal networks. GABA (γ-aminobutyric acid) is the predominant inhibitory neurotransmitter in the brain. It is released from the presynaptic terminals of inhibitory neurons within highly specialized intercellular junctions known as synapses, where it binds to GABA
A
receptors (GABA
A
Rs) present at the plasma membrane of the synapse-receiving, postsynaptic neurons. Activation of these GABA-gated ion channels leads to influx of chloride resulting in postsynaptic potential changes that decrease the probability that these neurons will generate action potentials. During development, diverse types of inhibitory neurons with distinct morphological, electrophysiological and neurochemical characteristics have the ability to recognize their target neurons and form synapses which incorporate specific GABA
A
Rs subtypes. This principle of selective innervation of neuronal targets raises the question as to how the appropriate synaptic partners identify each other. To elucidate the underlying molecular mechanisms, a novel
in vitro
co-culture model system was established, in which medium spiny GABAergic neurons, a highly homogenous population of neurons isolated from the embryonic striatum, were cultured with stably transfected HEK293 cell lines that express different GABA
A
R subtypes. Synapses form rapidly, efficiently and selectively in this system, and are easily accessible for quantification. Our results indicate that various GABA
A
R subtypes differ in their ability to promote synapse formation, suggesting that this reduced
in vitro
model system can be used to reproduce, at least in part, the
in vivo
conditions required for the recognition of the appropriate synaptic partners and formation of specific synapses. Here the protocols for culturing the medium spiny neurons and generating HEK293 cells lines expressing GABA
A
Rs are first described, followed by detailed instructions on how to combine these two cell types in co-culture and analyze the formation of synaptic contacts.
Neuroscience, Issue 93, Developmental neuroscience, synaptogenesis, synaptic inhibition, co-culture, stable cell lines, GABAergic, medium spiny neurons, HEK 293 cell line
52115
Visualizing Neuroblast Cytokinesis During C. elegans Embryogenesis
Institutions: Concordia University.

This protocol describes the use of fluorescence microscopy to image dividing cells within developing
Caenorhabditis elegans
embryos. In particular, this protocol focuses on how to image dividing neuroblasts, which are found underneath the epidermal cells and may be important for epidermal morphogenesis. Tissue formation is crucial for metazoan development and relies on external cues from neighboring tissues.
C. elegans
is an excellent model organism to study tissue morphogenesis
in vivo
due to its transparency and simple organization, making its tissues easy to study via microscopy. Ventral enclosure is the process where the ventral surface of the embryo is covered by a single layer of epithelial cells. This event is thought to be facilitated by the underlying neuroblasts, which provide chemical guidance cues to mediate migration of the overlying epithelial cells. However, the neuroblasts are highly proliferative and also may act as a mechanical substrate for the ventral epidermal cells. Studies using this experimental protocol could uncover the importance of intercellular communication during tissue formation, and could be used to reveal the roles of genes involved in cell division within developing tissues.
Neuroscience, Issue 85, C. elegans, morphogenesis, cytokinesis, neuroblasts, anillin, microscopy, cell division
51188
Nanomechanics of Drug-target Interactions and Antibacterial Resistance Detection
Institutions: University College London.

The cantilever sensor, which acts as a transducer of reactions between model bacterial cell wall matrix immobilized on its surface and antibiotic drugs in solution, has shown considerable potential in biochemical sensing applications with unprecedented sensitivity and specificity
1-5
. The drug-target interactions generate surface stress, causing the cantilever to bend, and the signal can be analyzed optically when it is illuminated by a laser. The change in surface stress measured with nano-scale precision allows disruptions of the biomechanics of model bacterial cell wall targets to be tracked in real time. Despite offering considerable advantages, multiple cantilever sensor arrays have never been applied in quantifying drug-target binding interactions. Here, we report on the use of silicon multiple cantilever arrays coated with alkanethiol self-assembled monolayers mimicking bacterial cell wall matrix to quantitatively study antibiotic binding interactions. To understand the impact of vancomycin on the mechanics of bacterial cell wall structures
1,6,7
. We developed a new model
1
which proposes that cantilever bending can be described by two independent factors; i) namely a chemical factor, which is given by a classical Langmuir adsorption isotherm, from which we calculate the thermodynamic equilibrium dissociation constant (
Kd
) and ii) a geometrical factor, essentially a measure of how bacterial peptide receptors are distributed on the cantilever surface. The surface distribution of peptide receptors (
p
) is used to investigate the dependence of geometry and ligand loading. It is shown that a threshold value of
p ~
10% is critical to sensing applications. Below which there is no detectable bending signal while above this value, the bending signal increases almost linearly, revealing that stress is a product of a local chemical binding factor and a geometrical factor combined by the mechanical connectivity of reacted regions and provides a new paradigm for design of powerful agents to combat superbug infections.
Immunology, Issue 80, Engineering, Technology, Diagnostic Techniques and Procedures, Early Diagnosis, Bacterial Infections and Mycoses, Lipids, Amino Acids, Peptides, and Proteins, Chemical Actions and Uses, Diagnosis, Therapeutics, Surface stress, vancomycin, mucopeptides, cantilever sensor
50719
Setting-up an In Vitro Model of Rat Blood-brain Barrier (BBB): A Focus on BBB Impermeability and Receptor-mediated Transport
Institutions: VECT-HORUS SAS, CNRS, NICN UMR 7259.

The blood brain barrier (BBB) specifically regulates molecular and cellular flux between the blood and the nervous tissue. Our aim was to develop and characterize a highly reproducible rat syngeneic
in vitro
model of the BBB using co-cultures of primary rat brain endothelial cells (RBEC) and astrocytes to study receptors involved in transcytosis across the endothelial cell monolayer. Astrocytes were isolated by mechanical dissection following trypsin digestion and were frozen for later co-culture. RBEC were isolated from 5-week-old rat cortices. The brains were cleaned of meninges and white matter, and mechanically dissociated following enzymatic digestion. Thereafter, the tissue homogenate was centrifuged in bovine serum albumin to separate vessel fragments from nervous tissue. The vessel fragments underwent a second enzymatic digestion to free endothelial cells from their extracellular matrix. The remaining contaminating cells such as pericytes were further eliminated by plating the microvessel fragments in puromycin-containing medium. They were then passaged onto filters for co-culture with astrocytes grown on the bottom of the wells. RBEC expressed high levels of tight junction (TJ) proteins such as occludin, claudin-5 and ZO-1 with a typical localization at the cell borders. The transendothelial electrical resistance (TEER) of brain endothelial monolayers, indicating the tightness of TJs reached 300 ohm·cm
2
on average. The endothelial permeability coefficients (Pe) for lucifer yellow (LY) was highly reproducible with an average of 0.26 ± 0.11 x 10
-3
cm/min. Brain endothelial cells organized in monolayers expressed the efflux transporter P-glycoprotein (P-gp), showed a polarized transport of rhodamine 123, a ligand for P-gp, and showed specific transport of transferrin-Cy3 and DiILDL across the endothelial cell monolayer. In conclusion, we provide a protocol for setting up an
in vitro
BBB model that is highly reproducible due to the quality assurance methods, and that is suitable for research on BBB transporters and receptors.
Medicine, Issue 88, rat brain endothelial cells (RBEC), mouse, spinal cord, tight junction (TJ), receptor-mediated transport (RMT), low density lipoprotein (LDL), LDLR, transferrin, TfR, P-glycoprotein (P-gp), transendothelial electrical resistance (TEER),
51278
Simultaneous Multicolor Imaging of Biological Structures with Fluorescence Photoactivation Localization Microscopy
Institutions: University of Maine.

Localization-based super resolution microscopy can be applied to obtain a spatial map (image) of the distribution of individual fluorescently labeled single molecules within a sample with a spatial resolution of tens of nanometers. Using either photoactivatable (PAFP) or photoswitchable (PSFP) fluorescent proteins fused to proteins of interest, or organic dyes conjugated to antibodies or other molecules of interest, fluorescence photoactivation localization microscopy (FPALM) can simultaneously image multiple species of molecules within single cells. By using the following approach, populations of large numbers (thousands to hundreds of thousands) of individual molecules are imaged in single cells and localized with a precision of ~10-30 nm. Data obtained can be applied to understanding the nanoscale spatial distributions of multiple protein types within a cell. One primary advantage of this technique is the dramatic increase in spatial resolution: while diffraction limits resolution to ~200-250 nm in conventional light microscopy, FPALM can image length scales more than an order of magnitude smaller. As many biological hypotheses concern the spatial relationships among different biomolecules, the improved resolution of FPALM can provide insight into questions of cellular organization which have previously been inaccessible to conventional fluorescence microscopy. In addition to detailing the methods for sample preparation and data acquisition, we here describe the optical setup for FPALM. One additional consideration for researchers wishing to do super-resolution microscopy is cost: in-house setups are significantly cheaper than most commercially available imaging machines. Limitations of this technique include the need for optimizing the labeling of molecules of interest within cell samples, and the need for post-processing software to visualize results. We here describe the use of PAFP and PSFP expression to image two protein species in fixed cells. Extension of the technique to living cells is also described.
Basic Protocol, Issue 82, Microscopy, Super-resolution imaging, Multicolor, single molecule, FPALM, Localization microscopy, fluorescent proteins
50680
Analysis of Cell Migration within a Three-dimensional Collagen Matrix
Institutions: Witten/Herdecke University.

The ability to migrate is a hallmark of various cell types and plays a crucial role in several physiological processes, including embryonic development, wound healing, and immune responses. However, cell migration is also a key mechanism in cancer enabling these cancer cells to detach from the primary tumor to start metastatic spreading. Within the past years various cell migration assays have been developed to analyze the migratory behavior of different cell types. Because the locomotory behavior of cells markedly differs between a two-dimensional (2D) and three-dimensional (3D) environment it can be assumed that the analysis of the migration of cells that are embedded within a 3D environment would yield in more significant cell migration data. The advantage of the described 3D collagen matrix migration assay is that cells are embedded within a physiological 3D network of collagen fibers representing the major component of the extracellular matrix. Due to time-lapse video microscopy real cell migration is measured allowing the determination of several migration parameters as well as their alterations in response to pro-migratory factors or inhibitors. Various cell types could be analyzed using this technique, including lymphocytes/leukocytes, stem cells, and tumor cells. Likewise, also cell clusters or spheroids could be embedded within the collagen matrix concomitant with analysis of the emigration of single cells from the cell cluster/ spheroid into the collagen lattice. We conclude that the 3D collagen matrix migration assay is a versatile method to analyze the migration of cells within a physiological-like 3D environment.
Bioengineering, Issue 92, cell migration, 3D collagen matrix, cell tracking
51963
Inducing Plasticity of Astrocytic Receptors by Manipulation of Neuronal Firing Rates
Institutions: University of California Riverside, University of California Riverside, University of California Riverside.

Close to two decades of research has established that astrocytes
in situ
and
in vivo
express numerous G protein-coupled receptors (GPCRs) that can be stimulated by neuronally-released transmitter. However, the ability of astrocytic receptors to exhibit plasticity in response to changes in neuronal activity has received little attention. Here we describe a model system that can be used to globally scale up or down astrocytic group I metabotropic glutamate receptors (mGluRs) in acute brain slices. Included are methods on how to prepare parasagittal hippocampal slices, construct chambers suitable for long-term slice incubation, bidirectionally manipulate neuronal action potential frequency, load astrocytes and astrocyte processes with fluorescent Ca
2+
indicator, and measure changes in astrocytic Gq GPCR activity by recording spontaneous and evoked astrocyte Ca
2+
events using confocal microscopy. In essence, a "calcium roadmap" is provided for how to measure plasticity of astrocytic Gq GPCRs. Applications of the technique for study of astrocytes are discussed. Having an understanding of how astrocytic receptor signaling is affected by changes in neuronal activity has important implications for both normal synaptic function as well as processes underlying neurological disorders and neurodegenerative disease.
Neuroscience, Issue 85, astrocyte, plasticity, mGluRs, neuronal Firing, electrophysiology, Gq GPCRs, Bolus-loading, calcium, microdomains, acute slices, Hippocampus, mouse
51458
Determination of Protein-ligand Interactions Using Differential Scanning Fluorimetry
Institutions: University of Exeter.

A wide range of methods are currently available for determining the dissociation constant between a protein and interacting small molecules. However, most of these require access to specialist equipment, and often require a degree of expertise to effectively establish reliable experiments and analyze data. Differential scanning fluorimetry (DSF) is being increasingly used as a robust method for initial screening of proteins for interacting small molecules, either for identifying physiological partners or for hit discovery. This technique has the advantage that it requires only a PCR machine suitable for quantitative PCR, and so suitable instrumentation is available in most institutions; an excellent range of protocols are already available; and there are strong precedents in the literature for multiple uses of the method. Past work has proposed several means of calculating dissociation constants from DSF data, but these are mathematically demanding. Here, we demonstrate a method for estimating dissociation constants from a moderate amount of DSF experimental data. These data can typically be collected and analyzed within a single day. We demonstrate how different models can be used to fit data collected from simple binding events, and where cooperative binding or independent binding sites are present. Finally, we present an example of data analysis in a case where standard models do not apply. These methods are illustrated with data collected on commercially available control proteins, and two proteins from our research program. Overall, our method provides a straightforward way for researchers to rapidly gain further insight into protein-ligand interactions using DSF.
Biophysics, Issue 91, differential scanning fluorimetry, dissociation constant, protein-ligand interactions, StepOne, cooperativity, WcbI.
51809
RNA-seq Analysis of Transcriptomes in Thrombin-treated and Control Human Pulmonary Microvascular Endothelial Cells
Institutions: Children's Mercy Hospital and Clinics, School of Medicine, University of Missouri-Kansas City.

The characterization of gene expression in cells via measurement of mRNA levels is a useful tool in determining how the transcriptional machinery of the cell is affected by external signals (
e.g.
drug treatment), or how cells differ between a healthy state and a diseased state. With the advent and continuous refinement of next-generation DNA sequencing technology, RNA-sequencing (RNA-seq) has become an increasingly popular method of transcriptome analysis to catalog all species of transcripts, to determine the transcriptional structure of all expressed genes and to quantify the changing expression levels of the total set of transcripts in a given cell, tissue or organism
1,2
. RNA-seq is gradually replacing DNA microarrays as a preferred method for transcriptome analysis because it has the advantages of profiling a complete transcriptome, providing a digital type datum (copy number of any transcript) and not relying on any known genomic sequence
3
. Here, we present a complete and detailed protocol to apply RNA-seq to profile transcriptomes in human pulmonary microvascular endothelial cells with or without thrombin treatment. This protocol is based on our recent published study entitled "RNA-seq Reveals Novel Transcriptome of Genes and Their Isoforms in Human Pulmonary Microvascular Endothelial Cells Treated with Thrombin,"
4
in which we successfully performed the first complete transcriptome analysis of human pulmonary microvascular endothelial cells treated with thrombin using RNA-seq. It yielded unprecedented resources for further experimentation to gain insights into molecular mechanisms underlying thrombin-mediated endothelial dysfunction in the pathogenesis of inflammatory conditions, cancer, diabetes, and coronary heart disease, and provides potential new leads for therapeutic targets to those diseases. The descriptive text of this protocol is divided into four parts. The first part describes the treatment of human pulmonary microvascular endothelial cells with thrombin and RNA isolation, quality analysis and quantification. The second part describes library construction and sequencing. The third part describes the data analysis. The fourth part describes an RT-PCR validation assay. Representative results of several key steps are displayed. Useful tips or precautions to boost success in key steps are provided in the Discussion section. Although this protocol uses human pulmonary microvascular endothelial cells treated with thrombin, it can be generalized to profile transcriptomes in both mammalian and non-mammalian cells and in tissues treated with different stimuli or inhibitors, or to compare transcriptomes in cells or tissues between a healthy state and a disease state.
Genetics, Issue 72, Molecular Biology, Immunology, Medicine, Genomics, Proteins, RNA-seq, Next Generation DNA Sequencing, Transcriptome, Transcription, Thrombin, Endothelial cells, high-throughput, DNA, genomic DNA, RT-PCR, PCR
4393
Bead Aggregation Assays for the Characterization of Putative Cell Adhesion Molecules
Institutions: Ohio State University.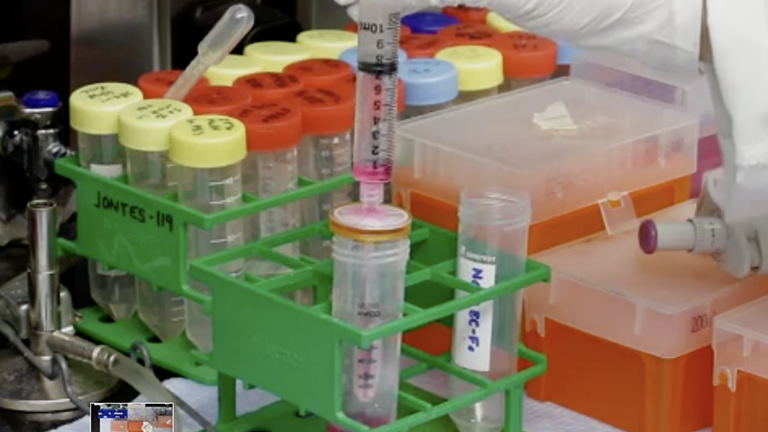 Cell-cell adhesion is fundamental to multicellular life and is mediated by a diverse array of cell surface proteins. However, the adhesive interactions for many of these proteins are poorly understood. Here we present a simple, rapid method for characterizing the adhesive properties of putative homophilic cell adhesion molecules. Cultured HEK293 cells are transfected with DNA plasmid encoding a secreted, epitope-tagged ectodomain of a cell surface protein. Using functionalized beads specific for the epitope tag, the soluble, secreted fusion protein is captured from the culture medium. The coated beads can then be used directly in bead aggregation assays or in fluorescent bead sorting assays to test for homophilic adhesion. If desired, mutagenesis can then be used to elucidate the specific amino acids or domains required for adhesion. This assay requires only small amounts of expressed protein, does not require the production of stable cell lines, and can be accomplished in 4 days.
Bioengineering, Issue 92, adhesion, aggregation, Fc-fusion, cadherin, protocadherin
51762
Dissection of Organizer and Animal Pole Explants from Xenopus laevis Embryos and Assembly of a Cell Adhesion Assay
Institutions: University of California, Irvine (UCI).

Developmental Biology, Issue 3, embryo, Xenopus, organizer, animal pole, dissection
187