Thinned-skull Cortical Window Technique for In Vivo Optical Coherence Tomography Imaging
Published: 11-19-2012
ABSTRACT
Optical coherence tomography (OCT) is a biomedical imaging technique with high spatial-temporal resolution. With its minimally invasive approach OCT has been used extensively in ophthalmology, dermatology, and gastroenterology1-3. Using a thinned-skull cortical window (TSCW), we employ spectral-domain OCT (SD-OCT) modality as a tool to image the cortex in vivo. Commonly, an opened-skull has been used for neuro-imaging as it provides more versatility, however, a TSCW approach is less invasive and is an effective mean for long term imaging in neuropathology studies. Here, we present a method of creating a TSCW in a mouse model for in vivo OCT imaging of the cerebral cortex.
24 Related JoVE Articles!
Three-dimensional Optical-resolution Photoacoustic Microscopy
Institutions: Washington University in St. Louis.

Optical microscopy, providing valuable insights at the cellular and organelle levels, has been widely recognized as an enabling biomedical technology. As the mainstays of
in vivo
three-dimensional (3-D) optical microscopy, single-/multi-photon fluorescence microscopy and optical coherence tomography (OCT) have demonstrated their extraordinary sensitivities to fluorescence and optical scattering contrasts, respectively. However, the optical absorption contrast of biological tissues, which encodes essential physiological/pathological information, has not yet been assessable. The emergence of biomedical photoacoustics has led to a new branch of optical microscopy optical-resolution photoacoustic microscopy (OR-PAM)
1
, where the optical irradiation is focused to the diffraction limit to achieve cellular
1
or even subcellular
2
level lateral resolution. As a valuable complement to existing optical microscopy technologies, OR-PAM brings in at least two novelties. First and most importantly, OR-PAM detects optical absorption contrasts with extraordinary sensitivity (i.e., 100%). Combining OR-PAM with fluorescence microscopy
3
or with optical-scattering-based OCT
4
(or with both) provides comprehensive optical properties of biological tissues. Second, OR-PAM encodes optical absorption into acoustic waves, in contrast to the pure optical processes in fluorescence microscopy and OCT, and provides background-free detection. The acoustic detection in OR-PAM mitigates the impacts of optical scattering on signal degradation and naturally eliminates possible interferences (i.e., crosstalks) between excitation and detection, which is a common problem in fluorescence microscopy due to the overlap between the excitation and fluorescence spectra. Unique for optical absorption imaging, OR-PAM has demonstrated broad biomedical applications since its invention, including, but not limited to, neurology
5, 6
, ophthalmology
7, 8
, vascular biology
9
, and dermatology
10
. In this video, we teach the system configuration and alignment of OR-PAM as well as the experimental procedures for
in vivo
functional microvascular imaging.
Bioengineering, Issue 51, Optical-resolution photoacoustic microscopy, in vivo functional imaging, label-free imaging, noninvasive imaging, hemoglobin oxygen saturation, total hemoglobin concentration
2729
Lensfree On-chip Tomographic Microscopy Employing Multi-angle Illumination and Pixel Super-resolution
Institutions: University of California, Los Angeles , University of California, Los Angeles , University of California, Los Angeles .

Tomographic imaging has been a widely used tool in medicine as it can provide three-dimensional (3D) structural information regarding objects of different size scales. In micrometer and millimeter scales, optical microscopy modalities find increasing use owing to the non-ionizing nature of visible light, and the availability of a rich set of illumination sources (such as lasers and light-emitting-diodes) and detection elements (such as large format CCD and CMOS detector-arrays). Among the recently developed optical tomographic microscopy modalities, one can include optical coherence tomography, optical diffraction tomography, optical projection tomography and light-sheet microscopy.
1-6
These platforms provide sectional imaging of cells, microorganisms and model animals such as
C. elegans
, zebrafish and mouse embryos. Existing 3D optical imagers generally have relatively bulky and complex architectures, limiting the availability of these equipments to advanced laboratories, and impeding their integration with lab-on-a-chip platforms and microfluidic chips. To provide an alternative tomographic microscope, we recently developed lensfree optical tomography (LOT) as a high-throughput, compact and cost-effective optical tomography modality.
7
LOT discards the use of lenses and bulky optical components, and instead relies on multi-angle illumination and digital computation to achieve depth-resolved imaging of micro-objects over a large imaging volume. LOT can image biological specimen at a spatial resolution of <1 μm x <1 μm x <3 μm in the x, y and z dimensions, respectively, over a large imaging volume of 15-100 mm
3
, and can be particularly useful for lab-on-a-chip platforms.
Bioengineering, Issue 66, Electrical Engineering, Mechanical Engineering, lensfree imaging, lensless imaging, on-chip microscopy, lensfree tomography, 3D microscopy, pixel super-resolution, C. elegans, optical sectioning, lab-on-a-chip
4161
Tracking Morphogenetic Tissue Deformations in the Early Chick Embryo
Institutions: Washington University, Russian Academy of Sciences, Washington University.

Embryonic epithelia undergo complex deformations (e.g. bending, twisting, folding, and stretching) to form the primitive organs of the early embryo. Tracking fiducial markers on the surfaces of these cellular sheets is a well-established method for estimating morphogenetic quantities such as growth, contraction, and shear. However, not all surface labeling techniques are readily adaptable to conventional imaging modalities and possess different advantages and limitations. Here, we describe two labeling methods and illustrate the utility of each technique. In the first method, hundreds of fluorescent labels are applied simultaneously to the embryo using magnetic iron particles. These labels are then used to quantity 2-D tissue deformations during morphogenesis. In the second method, polystyrene microspheres are used as contrast agents in non-invasive optical coherence tomography (OCT) imaging to track 3-D tissue deformations. These techniques have been successfully implemented in our lab to studythe physical mechanisms of early head fold, heart, and brain development, and should be adaptable to a wide range morphogenetic processes.
Developmental Biology, Issue 56, biomechanics, labeling, chick embryo, morphogenesis, time-lapse imaging, optical coherence tomography, strain analysis
3129
Longitudinal Measurement of Extracellular Matrix Rigidity in 3D Tumor Models Using Particle-tracking Microrheology
Institutions: University of Massachusetts Boston.

The mechanical microenvironment has been shown to act as a crucial regulator of tumor growth behavior and signaling, which is itself remodeled and modified as part of a set of complex, two-way mechanosensitive interactions. While the development of biologically-relevant 3D tumor models have facilitated mechanistic studies on the impact of matrix rheology on tumor growth, the inverse problem of mapping changes in the mechanical environment induced by tumors remains challenging. Here, we describe the implementation of particle-tracking microrheology (PTM) in conjunction with 3D models of pancreatic cancer as part of a robust and viable approach for longitudinally monitoring physical changes in the tumor microenvironment,
in situ
. The methodology described here integrates a system of preparing
in vitro
3D models embedded in a model extracellular matrix (ECM) scaffold of Type I collagen with fluorescently labeled probes uniformly distributed for position- and time-dependent microrheology measurements throughout the specimen.
In vitro
tumors are plated and probed in parallel conditions using multiwell imaging plates. Drawing on established methods, videos of tracer probe movements are transformed via the Generalized Stokes Einstein Relation (GSER) to report the complex frequency-dependent viscoelastic shear modulus,
G*(ω)
. Because this approach is imaging-based, mechanical characterization is also mapped onto large transmitted-light spatial fields to simultaneously report qualitative changes in 3D tumor size and phenotype. Representative results showing contrasting mechanical response in sub-regions associated with localized invasion-induced matrix degradation as well as system calibration, validation data are presented. Undesirable outcomes from common experimental errors and troubleshooting of these issues are also presented. The 96-well 3D culture plating format implemented in this protocol is conducive to correlation of microrheology measurements with therapeutic screening assays or molecular imaging to gain new insights into impact of treatments or biochemical stimuli on the mechanical microenvironment.
Bioengineering, Issue 88, viscoelasticity, mechanobiology, extracellular matrix (ECM), matrix remodeling, 3D tumor models, tumor microenvironment, stroma, matrix metalloprotease (MMP), epithelial-mesenchymal transition (EMT)
51302
Analysis of Skeletal Muscle Defects in Larval Zebrafish by Birefringence and Touch-evoke Escape Response Assays
Institutions: Boston Children's Hospital, Harvard Medical School.

Zebrafish (
Danio rerio
) have become a particularly effective tool for modeling human diseases affecting skeletal muscle, including muscular dystrophies
1-3
, congenital myopathies
4,5
, and disruptions in sarcomeric assembly
6,7
, due to high genomic and structural conservation with mammals
8
. Muscular disorganization and locomotive impairment can be quickly assessed in the zebrafish over the first few days post-fertilization. Two assays to help characterize skeletal muscle defects in zebrafish are birefringence (structural) and touch-evoked escape response (behavioral). Birefringence is a physical property in which light is rotated as it passes through ordered matter, such as the pseudo-crystalline array of muscle sarcomeres
9
. It is a simple, noninvasive approach to assess muscle integrity in translucent zebrafish larvae early in development. Wild-type zebrafish with highly organized skeletal muscle appear very bright amidst a dark background when visualized between two polarized light filters, whereas muscle mutants have birefringence patterns specific to the primary muscular disorder they model. Zebrafish modeling muscular dystrophies, diseases characterized by myofiber degeneration followed by repeated rounds of regeneration, exhibit degenerative dark patches in skeletal muscle under polarized light. Nondystrophic myopathies are not associated with necrosis or regenerative changes, but result in disorganized myofibers and skeletal muscle weakness. Myopathic zebrafish typically show an overall reduction in birefringence, reflecting the disorganization of sarcomeres. The touch-evoked escape assay involves observing an embryo's swimming behavior in response to tactile stimulation
10-12
. In comparison to wild-type larvae, mutant larvae frequently display a weak escape contraction, followed by slow swimming or other type of impaired motion that fails to propel the larvae more than a short distance
12
. The advantage of these assays is that disease progression in the same fish type can be monitored
in vivo
for several days, and that large numbers of fish can be analyzed in a short time relative to higher vertebrates.
Physiology, Issue 82, birefringence, dystrophy, myopathy, touch-evoked escape, zebrafish, Danio rerio, microscopy
50925
Measuring Material Microstructure Under Flow Using 1-2 Plane Flow-Small Angle Neutron Scattering
Institutions: University of Delaware, National Institute of Standards and Technology, Institut Laue-Langevin.

A new small-angle neutron scattering (SANS) sample environment optimized for studying the microstructure of complex fluids under simple shear flow is presented. The SANS shear cell consists of a concentric cylinder Couette geometry that is sealed and rotating about a horizontal axis so that the vorticity direction of the flow field is aligned with the neutron beam enabling scattering from the 1-2 plane of shear (velocity-velocity gradient, respectively). This approach is an advance over previous shear cell sample environments as there is a strong coupling between the bulk rheology and microstructural features in the 1-2 plane of shear. Flow-instabilities, such as shear banding, can also be studied by spatially resolved measurements. This is accomplished in this sample environment by using a narrow aperture for the neutron beam and scanning along the velocity gradient direction. Time resolved experiments, such as flow start-ups and large amplitude oscillatory shear flow are also possible by synchronization of the shear motion and time-resolved detection of scattered neutrons. Representative results using the methods outlined here demonstrate the useful nature of spatial resolution for measuring the microstructure of a wormlike micelle solution that exhibits shear banding, a phenomenon that can only be investigated by resolving the structure along the velocity gradient direction. Finally, potential improvements to the current design are discussed along with suggestions for supplementary experiments as motivation for future experiments on a broad range of complex fluids in a variety of shear motions.
Physics, Issue 84, Surfactants, Rheology, Shear Banding, Nanostructure, Neutron Scattering, Complex Fluids, Flow-induced Structure
51068
A Simplified Technique for In situ Excision of Cornea and Evisceration of Retinal Tissue from Human Ocular Globe
Institutions: Fondazione Banca Degli Occhi del Veneto O.N.L.U.S. , Telethon Institute for Genetics & Medicine (T.I.G.E.M.).

Enucleation is the process of retrieving the ocular globe from a cadaveric donor leaving the rest of the globe undisturbed. Excision refers to the retrieval of ocular tissues, especially cornea, by cutting it separate from the ocular globe. Evisceration is the process of removing the internal organs referred here as retina. The ocular globe consists of the cornea, the sclera, the vitreous body, the lens, the iris, the retina, the choroid, muscles etc (Suppl.
Figure 1
). When a patient is suffering from corneal damage, the cornea needs to be removed and a healthy one must be transplanted by keratoplastic surgeries. Genetic disorders or defects in retinal function can compromise vision. Human ocular globes can be used for various surgical procedures such as eye banking, transplantation of human cornea or sclera and research on ocular tissues. However, there is little information available on human corneal and retinal excision, probably due to the limited accessibility to human tissues. Most of the studies describing similar procedures are performed on animal models. Research scientists rely on the availability of properly dissected and well-conserved ocular tissues in order to extend the knowledge on human eye development, homeostasis and function. As we receive high amount of ocular globes out of which approximately 40% (
Table 1
) of them are used for research purposes, we are able to perform huge amount of experiments on these tissues, defining techniques to excise and preserve them regularly. The cornea is an avascular tissue which enables the transmission of light onto the retina and for this purpose should always maintain a good degree of transparency. Within the cornea, the limbus region, which is a reservoir of the stem cells, helps the reconstruction of epithelial cells and restricts the overgrowth of the conjunctiva maintaining corneal transparency and clarity. The size and thickness of the cornea are critical for clear vision, as changes in either of them could lead to distracted, unclear vision. The cornea comprises of 5 layers; a) epithelium, b) Bowman's layer, c) stroma, d) Descemet's membrane and e) endothelium. All layers should function properly to ensure clear vision
4,5,6
. The choroid is the intermediate tunic between the sclera and retina, bounded on the interior by the Bruch's membrane and is responsible for blood flow in the eye. The choroid also helps to regulate the temperature and supplies nourishment to the outer layers of the retina
5,6
. The retina is a layer of nervous tissue that covers the back of the ocular globe (Suppl.
Figure 1
) and consists of two parts: a photoreceptive part and a non-receptive part. The retina helps to receive the light from the cornea and lens and converts it into the chemical energy eventually transmitted to the brain with help of the optic nerve
5,6
. The aim of this paper is to provide a protocol for the dissection of corneal and retinal tissues from human ocular globes. Avoiding cross-contamination with adjacent tissues and preserving RNA integrity is of fundamental importance as such tissues are indispensable for research purposes aimed at (i) characterizing the transcriptome of the ocular tissues, (ii) isolating stem cells for regenerative medicine projects, and (iii) evaluating histological differences between tissues from normal/affected subjects. In this paper we describe the technique we currently use to remove the cornea, the choroid and retinal tissues from an ocular globe. Here we provide a detailed protocol for the dissection of the human ocular globe and the excision of corneal and retinal tissues. The accompanying video will help researchers to learn an appropriate technique for the retrieval of precious human tissues which are difficult to find regularly.
Medicine, Issue 64, Physiology, Human cadaver ocular globe, in situ excision, corneal tissue, in situ evisceration, retinal tissue
3765
Molecular Entanglement and Electrospinnability of Biopolymers
Institutions: Pennsylvania State University.

Electrospinning is a fascinating technique to fabricate micro- to nano-scale fibers from a wide variety of materials. For biopolymers, molecular entanglement of the constituent polymers in the spinning dope was found to be an essential prerequisite for successful electrospinning. Rheology is a powerful tool to probe the molecular conformation and interaction of biopolymers. In this report, we demonstrate the protocol for utilizing rheology to evaluate the electrospinnability of two biopolymers, starch and pullulan, from their dimethyl sulfoxide (DMSO)/water dispersions. Well-formed starch and pullulan fibers with average diameters in the submicron to micron range were obtained. Electrospinnability was evaluated by visual and microscopic observation of the fibers formed. By correlating the rheological properties of the dispersions to their electrospinnability, we demonstrate that molecular conformation, molecular entanglement, and shear viscosity all affect electrospinning. Rheology is not only useful in solvent system selection and process optimization, but also in understanding the mechanism of fiber formation on a molecular level.
Bioengineering, Issue 91, electrospinning, rheology, molecular entanglement, fiber, nanofiber, biopolymer, polysaccharides, starch, pullulan
51933
Preparation of Complaint Matrices for Quantifying Cellular Contraction
Institutions: University of Chicago, University of Chicago, University of Chicago.

The regulation of cellular adhesion to the extracellular matrix (ECM) is essential for cell migration and ECM remodeling. Focal adhesions are macromolecular assemblies that couple the contractile F-actin cytoskeleton to the ECM. This connection allows for the transmission of intracellular mechanical forces across the cell membrane to the underlying substrate. Recent work has shown the mechanical properties of the ECM regulate focal adhesion and F-actin morphology as well as numerous physiological processes, including cell differentiation, division, proliferation and migration. Thus, the use of cell culture substrates has become an increasingly prevalent method to precisely control and modulate ECM mechanical properties. To quantify traction forces at focal adhesions in an adherent cell, compliant substrates are used in conjunction with high-resolution imaging and computational techniques in a method termed traction force microscopy (TFM). This technique relies on measurements of the local magnitude and direction of substrate deformations induced by cellular contraction. In combination with high-resolution fluorescence microscopy of fluorescently tagged proteins, it is possible to correlate cytoskeletal organization and remodeling with traction forces. Here we present a detailed experimental protocol for the preparation of two-dimensional, compliant matrices for the purpose of creating a cell culture substrate with a well-characterized, tunable mechanical stiffness, which is suitable for measuring cellular contraction. These protocols include the fabrication of polyacrylamide hydrogels, coating of ECM proteins on such gels, plating cells on gels, and high-resolution confocal microscopy using a perfusion chamber. Additionally, we provide a representative sample of data demonstrating location and magnitude of cellular forces using cited TFM protocols.
Bioengineering, Issue 46, Traction force microscopy, cellular adhesion, polyacrylamide gel, stiffness, elastic modulus
2173
Micro-particle Image Velocimetry for Velocity Profile Measurements of Micro Blood Flows
Institutions: University of Ottawa , University of Ottawa.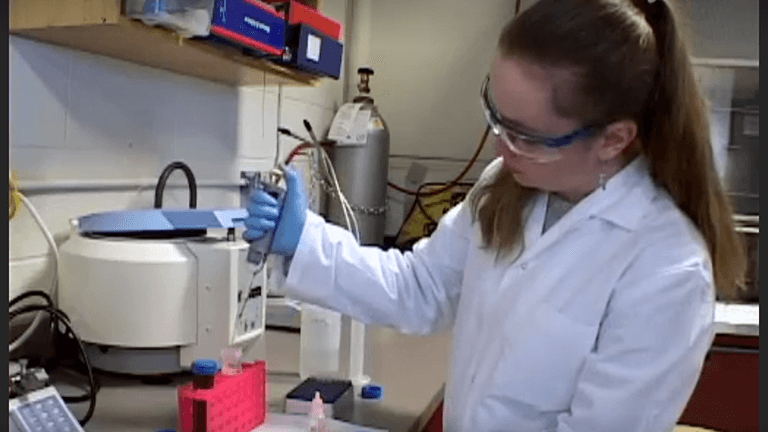 Micro-particle image velocimetry (μPIV) is used to visualize paired images of micro particles seeded in blood flows. The images are cross-correlated to give an accurate velocity profile. A protocol is presented for μPIV measurements of blood flows in microchannels. At the scale of the microcirculation, blood cannot be considered a homogeneous fluid, as it is a suspension of flexible particles suspended in plasma, a Newtonian fluid. Shear rate, maximum velocity, velocity profile shape, and flow rate can be derived from these measurements. Several key parameters such as focal depth, particle concentration, and system compliance, are presented in order to ensure accurate, useful data along with examples and representative results for various hematocrits and flow conditions.
Bioengineering, Issue 74, Biophysics, Chemical Engineering, Mechanical Engineering, Biomedical Engineering, Medicine, Anatomy, Physiology, Cellular Biology, Molecular Biology, Hematology, Blood Physiological Phenomena, Hemorheology, Hematocrit, flow characteristics, flow measurement, flow visualization, rheology, Red blood cells, cross correlation, micro blood flows, microfluidics, microhemorheology, microcirculation, velocimetry, visualization, imaging
50314
Preparation of Segmented Microtubules to Study Motions Driven by the Disassembling Microtubule Ends
Institutions: Russian Academy of Sciences, Federal Research Center of Pediatric Hematology, Oncology and Immunology, Moscow, Russia, University of Pennsylvania.

Microtubule depolymerization can provide force to transport different protein complexes and protein-coated beads
in vitro
. The underlying mechanisms are thought to play a vital role in the microtubule-dependent chromosome motions during cell division, but the relevant proteins and their exact roles are ill-defined. Thus, there is a growing need to develop assays with which to study such motility
in vitro
using purified components and defined biochemical milieu. Microtubules, however, are inherently unstable polymers; their switching between growth and shortening is stochastic and difficult to control. The protocols we describe here take advantage of the segmented microtubules that are made with the photoablatable stabilizing caps. Depolymerization of such segmented microtubules can be triggered with high temporal and spatial resolution, thereby assisting studies of motility at the disassembling microtubule ends. This technique can be used to carry out a quantitative analysis of the number of molecules in the fluorescently-labeled protein complexes, which move processively with dynamic microtubule ends. To optimize a signal-to-noise ratio in this and other quantitative fluorescent assays, coverslips should be treated to reduce nonspecific absorption of soluble fluorescently-labeled proteins. Detailed protocols are provided to take into account the unevenness of fluorescent illumination, and determine the intensity of a single fluorophore using equidistant Gaussian fit. Finally, we describe the use of segmented microtubules to study microtubule-dependent motions of the protein-coated microbeads, providing insights into the ability of different motor and nonmotor proteins to couple microtubule depolymerization to processive cargo motion.
Basic Protocol, Issue 85, microscopy flow chamber, single-molecule fluorescence, laser trap, microtubule-binding protein, microtubule-dependent motor, microtubule tip-tracking
51150
Optimized Negative Staining: a High-throughput Protocol for Examining Small and Asymmetric Protein Structure by Electron Microscopy
Institutions: The Molecular Foundry.

Structural determination of proteins is rather challenging for proteins with molecular masses between 40 - 200 kDa. Considering that more than half of natural proteins have a molecular mass between 40 - 200 kDa
1,2
, a robust and high-throughput method with a nanometer resolution capability is needed. Negative staining (NS) electron microscopy (EM) is an easy, rapid, and qualitative approach which has frequently been used in research laboratories to examine protein structure and protein-protein interactions. Unfortunately, conventional NS protocols often generate structural artifacts on proteins, especially with lipoproteins that usually form presenting rouleaux artifacts. By using images of lipoproteins from cryo-electron microscopy (cryo-EM) as a standard, the key parameters in NS specimen preparation conditions were recently screened and reported as the optimized NS protocol (OpNS), a modified conventional NS protocol
3
. Artifacts like rouleaux can be greatly limited by OpNS, additionally providing high contrast along with reasonably high‐resolution (near 1 nm) images of small and asymmetric proteins. These high-resolution and high contrast images are even favorable for an individual protein (a single object, no average) 3D reconstruction, such as a 160 kDa antibody, through the method of electron tomography
4,5
. Moreover, OpNS can be a high‐throughput tool to examine hundreds of samples of small proteins. For example, the previously published mechanism of 53 kDa cholesteryl ester transfer protein (CETP) involved the screening and imaging of hundreds of samples
6
. Considering cryo-EM rarely successfully images proteins less than 200 kDa has yet to publish any study involving screening over one hundred sample conditions, it is fair to call OpNS a high-throughput method for studying small proteins. Hopefully the OpNS protocol presented here can be a useful tool to push the boundaries of EM and accelerate EM studies into small protein structure, dynamics and mechanisms.
Environmental Sciences, Issue 90, small and asymmetric protein structure, electron microscopy, optimized negative staining
51087
Optical Frequency Domain Imaging of Ex vivo Pulmonary Resection Specimens: Obtaining One to One Image to Histopathology Correlation
Institutions: Harvard Medical School, Massachusetts General Hospital, Harvard Medical School, Massachusetts General Hospital, Harvard Medical School.

Lung cancer is the leading cause of cancer-related deaths
1
. Squamous cell and small cell cancers typically arise in association with the conducting airways, whereas adenocarcinomas are typically more peripheral in location. Lung malignancy detection early in the disease process may be difficult due to several limitations: radiological resolution, bronchoscopic limitations in evaluating tissue underlying the airway mucosa and identifying early pathologic changes, and small sample size and/or incomplete sampling in histology biopsies. High resolution imaging modalities, such as optical frequency domain imaging (OFDI), provide non-destructive, large area 3-dimensional views of tissue microstructure to depths approaching 2 mm in real time (
Figure 1
)
2-6
. OFDI has been utilized in a variety of applications, including evaluation of coronary artery atherosclerosis
6,7
and esophageal intestinal metaplasia and dysplasia
6,8-10
. Bronchoscopic OCT/OFDI has been demonstrated as a safe
in vivo
imaging tool for evaluating the pulmonary airways
11-23
(
Animation
). OCT has been assessed in pulmonary airways
16,23
and parenchyma
17,22
of animal models and
in vivo
human airway
14,15
. OCT imaging of normal airway has demonstrated visualization of airway layering and alveolar attachments, and evaluation of dysplastic lesions has been found useful in distinguishing grades of dysplasia in the bronchial mucosa
11,12,20,21
. OFDI imaging of bronchial mucosa has been demonstrated in a short bronchial segment (0.8 cm)
18
. Additionally, volumetric OFDI spanning multiple airway generations in swine and human pulmonary airways
in vivo
has been described
19
. Endobronchial OCT/OFDI is typically performed using thin, flexible catheters, which are compatible with standard bronchoscopic access ports. Additionally, OCT and OFDI needle-based probes have recently been developed, which may be used to image regions of the lung beyond the airway wall or pleural surface
17
. While OCT/OFDI has been utilized and demonstrated as feasible for
in vivo
pulmonary imaging, no studies with precisely matched one-to-one OFDI:histology have been performed. Therefore, specific imaging criteria for various pulmonary pathologies have yet to be developed. Histopathological counterparts obtained
in vivo
consist of only small biopsy fragments, which are difficult to correlate with large OFDI datasets. Additionally, they do not provide the comprehensive histology needed for registration with large volume OFDI. As a result, specific imaging features of pulmonary pathology cannot be developed in the
in vivo
setting. Precisely matched, one-to-one OFDI and histology correlation is vital to accurately evaluate features seen in OFDI against histology as a gold standard in order to derive specific image interpretation criteria for pulmonary neoplasms and other pulmonary pathologies. Once specific imaging criteria have been developed and validated
ex vivo
with matched one-to-one histology, the criteria may then be applied to
in vivo
imaging studies. Here, we present a method for precise, one to one correlation between high resolution optical imaging and histology in
ex vivo
lung resection specimens. Throughout this manuscript, we describe the techniques used to match OFDI images to histology. However, this method is not specific to OFDI and can be used to obtain histology-registered images for any optical imaging technique. We performed airway centered OFDI with a specialized custom built bronchoscopic 2.4 French (0.8 mm diameter) catheter. Tissue samples were marked with tissue dye, visible in both OFDI and histology. Careful orientation procedures were used to precisely correlate imaging and histological sampling locations. The techniques outlined in this manuscript were used to conduct the first demonstration of volumetric OFDI with precise correlation to tissue-based diagnosis for evaluating pulmonary pathology
24
. This straightforward, effective technique may be extended to other tissue types to provide precise imaging to histology correlation needed to determine fine imaging features of both normal and diseased tissues.
Bioengineering, Issue 71, Medicine, Biomedical Engineering, Anatomy, Physiology, Cancer Biology, Pathology, Surgery, Bronchoscopic imaging, In vivo optical microscopy, Optical imaging, Optical coherence tomography, Optical frequency domain imaging, Histology correlation, animal model, histopathology, airway, lung, biopsy, imaging
3855
Preparation of DNA-crosslinked Polyacrylamide Hydrogels
Institutions: JFK Medical Center, Rutgers University, Rutgers University.

Mechanobiology is an emerging scientific area that addresses the critical role of physical cues in directing cell morphology and function. For example, the effect of tissue elasticity on cell function is a major area of mechanobiology research because tissue stiffness modulates with disease, development, and injury. Static tissue-mimicking materials, or materials that cannot alter stiffness once cells are plated, are predominately used to investigate the effects of tissue stiffness on cell functions. While information gathered from static studies is valuable, these studies are not indicative of the dynamic nature of the cellular microenvironment
in vivo
. To better address the effects of dynamic stiffness on cell function, we developed a DNA-crosslinked polyacrylamide hydrogel system (DNA gels). Unlike other dynamic substrates, DNA gels have the ability to decrease or increase in stiffness after fabrication without stimuli. DNA gels consist of DNA crosslinks that are polymerized into a polyacrylamide backbone. Adding and removing crosslinks via delivery of single-stranded DNA allows temporal, spatial, and reversible control of gel elasticity. We have shown in previous reports that dynamic modulation of DNA gel elasticity influences fibroblast and neuron behavior. In this report and video, we provide a schematic that describes the DNA gel crosslinking mechanisms and step-by-step instructions on the preparation DNA gels.
Bioengineering, Issue 90, bioengineering (general), Elastic, viscoelastic, bis-acrylamide, substrate, stiffness, dynamic, static, neuron, fibroblast, compliance, ECM, mechanobiology, tunable
51323
Setting-up an In Vitro Model of Rat Blood-brain Barrier (BBB): A Focus on BBB Impermeability and Receptor-mediated Transport
Institutions: VECT-HORUS SAS, CNRS, NICN UMR 7259.

The blood brain barrier (BBB) specifically regulates molecular and cellular flux between the blood and the nervous tissue. Our aim was to develop and characterize a highly reproducible rat syngeneic
in vitro
model of the BBB using co-cultures of primary rat brain endothelial cells (RBEC) and astrocytes to study receptors involved in transcytosis across the endothelial cell monolayer. Astrocytes were isolated by mechanical dissection following trypsin digestion and were frozen for later co-culture. RBEC were isolated from 5-week-old rat cortices. The brains were cleaned of meninges and white matter, and mechanically dissociated following enzymatic digestion. Thereafter, the tissue homogenate was centrifuged in bovine serum albumin to separate vessel fragments from nervous tissue. The vessel fragments underwent a second enzymatic digestion to free endothelial cells from their extracellular matrix. The remaining contaminating cells such as pericytes were further eliminated by plating the microvessel fragments in puromycin-containing medium. They were then passaged onto filters for co-culture with astrocytes grown on the bottom of the wells. RBEC expressed high levels of tight junction (TJ) proteins such as occludin, claudin-5 and ZO-1 with a typical localization at the cell borders. The transendothelial electrical resistance (TEER) of brain endothelial monolayers, indicating the tightness of TJs reached 300 ohm·cm
2
on average. The endothelial permeability coefficients (Pe) for lucifer yellow (LY) was highly reproducible with an average of 0.26 ± 0.11 x 10
-3
cm/min. Brain endothelial cells organized in monolayers expressed the efflux transporter P-glycoprotein (P-gp), showed a polarized transport of rhodamine 123, a ligand for P-gp, and showed specific transport of transferrin-Cy3 and DiILDL across the endothelial cell monolayer. In conclusion, we provide a protocol for setting up an
in vitro
BBB model that is highly reproducible due to the quality assurance methods, and that is suitable for research on BBB transporters and receptors.
Medicine, Issue 88, rat brain endothelial cells (RBEC), mouse, spinal cord, tight junction (TJ), receptor-mediated transport (RMT), low density lipoprotein (LDL), LDLR, transferrin, TfR, P-glycoprotein (P-gp), transendothelial electrical resistance (TEER),
51278
Doppler Optical Coherence Tomography of Retinal Circulation
Institutions: Oregon Health and Science University , University of Southern California.

Noncontact retinal blood flow measurements are performed with a Fourier domain optical coherence tomography (OCT) system using a circumpapillary double circular scan (CDCS) that scans around the optic nerve head at 3.40 mm and 3.75 mm diameters. The double concentric circles are performed 6 times consecutively over 2 sec. The CDCS scan is saved with Doppler shift information from which flow can be calculated. The standard clinical protocol calls for 3 CDCS scans made with the OCT beam passing through the superonasal edge of the pupil and 3 CDCS scan through the inferonal pupil. This double-angle protocol ensures that acceptable Doppler angle is obtained on each retinal branch vessel in at least 1 scan. The CDCS scan data, a 3-dimensional volumetric OCT scan of the optic disc scan, and a color photograph of the optic disc are used together to obtain retinal blood flow measurement on an eye. We have developed a blood flow measurement software called "Doppler optical coherence tomography of retinal circulation" (DOCTORC). This semi-automated software is used to measure total retinal blood flow, vessel cross section area, and average blood velocity. The flow of each vessel is calculated from the Doppler shift in the vessel cross-sectional area and the Doppler angle between the vessel and the OCT beam. Total retinal blood flow measurement is summed from the veins around the optic disc. The results obtained at our Doppler OCT reading center showed good reproducibility between graders and methods (<10%). Total retinal blood flow could be useful in the management of glaucoma, other retinal diseases, and retinal diseases. In glaucoma patients, OCT retinal blood flow measurement was highly correlated with visual field loss (R
2
>0.57 with visual field pattern deviation). Doppler OCT is a new method to perform rapid, noncontact, and repeatable measurement of total retinal blood flow using widely available Fourier-domain OCT instrumentation. This new technology may improve the practicality of making these measurements in clinical studies and routine clinical practice.
Medicine, Issue 67, Ophthalmology, Physics, Doppler optical coherence tomography, total retinal blood flow, dual circular scan pattern, image analysis, semi-automated grading software, optic disc
3524
Quasi-light Storage for Optical Data Packets
Institutions: Hochschule für Telekommunikation, Leipzig.

Today's telecommunication is based on optical packets which transmit the information in optical fiber networks around the world. Currently, the processing of the signals is done in the electrical domain. Direct storage in the optical domain would avoid the transfer of the packets to the electrical and back to the optical domain in every network node and, therefore, increase the speed and possibly reduce the energy consumption of telecommunications. However, light consists of photons which propagate with the speed of light in vacuum. Thus, the storage of light is a big challenge. There exist some methods to slow down the speed of the light, or to store it in excitations of a medium. However, these methods cannot be used for the storage of optical data packets used in telecommunications networks. Here we show how the time-frequency-coherence, which holds for every signal and therefore for optical packets as well, can be exploited to build an optical memory. We will review the background and show in detail and through examples, how a frequency comb can be used for the copying of an optical packet which enters the memory. One of these time domain copies is then extracted from the memory by a time domain switch. We will show this method for intensity as well as for phase modulated signals.
Physics, Issue 84, optical communications, Optical Light Storage, stimulated Brillouin scattering, Optical Signal Processing, optical data packets, telecommunications
50468
Evaluation of a Novel Laser-assisted Coronary Anastomotic Connector - the Trinity Clip - in a Porcine Off-pump Bypass Model
Institutions: University Medical Center Utrecht, Vascular Connect b.v., University Medical Center Utrecht, University Medical Center Utrecht.

To simplify and facilitate beating heart (
i.e.,
off-pump), minimally invasive coronary artery bypass surgery, a new coronary anastomotic connector, the Trinity Clip, is developed based on the excimer laser-assisted nonocclusive anastomosis technique. The Trinity Clip connector enables simplified, sutureless, and nonocclusive connection of the graft to the coronary artery, and an excimer laser catheter laser-punches the opening of the anastomosis. Consequently, owing to the complete nonocclusive anastomosis construction, coronary conditioning (
i.e.,
occluding or shunting) is not necessary, in contrast to the conventional anastomotic technique, hence simplifying the off-pump bypass procedure. Prior to clinical application in coronary artery bypass grafting, the safety and quality of this novel connector will be evaluated in a long-term experimental porcine off-pump coronary artery bypass (OPCAB) study. In this paper, we describe how to evaluate the coronary anastomosis in the porcine OPCAB model using various techniques to assess its quality. Representative results are summarized and visually demonstrated.
Medicine, Issue 93, Anastomosis, coronary, anastomotic connector, anastomotic coupler, excimer laser-assisted nonocclusive anastomosis (ELANA), coronary artery bypass graft (CABG), off-pump coronary artery bypass (OPCAB), beating heart surgery, excimer laser, porcine model, experimental, medical device
52127
Dynamic Visual Tests to Identify and Quantify Visual Damage and Repair Following Demyelination in Optic Neuritis Patients
Institutions: Hadassah Hebrew-University Medical Center.

In order to follow optic neuritis patients and evaluate the effectiveness of their treatment, a handy, accurate and quantifiable tool is required to assess changes in myelination at the central nervous system (CNS). However, standard measurements, including routine visual tests and MRI scans, are not sensitive enough for this purpose. We present two visual tests addressing dynamic monocular and binocular functions which may closely associate with the extent of myelination along visual pathways. These include Object From Motion (OFM) extraction and Time-constrained stereo protocols. In the OFM test, an array of dots compose an object, by moving the dots within the image rightward while moving the dots outside the image leftward or vice versa. The dot pattern generates a camouflaged object that cannot be detected when the dots are stationary or moving as a whole. Importantly, object recognition is critically dependent on motion perception. In the Time-constrained Stereo protocol, spatially disparate images are presented for a limited length of time, challenging binocular 3-dimensional integration in time. Both tests are appropriate for clinical usage and provide a simple, yet powerful, way to identify and quantify processes of demyelination and remyelination along visual pathways. These protocols may be efficient to diagnose and follow optic neuritis and multiple sclerosis patients. In the diagnostic process, these protocols may reveal visual deficits that cannot be identified via current standard visual measurements. Moreover, these protocols sensitively identify the basis of the currently unexplained continued visual complaints of patients following recovery of visual acuity. In the longitudinal follow up course, the protocols can be used as a sensitive marker of demyelinating and remyelinating processes along time. These protocols may therefore be used to evaluate the efficacy of current and evolving therapeutic strategies, targeting myelination of the CNS.
Medicine, Issue 86, Optic neuritis, visual impairment, dynamic visual functions, motion perception, stereopsis, demyelination, remyelination
51107
Helical Organization of Blood Coagulation Factor VIII on Lipid Nanotubes
Institutions: University of Texas Medical Branch, University of Texas Medical Branch, University of Texas Medical Branch.

Cryo-electron microscopy (Cryo-EM)
1
is a powerful approach to investigate the functional structure of proteins and complexes in a hydrated state and membrane environment
2
. Coagulation Factor VIII (FVIII)
3
is a multi-domain blood plasma glycoprotein. Defect or deficiency of FVIII is the cause for Hemophilia type A - a severe bleeding disorder. Upon proteolytic activation, FVIII binds to the serine protease Factor IXa on the negatively charged platelet membrane, which is critical for normal blood clotting
4
. Despite the pivotal role FVIII plays in coagulation, structural information for its membrane-bound state is incomplete
5
. Recombinant FVIII concentrate is the most effective drug against Hemophilia type A and commercially available FVIII can be expressed as human or porcine, both forming functional complexes with human Factor IXa
6,7
. In this study we present a combination of Cryo-electron microscopy (Cryo-EM), lipid nanotechnology and structure analysis applied to resolve the membrane-bound structure of two highly homologous FVIII forms: human and porcine. The methodology developed in our laboratory to helically organize the two functional recombinant FVIII forms on negatively charged lipid nanotubes (LNT) is described. The representative results demonstrate that our approach is sufficiently sensitive to define the differences in the helical organization between the two highly homologous in sequence (86% sequence identity) proteins. Detailed protocols for the helical organization, Cryo-EM and electron tomography (ET) data acquisition are given. The two-dimensional (2D) and three-dimensional (3D) structure analysis applied to obtain the 3D reconstructions of human and porcine FVIII-LNT is discussed. The presented human and porcine FVIII-LNT structures show the potential of the proposed methodology to calculate the functional, membrane-bound organization of blood coagulation Factor VIII at high resolution.
Bioengineering, Issue 88, Cryo-electron microscopy, Lipid nanotubes, Helical assembly, Membrane-bound organization, Coagulation factor VIII
51254
Integrated Photoacoustic Ophthalmoscopy and Spectral-domain Optical Coherence Tomography
Institutions: Northwestern University, Harbin Institute of Technology, University of Southern California, Northwestern University.

Both the clinical diagnosis and fundamental investigation of major ocular diseases greatly benefit from various non-invasive ophthalmic imaging technologies. Existing retinal imaging modalities, such as fundus photography
1
, confocal scanning laser ophthalmoscopy (cSLO)
2
, and optical coherence tomography (OCT)
3
, have significant contributions in monitoring disease onsets and progressions, and developing new therapeutic strategies. However, they predominantly rely on the back-reflected photons from the retina. As a consequence, the optical absorption properties of the retina, which are usually strongly associated with retinal pathophysiology status, are inaccessible by the traditional imaging technologies. Photoacoustic ophthalmoscopy (PAOM) is an emerging retinal imaging modality that permits the detection of the optical absorption contrasts in the eye with a high sensitivity
4-7
. In PAOM nanosecond laser pulses are delivered through the pupil and scanned across the posterior eye to induce photoacoustic (PA) signals, which are detected by an unfocused ultrasonic transducer attached to the eyelid. Because of the strong optical absorption of hemoglobin and melanin, PAOM is capable of non-invasively imaging the retinal and choroidal vasculatures, and the retinal pigment epithelium (RPE) melanin at high contrasts
6,7
. More importantly, based on the well-developed spectroscopic photoacoustic imaging
5,8
, PAOM has the potential to map the hemoglobin oxygen saturation in retinal vessels, which can be critical in studying the physiology and pathology of several blinding diseases
9
such as diabetic retinopathy and neovascular age-related macular degeneration. Moreover, being the only existing optical-absorption-based ophthalmic imaging modality, PAOM can be integrated with well-established clinical ophthalmic imaging techniques to achieve more comprehensive anatomic and functional evaluations of the eye based on multiple optical contrasts
6,10
. In this work, we integrate PAOM and spectral-domain OCT (SD-OCT) for simultaneously
in vivo
retinal imaging of rat, where both optical absorption and scattering properties of the retina are revealed. The system configuration, system alignment and imaging acquisition are presented.
Biomedical Engineering, Issue 71, Bioengineering, Medicine, Anatomy, Physiology, Opthalmology, Physics, Biophysics, Photoacoustic ophthalmology, ophthalmoscopy, optical coherence tomography, retinal imaging, spectral-domain, tomography, rat, animal model, imaging
4390
Thin Sectioning of Slice Preparations for Immunohistochemistry
Institutions: Yonsei University College of Medicine, Severance Hospital, Harvard Medical School.

Many investigations in neuroscience, as well as other disciplines, involve studying small, yet macroscopic pieces or sections of tissue that have been preserved, freshly removed, or excised but kept viable, as in slice preparations of brain tissue. Subsequent microscopic studies of this material can be challenging, as the tissue samples may be difficult to handle. Demonstrated here is a method for obtaining thin cryostat sections of tissue with a thickness that may range from 0.2-5.0 mm. We routinely cut 400 micron thick Vibratome brain slices serially into 5-10 micron coronal cryostat sections. The slices are typically first used for electrophysiology experiments and then require microscopic analysis of the cytoarchitecture of the region from which the recordings were observed. We have constructed a simple device that allows controlled and reproducible preparation and positioning of the tissue slice. This device consists of a cylinder 5 cm in length with a diameter of 1.2 cm, which serves as a freezing stage for the slice. A ring snugly slides over the cylinder providing walls around the slice allowing the tissue to be immersed in freezing compound (e.g., OCT). This is then quickly frozen with crushed dry ice and the resulting wafer can be position easily for cryostat sectioning. Thin sections can be thaw-mounted onto coated slides to allow further studies to be performed, such as various staining methods, in situ hybridization, or immunohistochemistry, as demonstrated here.
Neuroscience, Issue 3, dissection, slide, immunohistochemistry, staining
194
Imaging In-Stent Restenosis: An Inexpensive, Reliable, and Rapid Preclinical Model
Institutions: Stanford University School of Medicine, Stanford University School of Medicine.

Preclinical models of restenosis are essential to unravel the pathophysiological processes that lead to in-stent restenosis and to optimize existing and future drug-eluting stents. A variety of antibodies and transgenic and knockout strains are available in rats. Consequently, a model for in-stent restenosis in the rat would be convenient for pathobiological and pathophysiological studies. In this video, we present the full procedure and pit-falls of a rat stent model suitable for high throughput stent research. We will show the surgical procedure of stent deployment, and the assessment of in-stent restenosis using the most elegant technique of OCT (Optical Coherence Tomography). This technique provides high accuracy in assessing plaque CSAs (cross section areas) and correlates well with histological sections, which require special and time consuming embedding and sectioning techniques. OCT imaging further allows longitudinal monitoring of the development of in-stent restenosis within the same animal compared to one-time snapshots using histology.
Medicine, Issue 31, stent, rats, restenosis, OCT, imaging
1346
Multifocal Electroretinograms
Institutions: University of Utah.

A limitation of traditional full-field electroretinograms (ERG) for the diagnosis of retinopathy is lack of sensitivity. Generally, ERG results are normal unless more than approximately 20% of the retina is affected. In practical terms, a patient might be legally blind as a result of macular degeneration or other scotomas and still appear normal, according to traditional full field ERG. An important development in ERGs is the multifocal ERG (mfERG). Erich Sutter adapted the mathematical sequences called binary m-sequences enabling the isolation from a single electrical signal an electroretinogram representing less than each square millimeter of retina in response to a visual stimulus
1
. Results that are generated by mfERG appear similar to those generated by flash ERG. In contrast to flash ERG, which best generates data appropriate for whole-eye disorders. The basic mfERG result is based on the calculated mathematical average of an approximation of the positive deflection component of traditional ERG response, known as the b-wave
1
. Multifocal ERG programs measure electrical activity from more than a hundred retinal areas per eye, in a few minutes. The enhanced spatial resolution enables scotomas and retinal dysfunction to be mapped and quantified. In the protocol below, we describe the recording of mfERGs using a bipolar speculum contact lens. Components of mfERG systems vary between manufacturers. For the presentation of visible stimulus, some suitable CRT monitors are available but most systems have adopted the use of flat-panel liquid crystal displays (LCD). The visual stimuli depicted here, were produced by a LCD microdisplay subtending 35 - 40 degrees horizontally and 30 - 35 degrees vertically of visual field, and calibrated to produce multifocal flash intensities of 2.7 cd s m
-2
. Amplification was 50K. Lower and upper bandpass limits were 10 and 300 Hz. The software packages used were VERIS versions 5 and 6.
Medicine, Issue 58, Multifocal electroretinogram, mfERG, electroretinogram, ERG
3176