ABSTRACT
Auditory cortex pertains to the processing of sound, which is at the basis of speech or music-related processing1. However, despite considerable recent progress, the functional properties and lateralization of the human auditory cortex are far from being fully understood. Transcranial Magnetic Stimulation (TMS) is a non-invasive technique that can transiently or lastingly modulate cortical excitability via the application of localized magnetic field pulses, and represents a unique method of exploring plasticity and connectivity. It has only recently begun to be applied to understand auditory cortical function 2. An important issue in using TMS is that the physiological consequences of the stimulation are difficult to establish. Although many TMS studies make the implicit assumption that the area targeted by the coil is the area affected, this need not be the case, particularly for complex cognitive functions which depend on interactions across many brain regions 3. One solution to this problem is to combine TMS with functional Magnetic resonance imaging (fMRI). The idea here is that fMRI will provide an index of changes in brain activity associated with TMS. Thus, fMRI would give an independent means of assessing which areas are affected by TMS and how they are modulated 4. In addition, fMRI allows the assessment of functional connectivity, which represents a measure of the temporal coupling between distant regions. It can thus be useful not only to measure the net activity modulation induced by TMS in given locations, but also the degree to which the network properties are affected by TMS, via any observed changes in functional connectivity. Different approaches exist to combine TMS and functional imaging according to the temporal order of the methods. Functional MRI can be applied before, during, after, or both before and after TMS. Recently, some studies interleaved TMS and fMRI in order to provide online mapping of the functional changes induced by TMS 5-7. However, this online combination has many technical problems, including the static artifacts resulting from the presence of the TMS coil in the scanner room, or the effects of TMS pulses on the process of MR image formation. But more importantly, the loud acoustic noise induced by TMS (increased compared with standard use because of the resonance of the scanner bore) and the increased TMS coil vibrations (caused by the strong mechanical forces due to the static magnetic field of the MR scanner) constitute a crucial problem when studying auditory processing. This is one reason why fMRI was carried out before and after TMS in the present study. Similar approaches have been used to target the motor cortex 8,9, premotor cortex 10, primary somatosensory cortex 11,12 and language-related areas 13, but so far no combined TMS-fMRI study has investigated the auditory cortex. The purpose of this article is to provide details concerning the protocol and considerations necessary to successfully combine these two neuroscientific tools to investigate auditory processing. Previously we showed that repetitive TMS (rTMS) at high and low frequencies (resp. 10 Hz and 1 Hz) applied over the auditory cortex modulated response time (RT) in a melody discrimination task 2. We also showed that RT modulation was correlated with functional connectivity in the auditory network assessed using fMRI: the higher the functional connectivity between left and right auditory cortices during task performance, the higher the facilitatory effect (i.e. decreased RT) observed with rTMS. However those findings were mainly correlational, as fMRI was performed before rTMS. Here, fMRI was carried out before and immediately after TMS to provide direct measures of the functional organization of the auditory cortex, and more specifically of the plastic reorganization of the auditory neural network occurring after the neural intervention provided by TMS. Combined fMRI and TMS applied over the auditory cortex should enable a better understanding of brain mechanisms of auditory processing, providing physiological information about functional effects of TMS. This knowledge could be useful for many cognitive neuroscience applications, as well as for optimizing therapeutic applications of TMS, particularly in auditory-related disorders.
21 Related JoVE Articles!
Multi-electrode Array Recordings of Human Epileptic Postoperative Cortical Tissue
Institutions: CNRS UMR 7241, INSERM U1050, Collège de France, Paris Descartes University, Sorbonne Paris Cité, CEA, Paris Descartes University, Paris Descartes University, La Pitié-Salpêtrière Hospital, AP-HP, Sorbonne and Pierre and Marie Curie University.

Epilepsy, affecting about 1% of the population, comprises a group of neurological disorders characterized by the periodic occurrence of seizures, which disrupt normal brain function. Despite treatment with currently available antiepileptic drugs targeting neuronal functions, one third of patients with epilepsy are pharmacoresistant. In this condition, surgical resection of the brain area generating seizures remains the only alternative treatment. Studying human epileptic tissues has contributed to understand new epileptogenic mechanisms during the last 10 years. Indeed, these tissues generate spontaneous interictal epileptic discharges as well as pharmacologically-induced ictal events which can be recorded with classical electrophysiology techniques. Remarkably, multi-electrode arrays (MEAs), which are microfabricated devices embedding an array of spatially arranged microelectrodes, provide the unique opportunity to simultaneously stimulate and record field potentials, as well as action potentials of multiple neurons from different areas of the tissue. Thus MEAs recordings offer an excellent approach to study the spatio-temporal patterns of spontaneous interictal and evoked seizure-like events and the mechanisms underlying seizure onset and propagation. Here we describe how to prepare human cortical slices from surgically resected tissue and to record with MEAs interictal and ictal-like events
ex vivo
.
Medicine, Issue 92, electrophysiology, multi-electrode array, human tissue, slice, epilepsy, neocortex
51870
Preparing Undercut Model of Posttraumatic Epileptogenesis in Rodents
Institutions: Indiana University School of Medicine.

Partially isolated cortex ("undercut") is an animal model of posttraumatic epileptogenesis. The surgical procedure involves cutting through the sensorimotor cortex and the underneath white matter (undercut) so that a specific region of the cerebral cortex is largely isolated from the neighboring cortex and subcortical regions
1-3
. After a latency of two or more weeks following the surgery, epileptiform discharges can be recorded in brain slices from rodents
1
; and electrical or behavior seizures can be observed
in vivo
from other species such as cat and monkey
4-6
. This well established animal model is efficient to generate and mimics several important characteristics of traumatic brain injury. However, it is technically challenging attempting to make precise cortical lesions in the small rodent brain with a free hand. Based on the procedure initially established in Dr. David Prince's lab at the Stanford University
1
, here we present an improved technique to perform a surgery for the preparation of this model in mice and rats. We demonstrate how to make a simple surgical device and use it to gain a better control of cutting depth and angle to generate more precise and consistent results. The device is easy to make, and the procedure is quick to learn. The generation of this animal model provides an efficient system for study on the mechanisms of posttraumatic epileptogenesis.
Neuroscience, Issue 55, epilepsy, traumatic brain injury, brain, mouse, rat, surgery
2840
Forebrain Electrophysiological Recording in Larval Zebrafish
Institutions: University of California, San Francisco .
Epilepsy affects nearly 3 million people in the United States and up to 50 million people worldwide. Defined as the occurrence of spontaneous unprovoked seizures, epilepsy can be acquired as a result of an insult to the brain or a genetic mutation. Efforts to model seizures in animals have primarily utilized acquired insults (convulsant drugs, stimulation or brain injury) and genetic manipulations (antisense knockdown, homologous recombination or transgenesis) in rodents. Zebrafish are a vertebrate model system
1-3
that could provide a valuable alternative to rodent-based epilepsy research. Zebrafish are used extensively in the study of vertebrate genetics or development, exhibit a high degree of genetic similarity to mammals and express homologs for ~85% of known human single-gene epilepsy mutations. Because of their small size (4-6 mm in length), zebrafish larvae can be maintained in fluid volumes as low as 100 μl during early development and arrayed in multi-well plates. Reagents can be added directly to the solution in which embryos develop, simplifying drug administration and enabling rapid
in vivo
screening of test compounds
4
. Synthetic oligonucleotides (morpholinos), mutagenesis, zinc finger nuclease and transgenic approaches can be used to rapidly generate gene knockdown or mutation in zebrafish
5-7
. These properties afford zebrafish studies an unprecedented statistical power analysis advantage over rodents in the study of neurological disorders such as epilepsy. Because the "gold standard" for epilepsy research is to monitor and analyze the abnormal electrical discharges that originate in a central brain structure (
i.e.
, seizures), a method to efficiently record brain activity in larval zebrafish is described here. This method is an adaptation of conventional extracellular recording techniques and allows for stable long-term monitoring of brain activity in intact zebrafish larvae. Sample recordings are shown for acute seizures induced by bath application of convulsant drugs and spontaneous seizures recorded in a genetically modified fish.
Developmental Biology, Issue 71, Neuroscience, Anatomy, Physiology, Neurobiology, Cellular Biology, Molecular Biology, Surgery, Seizure, development, telencephalon, electrographic, extracellular, field recording, in vivo, electrophysiology, neuron, activity, microsurgery, micropipette, epilepsy, Danio rerio, zebrafish, zebrafish larvae
50104
Recording Human Electrocorticographic (ECoG) Signals for Neuroscientific Research and Real-time Functional Cortical Mapping
Institutions: New York State Department of Health, Albany Medical College, Albany Medical College, Washington University, Rensselaer Polytechnic Institute, State University of New York at Albany, University of Texas at El Paso .

Neuroimaging studies of human cognitive, sensory, and motor processes are usually based on noninvasive techniques such as electroencephalography (EEG), magnetoencephalography or functional magnetic-resonance imaging. These techniques have either inherently low temporal or low spatial resolution, and suffer from low signal-to-noise ratio and/or poor high-frequency sensitivity. Thus, they are suboptimal for exploring the short-lived spatio-temporal dynamics of many of the underlying brain processes. In contrast, the invasive technique of electrocorticography (ECoG) provides brain signals that have an exceptionally high signal-to-noise ratio, less susceptibility to artifacts than EEG, and a high spatial and temporal resolution (i.e., <1 cm/<1 millisecond, respectively). ECoG involves measurement of electrical brain signals using electrodes that are implanted subdurally on the surface of the brain. Recent studies have shown that ECoG amplitudes in certain frequency bands carry substantial information about task-related activity, such as motor execution and planning
1
, auditory processing
2
and visual-spatial attention
3
. Most of this information is captured in the high gamma range (around 70-110 Hz). Thus, gamma activity has been proposed as a robust and general indicator of local cortical function
1-5
. ECoG can also reveal functional connectivity and resolve finer task-related spatial-temporal dynamics, thereby advancing our understanding of large-scale cortical processes. It has especially proven useful for advancing brain-computer interfacing (BCI) technology for decoding a user's intentions to enhance or improve communication
6
and control
7
. Nevertheless, human ECoG data are often hard to obtain because of the risks and limitations of the invasive procedures involved, and the need to record within the constraints of clinical settings. Still, clinical monitoring to localize epileptic foci offers a unique and valuable opportunity to collect human ECoG data. We describe our methods for collecting recording ECoG, and demonstrate how to use these signals for important real-time applications such as clinical mapping and brain-computer interfacing. Our example uses the BCI2000 software platform
8,9
and the SIGFRIED
10
method, an application for real-time mapping of brain functions. This procedure yields information that clinicians can subsequently use to guide the complex and laborious process of functional mapping by electrical stimulation. Prerequisites and Planning: Patients with drug-resistant partial epilepsy may be candidates for resective surgery of an epileptic focus to minimize the frequency of seizures. Prior to resection, the patients undergo monitoring using subdural electrodes for two purposes: first, to localize the epileptic focus, and second, to identify nearby critical brain areas (i.e., eloquent cortex) where resection could result in long-term functional deficits. To implant electrodes, a craniotomy is performed to open the skull. Then, electrode grids and/or strips are placed on the cortex, usually beneath the dura. A typical grid has a set of 8 x 8 platinum-iridium electrodes of 4 mm diameter (2.3 mm exposed surface) embedded in silicon with an inter-electrode distance of 1cm. A strip typically contains 4 or 6 such electrodes in a single line. The locations for these grids/strips are planned by a team of neurologists and neurosurgeons, and are based on previous EEG monitoring, on a structural MRI of the patient's brain, and on relevant factors of the patient's history. Continuous recording over a period of 5-12 days serves to localize epileptic foci, and electrical stimulation via the implanted electrodes allows clinicians to map eloquent cortex. At the end of the monitoring period, explantation of the electrodes and therapeutic resection are performed together in one procedure. In addition to its primary clinical purpose, invasive monitoring also provides a unique opportunity to acquire human ECoG data for neuroscientific research. The decision to include a prospective patient in the research is based on the planned location of their electrodes, on the patient's performance scores on neuropsychological assessments, and on their informed consent, which is predicated on their understanding that participation in research is optional and is not related to their treatment. As with all research involving human subjects, the research protocol must be approved by the hospital's institutional review board. The decision to perform individual experimental tasks is made day-by-day, and is contingent on the patient's endurance and willingness to participate. Some or all of the experiments may be prevented by problems with the clinical state of the patient, such as post-operative facial swelling, temporary aphasia, frequent seizures, post-ictal fatigue and confusion, and more general pain or discomfort. At the Epilepsy Monitoring Unit at Albany Medical Center in Albany, New York, clinical monitoring is implemented around the clock using a 192-channel Nihon-Kohden Neurofax monitoring system. Research recordings are made in collaboration with the Wadsworth Center of the New York State Department of Health in Albany. Signals from the ECoG electrodes are fed simultaneously to the research and the clinical systems via splitter connectors. To ensure that the clinical and research systems do not interfere with each other, the two systems typically use separate grounds. In fact, an epidural strip of electrodes is sometimes implanted to provide a ground for the clinical system. Whether research or clinical recording system, the grounding electrode is chosen to be distant from the predicted epileptic focus and from cortical areas of interest for the research. Our research system consists of eight synchronized 16-channel g.USBamp amplifier/digitizer units (g.tec, Graz, Austria). These were chosen because they are safety-rated and FDA-approved for invasive recordings, they have a very low noise-floor in the high-frequency range in which the signals of interest are found, and they come with an SDK that allows them to be integrated with custom-written research software. In order to capture the high-gamma signal accurately, we acquire signals at 1200Hz sampling rate-considerably higher than that of the typical EEG experiment or that of many clinical monitoring systems. A built-in low-pass filter automatically prevents aliasing of signals higher than the digitizer can capture. The patient's eye gaze is tracked using a monitor with a built-in Tobii T-60 eye-tracking system (Tobii Tech., Stockholm, Sweden). Additional accessories such as joystick, bluetooth Wiimote (Nintendo Co.), data-glove (5
th
Dimension Technologies), keyboard, microphone, headphones, or video camera are connected depending on the requirements of the particular experiment. Data collection, stimulus presentation, synchronization with the different input/output accessories, and real-time analysis and visualization are accomplished using our BCI2000 software
8,9
. BCI2000 is a freely available general-purpose software system for real-time biosignal data acquisition, processing and feedback. It includes an array of pre-built modules that can be flexibly configured for many different purposes, and that can be extended by researchers' own code in C++, MATLAB or Python. BCI2000 consists of four modules that communicate with each other via a network-capable protocol: a Source module that handles the acquisition of brain signals from one of 19 different hardware systems from different manufacturers; a Signal Processing module that extracts relevant ECoG features and translates them into output signals; an Application module that delivers stimuli and feedback to the subject; and the Operator module that provides a graphical interface to the investigator. A number of different experiments may be conducted with any given patient. The priority of experiments will be determined by the location of the particular patient's electrodes. However, we usually begin our experimentation using the SIGFRIED (SIGnal modeling For Realtime Identification and Event Detection) mapping method, which detects and displays significant task-related activity in real time. The resulting functional map allows us to further tailor subsequent experimental protocols and may also prove as a useful starting point for traditional mapping by electrocortical stimulation (ECS). Although ECS mapping remains the gold standard for predicting the clinical outcome of resection, the process of ECS mapping is time consuming and also has other problems, such as after-discharges or seizures. Thus, a passive functional mapping technique may prove valuable in providing an initial estimate of the locus of eloquent cortex, which may then be confirmed and refined by ECS. The results from our passive SIGFRIED mapping technique have been shown to exhibit substantial concurrence with the results derived using ECS mapping
10
. The protocol described in this paper establishes a general methodology for gathering human ECoG data, before proceeding to illustrate how experiments can be initiated using the BCI2000 software platform. Finally, as a specific example, we describe how to perform passive functional mapping using the BCI2000-based SIGFRIED system.
Neuroscience, Issue 64, electrocorticography, brain-computer interfacing, functional brain mapping, SIGFRIED, BCI2000, epilepsy monitoring, magnetic resonance imaging, MRI
3993
Community-based Adapted Tango Dancing for Individuals with Parkinson's Disease and Older Adults
Institutions: Emory University School of Medicine, Brigham and Woman's Hospital and Massachusetts General Hospital.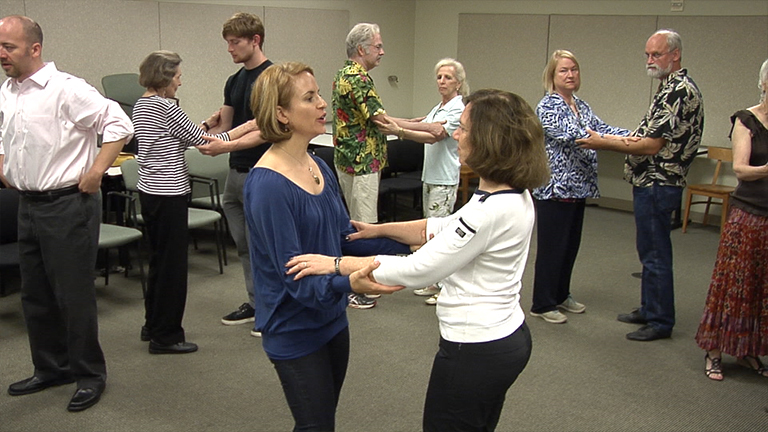 Adapted tango dancing improves mobility and balance in older adults and additional populations with balance impairments. It is composed of very simple step elements. Adapted tango involves movement initiation and cessation, multi-directional perturbations, varied speeds and rhythms. Focus on foot placement, whole body coordination, and attention to partner, path of movement, and aesthetics likely underlie adapted tango's demonstrated efficacy for improving mobility and balance. In this paper, we describe the methodology to disseminate the adapted tango teaching methods to dance instructor trainees and to implement the adapted tango by the trainees in the community for older adults and individuals with Parkinson's Disease (PD). Efficacy in improving mobility (measured with the Timed Up and Go, Tandem stance, Berg Balance Scale, Gait Speed and 30 sec chair stand), safety and fidelity of the program is maximized through targeted instructor and volunteer training and a structured detailed syllabus outlining class practices and progression.
Behavior, Issue 94, Dance, tango, balance, pedagogy, dissemination, exercise, older adults, Parkinson's Disease, mobility impairments, falls
52066
A Proboscis Extension Response Protocol for Investigating Behavioral Plasticity in Insects: Application to Basic, Biomedical, and Agricultural Research
Institutions: Arizona State University.

Insects modify their responses to stimuli through experience of associating those stimuli with events important for survival (
e.g.
, food, mates, threats). There are several behavioral mechanisms through which an insect learns salient associations and relates them to these events. It is important to understand this behavioral plasticity for programs aimed toward assisting insects that are beneficial for agriculture. This understanding can also be used for discovering solutions to biomedical and agricultural problems created by insects that act as disease vectors and pests. The Proboscis Extension Response (PER) conditioning protocol was developed for honey bees (
Apis mellifera
) over 50 years ago to study how they perceive and learn about floral odors, which signal the nectar and pollen resources a colony needs for survival. The PER procedure provides a robust and easy-to-employ framework for studying several different ecologically relevant mechanisms of behavioral plasticity. It is easily adaptable for use with several other insect species and other behavioral reflexes. These protocols can be readily employed in conjunction with various means for monitoring neural activity in the CNS via electrophysiology or bioimaging, or for manipulating targeted neuromodulatory pathways. It is a robust assay for rapidly detecting sub-lethal effects on behavior caused by environmental stressors, toxins or pesticides. We show how the PER protocol is straightforward to implement using two procedures. One is suitable as a laboratory exercise for students or for quick assays of the effect of an experimental treatment. The other provides more thorough control of variables, which is important for studies of behavioral conditioning. We show how several measures for the behavioral response ranging from binary yes/no to more continuous variable like latency and duration of proboscis extension can be used to test hypotheses. And, we discuss some pitfalls that researchers commonly encounter when they use the procedure for the first time.
Neuroscience, Issue 91, PER, conditioning, honey bee, olfaction, olfactory processing, learning, memory, toxin assay
51057
A Simple Stimulatory Device for Evoking Point-like Tactile Stimuli: A Searchlight for LFP to Spike Transitions
Institutions: National Research Council, National Research Council, University of Manchester.
Current neurophysiological research has the aim to develop methodologies to investigate the signal route from neuron to neuron, namely in the transitions from spikes to Local Field Potentials (LFPs) and from LFPs to spikes. LFPs have a complex dependence on spike activity and their relation is still poorly understood
1
. The elucidation of these signal relations would be helpful both for clinical diagnostics (
e.g.
stimulation paradigms for Deep Brain Stimulation) and for a deeper comprehension of neural coding strategies in normal and pathological conditions (
e.g.
epilepsy, Parkinson disease, chronic pain). To this aim, one has to solve technical issues related to stimulation devices, stimulation paradigms and computational analyses. Therefore, a custom-made stimulation device was developed in order to deliver stimuli well regulated in space and time that does not incur in mechanical resonance. Subsequently, as an exemplification, a set of reliable LFP-spike relationships was extracted. The performance of the device was investigated by extracellular recordings, jointly spikes and LFP responses to the applied stimuli, from the rat Primary Somatosensory cortex. Then, by means of a multi-objective optimization strategy, a predictive model for spike occurrence based on LFPs was estimated. The application of this paradigm shows that the device is adequately suited to deliver high frequency tactile stimulation, outperforming common piezoelectric actuators. As a proof of the efficacy of the device, the following results were presented: 1) the timing and reliability of LFP responses well match the spike responses, 2) LFPs are sensitive to the stimulation history and capture not only the average response but also the trial-to-trial fluctuations in the spike activity and, finally, 3) by using the LFP signal it is possible to estimate a range of predictive models that capture different aspects of the spike activity.
Neuroscience, Issue 85, LFP, spike, tactile stimulus, Multiobjective function, Neuron, somatosensory cortex
50941
EEG Mu Rhythm in Typical and Atypical Development
Institutions: University of Washington, University of Washington.

Electroencephalography (EEG) is an effective, efficient, and noninvasive method of assessing and recording brain activity. Given the excellent temporal resolution, EEG can be used to examine the neural response related to specific behaviors, states, or external stimuli. An example of this utility is the assessment of the mirror neuron system (MNS) in humans through the examination of the EEG mu rhythm. The EEG mu rhythm, oscillatory activity in the 8-12 Hz frequency range recorded from centrally located electrodes, is suppressed when an individual executes, or simply observes, goal directed actions. As such, it has been proposed to reflect activity of the MNS. It has been theorized that dysfunction in the mirror neuron system (MNS) plays a contributing role in the social deficits of autism spectrum disorder (ASD). The MNS can then be noninvasively examined in clinical populations by using EEG mu rhythm attenuation as an index for its activity. The described protocol provides an avenue to examine social cognitive functions theoretically linked to the MNS in individuals with typical and atypical development, such as ASD. 
Medicine, Issue 86, Electroencephalography (EEG), mu rhythm, imitation, autism spectrum disorder, social cognition, mirror neuron system
51412
Neurocircuit Assays for Seizures in Epilepsy Mutants of Drosophila
Institutions: University of California, Berkeley, University of California, Berkeley.

Drosophila melanogaster
is a useful tool for studying seizure like activity. A variety of mutants in which seizures can be induced through either physical shock or electrical stimulation is available for study of various aspects of seizure activity and behavior. All flies, including wild-type, will undergo seizure-like activity if stimulated at a high enough voltage. Seizure like activity is an all-or-nothing response and each genotype has a specific seizure threshold. The seizure threshold of a specific genotype of fly can be altered either by treatment with a drug or by genetic suppression or enhancement. The threshold is easily measured by electrophysiology. Seizure-like activity can be induced via high frequency electrical stimulation delivered directly to the brain and recorded through the dorsal longitudinal muscles (DLMs) in the thorax. The DLMs are innervated by part of the giant fiber system. Starting with low voltage, high frequency stimulation, and subsequently raising the voltage in small increments, the seizure threshold for a single fly can be measured.
Neuroscience, Issue 26, elecrophysiology, Drosophila, seizures, epilepsy, giant fiber
1121
Isolation and Functional Characterization of Human Ventricular Cardiomyocytes from Fresh Surgical Samples
Institutions: University of Florence, University of Florence.

Cardiomyocytes from diseased hearts are subjected to complex remodeling processes involving changes in cell structure, excitation contraction coupling and membrane ion currents. Those changes are likely to be responsible for the increased arrhythmogenic risk and the contractile alterations leading to systolic and diastolic dysfunction in cardiac patients. However, most information on the alterations of myocyte function in cardiac diseases has come from animal models. Here we describe and validate a protocol to isolate viable myocytes from small surgical samples of ventricular myocardium from patients undergoing cardiac surgery operations. The protocol is described in detail. Electrophysiological and intracellular calcium measurements are reported to demonstrate the feasibility of a number of single cell measurements in human ventricular cardiomyocytes obtained with this method. The protocol reported here can be useful for future investigations of the cellular and molecular basis of functional alterations of the human heart in the presence of different cardiac diseases. Further, this method can be used to identify novel therapeutic targets at cellular level and to test the effectiveness of new compounds on human cardiomyocytes, with direct translational value.
Medicine, Issue 86, cardiology, cardiac cells, electrophysiology, excitation-contraction coupling, action potential, calcium, myocardium, hypertrophic cardiomyopathy, cardiac patients, cardiac disease
51116
Performing Behavioral Tasks in Subjects with Intracranial Electrodes
Institutions: Cleveland Clinic Foundation, Cleveland Clinic Foundation, Cleveland Clinic Foundation, Johns Hopkins University.

Patients having stereo-electroencephalography (SEEG) electrode, subdural grid or depth electrode implants have a multitude of electrodes implanted in different areas of their brain for the localization of their seizure focus and eloquent areas. After implantation, the patient must remain in the hospital until the pathological area of brain is found and possibly resected. During this time, these patients offer a unique opportunity to the research community because any number of behavioral paradigms can be performed to uncover the neural correlates that guide behavior. Here we present a method for recording brain activity from intracranial implants as subjects perform a behavioral task designed to assess decision-making and reward encoding. All electrophysiological data from the intracranial electrodes are recorded during the behavioral task, allowing for the examination of the many brain areas involved in a single function at time scales relevant to behavior. Moreover, and unlike animal studies, human patients can learn a wide variety of behavioral tasks quickly, allowing for the ability to perform more than one task in the same subject or for performing controls. Despite the many advantages of this technique for understanding human brain function, there are also methodological limitations that we discuss, including environmental factors, analgesic effects, time constraints and recordings from diseased tissue. This method may be easily implemented by any institution that performs intracranial assessments; providing the opportunity to directly examine human brain function during behavior.
Behavior, Issue 92, Cognitive neuroscience, Epilepsy, Stereo-electroencephalography, Subdural grids, Behavioral method, Electrophysiology
51947
The Use of Magnetic Resonance Spectroscopy as a Tool for the Measurement of Bi-hemispheric Transcranial Electric Stimulation Effects on Primary Motor Cortex Metabolism
Institutions: University of Montréal, McGill University, University of Minnesota.

Transcranial direct current stimulation (tDCS) is a neuromodulation technique that has been increasingly used over the past decade in the treatment of neurological and psychiatric disorders such as stroke and depression. Yet, the mechanisms underlying its ability to modulate brain excitability to improve clinical symptoms remains poorly understood
33
. To help improve this understanding, proton magnetic resonance spectroscopy (
1
H-MRS) can be used as it allows the
in vivo
quantification of brain metabolites such as γ-aminobutyric acid (GABA) and glutamate in a region-specific manner
41
. In fact, a recent study demonstrated that
1
H-MRS is indeed a powerful means to better understand the effects of tDCS on neurotransmitter concentration
34
. This article aims to describe the complete protocol for combining tDCS (NeuroConn MR compatible stimulator) with
1
H-MRS at 3 T using a MEGA-PRESS sequence. We will describe the impact of a protocol that has shown great promise for the treatment of motor dysfunctions after stroke, which consists of bilateral stimulation of primary motor cortices
27,30,31
. Methodological factors to consider and possible modifications to the protocol are also discussed.
Neuroscience, Issue 93, proton magnetic resonance spectroscopy, transcranial direct current stimulation, primary motor cortex, GABA, glutamate, stroke
51631
Simultaneous EEG Monitoring During Transcranial Direct Current Stimulation
Institutions: Universidade Federal do Rio Grande do Sul, Coordenacao de Aperfeicoamento de Pessoal de Nivel Superior (CAPES), Harvard Medical School, De Montfort University.

Transcranial direct current stimulation (tDCS) is a technique that delivers weak electric currents through the scalp. This constant electric current induces shifts in neuronal membrane excitability, resulting in secondary changes in cortical activity. Although tDCS has most of its neuromodulatory effects on the underlying cortex, tDCS effects can also be observed in distant neural networks. Therefore, concomitant EEG monitoring of the effects of tDCS can provide valuable information on the mechanisms of tDCS. In addition, EEG findings can be an important surrogate marker for the effects of tDCS and thus can be used to optimize its parameters. This combined EEG-tDCS system can also be used for preventive treatment of neurological conditions characterized by abnormal peaks of cortical excitability, such as seizures. Such a system would be the basis of a non-invasive closed-loop device. In this article, we present a novel device that is capable of utilizing tDCS and EEG simultaneously. For that, we describe in a step-by-step fashion the main procedures of the application of this device using schematic figures, tables and video demonstrations. Additionally, we provide a literature review on clinical uses of tDCS and its cortical effects measured by EEG techniques.
Behavior, Issue 76, Medicine, Neuroscience, Neurobiology, Anatomy, Physiology, Biomedical Engineering, Psychology, electroencephalography, electroencephalogram, EEG, transcranial direct current stimulation, tDCS, noninvasive brain stimulation, neuromodulation, closed-loop system, brain, imaging, clinical techniques
50426
Transcranial Magnetic Stimulation for Investigating Causal Brain-behavioral Relationships and their Time Course
Institutions: University College London.

Transcranial magnetic stimulation (TMS) is a safe, non-invasive brain stimulation technique that uses a strong electromagnet in order to temporarily disrupt information processing in a brain region, generating a short-lived "virtual lesion." Stimulation that interferes with task performance indicates that the affected brain region is necessary to perform the task normally. In other words, unlike neuroimaging methods such as functional magnetic resonance imaging (fMRI) that indicate correlations between brain and behavior, TMS can be used to demonstrate causal brain-behavior relations. Furthermore, by varying the duration and onset of the virtual lesion, TMS can also reveal the time course of normal processing. As a result, TMS has become an important tool in cognitive neuroscience. Advantages of the technique over lesion-deficit studies include better spatial-temporal precision of the disruption effect, the ability to use participants as their own control subjects, and the accessibility of participants. Limitations include concurrent auditory and somatosensory stimulation that may influence task performance, limited access to structures more than a few centimeters from the surface of the scalp, and the relatively large space of free parameters that need to be optimized in order for the experiment to work. Experimental designs that give careful consideration to appropriate control conditions help to address these concerns. This article illustrates these issues with TMS results that investigate the spatial and temporal contributions of the left supramarginal gyrus (SMG) to reading.
Behavior, Issue 89, Transcranial magnetic stimulation, virtual lesion, chronometric, cognition, brain, behavior
51735
Utilizing Transcranial Magnetic Stimulation to Study the Human Neuromuscular System
Institutions: Ohio University.

Transcranial magnetic stimulation (TMS) has been in use for more than 20 years
1
, and has grown exponentially in popularity over the past decade. While the use of TMS has expanded to the study of many systems and processes during this time, the original application and perhaps one of the most common uses of TMS involves studying the physiology, plasticity and function of the human neuromuscular system. Single pulse TMS applied to the motor cortex excites pyramidal neurons transsynaptically
2
(Figure 1) and results in a measurable electromyographic response that can be used to study and evaluate the integrity and excitability of the corticospinal tract in humans
3
. Additionally, recent advances in magnetic stimulation now allows for partitioning of cortical versus spinal excitability
4,5
. For example, paired-pulse TMS can be used to assess intracortical facilitatory and inhibitory properties by combining a conditioning stimulus and a test stimulus at different interstimulus intervals
3,4,6-8
. In this video article we will demonstrate the methodological and technical aspects of these techniques. Specifically, we will demonstrate single-pulse and paired-pulse TMS techniques as applied to the flexor carpi radialis (FCR) muscle as well as the erector spinae (ES) musculature. Our laboratory studies the FCR muscle as it is of interest to our research on the effects of wrist-hand cast immobilization on reduced muscle performance
6,9
, and we study the ES muscles due to these muscles clinical relevance as it relates to low back pain
8
. With this stated, we should note that TMS has been used to study many muscles of the hand, arm and legs, and should iterate that our demonstrations in the FCR and ES muscle groups are only selected examples of TMS being used to study the human neuromuscular system.
Medicine, Issue 59, neuroscience, muscle, electromyography, physiology, TMS, strength, motor control. sarcopenia, dynapenia, lumbar
3387
Modeling Neural Immune Signaling of Episodic and Chronic Migraine Using Spreading Depression In Vitro
Institutions: The University of Chicago Medical Center, The University of Chicago Medical Center.

Migraine and its transformation to chronic migraine are healthcare burdens in need of improved treatment options. We seek to define how neural immune signaling modulates the susceptibility to migraine, modeled
in vitro
using spreading depression (SD), as a means to develop novel therapeutic targets for episodic and chronic migraine. SD is the likely cause of migraine aura and migraine pain. It is a paroxysmal loss of neuronal function triggered by initially increased neuronal activity, which slowly propagates within susceptible brain regions. Normal brain function is exquisitely sensitive to, and relies on, coincident low-level immune signaling. Thus, neural immune signaling likely affects electrical activity of SD, and therefore migraine. Pain perception studies of SD in whole animals are fraught with difficulties, but whole animals are well suited to examine systems biology aspects of migraine since SD activates trigeminal nociceptive pathways. However, whole animal studies alone cannot be used to decipher the cellular and neural circuit mechanisms of SD. Instead,
in vitro
preparations where environmental conditions can be controlled are necessary. Here, it is important to recognize limitations of acute slices and distinct advantages of hippocampal slice cultures. Acute brain slices cannot reveal subtle changes in immune signaling since preparing the slices alone triggers: pro-inflammatory changes that last days, epileptiform behavior due to high levels of oxygen tension needed to vitalize the slices, and irreversible cell injury at anoxic slice centers. In contrast, we examine immune signaling in mature hippocampal slice cultures since the cultures closely parallel their
in vivo
counterpart with mature trisynaptic function; show quiescent astrocytes, microglia, and cytokine levels; and SD is easily induced in an unanesthetized preparation. Furthermore, the slices are long-lived and SD can be induced on consecutive days without injury, making this preparation the sole means to-date capable of modeling the neuroimmune consequences of chronic SD, and thus perhaps chronic migraine. We use electrophysiological techniques and non-invasive imaging to
measure
neuronal cell and circuit functions coincident with SD. Neural immune gene expression variables are measured with qPCR screening, qPCR arrays, and, importantly, use of cDNA preamplification for detection of ultra-low level targets such as interferon-gamma using whole, regional, or specific cell enhanced (via laser dissection microscopy) sampling. Cytokine cascade signaling is further assessed with multiplexed phosphoprotein related targets with gene expression and phosphoprotein changes confirmed via cell-specific immunostaining. Pharmacological and siRNA strategies are used to
mimic
and
modulate
SD immune signaling.
Neuroscience, Issue 52, innate immunity, hormesis, microglia, T-cells, hippocampus, slice culture, gene expression, laser dissection microscopy, real-time qPCR, interferon-gamma
2910
Technique and Considerations in the Use of 4x1 Ring High-definition Transcranial Direct Current Stimulation (HD-tDCS)
Institutions: Spaulding Rehabilitation Hospital and Massachusetts General Hospital, Harvard Medical School, Pontifical Catholic University of Ecuador, Charité University Medicine Berlin, The City College of The City University of New York, University of Michigan.

High-definition transcranial direct current stimulation (HD-tDCS) has recently been developed as a noninvasive brain stimulation approach that increases the accuracy of current delivery to the brain by using arrays of smaller "high-definition" electrodes, instead of the larger pad-electrodes of conventional tDCS. Targeting is achieved by energizing electrodes placed in predetermined configurations. One of these is the 4x1-ring configuration. In this approach, a center ring electrode (anode or cathode) overlying the target cortical region is surrounded by four return electrodes, which help circumscribe the area of stimulation. Delivery of 4x1-ring HD-tDCS is capable of inducing significant neurophysiological and clinical effects in both healthy subjects and patients. Furthermore, its tolerability is supported by studies using intensities as high as 2.0 milliamperes for up to twenty minutes. Even though 4x1 HD-tDCS is simple to perform, correct electrode positioning is important in order to accurately stimulate target cortical regions and exert its neuromodulatory effects. The use of electrodes and hardware that have specifically been tested for HD-tDCS is critical for safety and tolerability. Given that most published studies on 4x1 HD-tDCS have targeted the primary motor cortex (M1), particularly for pain-related outcomes, the purpose of this article is to systematically describe its use for M1 stimulation, as well as the considerations to be taken for safe and effective stimulation. However, the methods outlined here can be adapted for other HD-tDCS configurations and cortical targets.
Medicine, Issue 77, Neurobiology, Neuroscience, Physiology, Anatomy, Biomedical Engineering, Biophysics, Neurophysiology, Nervous System Diseases, Diagnosis, Therapeutics, Anesthesia and Analgesia, Investigative Techniques, Equipment and Supplies, Mental Disorders, Transcranial direct current stimulation, tDCS, High-definition transcranial direct current stimulation, HD-tDCS, Electrical brain stimulation, Transcranial electrical stimulation (tES), Noninvasive Brain Stimulation, Neuromodulation, non-invasive, brain, stimulation, clinical techniques
50309
Perceptual and Category Processing of the Uncanny Valley Hypothesis' Dimension of Human Likeness: Some Methodological Issues
Institutions: University of Zurich.

Mori's Uncanny Valley Hypothesis
1,2
proposes that the perception of humanlike characters such as robots and, by extension, avatars (computer-generated characters) can evoke negative or positive affect (valence) depending on the object's degree of visual and behavioral realism along a
dimension of human likeness
(
DHL
) (
Figure 1
). But studies of affective valence of subjective responses to variously realistic non-human characters have produced inconsistent findings
3, 4, 5, 6
. One of a number of reasons for this is that human likeness is not perceived as the hypothesis assumes. While the DHL can be defined following Mori's description as a smooth linear change in the degree of physical humanlike similarity, subjective perception of objects along the DHL can be understood in terms of the psychological effects of categorical perception (CP)
7
. Further behavioral and neuroimaging investigations of category processing and CP along the DHL and of the potential influence of the dimension's underlying category structure on affective experience are needed. This protocol therefore focuses on the DHL and allows examination of CP. Based on the protocol presented in the video as an example, issues surrounding the methodology in the protocol and the use in "uncanny" research of stimuli drawn from morph continua to represent the DHL are discussed in the article that accompanies the video. The use of neuroimaging and morph stimuli to represent the DHL in order to disentangle brain regions neurally responsive to physical human-like similarity from those responsive to category change and category processing is briefly illustrated.
Behavior, Issue 76, Neuroscience, Neurobiology, Molecular Biology, Psychology, Neuropsychology, uncanny valley, functional magnetic resonance imaging, fMRI, categorical perception, virtual reality, avatar, human likeness, Mori, uncanny valley hypothesis, perception, magnetic resonance imaging, MRI, imaging, clinical techniques
4375
Electrophysiological Measurements and Analysis of Nociception in Human Infants
Institutions: University College London, Great Ormond Street Hospital, University College Hospital, University of Oxford.

Pain is an unpleasant sensory and emotional experience. Since infants cannot verbally report their experiences, current methods of pain assessment are based on behavioural and physiological body reactions, such as crying, body movements or changes in facial expression. While these measures demonstrate that infants mount a response following noxious stimulation, they are limited: they are based on activation of subcortical somatic and autonomic motor pathways that may not be reliably linked to central sensory processing in the brain. Knowledge of how the central nervous system responds to noxious events could provide an insight to how nociceptive information and pain is processed in newborns. The heel lancing procedure used to extract blood from hospitalised infants offers a unique opportunity to study pain in infancy. In this video we describe how electroencephalography (EEG) and electromyography (EMG) time-locked to this procedure can be used to investigate nociceptive activity in the brain and spinal cord. This integrative approach to the measurement of infant pain has the potential to pave the way for an effective and sensitive clinical measurement tool.
Neuroscience, Issue 58, pain, infant, electrophysiology, human development
3118
Cross-Modal Multivariate Pattern Analysis
Institutions: University of Southern California.

Multivariate pattern analysis (MVPA) is an increasingly popular method of analyzing functional magnetic resonance imaging (fMRI) data
1-4
. Typically, the method is used to identify a subject's perceptual experience from neural activity in certain regions of the brain. For instance, it has been employed to predict the orientation of visual gratings a subject perceives from activity in early visual cortices
5
or, analogously, the content of speech from activity in early auditory cortices
6
. Here, we present an extension of the classical MVPA paradigm, according to which perceptual stimuli are not predicted within, but across sensory systems. Specifically, the method we describe addresses the question of whether stimuli that evoke memory associations in modalities other than the one through which they are presented induce content-specific activity patterns in the sensory cortices of those other modalities. For instance, seeing a muted video clip of a glass vase shattering on the ground automatically triggers in most observers an auditory image of the associated sound; is the experience of this image in the "mind's ear" correlated with a specific neural activity pattern in early auditory cortices? Furthermore, is this activity pattern distinct from the pattern that could be observed if the subject were, instead, watching a video clip of a howling dog? In two previous studies
7,8
, we were able to predict sound- and touch-implying video clips based on neural activity in early auditory and somatosensory cortices, respectively. Our results are in line with a neuroarchitectural framework proposed by Damasio
9,10
, according to which the experience of mental images that are based on memories - such as hearing the shattering sound of a vase in the "mind's ear" upon seeing the corresponding video clip - is supported by the re-construction of content-specific neural activity patterns in early sensory cortices.
Neuroscience, Issue 57, perception, sensory, cross-modal, top-down, mental imagery, fMRI, MRI, neuroimaging, multivariate pattern analysis, MVPA
3307
Functional Mapping with Simultaneous MEG and EEG
Institutions: MGH - Massachusetts General Hospital.

We use magnetoencephalography (MEG) and electroencephalography (EEG) to locate and determine the temporal evolution in brain areas involved in the processing of simple sensory stimuli. We will use somatosensory stimuli to locate the hand somatosensory areas, auditory stimuli to locate the auditory cortices, visual stimuli in four quadrants of the visual field to locate the early visual areas. These type of experiments are used for functional mapping in epileptic and brain tumor patients to locate eloquent cortices. In basic neuroscience similar experimental protocols are used to study the orchestration of cortical activity. The acquisition protocol includes quality assurance procedures, subject preparation for the combined MEG/EEG study, and acquisition of evoked-response data with somatosensory, auditory, and visual stimuli. We also demonstrate analysis of the data using the equivalent current dipole model and cortically-constrained minimum-norm estimates. Anatomical MRI data are employed in the analysis for visualization and for deriving boundaries of tissue boundaries for forward modeling and cortical location and orientation constraints for the minimum-norm estimates.
JoVE neuroscience, Issue 40, neuroscience, brain, MEG, EEG, functional imaging
1668