Manufacturing of Three-dimensionally Microstructured Nanocomposites through Microfluidic Infiltration
Published: 03-12-2014
ABSTRACT
Microstructured composite beams reinforced with complex three-dimensionally (3D) patterned nanocomposite microfilaments are fabricated via nanocomposite infiltration of 3D interconnected microfluidic networks. The manufacturing of the reinforced beams begins with the fabrication of microfluidic networks, which involves layer-by-layer deposition of fugitive ink filaments using a dispensing robot, filling the empty space between filaments using a low viscosity resin, curing the resin and finally removing the ink. Self-supported 3D structures with other geometries and many layers (e.g. a few hundreds layers) could be built using this method. The resulting tubular microfluidic networks are then infiltrated with thermosetting nanocomposite suspensions containing nanofillers (e.g. single-walled carbon nanotubes), and subsequently cured. The infiltration is done by applying a pressure gradient between two ends of the empty network (either by applying a vacuum or vacuum-assisted microinjection). Prior to the infiltration, the nanocomposite suspensions are prepared by dispersing nanofillers into polymer matrices using ultrasonication and three-roll mixing methods. The nanocomposites (i.e. materials infiltrated) are then solidified under UV exposure/heat cure, resulting in a 3D-reinforced composite structure. The technique presented here enables the design of functional nanocomposite macroscopic products for microengineering applications such as actuators and sensors.
18 Related JoVE Articles!
Synthesis and Functionalization of Nitrogen-doped Carbon Nanotube Cups with Gold Nanoparticles as Cork Stoppers
Institutions: University of Pittsburgh.
Nitrogen-doped carbon nanotubes consist of many cup-shaped graphitic compartments termed as nitrogen-doped carbon nanotube cups (NCNCs). These as-synthesized graphitic nanocups from chemical vapor deposition (CVD) method were stacked in a head-to-tail fashion held only through noncovalent interactions. Individual NCNCs can be isolated out of their stacking structure through a series of chemical and physical separation processes. First, as-synthesized NCNCs were oxidized in a mixture of strong acids to introduce oxygen-containing defects on the graphitic walls. The oxidized NCNCs were then processed using high-intensity probe-tip sonication which effectively separated the stacked NCNCs into individual graphitic nanocups. Owing to their abundant oxygen and nitrogen surface functionalities, the resulted individual NCNCs are highly hydrophilic and can be effectively functionalized with gold nanoparticles (GNPs), which preferentially fit in the opening of the cups as cork stoppers. These graphitic nanocups corked with GNPs may find promising applications as nanoscale containers and drug carriers.
Physics, Issue 75, Chemistry, Chemical Engineering, Materials Science, Physical Chemistry, Nanotechnology, Metal Nanoparticles, carbon nanotubes (synthesis and properties), carbon nanotubes, chemical vapor deposition, CVD, gold nanoparticles, probe-tip sonication, nitrogen-doped carbon nanotube cups, nanotubes, nanoparticles, nanomaterial, synthesis
50383
Dry Oxidation and Vacuum Annealing Treatments for Tuning the Wetting Properties of Carbon Nanotube Arrays
Institutions: California Institute of Technology.

In this article, we describe a simple method to reversibly tune the wetting properties of vertically aligned carbon nanotube (CNT) arrays. Here, CNT arrays are defined as densely packed multi-walled carbon nanotubes oriented perpendicular to the growth substrate as a result of a growth process by the standard thermal chemical vapor deposition (CVD) technique.
1,2
These CNT arrays are then exposed to vacuum annealing treatment to make them more hydrophobic or to dry oxidation treatment to render them more hydrophilic. The hydrophobic CNT arrays can be turned hydrophilic by exposing them to dry oxidation treatment, while the hydrophilic CNT arrays can be turned hydrophobic by exposing them to vacuum annealing treatment. Using a combination of both treatments, CNT arrays can be repeatedly switched between hydrophilic and hydrophobic.
2
Therefore, such combination show a very high potential in many industrial and consumer applications, including drug delivery system and high power density supercapacitors.
3-5
The key to vary the wettability of CNT arrays is to control the surface concentration of oxygen adsorbates. Basically oxygen adsorbates can be introduced by exposing the CNT arrays to any oxidation treatment. Here we use dry oxidation treatments, such as oxygen plasma and UV/ozone, to functionalize the surface of CNT with oxygenated functional groups. These oxygenated functional groups allow hydrogen bond between the surface of CNT and water molecules to form, rendering the CNT hydrophilic. To turn them hydrophobic, adsorbed oxygen must be removed from the surface of CNT. Here we employ vacuum annealing treatment to induce oxygen desorption process. CNT arrays with extremely low surface concentration of oxygen adsorbates exhibit a superhydrophobic behavior.
Chemistry, Issue 74, Chemical Engineering, Materials Science, Nanotechnology, Engineering, Nanotubes, Carbon, Oxidation-Reduction, Surface Properties, carbon nanotubes (synthesis and properties), Carbon nanotube, Wettability, Hydrophobic, Hydrophilic, UV/ozone, Oxygen Plasma, Vacuum Annealing
50378
Ambient Method for the Production of an Ionically Gated Carbon Nanotube Common Cathode in Tandem Organic Solar Cells
Institutions: The University of Texas at Dallas, The University of Texas at Dallas, Aalto University School of Science.
A method of fabricating organic photovoltaic (OPV) tandems that requires no vacuum processing is presented. These devices are comprised of two solution-processed polymeric cells connected in parallel by a transparent carbon nanotubes (CNT) interlayer. This structure includes improvements in fabrication techniques for tandem OPV devices. First the need for ambient-processed cathodes is considered. The CNT anode in the tandem device is tuned via ionic gating to become a common cathode. Ionic gating employs electric double layer charging to lower the work function of the CNT electrode. Secondly, the difficulty of sequentially stacking tandem layers by solution-processing is addressed. The devices are fabricated via solution and dry-lamination in ambient conditions with parallel processing steps. The method of fabricating the individual polymeric cells, the steps needed to laminate them together with a common CNT cathode, and then provide some representative results are described. These results demonstrate ionic gating of the CNT electrode to create a common cathode and addition of current and efficiency as a result of the lamination procedure.
Physics, Issue 93, Organic Photovoltaic, Carbon Nanotubes, Ionic Liquid, Tandem Photovoltaic, Conjugated Polymers, Ambient Processing
52380
Encapsulation and Permeability Characteristics of Plasma Polymerized Hollow Particles
Institutions: The Pennsylvania State University.
In this protocol, core-shell nanostructures are synthesized by plasma enhanced chemical vapor deposition. We produce an amorphous barrier by plasma polymerization of isopropanol on various solid substrates, including silica and potassium chloride. This versatile technique is used to treat nanoparticles and nanopowders with sizes ranging from 37 nm to 1 micron, by depositing films whose thickness can be anywhere from 1 nm to upwards of 100 nm. Dissolution of the core allows us to study the rate of permeation through the film. In these experiments, we determine the diffusion coefficient of KCl through the barrier film by coating KCL nanocrystals and subsequently monitoring the ionic conductivity of the coated particles suspended in water. The primary interest in this process is the encapsulation and delayed release of solutes. The thickness of the shell is one of the independent variables by which we control the rate of release. It has a strong effect on the rate of release, which increases from a six-hour release (shell thickness is 20 nm) to a long-term release over 30 days (shell thickness is 95 nm). The release profile shows a characteristic behavior: a fast release (35% of the final materials) during the first five minutes after the beginning of the dissolution, and a slower release till all of the core materials come out.
Physics, Issue 66, Chemical Engineering, Plasma Physics, Plasma coating, Core-shell structure, Hollow particles, Permeability, nanoparticles, nanopowders
4113
Procedure for Fabricating Biofunctional Nanofibers
Institutions: Clark Atlanta University, Clark Atlanta University, Cornell University.

Electrospinning is an effective processing method for preparing nanofibers decorated with functional groups. Nanofibers decorated with functional groups may be utilized to study material-biomarker interactions
i.e.
act as biosensors with potential as single molecule detectors. We have developed an effective approach for preparing functional polymers where the functionality has the capacity of specifically binding with a model protein. In our model system, the functional group is 2,4-dinitrophenyl (DNP) and the protein is anti-DNP IgE (Immunoglobulin E). The functional polymer, α,ω-bi[2,4-dinitrophenyl caproic][poly(ethylene oxide)-b-poly(2-methoxystyrene)-b-poly(ethylene oxide)] (CDNP-PEO-P2MS-PEO-CDNP), is prepared by anionic living polymerization. The difunctional initiator utilized in the polymerization was prepared by electron transfer reaction of α-methylstyrene and potassium (mirror) metal. The 2-methoxystyrene monomer was added first to the initiator, followed by the addition of the second monomer, ethylene oxide, and finally the living polymer was terminated by methanol. The α,ω-dihydroxyl polymer [HO-PEO-P2MS-PEO-OH] was reacted with N-2,4-DNP-∈-amino caproic acid, by DCC coupling, resulting in the formation of α,ω-bi[2,4-dinitrophenylcaproic][poly(ethyleneoxide)-b-poly(2-methoxystyrene)-b-poly(ethylene oxide)] (CDNP-PEO-P2MS-PEO-CDNP). The polymers were characterized by FT-IR,
1
H NMR and Gel Permeation Chromatography (GPC). The molecular weight distributions of the polymers were narrow (1.1-1.2) and polymers with molecular weights greater than 50,000 was used in this study. The polymers were yellow powders and soluble in tetrahydrofuran. A water soluble CDNP-PEO-P2MS-PEO-CDNP/ DMEG (dimethoxyethylene glycol) complex binds and achieves steady state binding with solution IgE within a few seconds. Higher molecular weight (water insoluble
i.e.
around 50,000) CDNP-PEO-P2MS-PEO-CDNP polymers, containing 1% single wall carbon nanotubes (SWCNT) were processed into electroactive nanofibers (100 nm to 500 nm in diameter) on silicon substrate. Fluorescence spectroscopy shows that anti-DNP IgE interacts with the nanofibers by binding with the DNP functional groups decorating the fibers. These observations suggest that appropriately functionalized nanofibers hold promise for developing biomarker detection device.
Chemistry, Issue 67, Bioengineering, Physics, Molecular Biology, Biomedical Engineering, Living polymerization, NMR Spectroscopy, Electrospinning, Nanofibers, I-V behavior, Biosensor, confocal microscopy
4135
Manufacturing Of Robust Natural Fiber Preforms Utilizing Bacterial Cellulose as Binder
Institutions: University of Vienna, University College London, Imperial College London.

A novel method of manufacturing rigid and robust natural fiber preforms is presented here. This method is based on a papermaking process, whereby loose and short sisal fibers are dispersed into a water suspension containing bacterial cellulose. The fiber and nanocellulose suspension is then filtered (using vacuum or gravity) and the wet filter cake pressed to squeeze out any excess water, followed by a drying step. This will result in the hornification of the bacterial cellulose network, holding the loose natural fibers together. Our method is specially suited for the manufacturing of rigid and robust preforms of hydrophilic fibers. The porous and hydrophilic nature of such fibers results in significant water uptake, drawing in the bacterial cellulose dispersed in the suspension. The bacterial cellulose will then be filtered against the surface of these fibers, forming a bacterial cellulose coating. When the loose fiber-bacterial cellulose suspension is filtered and dried, the adjacent bacterial cellulose forms a network and hornified to hold the otherwise loose fibers together. The introduction of bacterial cellulose into the preform resulted in a significant increase of the mechanical properties of the fiber preforms. This can be attributed to the high stiffness and strength of the bacterial cellulose network. With this preform, renewable high performance hierarchical composites can also be manufactured by using conventional composite production methods, such as resin film infusion (RFI) or resin transfer molding (RTM). Here, we also describe the manufacturing of renewable hierarchical composites using double bag vacuum assisted resin infusion.
Bioengineering, Issue 87, bacterial cellulose, natural fibers, preform, vacuum assisted resin infusion, hierarchical composites, binder
51432
Fabrication of Carbon Nanotube High-Frequency Nanoelectronic Biosensor for Sensing in High Ionic Strength Solutions
Institutions: University of Michigan - Ann Arbor.

The unique electronic properties and high surface-to-volume ratios of single-walled carbon nanotubes (SWNT) and semiconductor nanowires (NW)
1-4
make them good candidates for high sensitivity biosensors. When a charged molecule binds to such a sensor surface, it alters the carrier density
5
in the sensor, resulting in changes in its DC conductance. However, in an ionic solution a charged surface also attracts counter-ions from the solution, forming an electrical double layer (EDL). This EDL effectively screens off the charge, and in physiologically relevant conditions ~100 millimolar (mM), the characteristic charge screening length (Debye length) is less than a nanometer (nm). Thus, in high ionic strength solutions, charge based (DC) detection is fundamentally impeded
6-8
. We overcome charge screening effects by detecting molecular dipoles rather than charges at high frequency, by operating carbon nanotube field effect transistors as high frequency mixers
9-11
. At high frequencies, the AC drive force can no longer overcome the solution drag and the ions in solution do not have sufficient time to form the EDL. Further, frequency mixing technique allows us to operate at frequencies high enough to overcome ionic screening, and yet detect the sensing signals at lower frequencies
11-12
. Also, the high transconductance of SWNT transistors provides an internal gain for the sensing signal, which obviates the need for external signal amplifier. Here, we describe the protocol to (a) fabricate SWNT transistors, (b) functionalize biomolecules to the nanotube
13
, (c) design and stamp a poly-dimethylsiloxane (PDMS) micro-fluidic chamber
14
onto the device, and (d) carry out high frequency sensing in different ionic strength solutions
11
.
Bioengineering, Issue 77, Chemical Engineering, Biochemistry, Biophysics, Electrical Engineering, Nanotechnology, Biosensing Techniques, carbon nanotubes (synthesis and properties), bioelectronic instruments (theory and techniques), Carbon nanotube, biosensor, frequency mixing, biotin, streptavidin, poly-dimethylsiloxane
50438
Microwave-assisted Functionalization of Poly(ethylene glycol) and On-resin Peptides for Use in Chain Polymerizations and Hydrogel Formation
Institutions: University of Rochester, University of Rochester, University of Rochester Medical Center.

One of the main benefits to using poly(ethylene glycol) (PEG) macromers in hydrogel formation is synthetic versatility. The ability to draw from a large variety of PEG molecular weights and configurations (arm number, arm length, and branching pattern) affords researchers tight control over resulting hydrogel structures and properties, including Young's modulus and mesh size. This video will illustrate a rapid, efficient, solvent-free, microwave-assisted method to methacrylate PEG precursors into poly(ethylene glycol) dimethacrylate (PEGDM). This synthetic method provides much-needed starting materials for applications in drug delivery and regenerative medicine. The demonstrated method is superior to traditional methacrylation methods as it is significantly faster and simpler, as well as more economical and environmentally friendly, using smaller amounts of reagents and solvents. We will also demonstrate an adaptation of this technique for on-resin methacrylamide functionalization of peptides. This on-resin method allows the N-terminus of peptides to be functionalized with methacrylamide groups prior to deprotection and cleavage from resin. This allows for selective addition of methacrylamide groups to the N-termini of the peptides while amino acids with reactive side groups (
e.g.
 primary amine of lysine, primary alcohol of serine, secondary alcohols of threonine, and phenol of tyrosine) remain protected, preventing functionalization at multiple sites. This article will detail common analytical methods (proton Nuclear Magnetic Resonance spectroscopy (
;
H-NMR) and Matrix Assisted Laser Desorption Ionization Time of Flight mass spectrometry (MALDI-ToF)) to assess the efficiency of the functionalizations. Common pitfalls and suggested troubleshooting methods will be addressed, as will modifications of the technique which can be used to further tune macromer functionality and resulting hydrogel physical and chemical properties. Use of synthesized products for the formation of hydrogels for drug delivery and cell-material interaction studies will be demonstrated, with particular attention paid to modifying hydrogel composition to affect mesh size, controlling hydrogel stiffness and drug release.
Chemistry, Issue 80, Poly(ethylene glycol), peptides, polymerization, polymers, methacrylation, peptide functionalization, 1H-NMR, MALDI-ToF, hydrogels, macromer synthesis
50890
Ultrahigh Density Array of Vertically Aligned Small-molecular Organic Nanowires on Arbitrary Substrates
Institutions: University of Alberta.
In recent years π-conjugated organic semiconductors have emerged as the active material in a number of diverse applications including large-area, low-cost displays, photovoltaics, printable and flexible electronics and organic spin valves. Organics allow (a) low-cost, low-temperature processing and (b) molecular-level design of electronic, optical and spin transport characteristics. Such features are not readily available for mainstream inorganic semiconductors, which have enabled organics to carve a niche in the silicon-dominated electronics market. The first generation of organic-based devices has focused on thin film geometries, grown by physical vapor deposition or solution processing. However, it has been realized that organic
nanostructures
can be used to enhance performance of above-mentioned applications and significant effort has been invested in exploring methods for organic nanostructure fabrication. A particularly interesting class of organic nanostructures is the one in which
vertically oriented organic nanowires, nanorods or nanotubes are organized in a well-regimented, high-density array
. Such structures are highly versatile and are ideal morphological architectures for various applications such as chemical sensors, split-dipole nanoantennas, photovoltaic devices with radially heterostructured "core-shell" nanowires, and memory devices with a cross-point geometry. Such architecture is generally realized by a template-directed approach. In the past this method has been used to grow metal and inorganic semiconductor nanowire arrays. More recently π-conjugated polymer nanowires have been grown within nanoporous templates. However, these approaches have had limited success in growing nanowires of technologically important π-conjugated
small molecular weight organics
, such as tris-8-hydroxyquinoline aluminum (Alq
3
), rubrene and methanofullerenes, which are commonly used in diverse areas including organic displays, photovoltaics, thin film transistors and spintronics. Recently we have been able to address the above-mentioned issue by employing a novel "centrifugation-assisted" approach. This method therefore broadens the spectrum of organic materials that can be patterned in a vertically ordered nanowire array. Due to the technological importance of Alq
3
, rubrene and methanofullerenes, our method can be used to explore how the nanostructuring of these materials affects the performance of aforementioned organic devices. The purpose of this article is to describe the technical details of the above-mentioned protocol, demonstrate how this process can be extended to grow small-molecular organic nanowires on
arbitrary substrates
and finally, to discuss the critical steps, limitations, possible modifications, trouble-shooting and future applications.
Physics, Issue 76, Electrical Engineering, Chemistry, Chemical Engineering, Nanotechnology, nanodevices (electronic), semiconductor devices, solid state devices, thin films (theory, deposition and growth), crystal growth (general), Organic semiconductors, small molecular organics, organic nanowires, nanorods and nanotubes, bottom-up nanofabrication, electrochemical self-assembly, anodic aluminum oxide (AAO), template-assisted synthesis of nanostructures, Raman spectrum, field emission scanning electron microscopy, FESEM
50706
Characterization of Thermal Transport in One-dimensional Solid Materials
Institutions: Iowa State University.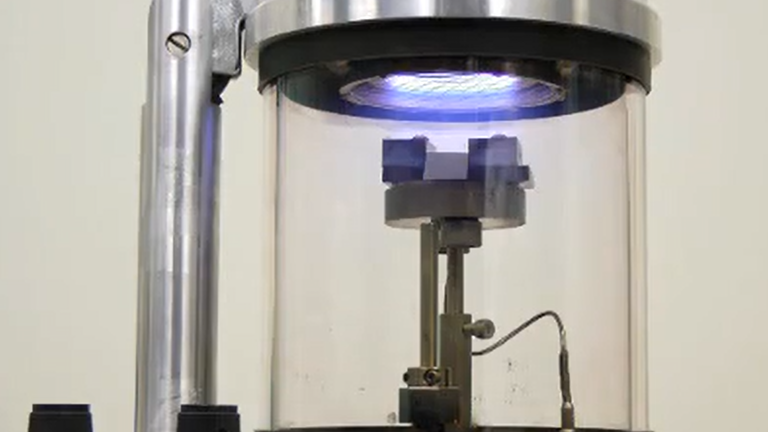 The TET (transient electro-thermal) technique is an effective approach developed to measure the thermal diffusivity of solid materials, including conductive, semi-conductive or nonconductive one-dimensional structures. This technique broadens the measurement scope of materials (conductive and nonconductive) and improves the accuracy and stability. If the sample (especially biomaterials, such as human head hair, spider silk, and silkworm silk) is not conductive, it will be coated with a gold layer to make it electronically conductive. The effect of parasitic conduction and radiative losses on the thermal diffusivity can be subtracted during data processing. Then the real thermal conductivity can be calculated with the given value of volume-based specific heat (
ρcp
), which can be obtained from calibration, noncontact photo-thermal technique or measuring the density and specific heat separately. In this work, human head hair samples are used to show how to set up the experiment, process the experimental data, and subtract the effect of parasitic conduction and radiative losses.
Physics, Issue 83, thermal transport, thermal diffusivity, thermal conductivity, transient electro-thermal technique, volume-based specific heat, human head hair
51144
Modeling Neural Immune Signaling of Episodic and Chronic Migraine Using Spreading Depression In Vitro
Institutions: The University of Chicago Medical Center, The University of Chicago Medical Center.

Migraine and its transformation to chronic migraine are healthcare burdens in need of improved treatment options. We seek to define how neural immune signaling modulates the susceptibility to migraine, modeled
in vitro
using spreading depression (SD), as a means to develop novel therapeutic targets for episodic and chronic migraine. SD is the likely cause of migraine aura and migraine pain. It is a paroxysmal loss of neuronal function triggered by initially increased neuronal activity, which slowly propagates within susceptible brain regions. Normal brain function is exquisitely sensitive to, and relies on, coincident low-level immune signaling. Thus, neural immune signaling likely affects electrical activity of SD, and therefore migraine. Pain perception studies of SD in whole animals are fraught with difficulties, but whole animals are well suited to examine systems biology aspects of migraine since SD activates trigeminal nociceptive pathways. However, whole animal studies alone cannot be used to decipher the cellular and neural circuit mechanisms of SD. Instead,
in vitro
preparations where environmental conditions can be controlled are necessary. Here, it is important to recognize limitations of acute slices and distinct advantages of hippocampal slice cultures. Acute brain slices cannot reveal subtle changes in immune signaling since preparing the slices alone triggers: pro-inflammatory changes that last days, epileptiform behavior due to high levels of oxygen tension needed to vitalize the slices, and irreversible cell injury at anoxic slice centers. In contrast, we examine immune signaling in mature hippocampal slice cultures since the cultures closely parallel their
in vivo
counterpart with mature trisynaptic function; show quiescent astrocytes, microglia, and cytokine levels; and SD is easily induced in an unanesthetized preparation. Furthermore, the slices are long-lived and SD can be induced on consecutive days without injury, making this preparation the sole means to-date capable of modeling the neuroimmune consequences of chronic SD, and thus perhaps chronic migraine. We use electrophysiological techniques and non-invasive imaging to
measure
neuronal cell and circuit functions coincident with SD. Neural immune gene expression variables are measured with qPCR screening, qPCR arrays, and, importantly, use of cDNA preamplification for detection of ultra-low level targets such as interferon-gamma using whole, regional, or specific cell enhanced (via laser dissection microscopy) sampling. Cytokine cascade signaling is further assessed with multiplexed phosphoprotein related targets with gene expression and phosphoprotein changes confirmed via cell-specific immunostaining. Pharmacological and siRNA strategies are used to
mimic
and
modulate
SD immune signaling.
Neuroscience, Issue 52, innate immunity, hormesis, microglia, T-cells, hippocampus, slice culture, gene expression, laser dissection microscopy, real-time qPCR, interferon-gamma
2910
Live Cell Imaging of Primary Rat Neonatal Cardiomyocytes Following Adenoviral and Lentiviral Transduction Using Confocal Spinning Disk Microscopy
Institutions: Max-Planck-Institute for Molecular Biomedicine and Institute of Cell Biology, Yale Cardiovascular Research Center and Section of Cardiovascular Medicine.

Primary rat neonatal cardiomyocytes are useful in basic
in vitro
cardiovascular research because they can be easily isolated in large numbers in a single procedure. Due to advances in microscope technology it is relatively easy to capture live cell images for the purpose of investigating cellular events in real time with minimal concern regarding phototoxicity to the cells. This protocol describes how to take live cell timelapse images of primary rat neonatal cardiomyocytes using a confocal spinning disk microscope following lentiviral and adenoviral transduction to modulate properties of the cell. The application of two different types of viruses makes it easier to achieve an appropriate transduction rate and expression levels for two different genes. Well focused live cell images can be obtained using the microscope's autofocus system, which maintains stable focus for long time periods. Applying this method, the functions of exogenously engineered proteins expressed in cultured primary cells can be analyzed. Additionally, this system can be used to examine the functions of genes through the use of siRNAs as well as of chemical modulators.
Cellular Biology, Issue 88, live cell imaging, cardiomyocyte, primary cell culture, adenovirus, lentivirus, confocal spinning disk microscopy
51666
Physical, Chemical and Biological Characterization of Six Biochars Produced for the Remediation of Contaminated Sites
Institutions: Royal Military College of Canada, Queen's University.

The physical and chemical properties of biochar vary based on feedstock sources and production conditions, making it possible to engineer biochars with specific functions (
e.g.
carbon sequestration, soil quality improvements, or contaminant sorption). In 2013, the International Biochar Initiative (IBI) made publically available their Standardized Product Definition and Product Testing Guidelines (Version 1.1) which set standards for physical and chemical characteristics for biochar. Six biochars made from three different feedstocks and at two temperatures were analyzed for characteristics related to their use as a soil amendment. The protocol describes analyses of the feedstocks and biochars and includes: cation exchange capacity (CEC), specific surface area (SSA), organic carbon (OC) and moisture percentage, pH, particle size distribution, and proximate and ultimate analysis. Also described in the protocol are the analyses of the feedstocks and biochars for contaminants including polycyclic aromatic hydrocarbons (PAHs), polychlorinated biphenyls (PCBs), metals and mercury as well as nutrients (phosphorous, nitrite and nitrate and ammonium as nitrogen). The protocol also includes the biological testing procedures, earthworm avoidance and germination assays. Based on the quality assurance / quality control (QA/QC) results of blanks, duplicates, standards and reference materials, all methods were determined adequate for use with biochar and feedstock materials. All biochars and feedstocks were well within the criterion set by the IBI and there were little differences among biochars, except in the case of the biochar produced from construction waste materials. This biochar (referred to as Old biochar) was determined to have elevated levels of arsenic, chromium, copper, and lead, and failed the earthworm avoidance and germination assays. Based on these results, Old biochar would not be appropriate for use as a soil amendment for carbon sequestration, substrate quality improvements or remediation.
Environmental Sciences, Issue 93, biochar, characterization, carbon sequestration, remediation, International Biochar Initiative (IBI), soil amendment
52183
Towards Biomimicking Wood: Fabricated Free-standing Films of Nanocellulose, Lignin, and a Synthetic Polycation
Institutions: Virginia Tech, Virginia Tech, Illinois Institute of Technology- Moffett Campus, University of Guadalajara, Virginia Tech, Virginia Tech.

Woody materials are comprised of plant cell walls that contain a layered secondary cell wall composed of structural polymers of polysaccharides and lignin. Layer-by-layer (LbL) assembly process which relies on the assembly of oppositely charged molecules from aqueous solutions was used to build a freestanding composite film of isolated wood polymers of lignin and oxidized nanofibril cellulose (NFC). To facilitate the assembly of these negatively charged polymers, a positively charged polyelectrolyte, poly(diallyldimethylammomium chloride) (PDDA), was used as a linking layer to create this simplified model cell wall. The layered adsorption process was studied quantitatively using quartz crystal microbalance with dissipation monitoring (QCM-D) and ellipsometry. The results showed that layer mass/thickness per adsorbed layer increased as a function of total number of layers. The surface coverage of the adsorbed layers was studied with atomic force microscopy (AFM). Complete coverage of the surface with lignin in all the deposition cycles was found for the system, however, surface coverage by NFC increased with the number of layers. The adsorption process was carried out for 250 cycles (500 bilayers) on a cellulose acetate (CA) substrate. Transparent free-standing LBL assembled nanocomposite films were obtained when the CA substrate was later dissolved in acetone. Scanning electron microscopy (SEM) of the fractured cross-sections showed a lamellar structure, and the thickness per adsorption cycle (PDDA-Lignin-PDDA-NC) was estimated to be 17 nm for two different lignin types used in the study. The data indicates a film with highly controlled architecture where nanocellulose and lignin are spatially deposited on the nanoscale (a polymer-polymer nanocomposites), similar to what is observed in the native cell wall.
Plant Biology, Issue 88, nanocellulose, thin films, quartz crystal microbalance, layer-by-layer, LbL
51257
Fabrication, Densification, and Replica Molding of 3D Carbon Nanotube Microstructures
Institutions: University of Michigan , IMEC, Belgium.

The introduction of new materials and processes to microfabrication has, in large part, enabled many important advances in microsystems, lab-on-a-chip devices, and their applications. In particular, capabilities for cost-effective fabrication of polymer microstructures were transformed by the advent of soft lithography and other micromolding techniques
1, 2
, and this led a revolution in applications of microfabrication to biomedical engineering and biology. Nevertheless, it remains challenging to fabricate microstructures with well-defined nanoscale surface textures, and to fabricate arbitrary 3D shapes at the micro-scale. Robustness of master molds and maintenance of shape integrity is especially important to achieve high fidelity replication of complex structures and preserving their nanoscale surface texture. The combination of hierarchical textures, and heterogeneous shapes, is a profound challenge to existing microfabrication methods that largely rely upon top-down etching using fixed mask templates. On the other hand, the bottom-up synthesis of nanostructures such as nanotubes and nanowires can offer new capabilities to microfabrication, in particular by taking advantage of the collective self-organization of nanostructures, and local control of their growth behavior with respect to microfabricated patterns. Our goal is to introduce vertically aligned carbon nanotubes (CNTs), which we refer to as CNT "forests", as a new microfabrication material. We present details of a suite of related methods recently developed by our group: fabrication of CNT forest microstructures by thermal CVD from lithographically patterned catalyst thin films; self-directed elastocapillary densification of CNT microstructures; and replica molding of polymer microstructures using CNT composite master molds. In particular, our work shows that self-directed capillary densification ("capillary forming"), which is performed by condensation of a solvent onto the substrate with CNT microstructures, significantly increases the packing density of CNTs. This process enables directed transformation of vertical CNT microstructures into straight, inclined, and twisted shapes, which have robust mechanical properties exceeding those of typical microfabrication polymers. This in turn enables formation of nanocomposite CNT master molds by capillary-driven infiltration of polymers. The replica structures exhibit the anisotropic nanoscale texture of the aligned CNTs, and can have walls with sub-micron thickness and aspect ratios exceeding 50:1. Integration of CNT microstructures in fabrication offers further opportunity to exploit the electrical and thermal properties of CNTs, and diverse capabilities for chemical and biochemical functionalization
3
.
Mechanical Engineering, Issue 65, Physics, Carbon nanotube, microstructure, fabrication, molding, transfer, polymer
3980
Localization and Relative Quantification of Carbon Nanotubes in Cells with Multispectral Imaging Flow Cytometry
Institutions: CNRS/Université Paris Diderot, CNRS/Université Paris Diderot, CNRS/Institut de Biologie Moléculaire et Cellulaire.

Carbon-based nanomaterials, like carbon nanotubes (CNTs), belong to this type of nanoparticles which are very difficult to discriminate from carbon-rich cell structures and
de facto
there is still no quantitative method to assess their distribution at cell and tissue levels. What we propose here is an innovative method allowing the detection and quantification of CNTs in cells using a multispectral imaging flow cytometer (ImageStream, Amnis). This newly developed device integrates both a high-throughput of cells and high resolution imaging, providing thus images for each cell directly in flow and therefore statistically relevant image analysis. Each cell image is acquired on bright-field (BF), dark-field (DF), and fluorescent channels, giving access respectively to the level and the distribution of light absorption, light scattered and fluorescence for each cell. The analysis consists then in a pixel-by-pixel comparison of each image, of the 7,000-10,000 cells acquired for each condition of the experiment. Localization and quantification of CNTs is made possible thanks to some particular intrinsic properties of CNTs: strong light absorbance and scattering; indeed CNTs appear as strongly absorbed dark spots on BF and bright spots on DF with a precise colocalization. This methodology could have a considerable impact on studies about interactions between nanomaterials and cells given that this protocol is applicable for a large range of nanomaterials, insofar as they are capable of absorbing (and/or scattering) strongly enough the light.
Bioengineering, Issue 82, bioengineering, imaging flow cytometry, Carbon Nanotubes, bio-nano-interactions, cellular uptake, cell trafficking
50566
Template Directed Synthesis of Plasmonic Gold Nanotubes with Tunable IR Absorbance
Institutions: University of Toronto.

A nearly parallel array of pores can be produced by anodizing aluminum foils in acidic environments
1, 2
. Applications of anodic aluminum oxide (AAO) membranes have been under development since the 1990's and have become a common method to template the synthesis of high aspect ratio nanostructures, mostly by electrochemical growth or pore-wetting. Recently, these membranes have become commercially available in a wide range of pore sizes and densities, leading to an extensive library of functional nanostructures being synthesized from AAO membranes. These include composite nanorods, nanowires and nanotubes made of metals, inorganic materials or polymers
3-10
. Nanoporous membranes have been used to synthesize nanoparticle and nanotube arrays that perform well as refractive index sensors, plasmonic biosensors, or surface enhanced Raman spectroscopy (SERS) substrates
11-16
, as well as a wide range of other fields such as photo-thermal heating
17
, permselective transport
18, 19
, catalysis
20
, microfluidics
21
, and electrochemical sensing
22, 23
. Here, we report a novel procedure to prepare gold nanotubes in AAO membranes. Hollow nanostructures have potential application in plasmonic and SERS sensing, and we anticipate these gold nanotubes will allow for high sensitivity and strong plasmon signals, arising from decreased material dampening
15
.
Chemistry, Issue 74, Chemical Engineering, Materials Science, Physics, Nanotechnology, Chemistry and Materials (General), Composite Materials, Inorganic, Organic and Physical Chemistry, Metals and Metallic Materials, Gold, nanotubes, anodic aluminum oxide templates, surface plasmon resonance, sensing, refractive index, template directed synthesis, nano
50420
Fabrication of the Thermoplastic Microfluidic Channels
Institutions: Boston University.

In our lab, we have successfully isolated nucleic acids directly from microliter and submicroliter volumes of human blood, urine and stool using polymer/nanoparticle composite microscale lysis and solid phase extraction columns. The recovered samples are concentrated, small volume samples that are PCRable, without any additional cleanup. Here, we demonstrate how to fabricate thermoplastic microfluidic chips using hot embossing and heat sealing. Then, we demonstrate how to use in situ light directed surface grafting and polymerization through the sealed chip to form the composite solid phase columns. We demonstrate grafting and polymerization of a carbon nanotube/polymer composite column for bacterial cell lysis. We then show the lysis process followed by solid phase extraction of nucleic acids from the sample on chip using a silica/polymer composite column. The attached protocols contain detailed instructions on how to make both lysis and solid phase extraction columns.
Cellular Biology, Issue 12, bioengineering, purification, microfluidics, DNA, RNA, solid phase, column
664