ABSTRACT
Photocatalytically active nanostructures require a large specific surface area with the presence of many catalytically active sites for the oxidation and reduction half reactions, and fast electron (hole) diffusion and charge separation. Nanowires present suitable architectures to meet these requirements. Axially segmented Ag|ZnO and radially segmented (coaxial) TiO2-Ag nanowires with a diameter of 200 nm and a length of 6-20 µm were made by templated electrodeposition within the pores of polycarbonate track-etched (PCTE) or anodized aluminum oxide (AAO) membranes, respectively. In the photocatalytic experiments, the ZnO and TiO2 phases acted as photoanodes, and Ag as cathode. No external circuit is needed to connect both electrodes, which is a key advantage over conventional photo-electrochemical cells. For making segmented Ag|ZnO nanowires, the Ag salt electrolyte was replaced after formation of the Ag segment to form a ZnO segment attached to the Ag segment. For making coaxial TiO2-Ag nanowires, a TiO2 gel was first formed by the electrochemically induced sol-gel method. Drying and thermal annealing of the as-formed TiO2 gel resulted in the formation of crystalline TiO2 nanotubes. A subsequent Ag electrodeposition step inside the TiO2 nanotubes resulted in formation of coaxial TiO2-Ag nanowires. Due to the combination of an n-type semiconductor (ZnO or TiO2) and a metal (Ag) within the same nanowire, a Schottky barrier was created at the interface between the phases. To demonstrate the photocatalytic activity of these nanowires, the Ag|ZnO nanowires were used in a photocatalytic experiment in which H2 gas was detected upon UV illumination of the nanowires dispersed in a methanol/water mixture. After 17 min of illumination, approximately 0.2 vol% H2 gas was detected from a suspension of ~0.1 g of Ag|ZnO nanowires in a 50 ml 80 vol% aqueous methanol solution.
19 Related JoVE Articles!
Design, Fabrication, and Experimental Characterization of Plasmonic Photoconductive Terahertz Emitters
Institutions: University of Michigan .

In this video article we present a detailed demonstration of a highly efficient method for generating terahertz waves. Our technique is based on photoconduction, which has been one of the most commonly used techniques for terahertz generation
1-8
. Terahertz generation in a photoconductive emitter is achieved by pumping an ultrafast photoconductor with a pulsed or heterodyned laser illumination. The induced photocurrent, which follows the envelope of the pump laser, is routed to a terahertz radiating antenna connected to the photoconductor contact electrodes to generate terahertz radiation. Although the quantum efficiency of a photoconductive emitter can theoretically reach 100%, the relatively long transport path lengths of photo-generated carriers to the contact electrodes of conventional photoconductors have severely limited their quantum efficiency. Additionally, the carrier screening effect and thermal breakdown strictly limit the maximum output power of conventional photoconductive terahertz sources. To address the quantum efficiency limitations of conventional photoconductive terahertz emitters, we have developed a new photoconductive emitter concept which incorporates a plasmonic contact electrode configuration to offer high quantum-efficiency and ultrafast operation simultaneously. By using nano-scale plasmonic contact electrodes, we significantly reduce the average photo-generated carrier transport path to photoconductor contact electrodes compared to conventional photoconductors
9
. Our method also allows increasing photoconductor active area without a considerable increase in the capacitive loading to the antenna, boosting the maximum terahertz radiation power by preventing the carrier screening effect and thermal breakdown at high optical pump powers. By incorporating plasmonic contact electrodes, we demonstrate enhancing the optical-to-terahertz power conversion efficiency of a conventional photoconductive terahertz emitter by a factor of 50
10
.
Physics, Issue 77, Electrical Engineering, Computer Science, Materials Science, Electronics and Electrical Engineering, Instrumentation and Photography, Lasers and Masers, Optics, Solid-State Physics, Terahertz, Plasmonic, Time-Domain Spectroscopy, Photoconductive Emitter, electronics
50517
Ambient Method for the Production of an Ionically Gated Carbon Nanotube Common Cathode in Tandem Organic Solar Cells
Institutions: The University of Texas at Dallas, The University of Texas at Dallas, Aalto University School of Science.
A method of fabricating organic photovoltaic (OPV) tandems that requires no vacuum processing is presented. These devices are comprised of two solution-processed polymeric cells connected in parallel by a transparent carbon nanotubes (CNT) interlayer. This structure includes improvements in fabrication techniques for tandem OPV devices. First the need for ambient-processed cathodes is considered. The CNT anode in the tandem device is tuned via ionic gating to become a common cathode. Ionic gating employs electric double layer charging to lower the work function of the CNT electrode. Secondly, the difficulty of sequentially stacking tandem layers by solution-processing is addressed. The devices are fabricated via solution and dry-lamination in ambient conditions with parallel processing steps. The method of fabricating the individual polymeric cells, the steps needed to laminate them together with a common CNT cathode, and then provide some representative results are described. These results demonstrate ionic gating of the CNT electrode to create a common cathode and addition of current and efficiency as a result of the lamination procedure.
Physics, Issue 93, Organic Photovoltaic, Carbon Nanotubes, Ionic Liquid, Tandem Photovoltaic, Conjugated Polymers, Ambient Processing
52380
Synthesis and Calibration of Phosphorescent Nanoprobes for Oxygen Imaging in Biological Systems
Institutions: University of Pennsylvania .

Oxygen measurement by phosphorescence quenching [1, 2] consists of the following steps: 1) the probe is delivered into the medium of interest (e.g. blood or interstitial fluid); 2) the object is illuminated with light of appropriate wavelength in order to excite the probe into its triplet state; 3) the emitted phosphorescence is collected, and its time course is analyzed to yield the phosphorescence lifetime, which is converted into the oxygen concentration (or partial pressure, pO
2
). The probe must not interact with the biological environment and in some cases to be 4) excreted from the medium upon the measurement completion. Each of these steps imposes requirements on the molecular design of the phosphorescent probes, which constitute the only invasive component of the measurement protocol. Here we review the design of dendritic phosphorescent nanosensors for oxygen measurements in biological systems. The probes consist of Pt or Pd porphyrin-based polyarylglycine (AG) dendrimers, modified peripherally with polyethylene glycol (PEG's) residues. For effective two-photon excitation, termini of the dendrimers may be modified with two-photon antenna chromophores, which capture the excitation energy and channel it to the triplet cores of the probes via intramolecular FRET (Förster Resonance Energy Transfer). We describe the key photophysical properties of the probes and present detailed calibration protocols.
Cellular Biology, Issue 37, oxygen, phosphorescence, porphyrin, dendrimer, imaging, nanosensor, two-photon
1731
Writing and Low-Temperature Characterization of Oxide Nanostructures
Institutions: University of Pittsburgh.

Oxide nanoelectronics is a rapidly growing field which seeks to develop novel materials with multifunctional behavior at nanoscale dimensions. Oxide interfaces exhibit a wide range of properties that can be controlled include conduction, piezoelectric behavior, ferromagnetism, superconductivity and nonlinear optical properties. Recently, methods for controlling these properties at extreme nanoscale dimensions have been discovered and developed. Here are described explicit step-by-step procedures for creating LaAlO
3
/SrTiO
3
nanostructures using a reversible conductive atomic force microscopy technique. The processing steps for creating electrical contacts to the LaAlO
3
/SrTiO
3
interface are first described. Conductive nanostructures are created by applying voltages to a conductive atomic force microscope tip and locally switching the LaAlO
3
/SrTiO
3
interface to a conductive state. A versatile nanolithography toolkit has been developed expressly for the purpose of controlling the atomic force microscope (AFM) tip path and voltage. Then, these nanostructures are placed in a cryostat and transport measurements are performed. The procedures described here should be useful to others wishing to conduct research in oxide nanoelectronics.
Physics, Issue 89, oxide nanostructures; nanoelectronics; semiconductor; LaAlO3/SrTiO3; lithography; AFM nanolithography
51886
Nanofabrication of Gate-defined GaAs/AlGaAs Lateral Quantum Dots
Institutions: Université de Sherbrooke.
A quantum computer is a computer composed of quantum bits (qubits) that takes advantage of quantum effects, such as superposition of states and entanglement, to solve certain problems exponentially faster than with the best known algorithms on a classical computer. Gate-defined lateral quantum dots on GaAs/AlGaAs are one of many avenues explored for the implementation of a qubit. When properly fabricated, such a device is able to trap a small number of electrons in a certain region of space. The spin states of these electrons can then be used to implement the logical 0 and 1 of the quantum bit. Given the nanometer scale of these quantum dots, cleanroom facilities offering specialized equipment- such as scanning electron microscopes and e-beam evaporators- are required for their fabrication. Great care must be taken throughout the fabrication process to maintain cleanliness of the sample surface and to avoid damaging the fragile gates of the structure. This paper presents the detailed fabrication protocol of gate-defined lateral quantum dots from the wafer to a working device. Characterization methods and representative results are also briefly discussed. Although this paper concentrates on double quantum dots, the fabrication process remains the same for single or triple dots or even arrays of quantum dots. Moreover, the protocol can be adapted to fabricate lateral quantum dots on other substrates, such as Si/SiGe.
Physics, Issue 81, Nanostructures, Quantum Dots, Nanotechnology, Electronics, microelectronics, solid state physics, Nanofabrication, Nanoelectronics, Spin qubit, Lateral quantum dot
50581
Analysis of Contact Interfaces for Single GaN Nanowire Devices
Institutions: National Institute of Standards and Technology .

Single GaN nanowire (NW) devices fabricated on SiO
2
can exhibit a strong degradation after annealing due to the occurrence of void formation at the contact/SiO
2
interface. This void formation can cause cracking and delamination of the metal film, which can increase the resistance or lead to a complete failure of the NW device. In order to address issues associated with void formation, a technique was developed that removes Ni/Au contact metal films from the substrates to allow for the examination and characterization of the contact/substrate and contact/NW interfaces of single GaN NW devices. This procedure determines the degree of adhesion of the contact films to the substrate and NWs and allows for the characterization of the morphology and composition of the contact interface with the substrate and nanowires. This technique is also useful for assessing the amount of residual contamination that remains from the NW suspension and from photolithographic processes on the NW-SiO
2
surface prior to metal deposition. The detailed steps of this procedure are presented for the removal of annealed Ni/Au contacts to Mg-doped GaN NWs on a SiO
2
substrate.
Physics, Issue 81, nanodevices (electronic), semiconductor materials, semiconductor device, GaN, nanowires, contacts, morphology
50738
Scanning-probe Single-electron Capacitance Spectroscopy
Institutions: Michigan State University, Mercyhurst University, Saint Louis University, Massachusetts Institute of Technology.
The integration of low-temperature scanning-probe techniques and single-electron capacitance spectroscopy represents a powerful tool to study the electronic quantum structure of small systems - including individual atomic dopants in semiconductors. Here we present a capacitance-based method, known as Subsurface Charge Accumulation (SCA) imaging, which is capable of resolving single-electron charging while achieving sufficient spatial resolution to image individual atomic dopants. The use of a capacitance technique enables observation of subsurface features, such as dopants buried many nanometers beneath the surface of a semiconductor material
1,2,3
. In principle, this technique can be applied to any system to resolve electron motion below an insulating surface. As in other electric-field-sensitive scanned-probe techniques
4
, the lateral spatial resolution of the measurement depends in part on the radius of curvature of the probe tip. Using tips with a small radius of curvature can enable spatial resolution of a few tens of nanometers. This fine spatial resolution allows investigations of small numbers (down to one) of subsurface dopants
1,2
. The charge resolution depends greatly on the sensitivity of the charge detection circuitry; using high electron mobility transistors (HEMT) in such circuits at cryogenic temperatures enables a sensitivity of approximately 0.01 electrons/Hz
½
at 0.3 K
5
.
Physics, Issue 77, Biophysics, Molecular Biology, Cellular Biology, Microscopy, Scanning Probe, Nanotechnology, Physics, Electronics, acceptors (solid state), donors (solid state), Solid-State Physics, tunneling microscopy, scanning capacitance microscopy, subsurface charge accumulation imaging, capacitance spectroscopy, scanning probe microscopy, single-electron spectroscopy, imaging
50676
Fabrication of Carbon Nanotube High-Frequency Nanoelectronic Biosensor for Sensing in High Ionic Strength Solutions
Institutions: University of Michigan - Ann Arbor.

The unique electronic properties and high surface-to-volume ratios of single-walled carbon nanotubes (SWNT) and semiconductor nanowires (NW)
1-4
make them good candidates for high sensitivity biosensors. When a charged molecule binds to such a sensor surface, it alters the carrier density
5
in the sensor, resulting in changes in its DC conductance. However, in an ionic solution a charged surface also attracts counter-ions from the solution, forming an electrical double layer (EDL). This EDL effectively screens off the charge, and in physiologically relevant conditions ~100 millimolar (mM), the characteristic charge screening length (Debye length) is less than a nanometer (nm). Thus, in high ionic strength solutions, charge based (DC) detection is fundamentally impeded
6-8
. We overcome charge screening effects by detecting molecular dipoles rather than charges at high frequency, by operating carbon nanotube field effect transistors as high frequency mixers
9-11
. At high frequencies, the AC drive force can no longer overcome the solution drag and the ions in solution do not have sufficient time to form the EDL. Further, frequency mixing technique allows us to operate at frequencies high enough to overcome ionic screening, and yet detect the sensing signals at lower frequencies
11-12
. Also, the high transconductance of SWNT transistors provides an internal gain for the sensing signal, which obviates the need for external signal amplifier. Here, we describe the protocol to (a) fabricate SWNT transistors, (b) functionalize biomolecules to the nanotube
13
, (c) design and stamp a poly-dimethylsiloxane (PDMS) micro-fluidic chamber
14
onto the device, and (d) carry out high frequency sensing in different ionic strength solutions
11
.
Bioengineering, Issue 77, Chemical Engineering, Biochemistry, Biophysics, Electrical Engineering, Nanotechnology, Biosensing Techniques, carbon nanotubes (synthesis and properties), bioelectronic instruments (theory and techniques), Carbon nanotube, biosensor, frequency mixing, biotin, streptavidin, poly-dimethylsiloxane
50438
Harvesting Solar Energy by Means of Charge-Separating Nanocrystals and Their Solids
Institutions: Bowling Green State University, Bowling Green State University, Bowling Green State University.

Conjoining different semiconductor materials in a single nano-composite provides synthetic means for the development of novel optoelectronic materials offering a superior control over the spatial distribution of charge carriers across material interfaces. As this study demonstrates, a combination of donor-acceptor nanocrystal (NC) domains in a single nanoparticle can lead to the realization of efficient photocatalytic
1-5
materials, while a layered assembly of donor- and acceptor-like nanocrystals films gives rise to photovoltaic materials. Initially the paper focuses on the synthesis of composite inorganic nanocrystals, comprising linearly stacked ZnSe, CdS, and Pt domains, which jointly promote photoinduced charge separation. These structures are used in aqueous solutions for the photocatalysis of water under solar radiation, resulting in the production of H
2
gas. To enhance the photoinduced separation of charges, a nanorod morphology with a linear gradient originating from an intrinsic electric field is used
5
. The inter-domain energetics are then optimized to drive photogenerated electrons toward the Pt catalytic site while expelling the holes to the surface of ZnSe domains for sacrificial regeneration (via methanol). Here we show that the only efficient way to produce hydrogen is to use electron-donating ligands to passivate the surface states by tuning the energy level alignment at the semiconductor-ligand interface. Stable and efficient reduction of water is allowed by these ligands due to the fact that they fill vacancies in the valence band of the semiconductor domain, preventing energetic holes from degrading it. Specifically, we show that the energy of the hole is transferred to the ligand moiety, leaving the semiconductor domain functional. This enables us to return the entire nanocrystal-ligand system to a functional state, when the ligands are degraded, by simply adding fresh ligands to the system
4
. To promote a photovoltaic charge separation, we use a composite two-layer solid of PbS and TiO
2
films. In this configuration, photoinduced electrons are injected into TiO
2
and are subsequently picked up by an FTO electrode, while holes are channeled to a Au electrode via PbS layer
6
. To develop the latter we introduce a
Semiconductor Matrix Encapsulated Nanocrystal Arrays
(SMENA) strategy, which allows bonding PbS NCs into the surrounding matrix of CdS semiconductor. As a result, fabricated solids exhibit excellent thermal stability, attributed to the heteroepitaxial structure of nanocrystal-matrix interfaces, and show compelling light-harvesting performance in prototype solar cells
7
.
Physics, Issue 66, Materials Science, Chemical Engineering, Chemistry, Electrical Engineering, Photovoltaics, nanorods, dye-sensitized, solids, titanium dioxide, photocatalysis, quantum dots
4296
Monolayer Contact Doping of Silicon Surfaces and Nanowires Using Organophosphorus Compounds
Institutions: The Hebrew University of Jerusalem, The Hebrew University of Jerusalem.

Monolayer Contact Doping (MLCD) is a simple method for doping of surfaces and nanostructures
1
. MLCD results in the formation of highly controlled, ultra shallow and sharp doping profiles at the nanometer scale. In MLCD process the dopant source is a monolayer containing dopant atoms. In this article a detailed procedure for surface doping of silicon substrate as well as silicon nanowires is demonstrated. Phosphorus dopant source was formed using tetraethyl methylenediphosphonate monolayer on a silicon substrate. This monolayer containing substrate was brought to contact with a pristine intrinsic silicon target substrate and annealed while in contact. Sheet resistance of the target substrate was measured using 4 point probe. Intrinsic silicon nanowires were synthesized by chemical vapor deposition (CVD) process using a vapor-liquid-solid (VLS) mechanism; gold nanoparticles were used as catalyst for nanowire growth. The nanowires were suspended in ethanol by mild sonication. This suspension was used to dropcast the nanowires on silicon substrate with a silicon nitride dielectric top layer. These nanowires were doped with phosphorus in similar manner as used for the intrinsic silicon wafer. Standard photolithography process was used to fabricate metal electrodes for the formation of nanowire based field effect transistor (NW-FET). The electrical properties of a representative nanowire device were measured by a semiconductor device analyzer and a probe station.
Basic Protocol, Issue 82, nanotechnology, chemistry, monolayer contact doping (MLCD), nanowire, silicon substrate, chemical vapor deposition (CVD),
50770
Evaluating Plasmonic Transport in Current-carrying Silver Nanowires
Institutions: Université de Bourgogne, University of Science and Technology of China, CEMES, CNRS-UPR 8011.

Plasmonics is an emerging technology capable of simultaneously transporting a plasmonic signal and an electronic signal on the same information support
1,2,3
. In this context, metal nanowires are especially desirable for realizing dense routing networks
4
. A prerequisite to operate such shared nanowire-based platform relies on our ability to electrically contact individual metal nanowires and efficiently excite surface plasmon polaritons
5
in this information support. In this article, we describe a protocol to bring electrical terminals to chemically-synthesized silver nanowires
6
randomly distributed on a glass substrate
7
. The positions of the nanowire ends with respect to predefined landmarks are precisely located using standard optical transmission microscopy before encapsulation in an electron-sensitive resist. Trenches representing the electrode layout are subsequently designed by electron-beam lithography. Metal electrodes are then fabricated by thermally evaporating a Cr/Au layer followed by a chemical lift-off. The contacted silver nanowires are finally transferred to a leakage radiation microscope for surface plasmon excitation and characterization
8,9
. Surface plasmons are launched in the nanowires by focusing a near infrared laser beam on a diffraction-limited spot overlapping one nanowire extremity
5,9
. For sufficiently large nanowires, the surface plasmon mode leaks into the glass substrate
9,10
. This leakage radiation is readily detected, imaged, and analyzed in the different conjugate planes in leakage radiation microscopy
9,11
. The electrical terminals do not affect the plasmon propagation. However, a current-induced morphological deterioration of the nanowire drastically degrades the flow of surface plasmons. The combination of surface plasmon leakage radiation microscopy with a simultaneous analysis of the nanowire electrical transport characteristics reveals the intrinsic limitations of such plasmonic circuitry.
Physics, Issue 82, light transmission, optical waveguides, photonics, plasma oscillations, plasma waves, electron motion in conductors, nanofabrication, Information Transport, plasmonics, Silver Nanowires, Leakage radiation microscopy, Electromigration
51048
Construction and Characterization of External Cavity Diode Lasers for Atomic Physics
Institutions: The Australian National University.

Since their development in the late 1980s, cheap, reliable external cavity diode lasers (ECDLs) have replaced complex and expensive traditional dye and Titanium Sapphire lasers as the workhorse laser of atomic physics labs
1,2
. Their versatility and prolific use throughout atomic physics in applications such as absorption spectroscopy and laser cooling
1,2
makes it imperative for incoming students to gain a firm practical understanding of these lasers. This publication builds upon the seminal work by Wieman
3
, updating components, and providing a video tutorial. The setup, frequency locking and performance characterization of an ECDL will be described. Discussion of component selection and proper mounting of both diodes and gratings, the factors affecting mode selection within the cavity, proper alignment for optimal external feedback, optics setup for coarse and fine frequency sensitive measurements, a brief overview of laser locking techniques, and laser linewidth measurements are included.
Physics, Issue 86, External Cavity Diode Laser, atomic spectroscopy, laser cooling, Bose-Einstein condensation, Zeeman modulation
51184
Proprioception and Tension Receptors in Crab Limbs: Student Laboratory Exercises
Institutions: University of Kentucky, University of Kentucky, University of Oregon.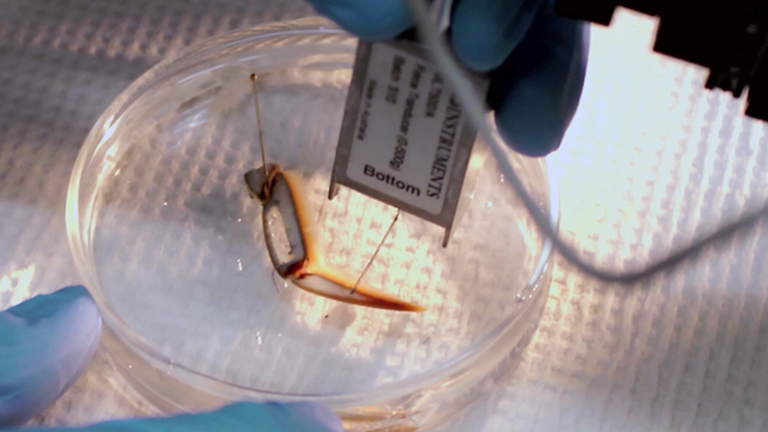 The primary purpose of these procedures is to demonstrate for teaching and research purposes how to record the activity of living primary sensory neurons responsible for proprioception as they are detecting joint position and movement, and muscle tension. Electrical activity from crustacean proprioceptors and tension receptors is recorded by basic neurophysiological instrumentation, and a transducer is used to simultaneously measure force that is generated by stimulating a motor nerve. In addition, we demonstrate how to stain the neurons for a quick assessment of their anatomical arrangement or for permanent fixation. Staining reveals anatomical organization that is representative of chordotonal organs in most crustaceans. Comparing the tension nerve responses to the proprioceptive responses is an effective teaching tool in determining how these sensory neurons are defined functionally and how the anatomy is correlated to the function. Three staining techniques are presented allowing researchers and instructors to choose a method that is ideal for their laboratory.
Neuroscience, Issue 80, Crustacean, joint, Muscle, sensory, teaching, educational, neuroscience
51050
Modeling Biological Membranes with Circuit Boards and Measuring Electrical Signals in Axons: Student Laboratory Exercises
Institutions: University of Kentucky, University of Toronto.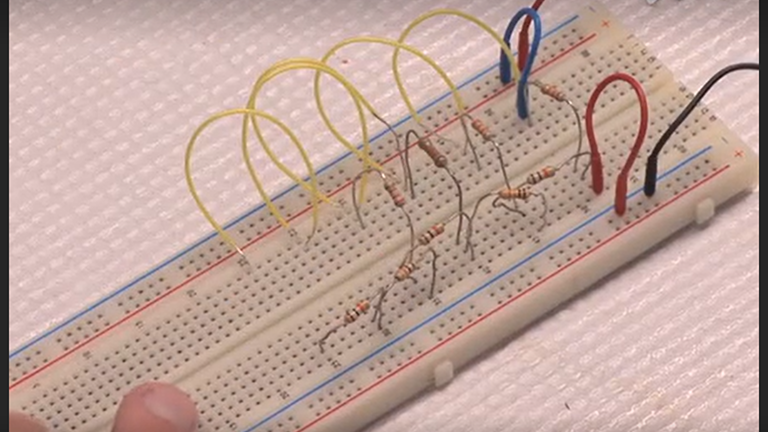 This is a demonstration of how electrical models can be used to characterize biological membranes. This exercise also introduces biophysical terminology used in electrophysiology. The same equipment is used in the membrane model as on live preparations. Some properties of an isolated nerve cord are investigated: nerve action potentials, recruitment of neurons, and responsiveness of the nerve cord to environmental factors.
Basic Protocols, Issue 47, Invertebrate, Crayfish, Modeling, Student laboratory, Nerve cord
2325
In Situ Neutron Powder Diffraction Using Custom-made Lithium-ion Batteries
Institutions: University of Sydney, University of Wollongong, Australian Synchrotron, Australian Nuclear Science and Technology Organisation, University of Wollongong, University of New South Wales.

Li-ion batteries are widely used in portable electronic devices and are considered as promising candidates for higher-energy applications such as electric vehicles.
1,2
However, many challenges, such as energy density and battery lifetimes, need to be overcome before this particular battery technology can be widely implemented in such applications.
3
This research is challenging, and we outline a method to address these challenges using
in situ
NPD to probe the crystal structure of electrodes undergoing electrochemical cycling (charge/discharge) in a battery. NPD data help determine the underlying structural mechanism responsible for a range of electrode properties, and this information can direct the development of better electrodes and batteries. We briefly review six types of battery designs custom-made for NPD experiments and detail the method to construct the 'roll-over' cell that we have successfully used on the high-intensity NPD instrument, WOMBAT, at the Australian Nuclear Science and Technology Organisation (ANSTO). The design considerations and materials used for cell construction are discussed in conjunction with aspects of the actual
in situ
NPD experiment and initial directions are presented on how to analyze such complex
in situ
data.
Physics, Issue 93, In operando, structure-property relationships, electrochemical cycling, electrochemical cells, crystallography, battery performance
52284
Ultrahigh Density Array of Vertically Aligned Small-molecular Organic Nanowires on Arbitrary Substrates
Institutions: University of Alberta.
In recent years π-conjugated organic semiconductors have emerged as the active material in a number of diverse applications including large-area, low-cost displays, photovoltaics, printable and flexible electronics and organic spin valves. Organics allow (a) low-cost, low-temperature processing and (b) molecular-level design of electronic, optical and spin transport characteristics. Such features are not readily available for mainstream inorganic semiconductors, which have enabled organics to carve a niche in the silicon-dominated electronics market. The first generation of organic-based devices has focused on thin film geometries, grown by physical vapor deposition or solution processing. However, it has been realized that organic
nanostructures
can be used to enhance performance of above-mentioned applications and significant effort has been invested in exploring methods for organic nanostructure fabrication. A particularly interesting class of organic nanostructures is the one in which
vertically oriented organic nanowires, nanorods or nanotubes are organized in a well-regimented, high-density array
. Such structures are highly versatile and are ideal morphological architectures for various applications such as chemical sensors, split-dipole nanoantennas, photovoltaic devices with radially heterostructured "core-shell" nanowires, and memory devices with a cross-point geometry. Such architecture is generally realized by a template-directed approach. In the past this method has been used to grow metal and inorganic semiconductor nanowire arrays. More recently π-conjugated polymer nanowires have been grown within nanoporous templates. However, these approaches have had limited success in growing nanowires of technologically important π-conjugated
small molecular weight organics
, such as tris-8-hydroxyquinoline aluminum (Alq
3
), rubrene and methanofullerenes, which are commonly used in diverse areas including organic displays, photovoltaics, thin film transistors and spintronics. Recently we have been able to address the above-mentioned issue by employing a novel "centrifugation-assisted" approach. This method therefore broadens the spectrum of organic materials that can be patterned in a vertically ordered nanowire array. Due to the technological importance of Alq
3
, rubrene and methanofullerenes, our method can be used to explore how the nanostructuring of these materials affects the performance of aforementioned organic devices. The purpose of this article is to describe the technical details of the above-mentioned protocol, demonstrate how this process can be extended to grow small-molecular organic nanowires on
arbitrary substrates
and finally, to discuss the critical steps, limitations, possible modifications, trouble-shooting and future applications.
Physics, Issue 76, Electrical Engineering, Chemistry, Chemical Engineering, Nanotechnology, nanodevices (electronic), semiconductor devices, solid state devices, thin films (theory, deposition and growth), crystal growth (general), Organic semiconductors, small molecular organics, organic nanowires, nanorods and nanotubes, bottom-up nanofabrication, electrochemical self-assembly, anodic aluminum oxide (AAO), template-assisted synthesis of nanostructures, Raman spectrum, field emission scanning electron microscopy, FESEM
50706
Quasi-light Storage for Optical Data Packets
Institutions: Hochschule für Telekommunikation, Leipzig.

Today's telecommunication is based on optical packets which transmit the information in optical fiber networks around the world. Currently, the processing of the signals is done in the electrical domain. Direct storage in the optical domain would avoid the transfer of the packets to the electrical and back to the optical domain in every network node and, therefore, increase the speed and possibly reduce the energy consumption of telecommunications. However, light consists of photons which propagate with the speed of light in vacuum. Thus, the storage of light is a big challenge. There exist some methods to slow down the speed of the light, or to store it in excitations of a medium. However, these methods cannot be used for the storage of optical data packets used in telecommunications networks. Here we show how the time-frequency-coherence, which holds for every signal and therefore for optical packets as well, can be exploited to build an optical memory. We will review the background and show in detail and through examples, how a frequency comb can be used for the copying of an optical packet which enters the memory. One of these time domain copies is then extracted from the memory by a time domain switch. We will show this method for intensity as well as for phase modulated signals.
Physics, Issue 84, optical communications, Optical Light Storage, stimulated Brillouin scattering, Optical Signal Processing, optical data packets, telecommunications
50468
Measurement of Coherence Decay in GaMnAs Using Femtosecond Four-wave Mixing
Institutions: Dalhousie University, University of Notre Dame.
The application of femtosecond four-wave mixing to the study of fundamental properties of diluted magnetic semiconductors ((s,p)-d hybridization, spin-flip scattering) is described, using experiments on GaMnAs as a prototype III-Mn-V system.  Spectrally-resolved and time-resolved experimental configurations are described, including the use of zero-background autocorrelation techniques for pulse optimization.  The etching process used to prepare GaMnAs samples for four-wave mixing experiments is also highlighted.  The high temporal resolution of this technique, afforded by the use of short (20 fsec) optical pulses, permits the rapid spin-flip scattering process in this system to be studied directly in the time domain, providing new insight into the strong exchange coupling responsible for carrier-mediated ferromagnetism.  We also show that spectral resolution of the four-wave mixing signal allows one to extract clear signatures of (s,p)-d hybridization in this system, unlike linear spectroscopy techniques.   This increased sensitivity is due to the nonlinearity of the technique, which suppresses defect-related contributions to the optical response. This method may be used to measure the time scale for coherence decay (tied to the fastest scattering processes) in a wide variety of semiconductor systems of interest for next generation electronics and optoelectronics.
Physics, Issue 82, Four-wave mixing, spin-flip scattering, ultrafast, GaMnAs, diluted magnetic semiconductor, photon echo, dephasing, GaAs, low temperature grown semiconductor, exchange, ferromagnetic
51094
Characterization of Surface Modifications by White Light Interferometry: Applications in Ion Sputtering, Laser Ablation, and Tribology Experiments
Institutions: Argonne National Laboratory, Argonne National Laboratory, MassThink LLC.

In materials science and engineering it is often necessary to obtain quantitative measurements of surface topography with micrometer lateral resolution. From the measured surface, 3D topographic maps can be subsequently analyzed using a variety of software packages to extract the information that is needed. In this article we describe how white light interferometry, and optical profilometry (OP) in general, combined with generic surface analysis software, can be used for materials science and engineering tasks. In this article, a number of applications of white light interferometry for investigation of surface modifications in mass spectrometry, and wear phenomena in tribology and lubrication are demonstrated. We characterize the products of the interaction of semiconductors and metals with energetic ions (sputtering), and laser irradiation (ablation), as well as
ex situ
measurements of wear of tribological test specimens. Specifically, we will discuss: Aspects of traditional ion sputtering-based mass spectrometry such as sputtering rates/yields measurements on Si and Cu and subsequent time-to-depth conversion. Results of quantitative characterization of the interaction of femtosecond laser irradiation with a semiconductor surface. These results are important for applications such as ablation mass spectrometry, where the quantities of evaporated material can be studied and controlled via pulse duration and energy per pulse. Thus, by determining the crater geometry one can define depth and lateral resolution versus experimental setup conditions. Measurements of surface roughness parameters in two dimensions, and quantitative measurements of the surface wear that occur as a result of friction and wear tests. Some inherent drawbacks, possible artifacts, and uncertainty assessments of the white light interferometry approach will be discussed and explained.
Materials Science, Issue 72, Physics, Ion Beams (nuclear interactions), Light Reflection, Optical Properties, Semiconductor Materials, White Light Interferometry, Ion Sputtering, Laser Ablation, Femtosecond Lasers, Depth Profiling, Time-of-flight Mass Spectrometry, Tribology, Wear Analysis, Optical Profilometry, wear, friction, atomic force microscopy, AFM, scanning electron microscopy, SEM, imaging, visualization
50260