Corneal Donor Tissue Preparation for Endothelial Keratoplasty
Published: 06-12-2012
ABSTRACT
Over the past ten years, corneal transplantation surgical techniques have undergone revolutionary changes1,2. Since its inception, traditional full thickness corneal transplantation has been the treatment to restore sight in those limited by corneal disease. Some disadvantages to this approach include a high degree of post-operative astigmatism, lack of predictable refractive outcome, and disturbance to the ocular surface. The development of Descemet's stripping endothelial keratoplasty (DSEK), transplanting only the posterior corneal stroma, Descemet's membrane, and endothelium, has dramatically changed treatment of corneal endothelial disease. DSEK is performed through a smaller incision; this technique avoids 'open sky' surgery with its risk of hemorrhage or expulsion, decreases the incidence of postoperative wound dehiscence, reduces unpredictable refractive outcomes, and may decrease the rate of transplant rejection3-6. Initially, cornea donor posterior lamellar dissection for DSEK was performed manually1 resulting in variable graft thickness and damage to the delicate corneal endothelial tissue during tissue processing. Automated lamellar dissection (Descemet's stripping automated endothelial keratoplasty, DSAEK) was developed to address these issues. Automated dissection utilizes the same technology as LASIK corneal flap creation with a mechanical microkeratome blade that helps to create uniform and thin tissue grafts for DSAEK surgery with minimal corneal endothelial cell loss in tissue processing. Eye banks have been providing full thickness corneas for surgical transplantation for many years. In 2006, eye banks began to develop methodologies for supplying precut corneal tissue for endothelial keratoplasty. With the input of corneal surgeons, eye banks have developed thorough protocols to safely and effectively prepare posterior lamellar tissue for DSAEK surgery. This can be performed preoperatively at the eye bank. Research shows no significant difference in terms of the quality of the tissue7 or patient outcomes8,9 using eye bank precut tissue versus surgeon-prepared tissue for DSAEK surgery. For most corneal surgeons, the availability of precut DSAEK corneal tissue saves time and money10, and reduces the stress of performing the donor corneal dissection in the operating room. In part because of the ability of the eye banks to provide high quality posterior lamellar corneal in a timely manner, DSAEK has become the standard of care for surgical management of corneal endothelial disease. The procedure that we are describing is the preparation of the posterior lamellar cornea at the eye bank for transplantation in DSAEK surgery (Figure 1).
18 Related JoVE Articles!
Murine Corneal Transplantation: A Model to Study the Most Common Form of Solid Organ Transplantation
Institutions: Saint Louis University.

Corneal transplantation is the most common form of organ transplantation in the United States with between 45,000 and 55,000 procedures performed each year. While several animal models exist for this procedure and mice are the species that is most commonly used. The reasons for using mice are the relative cost of using this species, the existence of many genetically defined strains that allow for the study of immune responses, and the existence of an extensive array of reagents that can be used to further define responses in this species. This model has been used to define factors in the cornea that are responsible for the relative immune privilege status of this tissue that enables corneal allografts to survive acute rejection in the absence of immunosuppressive therapy. It has also been used to define those factors that are most important in rejection of such allografts. Consequently, much of what we know concerning mechanisms of both corneal allograft acceptance and rejection are due to studies using a murine model of corneal transplantation. In addition to describing a model for acute corneal allograft rejection, we also present for the first time a model of late-term corneal allograft rejection.
Immunology, Issue 93, Transplantation, Allograft Responses, Immune Privilege, Cornea, Inflammatory cells, T cells, Macrophages
51830
Corneal Donor Tissue Preparation for Descemet's Membrane Endothelial Keratoplasty
Institutions: University of Michigan, MidWest Eye Banks.

Descemet's Membrane Endothelial Keratoplasty (DMEK) is a form of corneal transplantation in which only a single cell layer, the corneal endothelium, along with its basement membrane (Descemet's membrane) is introduced onto the recipient's posterior stroma
3
. Unlike Descemet's Stripping Automated Endothelial Keratoplasty (DSAEK), where additional donor stroma is introduced, no unnatural stroma-to-stroma interface is created. As a result, the natural anatomy of the cornea is preserved as much as possible allowing for improved recovery time and visual acuity
4
. Endothelial Keratoplasty (EK) is the procedure of choice for treatment of endothelial dysfunction. The advantages of EK include rapid recovery of vision, preservation of ocular integrity and minimal refractive change due to use of a small, peripheral incision
1
. DSAEK utilizes donor tissue prepared with partial thickness stroma and endothelium. The rapid success and utilization of this procedure can be attributed to availability of eye-bank prepared precut tissue. The benefits of eye-bank preparation of donor tissue include elimination of need for specialized equipment in the operating room and availability of back up donor tissue in case of tissue perforation during preparation. In addition, high volume preparation of donor tissue by eye-bank technicians may provide improved quality of donor tissue. DSAEK may have limited best corrected visual acuity due to creation of a stromal interface between the donor and recipient cornea. Elimination of this interface with transplantation of only donor Descemet's membrane and endothelium in DMEK may improve visual outcomes and reduce complications after EK
5
. Similar to DSAEK, long term success and acceptance of DMEK is dependent on ease of availability of precut, eye-bank prepared donor tissue. Here we present a stepwise approach to donor tissue preparation which may reduce some barriers eye-banks face in providing DMEK grafts.
Medicine, Issue 91, DMEK, EK, endothelial keratoplasty, Descemet's membrane endothelial keratoplasty, corneal transplantation, eye bank, donor tissue preparation
51919
A Simplified Technique for In situ Excision of Cornea and Evisceration of Retinal Tissue from Human Ocular Globe
Institutions: Fondazione Banca Degli Occhi del Veneto O.N.L.U.S. , Telethon Institute for Genetics & Medicine (T.I.G.E.M.).

Enucleation is the process of retrieving the ocular globe from a cadaveric donor leaving the rest of the globe undisturbed. Excision refers to the retrieval of ocular tissues, especially cornea, by cutting it separate from the ocular globe. Evisceration is the process of removing the internal organs referred here as retina. The ocular globe consists of the cornea, the sclera, the vitreous body, the lens, the iris, the retina, the choroid, muscles etc (Suppl.
Figure 1
). When a patient is suffering from corneal damage, the cornea needs to be removed and a healthy one must be transplanted by keratoplastic surgeries. Genetic disorders or defects in retinal function can compromise vision. Human ocular globes can be used for various surgical procedures such as eye banking, transplantation of human cornea or sclera and research on ocular tissues. However, there is little information available on human corneal and retinal excision, probably due to the limited accessibility to human tissues. Most of the studies describing similar procedures are performed on animal models. Research scientists rely on the availability of properly dissected and well-conserved ocular tissues in order to extend the knowledge on human eye development, homeostasis and function. As we receive high amount of ocular globes out of which approximately 40% (
Table 1
) of them are used for research purposes, we are able to perform huge amount of experiments on these tissues, defining techniques to excise and preserve them regularly. The cornea is an avascular tissue which enables the transmission of light onto the retina and for this purpose should always maintain a good degree of transparency. Within the cornea, the limbus region, which is a reservoir of the stem cells, helps the reconstruction of epithelial cells and restricts the overgrowth of the conjunctiva maintaining corneal transparency and clarity. The size and thickness of the cornea are critical for clear vision, as changes in either of them could lead to distracted, unclear vision. The cornea comprises of 5 layers; a) epithelium, b) Bowman's layer, c) stroma, d) Descemet's membrane and e) endothelium. All layers should function properly to ensure clear vision
4,5,6
. The choroid is the intermediate tunic between the sclera and retina, bounded on the interior by the Bruch's membrane and is responsible for blood flow in the eye. The choroid also helps to regulate the temperature and supplies nourishment to the outer layers of the retina
5,6
. The retina is a layer of nervous tissue that covers the back of the ocular globe (Suppl.
Figure 1
) and consists of two parts: a photoreceptive part and a non-receptive part. The retina helps to receive the light from the cornea and lens and converts it into the chemical energy eventually transmitted to the brain with help of the optic nerve
5,6
. The aim of this paper is to provide a protocol for the dissection of corneal and retinal tissues from human ocular globes. Avoiding cross-contamination with adjacent tissues and preserving RNA integrity is of fundamental importance as such tissues are indispensable for research purposes aimed at (i) characterizing the transcriptome of the ocular tissues, (ii) isolating stem cells for regenerative medicine projects, and (iii) evaluating histological differences between tissues from normal/affected subjects. In this paper we describe the technique we currently use to remove the cornea, the choroid and retinal tissues from an ocular globe. Here we provide a detailed protocol for the dissection of the human ocular globe and the excision of corneal and retinal tissues. The accompanying video will help researchers to learn an appropriate technique for the retrieval of precious human tissues which are difficult to find regularly.
Medicine, Issue 64, Physiology, Human cadaver ocular globe, in situ excision, corneal tissue, in situ evisceration, retinal tissue
3765
Ex Vivo Organotypic Corneal Model of Acute Epithelial Herpes Simplex Virus Type I Infection
Institutions: Drexel University College of Medicine.

Herpes keratitis is one of the most severe pathologies associated with the herpes simplex virus-type 1 (HSV-1). Herpes keratitis is currently the leading cause of both cornea-derived and infection-associated blindness in the developed world. Typical presentation of herpes keratitis includes infection of the corneal epithelium and sometimes the deeper corneal stroma and endothelium, leading to such permanent corneal pathologies as scarring, thinning, and opacity
1
. Corneal HSV-1 infection is traditionally studied in two types of experimental models. The
in vitro
model, in which cultured monolayers of corneal epithelial cells are infected in a Petri dish, offers simplicity, high level of replicability, fast experiments, and relatively low costs. On the other hand, the
in vivo
model, in which animals such as rabbits or mice are inoculated directly in the cornea, offers a highly sophisticated physiological system, but has higher costs, longer experiments, necessary animal care, and a greater degree of variability. In this video article, we provide a detailed demonstration of a new
ex vivo
model of corneal epithelial HSV-1 infection, which combines the strengths of both the
in vitro
and the
in vivo
models. The
ex vivo
model utilizes intact corneas organotypically maintained in culture and infected with HSV-1. The use of the
ex vivo
model allows for highly physiologically-based conclusions, yet it is rather inexpensive and requires time commitment comparable to that of the
in vitro
model.
Neuroscience, Issue 69, Virology, herpes, cornea, HSV, ex vivo, explant, corneal epithelium, organotypic, keratitis, eye, vision, ophthalmology
3631
Heterotopic Heart Transplantation in Mice
Institutions: University of California, San Francisco - UCSF.

The mouse heterotopic heart transplantation has been used widely since it was introduced by Drs. Corry and Russell in 1973. It is particularly valuable for studying rejection and immune response now that newer transgenic and gene knockout mice are available, and a large number of immunologic reagents have been developed. The heart transplant model is less stringent than the skin transplant models, although technically more challenging. We have developed a modified technique and have completed over 1000 successful cases of heterotopic heart transplantation in mice. When making anastomosis of the ascending aorta and abdominal aorta, two stay sutures are placed at the proximal and distal apexes of recipient abdominal aorta with the donor s ascending aorta, then using 11-0 suture for anastomosis on both side of aorta with continuing sutures. The stay sutures make the anastomosis easier and 11-0 is an ideal suture size to avoid bleeding and thrombosis. When making anastomosis of pulmonary artery and inferior vena cava, two stay sutures are made at the proximal apex and distal apex of the recipient s inferior vena cava with the donor s pulmonary artery. The left wall of the inferior vena cava and donor s pulmonary artery is closed with continuing sutures in the inside of the inferior vena cava after, one knot with the proximal apex stay suture the right wall of the inferior vena cava and the donor s pulmonary artery are closed with continuing sutures outside the inferior vena cave with 10-0 sutures. This method is easier to perform because anastomosis is made just on the one side of the inferior vena cava and 10-0 sutures is the right size to avoid bleeding and thrombosis. In this article, we provide details of the technique to supplement the video.
Developmental Biology, Issue 6, Microsurgical Techniques, Heart Transplant, Allograft Rejection Model
238
A Mouse Model of the Cornea Pocket Assay for Angiogenesis Study
Institutions: National Eye Institute.

A normal cornea is clear of vascular tissues. However, blood vessels can be induced to grow and survive in the cornea when potent angiogenic factors are administered
1
. This uniqueness has made the cornea pocket assay one of the most used models for angiogenesis studies. The cornea composes multiple layers of cells. It is therefore possible to embed a pellet containing the angiogenic factor of interest in the cornea to investigate its angiogenic effect
2,3
. Here, we provide a step by step demonstration of how to (I) produce the angiogenic factor-containing pellet (II) embed the pellet into the cornea (III) analyze the angiogenesis induced by the angiogenic factor of interest. Since the basic fibroblast growth factor (bFGF) is known as one of the most potent angiogenic factors
4
, it is used here to induce angiogenesis in the cornea.
Medicine, Issue 54, mouse cornea pocket assay, angiogenesis
3077
A Novel Three-dimensional Flow Chamber Device to Study Chemokine-directed Extravasation of Cells Circulating under Physiological Flow Conditions
Institutions: Torrey Pines Institute for Molecular Studies, Cascade LifeSciences Inc..

Extravasation of circulating cells from the bloodstream plays a central role in many physiological and pathophysiological processes, including stem cell homing and tumor metastasis. The three-dimensional flow chamber device (hereafter the 3D device) is a novel
in vitro
technology that recreates physiological shear stress and allows each step of the cell extravasation cascade to be quantified. The 3D device consists of an upper compartment in which the cells of interest circulate under shear stress, and a lower compartment of static wells that contain the chemoattractants of interest. The two compartments are separated by porous inserts coated with a monolayer of endothelial cells (EC). An optional second insert with microenvironmental cells of interest can be placed immediately beneath the EC layer. A gas exchange unit allows the optimal CO
2
tension to be maintained and provides an access point to add or withdraw cells or compounds during the experiment. The test cells circulate in the upper compartment at the desired shear stress (flow rate) controlled by a peristaltic pump. At the end of the experiment, the circulating and migrated cells are collected for further analyses. The 3D device can be used to examine cell rolling on and adhesion to EC under shear stress, transmigration in response to chemokine gradients, resistance to shear stress, cluster formation, and cell survival. In addition, the optional second insert allows the effects of crosstalk between EC and microenvironmental cells to be examined. The translational applications of the 3D device include testing of drug candidates that target cell migration and predicting the
in vivo
behavior of cells after intravenous injection. Thus, the novel 3D device is a versatile and inexpensive tool to study the molecular mechanisms that mediate cellular extravasation.
Bioengineering, Issue 77, Cellular Biology, Biophysics, Physiology, Molecular Biology, Biomedical Engineering, Immunology, Cells, Biological Factors, Equipment and Supplies, Cell Physiological Phenomena, Natural Science Disciplines, Life Sciences (General), circulating cells, extravasation, physiological shear stress, endothelial cells, microenvironment, chemokine gradient, flow, chamber, cell culture, assay
50959
Isolation, Culture, and Transplantation of Muscle Satellite Cells
Institutions: University of Minnesota Medical School.
Muscle satellite cells are a stem cell population required for postnatal skeletal muscle development and regeneration, accounting for 2-5% of sublaminal nuclei in muscle fibers. In adult muscle, satellite cells are normally mitotically quiescent. Following injury, however, satellite cells initiate cellular proliferation to produce myoblasts, their progenies, to mediate the regeneration of muscle. Transplantation of satellite cell-derived myoblasts has been widely studied as a possible therapy for several regenerative diseases including muscular dystrophy, heart failure, and urological dysfunction. Myoblast transplantation into dystrophic skeletal muscle, infarcted heart, and dysfunctioning urinary ducts has shown that engrafted myoblasts can differentiate into muscle fibers in the host tissues and display partial functional improvement in these diseases. Therefore, the development of efficient purification methods of quiescent satellite cells from skeletal muscle, as well as the establishment of satellite cell-derived myoblast cultures and transplantation methods for myoblasts, are essential for understanding the molecular mechanisms behind satellite cell self-renewal, activation, and differentiation. Additionally, the development of cell-based therapies for muscular dystrophy and other regenerative diseases are also dependent upon these factors. However, current prospective purification methods of quiescent satellite cells require the use of expensive fluorescence-activated cell sorting (FACS) machines. Here, we present a new method for the rapid, economical, and reliable purification of quiescent satellite cells from adult mouse skeletal muscle by enzymatic dissociation followed by magnetic-activated cell sorting (MACS). Following isolation of pure quiescent satellite cells, these cells can be cultured to obtain large numbers of myoblasts after several passages. These freshly isolated quiescent satellite cells or
ex vivo
expanded myoblasts can be transplanted into cardiotoxin (CTX)-induced regenerating mouse skeletal muscle to examine the contribution of donor-derived cells to regenerating muscle fibers, as well as to satellite cell compartments for the examination of self-renewal activities.
Cellular Biology, Issue 86, skeletal muscle, muscle stem cell, satellite cell, regeneration, myoblast transplantation, muscular dystrophy, self-renewal, differentiation, myogenesis
50846
Fabrication of Micro-tissues using Modules of Collagen Gel Containing Cells
Institutions: University of Toronto, University of Toronto.

This protocol describes the fabrication of a type of micro-tissues called modules. The module approach generates uniform, scalable and vascularized tissues. The modules can be made of collagen as well as other gelable or crosslinkable materials. They are approximately 2 mm in length and 0.7 mm in diameter upon fabrication but shrink in size with embedded cells or when the modules are coated with endothelial cells. The modules individually are small enough that the embedded cells are within the diffusion limit of oxygen and other nutrients but modules can be packed together to form larger tissues that are perfusable. These tissues are modular in construction because different cell types can be embedded in or coated on the modules before they are packed together to form complex tissues. There are three main steps to making the modules: (1) neutralizing the collagen and embedding cells in it, (2) gelling the collagen in the tube and cutting the modules and (3) coating the modules with endothelial cells.
Bioengineering, Issue 46, Tissue engineering, micro-tissue, endothelial cells, collagen gels, modules, 3D tissue culture.
2177
Models and Methods to Evaluate Transport of Drug Delivery Systems Across Cellular Barriers
Institutions: University of Maryland, University of Maryland.

Sub-micrometer carriers (nanocarriers; NCs) enhance efficacy of drugs by improving solubility, stability, circulation time, targeting, and release. Additionally, traversing cellular barriers in the body is crucial for both oral delivery of therapeutic NCs into the circulation and transport from the blood into tissues, where intervention is needed. NC transport across cellular barriers is achieved by: (i) the paracellular route, via transient disruption of the junctions that interlock adjacent cells, or (ii) the transcellular route, where materials are internalized by endocytosis, transported across the cell body, and secreted at the opposite cell surface (transyctosis). Delivery across cellular barriers can be facilitated by coupling therapeutics or their carriers with targeting agents that bind specifically to cell-surface markers involved in transport. Here, we provide methods to measure the extent and mechanism of NC transport across a model cell barrier, which consists of a monolayer of gastrointestinal (GI) epithelial cells grown on a porous membrane located in a transwell insert. Formation of a permeability barrier is confirmed by measuring transepithelial electrical resistance (TEER), transepithelial transport of a control substance, and immunostaining of tight junctions. As an example, ~200 nm polymer NCs are used, which carry a therapeutic cargo and are coated with an antibody that targets a cell-surface determinant. The antibody or therapeutic cargo is labeled with
125
I for radioisotope tracing and labeled NCs are added to the upper chamber over the cell monolayer for varying periods of time. NCs associated to the cells and/or transported to the underlying chamber can be detected. Measurement of free
125
I allows subtraction of the degraded fraction. The paracellular route is assessed by determining potential changes caused by NC transport to the barrier parameters described above. Transcellular transport is determined by addressing the effect of modulating endocytosis and transcytosis pathways.
Bioengineering, Issue 80, Antigens, Enzymes, Biological Therapy, bioengineering (general), Pharmaceutical Preparations, Macromolecular Substances, Therapeutics, Digestive System and Oral Physiological Phenomena, Biological Phenomena, Cell Physiological Phenomena, drug delivery systems, targeted nanocarriers, transcellular transport, epithelial cells, tight junctions, transepithelial electrical resistance, endocytosis, transcytosis, radioisotope tracing, immunostaining
50638
Electric Cell-substrate Impedance Sensing for the Quantification of Endothelial Proliferation, Barrier Function, and Motility
Institutions: Institute for Cardiovascular Research, VU University Medical Center, Institute for Cardiovascular Research, VU University Medical Center.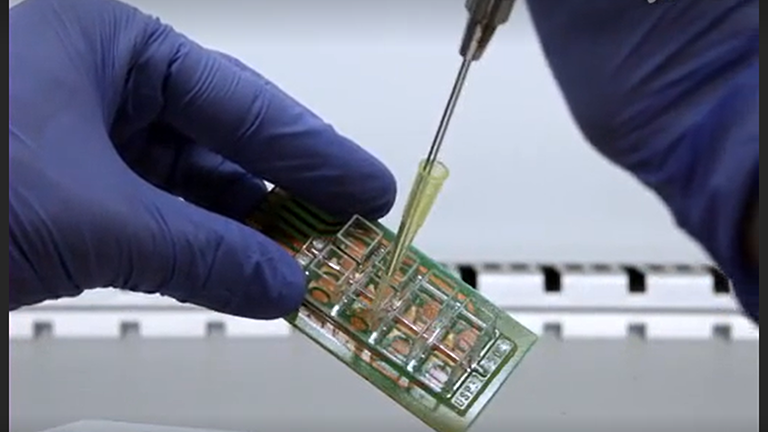 Electric Cell-substrate Impedance Sensing (ECIS) is an
in vitro
impedance measuring system to quantify the behavior of cells within adherent cell layers. To this end, cells are grown in special culture chambers on top of opposing, circular gold electrodes. A constant small alternating current is applied between the electrodes and the potential across is measured. The insulating properties of the cell membrane create a resistance towards the electrical current flow resulting in an increased electrical potential between the electrodes. Measuring cellular impedance in this manner allows the automated study of cell attachment, growth, morphology, function, and motility. Although the ECIS measurement itself is straightforward and easy to learn, the underlying theory is complex and selection of the right settings and correct analysis and interpretation of the data is not self-evident. Yet, a clear protocol describing the individual steps from the experimental design to preparation, realization, and analysis of the experiment is not available. In this article the basic measurement principle as well as possible applications, experimental considerations, advantages and limitations of the ECIS system are discussed. A guide is provided for the study of cell attachment, spreading and proliferation; quantification of cell behavior in a confluent layer, with regard to barrier function, cell motility, quality of cell-cell and cell-substrate adhesions; and quantification of wound healing and cellular responses to vasoactive stimuli. Representative results are discussed based on human microvascular (MVEC) and human umbilical vein endothelial cells (HUVEC), but are applicable to all adherent growing cells.
Bioengineering, Issue 85, ECIS, Impedance Spectroscopy, Resistance, TEER, Endothelial Barrier, Cell Adhesions, Focal Adhesions, Proliferation, Migration, Motility, Wound Healing
51300
Improved Method for the Preparation of a Human Cell-based, Contact Model of the Blood-Brain Barrier
Institutions: Monash University.

The blood-brain barrier (BBB) comprises impermeable but adaptable brain capillaries which tightly control the brain environment. Failure of the BBB has been implied in the etiology of many brain pathologies, creating a need for development of human
in vitro
BBB models to assist in clinically-relevant research. Among the numerous BBB models thus far described, a static (without flow), contact BBB model, where astrocytes and brain endothelial cells (BECs) are cocultured on the opposite sides of a porous membrane, emerged as a simplified yet authentic system to simulate the BBB with high throughput screening capacity. Nevertheless the generation of such model presents few technical challenges. Here, we describe a protocol for preparation of a contact human BBB model utilizing a novel combination of primary human BECs and immortalized human astrocytes. Specifically, we detail an innovative method for cell-seeding on inverted inserts as well as specify insert staining techniques and exemplify how we use our model for BBB-related research.
Bioengineering, Issue 81, Blood-brain barrier, model, cell culture, astrocytes, brain endothelial cells, insert, membranes
50934
Mechanical Stimulation-induced Calcium Wave Propagation in Cell Monolayers: The Example of Bovine Corneal Endothelial Cells
Institutions: KU Leuven.

Intercellular communication is essential for the coordination of physiological processes between cells in a variety of organs and tissues, including the brain, liver, retina, cochlea and vasculature. In experimental settings, intercellular Ca
2+
-waves can be elicited by applying a mechanical stimulus to a single cell. This leads to the release of the intracellular signaling molecules IP
3
and Ca
2+
that initiate the propagation of the Ca
2+
-wave concentrically from the mechanically stimulated cell to the neighboring cells. The main molecular pathways that control intercellular Ca
2+
-wave propagation are provided by gap junction channels through the direct transfer of IP
3
and by hemichannels through the release of ATP. Identification and characterization of the properties and regulation of different connexin and pannexin isoforms as gap junction channels and hemichannels are allowed by the quantification of the spread of the intercellular Ca
2+
-wave, siRNA, and the use of inhibitors of gap junction channels and hemichannels. Here, we describe a method to measure intercellular Ca
2+
-wave in monolayers of primary corneal endothelial cells loaded with Fluo4-AM in response to a controlled and localized mechanical stimulus provoked by an acute, short-lasting deformation of the cell as a result of touching the cell membrane with a micromanipulator-controlled glass micropipette with a tip diameter of less than 1 μm. We also describe the isolation of primary bovine corneal endothelial cells and its use as model system to assess Cx43-hemichannel activity as the driven force for intercellular Ca
2+
-waves through the release of ATP. Finally, we discuss the use, advantages, limitations and alternatives of this method in the context of gap junction channel and hemichannel research.
Cellular Biology, Issue 77, Molecular Biology, Medicine, Biomedical Engineering, Biophysics, Immunology, Ophthalmology, Gap Junctions, Connexins, Connexin 43, Calcium Signaling, Ca2+, Cell Communication, Paracrine Communication, Intercellular communication, calcium wave propagation, gap junctions, hemichannels, endothelial cells, cell signaling, cell, isolation, cell culture
50443
Combination of Microstereolithography and Electrospinning to Produce Membranes Equipped with Niches for Corneal Regeneration
Institutions: University of Sheffield, University of Sheffield, L. V. Prasad Eye Institute.

Corneal problems affect millions of people worldwide reducing their quality of life significantly. Corneal disease can be caused by illnesses such as Aniridia or Steven Johnson Syndrome as well as by external factors such as chemical burns or radiation. Current treatments are (i) the use of corneal grafts and (ii) the use of stem cell expanded in the laboratory and delivered on carriers (
e.g.
, amniotic membrane); these treatments are relatively successful but unfortunately they can fail after 3-5 years. There is a need to design and manufacture new corneal biomaterial devices able to mimic in detail the physiological environment where stem cells reside in the cornea. Limbal stem cells are located in the limbus (circular area between cornea and sclera) in specific niches known as the Palisades of Vogt. In this work we have developed a new platform technology which combines two cutting-edge manufacturing techniques (microstereolithography and electrospinning) for the fabrication of corneal membranes that mimic to a certain extent the limbus. Our membranes contain artificial micropockets which aim to provide cells with protection as the Palisades of Vogt do in the eye.
Bioengineering, Issue 91, electrospinning, microstereolithography, stem cell niche, storage, limbal explants
51826
Setting-up an In Vitro Model of Rat Blood-brain Barrier (BBB): A Focus on BBB Impermeability and Receptor-mediated Transport
Institutions: VECT-HORUS SAS, CNRS, NICN UMR 7259.

The blood brain barrier (BBB) specifically regulates molecular and cellular flux between the blood and the nervous tissue. Our aim was to develop and characterize a highly reproducible rat syngeneic
in vitro
model of the BBB using co-cultures of primary rat brain endothelial cells (RBEC) and astrocytes to study receptors involved in transcytosis across the endothelial cell monolayer. Astrocytes were isolated by mechanical dissection following trypsin digestion and were frozen for later co-culture. RBEC were isolated from 5-week-old rat cortices. The brains were cleaned of meninges and white matter, and mechanically dissociated following enzymatic digestion. Thereafter, the tissue homogenate was centrifuged in bovine serum albumin to separate vessel fragments from nervous tissue. The vessel fragments underwent a second enzymatic digestion to free endothelial cells from their extracellular matrix. The remaining contaminating cells such as pericytes were further eliminated by plating the microvessel fragments in puromycin-containing medium. They were then passaged onto filters for co-culture with astrocytes grown on the bottom of the wells. RBEC expressed high levels of tight junction (TJ) proteins such as occludin, claudin-5 and ZO-1 with a typical localization at the cell borders. The transendothelial electrical resistance (TEER) of brain endothelial monolayers, indicating the tightness of TJs reached 300 ohm·cm
2
on average. The endothelial permeability coefficients (Pe) for lucifer yellow (LY) was highly reproducible with an average of 0.26 ± 0.11 x 10
-3
cm/min. Brain endothelial cells organized in monolayers expressed the efflux transporter P-glycoprotein (P-gp), showed a polarized transport of rhodamine 123, a ligand for P-gp, and showed specific transport of transferrin-Cy3 and DiILDL across the endothelial cell monolayer. In conclusion, we provide a protocol for setting up an
in vitro
BBB model that is highly reproducible due to the quality assurance methods, and that is suitable for research on BBB transporters and receptors.
Medicine, Issue 88, rat brain endothelial cells (RBEC), mouse, spinal cord, tight junction (TJ), receptor-mediated transport (RMT), low density lipoprotein (LDL), LDLR, transferrin, TfR, P-glycoprotein (P-gp), transendothelial electrical resistance (TEER),
51278
The Corneal Micropocket Assay: A Model of Angiogenesis in the Mouse Eye
Institutions: Boston Children's Hospital, The Hebrew University of Jerusalem, Harvard Medical School.

The mouse corneal micropocket assay is a robust and quantitative
in vivo
assay for evaluating angiogenesis. By using standardized slow-release pellets containing specific growth factors that trigger blood vessel growth throughout the naturally avascular cornea, angiogenesis can be measured and quantified. In this assay the angiogenic response is generated over the course of several days, depending on the type and dose of growth factor used. The induction of neovascularization is commonly triggered by either basic fibroblast growth factor (bFGF) or vascular endothelial growth factor (VEGF). By combining these growth factors with sucralfate and hydron (poly-HEMA (poly(2-hydroxyethyl methacrylate))) and casting the mixture into pellets, they can be surgically implanted in the mouse eye. These uniform pellets slowly-release the growth factors over five or six days (bFGF or VEGF respectively) enabling sufficient angiogenic response required for vessel area quantification using a slit lamp. This assay can be used for different applications, including the evaluation of angiogenic modulator drugs or treatments as well as comparison between different genetic backgrounds affecting angiogenesis. A skilled investigator after practicing this assay can implant a pellet in less than 5 min per eye.
Neuroscience, Issue 90, Angiogensis, neovasculatization, in vivo assay, model, fibroblast growth factor, vascular endothelial growth factor
51375
Christopher Hughes: An in vitro model for the Study of Angiogenesis (Interview)
Institutions: University of California, Irvine (UCI).

Christopher C.W. Hughes describes the utility of his culture system for studying angiogenesis in vitro. He explains the importance of fibroblasts that secrete a critical, yet unidentified, soluble factor that allow endothelial cells to form vessels in culture that branch, form proper lumens, and undergo anastamosis.
Cellular Biology, Issue 3, angiogenesis, fibrin, endothelial, HUVEC, umbilical, Translational Research
175
Aortic Ring Assay
Institutions: Ben-Gurion University.

Angiogenesis, the sprouting of blood vessels from preexisting vasculature is associated with both natural and pathological processes. Various angiogenesis assays involve the study of individual endothelial cells in culture conditions (1). The aortic ring assay is an angiogenesis model that is based on organ culture. In this assay, angiogenic vessels grow from a segment of the aorta (modified from (2)). Briefly, mouse thoracic aorta is excised, the fat layer and adventitia are removed, and rings approximately 1 mm in length are prepared. Individual rings are then embedded in a small solid dome of basement matrix extract (BME), cast inside individual wells of a 48-well plate. Angiogenic factors and inhibitors of angiogenesis can be directly added to the rings, and a mixed co-culture of aortic rings and other cell types can be employed for the study of paracrine angiogenic effects. Sprouting is observed by inspection under a stereomicroscope over a period of 6-12 days. Due to the large variation caused by the irregularities in the aortic segments, experimentation in 6-plicates is strongly advised. Neovessel outgrowth is monitored throughout the experiment and imaged using phase microscopy, and supernatants are collected for measurement of relevant angiogenic and anti-angiogenic factors, cell death markers and nitrite.
Medicine, Issue 33, aortic rings, angiogenesis, blood vessels, aorta, mouse, vessel outgrowth
1564