Origami Inspired Self-assembly of Patterned and Reconfigurable Particles
Published: 02-04-2013
ABSTRACT
There are numerous techniques such as photolithography, electron-beam lithography and soft-lithography that can be used to precisely pattern two dimensional (2D) structures. These technologies are mature, offer high precision and many of them can be implemented in a high-throughput manner. We leverage the advantages of planar lithography and combine them with self-folding methods1-20 wherein physical forces derived from surface tension or residual stress, are used to curve or fold planar structures into three dimensional (3D) structures. In doing so, we make it possible to mass produce precisely patterned static and reconfigurable particles that are challenging to synthesize. In this paper, we detail visualized experimental protocols to create patterned particles, notably, (a) permanently bonded, hollow, polyhedra that self-assemble and self-seal due to the minimization of surface energy of liquefied hinges21-23 and (b) grippers that self-fold due to residual stress powered hinges24,25. The specific protocol described can be used to create particles with overall sizes ranging from the micrometer to the centimeter length scales. Further, arbitrary patterns can be defined on the surfaces of the particles of importance in colloidal science, electronics, optics and medicine. More generally, the concept of self-assembling mechanically rigid particles with self-sealing hinges is applicable, with some process modifications, to the creation of particles at even smaller, 100 nm length scales22, 26 and with a range of materials including metals21, semiconductors9 and polymers27. With respect to residual stress powered actuation of reconfigurable grasping devices, our specific protocol utilizes chromium hinges of relevance to devices with sizes ranging from 100 μm to 2.5 mm. However, more generally, the concept of such tether-free residual stress powered actuation can be used with alternate high-stress materials such as heteroepitaxially deposited semiconductor films5,7 to possibly create even smaller nanoscale grasping devices.
19 Related JoVE Articles!
Micropunching Lithography for Generating Micro- and Submicron-patterns on Polymer Substrates
Institutions: University of Texas at Arlington .

Conducting polymers have attracted great attention since the discovery of high conductivity in doped polyacetylene in 1977
1
. They offer the advantages of low weight, easy tailoring of properties and a wide spectrum of applications
2,3
. Due to sensitivity of conducting polymers to environmental conditions (e.g., air, oxygen, moisture, high temperature and chemical solutions), lithographic techniques present significant technical challenges when working with these materials
4
. For example, current photolithographic methods, such as ultra-violet (UV), are unsuitable for patterning the conducting polymers due to the involvement of wet and/or dry etching processes in these methods. In addition, current micro/nanosystems mainly have a planar form
5,6
. One layer of structures is built on the top surfaces of another layer of fabricated features. Multiple layers of these structures are stacked together to form numerous devices on a common substrate. The sidewall surfaces of the microstructures have not been used in constructing devices. On the other hand, sidewall patterns could be used, for example, to build 3-D circuits, modify fluidic channels and direct horizontal growth of nanowires and nanotubes. A macropunching method has been applied in the manufacturing industry to create macropatterns in a sheet metal for over a hundred years. Motivated by this approach, we have developed a micropunching lithography method (MPL) to overcome the obstacles of patterning conducting polymers and generating sidewall patterns. Like the macropunching method, the MPL also includes two operations (
Fig. 1
): (i) cutting; and (ii) drawing. The "cutting" operation was applied to pattern three conducting polymers
4
, polypyrrole (PPy), Poly(3,4-ethylenedioxythiophen)-poly(4-styrenesulphonate) (PEDOT) and polyaniline (PANI). It was also employed to create Al microstructures
7
. The fabricated microstructures of conducting polymers have been used as humidity
8
, chemical
8
, and glucose sensors
9
. Combined microstructures of Al and conducting polymers have been employed to fabricate capacitors and various heterojunctions
9,10,11
. The "cutting" operation was also applied to generate submicron-patterns, such as 100- and 500-nm-wide PPy lines as well as 100-nm-wide Au wires. The "drawing" operation was employed for two applications: (i) produce Au sidewall patterns on high density polyethylene (HDPE) channels which could be used for building 3D microsystems
12,13,14
, and (ii) fabricate polydimethylsiloxane (PDMS) micropillars on HDPE substrates to increase the contact angle of the channel
15
.
Mechanical Engineering, Issue 65, Physics, micropunching lithography, conducting polymers, nanowires, sidewall patterns, microlines
3725
Printing Thermoresponsive Reverse Molds for the Creation of Patterned Two-component Hydrogels for 3D Cell Culture
Institutions: Cartilage Engineering & Regeneration, Innovent e.V..

Bioprinting is an emerging technology that has its origins in the rapid prototyping industry. The different printing processes can be divided into contact bioprinting
1-4
(extrusion, dip pen and soft lithography), contactless bioprinting
5-7
(laser forward transfer, ink-jet deposition) and laser based techniques such as two photon photopolymerization
8
. It can be used for many applications such as tissue engineering
9-13
, biosensor microfabrication
14-16
and as a tool to answer basic biological questions such as influences of co-culturing of different cell types
17
. Unlike common photolithographic or soft-lithographic methods, extrusion bioprinting has the advantage that it does not require a separate mask or stamp. Using CAD software, the design of the structure can quickly be changed and adjusted according to the requirements of the operator. This makes bioprinting more flexible than lithography-based approaches. Here we demonstrate the printing of a sacrificial mold to create a multi-material 3D structure using an array of pillars within a hydrogel as an example. These pillars could represent hollow structures for a vascular network or the tubes within a nerve guide conduit. The material chosen for the sacrificial mold was poloxamer 407, a thermoresponsive polymer with excellent printing properties which is liquid at 4 °C and a solid above its gelation temperature ~20 °C for 24.5% w/v solutions
18
. This property allows the poloxamer-based sacrificial mold to be eluted on demand and has advantages over the slow dissolution of a solid material especially for narrow geometries. Poloxamer was printed on microscope glass slides to create the sacrificial mold. Agarose was pipetted into the mold and cooled until gelation. After elution of the poloxamer in ice cold water, the voids in the agarose mold were filled with alginate methacrylate spiked with FITC labeled fibrinogen. The filled voids were then cross-linked with UV and the construct was imaged with an epi-fluorescence microscope.
Bioengineering, Issue 77, Immunology, Cellular Biology, Biomedical Engineering, Biophysics, Molecular Biology, Materials Science, Tissue Engineering, Biomaterials, Hydrogel, Biopolymers, Structured/Patterned Hydrogels, Bioprinter, Sacrificial Mold, Thermoresponsive Polymers, Poloxamer, tissue, polymer, matrix, cell, cell culture
50632
Micro-masonry for 3D Additive Micromanufacturing
Institutions: University of Illinois at Urbana-Champaign.

Transfer printing is a method to transfer solid micro/nanoscale materials (herein called 'inks') from a substrate where they are generated to a different substrate by utilizing elastomeric stamps. Transfer printing enables the integration of heterogeneous materials to fabricate unexampled structures or functional systems that are found in recent advanced devices such as flexible and stretchable solar cells and LED arrays. While transfer printing exhibits unique features in material assembly capability, the use of adhesive layers or the surface modification such as deposition of self-assembled monolayer (SAM) on substrates for enhancing printing processes hinders its wide adaptation in microassembly of microelectromechanical system (MEMS) structures and devices. To overcome this shortcoming, we developed an advanced mode of transfer printing which deterministically assembles individual microscale objects solely through controlling surface contact area without any surface alteration. The absence of an adhesive layer or other modification and the subsequent material bonding processes ensure not only mechanical bonding, but also thermal and electrical connection between assembled materials, which further opens various applications in adaptation in building unusual MEMS devices.
Physics, Issue 90, Micro-masonry, microassembly, transfer printing, dry adhesives, additive manufacturing, printed processes, microfabrication, inks, microelectromechanical system (MEMS)
51974
Structure of HIV-1 Capsid Assemblies by Cryo-electron Microscopy and Iterative Helical Real-space Reconstruction
Institutions: University of Pittsburgh School of Medicine.

Cryo-electron microscopy (cryo-EM), combined with image processing, is an increasingly powerful tool for structure determination of macromolecular protein complexes and assemblies. In fact, single particle electron microscopy
1
and two-dimensional (2D) electron crystallography
2
have become relatively routine methodologies and a large number of structures have been solved using these methods. At the same time, image processing and three-dimensional (3D) reconstruction of helical objects has rapidly developed, especially, the iterative helical real-space reconstruction (IHRSR) method
3
, which uses single particle analysis tools in conjunction with helical symmetry. Many biological entities function in filamentous or helical forms, including actin filaments
4
, microtubules
5
, amyloid fibers
6
, tobacco mosaic viruses
7
, and bacteria flagella
8
, and, because a 3D density map of a helical entity can be attained from a single projection image, compared to the many images required for 3D reconstruction of a non-helical object, with the IHRSR method, structural analysis of such flexible and disordered helical assemblies is now attainable. In this video article, we provide detailed protocols for obtaining a 3D density map of a helical protein assembly (HIV-1 capsid
9
is our example), including protocols for cryo-EM specimen preparation, low dose data collection by cryo-EM, indexing of helical diffraction patterns, and image processing and 3D reconstruction using IHRSR. Compared to other techniques, cryo-EM offers optimal specimen preservation under near native conditions. Samples are embedded in a thin layer of vitreous ice, by rapid freezing, and imaged in electron microscopes at liquid nitrogen temperature, under low dose conditions to minimize the radiation damage. Sample images are obtained under near native conditions at the expense of low signal and low contrast in the recorded micrographs. Fortunately, the process of helical reconstruction has largely been automated, with the exception of indexing the helical diffraction pattern. Here, we describe an approach to index helical structure and determine helical symmetries (helical parameters) from digitized micrographs, an essential step for 3D helical reconstruction. Briefly, we obtain an initial 3D density map by applying the IHRSR method. This initial map is then iteratively refined by introducing constraints for the alignment parameters of each segment, thus controlling their degrees of freedom. Further improvement is achieved by correcting for the contrast transfer function (CTF) of the electron microscope (amplitude and phase correction) and by optimizing the helical symmetry of the assembly.
Immunology, Issue 54, cryo-electron microscopy, helical indexing, helical real-space reconstruction, tubular assemblies, HIV-1 capsid
3041
Planar and Three-Dimensional Printing of Conductive Inks
Institutions: University of Illinois at Urbana-Champaign, Lawrence Livermore National Laboratory, University Of California Santa Barbara .

Printed electronics rely on low-cost, large-area fabrication routes to create flexible or multidimensional electronic, optoelectronic, and biomedical devices
1-3
. In this paper, we focus on one- (1D), two- (2D), and three-dimensional (3D) printing of conductive metallic inks in the form of flexible, stretchable, and spanning microelectrodes. Direct-write assembly
4,5
is a 1-to-3D printing technique that enables the fabrication of features ranging from simple lines to complex structures by the deposition of concentrated inks through fine nozzles (~0.1 - 250 μm). This printing method consists of a computer-controlled 3-axis translation stage, an ink reservoir and nozzle, and 10x telescopic lens for visualization. Unlike inkjet printing, a droplet-based process, direct-write assembly involves the extrusion of ink filaments either in- or out-of-plane. The printed filaments typically conform to the nozzle size. Hence, microscale features (< 1 μm) can be patterned and assembled into larger arrays and multidimensional architectures. In this paper, we first synthesize a highly concentrated silver nanoparticle ink for planar and 3D printing via direct-write assembly. Next, a standard protocol for printing microelectrodes in multidimensional motifs is demonstrated. Finally, applications of printed microelectrodes for electrically small antennas, solar cells, and light-emitting diodes are highlighted.
Bioengineering, Issue 58, Direct-write assembly, silver ink, 3D printing, planar, three-dimensional, microelectrodes, flexible electronics, printed electronics
3189
A Novel Method for Localizing Reporter Fluorescent Beads Near the Cell Culture Surface for Traction Force Microscopy
Institutions: University of Illinois at Urbana-Champaign.

PA gels have long been used as a platform to study cell traction forces due to ease of fabrication and the ability to tune their elastic properties. When the substrate is coated with an extracellular matrix protein, cells adhere to the gel and apply forces, causing the gel to deform. The deformation depends on the cell traction and the elastic properties of the gel. If the deformation field of the surface is known, surface traction can be calculated using elasticity theory. Gel deformation is commonly measured by embedding fluorescent marker beads uniformly into the gel. The probes displace as the gel deforms. The probes near the surface of the gel are tracked. The displacements reported by these probes are considered as surface displacements. Their depths from the surface are ignored. This assumption introduces error in traction force evaluations. For precise measurement of cell forces, it is critical for the location of the beads to be known. We have developed a technique that utilizes simple chemistry to confine fluorescent marker beads, 0.1 and 1 µm in diameter, in PA gels, within 1.6 μm of the surface. We coat a coverslip with poly-D-lysine (PDL) and fluorescent beads. PA gel solution is then sandwiched between the coverslip and an adherent surface. The fluorescent beads transfer to the gel solution during curing. After polymerization, the PA gel contains fluorescent beads on a plane close to the gel surface.
Bioengineering, Issue 91, cell mechanics, polyacrylamide (PA) gel, traction force microscopy, fluorescent beads, poly-D-lysine (PDL), cell culture surface
51873
Magnetic Tweezers for the Measurement of Twist and Torque
Institutions: Delft University of Technology.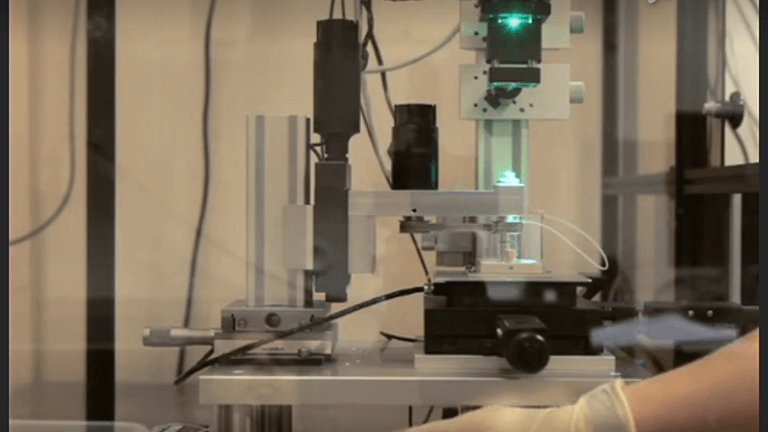 Single-molecule techniques make it possible to investigate the behavior of individual biological molecules in solution in real time. These techniques include so-called force spectroscopy approaches such as atomic force microscopy, optical tweezers, flow stretching, and magnetic tweezers. Amongst these approaches, magnetic tweezers have distinguished themselves by their ability to apply torque while maintaining a constant stretching force. Here, it is illustrated how such a "conventional" magnetic tweezers experimental configuration can, through a straightforward modification of its field configuration to minimize the magnitude of the transverse field, be adapted to measure the degree of twist in a biological molecule. The resulting configuration is termed the freely-orbiting magnetic tweezers. Additionally, it is shown how further modification of the field configuration can yield a transverse field with a magnitude intermediate between that of the "conventional" magnetic tweezers and the freely-orbiting magnetic tweezers, which makes it possible to directly measure the torque stored in a biological molecule. This configuration is termed the magnetic torque tweezers. The accompanying video explains in detail how the conversion of conventional magnetic tweezers into freely-orbiting magnetic tweezers and magnetic torque tweezers can be accomplished, and demonstrates the use of these techniques. These adaptations maintain all the strengths of conventional magnetic tweezers while greatly expanding the versatility of this powerful instrument.
Bioengineering, Issue 87, magnetic tweezers, magnetic torque tweezers, freely-orbiting magnetic tweezers, twist, torque, DNA, single-molecule techniques
51503
Preparation of Complaint Matrices for Quantifying Cellular Contraction
Institutions: University of Chicago, University of Chicago, University of Chicago.

The regulation of cellular adhesion to the extracellular matrix (ECM) is essential for cell migration and ECM remodeling. Focal adhesions are macromolecular assemblies that couple the contractile F-actin cytoskeleton to the ECM. This connection allows for the transmission of intracellular mechanical forces across the cell membrane to the underlying substrate. Recent work has shown the mechanical properties of the ECM regulate focal adhesion and F-actin morphology as well as numerous physiological processes, including cell differentiation, division, proliferation and migration. Thus, the use of cell culture substrates has become an increasingly prevalent method to precisely control and modulate ECM mechanical properties. To quantify traction forces at focal adhesions in an adherent cell, compliant substrates are used in conjunction with high-resolution imaging and computational techniques in a method termed traction force microscopy (TFM). This technique relies on measurements of the local magnitude and direction of substrate deformations induced by cellular contraction. In combination with high-resolution fluorescence microscopy of fluorescently tagged proteins, it is possible to correlate cytoskeletal organization and remodeling with traction forces. Here we present a detailed experimental protocol for the preparation of two-dimensional, compliant matrices for the purpose of creating a cell culture substrate with a well-characterized, tunable mechanical stiffness, which is suitable for measuring cellular contraction. These protocols include the fabrication of polyacrylamide hydrogels, coating of ECM proteins on such gels, plating cells on gels, and high-resolution confocal microscopy using a perfusion chamber. Additionally, we provide a representative sample of data demonstrating location and magnitude of cellular forces using cited TFM protocols.
Bioengineering, Issue 46, Traction force microscopy, cellular adhesion, polyacrylamide gel, stiffness, elastic modulus
2173
Longitudinal Measurement of Extracellular Matrix Rigidity in 3D Tumor Models Using Particle-tracking Microrheology
Institutions: University of Massachusetts Boston.

The mechanical microenvironment has been shown to act as a crucial regulator of tumor growth behavior and signaling, which is itself remodeled and modified as part of a set of complex, two-way mechanosensitive interactions. While the development of biologically-relevant 3D tumor models have facilitated mechanistic studies on the impact of matrix rheology on tumor growth, the inverse problem of mapping changes in the mechanical environment induced by tumors remains challenging. Here, we describe the implementation of particle-tracking microrheology (PTM) in conjunction with 3D models of pancreatic cancer as part of a robust and viable approach for longitudinally monitoring physical changes in the tumor microenvironment,
in situ
. The methodology described here integrates a system of preparing
in vitro
3D models embedded in a model extracellular matrix (ECM) scaffold of Type I collagen with fluorescently labeled probes uniformly distributed for position- and time-dependent microrheology measurements throughout the specimen.
In vitro
tumors are plated and probed in parallel conditions using multiwell imaging plates. Drawing on established methods, videos of tracer probe movements are transformed via the Generalized Stokes Einstein Relation (GSER) to report the complex frequency-dependent viscoelastic shear modulus,
G*(ω)
. Because this approach is imaging-based, mechanical characterization is also mapped onto large transmitted-light spatial fields to simultaneously report qualitative changes in 3D tumor size and phenotype. Representative results showing contrasting mechanical response in sub-regions associated with localized invasion-induced matrix degradation as well as system calibration, validation data are presented. Undesirable outcomes from common experimental errors and troubleshooting of these issues are also presented. The 96-well 3D culture plating format implemented in this protocol is conducive to correlation of microrheology measurements with therapeutic screening assays or molecular imaging to gain new insights into impact of treatments or biochemical stimuli on the mechanical microenvironment.
Bioengineering, Issue 88, viscoelasticity, mechanobiology, extracellular matrix (ECM), matrix remodeling, 3D tumor models, tumor microenvironment, stroma, matrix metalloprotease (MMP), epithelial-mesenchymal transition (EMT)
51302
Characterization of Complex Systems Using the Design of Experiments Approach: Transient Protein Expression in Tobacco as a Case Study
Institutions: RWTH Aachen University, Fraunhofer Gesellschaft.

Plants provide multiple benefits for the production of biopharmaceuticals including low costs, scalability, and safety. Transient expression offers the additional advantage of short development and production times, but expression levels can vary significantly between batches thus giving rise to regulatory concerns in the context of good manufacturing practice. We used a design of experiments (DoE) approach to determine the impact of major factors such as regulatory elements in the expression construct, plant growth and development parameters, and the incubation conditions during expression, on the variability of expression between batches. We tested plants expressing a model anti-HIV monoclonal antibody (2G12) and a fluorescent marker protein (DsRed). We discuss the rationale for selecting certain properties of the model and identify its potential limitations. The general approach can easily be transferred to other problems because the principles of the model are broadly applicable: knowledge-based parameter selection, complexity reduction by splitting the initial problem into smaller modules, software-guided setup of optimal experiment combinations and step-wise design augmentation. Therefore, the methodology is not only useful for characterizing protein expression in plants but also for the investigation of other complex systems lacking a mechanistic description. The predictive equations describing the interconnectivity between parameters can be used to establish mechanistic models for other complex systems.
Bioengineering, Issue 83, design of experiments (DoE), transient protein expression, plant-derived biopharmaceuticals, promoter, 5'UTR, fluorescent reporter protein, model building, incubation conditions, monoclonal antibody
51216
Fabrication, Densification, and Replica Molding of 3D Carbon Nanotube Microstructures
Institutions: University of Michigan , IMEC, Belgium.

The introduction of new materials and processes to microfabrication has, in large part, enabled many important advances in microsystems, lab-on-a-chip devices, and their applications. In particular, capabilities for cost-effective fabrication of polymer microstructures were transformed by the advent of soft lithography and other micromolding techniques
1, 2
, and this led a revolution in applications of microfabrication to biomedical engineering and biology. Nevertheless, it remains challenging to fabricate microstructures with well-defined nanoscale surface textures, and to fabricate arbitrary 3D shapes at the micro-scale. Robustness of master molds and maintenance of shape integrity is especially important to achieve high fidelity replication of complex structures and preserving their nanoscale surface texture. The combination of hierarchical textures, and heterogeneous shapes, is a profound challenge to existing microfabrication methods that largely rely upon top-down etching using fixed mask templates. On the other hand, the bottom-up synthesis of nanostructures such as nanotubes and nanowires can offer new capabilities to microfabrication, in particular by taking advantage of the collective self-organization of nanostructures, and local control of their growth behavior with respect to microfabricated patterns. Our goal is to introduce vertically aligned carbon nanotubes (CNTs), which we refer to as CNT "forests", as a new microfabrication material. We present details of a suite of related methods recently developed by our group: fabrication of CNT forest microstructures by thermal CVD from lithographically patterned catalyst thin films; self-directed elastocapillary densification of CNT microstructures; and replica molding of polymer microstructures using CNT composite master molds. In particular, our work shows that self-directed capillary densification ("capillary forming"), which is performed by condensation of a solvent onto the substrate with CNT microstructures, significantly increases the packing density of CNTs. This process enables directed transformation of vertical CNT microstructures into straight, inclined, and twisted shapes, which have robust mechanical properties exceeding those of typical microfabrication polymers. This in turn enables formation of nanocomposite CNT master molds by capillary-driven infiltration of polymers. The replica structures exhibit the anisotropic nanoscale texture of the aligned CNTs, and can have walls with sub-micron thickness and aspect ratios exceeding 50:1. Integration of CNT microstructures in fabrication offers further opportunity to exploit the electrical and thermal properties of CNTs, and diverse capabilities for chemical and biochemical functionalization
3
.
Mechanical Engineering, Issue 65, Physics, Carbon nanotube, microstructure, fabrication, molding, transfer, polymer
3980
Designing a Bio-responsive Robot from DNA Origami
Institutions: Bar-Ilan University.

Nucleic acids are astonishingly versatile. In addition to their natural role as storage medium for biological information
1
, they can be utilized in parallel computing
2,3
, recognize and bind molecular or cellular targets
4,5
, catalyze chemical reactions
6,7
, and generate calculated responses in a biological system
8,9
. Importantly, nucleic acids can be programmed to self-assemble into 2D and 3D structures
10-12
, enabling the integration of all these remarkable features in a single robot linking the sensing of biological cues to a preset response in order to exert a desired effect. Creating shapes from nucleic acids was first proposed by Seeman
13
, and several variations on this theme have since been realized using various techniques
11,12,14,15
. However, the most significant is perhaps the one proposed by Rothemund, termed scaffolded DNA origami
16
. In this technique, the folding of a long (>7,000 bases) single-stranded DNA '
scaffold'
is directed to a desired shape by hundreds of short complementary strands termed '
staples'
. Folding is carried out by temperature annealing ramp. This technique was successfully demonstrated in the creation of a diverse array of 2D shapes with remarkable precision and robustness. DNA origami was later extended to 3D as well
17,18
. The current paper will focus on the caDNAno 2.0 software
19
developed by Douglas and colleagues. caDNAno is a robust, user-friendly CAD tool enabling the design of 2D and 3D DNA origami shapes with versatile features. The design process relies on a systematic and accurate abstraction scheme for DNA structures, making it relatively straightforward and efficient. In this paper we demonstrate the design of a DNA origami nanorobot that has been recently described
20
. This robot is 'robotic' in the sense that it links sensing to actuation, in order to perform a task. We explain how various sensing schemes can be integrated into the structure, and how this can be relayed to a desired effect. Finally we use Cando
21
to simulate the mechanical properties of the designed shape. The concept we discuss can be adapted to multiple tasks and settings.
Bioengineering, Issue 77, Genetics, Biomedical Engineering, Molecular Biology, Medicine, Genomics, Nanotechnology, Nanomedicine, DNA origami, nanorobot, caDNAno, DNA, DNA Origami, nucleic acids, DNA structures, CAD, sequencing
50268
Nanomanipulation of Single RNA Molecules by Optical Tweezers
Institutions: University at Albany, State University of New York, University at Albany, State University of New York, University at Albany, State University of New York, University at Albany, State University of New York, University at Albany, State University of New York.

A large portion of the human genome is transcribed but not translated. In this post genomic era, regulatory functions of RNA have been shown to be increasingly important. As RNA function often depends on its ability to adopt alternative structures, it is difficult to predict RNA three-dimensional structures directly from sequence. Single-molecule approaches show potentials to solve the problem of RNA structural polymorphism by monitoring molecular structures one molecule at a time. This work presents a method to precisely manipulate the folding and structure of single RNA molecules using optical tweezers. First, methods to synthesize molecules suitable for single-molecule mechanical work are described. Next, various calibration procedures to ensure the proper operations of the optical tweezers are discussed. Next, various experiments are explained. To demonstrate the utility of the technique, results of mechanically unfolding RNA hairpins and a single RNA kissing complex are used as evidence. In these examples, the nanomanipulation technique was used to study folding of each structural domain, including secondary and tertiary, independently. Lastly, the limitations and future applications of the method are discussed.
Bioengineering, Issue 90, RNA folding, single-molecule, optical tweezers, nanomanipulation, RNA secondary structure, RNA tertiary structure
51542
Protein WISDOM: A Workbench for In silico De novo Design of BioMolecules
Institutions: Princeton University.

The aim of
de novo
protein design is to find the amino acid sequences that will fold into a desired 3-dimensional structure with improvements in specific properties, such as binding affinity, agonist or antagonist behavior, or stability, relative to the native sequence. Protein design lies at the center of current advances drug design and discovery. Not only does protein design provide predictions for potentially useful drug targets, but it also enhances our understanding of the protein folding process and protein-protein interactions. Experimental methods such as directed evolution have shown success in protein design. However, such methods are restricted by the limited sequence space that can be searched tractably. In contrast, computational design strategies allow for the screening of a much larger set of sequences covering a wide variety of properties and functionality. We have developed a range of computational
de novo
protein design methods capable of tackling several important areas of protein design. These include the design of monomeric proteins for increased stability and complexes for increased binding affinity. To disseminate these methods for broader use we present Protein WISDOM (https://www.proteinwisdom.org), a tool that provides automated methods for a variety of protein design problems. Structural templates are submitted to initialize the design process. The first stage of design is an optimization sequence selection stage that aims at improving stability through minimization of potential energy in the sequence space. Selected sequences are then run through a fold specificity stage and a binding affinity stage. A rank-ordered list of the sequences for each step of the process, along with relevant designed structures, provides the user with a comprehensive quantitative assessment of the design. Here we provide the details of each design method, as well as several notable experimental successes attained through the use of the methods.
Genetics, Issue 77, Molecular Biology, Bioengineering, Biochemistry, Biomedical Engineering, Chemical Engineering, Computational Biology, Genomics, Proteomics, Protein, Protein Binding, Computational Biology, Drug Design, optimization (mathematics), Amino Acids, Peptides, and Proteins, De novo protein and peptide design, Drug design, In silico sequence selection, Optimization, Fold specificity, Binding affinity, sequencing
50476
Optimized Negative Staining: a High-throughput Protocol for Examining Small and Asymmetric Protein Structure by Electron Microscopy
Institutions: The Molecular Foundry.

Structural determination of proteins is rather challenging for proteins with molecular masses between 40 - 200 kDa. Considering that more than half of natural proteins have a molecular mass between 40 - 200 kDa
1,2
, a robust and high-throughput method with a nanometer resolution capability is needed. Negative staining (NS) electron microscopy (EM) is an easy, rapid, and qualitative approach which has frequently been used in research laboratories to examine protein structure and protein-protein interactions. Unfortunately, conventional NS protocols often generate structural artifacts on proteins, especially with lipoproteins that usually form presenting rouleaux artifacts. By using images of lipoproteins from cryo-electron microscopy (cryo-EM) as a standard, the key parameters in NS specimen preparation conditions were recently screened and reported as the optimized NS protocol (OpNS), a modified conventional NS protocol
3
. Artifacts like rouleaux can be greatly limited by OpNS, additionally providing high contrast along with reasonably high‐resolution (near 1 nm) images of small and asymmetric proteins. These high-resolution and high contrast images are even favorable for an individual protein (a single object, no average) 3D reconstruction, such as a 160 kDa antibody, through the method of electron tomography
4,5
. Moreover, OpNS can be a high‐throughput tool to examine hundreds of samples of small proteins. For example, the previously published mechanism of 53 kDa cholesteryl ester transfer protein (CETP) involved the screening and imaging of hundreds of samples
6
. Considering cryo-EM rarely successfully images proteins less than 200 kDa has yet to publish any study involving screening over one hundred sample conditions, it is fair to call OpNS a high-throughput method for studying small proteins. Hopefully the OpNS protocol presented here can be a useful tool to push the boundaries of EM and accelerate EM studies into small protein structure, dynamics and mechanisms.
Environmental Sciences, Issue 90, small and asymmetric protein structure, electron microscopy, optimized negative staining
51087
Rapid and Low-cost Prototyping of Medical Devices Using 3D Printed Molds for Liquid Injection Molding
Institutions: University of California, San Francisco, University of California, San Francisco, University of Southern California.

Biologically inert elastomers such as silicone are favorable materials for medical device fabrication, but forming and curing these elastomers using traditional liquid injection molding processes can be an expensive process due to tooling and equipment costs. As a result, it has traditionally been impractical to use liquid injection molding for low-cost, rapid prototyping applications. We have devised a method for rapid and low-cost production of liquid elastomer injection molded devices that utilizes fused deposition modeling 3D printers for mold design and a modified desiccator as an injection system. Low costs and rapid turnaround time in this technique lower the barrier to iteratively designing and prototyping complex elastomer devices. Furthermore, CAD models developed in this process can be later adapted for metal mold tooling design, enabling an easy transition to a traditional injection molding process. We have used this technique to manufacture intravaginal probes involving complex geometries, as well as overmolding over metal parts, using tools commonly available within an academic research laboratory. However, this technique can be easily adapted to create liquid injection molded devices for many other applications.
Bioengineering, Issue 88, liquid injection molding, reaction injection molding, molds, 3D printing, fused deposition modeling, rapid prototyping, medical devices, low cost, low volume, rapid turnaround time.
51745
Interview: Bioreactors and Surfaced-Modified 3D-Scaffolds for Stem Cell Research
Institutions: Karlsruhe Institute of Technology.

A Nature Editorial in 2003 asked the question "Good-bye, flat biology?" What does this question imply? In the past, many in vitro culture systems, mainly monolayer cultures, often suffered from the disadvantage that differentiated primary cells had a relatively short life-span and de-differentiated during culture. As a consequence, most of their organ-specific functions were lost rapidly. Thus, in order to reproduce better conditions for these cells in vitro, modifications and adaptations have been made to conventional monolayer cultures. The last generation of CellChips -- micro-thermoformed containers -- a specific technology was developed, which offers the additional possibility to modify the whole surface of the 3D formed containers. This allows a surface-patterning on a submicron scale with distinct signalling molecules. Sensors and signal electrodes may be incorporated. Applications range from basic research in cell biology to toxicology and pharmacology. Using biodegradable polymers, clinical applications become a possibility. Furthermore, the last generation of micro-thermoformed chips has been optimized to allow for cheap mass production.
Cellular Biology, Issue 15, Interview, bioreactors, cell culture systems, 3D cell culture, stem cells
792
Microfabrication of Chip-sized Scaffolds for Three-dimensional Cell cultivation
Institutions: Karlsruhe Research Centre, University of Twente, Institute for Heavy Ion Research, Karlsruhe Research Centre, Karlsruhe Research Centre.

Using microfabrication technologies is a prerequisite to create scaffolds of reproducible geometry and constant quality for three-dimensional cell cultivation. These technologies offer a wide spectrum of advantages not only for manufacturing but also for different applications. The size and shape of formed cell clusters can be influenced by the exact and reproducible architecture of the microfabricated scaffold and, therefore, the diffusion path length of nutrients and gases can be controlled.1 This is unquestionably a useful tool to prevent apoptosis and necrosis of cells due to an insufficient nutrient and gas supply or removal of cellular metabolites. Our polymer chip, called CellChip, has the outer dimensions of 2 x 2 cm with a central microstructured area. This area is subdivided into an array of up to 1156 microcontainers with a typical dimension of 300 m edge length for the cubic design (cp- or cf-chip) or of 300 m diameter and depth for the round design (r-chip).2 So far, hot embossing or micro injection moulding (in combination with subsequent laborious machining of the parts) was used for the fabrication of the microstructured chips. Basically, micro injection moulding is one of the only polymer based replication techniques that, up to now, is capable for mass production of polymer microstructures.3 However, both techniques have certain unwanted limitations due to the processing of a viscous polymer melt with the generation of very thin walls or integrated through holes. In case of the CellChip, thin bottom layers are necessary to perforate the polymer and provide small pores of defined size to supply cells with culture medium e.g. by microfluidic perfusion of the containers. In order to overcome these limitations and to reduce the manufacturing costs we have developed a new microtechnical approach on the basis of a down-scaled thermoforming process. For the manufacturing of highly porous and thin walled polymer chips, we use a combination of heavy ion irradiation, microthermoforming and track etching. In this so called "SMART" process (Substrate Modification And Replication by Thermoforming) thin polymer films are irradiated with energetic heavy projectiles of several hundred MeV introducing so-called "latent tracks" Subsequently, the film in a rubber elastic state is formed into three dimensional parts without modifying or annealing the tracks. After the forming process, selective chemical etching finally converts the tracks into cylindrical pores of adjustable diameter.
Cellular Biology, Issue 15, SMART, microthermoforming, microfabrication, scaffolds, polymer
699
Interview: Protein Folding and Studies of Neurodegenerative Diseases
Institutions: MIT - Massachusetts Institute of Technology.

In this interview, Dr. Lindquist describes relationships between protein folding, prion diseases and neurodegenerative disorders. The problem of the protein folding is at the core of the modern biology. In addition to their traditional biochemical functions, proteins can mediate transfer of biological information and therefore can be considered a genetic material. This recently discovered function of proteins has important implications for studies of human disorders. Dr. Lindquist also describes current experimental approaches to investigate the mechanism of neurodegenerative diseases based on genetic studies in model organisms.
Neuroscience, issue 17, protein folding, brain, neuron, prion, neurodegenerative disease, yeast, screen, Translational Research
786