Whole-Body Nanoparticle Aerosol Inhalation Exposures
Published: 05-07-2013
ABSTRACT
Inhalation is the most likely exposure route for individuals working with aerosolizable engineered nano-materials (ENM). To properly perform nanoparticle inhalation toxicology studies, the aerosols in a chamber housing the experimental animals must have: 1) a steady concentration maintained at a desired level for the entire exposure period; 2) a homogenous composition free of contaminants; and 3) a stable size distribution with a geometric mean diameter < 200 nm and a geometric standard deviation σg < 2.5 5. The generation of aerosols containing nanoparticles is quite challenging because nanoparticles easily agglomerate. This is largely due to very strong inter-particle forces and the formation of large fractal structures in tens or hundreds of microns in size 6, which are difficult to be broken up. Several common aerosol generators, including nebulizers, fluidized beds, Venturi aspirators and the Wright dust feed, were tested; however, none were able to produce nanoparticle aerosols which satisfy all criteria 5. A whole-body nanoparticle aerosol inhalation exposure system was fabricated, validated and utilized for nano-TiO2 inhalation toxicology studies. Critical components: 1) novel nano-TiO2 aerosol generator; 2) 0.5 m3 whole-body inhalation exposure chamber; and 3) monitor and control system. Nano-TiO2 aerosols generated from bulk dry nano-TiO2 powders (primary diameter of 21 nm, bulk density of 3.8 g/cm3) were delivered into the exposure chamber at a flow rate of 90 LPM (10.8 air changes/hr). Particle size distribution and mass concentration profiles were measured continuously with a scanning mobility particle sizer (SMPS), and an electric low pressure impactor (ELPI). The aerosol mass concentration (C) was verified gravimetrically (mg/m3). The mass (M) of the collected particles was determined as M = (Mpost-Mpre), where Mpreand Mpost are masses of the filter before and after sampling (mg). The mass concentration was calculated as C = M/(Q*t), where Q is sampling flowrate (m3/min), and t is the sampling time (minute). The chamber pressure, temperature, relative humidity (RH), O2 and CO2 concentrations were monitored and controlled continuously. Nano-TiO2 aerosols collected on Nuclepore filters were analyzed with a scanning electron microscope (SEM) and energy dispersive X-ray (EDX) analysis. In summary, we report that the nano-particle aerosols generated and delivered to our exposure chamber have: 1) steady mass concentration; 2) homogenous composition free of contaminants; 3) stable particle size distributions with a count-median aerodynamic diameter of 157 nm during aerosol generation. This system reliably and repeatedly creates test atmospheres that simulate occupational, environmental or domestic ENM aerosol exposures.
21 Related JoVE Articles!
AC Electrokinetic Phenomena Generated by Microelectrode Structures
Institutions: Drexel University, Drexel University.

The field of AC electrokinetics is rapidly growing due to its ability to perform dynamic fluid and particle manipulation on the micro- and nano-scale, which is essential for Lab-on-a-Chip applications. AC electrokinetic phenomena use electric fields to generate forces that act on fluids or suspended particles (including those made of dielectric or biological material) and cause them to move in astonishing ways
1, 2
. Within a single channel, AC electrokinetics can accomplish many essential on-chip operations such as active micro-mixing, particle separation, particle positioning and micro-pattering. A single device may accomplish several of those operations by simply adjusting operating parameters such as frequency or amplitude of the applied voltage. Suitable electric fields can be readily created by micro-electrodes integrated into microchannels. It is clear from the tremendous growth in this field that AC electrokinetics will likely have a profound effect on healthcare diagnostics
3-5
, environmental monitoring
6
and homeland security
7
. In general, there are three AC Electrokinetic phenomena (AC electroosmosis, dielectrophoresis and AC electrothermal effect) each with unique dependencies on the operating parameters. A change in these operating parameters can cause one phenomena to become dominant over another, thus changing the particle or fluid behavior. It is difficult to predict the behavior of particles and fluids due to the complicated physics that underlie AC electrokinetics. It is the goal of this publication to explain the physics and elucidate particle and fluid behavior. Our analysis also covers how to fabricate the electrode structures that generate them, and how to interpret a wide number of experimental observations using several popular device designs. This video article will help scientists and engineers understand these phenomena and may encourage them to start using AC Electrokinetics in their research.
Bioengineering, Issue 17, AC Electrokinetics, AC Electroosmosis, Dielectrophoresis, Electrothermal Effect, Microelectrode, Microfluidics, Simulation, Microsphere, Microfabrication
813
Localized RNAi and Ectopic Gene Expression in the Medicinal Leech
Institutions: University of California San Diego - UCSD, University of California San Diego - UCSD.
In this video, we show the use of a pneumatic capillary gun for the accurate biolistic delivery of reagents into live tissue. We use the procedure to perturb gene expression patterns in selected segments of leech embryos, leaving the untreated segments as internal controls. The pneumatic capillary gun can be used to reach internal layers of cells at early stages of development without opening the specimen. As a method for localized introduction of substances into living tissues, the biolistic delivery with the gun has several advantages: it is fast, contact-free and non-destructive. In addition, a single capillary gun can be used for independent delivery of different substances. The delivery region can have lateral dimensions of ~50-150 µm and extends over ~15 µm around the mean penetration depth, which is adjustable between 0 and 50 µm. This delivery has the advantage of being able to target a limited number of cells in a selected location intermediate between single cell knock down by microinjection and systemic knockdown through extracellular injections or by means of genetic approaches. For knocking down or knocking in the expression of the axon guidance molecule Netrin, which is naturally expressed by some central neurons and in the ventral body wall, but not the dorsal domain, we deliver molecules of dsRNA or plasmid-DNA into the body wall and central ganglia. This procedure includes the following steps: (i) preparation of the experimental setup for a specific assay (adjusting the accelerating pressure), (ii) coating the particles with molecules of dsRNA or DNA, (iii) loading the coated particles into the gun, up to two reagents in one assay, (iv) preparing the animals for the particle delivery, (v) delivery of coated particles into the target tissue (body wall or ganglia), and (vi) processing the embryos (immunostaining, immunohistochemistry and neuronal labeling) to visualize the results, usually 2 to 3 days after the delivery. When the particles were coated with netrin dsRNA, they caused clearly visible knock-down of netrin expression that only occurred in cells containing particles (usually, 1-2 particles per cell). Particles coated with a plasmid encoding EGFP induced fluorescence in neuronal cells when they stopped in their nuclei.
Neuroscience, Issue 14, leech, netrin, axon guidance, development, mechanosensory neurons, gene gun, RNAi
697
Multispectral Real-time Fluorescence Imaging for Intraoperative Detection of the Sentinel Lymph Node in Gynecologic Oncology
Institutions: University Medical Center Groningen, Technical University Munich, University Medical Center Groningen.

The prognosis in virtually all solid tumors depends on the presence or absence of lymph node metastases.
1-3
Surgical treatment most often combines radical excision of the tumor with a full lymphadenectomy in the drainage area of the tumor. However, removal of lymph nodes is associated with increased morbidity due to infection, wound breakdown and lymphedema.
4,5
As an alternative, the sentinel lymph node procedure (SLN) was developed several decades ago to detect the first draining lymph node from the tumor.
6
In case of lymphogenic dissemination, the SLN is the first lymph node that is affected (Figure 1). Hence, if the SLN does not contain metastases, downstream lymph nodes will also be free from tumor metastases and need not to be removed. The SLN procedure is part of the treatment for many tumor types, like breast cancer and melanoma, but also for cancer of the vulva and cervix.
7
The current standard methodology for SLN-detection is by peritumoral injection of radiocolloid one day prior to surgery, and a colored dye intraoperatively. Disadvantages of the procedure in cervical and vulvar cancer are multiple injections in the genital area, leading to increased psychological distress for the patient, and the use of radioactive colloid. Multispectral fluorescence imaging is an emerging imaging modality that can be applied intraoperatively without the need for injection of radiocolloid. For intraoperative fluorescence imaging, two components are needed: a fluorescent agent and a quantitative optical system for intraoperative imaging. As a fluorophore we have used indocyanine green (ICG). ICG has been used for many decades to assess cardiac function, cerebral perfusion and liver perfusion.
8
It is an inert drug with a safe pharmaco-biological profile. When excited at around 750 nm, it emits light in the near-infrared spectrum around 800 nm. A custom-made multispectral fluorescence imaging camera system was used.
9
. The aim of this video article is to demonstrate the detection of the SLN using intraoperative fluorescence imaging in patients with cervical and vulvar cancer. Fluorescence imaging is used in conjunction with the standard procedure, consisting of radiocolloid and a blue dye. In the future, intraoperative fluorescence imaging might replace the current method and is also easily transferable to other indications like breast cancer and melanoma.
Medicine, Issue 44, Image-guided surgery, multispectral fluorescence, sentinel lymph node, gynecologic oncology
2225
Isolation and Genome Analysis of Single Virions using 'Single Virus Genomics'
Institutions: The J. Craig Venter Institute.

Whole genome amplification and sequencing of single microbial cells enables genomic characterization without the need of cultivation
1-3
. Viruses, which are ubiquitous and the most numerous entities on our planet
4
and important in all environments
5
, have yet to be revealed via similar approaches. Here we describe an approach for isolating and characterizing the genomes of single virions called 'Single Virus Genomics' (SVG). SVG utilizes flow cytometry to isolate individual viruses and whole genome amplification to obtain high molecular weight genomic DNA (gDNA) that can be used in subsequent sequencing reactions.
Genetics, Issue 75, Microbiology, Immunology, Virology, Molecular Biology, Environmental Sciences, Genomics, environmental genomics, Single virus, single virus genomics, SVG, whole genome amplification, flow cytometry, viral ecology, virion, genome analysis, DNA, PCR, sequencing
3899
Fabrication, Operation and Flow Visualization in Surface-acoustic-wave-driven Acoustic-counterflow Microfluidics
Institutions: Istituto Italiano di Tecnologia, Scuola Normale Superiore and Istituto Nanoscienze-CNR.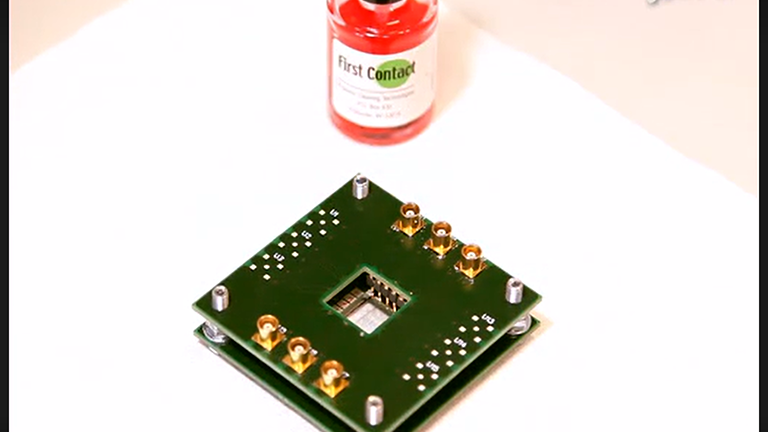 Surface acoustic waves (SAWs) can be used to drive liquids in portable microfluidic chips via the acoustic counterflow phenomenon. In this video we present the fabrication protocol for a multilayered SAW acoustic counterflow device. The device is fabricated starting from a lithium niobate (LN) substrate onto which two interdigital transducers (IDTs) and appropriate markers are patterned. A polydimethylsiloxane (PDMS) channel cast on an SU8 master mold is finally bonded on the patterned substrate. Following the fabrication procedure, we show the techniques that allow the characterization and operation of the acoustic counterflow device in order to pump fluids through the PDMS channel grid. We finally present the procedure to visualize liquid flow in the channels. The protocol is used to show on-chip fluid pumping under different flow regimes such as laminar flow and more complicated dynamics characterized by vortices and particle accumulation domains.
Physics, Issue 78, Microfluidics, Acoustics, Engineering, flow characteristics, flow measurement, flow visualization (general applications), fluidics, surface acoustic wave, flow visualization, acoustofluidics, MEMS, STICS, PIV, microfabrication, acoustics, particle dynamics, fluids, flow, imaging, visualization
50524
Constant Pressure-controlled Extrusion Method for the Preparation of Nano-sized Lipid Vesicles
Institutions: University of Colorado Boulder, University of Colorado Boulder.

Liposomes are artificially prepared vesicles consisting of natural and synthetic phospholipids that are widely used as a cell membrane mimicking platform to study protein-protein and protein-lipid interactions
3
, monitor drug delivery
4,5
, and encapsulation
4
. Phospholipids naturally create curved lipid bilayers, distinguishing itself from a micelle.
6
Liposomes are traditionally classified by size and number of bilayers, i.e. large unilamellar vesicles (LUVs), small unilamellar vesicles (SUVs) and multilamellar vesicles (MLVs)
7
. In particular, the preparation of homogeneous liposomes of various sizes is important for studying membrane curvature that plays a vital role in cell signaling, endo- and exocytosis, membrane fusion, and protein trafficking
8
. Several groups analyze how proteins are used to modulate processes that involve membrane curvature and thus prepare liposomes of diameters <100 - 400 nm to study their behavior on cell functions
3
. Others focus on liposome-drug encapsulation, studying liposomes as vehicles to carry and deliver a drug of interest
9
. Drug encapsulation can be achieved as reported during liposome formation
9
. Our extrusion step should not affect the encapsulated drug for two reasons, i.e. (1) drug encapsulation should be achieved prior to this step and (2) liposomes should retain their natural biophysical stability, securely carrying the drug in the aqueous core. These research goals further suggest the need for an optimized method to design stable sub-micron lipid vesicles. Nonetheless, the current liposome preparation technologies (sonication
10
, freeze-and-thaw
10
, sedimentation) do not allow preparation of liposomes with highly curved surface (i.e. diameter <100 nm) with high consistency and efficiency
10,5
, which limits the biophysical studies of an emerging field of membrane curvature sensing. Herein, we present a robust preparation method for a variety of biologically relevant liposomes. Manual extrusion using gas-tight syringes and polycarbonate membranes
10,5
is a common practice but heterogeneity is often observed when using pore sizes <100 nm due to due to variability of manual pressure applied. We employed a constant pressure-controlled extrusion apparatus to prepare synthetic liposomes whose diameters range between 30 and 400 nm. Dynamic light scattering (DLS)
10
, electron microscopy
11
and nanoparticle tracking analysis (NTA)
12
were used to quantify the liposome sizes as described in our protocol, with commercial polystyrene (PS) beads used as a calibration standard. A near linear correlation was observed between the employed pore sizes and the experimentally determined liposomes, indicating high fidelity of our pressure-controlled liposome preparation method. Further, we have shown that this lipid vesicle preparation method is generally applicable, independent of various liposome sizes. Lastly, we have also demonstrated in a time course study that these prepared liposomes were stable for up to 16 hours. A representative nano-sized liposome preparation protocol is demonstrated below.
Bioengineering, Issue 64, Biomedical Engineering, Liposomes, particle extrusion, nano-sized vesicles, dynamic light scattering (DLS), nanoparticle tracking analysis (NTA)
4151
Waste Water Derived Electroactive Microbial Biofilms: Growth, Maintenance, and Basic Characterization
Institutions: UFZ - Helmholtz-Centre for Environmental Research.

The growth of anodic electroactive microbial biofilms from waste water inocula in a fed-batch reactor is demonstrated using a three-electrode setup controlled by a potentiostat. Thereby the use of potentiostats allows an exact adjustment of the electrode potential and ensures reproducible microbial culturing conditions. During growth the current production is monitored using chronoamperometry (CA). Based on these data the maximum current density (
j
max
) and the coulombic efficiency (
CE
) are discussed as measures for characterization of the bioelectrocatalytic performance. Cyclic voltammetry (CV), a nondestructive,
i.e
. noninvasive, method, is used to study the extracellular electron transfer (EET) of electroactive bacteria. CV measurements are performed on anodic biofilm electrodes in the presence of the microbial substrate,
i.e
. turnover conditions, and in the absence of the substrate,
i.e.
nonturnover conditions, using different scan rates. Subsequently, data analysis is exemplified and fundamental thermodynamic parameters of the microbial EET are derived and explained: peak potential (
E
p
), peak current density (
j
p
), formal potential (
E
f
) and peak separation (Δ
E
p
). Additionally the limits of the method and the state-of the art data analysis are addressed. Thereby this video-article shall provide a guide for the basic experimental steps and the fundamental data analysis.
Environmental Sciences, Issue 82, Electrochemistry, Microbial fuel cell, microbial bioelectrochemical system, cyclic voltammetry, electroactive bacteria, microbial bioelectrochemistry, bioelectrocatalysis
50800
Laboratory-determined Phosphorus Flux from Lake Sediments as a Measure of Internal Phosphorus Loading
Institutions: Grand Valley State University.

Eutrophication is a water quality issue in lakes worldwide, and there is a critical need to identify and control nutrient sources. Internal phosphorus (P) loading from lake sediments can account for a substantial portion of the total P load in eutrophic, and some mesotrophic, lakes. Laboratory determination of P release rates from sediment cores is one approach for determining the role of internal P loading and guiding management decisions. Two principal alternatives to experimental determination of sediment P release exist for estimating internal load:
in situ
measurements of changes in hypolimnetic P over time and P mass balance. The experimental approach using laboratory-based sediment incubations to quantify internal P load is a direct method, making it a valuable tool for lake management and restoration. Laboratory incubations of sediment cores can help determine the relative importance of internal vs. external P loads, as well as be used to answer a variety of lake management and research questions. We illustrate the use of sediment core incubations to assess the effectiveness of an aluminum sulfate (alum) treatment for reducing sediment P release. Other research questions that can be investigated using this approach include the effects of sediment resuspension and bioturbation on P release. The approach also has limitations. Assumptions must be made with respect to: extrapolating results from sediment cores to the entire lake; deciding over what time periods to measure nutrient release; and addressing possible core tube artifacts. A comprehensive dissolved oxygen monitoring strategy to assess temporal and spatial redox status in the lake provides greater confidence in annual P loads estimated from sediment core incubations.
Environmental Sciences, Issue 85, Limnology, internal loading, eutrophication, nutrient flux, sediment coring, phosphorus, lakes
51617
Combined In vivo Optical and µCT Imaging to Monitor Infection, Inflammation, and Bone Anatomy in an Orthopaedic Implant Infection in Mice
Institutions: David Geffen School of Medicine at University of California, Los Angeles (UCLA), PerkinElmer, Johns Hopkins University School of Medicine, Johns Hopkins University School of Medicine.

Multimodality imaging has emerged as a common technological approach used in both preclinical and clinical research. Advanced techniques that combine
in vivo
optical and μCT imaging allow the visualization of biological phenomena in an anatomical context. These imaging modalities may be especially useful to study conditions that impact bone. In particular, orthopaedic implant infections are an important problem in clinical orthopaedic surgery. These infections are difficult to treat because bacterial biofilms form on the foreign surgically implanted materials, leading to persistent inflammation, osteomyelitis and eventual osteolysis of the bone surrounding the implant, which ultimately results in implant loosening and failure. Here, a mouse model of an infected orthopaedic prosthetic implant was used that involved the surgical placement of a Kirschner-wire implant into an intramedullary canal in the femur in such a way that the end of the implant extended into the knee joint. In this model, LysEGFP mice, a mouse strain that has EGFP-fluorescent neutrophils, were employed in conjunction with a bioluminescent
Staphylococcus aureus
strain, which naturally emits light. The bacteria were inoculated into the knee joints of the mice prior to closing the surgical site.
In vivo
bioluminescent and fluorescent imaging was used to quantify the bacterial burden and neutrophil inflammatory response, respectively. In addition, μCT imaging was performed on the same mice so that the 3D location of the bioluminescent and fluorescent optical signals could be co-registered with the anatomical μCT images. To quantify the changes in the bone over time, the outer bone volume of the distal femurs were measured at specific time points using a semi-automated contour based segmentation process. Taken together, the combination of
in vivo
bioluminescent/fluorescent imaging with μCT imaging may be especially useful for the noninvasive monitoring of the infection, inflammatory response and anatomical changes in bone over time.
Infection, Issue 92, imaging, optical, CT, bioluminescence, fluorescence, staphylococcus, infection, inflammation, bone, orthopaedic, implant, biofilm
51612
Dried Blood Spot Collection of Health Biomarkers to Maximize Participation in Population Studies
Institutions: Harvard School of Public Health, Brigham and Women's Hospital, Harvard Medical School, Pennsylvania State University.

Biomarkers are directly-measured biological indicators of disease, health, exposures, or other biological information. In population and social sciences, biomarkers need to be easy to obtain, transport, and analyze. Dried Blood Spots meet this need, and can be collected in the field with high response rates. These elements are particularly important in longitudinal study designs including interventions where attrition is critical to avoid, and high response rates improve the interpretation of results. Dried Blood Spot sample collection is simple, quick, relatively painless, less invasive then venipuncture, and requires minimal field storage requirements (
i.e.
 samples do not need to be immediately frozen and can be stored for a long period of time in a stable freezer environment before assay). The samples can be analyzed for a variety of different analytes, including cholesterol, C-reactive protein, glycosylated hemoglobin, numerous cytokines, and other analytes, as well as provide genetic material. DBS collection is depicted as employed in several recent studies.
Medicine, Issue 83, dried blood spots (DBS), Biomarkers, cardiometabolic risk, Inflammation, standard precautions, blood collection
50973
Determining Cell Number During Cell Culture using the Scepter Cell Counter
Institutions: Millipore Inc.

Counting cells is often a necessary but tedious step for
in vitro
cell culture. Consistent cell concentrations ensure experimental reproducibility and accuracy. Cell counts are important for monitoring cell health and proliferation rate, assessing immortalization or transformation, seeding cells for subsequent experiments, transfection or infection, and preparing for cell-based assays. It is important that cell counts be accurate, consistent, and fast, particularly for quantitative measurements of cellular responses. Despite this need for speed and accuracy in cell counting, 71% of 400 researchers surveyed
1
who count cells using a hemocytometer. While hemocytometry is inexpensive, it is laborious and subject to user bias and misuse, which results in inaccurate counts. Hemocytometers are made of special optical glass on which cell suspensions are loaded in specified volumes and counted under a microscope. Sources of errors in hemocytometry include: uneven cell distribution in the sample, too many or too few cells in the sample, subjective decisions as to whether a given cell falls within the defined counting area, contamination of the hemocytometer, user-to-user variation, and variation of hemocytometer filling rate
2
. To alleviate the tedium associated with manual counting, 29% of researchers count cells using automated cell counting devices; these include vision-based counters, systems that detect cells using the Coulter principle, or flow cytometry
1
. For most researchers, the main barrier to using an automated system is the price associated with these large benchtop instruments
1
. The Scepter cell counter is an automated handheld device that offers the automation and accuracy of Coulter counting at a relatively low cost. The system employs the Coulter principle of impedance-based particle detection
3
in a miniaturized format using a combination of analog and digital hardware for sensing, signal processing, data storage, and graphical display. The disposable tip is engineered with a microfabricated, cell- sensing zone that enables discrimination by cell size and cell volume at sub-micron and sub-picoliter resolution. Enhanced with precision liquid-handling channels and electronics, the Scepter cell counter reports cell population statistics graphically displayed as a histogram.
Cellular Biology, Issue 45, Scepter, cell counting, cell culture, hemocytometer, Coulter, Impedance-based particle detection
2204
Determination of Mammalian Cell Counts, Cell Size and Cell Health Using the Moxi Z Mini Automated Cell Counter
Institutions: Orflo Technologies, University of Utah .
Particle and cell counting is used for a variety of applications including routine cell culture, hematological analysis, and industrial controls
1-5
. A critical breakthrough in cell/particle counting technologies was the development of the Coulter technique by Wallace Coulter over 50 years ago. The technique involves the application of an electric field across a micron-sized aperture and hydrodynamically focusing single particles through the aperture. The resulting occlusion of the aperture by the particles yields a measurable change in electric impedance that can be directly and precisely correlated to cell size/volume. The recognition of the approach as the benchmark in cell/particle counting stems from the extraordinary precision and accuracy of its particle sizing and counts, particularly as compared to manual and imaging based technologies (accuracies on the order of 98% for Coulter counters versus 75-80% for manual and vision-based systems). This can be attributed to the fact that, unlike imaging-based approaches to cell counting, the Coulter Technique makes a true three-dimensional (3-D) measurement of cells/particles which dramatically reduces count interference from debris and clustering by calculating precise volumetric information about the cells/particles. Overall this provides a means for enumerating and sizing cells in a more accurate, less tedious, less time-consuming, and less subjective means than other counting techniques
6
. Despite the prominence of the Coulter technique in cell counting, its widespread use in routine biological studies has been prohibitive due to the cost and size of traditional instruments. Although a less expensive Coulter-based instrument has been produced, it has limitations as compared to its more expensive counterparts in the correction for "coincidence events" in which two or more cells pass through the aperture and are measured simultaneously. Another limitation with existing Coulter technologies is the lack of metrics on the overall health of cell samples. Consequently, additional techniques must often be used in conjunction with Coulter counting to assess cell viability. This extends experimental setup time and cost since the traditional methods of viability assessment require cell staining and/or use of expensive and cumbersome equipment such as a flow cytometer. The Moxi Z mini automated cell counter, described here, is an ultra-small benchtop instrument that combines the accuracy of the Coulter Principle with a thin-film sensor technology to enable precise sizing and counting of particles ranging from 3-25 microns, depending on the cell counting cassette used. The M type cassette can be used to count particles from with average diameters of 4 - 25 microns (dynamic range 2 - 34 microns), and the Type S cassette can be used to count particles with and average diameter of 3 - 20 microns (dynamic range 2 - 26 microns). Since the system uses a volumetric measurement method, the 4-25 microns corresponds to a cell volume range of 34 - 8,180 fL and the 3 - 20 microns corresponds to a cell volume range of 14 - 4200 fL, which is relevant when non-spherical particles are being measured. To perform mammalian cell counts using the Moxi Z, the cells to be counted are first diluted with ORFLO or similar diluent. A cell counting cassette is inserted into the instrument, and the sample is loaded into the port of the cassette. Thousands of cells are pulled, single-file through a "Cell Sensing Zone" (CSZ) in the thin-film membrane over 8-15 seconds. Following the run, the instrument uses proprietary curve-fitting in conjunction with a proprietary software algorithm to provide coincidence event correction along with an assessment of overall culture health by determining the ratio of the number of cells in the population of interest to the total number of particles. The total particle counts include shrunken and broken down dead cells, as well as other debris and contaminants. The results are presented in histogram format with an automatic curve fit, with gates that can be adjusted manually as needed. Ultimately, the Moxi Z enables counting with a precision and accuracy comparable to a Coulter Z2, the current gold standard, while providing additional culture health information. Furthermore it achieves these results in less time, with a smaller footprint, with significantly easier operation and maintenance, and at a fraction of the cost of comparable technologies.
Cellular Biology, Issue 64, Molecular Biology, cell counting, coulter counting, cell culture health assessment, particle sizing, mammalian cells, Moxi Z
3842
Unraveling the Unseen Players in the Ocean - A Field Guide to Water Chemistry and Marine Microbiology
Institutions: San Diego State University, University of California San Diego.

Here we introduce a series of thoroughly tested and well standardized research protocols adapted for use in remote marine environments. The sampling protocols include the assessment of resources available to the microbial community (dissolved organic carbon, particulate organic matter, inorganic nutrients), and a comprehensive description of the viral and bacterial communities (via direct viral and microbial counts, enumeration of autofluorescent microbes, and construction of viral and microbial metagenomes). We use a combination of methods, which represent a dispersed field of scientific disciplines comprising already established protocols and some of the most recent techniques developed. Especially metagenomic sequencing techniques used for viral and bacterial community characterization, have been established only in recent years, and are thus still subjected to constant improvement. This has led to a variety of sampling and sample processing procedures currently in use. The set of methods presented here provides an up to date approach to collect and process environmental samples. Parameters addressed with these protocols yield the minimum on information essential to characterize and understand the underlying mechanisms of viral and microbial community dynamics. It gives easy to follow guidelines to conduct comprehensive surveys and discusses critical steps and potential caveats pertinent to each technique.
Environmental Sciences, Issue 93, dissolved organic carbon, particulate organic matter, nutrients, DAPI, SYBR, microbial metagenomics, viral metagenomics, marine environment
52131
Physical, Chemical and Biological Characterization of Six Biochars Produced for the Remediation of Contaminated Sites
Institutions: Royal Military College of Canada, Queen's University.

The physical and chemical properties of biochar vary based on feedstock sources and production conditions, making it possible to engineer biochars with specific functions (
e.g.
carbon sequestration, soil quality improvements, or contaminant sorption). In 2013, the International Biochar Initiative (IBI) made publically available their Standardized Product Definition and Product Testing Guidelines (Version 1.1) which set standards for physical and chemical characteristics for biochar. Six biochars made from three different feedstocks and at two temperatures were analyzed for characteristics related to their use as a soil amendment. The protocol describes analyses of the feedstocks and biochars and includes: cation exchange capacity (CEC), specific surface area (SSA), organic carbon (OC) and moisture percentage, pH, particle size distribution, and proximate and ultimate analysis. Also described in the protocol are the analyses of the feedstocks and biochars for contaminants including polycyclic aromatic hydrocarbons (PAHs), polychlorinated biphenyls (PCBs), metals and mercury as well as nutrients (phosphorous, nitrite and nitrate and ammonium as nitrogen). The protocol also includes the biological testing procedures, earthworm avoidance and germination assays. Based on the quality assurance / quality control (QA/QC) results of blanks, duplicates, standards and reference materials, all methods were determined adequate for use with biochar and feedstock materials. All biochars and feedstocks were well within the criterion set by the IBI and there were little differences among biochars, except in the case of the biochar produced from construction waste materials. This biochar (referred to as Old biochar) was determined to have elevated levels of arsenic, chromium, copper, and lead, and failed the earthworm avoidance and germination assays. Based on these results, Old biochar would not be appropriate for use as a soil amendment for carbon sequestration, substrate quality improvements or remediation.
Environmental Sciences, Issue 93, biochar, characterization, carbon sequestration, remediation, International Biochar Initiative (IBI), soil amendment
52183
Aseptic Laboratory Techniques: Plating Methods
Institutions: University of California, Los Angeles .

Microorganisms are present on all inanimate surfaces creating ubiquitous sources of possible contamination in the laboratory. Experimental success relies on the ability of a scientist to sterilize work surfaces and equipment as well as prevent contact of sterile instruments and solutions with non-sterile surfaces. Here we present the steps for several plating methods routinely used in the laboratory to isolate, propagate, or enumerate microorganisms such as bacteria and phage. All five methods incorporate aseptic technique, or procedures that maintain the sterility of experimental materials. Procedures described include (1) streak-plating bacterial cultures to isolate single colonies, (2) pour-plating and (3) spread-plating to enumerate viable bacterial colonies, (4) soft agar overlays to isolate phage and enumerate plaques, and (5) replica-plating to transfer cells from one plate to another in an identical spatial pattern. These procedures can be performed at the laboratory bench, provided they involve non-pathogenic strains of microorganisms (Biosafety Level 1, BSL-1). If working with BSL-2 organisms, then these manipulations must take place in a biosafety cabinet. Consult the most current edition of the
Biosafety in Microbiological and Biomedical Laboratories
(BMBL) as well as
Material Safety Data Sheets
(MSDS) for Infectious Substances to determine the biohazard classification as well as the safety precautions and containment facilities required for the microorganism in question. Bacterial strains and phage stocks can be obtained from research investigators, companies, and collections maintained by particular organizations such as the
American Type Culture Collection
(ATCC). It is recommended that non-pathogenic strains be used when learning the various plating methods. By following the procedures described in this protocol, students should be able to: ● Perform plating procedures without contaminating media. ● Isolate single bacterial colonies by the streak-plating method. ● Use pour-plating and spread-plating methods to determine the concentration of bacteria. ● Perform soft agar overlays when working with phage. ● Transfer bacterial cells from one plate to another using the replica-plating procedure. ● Given an experimental task, select the appropriate plating method.
Basic Protocols, Issue 63, Streak plates, pour plates, soft agar overlays, spread plates, replica plates, bacteria, colonies, phage, plaques, dilutions
3064
Continuously-stirred Anaerobic Digester to Convert Organic Wastes into Biogas: System Setup and Basic Operation
Institutions: Cornell University.

Anaerobic digestion (AD) is a bioprocess that is commonly used to convert complex organic wastes into a useful biogas with methane as the energy carrier
1-3
. Increasingly, AD is being used in industrial, agricultural, and municipal waste(water) treatment applications
4,5
. The use of AD technology allows plant operators to reduce waste disposal costs and offset energy utility expenses. In addition to treating organic wastes, energy crops are being converted into the energy carrier methane
6,7
. As the application of AD technology broadens for the treatment of new substrates and co-substrate mixtures
8
, so does the demand for a reliable testing methodology at the pilot- and laboratory-scale. Anaerobic digestion systems have a variety of configurations, including the continuously stirred tank reactor (CSTR), plug flow (PF), and anaerobic sequencing batch reactor (ASBR) configurations
9
. The CSTR is frequently used in research due to its simplicity in design and operation, but also for its advantages in experimentation. Compared to other configurations, the CSTR provides greater uniformity of system parameters, such as temperature, mixing, chemical concentration, and substrate concentration. Ultimately, when designing a full-scale reactor, the optimum reactor configuration will depend on the character of a given substrate among many other nontechnical considerations. However, all configurations share fundamental design features and operating parameters that render the CSTR appropriate for most preliminary assessments. If researchers and engineers use an influent stream with relatively high concentrations of solids, then lab-scale bioreactor configurations cannot be fed continuously due to plugging problems of lab-scale pumps with solids or settling of solids in tubing. For that scenario with continuous mixing requirements, lab-scale bioreactors are fed periodically and we refer to such configurations as continuously stirred anaerobic digesters (CSADs). This article presents a general methodology for constructing, inoculating, operating, and monitoring a CSAD system for the purpose of testing the suitability of a given organic substrate for long-term anaerobic digestion. The construction section of this article will cover building the lab-scale reactor system. The inoculation section will explain how to create an anaerobic environment suitable for seeding with an active methanogenic inoculum. The operating section will cover operation, maintenance, and troubleshooting. The monitoring section will introduce testing protocols using standard analyses. The use of these measures is necessary for reliable experimental assessments of substrate suitability for AD. This protocol should provide greater protection against a common mistake made in AD studies, which is to conclude that reactor failure was caused by the substrate in use, when really it was improper user operation
10
.
Bioengineering, Issue 65, Environmental Engineering, Chemistry, Anaerobic Digestion, Bioenergy, Biogas, Methane, Organic Waste, Methanogenesis, Energy Crops
3978
Characterization of Complex Systems Using the Design of Experiments Approach: Transient Protein Expression in Tobacco as a Case Study
Institutions: RWTH Aachen University, Fraunhofer Gesellschaft.

Plants provide multiple benefits for the production of biopharmaceuticals including low costs, scalability, and safety. Transient expression offers the additional advantage of short development and production times, but expression levels can vary significantly between batches thus giving rise to regulatory concerns in the context of good manufacturing practice. We used a design of experiments (DoE) approach to determine the impact of major factors such as regulatory elements in the expression construct, plant growth and development parameters, and the incubation conditions during expression, on the variability of expression between batches. We tested plants expressing a model anti-HIV monoclonal antibody (2G12) and a fluorescent marker protein (DsRed). We discuss the rationale for selecting certain properties of the model and identify its potential limitations. The general approach can easily be transferred to other problems because the principles of the model are broadly applicable: knowledge-based parameter selection, complexity reduction by splitting the initial problem into smaller modules, software-guided setup of optimal experiment combinations and step-wise design augmentation. Therefore, the methodology is not only useful for characterizing protein expression in plants but also for the investigation of other complex systems lacking a mechanistic description. The predictive equations describing the interconnectivity between parameters can be used to establish mechanistic models for other complex systems.
Bioengineering, Issue 83, design of experiments (DoE), transient protein expression, plant-derived biopharmaceuticals, promoter, 5'UTR, fluorescent reporter protein, model building, incubation conditions, monoclonal antibody
51216
Reduced-gravity Environment Hardware Demonstrations of a Prototype Miniaturized Flow Cytometer and Companion Microfluidic Mixing Technology
Institutions: DNA Medicine Institute, Harvard Medical School, NASA Glenn Research Center, ZIN Technologies.

Until recently, astronaut blood samples were collected in-flight, transported to earth on the Space Shuttle, and analyzed in terrestrial laboratories. If humans are to travel beyond low Earth orbit, a transition towards space-ready, point-of-care (POC) testing is required. Such testing needs to be comprehensive, easy to perform in a reduced-gravity environment, and unaffected by the stresses of launch and spaceflight. Countless POC devices have been developed to mimic laboratory scale counterparts, but most have narrow applications and few have demonstrable use in an in-flight, reduced-gravity environment. In fact, demonstrations of biomedical diagnostics in reduced gravity are limited altogether, making component choice and certain logistical challenges difficult to approach when seeking to test new technology. To help fill the void, we are presenting a modular method for the construction and operation of a prototype blood diagnostic device and its associated parabolic flight test rig that meet the standards for flight-testing onboard a parabolic flight, reduced-gravity aircraft. The method first focuses on rig assembly for in-flight, reduced-gravity testing of a flow cytometer and a companion microfluidic mixing chip. Components are adaptable to other designs and some custom components, such as a microvolume sample loader and the micromixer may be of particular interest. The method then shifts focus to flight preparation, by offering guidelines and suggestions to prepare for a successful flight test with regard to user training, development of a standard operating procedure (SOP), and other issues. Finally, in-flight experimental procedures specific to our demonstrations are described.
Cellular Biology, Issue 93, Point-of-care, prototype, diagnostics, spaceflight, reduced gravity, parabolic flight, flow cytometry, fluorescence, cell counting, micromixing, spiral-vortex, blood mixing
51743
Quantification and Size-profiling of Extracellular Vesicles Using Tunable Resistive Pulse Sensing
Institutions: University Medical Center Utrecht, University Medical Center Utrecht.
Extracellular vesicles (EVs), including 'microvesicles' and 'exosomes', are highly abundant in bodily fluids. Recent years have witnessed a tremendous increase in interest in EVs. EVs have been shown to play important roles in various physiological and pathological processes, including coagulation, immune responses, and cancer. In addition, EVs have potential as therapeutic agents, for instance as drug delivery vehicles or as regenerative medicine. Because of their small size (50 to 1,000 nm) accurate quantification and size profiling of EVs is technically challenging. This protocol describes how tunable resistive pulse sensing (tRPS) technology, using the qNano system, can be used to determine the concentration and size of EVs. The method, which relies on the detection of EVs upon their transfer through a nano sized pore, is relatively fast, suffices the use of small sample volumes and does not require the purification and concentration of EVs. Next to the regular operation protocol an alternative approach is described using samples spiked with polystyrene beads of known size and concentration. This real-time calibration technique can be used to overcome technical hurdles encountered when measuring EVs directly in biological fluids.
Bioengineering, Issue 92, exosomes, microvesicles, extracellular vesicles, quantification, characterization, Tunable Resistive Pulse Sensing, qNano
51623
Confocal Imaging of Confined Quiescent and Flowing Colloid-polymer Mixtures
Institutions: University of Houston.

The behavior of confined colloidal suspensions with attractive interparticle interactions is critical to the rational design of materials for directed assembly
1-3
, drug delivery
4
, improved hydrocarbon recovery
5-7
, and flowable electrodes for energy storage
8
. Suspensions containing fluorescent colloids and non-adsorbing polymers are appealing model systems, as the ratio of the polymer radius of gyration to the particle radius and concentration of polymer control the range and strength of the interparticle attraction, respectively. By tuning the polymer properties and the volume fraction of the colloids, colloid fluids, fluids of clusters, gels, crystals, and glasses can be obtained
9
. Confocal microscopy, a variant of fluorescence microscopy, allows an optically transparent and fluorescent sample to be imaged with high spatial and temporal resolution in three dimensions. In this technique, a small pinhole or slit blocks the emitted fluorescent light from regions of the sample that are outside the focal volume of the microscope optical system. As a result, only a thin section of the sample in the focal plane is imaged. This technique is particularly well suited to probe the structure and dynamics in dense colloidal suspensions at the single-particle scale: the particles are large enough to be resolved using visible light and diffuse slowly enough to be captured at typical scan speeds of commercial confocal systems
10
. Improvements in scan speeds and analysis algorithms have also enabled quantitative confocal imaging of flowing suspensions
11-16,37
. In this paper, we demonstrate confocal microscopy experiments to probe the confined phase behavior and flow properties of colloid-polymer mixtures. We first prepare colloid-polymer mixtures that are density- and refractive-index matched. Next, we report a standard protocol for imaging quiescent dense colloid-polymer mixtures under varying confinement in thin wedge-shaped cells. Finally, we demonstrate a protocol for imaging colloid-polymer mixtures during microchannel flow.
Chemistry, Issue 87, confocal microscopy, particle tracking, colloids, suspensions, confinement, gelation, microfluidics, image correlation, dynamics, suspension flow
51461
Investigating the Microbial Community in the Termite Hindgut - Interview
Institutions: California Institute of Technology - Caltech.

Jared Leadbetter explains why the termite-gut microbial community is an excellent system for studying the complex interactions between microbes. The symbiotic relationship existing between the host insect and lignocellulose-degrading gut microbes is explained, as well as the industrial uses of these microbes for degrading plant biomass and generating biofuels.
Microbiology, issue 4, microbial community, diversity
196