Transplantation of Pulmonary Valve Using a Mouse Model of Heterotopic Heart Transplantation
Published: 07-23-2014
ABSTRACT
Tissue engineered heart valves, especially decellularized valves, are starting to gain momentum in clinical use of reconstructive surgery with mixed results. However, the cellular and molecular mechanisms of the neotissue development, valve thickening, and stenosis development are not researched extensively. To answer the above questions, we developed a murine heterotopic heart valve transplantation model. A heart valve was harvested from a valve donor mouse and transplanted to a heart donor mouse. The heart with a new valve was transplanted heterotopically to a recipient mouse. The transplanted heart showed its own heartbeat, independent of the recipient's heartbeat. The blood flow was quantified using a high frequency ultrasound system with a pulsed wave Doppler. The flow through the implanted pulmonary valve showed forward flow with minimal regurgitation and the peak flow was close to 100 mm/sec. This murine model of heart valve transplantation is highly versatile, so it can be modified and adapted to provide different hemodynamic environments and/or can be used with various transgenic mice to study neotissue development in a tissue engineered heart valve.
19 Related JoVE Articles!
Isolation of Valvular Endothelial Cells
Institutions: Cornell University.

Heart valves are solely responsible for maintaining unidirectional blood flow through the cardiovascular system. These thin, fibrous tissues are subjected to significant mechanical stresses as they open and close several billion times over a lifespan. The incredible endurance of these tissues is due to the resident valvular endothelial (VEC) and interstitial cells (VIC) that constantly repair and remodel in response to local mechanical and biological signals. Only recently have we begun to understand the unique behaviors of these cells, for which
in vitro
experimentation has played a key role. Particularly challenging is the isolation and culture of VEC. Special care must be used from the moment the tissue is removed from the host through final plating. Here we present protocols for direct isolation, side specific isolation, culture, and verification of pure populations of VEC. We use enzymatic digestion followed by a gentle swab scraping technique to dislodge only surface cells. These cells are then collected into a tube and centrifuged into a pellet. The pellet is then resuspended and plated into culture flasks pre-coated with collagen I matrix. VEC phenotype is confirmed by contact inhibited growth and the expression of endothelial specific markers such as PECAM1 (CD31), Von Willebrand Factor (vWF), and negative expression of alpha-smooth muscle actin (α-SMA). The functional characteristics of VEC are associated with high levels of acetylated LDL. Unlike vascular endothelial cells, VEC have the unique capacity to transform into mesenchyme, which normally occurs during embryonic valve formation
1
. This can also occur during significantly prolonged post confluent
in vitro
culture, so care should be made to passage at or near confluence. After VEC isolation, pure populations of VIC can then be easily acquired.
Cellular Biology, Issue 46, Endothelial Cell, Side Specific, Isolation, Aortic Heart Valve, Fibrosa, Ventricularis, Enzymatic Digestion
2158
Autologous Endothelial Progenitor Cell-Seeding Technology and Biocompatibility Testing For Cardiovascular Devices in Large Animal Model
Institutions: Duke University , Duke University , Duke University Medical Center, University of Pennsylvania .

Implantable cardiovascular devices are manufactured from artificial materials (e.g. titanium (Ti), expanded polytetrafluoroethylene), which pose the risk of thromboemboli formation
1,2,3
. We have developed a method to line the inside surface of Ti tubes with autologous blood-derived human or porcine endothelial progenitor cells (EPCs)
4
. By implanting Ti tubes containing a confluent layer of porcine EPCs in the inferior vena cava (IVC) of pigs, we tested the improved biocompatibility of the cell-seeded surface in the prothrombotic environment of a large animal model and compared it to unmodified bare metal surfaces
5,6,7
(
Figure 1
). This method can be used to endothelialize devices within minutes of implantation and test their antithrombotic function
in vivo
. Peripheral blood was obtained from 50 kg Yorkshire swine and its mononuclear cell fraction cultured to isolate EPCs
4,8
. Ti tubes (9.4 mm ID) were pre-cut into three 4.5 cm longitudinal sections and reassembled with heat-shrink tubing. A seeding device was built, which allows for slow rotation of the Ti tubes. We performed a laparotomy on the pigs and externalized the intestine and urinary bladder. Sharp and blunt dissection was used to skeletonize the IVC from its bifurcation distal to the right renal artery proximal. The Ti tubes were then filled with fluorescently-labeled autologous EPC suspension and rotated at 10 RPH x 30 min to achieve uniform cell-coating
9
. After administration of 100 USP/ kg heparin, both ends of the IVC and a lumbar vein were clamped. A 4 cm veinotomy was performed and the device inserted and filled with phosphate-buffered saline. As the veinotomy was closed with a 4-0 Prolene running suture, one clamp was removed to de-air the IVC. At the end of the procedure, the fascia was approximated with 0-PDS (polydioxanone suture), the subcutaneous space closed with 2-0 Vicryl and the skin stapled closed. After 3 - 21 days, pigs were euthanized, the device explanted en-block and fixed. The Ti tubes were disassembled and the inner surfaces imaged with a fluorescent microscope. We found that the bare metal Ti tubes fully occluded whereas the EPC-seeded tubes remained patent. Further, we were able to demonstrate a confluent layer of EPCs on the inside blood-contacting surface. Concluding, our technology can be used to endothelialize Ti tubes within minutes of implantation with autologous EPCs to prevent thrombosis of the device. Our surgical method allows for testing the improved biocompatibility of such modified devices with minimal blood loss and EPC-seeded surface disruption.
Bioengineering, Issue 55, Stent, Titanium, Thrombosis, Endothelial Progenitor Cell, Endothelium, Biomaterial, Biocompatibility, Bioengineering, Translational Medicine, Vascular Surgery, Porcine
3197
Design of a Cyclic Pressure Bioreactor for the Ex Vivo Study of Aortic Heart Valves
Institutions: Mississippi State University.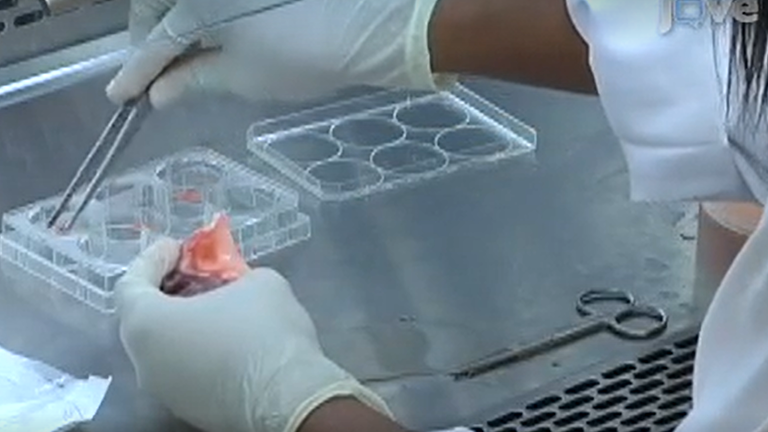 The aortic valve, located between the left ventricle and the aorta, allows for unidirectional blood flow, preventing backflow into the ventricle. Aortic valve leaflets are composed of interstitial cells suspended within an extracellular matrix (ECM) and are lined with an endothelial cell monolayer. The valve withstands a harsh, dynamic environment and is constantly exposed to shear, flexion, tension, and compression. Research has shown calcific lesions in diseased valves occur in areas of high mechanical stress as a result of endothelial disruption or interstitial matrix damage
1-3
. Hence, it is not surprising that epidemiological studies have shown high blood pressure to be a leading risk factor in the onset of aortic valve disease
4
. The only treatment option currently available for valve disease is surgical replacement of the diseased valve with a bioprosthetic or mechanical valve
5
. Improved understanding of valve biology in response to physical stresses would help elucidate the mechanisms of valve pathogenesis. In turn, this could help in the development of non-invasive therapies such as pharmaceutical intervention or prevention. Several bioreactors have been previously developed to study the mechanobiology of native or engineered heart valves
6-9
. Pulsatile bioreactors have also been developed to study a range of tissues including cartilage
10
, bone
11
and bladder
12
. The aim of this work was to develop a cyclic pressure system that could be used to elucidate the biological response of aortic valve leaflets to increased pressure loads. The system consisted of an acrylic chamber in which to place samples and produce cyclic pressure, viton diaphragm solenoid valves to control the timing of the pressure cycle, and a computer to control electrical devices. The pressure was monitored using a pressure transducer, and the signal was conditioned using a load cell conditioner. A LabVIEW program regulated the pressure using an analog device to pump compressed air into the system at the appropriate rate. The system mimicked the dynamic transvalvular pressure levels associated with the aortic valve; a saw tooth wave produced a gradual increase in pressure, typical of the transvalvular pressure gradient that is present across the valve during diastole, followed by a sharp pressure drop depicting valve opening in systole. The LabVIEW program allowed users to control the magnitude and frequency of cyclic pressure. The system was able to subject tissue samples to physiological and pathological pressure conditions. This device can be used to increase our understanding of how heart valves respond to changes in the local mechanical environment.
Bioengineering, Issue 54, Mechanobiology, Bioreactor, Aortic Heart Valve, Organ Culture
3316
Decellularization and Recellularization of Whole Livers
Institutions: Massachusetts General Hospital, Harvard Medical School, Shriners Hospitals for Children.

The liver is a complex organ which requires constant perfusion for delivery of nutrients and oxygen and removal of waste in order to survive
1
. Efforts to recreate or mimic the liver microstructure with grounds up approach using tissue engineering and microfabrication techniques have not been successful so far due to this design challenge. In addition, synthetic biomaterials used to create scaffolds for liver tissue engineering applications have been limited in inducing tissue regeneration and repair in large part due to the lack of specific cell binding motifs that would induce the proper cell functions
2
. Decellularized native tissues such blood vessels
3
and skin
4
on the other hand have found many applications in tissue engineering, and have provided a practical solution to some of the challenges. The advantage of decellularized native matrix is that it retains, to an extent, the original composition, and the microstructure, hence enhancing cell attachment and reorganization
5
. In this work we describe the methods to perform perfusion-decellularization of the liver, such that an intact liver bioscaffold that retains the structure of major blood vessels is obtained. Further, we describe methods to recellularize these bioscaffolds with adult primary hepatocytes, creating a liver graft that is functional
in vitro
, and has the vessel access necessary for transplantation
in vivo
.
Bioengineering, Issue 48, Liver extracellular matrix, decellularization, recellularization, hepatocytes, bioreactor
2394
A Chitosan Based, Laser Activated Thin Film Surgical Adhesive, 'SurgiLux': Preparation and Demonstration
Institutions: University of New South Wales .

Sutures are a 4,000 year old technology that remain the 'gold-standard' for wound closure by virtue of their repair strength (~100 KPa). However, sutures can act as a nidus for infection and in many procedures are unable to effect wound repair or interfere with functional tissue regeneration.
1
Surgical glues and adhesives, such as those based on fibrin and cyanoacrylates, have been developed as alternatives to sutures for the repair of such wounds. However, current commercial adhesives also have significant disadvantages, ranging from viral and prion transfer and a lack of repair strength as with the fibrin glues, to tissue toxicity and a lack of biocompatibility for the cyanoacrylate based adhesives. Furthermore, currently available surgical adhesives tend to be gel-based and can have extended curing times which limit their application.
2
Similarly, the use of UV lasers to facilitate cross-linking mechanisms in protein-based or albumin 'solders' can lead to DNA damage while laser tissue welding (LTW) predisposes thermal damage to tissues.
3
Despite their disadvantages, adhesives and LTW have captured approximately 30% of the wound closure market reported to be in excess of US $5 billion per annum, a significant testament to the need for sutureless technology.
4
In the pursuit of sutureless technology we have utilized chitosan as a biomaterial for the development of a flexible, thin film, laser-activated surgical adhesive termed 'SurgiLux'. This novel bioadhesive uses a unique combination of biomaterials and photonics that are FDA approved and successfully used in a variety of biomedical applications and products. SurgiLux overcomes all the disadvantages associated with sutures and current surgical adhesives (see
Table 1
). In this presentation we report the relatively simple protocol for the fabrication of SurgiLux and demonstrate its laser activation and tissue weld strength. SurgiLux films adhere to collagenous tissue without chemical modification such as cross-linking and through irradiation using a comparatively low-powered (120 mW) infrared laser instead of UV light. Chitosan films have a natural but weak adhesive attraction to collagen (~3 KPa), laser activation of the chitosan based SurgiLux films emphasizes the strength of this adhesion through polymer chain interactions as a consequence of transient thermal expansion.
5
Without this 'activation' process, SurgiLux films are readily removed.
6-9
SurgiLux has been tested both
in vitro
and
in vivo
on a variety of tissues including nerve, intestine, dura mater and cornea. In all cases it demonstrated good biocompatibility and negligible thermal damage as a consequence of irradiation.
6-10
Bioengineering, Issue 68, Chitosan, Infra-red Laser, Indocyanine Green, Biomaterial, SurgiLux, Surgical Adhesive
3527
Platelet Adhesion and Aggregation Under Flow using Microfluidic Flow Cells
Institutions: Fluxion Biosciences, Inc..

Platelet aggregation occurs in response to vascular injury where the extracellular matrix below the endothelium has been exposed. The platelet adhesion cascade takes place in the presence of shear flow, a factor not accounted for in conventional (static) well-plate assays. This article reports on a platelet-aggregation assay utilizing a microfluidic well-plate format to emulate physiological shear flow conditions. Extracellular proteins, collagen I or von Willebrand factor are deposited within the microfluidic channel using active perfusion with a pneumatic pump. The matrix proteins are then washed with buffer and blocked to prepare the microfluidic channel for platelet interactions. Whole blood labeled with fluorescent dye is perfused through the channel at various flow rates in order to achieve platelet activation and aggregation. Inhibitors of platelet aggregation can be added prior to the flow cell experiment to generate IC50 dose response data.
Medicine, Issue 32, thrombus formation, anti-thrombotic, microfluidic, whole blood assay, IC50, drug screening, platelet, adhesion
1644
A Decellularization Methodology for the Production of a Natural Acellular Intestinal Matrix
Institutions: University College London.

Successful tissue engineering involves the combination of scaffolds with appropriate cells
in vitro
or
in vivo
. Scaffolds may be synthetic, naturally-derived or derived from tissues/organs. The latter are obtained using a technique called decellularization. Decellularization may involve a combination of physical, chemical, and enzymatic methods. The goal of this technique is to remove all cellular traces whilst maintaining the macro- and micro-architecture of the original tissue. Intestinal tissue engineering has thus far used relatively simple scaffolds that do not replicate the complex architecture of the native organ. The focus of this paper is to describe an efficient decellularization technique for rat small intestine. The isolation of the small intestine so as to ensure the maintenance of a vascular connection is described. The combination of chemical and enzymatic solutions to remove the cells whilst preserving the villus-crypt axis in the luminal aspect of the scaffold is also set out. Finally, assessment of produced scaffolds for appropriate characteristics is discussed.
Bioengineering, Issue 80, Tissue Engineering, Manufactured Materials, Biocompatible Materials, materials fabrication, Decellularization, scaffold, artificial intestine, natural acellular matrix
50658
Procedure for Lung Engineering
Institutions: Yale University, Duke University, Yale University.

Lung tissue, including lung cancer and chronic lung diseases such as chronic obstructive pulmonary disease, cumulatively account for some 280,000 deaths annually; chronic obstructive pulmonary disease is currently the fourth leading cause of death in the United States
1
. Contributing to this mortality is the fact that lungs do not generally repair or regenerate beyond the microscopic, cellular level. Therefore, lung tissue that is damaged by degeneration or infection, or lung tissue that is surgically resected is not functionally replaced
in vivo
. To explore whether lung tissue can be generated
in vitro
, we treated lungs from adult rats using a procedure that removes cellular components to produce an acellular lung extracellular matrix scaffold. This scaffold retains the hierarchical branching structures of airways and vasculature, as well as a largely intact basement membrane, which comprises collagen IV, laminin, and fibronectin. The scaffold is mounted in a bioreactor designed to mimic critical aspects of lung physiology, such as negative pressure ventilation and pulsatile vascular perfusion. By culturing pulmonary epithelium and vascular endothelium within the bioreactor-mounted scaffold, we are able to generate lung tissue that is phenotypically comparable to native lung tissue and that is able to participate in gas exchange for short time intervals (45-120 minutes). These results are encouraging, and suggest that repopulation of lung matrix is a viable strategy for lung regeneration. This possibility presents an opportunity not only to work toward increasing the supply of lung tissue for transplantation, but also to study respiratory cell and molecular biology
in vitro
for longer time periods and in a more accurate microenvironment than has previously been possible.
Bioengineering, Issue 49, Decellularization, tissue engineering, lung engineering, lung tissue, extracellular matrix
2651
Mouse Models for Graft Arteriosclerosis
Institutions: Yale University School of Medicine , Yale University School of Medicine .

Graft arteriosclerois (GA), also called allograft vasculopathy, is a pathologic lesion that develops over months to years in transplanted organs characterized by diffuse, circumferential stenosis of the entire graft vascular tree. The most critical component of GA pathogenesis is the proliferation of smooth muscle-like cells within the intima. When a human coronary artery segment is interposed into the infra-renal aortae of immunodeficient mice, the intimas could be expand in response to adoptively transferred human T cells allogeneic to the artery donor or exogenous human IFN-γ in the absence of human T cells. Interposition of a mouse aorta from one strain into another mouse strain recipient is limited as a model for chronic rejection in humans because the acute cell-mediated rejection response in this mouse model completely eliminates all donor-derived vascular cells from the graft within two-three weeks. We have recently developed two new mouse models to circumvent these problems. The first model involves interposition of a vessel segment from a male mouse into a female recipient of the same inbred strain (C57BL/6J). Graft rejection in this case is directed only against minor histocompatibility antigens encoded by the Y chromosome (present in the male but not the female) and the rejection response that ensues is sufficiently indolent to preserve donor-derived smooth muscle cells for several weeks. The second model involves interposing an artery segment from a wild type C57BL/6J mouse donor into a host mouse of the same strain and gender that lacks the receptor for IFN-γ followed by administration of mouse IFN-γ (delivered via infection of the mouse liver with an adenoviral vector. There is no rejection in this case as both donor and recipient mice are of the same strain and gender but donor smooth muscle cells proliferate in response to the cytokine while host-derived cells, lacking receptor for this cytokine, are unresponsive. By backcrossing additional genetic changes into the vessel donor, both models can be used to assess the effect of specific genes on GA progression. Here, we describe detailed protocols for our mouse GA models.
Medicine, Issue 75, Anatomy, Physiology, Biomedical Engineering, Bioengineering, Cardiology, Pathology, Surgery, Tissue Engineering, Cardiovascular Diseases, vascular biology, graft arteriosclerosis, GA, mouse models, transplantation, graft, vessels, arteries, mouse, animal model, surgical techniques
50290
Isolation and Large Scale Expansion of Adult Human Endothelial Colony Forming Progenitor Cells
Institutions: Medical University of Graz, Austria.

This paper introduces a novel recovery strategy for endothelial colony forming progenitor cells (ECFCs) from heparinized but otherwise unmanipulated adult human peripheral blood within a mean of 12 days. After large scale expansion >1x10
8
ECFCs can be obtained for further tests. Advantageously by using pHPL the contact of human cells with bovine serum antigens can be excluded. By flow cytometry and immunohistochemistry the isolated cells can be characterized as ECFC and their
in vitro
functionality to form vascular like structures can be tested in a matrigel assay. Further these cells can be subcutaneously injected in a mouse model to form functional, perfused vessels
in vivo
. After long term expansion and cryopreservation proliferation, function and genomic stability appear to be preserved.
3,4
This animal-protein free isolation and expansion method is easily applicable to generate a large quantity of ECFCs.
Cellular Biology, Issue 32, endothelial colony forming progenitor cells (ECFCs) pooled human platelete lysate (pHPL) large scale expansion, cell culture, isolation, stem cells
1524
Procedure for Decellularization of Porcine Heart by Retrograde Coronary Perfusion
Institutions: McGowan Institute for Regenerative Medicine, University of Pittsburgh, Children's Hospital of Pittsburgh of UPMC, University of Pittsburgh.

Perfusion-based whole organ decellularization has recently gained interest in the field of tissue engineering as a means to create site-specific extracellular matrix scaffolds, while largely preserving the native architecture of the scaffold. To date, this approach has been utilized in a variety of organ systems, including the heart, lung, and liver
1-5
. Previous decellularization methods for tissues without an easily accessible vascular network have relied upon prolonged exposure of tissue to solutions of detergents, acids, or enzymatic treatments as a means to remove the cellular and nuclear components from the surrounding extracellular environment
6-8
. However, the effectiveness of these methods hinged upon the ability of the solutions to permeate the tissue via diffusion. In contrast, perfusion of organs through the natural vascular system effectively reduced the diffusion distance and facilitated transport of decellularization agents into the tissue and cellular components out of the tissue. Herein, we describe a method to fully decellularize an intact porcine heart through coronary retrograde perfusion. The protocol yielded a fully decellularized cardiac extracellular matrix (c-ECM) scaffold with the three-dimensional structure of the heart intact. Our method used a series of enzymes, detergents, and acids coupled with hypertonic and hypotonic rinses to aid in the lysis and removal of cells. The protocol used a Trypsin solution to detach cells from the matrix followed by Triton X-100 and sodium deoxycholate solutions to aid in removal of cellular material. The described protocol also uses perfusion speeds of greater than 2 L/min for extended periods of time. The high flow rate, coupled with solution changes allowed transport of agents to the tissue without contamination of cellular debris and ensured effective rinsing of the tissue. The described method removed all nuclear material from native porcine cardiac tissue, creating a site-specific cardiac ECM scaffold that can be used for a variety of applications.
Bioengineering, Issue 70, Tissue Engineering, Biomedical Engineering, Cellular Biology, Medicine, Cardiology, Extracellular matrix, decellularization, animal model, porcine, cardiac, heart tissue
50059
Protocol for Relative Hydrodynamic Assessment of Tri-leaflet Polymer Valves
Institutions: Florida International University, University of Florida , University of Florida , Jeddah, Saudi Arabia.

Limitations of currently available prosthetic valves, xenografts, and homografts have prompted a recent resurgence of developments in the area of tri-leaflet polymer valve prostheses. However, identification of a protocol for initial assessment of polymer valve hydrodynamic functionality is paramount during the early stages of the design process. Traditional
in vitro
pulse duplicator systems are not configured to accommodate flexible tri-leaflet materials; in addition, assessment of polymer valve functionality needs to be made in a relative context to native and prosthetic heart valves under identical test conditions so that variability in measurements from different instruments can be avoided. Accordingly, we conducted hydrodynamic assessment of i) native (n = 4, mean diameter, D = 20 mm), ii) bi-leaflet mechanical (n= 2, D = 23 mm) and iii) polymer valves (n = 5, D = 22 mm) via the use of a commercially available pulse duplicator system (ViVitro Labs Inc, Victoria, BC) that was modified to accommodate tri-leaflet valve geometries. Tri-leaflet silicone valves developed at the University of Florida comprised the polymer valve group. A mixture in the ratio of 35:65 glycerin to water was used to mimic blood physical properties. Instantaneous flow rate was measured at the interface of the left ventricle and aortic units while pressure was recorded at the ventricular and aortic positions. Bi-leaflet and native valve data from the literature was used to validate flow and pressure readings. The following hydrodynamic metrics were reported: forward flow pressure drop, aortic root mean square forward flow rate, aortic closing, leakage and regurgitant volume, transaortic closing, leakage, and total energy losses. Representative results indicated that hydrodynamic metrics from the three valve groups could be successfully obtained by incorporating a custom-built assembly into a commercially available pulse duplicator system and subsequently, objectively compared to provide insights on functional aspects of polymer valve design.
Bioengineering, Issue 80, Cardiovascular Diseases, Circulatory and Respiratory Physiological Phenomena, Fluid Mechanics and Thermodynamics, Mechanical Engineering, valve disease, valve replacement, polymer valves, pulse duplicator, modification, tri-leaflet geometries, hydrodynamic studies, relative assessment, medicine, bioengineering, physiology
50335
Vascular Gene Transfer from Metallic Stent Surfaces Using Adenoviral Vectors Tethered through Hydrolysable Cross-linkers
Institutions: The Children's Hospital of Philadelphia, University of Pennsylvania.

In-stent restenosis presents a major complication of stent-based revascularization procedures widely used to re-establish blood flow through critically narrowed segments of coronary and peripheral arteries. Endovascular stents capable of tunable release of genes with anti-restenotic activity may present an alternative strategy to presently used drug-eluting stents. In order to attain clinical translation, gene-eluting stents must exhibit predictable kinetics of stent-immobilized gene vector release and site-specific transduction of vasculature, while avoiding an excessive inflammatory response typically associated with the polymer coatings used for physical entrapment of the vector. This paper describes a detailed methodology for coatless tethering of adenoviral gene vectors to stents based on a reversible binding of the adenoviral particles to polyallylamine bisphosphonate (PABT)-modified stainless steel surface via hydrolysable cross-linkers (HC). A family of bifunctional (amine- and thiol-reactive) HC with an average t
1/2
of the in-chain ester hydrolysis ranging between 5 and 50 days were used to link the vector with the stent. The vector immobilization procedure is typically carried out within 9 hr and consists of several steps: 1) incubation of the metal samples in an aqueous solution of PABT (4 hr); 2) deprotection of thiol groups installed in PABT with tris(2-carboxyethyl) phosphine (20 min); 3) expansion of thiol reactive capacity of the metal surface by reacting the samples with polyethyleneimine derivatized with pyridyldithio (PDT) groups (2 hr); 4) conversion of PDT groups to thiols with dithiothreitol (10 min); 5) modification of adenoviruses with HC (1 hr); 6) purification of modified adenoviral particles by size-exclusion column chromatography (15 min) and 7) immobilization of thiol-reactive adenoviral particles on the thiolated steel surface (1 hr). This technique has wide potential applicability beyond stents, by facilitating surface engineering of bioprosthetic devices to enhance their biocompatibility through the substrate-mediated gene delivery to the cells interfacing the implanted foreign material.
Medicine, Issue 90, gene therapy, bioconjugation, adenoviral vectors, stents, local gene delivery, smooth muscle cells, endothelial cells, bioluminescence imaging
51653
Multi-Scale Modification of Metallic Implants With Pore Gradients, Polyelectrolytes and Their Indirect Monitoring In vivo
Institutions: INSERM, Hôpitaux Universitaires de Strasbourg, Université de Strasbourg.

Metallic implants, especially titanium implants, are widely used in clinical applications. Tissue in-growth and integration to these implants in the tissues are important parameters for successful clinical outcomes. In order to improve tissue integration, porous metallic implants have being developed. Open porosity of metallic foams is very advantageous, since the pore areas can be functionalized without compromising the mechanical properties of the whole structure. Here we describe such modifications using porous titanium implants based on titanium microbeads. By using inherent physical properties such as hydrophobicity of titanium, it is possible to obtain hydrophobic pore gradients within microbead based metallic implants and at the same time to have a basement membrane mimic based on hydrophilic, natural polymers. 3D pore gradients are formed by synthetic polymers such as Poly-L-lactic acid (PLLA) by freeze-extraction method. 2D nanofibrillar surfaces are formed by using collagen/alginate followed by a crosslinking step with a natural crosslinker (genipin). This nanofibrillar film was built up by layer by layer (LbL) deposition method of the two oppositely charged molecules, collagen and alginate. Finally, an implant where different areas can accommodate different cell types, as this is necessary for many multicellular tissues, can be obtained. By, this way cellular movement in different directions by different cell types can be controlled. Such a system is described for the specific case of trachea regeneration, but it can be modified for other target organs. Analysis of cell migration and the possible methods for creating different pore gradients are elaborated. The next step in the analysis of such implants is their characterization after implantation. However, histological analysis of metallic implants is a long and cumbersome process, thus for monitoring host reaction to metallic implants
in vivo
an alternative method based on monitoring CGA and different blood proteins is also described. These methods can be used for developing
in vitro
custom-made migration and colonization tests and also be used for analysis of functionalized metallic implants
in vivo
without histology.
Biomedical Engineering, Issue 77, Bioengineering, Medicine, Anatomy, Physiology, Biophysics, Cellular Biology, Molecular Biology, Materials Science, Biomedical and Dental Materials, Composite Materials, Metals and Metallic Materials, Engineering (General), Titanium, pore gradient, implant, in vivo, blood analysis, freeze-extraction, foams, implants, transplantation, clinical applications
50533
Parallel-plate Flow Chamber and Continuous Flow Circuit to Evaluate Endothelial Progenitor Cells under Laminar Flow Shear Stress
Institutions: Duke University Medical Center, Duke University , University of Pennsylvania , Duke University Medical Center.
The overall goal of this method is to describe a technique to subject adherent cells to laminar flow conditions and evaluate their response to well quantifiable fluid shear stresses
1
. Our flow chamber design and flow circuit (
Fig. 1
) contains a transparent viewing region that enables testing of cell adhesion and imaging of cell morphology immediately before flow (
Fig. 11A, B
), at various time points during flow (
Fig. 11C
), and after flow (
Fig. 11D
). These experiments are illustrated with human umbilical cord blood-derived endothelial progenitor cells (EPCs) and porcine EPCs
2,3
. This method is also applicable to other adherent cell types, e.g. smooth muscle cells (SMCs) or fibroblasts. The chamber and all parts of the circuit are easily sterilized with steam autoclaving. In contrast to other chambers, e.g. microfluidic chambers, large numbers of cells (> 1 million depending on cell size) can be recovered after the flow experiment under sterile conditions for cell culture or other experiments, e.g. DNA or RNA extraction, or immunohistochemistry (
Fig. 11E
), or scanning electron microscopy
5
. The shear stress can be adjusted by varying the flow rate of the perfusate, the fluid viscosity, or the channel height and width. The latter can reduce fluid volume or cell needs while ensuring that one-dimensional flow is maintained. It is not necessary to measure chamber height between experiments, since the chamber height does not depend on the use of gaskets, which greatly increases the ease of multiple experiments. Furthermore, the circuit design easily enables the collection of perfusate samples for analysis and/or quantification of metabolites secreted by cells under fluid shear stress exposure, e.g. nitric oxide (
Fig. 12
)
6
.
Bioengineering, Issue 59, Fluid Shear Stress, Shear Stress, Shear Force, Endothelium, Endothelial Progenitor Cells, Flow Chamber, Laminar Flow, Flow Circuit, Continuous Flow, Cell Adhesion
3349
Graphene Coatings for Biomedical Implants
Institutions: Clemson University, East Carolina University, Clemson University, Clemson University.

Atomically smooth graphene as a surface coating has potential to improve implant properties. This demonstrates a method for coating nitinol alloys with nanometer thick layers of graphene for applications as a stent material. Graphene was grown on copper substrates
via
chemical vapor deposition and then transferred onto nitinol substrates. In order to understand how the graphene coating could change biological response, cell viability of rat aortic endothelial cells and rat aortic smooth muscle cells was investigated. Moreover, the effect of graphene-coatings on cell adhesion and morphology was examined with fluorescent confocal microscopy. Cells were stained for actin and nuclei, and there were noticeable differences between pristine nitinol samples compared to graphene-coated samples. Total actin expression from rat aortic smooth muscle cells was found using western blot. Protein adsorption characteristics, an indicator for potential thrombogenicity, were determined for serum albumin and fibrinogen with gel electrophoresis. Moreover, the transfer of charge from fibrinogen to substrate was deduced using Raman spectroscopy. It was found that graphene coating on nitinol substrates met the functional requirements for a stent material and improved the biological response compared to uncoated nitinol. Thus, graphene-coated nitinol is a viable candidate for a stent material.
Biomedical Engineering, Issue 73, Bioengineering, Medicine, Biophysics, Materials Science, Physics, Pharmacology, Toxicology, Surgery, Chemistry and Materials (General), graphene, biomedical implants, surface modification, chemical vapor deposition, protein expression, confocal microscopy, implants, stents, clinical
50276
Setting-up an In Vitro Model of Rat Blood-brain Barrier (BBB): A Focus on BBB Impermeability and Receptor-mediated Transport
Institutions: VECT-HORUS SAS, CNRS, NICN UMR 7259.

The blood brain barrier (BBB) specifically regulates molecular and cellular flux between the blood and the nervous tissue. Our aim was to develop and characterize a highly reproducible rat syngeneic
in vitro
model of the BBB using co-cultures of primary rat brain endothelial cells (RBEC) and astrocytes to study receptors involved in transcytosis across the endothelial cell monolayer. Astrocytes were isolated by mechanical dissection following trypsin digestion and were frozen for later co-culture. RBEC were isolated from 5-week-old rat cortices. The brains were cleaned of meninges and white matter, and mechanically dissociated following enzymatic digestion. Thereafter, the tissue homogenate was centrifuged in bovine serum albumin to separate vessel fragments from nervous tissue. The vessel fragments underwent a second enzymatic digestion to free endothelial cells from their extracellular matrix. The remaining contaminating cells such as pericytes were further eliminated by plating the microvessel fragments in puromycin-containing medium. They were then passaged onto filters for co-culture with astrocytes grown on the bottom of the wells. RBEC expressed high levels of tight junction (TJ) proteins such as occludin, claudin-5 and ZO-1 with a typical localization at the cell borders. The transendothelial electrical resistance (TEER) of brain endothelial monolayers, indicating the tightness of TJs reached 300 ohm·cm
2
on average. The endothelial permeability coefficients (Pe) for lucifer yellow (LY) was highly reproducible with an average of 0.26 ± 0.11 x 10
-3
cm/min. Brain endothelial cells organized in monolayers expressed the efflux transporter P-glycoprotein (P-gp), showed a polarized transport of rhodamine 123, a ligand for P-gp, and showed specific transport of transferrin-Cy3 and DiILDL across the endothelial cell monolayer. In conclusion, we provide a protocol for setting up an
in vitro
BBB model that is highly reproducible due to the quality assurance methods, and that is suitable for research on BBB transporters and receptors.
Medicine, Issue 88, rat brain endothelial cells (RBEC), mouse, spinal cord, tight junction (TJ), receptor-mediated transport (RMT), low density lipoprotein (LDL), LDLR, transferrin, TfR, P-glycoprotein (P-gp), transendothelial electrical resistance (TEER),
51278
Nonhuman Primate Lung Decellularization and Recellularization Using a Specialized Large-organ Bioreactor
Institutions: Tulane University School of Medicine, Tulane National Primate Research Center, Tulane University School of Medicine, Tulane University School of Medicine.

There are an insufficient number of lungs available to meet current and future organ transplantation needs. Bioartificial tissue regeneration is an attractive alternative to classic organ transplantation. This technology utilizes an organ's natural biological extracellular matrix (ECM) as a scaffold onto which autologous or stem/progenitor cells may be seeded and cultured in such a way that facilitates regeneration of the original tissue. The natural ECM is isolated by a process called decellularization. Decellularization is accomplished by treating tissues with a series of detergents, salts, and enzymes to achieve effective removal of cellular material while leaving the ECM intact. Studies conducted utilizing decellularization and subsequent recellularization of rodent lungs demonstrated marginal success in generating pulmonary-like tissue which is capable of gas exchange
in vivo
. While offering essential proof-of-concept, rodent models are not directly translatable to human use. Nonhuman primates (NHP) offer a more suitable model in which to investigate the use of bioartificial organ production for eventual clinical use. The protocols for achieving complete decellularization of lungs acquired from the NHP rhesus macaque are presented. The resulting acellular lungs can be seeded with a variety of cells including mesenchymal stem cells and endothelial cells. The manuscript also describes the development of a bioreactor system in which cell-seeded macaque lungs can be cultured under conditions of mechanical stretch and strain provided by negative pressure ventilation as well as pulsatile perfusion through the vasculature; these forces are known to direct differentiation along pulmonary and endothelial lineages, respectively. Representative results of decellularization and cell seeding are provided.
Bioengineering, Issue 82, rhesus macaque, decellularization, recellularization, detergent, matrix, scaffold, large-organ bioreactor, mesenchymal stem cells
50825
Isolation of Murine Valve Endothelial Cells
Institutions: The Ohio State University, The Research Institute at Nationwide Children's Hospital, The Ohio State University.

Normal valve structures consist of stratified layers of specialized extracellular matrix (ECM) interspersed with valve interstitial cells (VICs) and surrounded by a monolayer of valve endothelial cells (VECs). VECs play essential roles in establishing the valve structures during embryonic development, and are important for maintaining life-long valve integrity and function. In contrast to a continuous endothelium over the surface of healthy valve leaflets, VEC disruption is commonly observed in malfunctioning valves and is associated with pathological processes that promote valve disease and dysfunction. Despite the clinical relevance, focused studies determining the contribution of VECs to development and disease processes are limited. The isolation of VECs from animal models would allow for cell-specific experimentation. VECs have been isolated from large animal adult models but due to their small population size, fragileness, and lack of specific markers, no reports of VEC isolations in embryos or adult small animal models have been reported. Here we describe a novel method that allows for the direct isolation of VECs from mice at embryonic and adult stages. Utilizing the
Tie2-GFP
reporter model that labels all endothelial cells with Green Fluorescent Protein (GFP), we have been successful in isolating GFP-positive (and negative) cells from the semilunar and atrioventricular valve regions using fluorescence activated cell sorting (FACS). Isolated GFP-positive VECs are enriched for endothelial markers, including CD31 and von Willebrand Factor (vWF), and retain endothelial cell expression when cultured; while, GFP-negative cells exhibit molecular profiles and cell shapes consistent with VIC phenotypes. The ability to isolate embryonic and adult murine VECs allows for previously unattainable molecular and functional studies to be carried out on a specific valve cell population, which will greatly improve our understanding of valve development and disease mechanisms.
Cellular Biology, Issue 90, Heart valve, Valve Endothelial Cells (VEC), Fluorescence Activated Cell Sorting (FACS), Mouse, Embryo, Adult, GFP.
51860