Biochemical Measurement of Neonatal Hypoxia
Published: 08-24-2011
ABSTRACT
Neonatal hypoxia ischemia is characterized by inadequate blood perfusion of a tissue or a systemic lack of oxygen. This condition is thought to cause/exacerbate well documented neonatal disorders including neurological impairment 1-3. Decreased adenosine triphosphate production occurs due to a lack of oxidative phosphorylation. To compensate for this energy deprived state molecules containing high energy phosphate bonds are degraded 2. This leads to increased levels of adenosine which is subsequently degraded to inosine, hypoxanthine, xanthine, and finally to uric acid. The final two steps in this degradation process are performed by xanthine oxidoreductase. This enzyme exists in the form of xanthine dehydrogenase under normoxic conditions but is converted to xanthine oxidase (XO) under hypoxia-reperfusion circumstances 4, 5. Unlike xanthine dehydrogenase, XO generates hydrogen peroxide as a byproduct of purine degradation 4, 6. This hydrogen peroxide in combination with other reactive oxygen species (ROS) produced during hypoxia, oxidizes uric acid to form allantoin and reacts with lipid membranes to generate malondialdehyde (MDA) 7-9. Most mammals, humans exempted, possess the enzyme uricase, which converts uric acid to allantoin. In humans, however, allantoin can only be formed by ROS-mediated oxidation of uric acid. Because of this, allantoin is considered to be a marker of oxidative stress in humans, but not in the mammals that have uricase. We describe methods employing high pressure liquid chromatography (HPLC) and gas chromatography mass spectrometry (GCMS) to measure biochemical markers of neonatal hypoxia ischemia. Human blood is used for most tests. Animal blood may also be used while recognizing the potential for uricase-generated allantoin. Purine metabolites were linked to hypoxia as early as 1963 and the reliability of hypoxanthine, xanthine, and uric acid as biochemical indicators of neonatal hypoxia was validated by several investigators 10-13. The HPLC method used for the quantification of purine compounds is fast, reliable, and reproducible. The GC/MS method used for the quantification of allantoin, a relatively new marker of oxidative stress, was adapted from Gruber et al 7. This method avoids certain artifacts and requires low volumes of sample. Methods used for synthesis of MMDA were described elsewhere 14, 15. GC/MS based quantification of MDA was adapted from Paroni et al. and Cighetti et al. 16, 17. Xanthine oxidase activity was measured by HPLC by quantifying the conversion of pterin to isoxanthopterin 18. This approach proved to be sufficiently sensitive and reproducible.
26 Related JoVE Articles!
The Hypoxic Ischemic Encephalopathy Model of Perinatal Ischemia
Institutions: Stanford University School of Medicine.

Hypoxic-Ischemic Encephalopathy (HIE) is the consequence of systemic asphyxia occurring at birth. Twenty five percent of neonates with HIE develop severe and permanent neuropsychological sequelae, including mental retardation, cerebral palsy, and epilepsy. The outcomes of HIE are devastating and permanent, making it critical to identify and develop therapeutic strategies to reduce brain injury in newborns with HIE. To that end, the neonatal rat model for hypoxic-ischemic brain injury has been developed to model this human condition. The HIE model was first validated by Vannucci et al
1
and has since been extensively used to identify mechanisms of brain injury resulting from perinatal hypoxia-ischemia
2
and to test potential therapeutic interventions
3,4
. The HIE model is a two step process and involves the ligation of the left common carotid artery followed by exposure to a hypoxic environment. Cerebral blood flow (CBF) in the hemisphere ipsilateral to the ligated carotid artery does not decrease because of the collateral blood flow via the circle of Willis; however with lower oxygen tension, the CBF in the ipsilateral hemisphere decreases significantly and results in unilateral ischemic injury. The use of 2,3,5-triphenyltetrazolium chloride (TTC) to stain and identify ischemic brain tissue was originally developed for adult models of rodent cerebral ischemia
5
, and is used to evaluate the extent of cerebral infarctin at early time points up to 72 hours after the ischemic event
6
. In this video, we demonstrate the hypoxic-ischemic injury model in postnatal rat brain and the evaluation of the infarct size using TTC staining.
Neuroscience, Issue 21, Hypoxic-ischemic encephalopathy (HIE), 2 3 5-triphenyltetrazolium chloride (TTC), brain infarct
955
Mouse Model of Middle Cerebral Artery Occlusion
Institutions: Ernest Gallo Clinic and Research Center, University of California, San Francisco, Kent State University.

Stroke is the most common fatal neurological disease in the United States
1
. The majority of strokes (88%) result from blockage of blood vessels in the brain (ischemic stroke)
2
. Since most ischemic strokes (~80%) occur in the territory of middle cerebral artery (MCA)
3
, many animal stroke models that have been developed have focused on this artery. The intraluminal monofilament model of middle cerebral artery occlusion (MCAO) involves the insertion of a surgical filament into the external carotid artery and threading it forward into the internal carotid artery (ICA) until the tip occludes the origin of the MCA, resulting in a cessation of blood flow and subsequent brain infarction in the MCA territory
4
. The technique can be used to model permanent or transient occlusion
5
. If the suture is removed after a certain interval (30 min, 1 h, or 2 h), reperfusion is achieved (transient MCAO); if the filament is left in place (24 h) the procedure is suitable as a model of permanent MCAO. This technique does not require craniectomy, a neurosurgical procedure to remove a portion of skull, which may affect intracranial pressure and temperature
6
. It has become the most frequently used method to mimic permanent and transient focal cerebral ischemia in rats and mice
7,8
. To evaluate the extent of cerebral infarction, we stain brain slices with 2,3,5-triphenyltetrazolium chloride (TTC) to identify ischemic brain tissue
9
. In this video, we demonstrate the MCAO method and the determination of infarct size by TTC staining.
Medicine, Issue 48, Neurology, Stroke, mice, ischemia
2761
Laser-Induced Chronic Ocular Hypertension Model on SD Rats
Institutions: The University of Hong Kong - HKU.

Glaucoma is one of the major causes of blindness in the world. Elevated intraocular pressure is a major risk factor. Laser photocoagulation induced ocular hypertension is one of the well established animal models. This video demonstrates how to induce ocular hypertension by Argon laser photocoagulation in rat.
Neuroscience, Issue 10, glaucoma, ocular hypertension, rat
549
Modeling Stroke in Mice: Permanent Coagulation of the Distal Middle Cerebral Artery
Institutions: University Hospital Munich, Munich Cluster for Systems Neurology (SyNergy), University Heidelberg, Charing Cross Hospital.

Stroke is the third most common cause of death and a main cause of acquired adult disability in developed countries. Only very limited therapeutical options are available for a small proportion of stroke patients in the acute phase. Current research is intensively searching for novel therapeutic strategies and is increasingly focusing on the sub-acute and chronic phase after stroke because more patients might be eligible for therapeutic interventions in a prolonged time window. These delayed mechanisms include important pathophysiological pathways such as post-stroke inflammation, angiogenesis, neuronal plasticity and regeneration. In order to analyze these mechanisms and to subsequently evaluate novel drug targets, experimental stroke models with clinical relevance, low mortality and high reproducibility are sought after. Moreover, mice are the smallest mammals in which a focal stroke lesion can be induced and for which a broad spectrum of transgenic models are available. Therefore, we describe here the mouse model of transcranial, permanent coagulation of the middle cerebral artery via electrocoagulation distal of the lenticulostriatal arteries, the so-called "coagulation model". The resulting infarct in this model is located mainly in the cortex; the relative infarct volume in relation to brain size corresponds to the majority of human strokes. Moreover, the model fulfills the above-mentioned criteria of reproducibility and low mortality. In this video we demonstrate the surgical methods of stroke induction in the "coagulation model" and report histological and functional analysis tools.
Medicine, Issue 89, stroke, brain ischemia, animal model, middle cerebral artery, electrocoagulation
51729
Permanent Cerebral Vessel Occlusion via Double Ligature and Transection
Institutions: University of California, Irvine, University of California, Irvine, University of California, Irvine, University of California, Irvine.

Stroke is a leading cause of death, disability, and socioeconomic loss worldwide. The majority of all strokes result from an interruption in blood flow (ischemia)
1
. Middle cerebral artery (MCA) delivers a great majority of blood to the lateral surface of the cortex
2
, is the most common site of human stroke
3
, and ischemia within its territory can result in extensive dysfunction or death
1,4,5
. Survivors of ischemic stroke often suffer loss or disruption of motor capabilities, sensory deficits, and infarct. In an effort to capture these key characteristics of stroke, and thereby develop effective treatment, a great deal of emphasis is placed upon animal models of ischemia in MCA. Here we present a method of permanently occluding a cortical surface blood vessel. We will present this method using an example of a relevant vessel occlusion that models the most common type, location, and outcome of human stroke, permanent middle cerebral artery occlusion (pMCAO). In this model, we surgically expose MCA in the adult rat and subsequently occlude via double ligature and transection of the vessel. This pMCAO blocks the proximal cortical branch of MCA, causing ischemia in all of MCA cortical territory, a large portion of the cortex. This method of occlusion can also be used to occlude more distal portions of cortical vessels in order to achieve more focal ischemia targeting a smaller region of cortex. The primary disadvantages of pMCAO are that the surgical procedure is somewhat invasive as a small craniotomy is required to access MCA, though this results in minimal tissue damage. The primary advantages of this model, however, are: the site of occlusion is well defined, the degree of blood flow reduction is consistent, functional and neurological impairment occurs rapidly, infarct size is consistent, and the high rate of survival allows for long-term chronic assessment.
Medicine, Issue 77, Biomedical Engineering, Anatomy, Physiology, Neurobiology, Neuroscience, Behavior, Surgery, Therapeutics, Surgical Procedures, Operative, Investigative Techniques, Life Sciences (General), Behavioral Sciences, Animal models, Stroke, ischemia, imaging, middle cerebral artery, vessel occlusion, rodent model, surgical techniques, animal model
50418
Optimized System for Cerebral Perfusion Monitoring in the Rat Stroke Model of Intraluminal Middle Cerebral Artery Occlusion
Institutions: University of Milano Bicocca.

The translational potential of pre-clinical stroke research depends on the accuracy of experimental modeling. Cerebral perfusion monitoring in animal models of acute ischemic stroke allows to confirm successful arterial occlusion and exclude subarachnoid hemorrhage. Cerebral perfusion monitoring can also be used to study intracranial collateral circulation, which is emerging as a powerful determinant of stroke outcome and a possible therapeutic target. Despite a recognized role of Laser Doppler perfusion monitoring as part of the current guidelines for experimental cerebral ischemia, a number of technical difficulties exist that limit its widespread use. One of the major issues is obtaining a secure and prolonged attachment of a deep-penetration Laser Doppler probe to the animal skull. In this video, we show our optimized system for cerebral perfusion monitoring during transient middle cerebral artery occlusion by intraluminal filament in the rat. We developed in-house a simple method to obtain a custom made holder for twin-fibre (deep-penetration) Laser Doppler probes, which allow multi-site monitoring if needed. A continuous and prolonged monitoring of cerebral perfusion could easily be obtained over the intact skull.
Medicine, Issue 72, Neuroscience, Neurobiology, Biomedical Engineering, Anatomy, Physiology, Surgery, Brain Ischemia, Stroke, Hemodynamics, middle cerebral artery occlusion, cerebral hemodynamics, perfusion monitoring, Laser Doppler, intracranial collaterals, ischemic penumbra, rat, animal model
50214
Bilateral Common Carotid Artery Occlusion as an Adequate Preconditioning Stimulus to Induce Early Ischemic Tolerance to Focal Cerebral Ischemia
Institutions: Charité - Universitätsmedizin Berlin, Germany.

There is accumulating evidence, that ischemic preconditioning - a non-damaging ischemic challenge to the brain - confers a transient protection to a subsequent damaging ischemic insult. We have established bilateral common carotid artery occlusion as a preconditioning stimulus to induce early ischemic tolerance to transient focal cerebral ischemia in C57Bl6/J mice. In this video, we will demonstrate the methodology used for this study.
Medicine, Issue 75, Neurobiology, Anatomy, Physiology, Neuroscience, Immunology, Surgery, stroke, cerebral ischemia, ischemic preconditioning, ischemic tolerance, IT, ischemic stroke, middle cerebral artery occlusion, MCAO, bilateral common carotid artery occlusion, BCCAO, brain, ischemia, occlusion, reperfusion, mice, animal model, surgical techniques
4387
Embolic Middle Cerebral Artery Occlusion (MCAO) for Ischemic Stroke with Homologous Blood Clots in Rats
Institutions: Louisiana State University Health Science Center, Shreveport.

Clinically, thrombolytic therapy with use of recombinant tissue plasminogen activator (tPA) remains the most effective treatment for acute ischemic stroke. However, the use of tPA is limited by its narrow therapeutic window and by increased risk of hemorrhagic transformation. There is an urgent need to develop suitable stroke models to study new thrombolytic agents and strategies for treatment of ischemic stroke. At present, two major types of ischemic stroke models have been developed in rats and mice: intraluminal suture MCAO and embolic MCAO. Although MCAO models via the intraluminal suture technique have been widely used in mechanism-driven stroke research, these suture models do not mimic the clinical situation and are not suitable for thrombolytic studies. Among these models, the embolic MCAO model closely mimics human ischemic stroke and is suitable for preclinical investigation of thrombolytic therapy. This embolic model was first developed in rats by Overgaard
et al.
1
in 1992 and further characterized by Zhang
et al.
in 1997
2
. Although embolic MCAO has gained increasing attention, there are technical problems faced by many laboratories. To meet increasing needs for thrombolytic research, we present a highly reproducible model of embolic MCAO in the rat, which can develop a predictable infarct volume within the MCA territory. In brief, a modified PE-50 tube is gently advanced from the external carotid artery (ECA) into the lumen of the internal carotid artery (ICA) until the tip of the catheter reaches the origin of the MCA. Through the catheter, a single homologous blood clot is placed at the origin of the MCA. To identify the success of MCA occlusion, regional cerebral blood flow was monitored, neurological deficits and infarct volumes were measured. The techniques presented in this paper should help investigators to overcome technical problems for establishing this model for stroke research.
Medicine, Issue 91, ischemic stroke, model, embolus, middle cerebral artery occlusion, thrombolytic therapy
51956
Improved Method for the Preparation of a Human Cell-based, Contact Model of the Blood-Brain Barrier
Institutions: Monash University.

The blood-brain barrier (BBB) comprises impermeable but adaptable brain capillaries which tightly control the brain environment. Failure of the BBB has been implied in the etiology of many brain pathologies, creating a need for development of human
in vitro
BBB models to assist in clinically-relevant research. Among the numerous BBB models thus far described, a static (without flow), contact BBB model, where astrocytes and brain endothelial cells (BECs) are cocultured on the opposite sides of a porous membrane, emerged as a simplified yet authentic system to simulate the BBB with high throughput screening capacity. Nevertheless the generation of such model presents few technical challenges. Here, we describe a protocol for preparation of a contact human BBB model utilizing a novel combination of primary human BECs and immortalized human astrocytes. Specifically, we detail an innovative method for cell-seeding on inverted inserts as well as specify insert staining techniques and exemplify how we use our model for BBB-related research.
Bioengineering, Issue 81, Blood-brain barrier, model, cell culture, astrocytes, brain endothelial cells, insert, membranes
50934
Prehospital Thrombolysis: A Manual from Berlin
Institutions: Charité - Universitätsmedizin Berlin, Charité - Universitätsmedizin Berlin, Universitätsklinikum Hamburg - Eppendorf, Berliner Feuerwehr, STEMO-Consortium.

In acute ischemic stroke, time from symptom onset to intervention is a decisive prognostic factor. In order to reduce this time, prehospital thrombolysis at the emergency site would be preferable. However, apart from neurological expertise and laboratory investigations a computed tomography (CT) scan is necessary to exclude hemorrhagic stroke prior to thrombolysis. Therefore, a specialized ambulance equipped with a CT scanner and point-of-care laboratory was designed and constructed. Further, a new stroke identifying interview algorithm was developed and implemented in the Berlin emergency medical services. Since February 2011 the identification of suspected stroke in the dispatch center of the Berlin Fire Brigade prompts the deployment of this ambulance, a stroke emergency mobile (STEMO). On arrival, a neurologist, experienced in stroke care and with additional training in emergency medicine, takes a neurological examination. If stroke is suspected a CT scan excludes intracranial hemorrhage. The CT-scans are telemetrically transmitted to the neuroradiologist on-call. If coagulation status of the patient is normal and patient's medical history reveals no contraindication, prehospital thrombolysis is applied according to current guidelines (intravenous recombinant tissue plasminogen activator, iv rtPA, alteplase, Actilyse). Thereafter patients are transported to the nearest hospital with a certified stroke unit for further treatment and assessment of strokeaetiology. After a pilot-phase, weeks were randomized into blocks either with or without STEMO care. Primary end-point of this study is time from alarm to the initiation of thrombolysis. We hypothesized that alarm-to-treatment time can be reduced by at least 20 min compared to regular care.
Medicine, Issue 81, Telemedicine, Emergency Medical Services, Stroke, Tomography, X-Ray Computed, Emergency Treatment,[stroke, thrombolysis, prehospital, emergency medical services, ambulance
50534
2-Vessel Occlusion/Hypotension: A Rat Model of Global Brain Ischemia
Institutions: Wayne State University School of Medicine, Wayne State University School of Medicine, Wayne State University School of Medicine.

Cardiac arrest followed by resuscitation often results in dramatic brain damage caused by ischemia and subsequent reperfusion of the brain. Global brain ischemia produces damage to specific brain regions shown to be highly sensitive to ischemia
1
. Hippocampal neurons have higher sensitivity to ischemic insults compared to other cell populations, and specifically, the CA1 region of the hippocampus is particularly vulnerable to ischemia/reperfusion
2
. The design of therapeutic interventions, or study of mechanisms involved in cerebral damage, requires a model that produces damage similar to the clinical condition and in a reproducible manner. Bilateral carotid vessel occlusion with hypotension (2VOH) is a model that produces reversible forebrain ischemia, emulating the cerebral events that can occur during cardiac arrest and resuscitation. We describe a model modified from Smith
et al
. (1984)
2
, as first presented in its current form in Sanderson,
et al.
(2008)
3
, which produces reproducible injury to selectively vulnerable brain regions
3-6
. The reliability of this model is dictated by precise control of systemic blood pressure during applied hypotension, the duration of ischemia, close temperature control, a specific anesthesia regimen, and diligent post-operative care. An 8-minute ischemic insult produces cell death of CA1 hippocampal neurons that progresses over the course of 6 to 24 hr of reperfusion, while less vulnerable brain regions are spared. This progressive cell death is easily quantified after 7-14 days of reperfusion, as a near complete loss of CA1 neurons is evident at this time. In addition to this brain injury model, we present a method for CA1 damage quantification using a simple, yet thorough, methodology. Importantly, quantification can be accomplished using a simple camera-mounted microscope, and a free ImageJ (NIH) software plugin, obviating the need for cost-prohibitive stereology software programs and a motorized microscopic stage for damage assessment.
Medicine, Issue 76, Biomedical Engineering, Neurobiology, Neuroscience, Immunology, Anatomy, Physiology, Cardiology, Brain Ischemia, ischemia, reperfusion, cardiac arrest, resuscitation, 2VOH, brain injury model, CA1 hippocampal neurons, brain, neuron, blood vessel, occlusion, hypotension, animal model
50173
The Application Of Permanent Middle Cerebral Artery Ligation in the Mouse
Institutions: University of Rochester, University of Alabama at Birmingham, University of Rochester.

Focal cerebral ischemia is among the most common type of stroke seen in patients. Due to the clinical significance there has been a prolonged effort to develop suitable animal models to study the events that unfold during ischemic insult. These techniques include transient or permanent, focal or global ischemia models using many different animal models, with the most common being rodents. The permanent MCA ligation method which is also referred as pMCAo in the literature is used extensively as a focal ischemia model in rodents
1-6
. This method was originally described for rats by Tamura et al. in 1981
7
. In this protocol a craniotomy was used to access the MCA and the proximal regions were occluded by electrocoagulation. The infarcts involve mostly cortical and sometimes striatal regions depending on the location of the occlusion. This technique is now well established and used in many laboratories
8-13
. Early use of this technique led to the definition and description of "infarct core" and "penumbra"
14-16
, and it is often used to evaluate potential neuroprotective compounds
10, 12, 13, 17
. Although the initial studies were performed in rats, permanent MCA ligation has been used successfully in mice with slight modifications
18-20
. This model yields reproducible infarcts and increased post-survival rates. Approximately 80% of the ischemic strokes in humans happen in the MCA area
21
and thus this is a very relevant model for stroke studies. Currently, there is a paucity of effective treatments available to stroke patients, and thus there is a need for good models to test potential pharmacological compounds and evaluate physiological outcomes. This method can also be used for studying intracellular hypoxia response mechanisms
in vivo
. Here, we present the MCA ligation surgery in a C57/BL6 mouse. We describe the pre-surgical preparation, MCA ligation surgery and 2,3,5 Triphenyltetrazolium chloride (TTC) staining for quantification of infarct volumes.
Medicine, Issue 53, brain, stroke, mouse, middle cerebral artery ligation
3039
Measuring Frailty in HIV-infected Individuals. Identification of Frail Patients is the First Step to Amelioration and Reversal of Frailty
Institutions: University of Arizona, University of Arizona.

A simple, validated protocol consisting of a battery of tests is available to identify elderly patients with frailty syndrome. This syndrome of decreased reserve and resistance to stressors increases in incidence with increasing age. In the elderly, frailty may pursue a step-wise loss of function from non-frail to pre-frail to frail. We studied frailty in HIV-infected patients and found that ~20% are frail using the Fried phenotype using stringent criteria developed for the elderly
1,2
. In HIV infection the syndrome occurs at a younger age. HIV patients were checked for 1) unintentional weight loss; 2) slowness as determined by walking speed; 3) weakness as measured by a grip dynamometer; 4) exhaustion by responses to a depression scale; and 5) low physical activity was determined by assessing kilocalories expended in a week's time. Pre-frailty was present with any two of five criteria and frailty was present if any three of the five criteria were abnormal. The tests take approximately 10-15 min to complete and they can be performed by medical assistants during routine clinic visits. Test results are scored by referring to standard tables. Understanding which of the five components contribute to frailty in an individual patient can allow the clinician to address relevant underlying problems, many of which are not evident in routine HIV clinic visits.
Medicine, Issue 77, Infection, Virology, Infectious Diseases, Anatomy, Physiology, Molecular Biology, Biomedical Engineering, Retroviridae Infections, Body Weight Changes, Diagnostic Techniques and Procedures, Physical Examination, Muscle Strength, Behavior, Virus Diseases, Pathological Conditions, Signs and Symptoms, Diagnosis, Musculoskeletal and Neural Physiological Phenomena, HIV, HIV-1, AIDS, Frailty, Depression, Weight Loss, Weakness, Slowness, Exhaustion, Aging, clinical techniques
50537
Focal Cerebral Ischemia Model by Endovascular Suture Occlusion of the Middle Cerebral Artery in the Rat
Institutions: University of Wisconsin-Madison.

Stroke is the leading cause of disability and the third leading cause of death in adults worldwide
1
. In human stroke, there exists a highly variable clinical state; in the development of animal models of focal ischemia, however, achieving reproducibility of experimentally induced infarct volume is essential. The rat is a widely used animal model for stroke due to its relatively low animal husbandry costs and to the similarity of its cranial circulation to that of humans
2,3
. In humans, the middle cerebral artery (MCA) is most commonly affected in stroke syndromes and multiple methods of MCA occlusion (MCAO) have been described to mimic this clinical syndrome in animal models. Because recanalization commonly occurs following an acute stroke in the human, reperfusion after a period of occlusion has been included in many of these models. In this video, we demonstrate the transient endovascular suture MCAO model in the spontaneously hypertensive rat (SHR). A filament with a silicon tip coating is placed intraluminally at the MCA origin for 60 minutes, followed by reperfusion. Note that the optimal occlusion period may vary in other rat strains, such as Wistar or Sprague-Dawley. Several behavioral indicators of stroke in the rat are shown. Focal ischemia is confirmed using T2-weighted magnetic resonance images and by staining brain sections with 2,3,5-triphenyltetrazolium chloride (TTC) 24 hours after MCAO.
Neuroscience, Issue 48, Stroke, cerebral ischemia, middle cerebral artery occlusion, intraluminal filament, rat, magnetic resonance imaging, surgery, neuroscience, brain
1978
Intrastriatal Injection of Autologous Blood or Clostridial Collagenase as Murine Models of Intracerebral Hemorrhage
Institutions: Duke University, Duke University, Duke University, Duke University.

Intracerebral hemorrhage (ICH) is a common form of cerebrovascular disease and is associated with significant morbidity and mortality. Lack of effective treatment and failure of large clinical trials aimed at hemostasis and clot removal demonstrate the need for further mechanism-driven investigation of ICH. This research may be performed through the framework provided by preclinical models. Two murine models in popular use include intrastriatal (basal ganglia) injection of either autologous whole blood or clostridial collagenase. Since, each model represents distinctly different pathophysiological features related to ICH, use of a particular model may be selected based on what aspect of the disease is to be studied. For example, autologous blood injection most accurately represents the brain's response to the presence of intraparenchymal blood, and may most closely replicate lobar hemorrhage. Clostridial collagenase injection most accurately represents the small vessel rupture and hematoma evolution characteristic of deep hemorrhages. Thus, each model results in different hematoma formation, neuroinflammatory response, cerebral edema development, and neurobehavioral outcomes. Robustness of a purported therapeutic intervention can be best assessed using both models. In this protocol, induction of ICH using both models, immediate post-operative demonstration of injury, and early post-operative care techniques are demonstrated. Both models result in reproducible injuries, hematoma volumes, and neurobehavioral deficits. Because of the heterogeneity of human ICH, multiple preclinical models are needed to thoroughly explore pathophysiologic mechanisms and test potential therapeutic strategies.
Medicine, Issue 89, intracerebral hemorrhage, mouse, preclinical, autologous blood, collagenase, neuroscience, stroke, brain injury, basal ganglia
51439
Diffusion Tensor Magnetic Resonance Imaging in the Analysis of Neurodegenerative Diseases
Institutions: University of Ulm.

Diffusion tensor imaging (DTI) techniques provide information on the microstructural processes of the cerebral white matter (WM)
in vivo
. The present applications are designed to investigate differences of WM involvement patterns in different brain diseases, especially neurodegenerative disorders, by use of different DTI analyses in comparison with matched controls. DTI data analysis is performed in a variate fashion,
i.e.
voxelwise comparison of regional diffusion direction-based metrics such as fractional anisotropy (FA), together with fiber tracking (FT) accompanied by tractwise fractional anisotropy statistics (TFAS) at the group level in order to identify differences in FA along WM structures, aiming at the definition of regional patterns of WM alterations at the group level. Transformation into a stereotaxic standard space is a prerequisite for group studies and requires thorough data processing to preserve directional inter-dependencies. The present applications show optimized technical approaches for this preservation of quantitative and directional information during spatial normalization in data analyses at the group level. On this basis, FT techniques can be applied to group averaged data in order to quantify metrics information as defined by FT. Additionally, application of DTI methods,
i.e.
differences in FA-maps after stereotaxic alignment, in a longitudinal analysis at an individual subject basis reveal information about the progression of neurological disorders. Further quality improvement of DTI based results can be obtained during preprocessing by application of a controlled elimination of gradient directions with high noise levels. In summary, DTI is used to define a distinct WM pathoanatomy of different brain diseases by the combination of whole brain-based and tract-based DTI analysis.
Medicine, Issue 77, Neuroscience, Neurobiology, Molecular Biology, Biomedical Engineering, Anatomy, Physiology, Neurodegenerative Diseases, nuclear magnetic resonance, NMR, MR, MRI, diffusion tensor imaging, fiber tracking, group level comparison, neurodegenerative diseases, brain, imaging, clinical techniques
50427
The Use of Magnetic Resonance Spectroscopy as a Tool for the Measurement of Bi-hemispheric Transcranial Electric Stimulation Effects on Primary Motor Cortex Metabolism
Institutions: University of Montréal, McGill University, University of Minnesota.

Transcranial direct current stimulation (tDCS) is a neuromodulation technique that has been increasingly used over the past decade in the treatment of neurological and psychiatric disorders such as stroke and depression. Yet, the mechanisms underlying its ability to modulate brain excitability to improve clinical symptoms remains poorly understood
33
. To help improve this understanding, proton magnetic resonance spectroscopy (
1
H-MRS) can be used as it allows the
in vivo
quantification of brain metabolites such as γ-aminobutyric acid (GABA) and glutamate in a region-specific manner
41
. In fact, a recent study demonstrated that
1
H-MRS is indeed a powerful means to better understand the effects of tDCS on neurotransmitter concentration
34
. This article aims to describe the complete protocol for combining tDCS (NeuroConn MR compatible stimulator) with
1
H-MRS at 3 T using a MEGA-PRESS sequence. We will describe the impact of a protocol that has shown great promise for the treatment of motor dysfunctions after stroke, which consists of bilateral stimulation of primary motor cortices
27,30,31
. Methodological factors to consider and possible modifications to the protocol are also discussed.
Neuroscience, Issue 93, proton magnetic resonance spectroscopy, transcranial direct current stimulation, primary motor cortex, GABA, glutamate, stroke
51631
Protein WISDOM: A Workbench for In silico De novo Design of BioMolecules
Institutions: Princeton University.

The aim of
de novo
protein design is to find the amino acid sequences that will fold into a desired 3-dimensional structure with improvements in specific properties, such as binding affinity, agonist or antagonist behavior, or stability, relative to the native sequence. Protein design lies at the center of current advances drug design and discovery. Not only does protein design provide predictions for potentially useful drug targets, but it also enhances our understanding of the protein folding process and protein-protein interactions. Experimental methods such as directed evolution have shown success in protein design. However, such methods are restricted by the limited sequence space that can be searched tractably. In contrast, computational design strategies allow for the screening of a much larger set of sequences covering a wide variety of properties and functionality. We have developed a range of computational
de novo
protein design methods capable of tackling several important areas of protein design. These include the design of monomeric proteins for increased stability and complexes for increased binding affinity. To disseminate these methods for broader use we present Protein WISDOM (https://www.proteinwisdom.org), a tool that provides automated methods for a variety of protein design problems. Structural templates are submitted to initialize the design process. The first stage of design is an optimization sequence selection stage that aims at improving stability through minimization of potential energy in the sequence space. Selected sequences are then run through a fold specificity stage and a binding affinity stage. A rank-ordered list of the sequences for each step of the process, along with relevant designed structures, provides the user with a comprehensive quantitative assessment of the design. Here we provide the details of each design method, as well as several notable experimental successes attained through the use of the methods.
Genetics, Issue 77, Molecular Biology, Bioengineering, Biochemistry, Biomedical Engineering, Chemical Engineering, Computational Biology, Genomics, Proteomics, Protein, Protein Binding, Computational Biology, Drug Design, optimization (mathematics), Amino Acids, Peptides, and Proteins, De novo protein and peptide design, Drug design, In silico sequence selection, Optimization, Fold specificity, Binding affinity, sequencing
50476
Measuring Oral Fatty Acid Thresholds, Fat Perception, Fatty Food Liking, and Papillae Density in Humans
Institutions: Deakin University.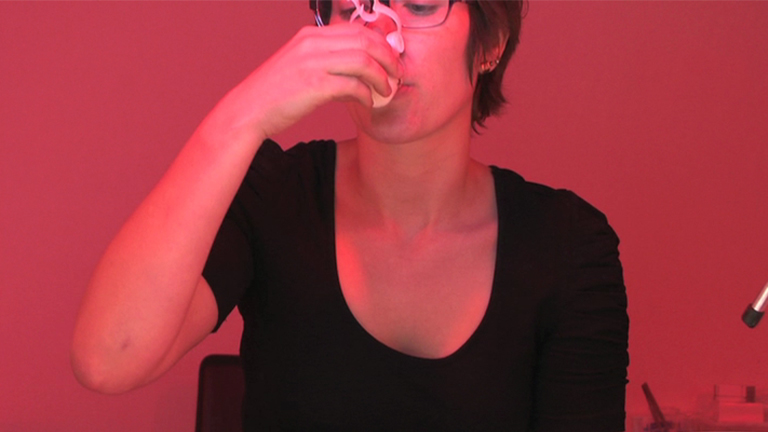 Emerging evidence from a number of laboratories indicates that humans have the ability to identify fatty acids in the oral cavity, presumably via fatty acid receptors housed on taste cells. Previous research has shown that an individual's oral sensitivity to fatty acid, specifically oleic acid (C18:1) is associated with body mass index (BMI), dietary fat consumption, and the ability to identify fat in foods. We have developed a reliable and reproducible method to assess oral chemoreception of fatty acids, using a milk and C18:1 emulsion, together with an ascending forced choice triangle procedure. In parallel, a food matrix has been developed to assess an individual's ability to perceive fat, in addition to a simple method to assess fatty food liking. As an added measure tongue photography is used to assess papillae density, with higher density often being associated with increased taste sensitivity.
Neuroscience, Issue 88, taste, overweight and obesity, dietary fat, fatty acid, diet, fatty food liking, detection threshold
51236
Ultrasound Assessment of Endothelial-Dependent Flow-Mediated Vasodilation of the Brachial Artery in Clinical Research
Institutions: University of California, San Francisco, Veterans Affairs Medical Center, San Francisco, Veterans Affairs Medical Center, San Francisco.

The vascular endothelium is a monolayer of cells that cover the interior of blood vessels and provide both structural and functional roles. The endothelium acts as a barrier, preventing leukocyte adhesion and aggregation, as well as controlling permeability to plasma components. Functionally, the endothelium affects vessel tone. Endothelial dysfunction is an imbalance between the chemical species which regulate vessel tone, thombroresistance, cellular proliferation and mitosis. It is the first step in atherosclerosis and is associated with coronary artery disease, peripheral artery disease, heart failure, hypertension, and hyperlipidemia. The first demonstration of endothelial dysfunction involved direct infusion of acetylcholine and quantitative coronary angiography. Acetylcholine binds to muscarinic receptors on the endothelial cell surface, leading to an increase of intracellular calcium and increased nitric oxide (NO) production. In subjects with an intact endothelium, vasodilation was observed while subjects with endothelial damage experienced paradoxical vasoconstriction. There exists a non-invasive,
in vivo
method for measuring endothelial function in peripheral arteries using high-resolution B-mode ultrasound. The endothelial function of peripheral arteries is closely related to coronary artery function. This technique measures the percent diameter change in the brachial artery during a period of reactive hyperemia following limb ischemia. This technique, known as endothelium-dependent, flow-mediated vasodilation (FMD) has value in clinical research settings. However, a number of physiological and technical issues can affect the accuracy of the results and appropriate guidelines for the technique have been published. Despite the guidelines, FMD remains heavily operator dependent and presents a steep learning curve. This article presents a standardized method for measuring FMD in the brachial artery on the upper arm and offers suggestions to reduce intra-operator variability.
Medicine, Issue 92, endothelial function, endothelial dysfunction, brachial artery, peripheral artery disease, ultrasound, vascular, endothelium, cardiovascular disease.
52070
Perceptual and Category Processing of the Uncanny Valley Hypothesis' Dimension of Human Likeness: Some Methodological Issues
Institutions: University of Zurich.

Mori's Uncanny Valley Hypothesis
1,2
proposes that the perception of humanlike characters such as robots and, by extension, avatars (computer-generated characters) can evoke negative or positive affect (valence) depending on the object's degree of visual and behavioral realism along a
dimension of human likeness
(
DHL
) (
Figure 1
). But studies of affective valence of subjective responses to variously realistic non-human characters have produced inconsistent findings
3, 4, 5, 6
. One of a number of reasons for this is that human likeness is not perceived as the hypothesis assumes. While the DHL can be defined following Mori's description as a smooth linear change in the degree of physical humanlike similarity, subjective perception of objects along the DHL can be understood in terms of the psychological effects of categorical perception (CP)
7
. Further behavioral and neuroimaging investigations of category processing and CP along the DHL and of the potential influence of the dimension's underlying category structure on affective experience are needed. This protocol therefore focuses on the DHL and allows examination of CP. Based on the protocol presented in the video as an example, issues surrounding the methodology in the protocol and the use in "uncanny" research of stimuli drawn from morph continua to represent the DHL are discussed in the article that accompanies the video. The use of neuroimaging and morph stimuli to represent the DHL in order to disentangle brain regions neurally responsive to physical human-like similarity from those responsive to category change and category processing is briefly illustrated.
Behavior, Issue 76, Neuroscience, Neurobiology, Molecular Biology, Psychology, Neuropsychology, uncanny valley, functional magnetic resonance imaging, fMRI, categorical perception, virtual reality, avatar, human likeness, Mori, uncanny valley hypothesis, perception, magnetic resonance imaging, MRI, imaging, clinical techniques
4375
Consensus Brain-derived Protein, Extraction Protocol for the Study of Human and Murine Brain Proteome Using Both 2D-DIGE and Mini 2DE Immunoblotting
Institutions: Inserm UMR 837, CHRU-Lille, Faculté de Médecine - Pôle Recherche, CHRU-Lille.

Two-dimensional gel electrophoresis (2DE) is a powerful tool to uncover proteome modifications potentially related to different physiological or pathological conditions. Basically, this technique is based on the separation of proteins according to their isoelectric point in a first step, and secondly according to their molecular weights by SDS polyacrylamide gel electrophoresis (SDS-PAGE). In this report an optimized sample preparation protocol for little amount of human post-mortem and mouse brain tissue is described. This method enables to perform both two-dimensional fluorescence difference gel electrophoresis (2D-DIGE) and mini 2DE immunoblotting. The combination of these approaches allows one to not only find new proteins and/or protein modifications in their expression thanks to its compatibility with mass spectrometry detection, but also a new insight into markers validation. Thus, mini-2DE coupled to western blotting permits to identify and validate post-translational modifications, proteins catabolism and provides a qualitative comparison among different conditions and/or treatments. Herein, we provide a method to study components of protein aggregates found in AD and Lewy body dementia such as the amyloid-beta peptide and the alpha-synuclein. Our method can thus be adapted for the analysis of the proteome and insoluble proteins extract from human brain tissue and mice models too. In parallel, it may provide useful information for the study of molecular and cellular pathways involved in neurodegenerative diseases as well as potential novel biomarkers and therapeutic targets.
Neuroscience, Issue 86, proteomics, neurodegeneration, 2DE, human and mice brain tissue, fluorescence, immunoblotting. Abbreviations: 2DE (two-dimensional gel electrophoresis), 2D-DIGE (two-dimensional fluorescence difference gel electrophoresis), mini-2DE (mini 2DE immunoblotting),IPG (Immobilized pH Gradients), IEF (isoelectrofocusing), AD (Alzheimer´s disease)
51339
Analysis of Nephron Composition and Function in the Adult Zebrafish Kidney
Institutions: University of Notre Dame.

The zebrafish model has emerged as a relevant system to study kidney development, regeneration and disease. Both the embryonic and adult zebrafish kidneys are composed of functional units known as nephrons, which are highly conserved with other vertebrates, including mammals. Research in zebrafish has recently demonstrated that two distinctive phenomena transpire after adult nephrons incur damage: first, there is robust regeneration within existing nephrons that replaces the destroyed tubule epithelial cells; second, entirely new nephrons are produced from renal progenitors in a process known as neonephrogenesis. In contrast, humans and other mammals seem to have only a limited ability for nephron epithelial regeneration. To date, the mechanisms responsible for these kidney regeneration phenomena remain poorly understood. Since adult zebrafish kidneys undergo both nephron epithelial regeneration and neonephrogenesis, they provide an outstanding experimental paradigm to study these events. Further, there is a wide range of genetic and pharmacological tools available in the zebrafish model that can be used to delineate the cellular and molecular mechanisms that regulate renal regeneration. One essential aspect of such research is the evaluation of nephron structure and function. This protocol describes a set of labeling techniques that can be used to gauge renal composition and test nephron functionality in the adult zebrafish kidney. Thus, these methods are widely applicable to the future phenotypic characterization of adult zebrafish kidney injury paradigms, which include but are not limited to, nephrotoxicant exposure regimes or genetic methods of targeted cell death such as the nitroreductase mediated cell ablation technique. Further, these methods could be used to study genetic perturbations in adult kidney formation and could also be applied to assess renal status during chronic disease modeling.
Cellular Biology, Issue 90, zebrafish; kidney; nephron; nephrology; renal; regeneration; proximal tubule; distal tubule; segment; mesonephros; physiology; acute kidney injury (AKI)
51644
Performing Vaginal Lavage, Crystal Violet Staining, and Vaginal Cytological Evaluation for Mouse Estrous Cycle Staging Identification
Institutions: Neural Regeneration Laboratory and Ottawa Institute of Systems Biology, University of Ottawa , University of Ottawa , Azrieli School of Architecture and Urbanism.

A rapid means of assessing reproductive status in rodents is useful not only in the study of reproductive dysfunction but is also required for the production of new mouse models of disease and investigations into the hormonal regulation of tissue degeneration (or regeneration) following pathological challenge. The murine reproductive (or estrous) cycle is divided into 4 stages: proestrus, estrus, metestrus, and diestrus. Defined fluctuations in circulating levels of the ovarian steroids 17-β-estradiol and progesterone, the gonadotropins luteinizing and follicle stimulating hormones, and the luteotropic hormone prolactin signal transition through these reproductive stages. Changes in cell typology within the murine vaginal canal reflect these underlying endocrine events. Daily assessment of the relative ratio of nucleated epithelial cells, cornified squamous epithelial cells, and leukocytes present in vaginal smears can be used to identify murine estrous stages. The degree of invasiveness, however, employed in collecting these samples can alter reproductive status and elicit an inflammatory response that can confound cytological assessment of smears. Here, we describe a simple, non-invasive protocol that can be used to determine the stage of the estrous cycle of a female mouse without altering her reproductive cycle. We detail how to differentiate between the four stages of the estrous cycle by collection and analysis of predominant cell typology in vaginal smears and we show how these changes can be interpreted with respect to endocrine status.
Medicine, Issue 67, Biochemistry, Immunology, Microbiology, Physiology, Anatomy, estrous cycle, vaginal cytology, hormonal status, murine reproduction, 17-beta-estradiol, progesterone, luteinizing hormone, follicle-stimulating hormone, prolactin
4389
Sex Stratified Neuronal Cultures to Study Ischemic Cell Death Pathways
Institutions: University of Colorado School of Medicine, Oregon Health & Science University, University of Colorado School of Medicine.

Sex differences in neuronal susceptibility to ischemic injury and neurodegenerative disease have long been observed, but the signaling mechanisms responsible for those differences remain unclear. Primary disassociated embryonic neuronal culture provides a simplified experimental model with which to investigate the neuronal cell signaling involved in cell death as a result of ischemia or disease; however, most neuronal cultures used in research today are mixed sex. Researchers can and do test the effects of sex steroid treatment in mixed sex neuronal cultures in models of neuronal injury and disease, but accumulating evidence suggests that the female brain responds to androgens, estrogens, and progesterone differently than the male brain. Furthermore, neonate male and female rodents respond differently to ischemic injury, with males experiencing greater injury following cerebral ischemia than females. Thus, mixed sex neuronal cultures might obscure and confound the experimental results; important information might be missed. For this reason, the Herson Lab at the University of Colorado School of Medicine routinely prepares sex-stratified primary disassociated embryonic neuronal cultures from both hippocampus and cortex. Embryos are sexed before harvesting of brain tissue and male and female tissue are disassociated separately, plated separately, and maintained separately. Using this method, the Herson Lab has demonstrated a male-specific role for the ion channel TRPM2 in ischemic cell death. In this manuscript, we share and discuss our protocol for sexing embryonic mice and preparing sex-stratified hippocampal primary disassociated neuron cultures. This method can be adapted to prepare sex-stratified cortical cultures and the method for embryo sexing can be used in conjunction with other protocols for any study in which sex is thought to be an important determinant of outcome.
Neuroscience, Issue 82, male, female, sex, neuronal culture, ischemia, cell death, neuroprotection
50758
Microsurgical Clip Obliteration of Middle Cerebral Aneurysm Using Intraoperative Flow Assessment
Institutions: Havard Medical School, Massachusetts General Hospital.

Cerebral aneurysms are abnormal widening or ballooning of a localized segment of an intracranial blood vessel. Surgical clipping is an important treatment for aneurysms which attempts to exclude blood from flowing into the aneurysmal segment of the vessel while preserving blood flow in a normal fashion. Improper clip placement may result in residual aneurysm with the potential for subsequent aneurysm rupture or partial or full occlusion of distal arteries resulting in cerebral infarction. Here we describe the use of an ultrasonic flow probe to provide quantitative evaluation of arterial flow before and after microsurgical clip placement at the base of a middle cerebral artery aneurysm. This information helps ensure adequate aneurysm reconstruction with preservation of normal distal blood flow.
Medicine, Issue 31, Aneurysm, intraoperative, brain, surgery, surgical clipping, blood flow, aneurysmal segment, ultrasonic flow probe
1294