Environmentally-controlled Microtensile Testing of Mechanically-adaptive Polymer Nanocomposites for ex vivo Characterization
Published: 08-20-2013
ABSTRACT
Implantable microdevices are gaining significant attention for several biomedical applications1-4. Such devices have been made from a range of materials, each offering its own advantages and shortcomings5,6. Most prominently, due to the microscale device dimensions, a high modulus is required to facilitate implantation into living tissue. Conversely, the stiffness of the device should match the surrounding tissue to minimize induced local strain7-9. Therefore, we recently developed a new class of bio-inspired materials to meet these requirements by responding to environmental stimuli with a change in mechanical properties10-14. Specifically, our poly(vinyl acetate)-based nanocomposite (PVAc-NC) displays a reduction in stiffness when exposed to water and elevated temperatures (e.g. body temperature). Unfortunately, few methods exist to quantify the stiffness of materials in vivo15, and mechanical testing outside of the physiological environment often requires large samples inappropriate for implantation. Further, stimuli-responsive materials may quickly recover their initial stiffness after explantation. Therefore, we have developed a method by which the mechanical properties of implanted microsamples can be measured ex vivo, with simulated physiological conditions maintained using moisture and temperature control13,16,17. To this end, a custom microtensile tester was designed to accommodate microscale samples13,17 with widely-varying Young's moduli (range of 10 MPa to 5 GPa). As our interests are in the application of PVAc-NC as a biologically-adaptable neural probe substrate, a tool capable of mechanical characterization of samples at the microscale was necessary. This tool was adapted to provide humidity and temperature control, which minimized sample drying and cooling17. As a result, the mechanical characteristics of the explanted sample closely reflect those of the sample just prior to explantation. The overall goal of this method is to quantitatively assess the in vivo mechanical properties, specifically the Young's modulus, of stimuli-responsive, mechanically-adaptive polymer-based materials. This is accomplished by first establishing the environmental conditions that will minimize a change in sample mechanical properties after explantation without contributing to a reduction in stiffness independent of that resulting from implantation. Samples are then prepared for implantation, handling, and testing (Figure 1A). Each sample is implanted into the cerebral cortex of rats, which is represented here as an explanted rat brain, for a specified duration (Figure 1B). At this point, the sample is explanted and immediately loaded into the microtensile tester, and then subjected to tensile testing (Figure 1C). Subsequent data analysis provides insight into the mechanical behavior of these innovative materials in the environment of the cerebral cortex.
19 Related JoVE Articles!
An Improved Mechanical Testing Method to Assess Bone-implant Anchorage
Institutions: University of Toronto.

Recent advances in material science have led to a substantial increase in the topographical complexity of implant surfaces, both on a micro- and a nano-scale. As such, traditional methods of describing implant surfaces - namely numerical determinants of surface roughness - are inadequate for predicting
in vivo
performance. Biomechanical testing provides an accurate and comparative platform to analyze the performance of biomaterial surfaces. An improved mechanical testing method to test the anchorage of bone to candidate implant surfaces is presented. The method is applicable to both early and later stages of healing and can be employed for any range of chemically or mechanically modified surfaces - but not smooth surfaces. Custom rectangular implants are placed bilaterally in the distal femora of male Wistar rats and collected with the surrounding bone. Test specimens are prepared and potted using a novel breakaway mold and the disruption test is conducted using a mechanical testing machine. This method allows for alignment of the disruption force exactly perpendicular, or parallel, to the plane of the implant surface, and provides an accurate and reproducible means for isolating an exact peri-implant region for testing.
Bioengineering, Issue 84, Mechanical test, bone anchorage, disruption test, surface topography, peri-implant bone, bone-implant interface, bone-bonding, microtopography, nanotopography
51221
Micro-Mechanical Characterization of Lung Tissue Using Atomic Force Microscopy
Institutions: Harvard School of Public Health.

Matrix stiffness strongly influences growth, differentiation and function of adherent cells
1-3
. On the macro scale the stiffness of tissues and organs within the human body span several orders of magnitude
4
. Much less is known about how stiffness varies spatially within tissues, and what the scope and spatial scale of stiffness changes are in disease processes that result in tissue remodeling. To better understand how changes in matrix stiffness contribute to cellular physiology in health and disease, measurements of tissue stiffness obtained at a spatial scale relevant to resident cells are needed. This is particularly true for the lung, a highly compliant and elastic tissue in which matrix remodeling is a prominent feature in diseases such as asthma, emphysema, hypertension and fibrosis. To characterize the local mechanical environment of lung parenchyma at a spatial scale relevant to resident cells, we have developed methods to directly measure the local elastic properties of fresh murine lung tissue using atomic force microscopy (AFM) microindentation. With appropriate choice of AFM indentor, cantilever, and indentation depth, these methods allow measurements of local tissue shear modulus in parallel with phase contrast and fluorescence imaging of the region of interest. Systematic sampling of tissue strips provides maps of tissue mechanical properties that reveal local spatial variations in shear modulus. Correlations between mechanical properties and underlying anatomical and pathological features illustrate how stiffness varies with matrix deposition in fibrosis. These methods can be extended to other soft tissues and disease processes to reveal how local tissue mechanical properties vary across space and disease progression.
Biophysics, Issue 54, Atomic force microscopy, indentation, stiffness, fibrosis, extracellular matrix
2911
Development of Amelogenin-chitosan Hydrogel for In Vitro Enamel Regrowth with a Dense Interface
Institutions: University of Southern California.

Biomimetic enamel reconstruction is a significant topic in material science and dentistry as a novel approach for the treatment of dental caries or erosion. Amelogenin has been proven to be a critical protein for controlling the organized growth of apatite crystals. In this paper, we present a detailed protocol for superficial enamel reconstruction by using a novel amelogenin-chitosan hydrogel. Compared to other conventional treatments, such as topical fluoride and mouthwash, this method not only has the potential to prevent the development of dental caries but also promotes significant and durable enamel restoration. The organized enamel-like microstructure regulated by amelogenin assemblies can significantly improve the mechanical properties of etched enamel, while the dense enamel-restoration interface formed by an
in situ
regrowth of apatite crystals can improve the effectiveness and durability of restorations. Furthermore, chitosan hydrogel is easy to use and can suppress bacterial infection, which is the major risk factor for the occurrence of dental caries. Therefore, this biocompatible and biodegradable amelogenin-chitosan hydrogel shows promise as a biomaterial for the prevention, restoration, and treatment of defective enamel.
Bioengineering, Issue 89, Enamel, Amelogenin, Chitosan hydrogel, Apatite, Biomimetic, Erosion, Superficial enamel reconstruction, Dense interface
51606
Experimental Measurement of Settling Velocity of Spherical Particles in Unconfined and Confined Surfactant-based Shear Thinning Viscoelastic Fluids
Institutions: The University of Texas at Austin.
An experimental study is performed to measure the terminal settling velocities of spherical particles in surfactant based shear thinning viscoelastic (VES) fluids. The measurements are made for particles settling in unbounded fluids and fluids between parallel walls. VES fluids over a wide range of rheological properties are prepared and rheologically characterized. The rheological characterization involves steady shear-viscosity and dynamic oscillatory-shear measurements to quantify the viscous and elastic properties respectively. The settling velocities under unbounded conditions are measured in beakers having diameters at least 25x the diameter of particles. For measuring settling velocities between parallel walls, two experimental cells with different wall spacing are constructed. Spherical particles of varying sizes are gently dropped in the fluids and allowed to settle. The process is recorded with a high resolution video camera and the trajectory of the particle is recorded using image analysis software. Terminal settling velocities are calculated from the data. The impact of elasticity on settling velocity in unbounded fluids is quantified by comparing the experimental settling velocity to the settling velocity calculated by the inelastic drag predictions of Renaud
et al.
1
 Results show that elasticity of fluids can increase or decrease the settling velocity. The magnitude of reduction/increase is a function of the rheological properties of the fluids and properties of particles. Confining walls are observed to cause a retardation effect on settling and the retardation is measured in terms of wall factors.
Physics, Issue 83, chemical engineering, settling velocity, Reynolds number, shear thinning, wall retardation
50749
A Novel Method for Localizing Reporter Fluorescent Beads Near the Cell Culture Surface for Traction Force Microscopy
Institutions: University of Illinois at Urbana-Champaign.

PA gels have long been used as a platform to study cell traction forces due to ease of fabrication and the ability to tune their elastic properties. When the substrate is coated with an extracellular matrix protein, cells adhere to the gel and apply forces, causing the gel to deform. The deformation depends on the cell traction and the elastic properties of the gel. If the deformation field of the surface is known, surface traction can be calculated using elasticity theory. Gel deformation is commonly measured by embedding fluorescent marker beads uniformly into the gel. The probes displace as the gel deforms. The probes near the surface of the gel are tracked. The displacements reported by these probes are considered as surface displacements. Their depths from the surface are ignored. This assumption introduces error in traction force evaluations. For precise measurement of cell forces, it is critical for the location of the beads to be known. We have developed a technique that utilizes simple chemistry to confine fluorescent marker beads, 0.1 and 1 µm in diameter, in PA gels, within 1.6 μm of the surface. We coat a coverslip with poly-D-lysine (PDL) and fluorescent beads. PA gel solution is then sandwiched between the coverslip and an adherent surface. The fluorescent beads transfer to the gel solution during curing. After polymerization, the PA gel contains fluorescent beads on a plane close to the gel surface.
Bioengineering, Issue 91, cell mechanics, polyacrylamide (PA) gel, traction force microscopy, fluorescent beads, poly-D-lysine (PDL), cell culture surface
51873
Quantifying the Mechanical Properties of the Endothelial Glycocalyx with Atomic Force Microscopy
Institutions: University of Rochester .

Our understanding of the interaction of leukocytes and the vessel wall during leukocyte capture is limited by an incomplete understanding of the mechanical properties of the endothelial surface layer. It is known that adhesion molecules on leukocytes are distributed non-uniformly relative to surface topography
3
, that topography limits adhesive bond formation with other surfaces
9
, and that physiological contact forces (≈ 5.0 − 10.0 pN per microvillus) can compress the microvilli to as little as a third of their resting length, increasing the accessibility of molecules to the opposing surface
3, 7
. We consider the endothelium as a two-layered structure, the relatively rigid cell body, plus the glycocalyx, a soft protective sugar coating on the luminal surface
6
. It has been shown that the glycocalyx can act as a barrier to reduce adhesion of leukocytes to the endothelial surface
4
. In this report we begin to address the deformability of endothelial surfaces to understand how the endothelial mechanical stiffness might affect bond formation. Endothelial cells grown in static culture do not express a robust glycocalyx, but cells grown under physiological flow conditions begin to approximate the glycocalyx observed
in vivo
2
. The modulus of the endothelial cell body has been measured using atomic force microscopy (AFM) to be approximately 5 to 20 kPa
5
. The thickness and structure of the glycocalyx have been studied using electron microscopy
8
, and the modulus of the glycocalyx has been approximated using indirect methods, but to our knowledge, there have been no published reports of a direct measurement of the glycocalyx modulus in living cells. In this study, we present indentation experiments made with a novel AFM probe on cells that have been cultured in conditions to maximize their glycocalyx expression to make direct measurements of the modulus and thickness of the endothelial glycocalyx.
Biomedical Engineering, Issue 72, Bioengineering, Cellular Biology, Biophysics, Molecular Biology, Endothelium, Vascular, Membrane Glycoproteins, Receptors, Leukocyte-Adhesion, bioengineering (general), glycocalyx, mechanical properties, atomic force microscopy, ATM, Endothelial cells, leukocytes, cell wall, cell culture, microscopy, imaging
50163
Longitudinal Evaluation of Mouse Hind Limb Bone Loss After Spinal Cord Injury using Novel, in vivo, Methodology
Institutions: University of Texas Health Science Center at Houston .

Spinal cord injury (SCI) is often accompanied by osteoporosis in the sublesional regions of the pelvis and lower extremities, leading to a higher frequency of fractures
1
. As these fractures often occur in regions that have lost normal sensory function, the patient is at a greater risk of fracture-dependent pathologies, including death. SCI-dependent loss in both bone mineral density (BMD, grams/cm
2
) and bone mineral content (BMC, grams) has been attributed to mechanical disuse
2
, aberrant neuronal signaling
3
and hormonal changes
4
. The use of rodent models of SCI-induced osteoporosis can provide invaluable information regarding the mechanisms underlying the development of osteoporosis following SCI as well as a test environment for the generation of new therapies
5-7
(and reviewed in
8
). Mouse models of SCI are of great interest as they permit a reductionist approach to mechanism-based assessment through the use of null and transgenic mice. While such models have provided important data, there is still a need for minimally-invasive, reliable, reproducible, and quantifiable methods in determining the extent of bone loss following SCI, particularly over time and within the same cohort of experimental animals, to improve diagnosis, treatment methods, and/or prevention of SCI-induced osteoporosis. An ideal method for measuring bone density in rodents would allow multiple, sequential (over time) exposures to low-levels of X-ray radiation. This study describes the use of a new whole-animal scanner, the IVIS Lumina XR (Caliper Instruments) that can be used to provide low-energy (1-3 milligray (mGy)) high-resolution, high-magnification X-ray images of mouse hind limb bones over time following SCI. Significant bone density loss was seen in the tibiae of mice by 10 days post-spinal transection when compared to uninjured, age-matched control (naïve) mice (13% decrease, p<0.0005). Loss of bone density in the distal femur was also detectable by day 10 post-SCI, while a loss of density in the proximal femur was not detectable until 40 days post injury (7% decrease, p<0.05). SCI-dependent loss of mouse femur density was confirmed post-mortem through the use of Dual-energy X-ray Absorptiometry (DXA), the current "gold standard" for bone density measurements. We detect a 12% loss of BMC in the femurs of mice at 40 days post-SCI using the IVIS Lumina XR. This compares favorably with a previously reported BMC loss of 13.5% by Picard and colleagues who used DXA analysis on mouse femurs post-mortem 30 days post-SCI
9
. Our results suggest that the IVIS Lumina XR provides a novel, high-resolution/high-magnification method for performing long-term, longitudinal measurements of hind limb bone density in the mouse following SCI.
Medicine, Issue 58, spinal cord injury, bone, osteoporosis, x-ray, femur, tibia, longitudinal
3246
Concurrent Quantitative Conductivity and Mechanical Properties Measurements of Organic Photovoltaic Materials using AFM
Institutions: Argonne National Laboratory, University of Chicago.

Organic photovoltaic (OPV) materials are inherently inhomogeneous at the nanometer scale. Nanoscale inhomogeneity of OPV materials affects performance of photovoltaic devices. Thus, understanding of spatial variations in composition as well as electrical properties of OPV materials is of paramount importance for moving PV technology forward.
1,2
In this paper, we describe a protocol for quantitative measurements of electrical and mechanical properties of OPV materials with sub-100 nm resolution. Currently, materials properties measurements performed using commercially available AFM-based techniques (PeakForce, conductive AFM) generally provide only qualitative information. The values for resistance as well as Young's modulus measured using our method on the prototypical ITO/PEDOT:PSS/P3HT:PC
61
BM system correspond well with literature data. The P3HT:PC
61
BM blend separates onto PC
61
BM-rich and P3HT-rich domains. Mechanical properties of PC
61
BM-rich and P3HT-rich domains are different, which allows for domain attribution on the surface of the film. Importantly, combining mechanical and electrical data allows for correlation of the domain structure on the surface of the film with electrical properties variation measured through the thickness of the film.
Materials Science, Issue 71, Nanotechnology, Mechanical Engineering, Electrical Engineering, Computer Science, Physics, electrical transport properties in solids, condensed matter physics, thin films (theory, deposition and growth), conductivity (solid state), AFM, atomic force microscopy, electrical properties, mechanical properties, organic photovoltaics, microengineering, photovoltaics
50293
In situ Compressive Loading and Correlative Noninvasive Imaging of the Bone-periodontal Ligament-tooth Fibrous Joint
Institutions: University of California San Francisco, University of California San Francisco, Xradia Inc..

This study demonstrates a novel biomechanics testing protocol. The advantage of this protocol includes the use of an
in situ
loading device coupled to a high resolution X-ray microscope, thus enabling visualization of internal structural elements under simulated physiological loads and wet conditions. Experimental specimens will include intact bone-periodontal ligament (PDL)-tooth fibrous joints. Results will illustrate three important features of the protocol as they can be applied to organ level biomechanics: 1) reactionary force vs. displacement: tooth displacement within the alveolar socket and its reactionary response to loading, 2) three-dimensional (3D) spatial configuration and morphometrics: geometric relationship of the tooth with the alveolar socket, and 3) changes in readouts 1 and 2 due to a change in loading axis,
i.e.
from concentric to eccentric loads. Efficacy of the proposed protocol will be evaluated by coupling mechanical testing readouts to 3D morphometrics and overall biomechanics of the joint. In addition, this technique will emphasize on the need to equilibrate experimental conditions, specifically reactionary loads prior to acquiring tomograms of fibrous joints. It should be noted that the proposed protocol is limited to testing specimens under
ex vivo
conditions, and that use of contrast agents to visualize soft tissue mechanical response could lead to erroneous conclusions about tissue and organ-level biomechanics.
Bioengineering, Issue 85, biomechanics, bone-periodontal ligament-tooth complex, concentric loads, eccentric loads, contrast agent
51147
Adjustable Stiffness, External Fixator for the Rat Femur Osteotomy and Segmental Bone Defect Models
Institutions: Queensland University of Technology, RISystem AG.

The mechanical environment around the healing of broken bone is very important as it determines the way the fracture will heal. Over the past decade there has been great clinical interest in improving bone healing by altering the mechanical environment through the fixation stability around the lesion. One constraint of preclinical animal research in this area is the lack of experimental control over the local mechanical environment within a large segmental defect as well as osteotomies as they heal. In this paper we report on the design and use of an external fixator to study the healing of large segmental bone defects or osteotomies. This device not only allows for controlled axial stiffness on the bone lesion as it heals, but it also enables the change of stiffness during the healing process
in vivo.
The conducted experiments have shown that the fixators were able to maintain a 5 mm femoral defect gap in rats
in vivo
during unrestricted cage activity for at least 8 weeks. Likewise, we observed no distortion or infections, including pin infections during the entire healing period. These results demonstrate that our newly developed external fixator was able to achieve reproducible and standardized stabilization, and the alteration of the mechanical environment of
in vivo
rat large bone defects and various size osteotomies. This confirms that the external fixation device is well suited for preclinical research investigations using a rat model in the field of bone regeneration and repair.
Medicine, Issue 92, external fixator, bone healing, small animal model, large bone defect and osteotomy model, rat model, mechanical environment, mechanobiology.
51558
A Novel in vivo Gene Transfer Technique and in vitro Cell Based Assays for the Study of Bone Loss in Musculoskeletal Disorders
Institutions: University of California, Davis, Shriners Hospitals for Children - Northern California, University of California, Davis.

Differentiation and activation of osteoclasts play a key role in the development of musculoskeletal diseases as these cells are primarily involved in bone resorption. Osteoclasts can be generated
in vitro
from monocyte/macrophage precursor cells in the presence of certain cytokines, which promote survival and differentiation. Here, both
in vivo
and
in vitro
techniques are demonstrated, which allow scientists to study different cytokine contributions towards osteoclast differentiation, signaling, and activation. The minicircle DNA delivery gene transfer system provides an alternative method to establish an osteoporosis-related model is particularly useful to study the efficacy of various pharmacological inhibitors
in vivo
. Similarly,
in vitro
culturing protocols for producing osteoclasts from human precursor cells in the presence of specific cytokines enables scientists to study osteoclastogenesis in human cells for translational applications. Combined, these techniques have the potential to accelerate drug discovery efforts for osteoclast-specific targeted therapeutics, which may benefit millions of osteoporosis and arthritis patients worldwide.
Medicine, Issue 88, osteoclast, arthritis, minicircle DNA, macrophages, cell culture, hydrodynamic delivery
51810
Osteoclast Derivation from Mouse Bone Marrow
Institutions: Stanford University School of Medicine, Stanford University.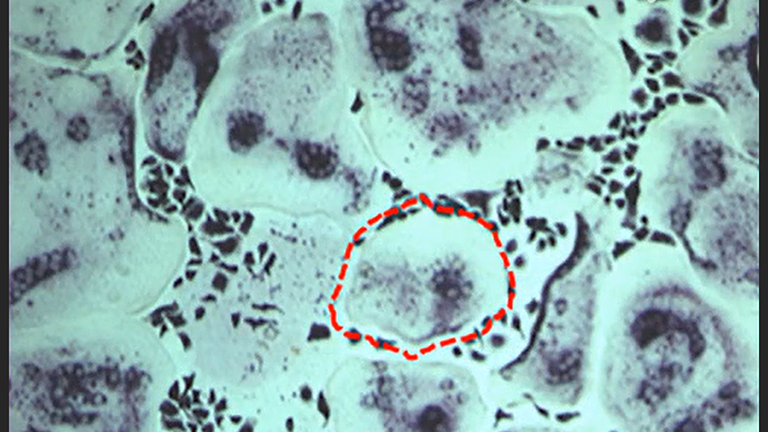 Osteoclasts are highly specialized cells that are derived from the monocyte/macrophage lineage of the bone marrow. Their unique ability to resorb both the organic and inorganic matrices of bone means that they play a key role in regulating skeletal remodeling. Together, osteoblasts and osteoclasts are responsible for the dynamic coupling process that involves both bone resorption and bone formation acting together to maintain the normal skeleton during health and disease. As the principal bone-resorbing cell in the body, changes in osteoclast differentiation or function can result in profound effects in the body. Diseases associated with altered osteoclast function can range in severity from lethal neonatal disease due to failure to form a marrow space for hematopoiesis, to more commonly observed pathologies such as osteoporosis, in which excessive osteoclastic bone resorption predisposes to fracture formation. An ability to isolate osteoclasts in high numbers
in vitro
has allowed for significant advances in the understanding of the bone remodeling cycle and has paved the way for the discovery of novel therapeutic strategies that combat these diseases. Here, we describe a protocol to isolate and cultivate osteoclasts from mouse bone marrow that will yield large numbers of osteoclasts.
Cellular Biology, Issue 93, osteoclast, RANKL, culture, resorption assay, bone remodeling, bone turnover, skeletal homeostasis
52056
Postproduction Processing of Electrospun Fibres for Tissue Engineering
Institutions: University of Sheffield , University of Sheffield , University of Sheffield .

Electrospinning is a commonly used and versatile method to produce scaffolds (often biodegradable) for 3D tissue engineering.
1, 2, 3
Many tissues
in vivo
undergo biaxial distension to varying extents such as skin, bladder, pelvic floor and even the hard palate as children grow. In producing scaffolds for these purposes there is a need to develop scaffolds of appropriate biomechanical properties (whether achieved without or with cells) and which are sterile for clinical use. The focus of this paper is not how to establish basic electrospinning parameters (as there is extensive literature on electrospinning) but on how to modify spun scaffolds post production to make them fit for tissue engineering purposes - here thickness, mechanical properties and sterilisation (required for clinical use) are considered and we also describe how cells can be cultured on scaffolds and subjected to biaxial strain to condition them for specific applications. Electrospinning tends to produce thin sheets; as the electrospinning collector becomes coated with insulating fibres it becomes a poor conductor such that fibres no longer deposit on it. Hence we describe approaches to produce thicker structures by heat or vapour annealing increasing the strength of scaffolds but not necessarily the elasticity. Sequential spinning of scaffolds of different polymers to achieve complex scaffolds is also described. Sterilisation methodologies can adversely affect strength and elasticity of scaffolds. We compare three methods for their effects on the biomechanical properties on electrospun scaffolds of poly lactic-co-glycolic acid (PLGA). Imaging of cells on scaffolds and assessment of production of extracellular matrix (ECM) proteins by cells on scaffolds is described. Culturing cells on scaffolds
in vitro
can improve scaffold strength and elasticity but the tissue engineering literature shows that cells often fail to produce appropriate ECM when cultured under static conditions. There are few commercial systems available that allow one to culture cells on scaffolds under dynamic conditioning regimes - one example is the Bose Electroforce 3100 which can be used to exert a conditioning programme on cells in scaffolds held using mechanical grips within a media filled chamber.
4
An approach to a budget cell culture bioreactor for controlled distortion in 2 dimensions is described. We show that cells can be induced to produce elastin under these conditions. Finally assessment of the biomechanical properties of processed scaffolds cultured with or without cells is described.
Bioengineering, Issue 66, Materials Science, Biomedical Engineering, Tissue Engineering, Medicine, Chemistry, Electrospinning, bilayer, biaxial distension, heat and vapour annealing, mechanical testing, fibres
4172
Insertion of Flexible Neural Probes Using Rigid Stiffeners Attached with Biodissolvable Adhesive
Institutions: Lawrence Livermore National Laboratory, University of California, San Francisco.

Microelectrode arrays for neural interface devices that are made of biocompatible thin-film polymer are expected to have extended functional lifetime because the flexible material may minimize adverse tissue response caused by micromotion. However, their flexibility prevents them from being accurately inserted into neural tissue. This article demonstrates a method to temporarily attach a flexible microelectrode probe to a rigid stiffener using biodissolvable polyethylene glycol (PEG) to facilitate precise, surgical insertion of the probe. A unique stiffener design allows for uniform distribution of the PEG adhesive along the length of the probe. Flip-chip bonding, a common tool used in microelectronics packaging, enables accurate and repeatable alignment and attachment of the probe to the stiffener. The probe and stiffener are surgically implanted together, then the PEG is allowed to dissolve so that the stiffener can be extracted leaving the probe in place. Finally, an
in vitro
test method is used to evaluate stiffener extraction in an agarose gel model of brain tissue. This approach to implantation has proven particularly advantageous for longer flexible probes (>3 mm). It also provides a feasible method to implant dual-sided flexible probes. To date, the technique has been used to obtain various
in vivo
recording data from the rat cortex.
Bioengineering, Issue 79, Nervous System Diseases, Surgical Procedures, Operative, Investigative Techniques, Nonmetallic Materials, Engineering (General), neural interfaces, polymer neural probes, surgical insertion, polyethylene glycol, microelectrode arrays, chronic implantation
50609
Measuring Ascending Aortic Stiffness In Vivo in Mice Using Ultrasound
Institutions: Johns Hopkins University, Johns Hopkins University, Johns Hopkins University, Macquarie University.

We present a protocol for measuring
in vivo
aortic stiffness in mice using high-resolution ultrasound imaging. Aortic diameter is measured by ultrasound and aortic blood pressure is measured invasively with a solid-state pressure catheter. Blood pressure is raised then lowered incrementally by intravenous infusion of vasoactive drugs phenylephrine and sodium nitroprusside. Aortic diameter is measured for each pressure step to characterize the pressure-diameter relationship of the ascending aorta. Stiffness indices derived from the pressure-diameter relationship can be calculated from the data collected. Calculation of arterial compliance is described in this protocol. This technique can be used to investigate mechanisms underlying increased aortic stiffness associated with cardiovascular disease and aging. The technique produces a physiologically relevant measure of stiffness compared to
ex vivo
approaches because physiological influences on aortic stiffness are incorporated in the measurement. The primary limitation of this technique is the measurement error introduced from the movement of the aorta during the cardiac cycle. This motion can be compensated by adjusting the location of the probe with the aortic movement as well as making multiple measurements of the aortic pressure-diameter relationship and expanding the experimental group size.
Medicine, Issue 94, Aortic stiffness, ultrasound, in vivo, aortic compliance, elastic modulus, mouse model, cardiovascular disease
52200
Designing Silk-silk Protein Alloy Materials for Biomedical Applications
Institutions: Rowan University, Rowan University, Cooper Medical School of Rowan University, Rowan University.

Fibrous proteins display different sequences and structures that have been used for various applications in biomedical fields such as biosensors, nanomedicine, tissue regeneration, and drug delivery. Designing materials based on the molecular-scale interactions between these proteins will help generate new multifunctional protein alloy biomaterials with tunable properties. Such alloy material systems also provide advantages in comparison to traditional synthetic polymers due to the materials biodegradability, biocompatibility, and tenability in the body. This article used the protein blends of wild tussah silk (
Antheraea pernyi
) and domestic mulberry silk (
Bombyx mori
) as an example to provide useful protocols regarding these topics, including how to predict protein-protein interactions by computational methods, how to produce protein alloy solutions, how to verify alloy systems by thermal analysis, and how to fabricate variable alloy materials including optical materials with diffraction gratings, electric materials with circuits coatings, and pharmaceutical materials for drug release and delivery. These methods can provide important information for designing the next generation multifunctional biomaterials based on different protein alloys.
Bioengineering, Issue 90, protein alloys, biomaterials, biomedical, silk blends, computational simulation, implantable electronic devices
50891
Single Molecule Methods for Monitoring Changes in Bilayer Elastic Properties
Institutions: Weill Cornell Medical College, Weill Cornell Medical College of Cornell University.

Membrane protein function is regulated by the cell membrane lipid composition. This regulation is due to a combination of specific lipid-protein interactions and more general lipid bilayer-protein interactions. These interactions are particularly important in pharmacological research, as many current pharmaceuticals on the market can alter the lipid bilayer material properties, which can lead to altered membrane protein function. The formation of gramicidin channels are dependent on conformational changes in gramicidin subunits which are in turn dependent on the properties of the lipid. Hence the gramicidin channel current is a reporter of altered properties of the bilayer due to certain compounds.
Cellular Biology, Issue 21, Springer Protocols, Membrane Biophysics, Gramicidin Channels, Artificial Bilayers, Bilayer Elastic Properties,
1032
Tri-layered Electrospinning to Mimic Native Arterial Architecture using Polycaprolactone, Elastin, and Collagen: A Preliminary Study
Institutions: Virginia Commonwealth University, Virginia Commonwealth University, University Hospital of Geneva.

Throughout native artery, collagen and elastin play an important role, providing a mechanical backbone, preventing vessel rupture, and promoting recovery under pulsatile deformations. The goal of this study was to mimic the structure of native artery by fabricating a multi-layered electrospun conduit composed of poly(caprolactone) (PCL) with the addition of elastin and collagen with blends of 45-45-10, 55-35-10, and 65-25-10 PCL-ELAS-COL to demonstrate mechanical properties indicative of native arterial tissue, while remaining conducive to tissue regeneration. Whole grafts and individual layers were analyzed using uniaxial tensile testing, dynamic compliance, suture retention, and burst strength. Compliance results revealed that changes to the middle/medial layer changed overall graft behavior with whole graft compliance values ranging from 0.8 - 2.8 % / 100 mmHg, while uniaxial results demonstrated an average modulus range of 2.0 - 11.8 MPa. Both modulus and compliance data displayed values within the range of native artery. Mathematical modeling was implemented to show how changes in layer stiffness affect the overall circumferential wall stress, and as a design aid to achieve the best mechanical combination of materials. Overall, the results indicated that a graft can be designed to mimic a tri-layered structure by altering layer properties.
Bioengineering, Issue 47, Electrospinning, Vascular Graft, Multilayer, Polycaprolactone, Elastin
2084
Bioelectric Analyses of an Osseointegrated Intelligent Implant Design System for Amputees
Institutions: Department of Veteran Affairs, University of Utah, University of Utah, University of Utah, University of Utah.

The projected number of American amputees is expected to rise to 3.6 million by 2050. Many of these individuals depend on artificial limbs to perform routine activities, but prosthetic suspensions using traditional socket technology can prove to be cumbersome and uncomfortable for a person with limb loss. Moreover, for those with high proximal amputations, limited residual limb length may prevent exoprosthesis attachment all together. Osseointegrated implant technology is a novel operative procedure which allows firm skeletal attachment between the host bone and an implant. Preliminary results in European amputees with osseointegrated implants have shown improved clinical outcomes by allowing direct transfer of loads to the bone-implant interface. Despite the apparent advantages of osseointegration over socket technology, the current rehabilitation procedures require long periods of restrictive load bearing prior which may be reduced with expedited skeletal attachment via electrical stimulation. The goal of the osseointegrated intelligent implant design (OIID) system is to make the implant part of an electrical system to accelerate skeletal attachment and help prevent periprosthetic infection. To determine optimal electrode size and placement, we initiated proof of concept with computational modeling of the electric fields and current densities that arise during electrical stimulation of amputee residual limbs. In order to provide insure patient safety, subjects with retrospective computed tomography scans were selected and three dimensional reconstructions were created using customized software programs to ensure anatomical accuracy (Seg3D and SCIRun) in an IRB and HIPAA approved study. These software packages supported the development of patient specific models and allowed for interactive manipulation of electrode position and size. Preliminary results indicate that electric fields and current densities can be generated at the implant interface to achieve the homogenous electric field distributions required to induce osteoblast migration, enhance skeletal fixation and may help prevent periprosthetic infections. Based on the electrode configurations experimented with in the model, an external two band configuration will be advocated in the future.
Medicine, Issue 29, Osseointegration, Electrical Stimulation, Osteogenesis, Amputation, Percutaneous
1237