Micropipette Aspiration of Substrate-attached Cells to Estimate Cell Stiffness
Published: 09-27-2012
ABSTRACT
Growing number of studies show that biomechanical properties of individual cells play major roles in multiple cellular functions, including cell proliferation, differentiation, migration and cell-cell interactions. The two key parameters of cellular biomechanics are cellular deformability or stiffness and the ability of the cells to contract and generate force. Here we describe a quick and simple method to estimate cell stiffness by measuring the degree of membrane deformation in response to negative pressure applied by a glass micropipette to the cell surface, a technique that is called Micropipette Aspiration or Microaspiration. Microaspiration is performed by pulling a glass capillary to create a micropipette with a very small tip (2-50 μm diameter depending on the size of a cell or a tissue sample), which is then connected to a pneumatic pressure transducer and brought to a close vicinity of a cell under a microscope. When the tip of the pipette touches a cell, a step of negative pressure is applied to the pipette by the pneumatic pressure transducer generating well-defined pressure on the cell membrane. In response to pressure, the membrane is aspirated into the pipette and progressive membrane deformation or "membrane projection" into the pipette is measured as a function of time. The basic principle of this experimental approach is that the degree of membrane deformation in response to a defined mechanical force is a function of membrane stiffness. The stiffer the membrane is, the slower the rate of membrane deformation and the shorter the steady-state aspiration length.The technique can be performed on isolated cells, both in suspension and substrate-attached, large organelles, and liposomes. Analysis is performed by comparing maximal membrane deformations achieved under a given pressure for different cell populations or experimental conditions. A "stiffness coefficient" is estimated by plotting the aspirated length of membrane deformation as a function of the applied pressure. Furthermore, the data can be further analyzed to estimate the Young's modulus of the cells (E), the most common parameter to characterize stiffness of materials. It is important to note that plasma membranes of eukaryotic cells can be viewed as a bi-component system where membrane lipid bilayer is underlied by the sub-membrane cytoskeleton and that it is the cytoskeleton that constitutes the mechanical scaffold of the membrane and dominates the deformability of the cellular envelope. This approach, therefore, allows probing the biomechanical properties of the sub-membrane cytoskeleton.
20 Related JoVE Articles!
Biophysical Assays to Probe the Mechanical Properties of the Interphase Cell Nucleus: Substrate Strain Application and Microneedle Manipulation
Institutions: Department of Medicine, Cardiovascular Division, Cornell University.

In most eukaryotic cells, the nucleus is the largest organelle and is typically 2 to 10 times stiffer than the surrounding cytoskeleton; consequently, the physical properties of the nucleus contribute significantly to the overall biomechanical behavior of cells under physiological and pathological conditions. For example, in migrating neutrophils and invading cancer cells, nuclear stiffness can pose a major obstacle during extravasation or passage through narrow spaces within tissues.
1
On the other hand, the nucleus of cells in mechanically active tissue such as muscle requires sufficient structural support to withstand repetitive mechanical stress. Importantly, the nucleus is tightly integrated into the cellular architecture; it is physically connected to the surrounding cytoskeleton, which is a critical requirement for the intracellular movement and positioning of the nucleus, for example, in polarized cells, synaptic nuclei at neuromuscular junctions, or in migrating cells.
2
Not surprisingly, mutations in nuclear envelope proteins such as lamins and nesprins, which play a critical role in determining nuclear stiffness and nucleo-cytoskeletal coupling, have been shown recently to result in a number of human diseases, including Emery-Dreifuss muscular dystrophy, limb-girdle muscular dystrophy, and dilated cardiomyopathy.
3
To investigate the biophysical function of diverse nuclear envelope proteins and the effect of specific mutations, we have developed experimental methods to study the physical properties of the nucleus in single, living cells subjected to global or localized mechanical perturbation. Measuring induced nuclear deformations in response to precisely applied substrate strain application yields important information on the deformability of the nucleus and allows quantitative comparison between different mutations or cell lines deficient for specific nuclear envelope proteins. Localized cytoskeletal strain application with a microneedle is used to complement this assay and can yield additional information on intracellular force transmission between the nucleus and the cytoskeleton. Studying nuclear mechanics in intact living cells preserves the normal intracellular architecture and avoids potential artifacts that can arise when working with isolated nuclei. Furthermore, substrate strain application presents a good model for the physiological stress experienced by cells in muscle or other tissues (e.g., vascular smooth muscle cells exposed to vessel strain). Lastly, while these tools have been developed primarily to study nuclear mechanics, they can also be applied to investigate the function of cytoskeletal proteins and mechanotransduction signaling.
Biophysics, Issue 55, nuclear envelope, nuclear stiffness, nucleo-cytoskeletal coupling, lamin, nesprin, cytoskeleton, biomechanics, nuclear deformation, force transmission
3087
Study of the Actin Cytoskeleton in Live Endothelial Cells Expressing GFP-Actin
Institutions: Louisiana State University Health Sciences Center.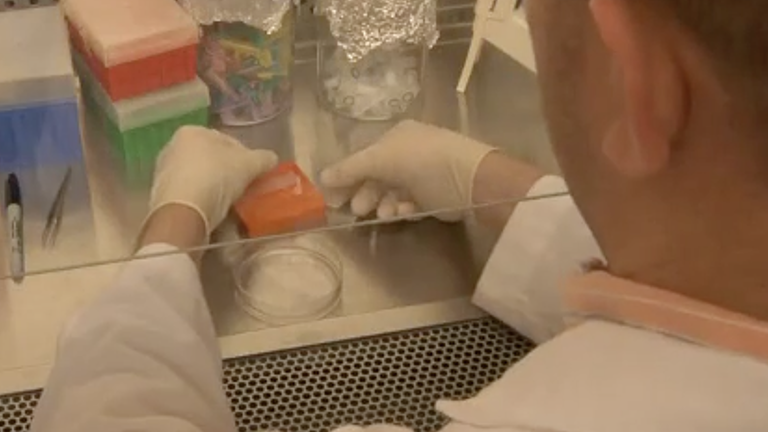 The microvascular endothelium plays an important role as a selectively permeable barrier to fluids and solutes. The adhesive junctions between endothelial cells regulate permeability of the endothelium, and many studies have indicated the important contribution of the actin cytoskeleton to determining junctional integrity
1-5
. A cortical actin belt is thought to be important for the maintenance of stable junctions
1, 2, 4, 5
. In contrast, actin stress fibers are thought to generate centripetal tension within endothelial cells that weakens junctions
2-5
. Much of this theory has been based on studies in which endothelial cells are treated with inflammatory mediators known to increase endothelial permeability, and then fixing the cells and labeling F-actin for microscopic observation. However, these studies provide a very limited understanding of the role of the actin cytoskeleton because images of fixed cells provide only snapshots in time with no information about the dynamics of actin structures
5
. Live-cell imaging allows incorporation of the dynamic nature of the actin cytoskeleton into the studies of the mechanisms determining endothelial barrier integrity. A major advantage of this method is that the impact of various inflammatory stimuli on actin structures in endothelial cells can be assessed in the same set of living cells before and after treatment, removing potential bias that may occur when observing fixed specimens. Human umbilical vein endothelial cells (HUVEC) are transfected with a GFP-β-actin plasmid and grown to confluence on glass coverslips. Time-lapse images of GFP-actin in confluent HUVEC are captured before and after the addition of inflammatory mediators that elicit time-dependent changes in endothelial barrier integrity. These studies enable visual observation of the fluid sequence of changes in the actin cytoskeleton that contribute to endothelial barrier disruption and restoration. Our results consistently show local, actin-rich lamellipodia formation and turnover in endothelial cells. The formation and movement of actin stress fibers can also be observed. An analysis of the frequency of formation and turnover of the local lamellipodia, before and after treatment with inflammatory stimuli can be documented by kymograph analyses. These studies provide important information on the dynamic nature of the actin cytoskeleton in endothelial cells that can used to discover previously unidentified molecular mechanisms important for the maintenance of endothelial barrier integrity.
Cell Biology, Issue 57, Endothelial cells, actin, cytoskeleton, live-cell imaging, GFP, lamellipodia, stress fibers, kymograph analysis
3187
Measuring the Mechanical Properties of Living Cells Using Atomic Force Microscopy
Institutions: Worcester Polytechnic Institute, Worcester Polytechnic Institute.
Mechanical properties of cells and extracellular matrix (ECM) play important roles in many biological processes including stem cell differentiation, tumor formation, and wound healing. Changes in stiffness of cells and ECM are often signs of changes in cell physiology or diseases in tissues. Hence, cell stiffness is an index to evaluate the status of cell cultures. Among the multitude of methods applied to measure the stiffness of cells and tissues, micro-indentation using an Atomic Force Microscope (AFM) provides a way to reliably measure the stiffness of living cells. This method has been widely applied to characterize the micro-scale stiffness for a variety of materials ranging from metal surfaces to soft biological tissues and cells. The basic principle of this method is to indent a cell with an AFM tip of selected geometry and measure the applied force from the bending of the AFM cantilever. Fitting the force-indentation curve to the Hertz model for the corresponding tip geometry can give quantitative measurements of material stiffness. This paper demonstrates the procedure to characterize the stiffness of living cells using AFM. Key steps including the process of AFM calibration, force-curve acquisition, and data analysis using a MATLAB routine are demonstrated. Limitations of this method are also discussed.
Biophysics, Issue 76, Bioengineering, Cellular Biology, Molecular Biology, Physics, Chemical Engineering, Biomechanics, bioengineering (general), AFM, cell stiffness, microindentation, force spectroscopy, atomic force microscopy, microscopy
50497
Quantifying the Mechanical Properties of the Endothelial Glycocalyx with Atomic Force Microscopy
Institutions: University of Rochester .

Our understanding of the interaction of leukocytes and the vessel wall during leukocyte capture is limited by an incomplete understanding of the mechanical properties of the endothelial surface layer. It is known that adhesion molecules on leukocytes are distributed non-uniformly relative to surface topography
3
, that topography limits adhesive bond formation with other surfaces
9
, and that physiological contact forces (≈ 5.0 − 10.0 pN per microvillus) can compress the microvilli to as little as a third of their resting length, increasing the accessibility of molecules to the opposing surface
3, 7
. We consider the endothelium as a two-layered structure, the relatively rigid cell body, plus the glycocalyx, a soft protective sugar coating on the luminal surface
6
. It has been shown that the glycocalyx can act as a barrier to reduce adhesion of leukocytes to the endothelial surface
4
. In this report we begin to address the deformability of endothelial surfaces to understand how the endothelial mechanical stiffness might affect bond formation. Endothelial cells grown in static culture do not express a robust glycocalyx, but cells grown under physiological flow conditions begin to approximate the glycocalyx observed
in vivo
2
. The modulus of the endothelial cell body has been measured using atomic force microscopy (AFM) to be approximately 5 to 20 kPa
5
. The thickness and structure of the glycocalyx have been studied using electron microscopy
8
, and the modulus of the glycocalyx has been approximated using indirect methods, but to our knowledge, there have been no published reports of a direct measurement of the glycocalyx modulus in living cells. In this study, we present indentation experiments made with a novel AFM probe on cells that have been cultured in conditions to maximize their glycocalyx expression to make direct measurements of the modulus and thickness of the endothelial glycocalyx.
Biomedical Engineering, Issue 72, Bioengineering, Cellular Biology, Biophysics, Molecular Biology, Endothelium, Vascular, Membrane Glycoproteins, Receptors, Leukocyte-Adhesion, bioengineering (general), glycocalyx, mechanical properties, atomic force microscopy, ATM, Endothelial cells, leukocytes, cell wall, cell culture, microscopy, imaging
50163
Environmentally-controlled Microtensile Testing of Mechanically-adaptive Polymer Nanocomposites for ex vivo Characterization
Institutions: Louis Stokes Cleveland Department of Veterans Affairs Medical Center, Case Western Reserve University, Case Western Reserve University.

Implantable microdevices are gaining significant attention for several biomedical applications
1-4
. Such devices have been made from a range of materials, each offering its own advantages and shortcomings
5,6
. Most prominently, due to the microscale device dimensions, a high modulus is required to facilitate implantation into living tissue. Conversely, the stiffness of the device should match the surrounding tissue to minimize induced local strain
7-9
. Therefore, we recently developed a new class of bio-inspired materials to meet these requirements by responding to environmental stimuli with a change in mechanical properties
10-14
. Specifically, our poly(vinyl acetate)-based nanocomposite (PVAc-NC) displays a reduction in stiffness when exposed to water and elevated temperatures (
e.g.
body temperature). Unfortunately, few methods exist to quantify the stiffness of materials
in vivo
15
, and mechanical testing outside of the physiological environment often requires large samples inappropriate for implantation. Further, stimuli-responsive materials may quickly recover their initial stiffness after explantation. Therefore, we have developed a method by which the mechanical properties of implanted microsamples can be measured
ex vivo
, with simulated physiological conditions maintained using moisture and temperature control
13,16,17
. To this end, a custom microtensile tester was designed to accommodate microscale samples
13,17
with widely-varying Young's moduli (range of 10 MPa to 5 GPa). As our interests are in the application of PVAc-NC as a biologically-adaptable neural probe substrate, a tool capable of mechanical characterization of samples at the microscale was necessary. This tool was adapted to provide humidity and temperature control, which minimized sample drying and cooling
17
. As a result, the mechanical characteristics of the explanted sample closely reflect those of the sample just prior to explantation. The overall goal of this method is to quantitatively assess the
in vivo
mechanical properties, specifically the Young's modulus, of stimuli-responsive, mechanically-adaptive polymer-based materials. This is accomplished by first establishing the environmental conditions that will minimize a change in sample mechanical properties after explantation without contributing to a reduction in stiffness independent of that resulting from implantation. Samples are then prepared for implantation, handling, and testing (
Figure 1A
). Each sample is implanted into the cerebral cortex of rats, which is represented here as an explanted rat brain, for a specified duration (
Figure 1B
). At this point, the sample is explanted and immediately loaded into the microtensile tester, and then subjected to tensile testing (
Figure 1C
). Subsequent data analysis provides insight into the mechanical behavior of these innovative materials in the environment of the cerebral cortex.
Bioengineering, Issue 78, Biophysics, Biomedical Engineering, Molecular Biology, Cellular Biology, Electrical Engineering, Materials Science, Nanotechnology, Nanocomposites, Electrodes, Implanted, Neural Prostheses, Micro-Electrical-Mechanical Systems, Implants, Experimental, mechanical properties (composite materials), Dynamic materials, polymer nanocomposite, Young's modulus, modulus of elasticity, intracortical microelectrode, polymers, biomaterials
50078
From Fast Fluorescence Imaging to Molecular Diffusion Law on Live Cell Membranes in a Commercial Microscope
Institutions: Scuola Normale Superiore, Instituto Italiano di Tecnologia, University of California, Irvine.

It has become increasingly evident that the spatial distribution and the motion of membrane components like lipids and proteins are key factors in the regulation of many cellular functions. However, due to the fast dynamics and the tiny structures involved, a very high spatio-temporal resolution is required to catch the real behavior of molecules. Here we present the experimental protocol for studying the dynamics of fluorescently-labeled plasma-membrane proteins and lipids in live cells with high spatiotemporal resolution. Notably, this approach doesn't need to track each molecule, but it calculates population behavior using all molecules in a given region of the membrane. The starting point is a fast imaging of a given region on the membrane. Afterwards, a complete spatio-temporal autocorrelation function is calculated correlating acquired images at increasing time delays, for example each 2, 3, n repetitions. It is possible to demonstrate that the width of the peak of the spatial autocorrelation function increases at increasing time delay as a function of particle movement due to diffusion. Therefore, fitting of the series of autocorrelation functions enables to extract the actual protein mean square displacement from imaging (iMSD), here presented in the form of apparent diffusivity vs average displacement. This yields a quantitative view of the average dynamics of single molecules with nanometer accuracy. By using a GFP-tagged variant of the Transferrin Receptor (TfR) and an ATTO488 labeled 1-palmitoyl-2-hydroxy-
sn
-glycero-3-phosphoethanolamine (PPE) it is possible to observe the spatiotemporal regulation of protein and lipid diffusion on µm-sized membrane regions in the micro-to-milli-second time range.
Bioengineering, Issue 92, fluorescence, protein dynamics, lipid dynamics, membrane heterogeneity, transient confinement, single molecule, GFP
51994
Improved Visualization and Quantitative Analysis of Drug Effects Using Micropatterned Cells
Institutions: Grenoble, France, Faculté de Médecine Rockefeller, Lyon, France.

To date, most HCA (High Content Analysis) studies are carried out with adherent cell lines grown on a homogenous substrate in tissue-culture treated micro-plates. Under these conditions, cells spread and divide in all directions resulting in an inherent variability in cell shape, morphology and behavior. The high cell-to-cell variance of the overall population impedes the success of HCA, especially for drug development. The ability of micropatterns to normalize the shape and internal polarity of every individual cell provides a tremendous opportunity for solving this critical bottleneck
1-2
. To facilitate access and use of the micropatterning technology, CYTOO has developed a range of ready to use micropatterns, available in coverslip and microwell formats. In this video article, we provide detailed protocols of all the procedures from cell seeding on CYTOOchip micropatterns, drug treatment, fixation and staining to automated acquisition, automated image processing and final data analysis. With this example, we illustrate how micropatterns can facilitate cell-based assays. Alterations of the cell cytoskeleton are difficult to quantify in cells cultured on homogenous substrates, but culturing cells on micropatterns results in a reproducible organization of the actin meshwork due to systematic positioning of the cell adhesion contacts in every cell. Such normalization of the intracellular architecture allows quantification of even small effects on the actin cytoskeleton as demonstrated in these set of protocols using blebbistatin, an inhibitor of the actin-myosin interaction.
Cellular Biology, Issue 46, Adhesive micropatterns, cell normalization, High Content Analysis, actin, image analysis, cytoskeleton, blebbistatin, cell-based assay, cell imaging, drug screening
2514
Use of Shigella flexneri to Study Autophagy-Cytoskeleton Interactions
Institutions: Imperial College London, Institut Pasteur, Unité Macrophages et Développement de l'Immunité.

Shigella flexneri
is an intracellular pathogen that can escape from phagosomes to reach the cytosol, and polymerize the host actin cytoskeleton to promote its motility and dissemination. New work has shown that proteins involved in actin-based motility are also linked to autophagy, an intracellular degradation process crucial for cell autonomous immunity. Strikingly, host cells may prevent actin-based motility of
S. flexneri
by compartmentalizing bacteria inside 'septin cages' and targeting them to autophagy. These observations indicate that a more complete understanding of septins, a family of filamentous GTP-binding proteins, will provide new insights into the process of autophagy. This report describes protocols to monitor autophagy-cytoskeleton interactions caused by
S. flexneri in vitro
using tissue culture cells and
in vivo
using zebrafish larvae. These protocols enable investigation of intracellular mechanisms that control bacterial dissemination at the molecular, cellular, and whole organism level.
Infection, Issue 91, ATG8/LC3, autophagy, cytoskeleton, HeLa cells, p62, septin, Shigella, zebrafish
51601
Aip1p Dynamics Are Altered by the R256H Mutation in Actin
Institutions: University of Iowa, University of Iowa.

Mutations in actin cause a range of human diseases due to specific molecular changes that often alter cytoskeletal function. In this study, imaging of fluorescently tagged proteins using total internal fluorescence (TIRF) microscopy is used to visualize and quantify changes in cytoskeletal dynamics. TIRF microscopy and the use of fluorescent tags also allows for quantification of the changes in cytoskeletal dynamics caused by mutations in actin. Using this technique, quantification of cytoskeletal function in live cells valuably complements
in vitro
studies of protein function. As an example, missense mutations affecting the actin residue R256 have been identified in three human actin isoforms suggesting this amino acid plays an important role in regulatory interactions. The effects of the actin mutation R256H on cytoskeletal movements were studied using the yeast model. The protein, Aip1, which is known to assist cofilin in actin depolymerization, was tagged with green fluorescent protein (GFP) at the N-terminus and tracked
in vivo
using TIRF microscopy. The rate of Aip1p movement in both wild type and mutant strains was quantified. In cells expressing R256H mutant actin, Aip1p motion is restricted and the rate of movement is nearly half the speed measured in wild type cells (0.88 ± 0.30 μm/sec in R256H cells compared to 1.60 ± 0.42 μm/sec in wild type cells, p < 0.005).
Developmental Biology, Issue 89, green fluorescent protein, actin, Aip1p, total internal fluorescence microscopy, yeast, cloning
51551
Stretching Short Sequences of DNA with Constant Force Axial Optical Tweezers
Institutions: University of Michigan , University of Michigan .
Single-molecule techniques for stretching DNA of contour lengths less than a kilobase are fraught with experimental difficulties. However, many interesting biological events such as histone binding and protein-mediated looping of DNA
1,2
, occur on this length scale. In recent years, the mechanical properties of DNA have been shown to play a significant role in fundamental cellular processes like the packaging of DNA into compact nucleosomes and chromatin fibers
3,4
. Clearly, it is then important to understand the mechanical properties of short stretches of DNA. In this paper, we provide a practical guide to a single-molecule optical tweezing technique that we have developed to study the mechanical behavior of DNA with contour lengths as short as a few hundred basepairs. The major hurdle in stretching short segments of DNA is that conventional optical tweezers are generally designed to apply force in a direction lateral to the stage
5,6,
(see Fig. 1). In this geometry, the angle between the bead and the coverslip, to which the DNA is tethered, becomes very steep for submicron length DNA. The axial position must now be accounted for, which can be a challenge, and, since the extension drags the microsphere closer to the coverslip, steric effects are enhanced. Furthermore, as a result of the asymmetry of the microspheres, lateral extensions will generate varying levels of torque due to rotation of the microsphere within the optical trap since the direction of the reactive force changes during the extension. Alternate methods for stretching submicron DNA run up against their own unique hurdles. For instance, a dual-beam optical trap is limited to stretching DNA of around a wavelength, at which point interference effects between the two traps and from light scattering between the microspheres begin to pose a significant problem. Replacing one of the traps with a micropipette would most likely suffer from similar challenges. While one could directly use the axial potential to stretch the DNA, an active feedback scheme would be needed to apply a constant force and the bandwidth of this will be quite limited, especially at low forces. We circumvent these fundamental problems by directly pulling the DNA away from the coverslip by using a constant force axial optical tweezers
7,8
. This is achieved by trapping the bead in a linear region of the optical potential, where the optical force is constant-the strength of which can be tuned by adjusting the laser power. Trapping within the linear region also serves as an all optical force-clamp on the DNA that extends for nearly 350 nm in the axial direction. We simultaneously compensate for thermal and mechanical drift by finely adjusting the position of the stage so that a reference microsphere stuck to the coverslip remains at the same position and focus, allowing for a virtually limitless observation period.
Bioengineering, Issue 56, Genetics, DNA stretching, DNA, Axial Optical Tweezers, Single-Molecule Biophysics, Biophysics
3405
Micro-Mechanical Characterization of Lung Tissue Using Atomic Force Microscopy
Institutions: Harvard School of Public Health.

Matrix stiffness strongly influences growth, differentiation and function of adherent cells
1-3
. On the macro scale the stiffness of tissues and organs within the human body span several orders of magnitude
4
. Much less is known about how stiffness varies spatially within tissues, and what the scope and spatial scale of stiffness changes are in disease processes that result in tissue remodeling. To better understand how changes in matrix stiffness contribute to cellular physiology in health and disease, measurements of tissue stiffness obtained at a spatial scale relevant to resident cells are needed. This is particularly true for the lung, a highly compliant and elastic tissue in which matrix remodeling is a prominent feature in diseases such as asthma, emphysema, hypertension and fibrosis. To characterize the local mechanical environment of lung parenchyma at a spatial scale relevant to resident cells, we have developed methods to directly measure the local elastic properties of fresh murine lung tissue using atomic force microscopy (AFM) microindentation. With appropriate choice of AFM indentor, cantilever, and indentation depth, these methods allow measurements of local tissue shear modulus in parallel with phase contrast and fluorescence imaging of the region of interest. Systematic sampling of tissue strips provides maps of tissue mechanical properties that reveal local spatial variations in shear modulus. Correlations between mechanical properties and underlying anatomical and pathological features illustrate how stiffness varies with matrix deposition in fibrosis. These methods can be extended to other soft tissues and disease processes to reveal how local tissue mechanical properties vary across space and disease progression.
Biophysics, Issue 54, Atomic force microscopy, indentation, stiffness, fibrosis, extracellular matrix
2911
Simultaneous Multicolor Imaging of Biological Structures with Fluorescence Photoactivation Localization Microscopy
Institutions: University of Maine.

Localization-based super resolution microscopy can be applied to obtain a spatial map (image) of the distribution of individual fluorescently labeled single molecules within a sample with a spatial resolution of tens of nanometers. Using either photoactivatable (PAFP) or photoswitchable (PSFP) fluorescent proteins fused to proteins of interest, or organic dyes conjugated to antibodies or other molecules of interest, fluorescence photoactivation localization microscopy (FPALM) can simultaneously image multiple species of molecules within single cells. By using the following approach, populations of large numbers (thousands to hundreds of thousands) of individual molecules are imaged in single cells and localized with a precision of ~10-30 nm. Data obtained can be applied to understanding the nanoscale spatial distributions of multiple protein types within a cell. One primary advantage of this technique is the dramatic increase in spatial resolution: while diffraction limits resolution to ~200-250 nm in conventional light microscopy, FPALM can image length scales more than an order of magnitude smaller. As many biological hypotheses concern the spatial relationships among different biomolecules, the improved resolution of FPALM can provide insight into questions of cellular organization which have previously been inaccessible to conventional fluorescence microscopy. In addition to detailing the methods for sample preparation and data acquisition, we here describe the optical setup for FPALM. One additional consideration for researchers wishing to do super-resolution microscopy is cost: in-house setups are significantly cheaper than most commercially available imaging machines. Limitations of this technique include the need for optimizing the labeling of molecules of interest within cell samples, and the need for post-processing software to visualize results. We here describe the use of PAFP and PSFP expression to image two protein species in fixed cells. Extension of the technique to living cells is also described.
Basic Protocol, Issue 82, Microscopy, Super-resolution imaging, Multicolor, single molecule, FPALM, Localization microscopy, fluorescent proteins
50680
Analysis of Tubular Membrane Networks in Cardiac Myocytes from Atria and Ventricles
Institutions: Heart Research Center Goettingen, University Medical Center Goettingen, German Center for Cardiovascular Research (DZHK) partner site Goettingen, University of Maryland School of Medicine.

In cardiac myocytes a complex network of membrane tubules - the transverse-axial tubule system (TATS) - controls deep intracellular signaling functions. While the outer surface membrane and associated TATS membrane components appear to be continuous, there are substantial differences in lipid and protein content. In ventricular myocytes (VMs), certain TATS components are highly abundant contributing to rectilinear tubule networks and regular branching 3D architectures. It is thought that peripheral TATS components propagate action potentials from the cell surface to thousands of remote intracellular sarcoendoplasmic reticulum (SER) membrane contact domains, thereby activating intracellular Ca
2+
release units (CRUs). In contrast to VMs, the organization and functional role of TATS membranes in atrial myocytes (AMs) is significantly different and much less understood. Taken together, quantitative structural characterization of TATS membrane networks in healthy and diseased myocytes is an essential prerequisite towards better understanding of functional plasticity and pathophysiological reorganization. Here, we present a strategic combination of protocols for direct quantitative analysis of TATS membrane networks in living VMs and AMs. For this, we accompany primary cell isolations of mouse VMs and/or AMs with critical quality control steps and direct membrane staining protocols for fluorescence imaging of TATS membranes. Using an optimized workflow for confocal or superresolution TATS image processing, binarized and skeletonized data are generated for quantitative analysis of the TATS network and its components. Unlike previously published indirect regional aggregate image analysis strategies, our protocols enable direct characterization of specific components and derive complex physiological properties of TATS membrane networks in living myocytes with high throughput and open access software tools. In summary, the combined protocol strategy can be readily applied for quantitative TATS network studies during physiological myocyte adaptation or disease changes, comparison of different cardiac or skeletal muscle cell types, phenotyping of transgenic models, and pharmacological or therapeutic interventions.
Bioengineering, Issue 92, cardiac myocyte, atria, ventricle, heart, primary cell isolation, fluorescence microscopy, membrane tubule, transverse-axial tubule system, image analysis, image processing, T-tubule, collagenase
51823
Adjustable Stiffness, External Fixator for the Rat Femur Osteotomy and Segmental Bone Defect Models
Institutions: Queensland University of Technology, RISystem AG.

The mechanical environment around the healing of broken bone is very important as it determines the way the fracture will heal. Over the past decade there has been great clinical interest in improving bone healing by altering the mechanical environment through the fixation stability around the lesion. One constraint of preclinical animal research in this area is the lack of experimental control over the local mechanical environment within a large segmental defect as well as osteotomies as they heal. In this paper we report on the design and use of an external fixator to study the healing of large segmental bone defects or osteotomies. This device not only allows for controlled axial stiffness on the bone lesion as it heals, but it also enables the change of stiffness during the healing process
in vivo.
The conducted experiments have shown that the fixators were able to maintain a 5 mm femoral defect gap in rats
in vivo
during unrestricted cage activity for at least 8 weeks. Likewise, we observed no distortion or infections, including pin infections during the entire healing period. These results demonstrate that our newly developed external fixator was able to achieve reproducible and standardized stabilization, and the alteration of the mechanical environment of
in vivo
rat large bone defects and various size osteotomies. This confirms that the external fixation device is well suited for preclinical research investigations using a rat model in the field of bone regeneration and repair.
Medicine, Issue 92, external fixator, bone healing, small animal model, large bone defect and osteotomy model, rat model, mechanical environment, mechanobiology.
51558
A Novel Method for Localizing Reporter Fluorescent Beads Near the Cell Culture Surface for Traction Force Microscopy
Institutions: University of Illinois at Urbana-Champaign.

PA gels have long been used as a platform to study cell traction forces due to ease of fabrication and the ability to tune their elastic properties. When the substrate is coated with an extracellular matrix protein, cells adhere to the gel and apply forces, causing the gel to deform. The deformation depends on the cell traction and the elastic properties of the gel. If the deformation field of the surface is known, surface traction can be calculated using elasticity theory. Gel deformation is commonly measured by embedding fluorescent marker beads uniformly into the gel. The probes displace as the gel deforms. The probes near the surface of the gel are tracked. The displacements reported by these probes are considered as surface displacements. Their depths from the surface are ignored. This assumption introduces error in traction force evaluations. For precise measurement of cell forces, it is critical for the location of the beads to be known. We have developed a technique that utilizes simple chemistry to confine fluorescent marker beads, 0.1 and 1 µm in diameter, in PA gels, within 1.6 μm of the surface. We coat a coverslip with poly-D-lysine (PDL) and fluorescent beads. PA gel solution is then sandwiched between the coverslip and an adherent surface. The fluorescent beads transfer to the gel solution during curing. After polymerization, the PA gel contains fluorescent beads on a plane close to the gel surface.
Bioengineering, Issue 91, cell mechanics, polyacrylamide (PA) gel, traction force microscopy, fluorescent beads, poly-D-lysine (PDL), cell culture surface
51873
Nanomanipulation of Single RNA Molecules by Optical Tweezers
Institutions: University at Albany, State University of New York, University at Albany, State University of New York, University at Albany, State University of New York, University at Albany, State University of New York, University at Albany, State University of New York.

A large portion of the human genome is transcribed but not translated. In this post genomic era, regulatory functions of RNA have been shown to be increasingly important. As RNA function often depends on its ability to adopt alternative structures, it is difficult to predict RNA three-dimensional structures directly from sequence. Single-molecule approaches show potentials to solve the problem of RNA structural polymorphism by monitoring molecular structures one molecule at a time. This work presents a method to precisely manipulate the folding and structure of single RNA molecules using optical tweezers. First, methods to synthesize molecules suitable for single-molecule mechanical work are described. Next, various calibration procedures to ensure the proper operations of the optical tweezers are discussed. Next, various experiments are explained. To demonstrate the utility of the technique, results of mechanically unfolding RNA hairpins and a single RNA kissing complex are used as evidence. In these examples, the nanomanipulation technique was used to study folding of each structural domain, including secondary and tertiary, independently. Lastly, the limitations and future applications of the method are discussed.
Bioengineering, Issue 90, RNA folding, single-molecule, optical tweezers, nanomanipulation, RNA secondary structure, RNA tertiary structure
51542
Magnetic Tweezers for the Measurement of Twist and Torque
Institutions: Delft University of Technology.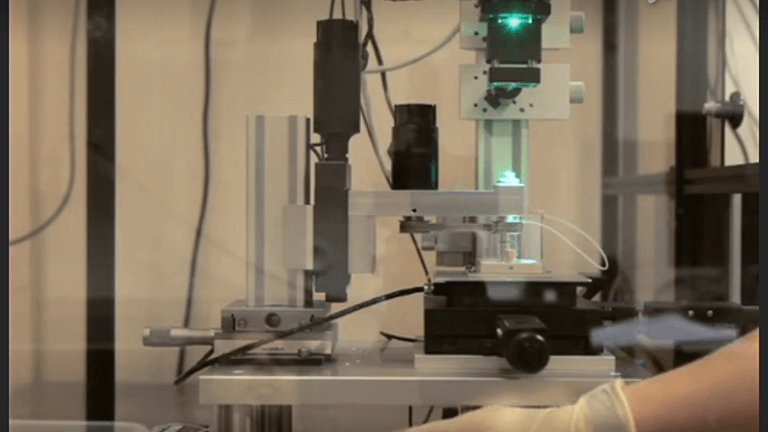 Single-molecule techniques make it possible to investigate the behavior of individual biological molecules in solution in real time. These techniques include so-called force spectroscopy approaches such as atomic force microscopy, optical tweezers, flow stretching, and magnetic tweezers. Amongst these approaches, magnetic tweezers have distinguished themselves by their ability to apply torque while maintaining a constant stretching force. Here, it is illustrated how such a "conventional" magnetic tweezers experimental configuration can, through a straightforward modification of its field configuration to minimize the magnitude of the transverse field, be adapted to measure the degree of twist in a biological molecule. The resulting configuration is termed the freely-orbiting magnetic tweezers. Additionally, it is shown how further modification of the field configuration can yield a transverse field with a magnitude intermediate between that of the "conventional" magnetic tweezers and the freely-orbiting magnetic tweezers, which makes it possible to directly measure the torque stored in a biological molecule. This configuration is termed the magnetic torque tweezers. The accompanying video explains in detail how the conversion of conventional magnetic tweezers into freely-orbiting magnetic tweezers and magnetic torque tweezers can be accomplished, and demonstrates the use of these techniques. These adaptations maintain all the strengths of conventional magnetic tweezers while greatly expanding the versatility of this powerful instrument.
Bioengineering, Issue 87, magnetic tweezers, magnetic torque tweezers, freely-orbiting magnetic tweezers, twist, torque, DNA, single-molecule techniques
51503
A Novel Stretching Platform for Applications in Cell and Tissue Mechanobiology
Institutions: University of Ottawa, University of Ottawa, University of Calgary, University of Ottawa, University of Ottawa.

Tools that allow the application of mechanical forces to cells and tissues or that can quantify the mechanical properties of biological tissues have contributed dramatically to the understanding of basic mechanobiology. These techniques have been extensively used to demonstrate how the onset and progression of various diseases are heavily influenced by mechanical cues. This article presents a multi-functional biaxial stretching (BAXS) platform that can either mechanically stimulate single cells or quantify the mechanical stiffness of tissues. The BAXS platform consists of four voice coil motors that can be controlled independently. Single cells can be cultured on a flexible substrate that can be attached to the motors allowing one to expose the cells to complex, dynamic, and spatially varying strain fields. Conversely, by incorporating a force load cell, one can also quantify the mechanical properties of primary tissues as they are exposed to deformation cycles. In both cases, a proper set of clamps must be designed and mounted to the BAXS platform motors in order to firmly hold the flexible substrate or the tissue of interest. The BAXS platform can be mounted on an inverted microscope to perform simultaneous transmitted light and/or fluorescence imaging to examine the structural or biochemical response of the sample during stretching experiments. This article provides experimental details of the design and usage of the BAXS platform and presents results for single cell and whole tissue studies. The BAXS platform was used to measure the deformation of nuclei in single mouse myoblast cells in response to substrate strain and to measure the stiffness of isolated mouse aortas. The BAXS platform is a versatile tool that can be combined with various optical microscopies in order to provide novel mechanobiological insights at the sub-cellular, cellular and whole tissue levels.
Bioengineering, Issue 88, cell stretching, tissue mechanics, nuclear mechanics, uniaxial, biaxial, anisotropic, mechanobiology
51454
Live Cell Response to Mechanical Stimulation Studied by Integrated Optical and Atomic Force Microscopy
Institutions: Texas A&M Health Science Center, Texas A&M University.

To understand the mechanism by which living cells sense mechanical forces, and how they respond and adapt to their environment, a new technology able to investigate cells behavior at sub-cellular level with high spatial and temporal resolution was developed. Thus, an atomic force microscope (AFM) was integrated with total internal reflection fluorescence (TIRF) microscopy and fast-spinning disk (FSD) confocal microscopy. The integrated system is broadly applicable across a wide range of molecular dynamic studies in any adherent live cells, allowing direct optical imaging of cell responses to mechanical stimulation in real-time. Significant rearrangement of the actin filaments and focal adhesions was shown due to local mechanical stimulation at the apical cell surface that induced changes into the cellular structure throughout the cell body. These innovative techniques will provide new information for understanding live cell restructuring and dynamics in response to mechanical force. A detailed protocol and a representative data set that show live cell response to mechanical stimulation are presented.
Cellular Biology, Issue 44, live cells, mechanical stimulation, integrated microscopy, atomic force microscopy, spinning-disk confocal, total internal reflection fluorescence
2072
Measuring the Bending Stiffness of Bacterial Cells Using an Optical Trap
Institutions: Princeton University, Princeton University.

We developed a protocol to measure the bending rigidity of filamentous rod-shaped bacteria. Forces are applied with an optical trap, a microscopic three-dimensional spring made of light that is formed when a high-intensity laser beam is focused to a very small spot by a microscope's objective lens. To bend a cell, we first bind live bacteria to a chemically-treated coverslip. As these cells grow, the middle of the cells remains bound to the coverslip but the growing ends are free of this restraint. By inducing filamentous growth with the drug cephalexin, we are able to identify cells in which one end of the cell was stuck to the surface while the other end remained unattached and susceptible to bending forces. A bending force is then applied with an optical trap by binding a polylysine-coated bead to the tip of a growing cell. Both the force and the displacement of the bead are recorded and the bending stiffness of the cell is the slope of this relationship.
Microbiology, Issue 38, optical trap, cell mechanics, E. coli, cell bending
2012