ABSTRACT
Many brain-related disorders have neuronal cell death involved in their pathophysiology. Improved in vitro models to study neuroprotective or neurotoxic effects of drugs and downstream pathways involved would help gain insight into the molecular mechanisms of neuroprotection/neurotoxicity and could potentially facilitate drug development. However, many existing in vitro toxicity assays have major limitations – most assess neurotoxicity and neuroprotection at a single time point, not allowing to observe the time-course and kinetics of the effect. Furthermore, the opportunity to collect information about downstream signaling pathways involved in neuroprotection in real-time would be of great importance. In the current protocol we describe the use of a real-time impedance-based cell analyzer to determine neuroprotective effects of serotonin 2A (5-HT2A) receptor agonists in a neuronal cell line under label-free and real-time conditions using impedance measurements. Furthermore, we demonstrate that inhibitors of second messenger pathways can be used to delineate downstream molecules involved in the neuroprotective effect. We also describe the utility of this technique to determine whether an effect on cell proliferation contributes to an observed neuroprotective effect. The system utilizes special microelectronic plates referred to as E-Plates which contain alternating gold microelectrode arrays on the bottom surface of the wells, serving as cell sensors. The impedance readout is modified by the number of adherent cells, cell viability, morphology, and adhesion. A dimensionless parameter called Cell Index is derived from the electrical impedance measurements and is used to represent the cell status. Overall, the real-time impedance-based cell analyzer allows for real-time, label-free assessment of neuroprotection and neurotoxicity, and the evaluation of second messenger pathways involvement, contributing to more detailed and high-throughput assessment of potential neuroprotective compounds in vitro, for selecting therapeutic candidates.
25 Related JoVE Articles!
Detection of Neuritic Plaques in Alzheimer's Disease Mouse Model
Institutions: The University of British Columbia.

Alzheimer's disease (AD) is the most common neurodegenerative disorder leading to dementia. Neuritic plaque formation is one of the pathological hallmarks of Alzheimer's disease. The central component of neuritic plaques is a small filamentous protein called amyloid β protein (Aβ)
1
, which is derived from sequential proteolytic cleavage of the beta-amyloid precursor protein (APP) by β-secretase and γ-secretase. The amyloid hypothesis entails that Aγ-containing plaques as the underlying toxic mechanism in AD pathology
2
. The postmortem analysis of the presence of neuritic plaque confirms the diagnosis of AD. To further our understanding of Aγ neurobiology in AD pathogenesis, various mouse strains expressing AD-related mutations in the human APP genes were generated. Depending on the severity of the disease, these mice will develop neuritic plaques at different ages. These mice serve as invaluable tools for studying the pathogenesis and drug development that could affect the APP processing pathway and neuritic plaque formation. In this protocol, we employ an immunohistochemical method for specific detection of neuritic plaques in AD model mice. We will specifically discuss the preparation from extracting the half brain, paraformaldehyde fixation, cryosectioning, and two methods to detect neurotic plaques in AD transgenic mice: immunohistochemical detection using the ABC and DAB method and fluorescent detection using thiofalvin S staining method.
Neuroscience, Issue 53, Alzheimer's disease, neuritic plaques, Amyloid β protein, APP, transgenic mouse
2831
A Neuronal and Astrocyte Co-Culture Assay for High Content Analysis of Neurotoxicity
Institutions: Millipore Inc.

High Content Analysis (HCA) assays combine cells and detection reagents with automated imaging and powerful image analysis algorithms, allowing measurement of multiple cellular phenotypes within a single assay. In this study, we utilized HCA to develop a novel assay for neurotoxicity. Neurotoxicity assessment represents an important part of drug safety evaluation, as well as being a significant focus of environmental protection efforts. Additionally, neurotoxicity is also a well-accepted
in vitro
marker of the development of neurodegenerative diseases such as Alzheimer's and Parkinson's diseases. Recently, the application of HCA to neuronal screening has been reported. By labeling neuronal cells with βIII-tubulin, HCA assays can provide high-throughput, non-subjective, quantitative measurements of parameters such as neuronal number, neurite count and neurite length, all of which can indicate neurotoxic effects. However, the role of astrocytes remains unexplored in these models. Astrocytes have an integral role in the maintenance of central nervous system (CNS) homeostasis, and are associated with both neuroprotection and neurodegradation when they are activated in response to toxic substances or disease states. GFAP is an intermediate filament protein expressed predominantly in the astrocytes of the CNS. Astrocytic activation (gliosis) leads to the upregulation of GFAP, commonly accompanied by astrocyte proliferation and hypertrophy. This process of reactive gliosis has been proposed as an early marker of damage to the nervous system. The traditional method for GFAP quantitation is by immunoassay. This approach is limited by an inability to provide information on cellular localization, morphology and cell number. We determined that HCA could be used to overcome these limitations and to simultaneously measure multiple features associated with gliosis - changes in GFAP expression, astrocyte hypertrophy, and astrocyte proliferation - within a single assay. In co-culture studies, astrocytes have been shown to protect neurons against several types of toxic insult and to critically influence neuronal survival. Recent studies have suggested that the use of astrocytes in an
in vitro
neurotoxicity test system may prove more relevant to human CNS structure and function than neuronal cells alone. Accordingly, we have developed an HCA assay for co-culture of neurons and astrocytes, comprised of protocols and validated, target-specific detection reagents for profiling βIII-tubulin and glial fibrillary acidic protein (GFAP). This assay enables simultaneous analysis of neurotoxicity, neurite outgrowth, gliosis, neuronal and astrocytic morphology and neuronal and astrocytic development in a wide variety of cellular models, representing a novel, non-subjective, high-throughput assay for neurotoxicity assessment. The assay holds great potential for enhanced detection of neurotoxicity and improved productivity in neuroscience research and drug discovery.
Neuroscience, Issue 27, high content screening, high content analysis, neurotoxicity, toxicity, drug discovery, neurite outgrowth, astrocytes, neurons, co-culture, immunofluorescence
1173
A Low Mortality Rat Model to Assess Delayed Cerebral Vasospasm After Experimental Subarachnoid Hemorrhage
Institutions: SUNY Upstate Medical University, SUNY Upstate Medical University.

Objective: To characterize and establish a reproducible model that demonstrates delayed cerebral vasospasm after aneurysmal subarachnoid hemorrhage (SAH) in rats, in order to identify the initiating events, pathophysiological changes and potential targets for treatment. Methods: Twenty-eight male Sprague-Dawley rats (250 - 300 g) were arbitrarily assigned to one of two groups - SAH or saline control. Rat subarachnoid hemorrhage in the SAH group (n=15) was induced by double injection of autologous blood, 48 hr apart, into the cisterna magna. Similarly, normal saline (n=13) was injected into the cisterna magna of the saline control group. Rats were sacrificed on day five after the second blood injection and the brains were preserved for histological analysis. The degree of vasospasm was measured using sections of the basilar artery, by measuring the internal luminal cross sectional area using NIH Image-J software. The significance was tested using Tukey/Kramer's statistical analysis. Results: After analysis of histological sections, basilar artery luminal cross sectional area were smaller in the SAH than in the saline group, consistent with cerebral vasospasm in the former group. In the SAH group, basilar artery internal area (.056 μm ± 3) were significantly smaller from vasospasm five days after the second blood injection (seven days after the initial blood injection), compared to the saline control group with internal area (.069 ± 3; p=0.004). There were no mortalities from cerebral vasospasm. Conclusion: The rat double SAH model induces a mild, survivable, basilar artery vasospasm that can be used to study the pathophysiological mechanisms of cerebral vasospasm in a small animal model. A low and acceptable mortality rate is a significant criterion to be satisfied for an ideal SAH animal model so that the mechanisms of vasospasm can be elucidated
7, 8
. Further modifications of the model can be made to adjust for increased severity of vasospasm and neurological exams.
Medicine, Issue 71, Anatomy, Physiology, Neurobiology, Neuroscience, Immunology, Surgery, Aneurysm, cerebral, hemorrhage, model, mortality, rat, rodent, subarachnoid, vasospasm, animal model
4157
Purification and Aggregation of the Amyloid Precursor Protein Intracellular Domain
Institutions: University of Texas Medical Branch , University of Texas Medical Branch .

Amyloid precursor protein (APP) is a type I transmembrane protein associated with the pathogenesis of Alzheimer's disease (AD). APP is characterized by a large extracellular domain and a short cytosolic domain termed the APP intracellular domain (AICD). During maturation through the secretory pathway, APP can be cleaved by proteases termed α, β, and γ-secretases
1
. Sequential proteolytic cleavage of APP with β and γ-secretases leads to the production of a small proteolytic peptide, termed Aβ, which is amyloidogenic and the core constituent of senile plaques. The AICD is also liberated from the membrane after secretase processing, and through interactions with Fe65 and Tip60, can translocate to the nucleus to participate in transcription regulation of multiple target genes
2,3
. Protein-protein interactions involving the AICD may affect trafficking, processing, and cellular functions of holo-APP and its C-terminal fragments. We have recently shown that AICD can aggregate
in vitro
, and this process is inhibited by the AD-implicated molecular chaperone ubiquilin-1
4
. Consistent with these findings, the AICD has exposed hydrophobic domains and is intrinsically disordered
in vitro
5,6
, however it obtains stable secondary structure when bound to Fe65
7
. We have proposed that ubiquilin-1 prevents inappropriate inter- and intramolecular interactions of AICD, preventing aggregation
in vitro
and in intact cells
4
. While most studies focus on the role of APP in the pathogenesis of AD, the role of AICD in this process is not clear. Expression of AICD has been shown to induce apoptosis
8
, to modulate signaling pathways
9
, and to regulate calcium signaling
10
. Over-expression of AICD and Fe65 in a transgenic mouse model induces Alzheimer's like pathology
11
, and recently AICD has been detected in brain lysates by western blotting when using appropriate antigen retrieval techniques
12
. To facilitate structural, biochemical, and biophysical studies of the AICD, we have developed a procedure to produce recombinantly large amounts of highly pure AICD protein. We further describe a method for inducing the
in vitro
thermal aggregation of AICD and analysis by atomic force microscopy. The methods described are useful for biochemical, biophysical, and structural characterization of the AICD and the effects of molecular chaperones on AICD aggregation.
Medicine, Issue 66, Neuroscience, Cellular Biology, Molecular Biology, Amyloid precursor protein, APP, AICD, Alzheimer's Disease, Atomic Force Microscopy, Aggregation, Ubiquilin-1, Molecular Chaperone
4204
Primary Microglia Isolation from Mixed Glial Cell Cultures of Neonatal Rat Brain Tissue
Institutions: Uniformed Services University, Uniformed Services University, Uniformed Services University.

Microglia account for approximately 12% of the total cellular population in the mammalian brain. While neurons and astrocytes are considered the major cell types of the nervous system, microglia play a significant role in normal brain physiology by monitoring tissue for debris and pathogens and maintaining homeostasis in the parenchyma via phagocytic activity
1,2
. Microglia are activated during a number of injury and disease conditions, including neurodegenerative disease, traumatic brain injury, and nervous system infection
3
. Under these activating conditions, microglia increase their phagocytic activity, undergo morpohological and proliferative change, and actively secrete reactive oxygen and nitrogen species, pro-inflammatory chemokines and cytokines, often activating a paracrine or autocrine loop
4-6
. As these microglial responses contribute to disease pathogenesis in neurological conditions, research focused on microglia is warranted. Due to the cellular heterogeneity of the brain, it is technically difficult to obtain sufficient microglial sample material with high purity during
in vivo
experiments. Current research on the neuroprotective and neurotoxic functions of microglia require a routine technical method to consistently generate pure and healthy microglia with sufficient yield for study. We present, in text and video, a protocol to isolate pure primary microglia from mixed glia cultures for a variety of downstream applications. Briefly, this technique utilizes dissociated brain tissue from neonatal rat pups to produce mixed glial cell cultures. After the mixed glial cultures reach confluency, primary microglia are mechanically isolated from the culture by a brief duration of shaking. The microglia are then plated at high purity for experimental study. The principle and protocol of this methodology have been described in the literature
7,8
. Additionally, alternate methodologies to isolate primary microglia are well described
9-12
. Homogenized brain tissue may be separated by density gradient centrifugation to yield primary microglia
12
. However, the centrifugation is of moderate length (45 min) and may cause cellular damage and activation, as well as, cause enriched microglia and other cellular populations. Another protocol has been utilized to isolate primary microglia in a variety of organisms by prolonged (16 hr) shaking while in culture
9-11
. After shaking, the media supernatant is centrifuged to isolate microglia. This longer two-step isolation method may also perturb microglial function and activation. We chiefly utilize the following microglia isolation protocol in our laboratory for a number of reasons: (1) primary microglia simulate
in vivo
biology more faithfully than immortalized rodent microglia cell lines, (2) nominal mechanical disruption minimizes potential cellular dysfunction or activation, and (3) sufficient yield can be obtained without passage of the mixed glial cell cultures. It is important to note that this protocol uses brain tissue from neonatal rat pups to isolate microglia and that using older rats to isolate microglia can significantly impact the yield, activation status, and functional properties of isolated microglia. There is evidence that aging is linked with microglia dysfunction, increased neuroinflammation and neurodegenerative pathologies, so previous studies have used
ex vivo
adult microglia to better understand the role of microglia in neurodegenerative diseases where aging is important parameter. However,
ex vivo
microglia cannot be kept in culture for prolonged periods of time. Therefore, while this protocol extends the life of primary microglia in culture, it should be noted that the microglia behave differently from adult microglia and
in vitro
studies should be carefully considered when translated to an
in vivo
setting.
Immunology, Issue 66, Neuroscience, Physiology, Molecular Biology, Cell Culture, isolation, microglia, mixed glial cell, traumatic brain injury, neurodegenerative disease
3814
Reconstitution Of β-catenin Degradation In Xenopus Egg Extract
Institutions: Vanderbilt University Medical Center, Cincinnati Children's Hospital Medical Center, Vanderbilt University School of Medicine.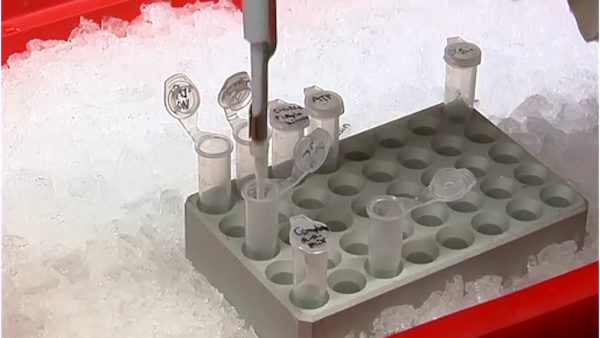 Xenopus laevis
egg extract is a well-characterized, robust system for studying the biochemistry of diverse cellular processes.
Xenopus
egg extract has been used to study protein turnover in many cellular contexts, including the cell cycle and signal transduction pathways
1-3
. Herein, a method is described for isolating
Xenopus
egg extract that has been optimized to promote the degradation of the critical Wnt pathway component, β-catenin. Two different methods are described to assess β-catenin protein degradation in
Xenopus
egg extract. One method is visually informative ([
35
S]-radiolabeled proteins), while the other is more readily scaled for high-throughput assays (firefly luciferase-tagged fusion proteins). The techniques described can be used to, but are not limited to, assess β-catenin protein turnover and identify molecular components contributing to its turnover. Additionally, the ability to purify large volumes of homogenous
Xenopus
egg extract combined with the quantitative and facile readout of luciferase-tagged proteins allows this system to be easily adapted for high-throughput screening for modulators of β-catenin degradation.
Molecular Biology, Issue 88, Xenopus laevis, Xenopus egg extracts, protein degradation, radiolabel, luciferase, autoradiography, high-throughput screening
51425
Methods for the Modulation and Analysis of NF-κB-dependent Adult Neurogenesis
Institutions: University of Bielefeld, University of Bielefeld.

The hippocampus plays a pivotal role in the formation and consolidation of episodic memories, and in spatial orientation. Historically, the adult hippocampus has been viewed as a very static anatomical region of the mammalian brain. However, recent findings have demonstrated that the dentate gyrus of the hippocampus is an area of tremendous plasticity in adults, involving not only modifications of existing neuronal circuits, but also adult neurogenesis. This plasticity is regulated by complex transcriptional networks, in which the transcription factor NF-κB plays a prominent role. To study and manipulate adult neurogenesis, a transgenic mouse model for forebrain-specific neuronal inhibition of NF-κB activity can be used. In this study, methods are described for the analysis of NF-κB-dependent neurogenesis, including its structural aspects, neuronal apoptosis and progenitor proliferation, and cognitive significance, which was specifically assessed via a dentate gyrus (DG)-dependent behavioral test, the spatial pattern separation-Barnes maze (SPS-BM). The SPS-BM protocol could be simply adapted for use with other transgenic animal models designed to assess the influence of particular genes on adult hippocampal neurogenesis. Furthermore, SPS-BM could be used in other experimental settings aimed at investigating and manipulating DG-dependent learning, for example, using pharmacological agents.
Neuroscience, Issue 84, NF-κB, hippocampus, Adult neurogenesis, spatial pattern separation-Barnes maze, dentate gyrus, p65 knock-out mice
50870
Use of LysoTracker to Detect Programmed Cell Death in Embryos and Differentiating Embryonic Stem Cells
Institutions: University of Southern California.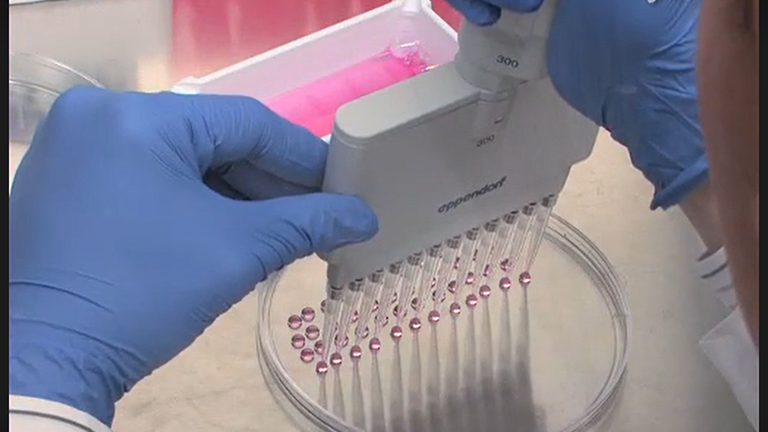 Programmed cell death (PCD) occurs in adults to maintain normal tissue homeostasis and during embryological development to shape tissues and organs
1,2,6,7
. During development, toxic chemicals or genetic alterations can cause an increase in PCD or change PCD patterns resulting in developmental abnormalities and birth defects
3-5
. To understand the etiology of these defects, the study of embryos can be complemented with
in vitro
assays that use differentiating embryonic stem (ES) cells. Apoptosis is a well-studied form of PCD that involves both intrinsic and extrinsic signaling to activate the caspase enzyme cascade. Characteristic cell changes include membrane blebbing, nuclear shrinking, and DNA fragmentation. Other forms of PCD do not involve caspase activation and may be the end-result of prolonged autophagy. Regardless of the PCD pathway, dying cells need to be removed. In adults, the immune cells perform this function, while in embryos, where the immune system has not yet developed, removal occurs by an alternative mechanism. This mechanism involves neighboring cells (called "non-professional phagocytes") taking on a phagocytic role-they recognize the 'eat me' signal on the surface of the dying cell and engulf it
8-10
. After engulfment, the debris is brought to the lysosome for degradation. Thus regardless of PCD mechanism, an increase in lysosomal activity can be correlated with increased cell death. To study PCD, a simple assay to visualize lysosomes in thick tissues and multilayer differentiating cultures can be useful. LysoTracker dye is a highly soluble small molecule that is retained in acidic subcellular compartments such as the lysosome
11-13
. The dye is taken up by diffusion and through the circulation. Since penetration is not a hindrance, visualization of PCD in thick tissues and multi-layer cultures is possible
12,13
. In contrast, TUNEL (Terminal deoxynucleotidyl transferase dUTP nick end labeling) analysis
14
, is limited to small samples, histological sections, and monolayer cultures because the procedure requires the entry/permeability of a terminal transferase. In contrast to Aniline blue, which diffuses and is dissolved by solvents, LysoTracker Red DND-99 is fixable, bright, and stable. Staining can be visualized with standard fluorescent or confocal microscopy in whole-mount or section using aqueous or solvent-based mounting media
12,13
. Here we describe protocols using this dye to look at PCD in normal and
sonic
hedgehog
null mouse embryos. In addition, we demonstrate analysis of PCD in differentiating ES cell cultures and present a simple quantification method. In summary, LysoTracker staining can be a great complement to other methods of detecting PCD.
Developmental Biology, Issue 68, Molecular Biology, Stem Cell Biology, Cellular Biology, mouse embryo, embryonic stem cells, lysosome, programmed cell death, imaging, sonic hedgehog
4254
Genetic Manipulation of Cerebellar Granule Neurons In Vitro and In Vivo to Study Neuronal Morphology and Migration
Institutions: Max Planck Institute of Experimental Medicine, Center for Nanoscale Microscopy and Molecular Physiology of the Brain (CNMPB).

Developmental events in the brain including neuronal morphogenesis and migration are highly orchestrated processes.
In vitro
and
in vivo
analyses allow for an in-depth characterization to identify pathways involved in these events. Cerebellar granule neurons (CGNs) that are derived from the developing cerebellum are an ideal model system that allows for morphological analyses. Here, we describe a method of how to genetically manipulate CGNs and how to study axono- and dendritogenesis of individual neurons. With this method the effects of RNA interference, overexpression or small molecules can be compared to control neurons. In addition, the rodent cerebellar cortex is an easily accessible
in vivo
system owing to its predominant postnatal development. We also present an
in vivo
electroporation technique to genetically manipulate the developing cerebella and describe subsequent cerebellar analyses to assess neuronal morphology and migration.
Neuroscience, Issue 85, axons, dendrites, neuronal migration, cerebellum, cultured neurons, transfection, in vivo electroporation
51070
Genome-wide Screen for miRNA Targets Using the MISSION Target ID Library
Institutions: Sigma-Aldrich.

The Target ID Library is designed to assist in discovery and identification of microRNA (miRNA) targets. The Target ID Library is a plasmid-based, genome-wide cDNA library cloned into the 3'UTR downstream from the dual-selection fusion protein, thymidine kinase-zeocin (TKzeo). The first round of selection is for stable transformants, followed with introduction of a miRNA of interest, and finally, selecting for cDNAs containing the miRNA's target. Selected cDNAs are identified by sequencing (see Figure 1-3 for Target ID Library Workflow and details). To ensure broad coverage of the human transcriptome, Target ID Library cDNAs were generated via oligo-dT priming using a pool of total RNA prepared from multiple human tissues and cell lines. Resulting cDNA range from 0.5 to 4 kb, with an average size of 1.2 kb, and were cloned into the p3΄TKzeo dual-selection plasmid (see Figure 4 for plasmid map). The gene targets represented in the library can be found on the Sigma-Aldrich webpage. Results from Illumina sequencing (
Table 3
), show that the library includes 16,922 of the 21,518 unique genes in UCSC RefGene (79%), or 14,000 genes with 10 or more reads (66%).
Genetics, Issue 62, Target ID, miRNA, ncRNA, RNAi, genomics
3303
Activation of Apoptosis by Cytoplasmic Microinjection of Cytochrome c
Institutions: University of North Carolina , University of North Carolina .

Apoptosis, or programmed cell death, is a conserved and highly regulated pathway by which cells die
1
. Apoptosis can be triggered when cells encounter a wide range of cytotoxic stresses. These insults initiate signaling cascades that ultimately cause the release of cytochrome
c
from the mitochondrial intermembrane space to the cytoplasm
2
. The release of cytochrome
c
from mitochondria is a key event that triggers the rapid activation of caspases, the key cellular proteases which ultimately execute cell death
3-4
. The pathway of apoptosis is regulated at points upstream and downstream of cytochrome
c
release from mitochondria
5
. In order to study the post-mitochondrial regulation of caspase activation, many investigators have turned to direct cytoplasmic microinjection of holocytochrome
c
(heme-attached) protein into cells
6-9
. Cytochrome
c
is normally localized to the mitochondria where attachment of a heme group is necessary to enable it to activate apoptosis
10-11
. Therefore, to directly activate caspases, it is necessary to inject the holocytochrome
c
protein instead of its cDNA, because while the expression of cytochrome
c
from cDNA constructs will result in mitochondrial targeting and heme attachment, it will be sequestered from cytosolic caspases. Thus, the direct cytosolic microinjection of purified heme-attached cytochrome
c
protein is a useful tool to mimic mitochondrial cytochrome
c
release and apoptosis without the use of toxic insults which cause cellular and mitochondrial damage. In this article, we describe a method for the microinjection of cytochrome
c
protein into cells, using mouse embryonic fibroblasts (MEFs) and primary sympathetic neurons as examples. While this protocol focuses on the injection of cytochrome
c
for investigations of apoptosis, the techniques shown here can also be easily adapted for microinjection of other proteins of interest.
Cellular Biology, Issue 52, Microinjection, apoptosis, cytochrome c, fibroblasts, neurons
2773
Preparation of Oligomeric β-amyloid1-42 and Induction of Synaptic Plasticity Impairment on Hippocampal Slices
Institutions: Columbia University.

Impairment of synaptic connections is likely to underlie the subtle amnesic changes occurring at the early stages of Alzheimer s Disease (AD). β-amyloid (Aβ), a peptide produced in high amounts in AD, is known to reduce Long-Term Potentiation (LTP), a cellular correlate of learning and memory. Indeed, LTP impairment caused by Aβ is a useful experimental paradigm for studying synaptic dysfunctions in AD models and for screening drugs capable of mitigating or reverting such synaptic impairments. Studies have shown that Aβ produces the LTP disruption preferentially via its oligomeric form. Here we provide a detailed protocol for impairing LTP by perfusion of oligomerized synthetic Aβ1-42 peptide onto acute hippocampal slices. In this video, we outline a step-by-step procedure for the preparation of oligomeric Aβ
1-42
. Then, we follow an individual experiment in which LTP is reduced in hippocampal slices exposed to oligomerized Aβ
1-42
compared to slices in a control experiment where no Aβ
1-42
exposure had occurred.
JoVE Neuroscience, Issue 41, brain, mouse, hippocampus, plasticity, LTP, amyloid
1884
Assaying β-amyloid Toxicity using a Transgenic C. elegans Model
Institutions: University of Colorado, University of Colorado.

Accumulation of the β-amyloid peptide (Aβ) is generally believed to be central to the induction of Alzheimer's disease, but the relevant mechanism(s) of toxicity are still unclear. Aβ is also deposited intramuscularly in Inclusion Body Myositis, a severe human myopathy. The intensely studied nematode worm
Caenorhabditis elegans
can be transgenically engineered to express human Aβ. Depending on the tissue or timing of Aβ expression, transgenic worms can have readily measurable phenotypes that serve as a read-out of Aβ toxicity. For example, transgenic worms with pan-neuronal Aβ expression have defects is associative learning (Dosanjh
et al.
2009), while transgenic worms with constitutive muscle-specific expression show a progressive, age-dependent paralysis phenotype (Link, 1995; Cohen
et al.
2006). One particularly useful
C. elegans
model employs a temperature-sensitive mutation in the mRNA surveillance system to engineer temperature-inducible muscle expression of an Aβ transgene, resulting in a reproducible paralysis phenotype upon temperature upshift (Link
et al.
2003). Treatments that counter Aβ toxicity in this model [e.g., expression of a protective transgene (Hassan
et al.
2009) or exposure to Ginkgo biloba extracts (Wu
et al.
2006)] reproducibly alter the rate of paralysis induced by temperature upshift of these transgenic worms. Here we describe our protocol for measuring the rate of paralysis in this transgenic
C. elegans
model, with particular attention to experimental variables that can influence this measurement.
Neuroscience, Issue 44, Alzheimer's disease, paralysis, compound screening, Inclusion Body Myositis, invertebrate model
2252
Setting-up an In Vitro Model of Rat Blood-brain Barrier (BBB): A Focus on BBB Impermeability and Receptor-mediated Transport
Institutions: VECT-HORUS SAS, CNRS, NICN UMR 7259.

The blood brain barrier (BBB) specifically regulates molecular and cellular flux between the blood and the nervous tissue. Our aim was to develop and characterize a highly reproducible rat syngeneic
in vitro
model of the BBB using co-cultures of primary rat brain endothelial cells (RBEC) and astrocytes to study receptors involved in transcytosis across the endothelial cell monolayer. Astrocytes were isolated by mechanical dissection following trypsin digestion and were frozen for later co-culture. RBEC were isolated from 5-week-old rat cortices. The brains were cleaned of meninges and white matter, and mechanically dissociated following enzymatic digestion. Thereafter, the tissue homogenate was centrifuged in bovine serum albumin to separate vessel fragments from nervous tissue. The vessel fragments underwent a second enzymatic digestion to free endothelial cells from their extracellular matrix. The remaining contaminating cells such as pericytes were further eliminated by plating the microvessel fragments in puromycin-containing medium. They were then passaged onto filters for co-culture with astrocytes grown on the bottom of the wells. RBEC expressed high levels of tight junction (TJ) proteins such as occludin, claudin-5 and ZO-1 with a typical localization at the cell borders. The transendothelial electrical resistance (TEER) of brain endothelial monolayers, indicating the tightness of TJs reached 300 ohm·cm
2
on average. The endothelial permeability coefficients (Pe) for lucifer yellow (LY) was highly reproducible with an average of 0.26 ± 0.11 x 10
-3
cm/min. Brain endothelial cells organized in monolayers expressed the efflux transporter P-glycoprotein (P-gp), showed a polarized transport of rhodamine 123, a ligand for P-gp, and showed specific transport of transferrin-Cy3 and DiILDL across the endothelial cell monolayer. In conclusion, we provide a protocol for setting up an
in vitro
BBB model that is highly reproducible due to the quality assurance methods, and that is suitable for research on BBB transporters and receptors.
Medicine, Issue 88, rat brain endothelial cells (RBEC), mouse, spinal cord, tight junction (TJ), receptor-mediated transport (RMT), low density lipoprotein (LDL), LDLR, transferrin, TfR, P-glycoprotein (P-gp), transendothelial electrical resistance (TEER),
51278
Mechanical Stimulation-induced Calcium Wave Propagation in Cell Monolayers: The Example of Bovine Corneal Endothelial Cells
Institutions: KU Leuven.

Intercellular communication is essential for the coordination of physiological processes between cells in a variety of organs and tissues, including the brain, liver, retina, cochlea and vasculature. In experimental settings, intercellular Ca
2+
-waves can be elicited by applying a mechanical stimulus to a single cell. This leads to the release of the intracellular signaling molecules IP
3
and Ca
2+
that initiate the propagation of the Ca
2+
-wave concentrically from the mechanically stimulated cell to the neighboring cells. The main molecular pathways that control intercellular Ca
2+
-wave propagation are provided by gap junction channels through the direct transfer of IP
3
and by hemichannels through the release of ATP. Identification and characterization of the properties and regulation of different connexin and pannexin isoforms as gap junction channels and hemichannels are allowed by the quantification of the spread of the intercellular Ca
2+
-wave, siRNA, and the use of inhibitors of gap junction channels and hemichannels. Here, we describe a method to measure intercellular Ca
2+
-wave in monolayers of primary corneal endothelial cells loaded with Fluo4-AM in response to a controlled and localized mechanical stimulus provoked by an acute, short-lasting deformation of the cell as a result of touching the cell membrane with a micromanipulator-controlled glass micropipette with a tip diameter of less than 1 μm. We also describe the isolation of primary bovine corneal endothelial cells and its use as model system to assess Cx43-hemichannel activity as the driven force for intercellular Ca
2+
-waves through the release of ATP. Finally, we discuss the use, advantages, limitations and alternatives of this method in the context of gap junction channel and hemichannel research.
Cellular Biology, Issue 77, Molecular Biology, Medicine, Biomedical Engineering, Biophysics, Immunology, Ophthalmology, Gap Junctions, Connexins, Connexin 43, Calcium Signaling, Ca2+, Cell Communication, Paracrine Communication, Intercellular communication, calcium wave propagation, gap junctions, hemichannels, endothelial cells, cell signaling, cell, isolation, cell culture
50443
A Microplate Assay to Assess Chemical Effects on RBL-2H3 Mast Cell Degranulation: Effects of Triclosan without Use of an Organic Solvent
Institutions: University of Maine, Orono, University of Maine, Orono.

Mast cells play important roles in allergic disease and immune defense against parasites. Once activated (
e.g.
by an allergen), they degranulate, a process that results in the exocytosis of allergic mediators. Modulation of mast cell degranulation by drugs and toxicants may have positive or adverse effects on human health. Mast cell function has been dissected in detail with the use of rat basophilic leukemia mast cells (RBL-2H3), a widely accepted model of human mucosal mast cells
3-5
. Mast cell granule component and the allergic mediator β-hexosaminidase, which is released linearly in tandem with histamine from mast cells
6
, can easily and reliably be measured through reaction with a fluorogenic substrate, yielding measurable fluorescence intensity in a microplate assay that is amenable to high-throughput studies
1
. Originally published by Naal
et al.
1
, we have adapted this degranulation assay for the screening of drugs and toxicants and demonstrate its use here. Triclosan is a broad-spectrum antibacterial agent that is present in many consumer products and has been found to be a therapeutic aid in human allergic skin disease
7-11
, although the mechanism for this effect is unknown. Here we demonstrate an assay for the effect of triclosan on mast cell degranulation. We recently showed that triclosan strongly affects mast cell function
2
. In an effort to avoid use of an organic solvent, triclosan is dissolved directly into aqueous buffer with heat and stirring, and resultant concentration is confirmed using UV-Vis spectrophotometry (using ε
280
= 4,200 L/M/cm)
12
. This protocol has the potential to be used with a variety of chemicals to determine their effects on mast cell degranulation, and more broadly, their allergic potential.
Immunology, Issue 81, mast cell, basophil, degranulation, RBL-2H3, triclosan, irgasan, antibacterial, β-hexosaminidase, allergy, Asthma, toxicants, ionophore, antigen, fluorescence, microplate, UV-Vis
50671
Viability Assays for Cells in Culture
Institutions: Duquesne University.
Manual cell counts on a microscope are a sensitive means of assessing cellular viability but are time-consuming and therefore expensive. Computerized viability assays are expensive in terms of equipment but can be faster and more objective than manual cell counts. The present report describes the use of three such viability assays. Two of these assays are infrared and one is luminescent. Both infrared assays rely on a 16 bit Odyssey Imager. One infrared assay uses the DRAQ5 stain for nuclei combined with the Sapphire stain for cytosol and is visualized in the 700 nm channel. The other infrared assay, an In-Cell Western, uses antibodies against cytoskeletal proteins (α-tubulin or microtubule associated protein 2) and labels them in the 800 nm channel. The third viability assay is a commonly used luminescent assay for ATP, but we use a quarter of the recommended volume to save on cost. These measurements are all linear and correlate with the number of cells plated, but vary in sensitivity. All three assays circumvent time-consuming microscopy and sample the entire well, thereby reducing sampling error. Finally, all of the assays can easily be completed within one day of the end of the experiment, allowing greater numbers of experiments to be performed within short timeframes. However, they all rely on the assumption that cell numbers remain in proportion to signal strength after treatments, an assumption that is sometimes not met, especially for cellular ATP. Furthermore, if cells increase or decrease in size after treatment, this might affect signal strength without affecting cell number. We conclude that all viability assays, including manual counts, suffer from a number of caveats, but that computerized viability assays are well worth the initial investment. Using all three assays together yields a comprehensive view of cellular structure and function.
Cellular Biology, Issue 83, In-cell Western, DRAQ5, Sapphire, Cell Titer Glo, ATP, primary cortical neurons, toxicity, protection, N-acetyl cysteine, hormesis
50645
Direct Imaging of ER Calcium with Targeted-Esterase Induced Dye Loading (TED)
Institutions: University of Wuerzburg, Max Planck Institute of Neurobiology, Martinsried, Ludwig-Maximilians University of Munich.

Visualization of calcium dynamics is important to understand the role of calcium in cell physiology. To examine calcium dynamics, synthetic fluorescent Ca
2+
indictors have become popular. Here we demonstrate TED (= targeted-esterase induced dye loading), a method to improve the release of Ca
2+
indicator dyes in the ER lumen of different cell types. To date, TED was used in cell lines, glial cells, and neurons
in vitro
. TED bases on efficient, recombinant targeting of a high carboxylesterase activity to the ER lumen using vector-constructs that express Carboxylesterases (CES). The latest TED vectors contain a core element of CES2 fused to a red fluorescent protein, thus enabling simultaneous two-color imaging. The dynamics of free calcium in the ER are imaged in one color, while the corresponding ER structure appears in red. At the beginning of the procedure, cells are transduced with a lentivirus. Subsequently, the infected cells are seeded on coverslips to finally enable live cell imaging. Then, living cells are incubated with the acetoxymethyl ester (AM-ester) form of low-affinity Ca
2+
indicators, for instance Fluo5N-AM, Mag-Fluo4-AM, or Mag-Fura2-AM. The esterase activity in the ER cleaves off hydrophobic side chains from the AM form of the Ca
2+
indicator and a hydrophilic fluorescent dye/Ca
2+
complex is formed and trapped in the ER lumen. After dye loading, the cells are analyzed at an inverted confocal laser scanning microscope. Cells are continuously perfused with Ringer-like solutions and the ER calcium dynamics are directly visualized by time-lapse imaging. Calcium release from the ER is identified by a decrease in fluorescence intensity in regions of interest, whereas the refilling of the ER calcium store produces an increase in fluorescence intensity. Finally, the change in fluorescent intensity over time is determined by calculation of ΔF/F
0
.
Cellular Biology, Issue 75, Neurobiology, Neuroscience, Molecular Biology, Biochemistry, Biomedical Engineering, Bioengineering, Virology, Medicine, Anatomy, Physiology, Surgery, Endoplasmic Reticulum, ER, Calcium Signaling, calcium store, calcium imaging, calcium indicator, metabotropic signaling, Ca2+, neurons, cells, mouse, animal model, cell culture, targeted esterase induced dye loading, imaging
50317
Gene-environment Interaction Models to Unmask Susceptibility Mechanisms in Parkinson's Disease
Institutions: SRI International, University of California-Santa Cruz.

Lipoxygenase (LOX) activity has been implicated in neurodegenerative disorders such as Alzheimer's disease, but its effects in Parkinson's disease (PD) pathogenesis are less understood. Gene-environment interaction models have utility in unmasking the impact of specific cellular pathways in toxicity that may not be observed using a solely genetic or toxicant disease model alone. To evaluate if distinct LOX isozymes selectively contribute to PD-related neurodegeneration, transgenic (
i.e.
5-LOX and 12/15-LOX deficient) mice can be challenged with a toxin that mimics cell injury and death in the disorder. Here we describe the use of a neurotoxin, 1-methyl-4-phenyl-1,2,3,6-tetrahydropyridine (MPTP), which produces a nigrostriatal lesion to elucidate the distinct contributions of LOX isozymes to neurodegeneration related to PD. The use of MPTP in mouse, and nonhuman primate, is well-established to recapitulate the nigrostriatal damage in PD. The extent of MPTP-induced lesioning is measured by HPLC analysis of dopamine and its metabolites and semi-quantitative Western blot analysis of striatum for tyrosine hydroxylase (TH), the rate-limiting enzyme for the synthesis of dopamine. To assess inflammatory markers, which may demonstrate LOX isozyme-selective sensitivity, glial fibrillary acidic protein (GFAP) and Iba-1 immunohistochemistry are performed on brain sections containing substantia nigra, and GFAP Western blot analysis is performed on striatal homogenates. This experimental approach can provide novel insights into gene-environment interactions underlying nigrostriatal degeneration and PD.
Medicine, Issue 83, MPTP, dopamine, Iba1, TH, GFAP, lipoxygenase, transgenic, gene-environment interactions, mouse, Parkinson's disease, neurodegeneration, neuroinflammation
50960
A Rapid and Specific Microplate Assay for the Determination of Intra- and Extracellular Ascorbate in Cultured Cells
Institutions: University of Sydney, Monash University.

Vitamin C (ascorbate) plays numerous important roles in cellular metabolism, many of which have only come to light in recent years. For instance, within the brain, ascorbate acts in a neuroprotective and neuromodulatory manner that involves ascorbate cycling between neurons and vicinal astrocytes - a relationship that appears to be crucial for brain ascorbate homeostasis. Additionally, emerging evidence strongly suggests that ascorbate has a greatly expanded role in regulating cellular and systemic iron metabolism than is classically recognized. The increasing recognition of the integral role of ascorbate in normal and deregulated cellular and organismal physiology demands a range of medium-throughput and high-sensitivity analytic techniques that can be executed without the need for highly expensive specialist equipment. Here we provide explicit instructions for a medium-throughput, specific and relatively inexpensive microplate assay for the determination of both intra- and extracellular ascorbate in cell culture.
Biochemistry, Issue 86, Vitamin C, Ascorbate, Cell swelling, Glutamate, Microplate assay, Astrocytes
51322
Drug-induced Sensitization of Adenylyl Cyclase: Assay Streamlining and Miniaturization for Small Molecule and siRNA Screening Applications
Institutions: Purdue University, Eli Lilly and Company.

Sensitization of adenylyl cyclase (AC) signaling has been implicated in a variety of neuropsychiatric and neurologic disorders including substance abuse and Parkinson's disease. Acute activation of Gαi/o-linked receptors inhibits AC activity, whereas persistent activation of these receptors results in heterologous sensitization of AC and increased levels of intracellular cAMP. Previous studies have demonstrated that this enhancement of AC responsiveness is observed both
in vitro
and
in vivo
following the chronic activation of several types of Gαi/o-linked receptors including D
2
dopamine and μ opioid receptors. Although heterologous sensitization of AC was first reported four decades ago, the mechanism(s) that underlie this phenomenon remain largely unknown. The lack of mechanistic data presumably reflects the complexity involved with this adaptive response, suggesting that nonbiased approaches could aid in identifying the molecular pathways involved in heterologous sensitization of AC. Previous studies have implicated kinase and Gbγ signaling as overlapping components that regulate the heterologous sensitization of AC. To identify unique and additional overlapping targets associated with sensitization of AC, the development and validation of a scalable cAMP sensitization assay is required for greater throughput. Previous approaches to study sensitization are generally cumbersome involving continuous cell culture maintenance as well as a complex methodology for measuring cAMP accumulation that involves multiple wash steps. Thus, the development of a robust cell-based assay that can be used for high throughput screening (HTS) in a 384 well format would facilitate future studies. Using two D
2
dopamine receptor cellular models (
i.e
. CHO-D
2L
and HEK-AC6/D
2L
), we have converted our 48-well sensitization assay (>20 steps 4-5 days) to a five-step, single day assay in 384-well format. This new format is amenable to small molecule screening, and we demonstrate that this assay design can also be readily used for reverse transfection of siRNA in anticipation of targeted siRNA library screening.
Bioengineering, Issue 83, adenylyl cyclase, cAMP, heterologous sensitization, superactivation, D2 dopamine, μ opioid, siRNA
51218
Selection of Aptamers for Amyloid β-Protein, the Causative Agent of Alzheimer's Disease
Institutions: David Geffen School of Medicine, University of California, Los Angeles, University of California, Los Angeles.

Alzheimer's disease (AD) is a progressive, age-dependent, neurodegenerative disorder with an insidious course that renders its presymptomatic diagnosis difficult
1
. Definite AD diagnosis is achieved only postmortem, thus establishing presymptomatic, early diagnosis of AD is crucial for developing and administering effective therapies
2,3
. Amyloid β-protein (Aβ) is central to AD pathogenesis. Soluble, oligomeric Aβ assemblies are believed to affect neurotoxicity underlying synaptic dysfunction and neuron loss in AD
4,5
. Various forms of soluble Aβ assemblies have been described, however, their interrelationships and relevance to AD etiology and pathogenesis are complex and not well understood
6
. Specific molecular recognition tools may unravel the relationships amongst Aβ assemblies and facilitate detection and characterization of these assemblies early in the disease course before symptoms emerge. Molecular recognition commonly relies on antibodies. However, an alternative class of molecular recognition tools, aptamers, offers important advantages relative to antibodies
7,8
. Aptamers are oligonucleotides generated by
in-vitro
selection: systematic evolution of ligands by exponential enrichment (SELEX)
9,10
. SELEX is an iterative process that, similar to Darwinian evolution, allows selection, amplification, enrichment, and perpetuation of a property, e.g., avid, specific, ligand binding (aptamers) or catalytic activity (ribozymes and DNAzymes). Despite emergence of aptamers as tools in modern biotechnology and medicine
11
, they have been underutilized in the amyloid field. Few RNA or ssDNA aptamers have been selected against various forms of prion proteins (PrP)
12-16
. An RNA aptamer generated against recombinant bovine PrP was shown to recognize bovine PrP-β
17
, a soluble, oligomeric, β-sheet-rich conformational variant of full-length PrP that forms amyloid fibrils
18
. Aptamers generated using monomeric and several forms of fibrillar β
2
-microglobulin (β
2
m) were found to bind fibrils of certain other amyloidogenic proteins besides β
2
m fibrils
19
. Ylera
et al
. described RNA aptamers selected against immobilized monomeric Aβ40
20
. Unexpectedly, these aptamers bound fibrillar Aβ40. Altogether, these data raise several important questions. Why did aptamers selected against monomeric proteins recognize their polymeric forms? Could aptamers against monomeric and/or oligomeric forms of amyloidogenic proteins be obtained? To address these questions, we attempted to select aptamers for covalently-stabilized oligomeric Aβ40
21
generated using photo-induced cross-linking of unmodified proteins (PICUP)
22,23
. Similar to previous findings
17,19,20
, these aptamers reacted with fibrils of Aβ and several other amyloidogenic proteins likely recognizing a potentially common amyloid structural aptatope
21
. Here, we present the SELEX methodology used in production of these aptamers
21
.
Neuroscience, Issue 39, Cellular Biology, Aptamer, RNA, amyloid β-protein, oligomer, amyloid fibrils, protein assembly
1955
Cellular Toxicity of Nanogenomedicine in MCF-7 Cell Line: MTT assay
Institutions: Tabriz University (Medical Sciences), Tabriz University (Medical Sciences), Tabriz University (Medical Sciences).

Cytotoxicity of the futuristic nanogenomedicine (e.g., short interfering RNA and antisense) may hamper its clinical development. Of these, the gene-based medicine and/or its carrier may elicit cellular toxicity. For assessment of such cytotoxicity, a common methodology is largely dependent upon utilization of the 3-(4, 5-Dimethyl-2-thiazolyl)-2, 5-diphenyl-2H-tetrazolium bromide (MTT) assay which has been widely used as a colorimetric approach based on the activity of mitochondrial dehydrogenase enzymes in cells. In this current investigation, MCF-7 cells were inoculated in 96-well plate and at 50% confluency they were treated with different nanopolyplexes and subjected to MTT assay after 24 hours. Water soluble yellow MTT is metabolized by the metabolically active cells to the water insoluble purple formazan, which is further dissolved in dimethylsulfoxide and Sornson s buffer pH 10.5. The resultant product can be quantified by spectrophotometry using a plate reader at 570 nm.
Basic Protocols, Issue 26, Cellular Toxicity, Nanomedicine, Genomedicine, MCF-7 cell line, MTT Assay
1191
A Caenorhabditis elegans Model System for Amylopathy Study
Institutions: University of Medicine and Dentistry of New Jersey.
Amylopathy is a term that describes abnormal synthesis and accumulation of amyloid beta (Aβ) in tissues with time. Aβ is a hallmark of Alzheimer's disease (AD) and is found in Lewy body dementia, inclusion body myositis and cerebral amyloid angiopathy
1-4
. Amylopathies progressively develop with time. For this reason simple organisms with short lifespans may help to elucidate molecular aspects of these conditions. Here, we describe experimental protocols to study Aβ-mediated neurodegeneration using the worm
Caenorhabditis elegans
. Thus, we construct transgenic worms by injecting DNA encoding human Aβ
42
into the syncytial gonads of adult hermaphrodites. Transformant lines are stabilized by a mutagenesis-induced integration
.
Nematodes are age synchronized by collecting and seeding their eggs. The function of neurons expressing Aβ
42
is tested in opportune behavioral assays (chemotaxis assays). Primary neuronal cultures obtained from embryos are used to complement behavioral data and to test the neuroprotective effects of anti-apoptotic compounds.
Neuroscience, Issue 75, Medicine, Neurobiology, Cellular Biology, Molecular Biology, Genetics, Developmental Biology, Cell Physiological Phenomena, neurosciences, beta-amyloid, C. elegans, Caenorhabditis elegans, apoptosis, amylopathy, amyloid beta, Alzheimer's disease, AD, neurons, cell culture, transgenic worm, animal model
50435
A Technique for Serial Collection of Cerebrospinal Fluid from the Cisterna Magna in Mouse
Institutions: Columbia University.

Alzheimer's disease (AD) is a progressive neurodegenerative disease that is pathologically characterized by extracellular deposition of β-amyloid peptide (Aβ) and intraneuronal accumulation of hyperphosphorylated tau protein. Because cerebrospinal fluid (CSF) is in direct contact with the extracellular space of the brain, it provides a reflection of the biochemical changes in the brain in response to pathological processes. CSF from AD patients shows a decrease in the 42 amino-acid form of Aβ (Aβ42), and increases in total tau and hyperphosphorylated tau, though the mechanisms responsible for these changes are still not fully understood. Transgenic (Tg) mouse models of AD provide an excellent opportunity to investigate how and why Aβ or tau levels in CSF change as the disease progresses. Here, we demonstrate a refined cisterna magna puncture technique for CSF sampling from the mouse. This extremely gentle sampling technique allows serial CSF samples to be obtained from the same mouse at 2-3 month intervals which greatly minimizes the confounding effect of between-mouse variability in Aβ or tau levels, making it possible to detect subtle alterations over time. In combination with Aβ and tau ELISA, this technique will be useful for studies designed to investigate the relationship between the levels of CSF Aβ42 and tau, and their metabolism in the brain in AD mouse models. Studies in Tg mice could provide important validation as to the potential of CSF Aβ or tau levels to be used as biological markers for monitoring disease progression, and to monitor the effect of therapeutic interventions. As the mice can be sacrificed and the brains can be examined for biochemical or histological changes, the mechanisms underlying the CSF changes can be better assessed. These data are likely to be informative for interpretation of human AD CSF changes.
Neuroscience, Issue 21, Cerebrospinal fluid, Alzheimer's disease, Transgenic mouse, β-amyloid, tau
960