ABSTRACT
Lateral diffusion and compartmentalization of plasma membrane proteins are tightly regulated in cells and thus, studying these processes will reveal new insights to plasma membrane protein function and regulation. Recently, k-Space Image Correlation Spectroscopy (kICS)1 was developed to enable routine measurements of diffusion coefficients directly from images of fluorescently tagged plasma membrane proteins, that avoided systematic biases introduced by probe photophysics. Although the theoretical basis for the analysis is complex, the method can be implemented by nonexperts using a freely available code to measure diffusion coefficients of proteins. kICS calculates a time correlation function from a fluorescence microscopy image stack after Fourier transformation of each image to reciprocal (k-) space. Subsequently, circular averaging, natural logarithm transform and linear fits to the correlation function yields the diffusion coefficient. This paper provides a step-by-step guide to the image analysis and measurement of diffusion coefficients via kICS. First, a high frame rate image sequence of a fluorescently labeled plasma membrane protein is acquired using a fluorescence microscope. Then, a region of interest (ROI) avoiding intracellular organelles, moving vesicles or protruding membrane regions is selected. The ROI stack is imported into a freely available code and several defined parameters (see Method section) are set for kICS analysis. The program then generates a "slope of slopes" plot from the k-space time correlation functions, and the diffusion coefficient is calculated from the slope of the plot. Below is a step-by-step kICS procedure to measure the diffusion coefficient of a membrane protein using the renal water channel aquaporin-3 tagged with EGFP as a canonical example.
26 Related JoVE Articles!
Encapsulation and Permeability Characteristics of Plasma Polymerized Hollow Particles
Institutions: The Pennsylvania State University.
In this protocol, core-shell nanostructures are synthesized by plasma enhanced chemical vapor deposition. We produce an amorphous barrier by plasma polymerization of isopropanol on various solid substrates, including silica and potassium chloride. This versatile technique is used to treat nanoparticles and nanopowders with sizes ranging from 37 nm to 1 micron, by depositing films whose thickness can be anywhere from 1 nm to upwards of 100 nm. Dissolution of the core allows us to study the rate of permeation through the film. In these experiments, we determine the diffusion coefficient of KCl through the barrier film by coating KCL nanocrystals and subsequently monitoring the ionic conductivity of the coated particles suspended in water. The primary interest in this process is the encapsulation and delayed release of solutes. The thickness of the shell is one of the independent variables by which we control the rate of release. It has a strong effect on the rate of release, which increases from a six-hour release (shell thickness is 20 nm) to a long-term release over 30 days (shell thickness is 95 nm). The release profile shows a characteristic behavior: a fast release (35% of the final materials) during the first five minutes after the beginning of the dissolution, and a slower release till all of the core materials come out.
Physics, Issue 66, Chemical Engineering, Plasma Physics, Plasma coating, Core-shell structure, Hollow particles, Permeability, nanoparticles, nanopowders
4113
Determination of Lipid Raft Partitioning of Fluorescently-tagged Probes in Living Cells by Fluorescence Correlation Spectroscopy (FCS)
Institutions: Hôpital de la Pitié-Salpêtrière, Université Paris-Sud, Université Paris-Sud.

In the past fifteen years the notion that cell membranes are not homogenous and rely on microdomains to exert their functions has become widely accepted. Lipid rafts are membrane microdomains enriched in cholesterol and sphingolipids. They play a role in cellular physiological processes such as signalling, and trafficking
1,2
but are also thought to be key players in several diseases including viral or bacterial infections and neurodegenerative diseases
3
. Yet their existence is still a matter of controversy
4,5
. Indeed, lipid raft size has been estimated to be around 20 nm
6
, far under the resolution limit of conventional microscopy (around 200 nm), thus precluding their direct imaging. Up to now, the main techniques used to assess the partition of proteins of interest inside lipid rafts were Detergent Resistant Membranes (DRMs) isolation and co-patching with antibodies. Though widely used because of their rather easy implementation, these techniques were prone to artefacts and thus criticized
7,8
. Technical improvements were therefore necessary to overcome these artefacts and to be able to probe lipid rafts partition in living cells. Here we present a method for the sensitive analysis of lipid rafts partition of fluorescently-tagged proteins or lipids in the plasma membrane of living cells. This method, termed Fluorescence Correlation Spectroscopy (FCS), relies on the disparity in diffusion times of fluorescent probes located inside or outside of lipid rafts. In fact, as evidenced in both artificial membranes and cell cultures, probes would diffuse much faster outside than inside dense lipid rafts
9,10
. To determine diffusion times, minute fluorescence fluctuations are measured as a function of time in a focal volume (approximately 1 femtoliter), located at the plasma membrane of cells with a confocal microscope (
Fig. 1
). The auto-correlation curves can then be drawn from these fluctuations and fitted with appropriate mathematical diffusion models
11
. FCS can be used to determine the lipid raft partitioning of various probes, as long as they are fluorescently tagged. Fluorescent tagging can be achieved by expression of fluorescent fusion proteins or by binding of fluorescent ligands. Moreover, FCS can be used not only in artificial membranes and cell lines but also in primary cultures, as described recently
12
. It can also be used to follow the dynamics of lipid raft partitioning after drug addition or membrane lipid composition change
12
.
Cellular Biology, Issue 62, Lipid rafts, plasma membrane, diffusion times, confocal microscopy, fluorescence correlation spectroscopy (FCS)
3513
Controlling the Size, Shape and Stability of Supramolecular Polymers in Water
Institutions: Westfälische Wilhelms-Universität Münster, Eindhoven University of Technology, Eindhoven University of Technology.

For aqueous based supramolecular polymers, the simultaneous control over shape, size and stability is very difficult
1
. At the same time, the ability to do so is highly important in view of a number of applications in functional soft matter including electronics, biomedical engineering, and sensors. In the past, successful strategies to control the size and shape of supramolecular polymers typically focused on the use of templates
2,3
, end cappers
4
or selective solvent techniques
5
. Here we disclose a strategy based on self-assembling discotic amphiphiles that leads to the control over stack length and shape of ordered, chiral columnar aggregates. By balancing electrostatic repulsive interactions on the hydrophilic rim and attractive non-covalent forces within the hydrophobic core of the polymerizing building block, we manage to create small and discrete spherical objects
6,7
. Increasing the salt concentration to screen the charges induces a sphere-to-rod transition. Intriguingly, this transition is expressed in an increase of cooperativity in the temperature-dependent self-assembly mechanism, and more stable aggregates are obtained. For our study we select a benzene-1,3,5-tricarboxamide (BTA) core connected to a hydrophilic metal chelate via a hydrophobic, fluorinated L-phenylalanine based spacer (
Scheme 1
). The metal chelate selected is a Gd(III)-DTPA complex that contains two overall remaining charges per complex and necessarily two counter ions. The one-dimensional growth of the aggregate is directed by π-π stacking and intermolecular hydrogen bonding. However, the electrostatic, repulsive forces that arise from the charges on the Gd(III)-DTPA complex start limiting the one-dimensional growth of the BTA-based discotic once a certain size is reached. At millimolar concentrations the formed aggregate has a spherical shape and a diameter of around 5 nm as inferred from
1
H-NMR spectroscopy, small angle X-ray scattering, and cryogenic transmission electron microscopy (cryo-TEM). The strength of the electrostatic repulsive interactions between molecules can be reduced by increasing the salt concentration of the buffered solutions. This screening of the charges induces a transition from spherical aggregates into elongated rods with a length > 25 nm. Cryo-TEM allows to visualise the changes in shape and size. In addition, CD spectroscopy permits to derive the mechanistic details of the self-assembly processes before and after the addition of salt. Importantly, the cooperativity -a key feature that dictates the physical properties of the produced supramolecular polymers- increases dramatically upon screening the electrostatic interactions. This increase in cooperativity results in a significant increase in the molecular weight of the formed supramolecular polymers in water.
Chemical Engineering, Issue 66, Chemistry, Physics, Self-assembly, cryogenic transmission electron microscopy, circular dichroism, controlled architecture, discotic amphiphile
3975
DTI of the Visual Pathway - White Matter Tracts and Cerebral Lesions
Institutions: Centre Hospitalier de Luxembourg, University of Applied Sciences Trier, Erasmus Universiteit Rotterdam, Centre Hospitalier de Luxembourg.

DTI is a technique that identifies white matter tracts (WMT) non-invasively in healthy and non-healthy patients using diffusion measurements. Similar to visual pathways (VP), WMT are not visible with classical MRI or intra-operatively with microscope. DTI will help neurosurgeons to prevent destruction of the VP while removing lesions adjacent to this WMT. We have performed DTI on fifty patients before and after surgery between March 2012 to January 2014. To navigate we used a 3DT1-weighted sequence. Additionally, we performed a T2-weighted and DTI-sequences. The parameters used were, FOV: 200 x 200 mm, slice thickness: 2 mm, and acquisition matrix: 96 x 96 yielding nearly isotropic voxels of 2 x 2 x 2 mm. Axial MRI was carried out using a 32 gradient direction and one b0-image. We used Echo-Planar-Imaging (EPI) and ASSET parallel imaging with an acceleration factor of 2 and b-value of 800 s/mm². The scanning time was less than 9 min. The DTI-data obtained were processed using a FDA approved surgical navigation system program which uses a straightforward fiber-tracking approach known as fiber assignment by continuous tracking (FACT). This is based on the propagation of lines between regions of interest (ROI) which is defined by a physician. A maximum angle of 50, FA start value of 0.10 and ADC stop value of 0.20 mm²/s were the parameters used for tractography. There are some limitations to this technique. The limited acquisition time frame enforces trade-offs in the image quality. Another important point not to be neglected is the brain shift during surgery. As for the latter intra-operative MRI might be helpful. Furthermore the risk of false positive or false negative tracts needs to be taken into account which might compromise the final results.
Medicine, Issue 90, Neurosurgery, brain, visual pathway, white matter tracts, visual cortex, optic chiasm, glioblastoma, meningioma, metastasis
51946
Simulation of the Planetary Interior Differentiation Processes in the Laboratory
Institutions: Carnegie Institution of Washington.
A planetary interior is under high-pressure and high-temperature conditions and it has a layered structure. There are two important processes that led to that layered structure, (1) percolation of liquid metal in a solid silicate matrix by planet differentiation, and (2) inner core crystallization by subsequent planet cooling. We conduct high-pressure and high-temperature experiments to simulate both processes in the laboratory. Formation of percolative planetary core depends on the efficiency of melt percolation, which is controlled by the dihedral (wetting) angle. The percolation simulation includes heating the sample at high pressure to a target temperature at which iron-sulfur alloy is molten while the silicate remains solid, and then determining the true dihedral angle to evaluate the style of liquid migration in a crystalline matrix by 3D visualization. The 3D volume rendering is achieved by slicing the recovered sample with a focused ion beam (FIB) and taking SEM image of each slice with a FIB/SEM crossbeam instrument. The second set of experiments is designed to understand the inner core crystallization and element distribution between the liquid outer core and solid inner core by determining the melting temperature and element partitioning at high pressure. The melting experiments are conducted in the multi-anvil apparatus up to 27 GPa and extended to higher pressure in the diamond-anvil cell with laser-heating. We have developed techniques to recover small heated samples by precision FIB milling and obtain high-resolution images of the laser-heated spot that show melting texture at high pressure. By analyzing the chemical compositions of the coexisting liquid and solid phases, we precisely determine the liquidus curve, providing necessary data to understand the inner core crystallization process.
Physics, Issue 81, Geophysics, Planetary Science, Geochemistry, Planetary interior, high-pressure, planet differentiation, 3D tomography
50778
Sputter Growth and Characterization of Metamagnetic B2-ordered FeRh Epilayers
Institutions: University of Leeds, University of Leeds, University of Edinburgh, Northeastern University, Northeastern University.

Chemically ordered alloys are useful in a variety of magnetic nanotechnologies. They are most conveniently prepared at an industrial scale using sputtering techniques. Here we describe a method for preparing epitaxial thin films of B2-ordered FeRh by sputter deposition onto single crystal MgO substrates. Deposition at a slow rate onto a heated substrate allows time for the adatoms to both settle into a lattice with a well-defined epitaxial relationship with the substrate and also to find their proper places in the Fe and Rh sublattices of the B2 structure. The structure is conveniently characterized with X-ray reflectometry and diffraction and can be visualised directly using transmission electron micrograph cross-sections. B2-ordered FeRh exhibits an unusual metamagnetic phase transition: the ground state is antiferromagnetic but the alloy transforms into a ferromagnet on heating with a typical transition temperature of about 380 K. This is accompanied by a 1% volume expansion of the unit cell: isotropic in bulk, but laterally clamped in an epilayer. The presence of the antiferromagnetic ground state and the associated first order phase transition is very sensitive to the correct equiatomic stoichiometry and proper B2 ordering, and so is a convenient means to demonstrate the quality of the layers that can be deposited with this approach. We also give some examples of the various techniques by which the change in phase can be detected.
Physics, Issue 80, Sputtering, epitaxial growth, magnetism, ordered alloys
50603
Evaluating Plasmonic Transport in Current-carrying Silver Nanowires
Institutions: Université de Bourgogne, University of Science and Technology of China, CEMES, CNRS-UPR 8011.

Plasmonics is an emerging technology capable of simultaneously transporting a plasmonic signal and an electronic signal on the same information support
1,2,3
. In this context, metal nanowires are especially desirable for realizing dense routing networks
4
. A prerequisite to operate such shared nanowire-based platform relies on our ability to electrically contact individual metal nanowires and efficiently excite surface plasmon polaritons
5
in this information support. In this article, we describe a protocol to bring electrical terminals to chemically-synthesized silver nanowires
6
randomly distributed on a glass substrate
7
. The positions of the nanowire ends with respect to predefined landmarks are precisely located using standard optical transmission microscopy before encapsulation in an electron-sensitive resist. Trenches representing the electrode layout are subsequently designed by electron-beam lithography. Metal electrodes are then fabricated by thermally evaporating a Cr/Au layer followed by a chemical lift-off. The contacted silver nanowires are finally transferred to a leakage radiation microscope for surface plasmon excitation and characterization
8,9
. Surface plasmons are launched in the nanowires by focusing a near infrared laser beam on a diffraction-limited spot overlapping one nanowire extremity
5,9
. For sufficiently large nanowires, the surface plasmon mode leaks into the glass substrate
9,10
. This leakage radiation is readily detected, imaged, and analyzed in the different conjugate planes in leakage radiation microscopy
9,11
. The electrical terminals do not affect the plasmon propagation. However, a current-induced morphological deterioration of the nanowire drastically degrades the flow of surface plasmons. The combination of surface plasmon leakage radiation microscopy with a simultaneous analysis of the nanowire electrical transport characteristics reveals the intrinsic limitations of such plasmonic circuitry.
Physics, Issue 82, light transmission, optical waveguides, photonics, plasma oscillations, plasma waves, electron motion in conductors, nanofabrication, Information Transport, plasmonics, Silver Nanowires, Leakage radiation microscopy, Electromigration
51048
A Rapid and Specific Microplate Assay for the Determination of Intra- and Extracellular Ascorbate in Cultured Cells
Institutions: University of Sydney, Monash University.

Vitamin C (ascorbate) plays numerous important roles in cellular metabolism, many of which have only come to light in recent years. For instance, within the brain, ascorbate acts in a neuroprotective and neuromodulatory manner that involves ascorbate cycling between neurons and vicinal astrocytes - a relationship that appears to be crucial for brain ascorbate homeostasis. Additionally, emerging evidence strongly suggests that ascorbate has a greatly expanded role in regulating cellular and systemic iron metabolism than is classically recognized. The increasing recognition of the integral role of ascorbate in normal and deregulated cellular and organismal physiology demands a range of medium-throughput and high-sensitivity analytic techniques that can be executed without the need for highly expensive specialist equipment. Here we provide explicit instructions for a medium-throughput, specific and relatively inexpensive microplate assay for the determination of both intra- and extracellular ascorbate in cell culture.
Biochemistry, Issue 86, Vitamin C, Ascorbate, Cell swelling, Glutamate, Microplate assay, Astrocytes
51322
A New Approach for the Comparative Analysis of Multiprotein Complexes Based on 15N Metabolic Labeling and Quantitative Mass Spectrometry
Institutions: University of Münster, Carnegie Institution for Science.

The introduced protocol provides a tool for the analysis of multiprotein complexes in the thylakoid membrane, by revealing insights into complex composition under different conditions. In this protocol the approach is demonstrated by comparing the composition of the protein complex responsible for cyclic electron flow (CEF) in
Chlamydomonas reinhardtii
, isolated from genetically different strains. The procedure comprises the isolation of thylakoid membranes, followed by their separation into multiprotein complexes by sucrose density gradient centrifugation, SDS-PAGE, immunodetection and comparative, quantitative mass spectrometry (MS) based on differential metabolic labeling (
14
N/
15
N) of the analyzed strains. Detergent solubilized thylakoid membranes are loaded on sucrose density gradients at equal chlorophyll concentration. After ultracentrifugation, the gradients are separated into fractions, which are analyzed by mass-spectrometry based on equal volume. This approach allows the investigation of the composition within the gradient fractions and moreover to analyze the migration behavior of different proteins, especially focusing on ANR1, CAS, and PGRL1. Furthermore, this method is demonstrated by confirming the results with immunoblotting and additionally by supporting the findings from previous studies (the identification and PSI-dependent migration of proteins that were previously described to be part of the CEF-supercomplex such as PGRL1, FNR, and cyt
f
). Notably, this approach is applicable to address a broad range of questions for which this protocol can be adopted and
e.g.
used for comparative analyses of multiprotein complex composition isolated from distinct environmental conditions.
Microbiology, Issue 85, Sucrose density gradients, Chlamydomonas, multiprotein complexes, 15N metabolic labeling, thylakoids
51103
Synthesis of Immunotargeted Magneto-plasmonic Nanoclusters
Institutions: University of Texas at Austin, University of Texas M.D. Anderson Cancer Center.

Magnetic and plasmonic properties combined in a single nanoparticle provide a synergy that is advantageous in a number of biomedical applications including contrast enhancement in novel magnetomotive imaging modalities, simultaneous capture and detection of circulating tumor cells (CTCs), and multimodal molecular imaging combined with photothermal therapy of cancer cells. These applications have stimulated significant interest in development of protocols for synthesis of magneto-plasmonic nanoparticles with optical absorbance in the near-infrared (NIR) region and a strong magnetic moment. Here, we present a novel protocol for synthesis of such hybrid nanoparticles that is based on an oil-in-water microemulsion method. The unique feature of the protocol described herein is synthesis of magneto-plasmonic nanoparticles of various sizes from primary blocks which also have magneto-plasmonic characteristics. This approach yields nanoparticles with a high density of magnetic and plasmonic functionalities which are uniformly distributed throughout the nanoparticle volume. The hybrid nanoparticles can be easily functionalized by attaching antibodies through the Fc moiety leaving the Fab portion that is responsible for antigen binding available for targeting.
Chemistry, Issue 90, nanoparticles, plasmonic, magnetic, nanocomposites, magnetic trapping, circulating tumor cells, dark-field imaging
52090
Preparation and Use of Photocatalytically Active Segmented Ag|ZnO and Coaxial TiO2-Ag Nanowires Made by Templated Electrodeposition
Institutions: University of Twente.

Photocatalytically active nanostructures require a large specific surface area with the presence of many catalytically active sites for the oxidation and reduction half reactions, and fast electron (hole) diffusion and charge separation. Nanowires present suitable architectures to meet these requirements. Axially segmented Ag|ZnO and radially segmented (coaxial) TiO
2
-Ag nanowires with a diameter of 200 nm and a length of 6-20 µm were made by templated electrodeposition within the pores of polycarbonate track-etched (PCTE) or anodized aluminum oxide (AAO) membranes, respectively. In the photocatalytic experiments, the ZnO and TiO
2
phases acted as photoanodes, and Ag as cathode. No external circuit is needed to connect both electrodes, which is a key advantage over conventional photo-electrochemical cells. For making segmented Ag|ZnO nanowires, the Ag salt electrolyte was replaced after formation of the Ag segment to form a ZnO segment attached to the Ag segment. For making coaxial TiO
2
-Ag nanowires, a TiO
2
gel was first formed by the electrochemically induced sol-gel method. Drying and thermal annealing of the as-formed TiO
2
gel resulted in the formation of crystalline TiO
2
nanotubes. A subsequent Ag electrodeposition step inside the TiO
2
nanotubes resulted in formation of coaxial TiO
2
-Ag nanowires. Due to the combination of an
n
-type semiconductor (ZnO or TiO
2
) and a metal (Ag) within the same nanowire, a Schottky barrier was created at the interface between the phases. To demonstrate the photocatalytic activity of these nanowires, the Ag|ZnO nanowires were used in a photocatalytic experiment in which H
2
gas was detected upon UV illumination of the nanowires dispersed in a methanol/water mixture. After 17 min of illumination, approximately 0.2 vol% H
2
gas was detected from a suspension of ~0.1 g of Ag|ZnO nanowires in a 50 ml 80 vol% aqueous methanol solution.
Physics, Issue 87, Multicomponent nanowires, electrochemistry, sol-gel processes, photocatalysis, photochemistry, H2 evolution
51547
Establishment of a Surgically-induced Model in Mice to Investigate the Protective Role of Progranulin in Osteoarthritis
Institutions: NYU Hospital for Joint Diseases, New York University Medical Center.

Destabilization of medial meniscus (DMM) model is an important tool for studying the pathophysiological roles of numerous arthritis associated molecules in the pathogenesis of osteoarthritis (OA)
in vivo
. However, the detailed, especially the visualized protocol for establishing this complicated model in mice, is not available. Herein we took advantage of wildtype and progranulin (PGRN)-/- mice as examples to introduce a protocol for inducing DMM model in mice, and compared the onset of OA following establishment of this surgically induced model. The operations performed on mice were either sham operation, which just opened joint capsule, or DMM operation, which cut the menisco-tibial ligament and caused destabilization of medial meniscus. Osteoarthritis severity was evaluated using histological assay (
e.g.
Safranin O staining), expressions of OA-associated genes, degradation of cartilage extracellular matrix molecules, and osteophyte formation. DMM operation successfully induced OA initiation and progression in both wildtype and PGRN-/- mice, and loss of PGNR growth factor led to a more severe OA phenotype in this surgically induced model.
Bioengineering, Issue 84, Mouse, Cartilage, Surgery, Osteoarthritis, degenerative arthritis, progranulin, destabilization of medial meniscus (DMM)
50924
Laboratory-determined Phosphorus Flux from Lake Sediments as a Measure of Internal Phosphorus Loading
Institutions: Grand Valley State University.

Eutrophication is a water quality issue in lakes worldwide, and there is a critical need to identify and control nutrient sources. Internal phosphorus (P) loading from lake sediments can account for a substantial portion of the total P load in eutrophic, and some mesotrophic, lakes. Laboratory determination of P release rates from sediment cores is one approach for determining the role of internal P loading and guiding management decisions. Two principal alternatives to experimental determination of sediment P release exist for estimating internal load:
in situ
measurements of changes in hypolimnetic P over time and P mass balance. The experimental approach using laboratory-based sediment incubations to quantify internal P load is a direct method, making it a valuable tool for lake management and restoration. Laboratory incubations of sediment cores can help determine the relative importance of internal vs. external P loads, as well as be used to answer a variety of lake management and research questions. We illustrate the use of sediment core incubations to assess the effectiveness of an aluminum sulfate (alum) treatment for reducing sediment P release. Other research questions that can be investigated using this approach include the effects of sediment resuspension and bioturbation on P release. The approach also has limitations. Assumptions must be made with respect to: extrapolating results from sediment cores to the entire lake; deciding over what time periods to measure nutrient release; and addressing possible core tube artifacts. A comprehensive dissolved oxygen monitoring strategy to assess temporal and spatial redox status in the lake provides greater confidence in annual P loads estimated from sediment core incubations.
Environmental Sciences, Issue 85, Limnology, internal loading, eutrophication, nutrient flux, sediment coring, phosphorus, lakes
51617
Echo Particle Image Velocimetry
Institutions: University of New Hampshire.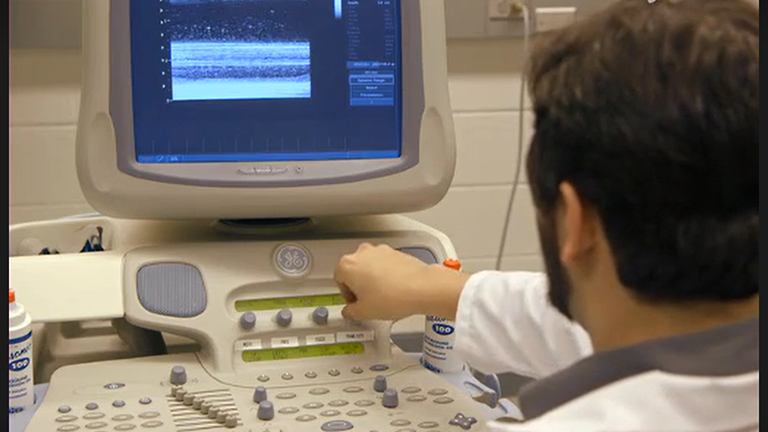 The transport of mass, momentum, and energy in fluid flows is ultimately determined by spatiotemporal distributions of the fluid velocity field.
1
Consequently, a prerequisite for understanding, predicting, and controlling fluid flows is the capability to measure the velocity field with adequate spatial and temporal resolution.
2
For velocity measurements in optically opaque fluids or through optically opaque geometries, echo particle image velocimetry (EPIV) is an attractive diagnostic technique to generate "instantaneous" two-dimensional fields of velocity.
3,4,5,6
In this paper, the operating protocol for an EPIV system built by integrating a commercial medical ultrasound machine
7
with a PC running commercial particle image velocimetry (PIV) software
8
is described, and validation measurements in Hagen-Poiseuille (
i.e.
, laminar pipe) flow are reported. For the EPIV measurements, a phased array probe connected to the medical ultrasound machine is used to generate a two-dimensional ultrasound image by pulsing the piezoelectric probe elements at different times. Each probe element transmits an ultrasound pulse into the fluid, and tracer particles in the fluid (either naturally occurring or seeded) reflect ultrasound echoes back to the probe where they are recorded. The amplitude of the reflected ultrasound waves and their time delay relative to transmission are used to create what is known as B-mode (brightness mode) two-dimensional ultrasound images. Specifically, the time delay is used to determine the position of the scatterer in the fluid and the amplitude is used to assign intensity to the scatterer. The time required to obtain a single B-mode image,
t
, is determined by the time it take to pulse all the elements of the phased array probe. For acquiring multiple B-mode images, the frame rate of the system in frames per second
(fps) = 1/δt
. (See 9 for a review of ultrasound imaging.) For a typical EPIV experiment, the frame rate is between 20-60 fps, depending on flow conditions, and 100-1000 B-mode images of the spatial distribution of the tracer particles in the flow are acquired. Once acquired, the B-mode ultrasound images are transmitted via an ethernet connection to the PC running the PIV commercial software. Using the PIV software, tracer particle displacement fields,
D(x,y)
[pixels], (where x and y denote horizontal and vertical spatial position in the ultrasound image, respectively) are acquired by applying cross correlation algorithms to successive ultrasound B-mode images.
10
The velocity fields,
u(x,y)
[m/s], are determined from the displacements fields, knowing the time step between image pairs,
ΔT
[s], and the image magnification,
M
[meter/pixel],
i.e.
,
u(x,y)
=
MD(x,y)/ΔT
. The time step between images
ΔT
=
1/fps + D(x,y)/B
, where
B
[pixels/s] is the time it takes for the ultrasound probe to sweep across the image width. In the present study, M = 77[μm/pixel],
fps
= 49.5[1/s], and
B
= 25,047[pixels/s]. Once acquired, the velocity fields can be analyzed to compute flow quantities of interest.
Mechanical Engineering, Issue 70, Physics, Engineering, Physical Sciences, Ultrasound, cross correlation, velocimetry, opaque fluids, particle, flow, fluid, EPIV
4265
Unraveling the Unseen Players in the Ocean - A Field Guide to Water Chemistry and Marine Microbiology
Institutions: San Diego State University, University of California San Diego.

Here we introduce a series of thoroughly tested and well standardized research protocols adapted for use in remote marine environments. The sampling protocols include the assessment of resources available to the microbial community (dissolved organic carbon, particulate organic matter, inorganic nutrients), and a comprehensive description of the viral and bacterial communities (via direct viral and microbial counts, enumeration of autofluorescent microbes, and construction of viral and microbial metagenomes). We use a combination of methods, which represent a dispersed field of scientific disciplines comprising already established protocols and some of the most recent techniques developed. Especially metagenomic sequencing techniques used for viral and bacterial community characterization, have been established only in recent years, and are thus still subjected to constant improvement. This has led to a variety of sampling and sample processing procedures currently in use. The set of methods presented here provides an up to date approach to collect and process environmental samples. Parameters addressed with these protocols yield the minimum on information essential to characterize and understand the underlying mechanisms of viral and microbial community dynamics. It gives easy to follow guidelines to conduct comprehensive surveys and discusses critical steps and potential caveats pertinent to each technique.
Environmental Sciences, Issue 93, dissolved organic carbon, particulate organic matter, nutrients, DAPI, SYBR, microbial metagenomics, viral metagenomics, marine environment
52131
Microfluidic Fabrication of Polymeric and Biohybrid Fibers with Predesigned Size and Shape
Institutions: US Naval Research Laboratory, North Carolina State University and University of North Carolina at Chapel Hill.

A "sheath" fluid passing through a microfluidic channel at low Reynolds number can be directed around another "core" stream and used to dictate the shape as well as the diameter of a core stream. Grooves in the top and bottom of a microfluidic channel were designed to direct the sheath fluid and shape the core fluid. By matching the viscosity and hydrophilicity of the sheath and core fluids, the interfacial effects are minimized and complex fluid shapes can be formed. Controlling the relative flow rates of the sheath and core fluids determines the cross-sectional area of the core fluid. Fibers have been produced with sizes ranging from 300 nm to ~1 mm, and fiber cross-sections can be round, flat, square, or complex as in the case with double anchor fibers. Polymerization of the core fluid downstream from the shaping region solidifies the fibers. Photoinitiated click chemistries are well suited for rapid polymerization of the core fluid by irradiation with ultraviolet light. Fibers with a wide variety of shapes have been produced from a list of polymers including liquid crystals, poly(methylmethacrylate), thiol-ene and thiol-yne resins, polyethylene glycol, and hydrogel derivatives. Minimal shear during the shaping process and mild polymerization conditions also makes the fabrication process well suited for encapsulation of cells and other biological components.
Bioengineering, Issue 83, hydrodynamic focusing, polymer fiber, biohybrid, microfabrication, sheath flow, click chemistry
50958
From Fast Fluorescence Imaging to Molecular Diffusion Law on Live Cell Membranes in a Commercial Microscope
Institutions: Scuola Normale Superiore, Instituto Italiano di Tecnologia, University of California, Irvine.

It has become increasingly evident that the spatial distribution and the motion of membrane components like lipids and proteins are key factors in the regulation of many cellular functions. However, due to the fast dynamics and the tiny structures involved, a very high spatio-temporal resolution is required to catch the real behavior of molecules. Here we present the experimental protocol for studying the dynamics of fluorescently-labeled plasma-membrane proteins and lipids in live cells with high spatiotemporal resolution. Notably, this approach doesn't need to track each molecule, but it calculates population behavior using all molecules in a given region of the membrane. The starting point is a fast imaging of a given region on the membrane. Afterwards, a complete spatio-temporal autocorrelation function is calculated correlating acquired images at increasing time delays, for example each 2, 3, n repetitions. It is possible to demonstrate that the width of the peak of the spatial autocorrelation function increases at increasing time delay as a function of particle movement due to diffusion. Therefore, fitting of the series of autocorrelation functions enables to extract the actual protein mean square displacement from imaging (iMSD), here presented in the form of apparent diffusivity vs average displacement. This yields a quantitative view of the average dynamics of single molecules with nanometer accuracy. By using a GFP-tagged variant of the Transferrin Receptor (TfR) and an ATTO488 labeled 1-palmitoyl-2-hydroxy-
sn
-glycero-3-phosphoethanolamine (PPE) it is possible to observe the spatiotemporal regulation of protein and lipid diffusion on µm-sized membrane regions in the micro-to-milli-second time range.
Bioengineering, Issue 92, fluorescence, protein dynamics, lipid dynamics, membrane heterogeneity, transient confinement, single molecule, GFP
51994
Diffusion Tensor Magnetic Resonance Imaging in the Analysis of Neurodegenerative Diseases
Institutions: University of Ulm.

Diffusion tensor imaging (DTI) techniques provide information on the microstructural processes of the cerebral white matter (WM)
in vivo
. The present applications are designed to investigate differences of WM involvement patterns in different brain diseases, especially neurodegenerative disorders, by use of different DTI analyses in comparison with matched controls. DTI data analysis is performed in a variate fashion,
i.e.
voxelwise comparison of regional diffusion direction-based metrics such as fractional anisotropy (FA), together with fiber tracking (FT) accompanied by tractwise fractional anisotropy statistics (TFAS) at the group level in order to identify differences in FA along WM structures, aiming at the definition of regional patterns of WM alterations at the group level. Transformation into a stereotaxic standard space is a prerequisite for group studies and requires thorough data processing to preserve directional inter-dependencies. The present applications show optimized technical approaches for this preservation of quantitative and directional information during spatial normalization in data analyses at the group level. On this basis, FT techniques can be applied to group averaged data in order to quantify metrics information as defined by FT. Additionally, application of DTI methods,
i.e.
differences in FA-maps after stereotaxic alignment, in a longitudinal analysis at an individual subject basis reveal information about the progression of neurological disorders. Further quality improvement of DTI based results can be obtained during preprocessing by application of a controlled elimination of gradient directions with high noise levels. In summary, DTI is used to define a distinct WM pathoanatomy of different brain diseases by the combination of whole brain-based and tract-based DTI analysis.
Medicine, Issue 77, Neuroscience, Neurobiology, Molecular Biology, Biomedical Engineering, Anatomy, Physiology, Neurodegenerative Diseases, nuclear magnetic resonance, NMR, MR, MRI, diffusion tensor imaging, fiber tracking, group level comparison, neurodegenerative diseases, brain, imaging, clinical techniques
50427
Aseptic Laboratory Techniques: Plating Methods
Institutions: University of California, Los Angeles .

Microorganisms are present on all inanimate surfaces creating ubiquitous sources of possible contamination in the laboratory. Experimental success relies on the ability of a scientist to sterilize work surfaces and equipment as well as prevent contact of sterile instruments and solutions with non-sterile surfaces. Here we present the steps for several plating methods routinely used in the laboratory to isolate, propagate, or enumerate microorganisms such as bacteria and phage. All five methods incorporate aseptic technique, or procedures that maintain the sterility of experimental materials. Procedures described include (1) streak-plating bacterial cultures to isolate single colonies, (2) pour-plating and (3) spread-plating to enumerate viable bacterial colonies, (4) soft agar overlays to isolate phage and enumerate plaques, and (5) replica-plating to transfer cells from one plate to another in an identical spatial pattern. These procedures can be performed at the laboratory bench, provided they involve non-pathogenic strains of microorganisms (Biosafety Level 1, BSL-1). If working with BSL-2 organisms, then these manipulations must take place in a biosafety cabinet. Consult the most current edition of the
Biosafety in Microbiological and Biomedical Laboratories
(BMBL) as well as
Material Safety Data Sheets
(MSDS) for Infectious Substances to determine the biohazard classification as well as the safety precautions and containment facilities required for the microorganism in question. Bacterial strains and phage stocks can be obtained from research investigators, companies, and collections maintained by particular organizations such as the
American Type Culture Collection
(ATCC). It is recommended that non-pathogenic strains be used when learning the various plating methods. By following the procedures described in this protocol, students should be able to: ● Perform plating procedures without contaminating media. ● Isolate single bacterial colonies by the streak-plating method. ● Use pour-plating and spread-plating methods to determine the concentration of bacteria. ● Perform soft agar overlays when working with phage. ● Transfer bacterial cells from one plate to another using the replica-plating procedure. ● Given an experimental task, select the appropriate plating method.
Basic Protocols, Issue 63, Streak plates, pour plates, soft agar overlays, spread plates, replica plates, bacteria, colonies, phage, plaques, dilutions
3064
In Situ Neutron Powder Diffraction Using Custom-made Lithium-ion Batteries
Institutions: University of Sydney, University of Wollongong, Australian Synchrotron, Australian Nuclear Science and Technology Organisation, University of Wollongong, University of New South Wales.

Li-ion batteries are widely used in portable electronic devices and are considered as promising candidates for higher-energy applications such as electric vehicles.
1,2
However, many challenges, such as energy density and battery lifetimes, need to be overcome before this particular battery technology can be widely implemented in such applications.
3
This research is challenging, and we outline a method to address these challenges using
in situ
NPD to probe the crystal structure of electrodes undergoing electrochemical cycling (charge/discharge) in a battery. NPD data help determine the underlying structural mechanism responsible for a range of electrode properties, and this information can direct the development of better electrodes and batteries. We briefly review six types of battery designs custom-made for NPD experiments and detail the method to construct the 'roll-over' cell that we have successfully used on the high-intensity NPD instrument, WOMBAT, at the Australian Nuclear Science and Technology Organisation (ANSTO). The design considerations and materials used for cell construction are discussed in conjunction with aspects of the actual
in situ
NPD experiment and initial directions are presented on how to analyze such complex
in situ
data.
Physics, Issue 93, In operando, structure-property relationships, electrochemical cycling, electrochemical cells, crystallography, battery performance
52284
High-throughput Fluorometric Measurement of Potential Soil Extracellular Enzyme Activities
Institutions: Colorado State University, Oak Ridge National Laboratory, University of Colorado.

Microbes in soils and other environments produce extracellular enzymes to depolymerize and hydrolyze organic macromolecules so that they can be assimilated for energy and nutrients. Measuring soil microbial enzyme activity is crucial in understanding soil ecosystem functional dynamics. The general concept of the fluorescence enzyme assay is that synthetic C-, N-, or P-rich substrates bound with a fluorescent dye are added to soil samples. When intact, the labeled substrates do not fluoresce. Enzyme activity is measured as the increase in fluorescence as the fluorescent dyes are cleaved from their substrates, which allows them to fluoresce. Enzyme measurements can be expressed in units of molarity or activity. To perform this assay, soil slurries are prepared by combining soil with a pH buffer. The pH buffer (typically a 50 mM sodium acetate or 50 mM Tris buffer), is chosen for the buffer's particular acid dissociation constant (pKa) to best match the soil sample pH. The soil slurries are inoculated with a nonlimiting amount of fluorescently labeled (
i.e.
C-, N-, or P-rich) substrate. Using soil slurries in the assay serves to minimize limitations on enzyme and substrate diffusion. Therefore, this assay controls for differences in substrate limitation, diffusion rates, and soil pH conditions; thus detecting potential enzyme activity rates as a function of the difference in enzyme concentrations (per sample). Fluorescence enzyme assays are typically more sensitive than spectrophotometric (
i.e.
colorimetric) assays, but can suffer from interference caused by impurities and the instability of many fluorescent compounds when exposed to light; so caution is required when handling fluorescent substrates. Likewise, this method only assesses potential enzyme activities under laboratory conditions when substrates are not limiting. Caution should be used when interpreting the data representing cross-site comparisons with differing temperatures or soil types, as
in situ
soil type and temperature can influence enzyme kinetics.
Environmental Sciences, Issue 81, Ecological and Environmental Phenomena, Environment, Biochemistry, Environmental Microbiology, Soil Microbiology, Ecology, Eukaryota, Archaea, Bacteria, Soil extracellular enzyme activities (EEAs), fluorometric enzyme assays, substrate degradation, 4-methylumbelliferone (MUB), 7-amino-4-methylcoumarin (MUC), enzyme temperature kinetics, soil
50961
Patient-specific Modeling of the Heart: Estimation of Ventricular Fiber Orientations
Institutions: Johns Hopkins University.

Patient-specific simulations of heart (dys)function aimed at personalizing cardiac therapy are hampered by the absence of
in vivo
imaging technology for clinically acquiring myocardial fiber orientations. The objective of this project was to develop a methodology to estimate cardiac fiber orientations from
in vivo
images of patient heart geometries. An accurate representation of ventricular geometry and fiber orientations was reconstructed, respectively, from high-resolution ex vivo structural magnetic resonance (MR) and diffusion tensor (DT) MR images of a normal human heart, referred to as the atlas. Ventricular geometry of a patient heart was extracted,
via
semiautomatic segmentation, from an
in vivo
computed tomography (CT) image. Using image transformation algorithms, the atlas ventricular geometry was deformed to match that of the patient. Finally, the deformation field was applied to the atlas fiber orientations to obtain an estimate of patient fiber orientations. The accuracy of the fiber estimates was assessed using six normal and three failing canine hearts. The mean absolute difference between inclination angles of acquired and estimated fiber orientations was 15.4 °. Computational simulations of ventricular activation maps and pseudo-ECGs in sinus rhythm and ventricular tachycardia indicated that there are no significant differences between estimated and acquired fiber orientations at a clinically observable level.The new insights obtained from the project will pave the way for the development of patient-specific models of the heart that can aid physicians in personalized diagnosis and decisions regarding electrophysiological interventions.
Bioengineering, Issue 71, Biomedical Engineering, Medicine, Anatomy, Physiology, Cardiology, Myocytes, Cardiac, Image Processing, Computer-Assisted, Magnetic Resonance Imaging, MRI, Diffusion Magnetic Resonance Imaging, Cardiac Electrophysiology, computerized simulation (general), mathematical modeling (systems analysis), Cardiomyocyte, biomedical image processing, patient-specific modeling, Electrophysiology, simulation
50125
Setting-up an In Vitro Model of Rat Blood-brain Barrier (BBB): A Focus on BBB Impermeability and Receptor-mediated Transport
Institutions: VECT-HORUS SAS, CNRS, NICN UMR 7259.

The blood brain barrier (BBB) specifically regulates molecular and cellular flux between the blood and the nervous tissue. Our aim was to develop and characterize a highly reproducible rat syngeneic
in vitro
model of the BBB using co-cultures of primary rat brain endothelial cells (RBEC) and astrocytes to study receptors involved in transcytosis across the endothelial cell monolayer. Astrocytes were isolated by mechanical dissection following trypsin digestion and were frozen for later co-culture. RBEC were isolated from 5-week-old rat cortices. The brains were cleaned of meninges and white matter, and mechanically dissociated following enzymatic digestion. Thereafter, the tissue homogenate was centrifuged in bovine serum albumin to separate vessel fragments from nervous tissue. The vessel fragments underwent a second enzymatic digestion to free endothelial cells from their extracellular matrix. The remaining contaminating cells such as pericytes were further eliminated by plating the microvessel fragments in puromycin-containing medium. They were then passaged onto filters for co-culture with astrocytes grown on the bottom of the wells. RBEC expressed high levels of tight junction (TJ) proteins such as occludin, claudin-5 and ZO-1 with a typical localization at the cell borders. The transendothelial electrical resistance (TEER) of brain endothelial monolayers, indicating the tightness of TJs reached 300 ohm·cm
2
on average. The endothelial permeability coefficients (Pe) for lucifer yellow (LY) was highly reproducible with an average of 0.26 ± 0.11 x 10
-3
cm/min. Brain endothelial cells organized in monolayers expressed the efflux transporter P-glycoprotein (P-gp), showed a polarized transport of rhodamine 123, a ligand for P-gp, and showed specific transport of transferrin-Cy3 and DiILDL across the endothelial cell monolayer. In conclusion, we provide a protocol for setting up an
in vitro
BBB model that is highly reproducible due to the quality assurance methods, and that is suitable for research on BBB transporters and receptors.
Medicine, Issue 88, rat brain endothelial cells (RBEC), mouse, spinal cord, tight junction (TJ), receptor-mediated transport (RMT), low density lipoprotein (LDL), LDLR, transferrin, TfR, P-glycoprotein (P-gp), transendothelial electrical resistance (TEER),
51278
Implantation of Ferumoxides Labeled Human Mesenchymal Stem Cells in Cartilage Defects
Institutions: Medical Center, University of California San Francisco.

The field of tissue engineering integrates the principles of engineering, cell biology and medicine towards the regeneration of specific cells and functional tissue. Matrix associated stem cell implants (MASI) aim to regenerate cartilage defects due to arthritic or traumatic joint injuries. Adult mesenchymal stem cells (MSCs) have the ability to differentiate into cells of the chondrogenic lineage and have shown promising results for cell-based articular cartilage repair technologies. Autologous MSCs can be isolated from a variety of tissues, can be expanded in cell cultures without losing their differentiation potential, and have demonstrated chondrogenic differentiation
in vitro
and
in vivo
1, 2
. In order to provide local retention and viability of transplanted MSCs in cartilage defects, a scaffold is needed, which also supports subsequent differentiation and proliferation. The architecture of the scaffold guides tissue formation and permits the extracellular matrix, produced by the stem cells, to expand. Previous investigations have shown that a 2% agarose scaffold may support the development of stable hyaline cartilage and does not induce immune responses
3
. Long term retention of transplanted stem cells in MASI is critical for cartilage regeneration. Labeling of MSCs with iron oxide nanoparticles allows for long-term
in vivo
tracking with non-invasive MR imaging techniques
4
. This presentation will demonstrate techniques for labeling MSCs with iron oxide nanoparticles, the generation of cell-agarose constructs and implantation of these constructs into cartilage defects. The labeled constructs can be tracked non-invasively with MR-Imaging.
Cellular Biology, Issue 38, Stem cells, cartilage defect, agarose, scaffold, tissue engineering, implantation, MASI
1793
An in vivo Assay to Test Blood Vessel Permeability
Institutions: Fox Chase Cancer Center .

This method is based on the intravenous injection of Evans Blue in mice as the test animal model. Evans blue is a dye that binds albumin. Under physiologic conditions the endothelium is impermeable to albumin, so Evans blue bound albumin remains restricted within blood vessels. In pathologic conditions that promote increased vascular permeability endothelial cells partially lose their close contacts and the endothelium becomes permeable to small proteins such as albumin. This condition allows for extravasation of Evans Blue in tissues. A healthy endothelium prevents extravasation of the dye in the neighboring vascularized tissues. Organs with increased permeability will show significantly increased blue coloration compared to organs with intact endothelium. The level of vascular permeability can be assessed by simple visualization or by quantitative measurement of the dye incorporated per milligram of tissue of control versus experimental animal/tissue. Two powerful aspects of this assay are its simplicity and quantitative characteristics. Evans Blue dye can be extracted from tissues by incubating a specific amount of tissue in formamide. Evans Blue absorbance maximum is at 620 nm and absorbance minimum is at 740 nm. By using a standard curve for Evans Blue, optical density measurements can be converted into milligram dye captured per milligram of tissue. Statistical analysis should be used to assess significant differences in vascular permeability.
Medicine, Issue 73, Immunology, Physiology, Anatomy, Surgery, Hematology, Blood Vessels, Endothelium, Vascular, Vascular Cell Adhesion Molecule-1, permeability, in vivo, Evans Blue, Miles assay, assay, intravenous injection, mouse, animal model
50062
Dissection of Drosophila Ovaries
Institutions: Princeton University.

Neuroscience, Issue 1, Protocol, Stem Cells, Cerebral Cortex, Brain Development, Electroporation, Intra Uterine Injections, transfection
52