Characterization Of Multi-layered Fish Scales (Atractosteus spatula) Using Nanoindentation, X-ray CT, FTIR, and SEM
Published: 07-10-2014
ABSTRACT
The hierarchical architecture of protective biological materials such as mineralized fish scales, gastropod shells, ram's horn, antlers, and turtle shells provides unique design principles with potentials for guiding the design of protective materials and systems in the future. Understanding the structure-property relationships for these material systems at the microscale and nanoscale where failure initiates is essential. Currently, experimental techniques such as nanoindentation, X-ray CT, and SEM provide researchers with a way to correlate the mechanical behavior with hierarchical microstructures of these material systems1-6. However, a well-defined standard procedure for specimen preparation of mineralized biomaterials is not currently available. In this study, the methods for probing spatially correlated chemical, structural, and mechanical properties of the multilayered scale of A. spatula using nanoindentation, FTIR, SEM, with energy-dispersive X-ray (EDX) microanalysis, and X-ray CT are presented.
26 Related JoVE Articles!
Using Neutron Spin Echo Resolved Grazing Incidence Scattering to Investigate Organic Solar Cell Materials
Institutions: University of Sheffield, The University of Sheffield, Rutherford Appleton Laboratory.

The spin echo resolved grazing incidence scattering (SERGIS) technique has been used to probe the length-scales associated with irregularly shaped crystallites. Neutrons are passed through two well defined regions of magnetic field; one before and one after the sample. The two magnetic field regions have opposite polarity and are tuned such that neutrons travelling through both regions, without being perturbed, will undergo the same number of precessions in opposing directions. In this case the neutron precession in the second arm is said to "echo" the first, and the original polarization of the beam is preserved. If the neutron interacts with a sample and scatters elastically the path through the second arm is not the same as the first and the original polarization is not recovered. Depolarization of the neutron beam is a highly sensitive probe at very small angles (<50 μrad) but still allows a high intensity, divergent beam to be used. The decrease in polarization of the beam reflected from the sample as compared to that from the reference sample can be directly related to structure within the sample. In comparison to scattering observed in neutron reflection measurements the SERGIS signals are often weak and are unlikely to be observed if the in-plane structures within the sample under investigation are dilute, disordered, small in size and polydisperse or the neutron scattering contrast is low. Therefore, good results will most likely be obtained using the SERGIS technique if the sample being measured consist of thin films on a flat substrate and contain scattering features that contains a high density of moderately sized features (30 nm to 5 µm) which scatter neutrons strongly or the features are arranged on a lattice. An advantage of the SERGIS technique is that it can probe structures in the plane of the sample.
Physics, Issue 83, Spin Echo Resolved Grazing Incidence Scattering, Neutron, Crystallite, Organic solar cell, PCBM, P3HT
51129
Analyzing the Movement of the Nauplius 'Artemia salina' by Optical Tracking of Plasmonic Nanoparticles
Institutions: Ludwig-Maximilians-Universität.

We demonstrate how optical tweezers may provide a sensitive tool to analyze the fluidic vibrations generated by the movement of small aquatic organisms. A single gold nanoparticle held by an optical tweezer is used as a sensor to quantify the rhythmic motion of a Nauplius larva (
Artemia salina
) in a water sample. This is achieved by monitoring the time dependent displacement of the trapped nanoparticle as a consequence of the Nauplius activity. A Fourier analysis of the nanoparticle's position then yields a frequency spectrum that is characteristic to the motion of the observed species. This experiment demonstrates the capability of this method to measure and characterize the activity of small aquatic larvae without the requirement to observe them directly and to gain information about the position of the larvae with respect to the trapped particle. Overall, this approach could give an insight on the vitality of certain species found in an aquatic ecosystem and could expand the range of conventional methods for analyzing water samples.
Biophysics, Issue 89, optical tweezers, particle tracking, plasmonic nanoparticles, Nauplius, bioindicator, water sample analysis
51502
Fabrication and Characterization of Disordered Polymer Optical Fibers for Transverse Anderson Localization of Light
Institutions: University of Wisconsin-Milwaukee, Corning Incorporated, Corning, New York.

We develop and characterize a disordered polymer optical fiber that uses transverse Anderson localization as a novel waveguiding mechanism. The developed polymer optical fiber is composed of 80,000 strands of poly (methyl methacrylate) (PMMA) and polystyrene (PS) that are randomly mixed and drawn into a square cross section optical fiber with a side width of 250 μm. Initially, each strand is 200 μm in diameter and 8-inches long. During the mixing process of the original fiber strands, the fibers cross over each other; however, a large draw ratio guarantees that the refractive index profile is invariant along the length of the fiber for several tens of centimeters. The large refractive index difference of 0.1 between the disordered sites results in a small localized beam radius that is comparable to the beam radius of conventional optical fibers. The input light is launched from a standard single mode optical fiber using the butt-coupling method and the near-field output beam from the disordered fiber is imaged using a 40X objective and a CCD camera. The output beam diameter agrees well with the expected results from the numerical simulations. The disordered optical fiber presented in this work is the first device-level implementation of 2D Anderson localization, and can potentially be used for image transport and short-haul optical communication systems.
Physics, Issue 77, Chemistry, Optics, Physics (General), Transverse Anderson Localization, Polymer Optical Fibers, Scattering, Random Media, Optical Fiber Materials, electromagnetism, optical fibers, optical materials, optical waveguides, photonics, wave propagation (optics), fiber optics
50679
Quantum State Engineering of Light with Continuous-wave Optical Parametric Oscillators
Institutions: Université Pierre et Marie Curie, Ecole Normale Supérieure, CNRS, East China Normal University, Universidade de São Paulo.
Engineering non-classical states of the electromagnetic field is a central quest for quantum optics
1,2
. Beyond their fundamental significance, such states are indeed the resources for implementing various protocols, ranging from enhanced metrology to quantum communication and computing. A variety of devices can be used to generate non-classical states, such as single emitters, light-matter interfaces or non-linear systems
3
. We focus here on the use of a continuous-wave optical parametric oscillator
3,4
. This system is based on a non-linear χ
2
crystal inserted inside an optical cavity and it is now well-known as a very efficient source of non-classical light, such as single-mode or two-mode squeezed vacuum depending on the crystal phase matching. Squeezed vacuum is a Gaussian state as its quadrature distributions follow a Gaussian statistics. However, it has been shown that number of protocols require non-Gaussian states
5
. Generating directly such states is a difficult task and would require strong χ
3
non-linearities. Another procedure, probabilistic but heralded, consists in using a measurement-induced non-linearity via a conditional preparation technique operated on Gaussian states. Here, we detail this generation protocol for two non-Gaussian states, the single-photon state and a superposition of coherent states, using two differently phase-matched parametric oscillators as primary resources. This technique enables achievement of a high fidelity with the targeted state and generation of the state in a well-controlled spatiotemporal mode.
Physics, Issue 87, Optics, Quantum optics, Quantum state engineering, Optical parametric oscillator, Squeezed vacuum, Single photon, Coherent state superposition, Homodyne detection
51224
Construction and Characterization of External Cavity Diode Lasers for Atomic Physics
Institutions: The Australian National University.

Since their development in the late 1980s, cheap, reliable external cavity diode lasers (ECDLs) have replaced complex and expensive traditional dye and Titanium Sapphire lasers as the workhorse laser of atomic physics labs
1,2
. Their versatility and prolific use throughout atomic physics in applications such as absorption spectroscopy and laser cooling
1,2
makes it imperative for incoming students to gain a firm practical understanding of these lasers. This publication builds upon the seminal work by Wieman
3
, updating components, and providing a video tutorial. The setup, frequency locking and performance characterization of an ECDL will be described. Discussion of component selection and proper mounting of both diodes and gratings, the factors affecting mode selection within the cavity, proper alignment for optimal external feedback, optics setup for coarse and fine frequency sensitive measurements, a brief overview of laser locking techniques, and laser linewidth measurements are included.
Physics, Issue 86, External Cavity Diode Laser, atomic spectroscopy, laser cooling, Bose-Einstein condensation, Zeeman modulation
51184
Wideband Optical Detector of Ultrasound for Medical Imaging Applications
Institutions: Technical University of Munich and Helmholtz Center Munich.

Optical sensors of ultrasound are a promising alternative to piezoelectric techniques, as has been recently demonstrated in the field of optoacoustic imaging. In medical applications, one of the major limitations of optical sensing technology is its susceptibility to environmental conditions,
e.g.
changes in pressure and temperature, which may saturate the detection. Additionally, the clinical environment often imposes stringent limits on the size and robustness of the sensor. In this work, the combination of pulse interferometry and fiber-based optical sensing is demonstrated for ultrasound detection. Pulse interferometry enables robust performance of the readout system in the presence of rapid variations in the environmental conditions, whereas the use of all-fiber technology leads to a mechanically flexible sensing element compatible with highly demanding medical applications such as intravascular imaging. In order to achieve a short sensor length, a pi-phase-shifted fiber Bragg grating is used, which acts as a resonator trapping light over an effective length of 350 µm. To enable high bandwidth, the sensor is used for sideway detection of ultrasound, which is highly beneficial in circumferential imaging geometries such as intravascular imaging. An optoacoustic imaging setup is used to determine the response of the sensor for acoustic point sources at different positions.
Bioengineering, Issue 87, Ultrasound, optical sensors, interferometry, pulse interferometry, optical fibers, fiber Bragg gratings, optoacoustic imaging, photoacoustic imaging
50847
In-situ Tapering of Chalcogenide Fiber for Mid-infrared Supercontinuum Generation
Institutions: Stanford University .

Supercontinuum generation (SCG) in a tapered chalcogenide fiber is desirable for broadening mid-infrared (or mid-IR, roughly the 2-20 μm wavelength range) frequency combs
1, 2
for applications such as molecular fingerprinting,
3
trace gas detection,
4
laser-driven particle acceleration,
5
and x-ray production via high harmonic generation.
6
Achieving efficient SCG in a tapered optical fiber requires precise control of the group velocity dispersion (GVD) and the temporal properties of the optical pulses at the beginning of the fiber,
7
which depend strongly on the geometry of the taper.
8
Due to variations in the tapering setup and procedure for successive SCG experiments-such as fiber length, tapering environment temperature, or power coupled into the fiber,
in-situ
spectral monitoring of the SCG is necessary to optimize the output spectrum for a single experiment.
In-situ
fiber tapering for SCG consists of coupling the pump source through the fiber to be tapered to a spectral measurement device. The fiber is then tapered while the spectral measurement signal is observed in real-time. When the signal reaches its peak, the tapering is stopped. The
in-situ
tapering procedure allows for generation of a stable, octave-spanning, mid-IR frequency comb from the sub harmonic of a commercially available near-IR frequency comb.
9
This method lowers cost due to the reduction in time and materials required to fabricate an optimal taper with a waist length of only 2 mm. The
in-situ
tapering technique can be extended to optimizing microstructured optical fiber (MOF) for SCG
10
or tuning of the passband of MOFs,
11
optimizing tapered fiber pairs for fused fiber couplers
12
and wavelength division multiplexers (WDMs),
13
or modifying dispersion compensation for compression or stretching of optical pulses.
14-16
Physics, Issue 75, Engineering, Photonics, Optics, infrared spectra, nonlinear optics, optical fibers, optical waveguides, wave propagation (optics), fiber optics, infrared optics, fiber tapering, chalcogenide, supercontinuum generation, mid-infrared, in-situ, frequency comb, scanning electron microscopy, SEM
50518
Imaging Dendritic Spines of Rat Primary Hippocampal Neurons using Structured Illumination Microscopy
Institutions: University of Amsterdam, University of Amsterdam.

Dendritic spines are protrusions emerging from the dendrite of a neuron and represent the primary postsynaptic targets of excitatory inputs in the brain. Technological advances have identified these structures as key elements in neuron connectivity and synaptic plasticity. The quantitative analysis of spine morphology using light microscopy remains an essential problem due to technical limitations associated with light's intrinsic refraction limit. Dendritic spines can be readily identified by confocal laser-scanning fluorescence microscopy. However, measuring subtle changes in the shape and size of spines is difficult because spine dimensions other than length are usually smaller than conventional optical resolution fixed by light microscopy's theoretical resolution limit of 200 nm. Several recently developed super resolution techniques have been used to image cellular structures smaller than the 200 nm, including dendritic spines. These techniques are based on classical far-field operations and therefore allow the use of existing sample preparation methods and to image beyond the surface of a specimen. Described here is a working protocol to apply super resolution structured illumination microscopy (SIM) to the imaging of dendritic spines in primary hippocampal neuron cultures. Possible applications of SIM overlap with those of confocal microscopy. However, the two techniques present different applicability. SIM offers higher effective lateral resolution, while confocal microscopy, due to the usage of a physical pinhole, achieves resolution improvement at the expense of removal of out of focus light. In this protocol, primary neurons are cultured on glass coverslips using a standard protocol, transfected with DNA plasmids encoding fluorescent proteins and imaged using SIM. The whole protocol described herein takes approximately 2 weeks, because dendritic spines are imaged after 16-17 days
in vitro
, when dendritic development is optimal. After completion of the protocol, dendritic spines can be reconstructed in 3D from series of SIM image stacks using specialized software.
Neuroscience, Issue 87, Dendritic Spine, Microscopy, Confocal, Fluorescence, Neurosciences, hippocampus, primary neuron, super resolution microscopy, structured illumination microscopy (SIM), neuroscience, dendrite
51276
How to Create and Use Binocular Rivalry
Institutions: New York University, New York University, Princeton University, Princeton University.

Each of our eyes normally sees a slightly different image of the world around us. The brain can combine these two images into a single coherent representation. However, when the eyes are presented with images that are sufficiently different from each other, an interesting thing happens: Rather than fusing the two images into a combined conscious percept, what transpires is a pattern of perceptual alternations where one image dominates awareness while the other is suppressed; dominance alternates between the two images, typically every few seconds. This perceptual phenomenon is known as binocular rivalry. Binocular rivalry is considered useful for studying perceptual selection and awareness in both human and animal models, because unchanging visual input to each eye leads to alternations in visual awareness and perception. To create a binocular rivalry stimulus, all that is necessary is to present each eye with a different image at the same perceived location. There are several ways of doing this, but newcomers to the field are often unsure which method would best suit their specific needs. The purpose of this article is to describe a number of inexpensive and straightforward ways to create and use binocular rivalry. We detail methods that do not require expensive specialized equipment and describe each method's advantages and disadvantages. The methods described include the use of red-blue goggles, mirror stereoscopes and prism goggles.
Neuroscience, Issue 45, Binocular rivalry, continuous flash suppression, vision, visual awareness, perceptual competition, unconscious processing, neuroimaging
2030
Coherent anti-Stokes Raman Scattering (CARS) Microscopy Visualizes Pharmaceutical Tablets During Dissolution
Institutions: University of Twente, Heinrich-Heine University, University of Helsinki.
Traditional pharmaceutical dissolution tests determine the amount of drug dissolved over time by measuring drug content in the dissolution medium. This method provides little direct information about what is happening on the surface of the dissolving tablet. As the tablet surface composition and structure can change during dissolution, it is essential to monitor it during dissolution testing. In this work coherent anti-Stokes Raman scattering microscopy is used to image the surface of tablets during dissolution while UV absorption spectroscopy is simultaneously providing inline analysis of dissolved drug concentration for tablets containing a 50% mixture of theophylline anhydrate and ethyl cellulose. The measurements showed that
in situ
CARS microscopy is capable of imaging selectively theophylline in the presence of ethyl cellulose. Additionally, the theophylline anhydrate converted to theophylline monohydrate during dissolution, with needle-shaped crystals growing on the tablet surface during dissolution. The conversion of theophylline anhydrate to monohydrate, combined with reduced exposure of the drug to the flowing dissolution medium resulted in decreased dissolution rates. Our results show that
in situ
CARS microscopy combined with inline UV absorption spectroscopy is capable of monitoring pharmaceutical tablet dissolution and correlating surface changes with changes in dissolution rate.
Physics, Issue 89, Coherent anti-Stokes Raman scattering, microscopy, pharmaceutics, dissolution, in situ analysis, theophylline, tablet
51847
Optical Scatter Microscopy Based on Two-Dimensional Gabor Filters
Institutions: Rutgers University .

We demonstrate a microscopic instrument that can measure subcellular texture arising from organelle morphology and organization within unstained living cells. The proposed instrument extends the sensitivity of label-free optical microscopy to nanoscale changes in organelle size and shape and can be used to accelerate the study of the structure-function relationship pertaining to organelle dynamics underlying fundamental biological processes, such as programmed cell death or cellular differentiation. The microscope can be easily implemented on existing microscopy platforms, and can therefore be disseminated to individual laboratories, where scientists can implement and use the proposed methods with unrestricted access. The proposed technique is able to characterize subcellular structure by observing the cell through two-dimensional optical Gabor filters. These filters can be tuned to sense with nanoscale (10's of nm) sensitivity, specific morphological attributes pertaining to the size and orientation of non-spherical subcellular organelles. While based on contrast generated by elastic scattering, the technique does not rely on a detailed inverse scattering model or on Mie theory to extract morphometric measurements. This technique is therefore applicable to non-spherical organelles for which a precise theoretical scatter description is not easily given, and provides distinctive morphometric parameters that can be obtained within unstained living cells to assess their function. The technique is advantageous compared with digital image processing in that it operates directly on the object's field transform rather than the discretized object's intensity. It does not rely on high image sampling rates and can therefore be used to rapidly screen morphological activity within hundreds of cells at a time, thus greatly facilitating the study of organelle structure beyond individual organelle segmentation and reconstruction by fluorescence confocal microscopy of highly magnified digital images of limited fields of view. In this demonstration we show data from a marine diatom to illustrate the methodology. We also show preliminary data collected from living cells to give an idea of how the method may be applied in a relevant biological context.
Cellular Biology, Issue 40, Cell analysis, Optical Fourier processing, Light scattering, Microscopy
1915
High Resolution 3D Imaging of Ex-Vivo Biological Samples by Micro CT
Institutions: Weizmann Institute of Science, Weizmann Institute of Science, Weizmann Institute of Science.

Non-destructive volume visualization can be achieved only by tomographic techniques, of which the most efficient is the x-ray micro computerized tomography (μCT). High resolution μCT is a very versatile yet accurate (1-2 microns of resolution) technique for 3D examination of ex-vivo biological samples
1, 2
. As opposed to electron tomography, the μCT allows the examination of up to 4 cm thick samples. This technique requires only few hours of measurement as compared to weeks in histology. In addition, μCT does not rely on 2D stereologic models, thus it may complement and in some cases can even replace histological methods
3, 4
, which are both time consuming and destructive. Sample conditioning and positioning in μCT is straightforward and does not require high vacuum or low temperatures, which may adversely affect the structure. The sample is positioned and rotated 180° or 360°between a microfocused x-ray source and a detector, which includes a scintillator and an accurate CCD camera, For each angle a 2D image is taken, and then the entire volume is reconstructed using one of the different available algorithms
5-7
. The 3D resolution increases with the decrease of the rotation step. The present video protocol shows the main steps in preparation, immobilization and positioning of the sample followed by imaging at high resolution.
Bioengineering, Issue 52, 3D imaging, tomography, x-ray, non invasive, ex-vivo
2688
Diffusion Tensor Magnetic Resonance Imaging in the Analysis of Neurodegenerative Diseases
Institutions: University of Ulm.

Diffusion tensor imaging (DTI) techniques provide information on the microstructural processes of the cerebral white matter (WM)
in vivo
. The present applications are designed to investigate differences of WM involvement patterns in different brain diseases, especially neurodegenerative disorders, by use of different DTI analyses in comparison with matched controls. DTI data analysis is performed in a variate fashion,
i.e.
voxelwise comparison of regional diffusion direction-based metrics such as fractional anisotropy (FA), together with fiber tracking (FT) accompanied by tractwise fractional anisotropy statistics (TFAS) at the group level in order to identify differences in FA along WM structures, aiming at the definition of regional patterns of WM alterations at the group level. Transformation into a stereotaxic standard space is a prerequisite for group studies and requires thorough data processing to preserve directional inter-dependencies. The present applications show optimized technical approaches for this preservation of quantitative and directional information during spatial normalization in data analyses at the group level. On this basis, FT techniques can be applied to group averaged data in order to quantify metrics information as defined by FT. Additionally, application of DTI methods,
i.e.
differences in FA-maps after stereotaxic alignment, in a longitudinal analysis at an individual subject basis reveal information about the progression of neurological disorders. Further quality improvement of DTI based results can be obtained during preprocessing by application of a controlled elimination of gradient directions with high noise levels. In summary, DTI is used to define a distinct WM pathoanatomy of different brain diseases by the combination of whole brain-based and tract-based DTI analysis.
Medicine, Issue 77, Neuroscience, Neurobiology, Molecular Biology, Biomedical Engineering, Anatomy, Physiology, Neurodegenerative Diseases, nuclear magnetic resonance, NMR, MR, MRI, diffusion tensor imaging, fiber tracking, group level comparison, neurodegenerative diseases, brain, imaging, clinical techniques
50427
Video-rate Scanning Confocal Microscopy and Microendoscopy
Institutions: Harvard University , Harvard-MIT, Harvard Medical School.

Confocal microscopy has become an invaluable tool in biology and the biomedical sciences, enabling rapid, high-sensitivity, and high-resolution optical sectioning of complex systems. Confocal microscopy is routinely used, for example, to study specific cellular targets
1
, monitor dynamics in living cells
2-4
, and visualize the three dimensional evolution of entire organisms
5,6
. Extensions of confocal imaging systems, such as confocal microendoscopes, allow for high-resolution imaging
in vivo
7
and are currently being applied to disease imaging and diagnosis in clinical settings
8,9
. Confocal microscopy provides three-dimensional resolution by creating so-called "optical sections" using straightforward geometrical optics. In a standard wide-field microscope, fluorescence generated from a sample is collected by an objective lens and relayed directly to a detector. While acceptable for imaging thin samples, thick samples become blurred by fluorescence generated above and below the objective focal plane. In contrast, confocal microscopy enables virtual, optical sectioning of samples, rejecting out-of-focus light to build high resolution three-dimensional representations of samples. Confocal microscopes achieve this feat by using a confocal aperture in the detection beam path. The fluorescence collected from a sample by the objective is relayed back through the scanning mirrors and through the primary dichroic mirror, a mirror carefully selected to reflect shorter wavelengths such as the laser excitation beam while passing the longer, Stokes-shifted fluorescence emission. This long-wavelength fluorescence signal is then passed to a pair of lenses on either side of a pinhole that is positioned at a plane exactly conjugate with the focal plane of the objective lens. Photons collected from the focal volume of the object are collimated by the objective lens and are focused by the confocal lenses through the pinhole. Fluorescence generated above or below the focal plane will therefore not be collimated properly, and will not pass through the confocal pinhole
1
, creating an optical section in which only light from the microscope focus is visible. (
Fig 1
). Thus the pinhole effectively acts as a virtual aperture in the focal plane, confining the detected emission to only one limited spatial location. Modern commercial confocal microscopes offer users fully automated operation, making formerly complex imaging procedures relatively straightforward and accessible. Despite the flexibility and power of these systems, commercial confocal microscopes are not well suited for all confocal imaging tasks, such as many
in vivo
imaging applications. Without the ability to create customized imaging systems to meet their needs, important experiments can remain out of reach to many scientists. In this article, we provide a step-by-step method for the complete construction of a custom, video-rate confocal imaging system from basic components. The upright microscope will be constructed using a resonant galvanometric mirror to provide the fast scanning axis, while a standard speed resonant galvanometric mirror will scan the slow axis. To create a precise scanned beam in the objective lens focus, these mirrors will be positioned at the so-called telecentric planes using four relay lenses. Confocal detection will be accomplished using a standard, off-the-shelf photomultiplier tube (PMT), and the images will be captured and displayed using a Matrox framegrabber card and the included software.
Bioengineering, Issue 56, Microscopy, confocal microscopy, microendoscopy, video-rate, fluorescence, scanning, in vivo imaging
3252
Analysis of Tubular Membrane Networks in Cardiac Myocytes from Atria and Ventricles
Institutions: Heart Research Center Goettingen, University Medical Center Goettingen, German Center for Cardiovascular Research (DZHK) partner site Goettingen, University of Maryland School of Medicine.

In cardiac myocytes a complex network of membrane tubules - the transverse-axial tubule system (TATS) - controls deep intracellular signaling functions. While the outer surface membrane and associated TATS membrane components appear to be continuous, there are substantial differences in lipid and protein content. In ventricular myocytes (VMs), certain TATS components are highly abundant contributing to rectilinear tubule networks and regular branching 3D architectures. It is thought that peripheral TATS components propagate action potentials from the cell surface to thousands of remote intracellular sarcoendoplasmic reticulum (SER) membrane contact domains, thereby activating intracellular Ca
2+
release units (CRUs). In contrast to VMs, the organization and functional role of TATS membranes in atrial myocytes (AMs) is significantly different and much less understood. Taken together, quantitative structural characterization of TATS membrane networks in healthy and diseased myocytes is an essential prerequisite towards better understanding of functional plasticity and pathophysiological reorganization. Here, we present a strategic combination of protocols for direct quantitative analysis of TATS membrane networks in living VMs and AMs. For this, we accompany primary cell isolations of mouse VMs and/or AMs with critical quality control steps and direct membrane staining protocols for fluorescence imaging of TATS membranes. Using an optimized workflow for confocal or superresolution TATS image processing, binarized and skeletonized data are generated for quantitative analysis of the TATS network and its components. Unlike previously published indirect regional aggregate image analysis strategies, our protocols enable direct characterization of specific components and derive complex physiological properties of TATS membrane networks in living myocytes with high throughput and open access software tools. In summary, the combined protocol strategy can be readily applied for quantitative TATS network studies during physiological myocyte adaptation or disease changes, comparison of different cardiac or skeletal muscle cell types, phenotyping of transgenic models, and pharmacological or therapeutic interventions.
Bioengineering, Issue 92, cardiac myocyte, atria, ventricle, heart, primary cell isolation, fluorescence microscopy, membrane tubule, transverse-axial tubule system, image analysis, image processing, T-tubule, collagenase
51823
Simultaneous Multicolor Imaging of Biological Structures with Fluorescence Photoactivation Localization Microscopy
Institutions: University of Maine.

Localization-based super resolution microscopy can be applied to obtain a spatial map (image) of the distribution of individual fluorescently labeled single molecules within a sample with a spatial resolution of tens of nanometers. Using either photoactivatable (PAFP) or photoswitchable (PSFP) fluorescent proteins fused to proteins of interest, or organic dyes conjugated to antibodies or other molecules of interest, fluorescence photoactivation localization microscopy (FPALM) can simultaneously image multiple species of molecules within single cells. By using the following approach, populations of large numbers (thousands to hundreds of thousands) of individual molecules are imaged in single cells and localized with a precision of ~10-30 nm. Data obtained can be applied to understanding the nanoscale spatial distributions of multiple protein types within a cell. One primary advantage of this technique is the dramatic increase in spatial resolution: while diffraction limits resolution to ~200-250 nm in conventional light microscopy, FPALM can image length scales more than an order of magnitude smaller. As many biological hypotheses concern the spatial relationships among different biomolecules, the improved resolution of FPALM can provide insight into questions of cellular organization which have previously been inaccessible to conventional fluorescence microscopy. In addition to detailing the methods for sample preparation and data acquisition, we here describe the optical setup for FPALM. One additional consideration for researchers wishing to do super-resolution microscopy is cost: in-house setups are significantly cheaper than most commercially available imaging machines. Limitations of this technique include the need for optimizing the labeling of molecules of interest within cell samples, and the need for post-processing software to visualize results. We here describe the use of PAFP and PSFP expression to image two protein species in fixed cells. Extension of the technique to living cells is also described.
Basic Protocol, Issue 82, Microscopy, Super-resolution imaging, Multicolor, single molecule, FPALM, Localization microscopy, fluorescent proteins
50680
Detection of Architectural Distortion in Prior Mammograms via Analysis of Oriented Patterns
Institutions: University of Calgary , University of Calgary .

We demonstrate methods for the detection of architectural distortion in prior mammograms of interval-cancer cases based on analysis of the orientation of breast tissue patterns in mammograms. We hypothesize that architectural distortion modifies the normal orientation of breast tissue patterns in mammographic images before the formation of masses or tumors. In the initial steps of our methods, the oriented structures in a given mammogram are analyzed using Gabor filters and phase portraits to detect node-like sites of radiating or intersecting tissue patterns. Each detected site is then characterized using the node value, fractal dimension, and a measure of angular dispersion specifically designed to represent spiculating patterns associated with architectural distortion. Our methods were tested with a database of 106 prior mammograms of 56 interval-cancer cases and 52 mammograms of 13 normal cases using the features developed for the characterization of architectural distortion, pattern classification
via
quadratic discriminant analysis, and validation with the leave-one-patient out procedure. According to the results of free-response receiver operating characteristic analysis, our methods have demonstrated the capability to detect architectural distortion in prior mammograms, taken 15 months (on the average) before clinical diagnosis of breast cancer, with a sensitivity of 80% at about five false positives per patient.
Medicine, Issue 78, Anatomy, Physiology, Cancer Biology, angular spread, architectural distortion, breast cancer, Computer-Assisted Diagnosis, computer-aided diagnosis (CAD), entropy, fractional Brownian motion, fractal dimension, Gabor filters, Image Processing, Medical Informatics, node map, oriented texture, Pattern Recognition, phase portraits, prior mammograms, spectral analysis
50341
Optimized Negative Staining: a High-throughput Protocol for Examining Small and Asymmetric Protein Structure by Electron Microscopy
Institutions: The Molecular Foundry.

Structural determination of proteins is rather challenging for proteins with molecular masses between 40 - 200 kDa. Considering that more than half of natural proteins have a molecular mass between 40 - 200 kDa
1,2
, a robust and high-throughput method with a nanometer resolution capability is needed. Negative staining (NS) electron microscopy (EM) is an easy, rapid, and qualitative approach which has frequently been used in research laboratories to examine protein structure and protein-protein interactions. Unfortunately, conventional NS protocols often generate structural artifacts on proteins, especially with lipoproteins that usually form presenting rouleaux artifacts. By using images of lipoproteins from cryo-electron microscopy (cryo-EM) as a standard, the key parameters in NS specimen preparation conditions were recently screened and reported as the optimized NS protocol (OpNS), a modified conventional NS protocol
3
. Artifacts like rouleaux can be greatly limited by OpNS, additionally providing high contrast along with reasonably high‐resolution (near 1 nm) images of small and asymmetric proteins. These high-resolution and high contrast images are even favorable for an individual protein (a single object, no average) 3D reconstruction, such as a 160 kDa antibody, through the method of electron tomography
4,5
. Moreover, OpNS can be a high‐throughput tool to examine hundreds of samples of small proteins. For example, the previously published mechanism of 53 kDa cholesteryl ester transfer protein (CETP) involved the screening and imaging of hundreds of samples
6
. Considering cryo-EM rarely successfully images proteins less than 200 kDa has yet to publish any study involving screening over one hundred sample conditions, it is fair to call OpNS a high-throughput method for studying small proteins. Hopefully the OpNS protocol presented here can be a useful tool to push the boundaries of EM and accelerate EM studies into small protein structure, dynamics and mechanisms.
Environmental Sciences, Issue 90, small and asymmetric protein structure, electron microscopy, optimized negative staining
51087
Test Samples for Optimizing STORM Super-Resolution Microscopy
Institutions: National Physical Laboratory.

STORM is a recently developed super-resolution microscopy technique with up to 10 times better resolution than standard fluorescence microscopy techniques. However, as the image is acquired in a very different way than normal, by building up an image molecule-by-molecule, there are some significant challenges for users in trying to optimize their image acquisition. In order to aid this process and gain more insight into how STORM works we present the preparation of 3 test samples and the methodology of acquiring and processing STORM super-resolution images with typical resolutions of between 30-50 nm. By combining the test samples with the use of the freely available rainSTORM processing software it is possible to obtain a great deal of information about image quality and resolution. Using these metrics it is then possible to optimize the imaging procedure from the optics, to sample preparation, dye choice, buffer conditions, and image acquisition settings. We also show examples of some common problems that result in poor image quality, such as lateral drift, where the sample moves during image acquisition and density related problems resulting in the 'mislocalization' phenomenon.
Molecular Biology, Issue 79, Genetics, Bioengineering, Biomedical Engineering, Biophysics, Basic Protocols, HeLa Cells, Actin Cytoskeleton, Coated Vesicles, Receptor, Epidermal Growth Factor, Actins, Fluorescence, Endocytosis, Microscopy, STORM, super-resolution microscopy, nanoscopy, cell biology, fluorescence microscopy, test samples, resolution, actin filaments, fiducial markers, epidermal growth factor, cell, imaging
50579
From Voxels to Knowledge: A Practical Guide to the Segmentation of Complex Electron Microscopy 3D-Data
Institutions: Lawrence Berkeley National Laboratory, Lawrence Berkeley National Laboratory, Lawrence Berkeley National Laboratory.

Modern 3D electron microscopy approaches have recently allowed unprecedented insight into the 3D ultrastructural organization of cells and tissues, enabling the visualization of large macromolecular machines, such as adhesion complexes, as well as higher-order structures, such as the cytoskeleton and cellular organelles in their respective cell and tissue context. Given the inherent complexity of cellular volumes, it is essential to first extract the features of interest in order to allow visualization, quantification, and therefore comprehension of their 3D organization. Each data set is defined by distinct characteristics,
e.g.
, signal-to-noise ratio, crispness (sharpness) of the data, heterogeneity of its features, crowdedness of features, presence or absence of characteristic shapes that allow for easy identification, and the percentage of the entire volume that a specific region of interest occupies. All these characteristics need to be considered when deciding on which approach to take for segmentation. The six different 3D ultrastructural data sets presented were obtained by three different imaging approaches: resin embedded stained electron tomography, focused ion beam- and serial block face- scanning electron microscopy (FIB-SEM, SBF-SEM) of mildly stained and heavily stained samples, respectively. For these data sets, four different segmentation approaches have been applied: (1) fully manual model building followed solely by visualization of the model, (2) manual tracing segmentation of the data followed by surface rendering, (3) semi-automated approaches followed by surface rendering, or (4) automated custom-designed segmentation algorithms followed by surface rendering and quantitative analysis. Depending on the combination of data set characteristics, it was found that typically one of these four categorical approaches outperforms the others, but depending on the exact sequence of criteria, more than one approach may be successful. Based on these data, we propose a triage scheme that categorizes both objective data set characteristics and subjective personal criteria for the analysis of the different data sets.
Bioengineering, Issue 90, 3D electron microscopy, feature extraction, segmentation, image analysis, reconstruction, manual tracing, thresholding
51673
Characterization of Electrode Materials for Lithium Ion and Sodium Ion Batteries Using Synchrotron Radiation Techniques
Institutions: Lawrence Berkeley National Laboratory, University of Illinois at Chicago, Stanford Synchrotron Radiation Lightsource, Haldor Topsøe A/S, PolyPlus Battery Company.

Intercalation compounds such as transition metal oxides or phosphates are the most commonly used electrode materials in Li-ion and Na-ion batteries. During insertion or removal of alkali metal ions, the redox states of transition metals in the compounds change and structural transformations such as phase transitions and/or lattice parameter increases or decreases occur. These behaviors in turn determine important characteristics of the batteries such as the potential profiles, rate capabilities, and cycle lives. The extremely bright and tunable x-rays produced by synchrotron radiation allow rapid acquisition of high-resolution data that provide information about these processes. Transformations in the bulk materials, such as phase transitions, can be directly observed using X-ray diffraction (XRD), while X-ray absorption spectroscopy (XAS) gives information about the local electronic and geometric structures (
e.g.
 changes in redox states and bond lengths).
In situ
experiments carried out on operating cells are particularly useful because they allow direct correlation between the electrochemical and structural properties of the materials. These experiments are time-consuming and can be challenging to design due to the reactivity and air-sensitivity of the alkali metal anodes used in the half-cell configurations, and/or the possibility of signal interference from other cell components and hardware. For these reasons, it is appropriate to carry out
ex situ
experiments (
e.g.
 on electrodes harvested from partially charged or cycled cells) in some cases. Here, we present detailed protocols for the preparation of both
ex situ
and
in situ
samples for experiments involving synchrotron radiation and demonstrate how these experiments are done.
Physics, Issue 81, X-Ray Absorption Spectroscopy, X-Ray Diffraction, inorganic chemistry, electric batteries (applications), energy storage, Electrode materials, Li-ion battery, Na-ion battery, X-ray Absorption Spectroscopy (XAS), in situ X-ray diffraction (XRD)
50594
Lensless Fluorescent Microscopy on a Chip
Institutions: University of California, Los Angeles .

On-chip lensless imaging in general aims to replace bulky lens-based optical microscopes with simpler and more compact designs, especially for high-throughput screening applications. This emerging technology platform has the potential to eliminate the need for bulky and/or costly optical components through the help of novel theories and digital reconstruction algorithms. Along the same lines, here we demonstrate an on-chip fluorescent microscopy modality that can achieve e.g., <4μm spatial resolution over an ultra-wide field-of-view (FOV) of >0.6-8 cm
2
without the use of any lenses, mechanical-scanning or thin-film based interference filters. In this technique, fluorescent excitation is achieved through a prism or hemispherical-glass interface illuminated by an incoherent source. After interacting with the entire object volume, this excitation light is rejected by total-internal-reflection (TIR) process that is occurring at the bottom of the sample micro-fluidic chip. The fluorescent emission from the excited objects is then collected by a fiber-optic faceplate or a taper and is delivered to an optoelectronic sensor array such as a charge-coupled-device (CCD). By using a compressive-sampling based decoding algorithm, the acquired lensfree raw fluorescent images of the sample can be rapidly processed to yield e.g., <4μm resolution over an FOV of >0.6-8 cm
2
. Moreover, vertically stacked micro-channels that are separated by e.g., 50-100 μm can also be successfully imaged using the same lensfree on-chip microscopy platform, which further increases the overall throughput of this modality. This compact on-chip fluorescent imaging platform, with a rapid compressive decoder behind it, could be rather valuable for high-throughput cytometry, rare-cell research and microarray-analysis.
Bioengineering, Issue 54, Lensless Microscopy, Fluorescent On-chip Imaging, Wide-field Microscopy, On-Chip Cytometry, Compressive Sampling/Sensing
3181
Born Normalization for Fluorescence Optical Projection Tomography for Whole Heart Imaging
Institutions: Harvard Medical School, MGH - Massachusetts General Hospital, Technical University of Munich and Helmholtz Center Munich.

Optical projection tomography is a three-dimensional imaging technique that has been recently introduced as an imaging tool primarily in developmental biology and gene expression studies. The technique renders biological sample optically transparent by first dehydrating them and then placing in a mixture of benzyl alcohol and benzyl benzoate in a 2:1 ratio (BABB or Murray s Clear solution). The technique renders biological samples optically transparent by first dehydrating them in graded ethanol solutions then placing them in a mixture of benzyl alcohol and benzyl benzoate in a 2:1 ratio (BABB or Murray s Clear solution) to clear. After the clearing process the scattering contribution in the sample can be greatly reduced and made almost negligible while the absorption contribution cannot be eliminated completely. When trying to reconstruct the fluorescence distribution within the sample under investigation, this contribution affects the reconstructions and leads, inevitably, to image artifacts and quantification errors.. While absorption could be reduced further with a permanence of weeks or months in the clearing media, this will lead to progressive loss of fluorescence and to an unrealistically long sample processing time. This is true when reconstructing both exogenous contrast agents (molecular contrast agents) as well as endogenous contrast (e.g. reconstructions of genetically expressed fluorescent proteins).
Bioengineering, Issue 28, optical imaging, fluorescence imaging, optical projection tomography, born normalization, molecular imaging, heart imaging
1389
Measuring Spatially- and Directionally-varying Light Scattering from Biological Material
Institutions: Cornell University, Cornell University, Cornell University Museum of Vertebrates, Cornell University.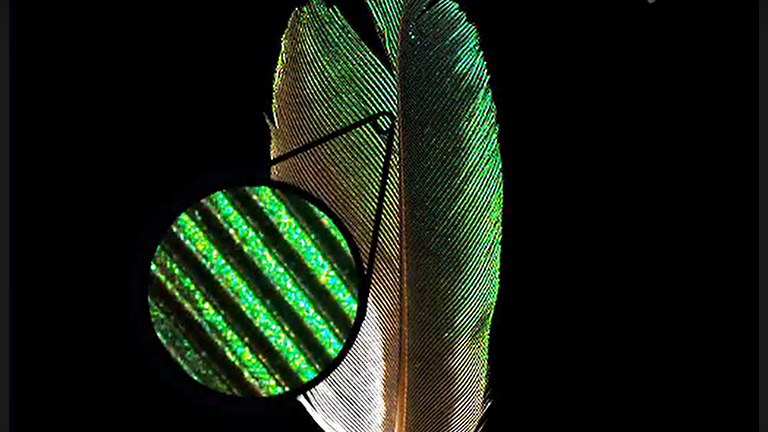 Light interacts with an organism's integument on a variety of spatial scales. For example in an iridescent bird: nano-scale structures produce color; the milli-scale structure of barbs and barbules largely determines the
directional
pattern of reflected light; and through the macro-scale
spatial
structure of overlapping, curved feathers, these directional effects create the visual texture. Milli-scale and macro-scale effects determine where on the organism's body, and from what viewpoints and under what illumination, the iridescent colors are seen. Thus, the highly directional flash of brilliant color from the iridescent throat of a hummingbird is inadequately explained by its nano-scale structure alone and questions remain. From a given observation point, which milli-scale elements of the feather are oriented to reflect strongly? Do some species produce broader "windows" for observation of iridescence than others? These and similar questions may be asked about any organisms that have evolved a particular surface appearance for signaling, camouflage, or other reasons. In order to study the directional patterns of light scattering from feathers, and their relationship to the bird's milli-scale morphology, we developed a protocol for measuring light scattered from biological materials using many high-resolution photographs taken with varying illumination and viewing directions. Since we measure scattered light as a function of direction, we can observe the characteristic features in the directional distribution of light scattered from that particular feather, and because barbs and barbules are resolved in our images, we can clearly attribute the directional features to these different milli-scale structures. Keeping the specimen intact preserves the gross-scale scattering behavior seen in nature. The method described here presents a generalized protocol for analyzing spatially- and directionally-varying light scattering from complex biological materials at multiple structural scales.
Biophysics, Issue 75, Molecular Biology, Biomedical Engineering, Physics, Computer Science, surface properties (nonmetallic materials), optical imaging devices (design and techniques), optical measuring instruments (design and techniques), light scattering, optical materials, optical properties, Optics, feathers, light scattering, reflectance, transmittance, color, iridescence, specular, diffuse, goniometer, C. cupreus, imaging, visualization
50254
X-ray Dose Reduction through Adaptive Exposure in Fluoroscopic Imaging
Institutions: Triple Ring Technologies.

X-ray fluoroscopy is widely used for image guidance during cardiac intervention. However, radiation dose in these procedures can be high, and this is a significant concern, particularly in pediatric applications. Pediatrics procedures are in general much more complex than those performed on adults and thus are on average four to eight times longer
1
. Furthermore, children can undergo up to 10 fluoroscopic procedures by the age of 10, and have been shown to have a three-fold higher risk of developing fatal cancer throughout their life than the general population
2,3
. We have shown that radiation dose can be significantly reduced in adult cardiac procedures by using our scanning beam digital x-ray (SBDX) system
4
-- a fluoroscopic imaging system that employs an inverse imaging geometry
5,6
(Figure 1, Movie 1 and Figure 2). Instead of a single focal spot and an extended detector as used in conventional systems, our approach utilizes an extended X-ray source with multiple focal spots focused on a small detector. Our X-ray source consists of a scanning electron beam sequentially illuminating up to 9,000 focal spot positions. Each focal spot projects a small portion of the imaging volume onto the detector. In contrast to a conventional system where the final image is directly projected onto the detector, the SBDX uses a dedicated algorithm to reconstruct the final image from the 9,000 detector images. For pediatric applications, dose savings with the SBDX system are expected to be smaller than in adult procedures. However, the SBDX system allows for additional dose savings by implementing an electronic adaptive exposure technique. Key to this method is the multi-beam scanning technique of the SBDX system: rather than exposing every part of the image with the same radiation dose, we can dynamically vary the exposure depending on the opacity of the region exposed. Therefore, we can significantly reduce exposure in radiolucent areas and maintain exposure in more opaque regions. In our current implementation, the adaptive exposure requires user interaction (Figure 3). However, in the future, the adaptive exposure will be real time and fully automatic. We have performed experiments with an anthropomorphic phantom and compared measured radiation dose with and without adaptive exposure using a dose area product (DAP) meter. In the experiment presented here, we find a dose reduction of 30%.
Bioengineering, Issue 55, Scanning digital X-ray, fluoroscopy, pediatrics, interventional cardiology, adaptive exposure, dose savings
3236
Non-invasive 3D-Visualization with Sub-micron Resolution Using Synchrotron-X-ray-tomography
Institutions: University of Tubingen, European Synchrotron Radiation Facility.

Little is known about the internal organization of many micro-arthropods with body sizes below 1 mm. The reasons for that are the small size and the hard cuticle which makes it difficult to use protocols of classical histology. In addition, histological sectioning destroys the sample and can therefore not be used for unique material. Hence, a non-destructive method is desirable which allows to view inside small samples without the need of sectioning. We used synchrotron X-ray tomography at the European Synchrotron Radiation Facility (ESRF) in Grenoble (France) to non-invasively produce 3D tomographic datasets with a pixel-resolution of 0.7µm. Using volume rendering software, this allows us to reconstruct the internal organization in its natural state without the artefacts produced by histological sectioning. These date can be used for quantitative morphology, landmarks, or for the visualization of animated movies to understand the structure of hidden body parts and to follow complete organ systems or tissues through the samples.
Developmental Biology, Issue 15, Synchrotron X-ray tomography, Acari, Oribatida, micro-arthropods, non-invasive investigation
737