ABSTRACT
Embryonic stem cells (ESCs) are an outstanding model for elucidating the molecular mechanisms of cellular differentiation. They are especially useful for investigating the development of early hematopoietic progenitor cells (HPCs). Gene expression in ESCs can be manipulated by several techniques that allow the role for individual molecules in development to be determined. One difficulty is that expression of specific genes often has different phenotypic effects dependent on their temporal expression. This problem can be circumvented by the generation of ESCs that inducibly express a gene of interest using technology such as the doxycycline-inducible transgene system. However, generation of these inducible cell lines is costly and time consuming. Described here is a method for disaggregating ESC-derived embryoid bodies (EBs) into single cell suspensions, retrovirally infecting the cell suspensions, and then reforming the EBs by hanging drop. Downstream differentiation is then evaluated by flow cytometry. Using this protocol, it was demonstrated that exogenous expression of a microRNA gene at the beginning of ESC differentiation blocks HPC generation. However, when expressed in EB derived cells after nascent mesoderm is produced, the microRNA gene enhances hematopoietic differentiation. This method is useful for investigating the role of genes after specific germ layer tissue is derived.
24 Related JoVE Articles!
Differentiation of Embryonic Stem Cells into Oligodendrocyte Precursors
Institutions: School of Medicine, University of California, Davis.
Oligodendrocytes are the myelinating cells of the central nervous system. For regenerative cell therapy in demyelinating diseases, there is significant interest in deriving a pure population of lineage-committed oligodendrocyte precursor cells (OPCs) for transplantation. OPCs are characterized by the activity of the transcription factor Olig2 and surface expression of a proteoglycan NG2. Using the GFP-Olig2 (G-Olig2) mouse embryonic stem cell (mESC) reporter line, we optimized conditions for the differentiation of mESCs into GFP+Olig2+NG2+ OPCs. In our protocol, we first describe the generation of embryoid bodies (EBs) from mESCs. Second, we describe treatment of mESC-derived EBs with small molecules: (1) retinoic acid (RA) and (2) a sonic hedgehog (Shh) agonist purmorphamine (Pur) under defined culture conditions to direct EB differentiation into the oligodendroglial lineage. By this approach, OPCs can be obtained with high efficiency (>80%) in a time period of 30 days. Cells derived from mESCs in this protocol are phenotypically similar to OPCs derived from primary tissue culture. The mESC-derived OPCs do not show the spiking property described for a subpopulation of brain OPCs in situ. To study this electrophysiological property, we describe the generation of spiking mESC-derived OPCs by ectopically expressing Na
V
1.2 subunit. The spiking and nonspiking cells obtained from this protocol will help advance functional studies on the two subpopulations of OPCs.
Neurobiology, Issue 39, pluripotent stem cell, oligodendrocyte precursor cells, differentiation, myelin, neuroscience, brain
1960
Procedure for Decellularization of Porcine Heart by Retrograde Coronary Perfusion
Institutions: McGowan Institute for Regenerative Medicine, University of Pittsburgh, Children's Hospital of Pittsburgh of UPMC, University of Pittsburgh.

Perfusion-based whole organ decellularization has recently gained interest in the field of tissue engineering as a means to create site-specific extracellular matrix scaffolds, while largely preserving the native architecture of the scaffold. To date, this approach has been utilized in a variety of organ systems, including the heart, lung, and liver
1-5
. Previous decellularization methods for tissues without an easily accessible vascular network have relied upon prolonged exposure of tissue to solutions of detergents, acids, or enzymatic treatments as a means to remove the cellular and nuclear components from the surrounding extracellular environment
6-8
. However, the effectiveness of these methods hinged upon the ability of the solutions to permeate the tissue via diffusion. In contrast, perfusion of organs through the natural vascular system effectively reduced the diffusion distance and facilitated transport of decellularization agents into the tissue and cellular components out of the tissue. Herein, we describe a method to fully decellularize an intact porcine heart through coronary retrograde perfusion. The protocol yielded a fully decellularized cardiac extracellular matrix (c-ECM) scaffold with the three-dimensional structure of the heart intact. Our method used a series of enzymes, detergents, and acids coupled with hypertonic and hypotonic rinses to aid in the lysis and removal of cells. The protocol used a Trypsin solution to detach cells from the matrix followed by Triton X-100 and sodium deoxycholate solutions to aid in removal of cellular material. The described protocol also uses perfusion speeds of greater than 2 L/min for extended periods of time. The high flow rate, coupled with solution changes allowed transport of agents to the tissue without contamination of cellular debris and ensured effective rinsing of the tissue. The described method removed all nuclear material from native porcine cardiac tissue, creating a site-specific cardiac ECM scaffold that can be used for a variety of applications.
Bioengineering, Issue 70, Tissue Engineering, Biomedical Engineering, Cellular Biology, Medicine, Cardiology, Extracellular matrix, decellularization, animal model, porcine, cardiac, heart tissue
50059
Analysis of Pluripotent Stem Cells by using Cryosections of Embryoid Bodies
Institutions: Universidade Federal do Rio de Janeiro (UFRJ), Brazil.

Embryonic stem (ES) cells are pluripotent cells derived from the inner cell mass of blastocyst-stage early mammalian embryos
1
. A crucial stage in the differentiation of ES cells is the formation of embryoid bodies (EBs) aggregates
2, 3
. EB formation is based on spontaneous aggregation when ES cells are cultured in non adherent plates. Three-dimensional EB recapitulates many aspects of early mammalian embryogenesis and differentiate into the three germ layers: ectoderm, mesoderm and endoderm
4
. Immunofluorescence and
in situ
hybridization are widely used techniques for the detection of target proteins and mRNA present in cells of a tissue section
5, 6, 7
. Here we present a simple technique to generate high quality cryosections of embryoid bodies. This approach relies on the spatial orientation of EB embedding in OCT followed by the cryosection technique. The resulting sections can be subjected to a wide variety of analytical procedures in order to characterize populations of cells containing certain proteins, RNA or DNA. In this sense, the preparation of EB cryosections (10μm) are essential tools for histology staining analysis (e.g. Hematoxilin and Eosin, DAPI), immunofluorescence (e.g. Oct4, nestin) or
in situ
hybridization. This technique can also help to understand aspects of embryogenesis with regards to the maintenance of the tri-dimensional spherical structure of EBs.
Developmental Biology, Issue 46, Embryonic stem cells, embryoid body, cryosections, immunochytochemistry, H9
2344
Generation of Human Cardiomyocytes: A Differentiation Protocol from Feeder-free Human Induced Pluripotent Stem Cells
Institutions: Humanitas Clinical and Research Center, Italy, National Research Council (CNR).

In order to investigate the events driving heart development and to determine the molecular mechanisms leading to myocardial diseases in humans, it is essential first to generate functional human cardiomyocytes (CMs). The use of these cells in drug discovery and toxicology studies would also be highly beneficial, allowing new pharmacological molecules for the treatment of cardiac disorders to be validated pre-clinically on cells of human origin. Of the possible sources of CMs, induced pluripotent stem (iPS) cells are among the most promising, as they can be derived directly from readily accessible patient tissue and possess an intrinsic capacity to give rise to all cell types of the body
1
. Several methods have been proposed for differentiating iPS cells into CMs, ranging from the classical embryoid bodies (EBs) aggregation approach to chemically defined protocols
2,3
. In this article we propose an EBs-based protocol and show how this method can be employed to efficiently generate functional CM-like cells from feeder-free iPS cells.
Stem Cell Biology, Issue 76, Developmental Biology, Molecular Biology, Cellular Biology, Medicine, Bioengineering, Biomedical Engineering, Genetics, Cardiology, Stem Cell Research, Cardiovascular Diseases, Human cardiomyocytes, iPS cells, induced pluripotent stem cells, stem cells, cardiac differentiation, disease modeling, embryoid bodies, cell lines, cell culture
50429
Generation of Aligned Functional Myocardial Tissue Through Microcontact Printing
Institutions: Massachusetts General Hospital and Harvard Medical School, Harvard Stem Cell Institute.
Advanced heart failure represents a major unmet clinical challenge, arising from the loss of viable and/or fully functional cardiac muscle cells. Despite optimum drug therapy, heart failure represents a leading cause of mortality and morbidity in the developed world. A major challenge in drug development is the identification of cellular assays that accurately recapitulate normal and diseased human myocardial physiology
in vitro
. Likewise, the major challenges in regenerative cardiac biology revolve around the identification and isolation of patient-specific cardiac progenitors in clinically relevant quantities. These cells have to then be assembled into functional tissue that resembles the native heart tissue architecture
.
Microcontact printing allows for the creation of precise micropatterned protein shapes that resemble structural organization of the heart, thus providing geometric cues to control cell adhesion spatially. Herein we describe our approach for the isolation of highly purified myocardial cells from pluripotent stem cells differentiating
in vitro
, the generation of cell growth surfaces micropatterned with extracellular matrix proteins, and the assembly of the stem cell-derived cardiac muscle cells into anisotropic myocardial tissue.
Stem Cell Biology, Issue 73, Bioengineering, Biomedical Engineering, Medicine, Molecular Biology, Cellular Biology, Anatomy, Physiology, Tissue Engineering, Cardiology, Cell Biology, Embryonic Stem Cells, ESCs, Micropatterning, Microcontact Printing, Cell Alignment, Heart Progenitors, in vitro Differentiation, Transgenic Mice, Mouse Embryonic Stem Cells, stem cells, myocardial tissue, PDMS, FACS, flow cytometry, animal model
50288
Harmonic Nanoparticles for Regenerative Research
Institutions: University of Geneva, University of Geneva, École Polytechnique Fédérale de Lausanne, Trinity College Dublin, Trinity College Dublin, Nikon AG Instruments.
In this visualized experiment, protocol details are provided for
in vitro
labeling of human embryonic stem cells (hESC) with second harmonic generation nanoparticles (HNPs). The latter are a new family of probes recently introduced for labeling biological samples for multi-photon imaging. HNPs are capable of doubling the frequency of excitation light by the nonlinear optical process of second harmonic generation with no restriction on the excitation wavelength. Multi-photon based methodologies for hESC differentiation into cardiac clusters (maintained as long term air-liquid cultures) are presented in detail. In particular, evidence on how to maximize the intense second harmonic (SH) emission of isolated HNPs during 3D monitoring of beating cardiac tissue in 3D is shown. The analysis of the resulting images to retrieve 3D displacement patterns is also detailed.
Bioengineering, Issue 87, multi-photon imaging, human embryonic stem cells (ESC), nanoparticles, embryoid bodies (EBs), cardiomyocyte differentiation, cardiac contraction, air-liquid cultures
51333
Cultivation of Human Neural Progenitor Cells in a 3-dimensional Self-assembling Peptide Hydrogel
Institutions: University of Rostock.

The influence of 3-dimensional (3D) scaffolds on growth, proliferation and finally neuronal differentiation is of great interest in order to find new methods for cell-based and standardised therapies in neurological disorders or neurodegenerative diseases. 3D structures are expected to provide an environment much closer to the
in vivo
situation than 2D cultures. In the context of regenerative medicine, the combination of biomaterial scaffolds with neural stem and progenitor cells holds great promise as a therapeutic tool.
1-5
Culture systems emulating a three dimensional environment have been shown to influence proliferation and differentiation in different types of stem and progenitor cells. Herein, the formation and functionalisation of the 3D-microenviroment is important to determine the survival and fate of the embedded cells.
6-8
Here we used PuraMatrix
9,10
(RADA16, PM), a peptide based hydrogel scaffold, which is well described and used to study the influence of a 3D-environment on different cell types.
7,11-14
PuraMatrix can be customised easily and the synthetic fabrication of the nano-fibers provides a 3D-culture system of high reliability, which is in addition xeno-free. Recently we have studied the influence of the PM-concentration on the formation of the scaffold.
13
In this study the used concentrations of PM had a direct impact on the formation of the 3D-structure, which was demonstrated by atomic force microscopy. A subsequent analysis of the survival and differentiation of the hNPCs revealed an influence of the used concentrations of PM on the fate of the embedded cells. However, the analysis of survival or neuronal differentiation by means of immunofluorescence techniques posses some hurdles. To gain reliable data, one has to determine the total number of cells within a matrix to obtain the relative number of e.g. neuronal cells marked by βIII-tubulin. This prerequisites a technique to analyse the scaffolds in all 3-dimensions by a confocal microscope or a comparable technique like fluorescence microscopes able to take z-stacks of the specimen. Furthermore this kind of analysis is extremely time consuming. Here we demonstrate a method to release cells from the 3D-scaffolds for the later analysis e.g. by flow cytometry. In this protocol human neural progenitor cells (hNPCs) of the ReNcell VM cell line (Millipore USA) were cultured and differentiated in 3D-scaffolds consisting of PuraMatrix (PM) or PuraMatrix supplemented with laminin (PML). In our hands a PM-concentration of 0.25% was optimal for the cultivation of the cells
13
, however the concentration might be adapted to other cell types.
12
The released cells can be used for e.g. immunocytochemical studies and subsequently analysed by flow cytometry. This speeds up the analysis and more over, the obtained data rest upon a wider base, improving the reliability of the data.
Bioengineering, Issue 59, PuraMatrix, RADA16, 3D-scaffold, ReNcell VM, human neural progenitor cells, quantification
3830
Derivation of T Cells In Vitro from Mouse Embryonic Stem Cells
Institutions: City University of New York, University of Toronto.

The OP9/OP9-DL1 co-culture system has become a well-established method for deriving differentiated blood cell types from embryonic and hematopoietic progenitors of both mouse and human origin. It is now used to address a growing variety of complex genetic, cellular and molecular questions related to hematopoiesis, and is at the cutting edge of efforts to translate these basic findings to therapeutic applications. The procedures are straightforward and routinely yield robust results. However, achieving successful hematopoietic differentiation
in vitro
requires special attention to the details of reagent and cell culture maintenance. Furthermore, the protocol features technique sensitive steps that, while not difficult, take care and practice to master. Here we focus on the procedures for differentiation of T lymphocytes from mouse embryonic stem cells (mESC). We provide a detailed protocol with discussions of the critical steps and parameters that enable reproducibly robust cellular differentiation
in vitro
. It is in the interest of the field to consider wider adoption of this technology, as it has the potential to reduce animal use, lower the cost and shorten the timelines of both basic and translational experimentation.
Immunology, Issue 92, mouse, embryonic stem cells, in vitro differentiation, OP9 cells, Delta-like 1 (Dll-1) ligand, Notch, hematopoiesis, lymphocytes, T cells
52119
Alternative Cultures for Human Pluripotent Stem Cell Production, Maintenance, and Genetic Analysis
Institutions: National Institutes of Health, National Institutes of Health.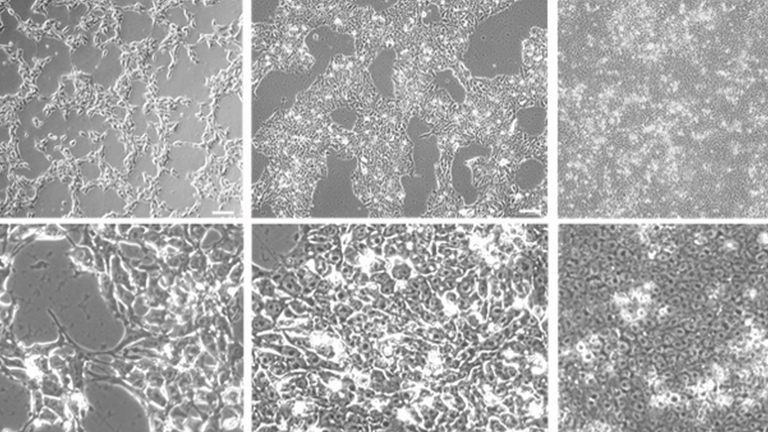 Human pluripotent stem cells (hPSCs) hold great promise for regenerative medicine and biopharmaceutical applications. Currently, optimal culture and efficient expansion of large amounts of clinical-grade hPSCs are critical issues in hPSC-based therapies. Conventionally, hPSCs are propagated as colonies on both feeder and feeder-free culture systems. However, these methods have several major limitations, including low cell yields and generation of heterogeneously differentiated cells. To improve current hPSC culture methods, we have recently developed a new method, which is based on non-colony type monolayer (NCM) culture of dissociated single cells. Here, we present detailed NCM protocols based on the Rho-associated kinase (ROCK) inhibitor Y-27632. We also provide new information regarding NCM culture with different small molecules such as Y-39983 (ROCK I inhibitor), phenylbenzodioxane (ROCK II inhibitor), and thiazovivin (a novel ROCK inhibitor). We further extend our basic protocol to cultivate hPSCs on defined extracellular proteins such as the laminin isoform 521 (LN-521) without the use of ROCK inhibitors. Moreover, based on NCM, we have demonstrated efficient transfection or transduction of plasmid DNAs, lentiviral particles, and oligonucleotide-based microRNAs into hPSCs in order to genetically modify these cells for molecular analyses and drug discovery. The NCM-based methods overcome the major shortcomings of colony-type culture, and thus may be suitable for producing large amounts of homogeneous hPSCs for future clinical therapies, stem cell research, and drug discovery.
Stem Cell Biology, Issue 89, Pluripotent stem cells, human embryonic stem cells, induced pluripotent stem cells, cell culture, non-colony type monolayer, single cell, plating efficiency, Rho-associated kinase, Y-27632, transfection, transduction
51519
Derivation of Hematopoietic Stem Cells from Murine Embryonic Stem Cells
Institutions: Harvard Medical School.

A stem cell is defined as a cell with the capacity to both self-renew and generate multiple differentiated progeny. Embryonic stem cells (ESC) are derived from the blastocyst of the early embryo and are pluripotent in differentiative ability. Their vast differentiative potential has made them the focus of much research centered on deducing how to coax them to generate clinically useful cell types. The successful derivation of hematopoietic stem cells (HSC) from mouse ESC has recently been accomplished and can be visualized in this video protocol. HSC, arguably the most clinically exploited cell population, are used to treat a myriad of hematopoietic malignancies and disorders. However, many patients that might benefit from HSC therapy lack access to suitable donors. ESC could provide an alternative source of HSC for these patients. The following protocol establishes a baseline from which ESC-HSC can be studied and inform efforts to isolate HSC from human ESC. In this protocol, ESC are differentiated as embryoid bodies (EBs) for 6 days in commercially available serum pre-screened for optimal hematopoietic differentiation. EBs are then dissociated and infected with retroviral HoxB4. Infected EB-derived cells are plated on OP9 stroma, a bone marrow stromal cell line derived from the calvaria of M-CSF-/- mice, and co-cultured in the presence of hematopoiesis promoting cytokines for ten days. During this co-culture, the infected cells expand greatly, resulting in the generation a heterogeneous pool of 100s of millions of cells. These cells can then be used to rescue and reconstitute lethally irradiated mice.
Cellular Biology, Issue 2, ES cells, stem cells, HSC, transplantation, HoxB4
162
Preparation of Hydroxy-PAAm Hydrogels for Decoupling the Effects of Mechanotransduction Cues
Institutions: Université de Mons.
It is now well established that many cellular functions are regulated by interactions of cells with physicochemical and mechanical cues of their extracellular matrix (ECM) environment. Eukaryotic cells constantly sense their local microenvironment through surface mechanosensors to transduce physical changes of ECM into biochemical signals, and integrate these signals to achieve specific changes in gene expression. Interestingly, physicochemical and mechanical parameters of the ECM can couple with each other to regulate cell fate. Therefore, a key to understanding mechanotransduction is to decouple the relative contribution of ECM cues on cellular functions. Here we present a detailed experimental protocol to rapidly and easily generate biologically relevant hydrogels for the independent tuning of mechanotransduction cues
in vitro
. We chemically modified polyacrylamide hydrogels (PAAm) to surmount their intrinsically non-adhesive properties by incorporating hydroxyl-functionalized acrylamide monomers during the polymerization. We obtained a novel PAAm hydrogel, called hydroxy-PAAm, which permits immobilization of any desired nature of ECM proteins. The combination of hydroxy-PAAm hydrogels with microcontact printing allows to independently control the morphology of single-cells, the matrix stiffness, the nature and the density of ECM proteins. We provide a simple and rapid method that can be set up in every biology lab to study
in vitro
cell mechanotransduction processes. We validate this novel two-dimensional platform by conducting experiments on endothelial cells that demonstrate a mechanical coupling between ECM stiffness and the nucleus.
Bioengineering, Issue 90, hydrogels, mechanotransduction, polyacrylamide, microcontact printing, cell shape, stiffness, durotaxis, cell-ligand density
51010
Rapid and Efficient Generation of Neurons from Human Pluripotent Stem Cells in a Multititre Plate Format
Institutions: Max Planck Institute for Molecular Biomedicine, University of Münster.

Existing protocols for the generation of neurons from human pluripotent stem cells (hPSCs) are often tedious in that they are multistep procedures involving the isolation and expansion of neural precursor cells, prior to terminal differentiation. In comparison to these time-consuming approaches, we have recently found that combined inhibition of three signaling pathways, TGFβ/SMAD2, BMP/SMAD1, and FGF/ERK, promotes rapid induction of neuroectoderm from hPSCs, followed by immediate differentiation into functional neurons. Here, we have adapted our procedure to a novel multititre plate format, to further enhance its reproducibility and to make it compatible with mid-throughput applications. It comprises four days of neuroectoderm formation in floating spheres (embryoid bodies), followed by a further four days of differentiation into neurons under adherent conditions. Most cells obtained with this protocol appear to be bipolar sensory neurons. Moreover, the procedure is highly efficient, does not require particular expert skills, and is based on a simple chemically defined medium with cost-efficient small molecules. Due to these features, the procedure may serve as a useful platform for further functional investigation as well as for cell-based screening approaches requiring human sensory neurons or neurons of any type.
Stem Cell Biology, Issue 73, Neuroscience, Biomedical Engineering, Medicine, Bioengineering, Physiology, Genetics, Molecular Biomedicine, human pluripotent stem cells, hPSC, neuronal differentiation, neuroectoderm, embryoid bodies, chemically defined conditions, stem cells, neurons, signalling pathways, mid-throughput, PCR, multititre, cell culture
4335
High Efficiency Differentiation of Human Pluripotent Stem Cells to Cardiomyocytes and Characterization by Flow Cytometry
Institutions: Medical College of Wisconsin, Stanford University School of Medicine, Medical College of Wisconsin, Hong Kong University, Johns Hopkins University School of Medicine, Medical College of Wisconsin.

There is an urgent need to develop approaches for repairing the damaged heart, discovering new therapeutic drugs that do not have toxic effects on the heart, and improving strategies to accurately model heart disease. The potential of exploiting human induced pluripotent stem cell (hiPSC) technology to generate cardiac muscle "in a dish" for these applications continues to generate high enthusiasm. In recent years, the ability to efficiently generate cardiomyogenic cells from human pluripotent stem cells (hPSCs) has greatly improved, offering us new opportunities to model very early stages of human cardiac development not otherwise accessible. In contrast to many previous methods, the cardiomyocyte differentiation protocol described here does not require cell aggregation or the addition of Activin A or BMP4 and robustly generates cultures of cells that are highly positive for cardiac troponin I and T (TNNI3, TNNT2), iroquois-class homeodomain protein IRX-4 (IRX4), myosin regulatory light chain 2, ventricular/cardiac muscle isoform (MLC2v) and myosin regulatory light chain 2, atrial isoform (MLC2a) by day 10 across all human embryonic stem cell (hESC) and hiPSC lines tested to date. Cells can be passaged and maintained for more than 90 days in culture. The strategy is technically simple to implement and cost-effective. Characterization of cardiomyocytes derived from pluripotent cells often includes the analysis of reference markers, both at the mRNA and protein level. For protein analysis, flow cytometry is a powerful analytical tool for assessing quality of cells in culture and determining subpopulation homogeneity. However, technical variation in sample preparation can significantly affect quality of flow cytometry data. Thus, standardization of staining protocols should facilitate comparisons among various differentiation strategies. Accordingly, optimized staining protocols for the analysis of IRX4, MLC2v, MLC2a, TNNI3, and TNNT2 by flow cytometry are described.
Cellular Biology, Issue 91, human induced pluripotent stem cell, flow cytometry, directed differentiation, cardiomyocyte, IRX4, TNNI3, TNNT2, MCL2v, MLC2a
52010
Preparation of 3D Fibrin Scaffolds for Stem Cell Culture Applications
Institutions: University of Victoria , University of Victoria .

Stem cells are found in naturally occurring 3D microenvironments
in vivo
, which are often referred to as the stem cell niche
1
. Culturing stem cells inside of 3D biomaterial scaffolds provides a way to accurately mimic these microenvironments, providing an advantage over traditional 2D culture methods using polystyrene as well as a method for engineering replacement tissues
2
. While 2D tissue culture polystrene has been used for the majority of cell culture experiments, 3D biomaterial scaffolds can more closely replicate the microenvironments found
in vivo
by enabling more accurate establishment of cell polarity in the environment and possessing biochemical and mechanical properties similar to soft tissue.
3
A variety of naturally derived and synthetic biomaterial scaffolds have been investigated as 3D environments for supporting stem cell growth. While synthetic scaffolds can be synthesized to have a greater range of mechanical and chemical properties and often have greater reproducibility, natural biomaterials are often composed of proteins and polysaccharides found in the extracelluar matrix and as a result contain binding sites for cell adhesion and readily support cell culture. Fibrin scaffolds, produced by polymerizing the protein fibrinogen obtained from plasma, have been widely investigated for a variety of tissue engineering applications both
in vitro
and
in vivo
4
. Such scaffolds can be modified using a variety of methods to incorporate controlled release systems for delivering therapeutic factors
5
. Previous work has shown that such scaffolds can be used to successfully culture embryonic stem cells and this scaffold-based culture system can be used to screen the effects of various growth factors on the differentiation of the stem cells seeded inside
6,7
. This protocol details the process of polymerizing fibrin scaffolds from fibrinogen solutions using the enzymatic activity of thrombin. The process takes 2 days to complete, including an overnight dialysis step for the fibrinogen solution to remove citrates that inhibit polymerization. These detailed methods rely on fibrinogen concentrations determined to be optimal for embryonic and induced pluripotent stem cell culture. Other groups have further investigated fibrin scaffolds for a wide range of cell types and applications - demonstrating the versatility of this approach
8-12
.
Bioengineering, Issue 61, Extracellular matrix, stem cells, biomaterials, drug delivery, cell culture
3641
Nonhuman Primate Lung Decellularization and Recellularization Using a Specialized Large-organ Bioreactor
Institutions: Tulane University School of Medicine, Tulane National Primate Research Center, Tulane University School of Medicine, Tulane University School of Medicine.

There are an insufficient number of lungs available to meet current and future organ transplantation needs. Bioartificial tissue regeneration is an attractive alternative to classic organ transplantation. This technology utilizes an organ's natural biological extracellular matrix (ECM) as a scaffold onto which autologous or stem/progenitor cells may be seeded and cultured in such a way that facilitates regeneration of the original tissue. The natural ECM is isolated by a process called decellularization. Decellularization is accomplished by treating tissues with a series of detergents, salts, and enzymes to achieve effective removal of cellular material while leaving the ECM intact. Studies conducted utilizing decellularization and subsequent recellularization of rodent lungs demonstrated marginal success in generating pulmonary-like tissue which is capable of gas exchange
in vivo
. While offering essential proof-of-concept, rodent models are not directly translatable to human use. Nonhuman primates (NHP) offer a more suitable model in which to investigate the use of bioartificial organ production for eventual clinical use. The protocols for achieving complete decellularization of lungs acquired from the NHP rhesus macaque are presented. The resulting acellular lungs can be seeded with a variety of cells including mesenchymal stem cells and endothelial cells. The manuscript also describes the development of a bioreactor system in which cell-seeded macaque lungs can be cultured under conditions of mechanical stretch and strain provided by negative pressure ventilation as well as pulsatile perfusion through the vasculature; these forces are known to direct differentiation along pulmonary and endothelial lineages, respectively. Representative results of decellularization and cell seeding are provided.
Bioengineering, Issue 82, rhesus macaque, decellularization, recellularization, detergent, matrix, scaffold, large-organ bioreactor, mesenchymal stem cells
50825
Setting-up an In Vitro Model of Rat Blood-brain Barrier (BBB): A Focus on BBB Impermeability and Receptor-mediated Transport
Institutions: VECT-HORUS SAS, CNRS, NICN UMR 7259.

The blood brain barrier (BBB) specifically regulates molecular and cellular flux between the blood and the nervous tissue. Our aim was to develop and characterize a highly reproducible rat syngeneic
in vitro
model of the BBB using co-cultures of primary rat brain endothelial cells (RBEC) and astrocytes to study receptors involved in transcytosis across the endothelial cell monolayer. Astrocytes were isolated by mechanical dissection following trypsin digestion and were frozen for later co-culture. RBEC were isolated from 5-week-old rat cortices. The brains were cleaned of meninges and white matter, and mechanically dissociated following enzymatic digestion. Thereafter, the tissue homogenate was centrifuged in bovine serum albumin to separate vessel fragments from nervous tissue. The vessel fragments underwent a second enzymatic digestion to free endothelial cells from their extracellular matrix. The remaining contaminating cells such as pericytes were further eliminated by plating the microvessel fragments in puromycin-containing medium. They were then passaged onto filters for co-culture with astrocytes grown on the bottom of the wells. RBEC expressed high levels of tight junction (TJ) proteins such as occludin, claudin-5 and ZO-1 with a typical localization at the cell borders. The transendothelial electrical resistance (TEER) of brain endothelial monolayers, indicating the tightness of TJs reached 300 ohm·cm
2
on average. The endothelial permeability coefficients (Pe) for lucifer yellow (LY) was highly reproducible with an average of 0.26 ± 0.11 x 10
-3
cm/min. Brain endothelial cells organized in monolayers expressed the efflux transporter P-glycoprotein (P-gp), showed a polarized transport of rhodamine 123, a ligand for P-gp, and showed specific transport of transferrin-Cy3 and DiILDL across the endothelial cell monolayer. In conclusion, we provide a protocol for setting up an
in vitro
BBB model that is highly reproducible due to the quality assurance methods, and that is suitable for research on BBB transporters and receptors.
Medicine, Issue 88, rat brain endothelial cells (RBEC), mouse, spinal cord, tight junction (TJ), receptor-mediated transport (RMT), low density lipoprotein (LDL), LDLR, transferrin, TfR, P-glycoprotein (P-gp), transendothelial electrical resistance (TEER),
51278
Development, Expansion, and In vivo Monitoring of Human NK Cells from Human Embryonic Stem Cells (hESCs) and Induced Pluripotent Stem Cells (iPSCs)
Institutions: University of Minnesota, Minneapolis, University of Minnesota, Minneapolis.

We present a method for deriving natural killer (NK) cells from undifferentiated hESCs and iPSCs using a feeder-free approach. This method gives rise to high levels of NK cells after 4 weeks culture and can undergo further 2-log expansion with artificial antigen presenting cells. hESC- and iPSC-derived NK cells developed in this system have a mature phenotype and function. The production of large numbers of genetically modifiable NK cells is applicable for both basic mechanistic as well as anti-tumor studies. Expression of firefly luciferase in hESC-derived NK cells allows a non-invasive approach to follow NK cell engraftment, distribution, and function. We also describe a dual-imaging scheme that allows separate monitoring of two different cell populations to more distinctly characterize their interactions
in vivo
. This method of derivation, expansion, and dual
in vivo
imaging provides a reliable approach for producing NK cells and their evaluation which is necessary to improve current NK cell adoptive therapies.
Stem Cell Biology, Issue 74, Bioengineering, Biomedical Engineering, Medicine, Physiology, Anatomy, Cellular Biology, Molecular Biology, Biochemistry, Hematology, Embryonic Stem Cells, ESCs, ES Cells, Hematopoietic Stem Cells, HSC, Pluripotent Stem Cells, Induced Pluripotent Stem Cells, iPSCs, Luciferases, Firefly, Immunotherapy, Immunotherapy, Adoptive, stem cells, differentiation, NK cells, in vivo imaging, fluorescent imaging, turboFP650, FACS, cell culture
50337
ECM Protein Nanofibers and Nanostructures Engineered Using Surface-initiated Assembly
Institutions: Carnegie Mellon University, Carnegie Mellon University.
The extracellular matrix (ECM) in tissues is synthesized and assembled by cells to form a 3D fibrillar, protein network with tightly regulated fiber diameter, composition and organization. In addition to providing structural support, the physical and chemical properties of the ECM play an important role in multiple cellular processes including adhesion, differentiation, and apoptosis.
In vivo
, the ECM is assembled by exposing cryptic self-assembly (fibrillogenesis) sites within proteins. This process varies for different proteins, but fibronectin (FN) fibrillogenesis is well-characterized and serves as a model system for cell-mediated ECM assembly. Specifically, cells use integrin receptors on the cell membrane to bind FN dimers and actomyosin-generated contractile forces to unfold and expose binding sites for assembly into insoluble fibers. This receptor-mediated process enables cells to assemble and organize the ECM from the cellular to tissue scales. Here, we present a method termed surface-initiated assembly (SIA), which recapitulates cell-mediated matrix assembly using protein-surface interactions to unfold ECM proteins and assemble them into insoluble fibers. First, ECM proteins are adsorbed onto a hydrophobic polydimethylsiloxane (PDMS) surface where they partially denature (unfold) and expose cryptic binding domains. The unfolded proteins are then transferred in well-defined micro- and nanopatterns through microcontact printing onto a thermally responsive poly(N-isopropylacrylamide) (PIPAAm) surface. Thermally-triggered dissolution of the PIPAAm leads to final assembly and release of insoluble ECM protein nanofibers and nanostructures with well-defined geometries. Complex architectures are possible by engineering defined patterns on the PDMS stamps used for microcontact printing. In addition to FN, the SIA process can be used with laminin, fibrinogen and collagens type I and IV to create multi-component ECM nanostructures. Thus, SIA can be used to engineer ECM protein-based materials with precise control over the protein composition, fiber geometry and scaffold architecture in order to recapitulate the structure and composition of the ECM
in vivo
.
Bioengineering, Issue 86, Nanofibers, Nanofabrics, Extracellular Matrix Proteins, Microcontact Printing, Fibronectin, Laminin, Tissue Engineering, poly(N-isopropylacrylamide), Surface-Initiated Assembly
51176
Capillary Force Lithography for Cardiac Tissue Engineering
Institutions: University of Washington, University of Washington.
Cardiovascular disease remains the leading cause of death worldwide
1
. Cardiac tissue engineering holds much promise to deliver groundbreaking medical discoveries with the aims of developing functional tissues for cardiac regeneration as well as
in vitro
screening assays. However, the ability to create high-fidelity models of heart tissue has proven difficult. The heart's extracellular matrix (ECM) is a complex structure consisting of both biochemical and biomechanical signals ranging from the micro- to the nanometer scale
2
. Local mechanical loading conditions and cell-ECM interactions have recently been recognized as vital components in cardiac tissue engineering
3-5
. A large portion of the cardiac ECM is composed of aligned collagen fibers with nano-scale diameters that significantly influences tissue architecture and electromechanical coupling
2
. Unfortunately, few methods have been able to mimic the organization of ECM fibers down to the nanometer scale. Recent advancements in nanofabrication techniques, however, have enabled the design and fabrication of scalable scaffolds that mimic the
in vivo
structural and substrate stiffness cues of the ECM in the heart
6-9
. Here we present the development of two reproducible, cost-effective, and scalable nanopatterning processes for the functional alignment of cardiac cells using the biocompatible polymer poly(lactide-co-glycolide) (PLGA)
8
and a polyurethane (PU) based polymer. These anisotropically nanofabricated substrata (ANFS) mimic the underlying ECM of well-organized, aligned tissues and can be used to investigate the role of nanotopography on cell morphology and function
10-14
. Using a nanopatterned (NP) silicon master as a template, a polyurethane acrylate (PUA) mold is fabricated. This PUA mold is then used to pattern the PU or PLGA hydrogel via UV-assisted or solvent-mediated capillary force lithography (CFL), respectively
15,16
. Briefly, PU or PLGA pre-polymer is drop dispensed onto a glass coverslip and the PUA mold is placed on top. For UV-assisted CFL, the PU is then exposed to UV radiation (λ = 250-400 nm) for curing. For solvent-mediated CFL, the PLGA is embossed using heat (120 °C) and pressure (100 kPa). After curing, the PUA mold is peeled off, leaving behind an ANFS for cell culture. Primary cells, such as neonatal rat ventricular myocytes, as well as human pluripotent stem cell-derived cardiomyocytes, can be maintained on the ANFS
2
.
Bioengineering, Issue 88, Nanotopography, Anisotropic, Nanofabrication, Cell Culture, Cardiac Tissue Engineering
50039
Preparation of Primary Myogenic Precursor Cell/Myoblast Cultures from Basal Vertebrate Lineages
Institutions: University of Alabama at Birmingham, INRA UR1067, INRA UR1037.

Due to the inherent difficulty and time involved with studying the myogenic program
in vivo
, primary culture systems derived from the resident adult stem cells of skeletal muscle, the myogenic precursor cells (MPCs), have proven indispensible to our understanding of mammalian skeletal muscle development and growth. Particularly among the basal taxa of
Vertebrata,
however, data are limited describing the molecular mechanisms controlling the self-renewal, proliferation, and differentiation of MPCs. Of particular interest are potential mechanisms that underlie the ability of basal vertebrates to undergo considerable postlarval skeletal myofiber hyperplasia (
i.e.
 teleost fish) and full regeneration following appendage loss (
i.e.
 urodele amphibians). Additionally, the use of cultured myoblasts could aid in the understanding of regeneration and the recapitulation of the myogenic program and the differences between them. To this end, we describe in detail a robust and efficient protocol (and variations therein) for isolating and maintaining MPCs and their progeny, myoblasts and immature myotubes, in cell culture as a platform for understanding the evolution of the myogenic program, beginning with the more basal vertebrates. Capitalizing on the model organism status of the zebrafish (
Danio rerio
), we report on the application of this protocol to small fishes of the cyprinid clade
Danioninae
. In tandem, this protocol can be utilized to realize a broader comparative approach by isolating MPCs from the Mexican axolotl (
Ambystomamexicanum
) and even laboratory rodents. This protocol is now widely used in studying myogenesis in several fish species, including rainbow trout, salmon, and sea bream
1-4
.
Basic Protocol, Issue 86, myogenesis, zebrafish, myoblast, cell culture, giant danio, moustached danio, myotubes, proliferation, differentiation, Danioninae, axolotl
51354
Engineering a Bilayered Hydrogel to Control ASC Differentiation
Institutions: United States Army Institute of Surgical Research, The University of Texas at Austin.

Natural polymers over the years have gained more importance because of their host biocompatibility and ability to interact with cells
in vitro
and
in vivo.
An area of research that holds promise in regenerative medicine is the combinatorial use of novel biomaterials and stem cells. A fundamental strategy in the field of tissue engineering is the use of three-dimensional scaffold (e.g., decellularized extracellular matrix, hydrogels, micro/nano particles) for directing cell function. This technology has evolved from the discovery that cells need a substrate upon which they can adhere, proliferate, and express their differentiated cellular phenotype and function
2-3
. More recently, it has also been determined that cells not only use these substrates for adherence, but also interact and take cues from the matrix substrate (e.g., extracellular matrix, ECM)
4
. Therefore, the cells and scaffolds have a reciprocal connection that serves to control tissue development, organization, and ultimate function. Adipose-derived stem cells (ASCs) are mesenchymal, non-hematopoetic stem cells present in adipose tissue that can exhibit multi-lineage differentiation and serve as a readily available source of cells (i.e. pre-vascular endothelia and pericytes). Our hypothesis is that adipose-derived stem cells can be directed toward differing phenotypes simultaneously by simply co-culturing them in bilayered matrices
1
. Our laboratory is focused on dermal wound healing. To this end, we created a single composite matrix from the natural biomaterials, fibrin, collagen, and chitosan that can mimic the characteristics and functions of a dermal-specific wound healing ECM environment.
Bioengineering, Issue 63, Biomedical Engineering, Tissue Engineering, chitosan, microspheres, collagen, hydrogel, PEG fibrin, cell delivery, adipose-derived stem cells, ASC, CSM
3953
ES Cell-derived Neuroepithelial Cell Cultures
Institutions: Harvard Medical School.

ES cells have the potential to differentiate into cells from all germ layers, which makes them an attractive tool for the development of new therapies. In general, the differentiation of ES cells follows the concept to first generate immature progenitor cells, which then can be propagated and differentiated into mature cellular phenotypes. This also applies for ES cell-derived neurogenesis, in which the development of neural cells follows two major steps: First, the derivation and expansion of immature neuroepithelial precursors and second, their differentiation into mature neural cells. A common method to produce neural progenitors from ES cells is based on embryoid body (EB) formation, which reveals the differentiation of cells from all germ layers including neuroectoderm. An alternative and more efficient method to induce neuroepithelial cell development uses stromal cell-derived inducing activity (SDIA), which can be achieved by co-culturing ES cells with skull bone marrow-derived stromal cells (1). Both, EB formation and SDIA, reveal the development of rosette-like structures, which are thought to resemble neural tube- and/or neural crest-like progenitors. The neural precursors can be isolated, expanded and further differentiated into specific neurons and glia cells using defined culture conditions. Here, we describe the generation and isolation of such rosettes in co-culture experiments with the stromal cell line MS5 (2-5).
Cellular Biology, issue 1, embryonic stem (ES) cells, rosettes, neuroepithelial precursors, stromal cells, differentiation
118
In vitro Differentiation of Mouse Embryonic Stem (mES) Cells Using the Hanging Drop Method
Institutions: Stanford University .

Stem cells have the remarkable potential to develop into many different cell types. When a stem cell divides, each new cell has the potential to either remain a stem cell or become another type of cell with a more specialized function, This promising of science is leading scientists to investigate the possibility of cell-based therapies to treat disease. When culture in suspension without antidifferentiation factors, embryonic stem cells spontaneously differentiate and form three-dimensional multicellular aggregates. These cell aggregates are called embryoid bodies(EB). Hanging drop culture is a widely used EB formation induction method. The rounded bottom of hanging drop allows the aggregation of ES cells which can provide mES cells a good environment for forming EBs. The number of ES cells aggregatied in a hanging drop can be controlled by varying the number of cells in the initial cell suspension to be hung as a drop from the lid of Petri dish. Using this method we can reproducibly form homogeneous EBs from a predetermined number of ES cells.
Cell Biology, Issue 17, Embryonic stem cell, hanging drop, embryoid body, cardiomyocyte
825
Modified Mouse Embryonic Stem Cell based Assay for Quantifying Cardiogenic Induction Efficiency
Institutions: Vanderbilt University School of Medicine, Vanderbilt University School of Medicine, Vanderbilt University School of Medicine, Veterans Administration TVHS.

Differentiation of pluripotent stem cells is tightly controlled by temporal and spatial regulation of multiple key signaling pathways. One of the hurdles to its understanding has been the varied methods in correlating changes of key signaling events to differentiation efficiency. We describe here the use of a mouse embryonic stem (ES) cell based assay to identify critical time windows for Wnt/β-catenin and BMP signal activation during cardiogenic induction. By scoring for contracting embryonic bodies (EBs) in a 96-well plate format, we can quickly quantify cardiogenic efficiency and identify crucial time windows for Wnt/β-catenin and BMP signal activation in a time course following specific modulator treatments. The principal outlined here is not limited to cardiac induction alone, and can be applied towards the study of many other cell lineages. In addition, the 96-well format has the potential to be further developed as a high throughput, automated assay to allow for the testing of more sophisticated experimental hypotheses.
Cellular Biology, Issue 50, Embryonic stem cells (ES) cells, embryonic bodies (EB), signaling pathways, modulators, 96-round bottom well microtiter plates and hanging droplets.
2656