A Novel Light Damage Paradigm for Use in Retinal Regeneration Studies in Adult Zebrafish
Published: 10-24-2013
ABSTRACT
Light-induced retinal degeneration (LIRD) is commonly used in both rodents and zebrafish to damage rod and cone photoreceptors. In adult zebrafish, photoreceptor degeneration triggers Müller glial cells to re-enter the cell cycle and produce transient-amplifying progenitors. These progenitors continue to proliferate as they migrate to the damaged area, where they ultimately give rise to new photoreceptors. Currently, there are two widely-used LIRD paradigms, each of which results in varying degrees of photoreceptor loss and corresponding differences in the regeneration response. As more genetic and pharmacological tools are available to test the role of individual genes of interest during regeneration, there is a need to develop a robust LIRD paradigm. Here we describe a LIRD protocol that results in widespread and consistent loss of both rod and cone photoreceptors in which we have combined the use of two previously established LIRD techniques. Furthermore, this protocol can be extended for use in pigmented animals, which eliminates the need to maintain transgenic lines of interest on the albino background for LIRD studies.
20 Related JoVE Articles!
Retinal Detachment Model in Rodents by Subretinal Injection of Sodium Hyaluronate
Institutions: Massachusetts Eye and Ear Infirmary, Harvard Medical School.

Subretinal injection of sodium hyaluronate is a widely accepted method of inducing retinal detachment (RD). However, the height and duration of RD or the occurrence of subretinal hemorrhage can affect photoreceptor cell death in the detached retina. Hence, it is advantageous to create reproducible RDs without subretinal hemorrhage for evaluating photoreceptor cell death. We modified a previously reported method to create bullous and persistent RDs in a reproducible location with rare occurrence of subretinal hemorrhage. The critical step of this modified method is the creation of a self-sealing scleral incision, which can prevent leakage of sodium hyaluronate after injection into the subretinal space. To make the self-sealing scleral incision, a scleral tunnel is created, followed by scleral penetration into the choroid with a 30 G needle. Although choroidal hemorrhage may occur during this step, astriction with a surgical spear reduces the rate of choroidal hemorrhage. This method allows a more reproducible and reliable model of photoreceptor death in diseases that involve RD such as rhegmatogenous RD, retinopathy of prematurity, diabetic retinopathy, central serous chorioretinopathy, and age-related macular degeneration (AMD).
Medicine, Issue 79, Photoreceptor Cells, Rodentia, Retinal Degeneration, Retinal Detachment, animal models, Neuroscience, ophthalmology, retina, mouse, photoreceptor cell death, retinopathy, age-related macular degeneration (AMD)
50660
Subretinal Transplantation of MACS Purified Photoreceptor Precursor Cells into the Adult Mouse Retina
Institutions: Technische Universität Dresden.

Vision impairment and blindness due to the loss of the light-sensing cells of the retina,
i.e.
photoreceptors, represents the main reason for disability in industrialized countries. Replacement of degenerated photoreceptors by cell transplantation represents a possible treatment option in future clinical applications. Indeed, recent preclinical studies demonstrated that immature photoreceptors, isolated from the neonatal mouse retina at postnatal day 4, have the potential to integrate into the adult mouse retina following subretinal transplantation. Donor cells generated a mature photoreceptor morphology including inner and outer segments, a round cell body located at the outer nuclear layer, and synaptic terminals in close proximity to endogenous bipolar cells. Indeed, recent reports demonstrated that donor photoreceptors functionally integrate into the neural circuitry of host mice. For a future clinical application of such cell replacement approach, purified suspensions of the cells of choice have to be generated and placed at the correct position for proper integration into the eye. For the enrichment of photoreceptor precursors, sorting should be based on specific cell surface antigens to avoid genetic reporter modification of donor cells. Here we show magnetic-associated cell sorting (MACS) - enrichment of transplantable rod photoreceptor precursors isolated from the neonatal retina of photoreceptor-specific reporter mice based on the cell surface marker CD73. Incubation with anti-CD73 antibodies followed by micro-bead conjugated secondary antibodies allowed the enrichment of rod photoreceptor precursors by MACS to approximately 90%. In comparison to flow cytometry, MACS has the advantage that it can be easier applied to GMP standards and that high amounts of cells can be sorted in relative short time periods. Injection of enriched cell suspensions into the subretinal space of adult wild-type mice resulted in a 3-fold higher integration rate compared to unsorted cell suspensions.
Medicine, Issue 84, Photoreceptor Cells, Vertebrate, Retinal Degeneration, Regeneration, retina, magnetic associated cell sorting (MACS), transplantation, regenerative therapy
50932
Quantifying the Activity of cis-Regulatory Elements in the Mouse Retina by Explant Electroporation
Institutions: Washington University School of Medicine.

Transcription factors within cellular gene networks control the spatiotemporal pattern and levels of expression of their target genes by binding to
cis
-regulatory elements (CREs), short (˜300-600 bp) stretches of genomic DNA which can lie upstream, downstream, or within the introns of the genes they control. CREs (
i.e.
, enhancers/promoters) typically consist of multiple clustered binding sites for both transcriptional activators and repressors
1-3
. They serve as logical integrators of transcriptional input giving a unitary output in the form of spatiotemporally precise and quantitatively exact promoter activity. Most studies of mammalian
cis
-regulation to date have relied on mouse transgenesis as a means of assaying the enhancer function of CREs
4-5
. This technique is time-consuming, costly and, on account of insertion site effects, largely non-quantitative. On the other hand, quantitative assays for mammalian CRE function have been developed in tissue culture systems (
e.g.
, dual luciferase assays), but the
in vivo
relevance of these results is often uncertain. Electroporation offers an excellent alternative to traditional mouse transgenesis in that it permits both spatiotemporal and quantitative assessment of
cis
-regulatory activity in living mammalian tissue. This technique has been particularly useful in the analysis of
cis
-regulation in the central nervous system, especially in the cerebral cortex and the retina
6-8
. While mouse retinal electroporation, both
in vivo
and
ex vivo
, has been developed and extensively described by Matsuda and Cepko
6-7,9
, we have recently developed a simple approach to quantify the activity of photoreceptor-specific CREs in electroporated mouse retinas
10
. Given that the amount of DNA that is introduced into the retina by electroporation can vary from experiment to experiment, it is necessary to include a co-electroporated 'loading control' in all experiments. In this respect, the technique is very similar to the dual luciferase assay used to quantify promoter activity in cultured cells. When assaying photoreceptor
cis
-regulatory activity, electroporation is usually performed in newborn mice (postnatal day 0, P0) which is the time of peak rod production
11-12
. Once retinal cell types become post-mitotic, electroporation is much less efficient. Given the high rate of rod birth in newborn mice and the fact that rods constitute more than 70% of the cells in the adult mouse retina, the majority of cells that are electroporated at P0 are rods. For this reason, rod photoreceptors are the easiest retinal cell type to study via electroporation. The technique we describe here is primarily useful for quantifying the activity of photoreceptor CREs.
Neuroscience, Issue 52, retina, photoreceptor, cis-regulatory element, quantification, electroporation, promoter analysis
2821
Preparation of Living Isolated Vertebrate Photoreceptor Cells for Fluorescence Imaging
Institutions: Medical University of South Carolina.

In the vertebrate retina, phototransduction, the conversion of light to an electrical signal, is carried out by the rod and cone photoreceptor cells
1-4
. Rod photoreceptors are responsible for vision in dim light, cones in bright light. Phototransduction takes place in the outer segment of the photoreceptor cell, a specialized compartment that contains a high concentration of visual pigment, the primary light detector. The visual pigment is composed of a chromophore, 11-
cis
retinal, attached to a protein, opsin. A photon absorbed by the visual pigment isomerizes the chromophore from 11-
cis
to all-
trans
. This photoisomerization brings about a conformational change in the visual pigment that initiates a cascade of reactions culminating in a change in membrane potential, and bringing about the transduction of the light stimulus to an electrical signal. The recovery of the cell from light stimulation involves the deactivation of the intermediates activated by light, and the reestablishment of the membrane potential. Ca
2+
modulates the activity of several of the enzymes involved in phototransduction, and its concentration is reduced upon light stimulation. In this way, Ca
2+
plays an important role in the recovery of the cell from light stimulation and its adaptation to background light. Another essential part of the recovery process is the regeneration of the visual pigment that has been destroyed during light-detection by the photoisomerization of its 11-
cis
chromophore to all-
trans
5-7
. This regeneration begins with the release of all-
trans
retinal by the photoactivated pigment, leaving behind the apo-protein opsin. The released all-
trans
retinal is rapidly reduced in a reaction utilizing NADPH to all-
trans
retinol, and opsin combines with fresh 11-
cis
retinal brought into the outer segment to reform the visual pigment. All-
trans
retinol is then transferred out of the outer segment and into neighboring cells by the specialized carrier Interphotoreceptor Retinoid Binding Protein (IRBP). Fluorescence imaging of single photoreceptor cells can be used to study their physiology and cell biology. Ca
2+
-sensitive fluorescent dyes can be used to examine in detail the interplay between outer segment Ca
2+
changes and response to light
8-12
as well as the role of inner segment Ca
2+
stores in Ca
2+
homeostasis
13,14
. Fluorescent dyes can also be used for measuring Mg
2+
concentration
15
, pH, and as tracers of aqueous and membrane compartments
16
. Finally, the intrinsic fluorescence of all-
trans
retinol (vitamin A) can be used to monitor the kinetics of its formation and removal in single photoreceptor cells
17-19
.
Neuroscience, Issue 52, retina, rods, cones, vision, fluorescence
2789
Cut-loading: A Useful Tool for Examining the Extent of Gap Junction Tracer Coupling Between Retinal Neurons
Institutions: Ohio State University College of Medicine, University of Texas Medical School.
In addition to chemical synaptic transmission, neurons that are connected by gap junctions can also communicate rapidly via electrical synaptic transmission. Increasing evidence indicates that gap junctions not only permit electrical current flow and synchronous activity between interconnected or coupled cells, but that the strength or effectiveness of electrical communication between coupled cells can be modulated to a great extent
1,2
. In addition, the large internal diameter (~1.2 nm) of many gap junction channels permits not only electric current flow, but also the diffusion of intracellular signaling molecules and small metabolites between interconnected cells, so that gap junctions may also mediate metabolic and chemical communication. The strength of gap junctional communication between neurons and its modulation by neurotransmitters and other factors can be studied by simultaneously electrically recording from coupled cells and by determining the extent of diffusion of tracer molecules, which are gap junction permeable, but not membrane permeable, following iontophoretic injection into single cells. However, these procedures can be extremely difficult to perform on neurons with small somata in intact neural tissue. Numerous studies on electrical synapses and the modulation of electrical communication have been conducted in the vertebrate retina, since each of the five retinal neuron types is electrically connected by gap junctions
3,4
. Increasing evidence has shown that the circadian (24-hour) clock in the retina and changes in light stimulation regulate gap junction coupling
3-8
. For example, recent work has demonstrated that the retinal circadian clock decreases gap junction coupling between rod and cone photoreceptor cells during the day by increasing dopamine D2 receptor activation, and dramatically increases rod-cone coupling at night by reducing D2 receptor activation
7,8
. However, not only are these studies extremely difficult to perform on neurons with small somata in intact neural retinal tissue, but it can be difficult to adequately control the illumination conditions during the electrophysiological study of single retinal neurons to avoid light-induced changes in gap junction conductance. Here, we present a straightforward method of determining the extent of gap junction tracer coupling between retinal neurons under different illumination conditions and at different times of the day and night. This cut-loading technique is a modification of scrape loading
9-12
, which is based on dye loading and diffusion through open gap junction channels. Scrape loading works well in cultured cells, but not in thick slices such as intact retinas. The cut-loading technique has been used to study photoreceptor coupling in intact fish and mammalian retinas
7, 8,13
, and can be used to study coupling between other retinal neurons, as described here.
Neuroscience, Issue 59, retina, photoreceptors, gap junctions, tracer coupling, neurobiotin, labeling
3180
Mouse Eye Enucleation for Remote High-throughput Phenotyping
Institutions: University of Iowa, University of Iowa, UCLA, Columbia University .

The mouse eye is an important genetic model for the translational study of human ophthalmic disease. Blinding diseases in humans, such as macular degeneration, photoreceptor degeneration, cataract, glaucoma, retinoblastoma, and diabetic retinopathy have been recapitulated in transgenic mice.
1-5
Most transgenic and knockout mice have been generated by laboratories to study non-ophthalmic diseases, but genetic conservation between organ systems suggests that many of the same genes may also play a role in ocular development and disease. Hence, these mice represent an important resource for discovering new genotype-phenotype correlations in the eye. Because these mice are scattered across the globe, it is difficult to acquire, maintain, and phenotype them in an efficient, cost-effective manner. Thus, most high-throughput ophthalmic phenotyping screens are restricted to a few locations that require on-site, ophthalmic expertise to examine eyes in live mice.
6-9
An alternative approach developed by our laboratory is a method for remote tissue-acquisition that can be used in large or small-scale surveys of transgenic mouse eyes. Standardized procedures for video-based surgical skill transfer, tissue fixation, and shipping allow any lab to collect whole eyes from mutant animals and send them for molecular and morphological phenotyping. In this video article, we present techniques to enucleate and transfer both unfixed and perfusion fixed mouse eyes for remote phenotyping analyses.
Medicine, Issue 57, mouse, transgenic, phenomics, ophthalmology, retina, high-throughput, phenotyping
3184
In vivo Imaging of Optic Nerve Fiber Integrity by Contrast-Enhanced MRI in Mice
Institutions: Jena University Hospital, Fritz Lipmann Institute, Jena, Jena University Hospital.

The rodent visual system encompasses retinal ganglion cells and their axons that form the optic nerve to enter thalamic and midbrain centers, and postsynaptic projections to the visual cortex. Based on its distinct anatomical structure and convenient accessibility, it has become the favored structure for studies on neuronal survival, axonal regeneration, and synaptic plasticity. Recent advancements in MR imaging have enabled the
in vivo
visualization of the retino-tectal part of this projection using manganese mediated contrast enhancement (MEMRI). Here, we present a MEMRI protocol for illustration of the visual projection in mice, by which resolutions of (200 µm)
3
can be achieved using common 3 Tesla scanners. We demonstrate how intravitreal injection of a single dosage of 15 nmol MnCl
2
leads to a saturated enhancement of the intact projection within 24 hr. With exception of the retina, changes in signal intensity are independent of coincided visual stimulation or physiological aging. We further apply this technique to longitudinally monitor axonal degeneration in response to acute optic nerve injury, a paradigm by which Mn
2+
transport completely arrests at the lesion site. Conversely, active Mn
2+
transport is quantitatively proportionate to the viability, number, and electrical activity of axon fibers. For such an analysis, we exemplify Mn
2+
transport kinetics along the visual path in a transgenic mouse model (NF-κB
p50KO
) displaying spontaneous atrophy of sensory, including visual, projections. In these mice, MEMRI indicates reduced but not delayed Mn
2+
transport as compared to wild type mice, thus revealing signs of structural and/or functional impairments by NF-κB mutations. In summary, MEMRI conveniently bridges
in vivo
assays and
post mortem
histology for the characterization of nerve fiber integrity and activity. It is highly useful for longitudinal studies on axonal degeneration and regeneration, and investigations of mutant mice for genuine or inducible phenotypes.
Neuroscience, Issue 89, manganese-enhanced MRI, mouse retino-tectal projection, visual system, neurodegeneration, optic nerve injury, NF-κB
51274
Simultaneous Whole-cell Recordings from Photoreceptors and Second-order Neurons in an Amphibian Retinal Slice Preparation
Institutions: University of Nebraska Medical Center , University of Nebraska Medical Center .

One of the central tasks in retinal neuroscience is to understand the circuitry of retinal neurons and how those connections are responsible for shaping the signals transmitted to the brain. Photons are detected in the retina by rod and cone photoreceptors, which convert that energy into an electrical signal, transmitting it to other retinal neurons, where it is processed and communicated to central targets in the brain via the optic nerve. Important early insights into retinal circuitry and visual processing came from the histological studies of Cajal
1,2
and, later, from electrophysiological recordings of the spiking activity of retinal ganglion cells - the output cells of the retina
3,4
. A detailed understanding of visual processing in the retina requires an understanding of the signaling at each step in the pathway from photoreceptor to retinal ganglion cell. However, many retinal cell types are buried deep in the tissue and therefore relatively inaccessible for electrophysiological recording. This limitation can be overcome by working with vertical slices, in which cells residing within each of the retinal layers are clearly visible and accessible for electrophysiological recording. Here, we describe a method for making vertical sections of retinas from larval tiger salamanders (
Ambystoma tigrinum
). While this preparation was originally developed for recordings with sharp microelectrodes
5,6
, we describe a method for dual whole-cell voltage clamp recordings from photoreceptors and second-order horizontal and bipolar cells in which we manipulate the photoreceptor's membrane potential while simultaneously recording post-synaptic responses in horizontal or bipolar cells. The photoreceptors of the tiger salamander are considerably larger than those of mammalian species, making this an ideal preparation in which to undertake this technically challenging experimental approach. These experiments are described with an eye toward probing the signaling properties of the synaptic ribbon - a specialized synaptic structure found in a only a handful of neurons, including rod and cone photoreceptors, that is well suited for maintaining a high rate of tonic neurotransmitter release
7,8
- and how it contributes to the unique signaling properties of this first retinal synapse.
Neuroscience, Issue 76, Molecular Biology, Cellular Biology, Anatomy, Physiology, Ophthalmology, Retina, electrophysiology, paired recording, patch clamp, synaptic ribbon, photoreceptor, bipolar cell, horizontal cell, tiger salamander, animal model
50007
Methylnitrosourea (MNU)-induced Retinal Degeneration and Regeneration in the Zebrafish: Histological and Functional Characteristics
Institutions: University of Bern, University Hospital of Basel, University of Fribourg.
Retinal degenerative diseases,
e.g.
retinitis pigmentosa, with resulting photoreceptor damage account for the majority of vision loss in the industrial world. Animal models are of pivotal importance to study such diseases. In this regard the photoreceptor-specific toxin
N
-methyl-
N
-nitrosourea (MNU) has been widely used in rodents to pharmacologically induce retinal degeneration. Previously, we have established a MNU-induced retinal degeneration model in the zebrafish, another popular model system in visual research. A fascinating difference to mammals is the persistent neurogenesis in the adult zebrafish retina and its regeneration after damage. To quantify this observation we have employed visual acuity measurements in the adult zebrafish. Thereby, the optokinetic reflex was used to follow functional changes in non-anesthetized fish. This was supplemented with histology as well as immunohistochemical staining for apoptosis (TUNEL) and proliferation (PCNA) to correlate the developing morphological changes. In summary, apoptosis of photoreceptors occurs three days after MNU treatment, which is followed by a marked reduction of cells in the outer nuclear layer (ONL). Thereafter, proliferation of cells in the inner nuclear layer (INL) and ONL is observed. Herein, we reveal that not only a complete histological but also a functional regeneration occurs over a time course of 30 days. Now we illustrate the methods to quantify and follow up zebrafish retinal de- and regeneration using MNU in a video-format.
Cellular Biology, Issue 92, N-methyl-N-nitrosourea (MNU), retina, degeneration, photoreceptors, Müller cells, regeneration, zebrafish, visual function
51909
Slow-release Drug Delivery through Elvax 40W to the Rat Retina: Implications for the Treatment of Chronic Conditions
Institutions: University of L'Aquila, ARC Centre of Excellence in Vision Science, Australian National University, Australian National University.

Diseases of the retina are difficult to treat as the retina lies deep within the eye. Invasive methods of drug delivery are often needed to treat these diseases. Chronic retinal diseases such as retinal oedema or neovascularization usually require multiple intraocular injections to effectively treat the condition. However, the risks associated with these injections increase with repeated delivery of the drug. Therefore, alternative delivery methods need to be established in order to minimize the risks of reinjection. Several other investigations have developed methods to deliver drugs over extended time, through materials capable of releasing chemicals slowly into the eye. In this investigation, we outline the use of Elvax 40W, a copolymer resin, to act as a vehicle for drug delivery to the adult rat retina. The resin is made and loaded with the drug. The drug-resin complex is then implanted into the vitreous cavity, where it will slowly release the drug over time. This method was tested using 2-amino-4-phosphonobutyrate (APB), a glutamate analogue that blocks the light response of the retina. It was demonstrated that the APB was slowly released from the resin, and was able to block the retinal response by 7 days after implantation. This indicates that slow-release drug delivery using this copolymer resin is effective for treating the retina, and could be used therapeutically with further testing.
Medicine, Issue 91, slow-release drug delivery, Elvax 40W, co-polymer resin, eye, retina, rat, APB, retinal degeneration, treatment of chronic retinal conditions
51563
Construction and Testing of Coin Cells of Lithium Ion Batteries
Institutions: Clemson University, Clemson University.

Rechargeable lithium ion batteries have wide applications in electronics, where customers always demand more capacity and longer lifetime. Lithium ion batteries have also been considered to be used in electric and hybrid vehicles
1
or even electrical grid stabilization systems
2
. All these applications simulate a dramatic increase in the research and development of battery materials
3-7
, including new materials
3,8
, doping
9
, nanostructuring
10-13
, coatings or surface modifications
14-17
and novel binders
18
. Consequently, an increasing number of physicists, chemists and materials scientists have recently ventured into this area. Coin cells are widely used in research laboratories to test new battery materials; even for the research and development that target large-scale and high-power applications, small coin cells are often used to test the capacities and rate capabilities of new materials in the initial stage. In 2010, we started a National Science Foundation (NSF) sponsored research project to investigate the surface adsorption and disordering in battery materials (grant no. DMR-1006515). In the initial stage of this project, we have struggled to learn the techniques of assembling and testing coin cells, which cannot be achieved without numerous help of other researchers in other universities (through frequent calls, email exchanges and two site visits). Thus, we feel that it is beneficial to document, by both text and video, a protocol of assembling and testing a coin cell, which will help other new researchers in this field. This effort represents the "Broader Impact" activities of our NSF project, and it will also help to educate and inspire students. In this video article, we document a protocol to assemble a CR2032 coin cell with a LiCoO
2
working electrode, a Li counter electrode, and (the mostly commonly used) polyvinylidene fluoride (PVDF) binder. To ensure new learners to readily repeat the protocol, we keep the protocol as specific and explicit as we can. However, it is important to note that in specific research and development work, many parameters adopted here can be varied. First, one can make coin cells of different sizes and test the working electrode against a counter electrode other than Li. Second, the amounts of C black and binder added into the working electrodes are often varied to suit the particular purpose of research; for example, large amounts of C black or even inert powder were added to the working electrode to test the "intrinsic" performance of cathode materials
14
. Third, better binders (other than PVDF) have also developed and used
18
. Finally, other types of electrolytes (instead of LiPF
6
) can also be used; in fact, certain high-voltage electrode materials will require the uses of special electrolytes
7
.
Materials Science, Issue 66, Chemistry, Chemical Engineering, Electrical Engineering, Physics, Battery, coin cells, CR2032, lithium, lithium ion
4104
Transretinal ERG Recordings from Mouse Retina: Rod and Cone Photoresponses
Institutions: Washington University School of Medicine.

There are two distinct classes of image-forming photoreceptors in the vertebrate retina: rods and cones. Rods are able to detect single photons of light whereas cones operate continuously under rapidly changing bright light conditions. Absorption of light by rod- and cone-specific visual pigments in the outer segments of photoreceptors triggers a phototransduction cascade that eventually leads to closure of cyclic nucleotide-gated channels on the plasma membrane and cell hyperpolarization. This light-induced change in membrane current and potential can be registered as a photoresponse, by either classical suction electrode recording technique
1,2
or by transretinal electroretinogram recordings (ERG) from isolated retinas with pharmacologically blocked postsynaptic response components
3-5
. The latter method allows drug-accessible long-lasting recordings from mouse photoreceptors and is particularly useful for obtaining stable photoresponses from the scarce and fragile mouse cones. In the case of cones, such experiments can be performed both in dark-adapted conditions and following intense illumination that bleaches essentially all visual pigment, to monitor the process of cone photosensitivity recovery during dark adaptation
6,7
. In this video, we will show how to perform rod- and M/L-cone-driven transretinal recordings from dark-adapted mouse retina. Rod recordings will be carried out using retina of wild type (C57Bl/6) mice. For simplicity, cone recordings will be obtained from genetically modified rod transducin α-subunit knockout (
Tα
-/-
) mice which lack rod signaling
8
.
Neuroscience, Issue 61, Rod and cone photoreceptors, retina, phototransduction, electrophysiology, vision, mouse
3424
Modeling Neural Immune Signaling of Episodic and Chronic Migraine Using Spreading Depression In Vitro
Institutions: The University of Chicago Medical Center, The University of Chicago Medical Center.

Migraine and its transformation to chronic migraine are healthcare burdens in need of improved treatment options. We seek to define how neural immune signaling modulates the susceptibility to migraine, modeled
in vitro
using spreading depression (SD), as a means to develop novel therapeutic targets for episodic and chronic migraine. SD is the likely cause of migraine aura and migraine pain. It is a paroxysmal loss of neuronal function triggered by initially increased neuronal activity, which slowly propagates within susceptible brain regions. Normal brain function is exquisitely sensitive to, and relies on, coincident low-level immune signaling. Thus, neural immune signaling likely affects electrical activity of SD, and therefore migraine. Pain perception studies of SD in whole animals are fraught with difficulties, but whole animals are well suited to examine systems biology aspects of migraine since SD activates trigeminal nociceptive pathways. However, whole animal studies alone cannot be used to decipher the cellular and neural circuit mechanisms of SD. Instead,
in vitro
preparations where environmental conditions can be controlled are necessary. Here, it is important to recognize limitations of acute slices and distinct advantages of hippocampal slice cultures. Acute brain slices cannot reveal subtle changes in immune signaling since preparing the slices alone triggers: pro-inflammatory changes that last days, epileptiform behavior due to high levels of oxygen tension needed to vitalize the slices, and irreversible cell injury at anoxic slice centers. In contrast, we examine immune signaling in mature hippocampal slice cultures since the cultures closely parallel their
in vivo
counterpart with mature trisynaptic function; show quiescent astrocytes, microglia, and cytokine levels; and SD is easily induced in an unanesthetized preparation. Furthermore, the slices are long-lived and SD can be induced on consecutive days without injury, making this preparation the sole means to-date capable of modeling the neuroimmune consequences of chronic SD, and thus perhaps chronic migraine. We use electrophysiological techniques and non-invasive imaging to
measure
neuronal cell and circuit functions coincident with SD. Neural immune gene expression variables are measured with qPCR screening, qPCR arrays, and, importantly, use of cDNA preamplification for detection of ultra-low level targets such as interferon-gamma using whole, regional, or specific cell enhanced (via laser dissection microscopy) sampling. Cytokine cascade signaling is further assessed with multiplexed phosphoprotein related targets with gene expression and phosphoprotein changes confirmed via cell-specific immunostaining. Pharmacological and siRNA strategies are used to
mimic
and
modulate
SD immune signaling.
Neuroscience, Issue 52, innate immunity, hormesis, microglia, T-cells, hippocampus, slice culture, gene expression, laser dissection microscopy, real-time qPCR, interferon-gamma
2910
Investigating Protein-protein Interactions in Live Cells Using Bioluminescence Resonance Energy Transfer
Institutions: Max Planck Institute for Psycholinguistics, Donders Institute for Brain, Cognition and Behaviour.

Assays based on Bioluminescence Resonance Energy Transfer (BRET) provide a sensitive and reliable means to monitor protein-protein interactions in live cells. BRET is the non-radiative transfer of energy from a 'donor' luciferase enzyme to an 'acceptor' fluorescent protein. In the most common configuration of this assay, the donor is
Renilla reniformis
luciferase and the acceptor is Yellow Fluorescent Protein (YFP). Because the efficiency of energy transfer is strongly distance-dependent, observation of the BRET phenomenon requires that the donor and acceptor be in close proximity. To test for an interaction between two proteins of interest in cultured mammalian cells, one protein is expressed as a fusion with luciferase and the second as a fusion with YFP. An interaction between the two proteins of interest may bring the donor and acceptor sufficiently close for energy transfer to occur. Compared to other techniques for investigating protein-protein interactions, the BRET assay is sensitive, requires little hands-on time and few reagents, and is able to detect interactions which are weak, transient, or dependent on the biochemical environment found within a live cell. It is therefore an ideal approach for confirming putative interactions suggested by yeast two-hybrid or mass spectrometry proteomics studies, and in addition it is well-suited for mapping interacting regions, assessing the effect of post-translational modifications on protein-protein interactions, and evaluating the impact of mutations identified in patient DNA.
Cellular Biology, Issue 87, Protein-protein interactions, Bioluminescence Resonance Energy Transfer, Live cell, Transfection, Luciferase, Yellow Fluorescent Protein, Mutations
51438
Methods to Assess Subcellular Compartments of Muscle in C. elegans
Institutions: University of Nottingham.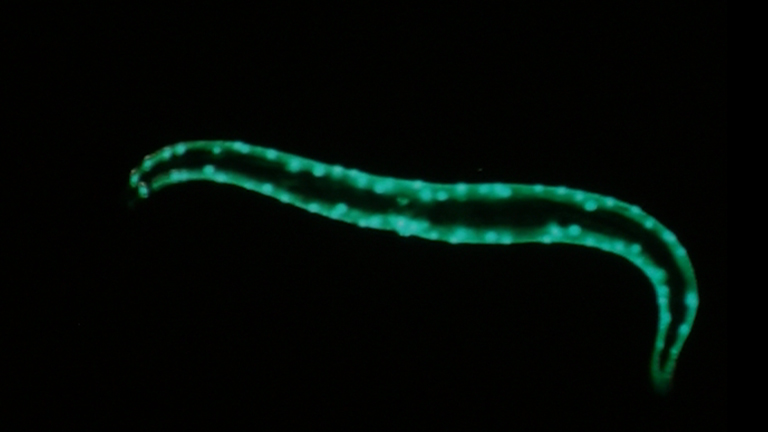 Muscle is a dynamic tissue that responds to changes in nutrition, exercise, and disease state. The loss of muscle mass and function with disease and age are significant public health burdens. We currently understand little about the genetic regulation of muscle health with disease or age. The nematode
C. elegans
is an established model for understanding the genomic regulation of biological processes of interest. This worm's body wall muscles display a large degree of homology with the muscles of higher metazoan species. Since
C. elegans
is a transparent organism, the localization of GFP to mitochondria and sarcomeres allows visualization of these structures
in vivo
. Similarly, feeding animals cationic dyes, which accumulate based on the existence of a mitochondrial membrane potential, allows the assessment of mitochondrial function
in vivo
. These methods, as well as assessment of muscle protein homeostasis, are combined with assessment of whole animal muscle function, in the form of movement assays, to allow correlation of sub-cellular defects with functional measures of muscle performance. Thus,
C. elegans
provides a powerful platform with which to assess the impact of mutations, gene knockdown, and/or chemical compounds upon muscle structure and function. Lastly, as GFP, cationic dyes, and movement assays are assessed non-invasively, prospective studies of muscle structure and function can be conducted across the whole life course and this at present cannot be easily investigated
in vivo
in any other organism.
Developmental Biology, Issue 93, Physiology, C. elegans, muscle, mitochondria, sarcomeres, ageing
52043
Analysis of Nephron Composition and Function in the Adult Zebrafish Kidney
Institutions: University of Notre Dame.

The zebrafish model has emerged as a relevant system to study kidney development, regeneration and disease. Both the embryonic and adult zebrafish kidneys are composed of functional units known as nephrons, which are highly conserved with other vertebrates, including mammals. Research in zebrafish has recently demonstrated that two distinctive phenomena transpire after adult nephrons incur damage: first, there is robust regeneration within existing nephrons that replaces the destroyed tubule epithelial cells; second, entirely new nephrons are produced from renal progenitors in a process known as neonephrogenesis. In contrast, humans and other mammals seem to have only a limited ability for nephron epithelial regeneration. To date, the mechanisms responsible for these kidney regeneration phenomena remain poorly understood. Since adult zebrafish kidneys undergo both nephron epithelial regeneration and neonephrogenesis, they provide an outstanding experimental paradigm to study these events. Further, there is a wide range of genetic and pharmacological tools available in the zebrafish model that can be used to delineate the cellular and molecular mechanisms that regulate renal regeneration. One essential aspect of such research is the evaluation of nephron structure and function. This protocol describes a set of labeling techniques that can be used to gauge renal composition and test nephron functionality in the adult zebrafish kidney. Thus, these methods are widely applicable to the future phenotypic characterization of adult zebrafish kidney injury paradigms, which include but are not limited to, nephrotoxicant exposure regimes or genetic methods of targeted cell death such as the nitroreductase mediated cell ablation technique. Further, these methods could be used to study genetic perturbations in adult kidney formation and could also be applied to assess renal status during chronic disease modeling.
Cellular Biology, Issue 90, zebrafish; kidney; nephron; nephrology; renal; regeneration; proximal tubule; distal tubule; segment; mesonephros; physiology; acute kidney injury (AKI)
51644
Microwave-assisted Functionalization of Poly(ethylene glycol) and On-resin Peptides for Use in Chain Polymerizations and Hydrogel Formation
Institutions: University of Rochester, University of Rochester, University of Rochester Medical Center.

One of the main benefits to using poly(ethylene glycol) (PEG) macromers in hydrogel formation is synthetic versatility. The ability to draw from a large variety of PEG molecular weights and configurations (arm number, arm length, and branching pattern) affords researchers tight control over resulting hydrogel structures and properties, including Young's modulus and mesh size. This video will illustrate a rapid, efficient, solvent-free, microwave-assisted method to methacrylate PEG precursors into poly(ethylene glycol) dimethacrylate (PEGDM). This synthetic method provides much-needed starting materials for applications in drug delivery and regenerative medicine. The demonstrated method is superior to traditional methacrylation methods as it is significantly faster and simpler, as well as more economical and environmentally friendly, using smaller amounts of reagents and solvents. We will also demonstrate an adaptation of this technique for on-resin methacrylamide functionalization of peptides. This on-resin method allows the N-terminus of peptides to be functionalized with methacrylamide groups prior to deprotection and cleavage from resin. This allows for selective addition of methacrylamide groups to the N-termini of the peptides while amino acids with reactive side groups (
e.g.
 primary amine of lysine, primary alcohol of serine, secondary alcohols of threonine, and phenol of tyrosine) remain protected, preventing functionalization at multiple sites. This article will detail common analytical methods (proton Nuclear Magnetic Resonance spectroscopy (
;
H-NMR) and Matrix Assisted Laser Desorption Ionization Time of Flight mass spectrometry (MALDI-ToF)) to assess the efficiency of the functionalizations. Common pitfalls and suggested troubleshooting methods will be addressed, as will modifications of the technique which can be used to further tune macromer functionality and resulting hydrogel physical and chemical properties. Use of synthesized products for the formation of hydrogels for drug delivery and cell-material interaction studies will be demonstrated, with particular attention paid to modifying hydrogel composition to affect mesh size, controlling hydrogel stiffness and drug release.
Chemistry, Issue 80, Poly(ethylene glycol), peptides, polymerization, polymers, methacrylation, peptide functionalization, 1H-NMR, MALDI-ToF, hydrogels, macromer synthesis
50890
In Situ Neutron Powder Diffraction Using Custom-made Lithium-ion Batteries
Institutions: University of Sydney, University of Wollongong, Australian Synchrotron, Australian Nuclear Science and Technology Organisation, University of Wollongong, University of New South Wales.

Li-ion batteries are widely used in portable electronic devices and are considered as promising candidates for higher-energy applications such as electric vehicles.
1,2
However, many challenges, such as energy density and battery lifetimes, need to be overcome before this particular battery technology can be widely implemented in such applications.
3
This research is challenging, and we outline a method to address these challenges using
in situ
NPD to probe the crystal structure of electrodes undergoing electrochemical cycling (charge/discharge) in a battery. NPD data help determine the underlying structural mechanism responsible for a range of electrode properties, and this information can direct the development of better electrodes and batteries. We briefly review six types of battery designs custom-made for NPD experiments and detail the method to construct the 'roll-over' cell that we have successfully used on the high-intensity NPD instrument, WOMBAT, at the Australian Nuclear Science and Technology Organisation (ANSTO). The design considerations and materials used for cell construction are discussed in conjunction with aspects of the actual
in situ
NPD experiment and initial directions are presented on how to analyze such complex
in situ
data.
Physics, Issue 93, In operando, structure-property relationships, electrochemical cycling, electrochemical cells, crystallography, battery performance
52284
In Vivo Modeling of the Morbid Human Genome using Danio rerio
Institutions: Duke University Medical Center, Duke University, Duke University Medical Center.

Here, we present methods for the development of assays to query potentially clinically significant nonsynonymous changes using
in vivo
complementation in zebrafish. Zebrafish (
Danio rerio
) are a useful animal system due to their experimental tractability; embryos are transparent to enable facile viewing, undergo rapid development
ex vivo,
and can be genetically manipulated.
1
These aspects have allowed for significant advances in the analysis of embryogenesis, molecular processes, and morphogenetic signaling. Taken together, the advantages of this vertebrate model make zebrafish highly amenable to modeling the developmental defects in pediatric disease, and in some cases, adult-onset disorders. Because the zebrafish genome is highly conserved with that of humans (~70% orthologous), it is possible to recapitulate human disease states in zebrafish. This is accomplished either through the injection of mutant human mRNA to induce dominant negative or gain of function alleles, or utilization of morpholino (MO) antisense oligonucleotides to suppress genes to mimic loss of function variants. Through complementation of MO-induced phenotypes with capped human mRNA, our approach enables the interpretation of the deleterious effect of mutations on human protein sequence based on the ability of mutant mRNA to rescue a measurable, physiologically relevant phenotype. Modeling of the human disease alleles occurs through microinjection of zebrafish embryos with MO and/or human mRNA at the 1-4 cell stage, and phenotyping up to seven days post fertilization (dpf). This general strategy can be extended to a wide range of disease phenotypes, as demonstrated in the following protocol. We present our established models for morphogenetic signaling, craniofacial, cardiac, vascular integrity, renal function, and skeletal muscle disorder phenotypes, as well as others.
Molecular Biology, Issue 78, Genetics, Biomedical Engineering, Medicine, Developmental Biology, Biochemistry, Anatomy, Physiology, Bioengineering, Genomics, Medical, zebrafish, in vivo, morpholino, human disease modeling, transcription, PCR, mRNA, DNA, Danio rerio, animal model
50338
Single-cell Suction Recordings from Mouse Cone Photoreceptors
Institutions: Washington University in St. Louis, School of Medicine.

Rod and cone photoreceptors in the retina are responsible for light detection. In darkness, cyclic nucleotide-gated (CNG) channels in the outer segment are open and allow cations to flow steadily inwards across the membrane, depolarizing the cell. Light exposure triggers the closure of the CNG channels, blocks the inward cation current flow, and thus results in cell hyperpolarization. Based on the polarity of photoreceptors, a suction recording method was developed in 1970s that, unlike the classic patch-clamp technique, does not require penetrating the plasma membrane
1
. Drawing the outer segment into a tightly-fitting glass pipette filled with extracellular solution allows recording the current changes in individual cells upon test-flash exposure. However, this well-established "outer-segment-in (OS-in)" suction recording is not suitable for mouse cone recordings, because of the low percentage of cones in the mouse retina (3%) and the difficulties in identifying the cone outer segments. Recently, an inner-segment-in (IS-in) recording configuration was developed to draw the inner segment/nuclear region of the photoreceptor into the recording pipette
2,3
. In this video, we will show how to record from individual mouse cone photoresponses using single-cell suction electrode.
Cellular Biology, Issue 35, mouse, cone photoreceptor, electrophysiology, suction-recording, CNG channels, retina, murine, IS-in
1681