ABSTRACT
During development, progenitors and post-mitotic neurons receive signals from adjacent territories that regulate their fate. The floor-plate is a group of glial cells lining the ependymal canal at ventral position. The floor-plate expresses key morphogens contributing to the patterning of cell lineages in the spinal cord. At later developmental stages, the floor-plate regulates the navigation of axons in the spinal cord, acting as a barrier to prevent the crossing of ipsilateral axons and controlling midline crossing by commissural axons1. These functions are achieved through the secretion of various guidance cues. Some of these cues act as attractants and repellents for the growing axons while others regulate guidance receptors and downstream signaling to modulate the sensitivity of the axons to the local guidance cues2,3. Here we describe a method that allows investigating the properties of floor-plate derived signals in a variety of developmental contexts, based on the production of Floor-Plate conditioned medium (FPcm)4-6. We then exemplify the use of this FPcm in the context of axon guidance. First, the spinal cord is isolated from mouse embryo at E12.5 and the floor-plate is dissected out and cultivated in a plasma-thrombin matrix (Figure 1). Second two days later, commissural tissue are dissected out from E12.5 embryos, triturated and exposed to the FPcm. Third, the tissue are processed for Western blot analysis of commissural markers.
23 Related JoVE Articles!
Assaying the Ability of Diffusible Signaling Molecules to Reorient Embryonic Spinal Commissural Axons
Institutions: University of Southern California, University of Southern California.

Dorsal commissural axons in the vertebrate spinal cord
1
have been an invaluable model system in which to identify axon guidance signals. Here, we describe an
in vitro
assay, "the reorientation assay", that has been used extensively to study the effect of extrinsic and intrinsic signals on the orientation of commissural axons
2
. This assay was developed by numerous people in the laboratories of Jane Dodd, Thomas Jessell and Andrew Lumsden (see acknowledgements for more details) and versions of this assay were used to demonstrate the reorientation activities of key axon guidance molecules, including the BMP chemorepellent in the roof plate
3,4
and the chemoattractive activities of Netrin1
5
and Sonic Hedgehog (Shh)
6
in the floor plate in the spinal cord. Explants comprising 2-3 segments of the dorsal two-thirds of spinal cord are dissected from embryonic day (E) 11 rats and cultured in three dimensional collagen gels
7
. E11 dorsal spinal explants contain newly born commissural neurons, which can be identified by their axonal expression of the glycoprotein, Tag1
8
. Over the course of 30-40 hours in culture, the commissural axon trajectory is recapitulated in these dorsal explants with a time course similar to that seen
in vivo
. This axonal trajectory can be challenged by placing either test tissues or a COS cell aggregate expressing a candidate signaling molecule in contact with one of the lateral edges of the dorsal explant. Commissural axons extending in the vicinity of the appended tissue will grow under the influence of both the endogenous roof plate and signals from the ectopic lateral tissue. The degree to which commissural axons are reoriented under these circumstances can be quantified. Using this assay, it is possible both to examine the sufficiency of a particular signal to reorient commissural axons
3,4
as well the necessity for this signal to direct the commissural trajectory
9
.
Neuroscience, Issue 37, commissural axons, spinal cord, rat, explant, collagen, COS cells, bone morphogenetic proteins (BMPs)
1853
Homarus Americanus Stomatogastric Nervous System Dissection
Institutions: Brandeis.

With the goal of understanding how nervous systems produce activity and respond to the environment, neuroscientists turn to model systems that exhibit the activity of interest and are accessible and amenable to experimental methods. The stomatogastric nervous system (STNS) of the American lobster (
Homarus americanus
; also know was the Atlantic or Maine lobster) has been established as a model system for studying rhythm generating networks and neuromodulation of networks. The STNS consists of 3 anterior ganglia (2 commissural ganglia and an oesophageal ganglion), containing modulatory neurons that project centrally to the stomatogastric ganglion (STG). The STG contains approximately 30 neurons that comprise two central pattern generating networks, the pyloric and gastric networks that underlie feeding behaviors in crustaceans
1,2
. While it is possible to study this system
in vivo
3
, the STNS continues to produce its rhythmic activity when isolated
in vitro
. Physical isolation of the STNS in a dish allows for easy access to the somata in the ganglia for intracellular electrophysiological recordings and to the nerves of the STNS for extracellular recordings. Isolating the STNS is a two-part process. The first part, dissecting the stomach from the animal, is described in an accompanying video article
4
. In this video article, fine dissection techniques are used to isolate the STNS from the stomach. This procedure results in a nervous system preparation that is available for electrophysiological recordings.
Neuroscience, Issue 27, lobster, stomach, neural network, dissection, central pattern generator
1171
Dissection and Lateral Mounting of Zebrafish Embryos: Analysis of Spinal Cord Development
Institutions: Skidmore College.

The zebrafish spinal cord is an effective investigative model for nervous system research for several reasons. First, genetic, transgenic and gene knockdown approaches can be utilized to examine the molecular mechanisms underlying nervous system development. Second, large clutches of developmentally synchronized embryos provide large experimental sample sizes. Third, the optical clarity of the zebrafish embryo permits researchers to visualize progenitor, glial, and neuronal populations. Although zebrafish embryos are transparent, specimen thickness can impede effective microscopic visualization. One reason for this is the tandem development of the spinal cord and overlying somite tissue. Another reason is the large yolk ball, which is still present during periods of early neurogenesis. In this article, we demonstrate microdissection and removal of the yolk in fixed embryos, which allows microscopic visualization while preserving surrounding somite tissue. We also demonstrate semipermanent mounting of zebrafish embryos. This permits observation of neurodevelopment in the dorso-ventral and anterior-posterior axes, as it preserves the three-dimensionality of the tissue.
Neuroscience, Issue 84, Spinal Cord, Zebrafish, Microscopy, Confocal, Embryonic Development, Nervous System, dissection and mounting, mounting embryos, dissecting embryos
50703
Genetic Study of Axon Regeneration with Cultured Adult Dorsal Root Ganglion Neurons
Institutions: Johns Hopkins University School of Medicine, Johns Hopkins University School of Medicine.

It is well known that mature neurons in the central nervous system (CNS) cannot regenerate their axons after injuries due to diminished intrinsic ability to support axon growth and a hostile environment in the mature CNS
1,2
. In contrast, mature neurons in the peripheral nervous system (PNS) regenerate readily after injuries
3
. Adult dorsal root ganglion (DRG) neurons are well known to regenerate robustly after peripheral nerve injuries. Each DRG neuron grows one axon from the cell soma, which branches into two axonal branches: a peripheral branch innervating peripheral targets and a central branch extending into the spinal cord. Injury of the DRG peripheral axons results in substantial axon regeneration, whereas central axons in the spinal cord regenerate poorly after the injury. However, if the peripheral axonal injury occurs prior to the spinal cord injury (a process called the conditioning lesion), regeneration of central axons is greatly improved
4
. Moreover, the central axons of DRG neurons share the same hostile environment as descending corticospinal axons in the spinal cord. Together, it is hypothesized that the molecular mechanisms controlling axon regeneration of adult DRG neurons can be harnessed to enhance CNS axon regeneration. As a result, adult DRG neurons are now widely used as a model system to study regenerative axon growth
5-7
. Here we describe a method of adult DRG neuron culture that can be used for genetic study of axon regeneration
in vitro
. In this model adult DRG neurons are genetically manipulated via electroporation-mediated gene transfection
6,8
. By transfecting neurons with DNA plasmid or si/shRNA, this approach enables both gain- and loss-of-function experiments to investigate the role of any gene-of-interest in axon growth from adult DRG neurons. When neurons are transfected with si/shRNA, the targeted endogenous protein is usually depleted after 3-4 days in culture, during which time robust axon growth has already occurred, making the loss-of-function studies less effective. To solve this problem, the method described here includes a re-suspension and re-plating step after transfection, which allows axons to re-grow from neurons in the absence of the targeted protein. Finally, we provide an example of using this
in vitro
model to study the role of an axon regeneration-associated gene, c-Jun, in mediating axon growth from adult DRG neurons
9
.
Neuroscience, Issue 66, Physiology, Developmental Biology, cell culture, axon regeneration, axon growth, dorsal root ganglion, spinal cord injury
4141
Dissection and Culture of Chick Statoacoustic Ganglion and Spinal Cord Explants in Collagen Gels for Neurite Outgrowth Assays
Institutions: Purdue University.

The sensory organs of the chicken inner ear are innervated by the peripheral processes of statoacoustic ganglion (SAG) neurons. Sensory organ innervation depends on a combination of axon guidance cues
1
and survival factors
2
located along the trajectory of growing axons and/or within their sensory organ targets. For example, functional interference with a classic axon guidance signaling pathway, semaphorin-neuropilin, generated misrouting of otic axons
3
. Also, several growth factors expressed in the sensory targets of the inner ear, including Neurotrophin-3 (NT-3) and Brain Derived Neurotrophic Factor (BDNF), have been manipulated in transgenic animals, again leading to misrouting of SAG axons
4
. These same molecules promote both survival and neurite outgrowth of chick SAG neurons
in vitro
5,6
. Here, we describe and demonstrate the
in vitro
method we are currently using to test the responsiveness of chick SAG neurites to soluble proteins, including known morphogens such as the Wnts, as well as growth factors that are important for promoting SAG neurite outgrowth and neuron survival. Using this model system, we hope to draw conclusions about the effects that secreted ligands can exert on SAG neuron survival and neurite outgrowth. SAG explants are dissected on embryonic day 4 (E4) and cultured in three-dimensional collagen gels under serum-free conditions for 24 hours. First, neurite responsiveness is tested by culturing explants with protein-supplemented medium. Then, to ask whether point sources of secreted ligands can have directional effects on neurite outgrowth, explants are co-cultured with protein-coated beads and assayed for the ability of the bead to locally promote or inhibit outgrowth. We also include a demonstration of the dissection (modified protocol
7
) and culture of E6 spinal cord explants. We routinely use spinal cord explants to confirm bioactivity of the proteins and protein-soaked beads, and to verify species cross-reactivity with chick tissue, under the same culture conditions as SAG explants. These
in vitro
assays are convenient for quickly screening for molecules that exert trophic (survival) or tropic (directional) effects on SAG neurons, especially before performing studies
in vivo
. Moreover, this method permits the testing of individual molecules under serum-free conditions, with high neuron survival
8
.
Neuroscience, Issue 58, chicken, dissection, morphogen, NT-3, neurite outgrowth, spinal cord, statoacoustic ganglion, Wnt5a
3600
Isolation and Culture of Dissociated Sensory Neurons From Chick Embryos
Institutions: Assumption College.
Neurons are multifaceted cells that carry information essential for a variety of functions including sensation, motor movement, learning, and memory. Studying neurons
in vivo
can be challenging due to their complexity, their varied and dynamic environments, and technical limitations. For these reasons, studying neurons
in vitro
can prove beneficial to unravel the complex mysteries of neurons. The well-defined nature of cell culture models provides detailed control over environmental conditions and variables. Here we describe how to isolate, dissociate, and culture primary neurons from chick embryos. This technique is rapid, inexpensive, and generates robustly growing sensory neurons. The procedure consistently produces cultures that are highly enriched for neurons and has very few non-neuronal cells (less than 5%). Primary neurons do not adhere well to untreated glass or tissue culture plastic, therefore detailed procedures to create two distinct, well-defined laminin-containing substrata for neuronal plating are described. Cultured neurons are highly amenable to multiple cellular and molecular techniques, including co-immunoprecipitation, live cell imagining, RNAi, and immunocytochemistry. Procedures for double immunocytochemistry on these cultured neurons have been optimized and described here.
Neuroscience, Issue 91, dorsal root gangia, DRG, chicken, in vitro, avian, laminin-1, embryonic, primary
51991
Real-time Imaging of Axonal Transport of Quantum Dot-labeled BDNF in Primary Neurons
Institutions: University of California, San Diego, Shanghai Jiao Tong University, University of California, San Diego, VA San Diego Healthcare System.

BDNF plays an important role in several facets of neuronal survival, differentiation, and function. Structural and functional deficits in axons are increasingly viewed as an early feature of neurodegenerative diseases, including Alzheimer's disease (AD) and Huntington's disease (HD). As yet unclear is the mechanism(s) by which axonal injury is induced. We reported the development of a novel technique to produce biologically active, monobiotinylated BDNF (mBtBDNF) that can be used to trace axonal transport of BDNF. Quantum dot-labeled BDNF (QD-BDNF) was produced by conjugating quantum dot 655 to mBtBDNF. A microfluidic device was used to isolate axons from neuron cell bodies. Addition of QD-BDNF to the axonal compartment allowed live imaging of BDNF transport in axons. We demonstrated that QD-BDNF moved essentially exclusively retrogradely, with very few pauses, at a moving velocity of around 1.06 μm/sec. This system can be used to investigate mechanisms of disrupted axonal function in AD or HD, as well as other degenerative disorders.
Neuroscience, Issue 91, live imaging, brain-derived neurotrophic factor (BDNF), quantum dot, trafficking, axonal retrograde transport, microfluidic chamber
51899
Preparation of Primary Neurons for Visualizing Neurites in a Frozen-hydrated State Using Cryo-Electron Tomography
Institutions: Baylor College of Medicine, Baylor College of Medicine, University of California at San Diego, Baylor College of Medicine.

Neurites, both dendrites and axons, are neuronal cellular processes that enable the conduction of electrical impulses between neurons. Defining the structure of neurites is critical to understanding how these processes move materials and signals that support synaptic communication. Electron microscopy (EM) has been traditionally used to assess the ultrastructural features within neurites; however, the exposure to organic solvent during dehydration and resin embedding can distort structures. An important unmet goal is the formulation of procedures that allow for structural evaluations not impacted by such artifacts. Here, we have established a detailed and reproducible protocol for growing and flash-freezing whole neurites of different primary neurons on electron microscopy grids followed by their examination with cryo-electron tomography (cryo-ET). This technique allows for 3-D visualization of frozen, hydrated neurites at nanometer resolution, facilitating assessment of their morphological differences. Our protocol yields an unprecedented view of dorsal root ganglion (DRG) neurites, and a visualization of hippocampal neurites in their near-native state. As such, these methods create a foundation for future studies on neurites of both normal neurons and those impacted by neurological disorders.
Neuroscience, Issue 84, Neurons, Cryo-electron Microscopy, Electron Microscope Tomography, Brain, rat, primary neuron culture, morphological assay
50783
Intracellular Recording, Sensory Field Mapping, and Culturing Identified Neurons in the Leech, Hirudo medicinalis
Institutions: University of Kentucky, University of Salahaddin, Iraq, SISSA, Italy.

The freshwater leech,
Hirudo medicinalis
, is a versatile model organism that has been used to address scientific questions in the fields of neurophysiology, neuroethology, and developmental biology. The goal of this report is to consolidate experimental techniques from the leech system into a single article that will be of use to physiologists with expertise in other nervous system preparations, or to biology students with little or no electrophysiology experience. We demonstrate how to dissect the leech for recording intracellularly from identified neural circuits in the ganglion. Next we show how individual cells of known function can be removed from the ganglion to be cultured in a Petri dish, and how to record from those neurons in culture. Then we demonstrate how to prepare a patch of innervated skin to be used for mapping sensory or motor fields. These leech preparations are still widely used to address basic electrical properties of neural networks, behavior, synaptogenesis, and development. They are also an appropriate training module for neuroscience or physiology teaching laboratories.
Neuroscience, Issue 81, leech, Neurobiology, culture, neurons, electrophysiology, synapse, neurophysiology, neuroethology, developmental biology, ganglion, central nervous system (CNS)
50631
Extracellularly Identifying Motor Neurons for a Muscle Motor Pool in Aplysia californica
Institutions: Case Western Reserve University , Case Western Reserve University , Case Western Reserve University .

In animals with large identified neurons (
e.g.
mollusks), analysis of motor pools is done using intracellular techniques
1,2,3,4
. Recently, we developed a technique to extracellularly stimulate and record individual neurons in
Aplysia californica
5
. We now describe a protocol for using this technique to uniquely identify and characterize motor neurons within a motor pool. This extracellular technique has advantages. First, extracellular electrodes can stimulate and record neurons through the sheath
5
, so it does not need to be removed. Thus, neurons will be healthier in extracellular experiments than in intracellular ones. Second, if ganglia are rotated by appropriate pinning of the sheath, extracellular electrodes can access neurons on both sides of the ganglion, which makes it easier and more efficient to identify multiple neurons in the same preparation. Third, extracellular electrodes do not need to penetrate cells, and thus can be easily moved back and forth among neurons, causing less damage to them. This is especially useful when one tries to record multiple neurons during repeating motor patterns that may only persist for minutes. Fourth, extracellular electrodes are more flexible than intracellular ones during muscle movements. Intracellular electrodes may pull out and damage neurons during muscle contractions. In contrast, since extracellular electrodes are gently pressed onto the sheath above neurons, they usually stay above the same neuron during muscle contractions, and thus can be used in more intact preparations. To uniquely identify motor neurons for a motor pool (in particular, the I1/I3 muscle in
Aplysia
) using extracellular electrodes, one can use features that do not require intracellular measurements as criteria: soma size and location, axonal projection, and muscle innervation
4,6,7
. For the particular motor pool used to illustrate the technique, we recorded from buccal nerves 2 and 3 to measure axonal projections, and measured the contraction forces of the I1/I3 muscle to determine the pattern of muscle innervation for the individual motor neurons. We demonstrate the complete process of first identifying motor neurons using muscle innervation, then characterizing their timing during motor patterns, creating a simplified diagnostic method for rapid identification. The simplified and more rapid diagnostic method is superior for more intact preparations,
e.g.
in the suspended buccal mass preparation
8
or
in vivo
9
. This process can also be applied in other motor pools
10,11,12
in
Aplysia
or in other animal systems
2,3,13,14
.
Neuroscience, Issue 73, Physiology, Biomedical Engineering, Anatomy, Behavior, Neurobiology, Animal, Neurosciences, Neurophysiology, Electrophysiology, Aplysia, Aplysia californica, California sea slug, invertebrate, feeding, buccal mass, ganglia, motor neurons, neurons, extracellular stimulation and recordings, extracellular electrodes, animal model
50189
The Swimmeret System of Crayfish: A Practical Guide for the Dissection of the Nerve Cord and Extracellular Recordings of the Motor Pattern
Institutions: University of Cologne.

Here we demonstrate the dissection of the crayfish abdominal nerve cord. The preparation comprises the last two thoracic ganglia (T4, T5) and the chain of abdominal ganglia (A1 to A6). This chain of ganglia includes the part of the central nervous system (CNS) that drives coordinated locomotion of the pleopods (swimmerets): the swimmeret system. It is known for over five decades that in crayfish each swimmeret is driven by its own independent pattern generating kernel that generates rhythmic alternating activity
1-3
. The motor neurons innervating the musculature of each swimmeret comprise two anatomically and functionally distinct populations
4
. One is responsible for the retraction (power stroke, PS) of the swimmeret. The other drives the protraction (return stroke, RS) of the swimmeret. Motor neurons of the swimmeret system are able to produce spontaneously a fictive motor pattern, which is identical to the pattern recorded
in vivo
1
. The aim of this report is to introduce an interesting and convenient model system for studying rhythm generating networks and coordination of independent microcircuits for students' practical laboratory courses. The protocol provided includes step-by-step instructions for the dissection of the crayfish's abdominal nerve cord, pinning of the isolated chain of ganglia, desheathing the ganglia and recording the swimmerets fictive motor pattern extracellularly from the isolated nervous system. Additionally, we can monitor the activity of swimmeret neurons recorded intracellularly from dendrites. Here we also describe briefly these techniques and provide some examples. Furthermore, the morphology of swimmeret neurons can be assessed using various staining techniques. Here we provide examples of intracellular (by iontophoresis) dye filled neurons and backfills of pools of swimmeret motor neurons. In our lab we use this preparation to study basic functions of fictive locomotion, the effect of sensory feedback on the activity of the CNS, and coordination between microcircuits on a cellular level.
Neurobiology, Issue 93, crustacean, dissection, extracellular recording, fictive locomotion, motor neurons, locomotion
52109
Use of pHluorin to Assess the Dynamics of Axon Guidance Receptors in Cell Culture and in the Chick Embryo
Institutions: University of Lyon.

During development,
axon guidance receptors play a crucial role in regulating axons sensitivity to both attractive and repulsive cues. Indeed, activation of the guidance receptors is the first step of the signaling mechanisms allowing axon tips, the growth cones, to respond to the ligands. As such, the modulation of their availability at the cell surface is one of the mechanisms that participate in setting the growth cone sensitivity. We describe here a method to precisely visualize the spatio-temporal cell surface dynamics of an axon guidance receptor both
in vitro
and
in vivo
in the developing chick spinal cord. We took advantage of the pH-dependent fluorescence property of a green fluorescent protein (GFP) variant to specifically detect the fraction of the axon guidance receptor that is addressed to the plasma membrane. We first describe the
in vitro
validation of such pH-dependent constructs and we further detail their use
in vivo
, in the chick spinal chord, to assess the spatio-temporal dynamics of the axon guidance receptor of interest.
Neuroscience, Issue 83, Neurons, Axons, Cell Differentiation, Embryonic Development, Life Sciences (General), Axon guidance receptor, trafficking, pHluorin, in ovo electroporation, commissural neurons, Plexin,
50883
An Ex Vivo Laser-induced Spinal Cord Injury Model to Assess Mechanisms of Axonal Degeneration in Real-time
Institutions: University of Louisville, University of Calgary.

Injured CNS axons fail to regenerate and often retract away from the injury site. Axons spared from the initial injury may later undergo secondary axonal degeneration. Lack of growth cone formation, regeneration, and loss of additional myelinated axonal projections within the spinal cord greatly limits neurological recovery following injury. To assess how central myelinated axons of the spinal cord respond to injury, we developed an
ex vivo
living spinal cord model utilizing transgenic mice that express yellow fluorescent protein in axons and a focal and highly reproducible laser-induced spinal cord injury to document the fate of axons and myelin (lipophilic fluorescent dye Nile Red) over time using two-photon excitation time-lapse microscopy. Dynamic processes such as acute axonal injury, axonal retraction, and myelin degeneration are best studied in real-time. However, the non-focal nature of contusion-based injuries and movement artifacts encountered during
in vivo
spinal cord imaging make differentiating primary and secondary axonal injury responses using high resolution microscopy challenging. The
ex vivo
spinal cord model described here mimics several aspects of clinically relevant contusion/compression-induced axonal pathologies including axonal swelling, spheroid formation, axonal transection, and peri-axonal swelling providing a useful model to study these dynamic processes in real-time. Major advantages of this model are excellent spatiotemporal resolution that allows differentiation between the primary insult that directly injures axons and secondary injury mechanisms; controlled infusion of reagents directly to the perfusate bathing the cord; precise alterations of the environmental milieu (
e.g.,
calcium, sodium ions, known contributors to axonal injury, but near impossible to manipulate
in vivo
); and murine models also offer an advantage as they provide an opportunity to visualize and manipulate genetically identified cell populations and subcellular structures. Here, we describe how to isolate and image the living spinal cord from mice to capture dynamics of acute axonal injury.
Neuroscience, Issue 93, spinal cord injury, axon, myelin, two-photon excitation microscopy, Nile Red, axonal degeneration, axonal dieback, axonal retraction
52173
Modeling Biological Membranes with Circuit Boards and Measuring Electrical Signals in Axons: Student Laboratory Exercises
Institutions: University of Kentucky, University of Toronto.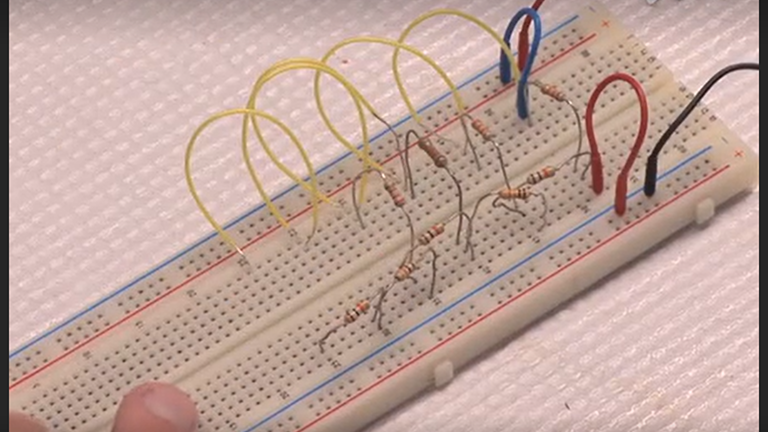 This is a demonstration of how electrical models can be used to characterize biological membranes. This exercise also introduces biophysical terminology used in electrophysiology. The same equipment is used in the membrane model as on live preparations. Some properties of an isolated nerve cord are investigated: nerve action potentials, recruitment of neurons, and responsiveness of the nerve cord to environmental factors.
Basic Protocols, Issue 47, Invertebrate, Crayfish, Modeling, Student laboratory, Nerve cord
2325
Dissection and Culture of Mouse Dopaminergic and Striatal Explants in Three-Dimensional Collagen Matrix Assays
Institutions: University Medical Center Utrecht.

Midbrain dopamine (mdDA) neurons project via the medial forebrain bundle towards several areas in the telencephalon, including the striatum
1
. Reciprocally, medium spiny neurons in the striatum that give rise to the striatonigral (direct) pathway innervate the substantia nigra
2
. The development of these axon tracts is dependent upon the combinatorial actions of a plethora of axon growth and guidance cues including molecules that are released by neurites or by (intermediate) target regions
3,4
. These soluble factors can be studied
in vitro
by culturing mdDA and/or striatal explants in a collagen matrix which provides a three-dimensional substrate for the axons mimicking the extracellular environment. In addition, the collagen matrix allows for the formation of relatively stable gradients of proteins released by other explants or cells placed in the vicinity (e.g. see references 5 and 6). Here we describe methods for the purification of rat tail collagen, microdissection of dopaminergic and striatal explants, their culture in collagen gels and subsequent immunohistochemical and quantitative analysis. First, the brains of E14.5 mouse embryos are isolated and dopaminergic and striatal explants are microdissected. These explants are then (co)cultured in collagen gels on coverslips for 48 to 72 hours
in vitro
. Subsequently, axonal projections are visualized using neuronal markers (e.g. tyrosine hydroxylase, DARPP32, or βIII tubulin) and axon growth and attractive or repulsive axon responses are quantified. This neuronal preparation is a useful tool for
in vitro
studies of the cellular and molecular mechanisms of mesostriatal and striatonigral axon growth and guidance during development. Using this assay, it is also possible to assess other (intermediate) targets for dopaminergic and striatal axons or to test specific molecular cues.
Neuroscience, Issue 61, Axon guidance, collagen matrix, development, dissection, dopamine, medium spiny neuron, rat tail collagen, striatum, striatonigral, mesostriatal
3691
Imaging Analysis of Neuron to Glia Interaction in Microfluidic Culture Platform (MCP)-based Neuronal Axon and Glia Co-culture System
Institutions: Tufts University, Tufts Sackler School of Graduate Biomedical Sciences.
Proper neuron to glia interaction is critical to physiological function of the central nervous system (CNS). This bidirectional communication is sophisticatedly mediated by specific signaling pathways between neuron and glia
1,2
. Identification and characterization of these signaling pathways is essential to the understanding of how neuron to glia interaction shapes CNS physiology. Previously, neuron and glia mixed cultures have been widely utilized for testing and characterizing signaling pathways between neuron and glia. What we have learned from these preparations and other
in vivo
tools, however, has suggested that mutual signaling between neuron and glia often occurred in specific compartments within neurons (
i.e.
, axon, dendrite, or soma)
3
. This makes it important to develop a new culture system that allows separation of neuronal compartments and specifically examines the interaction between glia and neuronal axons/dendrites. In addition, the conventional mixed culture system is not capable of differentiating the soluble factors and direct membrane contact signals between neuron and glia. Furthermore, the large quantity of neurons and glial cells in the conventional co-culture system lacks the resolution necessary to observe the interaction between a single axon and a glial cell. In this study, we describe a novel axon and glia co-culture system with the use of a microfluidic culture platform (MCP). In this co-culture system, neurons and glial cells are cultured in two separate chambers that are connected through multiple central channels. In this microfluidic culture platform, only neuronal processes (especially axons) can enter the glial side through the central channels. In combination with powerful fluorescent protein labeling, this system allows direct examination of signaling pathways between axonal/dendritic and glial interactions, such as axon-mediated transcriptional regulation in glia, glia-mediated receptor trafficking in neuronal terminals, and glia-mediated axon growth. The narrow diameter of the chamber also significantly prohibits the flow of the neuron-enriched medium into the glial chamber, facilitating probing of the direct membrane-protein interaction between axons/dendrites and glial surfaces.
Neuroscience, Issue 68, Molecular Biology, Cellular Biology, Biophysics, Microfluidics, Microfluidic culture platform, Compartmented culture, Neuron to glia signaling, neurons, glia, cell culture
4448
Membrane Potentials, Synaptic Responses, Neuronal Circuitry, Neuromodulation and Muscle Histology Using the Crayfish: Student Laboratory Exercises
Institutions: University of Kentucky, University of Toronto.

The purpose of this report is to help develop an understanding of the effects caused by ion gradients across a biological membrane. Two aspects that influence a cell's membrane potential and which we address in these experiments are: (1) Ion concentration of K
+
on the outside of the membrane, and (2) the permeability of the membrane to specific ions. The crayfish abdominal extensor muscles are in groupings with some being tonic (slow) and others phasic (fast) in their biochemical and physiological phenotypes, as well as in their structure; the motor neurons that innervate these muscles are correspondingly different in functional characteristics. We use these muscles as well as the superficial, tonic abdominal flexor muscle to demonstrate properties in synaptic transmission. In addition, we introduce a sensory-CNS-motor neuron-muscle circuit to demonstrate the effect of cuticular sensory stimulation as well as the influence of neuromodulators on certain aspects of the circuit. With the techniques obtained in this exercise, one can begin to answer many questions remaining in other experimental preparations as well as in physiological applications related to medicine and health. We have demonstrated the usefulness of model invertebrate preparations to address fundamental questions pertinent to all animals.
Neuroscience, Issue 47, Invertebrate, Crayfish, neurophysiology, muscle, anatomy, electrophysiology
2322
Inhibitory Synapse Formation in a Co-culture Model Incorporating GABAergic Medium Spiny Neurons and HEK293 Cells Stably Expressing GABAA Receptors
Institutions: University College London.

Inhibitory neurons act in the central nervous system to regulate the dynamics and spatio-temporal co-ordination of neuronal networks. GABA (γ-aminobutyric acid) is the predominant inhibitory neurotransmitter in the brain. It is released from the presynaptic terminals of inhibitory neurons within highly specialized intercellular junctions known as synapses, where it binds to GABA
A
receptors (GABA
A
Rs) present at the plasma membrane of the synapse-receiving, postsynaptic neurons. Activation of these GABA-gated ion channels leads to influx of chloride resulting in postsynaptic potential changes that decrease the probability that these neurons will generate action potentials. During development, diverse types of inhibitory neurons with distinct morphological, electrophysiological and neurochemical characteristics have the ability to recognize their target neurons and form synapses which incorporate specific GABA
A
Rs subtypes. This principle of selective innervation of neuronal targets raises the question as to how the appropriate synaptic partners identify each other. To elucidate the underlying molecular mechanisms, a novel
in vitro
co-culture model system was established, in which medium spiny GABAergic neurons, a highly homogenous population of neurons isolated from the embryonic striatum, were cultured with stably transfected HEK293 cell lines that express different GABA
A
R subtypes. Synapses form rapidly, efficiently and selectively in this system, and are easily accessible for quantification. Our results indicate that various GABA
A
R subtypes differ in their ability to promote synapse formation, suggesting that this reduced
in vitro
model system can be used to reproduce, at least in part, the
in vivo
conditions required for the recognition of the appropriate synaptic partners and formation of specific synapses. Here the protocols for culturing the medium spiny neurons and generating HEK293 cells lines expressing GABA
A
Rs are first described, followed by detailed instructions on how to combine these two cell types in co-culture and analyze the formation of synaptic contacts.
Neuroscience, Issue 93, Developmental neuroscience, synaptogenesis, synaptic inhibition, co-culture, stable cell lines, GABAergic, medium spiny neurons, HEK 293 cell line
52115
Using Microfluidics Chips for Live Imaging and Study of Injury Responses in Drosophila Larvae
Institutions: University of Michigan, University of Michigan, University of Michigan, University of Michigan, University of Michigan.

Live imaging is an important technique for studying cell biological processes, however this can be challenging in live animals. The translucent cuticle of the
Drosophila
larva makes it an attractive model organism for live imaging studies. However, an important challenge for live imaging techniques is to noninvasively immobilize and position an animal on the microscope. This protocol presents a simple and easy to use method for immobilizing and imaging
Drosophila
larvae on a polydimethylsiloxane (PDMS) microfluidic device, which we call the 'larva chip'. The larva chip is comprised of a snug-fitting PDMS microchamber that is attached to a thin glass coverslip, which, upon application of a vacuum via a syringe, immobilizes the animal and brings ventral structures such as the nerve cord, segmental nerves, and body wall muscles, within close proximity to the coverslip. This allows for high-resolution imaging, and importantly, avoids the use of anesthetics and chemicals, which facilitates the study of a broad range of physiological processes. Since larvae recover easily from the immobilization, they can be readily subjected to multiple imaging sessions. This allows for longitudinal studies over time courses ranging from hours to days. This protocol describes step-by-step how to prepare the chip and how to utilize the chip for live imaging of neuronal events in 3
rd
instar larvae. These events include the rapid transport of organelles in axons, calcium responses to injury, and time-lapse studies of the trafficking of photo-convertible proteins over long distances and time scales. Another application of the chip is to study regenerative and degenerative responses to axonal injury, so the second part of this protocol describes a new and simple procedure for injuring axons within peripheral nerves by a segmental nerve crush.
Bioengineering, Issue 84, Drosophila melanogaster, Live Imaging, Microfluidics, axonal injury, axonal degeneration, calcium imaging, photoconversion, laser microsurgery
50998
Adult and Embryonic Skeletal Muscle Microexplant Culture and Isolation of Skeletal Muscle Stem Cells
Institutions: University of Birmingham.

Cultured embryonic and adult skeletal muscle cells have a number of different uses. The micro-dissected explants technique described in this chapter is a robust and reliable method for isolating relatively large numbers of proliferative skeletal muscle cells from juvenile, adult or embryonic muscles as a source of skeletal muscle stem cells. The authors have used micro-dissected explant cultures to analyse the growth characteristics of skeletal muscle cells in wild-type and dystrophic muscles. Each of the components of tissue growth, namely cell survival, proliferation, senescence and differentiation can be analysed separately using the methods described here. The net effect of all components of growth can be established by means of measuring explant outgrowth rates. The micro-explant method can be used to establish primary cultures from a wide range of different muscle types and ages and, as described here, has been adapted by the authors to enable the isolation of embryonic skeletal muscle precursors. Uniquely, micro-explant cultures have been used to derive clonal (single cell origin) skeletal muscle stem cell (SMSc) lines which can be expanded and used for
in vivo
transplantation.
In vivo
transplanted SMSc behave as functional, tissue-specific, satellite cells which contribute to skeletal muscle fibre regeneration but which are also retained (in the satellite cell niche) as a small pool of undifferentiated stem cells which can be re-isolated into culture using the micro-explant method.
Cellular Biology, Issue 43, Skeletal muscle stem cell, embryonic tissue culture, apoptosis, growth factor, proliferation, myoblast, myogenesis, satellite cell, skeletal muscle differentiation, muscular dystrophy
2051
Electrophysiological Methods for Recording Synaptic Potentials from the NMJ of Drosophila Larvae
Institutions: Columbia University College of Physicians and Surgeons.
In this video, we describe the electrophysiological methods for recording synaptic transmission at the neuromuscular junction (NMJ) of Drosophila larva. The larval neuromuscular system is a model synapse for the study of synaptic physiology and neurotransmission, and is a valuable research tool that has defined genetics and is accessible to experimental manipulation. Larvae can be dissected to expose the body wall musculature, central nervous system, and peripheral nerves. The muscles of Drosophila and their innervation pattern are well characterized and muscles are easy to access for intracellular recording. Individual muscles can be identified by their location and orientation within the 8 abdominal segments, each with 30 muscles arranged in a pattern that is repeated in segments A2 - A7. Dissected drosophila larvae are thin and individual muscles and bundles of motor neuron axons can be visualized by transillumination
1
. Transgenic constructs can be used to label target cells for visual identification or for manipulating gene products in specific tissues. In larvae, excitatory junction potentials (EJP's) are generated in response to vesicular release of glutamate from the motoneurons at the synapse. In dissected larvae, the EJP can be recorded in the muscle with an intracellular electrode. Action potentials can be artificially evoked in motor neurons that have been cut posterior to the ventral ganglion, drawn into a glass pipette by gentle suction and stimulated with an electrode. These motor neurons have distinct firing thresholds when stimulated, and when they fire simultaneously, they generate a response in the muscle. Signals transmitted across the NMJ synapse can be recorded in the muscles that the motor neurons innervate. The EJP's and minature excitatory junction potentials (mEJP's) are seen as changes in membrane potential. Electrophysiological responses are recorded at room temperature in modified minimal hemolymph-like solution
2
(HL3) that contains 5 mM Mg
2+
and 1.5 mM Ca
2+
. Changes in the amplitude of evoked EJP's can indicate differences in synaptic function and structure. Digitized recordings are analyzed for EJP amplitude, mEJP frequency and amplitude, and quantal content.
Neuroscience, Issue 24, Neuromuscular junction, synaptic transmission, Drosophila larvae, electrophysiology
1109
Whole Mount Preparation of the Adult Drosophila Ventral Nerve Cord for Giant Fiber Dye Injection
Institutions: Florida Atlantic University.

To analyze the axonal and dendritic morphology of neurons, it is essential to obtain accurate labeling of neuronal structures. Preparing well labeled samples with little to no tissue damage enables us to analyze cell morphology and to compare individual samples to each other, hence allowing the identification of mutant anomalies. In the demonstrated dissection method the nervous system remains mostly inside the adult fly. Through a dorsal incision, the abdomen and thorax are opened and most of the internal organs are removed. Only the dorsal side of the ventral nerve cord (VNC) and the cervical connective (CvC) containing the big axons of the giant fibers (GFs)
1
are exposed, while the brain containing the GF cell body and dendrites remains
2
in the intact head. In this preparation most nerves of the VNC should remain attached to their muscles. Following the dissection, the intracellular filling of the giant fiber (GF) with a fluorescent dye is demonstrated. In the CvC the GF axons are located at the dorsal surface and thus can be easily visualized under a microscope with differential interference contrast (DIC) optics. This allows the injection of the GF axons with dye at this site to label the entire GF including the axons and their terminals in the VNC. This method results in reliable and strong staining of the GFs allowing the neurons to be imaged immediately after filling with an epifluorescent microscope. Alternatively, the fluorescent signal can be enhanced using standard immunohistochemistry procedures
3
suitable for high resolution confocal microscopy.
Neuroscience, Issue 52, Drosophila, in vivo dissection, giant fiber, ventral nerve cord, dye fill, immunohistochemistry
3080
A Multi-compartment CNS Neuron-glia Co-culture Microfluidic Platform
Institutions: Texas A&M University (TAMU), Texas A&M University (TAMU).

We present a novel multi-compartment neuron co-culture microsystem platform for
in vitro
CNS axon-glia interaction research, capable of conducting up to six independent experiments in parallel for higher-throughput. We developed a new fabrication method to create microfluidic devices having both micro and macro scale structures within the same device through a single soft-lithography process, enabling mass fabrication with good repeatability. The multi-compartment microfluidic co-culture platform is composed of one soma compartment for neurons and six axon/glia compartments for oligodendrocytes (OLs). The soma compartment and axon/glia compartments are connected by arrays of axon-guiding microchannels that function as physical barriers to confine neuronal soma in the soma compartment, while allowing axons to grow into axon/glia compartments. OLs loaded into axon/glia compartments can interact only with axons but not with neuronal soma or dendrites, enabling localized axon-glia interaction studies. The microchannels also enabled fluidic isolation between compartments, allowing six independent experiments to be conducted on a single device for higher throughput. Soft-lithography using poly(dimethylsiloxane) (PDMS) is a commonly used technique in biomedical microdevices. Reservoirs on these devices are commonly defined by manual punching. Although simple, poor alignment and time consuming nature of the process makes this process not suitable when large numbers of reservoirs have to be repeatedly created. The newly developed method did not require manual punching of reservoirs, overcoming such limitations. First, seven reservoirs (depth: 3.5 mm) were made on a poly(methyl methacrylate) (PMMA) block using a micro-milling machine. Then, arrays of ridge microstructures, fabricated on a glass substrate, were hot-embossed against the PMMA block to define microchannels that connect the soma and axon/glia compartments. This process resulted in macro-scale reservoirs (3.5 mm) and micro-scale channels (2.5 μm) to coincide within a single PMMA master. A PDMS replica that served as a mold master was obtained using soft-lithography and the final PDMS device was replicated from this master. Primary neurons from E16-18 rats were loaded to the soma compartment and cultured for two weeks. After one week of cell culture, axons crossed microchannels and formed axonal only network layer inside axon/glia compartments. Axons grew uniformly throughout six axon/glia compartments and OLs from P1-2 rats were added to axon/glia compartments at 14 days
in vitro
for co-culture.
Biomedical Engineering, Issue 31, Neuron culture, neuron-glia interaction, microfluidics, cell culture microsystem
1399