ABSTRACT
An experimental study is performed to measure the terminal settling velocities of spherical particles in surfactant based shear thinning viscoelastic (VES) fluids. The measurements are made for particles settling in unbounded fluids and fluids between parallel walls. VES fluids over a wide range of rheological properties are prepared and rheologically characterized. The rheological characterization involves steady shear-viscosity and dynamic oscillatory-shear measurements to quantify the viscous and elastic properties respectively. The settling velocities under unbounded conditions are measured in beakers having diameters at least 25x the diameter of particles. For measuring settling velocities between parallel walls, two experimental cells with different wall spacing are constructed. Spherical particles of varying sizes are gently dropped in the fluids and allowed to settle. The process is recorded with a high resolution video camera and the trajectory of the particle is recorded using image analysis software. Terminal settling velocities are calculated from the data. The impact of elasticity on settling velocity in unbounded fluids is quantified by comparing the experimental settling velocity to the settling velocity calculated by the inelastic drag predictions of Renaud et al.1 Results show that elasticity of fluids can increase or decrease the settling velocity. The magnitude of reduction/increase is a function of the rheological properties of the fluids and properties of particles. Confining walls are observed to cause a retardation effect on settling and the retardation is measured in terms of wall factors.
20 Related JoVE Articles!
High-speed Particle Image Velocimetry Near Surfaces
Institutions: University of Michigan.
Multi-dimensional and transient flows play a key role in many areas of science, engineering, and health sciences but are often not well understood. The complex nature of these flows may be studied using particle image velocimetry (PIV), a laser-based imaging technique for optically accessible flows. Though many forms of PIV exist that extend the technique beyond the original planar two-component velocity measurement capabilities, the basic PIV system consists of a light source (laser), a camera, tracer particles, and analysis algorithms. The imaging and recording parameters, the light source, and the algorithms are adjusted to optimize the recording for the flow of interest and obtain valid velocity data. Common PIV investigations measure two-component velocities in a plane at a few frames per second. However, recent developments in instrumentation have facilitated high-frame rate (> 1 kHz) measurements capable of resolving transient flows with high temporal resolution. Therefore, high-frame rate measurements have enabled investigations on the evolution of the structure and dynamics of highly transient flows. These investigations play a critical role in understanding the fundamental physics of complex flows. A detailed description for performing high-resolution, high-speed planar PIV to study a transient flow near the surface of a flat plate is presented here. Details for adjusting the parameter constraints such as image and recording properties, the laser sheet properties, and processing algorithms to adapt PIV for any flow of interest are included.
Physics, Issue 76, Mechanical Engineering, Fluid Mechanics, flow measurement, fluid heat transfer, internal flow in turbomachinery (applications), boundary layer flow (general), flow visualization (instrumentation), laser instruments (design and operation), Boundary layer, micro-PIV, optical laser diagnostics, internal combustion engines, flow, fluids, particle, velocimetry, visualization
50559
Quantifying Mixing using Magnetic Resonance Imaging
Institutions: University of California, Davis, Procter & Gamble Company.

Mixing is a unit operation that combines two or more components into a homogeneous mixture. This work involves mixing two viscous liquid streams using an in-line static mixer. The mixer is a split-and-recombine design that employs shear and extensional flow to increase the interfacial contact between the components. A prototype split-and-recombine (SAR) mixer was constructed by aligning a series of thin laser-cut Poly (methyl methacrylate) (PMMA) plates held in place in a PVC pipe. Mixing in this device is illustrated in the photograph in
Fig. 1
. Red dye was added to a portion of the test fluid and used as the minor component being mixed into the major (undyed) component. At the inlet of the mixer, the injected layer of tracer fluid is split into two layers as it flows through the mixing section. On each subsequent mixing section, the number of horizontal layers is duplicated. Ultimately, the single stream of dye is uniformly dispersed throughout the cross section of the device. Using a non-Newtonian test fluid of 0.2% Carbopol and a doped tracer fluid of similar composition, mixing in the unit is visualized using magnetic resonance imaging (MRI). MRI is a very powerful experimental probe of molecular chemical and physical environment as well as sample structure on the length scales from microns to centimeters. This sensitivity has resulted in broad application of these techniques to characterize physical, chemical and/or biological properties of materials ranging from humans to foods to porous media
1, 2
. The equipment and conditions used here are suitable for imaging liquids containing substantial amounts of NMR mobile
1
H such as ordinary water and organic liquids including oils. Traditionally MRI has utilized super conducting magnets which are not suitable for industrial environments and not portable within a laboratory (
Fig. 2
). Recent advances in magnet technology have permitted the construction of large volume industrially compatible magnets suitable for imaging process flows. Here, MRI provides spatially resolved component concentrations at different axial locations during the mixing process. This work documents real-time mixing of highly viscous fluids via distributive mixing with an application to personal care products.
Biophysics, Issue 59, Magnetic resonance imaging, MRI, mixing, rheology, static mixer, split-and-recombine mix
3493
AFM-based Mapping of the Elastic Properties of Cell Walls: at Tissue, Cellular, and Subcellular Resolutions
Institutions: Université Paris Diderot, INRA Centre de Versailles-Grignon.
We describe a recently developed method to measure mechanical properties of the surfaces of plant tissues using atomic force microscopy (AFM) micro/nano-indentations, for a JPK AFM. Specifically, in this protocol we measure the apparent Young's modulus of cell walls at subcellular resolutions across regions of up to 100 µm x 100 µm in floral meristems, hypocotyls, and roots. This requires careful preparation of the sample, the correct selection of micro-indenters and indentation depths. To account for cell wall properties only, measurements are performed in highly concentrated solutions of mannitol in order to plasmolyze the cells and thus remove the contribution of cell turgor pressure. In contrast to other extant techniques, by using different indenters and indentation depths, this method allows simultaneous multiscale measurements,
i.e.
at subcellular resolutions and across hundreds of cells comprising a tissue. This means that it is now possible to spatially-temporally characterize the changes that take place in the mechanical properties of cell walls during development, enabling these changes to be correlated with growth and differentiation. This represents a key step to understand how coordinated microscopic cellular changes bring about macroscopic morphogenetic events. However, several limitations remain: the method can only be used on fairly small samples (around 100 µm in diameter) and only on external tissues; the method is sensitive to tissue topography; it measures only certain aspects of the tissue's complex mechanical properties. The technique is being developed rapidly and it is likely that most of these limitations will be resolved in the near future.
Plant Biology, Issue 89, Tissue growth, Cell wall, Plant mechanics, Elasticity, Young's modulus, Root, Apical meristem, Hypocotyl, Organ formation, Biomechanics, Morphogenesis
51317
Patterned Photostimulation with Digital Micromirror Devices to Investigate Dendritic Integration Across Branch Points
Institutions: University of Maryland School of Medicine.

Light is a versatile and precise means to control neuronal excitability. The recent introduction of light sensitive effectors such as channel-rhodopsin and caged neurotransmitters have led to interests in developing better means to control patterns of light in space and time that are useful for experimental neuroscience. One conventional strategy, employed in confocal and 2-photon microscopy, is to focus light to a diffraction limited spot and then scan that single spot sequentially over the region of interest. This approach becomes problematic if large areas have to be stimulated within a brief time window, a problem more applicable to photostimulation than for imaging. An alternate strategy is to project the complete spatial pattern on the target with the aid of a digital micromirror device (DMD). The DMD approach is appealing because the hardware components are relatively inexpensive and is supported by commercial interests. Because such a system is not available for upright microscopes, we will discuss the critical issues in the construction and operations of such a DMD system. Even though we will be primarily describing the construction of the system for UV photolysis, the modifications for building the much simpler visible light system for optogenetic experiments will also be provided. The UV photolysis system was used to carryout experiments to study a fundamental question in neuroscience, how are spatially distributed inputs integrated across distal dendritic branch points. The results suggest that integration can be non-linear across branch points and the supralinearity is largely mediated by NMDA receptors.
Bioengineering, Issue 49, DMD, photolysis, dendrite, photostimulation, DLP, optogenetics
2003
Micropipette Aspiration of Substrate-attached Cells to Estimate Cell Stiffness
Institutions: University of Illinois, University of Pennsylvania .

Growing number of studies show that biomechanical properties of individual cells play major roles in multiple cellular functions, including cell proliferation, differentiation, migration and cell-cell interactions. The two key parameters of cellular biomechanics are cellular deformability or stiffness and the ability of the cells to contract and generate force. Here we describe a quick and simple method to estimate cell stiffness by measuring the degree of membrane deformation in response to negative pressure applied by a glass micropipette to the cell surface, a technique that is called Micropipette Aspiration or Microaspiration. Microaspiration is performed by pulling a glass capillary to create a micropipette with a very small tip (2-50 μm diameter depending on the size of a cell or a tissue sample), which is then connected to a pneumatic pressure transducer and brought to a close vicinity of a cell under a microscope. When the tip of the pipette touches a cell, a step of negative pressure is applied to the pipette by the pneumatic pressure transducer generating well-defined pressure on the cell membrane. In response to pressure, the membrane is aspirated into the pipette and progressive membrane deformation or "membrane projection" into the pipette is measured as a function of time. The basic principle of this experimental approach is that the degree of membrane deformation in response to a defined mechanical force is a function of membrane stiffness. The stiffer the membrane is, the slower the rate of membrane deformation and the shorter the steady-state aspiration length.The technique can be performed on isolated cells, both in suspension and substrate-attached, large organelles, and liposomes. Analysis is performed by comparing maximal membrane deformations achieved under a given pressure for different cell populations or experimental conditions. A "stiffness coefficient" is estimated by plotting the aspirated length of membrane deformation as a function of the applied pressure. Furthermore, the data can be further analyzed to estimate the Young's modulus of the cells (E), the most common parameter to characterize stiffness of materials. It is important to note that plasma membranes of eukaryotic cells can be viewed as a bi-component system where membrane lipid bilayer is underlied by the sub-membrane cytoskeleton and that it is the cytoskeleton that constitutes the mechanical scaffold of the membrane and dominates the deformability of the cellular envelope. This approach, therefore, allows probing the biomechanical properties of the sub-membrane cytoskeleton.
Bioengineering, Issue 67, Biophysics, Biomedical Engineering, Medicine, Cellular Biology, Cell stiffness, biomechanics, microaspiration, cell membrane, cytoskeleton
3886
Highly Resolved Intravital Striped-illumination Microscopy of Germinal Centers
Institutions: Leibniz Institute, Max-Delbrück Center for Molecular Medicine, Leibniz Institute, LaVision Biotec GmbH, Charité - University of Medicine.
Monitoring cellular communication by intravital deep-tissue multi-photon microscopy is the key for understanding the fate of immune cells within thick tissue samples and organs in health and disease. By controlling the scanning pattern in multi-photon microscopy and applying appropriate numerical algorithms, we developed a striped-illumination approach, which enabled us to achieve 3-fold better axial resolution and improved signal-to-noise ratio,
i.e.
contrast, in more than 100 µm tissue depth within highly scattering tissue of lymphoid organs as compared to standard multi-photon microscopy. The acquisition speed as well as photobleaching and photodamage effects were similar to standard photo-multiplier-based technique, whereas the imaging depth was slightly lower due to the use of field detectors. By using the striped-illumination approach, we are able to observe the dynamics of immune complex deposits on secondary follicular dendritic cells – on the level of a few protein molecules in germinal centers.
Immunology, Issue 86, two-photon laser scanning microscopy, deep-tissue intravital imaging, germinal center, lymph node, high-resolution, enhanced contrast
51135
Measurement of Coherence Decay in GaMnAs Using Femtosecond Four-wave Mixing
Institutions: Dalhousie University, University of Notre Dame.
The application of femtosecond four-wave mixing to the study of fundamental properties of diluted magnetic semiconductors ((s,p)-d hybridization, spin-flip scattering) is described, using experiments on GaMnAs as a prototype III-Mn-V system.  Spectrally-resolved and time-resolved experimental configurations are described, including the use of zero-background autocorrelation techniques for pulse optimization.  The etching process used to prepare GaMnAs samples for four-wave mixing experiments is also highlighted.  The high temporal resolution of this technique, afforded by the use of short (20 fsec) optical pulses, permits the rapid spin-flip scattering process in this system to be studied directly in the time domain, providing new insight into the strong exchange coupling responsible for carrier-mediated ferromagnetism.  We also show that spectral resolution of the four-wave mixing signal allows one to extract clear signatures of (s,p)-d hybridization in this system, unlike linear spectroscopy techniques.   This increased sensitivity is due to the nonlinearity of the technique, which suppresses defect-related contributions to the optical response. This method may be used to measure the time scale for coherence decay (tied to the fastest scattering processes) in a wide variety of semiconductor systems of interest for next generation electronics and optoelectronics.
Physics, Issue 82, Four-wave mixing, spin-flip scattering, ultrafast, GaMnAs, diluted magnetic semiconductor, photon echo, dephasing, GaAs, low temperature grown semiconductor, exchange, ferromagnetic
51094
Fabrication and Characterization of Disordered Polymer Optical Fibers for Transverse Anderson Localization of Light
Institutions: University of Wisconsin-Milwaukee, Corning Incorporated, Corning, New York.

We develop and characterize a disordered polymer optical fiber that uses transverse Anderson localization as a novel waveguiding mechanism. The developed polymer optical fiber is composed of 80,000 strands of poly (methyl methacrylate) (PMMA) and polystyrene (PS) that are randomly mixed and drawn into a square cross section optical fiber with a side width of 250 μm. Initially, each strand is 200 μm in diameter and 8-inches long. During the mixing process of the original fiber strands, the fibers cross over each other; however, a large draw ratio guarantees that the refractive index profile is invariant along the length of the fiber for several tens of centimeters. The large refractive index difference of 0.1 between the disordered sites results in a small localized beam radius that is comparable to the beam radius of conventional optical fibers. The input light is launched from a standard single mode optical fiber using the butt-coupling method and the near-field output beam from the disordered fiber is imaged using a 40X objective and a CCD camera. The output beam diameter agrees well with the expected results from the numerical simulations. The disordered optical fiber presented in this work is the first device-level implementation of 2D Anderson localization, and can potentially be used for image transport and short-haul optical communication systems.
Physics, Issue 77, Chemistry, Optics, Physics (General), Transverse Anderson Localization, Polymer Optical Fibers, Scattering, Random Media, Optical Fiber Materials, electromagnetism, optical fibers, optical materials, optical waveguides, photonics, wave propagation (optics), fiber optics
50679
How to Build a Laser Speckle Contrast Imaging (LSCI) System to Monitor Blood Flow
Institutions: University of Texas at Austin.

Laser Speckle Contrast Imaging (LSCI) is a simple yet powerful technique that is used for full-field imaging of blood flow. The technique analyzes fluctuations in a dynamic speckle pattern to detect the movement of particles similar to how laser Doppler analyzes frequency shifts to determine particle speed. Because it can be used to monitor the movement of red blood cells, LSCI has become a popular tool for measuring blood flow in tissues such as the retina, skin, and brain. It has become especially useful in neuroscience where blood flow changes during physiological events like functional activation, stroke, and spreading depolarization can be quantified. LSCI is also attractive because it provides excellent spatial and temporal resolution while using inexpensive instrumentation that can easily be combined with other imaging modalities. Here we show how to build a LSCI setup and demonstrate its ability to monitor blood flow changes in the brain during an animal experiment.
Neuroscience, Issue 45, blood flow, optical imaging, laser speckle, brain, rat
2004
Characterization of Surface Modifications by White Light Interferometry: Applications in Ion Sputtering, Laser Ablation, and Tribology Experiments
Institutions: Argonne National Laboratory, Argonne National Laboratory, MassThink LLC.

In materials science and engineering it is often necessary to obtain quantitative measurements of surface topography with micrometer lateral resolution. From the measured surface, 3D topographic maps can be subsequently analyzed using a variety of software packages to extract the information that is needed. In this article we describe how white light interferometry, and optical profilometry (OP) in general, combined with generic surface analysis software, can be used for materials science and engineering tasks. In this article, a number of applications of white light interferometry for investigation of surface modifications in mass spectrometry, and wear phenomena in tribology and lubrication are demonstrated. We characterize the products of the interaction of semiconductors and metals with energetic ions (sputtering), and laser irradiation (ablation), as well as
ex situ
measurements of wear of tribological test specimens. Specifically, we will discuss: Aspects of traditional ion sputtering-based mass spectrometry such as sputtering rates/yields measurements on Si and Cu and subsequent time-to-depth conversion. Results of quantitative characterization of the interaction of femtosecond laser irradiation with a semiconductor surface. These results are important for applications such as ablation mass spectrometry, where the quantities of evaporated material can be studied and controlled via pulse duration and energy per pulse. Thus, by determining the crater geometry one can define depth and lateral resolution versus experimental setup conditions. Measurements of surface roughness parameters in two dimensions, and quantitative measurements of the surface wear that occur as a result of friction and wear tests. Some inherent drawbacks, possible artifacts, and uncertainty assessments of the white light interferometry approach will be discussed and explained.
Materials Science, Issue 72, Physics, Ion Beams (nuclear interactions), Light Reflection, Optical Properties, Semiconductor Materials, White Light Interferometry, Ion Sputtering, Laser Ablation, Femtosecond Lasers, Depth Profiling, Time-of-flight Mass Spectrometry, Tribology, Wear Analysis, Optical Profilometry, wear, friction, atomic force microscopy, AFM, scanning electron microscopy, SEM, imaging, visualization
50260
Microwave-assisted Functionalization of Poly(ethylene glycol) and On-resin Peptides for Use in Chain Polymerizations and Hydrogel Formation
Institutions: University of Rochester, University of Rochester, University of Rochester Medical Center.

One of the main benefits to using poly(ethylene glycol) (PEG) macromers in hydrogel formation is synthetic versatility. The ability to draw from a large variety of PEG molecular weights and configurations (arm number, arm length, and branching pattern) affords researchers tight control over resulting hydrogel structures and properties, including Young's modulus and mesh size. This video will illustrate a rapid, efficient, solvent-free, microwave-assisted method to methacrylate PEG precursors into poly(ethylene glycol) dimethacrylate (PEGDM). This synthetic method provides much-needed starting materials for applications in drug delivery and regenerative medicine. The demonstrated method is superior to traditional methacrylation methods as it is significantly faster and simpler, as well as more economical and environmentally friendly, using smaller amounts of reagents and solvents. We will also demonstrate an adaptation of this technique for on-resin methacrylamide functionalization of peptides. This on-resin method allows the N-terminus of peptides to be functionalized with methacrylamide groups prior to deprotection and cleavage from resin. This allows for selective addition of methacrylamide groups to the N-termini of the peptides while amino acids with reactive side groups (
e.g.
 primary amine of lysine, primary alcohol of serine, secondary alcohols of threonine, and phenol of tyrosine) remain protected, preventing functionalization at multiple sites. This article will detail common analytical methods (proton Nuclear Magnetic Resonance spectroscopy (
;
H-NMR) and Matrix Assisted Laser Desorption Ionization Time of Flight mass spectrometry (MALDI-ToF)) to assess the efficiency of the functionalizations. Common pitfalls and suggested troubleshooting methods will be addressed, as will modifications of the technique which can be used to further tune macromer functionality and resulting hydrogel physical and chemical properties. Use of synthesized products for the formation of hydrogels for drug delivery and cell-material interaction studies will be demonstrated, with particular attention paid to modifying hydrogel composition to affect mesh size, controlling hydrogel stiffness and drug release.
Chemistry, Issue 80, Poly(ethylene glycol), peptides, polymerization, polymers, methacrylation, peptide functionalization, 1H-NMR, MALDI-ToF, hydrogels, macromer synthesis
50890
Measuring the Mechanical Properties of Living Cells Using Atomic Force Microscopy
Institutions: Worcester Polytechnic Institute, Worcester Polytechnic Institute.
Mechanical properties of cells and extracellular matrix (ECM) play important roles in many biological processes including stem cell differentiation, tumor formation, and wound healing. Changes in stiffness of cells and ECM are often signs of changes in cell physiology or diseases in tissues. Hence, cell stiffness is an index to evaluate the status of cell cultures. Among the multitude of methods applied to measure the stiffness of cells and tissues, micro-indentation using an Atomic Force Microscope (AFM) provides a way to reliably measure the stiffness of living cells. This method has been widely applied to characterize the micro-scale stiffness for a variety of materials ranging from metal surfaces to soft biological tissues and cells. The basic principle of this method is to indent a cell with an AFM tip of selected geometry and measure the applied force from the bending of the AFM cantilever. Fitting the force-indentation curve to the Hertz model for the corresponding tip geometry can give quantitative measurements of material stiffness. This paper demonstrates the procedure to characterize the stiffness of living cells using AFM. Key steps including the process of AFM calibration, force-curve acquisition, and data analysis using a MATLAB routine are demonstrated. Limitations of this method are also discussed.
Biophysics, Issue 76, Bioengineering, Cellular Biology, Molecular Biology, Physics, Chemical Engineering, Biomechanics, bioengineering (general), AFM, cell stiffness, microindentation, force spectroscopy, atomic force microscopy, microscopy
50497
Measuring Material Microstructure Under Flow Using 1-2 Plane Flow-Small Angle Neutron Scattering
Institutions: University of Delaware, National Institute of Standards and Technology, Institut Laue-Langevin.

A new small-angle neutron scattering (SANS) sample environment optimized for studying the microstructure of complex fluids under simple shear flow is presented. The SANS shear cell consists of a concentric cylinder Couette geometry that is sealed and rotating about a horizontal axis so that the vorticity direction of the flow field is aligned with the neutron beam enabling scattering from the 1-2 plane of shear (velocity-velocity gradient, respectively). This approach is an advance over previous shear cell sample environments as there is a strong coupling between the bulk rheology and microstructural features in the 1-2 plane of shear. Flow-instabilities, such as shear banding, can also be studied by spatially resolved measurements. This is accomplished in this sample environment by using a narrow aperture for the neutron beam and scanning along the velocity gradient direction. Time resolved experiments, such as flow start-ups and large amplitude oscillatory shear flow are also possible by synchronization of the shear motion and time-resolved detection of scattered neutrons. Representative results using the methods outlined here demonstrate the useful nature of spatial resolution for measuring the microstructure of a wormlike micelle solution that exhibits shear banding, a phenomenon that can only be investigated by resolving the structure along the velocity gradient direction. Finally, potential improvements to the current design are discussed along with suggestions for supplementary experiments as motivation for future experiments on a broad range of complex fluids in a variety of shear motions.
Physics, Issue 84, Surfactants, Rheology, Shear Banding, Nanostructure, Neutron Scattering, Complex Fluids, Flow-induced Structure
51068
Longitudinal Measurement of Extracellular Matrix Rigidity in 3D Tumor Models Using Particle-tracking Microrheology
Institutions: University of Massachusetts Boston.

The mechanical microenvironment has been shown to act as a crucial regulator of tumor growth behavior and signaling, which is itself remodeled and modified as part of a set of complex, two-way mechanosensitive interactions. While the development of biologically-relevant 3D tumor models have facilitated mechanistic studies on the impact of matrix rheology on tumor growth, the inverse problem of mapping changes in the mechanical environment induced by tumors remains challenging. Here, we describe the implementation of particle-tracking microrheology (PTM) in conjunction with 3D models of pancreatic cancer as part of a robust and viable approach for longitudinally monitoring physical changes in the tumor microenvironment,
in situ
. The methodology described here integrates a system of preparing
in vitro
3D models embedded in a model extracellular matrix (ECM) scaffold of Type I collagen with fluorescently labeled probes uniformly distributed for position- and time-dependent microrheology measurements throughout the specimen.
In vitro
tumors are plated and probed in parallel conditions using multiwell imaging plates. Drawing on established methods, videos of tracer probe movements are transformed via the Generalized Stokes Einstein Relation (GSER) to report the complex frequency-dependent viscoelastic shear modulus,
G*(ω)
. Because this approach is imaging-based, mechanical characterization is also mapped onto large transmitted-light spatial fields to simultaneously report qualitative changes in 3D tumor size and phenotype. Representative results showing contrasting mechanical response in sub-regions associated with localized invasion-induced matrix degradation as well as system calibration, validation data are presented. Undesirable outcomes from common experimental errors and troubleshooting of these issues are also presented. The 96-well 3D culture plating format implemented in this protocol is conducive to correlation of microrheology measurements with therapeutic screening assays or molecular imaging to gain new insights into impact of treatments or biochemical stimuli on the mechanical microenvironment.
Bioengineering, Issue 88, viscoelasticity, mechanobiology, extracellular matrix (ECM), matrix remodeling, 3D tumor models, tumor microenvironment, stroma, matrix metalloprotease (MMP), epithelial-mesenchymal transition (EMT)
51302
Simultaneous Multicolor Imaging of Biological Structures with Fluorescence Photoactivation Localization Microscopy
Institutions: University of Maine.

Localization-based super resolution microscopy can be applied to obtain a spatial map (image) of the distribution of individual fluorescently labeled single molecules within a sample with a spatial resolution of tens of nanometers. Using either photoactivatable (PAFP) or photoswitchable (PSFP) fluorescent proteins fused to proteins of interest, or organic dyes conjugated to antibodies or other molecules of interest, fluorescence photoactivation localization microscopy (FPALM) can simultaneously image multiple species of molecules within single cells. By using the following approach, populations of large numbers (thousands to hundreds of thousands) of individual molecules are imaged in single cells and localized with a precision of ~10-30 nm. Data obtained can be applied to understanding the nanoscale spatial distributions of multiple protein types within a cell. One primary advantage of this technique is the dramatic increase in spatial resolution: while diffraction limits resolution to ~200-250 nm in conventional light microscopy, FPALM can image length scales more than an order of magnitude smaller. As many biological hypotheses concern the spatial relationships among different biomolecules, the improved resolution of FPALM can provide insight into questions of cellular organization which have previously been inaccessible to conventional fluorescence microscopy. In addition to detailing the methods for sample preparation and data acquisition, we here describe the optical setup for FPALM. One additional consideration for researchers wishing to do super-resolution microscopy is cost: in-house setups are significantly cheaper than most commercially available imaging machines. Limitations of this technique include the need for optimizing the labeling of molecules of interest within cell samples, and the need for post-processing software to visualize results. We here describe the use of PAFP and PSFP expression to image two protein species in fixed cells. Extension of the technique to living cells is also described.
Basic Protocol, Issue 82, Microscopy, Super-resolution imaging, Multicolor, single molecule, FPALM, Localization microscopy, fluorescent proteins
50680
Magnetic Resonance Derived Myocardial Strain Assessment Using Feature Tracking
Institutions: Cincinnati Children Hospital Medical Center (CCHMC), Imaging Systems GmbH, Advanced Medical Imaging Development SRL, The Christ Hospital.

Purpose: An accurate and practical method to measure parameters like strain in myocardial tissue is of great clinical value, since it has been shown, that strain is a more sensitive and earlier marker for contractile dysfunction than the frequently used parameter EF. Current technologies for CMR are time consuming and difficult to implement in clinical practice. Feature tracking is a technology that can lead to more automization and robustness of quantitative analysis of medical images with less time consumption than comparable methods. Methods: An automatic or manual input in a single phase serves as an initialization from which the system starts to track the displacement of individual patterns representing anatomical structures over time. The specialty of this method is that the images do not need to be manipulated in any way beforehand like e.g. tagging of CMR images. Results: The method is very well suited for tracking muscular tissue and with this allowing quantitative elaboration of myocardium and also blood flow. Conclusions: This new method offers a robust and time saving procedure to quantify myocardial tissue and blood with displacement, velocity and deformation parameters on regular sequences of CMR imaging. It therefore can be implemented in clinical practice.
Medicine, Issue 48, feature tracking, strain, displacement, CMR
2356
The Generation of Higher-order Laguerre-Gauss Optical Beams for High-precision Interferometry
Institutions: University of Birmingham.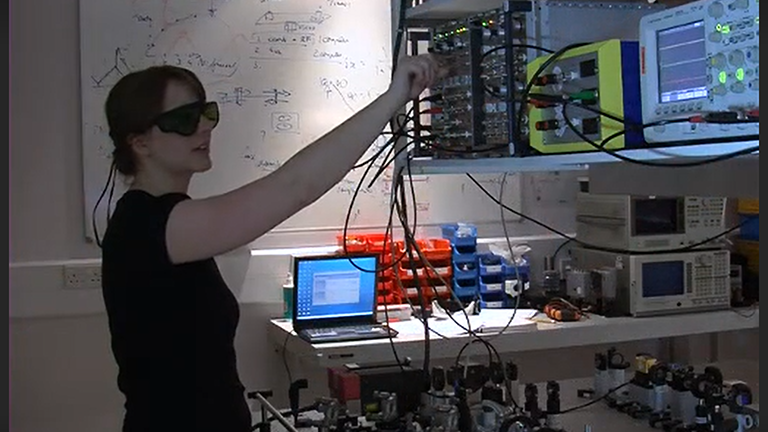 Thermal noise in high-reflectivity mirrors is a major impediment for several types of high-precision interferometric experiments that aim to reach the standard quantum limit or to cool mechanical systems to their quantum ground state. This is for example the case of future gravitational wave observatories, whose sensitivity to gravitational wave signals is expected to be limited in the most sensitive frequency band, by atomic vibration of their mirror masses. One promising approach being pursued to overcome this limitation is to employ higher-order Laguerre-Gauss (LG) optical beams in place of the conventionally used fundamental mode. Owing to their more homogeneous light intensity distribution these beams average more effectively over the thermally driven fluctuations of the mirror surface, which in turn reduces the uncertainty in the mirror position sensed by the laser light. We demonstrate a promising method to generate higher-order LG beams by shaping a fundamental Gaussian beam with the help of diffractive optical elements. We show that with conventional sensing and control techniques that are known for stabilizing fundamental laser beams, higher-order LG modes can be purified and stabilized just as well at a comparably high level. A set of diagnostic tools allows us to control and tailor the properties of generated LG beams. This enabled us to produce an LG beam with the highest purity reported to date. The demonstrated compatibility of higher-order LG modes with standard interferometry techniques and with the use of standard spherical optics makes them an ideal candidate for application in a future generation of high-precision interferometry.
Physics, Issue 78, Optics, Astronomy, Astrophysics, Gravitational waves, Laser interferometry, Metrology, Thermal noise, Laguerre-Gauss modes, interferometry
50564
Environmentally-controlled Microtensile Testing of Mechanically-adaptive Polymer Nanocomposites for ex vivo Characterization
Institutions: Louis Stokes Cleveland Department of Veterans Affairs Medical Center, Case Western Reserve University, Case Western Reserve University.

Implantable microdevices are gaining significant attention for several biomedical applications
1-4
. Such devices have been made from a range of materials, each offering its own advantages and shortcomings
5,6
. Most prominently, due to the microscale device dimensions, a high modulus is required to facilitate implantation into living tissue. Conversely, the stiffness of the device should match the surrounding tissue to minimize induced local strain
7-9
. Therefore, we recently developed a new class of bio-inspired materials to meet these requirements by responding to environmental stimuli with a change in mechanical properties
10-14
. Specifically, our poly(vinyl acetate)-based nanocomposite (PVAc-NC) displays a reduction in stiffness when exposed to water and elevated temperatures (
e.g.
body temperature). Unfortunately, few methods exist to quantify the stiffness of materials
in vivo
15
, and mechanical testing outside of the physiological environment often requires large samples inappropriate for implantation. Further, stimuli-responsive materials may quickly recover their initial stiffness after explantation. Therefore, we have developed a method by which the mechanical properties of implanted microsamples can be measured
ex vivo
, with simulated physiological conditions maintained using moisture and temperature control
13,16,17
. To this end, a custom microtensile tester was designed to accommodate microscale samples
13,17
with widely-varying Young's moduli (range of 10 MPa to 5 GPa). As our interests are in the application of PVAc-NC as a biologically-adaptable neural probe substrate, a tool capable of mechanical characterization of samples at the microscale was necessary. This tool was adapted to provide humidity and temperature control, which minimized sample drying and cooling
17
. As a result, the mechanical characteristics of the explanted sample closely reflect those of the sample just prior to explantation. The overall goal of this method is to quantitatively assess the
in vivo
mechanical properties, specifically the Young's modulus, of stimuli-responsive, mechanically-adaptive polymer-based materials. This is accomplished by first establishing the environmental conditions that will minimize a change in sample mechanical properties after explantation without contributing to a reduction in stiffness independent of that resulting from implantation. Samples are then prepared for implantation, handling, and testing (
Figure 1A
). Each sample is implanted into the cerebral cortex of rats, which is represented here as an explanted rat brain, for a specified duration (
Figure 1B
). At this point, the sample is explanted and immediately loaded into the microtensile tester, and then subjected to tensile testing (
Figure 1C
). Subsequent data analysis provides insight into the mechanical behavior of these innovative materials in the environment of the cerebral cortex.
Bioengineering, Issue 78, Biophysics, Biomedical Engineering, Molecular Biology, Cellular Biology, Electrical Engineering, Materials Science, Nanotechnology, Nanocomposites, Electrodes, Implanted, Neural Prostheses, Micro-Electrical-Mechanical Systems, Implants, Experimental, mechanical properties (composite materials), Dynamic materials, polymer nanocomposite, Young's modulus, modulus of elasticity, intracortical microelectrode, polymers, biomaterials
50078
Absolute Quantum Yield Measurement of Powder Samples
Institutions: Hitachi High Technologies America.

Measurement of fluorescence quantum yield has become an important tool in the search for new solutions in the development, evaluation, quality control and research of illumination, AV equipment, organic EL material, films, filters and fluorescent probes for bio-industry. Quantum yield is calculated as the ratio of the number of photons absorbed, to the number of photons emitted by a material. The higher the quantum yield, the better the efficiency of the fluorescent material. For the measurements featured in this video, we will use the Hitachi F-7000 fluorescence spectrophotometer equipped with the Quantum Yield measuring accessory and Report Generator program. All the information provided applies to this system. Measurement of quantum yield in powder samples is performed following these steps: Generation of instrument correction factors for the excitation and emission monochromators. This is an important requirement for the correct measurement of quantum yield. It has been performed in advance for the full measurement range of the instrument and will not be shown in this video due to time limitations. Measurement of integrating sphere correction factors. The purpose of this step is to take into consideration reflectivity characteristics of the integrating sphere used for the measurements. Reference and Sample measurement using direct excitation and indirect excitation. Quantum Yield calculation using Direct and Indirect excitation. Direct excitation is when the sample is facing directly the excitation beam, which would be the normal measurement setup. However, because we use an integrating sphere, a portion of the emitted photons resulting from the sample fluorescence are reflected by the integrating sphere and will re-excite the sample, so we need to take into consideration indirect excitation. This is accomplished by measuring the sample placed in the port facing the emission monochromator, calculating indirect quantum yield and correcting the direct quantum yield calculation. Corrected quantum yield calculation. Chromaticity coordinates calculation using Report Generator program. The Hitachi F-7000 Quantum Yield Measurement System offer advantages for this application, as follows: High sensitivity (S/N ratio 800 or better RMS). Signal is the Raman band of water measured under the following conditions: Ex wavelength 350 nm, band pass Ex and Em 5 nm, response 2 sec), noise is measured at the maximum of the Raman peak. High sensitivity allows measurement of samples even with low quantum yield. Using this system we have measured quantum yields as low as 0.1 for a sample of salicylic acid and as high as 0.8 for a sample of magnesium tungstate. Highly accurate measurement with a dynamic range of 6 orders of magnitude allows for measurements of both sharp scattering peaks with high intensity, as well as broad fluorescence peaks of low intensity under the same conditions. High measuring throughput and reduced light exposure to the sample, due to a high scanning speed of up to 60,000 nm/minute and automatic shutter function. Measurement of quantum yield over a wide wavelength range from 240 to 800 nm. Accurate quantum yield measurements are the result of collecting instrument spectral response and integrating sphere correction factors before measuring the sample. Large selection of calculated parameters provided by dedicated and easy to use software. During this video we will measure sodium salicylate in powder form which is known to have a quantum yield value of 0.4 to 0.5.
Molecular Biology, Issue 63, Powders, Quantum, Yield, F-7000, Quantum Yield, phosphor, chromaticity, Photo-luminescence
3066
Laser Capture Microdissection of Mammalian Tissue
Institutions: University of California, Irvine (UCI).

Laser capture microscopy, also known as laser microdissection (LMD), enables the user to isolate small numbers of cells or tissues from frozen or formalin-fixed, paraffin-embedded tissue sections. LMD techniques rely on a thermo labile membrane placed either on top of, or underneath, the tissue section. In one method, focused laser energy is used to melt the membrane onto the underlying cells, which can then be lifted out of the tissue section. In the other, the laser energy vaporizes the foil along a path "drawn" on the tissue, allowing the selected cells to fall into a collection device. Each technique allows the selection of cells with a minimum resolution of several microns. DNA, RNA, protein, and lipid samples may be isolated and analyzed from micro-dissected samples. In this video, we demonstrate the use of the Leica AS-LMD laser microdissection instrument in seven segments, including an introduction to the principles of LMD, initializing the instrument for use, general considerations for sample preparation, mounting the specimen and setting up capture tubes, aligning the microscope, adjusting the capture controls, and capturing tissue specimens. Laser-capture micro-dissection enables the investigator to isolate samples of pure cell populations as small as a few cell-equivalents. This allows the analysis of cells of interest that are free of neighboring contaminants, which may confound experimental results.
Issue 8, Basic Protocols, Laser Capture Microdissection, Microdissection Techniques, Leica
309