ABSTRACT
Programmed cell death (PCD) occurs in adults to maintain normal tissue homeostasis and during embryological development to shape tissues and organs1,2,6,7. During development, toxic chemicals or genetic alterations can cause an increase in PCD or change PCD patterns resulting in developmental abnormalities and birth defects3-5. To understand the etiology of these defects, the study of embryos can be complemented with in vitro assays that use differentiating embryonic stem (ES) cells. Apoptosis is a well-studied form of PCD that involves both intrinsic and extrinsic signaling to activate the caspase enzyme cascade. Characteristic cell changes include membrane blebbing, nuclear shrinking, and DNA fragmentation. Other forms of PCD do not involve caspase activation and may be the end-result of prolonged autophagy. Regardless of the PCD pathway, dying cells need to be removed. In adults, the immune cells perform this function, while in embryos, where the immune system has not yet developed, removal occurs by an alternative mechanism. This mechanism involves neighboring cells (called "non-professional phagocytes") taking on a phagocytic role-they recognize the 'eat me' signal on the surface of the dying cell and engulf it8-10. After engulfment, the debris is brought to the lysosome for degradation. Thus regardless of PCD mechanism, an increase in lysosomal activity can be correlated with increased cell death. To study PCD, a simple assay to visualize lysosomes in thick tissues and multilayer differentiating cultures can be useful. LysoTracker dye is a highly soluble small molecule that is retained in acidic subcellular compartments such as the lysosome11-13. The dye is taken up by diffusion and through the circulation. Since penetration is not a hindrance, visualization of PCD in thick tissues and multi-layer cultures is possible12,13. In contrast, TUNEL (Terminal deoxynucleotidyl transferase dUTP nick end labeling) analysis14, is limited to small samples, histological sections, and monolayer cultures because the procedure requires the entry/permeability of a terminal transferase. In contrast to Aniline blue, which diffuses and is dissolved by solvents, LysoTracker Red DND-99 is fixable, bright, and stable. Staining can be visualized with standard fluorescent or confocal microscopy in whole-mount or section using aqueous or solvent-based mounting media12,13. Here we describe protocols using this dye to look at PCD in normal and sonic hedgehog null mouse embryos. In addition, we demonstrate analysis of PCD in differentiating ES cell cultures and present a simple quantification method. In summary, LysoTracker staining can be a great complement to other methods of detecting PCD.
22 Related JoVE Articles!
Dissection of Xenopus laevis Neural Crest for in vitro Explant Culture or in vivo Transplantation
Institutions: Centre Universitaire, Centre Universitaire, Centre Universitaire, Centre Universitaire.

The neural crest (NC) is a transient dorsal neural tube cell population that undergoes an epithelium-to-mesenchyme transition (EMT) at the end of neurulation, migrates extensively towards various organs, and differentiates into many types of derivatives (neurons, glia, cartilage and bone, pigmented and endocrine cells). In this protocol, we describe how to dissect the premigratory cranial NC from
Xenopus laevis
embryos, in order to study NC development
in vivo
and
in vitro
. The frog model offers many advantages to study early development; abundant batches are available, embryos develop rapidly,
in vivo
gain and loss of function strategies allow manipulation of gene expression prior to NC dissection in donor and/or host embryos. The NC explants can be plated on fibronectin and used for
in vitro
studies. They can be cultured for several days in a serum-free defined medium. We also describe how to graft NC explants back into host embryos for studying NC migration and differentiation
in vivo
.
Developmental Biology, Issue 85, Neural crest, Xenopus laevis, embryo, dissection, graft, fibronectin
51118
Facial Transplants in Xenopus laevis Embryos
Institutions: Harvard University, Massachusetts Institute of Technology, Massachusetts Institute of Technology, Virginia Commonwealth University.

Craniofacial birth defects occur in 1 out of every 700 live births, but etiology is rarely known due to limited understanding of craniofacial development. To identify where signaling pathways and tissues act during patterning of the developing face, a 'face transplant' technique has been developed in embryos of the frog
Xenopus laevis
. A region of presumptive facial tissue (the "Extreme Anterior Domain" (EAD)) is removed from a donor embryo at tailbud stage, and transplanted to a host embryo of the same stage, from which the equivalent region has been removed. This can be used to generate a chimeric face where the host or donor tissue has a loss or gain of function in a gene, and/or includes a lineage label. After healing, the outcome of development is monitored, and indicates roles of the signaling pathway within the donor or surrounding host tissues.
Xenopus
is a valuable model for face development, as the facial region is large and readily accessible for micromanipulation. Many embryos can be assayed, over a short time period since development occurs rapidly. Findings in the frog are relevant to human development, since craniofacial processes appear conserved between
Xenopus
and mammals.
Developmental Biology, Issue 85, craniofacial development, neural crest, Mouth, Nostril, transplantation, Xenopus
50697
Manipulating the Murine Lacrimal Gland
Institutions: University of California San Francisco.

The lacrimal gland (LG) secretes aqueous tears necessary for maintaining the structure and function of the cornea, a transparent tissue essential for vision. In the human a single LG resides in the orbit above the lateral end of each eye delivering tears to the ocular surface through 3 - 5 ducts. The mouse has three pairs of major ocular glands, the most studied of which is the exorbital lacrimal gland (LG) located anterior and ventral to the ear. Similar to other glandular organs, the LG develops through the process of epithelial branching morphogenesis in which a single epithelial bud within a condensed mesenchyme undergoes multiple rounds of bud and duct formation to form an intricate interconnected network of secretory acini and ducts. This elaborate process has been well documented in many other epithelial organs such as the pancreas and salivary gland. However, the LG has been much less explored and the mechanisms controlling morphogenesis are poorly understood. We suspect that this under-representation as a model system is a consequence of the difficulties associated with finding, dissecting and culturing the LG. Thus, here we describe dissection techniques for harvesting embryonic and post-natal LG and methods for
ex vivo
culture of the tissue.
Developmental Biology, Issue 93, lacrimal gland, ex vivo, branching morphogenesis, organ culture, embryogenesis
51970
A System for ex vivo Culturing of Embryonic Pancreas
Institutions: Max-Delbrück-Center for Molecular Medicine.

The pancreas controls vital functions of our body, including the production of digestive enzymes and regulation of blood sugar levels
1
. Although in the past decade many studies have contributed to a solid foundation for understanding pancreatic organogenesis, important gaps persist in our knowledge of early pancreas formation
2
. A complete understanding of these early events will provide insight into the development of this organ, but also into incurable diseases that target the pancreas, such as diabetes or pancreatic cancer. Finally, this information will generate a blueprint for developing cell-replacement therapies in the context of diabetes. During embryogenesis, the pancreas originates from distinct embryonic outgrowths of the dorsal and ventral foregut endoderm at embryonic day (E) 9.5 in the mouse embryo
3,4
. Both outgrowths evaginate into the surrounding mesenchyme as solid epithelial buds, which undergo proliferation, branching and differentiation to generate a fully mature organ
2,5,6
. Recent evidences have suggested that growth and differentiation of pancreatic cell lineages, including the insulin-producing β-cells, depends on proper tissue-architecture, epithelial remodeling and cell positioning within the branching pancreatic epithelium
7,8
. However, how branching morphogenesis occurs and is coordinated with proliferation and differentiation in the pancreas is largely unknown. This is in part due to the fact that current knowledge about these developmental processes has relied almost exclusively on analysis of fixed specimens, while morphogenetic events are highly dynamic. Here, we report a method for dissecting and culturing mouse embryonic pancreatic buds
ex vivo
on glass bottom dishes, which allow direct visualization of the developing pancreas (
Figure 1
). This culture system is ideally devised for confocal laser scanning microscopy and, in particular, live-cell imaging. Pancreatic explants can be prepared not only from wild-type mouse embryos, but also from genetically engineered mouse strains (
e.g.
transgenic or knockout), allowing real-time studies of mutant phenotypes. Moreover, this
ex vivo
culture system is valuable to study the effects of chemical compounds on pancreatic development, enabling to obtain quantitative data about proliferation and growth, elongation, branching, tubulogenesis and differentiation. In conclusion, the development of an
ex vivo
pancreatic explant culture method combined with high-resolution imaging provides a strong platform for observing morphogenetic and differentiation events as they occur within the developing mouse embryo.
Developmental Biology, Issue 66, Molecular Biology, Cellular Biology, Medicine, Physiology, pancreas, organ culture, epithelial morphogenesis, confocal microscopy, live imaging
3979
Genetic Modification and Recombination of Salivary Gland Organ Cultures
Institutions: University at Albany, SUNY.

Branching morphogenesis occurs during the development of many organs, and the embryonic mouse submandibular gland (SMG) is a classical model for the study of branching morphogenesis. In the developing SMG, this process involves iterative steps of epithelial bud and duct formation, to ultimately give rise to a complex branched network of acini and ducts, which serve to produce and modify/transport the saliva, respectively, into the oral cavity
1-3
. The epithelial-associated basement membrane and aspects of the mesenchymal compartment, including the mesenchyme cells, growth factors and the extracellular matrix, produced by these cells, are critical to the branching mechanism, although how the cellular and molecular events are coordinated remains poorly understood
4
. The study of the molecular mechanisms driving epithelial morphogenesis advances our understanding of developmental mechanisms and provides insight into possible regenerative medicine approaches. Such studies have been hampered due to the lack of effective methods for genetic manipulation of the salivary epithelium. Currently, adenoviral transduction represents the most effective method for targeting epithelial cells in adult glands
in vivo
5
. However, in embryonic explants, dense mesenchyme and the basement membrane surrounding the epithelial cells impedes viral access to the epithelial cells. If the mesenchyme is removed, the epithelium can be transfected using adenoviruses, and epithelial rudiments can resume branching morphogenesis in the presence of Matrigel or laminin-111
6,7
. Mesenchyme-free epithelial rudiment growth also requires additional supplementation with soluble growth factors and does not fully recapitulate branching morphogenesis as it occurs in intact glands
8
. Here we describe a technique which facilitates adenoviral transduction of epithelial cells and culture of the transfected epithelium with associated mesenchyme. Following microdissection of the embryonic SMGs, removal of the mesenchyme, and viral infection of the epithelium with a GFP-containing adenovirus, we show that the epithelium spontaneously recombines with uninfected mesenchyme, recapitulating intact SMG glandular structure and branching morphogenesis. The genetically modified epithelial cell population can be easily monitored using standard fluorescence microscopy methods, if fluorescently-tagged adenoviral constructs are used. The tissue recombination method described here is currently the most effective and accessible method for transfection of epithelial cells with a wild-type or mutant vector within a complex 3D tissue construct that does not require generation of transgenic animals.
Genetics, Issue 71, Molecular Biology, Cellular Biology, Developmental Biology, Virology, Medicine, Adenovirus, Embryonic, Epithelial rudiments, Extracellular matrix, Mesenchyme, Organ culture, Submandibular gland, ex vivo, cell culture, tissue engineering, embryo, mouse, animal model
50060
Orthotopic Hind-Limb Transplantation in Rats
Institutions: Innsbruck Medical University, University of Pittsburgh Medical Center.

Composite tissue allotransplantation (CTA) now represents a valid therapeutic option after the loss of a hand, forearm or digits and has become a novel therapeutic entity in reconstructive surgery. However, long term high-dose multi-drug immunosuppressive therapy is required to ensure graft survival, bearing the risk of serious side effects which halters broader application. Further progression in this field may depend on better understanding of basic immunology and ischemia reperfusion injury in composite tissue grafts. To date, orthotopic hind limb transplantation in rats has been the preferred rodent model for reconstructive transplantation (RT), however, it is an extremely demanding procedure that requires extraordinary microsurgical skills for reattachment of vasculature, bones, muscles and nerves. We have introduced the vascular cuff anastomosis technique to this model, providing a rapid and reliable approach to rat hind limb transplantation. This technique simplifies and shortens the surgical procedure and enables surgeons with basic microsurgical experience to successfully perform the operation with high survival and low complication rates. The technique seems to be well suited for immunological as well as ischemia reperfusion injury (IRI) studies.
JoVE Immunology, Issue 41, rat, hind limb, composite tissue, reconstructive transplantation
2022
Assessing Signaling Properties of Ectodermal Epithelia During Craniofacial Development
Institutions: University of California San Francisco.

The accessibility of avian embryos has helped experimental embryologists understand the fates of cells during development and the role of tissue interactions that regulate patterning and morphogenesis of vertebrates (e.g.,
1, 2, 3, 4
). Here, we illustrate a method that exploits this accessibility to test the signaling and patterning properties of ectodermal tissues during facial development. In these experiments, we create quail-chick
5
or mouse-chick
6
chimeras by transplanting the surface cephalic ectoderm that covers the upper jaw from quail or mouse onto either the same region or an ectopic region of chick embryos. The use of quail as donor tissue for transplantation into chicks was developed to take advantage of a nucleolar marker present in quail but not chick cells, thus allowing investigators to distinguish host and donor tissues
7
. Similarly, a repetitive element is present in the mouse genome and is expressed ubiquitously, which allows us to distinguish host and donor tissues in mouse-chick chimeras
8
. The use of mouse ectoderm as donor tissue will greatly extend our understanding of these tissue interactions, because this will allow us to test the signaling properties of ectoderm derived from various mutant embryos.
Developmental Biology, Issue 49, Quail-chick chimera, Ectoderm transplant, FEZ, Mouse-chick chimera
2557
Separation of Mouse Embryonic Facial Ectoderm and Mesenchyme
Institutions: University of Colorado Denver Anschutz Medical Campus, University of Colorado Denver Anschutz Medical Campus.

Orofacial clefts are the most frequent craniofacial defects, which affect 1.5 in 1,000 newborns worldwide
1,2
. Orofacial clefting is caused by abnormal facial development
3
. In human and mouse, initial growth and patterning of the face relies on several small buds of tissue, the facial prominences
4,5
. The face is derived from six main prominences: paired frontal nasal processes (FNP), maxillary prominences (MxP) and mandibular prominences (MdP). These prominences consist of swellings of mesenchyme that are encased in an overlying epithelium. Studies in multiple species have shown that signaling crosstalk between facial ectoderm and mesenchyme is critical for shaping the face
6
. Yet, mechanistic details concerning the genes involved in these signaling relays are lacking. One way to gain a comprehensive understanding of gene expression, transcription factor binding, and chromatin marks associated with the developing facial ectoderm and mesenchyme is to isolate and characterize the separated tissue compartments. Here we present a method for separating facial ectoderm and mesenchyme at embryonic day (E) 10.5, a critical developmental stage in mouse facial formation that precedes fusion of the prominences. Our method is adapted from the approach we have previously used for dissecting facial prominences
7
. In this earlier study we had employed inbred C57BL/6 mice as this strain has become a standard for genetics, genomics and facial morphology
8
. Here, though, due to the more limited quantities of tissue available, we have utilized the outbred CD-1 strain that is cheaper to purchase, more robust for husbandry, and tending to produce more embryos (12-18) per litter than any inbred mouse strain
8
. Following embryo isolation, neutral protease Dispase II was used to treat the whole embryo. Then, the facial prominences were dissected out, and the facial ectoderm was separated from the mesenchyme. This method keeps both the facial ectoderm and mesenchyme intact. The samples obtained using this methodology can be used for techniques including protein detection, chromatin immunoprecipitation (ChIP) assay, microarray studies, and RNA-seq.
Developmental Biology, Issue 74, Biomedical Engineering, Bioengineering, Cellular Biology, Molecular Biology, Anatomy, Physiology, Surgery, Tissue Engineering, Embryo, Mammalian, Ectoderm, biology (general), Facial prominences, facial ectoderm, mesenchyme, Dispase II, orofacial clefts, facial development, mouse, animal model
50248
Gene Transfer to the Developing Mouse Inner Ear by In Vivo Electroporation
Institutions: Oregon Health & Science University.

The mammalian inner ear has 6 distinct sensory epithelia: 3 cristae in the ampullae of the semicircular canals; maculae in the utricle and saccule; and the organ of Corti in the coiled cochlea. The cristae and maculae contain vestibular hair cells that transduce mechanical stimuli to subserve the special sense of balance, while auditory hair cells in the organ of Corti are the primary transducers for hearing
1
. Cell fate specification in these sensory epithelia and morphogenesis of the semicircular canals and cochlea take place during the second week of gestation in the mouse and are largely completed before birth
2,3
. Developmental studies of the mouse inner ear are routinely conducted by harvesting transgenic embryos at different embryonic or postnatal stages to gain insight into the molecular basis of cellular and/or morphological phenotypes
4,5
. We hypothesize that gene transfer to the developing mouse inner ear
in utero
in the context of gain- and loss-of-function studies represents a complimentary approach to traditional mouse transgenesis for the interrogation of the genetic mechanisms underlying mammalian inner ear development
6
. The experimental paradigm to conduct gene misexpression studies in the developing mouse inner ear demonstrated here resolves into three general steps: 1) ventral laparotomy; 2) transuterine microinjection; and 3)
in vivo
electroporation. Ventral laparotomy is a mouse survival surgical technique that permits externalization of the uterus to gain experimental access to the implanted embryos
7
. Transuterine microinjection is the use of beveled, glass capillary micropipettes to introduce expression plasmid into the lumen of the otic vesicle or otocyst.
In vivo
electroporation is the application of square wave, direct current pulses to drive expression plasmid into progenitor cells
8-10
. We previously described this electroporation-based gene transfer technique and included detailed notes on each step of the protocol
11
. Mouse experimental embryological techniques can be difficult to learn from prose and still images alone. In the present work, we demonstrate the 3 steps in the gene transfer procedure. Most critically, we deploy digital video microscopy to show precisely how to: 1) identify embryo orientation
in utero
; 2) reorient embryos for targeting injections to the otocyst; 3) microinject DNA mixed with tracer dye solution into the otocyst at embryonic days 11.5 and 12.5; 4) electroporate the injected otocyst; and 5) label electroporated embryos for postnatal selection at birth. We provide representative examples of successfully transfected inner ears; a pictorial guide to the most common causes of otocyst mistargeting; discuss how to avoid common methodological errors; and present guidelines for writing an
in utero
gene transfer animal care protocol.
Neuroscience, Issue 64, Developmental Biology, Physiology, Genetics, Inner ear, otocyst, in vivo electroporation, ventral laparotomy, transuterine microinjection, video microscopy
3653
The Slice Culture Method for Following Development of Tooth Germs In Explant Culture
Institutions: King's College London, King Saud University, Kingdom of Saudi Arabia.

Explant culture allows manipulation of developing organs at specific time points and is therefore an important method for the developmental biologist. For many organs it is difficult to access developing tissue to allow monitoring during
ex vivo
culture. The slice culture method allows access to tissue so that morphogenetic movements can be followed and specific cell populations can be targeted for manipulation or lineage tracing. In this paper we describe a method of slice culture that has been very successful for culture of tooth germs in a range of species. The method provides excellent access to the tooth germs, which develop at a similar rate to that observed
in vivo
, surrounded by the other jaw tissues. This allows tissue interactions between the tooth and surrounding tissue to be monitored. Although this paper concentrates on tooth germs, the same protocol can be applied to follow development of a number of other organs, such as salivary glands, Meckel's cartilage, nasal glands, tongue, and ear.
Anatomy, Issue 81, Tooth, Culture Techniques, Embryo Culture Techniques, Organ Culture Techniques, Developmental Biology, animal biology, animal models, Tooth germ, live slice, development, tissue chopper, lineage tracing, molar, incisor, gland
50824
Compensatory Limb Use and Behavioral Assessment of Motor Skill Learning Following Sensorimotor Cortex Injury in a Mouse Model of Ischemic Stroke
Institutions: Illinois Wesleyan University, University of Victoria.

Mouse models have become increasingly popular in the field of behavioral neuroscience, and specifically in studies of experimental stroke. As models advance, it is important to develop sensitive behavioral measures specific to the mouse. The present protocol describes a skilled motor task for use in mouse models of stroke. The Pasta Matrix Reaching Task functions as a versatile and sensitive behavioral assay that permits experimenters to collect accurate outcome data and manipulate limb use to mimic human clinical phenomena including compensatory strategies (
i.e.
, learned non-use) and focused rehabilitative training. When combined with neuroanatomical tools, this task also permits researchers to explore the mechanisms that support behavioral recovery of function (or lack thereof) following stroke. The task is both simple and affordable to set up and conduct, offering a variety of training and testing options for numerous research questions concerning functional outcome following injury. Though the task has been applied to mouse models of stroke, it may also be beneficial in studies of functional outcome in other upper extremity injury models.
Behavior, Issue 89, Upper extremity impairment, Murine model, Rehabilitation, Reaching, Non-paretic limb training, Good limb training, Less-affected limb training, Learned non-use, Pasta matrix reaching task
51602
Whole-mount Immunohistochemical Analysis for Embryonic Limb Skin Vasculature: a Model System to Study Vascular Branching Morphogenesis in Embryo
Institutions: National Heart, Lung, and Blood Institute, National Institutes of Health.
Whole-mount immunohistochemical analysis for imaging the entire vasculature is pivotal for understanding the cellular mechanisms of branching morphogenesis. We have developed the limb skin vasculature model to study vascular development in which a pre-existing primitive capillary plexus is reorganized into a hierarchically branched vascular network. Whole-mount confocal microscopy with multiple labelling allows for robust imaging of intact blood vessels as well as their cellular components including endothelial cells, pericytes and smooth muscle cells, using specific fluorescent markers. Advances in this limb skin vasculature model with genetic studies have improved understanding molecular mechanisms of vascular development and patterning. The limb skin vasculature model has been used to study how peripheral nerves provide a spatial template for the differentiation and patterning of arteries. This video article describes a simple and robust protocol to stain intact blood vessels with vascular specific antibodies and fluorescent secondary antibodies, which is applicable for vascularized embryonic organs where we are able to follow the process of vascular development.
Developmental Biology, Issue 51, Confocal microscopy, whole-mount immunohistochemistry, mouse embryo, blood vessel, lymphatic vessel, vascular patterning, arterial differentiation
2620
Assessing Species-specific Contributions To Craniofacial Development Using Quail-duck Chimeras
Institutions: University of California at San Francisco.
The generation of chimeric embryos is a widespread and powerful approach to study cell fates, tissue interactions, and species-specific contributions to the histological and morphological development of vertebrate embryos. In particular, the use of chimeric embryos has established the importance of neural crest in directing the species-specific morphology of the craniofacial complex. The method described herein utilizes two avian species, duck and quail, with remarkably different craniofacial morphology. This method greatly facilitates the investigation of molecular and cellular regulation of species-specific pattern in the craniofacial complex. Experiments in quail and duck chimeric embryos have already revealed neural crest-mediated tissue interactions and cell-autonomous behaviors that regulate species-specific pattern in the craniofacial skeleton, musculature, and integument. The great diversity of neural crest derivatives suggests significant potential for future applications of the quail-duck chimeric system to understanding vertebrate development, disease, and evolution.
Developmental Biology, Issue 87, neural crest, quail-duck chimeras, craniofacial development, epithelial-mesenchymal interactions, tissue transplants, evolutionary developmental biology
51534
In Vitro Pancreas Organogenesis from Dispersed Mouse Embryonic Progenitors
Institutions: Swiss Institute for Experimental Cancer Research, University of Copenhagen.

The pancreas is an essential organ that regulates glucose homeostasis and secretes digestive enzymes. Research on pancreas embryogenesis has led to the development of protocols to produce pancreatic cells from stem cells
1
. The whole embryonic organ can be cultured at multiple stages of development
2-4
. These culture methods have been useful to test drugs and to image developmental processes. However the expansion of the organ is very limited and morphogenesis is not faithfully recapitulated since the organ flattens. We propose three-dimensional (3D) culture conditions that enable the efficient expansion of dissociated mouse embryonic pancreatic progenitors. By manipulating the composition of the culture medium it is possible to generate either hollow spheres, mainly composed of pancreatic progenitors expanding in their initial state, or, complex organoids which progress to more mature expanding progenitors and differentiate into endocrine, acinar and ductal cells and which spontaneously self-organize to resemble the embryonic pancreas. We show here that the
in vitro
process recapitulates many aspects of natural pancreas development. This culture system is suitable to investigate how cells cooperate to form an organ by reducing its initial complexity to few progenitors. It is a model that reproduces the 3D architecture of the pancreas and that is therefore useful to study morphogenesis, including polarization of epithelial structures and branching. It is also appropriate to assess the response to mechanical cues of the niche such as stiffness and the effects on cell´s tensegrity.
Developmental Biology, Issue 89, Pancreas, Progenitors, Branching Epithelium, Development, Organ Culture, 3D Culture, Diabetes, Differentiation, Morphogenesis, Cell organization, Beta Cell.
51725
Analysis of Neural Crest Migration and Differentiation by Cross-species Transplantation
Institutions: Rice University .

Avian embryos provide a unique platform for studying many vertebrate developmental processes, due to the easy access of the embryos within the egg. Chimeric avian embryos, in which quail donor tissue is transplanted into a chick embryo
in ovo
, combine the power of indelible genetic labeling of cell populations with the ease of manipulation presented by the avian embryo. Quail-chick chimeras are a classical tool for tracing migratory neural crest cells (NCCs)
1-3
. NCCs are a transient migratory population of cells in the embryo, which originate in the dorsal region of the developing neural tube
4
. They undergo an epithelial to mesenchymal transition and subsequently migrate to other regions of the embryo, where they differentiate into various cell types including cartilage
5-13
, melanocytes
11,14-20
, neurons and glia
21-32
. NCCs are multipotent, and their ultimate fate is influenced by 1) the region of the neural tube in which they originate along the rostro-caudal axis of the embryo
11,33-37
, 2) signals from neighboring cells as they migrate
38-44
, and 3) the microenvironment of their ultimate destination within the embryo
45,46
. Tracing these cells from their point of origin at the neural tube, to their final position and fate within the embryo, provides important insight into the developmental processes that regulate patterning and organogenesis. Transplantation of complementary regions of donor neural tube (homotopic grafting) or different regions of donor neural tube (heterotopic grafting) can reveal differences in pre-specification of NCCs along the rostro-caudal axis
2,47
. This technique can be further adapted to transplant a unilateral compartment of the neural tube, such that one side is derived from donor tissue, and the contralateral side remains unperturbed in the host embryo, yielding an internal control within the same sample
2,47
. It can also be adapted for transplantation of brain segments in later embryos, after HH10, when the anterior neural tube has closed
47
. Here we report techniques for generating quail-chick chimeras via neural tube transplantation, which allow for tracing of migratory NCCs derived from a discrete segment of the neural tube. Species-specific labeling of the donor-derived cells with the quail-specific QCPN antibody
48-56
allows the researcher to distinguish donor and host cells at the experimental end point. This technique is straightforward, inexpensive, and has many applications, including fate-mapping, cell lineage tracing, and identifying pre-patterning events along the rostro-caudal axis
45
. Because of the ease of access to the avian embryo, the quail-chick graft technique may be combined with other manipulations, including but not limited to lens ablation
40
, injection of inhibitory molecules
57,58
, or genetic manipulation via electroporation of expression plasmids
59-61
, to identify the response of particular migratory streams of NCCs to perturbations in the embryo's developmental program. Furthermore, this grafting technique may also be used to generate other interspecific chimeric embryos such as quail-duck chimeras to study NCC contribution to craniofacial morphogenesis, or mouse-chick chimeras to combine the power of mouse genetics with the ease of manipulation of the avian embryo.
62
Neuroscience, Issue 60, Neural crest, chick, quail, chimera, fate map, cell migration, cell differentiation
3622
Mouse Embryonic Development in a Serum-free Whole Embryo Culture System
Institutions: University of Georgia, University of Georgia.

Mid-gestation stage mouse embryos were cultured utilizing a serum-free culture medium prepared from commercially available stem cell media supplements in an oxygenated rolling bottle culture system. Mouse embryos at E10.5 were carefully isolated from the uterus with intact yolk sac and in a process involving precise surgical maneuver the embryos were gently exteriorized from the yolk sac while maintaining the vascular continuity of the embryo with the yolk sac. Compared to embryos prepared with intact yolk sac or with the yolk sac removed, these embryos exhibited superior survival rate and developmental progression when cultured under similar conditions. We show that these mouse embryos, when cultured in a defined medium in an atmosphere of 95% O
2
/ 5% CO
2
in a rolling bottle culture apparatus at 37 °​C for 16-40 hr, exhibit morphological growth and development comparable to the embryos developing
in utero
. We believe this method will be useful for investigators needing to utilize whole embryo culture to study signaling interactions important in embryonic organogenesis.
Developmental Biology, Issue 85, mouse embryo, mid-gestation, serum-free, defined media, roller culture, organogenesis, development
50803
Oscillation and Reaction Board Techniques for Estimating Inertial Properties of a Below-knee Prosthesis
Institutions: University of Northern Colorado, Arizona State University, Iowa State University.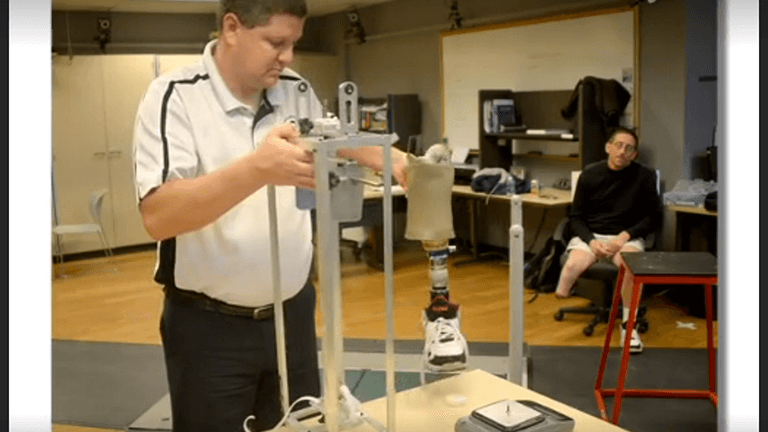 The purpose of this study was two-fold: 1) demonstrate a technique that can be used to directly estimate the inertial properties of a below-knee prosthesis, and 2) contrast the effects of the proposed technique and that of using intact limb inertial properties on joint kinetic estimates during walking in unilateral, transtibial amputees. An oscillation and reaction board system was validated and shown to be reliable when measuring inertial properties of known geometrical solids. When direct measurements of inertial properties of the prosthesis were used in inverse dynamics modeling of the lower extremity compared with inertial estimates based on an intact shank and foot, joint kinetics at the hip and knee were significantly lower during the swing phase of walking. Differences in joint kinetics during stance, however, were smaller than those observed during swing. Therefore, researchers focusing on the swing phase of walking should consider the impact of prosthesis inertia property estimates on study outcomes. For stance, either one of the two inertial models investigated in our study would likely lead to similar outcomes with an inverse dynamics assessment.
Bioengineering, Issue 87, prosthesis inertia, amputee locomotion, below-knee prosthesis, transtibial amputee
50977
In Vivo Modeling of the Morbid Human Genome using Danio rerio
Institutions: Duke University Medical Center, Duke University, Duke University Medical Center.

Here, we present methods for the development of assays to query potentially clinically significant nonsynonymous changes using
in vivo
complementation in zebrafish. Zebrafish (
Danio rerio
) are a useful animal system due to their experimental tractability; embryos are transparent to enable facile viewing, undergo rapid development
ex vivo,
and can be genetically manipulated.
1
These aspects have allowed for significant advances in the analysis of embryogenesis, molecular processes, and morphogenetic signaling. Taken together, the advantages of this vertebrate model make zebrafish highly amenable to modeling the developmental defects in pediatric disease, and in some cases, adult-onset disorders. Because the zebrafish genome is highly conserved with that of humans (~70% orthologous), it is possible to recapitulate human disease states in zebrafish. This is accomplished either through the injection of mutant human mRNA to induce dominant negative or gain of function alleles, or utilization of morpholino (MO) antisense oligonucleotides to suppress genes to mimic loss of function variants. Through complementation of MO-induced phenotypes with capped human mRNA, our approach enables the interpretation of the deleterious effect of mutations on human protein sequence based on the ability of mutant mRNA to rescue a measurable, physiologically relevant phenotype. Modeling of the human disease alleles occurs through microinjection of zebrafish embryos with MO and/or human mRNA at the 1-4 cell stage, and phenotyping up to seven days post fertilization (dpf). This general strategy can be extended to a wide range of disease phenotypes, as demonstrated in the following protocol. We present our established models for morphogenetic signaling, craniofacial, cardiac, vascular integrity, renal function, and skeletal muscle disorder phenotypes, as well as others.
Molecular Biology, Issue 78, Genetics, Biomedical Engineering, Medicine, Developmental Biology, Biochemistry, Anatomy, Physiology, Bioengineering, Genomics, Medical, zebrafish, in vivo, morpholino, human disease modeling, transcription, PCR, mRNA, DNA, Danio rerio, animal model
50338
An Explant Assay for Assessing Cellular Behavior of the Cranial Mesenchyme
Institutions: Children's National Medical Center.

The central nervous system is derived from the neural plate that undergoes a series of complex morphogenetic movements resulting in formation of the neural tube in a process known as neurulation. During neurulation, morphogenesis of the mesenchyme that underlies the neural plate is believed to drive neural fold elevation. The cranial mesenchyme is comprised of the paraxial mesoderm and neural crest cells. The cells of the cranial mesenchyme form a pourous meshwork composed of stellate shaped cells and intermingling extracellular matrix (ECM) strands that support the neural folds. During neurulation, the cranial mesenchyme undergoes stereotypical rearrangements resulting in its expansion and these movements are believed to provide a driving force for neural fold elevation. However, the pathways and cellular behaviors that drive cranial mesenchyme morphogenesis remain poorly studied. Interactions between the ECM and the cells of the cranial mesenchyme underly these cell behaviors. Here we describe a simple
ex vivo
explant assay devised to characterize the behaviors of these cells. This assay is amendable to pharmacological manipulations to dissect the signaling pathways involved and live imaging analyses to further characterize the behavior of these cells. We present a representative experiment demonstrating the utility of this assay in characterizing the migratory properties of the cranial mesenchyme on a variety of ECM components.
Neurobiology, Issue 71, Cellular Biology, Neuroscience, Medicine, Molecular Biology, Pharmacology, exencephaly, cranial mesenchyme, migration, neural tube closure, cell rearrangement, extracellular matrix, pharmacological treatment
4245
Use of Rotorod as a Method for the Qualitative Analysis of Walking in Rat
Institutions: University of Lethbridge.

High speed videoanalysis of the details of movement can provide a source of information about qualitative aspects of walking movements. When walking on a rotorod, animals remain in approximately the same place making repetitive movements of stepping. Thus the task provides a rich source of information on the details of foot stepping movements. Subjects were hemi-Parkinson analogue rats, produced by injection of 6-hydroxydopamine (6-OHDA) into the right nigrostriatal bundle to deplete nigrostriatal dopamine (DA). The present report provides a video analysis illustration of animals previously were filmed from frontal, lateral, and posterior views as they walked (15). Rating scales and frame-by-frame replay of the video records of stepping behavior indicated that the hemi-Parkinson rats were chronically impaired in posture and limb use contralateral to the DA-depletion. The contralateral limbs participated less in initiating and sustaining propulsion than the ipsilateral limbs. These deficits secondary to unilateral DA-depletion show that the rotorod provides a use task for the analysis of stepping movements.
Neuroscience, Issue 22, Rat walking, gait analysis, rotorod, rat forelimb, Parkinson disease model, dopamine depletion
1030
Mouse Embryonic Lung Culture, A System to Evaluate the Molecular Mechanisms of Branching
Institutions: Childrens Hospital Los Angeles.

Lung primordial specification as well as branching morphogenesis, and the formation of various pulmonary cell lineages requires a specific interaction of the lung endoderm with its surrounding mesenchyme and mesothelium. Lung mesenchyme has been shown to be the source of inductive signals for lung branching morphogenesis. Epithelial-mesenchymal-mesothelial interactions are also critical to embryonic lung morphogenesis. Early embryonic lung organ culture is a very useful system to study epithelial-mesenchymal interactions. Both epithelial and mesenchymal morphogenesis proceeds under specific conditions that can be readily manipulated in this system (in the absence of maternal influence and blood flow). More importantly this technique can be readily done in a serumless, chemically defined culture media. Gain and loss of function can be achieved using expressed proteins, recombinant viral vectors and/or analysis of transgenic mouse strains, antisense RNA, as well as RNA interference gene knockdown.
Developmental Biology, Issue 40, lung, mice, culture
2035
The Structure of Skilled Forelimb Reaching in the Rat: A Movement Rating Scale
Institutions: University of Lethbridge.

Skilled reaching for food is an evolutionary ancient act and is displayed by many animal species, including those in the sister clades of rodents and primates. The video describes a test situation that allows filming of repeated acts of reaching for food by the rat that has been mildly food deprived. A rat is trained to reach through a slot in a holding box for food pellet that it grasps and then places in its mouth for eating. Reaching is accomplished in the main by proximally driven movements of the limb but distal limb movements are used for pronating the paw, grasping the food, and releasing the food into the mouth. Each reach is divided into at least 10 movements of the forelimb and the reaching act is facilitated by postural adjustments. Each of the movements is described and examples of the movements are given from a number of viewing perspectives. By rating each movement element on a 3-point scale, the reach can be quantified. A number of studies have demonstrated that the movement elements are altered by motor system damage, including damage to the motor cortex, basal ganglia, brainstem, and spinal cord. The movements are also altered in neurological conditions that can be modeled in the rat, including Parkinson's disease and Huntington's disease. Thus, the rating scale is useful for quantifying motor impairments and the effectiveness of neural restoration and rehabilitation. Because the reaching act for the rat is very similar to that displayed by humans and nonhuman primates, the scale can be used for comparative purposes. from a number of viewing perspectives. By rating each movement element on a 3-point scale, the reach can be quantified. A number of studies have demonstrated that the movement elements are altered by motor system damage, including damage to the motor cortex, basal ganglia, brainstem, and spinal cord. The movements are also altered in neurological conditions that can be modeled in the rat, including Parkinson's disease and Huntington's disease. Thus, the rating scale is useful for quantifying motor impairments and the effectiveness of neural restoration and rehabilitation. Experiments on animals were performed in accordance with the guidelines and regulations set forth by the University of Lethbridge Animal Care Committee in accordance with the regulations of the Canadian Council on Animal Care.
Neuroscience, Issue 18, rat skilled reaching, rat reaching scale, rat, rat movement element rating scale, reaching elements
816