ABSTRACT
Corneal transplantation is the most common form of organ transplantation in the United States with between 45,000 and 55,000 procedures performed each year. While several animal models exist for this procedure and mice are the species that is most commonly used. The reasons for using mice are the relative cost of using this species, the existence of many genetically defined strains that allow for the study of immune responses, and the existence of an extensive array of reagents that can be used to further define responses in this species. This model has been used to define factors in the cornea that are responsible for the relative immune privilege status of this tissue that enables corneal allografts to survive acute rejection in the absence of immunosuppressive therapy. It has also been used to define those factors that are most important in rejection of such allografts. Consequently, much of what we know concerning mechanisms of both corneal allograft acceptance and rejection are due to studies using a murine model of corneal transplantation. In addition to describing a model for acute corneal allograft rejection, we also present for the first time a model of late-term corneal allograft rejection.
19 Related JoVE Articles!
Transplantation of Tail Skin to Study Allogeneic CD4 T Cell Responses in Mice
Institutions: University of Basel and University Hospital Basel.

The study of T cell responses and their consequences during allo-antigen recognition requires a model that enables one to distinguish between donor and host T cells, to easily monitor the graft, and to adapt the system in order to answer different immunological questions. Medawar and colleagues established allogeneic tail-skin transplantation in mice in 1955. Since then, the skin transplantation model has been continuously modified and adapted to answer specific questions. The use of tail-skin renders this model easy to score for graft rejection, requires neither extensive preparation nor deep anesthesia, is applicable to animals of all genetic background, discourages ischemic necrosis, and permits chemical and biological intervention. In general, both CD4
+
and CD8
+
allogeneic T cells are responsible for the rejection of allografts since they recognize mismatched major histocompatibility antigens from different mouse strains. Several models have been described for activating allogeneic T cells in skin-transplanted mice. The identification of major histocompatibility complex (MHC) class I and II molecules in different mouse strains including C57BL/6 mice was an important step toward understanding and studying T cell-mediated alloresponses. In the tail-skin transplantation model described here, a three-point mutation (I-A
bm12
) in the antigen-presenting groove of the MHC-class II (I-A
b
) molecule is sufficient to induce strong allogeneic CD4
+
T cell activation in C57BL/6 mice. Skin grafts from I-A
bm12
mice on C57BL/6 mice are rejected within 12-15 days, while syngeneic grafts are accepted for up to 100 days. The absence of T cells (CD3
-/-
and Rag2
-/-
mice) allows skin graft acceptance up to 100 days, which can be overcome by transferring 2 x 10
4
wild type or transgenic T cells. Adoptively transferred T cells proliferate and produce IFN-γ in I-A
bm12
-transplanted Rag2
-/-
mice.
Immunology, Issue 89, Tail-skin transplantation, I-Abm12 mismatch, CD4+ T cell, ABM, Rejection, Tolerance
51724
Orthotopic Aortic Transplantation: A Rat Model to Study the Development of Chronic Vasculopathy
Institutions: University Hospital Hamburg, Stanford University School of Medicine.

Research models of chronic rejection are essential to investigate pathobiological and pathophysiological processes during the development of transplant vasculopathy (TVP). The commonly used animal model for cardiovascular chronic rejection studies is the heterotopic heart transplant model performed in laboratory rodents. This model is used widely in experiments since Ono and Lindsey (3) published their technique. To analyze the findings in the blood vessels, the heart has to be sectioned and all vessels have to be measured. Another method to investigate chronic rejection in cardiovascular questionings is the aortic transplant model (1, 2). In the orthotopic aortic transplant model, the aorta can easily be histologically evaluated (2). The PVG-to-ACI model is especially useful for CAV studies, since acute vascular rejection is not a major confounding factor and Cyclosporin A (CsA) treatment does not prevent the development of CAV, similar to what we find in the clinical setting (4). A7-day period of CsA is required in this model to prevent acute rejection and to achieve long-term survival with the development of TVP. This model can also be used to investigate acute cellular rejection and media necrosis in xenogeneic models (5).
Medicine, Issue 46, chronic rejection, transplantation, rat, transplant vasculopathy
1989
Bioluminescence Imaging for Assessment of Immune Responses Following Implantation of Engineered Heart Tissue (EHT)
Institutions: University Heart Center Hamburg, University Heart Center Hamburg, Stanford University School of Medicine.

Various techniques of cardiac tissue engineering have been pursued in the past decades including scaffolding strategies using either native or bioartificial scaffold materials, entrapment of cardiac myocytes in hydrogels such as fibrin or collagen and stacking of myocyte monolayers
1
. These concepts aim at restoration of compromised cardiac function (e.g. after myocardial infarction) or as experimental models (e.g. predictive toxicology and substance screening or disease modelling). Precise monitoring of cell survival after implantation of engineered heart tissue (EHT) has now become possible using in-vivo bioluminescence imaging (BLI) techniques
2
. Here we describe the generation of fibrin-based EHT from a transgenic rat strain with ubiquitous expression of firefly luciferase (ROSA/luciferase-LEW Tg;
3
). Implantation is performed into the greater omentum of different rat strains to assess immune responses of the recipient organism following EHT implantation. Comparison of results generated by BLI and the Enzyme Linked Immuno Spot Technique (ELISPOT) confirm the usability of BLI for the assessment of immune responses.
Bioengineering, Issue 52, Engineered heart tissue, bioluminescence imaging, rejection, rats, immune response
2605
Small Bowel Transplantation In Mice
Institutions: University of California, San Francisco - UCSF.

Since 1990, the development of tacrolimus-based immunosuppression and improved surgical techniques, the increased array of potent immunosuppressive medications, infection prophylaxis, and suitable patient selection helped improve actuarial graft and patient survival rates for all types of intestine transplantation. Patients with irreversible intestinal failure and complications of parenteral nutrition should now be routinely considered for small intestine transplantation. However, Survival rates for small intestinal transplantation have been slow to improve compares increasingly favorably with renal, liver, heart and lung. The small bowel transplantation is still unsatisfactory compared with other organs. Further progress may depend on better understanding of immunology and physiology of the graft and can be greatly facilitated by animal models. A wider use of mouse small bowel transplantation model is needed in the study of immunology and physiology of the transplantation gut as well as efficient methods in diagnosing early rejection. However, this model is limited to use because the techniques involved is an extremely technically challenging. We have developed a modified technique. When making anastomosis of portal vein and inferior vena cava, two stay sutures are made at the proximal apex and distal apex of the recipient s inferior vena cava with the donor s portal vein. The left wall of the inferior vena cava and donor s portal vein is closed with continuing sutures in the inside of the inferior vena cava after, after one knot with the proximal apex stay suture the right wall of the inferior vena cava and the donor s portal vein are closed with continuing sutures outside the inferior vena cave with 10-0 sutures. This method is easier to perform because anastomosis is made just on the one side of the inferior vena cava and 10-0 sutures is the right size to avoid bleeding and thrombosis. In this article, we provide details of the technique to supplement the video.
Issue 7, Immunology, Transplantation, Transplant Rejection, Small Bowel
258
Heterotopic Heart Transplantation in Mice
Institutions: University of California, San Francisco - UCSF.

The mouse heterotopic heart transplantation has been used widely since it was introduced by Drs. Corry and Russell in 1973. It is particularly valuable for studying rejection and immune response now that newer transgenic and gene knockout mice are available, and a large number of immunologic reagents have been developed. The heart transplant model is less stringent than the skin transplant models, although technically more challenging. We have developed a modified technique and have completed over 1000 successful cases of heterotopic heart transplantation in mice. When making anastomosis of the ascending aorta and abdominal aorta, two stay sutures are placed at the proximal and distal apexes of recipient abdominal aorta with the donor s ascending aorta, then using 11-0 suture for anastomosis on both side of aorta with continuing sutures. The stay sutures make the anastomosis easier and 11-0 is an ideal suture size to avoid bleeding and thrombosis. When making anastomosis of pulmonary artery and inferior vena cava, two stay sutures are made at the proximal apex and distal apex of the recipient s inferior vena cava with the donor s pulmonary artery. The left wall of the inferior vena cava and donor s pulmonary artery is closed with continuing sutures in the inside of the inferior vena cava after, one knot with the proximal apex stay suture the right wall of the inferior vena cava and the donor s pulmonary artery are closed with continuing sutures outside the inferior vena cave with 10-0 sutures. This method is easier to perform because anastomosis is made just on the one side of the inferior vena cava and 10-0 sutures is the right size to avoid bleeding and thrombosis. In this article, we provide details of the technique to supplement the video.
Developmental Biology, Issue 6, Microsurgical Techniques, Heart Transplant, Allograft Rejection Model
238
High Throughput Sequential ELISA for Validation of Biomarkers of Acute Graft-Versus-Host Disease
Institutions: University of Michigan .

Unbiased discovery proteomics strategies have the potential to identify large numbers of novel biomarkers that can improve diagnostic and prognostic testing in a clinical setting and may help guide therapeutic interventions. When large numbers of candidate proteins are identified, it may be difficult to validate candidate biomarkers in a timely and efficient fashion from patient plasma samples that are event-driven, of finite volume and irreplaceable, such as at the onset of acute graft-versus-host disease (GVHD), a potentially life-threatening complication of allogeneic hematopoietic stem cell transplantation (HSCT). Here we describe the process of performing commercially available ELISAs for six validated GVHD proteins: IL-2Rα
5
, TNFR1
6
, HGF
7
, IL-8
8
, elafin
2
, and REG3α
3
(also known as PAP1) in a sequential fashion to minimize freeze-thaw cycles, thawed plasma time and plasma usage. For this procedure we perform the ELISAs in sequential order as determined by sample dilution factor as established in our laboratory using manufacturer ELISA kits and protocols with minor adjustments to facilitate optimal sequential ELISA performance. The resulting plasma biomarker concentrations can then be compiled and analyzed for significant findings within a patient cohort. While these biomarkers are currently for research purposes only, their incorporation into clinical care is currently being investigated in clinical trials. This technique can be applied to perform ELISAs for multiple proteins/cytokines of interest on the same sample(s) provided the samples do not need to be mixed with other reagents. If ELISA kits do not come with pre-coated plates, 96-well half-well plates or 384-well plates can be used to further minimize use of samples/reagents.
Medicine, Issue 68, ELISA, Sequential ELISA, Cytokine, Blood plasma, biomarkers, proteomics, graft-versus-host disease, Small sample, Quantification
4247
Corneal Donor Tissue Preparation for Descemet's Membrane Endothelial Keratoplasty
Institutions: University of Michigan, MidWest Eye Banks.

Descemet's Membrane Endothelial Keratoplasty (DMEK) is a form of corneal transplantation in which only a single cell layer, the corneal endothelium, along with its basement membrane (Descemet's membrane) is introduced onto the recipient's posterior stroma
3
. Unlike Descemet's Stripping Automated Endothelial Keratoplasty (DSAEK), where additional donor stroma is introduced, no unnatural stroma-to-stroma interface is created. As a result, the natural anatomy of the cornea is preserved as much as possible allowing for improved recovery time and visual acuity
4
. Endothelial Keratoplasty (EK) is the procedure of choice for treatment of endothelial dysfunction. The advantages of EK include rapid recovery of vision, preservation of ocular integrity and minimal refractive change due to use of a small, peripheral incision
1
. DSAEK utilizes donor tissue prepared with partial thickness stroma and endothelium. The rapid success and utilization of this procedure can be attributed to availability of eye-bank prepared precut tissue. The benefits of eye-bank preparation of donor tissue include elimination of need for specialized equipment in the operating room and availability of back up donor tissue in case of tissue perforation during preparation. In addition, high volume preparation of donor tissue by eye-bank technicians may provide improved quality of donor tissue. DSAEK may have limited best corrected visual acuity due to creation of a stromal interface between the donor and recipient cornea. Elimination of this interface with transplantation of only donor Descemet's membrane and endothelium in DMEK may improve visual outcomes and reduce complications after EK
5
. Similar to DSAEK, long term success and acceptance of DMEK is dependent on ease of availability of precut, eye-bank prepared donor tissue. Here we present a stepwise approach to donor tissue preparation which may reduce some barriers eye-banks face in providing DMEK grafts.
Medicine, Issue 91, DMEK, EK, endothelial keratoplasty, Descemet's membrane endothelial keratoplasty, corneal transplantation, eye bank, donor tissue preparation
51919
Corneal Donor Tissue Preparation for Endothelial Keratoplasty
Institutions: University of Michigan , MidWest Eye Banks.
Over the past ten years, corneal transplantation surgical techniques have undergone revolutionary changes
1,2
. Since its inception, traditional full thickness corneal transplantation has been the treatment to restore sight in those limited by corneal disease. Some disadvantages to this approach include a high degree of post-operative astigmatism, lack of predictable refractive outcome, and disturbance to the ocular surface. The development of Descemet's stripping endothelial keratoplasty (DSEK), transplanting only the posterior corneal stroma, Descemet's membrane, and endothelium, has dramatically changed treatment of corneal endothelial disease. DSEK is performed through a smaller incision; this technique avoids 'open sky' surgery with its risk of hemorrhage or expulsion, decreases the incidence of postoperative wound dehiscence, reduces unpredictable refractive outcomes, and may decrease the rate of transplant rejection
3-6
. Initially, cornea donor posterior lamellar dissection for DSEK was performed manually
1
resulting in variable graft thickness and damage to the delicate corneal endothelial tissue during tissue processing. Automated lamellar dissection (Descemet's stripping automated endothelial keratoplasty, DSAEK) was developed to address these issues. Automated dissection utilizes the same technology as LASIK corneal flap creation with a mechanical microkeratome blade that helps to create uniform and thin tissue grafts for DSAEK surgery with minimal corneal endothelial cell loss in tissue processing. Eye banks have been providing full thickness corneas for surgical transplantation for many years. In 2006, eye banks began to develop methodologies for supplying precut corneal tissue for endothelial keratoplasty. With the input of corneal surgeons, eye banks have developed thorough protocols to safely and effectively prepare posterior lamellar tissue for DSAEK surgery. This can be performed preoperatively at the eye bank. Research shows no significant difference in terms of the quality of the tissue
7
or patient outcomes
8,9
using eye bank precut tissue versus surgeon-prepared tissue for DSAEK surgery. For most corneal surgeons, the availability of precut DSAEK corneal tissue saves time and money
10
, and reduces the stress of performing the donor corneal dissection in the operating room. In part because of the ability of the eye banks to provide high quality posterior lamellar corneal in a timely manner, DSAEK has become the standard of care for surgical management of corneal endothelial disease. The procedure that we are describing is the preparation of the posterior lamellar cornea at the eye bank for transplantation in DSAEK surgery (
Figure 1
).
Medicine, Issue 64, Physiology, Cornea, transplantation, DSAEK, DSEK, endothelial keratoplasty, lamellar, graft, Moria, microkeratome, precut, Fuchs dystrophy
3847
Generation of Human Alloantigen-specific T Cells from Peripheral Blood
Institutions: University of California, San Diego.

The study of human T lymphocyte biology often involves examination of responses to activating ligands. T cells recognize and respond to processed peptide antigens presented by MHC (human ortholog HLA) molecules through the T cell receptor (TCR) in a highly sensitive and specific manner. While the primary function of T cells is to mediate protective immune responses to foreign antigens presented by self-MHC, T cells respond robustly to antigenic differences in allogeneic tissues. T cell responses to alloantigens can be described as either direct or indirect alloreactivity. In alloreactivity, the T cell responds through highly specific recognition of both the presented peptide and the MHC molecule. The robust oligoclonal response of T cells to allogeneic stimulation reflects the large number of potentially stimulatory alloantigens present in allogeneic tissues. While the breadth of alloreactive T cell responses is an important factor in initiating and mediating the pathology associated with biologically-relevant alloreactive responses such as graft versus host disease and allograft rejection, it can preclude analysis of T cell responses to allogeneic ligands. To this end, this protocol describes a method for generating alloreactive T cells from naive human peripheral blood leukocytes (PBL) that respond to known peptide-MHC (pMHC) alloantigens. The protocol applies pMHC multimer labeling, magnetic bead enrichment and flow cytometry to single cell
in vitro
culture methods for the generation of alloantigen-specific T cell clones. This enables studies of the biochemistry and function of T cells responding to allogeneic stimulation.
Immunology, Issue 93, T cell, immunology, human cell culture, transplantation, flow cytometry, alloreactivity
52257
Isolation and Th17 Differentiation of Naïve CD4 T Lymphocytes
Institutions: The University of Florida.

Th17 cells are a distinct subset of T cells that have been found to produce interleukin 17 (IL-17), and differ in function from the other T cell subsets including Th1, Th2, and regulatory T cells. Th17 cells have emerged as a central culprit in overzealous inflammatory immune responses associated with many autoimmune disorders. In this method we purify T lymphocytes from the spleen and lymph nodes of C57BL/6 mice, and stimulate purified CD4+ T cells under control and Th17-inducing environments. The Th17-inducing environment includes stimulation in the presence of anti-CD3 and anti-CD28 antibodies, IL-6, and TGF-β. After incubation for at least 72 hours and for up to five days at 37 °C, cells are subsequently analyzed for the capability to produce IL-17 through flow cytometry, qPCR, and ELISAs. Th17 differentiated CD4+CD25- T cells can be utilized to further elucidate the role that Th17 cells play in the onset and progression of autoimmunity and host defense. Moreover, Th17 differentiation of CD4+CD25- lymphocytes from distinct murine knockout/disease models can contribute to our understanding of cell fate plasticity.
Immunology, Issue 79, Cellular Biology, Molecular Biology, Medicine, Infection, Th17 cells, IL-17, Th17 differentiation, T cells, autoimmunity, cell, isolation, culture
50765
Mechanical Stimulation-induced Calcium Wave Propagation in Cell Monolayers: The Example of Bovine Corneal Endothelial Cells
Institutions: KU Leuven.

Intercellular communication is essential for the coordination of physiological processes between cells in a variety of organs and tissues, including the brain, liver, retina, cochlea and vasculature. In experimental settings, intercellular Ca
2+
-waves can be elicited by applying a mechanical stimulus to a single cell. This leads to the release of the intracellular signaling molecules IP
3
and Ca
2+
that initiate the propagation of the Ca
2+
-wave concentrically from the mechanically stimulated cell to the neighboring cells. The main molecular pathways that control intercellular Ca
2+
-wave propagation are provided by gap junction channels through the direct transfer of IP
3
and by hemichannels through the release of ATP. Identification and characterization of the properties and regulation of different connexin and pannexin isoforms as gap junction channels and hemichannels are allowed by the quantification of the spread of the intercellular Ca
2+
-wave, siRNA, and the use of inhibitors of gap junction channels and hemichannels. Here, we describe a method to measure intercellular Ca
2+
-wave in monolayers of primary corneal endothelial cells loaded with Fluo4-AM in response to a controlled and localized mechanical stimulus provoked by an acute, short-lasting deformation of the cell as a result of touching the cell membrane with a micromanipulator-controlled glass micropipette with a tip diameter of less than 1 μm. We also describe the isolation of primary bovine corneal endothelial cells and its use as model system to assess Cx43-hemichannel activity as the driven force for intercellular Ca
2+
-waves through the release of ATP. Finally, we discuss the use, advantages, limitations and alternatives of this method in the context of gap junction channel and hemichannel research.
Cellular Biology, Issue 77, Molecular Biology, Medicine, Biomedical Engineering, Biophysics, Immunology, Ophthalmology, Gap Junctions, Connexins, Connexin 43, Calcium Signaling, Ca2+, Cell Communication, Paracrine Communication, Intercellular communication, calcium wave propagation, gap junctions, hemichannels, endothelial cells, cell signaling, cell, isolation, cell culture
50443
Bladder Smooth Muscle Strip Contractility as a Method to Evaluate Lower Urinary Tract Pharmacology
Institutions: University of Pittsburgh School of Medicine, University of Pittsburgh School of Medicine.

We describe an
in vitro
method to measure bladder smooth muscle contractility, and its use for investigating physiological and pharmacological properties of the smooth muscle as well as changes induced by pathology. This method provides critical information for understanding bladder function while overcoming major methodological difficulties encountered in
in vivo
experiments, such as surgical and pharmacological manipulations that affect stability and survival of the preparations, the use of human tissue, and/or the use of expensive chemicals. It also provides a way to investigate the properties of each bladder component (
i.e.
smooth muscle, mucosa, nerves) in healthy and pathological conditions. The urinary bladder is removed from an anesthetized animal, placed in Krebs solution and cut into strips. Strips are placed into a chamber filled with warm Krebs solution. One end is attached to an isometric tension transducer to measure contraction force, the other end is attached to a fixed rod. Tissue is stimulated by directly adding compounds to the bath or by electric field stimulation electrodes that activate nerves, similar to triggering bladder contractions
in vivo
. We demonstrate the use of this method to evaluate spontaneous smooth muscle contractility during development and after an experimental spinal cord injury, the nature of neurotransmission (transmitters and receptors involved), factors involved in modulation of smooth muscle activity, the role of individual bladder components, and species and organ differences in response to pharmacological agents. Additionally, it could be used for investigating intracellular pathways involved in contraction and/or relaxation of the smooth muscle, drug structure-activity relationships and evaluation of transmitter release. The
in vitro
smooth muscle contractility method has been used extensively for over 50 years, and has provided data that significantly contributed to our understanding of bladder function as well as to pharmaceutical development of compounds currently used clinically for bladder management.
Medicine, Issue 90, Krebs, species differences, in vitro, smooth muscle contractility, neural stimulation
51807
Adenoviral Transduction of Naive CD4 T Cells to Study Treg Differentiation
Institutions: Helmholtz Zentrum München.

Regulatory T cells (Tregs) are essential to provide immune tolerance to self as well as to certain foreign antigens. Tregs can be generated from naive CD4 T cells
in vitro
with TCR- and co-stimulation in the presence of TGFβ and IL-2. This bears enormous potential for future therapies, however, the molecules and signaling pathways that control differentiation are largely unknown. Primary T cells can be manipulated through ectopic gene expression, but common methods fail to target the most important naive state of the T cell prior to primary antigen recognition. Here, we provide a protocol to express ectopic genes in naive CD4 T cells
in vitro
before inducing Treg differentiation. It applies transduction with the replication-deficient adenovirus and explains its generation and production. The adenovirus can take up large inserts (up to 7 kb) and can be equipped with promoters to achieve high and transient overexpression in T cells. It effectively transduces naive mouse T cells if they express a transgenic Coxsackie adenovirus receptor (CAR). Importantly, after infection the T cells remain naive (CD44
low
, CD62L
high
) and resting (CD25
-
, CD69
-
) and can be activated and differentiated into Tregs similar to non-infected cells. Thus, this method enables manipulation of CD4 T cell differentiation from its very beginning. It ensures that ectopic gene expression is already in place when early signaling events of the initial TCR stimulation induces cellular changes that eventually lead into Treg differentiation.
Immunology, Issue 78, Cellular Biology, Molecular Biology, Medicine, Biomedical Engineering, Bioengineering, Infection, Genetics, Microbiology, Virology, T-Lymphocytes, Regulatory, CD4-Positive T-Lymphocytes, Regulatory, Adenoviruses, Human, MicroRNAs, Antigens, Differentiation, T-Lymphocyte, Gene Transfer Techniques, Transduction, Genetic, Transfection, Adenovirus, gene transfer, microRNA, overexpression, knock down, CD4 T cells, in vitro differentiation, regulatory T cell, virus, cell, flow cytometry
50455
Mouse Models for Graft Arteriosclerosis
Institutions: Yale University School of Medicine , Yale University School of Medicine .

Graft arteriosclerois (GA), also called allograft vasculopathy, is a pathologic lesion that develops over months to years in transplanted organs characterized by diffuse, circumferential stenosis of the entire graft vascular tree. The most critical component of GA pathogenesis is the proliferation of smooth muscle-like cells within the intima. When a human coronary artery segment is interposed into the infra-renal aortae of immunodeficient mice, the intimas could be expand in response to adoptively transferred human T cells allogeneic to the artery donor or exogenous human IFN-γ in the absence of human T cells. Interposition of a mouse aorta from one strain into another mouse strain recipient is limited as a model for chronic rejection in humans because the acute cell-mediated rejection response in this mouse model completely eliminates all donor-derived vascular cells from the graft within two-three weeks. We have recently developed two new mouse models to circumvent these problems. The first model involves interposition of a vessel segment from a male mouse into a female recipient of the same inbred strain (C57BL/6J). Graft rejection in this case is directed only against minor histocompatibility antigens encoded by the Y chromosome (present in the male but not the female) and the rejection response that ensues is sufficiently indolent to preserve donor-derived smooth muscle cells for several weeks. The second model involves interposing an artery segment from a wild type C57BL/6J mouse donor into a host mouse of the same strain and gender that lacks the receptor for IFN-γ followed by administration of mouse IFN-γ (delivered via infection of the mouse liver with an adenoviral vector. There is no rejection in this case as both donor and recipient mice are of the same strain and gender but donor smooth muscle cells proliferate in response to the cytokine while host-derived cells, lacking receptor for this cytokine, are unresponsive. By backcrossing additional genetic changes into the vessel donor, both models can be used to assess the effect of specific genes on GA progression. Here, we describe detailed protocols for our mouse GA models.
Medicine, Issue 75, Anatomy, Physiology, Biomedical Engineering, Bioengineering, Cardiology, Pathology, Surgery, Tissue Engineering, Cardiovascular Diseases, vascular biology, graft arteriosclerosis, GA, mouse models, transplantation, graft, vessels, arteries, mouse, animal model, surgical techniques
50290
Non-invasive Imaging of Acute Allograft Rejection after Rat Renal Transplantation Using 18F-FDG PET
Institutions: University of Münster, University of Münster, University of Münster.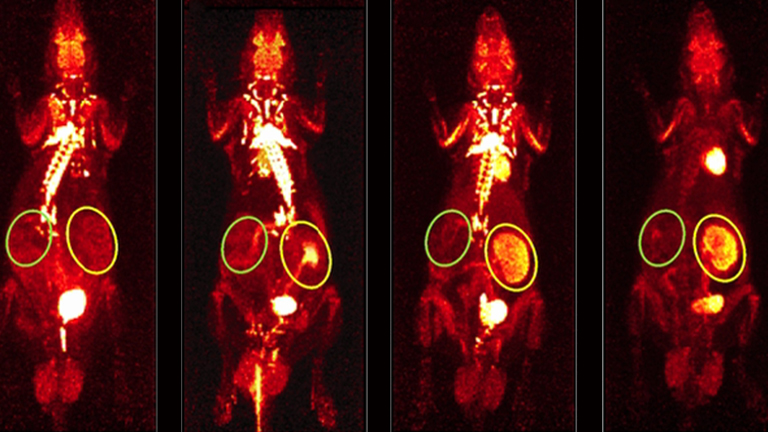 The number of patients with end-stage renal disease, and the number of kidney allograft recipients continuously increases. Episodes of acute cellular allograft rejection (AR) are a negative prognostic factor for long-term allograft survival, and its timely diagnosis is crucial for allograft function
1
. At present, AR can only be definitely diagnosed by core-needle biopsy, which, as an invasive method, bares significant risk of graft injury or even loss. Moreover, biopsies are not feasible in patients taking anticoagulant drugs and the limited sampling site of this technique may result in false negative results if the AR is focal or patchy. As a consequence, this gave rise to an ongoing search for new AR detection methods, which often has to be done in animals including the use of various transplantation models. Since the early 60s rat renal transplantation is a well-established experimental method for the examination and analysis of AR
2
. We herein present in addition small animal positron emission tomography (PET) using
18
F-fluorodeoxyglucose (FDG) to assess AR in an allogeneic uninephrectomized rat renal transplantation model and propose graft FDG-PET imaging as a new option for a non-invasive, specific and early diagnosis of AR also for the human situation
3
. Further, this method can be applied for follow-up to improve monitoring of transplant rejection
4
.
Medicine, Issue 74, Molecular Biology, Biomedical Engineering, Bioengineering, Cellular Biology, Anatomy, Physiology, Immunology, Surgery, Tissue Engineering, Nephrology, transplantation, rat, kidney, renal, acute rejection, allograft, imaging, histology, positron emisson tomography, PET, 18F-fluorodeoxyglucose, FDG, rat, animal model
4240
Strategies for Study of Neuroprotection from Cold-preconditioning
Institutions: The University of Chicago Medical Center.

Neurological injury is a frequent cause of morbidity and mortality from general anesthesia and related surgical procedures that could be alleviated by development of effective, easy to administer and safe preconditioning treatments. We seek to define the neural immune signaling responsible for cold-preconditioning as means to identify novel targets for therapeutics development to protect brain before injury onset. Low-level pro-inflammatory mediator signaling changes over time are essential for cold-preconditioning neuroprotection. This signaling is consistent with the basic tenets of physiological conditioning hormesis, which require that irritative stimuli reach a threshold magnitude with sufficient time for adaptation to the stimuli for protection to become evident. Accordingly, delineation of the immune signaling involved in cold-preconditioning neuroprotection requires that biological systems and experimental manipulations plus technical capacities are highly reproducible and sensitive. Our approach is to use hippocampal slice cultures as an
in vitro
model that closely reflects their
in vivo
counterparts with multi-synaptic neural networks influenced by mature and quiescent macroglia / microglia. This glial state is particularly important for microglia since they are the principal source of cytokines, which are operative in the femtomolar range. Also, slice cultures can be maintained
in vitro
for several weeks, which is sufficient time to evoke activating stimuli and assess adaptive responses. Finally, environmental conditions can be accurately controlled using slice cultures so that cytokine signaling of cold-preconditioning can be measured, mimicked, and modulated to dissect the critical node aspects. Cytokine signaling system analyses require the use of sensitive and reproducible multiplexed techniques. We use quantitative PCR for TNF-α to screen for microglial activation followed by quantitative real-time qPCR array screening to assess tissue-wide cytokine changes. The latter is a most sensitive and reproducible means to measure multiple cytokine system signaling changes simultaneously. Significant changes are confirmed with targeted qPCR and then protein detection. We probe for tissue-based cytokine protein changes using multiplexed microsphere flow cytometric assays using Luminex technology. Cell-specific cytokine production is determined with double-label immunohistochemistry. Taken together, this brain tissue preparation and style of use, coupled to the suggested investigative strategies, may be an optimal approach for identifying potential targets for the development of novel therapeutics that could mimic the advantages of cold-preconditioning.
Neuroscience, Issue 43, innate immunity, hormesis, microglia, hippocampus, slice culture, immunohistochemistry, neural-immune, gene expression, real-time PCR
2192
Preparing T Cell Growth Factor from Rat Splenocytes
Institutions: University of California, Irvine (UCI).

Maintenance of antigen-specific T cell lines or clones in culture requires rounds of antigen-induced activation separated by phases of cell expansion
1,2
. Addition of interleukin 2 to the culture media during the expansion phase is necessary to prevent cell death and sufficient to maintain short-term T cell lines but has been shown to increase Th1 polarization
3
. Replacement of interleukin 2 by T cell growth factor (TCGF) which contains a mix of cytokines is more effective than interleukin 2 in maintaining long-term T cell lines in vitro
3
. Moreover, TCGF can easily be prepared in large amounts in the laboratory and is much cheaper than recombinant interleukin 2. Here, we show how to prepare TCGF from rat splenocyte culture supernatants. For this procedure, we harvest spleens from naive Lewis rats euthanized for thymus and blood collection. We prepare single-cell suspensions from the spleens, lyze the red blood cells by osmotic shock, and seed the splenocytes in culture medium. The cells are stimulated with concanavalin A, a mitogen that non-selectively activates all rat T lymphocytes, inducing the production of cytokines. The culture supernantant is collected 48 hours later andexcess concanavalin A is bound to alpha methyl mannoside to prevent it from activating T cell lines to which TCGF will be added. The TCGF is then sterile-filtered, aliquoted, and stored at -20°C.
Immunology, Issue 10, Rodent, Growth Factor, TCGF, Lymphocyte, Interleukin 2, Apoptosis, Survival, T cell line, Clone
402
Investigating the Immunological Mechanisms Underlying Organ Transplant Rejection
Institutions: University of California, San Francisco - UCSF.

Issue 7, Immunology, Heterotopic Heart Transplant, Small Bowel Transplant, Transplant Rejection, T regs, Diabetes, Autoimmune Disease, Translational Research
256
Murine Skin Transplantation
Institutions: University of California, Irvine (UCI).

As one of the most stringent and least technically challenging models, skin transplantation is a standard method to assay host T cell responses to MHC-disparate donor antigens. The aim of this video-article is to provide the viewer with a step-by-step visual demonstration of skin transplantation using the mouse model. The protocol is divided into 5 main components: 1) harvesting donor skin; 2) preparing recipient for transplant; 3) skin transplant; 4) bandage removal and monitoring graft rejection; 5) helpful hints. Once proficient, the procedure itself should take <10 min to perform.
Immunology, Issue 11, allograft rejection, skin transplant, mouse
634