Real-time Imaging of Axonal Transport of Quantum Dot-labeled BDNF in Primary Neurons
Published: 09-15-2014
ABSTRACT
BDNF plays an important role in several facets of neuronal survival, differentiation, and function. Structural and functional deficits in axons are increasingly viewed as an early feature of neurodegenerative diseases, including Alzheimer's disease (AD) and Huntington's disease (HD). As yet unclear is the mechanism(s) by which axonal injury is induced. We reported the development of a novel technique to produce biologically active, monobiotinylated BDNF (mBtBDNF) that can be used to trace axonal transport of BDNF. Quantum dot-labeled BDNF (QD-BDNF) was produced by conjugating quantum dot 655 to mBtBDNF. A microfluidic device was used to isolate axons from neuron cell bodies. Addition of QD-BDNF to the axonal compartment allowed live imaging of BDNF transport in axons. We demonstrated that QD-BDNF moved essentially exclusively retrogradely, with very few pauses, at a moving velocity of around 1.06 μm/sec. This system can be used to investigate mechanisms of disrupted axonal function in AD or HD, as well as other degenerative disorders.
20 Related JoVE Articles!
Dissection and Culture of Chick Statoacoustic Ganglion and Spinal Cord Explants in Collagen Gels for Neurite Outgrowth Assays
Institutions: Purdue University.

The sensory organs of the chicken inner ear are innervated by the peripheral processes of statoacoustic ganglion (SAG) neurons. Sensory organ innervation depends on a combination of axon guidance cues
1
and survival factors
2
located along the trajectory of growing axons and/or within their sensory organ targets. For example, functional interference with a classic axon guidance signaling pathway, semaphorin-neuropilin, generated misrouting of otic axons
3
. Also, several growth factors expressed in the sensory targets of the inner ear, including Neurotrophin-3 (NT-3) and Brain Derived Neurotrophic Factor (BDNF), have been manipulated in transgenic animals, again leading to misrouting of SAG axons
4
. These same molecules promote both survival and neurite outgrowth of chick SAG neurons
in vitro
5,6
. Here, we describe and demonstrate the
in vitro
method we are currently using to test the responsiveness of chick SAG neurites to soluble proteins, including known morphogens such as the Wnts, as well as growth factors that are important for promoting SAG neurite outgrowth and neuron survival. Using this model system, we hope to draw conclusions about the effects that secreted ligands can exert on SAG neuron survival and neurite outgrowth. SAG explants are dissected on embryonic day 4 (E4) and cultured in three-dimensional collagen gels under serum-free conditions for 24 hours. First, neurite responsiveness is tested by culturing explants with protein-supplemented medium. Then, to ask whether point sources of secreted ligands can have directional effects on neurite outgrowth, explants are co-cultured with protein-coated beads and assayed for the ability of the bead to locally promote or inhibit outgrowth. We also include a demonstration of the dissection (modified protocol
7
) and culture of E6 spinal cord explants. We routinely use spinal cord explants to confirm bioactivity of the proteins and protein-soaked beads, and to verify species cross-reactivity with chick tissue, under the same culture conditions as SAG explants. These
in vitro
assays are convenient for quickly screening for molecules that exert trophic (survival) or tropic (directional) effects on SAG neurons, especially before performing studies
in vivo
. Moreover, this method permits the testing of individual molecules under serum-free conditions, with high neuron survival
8
.
Neuroscience, Issue 58, chicken, dissection, morphogen, NT-3, neurite outgrowth, spinal cord, statoacoustic ganglion, Wnt5a
3600
Impulsive Pressurization of Neuronal Cells for Traumatic Brain Injury Study
Institutions: University of Nebraska-Lincoln.

A novel impulsive cell pressurization experiment has been developed using a Kolsky bar device to investigate blast-induced traumatic brain injury (TBI). We demonstrate in this video article how blast TBI-relevant impulsive pressurization is applied to the neuronal cells in vitro. This is achieved by using well-controlled pressure pulse created by a specialized Kolsky bar device, with complete pressure history within the cell pressurization chamber recorded. Pressurized neuronal cells are inspected immediately after pressurization, or further incubated to examine the long-term effects of impulsive pressurization on neurite/axonal outgrowth, neuronal gene expression, apoptosis, etc. We observed that impulsive pressurization at about 2 MPa induces distinct neurite loss relative to unpressurized cells. Our technique provides a novel method to investigate the molecular/cellular mechanisms of blast TBI, via impulsive pressurization of brain cells at well-controlled pressure magnitude and duration.
Bioengineering, Issue 56, Neuroscience, Traumatic Brain Injury, Neuronal Cells, Neurons, Impulsive Pressurization, Blast-TBI
2723
Neural Explant Cultures from Xenopus laevis
Institutions: Harvard Medical School.

The complex process of axon guidance is largely driven by the growth cone, which is the dynamic motile structure at the tip of the growing axon. During axon outgrowth, the growth cone must integrate multiple sources of guidance cue information to modulate its cytoskeleton in order to propel the growth cone forward and accurately navigate to find its specific targets
1
. How this integration occurs at the cytoskeletal level is still emerging, and examination of cytoskeletal protein and effector dynamics within the growth cone can allow the elucidation of these mechanisms.
Xenopus laevis
growth cones are large enough (10-30 microns in diameter) to perform high-resolution live imaging of cytoskeletal dynamics (
e.g.
2-4
) and are easy to isolate and manipulate in a lab setting compared to other vertebrates. The frog is a classic model system for developmental neurobiology studies, and important early insights into growth cone microtubule dynamics were initially found using this system
5-7
. In this method
8
, eggs are collected and fertilized
in vitro
, injected with RNA encoding fluorescently tagged cytoskeletal fusion proteins or other constructs to manipulate gene expression, and then allowed to develop to the neural tube stage. Neural tubes are isolated by dissection and then are cultured, and growth cones on outgrowing neurites are imaged. In this article, we describe how to perform this method, the goal of which is to culture
Xenopus laevis
growth cones for subsequent high-resolution image analysis. While we provide the example of +TIP fusion protein EB1-GFP, this method can be applied to any number of proteins to elucidate their behaviors within the growth cone.
Neuroscience, Issue 68, Cellular Biology, Anatomy, Physiology, Growth cone, neural explant, Xenopus laevis, live cell imaging, cytoskeletal dynamics, cell culture
4232
Monitoring Kinase and Phosphatase Activities Through the Cell Cycle by Ratiometric FRET
Institutions: Karolinska Institutet.

Förster resonance energy transfer (FRET)-based reporters
1
allow the assessment of endogenous kinase and phosphatase activities in living cells. Such probes typically consist of variants of CFP and YFP, intervened by a phosphorylatable sequence and a phospho-binding domain. Upon phosphorylation, the probe changes conformation, which results in a change of the distance or orientation between CFP and YFP, leading to a change in FRET efficiency (Fig 1). Several probes have been published during the last decade, monitoring the activity balance of multiple kinases and phosphatases, including reporters of PKA
2
, PKB
3
, PKC
4
, PKD
5
, ERK
6
, JNK
7
, Cdk
18
, Aurora B
9
and Plk1
9
. Given the modular design, additional probes are likely to emerge in the near future
10
. Progression through the cell cycle is affected by stress signaling pathways
11
. Notably, the cell cycle is regulated differently during unperturbed growth compared to when cells are recovering from stress
12
.Time-lapse imaging of cells through the cell cycle therefore requires particular caution. This becomes a problem particularly when employing ratiometric imaging, since two images with a high signal to noise ratio are required to correctly interpret the results. Ratiometric FRET imaging of cell cycle dependent changes in kinase and phosphatase activities has predominately been restricted to sub-sections of the cell cycle
8,9,13,14
. Here, we discuss a method to monitor FRET-based probes using ratiometric imaging throughout the human cell cycle. The method relies on equipment that is available to many researchers in life sciences and does not require expert knowledge of microscopy or image processing.
Molecular Biology, Issue 59, FRET, kinase, phosphatase, live cell, cell cycle, mitosis, Plk1
3410
Study Glial Cell Heterogeneity Influence on Axon Growth Using a New Coculture Method
Institutions: Cedars Sinai Medical Center, UCLA, Fourth Military Medical University, David Geffen School of Medicine, UCLA, Fourth Military Medical Univeristy.

In the central nervous system of all mammals, severed axons after injury are unable to regenerate to their original targets and functional recovery is very poor
1
. The failure of axon regeneration is a combined result of several factors including the hostile glial cell environment, inhibitory myelin related molecules and decreased intrinsic neuron regenerative capacity
2
. Astrocytes are the most predominant glial cell type in central nervous system and play important role in axon functions under physiology and pathology conditions
3
. Contrast to the homologous oligodendrocytes, astrocytes are a heterogeneous cell population composed by different astrocyte subpopulations with diverse morphologies and gene expression
4
. The functional significance of this heterogeneity, such as their influences on axon growth, is largely unknown. To study the glial cell, especially the function of astrocyte heterogeneity in neuron behavior, we established a new method by co-culturing high purified dorsal root ganglia neurons with glial cells obtained from the rat cortex. By this technique, we were able to directly compare neuron adhesion and axon growth on different astrocytes subpopulations under the same condition. In this report, we give the detailed protocol of this method for astrocytes isolation and culture, dorsal root ganglia neurons isolation and purification, and the co-culture of DRG neurons with astrocytes. This method could also be extended to other brain regions to study cellular or regional specific interaction between neurons and glial cells.
Neuroscience, Issue 43, Dorsal root ganglia, glial cell, heterogeneity, co-culture, regeneration, axon growth
2111
Functional Analysis of the Larval Feeding Circuit in Drosophila
Institutions: Saint Louis University School of Medicine.
The serotonergic feeding circuit in
Drosophila melanogaster
larvae can be used to investigate neuronal substrates of critical importance during the development of the circuit. Using the functional output of the circuit, feeding, changes in the neuronal architecture of the stomatogastric system can be visualized. Feeding behavior can be recorded by observing the rate of retraction of the mouth hooks, which receive innervation from the brain. Locomotor behavior is used as a physiological control for feeding, since larvae use their mouth hooks to traverse across an agar substrate. Changes in feeding behavior can be correlated with the axonal architecture of the neurites innervating the gut. Using immunohistochemistry it is possible to visualize and quantitate these changes. Improper handling of the larvae during behavior paradigms can alter data as they are very sensitive to manipulations. Proper imaging of the neurite architecture innervating the gut is critical for precise quantitation of number and size of varicosities as well as the extent of branch nodes. Analysis of most circuits allow only for visualization of neurite architecture or behavioral effects; however, this model allows one to correlate the functional output of the circuit with the impairments in neuronal architecture.
Neuroscience, Issue 81, Neural Pathways, Drosophila, Microscopy, Neuroimaging, Behavior, Behavior Mechanisms, Dopamine, Immunohistochemistry, neurite, proventriculus, serotonin, varicosities, animal model
51062
Comprehensive Profiling of Dopamine Regulation in Substantia Nigra and Ventral Tegmental Area
Institutions: Louisiana State University Health Sciences Center.

Dopamine is a vigorously studied neurotransmitter in the CNS. Indeed, its involvement in locomotor activity and reward-related behaviour has fostered five decades of inquiry into the molecular deficiencies associated with dopamine regulation. The majority of these inquiries of dopamine regulation in the brain focus upon the molecular basis for its regulation in the terminal field regions of the nigrostriatal and mesoaccumbens pathways; striatum and nucleus accumbens. Furthermore, such studies have concentrated on analysis of dopamine tissue content with normalization to only wet tissue weight. Investigation of the proteins that regulate dopamine, such as tyrosine hydroxylase (TH) protein, TH phosphorylation, dopamine transporter (DAT), and vesicular monoamine transporter 2 (VMAT2) protein often do not include analysis of dopamine tissue content in the same sample. The ability to analyze both dopamine tissue content and its regulating proteins (including post-translational modifications) not only gives inherent power to interpreting the relationship of dopamine with the protein level and function of TH, DAT, or VMAT2, but also extends sample economy. This translates into less cost, and yet produces insights into the molecular regulation of dopamine in virtually any paradigm of the investigators' choice. We focus the analyses in the midbrain. Although the SN and VTA are typically neglected in most studies of dopamine regulation, these nuclei are easily dissected with practice. A comprehensive readout of dopamine tissue content and TH, DAT, or VMAT2 can be conducted. There is burgeoning literature on the impact of dopamine function in the SN and VTA on behavior, and the impingements of exogenous substances or disease processes therein
1-5
. Furthermore, compounds such as growth factors have a profound effect on dopamine and dopamine-regulating proteins, to a comparatively greater extent in the SN or VTA
6-8
. Therefore, this methodology is presented for reference to laboratories that want to extend their inquiries on how specific treatments modulate behaviour and dopamine regulation. Here, a multi-step method is presented for the analyses of dopamine tissue content, the protein levels of TH, DAT, or VMAT2, and TH phosphorylation from the substantia nigra and VTA from rodent midbrain. The analysis of TH phosphorylation can yield significant insights into not only how TH activity is regulated, but also the signaling cascades affected in the somatodendritic nuclei in a given paradigm. We will illustrate the dissection technique to segregate these two nuclei and the sample processing of dissected tissue that produces a profile revealing molecular mechanisms of dopamine regulation
in vivo,
specific for each nuclei
(Figure 1)
.
Neuroscience, Issue 66, Medicine, Physiology, midbrain, substantia nigra, ventral tegmental area, tyrosine hydroxylase, phosphorylation, nigrostriatal, mesoaccumbens, dopamine transporter
4171
Preparation of Primary Neurons for Visualizing Neurites in a Frozen-hydrated State Using Cryo-Electron Tomography
Institutions: Baylor College of Medicine, Baylor College of Medicine, University of California at San Diego, Baylor College of Medicine.

Neurites, both dendrites and axons, are neuronal cellular processes that enable the conduction of electrical impulses between neurons. Defining the structure of neurites is critical to understanding how these processes move materials and signals that support synaptic communication. Electron microscopy (EM) has been traditionally used to assess the ultrastructural features within neurites; however, the exposure to organic solvent during dehydration and resin embedding can distort structures. An important unmet goal is the formulation of procedures that allow for structural evaluations not impacted by such artifacts. Here, we have established a detailed and reproducible protocol for growing and flash-freezing whole neurites of different primary neurons on electron microscopy grids followed by their examination with cryo-electron tomography (cryo-ET). This technique allows for 3-D visualization of frozen, hydrated neurites at nanometer resolution, facilitating assessment of their morphological differences. Our protocol yields an unprecedented view of dorsal root ganglion (DRG) neurites, and a visualization of hippocampal neurites in their near-native state. As such, these methods create a foundation for future studies on neurites of both normal neurons and those impacted by neurological disorders.
Neuroscience, Issue 84, Neurons, Cryo-electron Microscopy, Electron Microscope Tomography, Brain, rat, primary neuron culture, morphological assay
50783
Pull-down of Calmodulin-binding Proteins
Institutions: Medical College of Wisconsin .

Calcium (Ca
2+
) is an ion vital in regulating cellular function through a variety of mechanisms. Much of Ca
2+
signaling is mediated through the calcium-binding protein known as calmodulin (CaM)
1,2
. CaM is involved at multiple levels in almost all cellular processes, including apoptosis, metabolism, smooth muscle contraction, synaptic plasticity, nerve growth, inflammation and the immune response. A number of proteins help regulate these pathways through their interaction with CaM. Many of these interactions depend on the conformation of CaM, which is distinctly different when bound to Ca
2+
(Ca
2+
-CaM) as opposed to its Ca
2+
-free state (ApoCaM)
3
. While most target proteins bind Ca
2+
-CaM, certain proteins only bind to ApoCaM. Some bind CaM through their IQ-domain, including neuromodulin
4
, neurogranin (Ng)
5
, and certain myosins
6
. These proteins have been shown to play important roles in presynaptic function
7
, postsynaptic function
8
, and muscle contraction
9
, respectively. Their ability to bind and release CaM in the absence or presence of Ca
2+
is pivotal in their function. In contrast, many proteins only bind Ca
2+
-CaM and require this binding for their activation. Examples include myosin light chain kinase
10
, Ca
2+
/CaM-dependent kinases (CaMKs)
11
and phosphatases (e.g. calcineurin)
12
, and spectrin kinase
13
, which have a variety of direct and downstream effects
14
. The effects of these proteins on cellular function are often dependent on their ability to bind to CaM in a Ca
2+
-dependent manner. For example, we tested the relevance of Ng-CaM binding in synaptic function and how different mutations affect this binding. We generated a GFP-tagged Ng construct with specific mutations in the IQ-domain that would change the ability of Ng to bind CaM in a Ca
2+
-dependent manner. The study of these different mutations gave us great insight into important processes involved in synaptic function
8,15
. However, in such studies, it is essential to demonstrate that the mutated proteins have the expected altered binding to CaM. Here, we present a method for testing the ability of proteins to bind to CaM in the presence or absence of Ca
2+
, using CaMKII and Ng as examples. This method is a form of affinity chromatography referred to as a CaM pull-down assay. It uses CaM-Sepharose beads to test proteins that bind to CaM and the influence of Ca
2+
on this binding. It is considerably more time efficient and requires less protein relative to column chromatography and other assays. Altogether, this provides a valuable tool to explore Ca
2+
/CaM signaling and proteins that interact with CaM.
Molecular BIology, Issue 59, Calmodulin, calcium, IQ-motif, affinity chromatography, pull-down, Ca2+/Calmodulin-dependent Kinase II, neurogranin
3502
Detection of Neu1 Sialidase Activity in Regulating TOLL-like Receptor Activation
Institutions: Queen's University - Kingston, Ontario.

Mammalian Toll-like receptors (TLRs) are a family of receptors that recognize pathogen-associated molecular patterns. Not only are TLRs crucial sensors of microbial (e.g., viruses, bacteria and parasite) infections, they also play an important role in the pathophysiology of infectious diseases, inflammatory diseases, and possibly in autoimmune diseases. Thus, the intensity and duration of TLR responses against infectious diseases must be tightly controlled. It follows that understanding the structural integrity of sensor receptors, their ligand interactions and signaling components is essential for subsequent immunological protection. It would also provide important opportunities for disease modification through sensor manipulation. Although the signaling pathways of TLR sensors are well characterized, the parameters controlling interactions between the sensors and their ligands still remain poorly defined. We have recently identified a novel mechanism of TLR activation by its natural ligand, which has not been previously observed
1,2
. It suggests that ligand-induced TLR activation is tightly controlled by Neu1 sialidase activation. We have also reported that Neu1 tightly regulates neurotrophin receptors like TrkA and TrkB
3
, which involve Neu1 and matrix metalloproteinase-9 (MMP-9) cross-talk in complex with the receptors
4
. The sialidase assay has been initially use to find a novel ligand, thymoquinone, in the activation of Neu4 sialidase on the cell surface of macrophages, dendritic cells and fibroblast cells via GPCR Gαi proteins and MMP-9
5
. For TLR receptors, our data indicate that Neu1 sialidase is already in complex with TLR-2, -3 and -4 receptors, and is induced upon ligand binding to either receptor. Activated Neu1 sialidase hydrolyzes sialyl α-2,3-linked β-galactosyl residues distant from ligand binding to remove steric hinderance to TLR-4 dimerization, MyD88/TLR4 complex recruitment, NFkB activation and pro-inflammatory cell responses. In a collaborative report, Neu1 sialidase has been shown to regulate phagocytosis in macrophage cells
6
. Taken together, the sialidase assay has provided us with powerful insights to the molecular mechanisms of ligand-induced receptor activation. Although the precise relationship between Neu1 sialidase and the activation of TLR, Trk receptors has yet to be fully elucidated, it would represent a new or pioneering approach to cell regulation pathways.
Cellular Biology, Issue 43, Neu1 sialidase, TOLL-like receptors, macrophages, sialidase substrate, fluorescence microscopy, cell signaling, receptor activation
2142
Analysis of Oxidative Stress in Zebrafish Embryos
Institutions: University of Torino, Vesalius Research Center, VIB.

High levels of reactive oxygen species (ROS) may cause a change of cellular redox state towards oxidative stress condition. This situation causes oxidation of molecules (lipid, DNA, protein) and leads to cell death. Oxidative stress also impacts the progression of several pathological conditions such as diabetes, retinopathies, neurodegeneration, and cancer. Thus, it is important to define tools to investigate oxidative stress conditions not only at the level of single cells but also in the context of whole organisms. Here, we consider the zebrafish embryo as a useful
in vivo
system to perform such studies and present a protocol to measure
in vivo
oxidative stress. Taking advantage of fluorescent ROS probes and zebrafish transgenic fluorescent lines, we develop two different methods to measure oxidative stress
in vivo
: i) a "whole embryo ROS-detection method" for qualitative measurement of oxidative stress and ii) a "single-cell ROS detection method" for quantitative measurements of oxidative stress. Herein, we demonstrate the efficacy of these procedures by increasing oxidative stress in tissues by oxidant agents and physiological or genetic methods. This protocol is amenable for forward genetic screens and it will help address cause-effect relationships of ROS in animal models of oxidative stress-related pathologies such as neurological disorders and cancer.
Developmental Biology, Issue 89, Danio rerio, zebrafish embryos, endothelial cells, redox state analysis, oxidative stress detection, in vivo ROS measurements, FACS (fluorescence activated cell sorter), molecular probes
51328
Identification of Post-translational Modifications of Plant Protein Complexes
Institutions: University of Warwick, Norwich Research Park, The Australian National University.

Plants adapt quickly to changing environments due to elaborate perception and signaling systems. During pathogen attack, plants rapidly respond to infection
via
the recruitment and activation of immune complexes. Activation of immune complexes is associated with post-translational modifications (PTMs) of proteins, such as phosphorylation, glycosylation, or ubiquitination. Understanding how these PTMs are choreographed will lead to a better understanding of how resistance is achieved. Here we describe a protein purification method for nucleotide-binding leucine-rich repeat (NB-LRR)-interacting proteins and the subsequent identification of their post-translational modifications (PTMs). With small modifications, the protocol can be applied for the purification of other plant protein complexes. The method is based on the expression of an epitope-tagged version of the protein of interest, which is subsequently partially purified by immunoprecipitation and subjected to mass spectrometry for identification of interacting proteins and PTMs. This protocol demonstrates that: i). Dynamic changes in PTMs such as phosphorylation can be detected by mass spectrometry; ii). It is important to have sufficient quantities of the protein of interest, and this can compensate for the lack of purity of the immunoprecipitate; iii). In order to detect PTMs of a protein of interest, this protein has to be immunoprecipitated to get a sufficient quantity of protein.
Plant Biology, Issue 84, plant-microbe interactions, protein complex purification, mass spectrometry, protein phosphorylation, Prf, Pto, AvrPto, AvrPtoB
51095
Pre-clinical Evaluation of Tyrosine Kinase Inhibitors for Treatment of Acute Leukemia
Institutions: University of Colorado Anschutz Medical Campus, University Hospital of Essen.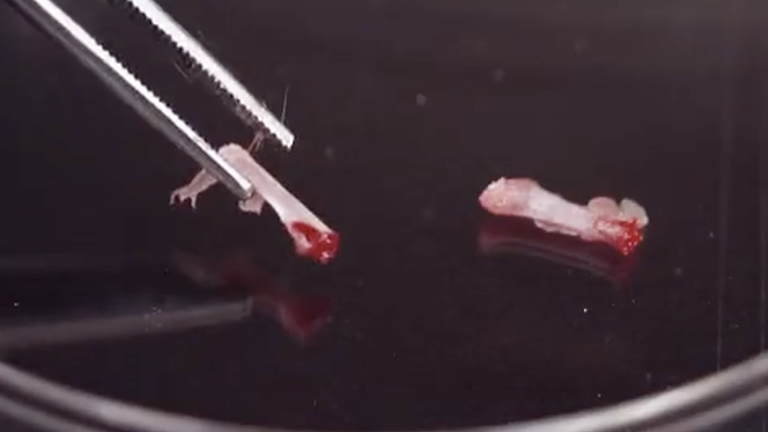 Receptor tyrosine kinases have been implicated in the development and progression of many cancers, including both leukemia and solid tumors, and are attractive druggable therapeutic targets. Here we describe an efficient four-step strategy for pre-clinical evaluation of tyrosine kinase inhibitors (TKIs) in the treatment of acute leukemia. Initially, western blot analysis is used to confirm target inhibition in cultured leukemia cells. Functional activity is then evaluated using clonogenic assays in methylcellulose or soft agar cultures. Experimental compounds that demonstrate activity in cell culture assays are evaluated
in vivo
using NOD-SCID-gamma (NSG) mice transplanted orthotopically with human leukemia cell lines. Initial
in vivo
pharmacodynamic studies evaluate target inhibition in leukemic blasts isolated from the bone marrow. This approach is used to determine the dose and schedule of administration required for effective target inhibition. Subsequent studies evaluate the efficacy of the TKIs
in vivo
using luciferase expressing leukemia cells, thereby allowing for non-invasive bioluminescent monitoring of leukemia burden and assessment of therapeutic response using an
in vivo
bioluminescence imaging system. This strategy has been effective for evaluation of TKIs
in vitro
and
in vivo
and can be applied for identification of molecularly-targeted agents with therapeutic potential or for direct comparison and prioritization of multiple compounds.
Medicine, Issue 79, Leukemia, Receptor Protein-Tyrosine Kinases, Molecular Targeted Therapy, Therapeutics, novel small molecule inhibitor, receptor tyrosine kinase, leukemia
50720
Preparation of Neuronal Co-cultures with Single Cell Precision
Institutions: ISAS, University College London, University of Southampton.

Microfluidic embodiments of the Campenot chamber have attracted great interest from the neuroscience community. These interconnected co-culture platforms can be used to investigate a variety of questions, spanning developmental and functional neurobiology to infection and disease propagation. However, conventional systems require significant cellular inputs (many thousands per compartment), inadequate for studying low abundance cells, such as primary dopaminergic
substantia nigra,
spiral ganglia, and
Drosophilia melanogaster
neurons, and impractical for high throughput experimentation. The dense cultures are also highly locally entangled, with few outgrowths (<10%) interconnecting the two cultures. In this paper straightforward microfluidic and patterning protocols are described which address these challenges: (i) a microfluidic single neuron arraying method, and (ii) a water masking method for plasma patterning biomaterial coatings to register neurons and promote outgrowth between compartments. Minimalistic neuronal co-cultures were prepared with high-level (>85%) intercompartment connectivity and can be used for high throughput neurobiology experiments with single cell precision.
Neuroscience, Issue 87, microfluidic arraying, single cell, biomaterial patterning, co-culture, compartmentalization, Alzheimer and Parkinson Diseases, neurite outgrowth, high throughput screening
51389
Metabolic Labeling of Leucine Rich Repeat Kinases 1 and 2 with Radioactive Phosphate
Institutions: KU Leuven and Leuven Institute for Neuroscience and Disease (LIND).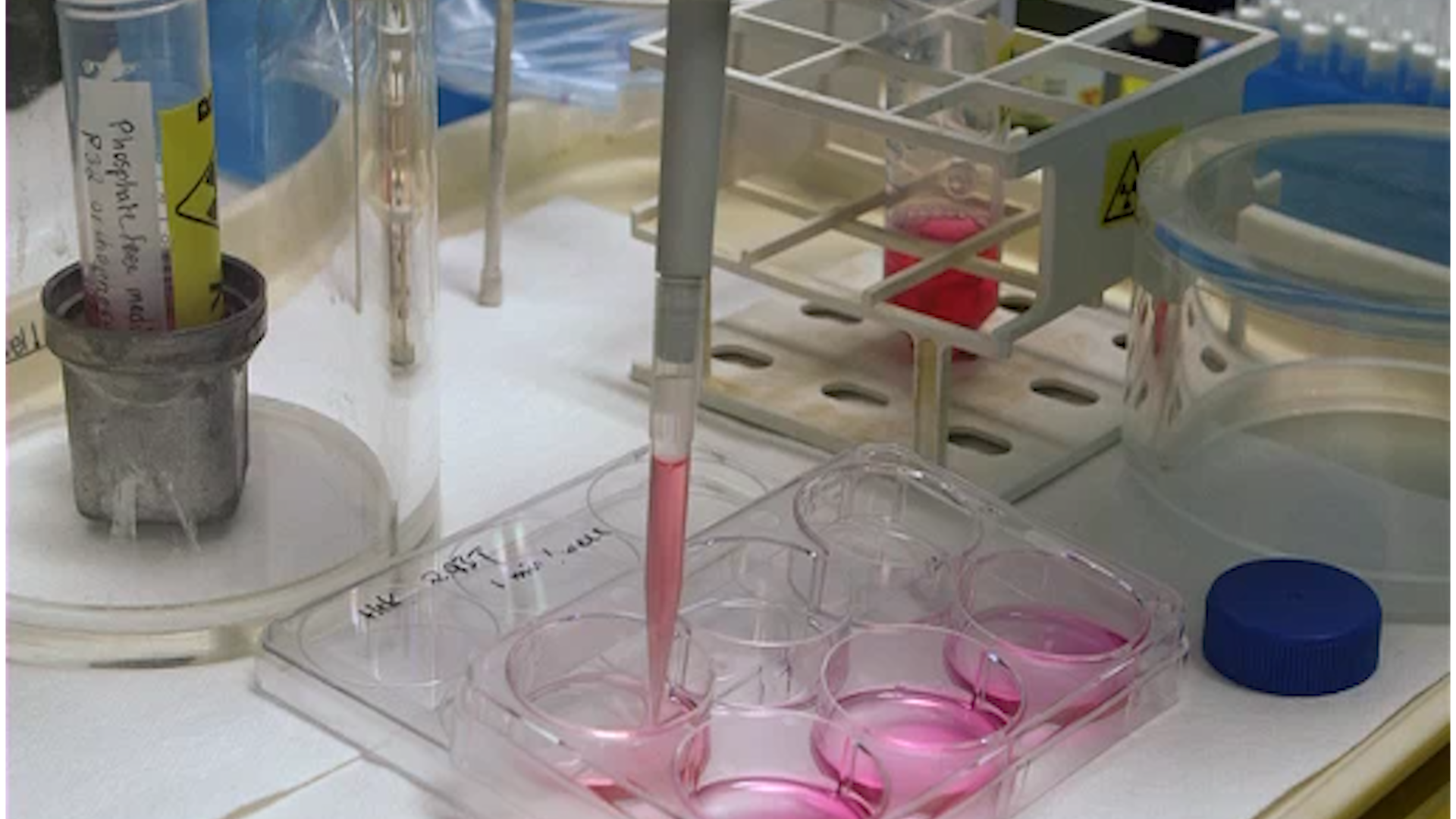 Leucine rich repeat kinases 1 and 2 (LRRK1 and LRRK2) are paralogs which share a similar domain organization, including a serine-threonine kinase domain, a Ras of complex proteins domain (ROC), a C-terminal of ROC domain (COR), and leucine-rich and ankyrin-like repeats at the N-terminus. The precise cellular roles of LRRK1 and LRRK2 have yet to be elucidated, however LRRK1 has been implicated in tyrosine kinase receptor signaling
1,2
, while LRRK2 is implicated in the pathogenesis of Parkinson's disease
3,4
. In this report, we present a protocol to label the LRRK1 and LRRK2 proteins in cells with
32
P orthophosphate, thereby providing a means to measure the overall phosphorylation levels of these 2 proteins in cells. In brief, affinity tagged LRRK proteins are expressed in HEK293T cells which are exposed to medium containing
32
P-orthophosphate. The
32
P-orthophosphate is assimilated by the cells after only a few hours of incubation and all molecules in the cell containing phosphates are thereby radioactively labeled. Via the affinity tag (3xflag) the LRRK proteins are isolated from other cellular components by immunoprecipitation. Immunoprecipitates are then separated via SDS-PAGE, blotted to PVDF membranes and analysis of the incorporated phosphates is performed by autoradiography (
32
P signal) and western detection (protein signal) of the proteins on the blots. The protocol can readily be adapted to monitor phosphorylation of any other protein that can be expressed in cells and isolated by immunoprecipitation.
Cellular Biology, Issue 79, biology (general), biochemistry, bioengineering (general), LRRK1, LRRK2, metabolic labeling, 32P orthophosphate, immunoprecipitation, autoradiography
50523
Isolation and Culture of Dissociated Sensory Neurons From Chick Embryos
Institutions: Assumption College.
Neurons are multifaceted cells that carry information essential for a variety of functions including sensation, motor movement, learning, and memory. Studying neurons
in vivo
can be challenging due to their complexity, their varied and dynamic environments, and technical limitations. For these reasons, studying neurons
in vitro
can prove beneficial to unravel the complex mysteries of neurons. The well-defined nature of cell culture models provides detailed control over environmental conditions and variables. Here we describe how to isolate, dissociate, and culture primary neurons from chick embryos. This technique is rapid, inexpensive, and generates robustly growing sensory neurons. The procedure consistently produces cultures that are highly enriched for neurons and has very few non-neuronal cells (less than 5%). Primary neurons do not adhere well to untreated glass or tissue culture plastic, therefore detailed procedures to create two distinct, well-defined laminin-containing substrata for neuronal plating are described. Cultured neurons are highly amenable to multiple cellular and molecular techniques, including co-immunoprecipitation, live cell imagining, RNAi, and immunocytochemistry. Procedures for double immunocytochemistry on these cultured neurons have been optimized and described here.
Neuroscience, Issue 91, dorsal root gangia, DRG, chicken, in vitro, avian, laminin-1, embryonic, primary
51991
Analysis of Nephron Composition and Function in the Adult Zebrafish Kidney
Institutions: University of Notre Dame.

The zebrafish model has emerged as a relevant system to study kidney development, regeneration and disease. Both the embryonic and adult zebrafish kidneys are composed of functional units known as nephrons, which are highly conserved with other vertebrates, including mammals. Research in zebrafish has recently demonstrated that two distinctive phenomena transpire after adult nephrons incur damage: first, there is robust regeneration within existing nephrons that replaces the destroyed tubule epithelial cells; second, entirely new nephrons are produced from renal progenitors in a process known as neonephrogenesis. In contrast, humans and other mammals seem to have only a limited ability for nephron epithelial regeneration. To date, the mechanisms responsible for these kidney regeneration phenomena remain poorly understood. Since adult zebrafish kidneys undergo both nephron epithelial regeneration and neonephrogenesis, they provide an outstanding experimental paradigm to study these events. Further, there is a wide range of genetic and pharmacological tools available in the zebrafish model that can be used to delineate the cellular and molecular mechanisms that regulate renal regeneration. One essential aspect of such research is the evaluation of nephron structure and function. This protocol describes a set of labeling techniques that can be used to gauge renal composition and test nephron functionality in the adult zebrafish kidney. Thus, these methods are widely applicable to the future phenotypic characterization of adult zebrafish kidney injury paradigms, which include but are not limited to, nephrotoxicant exposure regimes or genetic methods of targeted cell death such as the nitroreductase mediated cell ablation technique. Further, these methods could be used to study genetic perturbations in adult kidney formation and could also be applied to assess renal status during chronic disease modeling.
Cellular Biology, Issue 90, zebrafish; kidney; nephron; nephrology; renal; regeneration; proximal tubule; distal tubule; segment; mesonephros; physiology; acute kidney injury (AKI)
51644
Promotion of Survival and Differentiation of Neural Stem Cells with Fibrin and Growth Factor Cocktails after Severe Spinal Cord Injury
Institutions: Veterans Administration Medical Center, San Diego, University of California, San Diego.

Neural stem cells (NSCs) can self-renew and differentiate into neurons and glia. Transplanted NSCs can replace lost neurons and glia after spinal cord injury (SCI), and can form functional relays to re-connect spinal cord segments above and below a lesion. Previous studies grafting neural stem cells have been limited by incomplete graft survival within the spinal cord lesion cavity. Further, tracking of graft cell survival, differentiation, and process extension had not been optimized. Finally, in previous studies, cultured rat NSCs were typically reported to differentiate into glia when grafted to the injured spinal cord, rather than neurons, unless fate was driven to a specific cell type. To address these issues, we developed new methods to improve the survival, integration and differentiation of NSCs to sites of even severe SCI. NSCs were freshly isolated from embryonic day 14 spinal cord (E14) from a stable transgenic Fischer 344 rat line expressing green fluorescent protein (GFP) and were embedded into a fibrin matrix containing growth factors; this formulation aimed to retain grafted cells in the lesion cavity and support cell survival. NSCs in the fibrin/growth factor cocktail were implanted two weeks after thoracic level-3 (T3) complete spinal cord transections, thereby avoiding peak periods of inflammation. Resulting grafts completely filled the lesion cavity and differentiated into both neurons, which extended axons into the host spinal cord over remarkably long distances, and glia. Grafts of cultured human NSCs expressing GFP resulted in similar findings. Thus, methods are defined for improving neural stem cell grafting, survival and analysis of
in vivo
findings.
Neuroscience, Issue 89, nervous system diseases, wounds and injuries, biological factors, therapeutics, surgical procedures, neural stem cells, transplantation, spinal cord injury, fibrin, growth factors
50641
DNA-affinity-purified Chip (DAP-chip) Method to Determine Gene Targets for Bacterial Two component Regulatory Systems
Institutions: Lawrence Berkeley National Laboratory.

In vivo
methods such as ChIP-chip are well-established techniques used to determine global gene targets for transcription factors. However, they are of limited use in exploring bacterial two component regulatory systems with uncharacterized activation conditions. Such systems regulate transcription only when activated in the presence of unique signals. Since these signals are often unknown, the
in vitro
microarray based method described in this video article can be used to determine gene targets and binding sites for response regulators. This DNA-affinity-purified-chip method may be used for any purified regulator in any organism with a sequenced genome. The protocol involves allowing the purified tagged protein to bind to sheared genomic DNA and then affinity purifying the protein-bound DNA, followed by fluorescent labeling of the DNA and hybridization to a custom tiling array. Preceding steps that may be used to optimize the assay for specific regulators are also described. The peaks generated by the array data analysis are used to predict binding site motifs, which are then experimentally validated. The motif predictions can be further used to determine gene targets of orthologous response regulators in closely related species. We demonstrate the applicability of this method by determining the gene targets and binding site motifs and thus predicting the function for a sigma54-dependent response regulator DVU3023 in the environmental bacterium
Desulfovibrio vulgaris
Hildenborough.
Genetics, Issue 89, DNA-Affinity-Purified-chip, response regulator, transcription factor binding site, two component system, signal transduction, Desulfovibrio, lactate utilization regulator, ChIP-chip
51715
Aortic Ring Assay
Institutions: Ben-Gurion University.

Angiogenesis, the sprouting of blood vessels from preexisting vasculature is associated with both natural and pathological processes. Various angiogenesis assays involve the study of individual endothelial cells in culture conditions (1). The aortic ring assay is an angiogenesis model that is based on organ culture. In this assay, angiogenic vessels grow from a segment of the aorta (modified from (2)). Briefly, mouse thoracic aorta is excised, the fat layer and adventitia are removed, and rings approximately 1 mm in length are prepared. Individual rings are then embedded in a small solid dome of basement matrix extract (BME), cast inside individual wells of a 48-well plate. Angiogenic factors and inhibitors of angiogenesis can be directly added to the rings, and a mixed co-culture of aortic rings and other cell types can be employed for the study of paracrine angiogenic effects. Sprouting is observed by inspection under a stereomicroscope over a period of 6-12 days. Due to the large variation caused by the irregularities in the aortic segments, experimentation in 6-plicates is strongly advised. Neovessel outgrowth is monitored throughout the experiment and imaged using phase microscopy, and supernatants are collected for measurement of relevant angiogenic and anti-angiogenic factors, cell death markers and nitrite.
Medicine, Issue 33, aortic rings, angiogenesis, blood vessels, aorta, mouse, vessel outgrowth
1564