FtsZ Polymerization Assays: Simple Protocols and Considerations
Published: 11-16-2013
ABSTRACT
During bacterial cell division, the essential protein FtsZ assembles in the middle of the cell to form the so-called Z-ring. FtsZ polymerizes into long filaments in the presence of GTP in vitro, and polymerization is regulated by several accessory proteins. FtsZ polymerization has been extensively studied in vitro using basic methods including light scattering, sedimentation, GTP hydrolysis assays and electron microscopy. Buffer conditions influence both the polymerization properties of FtsZ, and the ability of FtsZ to interact with regulatory proteins. Here, we describe protocols for FtsZ polymerization studies and validate conditions and controls using Escherichia coli and Bacillus subtilis FtsZ as model proteins. A low speed sedimentation assay is introduced that allows the study of the interaction of FtsZ with proteins that bundle or tubulate FtsZ polymers. An improved GTPase assay protocol is described that allows testing of GTP hydrolysis over time using various conditions in a 96-well plate setup, with standardized incubation times that abolish variation in color development in the phosphate detection reaction. The preparation of samples for light scattering studies and electron microscopy is described. Several buffers are used to establish suitable buffer pH and salt concentration for FtsZ polymerization studies. A high concentration of KCl is the best for most of the experiments. Our methods provide a starting point for the in vitro characterization of FtsZ, not only from E. coli and B. subtilis but from any other bacterium. As such, the methods can be used for studies of the interaction of FtsZ with regulatory proteins or the testing of antibacterial drugs which may affect FtsZ polymerization.
21 Related JoVE Articles!
Aip1p Dynamics Are Altered by the R256H Mutation in Actin
Institutions: University of Iowa, University of Iowa.

Mutations in actin cause a range of human diseases due to specific molecular changes that often alter cytoskeletal function. In this study, imaging of fluorescently tagged proteins using total internal fluorescence (TIRF) microscopy is used to visualize and quantify changes in cytoskeletal dynamics. TIRF microscopy and the use of fluorescent tags also allows for quantification of the changes in cytoskeletal dynamics caused by mutations in actin. Using this technique, quantification of cytoskeletal function in live cells valuably complements
in vitro
studies of protein function. As an example, missense mutations affecting the actin residue R256 have been identified in three human actin isoforms suggesting this amino acid plays an important role in regulatory interactions. The effects of the actin mutation R256H on cytoskeletal movements were studied using the yeast model. The protein, Aip1, which is known to assist cofilin in actin depolymerization, was tagged with green fluorescent protein (GFP) at the N-terminus and tracked
in vivo
using TIRF microscopy. The rate of Aip1p movement in both wild type and mutant strains was quantified. In cells expressing R256H mutant actin, Aip1p motion is restricted and the rate of movement is nearly half the speed measured in wild type cells (0.88 ± 0.30 μm/sec in R256H cells compared to 1.60 ± 0.42 μm/sec in wild type cells, p < 0.005).
Developmental Biology, Issue 89, green fluorescent protein, actin, Aip1p, total internal fluorescence microscopy, yeast, cloning
51551
Particles without a Box: Brush-first Synthesis of Photodegradable PEG Star Polymers under Ambient Conditions
Institutions: Massachusetts Institute of Technology.

Convenient methods for the rapid, parallel synthesis of diversely functionalized nanoparticles will enable discovery of novel formulations for drug delivery, biological imaging, and supported catalysis. In this report, we demonstrate parallel synthesis of brush-arm star polymer (BASP) nanoparticles by the "brush-first" method. In this method, a norbornene-terminated poly(ethylene glycol) (PEG) macromonomer (PEG-MM) is first polymerized via ring-opening metathesis polymerization (ROMP) to generate a living brush macroinitiator. Aliquots of this initiator stock solution are added to vials that contain varied amounts of a photodegradable bis-norbornene crosslinker. Exposure to crosslinker initiates a series of kinetically-controlled brush+brush and star+star coupling reactions that ultimately yields BASPs with cores comprised of the crosslinker and coronas comprised of PEG. The final BASP size depends on the amount of crosslinker added. We carry out the synthesis of three BASPs on the benchtop with no special precautions to remove air and moisture. The samples are characterized by gel permeation chromatography (GPC); results agreed closely with our previous report that utilized inert (glovebox) conditions. Key practical features, advantages, and potential disadvantages of the brush-first method are discussed.
Chemistry, Issue 80, Chemical Engineering, Nanoparticles, Polymers, Drug Delivery Systems, Polymerization, polymers, Biomedical and Dental Materials, brush first, polyethylene glycol, photodegradable, ring opening metathesis polymerization, brush polymer, star polymer, drug delivery, gel permeation chromatography, arm first, core functional, photocleavable
50874
Microfluidic Fabrication of Polymeric and Biohybrid Fibers with Predesigned Size and Shape
Institutions: US Naval Research Laboratory, North Carolina State University and University of North Carolina at Chapel Hill.

A "sheath" fluid passing through a microfluidic channel at low Reynolds number can be directed around another "core" stream and used to dictate the shape as well as the diameter of a core stream. Grooves in the top and bottom of a microfluidic channel were designed to direct the sheath fluid and shape the core fluid. By matching the viscosity and hydrophilicity of the sheath and core fluids, the interfacial effects are minimized and complex fluid shapes can be formed. Controlling the relative flow rates of the sheath and core fluids determines the cross-sectional area of the core fluid. Fibers have been produced with sizes ranging from 300 nm to ~1 mm, and fiber cross-sections can be round, flat, square, or complex as in the case with double anchor fibers. Polymerization of the core fluid downstream from the shaping region solidifies the fibers. Photoinitiated click chemistries are well suited for rapid polymerization of the core fluid by irradiation with ultraviolet light. Fibers with a wide variety of shapes have been produced from a list of polymers including liquid crystals, poly(methylmethacrylate), thiol-ene and thiol-yne resins, polyethylene glycol, and hydrogel derivatives. Minimal shear during the shaping process and mild polymerization conditions also makes the fabrication process well suited for encapsulation of cells and other biological components.
Bioengineering, Issue 83, hydrodynamic focusing, polymer fiber, biohybrid, microfabrication, sheath flow, click chemistry
50958
Procedure for Fabricating Biofunctional Nanofibers
Institutions: Clark Atlanta University, Clark Atlanta University, Cornell University.

Electrospinning is an effective processing method for preparing nanofibers decorated with functional groups. Nanofibers decorated with functional groups may be utilized to study material-biomarker interactions
i.e.
act as biosensors with potential as single molecule detectors. We have developed an effective approach for preparing functional polymers where the functionality has the capacity of specifically binding with a model protein. In our model system, the functional group is 2,4-dinitrophenyl (DNP) and the protein is anti-DNP IgE (Immunoglobulin E). The functional polymer, α,ω-bi[2,4-dinitrophenyl caproic][poly(ethylene oxide)-b-poly(2-methoxystyrene)-b-poly(ethylene oxide)] (CDNP-PEO-P2MS-PEO-CDNP), is prepared by anionic living polymerization. The difunctional initiator utilized in the polymerization was prepared by electron transfer reaction of α-methylstyrene and potassium (mirror) metal. The 2-methoxystyrene monomer was added first to the initiator, followed by the addition of the second monomer, ethylene oxide, and finally the living polymer was terminated by methanol. The α,ω-dihydroxyl polymer [HO-PEO-P2MS-PEO-OH] was reacted with N-2,4-DNP-∈-amino caproic acid, by DCC coupling, resulting in the formation of α,ω-bi[2,4-dinitrophenylcaproic][poly(ethyleneoxide)-b-poly(2-methoxystyrene)-b-poly(ethylene oxide)] (CDNP-PEO-P2MS-PEO-CDNP). The polymers were characterized by FT-IR,
1
H NMR and Gel Permeation Chromatography (GPC). The molecular weight distributions of the polymers were narrow (1.1-1.2) and polymers with molecular weights greater than 50,000 was used in this study. The polymers were yellow powders and soluble in tetrahydrofuran. A water soluble CDNP-PEO-P2MS-PEO-CDNP/ DMEG (dimethoxyethylene glycol) complex binds and achieves steady state binding with solution IgE within a few seconds. Higher molecular weight (water insoluble
i.e.
around 50,000) CDNP-PEO-P2MS-PEO-CDNP polymers, containing 1% single wall carbon nanotubes (SWCNT) were processed into electroactive nanofibers (100 nm to 500 nm in diameter) on silicon substrate. Fluorescence spectroscopy shows that anti-DNP IgE interacts with the nanofibers by binding with the DNP functional groups decorating the fibers. These observations suggest that appropriately functionalized nanofibers hold promise for developing biomarker detection device.
Chemistry, Issue 67, Bioengineering, Physics, Molecular Biology, Biomedical Engineering, Living polymerization, NMR Spectroscopy, Electrospinning, Nanofibers, I-V behavior, Biosensor, confocal microscopy
4135
Visualization of UV-induced Replication Intermediates in E. coli using Two-dimensional Agarose-gel Analysis
Institutions: Portland State University.

Inaccurate replication in the presence of DNA damage is responsible for the majority of cellular rearrangements and mutagenesis observed in all cell types and is widely believed to be directly associated with the development of cancer in humans. DNA damage, such as that induced by UV irradiation, severely impairs the ability of replication to duplicate the genomic template accurately. A number of gene products have been identified that are required when replication encounters DNA lesions in the template. However, a remaining challenge has been to determine how these proteins process lesions during replication
in vivo
. Using Escherichia coli as a model system, we describe a procedure in which two-dimensional agarose-gel analysis can be used to identify the structural intermediates that arise on replicating plasmids
in vivo
following UV-induced DNA damage. This procedure has been used to demonstrate that replication forks blocked by UV-induced damage undergo a transient reversal that is stabilized by RecA and several gene products associated with the RecF pathway. The technique demonstrates that these replication intermediates are maintained until a time that correlates with the removal of the lesions by nucleotide excision repair and replication resumes.
Biochemistry, Issue 46, DNA replication, DNA repair, 2-Dimensional agarose gel, UV-induced DNA damage
2220
Direct Observation of Enzymes Replicating DNA Using a Single-molecule DNA Stretching Assay
Institutions: Harvard Medical School.

We describe a method for observing real time replication of individual DNA molecules mediated by proteins of the bacteriophage replication system. Linearized λ DNA is modified to have a biotin on the end of one strand, and a digoxigenin moiety on the other end of the same strand. The biotinylated end is attached to a functionalized glass coverslip and the digoxigeninated end to a small bead. The assembly of these DNA-bead tethers on the surface of a flow cell allows a laminar flow to be applied to exert a drag force on the bead. As a result, the DNA is stretched close to and parallel to the surface of the coverslip at a force that is determined by the flow rate (Figure 1). The length of the DNA is measured by monitoring the position of the bead. Length differences between single- and double-stranded DNA are utilized to obtain real-time information on the activity of the replication proteins at the fork. Measuring the position of the bead allows precise determination of the rates and processivities of DNA unwinding and polymerization (Figure 2).
Cellular Biology, Issue 37, single-molecule, DNA replication, DNA polymerase, biophysics
1689
Labeling F-actin Barbed Ends with Rhodamine-actin in Permeabilized Neuronal Growth Cones
Institutions: University of Minnesota.

The motile tips of growing axons are called growth cones. Growth cones lead navigating axons through developing tissues by interacting with locally expressed molecular guidance cues that bind growth cone receptors and regulate the dynamics and organization of the growth cone cytoskeleton
3-6
. The main target of these navigational signals is the actin filament meshwork that fills the growth cone periphery and that drives growth cone motility through continual actin polymerization and dynamic remodeling
7
. Positive or attractive guidance cues induce growth cone turning by stimulating actin filament (F-actin) polymerization in the region of the growth cone periphery that is nearer the source of the attractant cue. This actin polymerization drives local growth cone protrusion, adhesion of the leading margin and axonal elongation toward the attractant. Actin filament polymerization depends on the availability of sufficient actin monomer and on polymerization nuclei or actin filament barbed ends for the addition of monomer. Actin monomer is abundantly available in chick retinal and dorsal root ganglion (DRG) growth cones. Consequently, polymerization increases rapidly when free F-actin barbed ends become available for monomer addition. This occurs in chick DRG and retinal growth cones via the local activation of the F-actin severing protein actin depolymerizing factor (ADF/cofilin) in the growth cone region closer to an attractant
8-10
. This heightened ADF/cofilin activity severs actin filaments to create new F-actin barbed ends for polymerization. The following method demonstrates this mechanism. Total content of F-actin is visualized by staining with fluorescent phalloidin. F-actin barbed ends are visualized by the incorporation of rhodamine-actin within growth cones that are permeabilized with the procedure described in the following, which is adapted from previous studies of other motile cells
11, 12
. When rhodamine-actin is added at a concentration above the critical concentration for actin monomer addition to barbed ends, rhodamine-actin assembles onto free barbed ends. If the attractive cue is presented in a gradient, such as being released from a micropipette positioned to one side of a growth cone, the incorporation of rhodamine-actin onto F-actin barbed ends will be greater in the growth cone side toward the micropipette
10
. Growth cones are small and delicate cell structures. The procedures of permeabilization, rhodamine-actin incorporation, fixation and fluorescence visualization are all carefully done and can be conducted on the stage of an inverted microscope. These methods can be applied to studying local actin polymerization in migrating neurons, other primary tissue cells or cell lines.
Neuroscience, Issue 49, Actin, growth cones, barbed ends, polymerization, guidance cues
2409
Imaging Mismatch Repair and Cellular Responses to DNA Damage in Bacillus subtilis
Institutions: University of Michigan-Ann Arbor.

Both prokaryotes and eukaryotes respond to DNA damage through a complex set of physiological changes. Alterations in gene expression, the redistribution of existing proteins, and the assembly of new protein complexes can be stimulated by a variety of DNA lesions and mismatched DNA base pairs. Fluorescence microscopy has been used as a powerful experimental tool for visualizing and quantifying these and other responses to DNA lesions and to monitor DNA replication status within the complex subcellular architecture of a living cell. Translational fusions between fluorescent reporter proteins and components of the DNA replication and repair machinery have been used to determine the cues that target DNA repair proteins to their cognate lesions
in vivo
and to understand how these proteins are organized within bacterial cells. In addition, transcriptional and translational fusions linked to DNA damage inducible promoters have revealed which cells within a population have activated genotoxic stress responses. In this review, we provide a detailed protocol for using fluorescence microscopy to image the assembly of DNA repair and DNA replication complexes in single bacterial cells. In particular, this work focuses on imaging mismatch repair proteins, homologous recombination, DNA replication and an SOS-inducible protein in
Bacillus subtilis
. All of the procedures described here are easily amenable for imaging protein complexes in a variety of bacterial species.
Microbiology, Issue 36, mismatch repair, DNA repair, microscopy, DNA replication, Bacillus subtilis, GFP, SOS, FM4-64, fluorescence microscopy
1736
Polymerase Chain Reaction: Basic Protocol Plus Troubleshooting and Optimization Strategies
Institutions: University of California, Los Angeles .

In the biological sciences there have been technological advances that catapult the discipline into golden ages of discovery. For example, the field of microbiology was transformed with the advent of Anton van Leeuwenhoek's microscope, which allowed scientists to visualize prokaryotes for the first time. The development of the polymerase chain reaction (PCR) is one of those innovations that changed the course of molecular science with its impact spanning countless subdisciplines in biology. The theoretical process was outlined by Keppe and coworkers in 1971; however, it was another 14 years until the complete PCR procedure was described and experimentally applied by Kary Mullis while at Cetus Corporation in 1985. Automation and refinement of this technique progressed with the introduction of a thermal stable DNA polymerase from the bacterium
Thermus aquaticus
, consequently the name
Taq
DNA polymerase. PCR is a powerful amplification technique that can generate an ample supply of a specific segment of DNA (i.e., an amplicon) from only a small amount of starting material (i.e., DNA template or target sequence). While straightforward and generally trouble-free, there are pitfalls that complicate the reaction producing spurious results. When PCR fails it can lead to many non-specific DNA products of varying sizes that appear as a ladder or smear of bands on agarose gels. Sometimes no products form at all. Another potential problem occurs when mutations are unintentionally introduced in the amplicons, resulting in a heterogeneous population of PCR products. PCR failures can become frustrating unless patience and careful troubleshooting are employed to sort out and solve the problem(s). This protocol outlines the basic principles of PCR, provides a methodology that will result in amplification of most target sequences, and presents strategies for optimizing a reaction. By following this PCR guide, students should be able to: ● Set up reactions and thermal cycling conditions for a conventional PCR experiment ● Understand the function of various reaction components and their overall effect on a PCR experiment ● Design and optimize a PCR experiment for any DNA template ● Troubleshoot failed PCR experiments
Basic Protocols, Issue 63, PCR, optimization, primer design, melting temperature, Tm, troubleshooting, additives, enhancers, template DNA quantification, thermal cycler, molecular biology, genetics
3998
High Throughput Fluorometric Technique for Assessment of Macrophage Phagocytosis and Actin Polymerization
Institutions: University of Minnesota, University of Minnesota, 3M Corporate Research Laboratory.

The goal of fluorometric analysis is to serve as an efficient, cost effective, high throughput method of analyzing phagocytosis and other cellular processes. This technique can be used on a variety of cell types, both adherent and non-adherent, to examine a variety of cellular properties. When studying phagocytosis, fluorometric technique utilizes phagocytic cell types such as macrophages, and fluorescently labeled opsonized particles whose fluorescence can be extinguished in the presence of trypan blue. Following plating of adherent macrophages in 96-well plates, fluorescent particles (green or red) are administered and cells are allowed to phagocytose for varied amounts of time. Following internalization of fluorescent particles, cells are washed with trypan blue, which facilitates extinction of fluorescent signal from bacteria which are not internalized, or are merely adhering to the cell surface. Following the trypan wash, cells are washed with PBS, fixed, and stained with DAPI (nuclear blue fluorescent label), which serves to label nuclei of cells. By a simple fluorometric quantification through plate reading of nuclear (blue) or particle (red/green) fluorescence we can examine the ratio of relative fluorescence units of green:blue and determine a phagocytic index indicative of amount of fluorescent bacteria internalized per cell. The duration of assay using a 96-well method and multichannel pipettes for washing, from end of phagocytosis to end of data acquisition, is less than 45 min. Flow cytometry could be used in a similar manner but the advantage of fluorometry is its high throughput, rapid method of assessment with minimal manipulation of samples and quick quantification of fluorescent intensity per cell. Similar strategies can be applied to non adherent cells, live labeled bacteria, actin polymerization, and essentially any process utilizing fluorescence. Therefore, fluorometry is a promising method for its low cost, high throughput capabilities in the study of cellular processes.
Immunology, Issue 93, Fluorometry, phagocytosis, high throughput assay, actin polymerization, immunology
52195
Preparation of Segmented Microtubules to Study Motions Driven by the Disassembling Microtubule Ends
Institutions: Russian Academy of Sciences, Federal Research Center of Pediatric Hematology, Oncology and Immunology, Moscow, Russia, University of Pennsylvania.

Microtubule depolymerization can provide force to transport different protein complexes and protein-coated beads
in vitro
. The underlying mechanisms are thought to play a vital role in the microtubule-dependent chromosome motions during cell division, but the relevant proteins and their exact roles are ill-defined. Thus, there is a growing need to develop assays with which to study such motility
in vitro
using purified components and defined biochemical milieu. Microtubules, however, are inherently unstable polymers; their switching between growth and shortening is stochastic and difficult to control. The protocols we describe here take advantage of the segmented microtubules that are made with the photoablatable stabilizing caps. Depolymerization of such segmented microtubules can be triggered with high temporal and spatial resolution, thereby assisting studies of motility at the disassembling microtubule ends. This technique can be used to carry out a quantitative analysis of the number of molecules in the fluorescently-labeled protein complexes, which move processively with dynamic microtubule ends. To optimize a signal-to-noise ratio in this and other quantitative fluorescent assays, coverslips should be treated to reduce nonspecific absorption of soluble fluorescently-labeled proteins. Detailed protocols are provided to take into account the unevenness of fluorescent illumination, and determine the intensity of a single fluorophore using equidistant Gaussian fit. Finally, we describe the use of segmented microtubules to study microtubule-dependent motions of the protein-coated microbeads, providing insights into the ability of different motor and nonmotor proteins to couple microtubule depolymerization to processive cargo motion.
Basic Protocol, Issue 85, microscopy flow chamber, single-molecule fluorescence, laser trap, microtubule-binding protein, microtubule-dependent motor, microtubule tip-tracking
51150
Preparation of the Mgm101 Recombination Protein by MBP-based Tagging Strategy
Institutions: State University of New York Upstate Medical University.

The
MGM101
gene was identified 20 years ago for its role in the maintenance of mitochondrial DNA. Studies from several groups have suggested that the Mgm101 protein is involved in the recombinational repair of mitochondrial DNA. Recent investigations have indicated that Mgm101 is related to the Rad52-type recombination protein family. These proteins form large oligomeric rings and promote the annealing of homologous single stranded DNA molecules. However, the characterization of Mgm101 has been hindered by the difficulty in producing the recombinant protein. Here, a reliable procedure for the preparation of recombinant Mgm101 is described. Maltose Binding Protein (MBP)-tagged Mgm101 is first expressed in
Escherichia coli
. The fusion protein is initially purified by amylose affinity chromatography. After being released by proteolytic cleavage, Mgm101 is separated from MBP by cationic exchange chromatography. Monodispersed Mgm101 is then obtained by size exclusion chromatography. A yield of ~0.87 mg of Mgm101 per liter of bacterial culture can be routinely obtained. The recombinant Mgm101 has minimal contamination of DNA. The prepared samples are successfully used for biochemical, structural and single particle image analyses of Mgm101. This protocol may also be used for the preparation of other large oligomeric DNA-binding proteins that may be misfolded and toxic to bacterial cells.
Biochemistry, Issue 76, Genetics, Molecular Biology, Cellular Biology, Microbiology, Bacteria, Proteins, Mgm101, Rad52, mitochondria, recombination, mtDNA, maltose-binding protein, MBP, E. coli., yeast, Saccharomyces cerevisiae, chromatography, electron microscopy, cell culture
50448
Studying DNA Looping by Single-Molecule FRET
Institutions: Georgia Institute of Technology.
Bending of double-stranded DNA (dsDNA) is associated with many important biological processes such as DNA-protein recognition and DNA packaging into nucleosomes. Thermodynamics of dsDNA bending has been studied by a method called cyclization which relies on DNA ligase to covalently join short sticky ends of a dsDNA. However, ligation efficiency can be affected by many factors that are not related to dsDNA looping such as the DNA structure surrounding the joined sticky ends, and ligase can also affect the apparent looping rate through mechanisms such as nonspecific binding. Here, we show how to measure dsDNA looping kinetics without ligase by detecting transient DNA loop formation by FRET (Fluorescence Resonance Energy Transfer). dsDNA molecules are constructed using a simple PCR-based protocol with a FRET pair and a biotin linker. The looping probability density known as the J factor is extracted from the looping rate and the annealing rate between two disconnected sticky ends. By testing two dsDNAs with different intrinsic curvatures, we show that the J factor is sensitive to the intrinsic shape of the dsDNA.
Molecular Biology, Issue 88, DNA looping, J factor, Single molecule, FRET, Gel mobility shift, DNA curvature, Worm-like chain
51667
A Fluorescence-based Exonuclease Assay to Characterize DmWRNexo, Orthologue of Human Progeroid WRN Exonuclease, and Its Application to Other Nucleases
Institutions: University of Oxford.

WRN exonuclease is involved in resolving DNA damage that occurs either during DNA replication or following exposure to endogenous or exogenous genotoxins. It is likely to play a role in preventing accumulation of recombinogenic intermediates that would otherwise accumulate at transiently stalled replication forks, consistent with a hyper-recombinant phenotype of cells lacking WRN. In humans, the exonuclease domain comprises an N-terminal portion of a much larger protein that also possesses helicase activity, together with additional sites important for DNA and protein interaction. By contrast, in
Drosophila
, the exonuclease activity of WRN (DmWRNexo) is encoded by a distinct genetic locus from the presumptive helicase, allowing biochemical (and genetic) dissection of the role of the exonuclease activity in genome stability mechanisms. Here, we demonstrate a fluorescent method to determine WRN exonuclease activity using purified recombinant DmWRNexo and end-labeled fluorescent oligonucleotides. This system allows greater reproducibility than radioactive assays as the substrate oligonucleotides remain stable for months, and provides a safer and relatively rapid method for detailed analysis of nuclease activity, permitting determination of nuclease polarity, processivity, and substrate preferences.
Biochemistry, Issue 82, Aging, Premature, Exonucleases, Enzyme Assays, biochemistry, WRN, exonuclease, nuclease, RecQ, progeroid disease, aging, DmWRNexo
50722
Microwave-assisted Functionalization of Poly(ethylene glycol) and On-resin Peptides for Use in Chain Polymerizations and Hydrogel Formation
Institutions: University of Rochester, University of Rochester, University of Rochester Medical Center.

One of the main benefits to using poly(ethylene glycol) (PEG) macromers in hydrogel formation is synthetic versatility. The ability to draw from a large variety of PEG molecular weights and configurations (arm number, arm length, and branching pattern) affords researchers tight control over resulting hydrogel structures and properties, including Young's modulus and mesh size. This video will illustrate a rapid, efficient, solvent-free, microwave-assisted method to methacrylate PEG precursors into poly(ethylene glycol) dimethacrylate (PEGDM). This synthetic method provides much-needed starting materials for applications in drug delivery and regenerative medicine. The demonstrated method is superior to traditional methacrylation methods as it is significantly faster and simpler, as well as more economical and environmentally friendly, using smaller amounts of reagents and solvents. We will also demonstrate an adaptation of this technique for on-resin methacrylamide functionalization of peptides. This on-resin method allows the N-terminus of peptides to be functionalized with methacrylamide groups prior to deprotection and cleavage from resin. This allows for selective addition of methacrylamide groups to the N-termini of the peptides while amino acids with reactive side groups (
e.g.
 primary amine of lysine, primary alcohol of serine, secondary alcohols of threonine, and phenol of tyrosine) remain protected, preventing functionalization at multiple sites. This article will detail common analytical methods (proton Nuclear Magnetic Resonance spectroscopy (
;
H-NMR) and Matrix Assisted Laser Desorption Ionization Time of Flight mass spectrometry (MALDI-ToF)) to assess the efficiency of the functionalizations. Common pitfalls and suggested troubleshooting methods will be addressed, as will modifications of the technique which can be used to further tune macromer functionality and resulting hydrogel physical and chemical properties. Use of synthesized products for the formation of hydrogels for drug delivery and cell-material interaction studies will be demonstrated, with particular attention paid to modifying hydrogel composition to affect mesh size, controlling hydrogel stiffness and drug release.
Chemistry, Issue 80, Poly(ethylene glycol), peptides, polymerization, polymers, methacrylation, peptide functionalization, 1H-NMR, MALDI-ToF, hydrogels, macromer synthesis
50890
Preparation of DNA-crosslinked Polyacrylamide Hydrogels
Institutions: JFK Medical Center, Rutgers University, Rutgers University.

Mechanobiology is an emerging scientific area that addresses the critical role of physical cues in directing cell morphology and function. For example, the effect of tissue elasticity on cell function is a major area of mechanobiology research because tissue stiffness modulates with disease, development, and injury. Static tissue-mimicking materials, or materials that cannot alter stiffness once cells are plated, are predominately used to investigate the effects of tissue stiffness on cell functions. While information gathered from static studies is valuable, these studies are not indicative of the dynamic nature of the cellular microenvironment
in vivo
. To better address the effects of dynamic stiffness on cell function, we developed a DNA-crosslinked polyacrylamide hydrogel system (DNA gels). Unlike other dynamic substrates, DNA gels have the ability to decrease or increase in stiffness after fabrication without stimuli. DNA gels consist of DNA crosslinks that are polymerized into a polyacrylamide backbone. Adding and removing crosslinks via delivery of single-stranded DNA allows temporal, spatial, and reversible control of gel elasticity. We have shown in previous reports that dynamic modulation of DNA gel elasticity influences fibroblast and neuron behavior. In this report and video, we provide a schematic that describes the DNA gel crosslinking mechanisms and step-by-step instructions on the preparation DNA gels.
Bioengineering, Issue 90, bioengineering (general), Elastic, viscoelastic, bis-acrylamide, substrate, stiffness, dynamic, static, neuron, fibroblast, compliance, ECM, mechanobiology, tunable
51323
Nucleoside Triphosphates - From Synthesis to Biochemical Characterization
Institutions: University of Bern.

The traditional strategy for the introduction of chemical functionalities is the use of solid-phase synthesis by appending suitably modified phosphoramidite precursors to the nascent chain. However, the conditions used during the synthesis and the restriction to rather short sequences hamper the applicability of this methodology. On the other hand, modified nucleoside triphosphates are activated building blocks that have been employed for the mild introduction of numerous functional groups into nucleic acids, a strategy that paves the way for the use of modified nucleic acids in a wide-ranging palette of practical applications such as functional tagging and generation of ribozymes and DNAzymes. One of the major challenges resides in the intricacy of the methodology leading to the isolation and characterization of these nucleoside analogues. In this video article, we present a detailed protocol for the synthesis of these modified analogues using phosphorous(III)-based reagents. In addition, the procedure for their biochemical characterization is divulged, with a special emphasis on primer extension reactions and TdT tailing polymerization. This detailed protocol will be of use for the crafting of modified dNTPs and their further use in chemical biology.
Chemistry, Issue 86, Nucleic acid analogues, Bioorganic Chemistry, PCR, primer extension reactions, organic synthesis, PAGE, HPLC, nucleoside triphosphates
51385
Magnetic Tweezers for the Measurement of Twist and Torque
Institutions: Delft University of Technology.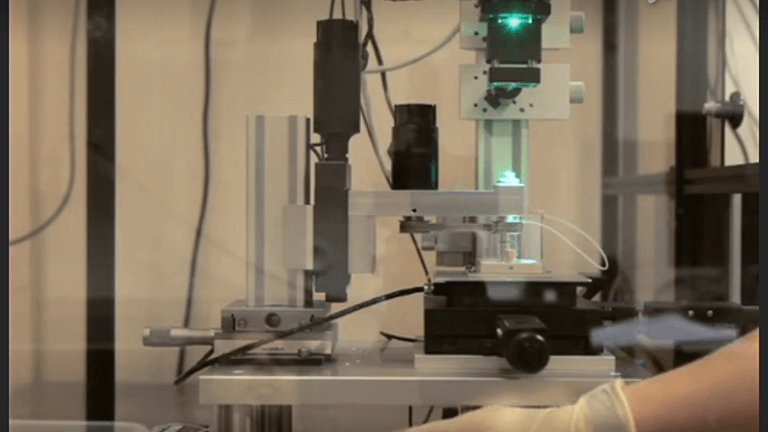 Single-molecule techniques make it possible to investigate the behavior of individual biological molecules in solution in real time. These techniques include so-called force spectroscopy approaches such as atomic force microscopy, optical tweezers, flow stretching, and magnetic tweezers. Amongst these approaches, magnetic tweezers have distinguished themselves by their ability to apply torque while maintaining a constant stretching force. Here, it is illustrated how such a "conventional" magnetic tweezers experimental configuration can, through a straightforward modification of its field configuration to minimize the magnitude of the transverse field, be adapted to measure the degree of twist in a biological molecule. The resulting configuration is termed the freely-orbiting magnetic tweezers. Additionally, it is shown how further modification of the field configuration can yield a transverse field with a magnitude intermediate between that of the "conventional" magnetic tweezers and the freely-orbiting magnetic tweezers, which makes it possible to directly measure the torque stored in a biological molecule. This configuration is termed the magnetic torque tweezers. The accompanying video explains in detail how the conversion of conventional magnetic tweezers into freely-orbiting magnetic tweezers and magnetic torque tweezers can be accomplished, and demonstrates the use of these techniques. These adaptations maintain all the strengths of conventional magnetic tweezers while greatly expanding the versatility of this powerful instrument.
Bioengineering, Issue 87, magnetic tweezers, magnetic torque tweezers, freely-orbiting magnetic tweezers, twist, torque, DNA, single-molecule techniques
51503
Purifying Plasmid DNA from Bacterial Colonies Using the Qiagen Miniprep Kit
Institutions: University of California, Irvine (UCI).

Plasmid DNA purification from E. coli is a core technique for molecular cloning. Small scale purification (miniprep) from less than 5 ml of bacterial culture is a quick way for clone verification or DNA isolation, followed by further enzymatic reactions (polymerase chain reaction and restriction enzyme digestion). Here, we video-recorded the general procedures of miniprep through the QIAGEN's QIAprep 8 Miniprep Kit, aiming to introducing this highly efficient technique to the general beginners for molecular biology techniques. The whole procedure is based on alkaline lysis of E. coli cells followed by adsorption of DNA onto silica in the presence of high salt. It consists of three steps: 1) preparation and clearing of a bacterial lysate, 2) adsorption of DNA onto the QIAprep membrane, 3) washing and elution of plasmid DNA. All steps are performed without the use of phenol, chloroform, CsCl, ethidium bromide, and without alcohol precipitation. It usually takes less than 2 hours to finish the entire procedure.
Issue 6, Basic Protocols, plasmid, DNA, purification, Qiagen
247
Fabrication of the Thermoplastic Microfluidic Channels
Institutions: Boston University.

In our lab, we have successfully isolated nucleic acids directly from microliter and submicroliter volumes of human blood, urine and stool using polymer/nanoparticle composite microscale lysis and solid phase extraction columns. The recovered samples are concentrated, small volume samples that are PCRable, without any additional cleanup. Here, we demonstrate how to fabricate thermoplastic microfluidic chips using hot embossing and heat sealing. Then, we demonstrate how to use in situ light directed surface grafting and polymerization through the sealed chip to form the composite solid phase columns. We demonstrate grafting and polymerization of a carbon nanotube/polymer composite column for bacterial cell lysis. We then show the lysis process followed by solid phase extraction of nucleic acids from the sample on chip using a silica/polymer composite column. The attached protocols contain detailed instructions on how to make both lysis and solid phase extraction columns.
Cellular Biology, Issue 12, bioengineering, purification, microfluidics, DNA, RNA, solid phase, column
664
Actin Co-Sedimentation Assay; for the Analysis of Protein Binding to F-Actin
Institutions: University of California, San Francisco - UCSF.

The actin cytoskeleton within the cell is a network of actin filaments that allows the movement of cells and cellular processes, and that generates tension and helps maintains cellular shape. Although the actin cytoskeleton is a rigid structure, it is a dynamic structure that is constantly remodeling. A number of proteins can bind to the actin cytoskeleton. The binding of a particular protein to F-actin is often desired to support cell biological observations or to further understand dynamic processes due to remodeling of the actin cytoskeleton. The actin co-sedimentation assay is an in vitro assay routinely used to analyze the binding of specific proteins or protein domains with F-actin. The basic principles of the assay involve an incubation of the protein of interest (full length or domain of) with F-actin, ultracentrifugation step to pellet F-actin and analysis of the protein co-sedimenting with F-actin. Actin co-sedimentation assays can be designed accordingly to measure actin binding affinities and in competition assays.
Biochemistry, Issue 13, F-actin, protein, in vitro binding, ultracentrifugation
690