ABSTRACT
The ovarian follicle is the functional unit of the ovary that secretes sex hormones and supports oocyte maturation. In vitro follicle techniques provide a tool to model follicle development in order to investigate basic biology, and are further being developed as a technique to preserve fertility in the clinic1-4. Our in vitro culture system employs hydrogels in order to mimic the native ovarian environment by maintaining the 3D follicular architecture, cell-cell interactions and paracrine signaling that direct follicle development 5. Previously, follicles were successfully cultured in alginate, an inert algae-derived polysaccharide that undergoes gelation with calcium ions6-8. Alginate hydrogels formed at a concentration of 0.25% w/v were the most permissive for follicle culture, and retained the highest developmental competence 9. Alginate hydrogels are not degradable, thus an increase in the follicle diameter results in a compressive force on the follicle that can impact follicle growth10. We subsequently developed a culture system based on a fibrin-alginate interpenetrating network (FA-IPN), in which a mixture of fibrin and alginate are gelled simultaneously. This combination provides a dynamic mechanical environment because both components contribute to matrix rigidity initially; however, proteases secreted by the growing follicle degrade fibrin in the matrix leaving only alginate to provide support. With the IPN, the alginate content can be reduced below 0.25%, which is not possible with alginate alone 5. Thus, as the follicle expands, it will experience a reduced compressive force due to the reduced solids content. Herein, we describe an encapsulation method and an in vitro culture system for ovarian follicles within a FA-IPN. The dynamic mechanical environment mimics the natural ovarian environment in which small follicles reside in a rigid cortex and move to a more permissive medulla as they increase in size11. The degradable component may be particularly critical for clinical translation in order to support the greater than 106-fold increase in volume that human follicles normally undergo in vivo .
22 Related JoVE Articles!
Nuclear Transfer into Mouse Oocytes
Institutions: Harvard.

Nuclear transfer into an unfertilized oocyte can restore developmental potential to a differentiated cell. This demonstrates that the processes underlying development, differentiation and aging are epigenetic rather than genetic processes. The reversibility of these processes opens exciting perspectives in basic research, and in the more distant future, in regenerative medicine. In the mouse, embryonic stem cells can be derived from cloned preimplantation stage embryos. Such embryonic stem cells have the ability to give rise to all cell types of the adult organism. Importantly, these cells are genetically identical to the donor. If applicable to human, this would allow the derivation of stem cells from a patient. These cells could then be differentiated into the affected cell type of the patient and studied in vitro, or used to replace the damaged or missing cells. The study of nuclear transfer in the mouse remains important as it can inform us about the principles of nuclear reprogramming. This movie and the accompanying protocol are intended to help learning nuclear transfer in the mouse, a method initially developed in the group of Prof. Yanagimachi (WAKAYAMA et al. 1998).
Developmental Biology, Issue 1, oocytes, nuclear transfer, stem cells
116
Visualizing RNA Localization in Xenopus Oocytes
Institutions: Brown University.
RNA localization is a conserved mechanism of establishing cell polarity. Vg1 mRNA localizes to the vegetal pole of
Xenopus laevis
oocytes and acts to spatially restrict gene expression of Vg1 protein. Tight control of Vg1 distribution in this manner is required for proper germ layer specification in the developing embryo. RNA sequence elements in the 3' UTR of the mRNA, the Vg1 localization element (VLE) are required and sufficient to direct transport. To study the recognition and transport of Vg1 mRNA
in vivo
, we have developed an imaging technique that allows extensive analysis of trans-factor directed transport mechanisms via a simple visual readout. To visualize RNA localization, we synthesize fluorescently labeled VLE RNA and microinject this transcript into individual oocytes. After oocyte culture to allow transport of the injected RNA, oocytes are fixed and dehydrated prior to imaging by confocal microscopy. Visualization of mRNA localization patterns provides a readout for monitoring the complete pathway of RNA transport and for identifying roles in directing RNA transport for cis-acting elements within the transcript and trans-acting factors that bind to the VLE (Lewis et al., 2008, Messitt et al., 2008). We have extended this technique through co-localization with additional RNAs and proteins (Gagnon and Mowry, 2009, Messitt et al., 2008), and in combination with disruption of motor proteins and the cytoskeleton (Messitt et al., 2008) to probe mechanisms underlying mRNA localization.
Developmental Biology, Issue 35, RNA, Developmental Biology, Microinjection, RNA Localization, Xenopus, oocytes, VLE
1704
Collection and Cryopreservation of Hamster Oocytes and Mouse Embryos
Institutions: Universitat Autonoma de Barcelona.

Embryos and oocytes were first successfully cryopreserved more than 30 years ago, when Whittingham
et al.
1
and Wilmut
2
separately described that mouse embryos could be frozen and stored at -196 °C and, a few years later, Parkening
et al
.
3
reported the birth of live offspring resulting from in vitro fertilization (IVF) of cryopreserved oocytes. Since then, the use of cryopreservation techniques has rapidly spread to become an essential component in the practice of human and animal assisted reproduction and in the conservation of animal genetic resources. Currently, there are two main methods used to cryopreserve oocytes and embryos: slow freezing and vitrification. A wide variety of approaches have been used to try to improve both techniques and millions of animals and thousands of children have been born from cryopreserved embryos. However, important shortcomings associated to cryopreservation still have to be overcome, since ice-crystal formation, solution effects and osmotic shock seem to cause several cryoinjuries in post-thawed oocytes and embryos. Slow freezing with programmable freezers has the advantage of using low concentrations of cryoprotectants, which are usually associated with chemical toxicity and osmotic shock, but their ability to avoid ice-crystal formation at low concentrations is limited. Slow freezing also induces supercooling effects that must be avoided using manual or automatic seeding
4
. In the vitrification process, high concentrations of cryoprotectants inhibit the formation of ice-crystals and lead to the formation of a glasslike vitrified state in which water is solidified, but not expanded. However, due to the toxicity of cyroprotectants at the concentrations used, oocytes/embryos can only be exposed to the cryoprotectant solution for a very short period of time and in a minimum volume solution, before submerging the samples directly in liquid nitrogen
5
. In the last decade, vitrification has become more popular because it is a very quick method in which no expensive equipment (programmable freezer) is required. However, slow freezing continues to be the most widely used method for oocyte/embryo cryopreservation. In this video-article we show, step-by-step, how to collect and slowly freeze hamster oocytes with high post-thaw survival rates. The same procedure can also be applied to successfully freeze and thaw mouse embryos at different stages of preimplantation development.
Developmental Biology, Issue 25, Cryopreservation, freezing, thawing, oocytes, embryos
1120
Probing and Mapping Electrode Surfaces in Solid Oxide Fuel Cells
Institutions: Georgia Institute of Technology , Georgia Institute of Technology .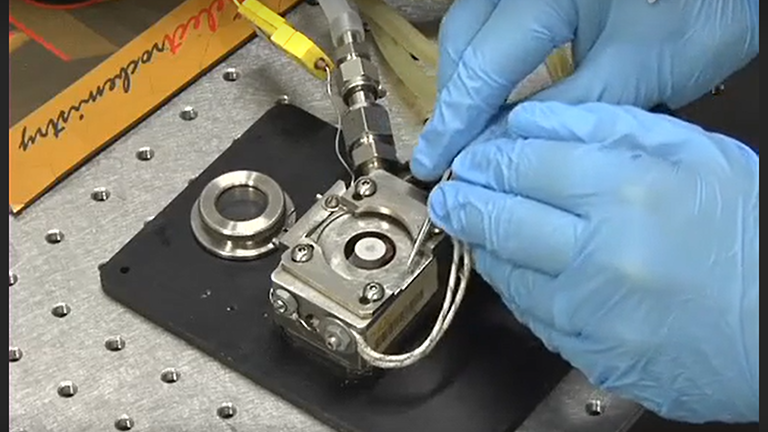 Solid oxide fuel cells (SOFCs) are potentially the most efficient and cost-effective solution to utilization of a wide variety of fuels beyond hydrogen
1-7
. The performance of SOFCs and the rates of many chemical and energy transformation processes in energy storage and conversion devices in general are limited primarily by charge and mass transfer along electrode surfaces and across interfaces. Unfortunately, the mechanistic understanding of these processes is still lacking, due largely to the difficulty of characterizing these processes under
in situ
conditions. This knowledge gap is a chief obstacle to SOFC commercialization. The development of tools for probing and mapping surface chemistries relevant to electrode reactions is vital to unraveling the mechanisms of surface processes and to achieving rational design of new electrode materials for more efficient energy storage and conversion
2
. Among the relatively few
in situ
surface analysis methods, Raman spectroscopy can be performed even with high temperatures and harsh atmospheres, making it ideal for characterizing chemical processes relevant to SOFC anode performance and degradation
8-12
. It can also be used alongside electrochemical measurements, potentially allowing direct correlation of electrochemistry to surface chemistry in an operating cell. Proper
in situ
Raman mapping measurements would be useful for pin-pointing important anode reaction mechanisms because of its sensitivity to the relevant species, including anode performance degradation through carbon deposition
8, 10, 13, 14
("coking") and sulfur poisoning
11, 15
and the manner in which surface modifications stave off this degradation
16
. The current work demonstrates significant progress towards this capability. In addition, the family of scanning probe microscopy (SPM) techniques provides a special approach to interrogate the electrode surface with nanoscale resolution. Besides the surface topography that is routinely collected by AFM and STM, other properties such as local electronic states, ion diffusion coefficient and surface potential can also be investigated
17-22
. In this work, electrochemical measurements, Raman spectroscopy, and SPM were used in conjunction with a novel test electrode platform that consists of a Ni mesh electrode embedded in an yttria-stabilized zirconia (YSZ) electrolyte. Cell performance testing and impedance spectroscopy under fuel containing H
2
S was characterized, and Raman mapping was used to further elucidate the nature of sulfur poisoning.
In situ
Raman monitoring was used to investigate coking behavior. Finally, atomic force microscopy (AFM) and electrostatic force microscopy (EFM) were used to further visualize carbon deposition on the nanoscale. From this research, we desire to produce a more complete picture of the SOFC anode.
Materials Science, Issue 67, Chemistry, Electrical Engineering, Physics, electrochemistry, catalysts (chemical), spectroscopic chemical analysis (application), microscopes, Fuel cell, Raman, AFM, SOFC, Surface, Electrode
50161
Rejection of Fluorescence Background in Resonance and Spontaneous Raman Microspectroscopy
Institutions: University of California, Davis, University of California, Davis.

Raman spectroscopy is often plagued by a strong fluorescent background, particularly for biological samples. If a sample is excited with a train of ultrafast pulses, a system that can temporally separate spectrally overlapping signals on a picosecond timescale can isolate promptly arriving Raman scattered light from late-arriving fluorescence light. Here we discuss the construction and operation of a complex nonlinear optical system that uses all-optical switching in the form of a low-power optical Kerr gate to isolate Raman and fluorescence signals. A single 808 nm laser with 2.4 W of average power and 80 MHz repetition rate is split, with approximately 200 mW of 808 nm light being converted to < 5 mW of 404 nm light sent to the sample to excite Raman scattering. The remaining unconverted 808 nm light is then sent to a nonlinear medium where it acts as the pump for the all-optical shutter. The shutter opens and closes in 800 fs with a peak efficiency of approximately 5%. Using this system we are able to successfully separate Raman and fluorescence signals at an 80 MHz repetition rate using pulse energies and average powers that remain biologically safe. Because the system has no spare capacity in terms of optical power, we detail several design and alignment considerations that aid in maximizing the throughput of the system. We also discuss our protocol for obtaining the spatial and temporal overlap of the signal and pump beams within the Kerr medium, as well as a detailed protocol for spectral acquisition. Finally, we report a few representative results of Raman spectra obtained in the presence of strong fluorescence using our time-gating system.
Microbiology, Issue 51, Raman scattering, all-optical gating, nonlinear optics, fluorescence, timeresolved spectroscopy.
2592
Non-contact, Label-free Monitoring of Cells and Extracellular Matrix using Raman Spectroscopy
Institutions: Eberhard Karls University, Tübingen, Fraunhofer Institute of Interfacial Engineering and Biotechnology (IGB) Stuttgart, Germany, University of Stuttgart, Germany, Julius-Maximillians University, Würzburg, Germany.

Non-destructive, non-contact and label-free technologies to monitor cell and tissue cultures are needed in the field of biomedical research.
1-5
However, currently available routine methods require processing steps and alter sample integrity. Raman spectroscopy is a fast method that enables the measurement of biological samples without the need for further processing steps. This laser-based technology detects the inelastic scattering of monochromatic light.
6
As every chemical vibration is assigned to a specific Raman band (wavenumber in cm
-1
), each biological sample features a typical spectral pattern due to their inherent biochemical composition.
7-9
Within Raman spectra, the peak intensities correlate with the amount of the present molecular bonds.
1
Similarities and differences of the spectral data sets can be detected by employing a multivariate analysis (e.g. principal component analysis (PCA)).
10
Here, we perform Raman spectroscopy of living cells and native tissues. Cells are either seeded on glass bottom dishes or kept in suspension under normal cell culture conditions (37 °C, 5% CO
2
) before measurement. Native tissues are dissected and stored in phosphate buffered saline (PBS) at 4 °C prior measurements. Depending on our experimental set up, we then either focused on the cell nucleus or extracellular matrix (ECM) proteins such as elastin and collagen. For all studies, a minimum of 30 cells or 30 random points of interest within the ECM are measured. Data processing steps included background subtraction and normalization.
Bioengineering, Issue 63, Raman spectroscopy, label-free analysis, living cells, extracellular matrix, tissue engineering
3977
Coherent anti-Stokes Raman Scattering (CARS) Microscopy Visualizes Pharmaceutical Tablets During Dissolution
Institutions: University of Twente, Heinrich-Heine University, University of Helsinki.
Traditional pharmaceutical dissolution tests determine the amount of drug dissolved over time by measuring drug content in the dissolution medium. This method provides little direct information about what is happening on the surface of the dissolving tablet. As the tablet surface composition and structure can change during dissolution, it is essential to monitor it during dissolution testing. In this work coherent anti-Stokes Raman scattering microscopy is used to image the surface of tablets during dissolution while UV absorption spectroscopy is simultaneously providing inline analysis of dissolved drug concentration for tablets containing a 50% mixture of theophylline anhydrate and ethyl cellulose. The measurements showed that
in situ
CARS microscopy is capable of imaging selectively theophylline in the presence of ethyl cellulose. Additionally, the theophylline anhydrate converted to theophylline monohydrate during dissolution, with needle-shaped crystals growing on the tablet surface during dissolution. The conversion of theophylline anhydrate to monohydrate, combined with reduced exposure of the drug to the flowing dissolution medium resulted in decreased dissolution rates. Our results show that
in situ
CARS microscopy combined with inline UV absorption spectroscopy is capable of monitoring pharmaceutical tablet dissolution and correlating surface changes with changes in dissolution rate.
Physics, Issue 89, Coherent anti-Stokes Raman scattering, microscopy, pharmaceutics, dissolution, in situ analysis, theophylline, tablet
51847
In Situ SIMS and IR Spectroscopy of Well-defined Surfaces Prepared by Soft Landing of Mass-selected Ions
Institutions: Pacific Northwest National Laboratory.

Soft landing of mass-selected ions onto surfaces is a powerful approach for the highly-controlled preparation of materials that are inaccessible using conventional synthesis techniques. Coupling soft landing with
in situ
characterization using secondary ion mass spectrometry (SIMS) and infrared reflection absorption spectroscopy (IRRAS) enables analysis of well-defined surfaces under clean vacuum conditions. The capabilities of three soft-landing instruments constructed in our laboratory are illustrated for the representative system of surface-bound organometallics prepared by soft landing of mass-selected ruthenium tris(bipyridine) dications, [Ru(bpy)
3
]
2+
(bpy = bipyridine), onto carboxylic acid terminated self-assembled monolayer surfaces on gold (COOH-SAMs).
In situ
time-of-flight (TOF)-SIMS provides insight into the reactivity of the soft-landed ions. In addition, the kinetics of charge reduction, neutralization and desorption occurring on the COOH-SAM both during and after ion soft landing are studied using
in situ
Fourier transform ion cyclotron resonance (FT-ICR)-SIMS measurements.
In situ
IRRAS experiments provide insight into how the structure of organic ligands surrounding metal centers is perturbed through immobilization of organometallic ions on COOH-SAM surfaces by soft landing. Collectively, the three instruments provide complementary information about the chemical composition, reactivity and structure of well-defined species supported on surfaces.
Chemistry, Issue 88, soft landing, mass selected ions, electrospray, secondary ion mass spectrometry, infrared spectroscopy, organometallic, catalysis
51344
Live Imaging of GFP-labeled Proteins in Drosophila Oocytes
Institutions: Vassar College.
The
Drosophila
oocyte has been established as a versatile system for investigating fundamental questions such as cytoskeletal function, cell organization, and organelle structure and function. The availability of various GFP-tagged proteins means that many cellular processes can be monitored in living cells over the course of minutes or hours, and using this technique, processes such as RNP transport, epithelial morphogenesis, and tissue remodeling have been described in great detail in
Drosophila
oocytes
1,2
. The ability to perform video imaging combined with a rich repertoire of mutants allows an enormous variety of genes and processes to be examined in incredible detail. One such example is the process of ooplasmic streaming, which initiates at mid-oogenesis
3,4
. This vigorous movement of cytoplasmic vesicles is microtubule and kinesin-dependent
5
and provides a useful system for investigating cytoskeleton function at these stages. Here I present a protocol for time lapse imaging of living oocytes using virtually any confocal microscopy setup.
Developmental Biology, Issue 73, Biochemistry, Genetics, Cellular Biology, Molecular Biology, Proteins, Anatomy, Physiology, Drosophila melanogaster, fruit fly, Cell Biology, Drosophila oocytes, oogenesis, oocytes, ovaries, GFP, Live Imaging, Time Lapse Video, imaging, confocal microscopy, dissection, animal model
50044
Tangential Flow Ultrafiltration: A "Green" Method for the Size Selection and Concentration of Colloidal Silver Nanoparticles
Institutions: Wright State University, Wright State University.

Nowadays, AgNPs are extensively used in the manufacture of consumer products,
1
water disinfectants,
2
therapeutics,
1, 3
and biomedical devices
4
due to their powerful antimicrobial properties.
3-6
These nanoparticle applications are strongly influenced by the AgNP size and aggregation state. Many challenges exist in the controlled fabrication
7
and size-based isolation
4,8
of unfunctionalized, homogenous AgNPs that are free from chemically aggressive capping/stabilizing agents or organic solvents.
7-13
Limitations emerge from the toxicity of reagents, high costs or reduced efficiency of the AgNP synthesis or isolation methods (
e.g.
, centrifugation, size-dependent solubility, size-exclusion chromatography, etc.).
10,14-18
To overcome this, we recently showed that TFU permits greater control over the size, concentration and aggregation state of Creighton AgNPs (300 ml of 15.3 μg ml
-1
down to 10 ml of 198.7 μg ml
-1
) than conventional methods of isolation such as ultracentrifugation.
19
TFU is a recirculation method commonly used for the weight-based isolation of proteins, viruses and cells.
20,21
Briefly, the liquid sample is passed through a series of hollow fiber membranes with pore size ranging from 1,000 kD to 10 kD. Smaller suspended or dissolved constituents in the sample will pass through the porous barrier together with the solvent (filtrate), while the larger constituents are retained (retentate). TFU may be considered a "green" method as it neither damages the sample nor requires additional solvent to eliminate toxic excess reagents and byproducts. Furthermore, TFU may be applied to a large variety of nanoparticles as both hydrophobic and hydrophilic filters are available. The two main objectives of this study were: 1) to illustrate the experimental aspects of the TFU approach through an invited video experience and 2) to demonstrate the feasibility of the TFU method for larger volumes of colloidal nanoparticles and smaller volumes of retentate. First, unfuctionalized AgNPs (4 L, 15.2 μg ml
-1
) were synthesized using the well-established Creighton method
22,23
by the reduction of AgNO
3
with NaBH
4
. AgNP polydispersity was then minimized via a 3-step TFU using a 50-nm filter (460 cm
2
) to remove AgNPs and AgNP-aggregates larger than 50 nm, followed by two 100-kD (200 cm
2
and 20 cm
2
) filters to concentrate the AgNPs. Representative samples were characterized using transmission electron microscopy, UV-Vis absorption spectrophotometry, Raman spectroscopy, and inductively coupled plasma optical emission spectroscopy. The final retentate consisted of highly concentrated (4 ml, 8,539.9 μg ml
-1
) yet lowly aggregated and homogeneous AgNPs of 1-20 nm in diameter. This corresponds to a silver concentration yield of about 62%.
Chemistry, Issue 68, Biomedical Engineering, Chemical Engineering, Nanotechnology, silver nanoparticles, size selection, concentration, tangential flow ultrafiltration
4167
Measuring Cation Transport by Na,K- and H,K-ATPase in Xenopus Oocytes by Atomic Absorption Spectrophotometry: An Alternative to Radioisotope Assays
Institutions: Technical University of Berlin, Oregon Health & Science University.
Whereas cation transport by the electrogenic membrane transporter Na
+
,K
+
-ATPase can be measured by electrophysiology, the electroneutrally operating gastric H
+
,K
+
-ATPase is more difficult to investigate. Many transport assays utilize radioisotopes to achieve a sufficient signal-to-noise ratio, however, the necessary security measures impose severe restrictions regarding human exposure or assay design. Furthermore, ion transport across cell membranes is critically influenced by the membrane potential, which is not straightforwardly controlled in cell culture or in proteoliposome preparations. Here, we make use of the outstanding sensitivity of atomic absorption spectrophotometry (AAS) towards trace amounts of chemical elements to measure Rb
+
or Li
+
transport by Na
+
,K
+
- or gastric H
+
,K
+
-ATPase in single cells. Using
Xenopus
oocytes as expression system, we determine the amount of Rb
+
(Li
+
) transported into the cells by measuring samples of single-oocyte homogenates in an AAS device equipped with a transversely heated graphite atomizer (THGA) furnace, which is loaded from an autosampler. Since the background of unspecific Rb
+
uptake into control oocytes or during application of ATPase-specific inhibitors is very small, it is possible to implement complex kinetic assay schemes involving a large number of experimental conditions simultaneously, or to compare the transport capacity and kinetics of site-specifically mutated transporters with high precision. Furthermore, since cation uptake is determined on single cells, the flux experiments can be carried out in combination with two-electrode voltage-clamping (TEVC) to achieve accurate control of the membrane potential and current. This allowed
e.g.
to quantitatively determine the 3Na
+
/2K
+
transport stoichiometry of the Na
+
,K
+
-ATPase and enabled for the first time to investigate the voltage dependence of cation transport by the electroneutrally operating gastric H
+
,K
+
-ATPase. In principle, the assay is not limited to K
+
-transporting membrane proteins, but it may work equally well to address the activity of heavy or transition metal transporters, or uptake of chemical elements by endocytotic processes.
Biochemistry, Issue 72, Chemistry, Biophysics, Bioengineering, Physiology, Molecular Biology, electrochemical processes, physical chemistry, spectrophotometry (application), spectroscopic chemical analysis (application), life sciences, temperature effects (biological, animal and plant), Life Sciences (General), Na+,K+-ATPase, H+,K+-ATPase, Cation Uptake, P-type ATPases, Atomic Absorption Spectrophotometry (AAS), Two-Electrode Voltage-Clamp, Xenopus Oocytes, Rb+ Flux, Transversely Heated Graphite Atomizer (THGA) Furnace, electrophysiology, animal model
50201
The Utility of Stage-specific Mid-to-late Drosophila Follicle Isolation
Institutions: University of Iowa Carver College of Medicine.

Drosophila
oogenesis or follicle development has been widely used to advance the understanding of complex developmental and cell biologic processes. This methods paper describes how to isolate mid-to-late stage follicles (Stage 10B-14) and utilize them to provide new insights into the molecular and morphologic events occurring during tight windows of developmental time. Isolated follicles can be used for a variety of experimental techniques, including
in vitro
development assays, live imaging, mRNA expression analysis and western blot analysis of proteins. Follicles at Stage 10B (S10B) or later will complete development in culture; this allows one to combine genetic or pharmacologic perturbations with
in vitro
development to define the effects of such manipulations on the processes occurring during specific periods of development. Additionally, because these follicles develop in culture, they are ideally suited for live imaging studies, which often reveal new mechanisms that mediate morphological events. Isolated follicles can also be used for molecular analyses. For example, changes in gene expression that result from genetic perturbations can be defined for specific developmental windows. Additionally, protein level, stability, and/or posttranslational modification state during a particular stage of follicle development can be examined through western blot analyses. Thus, stage-specific isolation of
Drosophila
follicles provides a rich source of information into widely conserved processes of development and morphogenesis.
Developmental Biology, Issue 82, Drosophila melanogaster, Organ Culture Techniques, Gene Expression Profiling, Microscopy, Confocal, Cell Biology, Genetic Research, Molecular Biology, Pharmacology, Drosophila, oogenesis, follicle, live-imaging, gene expression, development
50493
Mouse Oocyte Microinjection, Maturation and Ploidy Assessment
Institutions: University of Pennsylvania.

Mistakes in chromosome segregation lead to aneuploid cells. In somatic cells, aneuploidy is associated with cancer but in gametes, aneuploidy leads to infertility, miscarriages or developmental disorders like Down syndrome. Haploid gametes form through species-specific developmental programs that are coupled to meiosis. The first meiotic division (MI) is unique to meiosis because sister chromatids remain attached while homologous chromosomes are segregated. For reasons not fully understood, this reductional division is prone to errors and is more commonly the source of aneuploidy than errors in meiosis II (MII) or than errors in male meiosis
1,2
. In mammals, oocytes arrest at prophase of MI with a large, intact germinal vesicle (GV; nucleus) and only resume meiosis when they receive ovulatory cues. Once meiosis resumes, oocytes complete MI and undergo an asymmetric cell division, arresting again at metaphase of MII. Eggs will not complete MII until they are fertilized by sperm. Oocytes also can undergo meiotic maturation using established
in vitro
culture conditions
3
. Because generation of transgenic and gene-targeted mouse mutants is costly and can take long periods of time, manipulation of female gametes
in vitro
is a more economical and time-saving strategy. Here, we describe methods to isolate prophase-arrested oocytes from mice and for microinjection. Any material of choice may be introduced into the oocyte, but because meiotically-competent oocytes are transcriptionally silent
4,5
cRNA, and not DNA, must be injected for ectopic expression studies. To assess ploidy, we describe our conditions for
in vitro
maturation of oocytes to MII eggs. Historically, chromosome-spreading techniques are used for counting chromosome number
6
. This method is technically challenging and is limited to only identifying hyperploidies. Here, we describe a method to determine hypo-and hyperploidies using intact eggs
7-8
. This method uses monastrol, a kinesin-5 inhibitor, that collapses the bipolar spindle into a monopolar spindle
9
thus separating chromosomes such that individual kinetochores can readily be detected and counted by using an anti-CREST autoimmune serum. Because this method is performed in intact eggs, chromosomes are not lost due to operator error.
Cell biology, Issue 53, oocyte, microinjection, meiosis, meiotic maturation, aneuploidy
2851
Demonstration of Proteolytic Activation of the Epithelial Sodium Channel (ENaC) by Combining Current Measurements with Detection of Cleavage Fragments
Institutions: Friedrich-Alexander-Universität Erlangen-Nürnberg (FAU).

The described methods can be used to investigate the effect of proteases on ion channels, receptors, and other plasma membrane proteins heterologously expressed in
Xenopus laevis
oocytes. In combination with site-directed mutagenesis, this approach provides a powerful tool to identify functionally relevant cleavage sites. Proteolytic activation is a characteristic feature of the amiloride-sensitive epithelial sodium channel (ENaC). The final activating step involves cleavage of the channel's γ-subunit in a critical region potentially targeted by several proteases including chymotrypsin and plasmin. To determine the stimulatory effect of these serine proteases on ENaC, the amiloride-sensitive whole-cell current (ΔI
ami
) was measured twice in the same oocyte before and after exposure to the protease using the two-electrode voltage-clamp technique. In parallel to the electrophysiological experiments, a biotinylation approach was used to monitor the appearance of γENaC cleavage fragments at the cell surface. Using the methods described, it was demonstrated that the time course of proteolytic activation of ENaC-mediated whole-cell currents correlates with the appearance of a γENaC cleavage product at the cell surface. These results suggest a causal link between channel cleavage and channel activation. Moreover, they confirm the concept that a cleavage event in γENaC is required as a final step in proteolytic channel activation. The methods described here may well be applicable to address similar questions for other types of ion channels or membrane proteins.
Biochemistry, Issue 89, two-electrode voltage-clamp, electrophysiology, biotinylation, Xenopus laevis oocytes, epithelial sodium channel, ENaC, proteases, proteolytic channel activation, ion channel, cleavage sites, cleavage fragments
51582
Fertilization of Xenopus oocytes using the Host Transfer Method
Institutions: University of Iowa.

Studying the contribution of maternally inherited molecules to vertebrate early development is often hampered by the time and expense necessary to generate maternal-effect mutant animals. Additionally, many of the techniques to overexpress or inhibit gene function in organisms such as
Xenopus
and zebrafish fail to sufficiently target critical maternal signaling pathways, such as Wnt signaling. In
Xenopus
, manipulating gene function in cultured oocytes and subsequently fertilizing them can ameliorate these problems to some extent. Oocytes are manually defolliculated from donor ovary tissue, injected or treated in culture as desired, and then stimulated with progesterone to induce maturation. Next, the oocytes are introduced into the body cavity of an ovulating host female frog, whereupon they will be translocated through the host's oviduct and acquire modifications and jelly coats necessary for fertilization. The resulting embryos can then be raised to the desired stage and analyzed for the effects of any experimental perturbations. This host-transfer method has been highly effective in uncovering basic mechanisms of early development and allows a wide range of experimental possibilities not available in any other vertebrate model organism.
Developmental Biology, Issue 45, Xenopus, oocyte, host-transfer, fertilization, antisense
1864
Single Oocyte Bisulfite Mutagenesis
Institutions: Schulich School of Medicine and Dentistry, University of Western Ontario, Schulich School of Medicine and Dentistry, University of Western Ontario, Children's Health Research Institute.

Epigenetics encompasses all heritable and reversible modifications to chromatin that alter gene accessibility, and thus are the primary mechanisms for regulating gene transcription
1
. DNA methylation is an epigenetic modification that acts predominantly as a repressive mark. Through the covalent addition of a methyl group onto cytosines in CpG dinucleotides, it can recruit additional repressive proteins and histone modifications to initiate processes involved in condensing chromatin and silencing genes
2
. DNA methylation is essential for normal development as it plays a critical role in developmental programming, cell differentiation, repression of retroviral elements, X-chromosome inactivation and genomic imprinting. One of the most powerful methods for DNA methylation analysis is bisulfite mutagenesis. Sodium bisulfite is a DNA mutagen that deaminates cytosines into uracils. Following PCR amplification and sequencing, these conversion events are detected as thymines. Methylated cytosines are protected from deamination and thus remain as cytosines, enabling identification of DNA methylation at the individual nucleotide level
3
. Development of the bisulfite mutagenesis assay has advanced from those originally reported
4-6
towards ones that are more sensitive and reproducible
7
. One key advancement was embedding smaller amounts of DNA in an agarose bead, thereby protecting DNA from the harsh bisulfite treatment
8
. This enabled methylation analysis to be performed on pools of oocytes and blastocyst-stage embryos
9
. The most sophisticated bisulfite mutagenesis protocol to date is for individual blastocyst-stage embryos
10
. However, since blastocysts have on average 64 cells (containing 120-720 pg of genomic DNA), this method is not efficacious for methylation studies on individual oocytes or cleavage-stage embryos. Taking clues from agarose embedding of minute DNA amounts including oocytes
11
, here we present a method whereby oocytes are directly embedded in an agarose and lysis solution bead immediately following retrieval and removal of the zona pellucida from the oocyte. This enables us to bypass the two main challenges of single oocyte bisulfite mutagenesis: protecting a minute amount of DNA from degradation, and subsequent loss during the numerous protocol steps. Importantly, as data are obtained from single oocytes, the issue of PCR bias within pools is eliminated. Furthermore, inadvertent cumulus cell contamination is detectable by this method since any sample with more than one methylation pattern may be excluded from analysis
12
. This protocol provides an improved method for successful and reproducible analyses of DNA methylation at the single-cell level and is ideally suited for individual oocytes as well as cleavage-stage embryos.
Genetics, Issue 64, Developmental Biology, Biochemistry, Bisulfite mutagenesis, DNA methylation, individual oocyte, individual embryo, mouse model, PCR, epigenetics
4046
Differentiation of Newborn Mouse Skin Derived Stem Cells into Germ-like Cells In vitro
Institutions: The University of Western Ontario, Children's Health Research Institute.

Studying germ cell formation and differentiation has traditionally been very difficult due to low cell numbers and their location deep within developing embryos. The availability of a "closed"
in vitro
based system could prove invaluable for our understanding of gametogenesis. The formation of oocyte-like cells (OLCs) from somatic stem cells, isolated from newborn mouse skin, has been demonstrated and can be visualized in this video protocol. The resulting OLCs express various markers consistent with oocytes such as
Oct4 , Vasa , Bmp15
, and
Scp3
. However, they remain unable to undergo maturation or fertilization due to a failure to complete meiosis. This protocol will provide a system that is useful for studying the early stage formation and differentiation of germ cells into more mature gametes. During early differentiation the number of cells expressing Oct4 (potential germ-like cells) reaches ~5%, however currently the formation of OLCs remains relatively inefficient. The protocol is relatively straight forward though special care should be taken to ensure the starting cell population is healthy and at an early passage.
Stem Cell Biology, Issue 77, Developmental Biology, Cellular Biology, Molecular Biology, Bioengineering, Biomedical Engineering, Medicine, Physiology, Adult Stem Cells, Pluripotent Stem Cells, Germ Cells, Oocytes, Reproductive Physiological Processes, Stem cell, skin, germ cell, oocyte, cell, differentiation, cell culture, mouse, animal model
50486
Biochemical and High Throughput Microscopic Assessment of Fat Mass in Caenorhabditis Elegans
Institutions: Massachusetts General Hospital and Harvard Medical School, Massachusetts Institute of Technology.
The nematode
C. elegans
has emerged as an important model for the study of conserved genetic pathways regulating fat metabolism as it relates to human obesity and its associated pathologies. Several previous methodologies developed for the visualization of
C. elegans
triglyceride-rich fat stores have proven to be erroneous, highlighting cellular compartments other than lipid droplets. Other methods require specialized equipment, are time-consuming, or yield inconsistent results. We introduce a rapid, reproducible, fixative-based Nile red staining method for the accurate and rapid detection of neutral lipid droplets in
C. elegans
. A short fixation step in 40% isopropanol makes animals completely permeable to Nile red, which is then used to stain animals. Spectral properties of this lipophilic dye allow it to strongly and selectively fluoresce in the yellow-green spectrum only when in a lipid-rich environment, but not in more polar environments. Thus, lipid droplets can be visualized on a fluorescent microscope equipped with simple GFP imaging capability after only a brief Nile red staining step in isopropanol. The speed, affordability, and reproducibility of this protocol make it ideally suited for high throughput screens. We also demonstrate a paired method for the biochemical determination of triglycerides and phospholipids using gas chromatography mass-spectrometry. This more rigorous protocol should be used as confirmation of results obtained from the Nile red microscopic lipid determination. We anticipate that these techniques will become new standards in the field of
C. elegans
metabolic research.
Genetics, Issue 73, Biochemistry, Cellular Biology, Molecular Biology, Developmental Biology, Physiology, Anatomy, Caenorhabditis elegans, Obesity, Energy Metabolism, Lipid Metabolism, C. elegans, fluorescent lipid staining, lipids, Nile red, fat, high throughput screening, obesity, gas chromatography, mass spectrometry, GC/MS, animal model
50180
The Xenopus Oocyte Cut-open Vaseline Gap Voltage-clamp Technique With Fluorometry
Institutions: Washington University in St. Louis.

The cut-open oocyte Vaseline gap (COVG) voltage clamp technique allows for analysis of electrophysiological and kinetic properties of heterologous ion channels in oocytes. Recordings from the cut-open setup are particularly useful for resolving low magnitude gating currents, rapid ionic current activation, and deactivation. The main benefits over the two-electrode voltage clamp (TEVC) technique include increased clamp speed, improved signal-to-noise ratio, and the ability to modulate the intracellular and extracellular milieu. Here, we employ the human cardiac sodium channel (hNa
V
1.5), expressed in
Xenopus
oocytes, to demonstrate the cut-open setup and protocol as well as modifications that are required to add voltage clamp fluorometry capability. The properties of fast activating ion channels, such as hNa
V
1.5, cannot be fully resolved near room temperature using TEVC, in which the entirety of the oocyte membrane is clamped, making voltage control difficult. However, in the cut-open technique, isolation of only a small portion of the cell membrane allows for the rapid clamping required to accurately record fast kinetics while preventing channel run-down associated with patch clamp techniques. In conjunction with the COVG technique, ion channel kinetics and electrophysiological properties can be further assayed by using voltage clamp fluorometry, where protein motion is tracked via cysteine conjugation of extracellularly applied fluorophores, insertion of genetically encoded fluorescent proteins, or the incorporation of unnatural amino acids into the region of interest
1
. This additional data yields kinetic information about voltage-dependent conformational rearrangements of the protein via changes in the microenvironment surrounding the fluorescent molecule.
Developmental Biology, Issue 85, Voltage clamp, Cut-open, Oocyte, Voltage Clamp Fluorometry, Sodium Channels, Ionic Currents, Xenopus laevis
51040
Patch Clamp Recording of Ion Channels Expressed in Xenopus Oocytes
Institutions: Stanford University , Stanford University School of Medicine.

Since its development by Sakmann and Neher
1, 2
, the patch clamp has become established as an extremely useful technique for electrophysiological measurement of single or multiple ion channels in cells. This technique can be applied to ion channels in both their native environment and expressed in heterologous cells, such as oocytes harvested from the African clawed frog, Xenopus laevis. Here, we describe the well-established technique of patch clamp recording from Xenopus oocytes. This technique is used to measure the properties of expressed ion channels either in populations (macropatch) or individually (single-channel recording). We focus on techniques to maximize the quality of oocyte preparation and seal generation. With all factors optimized, this technique gives a probability of successful seal generation over 90 percent. The process may be optimized differently by every researcher based on the factors he or she finds most important, and we present the approach that have lead to the greatest success in our hands.
Cellular Biology, Issue 20, Electrophysiology, Patch Clamp, Voltage Clamp, Oocytes, Biophysics, Gigaseal, Ion Channels
936
Microinjection of Xenopus Laevis Oocytes
Institutions: University of British Columbia - UBC.

Microinjection of
Xenopus laevis
oocytes followed by thin-sectioning electron microscopy (EM) is an excellent system for studying nucleocytoplasmic transport. Because of its large nucleus and high density of nuclear pore complexes (NPCs), nuclear transport can be easily visualized in the
Xenopus
oocyte. Much insight into the mechanisms of nuclear import and export has been gained through use of this system (reviewed by Panté, 2006). In addition, we have used microinjection of
Xenopus
oocytes to dissect the nuclear import pathways of several viruses that replicate in the host nucleus. Here we demonstrate the cytoplasmic microinjection of
Xenopus
oocytes with a nuclear import substrate. We also show preparation of the injected oocytes for visualization by thin-sectioning EM, including dissection, dehydration, and embedding of the oocytes into an epoxy embedding resin. Finally, we provide representative results for oocytes that have been microinjected with the capsid of the baculovirus
Autographa californica nucleopolyhedrovirus
(AcMNPV) or the parvovirus Minute Virus of Mice (MVM), and discuss potential applications of the technique.
Cellular biology, Issue 24, nuclear import, nuclear pore complex, Xenopus oocyte, microinjection, electron microscopy, nuclear membrane, nuclear import of viruses
1106
Retrieval of Mouse Oocytes
Institutions: University of California, Irvine (UCI).

To date, only a few studies have reported successful manipulations of Peromyscus embryogenesis or reproductive biology. Together with the Peromyscus Genetic Stock Center (https://stkctr.biol.sc.edu), we are characterizing the salient differences needed to develop this system. A primary goal has been to optimize oocyte/early embryo retrieval.
Developmental Biology, Issue 3, oocyte, egg, mouse, dissection
185