ABSTRACT
Recent studies support the involvement of supraspinal networks in control of bipedal human walking. Part of this evidence encompasses studies, including our previous work, demonstrating that gait kinematics and limb coordination during treadmill walking can be inferred from the scalp electroencephalogram (EEG) with reasonably high decoding accuracies. These results provide impetus for development of non-invasive brain-machine-interface (BMI) systems for use in restoration and/or augmentation of gait- a primary goal of rehabilitation research. To date, studies examining EEG decoding of activity during gait have been limited to treadmill walking in a controlled environment. However, to be practically viable a BMI system must be applicable for use in everyday locomotor tasks such as over ground walking and turning. Here, we present a novel protocol for non-invasive collection of brain activity (EEG), muscle activity (electromyography (EMG)), and whole-body kinematic data (head, torso, and limb trajectories) during both treadmill and over ground walking tasks. By collecting these data in the uncontrolled environment insight can be gained regarding the feasibility of decoding unconstrained gait and surface EMG from scalp EEG.
24 Related JoVE Articles!
Method for Simultaneous fMRI/EEG Data Collection during a Focused Attention Suggestion for Differential Thermal Sensation
Institutions: University of California, Los Angeles, University of California, Los Angeles, Yale School of Medicine, Korean Basic Science Institute.

In the present work, we demonstrate a method for concurrent collection of EEG/fMRI data. In our setup, EEG data are collected using a high-density 256-channel sensor net. The EEG amplifier itself is contained in a field isolation containment system (FICS), and MRI clock signals are synchronized with EEG data collection for subsequent MR artifact characterization and removal. We demonstrate this method first for resting state data collection. Thereafter, we demonstrate a protocol for EEG/fMRI data recording, while subjects listen to a tape asking them to visualize that their left hand is immersed in a cold-water bath and referred to, here, as the cold glove paradigm. Thermal differentials between each hand are measured throughout EEG/fMRI data collection using an MR compatible temperature sensor that we developed for this purpose. We collect cold glove EEG/fMRI data along with simultaneous differential hand temperature measurements both before and after hypnotic induction. Between pre and post sessions, single modality EEG data are collected during the hypnotic induction and depth assessment process. Our representative results demonstrate that significant changes in the EEG power spectrum can be measured during hypnotic induction, and that hand temperature changes during the cold glove paradigm can be detected rapidly using our MR compatible differential thermometry device.
Behavior, Issue 83, hypnosis, EEG, fMRI, MRI, cold glove, MRI compatible, temperature sensor
3298
Mapping Cortical Dynamics Using Simultaneous MEG/EEG and Anatomically-constrained Minimum-norm Estimates: an Auditory Attention Example
Institutions: University of Washington.

Magneto- and electroencephalography (MEG/EEG) are neuroimaging techniques that provide a high temporal resolution particularly suitable to investigate the cortical networks involved in dynamical perceptual and cognitive tasks, such as attending to different sounds in a cocktail party. Many past studies have employed data recorded at the sensor level only,
i.e
., the magnetic fields or the electric potentials recorded outside and on the scalp, and have usually focused on activity that is time-locked to the stimulus presentation. This type of event-related field / potential analysis is particularly useful when there are only a small number of distinct dipolar patterns that can be isolated and identified in space and time. Alternatively, by utilizing anatomical information, these distinct field patterns can be localized as current sources on the cortex. However, for a more sustained response that may not be time-locked to a specific stimulus (
e.g
., in preparation for listening to one of the two simultaneously presented spoken digits based on the cued auditory feature) or may be distributed across multiple spatial locations unknown
a priori
, the recruitment of a distributed cortical network may not be adequately captured by using a limited number of focal sources. Here, we describe a procedure that employs individual anatomical MRI data to establish a relationship between the sensor information and the dipole activation on the cortex through the use of minimum-norm estimates (MNE). This inverse imaging approach provides us a tool for distributed source analysis. For illustrative purposes, we will describe all procedures using FreeSurfer and MNE software, both freely available. We will summarize the MRI sequences and analysis steps required to produce a forward model that enables us to relate the expected field pattern caused by the dipoles distributed on the cortex onto the M/EEG sensors. Next, we will step through the necessary processes that facilitate us in denoising the sensor data from environmental and physiological contaminants. We will then outline the procedure for combining and mapping MEG/EEG sensor data onto the cortical space, thereby producing a family of time-series of cortical dipole activation on the brain surface (or "brain movies") related to each experimental condition. Finally, we will highlight a few statistical techniques that enable us to make scientific inference across a subject population (
i.e
., perform group-level analysis) based on a common cortical coordinate space.
Neuroscience, Issue 68, Magnetoencephalography, MEG, Electroencephalography, EEG, audition, attention, inverse imaging
4262
Recording Human Electrocorticographic (ECoG) Signals for Neuroscientific Research and Real-time Functional Cortical Mapping
Institutions: New York State Department of Health, Albany Medical College, Albany Medical College, Washington University, Rensselaer Polytechnic Institute, State University of New York at Albany, University of Texas at El Paso .

Neuroimaging studies of human cognitive, sensory, and motor processes are usually based on noninvasive techniques such as electroencephalography (EEG), magnetoencephalography or functional magnetic-resonance imaging. These techniques have either inherently low temporal or low spatial resolution, and suffer from low signal-to-noise ratio and/or poor high-frequency sensitivity. Thus, they are suboptimal for exploring the short-lived spatio-temporal dynamics of many of the underlying brain processes. In contrast, the invasive technique of electrocorticography (ECoG) provides brain signals that have an exceptionally high signal-to-noise ratio, less susceptibility to artifacts than EEG, and a high spatial and temporal resolution (i.e., <1 cm/<1 millisecond, respectively). ECoG involves measurement of electrical brain signals using electrodes that are implanted subdurally on the surface of the brain. Recent studies have shown that ECoG amplitudes in certain frequency bands carry substantial information about task-related activity, such as motor execution and planning
1
, auditory processing
2
and visual-spatial attention
3
. Most of this information is captured in the high gamma range (around 70-110 Hz). Thus, gamma activity has been proposed as a robust and general indicator of local cortical function
1-5
. ECoG can also reveal functional connectivity and resolve finer task-related spatial-temporal dynamics, thereby advancing our understanding of large-scale cortical processes. It has especially proven useful for advancing brain-computer interfacing (BCI) technology for decoding a user's intentions to enhance or improve communication
6
and control
7
. Nevertheless, human ECoG data are often hard to obtain because of the risks and limitations of the invasive procedures involved, and the need to record within the constraints of clinical settings. Still, clinical monitoring to localize epileptic foci offers a unique and valuable opportunity to collect human ECoG data. We describe our methods for collecting recording ECoG, and demonstrate how to use these signals for important real-time applications such as clinical mapping and brain-computer interfacing. Our example uses the BCI2000 software platform
8,9
and the SIGFRIED
10
method, an application for real-time mapping of brain functions. This procedure yields information that clinicians can subsequently use to guide the complex and laborious process of functional mapping by electrical stimulation. Prerequisites and Planning: Patients with drug-resistant partial epilepsy may be candidates for resective surgery of an epileptic focus to minimize the frequency of seizures. Prior to resection, the patients undergo monitoring using subdural electrodes for two purposes: first, to localize the epileptic focus, and second, to identify nearby critical brain areas (i.e., eloquent cortex) where resection could result in long-term functional deficits. To implant electrodes, a craniotomy is performed to open the skull. Then, electrode grids and/or strips are placed on the cortex, usually beneath the dura. A typical grid has a set of 8 x 8 platinum-iridium electrodes of 4 mm diameter (2.3 mm exposed surface) embedded in silicon with an inter-electrode distance of 1cm. A strip typically contains 4 or 6 such electrodes in a single line. The locations for these grids/strips are planned by a team of neurologists and neurosurgeons, and are based on previous EEG monitoring, on a structural MRI of the patient's brain, and on relevant factors of the patient's history. Continuous recording over a period of 5-12 days serves to localize epileptic foci, and electrical stimulation via the implanted electrodes allows clinicians to map eloquent cortex. At the end of the monitoring period, explantation of the electrodes and therapeutic resection are performed together in one procedure. In addition to its primary clinical purpose, invasive monitoring also provides a unique opportunity to acquire human ECoG data for neuroscientific research. The decision to include a prospective patient in the research is based on the planned location of their electrodes, on the patient's performance scores on neuropsychological assessments, and on their informed consent, which is predicated on their understanding that participation in research is optional and is not related to their treatment. As with all research involving human subjects, the research protocol must be approved by the hospital's institutional review board. The decision to perform individual experimental tasks is made day-by-day, and is contingent on the patient's endurance and willingness to participate. Some or all of the experiments may be prevented by problems with the clinical state of the patient, such as post-operative facial swelling, temporary aphasia, frequent seizures, post-ictal fatigue and confusion, and more general pain or discomfort. At the Epilepsy Monitoring Unit at Albany Medical Center in Albany, New York, clinical monitoring is implemented around the clock using a 192-channel Nihon-Kohden Neurofax monitoring system. Research recordings are made in collaboration with the Wadsworth Center of the New York State Department of Health in Albany. Signals from the ECoG electrodes are fed simultaneously to the research and the clinical systems via splitter connectors. To ensure that the clinical and research systems do not interfere with each other, the two systems typically use separate grounds. In fact, an epidural strip of electrodes is sometimes implanted to provide a ground for the clinical system. Whether research or clinical recording system, the grounding electrode is chosen to be distant from the predicted epileptic focus and from cortical areas of interest for the research. Our research system consists of eight synchronized 16-channel g.USBamp amplifier/digitizer units (g.tec, Graz, Austria). These were chosen because they are safety-rated and FDA-approved for invasive recordings, they have a very low noise-floor in the high-frequency range in which the signals of interest are found, and they come with an SDK that allows them to be integrated with custom-written research software. In order to capture the high-gamma signal accurately, we acquire signals at 1200Hz sampling rate-considerably higher than that of the typical EEG experiment or that of many clinical monitoring systems. A built-in low-pass filter automatically prevents aliasing of signals higher than the digitizer can capture. The patient's eye gaze is tracked using a monitor with a built-in Tobii T-60 eye-tracking system (Tobii Tech., Stockholm, Sweden). Additional accessories such as joystick, bluetooth Wiimote (Nintendo Co.), data-glove (5
th
Dimension Technologies), keyboard, microphone, headphones, or video camera are connected depending on the requirements of the particular experiment. Data collection, stimulus presentation, synchronization with the different input/output accessories, and real-time analysis and visualization are accomplished using our BCI2000 software
8,9
. BCI2000 is a freely available general-purpose software system for real-time biosignal data acquisition, processing and feedback. It includes an array of pre-built modules that can be flexibly configured for many different purposes, and that can be extended by researchers' own code in C++, MATLAB or Python. BCI2000 consists of four modules that communicate with each other via a network-capable protocol: a Source module that handles the acquisition of brain signals from one of 19 different hardware systems from different manufacturers; a Signal Processing module that extracts relevant ECoG features and translates them into output signals; an Application module that delivers stimuli and feedback to the subject; and the Operator module that provides a graphical interface to the investigator. A number of different experiments may be conducted with any given patient. The priority of experiments will be determined by the location of the particular patient's electrodes. However, we usually begin our experimentation using the SIGFRIED (SIGnal modeling For Realtime Identification and Event Detection) mapping method, which detects and displays significant task-related activity in real time. The resulting functional map allows us to further tailor subsequent experimental protocols and may also prove as a useful starting point for traditional mapping by electrocortical stimulation (ECS). Although ECS mapping remains the gold standard for predicting the clinical outcome of resection, the process of ECS mapping is time consuming and also has other problems, such as after-discharges or seizures. Thus, a passive functional mapping technique may prove valuable in providing an initial estimate of the locus of eloquent cortex, which may then be confirmed and refined by ECS. The results from our passive SIGFRIED mapping technique have been shown to exhibit substantial concurrence with the results derived using ECS mapping
10
. The protocol described in this paper establishes a general methodology for gathering human ECoG data, before proceeding to illustrate how experiments can be initiated using the BCI2000 software platform. Finally, as a specific example, we describe how to perform passive functional mapping using the BCI2000-based SIGFRIED system.
Neuroscience, Issue 64, electrocorticography, brain-computer interfacing, functional brain mapping, SIGFRIED, BCI2000, epilepsy monitoring, magnetic resonance imaging, MRI
3993
Preterm EEG: A Multimodal Neurophysiological Protocol
Institutions: University of Helsinki , University of Helsinki , University of Helsinki , University of Helsinki .

Since its introduction in early 1950s, electroencephalography (EEG) has been widely used in the neonatal intensive care units (NICU) for assessment and monitoring of brain function in preterm and term babies. Most common indications are the diagnosis of epileptic seizures, assessment of brain maturity, and recovery from hypoxic-ischemic events. EEG recording techniques and the understanding of neonatal EEG signals have dramatically improved, but these advances have been slow to penetrate through the clinical traditions. The aim of this presentation is to bring theory and practice of advanced EEG recording available for neonatal units. In the theoretical part, we will present animations to illustrate how a preterm brain gives rise to spontaneous and evoked EEG activities, both of which are unique to this developmental phase, as well as crucial for a proper brain maturation. Recent animal work has shown that the structural brain development is clearly reflected in early EEG activity. Most important structures in this regard are the growing long range connections and the transient cortical structure, subplate. Sensory stimuli in a preterm baby will generate responses that are seen at a single trial level, and they have underpinnings in the subplate-cortex interaction. This brings neonatal EEG readily into a multimodal study, where EEG is not only recording cortical function, but it also tests subplate function via different sensory modalities. Finally, introduction of clinically suitable dense array EEG caps, as well as amplifiers capable of recording low frequencies, have disclosed multitude of brain activities that have as yet been overlooked. In the practical part of this video, we show how a multimodal, dense array EEG study is performed in neonatal intensive care unit from a preterm baby in the incubator. The video demonstrates preparation of the baby and incubator, application of the EEG cap, and performance of the sensory stimulations.
Neuroscience, Issue 60, neurophysiology, preterm baby, neonatal, EEG, evoked response, high density EEG, FbEEG, sensory evoked response, neonatal intensive care unit
3774
Quantitative Assessment of Cortical Auditory-tactile Processing in Children with Disabilities
Institutions: Vanderbilt University, Vanderbilt University, Vanderbilt University.

Objective and easy measurement of sensory processing is extremely difficult in nonverbal or vulnerable pediatric patients. We developed a new methodology to quantitatively assess children's cortical processing of light touch, speech sounds and the multisensory processing of the 2 stimuli, without requiring active subject participation or causing children discomfort. To accomplish this we developed a dual channel, time and strength calibrated air puff stimulator that allows both tactile stimulation and sham control. We combined this with the use of event-related potential methodology to allow for high temporal resolution of signals from the primary and secondary somatosensory cortices as well as higher order processing. This methodology also allowed us to measure a multisensory response to auditory-tactile stimulation.
Behavior, Issue 83, somatosensory, event related potential, auditory-tactile, multisensory, cortical response, child
51054
Measuring Neural and Behavioral Activity During Ongoing Computerized Social Interactions: An Examination of Event-Related Brain Potentials
Institutions: Illinois Wesleyan University.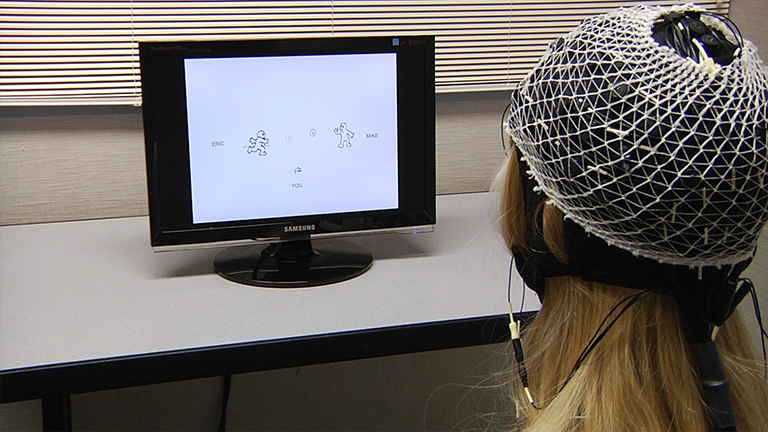 Social exclusion is a complex social phenomenon with powerful negative consequences. Given the impact of social exclusion on mental and emotional health, an understanding of how perceptions of social exclusion develop over the course of a social interaction is important for advancing treatments aimed at lessening the harmful costs of being excluded. To date, most scientific examinations of social exclusion have looked at exclusion after a social interaction has been completed. While this has been very helpful in developing an understanding of what happens to a person following exclusion, it has not helped to clarify the moment-to-moment dynamics of the process of social exclusion. Accordingly, the current protocol was developed to obtain an improved understanding of social exclusion by examining the patterns of event-related brain activation that are present during social interactions. This protocol allows greater precision and sensitivity in detailing the social processes that lead people to feel as though they have been excluded from a social interaction. Importantly, the current protocol can be adapted to include research projects that vary the nature of exclusionary social interactions by altering how frequently participants are included, how long the periods of exclusion will last in each interaction, and when exclusion will take place during the social interactions. Further, the current protocol can be used to examine variables and constructs beyond those related to social exclusion. This capability to address a variety of applications across psychology by obtaining both neural and behavioral data during ongoing social interactions suggests the present protocol could be at the core of a developing area of scientific inquiry related to social interactions.
Behavior, Issue 93, Event-related brain potentials (ERPs), Social Exclusion, Neuroscience, N2, P3, Cognitive Control
52060
Automated, Quantitative Cognitive/Behavioral Screening of Mice: For Genetics, Pharmacology, Animal Cognition and Undergraduate Instruction
Institutions: Rutgers University, Koç University, New York University, Fairfield University.
We describe a high-throughput, high-volume, fully automated, live-in 24/7 behavioral testing system for assessing the effects of genetic and pharmacological manipulations on basic mechanisms of cognition and learning in mice. A standard polypropylene mouse housing tub is connected through an acrylic tube to a standard commercial mouse test box. The test box has 3 hoppers, 2 of which are connected to pellet feeders. All are internally illuminable with an LED and monitored for head entries by infrared (IR) beams. Mice live in the environment, which eliminates handling during screening. They obtain their food during two or more daily feeding periods by performing in operant (instrumental) and Pavlovian (classical) protocols, for which we have written protocol-control software and quasi-real-time data analysis and graphing software. The data analysis and graphing routines are written in a MATLAB-based language created to simplify greatly the analysis of large time-stamped behavioral and physiological event records and to preserve a full data trail from raw data through all intermediate analyses to the published graphs and statistics within a single data structure. The data-analysis code harvests the data several times a day and subjects it to statistical and graphical analyses, which are automatically stored in the "cloud" and on in-lab computers. Thus, the progress of individual mice is visualized and quantified daily. The data-analysis code talks to the protocol-control code, permitting the automated advance from protocol to protocol of individual subjects. The behavioral protocols implemented are matching, autoshaping, timed hopper-switching, risk assessment in timed hopper-switching, impulsivity measurement, and the circadian anticipation of food availability. Open-source protocol-control and data-analysis code makes the addition of new protocols simple. Eight test environments fit in a 48 in x 24 in x 78 in cabinet; two such cabinets (16 environments) may be controlled by one computer.
Behavior, Issue 84, genetics, cognitive mechanisms, behavioral screening, learning, memory, timing
51047
Investigating the Effects of Antipsychotics and Schizotypy on the N400 Using Event-Related Potentials and Semantic Categorization
Institutions: McGill University, McGill University, McGill University, McGill University.

Within the field of cognitive neuroscience, functional magnetic resonance imaging (fMRI) is a popular method of visualizing brain function. This is in part because of its excellent spatial resolution, which allows researchers to identify brain areas associated with specific cognitive processes. However, in the quest to localize brain functions, it is relevant to note that many cognitive, sensory, and motor processes have temporal distinctions that are imperative to capture, an aspect that is left unfulfilled by fMRI's suboptimal temporal resolution. To better understand cognitive processes, it is thus advantageous to utilize event-related potential (ERP) recording as a method of gathering information about the brain. Some of its advantages include its fantastic temporal resolution, which gives researchers the ability to follow the activity of the brain down to the millisecond. It also directly indexes both excitatory and inhibitory post-synaptic potentials by which most brain computations are performed. This sits in contrast to fMRI, which captures an index of metabolic activity. Further, the non-invasive ERP method does not require a contrast condition: raw ERPs can be examined for just one experimental condition, a distinction from fMRI where control conditions must be subtracted from the experimental condition, leading to uncertainty in associating observations with experimental or contrast conditions. While it is limited by its poor spatial and subcortical activity resolution, ERP recordings' utility, relative cost-effectiveness, and associated advantages offer strong rationale for its use in cognitive neuroscience to track rapid temporal changes in neural activity. In an effort to foster increase in its use as a research imaging method, and to ensure proper and accurate data collection, the present article will outline – in the framework of a paradigm using semantic categorization to examine the effects of antipsychotics and schizotypy on the N400 – the procedure and key aspects associated with ERP data acquisition.
Behavior, Issue 93, Electrical brain activity, Semantic categorization, Event-related brain potentials, Neuroscience, Cognition, Psychiatry, Antipsychotic medication, N400, Schizotypy, Schizophrenia.
52082
Extracting Visual Evoked Potentials from EEG Data Recorded During fMRI-guided Transcranial Magnetic Stimulation
Institutions: Tel-Aviv University, Tel-Aviv University.

Transcranial Magnetic Stimulation (TMS) is an effective method for establishing a causal link between a cortical area and cognitive/neurophysiological effects. Specifically, by creating a transient interference with the normal activity of a target region and measuring changes in an electrophysiological signal, we can establish a causal link between the stimulated brain area or network and the electrophysiological signal that we record. If target brain areas are functionally defined with prior fMRI scan, TMS could be used to link the fMRI activations with evoked potentials recorded. However, conducting such experiments presents significant technical challenges given the high amplitude artifacts introduced into the EEG signal by the magnetic pulse, and the difficulty to successfully target areas that were functionally defined by fMRI. Here we describe a methodology for combining these three common tools: TMS, EEG, and fMRI. We explain how to guide the stimulator's coil to the desired target area using anatomical or functional MRI data, how to record EEG during concurrent TMS, how to design an ERP study suitable for EEG-TMS combination and how to extract reliable ERP from the recorded data. We will provide representative results from a previously published study, in which fMRI-guided TMS was used concurrently with EEG to show that the face-selective N1 and the body-selective N1 component of the ERP are associated with distinct neural networks in extrastriate cortex. This method allows us to combine the high spatial resolution of fMRI with the high temporal resolution of TMS and EEG and therefore obtain a comprehensive understanding of the neural basis of various cognitive processes.
Neuroscience, Issue 87, Transcranial Magnetic Stimulation, Neuroimaging, Neuronavigation, Visual Perception, Evoked Potentials, Electroencephalography, Event-related potential, fMRI, Combined Neuroimaging Methods, Face perception, Body Perception
51063
Multi-electrode Array Recordings of Human Epileptic Postoperative Cortical Tissue
Institutions: CNRS UMR 7241, INSERM U1050, Collège de France, Paris Descartes University, Sorbonne Paris Cité, CEA, Paris Descartes University, Paris Descartes University, La Pitié-Salpêtrière Hospital, AP-HP, Sorbonne and Pierre and Marie Curie University.

Epilepsy, affecting about 1% of the population, comprises a group of neurological disorders characterized by the periodic occurrence of seizures, which disrupt normal brain function. Despite treatment with currently available antiepileptic drugs targeting neuronal functions, one third of patients with epilepsy are pharmacoresistant. In this condition, surgical resection of the brain area generating seizures remains the only alternative treatment. Studying human epileptic tissues has contributed to understand new epileptogenic mechanisms during the last 10 years. Indeed, these tissues generate spontaneous interictal epileptic discharges as well as pharmacologically-induced ictal events which can be recorded with classical electrophysiology techniques. Remarkably, multi-electrode arrays (MEAs), which are microfabricated devices embedding an array of spatially arranged microelectrodes, provide the unique opportunity to simultaneously stimulate and record field potentials, as well as action potentials of multiple neurons from different areas of the tissue. Thus MEAs recordings offer an excellent approach to study the spatio-temporal patterns of spontaneous interictal and evoked seizure-like events and the mechanisms underlying seizure onset and propagation. Here we describe how to prepare human cortical slices from surgically resected tissue and to record with MEAs interictal and ictal-like events
ex vivo
.
Medicine, Issue 92, electrophysiology, multi-electrode array, human tissue, slice, epilepsy, neocortex
51870
A Computer-assisted Multi-electrode Patch-clamp System
Institutions: Ecole Polytechnique Federale de Lausanne.

The patch-clamp technique is today the most well-established method for recording electrical activity from individual neurons or their subcellular compartments. Nevertheless, achieving stable recordings, even from individual cells, remains a time-consuming procedure of considerable complexity. Automation of many steps in conjunction with efficient information display can greatly assist experimentalists in performing a larger number of recordings with greater reliability and in less time. In order to achieve large-scale recordings we concluded the most efficient approach is not to fully automatize the process but to simplify the experimental steps and reduce the chances of human error while efficiently incorporating the experimenter's experience and visual feedback. With these goals in mind we developed a computer-assisted system which centralizes all the controls necessary for a multi-electrode patch-clamp experiment in a single interface, a commercially available wireless gamepad, while displaying experiment related information and guidance cues on the computer screen. Here we describe the different components of the system which allowed us to reduce the time required for achieving the recording configuration and substantially increase the chances of successfully recording large numbers of neurons simultaneously.
Neuroscience, Issue 80, Patch-clamp, automatic positioning, whole-cell, neuronal recording, in vitro, multi-electrode
50630
Using an EEG-Based Brain-Computer Interface for Virtual Cursor Movement with BCI2000
Institutions: University of Wisconsin-Madison, New York State Dept. of Health.

A brain-computer interface (BCI) functions by translating a neural signal, such as the electroencephalogram (EEG), into a signal that can be used to control a computer or other device. The amplitude of the EEG signals in selected frequency bins are measured and translated into a device command, in this case the horizontal and vertical velocity of a computer cursor. First, the EEG electrodes are applied to the user s scalp using a cap to record brain activity. Next, a calibration procedure is used to find the EEG electrodes and features that the user will learn to voluntarily modulate to use the BCI. In humans, the power in the mu (8-12 Hz) and beta (18-28 Hz) frequency bands decrease in amplitude during a real or imagined movement. These changes can be detected in the EEG in real-time, and used to control a BCI ([1],[2]). Therefore, during a screening test, the user is asked to make several different imagined movements with their hands and feet to determine the unique EEG features that change with the imagined movements. The results from this calibration will show the best channels to use, which are configured so that amplitude changes in the mu and beta frequency bands move the cursor either horizontally or vertically. In this experiment, the general purpose BCI system BCI2000 is used to control signal acquisition, signal processing, and feedback to the user [3].
Neuroscience, Issue 29, BCI, EEG, brain-computer interface, BCI2000
1319
EEG Mu Rhythm in Typical and Atypical Development
Institutions: University of Washington, University of Washington.

Electroencephalography (EEG) is an effective, efficient, and noninvasive method of assessing and recording brain activity. Given the excellent temporal resolution, EEG can be used to examine the neural response related to specific behaviors, states, or external stimuli. An example of this utility is the assessment of the mirror neuron system (MNS) in humans through the examination of the EEG mu rhythm. The EEG mu rhythm, oscillatory activity in the 8-12 Hz frequency range recorded from centrally located electrodes, is suppressed when an individual executes, or simply observes, goal directed actions. As such, it has been proposed to reflect activity of the MNS. It has been theorized that dysfunction in the mirror neuron system (MNS) plays a contributing role in the social deficits of autism spectrum disorder (ASD). The MNS can then be noninvasively examined in clinical populations by using EEG mu rhythm attenuation as an index for its activity. The described protocol provides an avenue to examine social cognitive functions theoretically linked to the MNS in individuals with typical and atypical development, such as ASD. 
Medicine, Issue 86, Electroencephalography (EEG), mu rhythm, imitation, autism spectrum disorder, social cognition, mirror neuron system
51412
Cortical Source Analysis of High-Density EEG Recordings in Children
Institutions: UCL Institute of Child Health, University College London.

EEG is traditionally described as a neuroimaging technique with high temporal and low spatial resolution. Recent advances in biophysical modelling and signal processing make it possible to exploit information from other imaging modalities like structural MRI that provide high spatial resolution to overcome this constraint
1
. This is especially useful for investigations that require high resolution in the temporal as well as spatial domain. In addition, due to the easy application and low cost of EEG recordings, EEG is often the method of choice when working with populations, such as young children, that do not tolerate functional MRI scans well. However, in order to investigate which neural substrates are involved, anatomical information from structural MRI is still needed. Most EEG analysis packages work with standard head models that are based on adult anatomy. The accuracy of these models when used for children is limited
2
, because the composition and spatial configuration of head tissues changes dramatically over development
3
.  In the present paper, we provide an overview of our recent work in utilizing head models based on individual structural MRI scans or age specific head models to reconstruct the cortical generators of high density EEG. This article describes how EEG recordings are acquired, processed, and analyzed with pediatric populations at the London Baby Lab, including laboratory setup, task design, EEG preprocessing, MRI processing, and EEG channel level and source analysis. 
Behavior, Issue 88, EEG, electroencephalogram, development, source analysis, pediatric, minimum-norm estimation, cognitive neuroscience, event-related potentials 
51705
Perceptual and Category Processing of the Uncanny Valley Hypothesis' Dimension of Human Likeness: Some Methodological Issues
Institutions: University of Zurich.

Mori's Uncanny Valley Hypothesis
1,2
proposes that the perception of humanlike characters such as robots and, by extension, avatars (computer-generated characters) can evoke negative or positive affect (valence) depending on the object's degree of visual and behavioral realism along a
dimension of human likeness
(
DHL
) (
Figure 1
). But studies of affective valence of subjective responses to variously realistic non-human characters have produced inconsistent findings
3, 4, 5, 6
. One of a number of reasons for this is that human likeness is not perceived as the hypothesis assumes. While the DHL can be defined following Mori's description as a smooth linear change in the degree of physical humanlike similarity, subjective perception of objects along the DHL can be understood in terms of the psychological effects of categorical perception (CP)
7
. Further behavioral and neuroimaging investigations of category processing and CP along the DHL and of the potential influence of the dimension's underlying category structure on affective experience are needed. This protocol therefore focuses on the DHL and allows examination of CP. Based on the protocol presented in the video as an example, issues surrounding the methodology in the protocol and the use in "uncanny" research of stimuli drawn from morph continua to represent the DHL are discussed in the article that accompanies the video. The use of neuroimaging and morph stimuli to represent the DHL in order to disentangle brain regions neurally responsive to physical human-like similarity from those responsive to category change and category processing is briefly illustrated.
Behavior, Issue 76, Neuroscience, Neurobiology, Molecular Biology, Psychology, Neuropsychology, uncanny valley, functional magnetic resonance imaging, fMRI, categorical perception, virtual reality, avatar, human likeness, Mori, uncanny valley hypothesis, perception, magnetic resonance imaging, MRI, imaging, clinical techniques
4375
Combining Computer Game-Based Behavioural Experiments With High-Density EEG and Infrared Gaze Tracking
Institutions: Cornell University, University of Chicago, Manesar, India.

Experimental paradigms are valuable insofar as the timing and other parameters of their stimuli are well specified and controlled, and insofar as they yield data relevant to the cognitive processing that occurs under ecologically valid conditions. These two goals often are at odds, since well controlled stimuli often are too repetitive to sustain subjects' motivation. Studies employing electroencephalography (EEG) are often especially sensitive to this dilemma between ecological validity and experimental control: attaining sufficient signal-to-noise in physiological averages demands large numbers of repeated trials within lengthy recording sessions, limiting the subject pool to individuals with the ability and patience to perform a set task over and over again. This constraint severely limits researchers' ability to investigate younger populations as well as clinical populations associated with heightened anxiety or attentional abnormalities. Even adult, non-clinical subjects may not be able to achieve their typical levels of performance or cognitive engagement: an unmotivated subject for whom an experimental task is little more than a chore is not the same, behaviourally, cognitively, or neurally, as a subject who is intrinsically motivated and engaged with the task. A growing body of literature demonstrates that embedding experiments within video games may provide a way between the horns of this dilemma between experimental control and ecological validity. The narrative of a game provides a more realistic context in which tasks occur, enhancing their ecological validity (Chaytor & Schmitter-Edgecombe, 2003). Moreover, this context provides motivation to complete tasks. In our game, subjects perform various missions to collect resources, fend off pirates, intercept communications or facilitate diplomatic relations. In so doing, they also perform an array of cognitive tasks, including a Posner attention-shifting paradigm (Posner, 1980), a go/no-go test of motor inhibition, a psychophysical motion coherence threshold task, the Embedded Figures Test (Witkin, 1950, 1954) and a theory-of-mind (Wimmer & Perner, 1983) task. The game software automatically registers game stimuli and subjects' actions and responses in a log file, and sends event codes to synchronise with physiological data recorders. Thus the game can be combined with physiological measures such as EEG or fMRI, and with moment-to-moment tracking of gaze. Gaze tracking can verify subjects' compliance with behavioural tasks (e.g. fixation) and overt attention to experimental stimuli, and also physiological arousal as reflected in pupil dilation (Bradley
et al.
, 2008). At great enough sampling frequencies, gaze tracking may also help assess covert attention as reflected in microsaccades - eye movements that are too small to foveate a new object, but are as rapid in onset and have the same relationship between angular distance and peak velocity as do saccades that traverse greater distances. The distribution of directions of microsaccades correlates with the (otherwise) covert direction of attention (Hafed & Clark, 2002).
Neuroscience, Issue 46, High-density EEG, ERP, ICA, gaze tracking, computer game, ecological validity
2320
Transferring Cognitive Tasks Between Brain Imaging Modalities: Implications for Task Design and Results Interpretation in fMRI Studies
Institutions: Research Centre Jülich GmbH, Research Centre Jülich GmbH.

As cognitive neuroscience methods develop, established experimental tasks are used with emerging brain imaging modalities. Here transferring a paradigm (the visual oddball task) with a long history of behavioral and electroencephalography (EEG) experiments to a functional magnetic resonance imaging (fMRI) experiment is considered. The aims of this paper are to briefly describe fMRI and when its use is appropriate in cognitive neuroscience; illustrate how task design can influence the results of an fMRI experiment, particularly when that task is borrowed from another imaging modality; explain the practical aspects of performing an fMRI experiment. It is demonstrated that manipulating the task demands in the visual oddball task results in different patterns of blood oxygen level dependent (BOLD) activation. The nature of the fMRI BOLD measure means that many brain regions are found to be active in a particular task. Determining the functions of these areas of activation is very much dependent on task design and analysis. The complex nature of many fMRI tasks means that the details of the task and its requirements need careful consideration when interpreting data. The data show that this is particularly important in those tasks relying on a motor response as well as cognitive elements and that covert
and
overt responses should be considered where possible. Furthermore, the data show that transferring an EEG paradigm to an fMRI experiment needs careful consideration and it cannot be assumed that the same paradigm will work equally well across imaging modalities. It is therefore recommended that the design of an fMRI study is pilot tested behaviorally to establish the effects of interest and then pilot tested in the fMRI environment to ensure appropriate design, implementation and analysis for the effects of interest.
Behavior, Issue 91, fMRI, task design, data interpretation, cognitive neuroscience, visual oddball task, target detection
51793
Characterization of Complex Systems Using the Design of Experiments Approach: Transient Protein Expression in Tobacco as a Case Study
Institutions: RWTH Aachen University, Fraunhofer Gesellschaft.

Plants provide multiple benefits for the production of biopharmaceuticals including low costs, scalability, and safety. Transient expression offers the additional advantage of short development and production times, but expression levels can vary significantly between batches thus giving rise to regulatory concerns in the context of good manufacturing practice. We used a design of experiments (DoE) approach to determine the impact of major factors such as regulatory elements in the expression construct, plant growth and development parameters, and the incubation conditions during expression, on the variability of expression between batches. We tested plants expressing a model anti-HIV monoclonal antibody (2G12) and a fluorescent marker protein (DsRed). We discuss the rationale for selecting certain properties of the model and identify its potential limitations. The general approach can easily be transferred to other problems because the principles of the model are broadly applicable: knowledge-based parameter selection, complexity reduction by splitting the initial problem into smaller modules, software-guided setup of optimal experiment combinations and step-wise design augmentation. Therefore, the methodology is not only useful for characterizing protein expression in plants but also for the investigation of other complex systems lacking a mechanistic description. The predictive equations describing the interconnectivity between parameters can be used to establish mechanistic models for other complex systems.
Bioengineering, Issue 83, design of experiments (DoE), transient protein expression, plant-derived biopharmaceuticals, promoter, 5'UTR, fluorescent reporter protein, model building, incubation conditions, monoclonal antibody
51216
The Use of Magnetic Resonance Spectroscopy as a Tool for the Measurement of Bi-hemispheric Transcranial Electric Stimulation Effects on Primary Motor Cortex Metabolism
Institutions: University of Montréal, McGill University, University of Minnesota.

Transcranial direct current stimulation (tDCS) is a neuromodulation technique that has been increasingly used over the past decade in the treatment of neurological and psychiatric disorders such as stroke and depression. Yet, the mechanisms underlying its ability to modulate brain excitability to improve clinical symptoms remains poorly understood
33
. To help improve this understanding, proton magnetic resonance spectroscopy (
1
H-MRS) can be used as it allows the
in vivo
quantification of brain metabolites such as γ-aminobutyric acid (GABA) and glutamate in a region-specific manner
41
. In fact, a recent study demonstrated that
1
H-MRS is indeed a powerful means to better understand the effects of tDCS on neurotransmitter concentration
34
. This article aims to describe the complete protocol for combining tDCS (NeuroConn MR compatible stimulator) with
1
H-MRS at 3 T using a MEGA-PRESS sequence. We will describe the impact of a protocol that has shown great promise for the treatment of motor dysfunctions after stroke, which consists of bilateral stimulation of primary motor cortices
27,30,31
. Methodological factors to consider and possible modifications to the protocol are also discussed.
Neuroscience, Issue 93, proton magnetic resonance spectroscopy, transcranial direct current stimulation, primary motor cortex, GABA, glutamate, stroke
51631
Simultaneous Multicolor Imaging of Biological Structures with Fluorescence Photoactivation Localization Microscopy
Institutions: University of Maine.

Localization-based super resolution microscopy can be applied to obtain a spatial map (image) of the distribution of individual fluorescently labeled single molecules within a sample with a spatial resolution of tens of nanometers. Using either photoactivatable (PAFP) or photoswitchable (PSFP) fluorescent proteins fused to proteins of interest, or organic dyes conjugated to antibodies or other molecules of interest, fluorescence photoactivation localization microscopy (FPALM) can simultaneously image multiple species of molecules within single cells. By using the following approach, populations of large numbers (thousands to hundreds of thousands) of individual molecules are imaged in single cells and localized with a precision of ~10-30 nm. Data obtained can be applied to understanding the nanoscale spatial distributions of multiple protein types within a cell. One primary advantage of this technique is the dramatic increase in spatial resolution: while diffraction limits resolution to ~200-250 nm in conventional light microscopy, FPALM can image length scales more than an order of magnitude smaller. As many biological hypotheses concern the spatial relationships among different biomolecules, the improved resolution of FPALM can provide insight into questions of cellular organization which have previously been inaccessible to conventional fluorescence microscopy. In addition to detailing the methods for sample preparation and data acquisition, we here describe the optical setup for FPALM. One additional consideration for researchers wishing to do super-resolution microscopy is cost: in-house setups are significantly cheaper than most commercially available imaging machines. Limitations of this technique include the need for optimizing the labeling of molecules of interest within cell samples, and the need for post-processing software to visualize results. We here describe the use of PAFP and PSFP expression to image two protein species in fixed cells. Extension of the technique to living cells is also described.
Basic Protocol, Issue 82, Microscopy, Super-resolution imaging, Multicolor, single molecule, FPALM, Localization microscopy, fluorescent proteins
50680
Transcranial Direct Current Stimulation and Simultaneous Functional Magnetic Resonance Imaging
Institutions: University of Queensland, Charité Universitätsmedizin.

Transcranial direct current stimulation (tDCS) is a noninvasive brain stimulation technique that uses weak electrical currents administered to the scalp to manipulate cortical excitability and, consequently, behavior and brain function. In the last decade, numerous studies have addressed short-term and long-term effects of tDCS on different measures of behavioral performance during motor and cognitive tasks, both in healthy individuals and in a number of different patient populations. So far, however, little is known about the neural underpinnings of tDCS-action in humans with regard to large-scale brain networks. This issue can be addressed by combining tDCS with functional brain imaging techniques like functional magnetic resonance imaging (fMRI) or electroencephalography (EEG). In particular, fMRI is the most widely used brain imaging technique to investigate the neural mechanisms underlying cognition and motor functions. Application of tDCS during fMRI allows analysis of the neural mechanisms underlying behavioral tDCS effects with high spatial resolution across the entire brain. Recent studies using this technique identified stimulation induced changes in task-related functional brain activity at the stimulation site and also in more distant brain regions, which were associated with behavioral improvement. In addition, tDCS administered during resting-state fMRI allowed identification of widespread changes in whole brain functional connectivity. Future studies using this combined protocol should yield new insights into the mechanisms of tDCS action in health and disease and new options for more targeted application of tDCS in research and clinical settings. The present manuscript describes this novel technique in a step-by-step fashion, with a focus on technical aspects of tDCS administered during fMRI.
Behavior, Issue 86, noninvasive brain stimulation, transcranial direct current stimulation (tDCS), anodal stimulation (atDCS), cathodal stimulation (ctDCS), neuromodulation, task-related fMRI, resting-state fMRI, functional magnetic resonance imaging (fMRI), electroencephalography (EEG), inferior frontal gyrus (IFG)
51730
Coherence between Brain Cortical Function and Neurocognitive Performance during Changed Gravity Conditions
Institutions: German Sport University Cologne, University of Toronto, Queensland University of Technology, Gilching, Germany.

Previous studies of cognitive, mental and/or motor processes during short-, medium- and long-term weightlessness have only been descriptive in nature, and focused on psychological aspects. Until now, objective observation of neurophysiological parameters has not been carried out - undoubtedly because the technical and methodological means have not been available -, investigations into the neurophysiological effects of weightlessness are in their infancy (Schneider
et al.
2008). While imaging techniques such as positron emission tomography (PET) and magnetic resonance imaging (MRI) would be hardly applicable in space, the non-invasive near-infrared spectroscopy (NIRS) technique represents a method of mapping hemodynamic processes in the brain in real time that is both relatively inexpensive and that can be employed even under extreme conditions. The combination with electroencephalography (EEG) opens up the possibility of following the electrocortical processes under changing gravity conditions with a finer temporal resolution as well as with deeper localization, for instance with electrotomography (LORETA). Previous studies showed an increase of beta frequency activity under normal gravity conditions and a decrease under weightlessness conditions during a parabolic flight (Schneider
et al.
2008a+b). Tilt studies revealed different changes in brain function, which let suggest, that changes in parabolic flight might reflect emotional processes rather than hemodynamic changes. However, it is still unclear whether these are effects of changed gravity or hemodynamic changes within the brain. Combining EEG/LORETA and NIRS should for the first time make it possible to map the effect of weightlessness and reduced gravity on both hemodynamic and electrophysiological processes in the brain. Initially, this is to be done as part of a feasibility study during a parabolic flight. Afterwards, it is also planned to use both techniques during medium- and long-term space flight. It can be assumed that the long-term redistribution of the blood volume and the associated increase in the supply of oxygen to the brain will lead to changes in the central nervous system that are also responsible for anaemic processes, and which can in turn reduce performance (De Santo
et al.
2005), which means that they could be crucial for the success and safety of a mission (Genik
et al.
2005, Ellis 2000). Depending on these results, it will be necessary to develop and employ extensive countermeasures. Initial results for the MARS500 study suggest that, in addition to their significance in the context of the cardiovascular and locomotor systems, sport and physical activity can play a part in improving neurocognitive parameters. Before this can be fully established, however, it seems necessary to learn more about the influence of changing gravity conditions on neurophysiological processes and associated neurocognitive impairment.
Neuroscience, Issue 51, EEG, NIRS, electrotomography, parabolic flight, weightlessness, imaging, cognitive performance
2670
Investigating Social Cognition in Infants and Adults Using Dense Array Electroencephalography (dEEG)
Institutions: University Toronto Scarborough.

Dense array electroencephalography (
d
EEG), which provides a non-invasive window for measuring brain activity and a temporal resolution unsurpassed by any other current brain imaging technology
1,2
, is being used increasingly in the study of social cognitive functioning in infants and adults. While
d
EEG is enabling researchers to examine brain activity patterns with unprecedented levels of sensitivity, conventional EEG recording systems continue to face certain limitations, including 1) poor spatial resolution and source localization
3,4
,2) the physical discomfort for test subjects of enduring the individual application of numerous electrodes to the surface of the scalp, and 3) the complexity for researchers of learning to use multiple software packages to collect and process data. Here we present an overview of an established methodology that represents a significant improvement on conventional methodologies for studying EEG in infants and adults. Although several analytical software techniques can be used to establish indirect indices of source localization to improve the spatial resolution of
d
EEG, the HydroCel Geodesic Sensor Net (HCGSN) by Electrical Geodesics, Inc. (EGI), a dense sensory array that maintains equal distances among adjacent recording electrodes on all surfaces of the scalp, further enhances spatial resolution
4,5,6
compared to standard
d
EEG systems. The sponge-based HCGSN can be applied rapidly and without scalp abrasion, making it ideal for use with adults
7,8
, children
9,10,11
, and infants
12
, in both research and clinical
4,5,6,13,14,15
settings. This feature allows for considerable cost and time savings by decreasing the average net application time compared to other
d
EEG systems. Moreover, the HCGSN includes unified, seamless software applications for all phases of data, greatly simplifying the collection, processing, and analysis of
d
EEG data. The HCGSN features a low-profile electrode pedestal, which, when filled with electrolyte solution, creates a sealed microenvironment and an electrode-scalp interface. In all Geodesic
d
EEG systems, EEG sensors detect changes in voltage originating from the participant's scalp, along with a small amount of electrical noise originating from the room environment. Electrical signals from all sensors of the Geodesic sensor net are received simultaneously by the amplifier, where they are automatically processed, packaged, and sent to the data-acquisition computer (DAC). Once received by the DAC, scalp electrical activity can be isolated from artifacts for analysis using the filtering and artifact detection tools included in the EGI software. Typically, the HCGSN can be used continuously for only up to two hours because the electrolyte solution dries out over time, gradually decreasing the quality of the scalp-electrode interface. In the Parent-Infant Research Lab at the University of Toronto, we are using
d
EEG to study social cognitive processes including memory, emotion, goals, intentionality, anticipation, and executive functioning in both adult and infant participants.
Neuroscience, Issue 52, Developmental Affective Neuroscience, high density EEG, social cognition, infancy, and parenting
2759
Functional Mapping with Simultaneous MEG and EEG
Institutions: MGH - Massachusetts General Hospital.

We use magnetoencephalography (MEG) and electroencephalography (EEG) to locate and determine the temporal evolution in brain areas involved in the processing of simple sensory stimuli. We will use somatosensory stimuli to locate the hand somatosensory areas, auditory stimuli to locate the auditory cortices, visual stimuli in four quadrants of the visual field to locate the early visual areas. These type of experiments are used for functional mapping in epileptic and brain tumor patients to locate eloquent cortices. In basic neuroscience similar experimental protocols are used to study the orchestration of cortical activity. The acquisition protocol includes quality assurance procedures, subject preparation for the combined MEG/EEG study, and acquisition of evoked-response data with somatosensory, auditory, and visual stimuli. We also demonstrate analysis of the data using the equivalent current dipole model and cortically-constrained minimum-norm estimates. Anatomical MRI data are employed in the analysis for visualization and for deriving boundaries of tissue boundaries for forward modeling and cortical location and orientation constraints for the minimum-norm estimates.
JoVE neuroscience, Issue 40, neuroscience, brain, MEG, EEG, functional imaging
1668